Abducted Flight Attendants
Part 1 of 2
(m/f, i/r, n/c)
by
Black Demon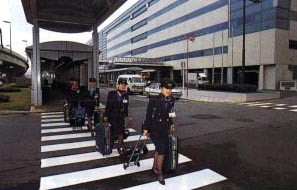 ______________________________________________
Standard Disclaimer!
This is a fictional story intended for Adults only!
______________________________________________
Just having deplaned their Trans Eastern flight from the Kyoto, the flight crew boarded the transit bus that would take them to the hotel. After just several minutes and still being right in the airport itself, they were shocked and bewildered at the sudden stop of the transit bus, frightened out of their minds upon seeing three bearded olive skinned men board the bus brandishing handguns. They had not paid much attention to the driver upon their boarding, merely smiling and nodding a 'hello' to the man dressed in the uniform of the transit company.
Comprising the Trans Eastern flight crew onboard the bus were: Cheryl Nagata (age 29, married, 2 children); Julie Ota Henricks (age 27, married, 1 child); Elaine Fujioka (age 26, married, 1 child); and Carol Kurosawa (age 24, single and engaged to be married). Good friends for years, often flying together, none had expected to encounter a hijacking of this nature. 'What do they want? Why didn't they attempt this on an airplane? Why us?' each thought.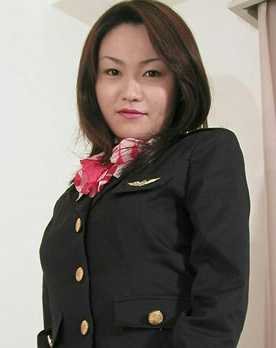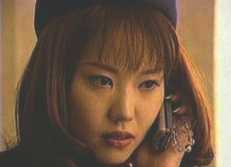 Cheryl Nagata Julia Ota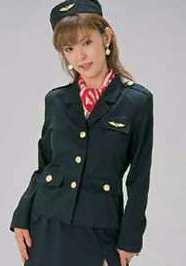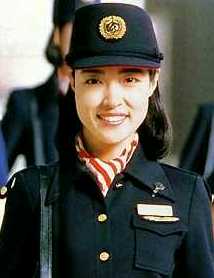 Elaine Fujioka Carol Kurosawa
With the driver closing the bus door and stepping on the gas pedal without any instruction nor with any gun being pointed at him, it became apparent to the flight crew that he was a part of the gang boarding the bus. As one of the flight attendants screamed in fear, she was immediately silenced by one of the men pointing a gun directly at her and gruffly instructing her to "Shuddup ……………..bitchhhhhhh!" Always on the lookout for a potential hijacking while on a flight, they had all let their guards down, assuming that they were in the safety of the bus transporting them to the hotel.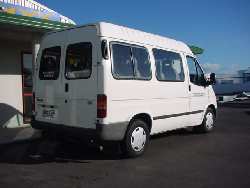 Suddenly, one of the hijackers exclaimed "Shitttttttttt ……………………..only four of'em! Thought there'd be at least five of'em ………………………..well, Rajha, looks like ya gonna have to suck wind while the rest of us git our jollies off. The hijacker named Rajha responded with "Shitttttttttt!" Then the fellow Rajha yelled out "Slow down, Masaad ………………….slow down ……………………..that one's fer me!"
Based and living in the city, Diane Chang (age 27, married, no children) was employed as a flight attendant for Air Asia and had just returned from an overseas flight. She wished her husband Edwin had been able to change his business trip and be home with her as she just hated to come home to an empty house. 'Well, at least he'll be home on Thursday, giving us one night together before my next trip!' Diane thought as she was about to enter the lot for short-term parking.
At the wrong place and the wrong time, Diane happened to be approaching the transit bus that had just been hijacked with the flight crew from Trans Eastern on board. Trim and attractive, Diane had been spotted by the lusting Rajha who had singled her out for himself. As the transit bus slowed a bit as it approached, Diane thought nothing of it since such busses were commonplace at the airport, transporting flight crew to and from hotels. Suddenly, a man's hand was clamped over her mouth and she was being dragged onto the bus, with another man grabbing her luggage and throwing it onboard.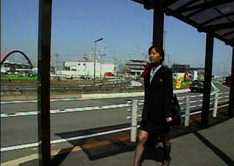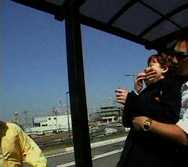 Diane Chang
Then the bus sped up again, headed out of the airport area and toward the east side of the city that was considered the industrial area. Looking about with fear, first at one another and then the whereabouts outside of the bus, each of the women were frightened to death. The small transit bus made a turn and was headed into a rather rundown area, then another turn and the bus being driven into a large warehouse type structure.
The large muscular man who appeared to be the leader of the group of thugs then stepped forward to announce "Welcome, pretty little ladies! I am Mustaaf and I am the leader of this band of thugs! You are all probably wondering why this is happening ………….why we have hijacked this bus and brought you here! Well …………….let me jist say that if any of you purty ladies have a question ……………………the only question that will be entertained is that famous question of 'Coffee, Tea, or Me?' And if ya'll look around, I's think ya's all can guess what the answer will be!"
Shudders of fear and horror coursed through each of the flight attendants' minds upon realizing just why the transit bus had been hijacked by this armed men. This hijacking was apparently not motivated by the normal religious or political zealot, these men had captured them for other reasons …………………….that of pure lust and sex! Then the leader Mustaaf spoke again "We have always returned the entire flight crew so they can make their return flight on time ……………….a little worst for wear but unhurt! So, if you ladies behave yourself, the same will apply to you!"
Herded out of the bus as they shook with fear, all five of them were then ordered to move along to the far end of the warehouse. There, they were then instructed to sit up upon the concrete floor as Mustaaf pointed to a curtained off area and advised "Now, you will see what will happen if you do not behave yourself and attempt to escape!" As the curtain opened, the women all gasped upon seeing a flight attendant wearing an Air Trans East uniform was bound and gagged.
"Now, this pretty lady would have been released to go home along with the rest of her crew but she gave us a hard time and tried to escape!" Mustaaf announced. "And what happens if you try to escape? This is a demonstration of what exactly what will happen! You will then be made an example of for the arrival of the next flight crew! So, ladies ………………..watch and decide if this is the fate you wish to await you!" he added.
Bound and gagged, Katie Hwang (age 27, married, no children) had initially escaped from the clutches of these evil men. She had hid in the rafters, watching as the other members of her flight crew had been subjected to vile acts of sexual cruelty. It was horrifying, watching as her friends were raped and defiled, all while one of the abductors captured everything on film. One by one, each was forced to perform before the entire audience, forced to suck a man to completion and later raped or visa versa.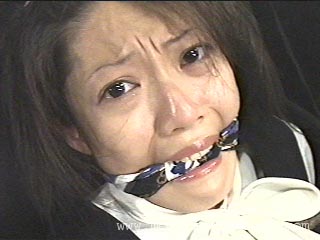 Katie Hwang
But then, Katie had been recaptured by one of the thugs and her friends were advised that they would be released ……………….and warned that "Your stupid friend here will have to spend another day here with us for trying to escape! If you want her to come back to you unharmed, you will keep your lips sealed! Also, if you don't want the film to be publicly aired, you will keep quiet about this day!" She wondered if any report would be filed on her kidnapping, whether the police would be looking for her or if the other gals would heed their warning. With her husband off on a business trip himself, Katie realized that he not have a clue of her dilemma.
Gag removed, Katie sobbed out "Please ……………………..please don't hurt me ……………………..please, I beg youuuuuuuuu!" But seeing what had happened to her other crew members, Katie knew these men had not an ounce of mercy in them. And she was indeed correct as the man who had taken off her gag was now pulling down his pants and baring himself before her. Shuddering, feeling sick to her stomach as the man grabbed her by the back of her hair, Katie knew what was now expected of her. She was to perform a vile sick act upon this man ………………..something she had never before done, not even for her loving husband.
A collective gasp of horror could be heard from the five women sitting on the concrete floor, watching in disbelief as one of their colleagues was being forced to open her lips and to admit the abductor's filthy penis into her mouth. "Now, ladies ……………..you can have it easy ……………………..by taking one lover at a time ………………….or be like this foolish little bitch!" came Mustaaf's announcement as they all watched the man thrusting his thick olive skinned penis into the mouth of the sobbing flight attendant.
The horrifying look on each of the faces of the watching flight attendants told Mustaaf that none of these pretty little bitches would now dare to make an escape attempt. Upon hearing the grunts coming from the man getting the blowjob, Mustaaf knew that Hajid would soon be spewing his slimy load into the beauty's mouth. And indeed he was correct as Hajid spurted his seed and the beauty gagged "Grrrapppppppppppppp …………………gaaaaaaaaaaaaaaaaappppppppffffffff!"
Mustaaf along with his other cohorts laughed heartedly as cum gushed out of the young flight attendant's mouth and over her chin, to soil the front of her uniform. Then Mustaaf announced "Okay, Amand …………………..then Rajha ……………you two can have the honor of feeling her mouth on you before I have a turn! And then we shall have the main event as Muhammed has promised to put on a real show for us, along with the pretty ladies we have as guests for the night!"
The five captive flight attendants could only cower in fear as they were forced to witness the defilement of the Air Trans East stewardess. With the first man stepping aside, up stepped Amand as he quickly dropped his trousers and grabbed the back of the sobbing beauty's head. Then he was jabbing his upright prong into her face, cock bouncing off her chin and cheeks. Even without getting his fat cock between her lips, the vile man was obviously taking pleasure in fucking at her lovely face in this manner. Then finally, he was forcing her to accept him into her mouth.
"Allahhhhhhhhhhhhhhhhhh ………………………………yessssss ………………yes ………………….yessssssssssssssss …………………………….yesssssssssssssssssssss!" he cried out as he thrust in and out of her mouth. In and out, in and out, then he buried it fully down into her throat as only the curls of his pubic hair were visible up against her nose. Suddenly the violator's body went completely rigid, his asscheeks in spasms, signaling that he too was now spewing his filth into her mouth.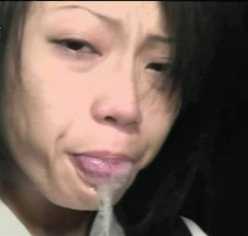 As the violated beauty choked and gagged, spitting out the slimy goo that had been emptied into her mouth, Rajha was getting out of his clothing for his turn. On and on it went till Rajha too spurted his filth into her mouth, only to have Mustaaf have his go at her. When he was done, the poor gal was sobbing in disgrace and shame, the entire front of her black and white flight uniform completely saturated with the slimy filth.
Unexpectedly, the Air Trans East flight attendant was being untied and brought up to her feet. Then across the way, the only man who had not gotten a turn had stood up also. The other women realized that this black man, dressed in army camouflage pants and a white t-shirt must be the one referred to as Muhammed, the man who had promised them a show. Then it was Mustaaf who announced "Ya wanted to run and escape from us, huh? Well ………………….better run now ………………..cause ya ain't gonna like what Muhammed got planned yer ya!"
As Muhammed stepped forward with a wide grin on his face, the frightened Diane Chang screamed, then turned to run as the black assailant sneered "Yer mine, bitch!" Running, Diane screamed "Noooooooooo, please …………………………somebody help me ……………………pleaseeeeeeeeeeeeeeeeeeeeeee!" But the on-looking flight attendants were too frightened to put themselves into the same situation and could only look down in defeat as Diane's assailant caught up with her and slammed her face down onto the hood of the nearby black SUV.
"Nooooooooo ………………………….noooooooooooooo …………………….please …………………..noooooooooooooooooooooo!" Diane screamed as her pantyhose were being ripped and torn apart. Lacy white panties were no match for the strength of the strong black, ripping away and now dangling uselessly around her right knee. Sobbing and pleading as she straddled the front of the SUV's hood, she shuddered upon hearing the sound of a zipper being undone.
Five pairs of horrified eyes were now focused upon the largest penis ever imaginable, both in length and thickness, and it was jutting straight up at a 60 degree angle. And for each of them, this was the first black penis to be on display before them. 'My, God ……………….it's over a foot long!' was the identical thought going through each of their respective minds, along with the after-thought of 'Thank God it's not me!'
"Aieeeeeeeeeeeeeeeeeeeeeeeeeeeeeeeeeeeeee ………………………………noooooooo ………………………….aieeeeeeeeeeeeeeeeeeeeeeeeeeeeeeeeeeeeeeeeeeeeeeeeeeeee!" came the blood curdling screams as Muhammed proceeded to rape the beautiful raven haired flight attendant from Asia Trans East. Large black hands on the beauty's trim creamy hips, the black rapist spared no mercy as he slammed right up into her unprepared slit. A slight rearing back by the black assailant, then he shoved the entire length of his black spear up into the shrieking beauty. 'Raped and ruined' forever!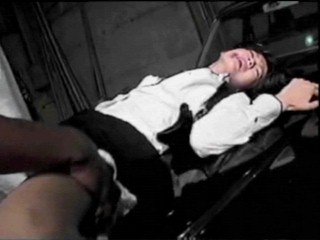 As the struggling beauty fought with all of her might, Muhammed gave her a slap as her struggles managed to get herself dislodged from the raping black spear. Then she was being thrown with her back now atop the hood of the SUV. Trim hips grasped once again, her rapist lunged forward and Diane screamed "No ………………….stop ………………. pleaseeeeeeeeeeeeeeeeeeeeeeeee ……………………..nooooooooooo …………………………….stoppppppppppppp ……………………stopppppppppppppp …………………stop itttttttttttttttttttttttttttttt!"
With the rape continuing atop of the SUV, Muhammed looked over to his cohorts and gloated "Damn, she's fuck'n tight! Don't think this little bitch has ever sampled anything near Muhammed's babymaker!" Then he asked "Hey, my brothers ………………..shall I's make this bitch a baby!" "Yes …………………yes ………………..yes …………..go, Muhammed ……………………..go, Muhammed ……………make her a Mommy to your little black bastard! Knock the fuck'n bitch up!" the chanted in unison, obviously having chanted this before!
With the men cheering their black cohort on, the captive flight attendants could only cower there in horror as they watched the rape of the Asia Trans East colleague of theirs. The women tried to block out the shrilling shrieks of pain, each unable to imagine how devastating it would be to have that vile rapist forcefully shove his black monstrosity up into their own bodies. 'Oh, God ……………………I'll die if he does that to me!' each thought.
And then the rapist slammed forward, keeping the entire length of his black penis buried up to the hilt. Muhammed's body was then shuddering as his black asscheeks tightened, making it quite apparent as to what was currently taking place on the hood of the SUV. A couple minutes went by before the muscular black rapist stepped back a bit from the sobbing beauty. The black shaft, now glistening in the light, had dwindled some of its strength but it was still quite lengthy. And atop of the SUV hood lay the raped beauty, legs widespread with heels resting on the front bumper, cum oozing out of her ravaged red slit and down the grill of the vehicle.
Then the five observing flight attendants' attention was once again drawn to the group's leader as Mustaaf stood before them to announce "That, ladies ………………..is what is in store for you if you attempt to escape! You shall that big black dong up each of your tight little twats ............................how is up to you! Try to escape like this bitch did and you shall suffer the same fate!" Then Mustaaf looked to his cohort to the right and said "Hajid, it is your birthday today ………………………and for your birthday present ………………….you have first choice of your woman! Come down here ………………………..and choose your pretty little prize!"
As Diane remained prone and unmoving atop the hood of the vehicle, the other five flight attendants cowered in fear as the man named Hajid lewdly surveyed each of them to make his choice for a birthday present. Each of the five being surveyed cringed as they looked down upon the ground and prayed that she would not be the chosen one. And then Mustaaf asked "Well, my friend ……………………….who is the chosen one!" With that, Hajid pointed to Carol Kurosawa and announced "I want her!"
Trembling with fear, Carol stammered out "Please …………………….please, no …………………please ………………………I ……………………….I've never ……………….I've never been with a man before! Please ……………..why me?" "That is why, my lovely one ………………………….you are not yet married but I see promised to a man with that diamond ring! I want to be the one to teach you how to please a man!" came the response from the man who had chosen her.
Mattress thrown onto the floor before them, Carol sobbed as she was pulled forward by the elbow by Hajid. Having saved her virginity all these years, wanting to present it as her ultimate gift for the man she married, Carol trembled as that was all about to be destroyed just a month before the planned wedding day. Kneeling there upon the dirty mattress, Carol trembled as the man who had chosen her as his prize stood before her and commanded "Unzip me, pretty lady! Put your hand in my pants and get your feel of a 'real' man!"
Embarrassed and ashamed to do such a thing, yet Carol feared what had happened to the Asia Trans East flight attendant might just make her the next such victim. She could not help but wonder what her loving fiancé would say or do if her defilement was made known. And to do so before this audience, three of which were close friends whom she flew with and were all to be present at the upcoming wedding, Carol wished she was dead rather than having to perform such an awful task.
But fear of having all the men attack her one after the other, like she had witnessed, Carol forced herself to reach forward with her left hand and put it into the front of the man's pants. Shuddering with fear, Carol trembled as her fingers came into contact with a sticky tube of flesh. Closing her eyes, right hand pulling the pants open, while her left tugged and pulled at the throbbing piece of growing flesh in an attempt to get it out.
In the audience, friends and fellow crewmembers Cheryl Nagata, Julie Ota Henricks, and Elaine Fujioka stared in awe as their beautiful colleague was being forced to handle the abductor's penis. Each was thinking of their lovely friend, about to be married in just a month, now forced to fondle the genitals of one of their abductors. And when Hajid demanded of Carol to put her lips on him, they had to look for themselves if their unmarried and inexperienced friend would perform such a vile task.
Sticky tube flesh pressed against her lips, Carol shuddered as the thought of putting that vile thing into her mouth. But the pressure of the hand pulling at the back of her hair, along with the pressure of the prodding fleshy bone at her lips, Carol was then forced to admit the foul smelling and even worst tasting piece of meat she ever tasted in her young life. Cringing in utter disgust, Carol's instinctive response was to try and push the intruding member out of her mouth. But in using her tongue to do so, the tip of her pointed tongue pushed up against her violator's pisshole, causing Carol to recoil in horror.
Hands at the back of her head, penis obscenely sliding in and out of her virginal mouth, Carol wanted to just die on the spot. She had seen it earlier, yet still could not believe that such a vile and despicable thing could be forced upon any woman. From what she had witnessed earlier, Carol then realized that the same was going to happen to her ……………………that the man was intent on doing it ………………………..doing it right in her mouth!
Closing her eyes, not wanting to see her friends and crew members observing her defilement, Carol could only quiver in shame as Hajid began to face fuck her at an increasing speed. Mouth watering, trying to alleviate the vile act in some manner, Carol felt her saliva begin to thicken as her violator was obviously beginning to leak his vile juices into her mouth. And as her violator began to get up to jackhammer speed, having already seen what had happened to the flight attendant from Asia Trans, Carol knew just what was in store for her.
Still, the sudden filling of her mouth with filthy slime had Carol fighting with all of her might. That, coupled with the wheezing Hajid loosening his grip on her hair, Carol's movement managed to dislodge the invading cock from her mouth. Cum poured over her bottom lip as the dislodged cock was like an unheld firehose as unleash its hot liquid on her cheeks and nose. Continuing to gag and choke, spitting out what filth she could, there was nothing Carol could do about the creamie facial being applied by Hajid as he now held his cock in hand and painted her face with it.
Pushed down upon the mattress, Carol could only sob in embarrassment as Hajid stripped her panties down over her trim hips, off her legs and heels. Hands on her knees, pushing her legs wide apart, Carol trembled in fear at the thought of losing her so cherished virginity. But what could she do as Hajid was so much stronger and there were five of his muscular cohorts there watching. And trying to escape would only create an unspeakable consequence as had been demonstrated earlier.
Resigning herself to her fate, Carol was caught by surprise in feeling Hajid's head between her thighs. Lifting her head a bit, looking down body, it was true as Hajid head was between her thighs and nearing her sex. This was all knew to Carol, never believing that any man would do such a filthy thing. "Ahhhhhhhhhhhhhhhh!" she yelped, throwing her head back onto the mattress as Hajid clamped his hot mouth right over her sex. "Nnnnnnnnnnnn ……………………..nnnnnnnnnnnnnn ………………nnnnnnnnnnnnn!" she shivered as Hajid inserted his hot wet tongue into her.
The flight attendants in the audience could only sit and mouths open in awe of what was happening to the young beauty and soon bride-to-be. 'What would her fiancé do or say if he learned of her defilement? Surely this would not change his love for her!' they thought. But then again, if the man Carol was to marry could see his future wife at the moment, he might have second thoughts in seeing the way she was currently clutching at the man's head while getting her knees bent so she could push up with her heels flat on the mattress. "Ahhhhhh ……………………ahhhhhhhhhhh ……………………..ahhhhhhhhhhh!" came moans of pleasure as the lovely bride-to-be arched her hips up for Hajid's eating pleasure.
Completely defeated and totally embarrassed for climaxing in a man's mouth, Carol could only whimper out as she was being repositioned as Hajid sat himself under her body. Carol looked up and sobbed, realizing that she was facing the entire audience, her fellow crew members unable to help her as they saw there in fright for themselves. Pulled back suddenly, with Hajid adjusting himself, Carol screamed "Nooooooooooo ……………no ……………please, nooooooooooooooo!"
"Aieeeeeeeeeeeeeeeeeeeeeeeeeee ………………………………..stop …………..stop ………………………you're killing meeeeeeeeeeeeeeeeeeeeeee!" Carol shrieked out in pain as Hajid brutally ruptured her precious hymen. She would no longer be the innocent virginal picture perfect bride everyone was expecting to see walking down the aisle that next month. What an awful way to lose her virginity, forced to sit upon the man who drove his fleshy spike up into her body, her shame to be witnessed by so many in the room. Her dream of losing her virginity to the man she loved, while being caressed and touched lovingly by him, was now shattered as she had been raped and ruined.
A collective gasp from the horrified flight attendants could be heard at the same time that Hajid's cohorts began cheering. With each thrust of his hips, the uniform skirt of the raped beauty would flip up some. First, Hajid had held up the uniform skirt to show the audience the fitting of his bloated cockhead up against the beauty's virginal slit. As Carol had sobbed and pleaded, begging to preserve her virginity, Hajid played to his audience as he taunted "Hajid shall give the beautiful bride-to-be a wedding present ……………………a nice meaty present, heh, heh! And for you husband, he shall have the honor of caring for Hajid's baby!"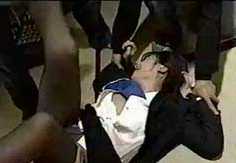 Following her scream of pain as Hajid let go of her skirt and held her hips firmly to keep her in place, they then got glimpses of the hijacker's cock slowly disappearing with the flapping of the skirt front. The gasps of the flight attendants and cheers from the hijackers came about upon the sight of the now bloody union, making it quite apparent that the raped beauty had truly been a virgin. And now a splotch of blood was widening upon the mattress beneath them.
As the vile rape continued, Carol could only sob in shame as the men in the audience cheered and began yelling out to their friend as well as to taunt her. "Give the prettee bride her present, Hajid! Make her a little baby!" one hijacker yelled out. "Go, Hajid, go ……………………bust her wideo open! Make her bleed!" another yelled. And then Hajid "Allahhhhhhhhhhhhhhhhhhh ……………………………….ahhhhhhhhhhhhhhhh …………………yes! Hajid is like an oil well …………………………right up into this prettee little lady!"
End of Part 1 (To be continued).