Asian Beauty's Dark Desires
(m/f, i/r, n/c)
by
Black Demon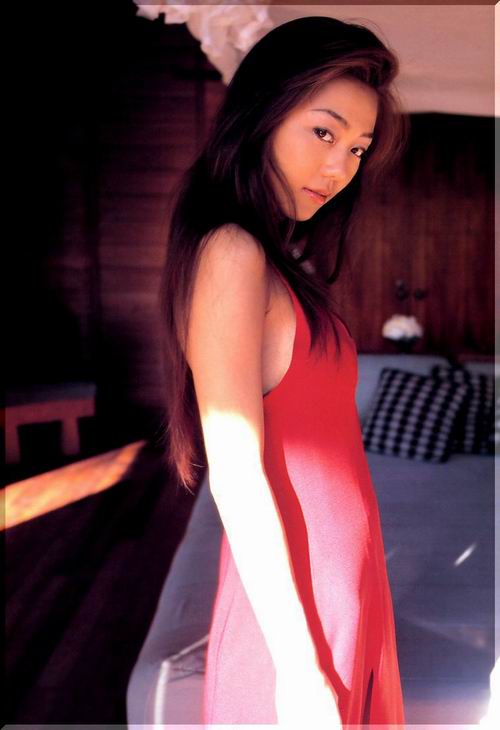 _______________________________________
Standard Disclaimer!
This is a fictional story intended for Adults only!
______________________________________________
************ ***********
Note: The story below is a story in itself. However, it is also a direct continuation
of the earlier story entitled: Asian Beauty Defiled II
*********** ***********
Jeff sat at his desk, feeling quite depressed at the current situation with his wife Sheri. Their marital bliss had all changed in the past two months, all due to his indiscretion with the his neighbor's wife. It had all been a set up, perfectly arranged by the devious Rex Johnson and his wife. And Jeff had been weak, too weak to keep his pants zipped up when the opportunity arose to score with his beautiful neighbor.
He thought back to that fateful day, remembering how he had enjoyed nailing Rachel Johnson, his sexy neighbor. Jeff had thought that it was his male prowess that had attracted his neighbor's wife but all that had come to an abrupt end with her husband smiling and chuckling as Jeff was caught with his hand in the cookie jar.
When Jeff learned that he had been set up, finding out that his indiscretion had been caught on tape, his male ego was totally deflated. It had all been a devious plan to satisfy Rex Johnson's lustful desire to bed Sheri. That tape was to seal any objections he would have against Rex having his way with Sheri. Jeff thought of his lovely wife, the young innocent and naïve Sheri whom he had sacrificed to protect his awful secret.
Reflecting back to that day when he pretended to go to the office on a weekend, Jeff had left his lovely wife at home as she got some sun in the backyard, leaving her as prey to Rex's lustful intentions. He had driven off a couple of blocks and gone back to the Johnson's house, where both Rex and Rachel were awaiting his arrival. Then the television monitor was turned on, focusing on the bedroom that he and Sheri shared together. The scene was from the activated miniature camera that Rex had him to place in a hiding place within the bedroom.
Jeff shuddered in horror as he recalled every detail that took place that eventful day. Rex had gone over to say 'Hi' as Sheri was in the back patio. How his lovely wife had gone to retrieve an item from the master bedroom, when Rex had quietly followed her and surprised her with his sudden appearance. He had been unable to raise a finger to help his lovely wife, watching helplessly as his neighbor brutally forced his massive black body upon Sheri's petite and sexy one.
He knew that he should have been totally abhorred when Rex forced his thick cock into Sheri, especially hearing the horror of her painful scream, but Jeff could not deny the fact that it had also give him a massive hardon. There was no denying his excitement, not with Rex's wife stroking his hardon as they watched Rex forcing himself upon and into the reluctant Sheri.
After it was all over and Rex had returned home, Jeff was further humiliated by his neighbor's taunting. Jeff could still recall it word for word as Rex taunted "Your sexy little wife is really a hot number once she gets going! Did you hear her beg me to fuck it harder to her when she was on her hands and knees! Man, she just loves it doggie style! Hear her beg me to cum in her at the end ………telling me to knock her up?"

What made things even worst from that point on, Jeff found that he was riddled with so much guilt that he couldn't perform sexually with his beautiful wife any longer. One night when Sheri got up on all fours, pulling at his hardened cock to enter her and fuck her doggie style for the very first time, Jeff failed to perform. Although he enjoyed hearing his wife moan with pleasure as he entered her, riddled with guilty and the memory of watching his neighbor introduce her into fucking doggie style, Jeff's cock wilted within her.
With Sheri begging him to 'fuck' her, his cock wilting rapidly and about to slip from her confines, Jeff was totally humiliated. Embarrassed, not knowing really what to say, Jeff then blurted out a lie "It …………….it must be the antihistamine I took earlier! I ……..I heard that sometimes it could have this kind of effect!" With his disappointed wife in the bathroom, he swallowed deeply in embarrassment at not being able to perform as a 'man'.
Two days later, early Saturday afternoon, Jeff answered the phone and heard the familiar voice of his neighbor "Hey, bud! Why don't you split for awhile cause I want another whack at your sexy little wife! Do it like the last time, tell her you're going to the office and come on over here! Rachel will entertain ya like the last time! Be sure to turn on the camera so ya can watch me ball that sexy little bitch of yours!"
A half-hour later, having gotten dressed and telling Sheri that he had an emergency to handle at the office, Jeff drove off and again parked his car two blocks away. Arriving at the Johnson's, he was greeted by a widely grinning Rex and a laughing Rachel. As he watched, Rex hit the speaker button and dialed the phone, the number that Jeff recognized as his own. Jeff shivered as he heard Sheri's voice answer "Hello!"
"Hey, baby! I just saw Jeff drive out awhile ago and Rachel just left to visit her parents! I need some hot nookie, baby! I'll be right over!" Rex advised. "No ………..no ……..Rex ………..I ………….I can't cheat on Jeff again!" came Sheri's stammering voice. "Gonna give ya my big black cock again, sweetie! Ya liked it doggie style the last time, didn't ya? Gonna make ya scream, sweetie! Maybe this time I'll shove it up yer tight little ass! Open your back door and I'll hop on over!" he advised.
As Jeff and Rachel watched from the corner of the kitchen window, they watched as Rex made his way over. Then the back door opened and Rex was admitted into the house. Going to the entertainment room, Rachel flicked on the monitor that was focused in on the bedroom that Jeff shared with Sheri. Then there was movement on the monitor as Sheri and Rex entered the bedroom.
Jeff could only stare at the monitor in awe, watching as his wife raised her arms up to embrace her neighbor and lover. When the kiss ended, Jeff watched as Sheri frantically stripped off her blouse, then undid her shorts and stepped out of them. Seconds later, her bra fell to the carpeted floor as she quickly climbed up upon the bed with just a wisp of her lacy white panties covering her. Then Jeff was amazed as he observed his wife kneeling on all fours upon their king-sized bed with her sexy panty covered ass raised up high in the air.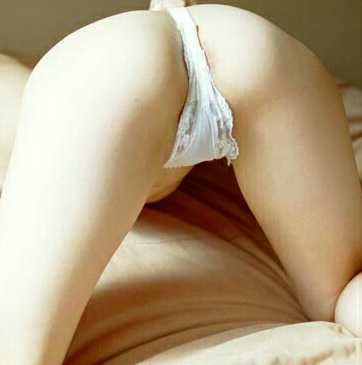 As Rex observed the sexy young wife, slowly unbuttoning his shirt, he knew she was desperate for cock when Sheri turned her head back towards him. She was desperate for his cock, any cock at this point as she frantically pleaded "Please ……………..please hurry …………….hurry ……………….I need it ………………I need it so badly! Tear my panties off and ………….fuck me! Fuck me ………….fuck me, I'm so horny ……………..please ……………….fuck me like a bitch!"

"Ohhhhhhhh, Rex ………….…..ohhhhhhhhhh …….……….so big ………you're ………..you're too bigggggg!" Sheri moaned as her neighbor's big cock spit her open. "Oh, God, Rex …… ………..so gooooodddd …………………so biggggggg …………..ohhhhhh, yes ……………yesssssss ………..slam it to me! Ohhhhh …….it's soooo deep ………so deepppp ………ohhh, yesssss ……..fuck me …….fuck me! Ahhhhhhhhh …………..ahhhhhhhhhhhhhh ………………oh, Godddd, yesssssssss!" she groaned.
Jeff watched in amazement as Rex slid his thick and lengthy black cock into his wife, hearing Sheri moan and beg for it. Then he saw her body quiver and shudder, spasming in convulsions as she moaned loudly "Oh, Rexxxxx …………………oh, my God ….yes …………yessssssssssssss ………I …………I……….I'm cummingggggggg!" Then Jeff watched his neighbor thrusting harder and faster into her, burying his big black cock deep into her womb.
Shuddering, Sheri heard her neighbor groan loudly "Oh, baby ………..ohhhhh, so tight ………….you're a hot little fuck! Ohhhhhh ………….you're so tight ……..so tight ………oh, Jeffy boy sure ain't taking care of his sweet little wife! God …………ohhhhh, so tight ………………….damn, so fuck'n goooddddddd!" Cumming on his thick cock, Sheri felt him grasp her hips tightly as he slammed himself deep into her. Then she felt spurt after spurt of his thick hot seed erupt deep in her fertile womb.
Twice more that day, Jeff heard the creaking and witnessed the swaying of his marital bed under the wild mating of his beautiful wife and his next door neighbor. There was no protective condom used nor did Jeff see his lovely wife take the time to get out of bed and douche out the potent seed.
Indeed, Sheri had not given any thought to the consequences of this illicit mating. Each time she reached an unbelievable orgasm and her fertile womb was filled to the brim with her neighbor's hot potent cum. Each time, Sheri had arched up to wrap her trim legs tightly around the muscular thighs, begging him "Oh, yes ………yes ………….fuck me …………fuck me! Cum …………..yes, cum ………cum in me ……cum deep in me ……………shoot it in me ………………..oh, knock me up with your baby …….. ………….ohhhhhhhhh, yesssss!"
Sheri cooed as the familiar hands upon her hips got her up on all fours, feeling the thick prong push up against her slushy cunt lips. But then her eyes widened as the blunt cockhead moved up, right up to her now tightly clenched asshole. "No ……………..no, Rex …………….noooooo …………it's too big ………….it won't fit …………it won't fit!" she panicked. "Owwwwwww ……………….noooo ……………no ………….it hurts …………….it hurtsssssssssssssss!" she cried out as the sharp pain shot throughout her body.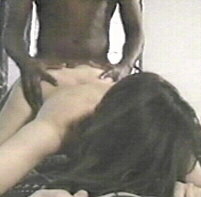 "Oh, baby …………oh, baby ………………gonna tear ya a new asshole!" Rex laughed with pleasure as his thick cockhead forced its way into her virgin ass. "Aieeeeeeeeeee …………….noooooooooooo ……………..nooooooooooooooo!" came the piercing scream as he shoved himself forward. Rex laughed "Scream, bitch …………….scream yer fuck'n head off! Oh, baby …………….yer fuck'n ass is so fuck'n tight!"
Later that afternoon, upon returning from his supposed office appointment, Jeff could not believe how calm and casual his lovely wife appeared. She had cheated on him, right on the bed that they shared together, yet she showed no remorse or apprehension at what she had done. Jeff knew that he was the only one to blame for his wife's infidelity, having set her up in the first place and then being unable to perform in the bedroom. It appeared that he had turned her on to black cock, big black cock to be precise, and she would do anything for it. However, he did notice her gritting her teeth to refrain from grimacing at the pain coursing through her body with every step she took.
Days later, upon getting home from work, Sheri advised him "Rachel was over today! She and Rex invited us over for a gathering they're having at their place! Says there's a sports agent coming and wants me to meet him as he's looking for a personal assistant!" Though it seemed harmless, Jeff was suspicious of anything that Rex or Rachel suggested, already paying the price from their initial scheme. 'But what can I do at this point?' he wondered, knowing he was in too deep already.
That Saturday, over at the Johnson's, Jeff felt uneasy as he knew that Rex had something up his sleeve. Then, upon the arrival of Marv Simpson, they were being introduced the slick and fashionably dressed sports agent. After a bit of chit-chat, Rex advised "Marv, this is that sweet little angel that lives next door! She's the one I thought would make a great personal assistant to you!" A moment later, Jeff swallowed deeply as he watched Sheri and Marv walk along the side of the yard as the chatted about the potential job position. His wife looked fabulous in her red dress and white heels as she walked with the sports agent who was decked out in an expensive suit all his gold jewelry.
Rex was standing beside him, chuckling "Old Marv's been in the business quite a few years and has been very successful in representing a lot of famous athletes! And he's quite a ladies' man himself! Bet he'd like nothing better than to get into your lovely wife's tight little panties, eh!" Getting a nudge in the ribs from his neighbor, Jeff saw his wife with the sports agent moving towards the far end of yard with the agent's hand on Sheri's ass. Jeff shuddered as his wife made no objection, the Sheri and the agent disappeared around some shrubbery.
Unable to stand the suspense any longer, Jeff stepped forward in the direction where his wife and the agent had disappeared. But a hand at his elbow held him back, as his neighbor advised "Now don't go and spoil things, my boy! I owed Marv a favor! Besides, we both know how much your sexy little wife digs a big black cock! Let me tell ya, Marv's a real stud, built like a fuck'n horse!" Gulping at the potent drink in his hand, Jeff kept looking towards the backyard, hoping to see the return of his beautiful wife.
A bit later, Jeff saw some movement near the shrubbery and breathed a sigh of relief as his lovely wife was again in view. His heart pounded in his chest as he observed the agent's hand around her trim waist as they made their way back to the patio. The way Sheri was smiling and laughing as the agent seemingly joked with her, Jeff felt that nothing had happened that he should be concerned about, thinking they had merely been discussing the job opening.
As Sheri and Marv approached them, Jeff saw Marv grin as he announced "Guys, meet my new personal assistant! You were right, Rex! This pretty little lady does have a 'good head' on her shoulders!" Jeff felt a shiver course throughout his body, sure that he had detected a slight wink of an eye that Marv gave to Rex. He then glanced over at his lovely wife, his heart sank in noticing that slight smudge of her lipstick. 'No ……….no ………..Sheri couldn't ……………wouldn't do such a thing! Not with a stranger she just met …………not with other people here!' Jeff told himself.
Sheri couldn't believe it either. 'God, I just met this man less than an hour ago! Then I'm letting him feel me up and kiss me passionately! Damn, the next thing I know, I'm on my knees pulling his cock out of his pants! My, God ………….what a big cock! And I sucked it all down my throat ……………..ate all the hot cum that he spewed into my mouth! God, I'm just a whore for black cock!' she thought.
Jeff could say nothing as Marv held Sheri's elbow saying "Let's chat more about the job while we can so you'll know what to expect on Monday when you start!" "Go and mingle, honey! I'll see you later!" Sheri advised him as she leaned up to give him a kiss on the lips. As his wife and Marv moved off, Jeff could not help but to lick his lips with his tongue, shuddering as he was sure that the soft creamy feel of his wife's lips was due to the sports agent's spend.
Hours later, with the party well underway and Jeff drowning his sorrows with liquor, he looked about and then realized that neither Sheri nor Marv were around. As he looked about in a panic, Rachel slipped her arm into his as she asked "Looking for your precious little wife, stud?" As he nodded a 'yes', Rachel just laughed and advised "Don't worry, stud! I saw her and Marv going into the 'entertainment room'! You know …………the one where you and I were fucking when Rex walked in on us! Come on over tomorrow and we can watch tape of what's happening in there!"
When the party ended, Jeff escorted his beautiful wife back across the lawn into their own yard and into their home. With Sheri going upstairs to shower and change, Jeff poured himself another stiff drink. He thought of the next day, anxious to go over to the Johnson's and view the tape, wondering what would be on it.
Hearing Sheri come out of the shower, Jeff downed his drink and slowly made his way to the bedroom. In the adjoining bathroom, Jeff stripped off his shirt and opened the hamper to throw his shirt in. He swallowed upon viewing the lacy red pair of panties that lay off in a corner of the hamper. Jeff noticed the discoloration on the front caused by wetness, the wet spot appearing to be a dark maroon in color.
Heart pounding as he picked up the lacy garment, he opened it up to peer inside. Jeff groaned at what he observed, seeing the thick layer of thick whitish mucous covering the crotch. He touched it with his fingers, then rubbed his thumb against his fingers to feel the slick texture. Holding his fingers up to his nose, there was no mistaking the smell of a man's cum. Jeff wondered but rather knew, as he looked in the trash, that his wife had not bothered to douche the filth out of her fertile womb.
The next afternoon, Rachel dropped over to chat with Sheri and also to tell Jeff "I just came to chat with Sheri! The game's on television and Rex said to have you join him for a beer!" Jeff knew that was all an excuse for him to go over and watch the tape. He felt his cock stiffen, knowing he wouldn't be disappointed in what he would be viewing.
In the Johnson's entertainment room, Jeff accepted the can of beer that his neighbor handed to him. He could only cringe inwardly as Rex taunted him "Man, Marv couldn't stop talking about that beautiful wife of yours! He told me that he never had anyone give him 'head' like that before! To top it off, he tells me she fucks like a hot little minx! Says her pussy was snapping at his cock!" Then Rex hit the remote and the monitor began to play the tape.
Jeff watched the tape, saw his beautiful wife embracing and kissing the sports agent in the very room that he now sat in. His cock throbbed with excitement as he watched Marv unzip the red dress that Sheri had worn, watching the dress fall to the floor. Then Sheri was dressed only in her matching pair of lacy red bra and panties along with her white heels. Soon she was stripped totally naked and then he watched Sheri helping Marv out of his clothing.
When Marv's cock came into view, Jeff couldn't help but gasp at the size of him. "Didn't I tell ya he's got a fuck'n wang on him? Big as a fuck'n horse, huh, Jeff?" came Rex taunting. With Sheri on the bed with legs spread wide, Rex continued his taunts "Look at that bitch spread her fuck'n legs! Like they say, once they go black, they can't go back! Look at her take that big fuck'n cock! Damn, she's going fuck'n wild!"

Jeff's cock twitched as he viewed his wife's trim arms and sexy legs appeared to embrace her lover. It was quite a sight to see his wife locking her trim ankles together, locking them as she arched herself up into the lengthy black thrusts. A thrill coursed through his body as he heard Sheri scream loudly "Oh, Godddddd! Fuck me …………fuck me! Yes ……………yes ……………..deeper ……………..deeperrrrrrrr! Fuck me deeper!" Seeing the long and thick cock slicing in and out of his wife's tight slit, Jeff wondered 'My, God! How can she take all of that? It's gotta be at least over foot long! It sure does look like a horse's cock!'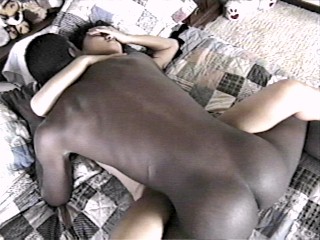 Then Marv could be heard saying "Oh, Sheri, baby …………you're so fuck'n tight! Tight as a fuck'n virgin! Ohhhh, yeahhhhh ……………..ohhhhhhh, fuckkkkkkkk! Gonna ream ya out good! You'll never be able to feel Jeff's cock when I'm done with ya! Oh, baby ……………..yeah ……………..ya like a big black cock, don't ya! Work for me and I'll see that ya get all the black cock ya can handle!"

"Ohhhh, yes …………….fuck me ………………fuck me! Fuck me like a whore! Stretch me out …………ohhhhh, yessssss …………..I don't care if my husband can't feel me around him any more ……………he's useless anyway! Oh, fuck me ……………….plug me with your big black cock! Ohhhhhh ……………lover …………..yes, yessssssss ……………..screw my fucking brains out! Oh, Goddddd …………………I'm cummingggggggggggggggg …………ahhhhhhhhhh!" Sheri screamed, arching up high to get the lengthy cock fully embedded into her womb, body shuddering in a mind-shattering orgasm.

Then Jeff saw the sports agent's body convulse and shudder, heard Marv groan out loud "Oh, baby ……………….gonna cum ……………..gonna fill ya up with my hot seed! Gonna knock ya up, baby! Gonna puff up your tummy with a little black baby! Tell me what ya want, bitch! Ya want me to knock ya up? Want my hot seed in yer belly, bitch?"

Jeff heard his wife respond "Yessssss ……….ohhh, yesssssssss …………..fuck me ………….cum …………….cummmm deep in meeeeeeeee! Shoot it ……………shoot it ……………..shoot it in meeeeeee! Ahhhhhh ………….Godddd ……………yes, knock me up ……………..knock me up with your little black bastard!"

Guzzling at another beer, Jeff sat there and wondered just what lay in the future for he and beautiful wife. He knew that he could no longer satisfy the sexual needs of his once innocent and naïve wife. All that changed because he couldn't keep his pants zipped up and due the conniving neighbor next to him. Now Sheri was like a nymphomaniac, constantly wanting to get fucked, unable to hide her cravings for a big black cock.

Before going back home, Jeff had learned what Sheri's new job would be all about. Her title was personal assistant to Marv Simpson but one of her functions would be to see that all the athletes under contract be taken care of when they came into town. Sheri would be seeing that all their needs were met, especially when it came to sign the contract. There'd be many a night entertaining clients and Sheri would be responsible for entertaining, something that she could perform well on her back or on her hands and knees. Rex had to needle him further before he left, adding "Yeah, Marv got quite a few athletes under contract! I'd say 95% of them are male athletes! All big names, all big and black studs!"

As Rex turned the television on to the closing moments of the football game, Jeff guzzled at the new beer his host had provided. Watching the game, there was a terrific hit on the quarterback as the announcer declared "Look at that hit! Number 67 just slammed the quarterback to the ground and punished him by falling upon him with his full weight behind him! A clean play but ……….so punishing to the quarterback! And he's hurt ……….he's not getting up from that punishing hit!"

Jeff and Rex watched as the trainers went to the assistance of the ailing quarterback. The announcer added "#67 …..............….'Tank' Wilson just laid it all out! Look at that replay …….............….can you imagine 350 lbs. of solid muscle hitting you and nailing you to the ground like that? I'll be surprised if there's no bones broken from that play!" Then Jeff added "Damn, I just love seeing that guy putting the screws to somebody! He's my favorite player!"

"Hey, Jeff! Did you know that 'Tank' Wilson is one of Marv's clients?" Rex asked. "Did you hear ……………….350 lbs. of fuck'n solid muscle! Damn! What a big mother-fucker!" Rex advised. Then a close-up of 'Tank' Wilson came on the television set, sweat glistening off his big ebony body and Rex asking "How much does your sexy wife weigh? Bet she can't be more than 110 or so! Imagine that big black hulk of 350 lbs of pure muscle on your sexy little wife!"

At that suggestion, Jeff couldn't help but picture such an outrageous coupling. But Jeff couldn't help but shudder and down his beer when Rex laughingly added "Guess who's contract is coming up for renew next week with Marv? The first client your beautiful wife will be entertaining next week is none other than 'Tank' Wilson himself, my friend! Too bad ya miss seeing Tank putting the screws to yer beautiful wife! Hey, but maybe yer wife can bring ya back an autographed picture from that stud, huh? Heh, heh!"

Meanwhile, just across the lawn in the Kim's home, the two wives had become quite close since becoming neighbors. Sheri admired her beautiful neighbor and even wished she could be as friendly and outgoing as she was. However, Sheri did feel guilty of the secret that weighed heavily upon her. 'True, Rex forced himself upon me that first time but I ended up enjoying it thoroughly! But last week, I allowed him into the house and practically begged him to fuck me! How can I deceive Rachel, acting like a friend after sleeping with her husband?' she worried.

Rachel could see that her friend was quite bothered and suspected what was gnawing at her. She knew how innocent and naïve her young friend was, even feeling guilty for her part in what had taken place. She and Rex believed in open sex and especially enjoyed introducing young innocent victims like Sheri into their web.

Looking at her friend nervously biting at her bottom lip, then heard Sheri stammer "Rachel ………….I ………….I feel ………..so ……….so guilty! I ………..I don't know how ………..how to tell you ………..!" Rachel extended her hand and placed it upon Sheri's, telling her "You can't get enough of Rex's big black cock, can you, honey?"

"You …………….you know!" came Sheri's stunned response. As Rachel began to tell her all the sordid details, Sheri was totally aghast upon learning the intricate details, especially that Jeff had cheated on her. Her outlook on life was now totally changed, feeling so morally corrupt and she now completely detested her husband.

Sheri knew that she should be upset with Rachel for her part, first seducing Jeff and setting things up so that Rex could have his way with her. But how could she be upset with her, especially now that she had experienced the best sex ever, taking her to the sheer heights of ecstasy. No, there was only one person that she now despised and that was her husband for his weakness.

She decided not to let on that his secret was out and would make him pay. Chuckling to herself, Sheri thought 'I'll make him pay dearly! You're not going to get any more 'nookie' from your wife cause I'm going to satisfy myself with any black cock I can find! Bastard, you're going to pay for what you did to me …………………..pay through the fucking nose when I get knocked up by some big black stud! Then you can stay home at night and the weekends to care for the baby!'

Ten days later, a nervous and jittery Jeff didn't know what to say to his wife upon her entering the house after having supposedly met with 'Tank' Wilson on his contract renewal. "Did ...................did you manage to get him to sign the contract, honey?" he nervously asked just to make conversation. "Yes, of course! Did you think I won't get it done?" came the rather cold response from his wife, indicating that she was still giving him the cold shoulder after having learned the details from that damned Sheri the other week. After his wife had changed and goin to get some juice from the refrigerator, she actually smiled at him and pleasantly told him passing "Rex told me that 'Tank' Wilson's your favorit player! I got him to autograph a photograph for you! It's in an envelope on the dresser!"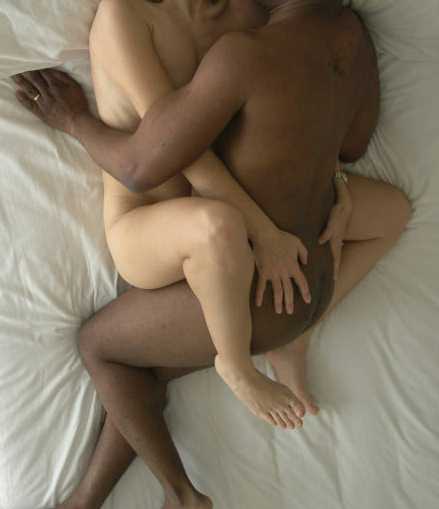 Excited at the prospect that the frosty air between them was beginning to thaw, Jeff got up from the sofa to see the photograph of the big jock, even though he knew exactly how his lovely wife gotten him to renew the contract. Entering the bedroom, Jeff walked to the dresser and picked up the envelope from the dresser top. Opening the clasp on the back of the envelope, he then drew out the large photo of 'Tank' Wilson. Only it was not the type of photograph he had expected to see of his favoritie player, not with the football player wearing his uniform and holding his helmet under his arm. Instead, it was an action shot of his favorite defensive player, with him putting the screws to someone again .............................his beautiful wife Sheri, and 'Tank' Wilson was putting all 350 lbs behind his trust!
'Autographed photo?' Jeff wondered as he proceeded to turn the photo over and saw some writing on the back. It read 'Jeff, my man! Heard you loved the way I put the screws to the other players! It's really fun for me to put the screws to them, but it can't beat putting the screws to your beautiful wife! So long as she's handling my contract, I'll be re-signing for sure! Your favorite player, 'Tank' Wilson! Unbeknownst to Jeff, his wife had quiet entered the bedroom and had sneaked up behind of him as he stared at the photo once again. Jeff neared jumped out of his skin when his wife sudden spoke "His team has a bye week, so I invited him over to meet you! He'll be flying in next Friday and staying to Sunday! You can enjoy watching your favorite player ...........................putting the screws to me ..........................right here in oure bed!, bastard!"

End of Story.