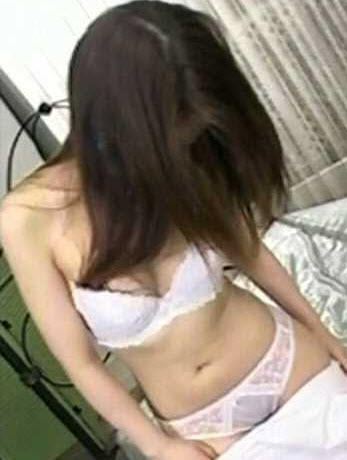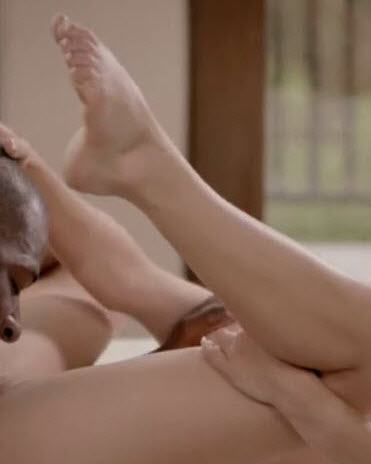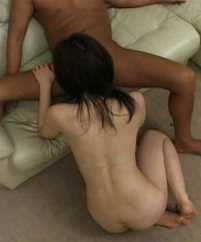 Fearing harm to her mother and husband, Megan is forced to strip, then gets 'eaten' before performing her first blowjob!
As according to plan, Mr. Hasan stripped off his clothing except for the hood over his head, then came over and put a plastic tie around his mother-in-law's wrists and bound her to a leg that he was sitting upon. He next cut Megan's binding and told her "Your turn, pretty one ..............................you seen mommy ..........................now it's your turn! C'mon, now sweetie .........................or shall I use this knife on your mommy ....................................or I could cut off what your mommy just sucked on!" Mr. Hasan sat himself down on the white leather sofa off to the left, his cock continuing to grow in length, apparently excited with Megan having stood up to undo the buttons of her blouse. With her navy blue blouse unbuttoned and fallen to the floor, Megan then undid the top of her white pair of shorts and soon that garment was sliding on down her trim legs. Anthony watched as his wife reached back to undo the clasp to her bra, then was slowly reaching up to pull down the straps, hesitant to remove the protective garment in fear of what was next up on the schedule for her. "C'mon, sweetie ...................let's see them purty titties yer hiding there!" Megan was told, forcing her to let the protective cups fall forward to bare her beautiful breasts. Anthony could see her blinking back the tears as she proceeded to obey the command given to her, that of "Come here, sweetie ..........................I's wanna suck on those beautiful babies!"

Anthony saw his wife's nipples shrinking and hardening into pointed buds as Mr. Hasan licked and slobbered al over them, causing Megan to close her eyes in shame, then tossing her head back as the unwanted stimulation was getting to her. It was obvious that Mr. Hasan couldn't wait any longer as he inserted his thumbs into waistband of Megan's lacy white panties, working them down over her trim legs to fall to the floor. Then he had Megan on her back, rubbing his ebony face in her curls as she lay on the sofa, her legs bent and pulled back as her toes curled while being licked and eaten out. Then Megan's hands were reaching out to clasp the top of his hooded head, of which the bottom had been raised up so he could eat out her goodies. "Oh, God ........................oh, God ...................oh, my God .......................ah .......................ah .......................ah ....................ah ...................nooooooooo, ohhhhhhh ....................ahhhhhhhhhhhhhhhhhhhhhhhhhhhhhhhhhhhhhhhh!" Megan screamed out as she arched up, her petite body rocking in a mind-shattering orgasm, with her sweet honey being eagerly lapped out of her juicing pussy.

A bit later, Megan was sitting on the floor putting into practice what her mother had shown her how to do ...............................how to give a man a blowjob and swallow his load after he ejaculated into her mouth! Anthony could see that Mr. Hasan was really taken with Megan, apparently lusting after her since first seeing her at the company party, and now he was having the honor of being the first male to have his cock sucked by his innocent and naive young wife. Anthony watched as his wife shucked at the flesh black bone, saw her looking in awe at the size of it, of which it might be even longer than a ruler, and it was thick around as Megan's wrist. "Lick it, sweetie!" his wife was told, and she then stuck her pointed tongue out to lick the bloated head as she held it at the base. Then Megan could be seeing bobbing her head up and down, for apparently she had mouthed the cock without being ordered to, then strong ebony hands were at the back of Megan's head to keep her from pulling away. Then Anthony heard grunts from Mr. Hasan, saw Megan struggling to get away, but strong hands kept her in place as his beautiful wife was now getting herself a face fuck. All became quiet and still with Megan's head held firmly by Mr. Hasan's strong hands. Finally free, Megan was quickly getting up to her feet with one hand over her belly and the other covering her mouth, staggering and stumbling as she raced towards the bathroom. Through the open bathroom door, Anthony viewed his wife on her knees with her head over the toilet, apparently unable to keep the gooey cum down as Megan could be heard throwing up all the goodies she had been forced to eat.

Leaning over the bathroom sink, trying to compose herself after having rinsed her mouth, Megan did not want to leave the safety of the bathroom to return to where she had just come from. But fearing for the safety of both her mother and her husband, Megan forced herself get her nerve up to leave the safety of the bathroom. Steeling herself with courage, she turned and went out into the living room to discover that the scene had changed some, causing Megan to freeze at the sight of a large mattress laid out on the floor with her mother naked and curled up on it in a fetal position. She observed her husband sitting in the chair rubbing at his wrists were the binding had been, then saw the hooded intruder patting the white sofa where he sat, telling her "Come and join me here, sweetie! Show's about to begin ..............................we're going to watch yer hubby and mommy .............................FUCK!" Obeying the bastard's order, Megan went to sit on the sofa, then noticed the rigid hardon that her husband was now sporting. As the large hand on her waist pulled her closed to her tormentor, Megan realized that she had never before seen her husband with such a hardon, for normally she would have to handle and shuck at it when they went to bed in order to get it stiff enough to guide it into her.