During the next ten days, Anthony relived that fantastic weekend by playing back the secret video disc while in the privacy of his office, watching his beautiful mother-in-law strip off her clothing before being forced to straddle his face as he sat bound in the chair. Anthony would get to rub his face in her soft curls, then proceed to clamp his wide open mouth over her sex inserting his tongue into her slit in search of her ultra-sensitive clit, then eating out her juicy pussy to have her orgasm right in his mouth. Then it was time for his mother-in-law to do the unthinkable, that of getting down onto her knees to suck him off while her daughter took it all in from a few feet away, and Anthony was prepared to give her his pent-up load of hot bubbling cum. And following some entertainment provided by Megan and her assailant, Anthony then got atop of her beautiful body, telling her that they had to do it for the sake of not having his wife/her daughter getting harmed by the threatening intruder ....................that they had to 'fuck' together for the sake of Megan's safety!
That next day Anthony was in dire need to at least hear her voice once again, called his wife's beautiful mother on her cell phone, telling her that he'd like to see her. Hearing her sweet voice once again had his heart racing and dick throbbing, even as she stammered out "Anthony ..................we can't .......................I .....................I can't trust myself ................................especially how shameful I behaved with you that weekend ................................when we weren't forced to do things!" "Mom, I can arrange to do my field work next Wednesday .........................in the same city where you'll be going to each week .........................we could have lunch together!" he advised. To his dismay, his mother-in-law advised "Anthony, we can't ...........................we have to think of Megan .........................your wife ........................my daughter!" To disarm her, Anthony then admitted that "I love you, Mom .......................I'm in love with you! I just can't stop thinking of you ........................making love with you .................................it was so fantastic ................................and I know that you also enjoyed it too!" But his mother-in-law refused to meet with him, telling him that "It's too much of a temptation ..................for both of us!"
That next day, Anthony called the gal who handled the philanthropy's affairs for the in the office where his mother-in-law would be working at that next Wednesday, identified himself and asked "Do you know what are her plans next week? My wife and I were going to be there and were hoping to surprise her by taking her out to lunch if she had some free time!" A wide smile formed on Anthony's face when the secretary advised that "She only will be going over some files on her next trip as the main thing the agenda is a dinner with the governor of the province! There's no appointments as she gave me the day off so I could take care of some personal errands, telling me that she was just going to relax and go over some files, then she was planning to review the project that the governor wanted to discuss with her over dinner! And, I'll see to it that nothing gets booked so you can have a nice relaxing lunch next week!"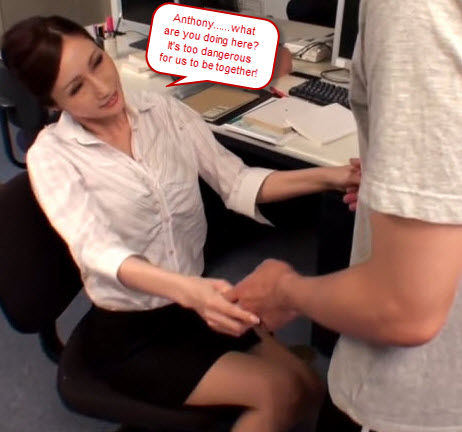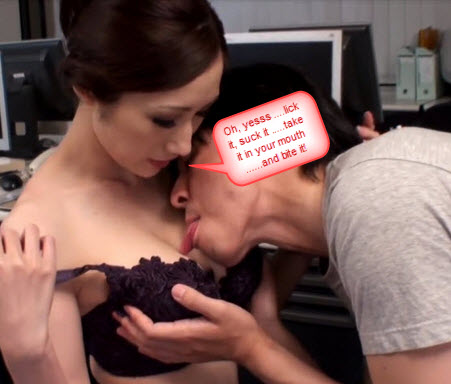 Taking the early train and getting there ahead of time, Anthony waited across the street to await for his mother-in-law to arrive by taxi after her plane arrived, then proceeded up the elevator right after she had gone on up. Advised by the secretary that his mother-in-law always keeps the door open for potential clients and visitors, Anthony planned on letting himself in a few minutes after she got settled on in, and locking the door behind him to keep from being disturbed. Cock throbbing and hardening in his pants, Anthony took off his coat to toss it aside, then began undoing the buttons to his long sleeve shirt. That garment tossed atop of his coat while keeping is t-shirt on, Anthony then proceeded to where his beautiful mother-in-law was working, loving the look of complete surprise on the face of his wife's beautiful mother.
Turning his mother-in-law over onto her belly, then pulling her up at the hips to have her on all fours, Anthony then got into position behind of her. Leaning forward to lick and nibble at her earlobe, he then whispered "I want to make you 'happy', Mom ..........................so you won't feel guilty of us being together!" Shucking at his cock and getting it into position, it was then that his mother-in-law realized what was about to happen as she was in a panic and trying to crawl away while yelling out "No ................nooooooo ...........................not back there .....................I've never had it back there!" Grasping her trim hips and pulling her back into place, Anthony then trust forward with all of his might, causing his wife's mother to scream out "Eeiiieeeeeeeeeeeeeeeeeeeeeeeeeeeeeeeeeeeeeeeeeeeeee ....................................stoppppppppppppppppp ...............................................stopppppppppppp ..........................................it hurtsssssssssssssssssssss ..................................................it hurtssssssssssssssssssssssssss so baddddddddddddddddddd!" Having many a dream of sodomizing his beautiful mother-in-law, Anthony was having his dream fulfilled as he sodomized her good, humping in and out of her shitter till he popped his nuts up in her beautiful ass.

Sitting on the carpeted floor and leaning back against the bed, Linda watched as her son-in-law got dressed as he had to leave to catch his train back home, panting for breath as she tried to comprehend things as she heard Anthony telling her before leaving "Sleep over here on Tuesday nights from now! I'm going to tell Megan that I'll be traveling late Tuesday afternoons from now, doing field work the next day in different cities each week, but I'll come here and join you that night, then we can get our jobs done that next day!" Still sitting there butt naked, Linda winced and shuddered from the pain in her ass, now hating Anthony for what he had just done to her, but then realized 'He did say that he was doing it to make me 'happy'! I did tell him that I hoped he'd hurt me to relieve the feeling of guilt .....................and he certainly did that by sodomizing me! God, I hope I can stand up and be able to walk normally soon ................................I've got to get ready for the dinner engagement tonight!' Swallowing deeply, Linda shuddered in disgust, not believing what had just taken place, wanting to hate Anthony but again it boiled down to him doing what she had wanted to happen .......................making her feel degraded .......................which certainly happened when he pulled out of her rectum and made her take it into her mouth and lick him clean!

For the next six weeks, Linda would fly in late Tuesday afternoon and take a taxi to her condominium, shower and make herself pretty as her handsome young lover would be arriving in a hour's time. Each week, as Tuesday would approach, Linda would get more and more excited at the prospect of meeting up with her handsome young stud once again. Although Linda hated herself for what she doing, that of betraying her daughter and her own husband, she longed for more of the fantastic sex and mind-shattering orgasms that were ignited by her son-in-law. And this week was no exception, dining with her handsome young lover at a 5-star restaurant, then going to bed together for a night of fantastic sex with all the fucking and sucking that she could handle. And at 3:30 p.m., after going their separate ways to get their work done, they'd meet up once again in the condo unit, where her lover would once again make her 'happy', doing his best so that she wouldn't feel the guilt associated with their being together .............................which worked as Linda just cringed and shuddered when Anthony shoved his boner up into her ass ................then feeling so degraded when he made her lick him clean before making his departure. On this particular day, a half hour of Anthony left to catch his train, Linda got a call from Megan. Upon hearing the tone of her voice, she could tell from her daughter's voice that she was a bit distressed, and that something was wrong.

With Megan stammering and sniffling, Linda tried to calm her down, then her daughter advised "Mom, I ....................I've been wondering what to do for the pass ten days now ........................because the home pregnancy test turned out positive! I ........................I'm pregnant from that night ........................when the black bastard raped me!" Agreeing that they'd meet the next day, Linda told her daughter that they'd think it out and find a solution to the problem, especially since Megan always had a strong position against women having an abortion. After the phone call was over, Linda realized that ten days ago had been the six week mark of the eventful weekend, when Megan was raped by the black bastard ...............and when she and Anthony had been forced to have sex in front of her daughter! Linda sighed in despair, thinking 'Today marks six weeks from when Anthony and I began our weekly affair ..............the day when he surprised me at the office and we made love all day ............................and so that positive pregnancy test that I had this morning, I got knocked up by my own son-in-law when he visited me that day! Linda realized that to cover her current affair, she'd tell Megan that she too had gotten pregnant from that weekend, that she too was confused and didn't know what to do ............................................for she was carrying Megan's husband's baby as a result of it.

In preparing to meet up with her daughter the next day, Linda just had a few wrinkles to think out before they discussed things over lunch, but most had already been well calculated over the first six weeks from when the intruder had broken in and held them captive. The main concern had been that of Megan getting pregnant by her vile rapist, taking in her stand against abortion, and yet not having to display the evidence daily of her having been raped by a black bastard and been knocked up by him. With Megan and Anthony living far off in a different city, Linda would tell her daughter to make excuses as to why she couldn't make events back in her home town once her pregnancy began to show, then when the baby came Megan would announce that she and her husband had just adopted a little baby. As Linda was not pregnant with a black baby, she didn't have the same problem, just the fact that the baby was actually conceived with Megan's husband some ten days after the black intruder had forced them to have sex together. Figuring out the due date was not difficult, Linda came up with a simple solution to help explain things away with her daughter, planning on telling Megan that she too had gotten knocked up on that fateful weekend and their babies would become the best of friends. Her plan was to move up the baby's birth by arranging with her doctor to have a C-section ten days in advance, which would not harm the baby, but serve to have the birth coincide with the birth of Megan's baby.
Three months later, Anthony saw his wife breathe a sigh of relief in finding that she could still hide her pregnancy after having let out a bit of the outfit, the one matching the others in the bridal party as she was the Matron of Honor for her sister Michelle's wedding. As had been planned, Anthony went to pick up Mom and Dad Pang at their home to chauffeur them to the picture taking site, they'd be joining the bridal party for the final half-hour for pictures of the bridal couple and parents. Arriving timely, Anthony saw that the photo shoot of the bridal party had just come to a conclusion, and the photographer was now snapping portrait shots of the beautiful young bride. His eyes focused on the beautiful bride, Anthony felt his cock stir in its confines and give a twitch of excitement as the beauty sat on the grass and looked up to pose for the shot as directed by the photographer. Seeing the sparkling diamond adorning her ring finger, taking in the look of innocence on the lovely young beauty, Anthony thought 'Damn .....................Michelle looks so innocent ......................like Megan did on her wedding day! And I'd bet my last dollar that she's still got the precious little cherry still intact too!' Picturing a silver wedding band being added to her ring finger, right next to the sparkling diamond that was currently there, Anthony took a deep breath in trying to compose himself. With his imagination beginning to runaway with some wild fantasies of him getting to fuck the bride, Anthony would soon have to be shielding the bulge in his pants from the nearby bridal party and parents.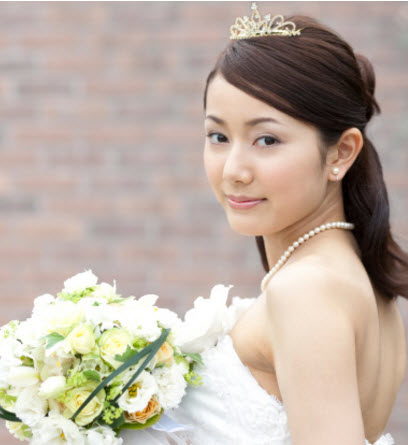 Ms. Michelle Pang
Two hours later and with all eyes upon the mother of the bride, Linda had her arm in her handsome son-in-law's arm, being escorted down the center aisle to take her seat in the front pew. Licking nervously at her glossy pink lips, Linda then took her seat as her heart thumped in her chest, now feeling some relief after completing the walk down the aisle. Such an occasion would normally be a moment of pride for the mother of the bride, but in this instance Linda felt a bit self-conscious, especially after having that lip gloss applied just moments ago without the use of a mirror to assure that her lipstick didn't get smudged in the process. Not wanting to be in the view of the still incoming wedding guests, she asked if there was a waiting room to go to until it was time for her to be seated, informed that there indeed was a small room for them to wait in. She told the coordinator to just knock on the door when it was time for her to be seated, then she'd come out to make her way down to be seated, as it would be Anthony escorting her to her seat. With Anthony having stepped in the small room with her, Linda was then told by her son-in-law that she needed make herself prettier by applying some lip gloss. But with her son-in-law's hand putting pressure on her shoulder, Linda shook her head 'no' that she did not need any, but she was being forced to kneel on the floor. With her son-in-law leaning against the door to prevent anyone from entering, feeling it would not be wise to actually lock the door, Linda was told "You'll look much prettier if you have some lip gloss applied ..................let me help you apply it on!"
Shaking her head in disbelief, Linda could not believe as to what Anthony was wanting of her, telling him "No ......................no ..........................you'll soil my dress ..................and everyone will see it!" But as she stared at the now bared cock jutting straight out at her, Linda was mesmerized by the flaring pisshole, then heard her son-in-law tell her "Just tease it a little .....................just to get a pearly drop ......................enough to gloss your lips ...........................then we'll stop!" "It ......................it's too dangerous .......................there's no time ......................there'll be nothing to change into if don't control yourself ..........................it .......................it's crazy!" she stammered out, but then she stuck her tongue out to flick the tip up against the flaring pisshole. Womanly instincts now taking over, time and whereabouts forgotten, Linda bent her head forwarded as being guided by the hand cupping the back of her head and taking half the length into her mouth. Reality suddenly came rushing back when she heard the groan from above "Oh, Godddddd .............................I'm gonna cum .........................can't .....................holddddd itttttttttttt! Oh, shittttttttttttt!" Frantic but knowing there was no way she could allow her dress to get soiled, Linda knew that there was no option but to swallow it all! Standing back up, swallowing deeply and licking at her lips, Linda panted for breath and glared at her deviant son-in-law ............................then came the knock on the door to announce that it was now time for her to be escorted down the aisle to her seat.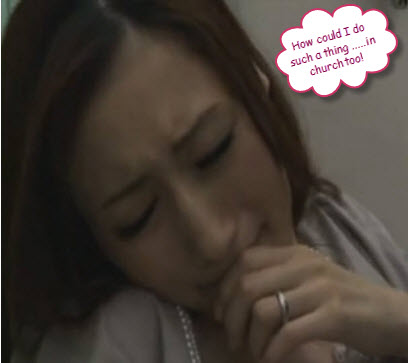 Anthony had smiled at the plight of his mother-in-law as she pursed her lips together and then licked them with her tongue, evening out the now glossy pink film that coated her lips before exiting the room. Opening the door and extending an arm out to her, not giving her time to try and find a mirror to see if her lipstick had gotten smudged, he had then escorted her out into the lobby of the church before making the walk down the center aisle to her seat. As his next duty was to help out ushering guests into the church, he then returned to the front to do that job. Once all the guests were seated and it was time for the wedding to start, Anthony and the other ushers remained in the lobby area for the arrival of any late comers. With the groom and the groomsmen making their appearance near the altar, the bride and her father exited the waiting room as the wedding march music was about to commence. Glancing over at the beautiful bride, Anthony licked at this lips and thought 'Damn, sweetie, I've got a wedding gift here for you ........................swelling up right between my legs! I'm not sure what Megan got for you two as a wedding gift ...........................but I'm here to help out in any way that I can .....................................like that of helping out by doing the dirty deed of busting the bride's precious little cherry!'
With Megan being her older sister and very close to Michelle who was a year younger, his wife felt so honored to serve as her sister's matron of honor in the bridal party, but Anthony could only think with the head between his legs each time he gazed upon the beautiful sister of his wife. Just the religious and conservative Asian upbringing of the gals in the Pang family had Anthony strongly convinced that lovely Michelle was still a virgin and intent on giving it up as a present to the man she married. 'Damn, that punk she's marrying is gonna be one lucky SOB up in the honeymoon suite on the big night! Wonder if he even knows how to do it yet? Well punk, you just gimme a call if'n you want some help ..........................in popping your beautiful bride's precious little cherry!' was just wishful thinking on Anthony's part as he fantasized on doing his wife's sister. Anthony had to face the fact that there realistically was no way nor time for him to seduce the beauty into bed with him at this point in time, but he had devised a plan of action, just that a lot of variable factors had to fall right into place for him to pull off the devious caper.
Having met the best man several times during the past few weeks, one being at the bachelor's party for the groom and the most recent being at the rehearsal dinner, Anthony learned that he was the groom's frat brother and they had roomed together in college. In playing back the conversation that he had with the best man during the rehearsal dinner, Anthony's mind began to go into overdrive as a devious plan began to formulate in his mind, one in which might make his wish come true .............................that of getting to pop the bride's precious little cherry ...........................right on her wedding night up in the honeymoon suite! With the best man expressing a bit of apprehension on the nearing wedding day, hoping that the groom wouldn't pass out before the reception was over, Anthony learned that the groom was quite a lightweight when it came to drinking any type of alcohol. Anthony told the best man "With my wife being the Matron of Honor, I'll be right there with you, so you can count on me for help in getting the groom up to the honeymoon suite when the reception is over! Oh, one suggestion I have .......................have the groom give you the key card to the honeymoon suite ahead of time, just so you don't have to struggle finding it on him if he gets wasted!"
Gazing over at the radiating young beauty in her white wedding gown, soon to become a married woman, Anthony felt his cock beginning to pulsate in his jockeys and begin to rise up to the occasion. Licking his lips as he eyed up the young bride, Anthony's devious mind began to think of some means that just might allow him to get his grubby hands on the succulent beauty, thinking 'Hmmm, with Megan the Matron of Honor, she'll be certain to make sure that the bride is able to make it up to the honeymoon suite when the bride and groom leave the reception! If not, then she'll surely accompany the bride and assist her up to the suite! Same goes for the other bridesmaids and for the best man and groomsmen if the groom is under the influence! And with me being Megan's husband and brother-in-law of the bride, there'll be no problem or question as to why I'm tagging along to give the bride and groom a helping hand!' Thinking it out further, he figured that he'd be sure to be around the bridal couple towards the end of the reception and be handy with getting a new glass of champagne, spiked with the local version of a roofie ........................a clear liquid that was odorless and tasteless, dissolving instantly into the champagne! 'Okay, if it gets that far, I'll make a comment 'to be certain that the card key be left clearly in sight so the newlyweds won't miss it the next morning! I'll be the one to turn off the lights as we make our way out ...................of course, slipping that card key into my pocket on the way out! Once back in our hotel room, I'll pour a glass of champagne for a toast with Megan for having done a great job with her sister's wedding, only her glass will be drugged as well and she will be sound asleep when I go back to the honeymoon suite!' he figured.
That night, the wedding reception was going quite well as the bride and groom were going from table to table to meet and thank their guests for coming to the big event. As both bride and groom were a bit tipsy from all the toasting, Anthony was watching and waiting for the right time to come, where the bottle of champagne in the best man's hand was getting near empty and in need of a new bottle. The timing was perfect as there were just a few more tables to go to and a new bottle was needed, at which time Anthony whispered to the best man that "I'll get a new bottle and see if I can find some cold glasses for the bride and groom!" Moments later, Anthony caught up with the bridal party, holding a serving tray with two glasses already filled with champagne along with the rest of the new bottle. Having planned ahead of time, telling the bartender that he'd be coming for a bottle when the bride and groom would be needing a new one along with two cold glasses, had tipped the bartender nicely right at that time to assure everything would be ready when he came for the new bottle. As he walked up to the bar and signaled the bartender, a tray was immediately set up with two ice cold glasses placed upon it, then a new bottle of champagne was popped opened and placed on the tray for him.

Looking about and seeing a small cart off to the side of the bar, Anthony set the tray down and reached into his coat pocket, then quickly poured in the needed drops of liquid from the small vial that he had brought with him. Pouring champagne from the bottle on top of the colorless and odorless drug, he then proceeded with the drugged drinks over to where the bride and groom were currently located, then personally handed the drinks to each of them.
With the bride and groom woozy some ten minutes later, having made the rounds and seen all the guests at their tables, the brides two sisters helped to escort Michelle up to the honeymoon suite. Anthony and the best man were the ones helping the woozy groom up to the room, with the best man having taken his advice in having the key card in his possession and opening up the door for them. With the groom insisting on one last drink with them, the gals were in the bedroom getting the drowsy bride undressed and ready for bed. As Anthony poured champagne from the bottle left in the honeymoon suite for the newlyweds, he watched as the best man placed the key card atop of the counter and then was pointing it out to the groom as to where it was being left for him.

The two sisters of the bride were helping Michelle out of her veil and wedding gown, having closed the door for privacy in the honeymoon suite, while the men were having a final drink at the bar. Out of her gown and down to just her panties, Megan looked in the dresser drawer to obtain the sheer white negligee that she had gotten as a gift at the bridal shower and had held it up for all the gals to see, with one gal commenting "Ooooh .........................watch out, Michelle .....................better not be a tease in that for too long! Hubby's gonna get to see all the goodies right through it and pop his cork too soon!" Getting Michelle's wedding dress hung up in the closet, negligee put on her, Stephanie commented "Wow, this negligee is so sheer that you sure can see all the 'goodies' right through this!" Megan laughed at her sister's comment, telling her "And when you wedding comes, I'm going to pick one out just like that for your bridal shower .........................only in pink, your favorite color .............................one so sheer that the groom might not hold back till he gets it off your sexy little bod and starch it stiff!" Once Michelle was under the covers and tucked into bed, Megan and her youngest sister Stephanie exited the bedroom and told the guys that they could now tend to the groom.

Anthony held the groom's right arm while the best man got the left, assisting the groom into the bedroom where the beautiful bride lay fast asleep under the covers, then they got the groom's tux off and shoes off before laying him atop the bed next to the bride. Anthony then moved to position himself for leaving, going to where the light switch was located, telling the best man "Go ahead and I'll turn off the light behind us!" As the best man exited the bedroom, Anthony took in the lovely beauty for one last time, mentally telling her 'See you in a little bit, Michelle! Don't want you to be disappointed on your wedding night

when hubby was supposed to make a 'woman' of you, so I'll be back to do the bloody deed!'
With the best man being a gentleman and heading towards the front door to hold it open for the women,
Anthony snatched the key card off the counter and slipped it into his coat pocket.
The best man quipped "Wonder if the bride and groom will be consummating their marriage tonight?" As they all chuckled at that comment, Megan then advised "Well, in case they do, we took the precaution of laying a folded towel under the bride just in case! That way they won't have to worry about bloody sheets in the morning!" They then proceeded to head back to the reception, joining the others to tell them that the bride and groom were safely up in the honeymoon suite, with his wife's last comment telling Anthony just what he wanted to hear - the bride was indeed still a virgin!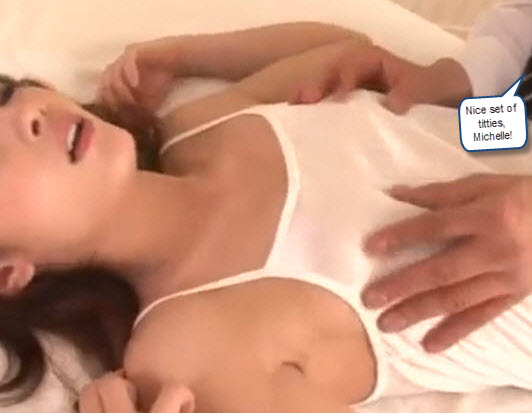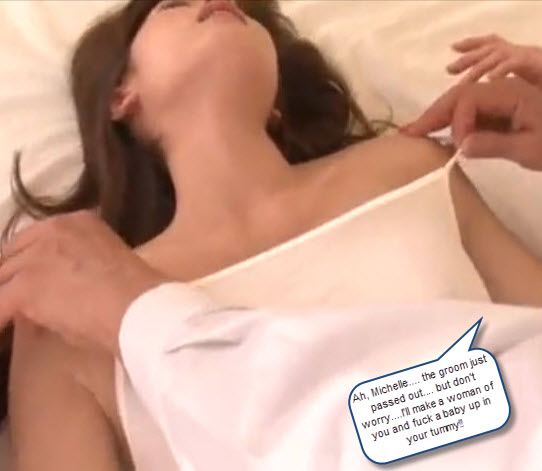 Going to the bar to get a drink for he and his wife. As he wanted to get back upstairs to the honeymoon suite as quickly as possible, adding a bit of the potent knockout drug in his wife's drink would assist him to quickly leave the wedding reception. Telling his wife to take a nice drink so they could have one last dance before retiring, that extra curricular activity would have the potent drug working even quicker. Escorting his 'tired' wife up to their suite, saying he'd have a cup of coffee to sober up some before retiring for the night, Anthony waited a couple minutes after the bedroom light was turned off as Megan had gone to bed. Going into the bedroom, hearing his wife's heavy breathing that indicated she was fast asleep with the aid of the potent drug, he then went to retrieve his camera bag to take up with him to the honeymoon suite.

Up the elevator to slip
into the honeymoon suite and locking the door behind of him, Anthony then made his way to the bedroom where the newlyweds were fast asleep, then he began placing his mini-camcorders about the room in strategic positions. Moving to the side of the king-sized bed where the beautiful bride was sleeping, Anthony reached forward to grasp the top of the sheet and slowly pulled it on down, then licked at his lips at the sight of the lovely bride as her succulent charms were partially on display through the sheer nightie that she had on. Reaching forward with both hands, placing them on her titties, he pinched at the sensitive buds while commenting "Nice set of titties, Michelle!" Reaching up to pull the straps down over her shoulders, he panted out "Ah, Michelle ....the groom just passed out ...................but don't worry .................I'll make a woman of you and fuck a baby up in your tummy!"

Straps pulled half way down her arms to expose her twin brownish nipples, Anthony's fingers immediately followed to pinch at the two sensitive buds, then he was bending over to take a bud into his watering mouth. Hungrily mouthing and biting at the tender flesh of her breast, deliberately intending on leaving some teeth mark bruises for her to find when awakening, then he clamped the tender bud between his sharp teeth to pull at it while flicking his tongue over the tip. Letting go of that nipple, Anthony moved over a bit to work over her other tittie in the very same manner, wanting Michelle to think that her husband was an animal in the way he worked her over.

Resuming his undressing of the beautiful bride, Anthony worked the sheer white nightie on down over her trim hips to fully review the lacy white panties, then continued pulling the garment down and off the creamy white legs that were absolutely flawless. Nightie discarded by tossing it beyond the foot of the bed, he then went about working down the lacy white garment to reveal the crown jewels, then balled it up to hold against his face to inhale the sweet fragrance. Tossing the flimsy garment next to where the negligee lay on the carpeting, Anthony then pushed the bride's sexy legs apart at the knees, giving him ample enough room to settle down on the bed in order to nuzzle his face in the soft dark curls of the young beauty. 'Ooooohhhhh, this is gonna be a real treat! My very first opportunity to get a taste of some virgin pussy!' Anthony mused while extending his tongue out to lick at the tight little slit that hide the crown jewel. Getting down further, snaking his tongue up into the bride's snatch, Anthony sought to locate that ultra-sensitive clit, wondering if he could make the lovely newlywed give him a taste of her sweet honey before he went and busted her precious little cherry.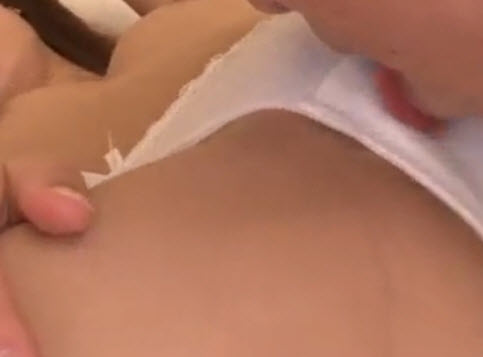 After feeling the lovely bride shudder while eating her out, getting himself a tasty treat for his efforts, Anthony then knelt up upon the bed and began shucking at his boner till it was all stiff and hard. Shuffling forward and moving the bride over a bit, Anthony leaned over to the left a bit, wanting the camcorder at the foot of the bed to capture the scene of his cock entering the untouched beauty, and then that of the flowing evidence that the bride was no longer a virgin. Having rubbed his bloated cockhead up and down against the bride's slit, keeping it in place to do the dirty deed, Anthony grasped the bride's trim hips as he leaned on forward. "Okay, sweetie .....................time for you to become a 'woman' ....................and I'm just the guy to do it for you!" Anthony chuckled. Rearing back some, Anthony then lunged forward with all his might and weight behind it, plundering right up into her never before penetrated slit and through her hymen. "Did it, Michelle ..................made a 'woman' of you ...................went and popped that precious little cherry of yours!" Anthony gloated before reaching down to dip his finger to where they were joined together, then brought his hand up to put his bloody finger into his mouth to taste some real cherry juice.


Lunging on forward once again, putting all of his full weight behind his thrusting cock, his wiry short hairs were now mingling with the bride's soft curls and Anthony had to still himself to keep from popping off prematurely. As the urge to pop his load began to wane and allow him to regain control, Anthony hooked his arms up under her knees and reached forward to get a firm grip in the bride's trim hips, then began fucking her in earnest, pumping his raping cock like a well-oiled piston in the slick lubricant. Moving his hips about in a circular motion, a wide smile was on Anthony's face as he proceeded to stretch her out good, then began sliding in and out once again as the urge to spew his baby batter out grew. "Oooooooooh ..............................yeahhhhhhhhhhhhhhhhhh ............................ain't nothing better than this!" Anthony exclaimed while holding himself still once again, letting his spear soak in the warm liquid pool that it was in, then he began twitching his swollen meat for more of the soothing feeling that the warm liquid provided.

Expanding his cock in the tight bloody slit time and time again, then slicing his throbbing boner in and out of the unconscious bride, Anthony panted out "Oh, sweetie ....................hope you two newlyweds were planning on starting a family right away ....................cause I aim to do the trick tonight, right on your wedding night!" Stopping for a bit with just the head of his cock remaining enveloped in the bride's gripping snatch, Anthony lifted up some as he bent his head to look down between their enjoined bodies, then smiled in triumph at the sight of his having plundered the bride of her innocence and making a true woman of her. Having seen his bloody cock and enjoying the feel of the warmth it provided, Anthony pushed it back down deep into the raped bride's cunny, then began to jackhammer his throbbing boner as it was getting very close to the point of no return for him.
Anthony proceeded to rape his beautiful sister-in-law on her wedding night, right upon the bed in the honeymoon suite with her husband laying just a foot away, then arched his back while keeping his cock buried fully as he groaned out "Ugggggghhhhhhhhhhhh ............................ahhhhhhhhhhhhhhh ........................ahhhhhhhhhhhhh ............................here it is ....................here it isssssssssssssssss! Ahhhhhhhhhhhhhhhhhhh, yeahhhhhhhhhhhhhhhhhh!"

Breathing heavily as he was spent from the fantastic rape session, Anthony collapsed upon the beautiful bride, his cock fully buried up in her while still twitching out the last remnants of his baby-making juice. Finally, after having spit out its final drop into the bride's fertile womb, Anthony lifted his heavy body from the raped beauty, slowly pulling out his bloody spear as he exited a bit off to the left side in order for the camera to capture it all. His body angle on exiting the bride would be perfect, allowing the video to capture the complete withdrawal of his bloody cock, followed by the outflow of the blood and cum mixture as it was absorbed by the towel beneath the bride's lovely butt. After pushing the bride's legs up, putting her feet flat on the bed with legs spread wide, the camera at the foot of the bed would get to capture the bloody flow oozing out of her raped slit to drip onto the towel below. Off the bed and looking about, Anthony then went to the other side of the bed, grasping the waistband of the groom's jockeys and stripping the garment off of him. Wrapping the outside of the garment around his cock, Anthony wiped himself clean of the bloody mess, then went out to the bar to get himself a drink.

Having retrieved the vial contain a green liquid, one that would have a male revived and rising to the occasion in just a few minutes, Anthony poured it into a glass before adding some champagne to it. Enjoying his drink while recuperating some, Anthony looked on down upon getting back that feeling in his boner as it began throbbing back to life with the aid of the stimulant. Shucking at his cock and seeing that it was back to having a full erection, Anthony downed the remainder of the drink, then grabbed hold of his cock once again to keep it up as he headed back into the bedroom to have another go round with the beautiful bride. Everything for the first phase had gone according to the devious plan that he had devised, now phase two for the night was about to commence, and the finale would come after his third rape session with the beautiful bride on her wedding night. Some ninety minutes later, Anthony was exiting the honeymoon suite with camera bag in hand, having left the bride with a mixture of bloody cum oozing out of her slit and hubby with his privates covered with his blood stained jockeys.


Picturing 20 year old Stephanie Pang in his mind, his other sister-in-law and the youngest of the Pang sisters, Anthony recalled how sexy she had looked on her weekend back from college the other week. He and Megan had taken her out to lunch, with Stephanie looking so trim and sexy in the pure white dress and matching heels, causing the head between his legs to swell with excitement. Over lunch, Anthony asked if she was still dating Philip Kwock, the guy he was sitting next to at Michelle's wedding reception, to which Stephanie advised that things were indeed getting serious between them and that she was hoping that he was the one. Sitting across the table from his beautiful young sister-in-law, the head between his legs twitched excitedly at the thought of wiggling its way up between her sweet pink lips, as Anthony pictured himself feeding lunch to her. Anthony was taking quite an interest in the youngest of the Pang sisters at this point, even with her still being single and yet to be engaged, items that normally be a turn-off for him but now his devious mind was thinking far in advance with thoughts such as 'Will I be able to achieve the goal that I've set .................................that of getting the honor of popping the cherries of all three sisters?'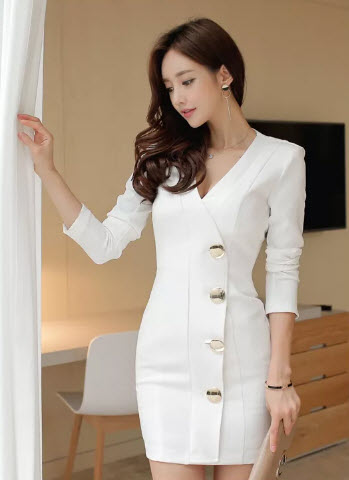 Ms. Stephanie Pang