Mrs. Dawn Minter
As Dawn had just turned 30 the other day, Mark had told her this trip was perfect to help celebrate her birthday and gave her money to spend on herself at those plush shops at the resort. Working as a buyer for a large department store chain, she made a very decent salary, but Dawn was not aware of the losses her husband had racked up in gambling that even her income couldn't bail them out of the problem that Mark had gotten them into. She had been introduced to Mr. Johnson on their prior visit and the fellow made it seem that Mark was a well known customer that deserved VIP attention. Surprised and impressed that Mr. Johnson had recognized her in passing after coming out of a shop and heading to take in the fashion show, Dawn was not alarmed at all when the host called over an associate to "Take Mrs. Minter to the VIP lounge where the fashion show is being held and get her a seat up front! And be sure to notify the staff that everything's on comp!"
But there was no fashion show being held there at the resort on this day. It was something that Lex had learned she was interested in, especially in being a buyer for a large department store chain. And that associate escorting her to the VIP lounge was not truly an associate, but a VIP named Ahmad Allen who had plunked down eighty-five hundred bucks for the opportunity in breaking in the blond beauty and 'blacken' her good! He led to to where the VIP lounge was located, but going just beyond it, opening the door that led the the bedroom just adjacent to the lounge that was current filled with high rollers invited to this special event. Frightened upon seeing that it was just a bedroom that she had been led to, Dawn shuddered as she turned and tried make and exit. Grabbed by the big black bastard who was now sporting a grin from ear to ear, Dawn found her escape blocked by the big muscular black as slowly approached her.
In the VIP lounge, that was crowded with men and standing room only, Mark Minter had been given a reserved seat front and center next to Lex Johnson. Mark was trembling nervously as two of Mr. Johnson's collectors were seated just a foot behind of him, and each had a iron-like hand clamped down upon his shoulders, forcing him to remain seated in his chair. He had thought they were going to beat him to a pulp when then entered Mr. Johnson's office across the way. But instead, they had escorted him into the VIP lounge and pushed down into he chair in which he sat. When the large screen was lighted up, it showed a large bed in a room, then was advised by Lex Johnson that the door on the far right of the lounge was an entrance into the room on the screeen. On the screen, a light from the hallway could be seen when the door opened, and Mark got the shock of his life in seeing that it was wife Dawn walking into the room followed by a big black gent.
The look of fright clearly could be observed on Dawn's face as she sought to leave the room. But it was quite clear what the big muscular black dude had in mind as he pulled off the black bow tie that he wore, then his coat was removed and tossed aside as Dawn backed away from him. Mark then learned from Lex Johnson that the fellow in the room had paid the $8,500 interest that he owed, and the bookie chuckled "Don't ya think Ahmad there is entitled to some entertainment from yer beautiful wife in exchange for him covering the interest ya owe, huh? Hey, better than having yer arms and legs broken, don't ya think?" Mark wanted to get up out of his chair and run over into the next room to save his wife, or so his mind told him, but those strong hands on his shoulders convinced him otherwise.
Front of Dawn's purple was suddenly in the grasp of the black bastard's right hand and he went and ripped it right down the front. Then the bastard was after Dawn's lacy black bra, with it coming away in his hand once he got a grasp on it. Titties bared as the bastard began groping at them as if he was looking for ripe fruit in a grocery store. Desperately trying to put up a fight and get away from her attacker, Dawn put up a good struggle but she was just no match for her much stronger opponent as he tore the remnants of her dress from her body. Losing her beige heels in the scuffle, Dawn fought with all of her might to save herself from being violently raped, but she suddenly found herself being flung onto the bed and her attacker was right there upon her and pinning her to it. Hands grasped at the wrists and arms pinned above her head, Dawn could only sob out "Please ............................please ..........................please don't rape meeeeeeee!"
Men in the room began cheering on the bastard, with one guy yelling out "Fuck her, Ahmad! Fuck the blonde bitch!" They watched at the blond bitch tried desperately to squirm up the bed and away from Ahmad. But then Ahmad could be seen grasping her trim hips to pull her back down, right to where he was kneeling. Then he was gripping the lacy black panties in his hands and the material came apart like tissue paper. 'Oooohs and ahhhhhs' could be heard in the room was Ahmad began shucking at this cock, getting it primed to a lengthy 12", then he was aiming and centering it as he held her firmly in his grasp. "Oh, Jesussssss!" someone yelled in the crowd when Ahmad reared back and lunged forward with all of his might, causing the beautiful blond to scream "Nggggggghhhhhhhhhhhhhhh …………………nnnnnnnnnnggggg ………………..nnnnnnnnnnnnnnnnnnnnnnnnnnnnnhhhhhhh ..............................stop .............................stoppppp ...................................stopppppppppppppppp!"
"Ohhhhhhhhhhhhhhhhh …………………………dammmmmmmmmmmm! Jesussssss, yer so fuck'n tightttttttttttt!" Ahmad was heard groaning out after having stuck half of his twelve incher up into her tight box. Seeing the size of the bastard's cock, and with his own cock half the size and feeling his wife's tightness, Mark was certain that Dawn had never experienced like this before. All that he could do was to sit there and watch his beautiful wife pay for his gambling debt, the interest portion of it anyway. He wondered if the other men in the room knew that it was his wife being raped on screen, that such could be their situation in the future should they fall in arrears on their gambling debts, wondered how they would feel in his place with the audience cheering "Rape her ............................rape that beautiful blond bitch ..................................knock her up ....................................knock her up with your little black bastard!"

"Oh God ………..……….oh, God …………….…pleaseeeeeeeee ……………….stop ……………….pleaseeeeeee stop! Please! Oh, Goddddddddddddd ……….......................it hurtsssssssssssssss …………….it hurts so baddddddddd …………...............…oh, Goddddddd!" Dawn screamed as the thick cock pushed further into her. It was now a full ten inches that had forced up into her too tight slit and Dawn had never felt anything so big and thick in her life. Shuddering in pain, she again pleaded "Please ………………please …………....................please stop ………………….. pull it out …………………please ......................................it's too bigggggggggg!" But then the bastard grasped her trim hips with both hands, slamming himself forward with all his might, skewereing her to the hilt and then the bastard was grinding his short kinky curls up against her tender skin. "Aieeeeeeeeeeeeee ………………ohhhhhh, God ……………………oh, God ………………no …………….arrrrrrrrrrrragggghhhh!" Dawn screamed in sheer agony, her trim white legs flailing about, while she desperately pounded on his muscular shoulders in desperation.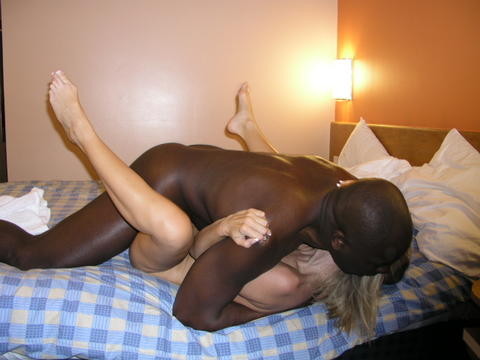 "Ohhhhhh, yeah, baby! Feel that proud animal I's got in ya, sweetie? Ya ain't even gonna feel yer hubby's little pecker after I's git done with ya!" the audience heard Ahmad taunting the raped beauty. On and on the blonde's rape ordeal continued, with Ahmad's battering ram pounding and pounding away at her till. They could see his big black balls, the size of walnuts, thumping at her white asscheeks. Finally, Ahmad announceed that the end was near, groaning out loudly "Gonna cum, bitch! Gonna cum way up in yer cunny, sweetie! Gonna plant it deep in ya! Gonna breed ya, bitch! Gonna knock ya up real good!" And then Ahmad's ebony body shuddered violently, once more and then again, with the entire audience knowin what was taking place on the screen. And when Ahmad finally pulled on out, a stream of sticky goodies oozed on out of the bitch's raped slit.

Mark blinked back the tears, for he had not been able to save his beautiful wife from being raped by the black bastard, and he had been the cause of it all by getting so far into debt. Worst was to come as Lex Johnson stood up to ask if everyone had enjoyed the special show, bringing applause and whistles from the men. Then had his hand on his shoulder, telling everyone that "Ahmad just covered the interest owed by my man Mark here! And hubby here graciously allowed Ahmad to be entertained by his beautiful wife as you just saw on the screen! Anybody willing to help out Mark here on reducing his gambling debt? Five hundered will get you next up on the screeen with that blonde beauty in the next room!" "Charlie .....................ya had yer hand up first! Drop yer money off here to Mark and then ya'll get next dibs! The rest of ya, come and drop off your money and put your name on the list! Price goes down fifty bucks after each guy, jist so ya git some discount for gitting sloppy seconds! And when you come and visit the Kitty Kat Korner when it opens on up, this purty little lady will a hostess there!" Lex Johnson announced.

After Dawn got dicked the guy named Charlie, it was a big black dude turn, only he dropped a full grand so that he could get on the screen as he announced to his buddies "I's gonna show ya dudes how to make a purty bitch like that enjoy eating some dark meat!" Mark had seen Lex Johnson handing the guy some pills, telling him to "Make her swallow first before ya wash it down with yer hot cum!" And sure enough, the bastard had Dawn swallowing the pills and then swallowing it all ..............................all twelve long inches of dark meat three inches in diameter! Another guy dropped a grand so he could be the first to bugger Dawn, causing her to shriek out in utter pain as raped her virgin ass. Hours later, Mark had enough to reduce his IOUs by fifteen grand. With some of the guys going back for seconds, Mark had lost count of the number of men Dawn had serviced, but those pills had his beautiful wife acting like a nymph as she readily welcomed each man entering the bedroom with open arms and widespread legs. Mark had a continuous boner tenting his pants while watching Dawn getting gangbanged quite a few times, and some guys would drop a hundred bucks so he could go into the bedroom to jack off onto Dawn's face or body.


End of Story.