An avid gambler of all types of sporting events, wealthy from the electronics firm that was headquartered in Japan and had branches in the U.S. and several other countries, this was the first invite he had received to this very special event. So impressed with the entertainment set up for the big bettors, Hiroshi planned on talking to Lex Johnson later to inform him of his interest should future opportunities come available in the future to purchase a delinquent debt like Homer Williams had done in this case. With all his money, having the assurance that he would not be prosecuted for any crimes committed made such a transaction quite an intriguing one, for he loved nothing better than to rape and degrade a sweet and innocent American beauty the likes of Mrs. Kimberly Kearns. And here the great Buddha was indeed looking after him, giving him the winning ticket to be the very first to sodomize this lovely beauty. Seeing just how innocent she was, not having sucked cock ever before, Hiroshi was willing to bet a fortune that her beautiful white ass was still cherry.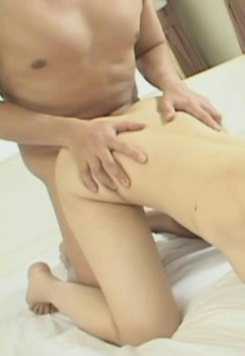 Guys in the audience were getting themselves fresh drinks, then hurrying on back to their seats once Hiroshi Nakamoto came on the big screen as he entered the room to claim his beautiful prize. They watched as the old boy from Asia quickly began shedding his clothes, then he began shucking at his aged shriveled tool. Many men in the audience could be seen with their jaws dropped from what started off like that of a small smokey pup sausage of some 2" grow quite a bit in length, round and rather skinny like the size of a half-dollar, but it had gotten quite long ....................eight full fuck'n inches to fuck the beautiful bitch with ..........................right up that beautiful ass of hers! On all fours, face still wet with drying cum, the young wife seemed totally out of it as Hiroshi got up onto the table and began shuffling up into place. It was only when Hiroshi got his rigid cockhead up against her asscheeks did the young beauty come to realize what the bastard was up to. It was a good thing that Homer was still there to keep the beauty in place as she tried desperately to scramble off the table, even with her wrists bound, for she certainly did not want to get fucked up the ass. With Homer's large hands pushing back against her shoulders, Hiroshi had her trim hips in his tight grasp and getting himself ready, the frightened beauty cried out "No ...................no ....................not back there! Please ..................please ......................I don't want it back there .......................ever ................not ever!" "Aieeeeeeeeeeeeeeeeeeeeeeeeeeeeeeeeeeeeee ..............................................aieeeeeeeeeeeeeeeeeeeeeeeeeeeeeeeeeeeeeeeeeeeee!" came the shrill shrieking as Hiroshi rammed his cock up into her cherry white ass, slicing right up into her with his bony spear.
With Hiroshi and Homer returning to the auditorium to a round of applause and whistles like that of a hero's welcome, the guys in the audience looked up at the screen to see a wall in the spa's room being opened at the touch of a remote control's button. Then the five guys who'd had dropped $200 apiece some five minutes ago and then leaving the entertainment room, now untying the beauty taking her off the and carrying her over to the king-sized bed that had come into view. With one guy lying upon the bed, Kimberly was being lifted and then being set upon the stiff jutting prong. Pushed on forward, the second guy was shuffling up behind of her to fit his cock into her tight little ass. Third guy forcing her to blow him, then the fourth and fifth guys were getting their pleasure from a hand job. This was just the beginning of the entertainment as there were dozens of guys willing to cough up some serious buck to visit the beautiful bitch ..............................to which they would claim that they were just trying to help that loser husband of her's pay off his debt.
When Tony Kearns returned home that next Monday, his heart was frantically pounding in his chest while still trying to think things out, especially in his having to call Kimberly's employer to advise them of her need to take an emergency leave of absence for a few months. He had come up with the story that Kimberly's mom had a major medical emergency and that his wife needed to be at her mother's side and also to help her father out with the chores at the house. Kimberly's employer was known to be quite liberal with their sick leave to employees, but still the story he'd be giving them was far from the truth, especially with his wife taking on another job for that period .........................servicing the high rollers at the casino/resort and also filling in at Lex's Kit Kat Ranch when they were short of quality talent!
In just two months in passing, talking to Kimberly on the phone several times each week, Tony was put at ease by his wife as she assured him that everything was fine and that she was being treated very nicely at the resort. In talking to his always cheerfully sounding wife, Tony felt relieved that she pretty much could do as she pleased at the resort. According his wife, basically everything she wanted was comped, with good food and all the drinks she wanted as if she was in some sort of paradise. Unbeknownst to Tony, his beautiful wife was indeed being given the royal treatment, becoming the top call-girl that Lex Johnson called upon to service his high rollers. Each and every feedback that Lex had obtained from his prized client was that Kimberly was just fantastic and every man's dream, a young beauty looking so innocent but so fuck'n wild in bed .................game to suck/fuck or be sucked/fucked in any which way that the big roller desired! And as one high-roller told Lex "Damn, she drained my fuck'n balls dry!"
A week later, Tony opened the mail and saw that it was a copy of his IOU stamped 'Paid in Full!' and signed by Lex Johnson. The date on the it showed that it was three days earlier, the day it had been mailed out to him, but yet he hadn't gotten a call from Kimberly telling him as to when she'd be coming home. Tony assumed that his wife didn't know that the debt had been paid off and quickly got on the phone to her, and when she answered, Tony excitedly exclaimed "Honey ..................sweetie ..........................it's all paid up! I got it in the mail that everything is paid up ..........................you can come on home now ......................you don't have to .................to ..........................stay any longer!" To his chagrin, Tony heard Kimberly advise that "Oh, honey, I know but there's this big weekend coming up and they're short handed, ...............plus I thought it'd bring in an extra $5K or so in our pockets!"
Dismayed and certainly disappointed, Tony just went along with what his wife wanted to do, especially as he had been the one to having gotten her into their current status with Lex Johnson and the IOU's that Kimberly had helped to take care of. Weeks later, after one excuse for delaying her return after another, Tony learned that his wife had terminated her job with her employer in saying that she just didn't know how long it be before she could return, to which his wife advised Tony that she was really enjoying her new job and was banking a lot of money from it. Finally able to meet up with his wife on a weekend, Tony came to realize that their marriage had basically come to an end, especially notable was the two times that they had made love together, each ending with Kimberly panting out "No ......................no, Tony .....................not yet .....................not so soon ...........................wait ...........................wait!" Returning home alone once again, Tony suspected that his beautiful wife would never be returning home to him any time soon, if ever.