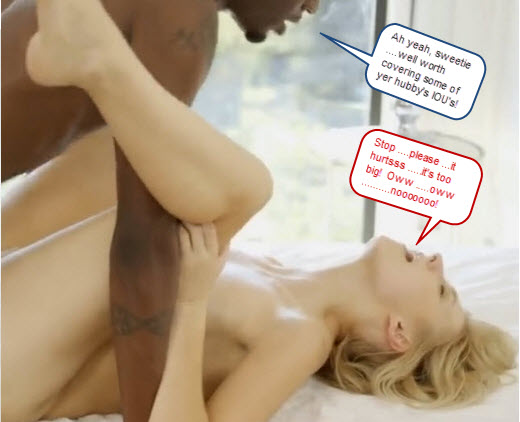 "Stop him, Phil .......................stop himmmmmmmm! Ohhhhhhh, God ....................it hurtssssss .....................it hurtsssssssssss ........................owwwwwwwwwwww!" Lori cried out as her cunny was stretched like never before. It was all surreal for Lori, her body quivering and tingling so much as she was needing sex so badly, yet her husband was laying next to her and merely allowing a big black stranger to do it to her ................letting him fuck her without a protective condom. It all seemed like a dream, her husband beside her with a black man raping her with a donkey-sized cock, hurting her so badly ...............................but yet it also felt so damned good! "Oh, Goddddddddddddd!" Lori squealed as the fleshy bone skewered some six inches up into her, then she heard her rapist pant out "Ah yeah, sweetie ..........................well worth covering some of yer hubby's IOU's!" As more of the monster dick was being rammed up into her, Lori cried out "Stop .......................please .........................it hurtsssss ................................it's too big! Owww ..........................oww .........................nooooooooooo!" "Ohhhhhhhhhhhhhhhhh, Goddddddddddddddddddddddddddddd!" she squealed as her rapist shoved his boner fully up into her till his short kinky hairs were rubbing like sand paper up against her crotch. 'Could this be really happening? Or is this just a bad dream?' Lori wondered, thinking that this couldn't really be happening, it just didn't seem real especially as her own husband was grasping her wrist to bring her hand over as he wanted her to jerk him off.

Pounded and pounded into the large bed for some fifteen minutes, Lori could not believe the stamina of the black stallion having his way with her, for sex with her husband had always been so much tamer and certainly never this long in duration. "Oh, yeah ...........................oh, yeah .........................oh, so fuck'n good! Gonna cum ..........................gonna cum a flood, sweetie ...............................ahhhhhhh .........................oh, yeahhhhhhhhhhh!" came the warning from above! Rational thoughts then flooded back to her mind, especially the consequences of having unprotected sex with a black man, causing Lori to pant out in desperation "No, please ........................please ..........................no, not in me ............................not in me ........................pull it out, pull it out, pleaseeeeeeeeeeee!" Large strong hands then grasped her hips firmly, pulling her to him as he lunged into her and kept his cock buried deep in her, grunting as his thick shaft expanded even more ........................then all hell broke within her body as if hot acid was poured directly in her cunny! At that very instant, her left hand got all wet and slimy, because the handjob she had been giving her damn husband had him shooting off all over her fingers.

Having been on the other end, that of being up in the audience up in the Sports Lounge for VIPs, Deshawn knew what the guys were now wanting to see .......................that of the blond beauty's creampie that he had just made! Although the cameras weren't in sight, Deshawn figured they must be hidden in the walls and being controlled from central unit where various camera angles were available, that one of them would be aimed between their joined bodies and zooming in for a shot of his withdrawal and of what was to come oozing on out of the beautiful bitch. Deshawn chuckled to himself at the ending portion of that thought '............and what was to come!' as it should really be '....................and what was to cum!' With the fucked out beauty's legs splayed open and lying limply along his sides, Deshawn lifted her left leg up some from under her knee, then planted her foot flat on the bed so as to keep her knee raised. Chucking to himself, thinking 'Ah, gotta make my porn star debut a memorable one for the viewers in the Sports Lounge! Want them to remember my's name when the next time comes, when I's go and buy another punk whiteboy's IOUs to git to his purty wife, they''ll be waiting to see the creampie I's created ..................cause I's think I pumped a whole fuck'n pint up into his sweet little bitch!'

Ever so slowly Deshawn pulled his shiny wet whopper out of the beauty's raped slit, inch by inch till just the tip of the foot long dong remained, holding back all his creamy goodies that were ready to flow. And when his slick salami made its appearance out of its hiding place, out plopped a dollop of his thick baby batter from the young wife's wide stretched slit. Then to make his screen debut an even more successful one, knowing the action would be on split screen up in the Sports Lounge, he told the hubby ""C'mon over here, my boy ...........................come and lick yer purty wife clean .............................while she does the same fer me!" Moving up on the bed, as hubby moved on down the other side to get between his wife's bent and widespread knees, Deshawn straddled the beautiful bitch and laid the tip of his slick cockhead upon her pink lips. "C'mon, sweetie .......................lick it clean!" he told her, to which the innocent young wife gave a cringe of disgust, making it rather obvious that she never had a dick in her mouth before. Grabbing the base of his still very long but now rather flaccid dick, Desshawn slapped her on the face with it, causing the young wife to cringe with disgust. Then grabbing her by the hair and pulling her head back with his free hand, Deshawn then forced his slimy cock into the beauty's reluctant mouth.

Lori could not believe that this was actually taking place, telling herself that she had to be having a nightmare, for how else could her husband have his face down at her sex eating out another man's semen ....................................that man's dirty cock that was now in her mouth and her having been told to lick it clean! 'Oh, God ..................it tastes so awful! A black bastard's filthy penis in my mouth ...........................when I've always refused to let Phil do it to me in such a humiliating manner!' Lori shuddered as her mouth was now being used as a sex object .......................being fucked and being pushed down into her gagging throat! Lori became nauseous as a horrible thought crossed her mind, that of 'What if ........................what if he wants to do his 'thing' in my mouth? Oh, God ........................I'm going to be sick if he does!' 'Oh, God ...............the smell is so bad!'s she shuddered as the bastard pulled the back of her heard towards him so he could bury his hardened cock down into her gagging throat, all while undulating his hips so he could humiliate her further by rubbing her nose into the short kinky hairs of his smelly crotch. But even with her face buried in the black bastard's crotch, mouth stuffed with a filthy black cock, Lori could not believe the mouth that was clamped over her twat and the tongue wiggling up into the gooey mess.

With the time frame that he had been allotted, between the two football games and allowing an hour for the other bettors to get their rocks off, Deshawn merely wanted to be the first one to give the innocent wife her first taste of a strange black cock if not her very first cock. Cumming in the beauty's sweet mouth would certainly be a pleasure for him, but Deshawn figured that pleasure could come later, for he wanted to put on a fantastic and memorable showing for his screen debut up in the Sports Lounge. Deshawn wanted all the VIPs up in the Sports Lounge to remember him from this showing, figuring that the time that he had remaining was just perfect , and he could then do his most favorite thing ..................................that of fucking a beautiful and rather naive young wife ..........................right up her cherry white ass! Needing to pull out of her hot succulent mouth or pop his load in it, Deshawn pulled at her long silky blond hair with one hand while using the other at the base to pull his massive cock out, then yelled out "Yo, my man, grab her thighs and roll on over on your left side! Let the cum flow right on outta yer wife's pussy and right into yer mouth!"
Turned on over, now on her elbows and knees, Lori rubbed her pulsating crotch over her husband's face as he continued licking the oozing cum out of her well-fucked pussy. Coughing, spitting out the saliva in her mouth to rid the awful taste after cleaning the bastard's filthy cock, Lori prayed that this nightmare would come to an end and that she would wake on up. But the awful nightmare continued as large hands clasped her trim hips and were pulling her back some till she was now on her hands and knees, then Lori's eyes widened in horror as she felt the thick fleshy bulb begin probing at her upturned buttocks, trying to work itself up against the entrance to her anus. Realizing the evil intent of the black bastard, Lori tried to scramble forward and away from the probing cudgel, but she was quickly pulled on back by the strong hands grasping her hips. "NO .............................NO ......................don't, please! Please .....................please, I've never had it back there! NOooooooooooooooooooo ............................................eeeiiiieeeeeeeeeeeeeeeeeeeeeeeeeeeeeeeeeeeeeeeeeeeeeeeeeeeeeeeeeee!" she screamed as he pleas went unheeded as the bastard rammed his thick hardon right on up into her butt. "Stoppppppp ..................................stopppppppppppppppp ...................................pleaseeeeeeeee, stopppppppppppppppppppppp! Owwwwwwwwwwwwwwwww ..............................................oh, pleaseeeeeeeeee ......................................take it outttttttttt!" she cried and sobbed out in pain, but got no mercy as more of the thick bone reamed her ass as the black bastard shagged her good.

After giving the sobbing beauty a hot enema, Deshawn saw that his time was about up, thus he hurried on up to the top of the bed and pulled the blond bitch up by her hair so he could scoot under her. "Clean me up, sweetie!" Deshawn ordered the distraught beauty, who at this point only cringed in disgust but did not put up any resistance as he forced her to mouth his filthy cock once again, only this time it had just come out of her ass. Once his cock was licked clean, Deshawn got dressed and was headed to the Sports Lounge to get himself a drink and to watch the action taking place on the big screen. On his way to Sports Lounge, he passed the guys coming from where he was headed, hustling along so they could get a shot at the blond beauty. And he was indeed recognized by the bettors from the VIP Lounge as many commented and cheered "There's da man!" Deshawn smiled widely in response, telling "Enjoy yerselves, guys! That's one sweet piece of ass!" Making it up to the Sports Lounge, there were still a line to pay for the bitch's services, each guy paying up a hundred bucks that would go to the house as its cut. Sitting at the bar and ordering himself a drink, Deshawn listened in as Lex Johnson announced the rules of the game being played, to the sixty or so guys in the room from when he had just come from.

Hearing the rules of the game, Deshawn was glad that he paid the hefty price that had given him first dibs, avoiding the sloppy seconds that those guys were now partake in but he was anxious to see the upcoming event for the next hour or so. Deshawn watched as all the guys spread themselves all about the room, then all of them began getting out of their clothing down to their jockeys while setting wads of money at each pile of clothing, to be at the ready when spending money was needed. The beautiful blond beauty, that he had raped and gotten his jollies with, was now lying upon a small narrow table in the center of the room with her feet up on the edge with knees spread wide. The bartender who had turned to watch the screen after serving Deshawn his drink, chuckled and advised "Oh, that sweet little blondie's gonna become a cum dump in a few minutes!" Wondering as to what was going to happen, Deshawn watched intently as each guy pulled out his pecker through the opening of his jockeys and began wanking away at his piece of meat, then chuckled at the '1 - 2 - 3 ruling being given to the participants!' The first guy to rush on forward, first handed hubby a hundred bucks, then moved to the table for a #2 .......................sliding his cock into the beauty's slick sleeve as his first stroke, withdrawing before sliding half-way back in for stroke #2 before shuddering as he proceeded to ejaculate his pent up lust. Camera zoomed on in to capture the first guy withdrawing his cock to be followed by the outflow of his thick goodies.

The next guy rushing on up to hand hubby his hundred bucks was recognized by the bartender, who told Deshawn "Oh, this guy's an ass man fer sure! Watch, it's gonna be a #1 fer him! Yer lucky ya went and got first dibs, cause guys who wanna bugger her ass has jist one stroke to do it in!" Sure enough, the second guy up did just that, sticking his cock up into the beauty's ass, his body shuddering as tried to keep still, then groaned out loud as he began unleashing his hot goo into her. Then the bartender continued "Anywhere else, like her pretty mouth or a hand job, you got yourself three strokes in which to pop your load! Break those rules and you're fined a hundred bucks and sent to the back of the room for the entire session! Those two goons that floored hubby when you were there, are the enforcers of the rules, and nobody wants to mess with them!" With the next guy rushing forward to hand hubby his hundred bucks was still shucking at his tool, Deshawn watched as the old boy who was in his eighties hustled up to the beauty's head, wrapping her silky blond hair around his tool and proceed to give her a shampoo after three strokes of his old cock. One by one, then now it was five horny guys around the blond beauty, and when Deshawn got his next glimpse he stared in awe while muttering loudly "Holy shit ........................she's one fuck'n mess!"

With the table on wheels, Lori was being taken to the showers by two hostesses, giving Phil time to count the big wad of money that his wife had earned for him. Counting it all up, the total came up to $17,200 and Phil handed thirteenn grand over to Lex as that would cover the full amount owed, leaving him with over four grand for himself. But here was one more thing that Phil needed to do to get his credit line restored, as Lex advised that "One more thing ya've gotta do before ya hit the tables again! While the gals git yer purty wife all cleaned up, ya go up to yer room and pack her bags up and bring'em back here! Yer purty wife will be spending the rest of her stay up in the penthouse suite ........................as Mr. Thompson's companion! When ya check out two days from now, yer wife will be down in the lobby waiting fer ya!" Watching that take place on the screen, Deshawn told the bartender "Time enough fer me to git one last drink! Then I's gotta make it up to my penthouse to welcome that purty little lady! Gonna be ordering all our meals from room service from here on in, cause its gonna be non-stop fucking and sucking fer me and that purty little thing!"