Bookie Collects on Debts - VI

(m/f, i/r, n/c)
by
Black Demon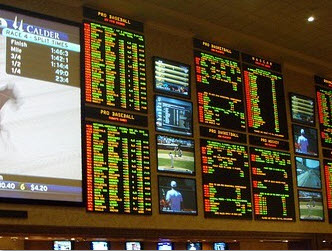 ____________________________________________________
Standard Disclaimer!
This is a fictional story intended for Adults only!
____________________________________________________
************ ***********
Note: The story below is a story in itself. However, it is also a direct continuation
of the earlier story entitled: 'Bookie Collects on Debts - 1 thru 5'
Lex Johnson pulled the folder for current delinquencies, looking for the largest IOU's outstanding, then to pull the files that he had built up on each of the debtors. In each of the debtors' files were the age, employment and background history of each ......................and then Lex would look for a picture of the guy's wife .......................to see if she qualified in being a lovely 'entertainment prize'! Lining up some attractive women was always the first part of the entertainment agenda, then making some personal invites to some high-rollers, those who loved such special entertainment and willing to lay out some big bucks for the privilege in participating in the planned entertainment that would be put up on the big screen to entertain the high-rollers up in the VIP Lounge. Having looked over the books each year, getting the high-rollers in for the weekend was the keep to bottom line each and every week. The sports betting brought in the high-rollers, elephants as they were referred to, the guys who had money to burn without flinching at the lost of a couple hundred thousand for any one weekend. Not only did the high-rollers lay a lot of their dough on the football games, they'd play the tables and spend a lot at the restaurants and shops, thus landing one at your casino resort was the envy of all the competitors.

Mrs. Tracy Burke, age 30, an interior designer

Having gone over the delinquent account of Mark Burke that had been given an extension, unusual as this particular account was normally made good after a the debt was a week old, it became apparent to Lex that tough times had apparent fallen upon this particular account holder as evidenced by the current status of the account. Then Lex took it to the next level, opening up the envelop in the back of the folder the contained a photograph of the wife of the delinquent account holder. 'Oh, sweetie, you'll be perfect for the long opening weekend of college football, especially between games for those special entertainment for the high-rollers! They git a look at ya and that'll keep the guys up in the VIP Lounge, keeping them from wandering on off to other casinos between games! Think I'll give big o'l Horny Horace Macomb a call and tell him he's got first dibs ........................with all the money he won over the past month and has always been reminding me to find him a blonde beauty for him .............................bet he'll be willing to part with $35k to sample yer lovely charms!' Lex thought as he looked up the potential buyer's email address to shoot him over a picture of the lovely wife up on the market. "Looking at the picture once again, Lex's other head began thinking 'Look at those beautiful pink lips! Wonder if they've ever been wrapped around a guy's cock? Horace might even up the ante to $40K at the thought of him being the very first guy to get himself his fifteen minutes of fame with the guys in the Lounge witnessing him giving the blond sweetie her first public debut in cocksucking!'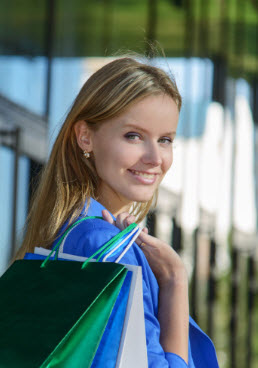 Mrs. Tracy Burke
Up in the casino's luxurious VIP & Sports Club, the bettors were milling about and getting drinks as there was quite a bit of time to kill before the next big game came on, and Lex Johnson knew that it was time to put on some hot entertainment to keep the customers happy. Having had his surveillance cams concentrate of the lovely Mrs. Tracy Burke for the past hour, starting from the moment that she and her husband had exited their suite, Lex had kept an eye on the beauty as she proceeded on the generous 'free' shopping spree at some of the top of the line stores in the complex. Seated next to Lex was the man who had agreed to the sum of $35K in order to get his 15 minutes (actually more like 1 hr 15 minutes) of fame, certainly destined to become an instant porn star, as far as the high rollers were concerned as they would soon be seeing him up on the screen. Knowing that Horace was quite a big bettor, loving good odds with money being no problem, Lex asked "Whadda ya think, Horace ......................she ever suck cock before? Tell ya what, here's 4/5 odds that she's sucked cock before and 8/5 she ain't!" "Hot, damn .......................she sure looks sweet and innocent ........................but her being married fer quite some time, I'd say that she's at least sucked her hubby off!" was Horace's reply. "Well, my man, in looking up the background sheet from my PIs ........................it indicates that she teaches Sunday school at Halbrook Christian Church, so's ya put up a $5K wager and it's yer choice: 4/5 she's sucked cock before or 8/5 she ain't sucked cock before!!" Lex bantered and then a handshake sealed the deal when Horace chose the 4/5 odds of her having sucked cock before while adding "I don't care if'n she teaches Sunday school, no fuck'n turd would be married to a pretty bitch like that and not demand some head!"
Announcement made that the 'real' entertainment for the day was about to commence, the high rollers were told to head off into the auditorium as the show was about to begin, advised that cocktail hostesses would be coming in to take their drink orders. As the bettors began to file into the auditorium for the big event, a highlight at those having attended before certainly looked forward to as it was indeed the big event for the day. To get some betting into the coffers, Lex then had the cashier flash on a 'future's' bet that asked 'Has this blond beauty ever sucked a cock before?' 'Y' or 'N' were the choices with 2-1 odds given that she had not sucked a guy's cock before. On the bottom of the big screen came the odds and the bet for the high rollers, showing info and stats of: age 30, married for five years, Sunday school teacher at a Christian church. Then Lex got on the PA to tease the guys about the bet, telling them that Horny Horace would be getting the answer to the question shortly after she arrived at the SPA for her treatment, relaying to the guys of the bet made by the big black stud. "Married five years .............30 years old .................so Horny Horace here figures that she surely as sucked off hubby! Horny Horace thinks that's the sure bet and way to go, even foregoing the 8/5 odds that she ain't sucked cock yet! So any of you guys want in on the action?" Lex played to the crowd to get them going and into the action. To add fuel to the fire, Lex then relayed Horny Horace's analysis of "I don't care if'n she teaches Sunday school, no fuck'n turd would be married to a pretty bitch like that and not demand some head!"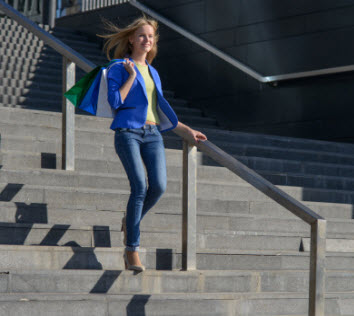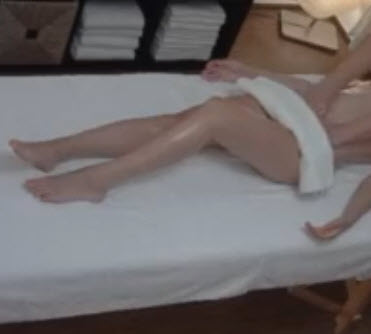 (L) Mrs. Burke on her way to her SPA appointment!; (R) Getting oiled and prepped by the assistant.
On the several big screens in the large room, they observed a lovely young blond woman, with several shopping bags slung over her shoulder, making her way down some stairs as she headed off to where the resort's SPA was located. As the live feed continued on the big screen, the audience observed the blond beauty entering the SPA and being greeted by the reception, then taking a seat while setting down her packages. The live feed had the receptionist going into the backroom, then a zoom in on the white powder being shaken into the wine glass before it was filled full with the bottle of Chardonnay. Once the tasty glass of wine consumed, then the receptionist was showing her inside to a private room and the blond beauty was instructed to disrobe and lay upon her back on the small table. The receptionist returned with another glass of wine in hand, giving it to the unsuspecting wife and a folded towel was place over her sex. The receptionist advised that she'd be prepping her by putting on the first layer of oil, then she was assisted on up from the cot and led to an adjoining room, told to now lay on her belly on the bed that was far wider than the cot. A layer of oil was administered to the back of her legs and body, then was advised that in a few minutes the masseuse would be in to give her the full treatment that she had come for.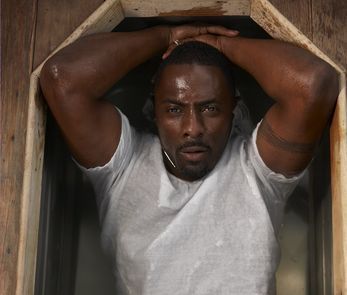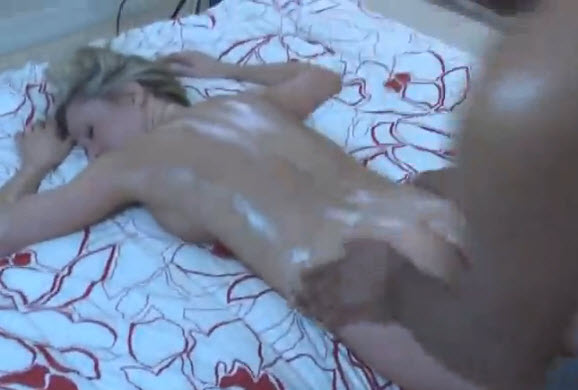 (L) Horny Horace Macomb as he prepares for his porn star debut; and (R) As he oiled up the beauty's succulent ass, he hoped to lube the inside soon.
Feeling her soft round ass up and then sliding his hand on down from the crack of her ass to her pulsating cunny, using the tip of his middle finger to lead the way, Horace felt the young wife's body quiver when his middle digit curved and dipped up into her very slick slit. From her soft asscheeks up to her oiled shoulders, Horace proceeded to give the young wife's tense body a much needed massage. Hands massaging her taunt shoulder muscles, then slowing down her back to where her bra had been, the massaging hands then move outwards till the thick fingertips were touching the bedspread at the outsides of her breasts. "Do you want me to massage yer nipples, Mrs. Burke? Lift up some if you want me to, sweetie!" the audience heard Horny Horace tell the young wife, then watched as she moved her arms under her and lift herself up to rest herself upon her elbows. Petite body rising as the beauty panted for breath, the audience saw the ebony hands disappear under her milky white body, then then came a loud moan as the beauty lifted her head back as thick fingers began milking her swollen udders.
For Mrs. Tracy Burke, having always been a loving and faithful wife, no man other than her loving husband had ever touched her body so intimately. Yes, Mark had been the only man to touch her bared breasts, had been the only man to touch her bared buttocks and to finger her sex. It was now so surreal as Tracy rested upon her elbows, welcoming the touching and fondling of her swollen teats, moaning "Ohhhhhhhhh ...........................ohhhhhhhhhhhh .............................yesssssss .......................oh, yesssssssssss ..............................touch me ..........................touch meeeee!" Never before had her teats been so swollen and so elongated, made so by the potent aphrodisiac that had laced the glasses of wine consumed, and Tracy needed them being pinched and pulled upon. The pleasure giving fingers and hands leaving her breasts had Tracy panting in heat, then she felt those hands kneading at her buttocks once again, felt that thick middle finger tracing down her asscrack once again, delving down till the thick finger was once again dipping into her pulsating slit. "Get up on all fours, Mrs. Burke ..........................I promise I'll make you feel good!" she heard her antagonize say, all while continue to finger her juicing slit. Gritting her teeth, Tracy's mind told her 'no' and not to comply, but her pulsating cunny told her otherwise and thus she scrambled to get herself up onto all fours ........................wanting her masseuse to make her 'feel good'.
With the squishing sounds emanating from between her loins, coinciding with the thick finger slicing in and out of her leaking cunt, Tracy could not control her pulsating cunny and knew that she must be leaking a lot as evidenced by the squishy sounds. Eyes closed while panting madly as her cunny was being fingered, the audience observed Horny Horace reach over to his side to grab a long thick purple dildo that was in the shape of a penis, watched at it began to vibrate when the switch was turned on. "Oh, Goddddddddddddddddddd ........................................ohhhhhhhhhh, myyyyyyyyyyyyyyyyyyyyy Goddddddddddddddddddddddddd ........................................ahhhhhhhhhhhhhhhhhhhhhhhhhhhhhhhhhh ..................................ahhhhhhhhhhhhhhhhhhhhhhhhhhhhhhhhhhh ...............................................ohhhhhhhhhhhhhhhhhhhhhhhhhhhhh!" Tracy squealed as the vibrating tip of the thick dildo ran up her juicing slit, then slowly going back down her dripping crack, before being inserted an inch or so up into her slushy slit and sending her petite body into a frenzy. Petite hands now balled up into tight fists while grasping the bedspread, with the agitated young wife panting feverishly as the vibrating dildo dipped in and out of her dripping cunny, it was apparent that the blond beauty was about to have a mind-shattering orgasm.
Just as she was about to shoot off over the edge and off into a mind-shattering orgasm, the vibrating dildo suddenly was shut off and pulled out of her clenching pussy, causing Tracey to open her eyes to fins out just what had just taken place. Looking back frantically and seeing the pleasure giving dildo still and silent, Tracy pleaded with the holder of it to "Please ............................please ..............................put it back in ............................pleaseeeeeeeeeeeee!" Panting desperately, Tracy begged "Please .......................oh, pleaseeeee ...........................pleaseeeeee, I was so close .......................so close .............................pleaseeeeeeeeeeee, I beg of you!" Delirious from the potent drug coursing through her system, the only thing running through her mind was the need to quell that nagging itch between her legs, so bad was her need that Tracy could not think straight. A strong hand grasping at her upper left arm pulled at her, causing Tracy to turn back towards the hand holding the purple dildo that she was in need of, moving towards the purple object that was hiding a similar object in the background ...........................one similar in shape, black and not purple in color, fleshy and not made of plastic! "Come and suck on it, Mrs. Burke! Lick it .................then suck it!" she was told as the switch on the purple dildo was turned on and the plastic dildo began vibrating.
With her mind so fuzzy and just a jumbled mess, Tracy stared ahead trying to keep her eyes focused on the vibrating purple penis, telling herself that she shouldn't do such a despicable thing .....................even with being just a piece of molded plastic! Still, with it being in the shape of a penis, her mind correctly told her that it just wasn't the right thing for her to do ..............no matter how dire the consequences. But the aching need between her thighs told her otherwise, believing that the sooner she did the unthinkable the sooner she'd have it back to where it was needed most. Panting for breath, closing her her eyes as she licked her lips to do the dastardly deed, Tracy leaned forward to lick at the plastic penis. But in an instant, her supposed masseuse put the dildo aside and scooted forward to present the lovely Mrs. Burke with the real 'thing' to lick and suck upon. With the tip of her pointed tongue extended, Tracy ran it up the lengthy erect object before face, thinking that 'It looked to be of clear plastic but it really feels rather rubbery like real flesh!' Opening her eyes, Tracy then cringed in horror at the sight of the real 'thing' that was waving right before her face, the filthy black penis that was so very real and of which she had just licked the sticky underside of. Her stomach turned and she was about to upchuck all over the place.
Lifting her hand and using the back of it to wipe her lips clean of the filthy thing she had just done, Tracy felt so sick and in total disbelief as to what she had just done, thinking 'Oh, God ................I licked a man's filthy penis .....................a filthy black penis!' Feeling thick strong fingers being wound into her long silky hair, Tracy felt her head being pulled forward, right back to where the filthy black throbbed in its excited state of erection. "C'mon, sweetie .......................lick it ......................suck it .............................put it in yer mouth, Mrs. Burke!" she was told while being pulled toward the filthy penis. Trying to pull back, Tracy cried out "No ......................no, I won't .........................I can't do such a filthy thing!" "C'mon, sweetie ...........................ain't ya ever sucked cock before? No even hubby's?" she was asked while again being pulled towards the bastards' filthy 'thing'. The cringe of disgust showing on Tracy's face told it all, then was confirmed by her utterance of "No ......................never ........................I could never do such a filthy thing!" "Well, there's always a first fer everything, Mrs. Burke! And today seems like such a good day fer ya to learn how!" she was advised, turning her head but was unable to avoid the slap on her face by the sticky flesh.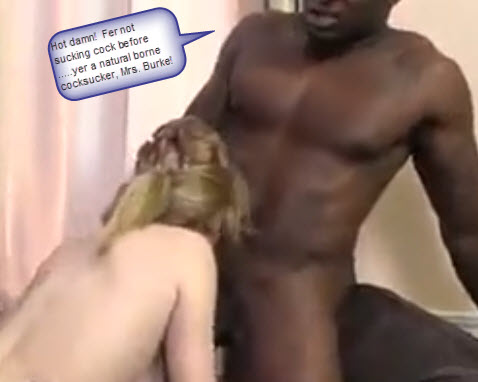 Delirious and in need to rid herself of the nagging itch between her legs, Tracy ignored all rational and her moral upbringing, opening her mouth wide and dipping her head down to engulf the bloated cockhead of the filthy black cock. All that mattered to Tracy at this instant was to get that pleasure giving dildo back up into her cunny, and if sucking this filthy cock would bring that about, then so be it. Licking at the bloated cockhead, teasing the pisshole with the tip of her pointed tongue, Tracy sought to complete the dastardly deed if it would bring about her getting her own relief sooner. As she avidly went about her degrading task, Tracy then heard the now panting male utter out "Hot damn! Fer not sucking cock before ......................yer a natural borne cocksucker, Mrs. Burke!" Gagging as the black bastard shoved his thick cock down into her throat, Tracy wanted to end this disgraceful act by pushing at the muscular thighs in order to push herself away. But then a second hand was at the back of her head to prevent her from pulling away, followed by the bastard commencing to fuck his filthy cock in and out of her mouth, faster and faster till he was face fucking her. Cock ejaculating right in her reluctant mouth, strong hands keeping her from pulling away, it was either swallow or choke to death on the filthy scum that had no where else to go.
Glazed eyes rolling and totally fucked out of her mind, Tracy was unaware of her head being held for the viewing of the audience as cum flowed over her lips and down her chin. Suddenly Tracy coughed and lurched forward holding her stomach, then the strong fingers entwined in her guided her to the right and off the side of the bed, just in time ...............................as she upchucked into the trashcan that had been placed there in case of such a situation happen, "Arrracccckkkkkkkkkkkkkkk ........................................arrrackkkkkkkkkkkkk .............................akkkkkkkkkkkkk!" But as she lay upon the bed, with her head over the side as she puked her guts out into the trashcan, Tracy's petite body quivered once and then again as vibrating dildo was back at work along her clenching snatch. Back above the top of the bed, Tracy tossed her head back as she gasped "Ohhhhhhhhhhhhhhhh .......................................oh, yesssss ................................oh, Goddddd, yessssssssssssssssss!" As the purple dildo disappeared before the watching eyes of the audience, the beautiful Mrs. Burke was obviously being driven out of her mind as she cried out "Oh, Godddddddddddddddddd ..........................................ohhhhhh, Goddddddddddddd ............................ahhhhhhhhhhhhhhhhhh ...........................................ahhhhhhhhhhhhhhhhhhhhhhhhhhhhh.............................................aaaieeeeeeeeeeeeeeeeeeeeeeeeeeeeeeeeeeeeee!"
''Damn, that little blue pill sure as hell kicks in fast! Sure glad I took one before the massage session began cause its giving me another hardon already! Shot off a whole pint down her throat only fifteen minutes ago and I's hard as hell again in such a short time!" Horace surmised as he shuck at his growing boner. Pulling aside the red and white comforter off the bed, Horace then turned the still quivering beauty over onto her back, on the nice cool and clean sheets on which he'd soon be fucking her good. Sliding his hand up the soft asscheek of the prone beauty, he then turned her over onto her back, and Horace found that the potent aphrodisiac had the young wife randy for even more action. 'Damn, for a young faithful wife, this little beauty is sure hot and horny!' Horace surmised as she raised and spread her sexy legs wide as he shuffled up between them. Grabbing hold of his rigid boner, Horace rubbed the tip of his up along her juicy snatch to make her groan and raise her arms up to accept him as her lover.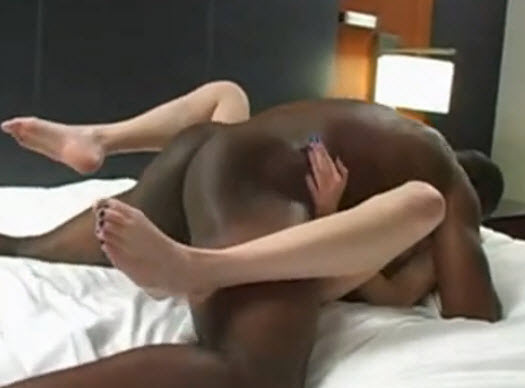 Mrs. Alix Green, age 31, a 7th grade schoolteacher at Norwood Junior High:
For 31 year old Alix Green, she just couldn't believe that there was an envelope addressed to her at the reception desk when she and her husband checked in. Upon opening it, it was a card signed by the owner of the casino welcoming her and hoping that she'd have a pleasant stay, and the owner advised 'As the Merrybelle Spa is normally booked solid weeks in advance, I took the liberty of booking you in this afternoon for a complimentary massage and facial! Enjoy your stay!' It was signed by the owner, Lex Johnson. There was an appointment card at the Merrybelle Spa for her along with a $500 gift card that was good at any shop in the end establishment. In looking at the list of high end shops located in the establishment, Alix was so excited and glad that her husband had insisted that she join him on his gambling junket. As there was one particular purse that had caught her eye in an outlet near her home, she saw that there was that same store here and hoped that it had it in stock. After having unpacked her suitcase and gotten out of her travel clothes, she donned a white pullover and white slacks, then slipped on a pair of white strap on heels to make her shopping run in this classy casino resort. Alix bid her husband Mike goodbye as she headed off shopping while he went to the crap tables, thinking 'What perfect timing for a quick getaway, spending the weekend shopping and relaxing in Las Vegas before going back home to begin a the school year with a new class of 7th graders!'
With two hours to spare before the appointment at the spa, she planned on first going to see if that purse was available and then check out some of the other fancy shops. Little did she know that once she stepped out of the elevator and into the lobby, her every move was being picked up on video and being transmitted up into luxurious VIP & Sports Club upstairs where the high-rollers and special guests were being entertained by the casino owner. Her getting that $500 gift card and complimentary spa appointment were really no freebies as she would pay quite dearly for them, for the devious casino owner was intent on making it all back and then some from the guests in the special club. As Alix walked happily about while carrying a number of bags, unaware of the camera trained right on her, the casino owner was announcing to the VIP guests "After you place a bet and given a ticket, write your name on the back of it and place it in the raffle jar in the corner! If your name is on the first ticket drawn, you win the honor of give this sweet blond beauty the 'facial' that she'll be anticipating when she goes to the spa! So don't disappoint the lady as she hoping for a real creamy one! And needless to say ......so are we!" Alix would certainly have cringed with disgust had she heard the owner's announcement that was followed by a roar of laughter and applause by the VIP guests, for it was no ordinary 'facial' that a spa would provide.