As Jill wanted to do everything possible to save her mother's life, she asked the family friend to make contact with the man and see if he could make an appointment for her. Appointment set up a week in advance, Jill packed up her best outfits and bought the train ticket that would take some fifteen hours to get there. Dressed in her nicest outfit, a black dress and heels, Jill arrived early at the the coffee shop where she was to meet the rich man. 'I hope that family friend is right in that Mr. Kong might be willing to pay for mother's surgery!' Jill thought to herself while waiting. As it turned out, it was to be just a brief meeting with Mr. Kong himself, with the top man expressing that he might just willing to pick up the surgery bills if she met all the criteria he was looking for, and if she was then willing to take on a very special assignment. Jill was quite excited at that, but was told by Mr. Kong that his assistant would be arriving in a minute or so to ask some very personal questions of her, and that truthful answers were expected of her.

Moments later, Mr. Kong had bid her goodbye and a Mr. Kwock was now seated across from her, and indeed asking very personal questions of her. Told that everything she said would be checked out, both by a background check and also her being examined by a physician. Jill would soon learn that her response of still being a 'virgin' would be verified in the examination by the medical doctor later that afternoon. Once her virginity was confirmed and that she had no sexual diseases, she was advised by Mr. Kwock that Mr. Kong would take care of the bills for her mother's surgery within ten days after she completed the special assignment ...................provided that she was willing to make the necessary sacrifices to do so! Inquiring as to what sacrifices she would need to make in order to achieve her end of the deal, Jill sucked in her breath upon learning that she'd be working for a vile American man who desired to take advantage of innocent young Asian women!

When she inquired as to whether she'd have to sleep with this man she'd be working for, the response was "Anything he wants or demands of you!" At that point, Jill knew that it meant sacrificing her precious virginity to this vile man if she was to accomplish the assignment. But Jill told herself that it would be a small sacrifice to make in order to save her mother's life. Nodding her head, she then advised "Yes, I'll do it! I'll do whatever is necessary to complete the assignment given to me!" She was then handed several items that looked like things a woman would have in her cosmetic bag, then was shown how to activate each item, told of each being a state of the art spy cam that provided both good video and audio when pointed in the right direction. Then she was told "This fellow has a penchant to have a young lady like you dress up in something making you look much younger ....................something that might resemble a girl's high school uniform! When that happens, you need to have these spy cams on to capture whatever takes place then!" "What takes place then?" she asked, but the only response from Mr. Kwock was "Whatever happens is what needs to be captured on video when he makes you dress up that way!" Then she was given a hotel room key by Mr. Kwock and advised that Mr. Kong would take care of her living expenses while working on the assignment, that it was a hotel room in one of Mr. Kong's hotels downtown and in walking distance to where she'd be employed at Sparrow Electronics.

The next day, in her other dress she had packed with her, a beige one, Jill arrived at Sparrow Electronics and waited to meet with the person from Human Resources who would interview her. As she gazed out of the window in the waiting room, Jill thought to herself that 'I was told that Mr. Kong knows the head of HR and I'm assured the job!" Upon meeting a man named Mr. Pang, Jill learned that he was the head of the HR Department, and that the fellow knew Mr. Kong personally as they had grown up in the same village. The interview went very smoothly and she filled out the basic forms for employment. As advised in her meeting with Mr. Kwock, she put down the reason for seeking employment with the firm being the need of a job to get funds to help pay for her mother's needed operation. Once the forms were completed, as this was a Friday afternoon, Jill was told that she'd start on Monday morning and was to come to HR at 8 a.m. From there, she'd be taken to meet her new boss, a fellow from America named Mr. Peters ........................................the vile man who preyed upon innocent young Asian beauties! Over the weekend, she was to go by one of the clothing stores owned by Mr. Kong, to pick out a wardrobe of nice working dresses, all of which would be of no charge to her.


Introduced to Mr. Jim Peters, Jill was taken aback as the man just seemed so nice not all what had been told of him by Mr. Kwock that prior week. 'Am I expected to seduce him into going to bed with me?' Jill wondered, then thought 'No, all I was told was to do whatever he wanted or demanded of me!' Everything went quite smoothly that first week on the job, with her boss basically leaving her all alone other than to do some simple transcribing and filing. But late Friday afternoon, Jill got the first hint of what she had been told my Mr. Kwock might just be coming true, such being told by Mr. Peters that she needed to "Bring an overnight back for an out of town business trip on Thursday next week!" As she had been instructed by Mr. Kwock in their meeting the other week, Jill then sent a text message to advise of the upcoming out of town business trip she would be making that next week with Mr. Peters. From that point on, Jill got fidgety at the possibilities of what could or would be demanded of her. 'What if he wants to have sex with me? Can I go through with it .........................and allow him to take my virginity?' she asked of herself.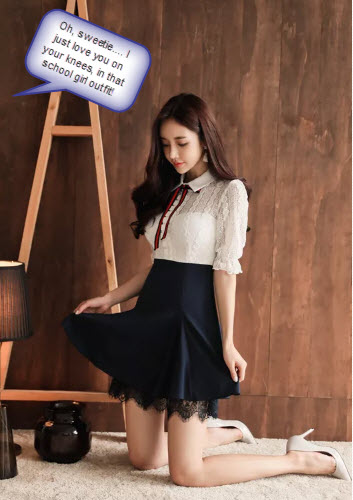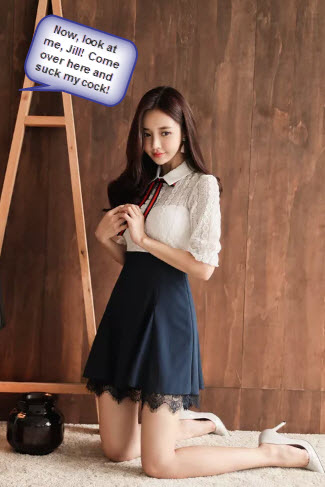 On the one hour flight to the city of Nanting, Jill was nervous as could be, told by Mr. Peters that they had a dinner meeting set for 7 p.m. at the restaurant on the hotel's 3rd floor but he wanted her to come to his room at 4 p.m. to go over the presentation slides. After having checked in at the hotel and going up to her room to unpack, Jill watched the time so as not to be late for her meeting at Mr. Peters' room, but she was jittery at the prospects of what could happen there. And as 4 o'clock neared, Jill went over to check the contents of her purse, making sure the equipment furnished to her by Mr. Kwock was ready for use if the need arose. Just before 4 p.m., Jill looked at herself in the mirror, making sure that her beige dress and matching heels looked good to meet with her boss.
Upon entering Mr. Peters' room after knocking to announce her arrival, Jill was handed a box by her boss and told to go and change into it in the bathroom, and to leave her beige heels on. Nervously going into the bathroom and closing the door, Jill sucked in her breath to see what looked very close to a girl's red, white and blue high school uniform. Taking deep breaths to compose herself, Jill then proceeded to get out of her beige dress and then to put on the schoolgirl outfit. Before exiting the bathroom, Jill turned on all the spy cams in her purse, held them in her hand as she was to strategically place them to capture the upcoming events in the room outside. Once out of the bathroom and having placed the gadgets in appropriate places, she then did as Mr. Peters instructed as the where to go and then to kneel down upon the carpeting.
Then she heard Mr. Peters comment "Oh, sweetie ...............I just love you on your knees, in that school girl outfit!" Then her boss was stepping closer towards her, but Jill turned her head away upon hearing the zipper of his pants being undone! Next was Mr. Peters growling out orders to her "Now, look at me, Jill! Come over here and suck my cock!" Jill just could not believe the change that had come over her boss, from being quite a gentleman to that now of a demented sex fiend. Never before had Jill been asked, much less ordered, to knee walk over to put her mouth on a man's filthy penis, of what was happening to her at this very moment. Needing to do whatever it took to keep this job, in order to accomplish her special assignment for Mr. Kong, Jill reminded herself that her mother's life depended on her doing whatever was demanded of her. And upon turning back, Jill then saw her vile boss with his stiff penis in hand, she then began shuffling forward on her knees forward in order to perform the nasty task being demanded of her.
Told the reach out and start shucking at his throbbing penis, Jill swallowed deeply to bring herself to do the nasty deed, she did as asked and wrapped her trim fingers around the pulsating flesh. Her body quivered upon feeling her boss's penis lurch in her hand when she gripped it in a fist, then Jill's eyes focused on the flaring pisshole that seemed to be winking at her. Shucking at the now very rigid shaft, Jill felt Mr. Peters wrapping his fingers tightly in her long hair, then she was being pulled towards him ...............................towards the now purplish tip of his flaring cockhead! "Open your mouth, bitch! Suck it .......................suck my cock!" came the orders from above as her clenched lips were being rubbed up against the fleshy head of the pulsating penis. With her lips becoming wet and slippery, it became apparent that her vile boss's penis was leaking with his pre-cum juices. Gasping from the painful tug of her hair, her open lips were suddenly penetrated by the thick fleshy shaft that had been thrust forward into her face.
For Jim Peters, he had been looking forward to this moment from the second he was introduced to his lovely new secretary that last Monday. The lovely Ms. Jill Quon was a dream come true, a sweet young Asian beauty that was as innocent as they came, and Jim suspected that she never had sucked cock before and most probably still had her precious little cherry intact. Having read over her job application and resume, the fact that she came to work there was due to her mother's need for a life-saving operation, giving him a hold over her that couldn't get any better. With her needing to keep this well-paying secretarial job, Jim figured that she dared not refuse any demands that he made upon her, no matter how disgusting or sordid they might be. Such was being displayed at this very moment with the young innocent beauty coming over as told and taking his cock into her mouth. Jim sucked in his breath as he closed his eyes, holding her head tightly with his grip in her hair, sliding his throbbing cock in and out of her hot wet mouth as he moaned out loudly "Oh, damn ......................yeahhhhh ....................ohhhh ...........ohhhhhhh .......................suck it, sweetie ..............................suck it good ............................get a good taste of a man's cock!"
Horrified to say the least, Jill tried to pull her head away, but the tight grip of the strong fingers wound about in her hair prevented her from doing so. At that point, Jill came to realize that Mr. Peters was not going to release her until he did his 'thing' in her mouth, which according to the text books meant he'd be ejaculating his filthy semen right into her mouth. She knew from the books in school of what happens when a man gets his 'happy ending', but never did Jill expect a man of Mr. Peters's status to want to do it in a woman's mouth, that it was normally just done when a couple had sex together. That was basically all she had learned in the rather conservative teachings at her high school, especially as a woman was not supposed to have any sexual interaction with a male till after a marriage ceremony was performed. She had resigned herself to the sacrificing of her virginity in order for her mother to have the needed operation paid for, but never had she contemplated having to perform a vile and degrading sex act orally with her mouth.
With her hands on the thighs of Mr. Peters, Jill desperately tried to push herself away to end the disgusting ordeal, but such was to no avail as the strong hands of her deviant boss held her firmly in place. The best she could do was to keep Mr. Peters from shoving his filthy 'thing' all the way down into her throat, thereby allowing her to breathe and not choke to death on his filthy penis. "Mmmmmfffffff ...............................mmmmmffffffff ..............................mmmmmmmfffffff!" was all that could be heard of the pleas she was trying to make. Eyes widening in fear, Jill looked upwards to plead for mercy with her eyes, but she only got to view the demented look of lust on her vile boss's face as he was obviously enjoying her plight. Jill next heard the chuckling of her vile boss, then he was telling her "Gonna cum soon, sweetie ..........................gonna cum in that beautiful mouth of yours .........................gonna make your first taste of a man's cum a memorable one!" "Ahhhhhh .......................ahhhhhh ..............ahhhhhh .........................cummingggggggggggg!" her boss announced from above, but Jill was just not prepared for the massive amount of thick goo suddenly flooding her mouth from the erupting cock.
Mouth now filled to the brim with the foul tasting goo, Jill was unable to spit it out as her mouth was plugged by the bastard's fleshy shaft, so she only had the choice of swallowing it all down or to choking to death on it. With self preservation kicking in, Jill began swallowing all the filth that had been ejaculated into her mouth, and immediately her stomach began churning from the slimy goo that had made its way down into her now rebelling belly. As Jill proceeded to swallow her boss's filth, the bastard continued to face fuck her, laughing and gloating with delight as he continued to degrade her. Only when the bastard's lust had been sated did her vile boss cease the humping of her face, his strong hands holding her absolutely still, keeping her from moving on his sensitive member. Finally the softening penis was pulled out of her mouth as the strong fingers wound in her hair pulled her head backwards and away from him. Panting for breath while still on her knees, Jill heard Mr. Peters tell her "Gonna get me some rest before the meeting! Come back just before seven ....................and wear that beige dress you came here with! And hang up that school girl outfit ...............................you can put it on again for me .........in your room after the dinner meeting is over!" As her belly heaved, Jill reached over to grab the dark brown piece of pottery sitting on the floor nearby, which she brought up to her face as she began puking her guts out into it.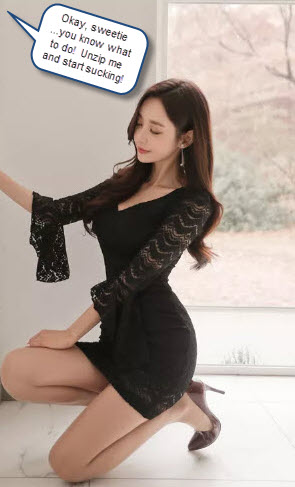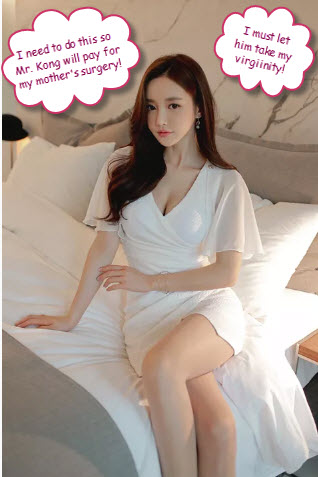 At the end of the week, Jill was told to have a bag packed for another overnight business trip that coming Thursday. On that particular out-of-town trip that next week, Jill would find that the trip had been a totally unnecessary one, for it was just a friendly lunch meeting with an existing customer and very little business discussed. With it just being an hour and a half luncheon meeting with the existing client, there were a number of flights that would have gotten them back home before 9 p.m. and even a couple more after that. Having worn a nice black dress and heels for the luncheon, Jill would find out the true reason for the trip being needed, as Mr. Peters told her to come into his room to help relieve his pent up tension. That required her to kneel before him, as her boss then advised "Okay, sweetie ................you know what to do! Unzip me and start sucking!" Once the dirty deed was done, her boss once again turned to walk to his bedroom, telling her to "Come back at six! Dress nicely as it's a fancy 5* restaurant we'll be dining at tonight! Oh, bring your things with you when you come .............................you're sleeping here tonight!"
Putting on her other outfit, a nice white dress with matching heels, she made her way over to Mr. Peters' room while wheeling her carry on luggage with her. Jill swallowed nervous, knowing full well that it was to be her last meal before making the ultimate sacrifice in order to get her mother the needed surgery. At dinner, Jill could only pick at her food as she had no appetite at all, knowing full well as to what was to come once they went back to his hotel room. Dinner over and back in Mr. Peters' hotel room, while sitting on the edge of the bed, Jill's mind raced as she told herself "I need to do this so Mr. Kong will pay for my mother's surgery! I must let him take my virginity! If I don't go through with this ....................all my efforts will have been for naught!" Going to the bathroom 'to freshen up', Jill then proceeded to make sure the spy cams were turned on so she could strategically place them to capture the events about to take place on the king-sized bed in the adjoining bedroom.
The spy cams were to be delivered that next day to Mr. Kwock an hour after the return flight, as the contents would prove to be invaluable as everything would be on it, first capturing Jill being told to get up from the bed and stand there as Jim Peters proceeded to strip out of her white dress. The audio was also excellent as Jill's fearful voice could be heard telling her boss "Please ......................I'm a virgin ..........................I've never been with a man before!" Then Jim Peters' voice could clearly be heard replying "Well, you can walk out of this room and your mother will never be able to get that operation as I'll see to it that you won't get a good paying job like this again!" As Jill remained standing there by the bed, the spy cam got it all captured as her demented boss proceeded to undo the back of her bra, and then that garment was also gone. The bastard then began fondling her breasts, first touching and caressing her stiffening nipples, and then Jim Peters bent his head to suckle upon them and bite at them.
Panties pulled down the beauty's trim hips and let to fall around her heels, Jim Peters held her arm so she could step out of them, then had her lying back on the bed while clad in only her white heels. As the beauty lay on the bed trembling with fear, her evil boss could be heard chuckling as he proceeded to strip out of his clothing. And when Jim Peters was buck naked and stepping towards the bed, Jill could be heard asking "Aren't ........................aren't you going to wear anything?" With his back to the spy cams, the audio picked up his chuckling reply of "Don't worry none, sweetie .........................I'll take care of things if you get knocked up!" "Pleaseeeee ....................Mr. Peters .........................I'm scared!" Jill was heard panting out in fear. The audio then picked up Jim Peters voice saying "Don't you worry that pretty head of yours none ..........................I'm a real good cherry popper! You'll be thanking me for doing it later ........................better than having an inexperienced guy trying to cop his first cherry! Lemme get you ready!" Jim Peters could be seen pushing Jill's knees apart as he got between her spread legs, putting his head down into her soft curls, rubbing his face in her muff before tonguing her virginal twat. With the trembling beauty sniffing out in fear while biting at her bottom lip, then her bastard of a boss was moving up to mount her, the impatience of the bastard could be seen as there was no further foreplay as he just fitted himself up against the innocent beauty and dropped his heavy body down upon her petite one.
"Owwwwwwwwwwwwwwwwwww ..............................................stopppppppppppp .....................................stopppppppppppppp .....................................it hurtsssssssssssssssss ...........................................it hurts so badddddddddddddddddd!" came the pleas from the plundered young beauty. But there was no stopping Jim Peters as he put his large hands under her ass and just hammered away at the crying beauty. Then blood stains could be observed appearing on the white bed sheets, making it quite evident that the young Asian beauty had just lost her virginity to her devious boss. As Jill's face cringed with pain as she sobbed in despair, Jim Peters kept on hammering away and showed no concern whatsoever of the agony he was putting the young innocent beauty through. As Jim Peters continued to ravage the body of the petite beauty, the audio picked up Jim Peters voice exclaiming that there "Ain't anything better than coming to Asian countries and getting to pluck so many precious little cherries! Oh, sweetie .......................just went and plucked your precious little jewel! So, what are you gonna tell the man you marry ..........................how you going to explain to him how went and lost your cherry to another guy? He might think that he went and married himself a little whore when he discovers there ain't no cherry in there for him to pop!"
As the fuck session continued on, Jim Peters' peter was streaked with blood from the sobbing beauty, but that did not hinder the onslaught at all. "Whooooooo .................................whoooooooooo ............................whoooooooooooo!" was picked up on the audio of the wheezing Jim Peters as he sliced his bloody cock in and out of the sniffling beauty. As then the fuck began to pick up steam, and Jim Peters announced that "Gonna cum .............................gonna cum real soon .................................gonna fill ya up with my jizz .......................................gonna fuck my baby up in that pretty little belly of yours!" And then Jim Peters' body stiffened atop the petite beauty, shuddering once and then again, making it obvious that he was ejaculating his potent semen up into the fertile womb of the inexperience young beauty. With Jill using an arm to cover her eyes as she sniffled as her petite body trembled from shame of what she was now going through. Meanwhile, Jim Peters was seen getting off the bed to walk up to the head of the bed, grabbing Jill by the hair to pull her up some ............................ordering her to take his cock into her mouth once again, to lick him clean of the bloody mess she had made upon it! All of this had been captured on the state of the art spy cams, with both video and audio distinctly showing who was on the screen and distinctly producing quality reproduction.
Having taken off that following Friday to attend the grand opening of the new hotel in Quinlan, China, Jim got to accompany his beautiful wife on her very first out of town business trip at the invitation of her generous boss Mr. Kong. Flown out on a company jet, they were given a tour of the new facility by the hotel staff, then they were shown up to one of the penthouse suites. Jim learned that Mr. Kong's wife was stricken years ago with Alzheimer's disease and currently in a care facility, but that his daughter would be flying in from college to attend the grand opening with them. As Stacey explained to him, it was to be a bit of a working weekend for her as each night there was to be a business meeting with investors, but that her boss had arranged for his daughter to show him around the city while business was conducted. For that evening's dinner plans, it was to be just business attire, that they'd first go the penthouse suite next door where Mr. Kong and his daughter would be staying for a cocktail and then going down to the 5* restaurant for dinner. He watched as his wife used the remote to drop down the large screen on the living room wall, then tested out the video to be shown later that night in their penthouse suite to the big investors.
When 7 p.m. arrived, Jim and his wife headed on next door to meet up with her boss and his daughter who just got in from college, then rang the doorbell. Door opened by a butler, they were led into the plush penthouse suite, then his wife was introducing him to her boss. After shaking hands with the old boy, Mr. Kong turned towards one of the bedrooms to call out to his daughter "Honey .......................our guests are here!" With the appearance of the young Asian gal from college, Jim's eyes widened in horror as Mr. Kong advised "Sweetie ........................this is Mr. and Mrs. Peters from the United States! Jim and Stacey, this is my 'daughter' Jill who just flew in from college to attend the grand opening with us!" Jim began to perspire profusely upon reaching out to shake the soft petite hand of the lovely Asian beauty ...........................the very same hand that had shucked at his cock just the other day, till it got hard and he then made her take it into her mouth! Jim knew that something was definitely up as Jill pretended not to know him, but she certainly had not just flown in from college, and the resume of Ms. Jill Quon told him that she was not in fact Mr. Kong's daughter. All this was apparently being done for the sake of pulling the wool over his wife's eyes, as Jim came to surmise, just some very elaborate scheme having been concocted ..............................'But why? Why's this happening?' Jim wondered.
For Jill Quon, everything now began to fall into place, for she had no clue whatsoever that Jim Peters was married to Mr. Kong's executive secretary. Her last contact had been with Mr. Kwock, who had relayed the instructions given to him by Mr. Kong, all being related to that weekend's activities. Mr. Kwock had told her that her job was to keep the husband occupied while Mr. Kong entertained his beautiful secretary, for the old boy was quite anxious to get into her panties. When told that she was to take the husband back into Mr. Kong's penthouse, to turn on the one way mirrored wall so the husband could witness the seduction or maybe even rape of his beautiful wife, Jill expressed her concerns of the woman's husband standing still while such an event took place. She was then told by Mr. Kwock "Don't worry, my dear, its all been taken care off! Told as to what was expected of her for both Friday and Saturday nights, Jill merely said 'yes' and made no further rebuttals. Still, she had her doubts that everything would go as smoothly as Mr. Kwock seemed so confident that it would. 'Well, that Jinglee Tea that Mr. Kwock mentioned should certainly do the trick ......................as that's the preferred date-rape drug of the Orient!' she thought.
Upon her meeting Mr. Kong's beautiful secretary, Jill then remembered that framed photograph on Mr. Peters desk, that that being a photograph of his beautiful wife. And that woman in the photograph had just been introduced to her as Mr. Kong's personal secretary, she was Mr. Peters' wife! 'Ah, those incriminating videos of Mr. Peters forcing me to do his bidding in order for me to keep my job ..........................that's what will keep him from making any kind of fuss when Mr. Kong makes a move on his beautiful wife! Now it all makes sense!' Jill concluded. But as Mrs. Peters seemed so sweet and innocent, Jill felt a bit sorry for the unsuspecting woman, but told herself 'It's that asshole she has for a husband that has caused all this for her! Her being so sweet and innocent .......................a beautiful blond from America ..............................guess that's why Mr. Kong was willing to go with such an elaborate and expensive plan to get into her panties! Guess I owe her a lot of thanks for being so beautiful and nice, as her downfall is what's going to help pay for my mother's operation!' Jill concluded.
For Jim, it was a long nervous dinner at the 5* restaurant, of which he only enjoyed the potent drinks that they served to help calm his nerves. When dinner had come to an end, Mr. Kong advised "Jim, I hope you don't mind but your beautiful wife has to attend a meeting with me and some investors! We'll first use the presentations that your wife brought with her and then put the video on when the investors arrive up at the penthouse! In the meanwhile, I've asked my 'daughter' to be a good hostess and to take care of your needs by showing you around!" Only at that point did Jim wonder as to why the business meeting wasn't to be held in a private room elsewhere on the premises, rather than up in the residential suite where they were staying. Out of the restaurant, as he and Jill headed out the lobby door while his wife and her boss headed to the elevator, Jim turned to see the elevator door closing shut. Completely baffled as he looked over towards Jill, Jim could only mutter out "What the hell's going on?" As Jill stepped towards him, sliding hear arm around his, he was told "I guess all men are alike in some ways .......................because it appears that Mr. Kong desires your beautiful wife ..............................wants her to do the very same kind of nasty things you made me do for you!"
'You ....................you mean this has all been a setup?" Jim asked of the young Asian beauty. The reply was "Yes, Mr. Peters .............................I did need to keep the job and not let you fire me .........................to do whatever you wanted of me ...............................and in exchange for getting it all on video, Mr. Kong will pay for the surgery that my mother needs! I was hired by Mr. Kong and given an assignment ..............that being to do your bidding and to capture it all on the top of the line miniature spy cams that his assistant provided me with! Yes ..........................there are many episodes captured on video of you ordering me to get down onto my knees and suck off your filthy cock! And yes ..................your taking my virginity is also on the video ............................and that of you making me taking your bloody cock into my mouth to lick it clean! Imagine what your beautiful wife would say or do if she got a private screening of the video .......................as I suspect that she has no idea whatsoever as to the pervert she's married to! So unless you want that video to be sent to your wife, along with the company here and in America, you will not make a fuss of Mr. Kong taking advantage of your beautiful wife in the same way! To put it simply, Mr. Peters ...........................you're royally screwed!" Then he was being pulled towards the elevator as Jill advised "We're to now go up to Mr. Kong's personal penthouse suite!"
Up in the penthouse suite where they had met Jill and Mr. Kong earlier, Jim was advised "Now I've been given instructions by Mr. Kong for this evening! Everything that happens in here is being recorded on video, and Mr. Kong will be reviewing it later! If you don't comply with I'm instructed to tell you to do, then Mr. Kong will be sending the video out and you'll be banned from doing business in both Asia and America!" With the flick of a light switch, the mirrored wall turned into what was like see through glass right into the next penthouse suite, the one in which Stacey and her boss were currently in. Jim watched as Mr. Kong poured out a couple cups of what appeared to be hot tea from the teapot, then he heard Mr. Kong telling Stacey that "This is a very special tea, called 'Jinglee Tea', that I had flown in for this special occasion! It's found only in one part of China! Very sweet and makes you feel warm all over!" As his wife tipped the teacup to her lips, then a second time before she commented on how good it tasted, was when Jill whispered into his ear that "That tea is a very potent aphrodisiac that will make one a bit drowsy ..............................but very much in need of sexual relief! It acts very quickly ......................and very effectively! It's the Orient's version, and even more potent, than that of the date-rape drug that's prevalent in the United States!"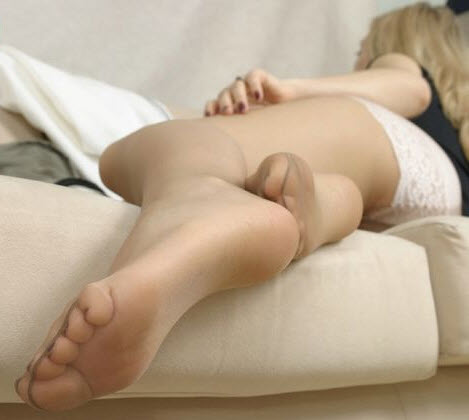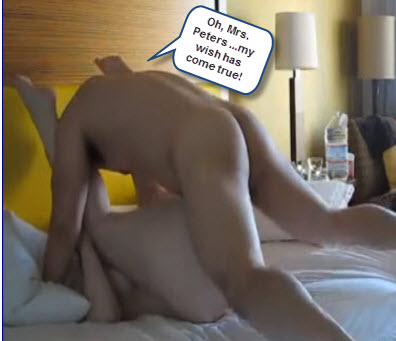 Indeed the tea began to take hold very quickly as Jim saw the glaze in his wife's eyes, then observed her head nodding back and forth as if she was about to fall asleep. He watched as Mr. Kong reach on down to Stacey's legs as she now lay back on the couch, saw the wrinkled old hands grasping the back of both her navy blue heels. Heels removed and placed upon the floor, Jim watched as the old boy first caress Stacey's nylon covered feet, then the bastard was rubbing his face in wife's soft soles to sate his obvious foot fetish. Once his wife's nylons were peeled down her sexy legs and off her feet, her deviant boss returned now to rub his face up against her bare soles, even taking her toes into his mouth. Jim was surprised at the strength of the old boy as he bent over to scoop Stacey up in his arms and carry her over to the king-sized bed.
With Stacey delirious on the bed, Jim watched as her deviant old boss began undressing her, first getting the dress unzipped and up over her head. Bra clip undone at the back, then the shoulder straps were pulled to remove the garment from her, with Mr. Kong bending over to suckle some upon a budding pink nipple. Then the bastard was working Stacey's lacy panties down over her trim hips, down her long sexy legs, then off her feet before the old boy brought them up to his face. Once the old boy stripped off his own clothing, he was climbing up on the bed, lifting one of Stacey's legs at a time to place the back of her ankle upon his shoulder. As the pudgy old guy shuffled on up the bed, pushing Stacey's legs on back over her head, Jim watched as the bastard guided his old cock into place.
"Oh, Mrs. Peters ...................my wish has come true! It has finally come true .........................all thanks to that hubby of yours who couldn't keep his pants zipped!" Jim heard the bastard quip as he stuck his old penis deep into Stacey's juicy slit. Jim didn't know what to do when Jill reached on over to unzip his pants, put her hand on in to search for his rising cock, then that soft hand of hers was pulling his throbbing cock on out. As he looked down at the Asian beauty he had previously taken advantage of, he was told by Jill that "I must do this in order for Mr. Kong to pay for my mother's surgery! If you don't want the video of us being sent out, then you will let me do this .......................and Mr. Kong wants you to shoot off all over the mirrored wall when he breeds your beautiful wife!"
Knowing that he had no choice in the matter from what he had learned from the young beauty currently fisting at this cock, Jim could only grit his teeth while clenching both fists tightly, watching as his beautiful wife was being raped by the old Asian bastard. "Oh, yes ..............................my beautiful American bitch .....................you are finally mine .........................................yes, my sweet golden haired beauty! Oh yes, Mrs. Peters ...........................from now you will accompany me on every out of town business trip ..................................and there will be many for just monkey business for you and me! And when you do go back to America, you'll have a little slant-eyed little one to take with you! And when your husband goes out of town on his own business trips ............................I shall take his place in the bed you share with him!" was what Jim heard coming from the suite next door as Mr. Kong proceeded to give Stacey a good fucking. As the old boy got up a good head of steam while shagging away at Stacey, so was the fisting of his cock, and when Mr. Kong grunted out his spurting lust ................................Jim could only groan out in unison as he plastered the mirrored wall with his shower of cum!
Jim watched as his beautiful wife got fucked two more times by her horny old boss, each time there was so much cum oozing out of her raped slit, and that was the same amount of times that Jill's fisting of his cock had him spurting all over the mirrored wall. Finally the old boy was exhausted and was pulling the sheets up over Stacey who had passed on out after the last fuck session. Told that he wasn't to leave the room till Mr. Kong returned, Jim remained there after having tucked his cock back into his pants and zipped on up. Unable to look up at the gloating old bastard who had just gone and raped his beautiful wife, all due to his own indiscretions, Jim was then handed a jigger of what appeared to be some sort of whiskey. Told by Mr. Kong to down it as it'd do him good, Jim did so without question, then he began to get warm all over and his cock began rising up in his pants. He heard Mr. Kong tell Jill to take off her panties and to get down get down on her hands and knees, to which the sweet Asian beauty complied, then watched as Mr. Kong walked over to Jill and flipped up the bottom of her dress to bare her beautiful ass.
Then Jim heard Mr. Kong tell him "Since I put on a show for you tonight ..............................it's only fair that you now do the same for me as I'd like to see some entertainment! Doesn't Jill have a nice beautiful ass, Jim? Now I want you to put on a good show for me .............................so take off your pants and get behind her! Then I want you to fuck this sweet little beauty right up the ass!" It was then that he heard Jill whimper out in fear, pleading "Please, Mr. Kong ........................don't make him do that to me ........................I'm scared .................................I'm so scared ................................I've never had it back there before!" But Jill was silenced when the old boy advised "Your assignment is not over until noon Sunday! If you want your mother to have the surgery, you'll let Mr. Peters fuck you up the ass, my dear!" With the young beauty trembling, head bent down in defeat with her streaming long hair covering her facial features, Jim could hear her sniffling in fear as he shuffled up behind of her. Caressing her soft creamy ass, grasping her by her trim hips, he then lunged on forward ...............................causing the young beauty to scream out "Eieeeeeeeeeeeeeeeeeeeeeeeeeeeeeeeeeeeeeeeeeeeeeee ...............................................nooooooooooooooo ..........................ohhhhhhhhhhhhhhhhhhhhhhhh .........................................................ohhhhhhhhhhhhhh, pleaseeeeeeeeeeeeeeeeeeeeeeeeeeeeeeeeeeeeeeeeeeeeeeeeee!"
Upon waking up the next morning, Stacey held her head in her hands, feeling okay but a little lightheaded, but for the life of her couldn't remember anything past the nice dinner at the 5* restaurant. Looking about the room, Jim was asleep on the bed next to her, she was dressed in her usual jersey pullover and everything looked to be in order. With her husband stirring awake, she waited a moment before asking "Honey, how did everything go last night? I remember dinner but everything else seemed to have been a blur as I can't recall the details! Did I tell you anything?" Sitting up on the bed, Jim then replied "Yeah, as far as I could tell, everything went smoothly! Jill and I got back and apparently the meeting had just concluded as Mr. Kong said he had just gotten there when I brought Jill back from our tour. Mr. Kong was happy as could be, saying that you were just fantastic and he couldn't be any more pleased with your performance!" What had really happened was him coming back to the suite and performing the task of following Mr. Kong's instructions, that of going the the bed and spreading her sexy legs wide apart while she remained in a deep sleep induced by the potent herbal tea consumed.
As Mr. Kong was to be watching from the one way mirror, Jim first licked the cummy evidence off her glazed thighs, then was to put his mouth over her raped slit and to start sucking. He had to keep sucking the cum out from her until Mr. Kong's seed stopped flowing out of it. Once that was done, then he could get a wet wash cloth to wipe her on down. Retrieving her panties from the living room, he then returned to the bedroom to slip them back into place, then he went to the closet to get her normal sleepwear that she had hanging on the hook. Wife dressed properly for bed, Jim then went back into the living room to clean up and to pick up Stacey's heels and clothing that were strewn about. After putting her heels side by side next to the other heels in the closet, Jim then proceeded to put her dress on a hangar, then hung her bra up where the jersey had been as that was his wife's normal behavior. Unsure what to do with her nylons, he then rolled them up and put them in the empty dresser drawer on the bottom, something that she would usually do when staying at a hotel. Double checking the living room and bedroom, Jim just hoped that he had not missed anything.
Later that evening, following an elegant dinner again with Mr. Kong and his 'daughter' Jill, Stacey accompanied her boss up the elevator to prepare for another business meeting as she really had no recollection of the night before due to the potent herbal tea that she had consumed. With Mr. Kong telling Jill "Why don't you give Mr. Peters a tour of the city tonight while the business meeting is conducted!", which only meant that they were to wait a few minutes before going up to the adjoining suite to again watch what was to take place in the room that Jim shared with Stacey. Jim knew basically what was going to take place, only according to Jill, there would be none of the potent aphrodisiac herbal tea involved as his wife would be shown the video of her getting fucked by her boss the prior night. Then she would be blackmailed into doing it again, with the threat being that the video would be shown to her supposedly duped husband and thereby threatening her marriage as she had broken her marital vows to him.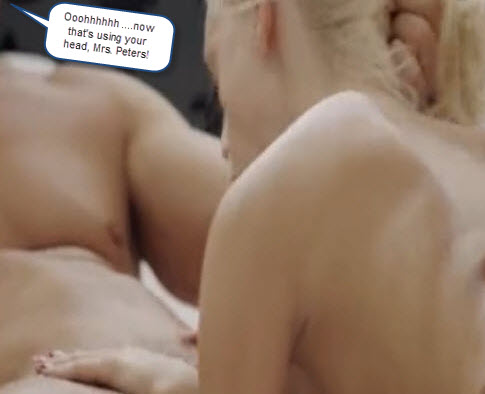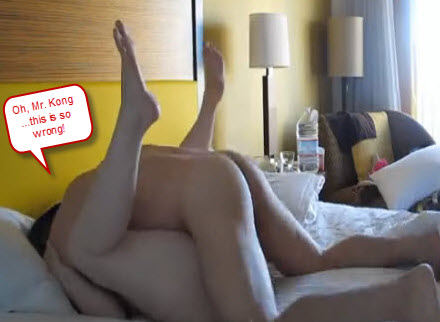 Up in the room some ten minutes later, with the switch turned on in the adjoining room, Jim got to observe the distraught state that his beautiful wife was in as she had apparently just been shown the incriminating video. "Now take your clothes off for me, Mrs. Peters .........................or this video goes to your husband! You can start with your heels, Mrs. Peters ............................cause those sexy legs of yours just drive me wild!" his wife was told. Jim saw his wife hesitate a bit, then she put one heel against the front of the other, stepping out of it before putting her nylon covered toes against the back of the other heel to step out of that one. With Mr. Kong sitting in a nearby chair to take in the striptease being performed by his sexy wife, the old boy then ordered Stacey to lift her leg up and to put her foot onto his knee while she peeled off her nylons. Nylons taken from her by the old boy one by one, Jim then watched as Mr. Kong rubbed the soles of his wife's nylons up against his face.
Undoing the back of her dress, Stacey was then told to let the garment fall to the floor around her bare feet, then was told "Now the bra, Mrs. Peters!" That task accomplished, then Mr. Kong was instructing her "Any now for your panties, my dear!" Panties around his wife's feet, Jim heard the old boy instruct Stacey to use her toes to give him her panties, then he watched as his now naked wife complied with her boss's order. Jim then observed the old boy balling up his wife's lacy white panties and rubbing his face in the crotch band of the silky garment. Watching through the see through mirror, Jim saw the old boy taking off his dress shirt while Stacey got down onto her knees as ordered and undid the belt buckle of her boss's pants. Stacey could then be observed pulling down the old boy's pants and jockeys, then out sprang the thick hardon that he was now sporting, with Mr. Kong telling her to "Suck it, Mrs. Peters ..............................suck my cock!" Jim saw his wife hesitate as her face cringed with disgust, for this was something she had always refused him the pleasure of, telling him that only a 'sick pervert' would demand that of a woman as it was such a degrading sex act to perform.
Seeing this, Jim came to realize that perhaps this was the reason that he had to take his frustrations out on young innocent beauties, like he had done with innocent young Jill Quon in forcing her down onto her knees and making her blow him off and then forcing her to swallow his cum. Eyes staring through the see through mirror, Jim watched intently as his wife shucked at the old boy's throbbing boner, then saw the wrinkled hand at the back of her head pulling her on down towards the tip of his bloated cockhead. Pink lips on the old boy's cock, which slowly began to disappear up into Stacey's succulent mouth, Jim heard the old boy moaning out "Oooooohhhhhhhhhhhhh ..............................now that's using your head, Mrs. Peters!" Soon gurgling sounds could be heard as his wife's boss groaned while arching up into his wife's face, and Stacey was being held in place as her boss told her "Now swallow it all, Mrs. Peters ..............eat it all .............................get a good taste! You had better get to like the taste of it, my dear ..............................because everyday from now, you are to give me relief in my office in the very manner that you are doing right now!"
With her head spinning and stomach churning from the foul act that she had been forced to perform, thinking she should make a rush to the bathroom to throw up, but then Stacey found herself being pulled into the bedroom by her boss and pushed down onto the king-sized bed. Now the old boy was getting up onto the bed to join her, pushing her knees apart and spreading her legs wide, then he was upon her and ...................deep in her! "Oh, Mr. Kong ..................this is so wrong!" Stacey panted out as the old bastard began humping away at her, going at her like a twenty year old stud. Submitting to her boss's blackmail of not revealing the incriminating video to her husband, Stacey would certainly not have done so had she been aware of her husband being on the other side of the mirror watching it all take place, watching while pretty young Jill was mouthing his cock for a second time that night. The first mouthing of her husband's cock that night, by the beautiful young Asian gal named Jill, had been while she was going down on Mr. Kong ...............................the difference being that her husband had been deprived the pleasure of cumming in Jill's sucking mouth, for she uncorking off from it just prior to his cumming, jerking him off till he spurted his seed up against the mirrored wall! And now with her boss about to shoot his nasty cum up into her fertile womb, the mouth over her husband's cock would pull away once again, and thus he'd be spurting up against the mirrored wall while Mr. Kong filled Stacey full with his still very potent baby batter!
Jill instructed Jim Peters given by Mr. Kong were for them to remain there till he made his return, making it obvious that some extra-curricular activity would be expected of them, just like the night before. Jill shuddered at the thought of being sodomized once again as it had been such a horrid ordeal to go through. But as her assignment was about completed, Jill told herself that she could endure whatever came next in order to achieve the goal of getting her mother's operation paid for. Upon the return of Mr. Kong, they could not refuse the drink that he offered to them, wanting them both to join him in a final toast. Finally it was time for the show to begin, with Mr. Kong telling her to undo the belt and front of Mr. Peters pants, then Mr. Kong had her bastard boss stretch himself face down over the length of the coffee table. "Now, my dear ...........................go and open that grey box over there on the table!" Jill was advised by Mr. Kong. Opening the box lid, she observed a pair of handcuffs, then reached on in to retrieve them. "Now, my dear ........................one around each of his wrists and the around the nearby table leg!" Complying with Mr. Kong's orders, Jill stood up to view her vile boss handcuffed to the coffee table.
"Here's a present for you, my dear!" Mr. Kong advised, causing Jill to look towards the man and see him holding out a white gift box, the size of a shoe box, tied with a big red bow. Walking over to where Mr. Kong sat, Jill reached out to take the gift box from him, then proceeded to pull the bow open. "Now, my dear ......................put it on ......................but you may want to take your skirt off first, to keep it from getting dirty!" she was told. Having opened the box, Jill stared at what was in it, nearly gasping at the sight of it. She'd come across such an item over the internet, more by accident after having stumbled on a prohibited pornography site, which she had immediately exited but not before viewing the picture of a huge rubber dildo in the shape of a male's penis. The one in the box was made of hard plastic and bigger around than that of a rolling pin. Reaching on in to retrieve it, Jill grabbed the middle of it and found that there was more that an inch gap between her encircling fingers. Viewing what it was and the straps to it, it wasn't that difficult to figure out how it was to be strapped on. With Mr. Peters head turned towards her, Jill enjoyed the sight of his bulging eyes of horror as he realized just what it was to be used for, causing Jill to give him a wide smile.
Staying where Mr. Peters could see her strapping it on, Jill had no qualms of first stepping out of her skirt before putting her menacing gift on, then walked on closer to the handcuffed bastard. As he looked up towards her, Jill gave him another wide smile before pumping her hips a couple of times, tormenting the bastard by him that it was going to be payback time! Strutting on over to the back of the coffee table, Jill then reached forward to grasp the top of his undone pants, pulling the garment along with his jockeys down over his hips and thighs. Leaving the pair of pants carpeting around the bastard's knees, Jill then gave him a slap on his bare ass with a smirking "You bad, bad boy!" Slipping off her navy blue heels, Jill then knelt down behind the handcuffed bastard, shuffling up to get into position. She caressed his ass like how he had done to her the night before, sliding her hands up to grasp hips as he had done to her, and followed on through as he had done by slamming herself on forward to skewer the thick plastic dildo up into the now screaming bastard's asshole. "Eieeeeeeeeeeeeeeeeeeeeeeeeeeeeeeeeeeeeeeeeeeeeeeeeeeeeeeeeeeeee ......................................................oh, fuckkkkkkkkkkkkkkkkkkkkkkkkkk .....................................ahhhhhh ................................oh, Godddddddddddddddddd ..............................................damnnnnnnnnnnnnnnnnnnnnnnnnn itttttttttttttttttttttttttttttttttttttttttt!" was the screaming that Jill had caused as she proceeded to hump at the fucker's asshole.
Some fifteen minutes later, exhausted physically from her strenuous exercise, Jill smiled in satisfaction as she could still hear the bastard sniffling like a little baby. Undoing the straps, Jill leaned back on her haunches for a breather, leaving the dildo embedded in her vile boss's asshole. Then came the applause from Mr. Kong who laughed "Fantastic, my dear ......................an excellent performance!" Then she heard Mr. Kong yell out "Hey, asshole ..............................payback's a bitch, isn't it?" As Jill stood on up and in the process of slipping back into her heels, she heard Mr. Kong tell her "Too bad you couldn't get it all up in the fucker's asshole! He sure would have deserved it!" Jill stepped towards the coffee table to see what Mr. Kong was referring to, observing that there was about an inch and a half of the fourteen inches that still saw daylight! Looking over towards Mr. Kong, Jill advised "You're so right, Mr. Kong! It makes it look like I didn't really appreciate your gift to me ...............doesn't it? But I want to show you how much I really enjoyed your present!" Stepping between Mr. Peters' widespread legs while wearing her navy blue heels, Jill then lifted her right leg as high as possible, then smashed the sole of her shoe down as hard as possible upon the base of the plastic dildo.
"Aieeeeeeeeeeeeeeeeeeeeeeeeeeeeeeeeeeeeeeeee ..........................................................aieeeeeeeeeeeeeeeeeeeeeeeeeeeeeeeeeeeeeeeeeeeeeeeee! YOU ...............................FUCKINGGGGGGGGGGGGGGGGGGGG .............................................BITCHHHHHHHHHHHHHHHHHHHHH!" Mr. Peters screamed out in pain, swearing at her for what she had just done to him. Pissed, Jill then inserted the pointed portion of her heel into the hollow opening at the base of the dildo, wrapped the straps around her legs several times till she could lot the gadget into place. Pulling her foot back a bit, dildo withdrawn some, going further back in as she pushed her foot forward, Jill then began a rapid fire kick fuck of her foot into the dildo as the handcuffed bastard cried and whimpered out like a little baby. On and on she fucked the plastic dildo into her shithead of a boss, relishing the sounds of his crying and sobbing, thoroughly enjoying her chance of getting to to finally pay back this asshole of a boss.
After some ten minutes and tiring a bit, Jill then undid the straps of the dildo wrapped around her leg, leaving the dildo nearly fully embedded up the bastard's asshole. Then she put the sole of her heel over the base of the dildo before grinding her foot on down to make sure every little bit of the fat dildo was stuck up the bastard's ass. Walking on over to the front of the coffee table, Jill then worked her panties on down over her hips, letting them drop around her ankles. Bending on down to where her muff was just above the table top, Jill reached forward to grab the bastard by his hair, pulling his head on up as she then spit in his face. Then Jill moved forward to rub her muff in the bastard's face, sneering out that "You enjoyed doing this before brutally taking my virginity, didn't you, you bastard? Well, enjoy this as this will be the closest you'll get to me ever again!" Using both hands to pull the bastard's head up further, tilting it as far back as she could while raising herself up further, Jill then began urinating all over the bastard's face. "Oh, my ........................my bladder's so full .....................must have been all those drinks at dinner!" she chuckled out while pissing all over the bastard's face.
To Mr. Kong's applause, Jill was told "Mission accomplished, my dear! Your assignment had been 110% completed! Now get yourself a good rest tonight and my personal jet will be at your disposal tomorrow for your flight back home to see your ailing mother! Get her ready to go into the hospital and talk to the doctors about the details on the operation! Arrangements have been made for the bill to be sent here for payment! And as you and I seem to understand each other's needs, call me anytime if I can be of assistance to you in the future!" Then Jim Peters found himself all alone in the room, still handcuffed to the coffee table with the dildo embedded all the way up his aching ass. Some ten minutes later, Jim Peters saw Mr. Kong's muscular bodyguard approaching and his handcuffs were undone, then was told by the big man that "I'm here to see you out!" Released from the coffee, Jim Peters found it quite difficult to move about, especially with the dildo still up his ass, and on reaching on back found that it wasn't going to be an easy task in pulling it on out. Panting, embarrassed as the smirking bodyguard looked on, Jim tried twice to pull the dildo out of his ass but was unsuccessful in doing so. Drawing on his jockey shorts and holding his pants in front of him, he then shuffled himself out of the penthouse to go to his suite where he would have more privacy in getting the fucking thing out of his ass.
Back at work the next Monday, Jim got a call from Human Resources advising that they were in the process of finding him a new secretary as "Jill Quon called in to say that she had an emergency to attend to back home as her mother was scheduled for surgery in a life threatening situation! She indicated that didn't know if and when she'd be able to return as she would need to remain home to help care for mother during her recovery!" But Jim knew that Jill would not be returning at all, that she had accomplished her assignment she had been tasked to do, and she was receiving her compensation in the life threatening surgery to be performed. Closing his eyes, Jim realized that his beautiful wife would be paying dearly due to his inability to keep his pants zipped, and there was no way for him intervene without being blackballed from doing further business on two continents. Also, if Stacey ever saw the video, she'd definitely walk out on him and take him for all he had. During his final two evenings with Jill Quon in the adjoining hotel suite, while in the process of her wanking him off while watching his wife being taken advantage of by her devious boss, Jim was told that Mr. Kong planned on using Stacey in the same manner that he had used both Jill and the prior secretary who had left before her .....................................forced to get down onto her knees whenever the boss needed some stress relief ................................and a lot of fucking and sucking on out of town business trips!
On that Wednesday afternoon, Jim picked up his cell phone when it rang, saw that the caller was none other than Mr. Kenny Kong! Answering the phone, he was greeted by the devious old bastard, then was informed that "Tonight your pretty wife will tell you that she will be making her very first out of town business trip with me for tomorrow and Friday night! She's afraid to refuse and say no because she thinks that you don't know about the incriminating videos taken of her and me up in the penthouse! But I do know how much you enjoyed watching your wife and me in bed or when she gave me a good header ...................................as evidenced in the way you went and shot off all over the mirrored glass! Tell you what ..............I'll call you on your cell phone again at nine tomorrow night, and I'll put on a show for you like you did for me with Ms. Quon this past Saturday! But for now you can have this as a preview of what's to come!" With the cell phone on the other side being placed down upon the desk, Jim could make out the carpeting and sofa across the way, then he heard Mr. Kong on the office intercom saying "Mrs. Peters ......................can you come in for a bit!" Jim heard the office door being opened, then heard Mr. Kong's voice saying "Lock the door as I do need some stress relief to relieve the tension!" From his vantage point, he saw Mr. Kong standing by the sofa, then saw his wife enter the picture to drop down to her knees in front of her boss .......................unzipping the old bastard, reaching on in to pull out his pecker, and then he watched Stacey give her boss the same kind of stress relief that he had demanded of the beautiful Ms. Jill Quon!
Right at 9 p.m. that following night, Jim heard his cell phone ring and saw that it was indeed from Mr. Kong. Answering the call, he heard Mr. Kong advise "Just got back from dinner! Sit tight for a moment as your beautiful wife is in the bathroom freshening up! Here she comes .........................showtime's about to begin!" On his monitor, Jim got to see the plush living room area of the hotel suite, then saw his wife coming into view and heard her boss telling Stacey to "Take your panties off for me and get down on all fours!" Jim watched intently as his wife stepped out of her panties that had fallen onto the plush carpet puddled around her heels, then proceeded to comply with the demand made by her deviant old boss. With his wife's back to the camera, Jim then saw the her boss's face as he leaned over into the camera's view to give him a wide smile and a thumbs up signal. Then, like Mr. Kong did to Jill that past Saturday, the old boy walked over to where Stacey was on all fours to flip the hem of her dress up and over to expose his wife's beautiful bare bottom.
Seconds later, just as he had done last Saturday, Mr. Kong was kicking off his shoes and then proceeding to get out of his pants and jockey shorts. And as Jim and done to Jill, Stacey's old boss was shucking at his boner while shuffling up behind of her. Wrinkled old hands now caressing Stacey's sexy bare ass, as he had done with Jill over the weekend, Jim could see a repeat performance of that night about to take place .....................only now it was his Stacey on all fours as Mr. Kong was grasping her trim hips after having guided his pecker into position! And then he saw the old bastard give a mighty lunge on forward, spearing his cock up into Stacey's beautiful cherry white ass! "Eiiiiiiiiiiiiiiiiiiiiiieeeeeeeeeeeeeeeeeeeeeeeeeeeeeeeeeeeeeeeeeeeeeee ...............................................noooooooooooooooooooo ..............................................nooooooooooooooooooooo ............................ohhhhhhhhhhhhhhhhhhhhhhhh .........................................................ohhhhhhhhhhhhhh, pleaseeeeeeeeeeeeeeeeeeeeeeeeeeeeeeeeeeeeeeeeeeeeeeeeee, nooooooooooooooooooooooooooooooooo!" came the piercing screams over the phone, screams that sounded so very similar to when he himself had sodomized the virginal ass of the lovely Ms. Jill Quon.
End of Story.