Daughter's Horny Boyfriend
(m/f, i/r, n/c)
by
Black Demon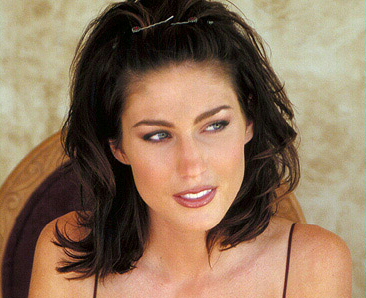 Mrs. Susan Smyth

____________________________________________
Standard Disclaimer!
This is a fictional story intended for Adults only!
____________________________________________
At the age of 40, Aaron Smyth was glad he had entered the field of education, enjoying the opportunity to develop the inquisitive minds of young teenagers. In fact, his wife Susan was a teacher also, their common interest in education had drawn them together after introductions were made at a party they had attended. At that time, Susan had been recently divorced after a fifteen year marriage and had a twelve year old daughter named Erin. Apparently Susan had gotten married to her teenage sweetheart right out of high school and the flame had died between them after the years. Aaron suspected that Susan was seeing other guys when they had first met but she was quite mum about it and he didn't want to pry too much. It was Erin who let it slip one day that her mother had found out about her father's ongoing affair with a coworker of his and that had ended the marriage.
Though five years older than he, the then Susan Benton looked far younger than her age. Aaron was enthralled by the tall beautiful brunette with long shoulder length hair and a fabulous bust of 36C. Standing at 5'10", Susan had men's heads turning and their cocks growing as they eyed her up. Beautiful soft ivory skin and green eyes had men in knots when she spoke to them. Demure, wearing glasses, Susan Benton was a woman of sophistication. Now married for twelve years, Aaron had seen little Erin develop in to a beautiful young woman like her mother. Erin was now 25 years of age, standing 5'5" with a trim sexy body with ample breasts of 34B. As she was his stepdaughter, Aaron had refrained from disciplining her, leaving that for Susan to do. They had maintained a very friendly relationship and Erin was quite close to her mother, close up until when she began dating Todd Johnson.
Susan had become unglued when she learned that her daughter was dating a black fellow from her working place. Aaron stayed out of the bickering but he could hear Susan raising her voice, asking Erin "How can you be dating a black? It's okay to have blacks as close friends and all but to date one? Are you crazy? Even in this day and age with open marriages, it could be quite devastating for an interracial couple to make a go of it! If you have children, think of how they'll be affected!" But Erin just rolled her eyes and made a quick goodbye to head home to her own apartment, not wanting to hear more of the subject. When alone with his wife, Aaron tried to console her, trying to get her to see Erin's side of it. He'd never seen her so upset, figuring that it must be the interracial marriage factor that had her so bothered. After all, they both had close black friends who they'd go out with to dinner, parties, and other social events. To him, Todd seemed nice enough and he relayed that to Susan, telling her that Erin was in love and that the young man seemed to really share the same affection. With Todd having a tall muscular frame, Aaron couldn't help but feel the twitch in his pants at the thought of his ebony body covering Erin's beautiful trim frame.
At night, Aaron couldn't shake the image of Todd and Erin in bed together, his cock rising to stiffness. Lying in bed, he heard the bathroom door open and observed his still very attractive wife preparing for bed. Even in her large oversized t-shirt and panties, she was still beautiful. Aaron licked his lips as Susan was hanging up some clothing, trying to picture her with a young black stud like Todd. 'God, I'd bet a young stud like Todd would love nothing better that to get his hands on a beautiful sophisticated woman like Susan! Damn, a young black stud nailing a beautiful white married woman! Bet that'd be a dream cum true for any virile young man!' he thought, feeling his cock throb under the sheets. Aaron saw that his wife finally came to accept the fact that there was nothing she could say to Erin that would get her to change her mind about Todd. Susan even indicated to him that it would be best that she just accept it and make the best of things. Aaron was happy at Susan's decision and suggested that she make peace with her daughter by inviting her and Todd over for dinner that next weekend.
That next week, with the young couple over for dinner, Aaron was happy to see that mother and daughter had reconciled any differences of her dating Todd. Erin's boyfriend was indeed a nice fellow, having gone to two years of college, currently in the union and working as an apprentice plumber for a small firm. The dinner went over perfectly and everyone seemed to get on fabulously as far as Aaron could see, with his wife seemingly warming up to the young man. As Erin had brought a cake for dessert, Susan began to clear the dinner dishes from the dining room table. When Susan had departed to the kitchen, Aaron observed Todd unexpectedly stand up to help clear some of the dishes. Upon Todd's departure into the adjoining kitchen, Aaron heard a slight rattling of dishes. Able to see into the adjoining kitchen from his seat, Aaron could see that his wife's face had flushed a beet red and obviously flustered from the nearness of the muscular young man.
That night in bed, Aaron had a massive hardon at the image of seeing his lovely wife, imagining her at the mercy of young Todd Johnson. Closing his eyes, Aaron wished that the scene he had observed in the kitchen had occurred while both he and Erin were not present in the house. He would have loved hearing the dishes crash to the floor, loved to had seen his wife in as state of fright as the young stud propositioned her. He would love to have seen her try to fend him off as his muscular black arms encircled her waist, pulling her resisting body to him. Under the sheets, Aaron stroked at his throbbing cock, fantasizing that his daughter's muscular boyfriend was continuing to pursue his reluctant wife. He imagined Todd pulling off his shirt to bare his muscular black chest. Then he pictured his wife's manicured white hands up against the ebony chest in an attempt to push hms away from her. But her hands were unable to stop the approaching stud who was intent on possessing her.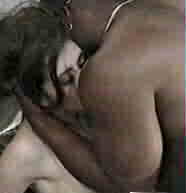 Aaron visualized Todd forcing himself upon his horrified wife as she pleaded for him to stop as she pushed at his muscular chest. Though his wife stood at 5'10", Todd still towered over her and bent down to plant his thick lips on her soft pink ones. In the tussle, he saw Susan's pinned-up hair become undone and now flowed down to her shoulders. Then he heard the tearing of her blouse and visualized her bra being pulled down to reveal her stiffening pink nipples. Getting up from the bed, hurrying to the bathroom and closing the door, Aaron panted for breath as he just made it to the toilet. Cock throbbing madly in his hand, he imagined his wife moaning in despair as the young stud captured her pink nipple into his suckling mouth. He next visualized the wet pink nipple slowly being released from the sucking mouth and saw the tip of the thick tongue flicking at the hardened bud.
Aaron could then hear Todd's voice "That myth is gonna cum through today for ya, Mrs. Smyth! Its gonna cum alive right between your sexy white legs!" "Arggghhhhhh ……………..ahhhhhhhhhhhhhh!" Aaron moaned through gritted teeth as his cock expanded and belched out his hot load into the toilet below him. Panting for breath, Aaron realized that it was the most fantastic cum he'd ever had. Back in bed, lying in the darkness next to his beautiful wife, Aaron couldn't shake the image of what he had just fantasized about. He began wondering just what would happen if, by chance, his wife and Todd were left alone together. He had already seen how flustered Susan had gotten in the kitchen when she was near the young man.

'What young man wouldn't take the opportunity of screwing a beautiful sophisticated woman if he had a chance? Surely Todd would jump at the chance, especially with the knowledge that she was a wife and teacher to boot, with the added bonus of being his girlfriend's beautiful mother!' he pondered. Aaron couldn't believe what he was thinking of, chastising himself for such thoughts, knowing he'd have gone crazy if he ever caught his wife with another man. Yet, he couldn't stop thinking and fantasizing the thought of a muscular black stud like Todd upon his wife, wondering if she'd fight him all the way or merely give in and enjoy it. Regardless, the thought was quite intriguing and various scenarios were forming in his mind as to how he could get them alone together.
Two weeks later, Aaron was excited, believing that he had concocted up the perfect little plan. On that Friday night, when Susan was fast asleep, Aaron made his way to the kitchen. As quietly as possible, he undid the tip of the faucet, snipped the rubber washer and replaced everything before returning to bed. Back in bed, Aaron thought back over the past two weeks and everything had been purchased that he needed. He'd gone to that 'spy' shop and purchased two remote cameras, miniature sized cameras that he could easily hide on top the kitchen cabinet and on the dresser drawer without them being noticed. They were a wide angled lens with a sensitive microphone built in, all connected to the VCR and television in the basement.
The next morning, as customary, they got up together and Aaron went outside to get the morning paper. Returning while Susan began making a pot of coffee before starting breakfast, he asked "What's your plans for today, honey?" He smiled upon hearing his wife give her usual Saturday agenda "Oh, you know I do the housework on Saturdays! But once I'm done, I'll go out into the garden and putter around to relax!" Pretending to read the paper, he grinned when Susan turned the water on, giving a loud yelp when she was sprayed from the leaky faucet. Putting down the paper, Aaron went to his wife's aid, getting her a dishtowel to help dry her off. As his wife had always kidded him about being a klutz with plumbing, Aaron played the part and advised "Oh, my goodness! Don't even know where to begin to fix this thing! Wonder if I should turn off the water?"
Pausing for a few seconds, he added "Erin should be up by now! Maybe she can get Todd to stop over and fix this! After all, he's an apprentice plumber!" Hearing his wife tell him not to bother Erin and Todd, he added "Its good that we call them for help for a change! It'll make them feel that we accept their relationship!" Picking up the phone, he hit the programmed button that automatically dialed Erin's number. "Erin ………Dad! Say we've sprung a big leak in the kitchen faucet. Do you think there's any chance Todd can stop on by? He's there now? Okay, great, put him on!" Aaron advised. "Hi, Todd! Yeah, kitchen faucet sprung a leak and sprays water all over the place! You can stop over today? Great …………….okay 1 o'clock it is! Mrs. Smyth will be here to let you in!" he advised. Hanging up the phone, Aaron turned and pretended to turn his attention back to the newspaper, taking in his wife shocked expression with her mouth partially open. "But ………….but ………honey, isn't that the time you normally have your doubles game at the tennis club? I ………..I ……………!" she stammered. Aaron interrupted "Oh, nothing but to point him to the sink, honey! He'll know what to do!" Actually, Todd said he was available anytime that day but Aaron made it sound like 1 o'clock was the time Todd preferred.
Susan shuddered, turning away from her husband as she felt her face begin to flush. Gripping the edge of the sink, panting to catch her breath, Susan swallowed hard as she tried to calm herself. Recalling her nervousness back when Erin and Todd were over for dinner, in particular when she was alone with Todd in the kitchen, Susan shuddered at the memory. She chided herself, saying she was being silly for being so nervous, after all she was an adult and it was Erin's boyfriend who was merely coming to fix the faucet. Susan realized that she would appear quite foolish to Aaron if she insisted that he be home when Todd arrived, but she felt so jittery in knowing that she'd be all alone in the house with him. Suddenly, Susan gripped the edge of the sink tighter, clenching her thigh muscles tightly as she tried to stop the slick juices from seeping out of her slit.
A bit after noon, Aaron bid his wife goodbye and headed out of the house. Going around the block and finding a suitable parking spot on the street, he could now watch the intersection from which Todd would be approaching. He would make his return when he was certain that his wife and Todd would be in the kitchen, not wanting to chance of Susan spotting him if he returned at this moment. To make certain he wouldn't miss anything, he had turned on the kitchen camera and pressed the VCR 'record' button prior to leaving. 'Hmmm, wonder if she'll make him put on one of my condoms? Hope he just tosses it away and sticks it to her bareback ....................pumps that hot raw stuff into her ...............................get her knocked up with his little black bastard!' Aaron chuckled to himself. Upon seeing Todd's pickup passing on by, Aaron got out of his car to start making his way back home, all the while picturing the contrast of his beautiful wife being covered by the muscular black body of her daughter's boyfriend.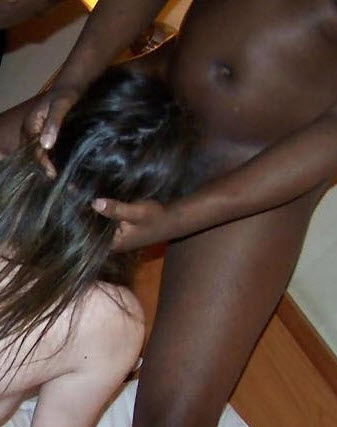 'Hope he makes her suck him off'!' Aaron wished.

With her husband off to play tennis, Susan nervously looked at the time, realizing that in less than a half-hour Todd would be arriving. Dressed comfortably in a rather drab housedress that was more than adequate to have her daughter's boyfriend come over to fix the leaky faucet, Susan fidgeted about and then looked in the mirror. Unable to explain to herself why she needed to change, her legs moved and took her towards the master bedroom. Unable to think clearly, Susan unconsciously looked into her closet and pulled out her nice pink dress. Then going to her dresser, she opened up the second drawer, the one containing her undergarments. Taking off her drab housedress, along with her plain white bra and panties, Susan slowly changed into her more intimate undergarments chosen. The matching pink bra and panties were far more provocative than the plain old white ones. Then she slipped on her pink dress.

Then Susan added a gold chain with a heart on it that her husband had given her. A bit overdressed for the occasion, it was as if she was dressing to impress the young man that was soon to arrive. Heart pounding in her chest, Susan felt more like a young schoolgirl that a woman of 45, who could very well old enough to be this young man's mother. 'God! Why am I changing just because Todd is coming over?' she asked herself. Then she was startled back to reality with the ringing of the front doorbell. "Hi, Mrs. Smyth! What kind of problem do you have with the kitchen sink?" Todd cheerfully greeted his girlfriend's beautiful mother. He took in her beauty, loving the low v-neck of her pink dress. "Are you in a rush to get anywhere, Mrs. Smyth?" he asked. When the stammering 'no' response came, Todd knew that she had dressed nicely for his arrival.

Entering the home, Todd followed Mrs. Smyth towards the kitchen, taking in the view of her long trim white legs and sexy bare feet. As he followed close behind, Todd inhaled her sweet intoxicating perfume and was so tempted to get up right behind her to nuzzle at her delicate neck. Cock throbbing, eyes again glued to her long ivory legs, Todd felt the crotch in his pants expanding rapidly. 'Damn, I'd sure like to have her sexy legs wrapped around me!' he wished. In the kitchen, Todd turned on the faucet just a bit to see where the problem was. Then, after shutting it off, he opened up the small doors beneath the sink. He first cleared out some of the items stored there to make room for him to get to the shut off valve. On his back, Todd scooted in a foot or so and reached up towards the valve. Looking out into the kitchen, he stared at the pair of sexy white legs that were within view, wishing he could get a peek up under the pink dress.

'Damn, I gotta get between her sweet fuck'n legs!' Todd told himself. Looking about, he grabbed a bottle that really wasn't in the way but used it as an excuse. Calling out, he asked "Mrs. Smyth, can I pass you a couple of items so that it'll give me a bit more room under here?" Just as he had hoped for, Mrs. Smyth stepped closer to the opening and crouched down to take the bottle that he had extended out. With her crouching down and from his vantage point, Todd got a clear shot right up between her legs, giving him a nice view of her lacy pink panties. With the water turned off, Todd came back out to work on the faucet. In taking it apart, he found the split in the washer and rummaged through his toolbox to find a replacement for it. Then finding the right size of washer, he putting the fitting back together. Turning the valve back on under the sink, he then tested his work by turning on the faucet. As he and Mrs. Smyth observed that perfect plumbing repair, he saw her beautiful smile as she thanked him for coming and helping out.

As he was about to bend down to replace the items taken out from under the sink, Mrs. Symth stopped him, saying "Oh, Todd, you've done enough! I'll put things back! Besides, I like to have things arranged in a certain way!" Not arguing, Todd stepped back as Mrs. Smyth got down onto her knees to put things away. Todd was treated to quite a stimulating site in seeing her on her knees, bending a bit so he could peer under her dress. He observed her soft pink soles then moved up to her trim calves and thighs, all the way up to her frilly pink panties. He was tempted to drop his pants right then, shuffle up behind her thighs, rip off those pink panties and slam his throbbing meat into her.

Earlier, having seen Todd's car at the intersection, Aaron got out and began making the short trek back to his home. He had conveniently left a small basement window open and had cleared everything beneath it so as not to knock things over and draw attention to his return. Turning on the television monitor, the first thing Aaron noticed was that Susan had changed out of her rather drab house dress and put on her nice pink dress. He had seen Todd eyeing up Susan's long sexy legs as she put things back under the sink and he silently began encouraging the young man on. 'C'mon, Todd! Grab her …………….you know you want it!' he encouraged.

When Susan stood up as Todd was gathering and putting his tools away, she felt the least she could do was to offer him a cold drink, asking "Would you care for a pop or a cold beer, Todd?" When Todd replied he'd love a cold beer, Susan opened the refrigerator door and reached in for a beer that Aaron kept on hand. Straightening up, turning about as she closed the refrigerator door, Susan gasped as was right up against her daughter's boyfriend. She tried to move back but she found herself pinned up against the edge of the refrigerator and the adjacent counter. Frozen to the spot, Susan could only stare up into the handsome black face as Todd's wide smile disarmed her completely as his 6'4" frame towered over her. Panting hard, staring up into his face, she felt his hand upon hers as he took the can of beer from her and set it onto the counter.


Then she was put on the defensive when Todd advised "Erin told me that you were quite upset when you learned that she was dating me, Mrs. Smyth! Is there a reason that you don't like me? Or is it just because I'm black?" Shivering in fear, Susan tried to gather her thoughts, nervously blurting out "No ………………..no ………………you …………you've got it all wrong!" But both knew that she was refusing to admit to the fact that she thought an interracial marriage was wrong for her daughter. "It …………it's just that I think Erin's ……not …….not quite ready to settle down yet! It ………….it has nothing to do with you personally!" she lied.

Todd smiled confidently as he stared into the frightened face of the beautiful woman, knowing the effect that his closeness had upon her. "You know I love Erin, don't you, Mrs. Smyth! You know we want to get married, don't you?" Todd questioned. He saw her nod a 'yes', then bluntly added "I just love Erin's sexy white body! I love having her trim white legs around me when I fuck her! I just love beautiful white bitches ………..............I love fucking their brains out!" Hearing her panting for breath, he slowly licked his lips and moved closer so he could whisper in her ear "You're so beautiful, Mrs. Smyth! So fuck'n beautiful, so soft and flawless that I want to fuck your brains out right here .....................right now! I know you want it ................you know you want it .......................in fact, you're just dying to know what it's like to have a big black cock up in ya! Now yer gonna have a chance to find out what ya've been missing all these years!"

"Please, Todd ……………no …………..no, please!" Aaron could hear his wife stammer in fear, hers hands now on Todd's muscular forearms as she tried to push him away. "Please ……………no ……………don't ……………don't touch me! You ……………….you're my daughter's boyfriend!" he heard his wife plead. Then he saw Todd's left hand raise up to Susan shoulder and began to push the shoulder of her dress down over her arm along with the strap of her pink bra. Hiding out un the basement, Aaron stared wide-eyed into the screen as he watched Todd expertly get the dress down and push the lacy pink bra to bare one of Susan's breasts. He saw Todd bend down to take the pink nipple into his mouth. At that instant, Aaron saw his wife throw her head back as she gasped loudly "Ohhhhhhh …………….ohhhhhhhhh ……………ohhhhhhhhhhhhhh!" Then he saw her manicured hands upon Todd's shoulders, making no attempt to push him away but instead to steady herself.

Watching intently, Aaron saw Todd lift his head to release the now stiffened nipple from his mouth. Then the dress was being pushed over her other shoulder along with the bra strap. Seconds later, he saw Todd paying homage to the twin beauty, sucking and slurping loudly as he mouthed her. "Ohhhhhh ……………please ………………oh, please …………….please, stop!" came the unconvincing plea from his delirious wife. With Todd reaching around Susan's waist, unzipping the back of her dress, Aaron watched as the dress fell to her feet on the kitchen floor. The pink bra soon followed. Then Todd's head was moving lower, allowing Aaron to view both of wife's bared breasts, never having seen her nipples to red as now and pointing out like bullet heads. Next, the lacy pink panties were being drawn down Susan trim hips, sliding down her legs to fall atop her dress.

"Ahhhhhhhhhhhh …………………..ahhhhhhhhhhhhhhhhhh …………………..oh, God …………………oh, Godddddddddddddddddd!" Aaron heard his wife groan loudly as Todd buried his face between her thighs. Aaron was panting for breath himself as he watched the scene unfold before his eyes. 'God ……………..he's eating her! Damn ……………..that's something I've always wanted to do but never had the fucking nerve!' he muttered to himself. "Ahhhhhh ………….ahhhhhhhh …………….ahhhhhhhhh ……………….oh, Godddddddddddddddd!" he heard Susan scream out louder as she grasped Todd behind his head to pull him closer. He saw her body begin to shake uncontrollably as she moaned and panted, realizing that the young man had just eaten her out to a mind-shattering climax. Had it not been for her leaning against the refrigerator and hands clasping Todd's head, Aaron suspected that his beautiful wife would be unable to stand and merely slide down onto the kitchen floor.

With the soft hands still on his head, Todd slowly began to rise back up to his feet. Once to a standing position, he unbuckled his jeans, pushing them over his hips to fall to the floor next to her dress and panties. Reaching up, he took her hands from behind his head, drawing them down to grasp and handle his more sensitive head. First pulling off his t-shirt, he then rubbed his bared chest up against her soft sexy breasts. He knew that she was his for the taking as he bent down to kiss her with his now juicy lips! Then he pushed her on down so she was kneeling on the floor and he was now standing right before her face, bulging jockeys at the level of her eyes, Todd confidently told her to "Feel it, Mrs. Smyth! Go ahead, git a good feel of a real 'man's' cock!" As the beauty rubbed at his growing bulge, Todd smiled widely as his girlfriend's mother swallowed deeply as this thick boner pulsated under her touch, then he deliberately gave it a twitch while she grasped it in hand, telling her "Take it out! Feel the real thing in your pretty hand!"


Panting for breath, unable to resist the temptation, she then pulled the jockeys down over his hips. She gasped aloud and shivered as the long thick horse prick sprang out from its hiding place and nearly struck her in the face. Grasping the thick cudgel in one hand, she then proceeded to fist her daughter's black boyfriend, watching in awe as the cockhead bloated and pisshole flared under her touch. Pulling down the hindering jockey shorts, the massive black tool of her daughter's boyfriend was laying right there in the palm of her hand. Wrapping her manicured fingers around the massive black tool, Susan could feel the power in the throbbing muscle, then she worked her fist around it ................pumping and shucking as the growing tube of man flesh! 'Oh, my God .............................oh, my Goddddd ...................it must me over twelve inches long ..........................and so thick! Will it fit? Will it fit up in me?' she wondered as she continued giving her daughter's boyfriend a handjob.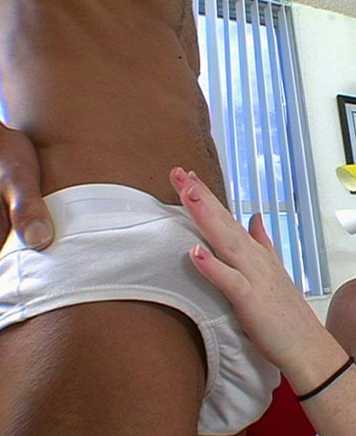 Moments later, another deep kiss, along with the teasing of tongues had the beautiful Mrs. Susan Smyth swooning and completely at the mercy of this young man. It was so depraved as this was her own daughter's boyfriend, a man young enough to be her own son. It was so wicked, having always been so faithful to her loving husband and now she was in the arms of her daughter's boyfriend. She was returning his kisses, sucking at his thick exploring tongue as it searched about in her mouth, all the while her manicured fingers squeezed and shuck at the throbbing piece of meat between their bodies. When the kiss ended, Susan found that she was being pushed down to her knees by Todd's strong hands upon her shoulders. Still kneading and caressing the now slick cock in her hands, Susan felt sick as she knew what her daughter's boyfriend was wanting of her.

She shuddered, stomach queasy at the thought that it was a depraved act that she despised. In her foolish teenage years, Susan had allowed her first boyfriend to put his cock into her mouth because he had promised to pull out in time. But that promise was broken and her then boyfriend had used her mouth to satisfy himself, spewing his filthy load as he held her tight to his loins. That had ended things between she and her boyfriend, after which she had vowed never to have another man put his cock into her mouth. She had succeeded with her first husband and also with Aaron, but with the strong hands now upon the back of her head, Susan parted her pink lips as she neared the thick black pole.
"Ohhhhhhh, Mrs. Smyth …………………ahhhhhhhhhhhhh! Oh, your mouth feels like warm melted butter! Oh, yes ………………suck it ……………..suck it deep ………..yeah ………….oh, yeahhhhhhhhh!" Todd moaned, pumping his cock slowly into the mouth of his girlfriend's beautiful mother. Pumping faster and faster, pushing inch after lengthy inch into her hot sucking mouth, Todd panted as he desperately tried to prolong the pleasurable sensations.
Forced to open her mouth wide, the cock was so thick that her teeth scraped the slick skin as more was forced into her mouth. More and more of the thick cock was forced into her mouth as now she had one hand upon the other at the base of the thick stem, trying to keep from it choking her. Susan shuddered as the thick cock was now about to enter her throat and she feared that she would not be able to breathe around it. Panic set in as more of the thick cock was forced down her throat, causing Susan to gag at the thought of choking to death around it. Then, mercifully, the thick cockhead was pulled from the back of her throat. Taking a deep breath, Susan shuddered as the cock was pushed into her throat again. This time Todd pushed his cock even deeper, causing Susan's eyes to bulge in fear. Unable to breathe, her eyes began to roll and Susan thought that she would soon pass out.

Aaron watched the screen and heard Todd laugh out loud as Susan began gagging around the thick cock. Aaron saw his wife pushing frantically, trying to breathe as she tried desperately tried to push the thick black cock out of her mouth. Aaron was relieved to see Todd wrapping his fingers into Susan's long black hair, then slowly withdraw his lengthy cock to allow her to breathe again. Then the long black cock slowly disappeared again and Aaron heard the young man announce "Ohhhh, Mrs. Smyth! Ohhhhhh …………….so gooooooooo! So fuck'n good! Oh, baby …………gonna cream …………….ahhhhh, yeah …………..eat it …………eat it all, Mrs. Smyth! Argggggggggggggghhhhhhhh!"
On the verge of passing out, Susan felt the thick cockhead expand deep in the bottom of her throat, then it seemed to explode. She shuddered and quivered as gush after gush of hot sticky goo began making its way down her gullet, her belly seeming to burn as the acrid spunky oozed down into her stomach. The spurting cock was then pulled out of her throat, allowing Susan to breathe again. Only now her mouth was now being filled with the hot slimy goo, spurting and drooling till her mouth was filled to the brim. Queasy and quivering, she choked on the slimy goo as she was now forced to eat all of the slivery load. Throughout the unspeakable ordeal, Susan could feel her queasy stomach threatening to rebel and spew out the slimy load that now formed a hot lake in her belly. Finally the oozing cock slowed to dribbles, then she felt Todd's hands in her hair as he slowly began to pull her off his now dwindling but still lengthy cock. As the cock withdrew, Susan watched as the thick string of cum lengthen as the cock eased itself further away.
From his seat downstairs, Aaron saw that his beautiful wife was mesmerized as she watched the string of cum lengthening between her pink lips and the leaking black cock. Then, the breaking of that string of cum seemed to snap his wife back to reality as Aaron watched her scramble to the nearby wastebasket. Aaron could see tears flowing down his wife's cheeks as she opened the lid to the kitchen wastebasket, then he watched as she tried to cough up and spit out the copious load of cum in her belly.
Todd chuckled as he saw his girlfriend's beautiful mother totally naked as she leaned over the trash in an attempt to cough up all the cum he had fed her. He could see her weak and defeated as she crawled a few feet to reach out to a kitchen chair, trying to use it as a brace upon which she could use to pull herself up from the floor. He heard her sob in defeat as she placed her hand upon the seat of the chair and rested her forehead upon her arm. Smiling at the vulnerable position that she was in, Todd kicked off the leg of the jeans to free himself completely. Quietly moving forward, getting down onto his knees, he slowly got into position behind her. He looked at her beautiful bod, shucking at his once again growing member. Edging forward a bit further, feeling his cockhead touch the soft matted curls, his hand guided his leaking cockhead up and down the soft slick slit of the distressed and oblivious beauty. Fitting his thick cockhead at the entrance to her slit, Todd then reached forward to grasp her by her trim hips.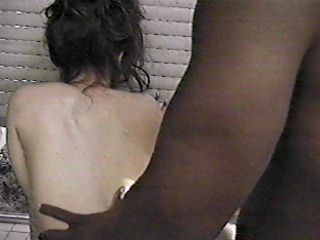 Aaron observed his wife suddenly become startled by Todd's touch and straightened up and turned her head back to frantically plead "No …………….no ………………..please …………….no, Todd ………………noooooooo ………..stop! Stop! We've gone too far already! I'm married ……………..you're my daughter's boyfriend! Please …………….please ………………I've never been with anyone else since I got married to Mr. Smyth!" He watched his wife trying to get away, saw her scoot forward, pushing the legs of the chair loudly along the floor. But the big black hands on her hips prevented her from getting away, the thick cockhead of her daughter's boyfriend remaining at her doors, in fact it was now threatening to break on through. 'Oh, God ……………it's so bigggggggg!' Aaron heard his wife pant out in fear. "No …………….no, please …………….no, Todd ………………it won't fit ………………it's too big!" he heard her sob out.

Then he heard the black stud tell "Don't ya worry, Mrs. Smyth! If your daughter Erin can take it all, I'm sure her mother can do the same! Bet you've always wondered if that old myth about black men is true, huh? Well, this is gonna be your opportunity to find out first hand!" Aaron watched as his wife squirmed about and fought madly to get away from the menacing black cock. 'C'mon, Todd ………….stick it to her! Make her scream! Make her squirm on your big black cock!' Aaron cheered. His wish came true when he saw Todd rear back and slam forward, causing Susan to scream in pain "Aieeeeeeeeeeee …………….ahhhhhhhhhhhhh ……………….stop …………………it hurts …………it hurts ……………..you're too biggggggg!" "Ohhhh ………….ohhhhhh …..…ohhhhhhhh …..… ohhhhhhh …………ohhhhhhh!" Aaron heard his wife moan continuously in time with each thrust of the lengthy cock. He couldn't believe the size of Todd's cock, making his look puny in comparison. It was hard for him to imagine that his wife was actually taking it all in. 'God, she must feel like a virgin to Todd!' he thought.

Aaron swallowed in embarrassment upon hearing Todd's confirmation "God, Mrs. Smyth! Ya feel like a fuck'n virgin! Either ya haven't had it in a hell of a long time or Mr. Smyth must bet as thick as a twig! Damn, you're fuck'n tight!" Aaron watched as the young stud gave his wife the fucking of a lifetime, hammering her like a bitch in heat. The loud movement of the chair along the floor told the story of each and every thrust as the movement took them over to the nearby window. "Is that myth about black men true, Mrs. Smyth?" he heard Todd ask. There was no response and Aaron watched as Todd reared back even further before slamming his muscular body forward, bring a loud shriek in response. "Answer me, Mrs. Smyth!" he heard Todd demand. "Yes ………yes …………yes, its true! The myth is true! You've prove it to me!" he heard his wife sob out. As the fucking continued, Aaron smiled when he heard his wife plead " "No ……no ……………stop, Todd ………………you're not wearing a condom ………..you don't have a condom on! You ………you'll get me pregnant!" Aaron put his fist into the air, cheering "Fuck her, stud! The hell with a condom! Shoot your hot spunk in her! Fill'er up with your hot spunk! Knock her up, stud!"
"Oh, God ……………..oh, God ………………..ohhhhhhh …………..so goooodddd ……………..so goooodddddddd!" Susan moaned as the cock sliced in and out of her, faster and faster. She had always wondered what it would feel like to be fucked out of her mind and now this young man was making her fantasy become a reality. Shuddering with pleasure, she knew that she had nor would ever derive such pleasurable sensations from her husband. "Ohhhhhhh …………….ohhhhhhhhh …………….oh, Todd ……………so good ……I ………I ………………..I'm cummingggggggggg! Oh, so gooodddddddd ………………ohhhh, yessssssss!" Susan moaned as her body shook and shuddered in a mind-shattering orgasm. Never had she experienced anything such as this, body quivering and shuddering as she creamed time and time again upon the thick black cock of her daughter's boyfriend. Susan felt the thick cock expand even larger within her, feeling the throbbing cock pulse faster and faster. Frantic, she pleaded "Todd! Todd, stop! You're not wearing a condom …………….don't cum in me!" In a panic, Susan squirmed about, trying desperately to dislodge the pulsating cock.
Hearing the frantic pleas and seeing the desperate attempt of his girlfriend's beautiful mother to get away, Todd grasped her firmly by the hips. At this point, on the verge of spurting his hot load up her tight cuntt, there was no way in hell to keep him from unloading his hot potent cum in her. Thrusting into her, deeply burying his cock, Todd groaned "Oh, Mrs. Smyth! Oh, baby …………..gonna cum ……………gonna cum in ya! Ahhhhh ………………..ahhhhhhh, yeahhhhhhhhhhhh!" Spurt after hot spurt of hot cum spurted deep into Susan's fertile womb as Todd held her tightly to him, forcing her to take every bit of his potent seed. The hot eruption of cum deep within her had Susan shivering in yet another mind-shattering orgasm. Then reality set back in and the potentially horrid consequences from this illicit mating set in. 'Oh, God! How could I have done this? I've just cheated on Aaron! And with Erin's black boyfriend! What if I get pregnant?' she thought.
Looking at the screen, Aaron saw an exhausted Todd sitting on the kitchen floor and leaning against the front of the refrigerator. Meanwhile, Susan was still in the same position, now with both arms folded on the seat of the chair with her sobbing face buried in them. Aaron stared in awe as he saw a river of cum ooze out of his wife's widely stretched hole, drooling down both thighs to puddle upon the kitchen floor. 'Damn, he must have shot a pint of cum in her!' he thought. A bit later, Aaron watched as Todd stood up and went over to Susan. He saw his wife reluctantly being pulled up by the hand. Then he watched as Todd pulled her out of the kitchen towards the master bedroom. It was quite a sight as Aaron saw his wife cross her free hand over her exposed breasts, walking with thighs held closely together to keep more of the cum from escaping her flooded twat. Flicking the switch to the camera in the bedroom, Aaron watched as Susan pulled down the bedspread and sheets, then saw his wife and daughter's boyfriend get onto the bed and embrace in a passionate kiss.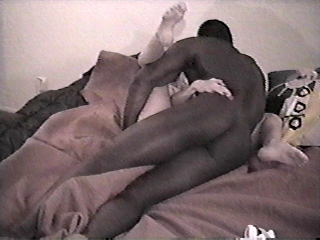 Hours later, having snuck out of the basement before the two lovers left the bedroom, Aaron made it back to the car and drove off to the nearby strip mall. Figuring that Todd had already departed and this was about the time he normally would be returning, he called home to see if his wife needed anything from the market. Indeed Susan was in need of something, asking him to go to the nearby drugstore. After hanging, he chuckled at the way Susan had asked if he minded buying her a couple bottles of douche at the drugstore, telling him that 'without it, you won't get any nookie this weekend'. Aaron deliberately took his time getting home. Upon his arrival, he could see his wife nervously fidgeting about and even asking what took him so long. He merely replied that he had bumped into an old friend and got into chatting with him. After things were put away, he smiled upon seeing his wife hurriedly make her way to the bedroom with the purchase he had made for her. Minutes later, he heard the toilet flush, knowing that one of the bottles of douche had just been used.
Miles away that night, in Erin's bedroom, Erin and Todd embraced and caressed each other. Kissing passionately, Erin reached down to stroke her boyfriend's growing cock. When the kiss ended, Erin asked "Well, honey, did you convince my Mom that you're the right guy for me? Did you show her what no white guy has to offer me? Did you show her a good time? Did you make her cum on your big black cock? Did you take her to my daddy's bed and fuck her there?" Seeing the wide grin of acknowledgement on his face, Erin told Todd "I knew Mom needed a good fucking from a cock like yours! She must have been dying for a feel of a big cock like yours! After seeing my dad's cock when he was jerking off over the toilet, not realizing I had gotten home, then later seeing his computer screen on the page for spy cams .............it wasn't hard to figure out what he was up to! When my dad called this morning about needing that facet fixed, I figured he had set up some spy cams so he could secretly watch you give my mom a good fucking!" She laughed "But I'm not sharing you all the time, honey! I want you for myself!"
Todd laughed "Your Mom sure is beautiful and sexy! But, shit, I never figured you'd give me the go ahead to fuck her! I know just the guy to take care of you beautiful mom! My pop taught me everything and you know that next month makes it three years since my mom passed away. Now he's after any babe he can get his hands on! I know he'd only be too willing to get into your mom's panties!" Erin giggled "Hmmm, now that Mom 'approves' of you, maybe we arrange a little get together …………you know, have the two families meet each other! That little cabin that my dad has would be a nice cozy place to send a weekend! Okay, stud …………….now for you to get on over here on the bed ......................so you can tell and show me just how you went about screwing my Mom!"

End of Story.