Entrapped Asian Beauty - II
(m/f, i/r, n/c)
by
Black Demon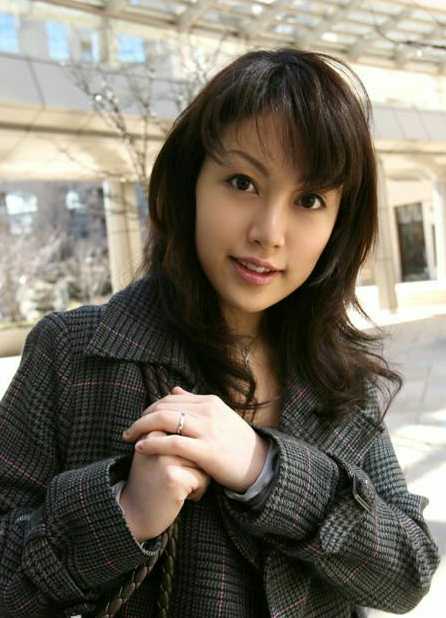 Ms. Julie Park
______________________________________________
Standard Disclaimer!
This is a fictional story intended for Adults only!
______________________________________________
************ ***********
Note: The story below is a story in itself. However, it is also a direct spinoff
of the earlier story entitled: 'Entrapped Asian Beauty 1'
************ ***********
With his secretary advising that Attorney Tim Sharpe was on the line for him, Max Griffith picked up the phone and answered "Hey, Tim, my boy! Haven't heard from ya in a while! What brings this call?" Then he was advised "Well, Max, I'm gonna have another staff attorney fill in for Kerri Hu way earlier that planned!" "What happened, did she quit on us?" Max asked, then added "Shit, and here I finally thought that I's got her hooked on my big black cock! Went and buggered her real good last week! Her conscience get the best of her?"
Tim Sharpe, the only black senior partner of the law firm that handled Max Griffith's Triton State Bank that he headed, laughed out loud and advised "That's the fucking problem, Max! She didn't quit job but from what you just told me ……………..you're the cause of the problem! She's seven months pregnant with your kid! Bet you went and buggered her and then fucked her twat after, huh! Apparently she came down with a nasty bladder infection, so bad that the doctor wants her on complete bed rest for the next two months till the baby comes! No more sex for her till after the baby, my man! Shit Max, you sure went and put her out of commission good!"
Listening as Max cursed up a storm as he had taken a real liking to Kerri, loving to hump that pretty married bitch as the dumb ass she was married to was a wimpless piece of shit. Knowing that the bank's business was being hustled by all the other big law firms in town, Tim knew that he had to pull all the stings possible and take advantage of any situation possible just to maintaining the account. Fortunately, when Max Griffith had been in the law office to discuss a pending case, Tim was fortunate to learn of a weakness that the head banker had ………………….a desire for some sweet Asian cuisine!
Once the bank's head man had seen the lovely young Ms. Kerri Hu, he had indicated to Tim his desire to have the young but rather inexperienced attorney assigned to the bank's account. Tim then knew that he had just gained the strategic knowledge and advantage to his maintain the firm's biggest account. Visibly seeing the look of lust on Max Griffith's face as he had first gazed upon the petite sexy body of the young beauty, followed by the request for her to service the bank's account, Tim had then learned the secret in assuring that the law firm's biggest client was kept happy.
With the law firm the largest and top-rated firm in the state, employing a staff of about eighty attorneys, Tim Sharpe had no qualms in sacrificing a young inexperienced employee for the sake of retaining the firm's biggest client. Tim knew what exactly had happened to the beautiful young attorney who had only recently passed the bar exam. He had learned from Max as to how he got the sweet young thing to accompany him up to the penthouse after a luncheon after having shared drinks together. Not only had Max told him about the episode, but had furnished him with a video as Time had requested ……………..it had come along with the remnants of the lacy bra and panties that he had stripped from her succulent little body! And watching the video, Tim had wanked off at the sight of the young beauty being grabbed forcibly and raped by the big man.
With Kerri Hu being a rather new employee apprenticing in Tim's department, under ordinary circumstances there was no way could he come on her without and the firm being slapped with a multimillion dollar lawsuit for sexual harassment. He had eyed up the sweet young beauty from her first day on the job but Tim made it a point of following the golden rule of not dipping his pen into the company's inkwell, especially with the consequences of him paying dearly for any indiscretioins. But if he could somehow avoid those risks entirely, he'd certainly have that hot little bitch riding his boner.
Tim remembered very well that conversation he had with Max when the horny bastard had eyed up the innocent little bitch and wanted her to service the bank's account. "Ha, ha, you horny bastard! Think yer gonna git in that little bitch's panties, huh? Lemme tell ya, only way is fer ya to tear them offa her and rape the naïve little bitch!" Tim had advised his big client. Then his jaw dropped wide open when Max Griffith smiled and replied "Yeahhhhhhhhhh …………………..and I's bet that hot little bitch will fight me real gooooooood! Imagine her screaming her head off when I's stick it to her good!"
"Shitttt ………..you can't be serious, Max! That bitch will put you away for 20 years! C'mon, no piece of ass is worth that kind of jail time! And y'know, there ain't no way I can help you once the bitch screams 'rape' ……………………for one, I'm not a criminal attorney ………..and second, I'd be conflicted out from the get go with you being a client and she being an employee of this law firm!" Tim advised. He could only shake his head in disbelief as Max advised "Don't worry, my boy! I'll use my head up here and have it all planned out before I start thinking with the head between my legs! And then I'm gonna enjoy hearing that sweet little bitch scream her head off when I's stick it up that tight little twat of hers!"
Weeks later, having called in the lovely Kerri Hu to tell her how pleased he was in handling the firm's largest client, Tim smiled at the lovely beauty as she sat across his desk. Detecting a rather nervous smile in return from the innocent bitch, Tim had his hand in the padded envelope that was standing upwards in his desk drawer. After asking for her findings as to the bank's compliance on some legal requirements, Tim listened as the young attorney briefed him on facts that he already knew, all while fingering the panties that Max Griffith had stripped from her petite and sexy body.
The pair of panties had been sent to him by the bank's CEO as a souvenir, along with a videotape of Kerri Hu's rape up in the banker's penthouse. Fingering the filmy fabric of her panties, Tim's cock twitched with excitement as the young beauty sat across from him totally unaware of the knowledge he had of her recent rape and ravishment. Mouth watering, Tim licked at this lips as he looked at the succulent little beauty, thinking that 'Sure hope yer enjoying working under me, Kerri! Soon, when Max tires of ya, I's gonna see to it that ya ain't kept short of black cock ………………….cause I'm gonna enjoying sticking my fuck'n boner up yer tight little twat!'
Now that Kerri had been knocked up and put out of commission to service the horny Max Griffith, Tim had to have another attorney assigned to handle the account. He had earlier hired a young beauty clerking for one of the judges at the circuit court, figuring that she'd certainly be a pretty thing to gaze at from his office when time permitted and it'd be a nice distraction to get his mind off of all the reading of legal documents throughout the day. Picking up the personnel folder of Ms. Julie Park, Tim looked at the photo taken of the sweet beauty upon her hiring as the firm's standard procedure. His cock twitched at the sight of the young innocent babe, imagining just how 'Yer gonna scream yer little head off when Max gits his big black paws on ya! And if'n ya's keep yer mouth shut like a nice little girl and not yell rape to the cops, ya'll make associate faster than anyone else has in the firm!'
With the law firm for a mere three months ago, Julie had interviewed with one of the partners and was ecstatic at having gotten the job with one of the most prestigious law firms in the state. The firm certainly paid well, far higher than what she had been making by clerking at the circuit courts. And she had been quite happy to be working with Kerri Hu in assisting her with the firm's largest account. With Kerri managing the bank's account, Julie would help with interviewing the bank's employees whenever a legal problem arose between the bank and any of its customers, and she found Kerri quite receptive to her ideas in resolving each matter to date.
Standing at just 5'2" and weighing a mere 112 lbs., Julie was blessed with a natural beauty and innocence that had left many a guy with a raging hardon after gazing at her trim sexy body. A lot of guys tried to flirt with her in hopes of getting a date but Julie only had eyes for Jeff Miller, the lucky fellow who had stolen her heart when they met in their freshman year in college. With Jeff starting his working career in the insurance business, Julie had continued on to law school. And shortly after passing the bar and clerking at the circuit court, they got engaged and setting the wedding date for the next year. Then she had the fortune of being interviewed by Mr. Tim Sharpe, one of the senior partners of the prestigious law firm in the state, but little did she know that her trim sexy legs had clinched the stamp of approval in her interview.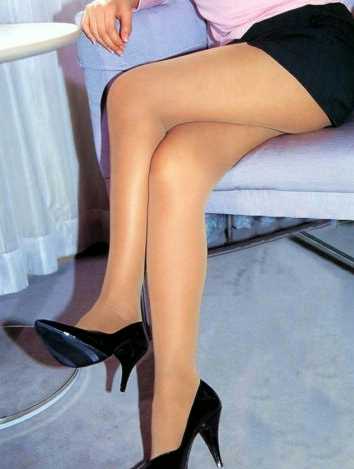 Taken under Kerri wing, Julie hoped to move up the firm's ranks just as she had done. Everyone appeared rather amazed at Kerri's quick upward move by being asked to personally take over and handle the law firm's most prized account. Julie had never met Mr. Griffith, the bank's CEO, as yet since it was Kerri's duties to take care of the top brass in discussing legal matters concerning the bank. A couple weeks ago, when in Kerri's office and the secretary advised that Mr. Griffith was on the line, Julie had noticed a cringe come across Kerri's face and her colleague appeared to steel herself before answering the phone.
Julie figured that it'd take at least a year's time with the firm to get the training and expertise needed to assist in managing one of the firm's large accounts. Then another four years to actual take over and manage a large account on her own staff of junior attorneys assisting her. She certainly wanted to follow in Kerri's footsteps, especially in being so: smart; beautiful; and well-respected by other attorneys in the law firm. Although she did turn many a men's head, Julie did not think of herself as being beautiful, merely considering herself as being average and having to work at it look attractive.
Although a year on the job was the least to be expected in handling a large account, Tim was well aware of the bank's legal needs and figured that he could oversee things if any problems arose. With Kerri Hu out of commission, the foremost concern that Tim had at the moment was seeing that Max Griffith was personally taken care of …………….and that meant assigning the young and inexperienced beauty to keep Max happy! In flipping through his day planner for the month, Tim saw that Max's birthday was coming up at the end of the month. Tim chuckled to himself in thinking 'Yeah ………………instead of the usual stuff like an expensive box of cigars or his favorite whiskey …………what better than his favorite ……….……………some sweet and delicate Asian cuisine!'
Still on the phone with Max, Tim advised his client to "Check the email that I just sent over to ya! Open up the attachment and get a git a glimpse of the birthday present I'm sending to ya this year!" Hearing a whistle of a response coming over the phone, Tim chuckled as he added "Nice, young, and innocent, huh! With yer birthday coming up in a few weeks, that outta give ya time to figure out a way to enjoy this tasty Asian cuisine I'm sending over to ya!" Hearing the "Ooooooooooooh, sweettttttt!" response from Max, Tim added "She's engaged and getting married in about six months! Wanna bet that she's still cherry?"
On the other end of the line, Max Griffith was getting quite a boner as he sat behind the desk while gazing at the monitor. Indeed, the lovely Ms. Julie Park sure looked young and virginal, causing his cock to twitch at the thought of breaking in such a lovely beauty. Then advised of being sent another email by his attorney, Max clicked it on and opened up the attachment. It was a photo of the beauty's trim sexy legs as she sat at her desk, a photo taken with Tim's cellphone of the unsuspecting bitch when apparently talking to her that morning. Having earlier seen the beauty's portrait photo, and now that snapshot of her trim sexy legs, Max couldn't thank Tim enough for the birthday present that he was getting as he advised that "I'm gonna plan it right so I's git myself one fantastic bang right on my birthday! She's gonna blow out my candle, heh, heh!"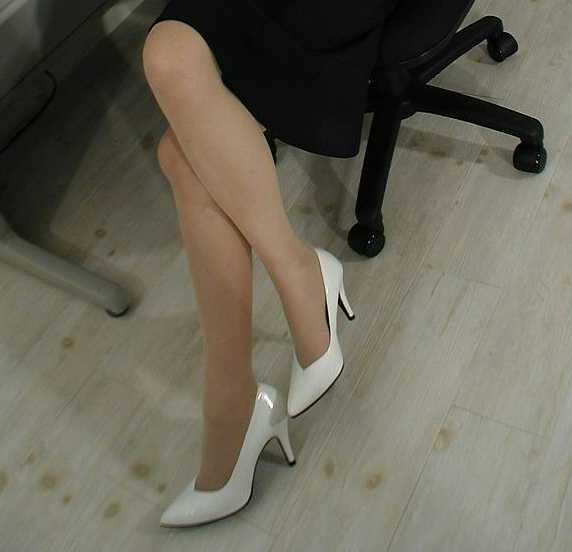 Hearing that, Tim had a good laugh before advising "That sure would be a turn on celebrating yer birthday, huh ………………….I'd sure'd like lie to be a fly on the wall when ya make your move and grab the little bitch!" Then Max began chuckling, advising Tim that "Ya could be more than a fly on the wall y'know! Yer already an accomplice of mine, knowing what's in store fer her by assigning her to the bank's account, so why's not git to enjoy it even more! I's gonna set it all up where ya's git to eat out the sweet little bitch and make her go wild and cum on that tongue of yers! She ain't even gonna know it's ya eating out her snatch! We's then switch place so I's can pop that precious cherry of hers!"
Caught off guard at his client's proposal, Tim stammered out his reluctance to get involved in the initial rape of the young beauty but he was certainly intrigued at the prospect. His cock twitched in arousal as he listened to Max going on with "When she starts to fight and scream, I'll put a pillow over her face on the guise of shutting her up! That's when ya's come outta yer hiding place in the closet and step in to take over so I's can film ya tearing off the bitch's panties and eating out her virgin snatch! And once ya's make her cum on yer tongue, I'll git back in the saddle to pop that cherry of hers!"
Still reluctant to putting himself on the line, Tim advised Max that he just couldn't take that kind of risk, especially as that he was her superior in the law office. But soon Tim began having a change of heart when Max added "Don't worry! Ya hide out in the closet and she won't even know yer there! And once I's pop the bitch's cherry, she ain't gonna put up any kind of fight after that! Then I'm gonna turn the bitch over on the bed and push her face into the pillow – and her sweet little ass will be right there fer ya! I'll keep head pressed forward so she won't see ya come up from behind, then we's swap place and ya git to buggar that cherry ass of hers!"
Just as Tim was about to again decline the opportunity, he observed the sexy beauty through the glass panes of his office as she walked over to the file cabinets. Staring intently at the beautiful sight across the way, Tim watched as the sweet young thing bend over in search of a file. Gazing at the back of her trim sexy legs, standing in the white heels that she wore, Tim began thinking with the wrong head as he listened to Max telling him over the phone to "Think of feeling up those sexy legs of hers! Think of feeling up her pert little butt …………….spreading those asscheeks ………………fitting yer bloated cockhead up between them …………………….then hearing her scream like a banshee when ya buggar the little bitch!"
Panting for breath as he stared out of his office, not realizing that he had unconsciously put his free hand down below his desk and was massaging his throbbing boner, Tim could only seek reassurance as he asked "Ya sure you can set it up without her knowing I'm there in the same room?" "Tim, my boy, ya jist leave it to me! She'll jist think it was me reaming out her purty little ass!" came the reassurance that had Tim convinced in becoming an actual participant in raping the innocent little bitch. Now off the phone, Tim unzipped the front of his pants while gazing at the trim sexy legs across the way, then proceeded to wank himself off in some tissues from his desk drawer.
Julie had been rather apprehensive and nervous in her first meeting with Mr. Griffith but had been rather relieved when it went smoothly as the bank's CEO advised that he had read her resume from the firm and that Tim Sharpe had spoken very highly of her. "Mr. Sharpe advised me that he has all the confidence in you and has no reservations that you'll be able to service the bank's account without any problem! And having worked with Tim Sharpe for years now, I have no reason to question his legal assessment!" she was told. In meeting the man, her 5'2" 112 lb. frame seemed so petite to the big black man who was over a foot taller at 6'5" and must have weighed over twice her weight at 250 lbs. or so.
The smooth creamy skin of her petite body was in direct contrast to Mr. Griffith's big muscular coal black body. Although she had never before experienced being with a man, Julie had taken sex education classes in middle school and had heard comments from her sorority sisters in college. But in seeing the big black banker, Julie wondered 'How can any woman accommodate such a big man in lovemaking? She's certainly have to be a big woman! If she was my size, she'd be crushed to death by his size and weight!' 'Gosh, he must be over 250 pounds!' Julie surmised, then her petite body shivered at the thought of such a big black man atop of her and wanting to make 'love'. To Julie, she merely considered sex as something that would be consensual between adults, this being due to her not believing that she'd ever be placed in an awkward situation as that only happened to gals with loose morals.
After three weeks in handling the bank's account, Julie was interviewing one of the bank's employees at the bank's Home Office when she got the call from her superior, Tim Sharpe. It was then that she got the PR assignment as Mr. Sharpe advised her that "I just got summoned to court for an emergency hearing for a client and can't get out of it! I need you to fill in at lunch for me today, Julie! I had made reservations at the Monte Carlo, which is right next door to the bank, Mr. Griffith's favorite place! As it's his birthday, I just didn't want to cancel out just hours before, as it'd certainly be a disastrous PR move! He and I have talked several times over the past few weeks and he's really impressed with you work, so this is an ideal situation to cement your relationship with the bank!"
Up until now, Julie had only met with Mr. Griffith on a professional level, discussing legal issues and problems that the bank was encountering or could be faced with. But now she was to entertain him at a lunch, replacing her superior who had assigned her to the account. She felt rather awkward in the situation, but what could she do at this point but to carry out Tim Sharpe's request and entertain Mr. Griffith at lunch. She had been told to just show up at the restaurant and advise him of her boss being called away at the last moment and that she was filling in for him. Julie rarely drank any alcohol, just a glass of wine on special occasions but Mr. Sharpe had advised her to "Make sure you order yourself a drink or two as Mr. Griffith doesn't like to drink alone!"
Acting surprised but delighted when the young beauty showed up at the restaurant rather than her boss, Max's cock twitched with excitement as he gazed at his exquisite birthday present. Having arrived a bit earlier, he was already on his first drink and asked the young beauty as to what she would like to drink, knowing that Tim had already paved the way from him on this aspect. And before he had taken a seat, requesting a private booth this time rather than his usual table that was always reserved for him, Max had stopped over to talk to Mike the bartender. Sliding the $100 bill along with a tiny vial that contained a clear liquid, and with a wink to the bartender, the fellow smiled and responded with "Sure thing, Mr. Griffith! No problem at all!"
The table setting was for two people, closer to each other than Julie would have expected for two professional men having lunch together, but it certainly wouldn't look good for her to move her table setting farther away from the CEO of the bank. Ordering a glass of red wine, Julie nervously sat there as she went down the menu. When her glass of wine was brought to the table, Mr. Griffith was handing his glass to the waiter and ordering another of his 'usual' drinks. After wishing Mr. Griffith a 'Happy Birthday', Julie found herself fielding questions on her personal life, explaining how she had gotten into corporate law and giving him some basic details of how she had met her fiancé in college.
During lunch, a shudder coursed through her petite body when Mr. Griffth's knee brushed lightly against hers and remained there as Julie swallowed nervously. As it merely remained grazing against but not pressing up against her, Julie thought that perhaps he did not feel her leg right next to his. Having been sipping at her glass of wine till now, Julie reached for her drink and took a large gulp this time in order to calm her nerves. Feeling a tingling sensation, Julie thought that it was from the effects of the wine combined with her nervousness in having lunch with the firm's biggest client. And when Mr. Griffith put his hand over hers atop of the table, she was frozen with fear as she told herself 'Don't do anything to offend the firm's biggest client!'
Having heard that the young beauty did not drink much at all, he had given the bartender a large dose of the new liquid Spanish Fly so she'd be hotter than a firecracker even if only half of her drink was consumed. And in seeing that two-thirds of the glass was now empty, Max knew the reason why the hot little bitch was trying to ground her butt down into the seat of the cushion. Knowing full-well why she and not pulled her hand out from under his earlier, and now she was preoccupied with the nagging itch between her pretty legs, Max press his knee up against hers as his cock was throbbing as the thought 'Soon, sweetie ……………….I'm gonna git me a nice slice of 'cherry' pie for my birthday dessert!'
Her hands were trembling by the time coffee was served, and Julie was perspiring when Mr. Griffith asked if she was okay. "I …………………I think I'm coming down with the flu or something! I've never felt this way before! I ………..I think I had better go to the Ladies room to freshen up!" Julie responded as she began to slide out of the booth. But as she tried to stand, the room began to spin and Julie was thankful for Mr. Griffith's help as he advised "Come, let me help you! The bank owns the penthouse atop of this building and you'll be more comfortable freshening yourself up there!"
Hand around her trim waist to assist her in getting into the elevator, Max then thanked the waiter who had come to hold the door open for them and advised him to "Send up a bottle of champagne to the penthouse and put it on the tab!" Now Max had everything set up and in place to prevent the bitch from screaming 'rape', not with the waiter available to testify that he observed them hold hands at the table and the he had his arm around her waist in the elevator as they headed up to the penthouse. And with a bottle of champagne ordered before she could say anything as the elevator doors closed, it would certainly appear that she had gone up to the penthouse without any coercion.
From his hiding place in the closet, Tim Sharpe stood buck naked in waiting as he began fisting his throbbing cock when he observed the young beauty enter followed by the lecherous bank CEO. Tim could see that the innocent little beauty was all perspiring and flustered, her face flush from the aphrodisiac that Max advised he'd drug her with over lunch. He watched as the beauty asked Max as to where the restroom was located, only to be pulled into the big man's arms as he clamped his lips upon hers. As expected, they innocent little bitch began putting up a fight, trying desperately to push Max away with her petite hands at his shoulders.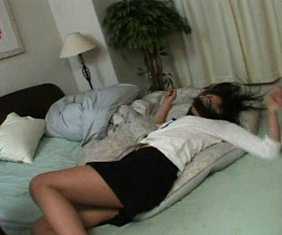 As the beauty tried to turn and run, Max stripped blazer from her, and she was turned back to face her attacker with the coat being pulled from her. A button of her blouse popped free as the front of the garment was pulled open. With Max's large hand grasping the flimsy bra front, the beauty's lovely pinkish-brown tipped breasts were exposed as she fell backwards atop of the large bed. As her blouse and bra were being pulled from her petite body, Tim could see the nipples erect and swollen, obviously due to the unwanted arousal caused by the aphrodisiac's effects. "Please, no, Mr. Griffith! Please stop ………………please stop!" came her pleas as her attacker bent over to take a swollen nipple into his mouth. "Ooooooooooooooooooooh ……………………….ooooh ……………………….ooooooooooooooooooooooohhhhhhhhhhhhhh!" came her pants as she swung her arms in an attempt to block out what was happening to her.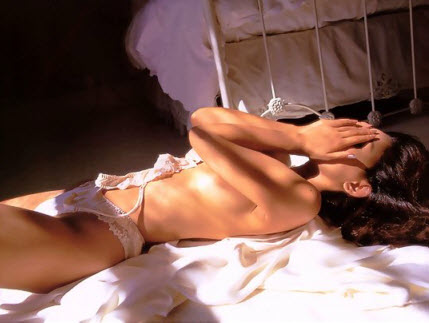 As her moans and pleas got louder with Max's suckling upon her breasts while feeling up her sexy legs, Tim watched as a pillow was placed over the beauty's face. But instead of Max having to put his hand to keep it there so he could make his appearance, the beauty did the job herself as her arms came up from under the pillow to grasp it tightly over her face. Then Max lifted his head from her titty and grasped her swollen nipples twisted them, causing her to tossed her head from side to side under the pillow while loudly moaning out "Nooooooooooooooooooo ………………….nooooooooooooooooooo ……………………nooooooooooooooooo! Stoppppppppp ……………….stopppppp ………………….please stopppppppppppppppppppp!"
Slipping out of the closet, Tim saw Max's head movement that signaled him to come on over as it was now time to make the prearranged switch. With Max stepping back, hands outstretched while still pinching the swollen nipples, Tim stepped up and they smoothly made the switch. The moaning bitch was relieved to have nipples released but she began shivering and panting as Tim hands caressed her trim legs to move up to the waistband of her panties. And as her panties were being drawn down, the innocent bitch continued holding the pillow over her face as she panted out "Please ……….no ………….please ……………no ………….stop …………….please!"
Not wanting to waste any time, fearing that Julie might just pull down the pillow to plead him to stop, Tim quickly peeled her lacy white panties down over her trim hips and thighs, then down her legs and heels, fling the garment over to a smiling Max who had gotten a camcorder and filming the scene. Then Tim quickly bent down to feast of his tasty treat. Too excited with what the afternoon promised, Tim hadn't bothered with lunch for he was eager to taste some tender beaver burger that lovely Julie Park had to offer. Opening his mouth as wide as possible, Tim clamped it right over the soft fleece of her sex with his tongue immediately sliding up between her pink slit.
"Nnnnnnnnnnnnnnnnnnnn ………………………..nnnnnnnnnnnnnnnnnnnnnnnnnnnnn ……………………….ahhhhhhhhhhhhhhhhhhhhhhhhhhhhhhhhhhhhhh!" came the frantic struggle from the innocent beauty as her petite body trashed about on the bed while trying to move away from the wiggling invader that was driving her crazy. With large strong hands cupping and lifting her asscheeks, Julie could not believe what was happening as she was literally being eaten alive. Although feeling humiliated and ashamed at what was being done to her, the licking of her sex was helping to stem the agitation between her loins caused by the drug laced wine that she had consumed. Seeking more of the pleasure and relief being given to her, Julie pressed her pointed heels into the mattress and arched her trim hips up to make her cunny more accessible.
Tim was just enjoying the exquisite feast before him, finding that he had gotten himself quite a sweet little beaver burger to eat out. As the young beauty trashed and moaned, squealing under the pillow, Tim flicked the tip of his tongue on her ultra-sensitive clit, causing her to arch up high and squeal "Aieeeeeeeeeeeeeeeeeeeeeeeeeeeeeeee ……………………aieeeeeeeeeeeee …………………aieeeeeeeeeeeeeeeeeeeeeeeeeee!" The hot little bitch's petite body spasmed, once and then again, then her inner thighs closed tightly up against the sides of his face. And then she went totally limp, collapsing back down onto the bed.
As Tim lifted his glistening face up from between the innocent beauty's creamy thighs, only soft moans and sighs of resignation could be heard from beneath the pillow that was being clutched to her face in shame and disgrace. Looking back to see Max putting down the camcorder and quickly undoing his pants, Tim knew the time had come for him to back up out from between the limp creamy thighs of the innocent young beauty in order to switch places once again. Seeing Max shucking at his jutting prong, the bloated ebony cockhead expanded even more, causing Tim to wonder if he'd be able to get it to fit into the tight little snatch that he had just eaten out.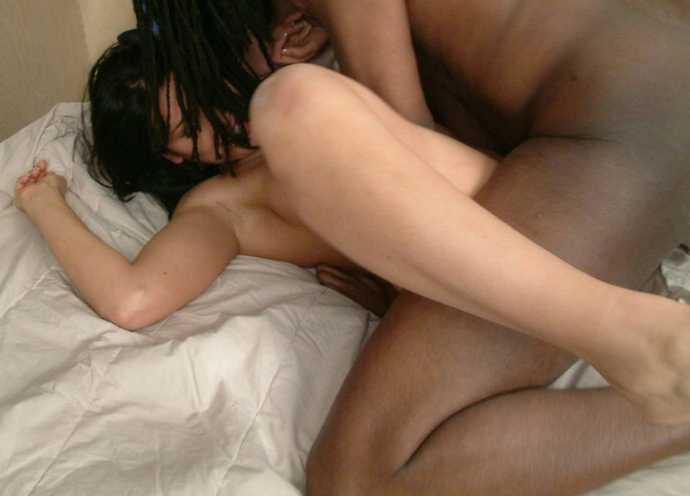 The timing couldn't have worked out any better for Tim as he slipped back into the closet, for when Max began rubbing his bloated cockhead up and down the beauty's well-eaten slit, the bitch panicked when she realized that her precious little cherry was about to be popped. From his hiding spot, Tim observed that the young beauty had removed the pillow from over her face and had her arms outstretched and hands out in an attempt to push Max away from her. "Please ………………Mr. Griffith …………………..no, please …………………..no …………………….stop …………………..stop, please! I …………………….I'm a virgin …………………I don't want to ………………….not till my wedding day!" came the stammering plea.
Tim realized that he had gotten away it as the bitch had no fucking clue that he had just eaten out her juicy little snatch. 'Shit, she thinks Max was the one eating her out and is now gonna pop that cherry of hers!' he gloated, then silently cheered for Max to 'Give it to her! Give it to her good! Rape the innocent little bitch! 'Ruin' her good! Show her what fucking is all about!' He watched as Julie dug the spikes of her heels into the mattress to push herself up the bed and away from Max. And then he observed Max's large hands grasping her at the back of her knees and pulling her back down the bed. Then her skirt was ripped from her, heels peeled off and tossed to the floor as Max held her firmly in position.
"Aieeeeeeeeeeeeeeeeeeeeeeeeeeeeeeeeeeeeeeeeeeeeeeeeeeeeeeeeee!" came the ear piercing shriek that Tim knew could only mean one thing ……………….that the young innocent Julie Park was no longer a chaste little virgin any more! Fortunately the penthouse suite was totally soundproof and would not attract any attention. And in seeing the widening red spot on the bed sheet beneath the union of the rutting pair, Tim silently chuckled 'Bleed, bitch ……………bleed! Fuck it to her, Max …………….nail her good!' And big black banker was certainly going to town with the now whimpering beauty, grasping her by her trim hips and fucking it and out without any mercy.
"Damn, yer tight, bitch! So much fer that precious little cherry that ya been saving all this time fer that fiancé of yers! Heard yer engaged to a punk whiteboy, huh! What's he gonna say when he find's out his purty little bride's already got herself fucked and ain't got that precious little cherry of hers anymore!" Max taunted as he stabbed his bloated prick all the way up her bleeding snatch. Looking down to see the bloody union joint, Max laughed as he sawed in and out of the whimpering beauty, loving the squishing sounds of the bloody fuck, chuckling loudly that "I's gonna give the bridal couple a nice little wedding gift ……………………a little black baby fer ya two to take care of!"
Weeping and crying at her defilement, the realization that she could indeed be put into the family way from this vile rape, Julie put up a renewed struggle to get away from the raping cudgel. But she was just no match to for the much stronger man as Max just laughed and pulled her back down onto long bloated shaft, giving her an added thrust for good measure. Pumping steadily at the sniffing little bitch, getting up to jackhammer speed, Max then burying his black boner up to the hilt as his muscular body began to spasm uncontrollably. "Ugh …………………ugh ………………..ugh ………………..ohhhh, yeahhhhhhhhhhhhhhhh! Ahhhh, gotcha, sweetie! Heh, heh!" Max gloated in victory as his cock twitched out its hot potent goodies into the beauty's fertile womb.
Watching as Max eased his dwindling cock out of the raped beauty, Tim observed the mixture of cum and blood begin oozing out of the beauty's raped slit while the banker grasped the lacy panties to wipe off his bloody cock. Then Max was grabbing the prone beauty by shoulders, getting her to turn over onto her belly, then grasped her by her trim hips to pull her up onto all fours with her face resting on the pillow. Then Max was using his free hand to signal for him to come out of the closet.
Cock jutting straight outwards with excitement from having watched the rape, Tim gave himself for a couple of shucks as he wanted to be rock hard when he took the little bitch up her cherry ass. Another deftly switch was made and now Tim was holding the young beauty at the back of her neck to keep her face pushed down onto the pillow. As Julie was up on all fours on the bed, she was at the perfect height as Tim guided his bloated cock up to the crack of her creamy ass. Cock fitted, he quickly slung his arm around her trim wais before she could wiggle away, then lunged forward with all of his weight behind him.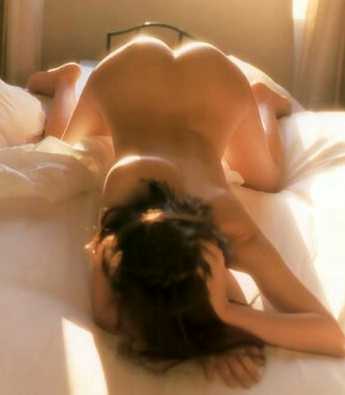 "Eieeeeeeeeeeeeeeeeeee ………………..stoppppppppppppppp ……………..stoppppppp ………………..it hurtssssss …………………it hurtssssss …………………..you're killing me ………………………you're killing meeeeeeeeeee …………….owwwww ……………….ohhhhhhhhhhhhhhhhhhhhhhh!" were the sounds of sweet music to Tim's ears as he reared back then thrust forward hard, buggering her time and time again without mercy. Hearing her sobs and whimpers from the painful rape, such only serve to excite Tim more as he shoved his boner all the way up her tight little butt. Hunching forward, then again to bury himself fully, Tim then gave the pretty little bitch a hot enema. "Ugh …………….ugh …………….ugh!" he grunted out, emptying his balls up her tight little ass.
Two days later, as Julie Park sat across the desk from him, Tim asked "Are you feeling okay, Julie? You're looking a bit pale! They said you didn't sound too good when you called in sick yesterday!" As the young beauty stammered a bit in advising that her entire body was hurting the day before but that she was feeling fine now, Tim was reaching down to the partially open drawer on the right side of his desk to finger the bloodstained panties that he had been given by Max as a souvenir from his birthday party. Then Tim advised that "Max Griffith gave me a call yesterday and expressed how delighted he was that you had showed up at the restaurant instead of me! You really made his day, Julie! Says that was the best birthday celebration he'd had in years!"


End of Story.