Exploited Bridal Guests - II
(m/f, i/r, n/c)
by
Black Demon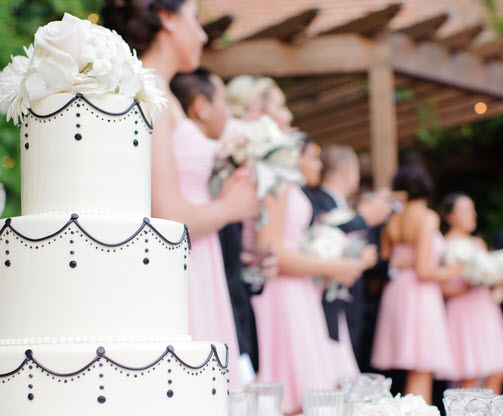 ***************************************
This story is a story in itself. However, it is also a direct continuation
of prior stories entitled: 'Nightmare for Nicole' & 'Exploited Bridal Guests 1'
***************************************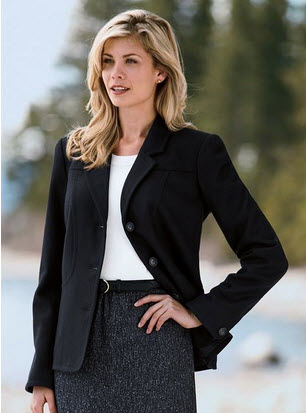 Exhausted from her flight over from Stockholm, where she had spent a week at its branch office, Nicole Lexcombe finally got through the long line at customs and had to wait in line for a taxi to the Millennium Hotel. With a week scheduled here in New York, needing to handle both branch office items and personal ones, once in her hotel suite she decided to take a nice hot shower and then a short nap to prepare herself for the events of the night. But before showering, Nicole put in a call to her home in London, wanting to check in on her husband to see how he was doing and to see that he was taking his medication for his heart condition. Missing her husband dearly as she truly loved him, wishing that she could have gone home first before coming to New York, Nicole reminded herself that she had no choice in scheduling this trip due to the call received on the urgency of getting new recruits on board and thus she was doing it for the sake of her ailing husband. The appointment scheduled for that night was particularly required of her to assure that her husband did not add any stress to his heart condition, as the doctor advised by the doctors.

Going up to the 5* Millennium Sky Restaurant for her 8 p.m. dinner meeting, Nicole was advised that her guest had just arrived and had already been seated, and thus she followed the receptionist to where the booth was located. Putting on a good front with a nice wide smile, Nicole slid into the booth next to the man she was to meet, then ordered a vodka martini when asked if she cared for a drink. To get the business side of things out of the way, the first folder was handed over to her, of which Nicole opened as the briefing on the first subject commenced. In the folder were various pictures of the subject being discussed, a video disc containing a copy of the incriminating event, and a number of printed pages of whatever information was contained on the subject matter's cell phone. A second folder of another subject matter was then handed over to her, of which Nicole opened up as the briefing began. Finally a third folder was handed over to her, contents basically the same as the other two, of which Nicole listened in on the briefing.

The first folder's subject matter was that of a Ms. Allie Sanders (age 24), the second of a Ms. Megan Forbes (also age 24), and the third was that of a Ms. Holly Donner (age 25). There was quite a number of similarities of the three women: young; very beautiful; and each were sporting a sparkling diamond ring as she was engaged to be married. Nicole felt sorry for each of the three young women shown in the folders, knowing that their young happy lives would soon turn to devastation upon meeting with her in the next week's time, her supposed indiscretion would be used as a means in forcing her to join the organization's employment in exchange for the video not going public. Nicole knew that the young woman's indiscretion probably would never have occurred, as had been in her own personal case, unless a potent drug had been slipped into her drink to render her unconscious or to have her behave in a way that would never have taken place without it. Nicole shuddered as she knew her own time to perform, as each of the young gals in the folders would soon be allowing to happen to her, like having the bastard sitting next to her slide his black hand up her leg and under her dress.

Nicole was then briefed at the devious new developments devised or concocted in the twisted mind of this demented bastard, that these unsuspecting young women would become subjected to, as part of a new 'on the job training' should she agree to take a job in the world's oldest profession. With each of the young beauties in their mid-twenties and not as yet married, one could reasonably suspect that she would be rather naive when it came to matters of sex, and the newly contrived plan was to take advantage of just that where the organization would end up making a bundle of additional money. Listening in on the details of this new 'training' that the young women would be subjected to, Nicole could only swallow deeply while feeling pity for the unsuspecting females that would be subjected to making the dreaded decision of taking in the proposed new 'part-time' job or having her sex video becoming public for all her friends and family to see. For each of the young beauties, she would be in a six month 'training' period, with each being a once a month four hour session, with a wealthy client from one of the organization's many hotels paying a nice sum for the privilege of being one of her 'trainers'. Once her training was over in six months, the young beauty could then break up her monthly duties into two 2 hr trick sessions with a paying 'John' to make her life a bit easier if she wanted it that way.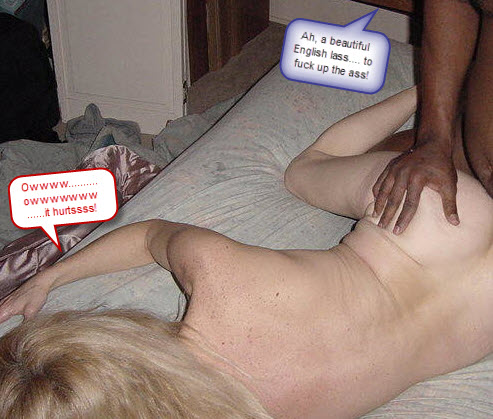 Dinner over and back up in her suite with the man she had dined with, Nicole shuddered at the feel of his thick fingers fumbling at the hook to her dress. Seconds later the sound of the zipper could be heard as Nicole could feel the fabric of her dress loosening as the black bastard took his pleasuring in undressing her. The large calloused hands began pushing the dress off her shoulders, then the garment slid down her arms to fall to the carpet and puddle around her heels, thick lips nibbling at her earlobe as she was asked "Hubby getting any better? Able to git some nookie from his beautiful wife?" With the bastard apparently well informed of her husband's current condition, Nicole was then told "Don't ya worry, sweetie ..............................Rashad's here to look after his favorite English lady!" Bra clip undone in the back, shoulder straps being pushed over her shoulders, the large calloused hands and fingers were soon groping and fondling at her bare titties. Thumbs flicking at her sensitive pink nipples, Nicole shivered from the unwanted pleasure, then she heard him say "Okay, sweetie ...................................ya know what I's like ...............................ya know what to do next!"

As Nicole did indeed know what the black bastard wanted of her, she stepped out of the dress on the floor, then turned around before dropping to her knees onto the carpeting. Looking down at the ground, Nicole reached up wit her both hands, placing the palms of both hands on the man's pants at thigh level , then proceeded to slide her hands up over the big bulge in front till her fingers reached to zipper in front. Having had to perform this task many a time in the past, Nicole's fingers went to work automatically as she inserted her right hand into the opening once the zipper had been pulled on down. Pulling out the curved manhood while in its aroused state was always a challenge, once out in the open she shucked at it some to get it all stiff and hard, then she leaned on forward to take it into her mouth. Faced fucked as the bastard gloated "Ahhhh, if only hubby could see his beautiful wife now ............................his ticker would surely stop in its track, heh, heh!", strong thick fingers wound in her hair as the bastard humped her face, Nicole licked at his flaring pisshole as he always wanted and without being told to, wanting this foul interlude to end as quickly as possible.

Finally the bastard held her head steady by the hands gripping her hair, keeping her head from bobbing further as he was near popping, Nicole knew what she was to do without any further instructions. Opening her mouth wide and pulling her mouth off the throbbing cock, Nicole stood up once her hair was released, then walked on over to the bed where she stepped out of her heels before climbing atop the mattress and got onto all fours. She head the rustle of clothing behind of her as her male companion got his clothing off, then Nicole felt the mattress sink behind of her as the black bastard got up onto the bed and began shuffling up into position. "Owwwwww ..................................owwwwwwwwwwww ...........................it hurtssssssssssss!" Nicole cried out as the bastard proceeded on sodomizing her, as he would always do upon each of their meetings. Nicole shuddered in shame upon hearing his taunt "Ah, my beautiful English lass ............................to fuck up the ass!" This was the sex act that Nicole detested the most, for getting fucked up the ass was quite painful and certainly not enjoyable one iota, and probably that was why Rashad enjoyed buggering her so much. Soon came the grunting from behind of her, the spurt of his hot filth up into her ravished rectum, but the worst was yet to come ...............................for once the bastard pulled his black cock out of her ass, he would make her take it in her mouth to lick him clean, all the while laughing and taunting 'Now lick my shitty cock, bitch'!


Ms. Allie Sanders, age 24, kindergarten teacher, engaged to be married: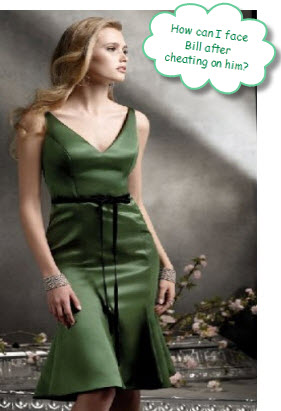 'Oh, my God .......................how could I have allowed that to happen? What can I do? How can I face Bill after cheating on him?' Allied asked herself after having put on her green bridesmaid's dress in preparation for the wedding. 'All that wine ....................a group coming over to our table ................everyone dancing ...........................he was so charming and handsome ............................................then that stroll out in the garden .........................he must have planned it all along as it led right to his room .................................and before I knew it I was in his room, and I allowed him to kiss me .....................kiss me so intimately! I should have objected when he invited me into his hotel room ..............................why didn't I? Was it because all the gals and I agreed ahead of time that 'Let's have fun and party! What happens at the resort, stays at the resort!', that I threw caution to the wind? I should have known better .......................entering his room .................................for at that point he wouldn't take 'no' ...........................it's all my own fault!' she chided herself. Closing her eyes in despair, Allie realized that all she knew was that her handsome young seducer's name was 'Mike' and didn't even know his last name.

Devon Michael Winters, aka 'Mike' as he went by while working his job at the resort, would always give out the phony last name of 'Miller' if he had to use one in order to avoid any sort of repercussions following the seduction of an engaged or married guest at the resort. Mike was smart enough to know that he was getting twenty-five hundred bucks for seducing a beautiful engaged or married woman, that it wasn't all being captured on video without it being used by his employer to make back that money and even more. For Mike, this well-paying gig of earning money to seduce beautiful women between the ages of twenty and fifty was a dream come true, for he loved having money in his pocket and that of fucking many sweet honeys .................................and women belonging to another guy just make it all that much sweeter for him! In the case of beautiful Ms. Allie Sanders, it all started with the snapshot of her and the gals in the wedding party upon their checking in at the front desk, and it was noted that three of the four gals other than the bride were sporting diamond rings and/or wedding bands on their ring fingers.

For Mike, he and four fellow co-workers in the 'stud' division got the email that afternoon to advise that a reservation for a party of five had been made that evening at Antonio's Grill, time of reservation provided along with a name that the reservation and room number, and attached to that message was a photo taken of that bridal party on check-in. With the bride being the one signing in at the front desk, three of the four other gals in the photo had been circled, meaning that each of the circled gals was either engaged to be married or already married. Upon meeting up as a team in the early evening, Mike had smiled upon finding that he was one of the three with the most seniority, and thus would have first crack at bedding one of the three beauties that would payout the big bucks. Drawing the high card from the deck, Mike then looked over the photo and chose the the lovely Ms. Allie Sanders, the gal in the photograph that made the head between his legs throb with excitement in the hopes of him seducing her into his bed later that night. With a nightclub attached and live music for dancing, that would loosen up the gals inhibitions, to which Mike planned on buying the lovely Ms. Sanders a drink after dancing with her, a drink that he'd go up to the bar to purchase so he could add that vial of 'Spanish Fly' into it before delivering it to the unsuspecting young beauty.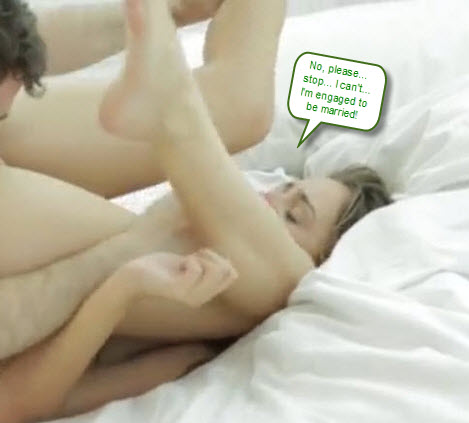 Some rational thoughts finally began to seep back into Allie's drugged and spaced out mind, enough to realize that she was naked in bed with a man other than her fiance, and he was doing something that she always had thought of as being a depraved sex act. Flat on her back, large hand at the back of her knees pushing her up in a ball, the handsome stud she had met in the bar earlier that night, was also in the buff and was licking at her sex. Allie shivered as the bastard's thick wet tongue slid between her pussy lips, causing her to wonder just how she could have allow things to get so far out of hand, and she could only plead "No, please ..........................stop ..............................I can't .........................I'm engaged to be married!" "Nnnnnnnnnnnnnnnnnnn ...........................ohhhhhhhhhhhhhhh .............................ahhhhhhhhhhhhhhhhhhhhhhh!" she squealed out as the tonguing was driving her out of her mind. Gritting her teeth together as her toes curled, Allie reached forward with both her hands to grab the bastard's hair, pulling his face forward into her twat as she screamed out "Oh, Goddddddddddddddddddd ..........................ahhhhhhhhhhhhhhhhhhhhh ..................................oh, my Goddddddddddddddddddddddddddd!" Shivers of pleasure coursed throughout her entire body, all due to the long thick tongue slithering up into her, then it was as if there was a star burst in her head for that's all Allie saw as her body convulsed and her love juices gushed into the open mouth covering her twat, and then the slurping sounds began getting louder.

It was a startled and horrified Allie upon her awakening that next morning, with the morning sunlight in her face as she discovered just a sheet covering her naked body, something quite out of the ordinary as she had never before gone to bed in the buff. All alone and in an unfamiliar room, she found herself alone, turned to her right to see a note taped to the nightstand that read 'Hi Allie, had a fantastic time last night! Had to go off to work! Stay as long as you want, Mike!' Her eyes widened in absolute horror as Allie began to recall the details that had taken place while in the arms of the handsome hunk ..............right here on this very bed .....................allowing him to have sex with her ......................unprotected sex, something that she had not allowed to ever happen before, not even with her fiance! 'How could I have cheated on David after accepting his marriage proposal? And ...................with a basic stranger ....................whose last name I don't even know!' Allie chastised as her head slumped in defeat, ashamed of herself while feeling the tingling of her swollen nipples and the mushy wetness down between her legs. Having surrendered her virginity to David shortly after their engagement, the man she was soon to marry was to be the only man she slept with, but such was so short lived with it being mere months since accepting David's marriage proposal.

Seeing the clock on the wall, Allie realized that she had under an hour to make it back to her room to take a shower and make herself presentable when she was to meet up with the gals for breakfast. Getting out of bed and putting on her clothing, Allie hoped that the gift shop in the lobby was open, that it sold some feminine hygiene .....................wanting to buy a bottle of a potent douche .......................before it was too late! As to where she was in the resort, Allie had no clue and hoped to make it back to her room as quickly as possible, all the while wondering 'How can I ever face David again and not feel guilty of having cheated on him just months after telling him that I would be his wife?' With her fiance coming in tomorrow afternoon for the wedding, Allie wondered 'Will he be able to see it written all over me ............................that I cheated on him ..............................had sex with another man?' With David planning to stay over with her after the wedding since the room was already paid for till the next morning, Allie knew that he would want to have sex with her, but had to wonder 'Will he know? Will he be able to tell that I'm not the same .........................that another man stretched me out far wider than he ever had?'

Trembling with fear some weeks later as she sat in the booth of the coffee shop located several blocks from where her school was located, as instructed by the email that she had received that afternoon with a short video clip excerpt of her indiscretion at the resort, Allie looked about for the bastard who had seduced her then and was now attempting to blackmail her. Scrutinizing any male entering the popular coffee shop while ignoring incoming female customers, Allie was startled when a well-dressed woman in her early 40's with an English accent asked "Miss Allie Sanders?" Looking up at the woman, Allie nodded a 'yes' and watched as the woman took a seat across from her in the booth. "Unfortunately, I'm in a similar bind as you ...............................thus, I'm the culprit who sent you the email! A part of my job is to meet with women like you, to lay out the facts and the options available ...........................for if I don't, then a similar video taken of me would be sent to my husband!" the woman told her. In the forty five minutes that followed, Allie felt sick upon hearing that a video existed of her dancing and drinking with the handsome young man whom she had the indiscretion with, of the two of them going up to her room and to include all that took place on the king-sized bed.

Allie had been warned that it would not be wise to call the bluff of the blackmailers, for they were not making any idle threats, then she was shown a two list page list of people who would be sent a copy of the video at which her fiance's name was at the very top. Her parents and grandparents, friends and fellow teachers at where she taught, plus the video would be put up on all the social media outlets with information on her to be fully displayed. In asking what was being demanded of her in exchange for the video not being made public, Allie was told "Well, honey ......................its probably best described as you taking on a part-time job which involves a four hour shift for the first six months, after which you can split it up into a couple two hours shift during a month's time! You'll be able to pick and choose the dates and times a month in advance, the various areas within the city you'd like to work each of your shifts, and you'll have to take in consideration that you may be notified with a little as an hour ahead of time ...................so best you pick areas to work that's at most a half-hour's drive away from where you'll be at!" "What .......................what type of work am I expected to do?" Allie asked, to which the response was "Well ..........................let's say that you'll be joining the world's 'oldest' profession! As you're engaged to be married, you're to always wear your diamond ring ................as that really turns the guys on!" Allie was speechless at that point, knowing what such meant, then she was warned "Best for you to get on the pill if you don't want to get knocked up ....................cause none of those bastards will use a condom!"

Upon getting the email and then the call from the bell captain at the Millennium Hotel, where he always stayed at whenever in New York, 75 year old Carl Rankers advised "Yeah, Eduardo .......................I'm certainly interested! An elementary school teacher, huh? And engaged to be married too! And I get to be her 'trainer', huh? And you say I'll be her very first 'John'! Damn right I'm in!" "Three grand, huh? Yeah, man ................no problem .....................it'll be well worth it to be that sweetie's very first 'John'! I get to train her any way I want, huh? Just gotta fill you in as to the kind of training she got so she can later be trained further by another 'John' the next time! No problem there ......................not a problem at all on my part!" Finding out from Eduardo as to when the beauty's first day on the job would be, Carl scheduled his next business trip to take place at that time, leaving the date of her availability open for him to give her some 'on the job training' .....................as a call girl! Carl was looking forward to making that next trip to New York and made a note to be sure to take care of Eduardo for having filled him on on this lovely young beauty.

Wanting to scream and run out of the room upon feeling the old guy's wrinkled hands on her body as he pushed the yellow dress over her shoulders, Allie cringed and steeled herself as her dress caught at her elbows for a few seconds before falling to the floor around her white heels. Bra undone in the back and dropping their protective covering of her breasts, Allie closed her eyes as the geezer's arms encircled her petite body as his wrinkled old hands were sliding up to cup her breasts. Shivering from the unwanted pleasure caused by the thumbing of her sensitive nipples, Allie bit at her bottom lip, forcing herself to stand right there as the old boy touched her up. Then the old boy was nuzzling at her earlobe, licking her ear, then whispering "Reach on back and feel the 'surprise' that I got for you, sweetie!" Doing as she was told, knowing what that surprise would be, Allie reached behind her back with both hands. Shuddering in disgust as she came into contact with the old boy's dangling piece of meat that awaited her, Allie wrapped the fingers of her right hand around the throbbing tool, then slowly jerked on it. "Use your other hand and play with my balls, sweetie!" she was told, then slid her left hand down to palm his wrinkled old balls.

Allie tried to picture the shocked look on Bill's face if he was a witness to what she was doing at this moment, that of playing with the old boy's testicles and cock while he played with her titties, then she got a real 'surprise' in feeling just how big and stiff it was getting in her hand. Then Allie got a real 'surprise' when the old boy whispered in her ear "I heard this is your first time doing tricks, sweetie! Lucky for me I'm an old time customer and they asked me if I'd like to have the honor of being your very first 'John'! When they showed me a picture of you ..........................and asked if I wanted to opportunity of showing you the ropes in becoming a hot little whore ..................................I was more than happy to pay the extra three grand for the honor of breaking you in!" As her titties were being as she played with the old boy's cock and testicles, the 'John' whispered that "And I must say, for this being your first time ..............you're doing just fine ...........................didn't object to doing what I wanted ........................you've got such nice soft hands ..................feels so good the way that you're stroking my cock and playing with my old balls!" Then as if to shock her, the old boy told her ever so bluntly "Okay, let's get out of all our clothing and get up on the bed and FUCK!"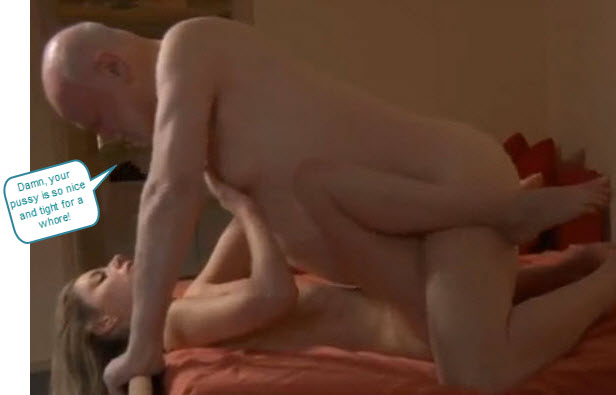 Carl was certainly enjoying every moment with this succulent young beauty, wondering as to what kind of hold the organization had on such an innocent beauty, but he did know that she was engaged to be married and it was quite obvious that she was reluctantly entering the world's oldest profession. When they were both naked, as the naive little newbie turned to get up upon the bed, he stopped her by grabbing her gently by the wrist. Wrapping her trim fingers around his jutting cock once again, telling her "You wrap your pretty hand on a John's cock like this and pull him along to bed ..........................that'll get the John even more excited!" As she lay upon the bed and spread her legs wide for him, Carl told her "Atta girl, spread your sexy legs wide for me ...............................reach down and wrap those pretty fingers around my cock ...........................................now guide my cock into your hot little pussy!" Seeing the young beauty blink back the tears of shame, hearing her sniffling to keep from bursting out in tears, Carl smiled to himself at having offered up that few grand to be offered the chance of being the one to break in a brand new recruit was really priceless to him.

Once he had discovered where such beautiful talent was rather reluctantly coming up to his suite, spreading their succulent charms for guys like him who had to pay for it, Carl was wanting to have the opportunity of being the lucky customer in being that beauty's very first 'John'! 'Damn, doesn't get any better than this! A beautiful woman belonging to another guy .................................reluctantly spreading her sexy legs for an old fucker like me ......................................seeing the tears in her eyes ............................sniffling some as she's about to breakdown and cry ..........................................then I get to fuck her good! About as close to raping a beautiful bitch against her will ............................just as pleasurable ...........................................but eliminating any chance of her crying 'rape'!' Carl gloated as he rubbed his boner up and down the length of this young beauty's gash before forcing his bloated head into the resisting flesh. "Oh, my goshhhhhhhhhhhh .........................it's so biggggggggg! I never expected that .......................you'd be so biggggg ......................................and so longggggggg!" the young beauty panted out as penetrated her some four inches deep.

Carl chuckled "Sweetie, you'll be surprised how hard an old guy like me will get ........................especially when he get an opportunity to fuck a young beauty like you!" Pulling back a bit, he then skewered her even deeper on his next lunge into her, groaning out "Damn, your pussy is so nice and tight for a whore! I'm only too happy to have the privilege of stretching you out some ..............................cause believe me, you're gonna be getting stretched out real good .............................especially by them big black boys!" Slicing his old cock in and out of the reluctant beauty, Carl loved the look of disgust on her beautiful face, then took delight in telling her "Now squeeze that hot little pussy of yours around my boner, sweetie! Ah, that's it .........................that really turns on an old geezer like me..............................squeeze it again!" At the feel of her pussy squeezing on his pecker, Carl groaned out "Ahhhhh, yeah .......................gonna cum ...........................ahhhhhhhhhhhhhhh .............................oooooooooooooh, yeahhhhhhhhhhhhhhh ................................yeahhhhhhhhhhhhhhhhhhh!"

Upon pulling out of the teary eyed beauty, Carl took delight in tormenting the agonized beauty upon having completed her first stint in becoming a 'whore', patting her ass while telling her "Damn, that was just out of this world, sweetie! I ain't cum that much in over a decade! I'm just glad to have the honor of being the first 'John' to break you into the world's oldest profession ...........................'whoring'!" he chuckled while running his wrinkled old hand over her soft smooth ass. Having paid for the full four hours of the beauty's first stint in whoring, Carl wanted to teach the innocent young bitch just what she'd be in for, things that he hoped would certainly remember if it was to be her very first time at performing .........................and he was willing to bet that she had not learned how to suck cock as yet! As the beautiful little whore had her face in the crook of her arm while sniffling from her introduction into her new life of whoring, Carl decided to give her time to compose herself, which would also allow him to down one of those blue pills that would rev up his engine. Some fifteen minutes later upon feeling his boner give a twitch of life, he then pulled the pretty little thing out of bed, made her kneel down on the carpet so he could teach her just how a guy likes to have a beautiful bitch suck on his cock.

Having taken a half day off from work, then fulfilling her first month's commitment up in a luxury suite of the Millennium Hotel with the the old 'John' for a four hour session, Allie could not stop crying while sitting in her car in the hotel's parking lot. Body trembling and shaking as she sat in the car, Allie felt so degraded at having been made to do such a foul and despicable act ..........................that of being down on her knees in such a subservient manner before the ugly old bastard ...............................then being made to take his filthy penis into her mouth! Inexperienced and shocked that she would have to admit that foul piece of meat into her mouth, Allie was under the impression that the bastard would want to have sex with her once he got all hard again, that he would be pulling his 'thing' out of her mouth at that time! But when the bastard's cock was big and rock solid once again, the geezer wound his fingers tightly in her hair and literally began fucking her face in earnest, then she heard him wheeze out "Look up at me, bitch!" Doing as he ordered, Allie was then told "That's it, sweetie! That's what you need to do when giving a guy a blowjob ...........................turns him on when he gets to look into yer pretty eyes when he's about to cum in your mouth! Ahhhhh, fuckkkkkkkkkkkkkkkkkk ..........................................yeahhhhhhhhhhhhhhhhhhhhhhhhhhhhhhhhhhhhhhhhhhhhhhh.......................................cumminggggggggggggggggggggggggggggg!"

To her horror, the bastard had pulled back some till just the bloated cockhead remained enveloped in her mouth, then he began ejaculating the sticky hot filth ...........................filling her mouth to the brim as he panted out "Get a good taste, sweetie ..................................better get to like it as I'm sure the John's are gonna love getting head from a pretty thing like you .......................................now swallow and eat it all!" Looking up at her first 'John', Allie saw the old boy toss his head back as he grunted out his pleasure, felt the bloated knob in her mouth swell up even further before it exploded and proceeded to spit out its sticky filth. With her mouth filled to the brim and the thick bloated knob preventing her from spitting the goo out, unable to pull away due to the strong hands gripping onto her hair, Allie had no choice but to swallow or choke to death on the filth. Thinking that it couldn't get any worst as she was forced to swallow the filthy mucous, feeling the bile as it slid down into her belly, the ultimate humiliation came a moment later as she was on her knees with her head in the toilet as she puked her guts out ...........................hearing the old bastard laughing his head off at her plight!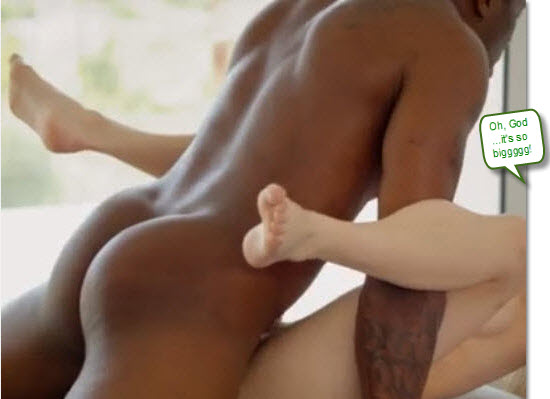 A month later, for her second assignment, Allie shuddered as she pulled her car into the parking lot of what had to be a three star motel at best. Going up the the second floor and knocking on the door of Room 209, Allie sucked in her breath upon seeing that her 'John' was nearly 6'5" and some 240 lbs .........................he was certainly big and BLACK! Entering the rather dingy motel room, Allie forced herself to keep from running out of the room, then began removing her clothing as the 'John' wanted her to start with a strip tease as he instructed her to unzip her dress and let it fall to the floor around her heels. "Now the bra, sweetie! Take yer bra off and toss it aside ....................lemme see those pretty little titties of yers!" she was advised. That done, Allie was instructed to "Peel down your panties slowly fer me ...........................show me that sweet golden beaver of yers ...................................let yer panties fall to the floor!"

For Dominic Williams, it was well worth paying two grand above the norm to be the first black stud to break in this pretty white newbie into to ranks of being a high priced call girl, and would have paid whatever the price being demand after seeing that photograph of her in that green bridesmaid dress. Having played pro ball for seven years, money was no problem for him, especially when he could get into beautiful white bitch's panties. 'Damn, that's high class stuff!' he had thought to himself upon looking at the photograph shown to him by his buddy Norm who was one of the the bell captains at the Millennium Hotel where he normally stayed when in the city. In being one of her first 'Johns', with a sweet beauty who was innocent and quite reluctant to be providing such illicit services, that provided Dominic the additional pleasure of tormenting the anguished beauty as she forced herself to submit to his lusty desires.

With Norm knowing much of the scoop on the young beauty and her entrance into providing on call booty services, he learned that an old boy had paid a hefty sum to have the honor of being her very first 'John'. Dominic certainly could not pass up the opportunity of being her second client and getting the be the first guy to put a big black cock up into a white girl's tight little pussy. With such a classy young beauty only knowing the best of things, that her first 'trick' the past month was right there at the Millennium, Dominic wanted to show the young beauty that she'd often have to spread her lovely charms at roach infested rooms on the other side of the tracks. Making a call to a buddy he grew up with in the hood, the current owner of the run down motel near the high school, Dominic got him to hold a room for him that next day.

Having removed her clothing as instructed by her black client, Allie stood there with her eyes closed, naked but for her white heels with her dress on the floor around her feet and panties still encircling her ankles. With her client having stood up from his chair, Allie could hear his footsteps nearing her, then she shuddered at the feel of his large calloused hands upon her hips. Frozen to the spot, Allie shivered in nervousness at her black 'John's' hands began roaming over her body, large hands cupping her breasts and then her sensitive pink nipples were being thumbed to hardened little buds. Then she felt his head next to hers as he nibbled at her earlobe, his fingers toying with the engagement ring she had been told was a 'must' to be worn at each and every assignment, quivering upon hearing his words telling her "Yer fiance has no clue what kind of naughty girl he's gonna marry, does he? Hope yer on the pill cause I's don't shoot no blanks ..................and ya might be walking down the aisle with a bulging belly! Getting married and presenting the man ya marry with a little illegitimate black bastard certainly wouldn't go over well, now would it?"

Stepping out of her heels and kicking off her panties, Allie then did as told by turning around to face her 'John', reaching out with both hands to stroke at the rising manhood. Her eyes widened in awe as the magnificent specimen of throbbing black manhood twitched and grew in her hands, getting thicker and thicker as she squeezed upon the now rigid shaft, lengthening even further as her 'John' proudly advised "That's a solid twelve incher for ya, sweetie! Gonna stretch ya out real good, baby .....................................gonna 'ruin' yer fiance's precious little prize fer him, don't ya think?" Doing as instructed, Allie pulled her 'John' towards the bed by his foot long dong, then she turned as instructed to lay upon the bed while rubbing the plum-sized cockhead up and down over her tight little slit. "Oh Godddddddddddddd .....................................STOP ...................STOP ...............................it won't fit .........................it won't fit!" she screamed out in a panic as the 'John' leaned forward to push his donkey-sized boner up into her. "Oooowwwwwwwwwwwwwwwwwwwwww!" Allie cried out in pain as the bastard lunged on forward to brutally stretch her wide apart with his thick black cock.

'Oh, God .........................it's so biggggggggg!' she shuddered as ten long inches had been speared up into her, then the black bastard was pulling back so in order to ram it back on it, this next time succeeding with skewering her fully with his lengthy twelve incher. Then Allie felt the black bastard begin to rotate his hips, attempting to stretch her pussy out even wider, the she heard him gloating that "Better make sure yer fiance's drunker than hell the next time ya let him fuck ya .....................................cause little white boy pecker's sure to git lost in the dark in there!" Allie tried to push the muscular 'John' from her, to stop him from stretching her so, but she was no match for this bastard as he was particularly enjoying her plight while slamming his thick cock up into her her as deep as possible. Moments later, the shuddering 'John' was grunting out his lust as his muscular black body convulsed time and time again, following which the bastard laughingly told her that "Ya ought give yer fiance a treat tonight ......................let him lick yer pussy so ya can give him a nice tasty dessert ...............................some of the rich tapioca pudding I's went and spurted up in there fer him!" Closing her eyes in shame, shuddering in disgust from the vile taunting and mentioning of her fiance, Allie began wondering if it just wouldn't be better to end it all with an overdose of sleeping pills rather than to continue on having to meet the awful demands being made upon her each month.

Wanting to be this beautiful bitch's 'teacher' as she entered into her new profession, Dominic could enjoy the pleasure of degrading her with his taunts, which in the long run would serve her good in toughening her up mentally into becoming a harden hooker. Having been briefed on her hooker training to date, that of her first date with the old geezer up in the Millennium, Dominic wanted to expand her expertise when it came to putting out for 'Johns' as well as knowing what guys enjoy doing to a pretty little thing like her. Although figuring that there was a good chance of her having done it 'doggie' style, he knew that one thing for certain was that 'She ain't had no twelve sliding up into her tight little pussy from behind!' Looking over at her soft beautiful ass, then reaching on out to give it a feel, Dominic smiled to himself in thinking 'I's gonna make this little sweetie scream her fuck'n head off when I stick it up her cherry ass! She's so fuck'n innocent that I'd bet my last buck she ain't been fucked up the butt yet!' Thinking further as he knew he'd have time for one additional go at the young beauty, and knowing that the old boy had been the first to give her a taste of cum, Dominic wanted to see how she'd react to taking a black cock in her mouth and when he got to rub his short kinky hairs against her pert little nose when all twelve inches were stuffed down her throat. His devious plan was to first give her a good taste of his cum, then pulling on out so she could experience her very first hot cummy facial all over that beautiful face of hers.


Ms. Megan Forbes, age 24, engaged to be married in four months, a bridesmaid for her good friend's wedding spending four days at the resort getaway for the gals in bridal party: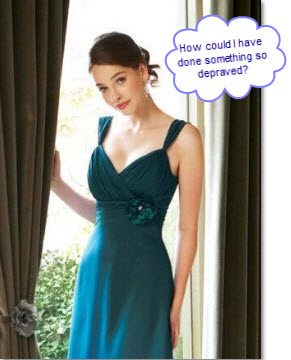 The Saturday afternoon wedding ceremony had been beautiful, with Megan now in the reception hall near the window as her fiance Tim wanted to take a picture of her, but while posing she couldn't help but to wonder 'How could I have done something so depraved?' Such questioning of herself pertained to her waking up Friday morning, unable to recall the events of the night after the rehearsal dinner, other than going out with the other gals for a drink at the bar where there was a live band and some dancing. But upon waking up that next morning, when one of the gals in the wedding party called to make sure she was up to make brunch that morning, Megan found herself totally naked in her bed .................but obviously having had sex during the night as vagina was just a soggy and sloppy mess! Dried cum was to be found between her fingers, meaning she must have jacked off a penis in her hands, but upon looking at herself in the mirror Megan discovered dried flakes on her neck and even thick dried white splotches in her hair. 'My God ....................how many different ways did we have sex last night?' she wondered.

Having surrendered her virginity to Tim four months ago, finding that she really enjoyed having sex with her fiance, Megan was looking forward to their wedding day when she would officially vow to be true and faithful to the handsome man in her life. With her fiance having to work and scheduled to arrive on the day of the wedding, it was obvious that her plan of being intimate with only the man she planned on marrying had gone asunder, as evidenced by the copious amount of male semen drooling out of her well-fucked slit. Groggy with her head pounding like crazy, snippets of the prior evening Megan began to come back to her, remember dancing a bit with a rather handsome fellow named Bill who was about 32 years of age. She remembered going out for a walk in the gardens with him, that he had picked up a bottle of wine and a couple of plastic cups, but that was all she could remember.

Unbeknownst to Megan, the wine consumed from that bottle contained a very potent drug that was rather dangerous to one consuming it, because such was mainly produced in illegal labs and the consistency varied if contaminated. Such was a drug known as GHB or the date rape drug. Serving as a potent aphrodisiac on the positive side if everything went right, but it more often rendered the recipient unconscious or nauseous on the negative, often leading to the rape of the unconscious victim. However, one residual effect that always occurred was that the person consuming the potent drug would basically not recall anything that took place from the time the drug was ingested and the period thereafter. In Megan case, it was the aphrodisiac effect that had taken hold of her entire body, driving her wild and willing to do anything to put out the fire between her loins.

Like all the other girls in the wedding party, all had agreed to the pact made between them, that they could let loose and 'what happened at the resort, remained at the resort'! All but one of them were engaged, with the remaining gal having a steady boyfriend, but they all agreed that a little secret fun on the side might be just what was needed to put more fun and spice in their lives. With one of the gals seeming to have hit it off with a guy on the dance floor, the gals were soon joined by the friends he was with, all male employees of the resort looking to nailing a beautiful bitch that was susceptible to being blackmailed into becoming a high class hooker. Once the exhausted bride-to-be had departed to get some rest, the other gals in the wedding party seemed to have paired up dancing with a certain guy, leaving Megan with a handsome but a bit older guy who wasn't into dancing much. The fellow named Bill was quite handsome and outwardly appeared to be quite a gentleman, but underneath it all lay a rather demented and sadistic bastard out to make as much money as he could at the expense of an unsuspecting innocent young beauty such as Megan.

Looking more to be in his mid-twenty's than his early thirty's, Bill Snoder (Snooker as his buddies called him) was a sex deviant underneath it all, loving his job of seducing or drugging a beautiful young woman who was engaged to be married or even an older one who was already married. Prior to getting this fabulous job here at the resort, now getting paid for what he enjoyed most, he had left working at another resort when one of his drugged victims had reported having been raped the prior evening. Lucky for Bill she had a couple drinks prior to taking the GHB laced drink that he had handed to her. She could not give the police a description, only able to tell them of awaking in her suite having been raped, evidenced by the blood stains on the bedsheet as Bill had copped the bitch's cherry in the process. Wanting to keep as much of the money for himself, Bill sought to do away with the expensive drinks laced with the potent Spanish Fly that was much safer to use, he preferred using his own GHB vs that of having to give a bartender a percentage of the cut for serving up a spiked brew in order for him to succeed in securing the conquest.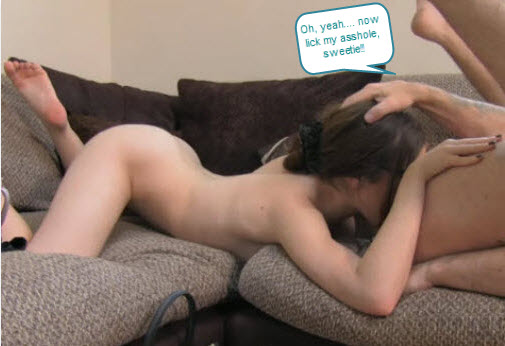 Seeing the beautiful Megan Forbes and having seniority that night, Bill told the other guys that she was his for the taking, thus making sure that the playing field was all clear for him. In pouring wine into the plastic cups and handing one to the young unsuspecting beauty, Bill merely made it a point to stroll slowly behind the naive little bitch, thus allowing him to empty his drug laced cup of wine along the way. Once she was half way into the second cup poured for her, the beautiful bitch was hot to trot, and she would have spread her legs right there in public for a good fucking. Leading her to one of the camera ready units on the ground floor of one of the buildings, Bill quickly had her stripped down naked, begging him to fuck her good.

Her reaction to the GHB had Bill smiling widely in triumph as he had to guess as to how much of the liquid to add into the entire bottle of wine to get the right effect, one that would not just having her passing out unconscious on him. This sweet little beauty was no longer the prim and proper woman as she had always been before, for now she was desperate to put that fire out between her beautiful legs. So desperate she was that innocent Megan did whatever he demanded of her so that she could get herself a good fucking. It was all caught on video with her obeying his command to "Lick my cock, sweetie! Hold it steady ..............that's it .............now start from the bottom and lick it all the way to the top! Atta, girl .................now my balls ........................suck it into your mouth, one at a time ...............that's it .........................now go down further! Oh, yeah .........................now lick my asshole, sweetie!"

Knowing that all of it had been captured on the hidden video cams, Bill then gave the innocent Megan Forbes the fucking that she needed so badly, getting her to scream out in her climax before passing on out from that mind-shattering orgasm and the potent drug coursing throughout her petite body. As she was now dead to the world, Bill then posed the unconscious beauty for some wild action shots .................................like that of positioning her widespread legs to the camcorder, bending her knees and spreading her legs wide, finger fucking her till cum was oozing out of her well-fucked slit .............................................getting her into a good position to capture the face fucking he had planned for her ................................then her facing the camera while on all fours as he fucked her doggie style!

Wrapping the naked beauty up in a trench coat stored for such an occasion in the closet, he then carried the beauty back to her room, smiling to anyone passing on the way and commenting that she had partied a bit too much! In her room, where there were no camcorders rolling, Bill then sought to make some extra money by calling some of his work buddies that he hung around with after work hours, something that he had talked about with the guys at the resort and took note as to who wanted in on the spoils. First he called on Jose, the Hispanic dishwasher, who gladly dropped a hundred bucks for a go at the lovely beauty lying unconscious in her bed. Next was old man Amos, the black janitor, who got to enjoy the succulent young beauty's charms. Third was Miguel, a Hispanic groundskeeper, and then there was the elderly Asian chef that everyone referred to as Mr. Chow. Finally, after each of the guys got to sample the lovely beauty, Bill got all the guys to kick in another fifty bucks apiece for the chance to gangbang the lovely beauty. Jose had the fingers of her right hand wrapped around his boner; Miguel wrapped her silky brown hair around his cock; Mr. Chow was wanting add more of his Asian spice into her cunny; with Amos wrapping her soft pretty feet around his black bone; leaving Bill her left hand remaining for himself.

Weeks later, trying desperately to put all her concentration into her work, Megan mentally continued to struggle in burying the memory of her naughty and outrageous escapade that had obviously taken place at the resort. Then just before work ended came the call at work from a woman with a British accent saying that they had to meet, that it was quite important as it involved her stay at the Lake Dorner Resort a few weeks back, that unfortunately a video existed of what had taken place requiring they meet in order to prevent it from going public. Scared out of her wits, not daring to ignore the veiled threat of it being made public, Megan immediately left after work got over to drive to the meeting place given to her over the phone. The address given to her was a small diner near to where her work place was located, and it appeared empty upon her entering with the gal behind the counter telling her "If you're here to meet Nicole, she's in the bar area at the far booth!" Going through a pair of swinging doors into the bar area, Megan saw it basically empty but for the blond woman in the far corner, observed that the woman was in her late thirties to early forties and very well dressed.

Megan could only sit there in silence, scared out of her wits as she listened to the woman named Nicole try to explain the trouble that she was in as a video existed of her being intimate with a man other than her fiance. Megan listened as the woman told her that any decision was hers to be made, but there would be consequences should she not go along with what was being asked of her. The woman went on to advise that she too was a victim like her and this was a part of her job, besides having to do the things that were about to be presented to her. According to Nicole, the organization that she was forced to work for was wanting her to work for them on a part-time basis, requiring four hours on the job each month, all at once for the first six months and then she could split her assignments into two hour sessions. There was a choice of areas from which she could do her work at, making it easier to get to and from after work or to get home in a timely fashion, and she could make her plans on working those shift(s) a month in advance. It was quite obvious as to what that part-time job would entail .................that of providing sexual pleasure to men willing to pay for her services! Megan trembled as the woman next to her started the video on the laptop in front of her.

"Oh, my Goddddddddddddd! How .......................how could I have done such a crude and despicable things like that?" Megan exclaimed while cringing in disgust at what was taking place on the monitor. 'Why did I do such awful things? I must have been totally out of my mind!' she wondered to herself as she watched the telltale and incriminating video. But there was the video clearly showing her naked on the gray couch .....................sucking another man's penis, then she complied with the male voice telling her to "Lick my balls, honey .....................take them in your mouth!" Megan watched the unthinkable of her licking a strange man's testicles, mouthing them, then moving down further to comply with his request to "Kiss my ass, sweetie .................lick my asshole, then I'll give you the fucking you want so badly. The video showed her proceeding to do it, kissing the bastard's filthy ass, then hearing the male on the video exclaim "Oh, yeah ......................now lick my asshole, sweetie!'

Eyes bug-eyed wide with mouth gaping wide, Megan could only think 'My God ...........................to stick my tongue into his filthy asshole! Oh, my gosh ..............what am I going to do ....................there's no way that Tim will ever forgive me if he finds out I've been with someone else ..........................another man! My, God .....................what made me stoop so low as to do something so filthy .................................what was I thinking? How foolish of me! So stupid! How could I ever have done anything so absurd with anyone one but Tim ................a stranger at that? So unbelievable ......................so utterly gross and filthy!' To her relief the woman sitting next to her turned off the video, but Megan sat there panting for breath while staring at the now dark screen, then heard the woman with the British accent tell her "Megan, it doesn't please me to be the one having to show you the video or to present your options to you, but I'm forced to do so because I'm in basically the same kind of predicament that you're currently in!" After having seen the video shown to her, it was as if the world had come to an end for her, hearing the woman telling her that "The decision is totally yours to make, all I can do is to present the options or consequences you'll be facing if you don't agree to work for the 'firm'! You might think that the solution might be confessing everything to your fiance, or even the more drastic act of calling off your engagement, but all your directory contacts in your cell phone will be receiving a copy of the video in the mail or email!"

A bit later, sitting there all alone in the booth after the British woman's departure, Megan wondered if it would be better to end it all rather than to face to submit to what was being demanded of her ..................................that of becoming a sex object to lusty men paying for her services! Fingering the file folder that had been left on the table for her, Megan swallowed deeply as she forced herself to open it up and see its contents, shuddering as she gazed upon all the names, phone numbers, physical addresses, email addresses, of all the people that had been inputted in her cell phone over the years. The contacts in her cell phone included all her friends and family, business contacts, even that of her two preteen nieces. 'My entire life will be ruined if I refuse to do as they demand of me ............................or everyone listed in the folder will be getting a copy of the video in hard copy or online! I've got no choice .......................I can't have my friends and family see that awful video of me .............................doing such filthy and disgusting things with a stranger! And Tim would never want to even touch me ever again ...............................much less marry a slut like me! I'm going to have to do whatever is demanded of me!' Megan concluded.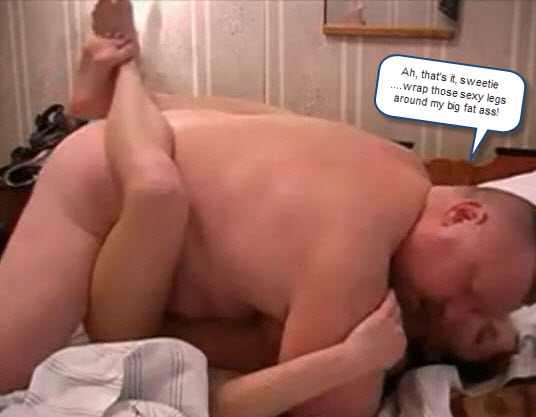 On her first assignment, Megan took off from work after lunch time, then proceeded toward the airport where the hotel was located. She felt sick to her stomach at the thought of being with another man, but the alternative was to have that awful video of her being sent to all the people that she knew, with her fiance and all her friends seeing the awful things with a stranger. Pulling into the parking lot, Megan began trembling uncontrollably as she tried to steel herself and regain control of her body and emotions. Looking at the note she had written down, Megan was to find her client up in Room 410 of the Ridgeway Airport Hotel, and with her scheduled appointment nearing she got out of her car and proceeded into the lobby of the hotel. Up on the fourth floor, Megan took a deep breath before knocking on the door, gritting her teeth as she came face to face with a big fat man who had to be in his sixties.

For 63 year old Harry Beaufort, a distributor of tools, he always stayed out in the airport hotels and had his established contacts with whom he could get hold of to get himself a hooker lined up. On his last trip over some three weeks prior, he had learned from his pimp buddy of the new service that had come available recently, where some real fresh 'meat' could be had but of course at a very steep price. Normally that kind of price being demanded would have scared old Harry away, but on being shown the beauty's picture when he was here last, he just could not pass on up on the opportunity as the day she was available could be worked into his next planned visit. Having saved up some money for a rainy day, Harry decided that it would be money well spent, especially after learning that he was to be her very first 'John' and that he would be a 'trainer' in making her a well-seasoned whore.

Harry took great pride in knowing that he was going to be this lovely beauty's very first 'John', loved the fact that she was engaged to be married, and that she was apparently being blackmailed into reluctantly spreading her sexy legs for other men like him. In paying that hefty sum of money in getting be be a 'trainer' of this hot little bitch, he had checked off the two 'firsts' from the training list that he would initiate the young beauty in. With her so petite, and he being so fat and unattractive, he didn't mind being the first 'John' fucking her missionary style and making her wrap her trim sexy legs around his fat ass as he humped her. With four hours being allotted to him, Harry figured that he get a couple of rounds in the sack with the beautiful brunette with the aid of those little blue pills, and then have her take a shower with him before his time was up. It would be in the shower that he aimed to be the first showing her what a real shower entailed .............with her on her knees and him giving her a hot golden shower!

Megan shook like a leaf as the fat bastard took his time undressing her, standing frozen to the spot as he wanted to do it all himself, shuddering as his clammy hands touched her body. With the bastard sweating like a pig, Megan wanted to crawl in a hole and die as her titties were being now being palmed and groped by the pudgy clammy wet hands, then thick fingers were working her panties on down over her trim hips. Pushed down upon the king-sized bed, Megan lay frozen while watching the fat pig get out of his clothing, making her wish that 'I'd rather have a real live 300 lb. pig climbing up on the bed to have sex with me than this fat and ugly old sweaty bastard!' Then the fat pig was putting his filthy 'thing' into her, literally grunting and snorting as he proceeded to hump her, flabby hands were lifting at her thighs as she was told to "Wrap those sexy legs around my ass, sweetie!" Doing as she was told, managing to get her legs around the bastard's big fat ass, locking he ankles in order to keep her legs from aching as she heard the old boy pant out "Ah, that it, sweetie .........................wrap those sexy legs around my big fat ass!"

A month later, Megan shuddered with fear as the door of the hotel suite opened and she observed her 'John' to be 6'5"tall muscular black man in his late thirties, but she forced herself to enter the room as her client closed the door behind them. With her 'John' sitting there on the sofa, Megan forced herself to slowly get out of her clothing before him, giving him a tantalizing strip tease in the process. 'Oh God, if Tim was to see me now, he'd certainly say that the wedding was off .......................that he wasn't about to marry some cheap little whore!' Megan trembled as she was bare ass naked in the hotel room, kneeling before her black 'John' and unzipping the front of his pants. "Okay, little lady ......................now reach on in with yer purty hand and pull out the big black sausage I's got fer ya!!" she was told.

Having played pro ball for some eight years, 38 year old Irving (Irv) Moore was not hurting for money as his current stint in providing color in the broadcasting booth, and he readily jumped at the chance of being one of the first 'trainers' for this newbie in the call girl profession. Having learned that her first 'John' had given it to her in the missionary style, Irv didn't have to count that as a first and could thus had checked two other items off of her training list, choosing to be her 'trainer' in being the first 'John' to be given a blowjob, and then he'd be the first to perform cunnilingus on her where he planned on eating her pussy out till she came in his mouth. After that he planned to give it to her up her cunt by shuffling up into, pulling her up off the bed and have her in the saddle to ride him pass the finish line ......................when he'd pop his hot load up in her tight little pussy!

Naked and kneeling on the thick carpeted floor, with her hand shucking up and down an the ebony prong, Megan's eyes widened at the sight of the dark flesh continuing to grow in size. 'Oh, my God ....................I'll never be able to take his humongous 'thing' up in me! He'll kill me with it!' she shuddered in horror, and the thought of having a black man's penis entering her made her sick. Then a thought came to mind as Megan recalled the two times she had wanked on Tim's penis a bit too much, when he spurted up into the air, with all the goo landing on her back of her hand and wrist. Megan looked on in total awe as the dark fleshy stick continued to grow longer and thicker, saw the bulb-sized head flare wide as it pulsated and the head became shiny, signs that told her it was going to 'pop' very soon. Not wanting to have sex with her black 'John', Megan sped up her shucking while her eyes were staring widely at the flaring head for the impending eruption.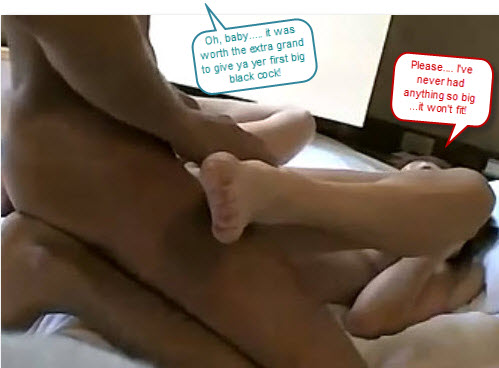 But suddenly strong fingers were entwined in her hair as she was being pulled up towards the fleshy bone that she was shucking, then Megan heard the 'John' advised "Gonna cum real soon, sweetie .............................just as ya wanted ....................................but ya's gotta wrap yer purty lips around it first!" "No ..............................no ...........................no, I can't do that ...................................please ..........................please .........................don't make me do that!" Megan cried out as the strong hands pulled her further on forward and then the pulsating fleshy dome was being rubbed against her lips. Having clenched her teeth tight to keep it from entering he mouth, but Megan was not prepared for the painful yank on her hair, causing her to yelp in pain. But her yelp was totally muffled by the thick cock being shoved up into her mouth to plug it shut. Hands pulling her head forward while the bastard arched his hips off the sofa was the head fucking Megan would be initiated into for her first blowjob. And the bastard came in her mouth, filling it to the brim, forcing Megan to swallow as there was no other way for the filthy mucous to go.

Staggering on he feet as she came out of the bathroom, stomach still quite queasy after having swallowed that black bastard's gooey mucous and then throwing up in the trashcan, Megan panted for breath after having washed all that bile out of her mouth. Told to lie on the bed an spread her legs, Megan did as she was told, shuddering as her black 'John' knelt up upon the bed and began shuffling up towards her. She felt his hot breath on her sex, then the bastard was nuzzling his face in her soft curly fleece, and seconds later Megan cried out "Oh God ........................noooooooooooooooooo ......................................ahhhhhhhhhhhhhhhhhhhhhhhhhhhhhhhhh!" Tossing her head from side to side, her silky brown hair strewn about her head, Megan gripped the side of the bed with both hands as the thick tongue snaked about within her. Megan could not believe what was happening to her, could not comprehend that a man would want to do such a thing, but she also could not believe that she was deriving pleasure from this vile act. "Oh God ................................oh God ......................................oh, my Godddddddddd ......................................ahhhhhhhh ..............ah .........................ahhhhhhhhhhh ..............................aieeeeeeeeeeeeeeeeeeeeeeeeeeeeeeeeee!" Megan screamed out as her body convulsed once, then again, then a lot of slurping could be heard from between her legs as her 'John' was lapping up all her sweet honey.

Feeling weak and paralyzed from the mind-shattering orgasm that had rocked her petite body, Megan could only tremble in nervousness as the muscular black was shuffling up the bed to kneel between her widespread legs, watching him shucking his manhood that had once again regained its length and stiffness as before it had popped off in her mouth. With him kneeling between her legs, now rubbing the pulsating head up and down her sex, Megan panted in fear as he commented "Oh, baby ......................it was worth the extra grand to give ya yer first big black cock!" Trembling with fear, Megan stammered out "Please ....................I've never had anything so big .............................it won't fit!" Her eyes widened in horror as the bastard fitted himself into position and leaned forward into her, forcing a good three inches into her too tight slit, causing Megan to sob "Oh, pleaseeeeeeeeeeeee .......................................it hurtsssssss .........................it won't fit ...........................it's too bigggggggggg! Owwwwwwwwwwwwwwwwwwwwwwww!" "Oh, my Goddddddd ..............................oh, my God ...............................pleaseeeeeeeeeeeee .......................................please ...........................take it out .................................take it out ............................it's too biggggggggggggggggggggggg!"


Ms. Holly Donner, age 25, assistant manager of a jewelry store, engaged with the wedding date set for December: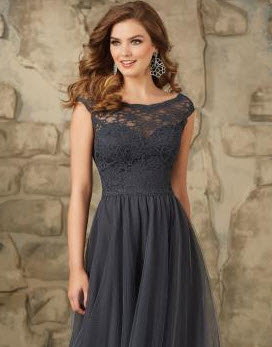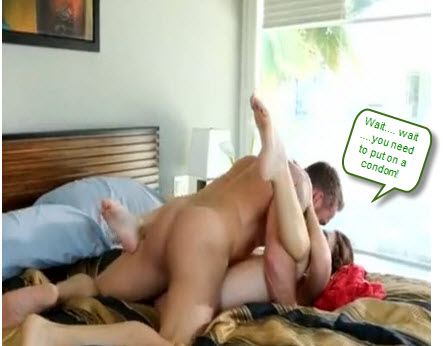 Holly was only too happy to be the maid-of-honor for Cindy Holiday, her best of friends since sitting next to each other in middle school, but it was indeed a lot of work involved with the wedding coming up in just a couple of days. The bride-to-be had gotten a good deal from the resort and arranged for all the gals to spend the entire week together, culminating with the wedding out in the gardens and followed by the reception in the ballroom overlooking the lake. With this being Thursday, the night of the wedding rehearsal to be followed by rehearsal dinner at one of the resort's plush restaurants, Holly and the other gals would be on their own the rest of the evening once the dinner was over. As the groom-to-be would be staying the night, he and the bride-to-be would be together dancing the night away and maybe even getting in some bedroom practice before the big night.

With the attendees to the rehearsal being limited to the wedding party along with the parents of the bridal couple, there were about two dozen people in total as it included the flower girl and ring bearer along with the children's parents. With the bridal couple together and keeping each other occupied, Holly agreed to accompany the other gals who wanted to party it up a bit at the disco bar, with their pact of secrecy of whatever happened at the resort stayed at the resort. Engaged to soon be married to Dan Markham, the man of her life since they met in high school, Holly had no intention on cheating on her fiance and did not take off her engagement ring like a couple of the gals in the bridal party, positioning herself near the wall to avoid being asked to dance. With her sparkling diamond ring on, Holly felt that such would be a deterrent for anyone wanting to hit on her or get the idea that could be easy pickings for the night.

From his vantage point, thirty year old Van Eklund couldn't take his eyes off the lovely brunette at the far end of the bar, got to see her shiny diamond ring sparkling in the light and observed her passing up on two of his buddies asking her to dance. Being one of the older guys working the resort in hopes of luring an innocent beauty into bed and putting her into a dire predicament, Van had a trick up his sleeve for just this kind of challenge, and thus he reached into his pants pocket for the gold band that he always carried around for such an occasion. With the gals around his prey being asked to dance and leaving a clearance for him to make his move, Val acted bored as he went up to the open space at the bar a few feet away from his lovely prey. When the bartender approached, Van looked up and ordered himself a drink, purposely not calling his bartender friend by name.

Such interaction with the bartender, a prearranged signal to pretend not to know him and thus he'd be referred to as 'sir' when approached and asked if he wanted another drink. Drink brought to him, Val merely stared ahead and acted bored, totally ignoring the beautiful brunette standing a few feet away from him. And when he detected her looking in his direction through the side of his eye, Val turned to give her a smile before turning on back to stare straight ahead and take a drink from his glass. On that second time she looked over towards the dance floor beyond him, Val turned and smiled before giving out a sigh of boredom and commenting "Came here for a beer with the guys but all they can think about is dancing and hitting on the beautiful gals! Guess that's what I get for hanging out with those 'single' guys!" Val then held up his left hand to flash his gold band before adding "I'd feel like I'm cheating on my wife if I did that!" Seeing her smile and nod in response, the beauty then flashed her diamond ring and added "I know exactly how you're feeling at this moment!" "Oh, engaged I see! Beautiful ring! When's the big day?" Val asked while looking at her sparkling diamond. "Three months from now! I'm feeling exactly like you do ..................as I'd feel rather guilty dancing and having a good time with other guys when my fiance isn't here!" the beauty advised in response.

Signaling for the bartender, Val ordered "Another for the young lady here and a double for me! Put it on my tab, please!!" "Will do, sir!" was his bartender buddy's response to his coded order, which was that he'd have another drink while the beautiful bitch was to get a good dose of the Super Spanish Fly plus some Ecstasy, a combination of an aphrodisiac along with a potent club drug that would make her weak and confused. Once the new drinks were delivered to them, Val held up his glass to her and toasted her with "Here's to your big day three months from now! Your fiance is a very lucky man to be marrying a beautiful and very faithful woman like you!" As the both drank to that, Val held back his wide smile in seeing her down a large amount of the drug laced drink. Val knew that just half of the drink consumed would be more than enough to render the unsuspecting beauty dazed and confused, at which time he'd suggest that they take a walk out in the gardens to get some fresh air. A bit of a walk in the gardens, allowing that time for the potent drug to course throughout her petite body, and the beauty would be barely able to stand or walk much further. And that path through the gardens would lead straight to one of the rooms designated to capture her downfall on video.

Holly was in a total panic the next morning upon waking up in a strange room, finding herself alone while stark naked in bed, with her vagina a slimy gooey mess. Looking about, Holly found herself in one of the resort's smaller rooms, one on the ground floor as she could make out some garden flowers through a crack in the drawn curtains. Looking about the room, there were no personal belongings of whoever was staying there other than her clothing that were strewn about on the floor, causing Holly to close her eyes in an attempt to remember what took place last night. What came back to mind was the rehearsal dinner, after which she accompanied the other gals to the disco bar, remembered having politely turn down a couple guys who had asked her to dance and then talking to a married guy who was having a drink at the bar next to her. She remembered talking to the rather handsome man who was in his early thirties, that he was married and had come to the bar with single guys, but was then alone as all the guys were dancing and hitting on girls. The last she remembered was him ordering another round of drinks for the two of them, then Holly gasped at the realization that 'He must had drugged my drink when I wasn't looking ...................then brought me here ........................where I passed out ...........................and then he raped me!' Never in her right mind would she have consented to have sex with a man other than her fiance, certainly it would not have been at her own free will.

From that point on, Holly had just been a bundle of nerves, getting herself dressed and rushing back to her own room but not before stopping at shop in the lobby for a bottle of douche. At brunch later that morning, Holly advised that she hadn't been feeling well and headed off to bed when they were all out dancing the night away, but then one of the gals leaned over to whisper that "We were worried about you at first but the bartender said that you went for a walk out in the garden with a handsome guy you met at the bar! So you've got to fill us in on that!" Blushing, Holly stammered out a lie that "Oh .................he was just being nice ....................walking me back as I wasn't feeling well!" Through brunch and the remainder of that day, Holly looked about for the bastard who had obviously drugged her and then taken advantage of her, but was no where to be found which in a sense was a bit of relief to her. The same eye watch for her rapist went for the next day throughout the wedding and the reception, but Holly had to wonder as to what 'could' or 'would' she do if they did cross paths .............................especially now as she was being accompanied by her fiance had arrived to attend her best friend's wedding!

After checking out of the resort on Sunday, Holly felt so awful as she rode back in her fiance's car, keeping her eyes out the passengers window as if looking at the scenery. Blinking back the tears forming in her eyes, Holly felt so guilty at what had taken place that past Thursday night, and she was afraid that Dan could see it written all over her face ...................'Slut'! She had felt some relief in not having run across the bastard again at the resort, having worried how he'd have greeted her with Dan being with her, seeing him extend his hand out to Dan and tell him "Thanks for not being here and giving me the opportunity of raping your fiancee! Better hope that I didn't go and 'knock her up', cause she can attest to how much cum was in her pussy when she woke up the next morning!" Closing her eyes, shuddering at the recollection of all that slimy goo that she had discovered between her thighs and what had been ejaculated up in her, Holly prayed and wondered 'I hoped it wasn't too late in using the potent douche! What am I going to do if that bastard got me pregnant?'

With her only memory of what she believed was her being raped being that of waking up to the fact that sex had occurred, Holly told herself 'Put it out of your mind .....................you were drugged and raped .....................you didn't willingly cheat on Dan!' Believing that such a rape took place upon her at the resort, such made it so much easier for Holly to live with herself, as that concept allowed her to rationalize and take solace in that 'It's not something that you actively participated in! You were drugged into unconsciousness and then raped! You couldn't help it!' Telling herself that she should just 'put it out of your mind' at this point, that she in all likelihood would never run into her rapist ever again, that it would be a deep dark secret she'd be able to keep all to herself as it would never come to light. 'I can't let on to Dan as to what happened ...........................that somehow I had been foolish enough to allow a stranger in the bar to spike my drink .................................and that I ended being taken to that person's room and being raped!' Holly concluded, for she certainly would not consciously have been intimate with another man.

Having sold herself of being drugged and raped for the past two weeks, that no one knew of what happened to her and that she too should just put it out of her mind, Holly was puzzled when a nicely dressed woman with a British accent appeared at the jewelry shop and asked if the could talk privately for a few moments. In the privacy of her office, it appeared to Holly that the woman was a bit reluctant in having to 'break the news to you' spiel, that she was forced to comply as she was caught in a similar situation as she was. Upon opening the folder handed to her by the woman, Holly's thought she'd have a heart attack as her body quivered in fear as she gazed upon the vile pictures of her in bed with the stranger she had been talking to in the bar. In the folder was a video disc, of which the woman advised her to watch at home, and also there was a printout of all the addresses and phone numbers contained in her cell phone. The woman told her that the printout was downloaded from her cell phone, that everyone would be getting a copy of the disc if she didn't agree to work for the organization that had a hold of both of them, such work would involve four hours of her time each month for the first six months and to begin the first of the upcoming month. Holly was instructed to call the woman to advise of her decision, given three days to decide or her fiance and friends/family would be getting a copy.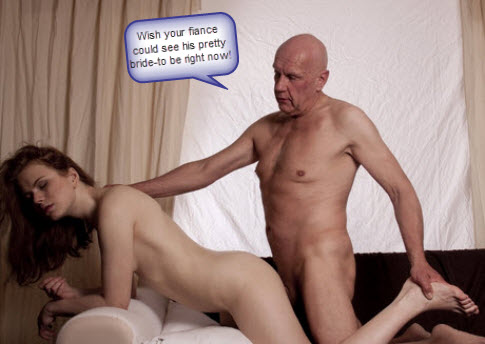 "Young lady? You're young but you're no LADY, are you? Engaged to be married and yet you let another guy fuck you! You're nothing but a fucking BITCH .......................and I'm going to fuck you like the BITCH you are!" Holly was told with her head held back as the vile bastard had grabbed her by the hair. Pushed on forward, Holly was told "Now git on over the edge of the couch .......................so I can fuck you like a BITCH!" With a strong hand at the back of her neck and a hand grasping her left foot, Holly had no where to go as the old bastard shuffled on up the couch as his jutting bone was lined up perfectly as the bloated cockhead nudged up against the slit of her pussy. Cringing with disgust as the old bastard lunged on forward to send his fleshy spear right into her from behind, Holly groaned out in disgust as she heard her 'John' laughing at her plight before commenting "Wish your fiance could see his pretty bride-to-be right now! Think he'd still want to marry you .....................knowing you went and cheated on him .............................and now you're whoring that hot little pussy of yours out, huh?"

Arms resting on the padded arm of the white couch, hands gripping at the bottom of it, Holly grimaced in disgust at the feel of those rough calloused hands fondling her ass cheeks while the old bald bastard humped at her from behind. Gritting her teeth as she tried to block everything out of her mind, even the slicing of the old bastard's cock slicing in and out of her, but such was impossible due the taunting such as: "Oh, sweetie ........................you're so fuck'n tight ..........................the guy you're gonna marry sure is missing out on all the fun in getting you stretched on out around his cock! Hey, does he know how to fuck a hot little BITCH like you? If'n he's never fucked you doggie style like this .....................you just give me a call and I'll be happy to put on a show for him ...................................show him how a BITCH like you should be treated!"

'Oh, God ........................I can't believe this old bastard is lasting this long ......................when will he finish?' Holly wondered as the hideous old bastard continued on with his training her to being a whore. On and on the old fucker humped into her, his calloused hands clutching onto her trim hips as his swollen balls swung slap up against her lower belly, making this sex act seem so degrading as compared to the gentle loving making in the arms of her fiance. And then there was grunting sounds coming from behind of her, the old boy held her tightly at her hips as he kept his throbbing cock buried deep up in her cunny, then Holly heard him loudly groan "Cumming, BITCH ......................cumming up in that hot little pussy of yours!" Holly felt the old boy's hot roe spurting and splashing deep up in her womb. Little did Holly realize that her position there, leaning over on the couch as she was or should she collapse forward, would be where she remained as the old boy intended giving her some training on sodomy ..........................as he was intent on shoving it up her ass while she was bent over the couch in the very same position!

Cunny flooded with the bastard's hot sticky goo, way so much more than Holly had ever experienced in a sexual coupling, so plentiful that the now shrinking fleshy plug could not stop the slick cum from oozing out to drip down onto the couch. 'Oh, God .........................make him pull his damn 'thing' out ............................don't let him keep it in me!' Holly prayed as the shrinking but still throbbing flesh remained in her cunny, all while the old bastard continued gripping her waist as he panted to regain his breath. Minutes later, Holly sighed in relief as the fleshy plug shrunk down to when she sent and squeezed her cunny, she managed to expel it from her sloppy pussy with a loud 'Pop'! As she leaned over on the arm of the sofa, Holly closed her eyes and breathed a sigh of relief, feeling the cushion rise as the heavy old bastard was getting off as his large calloused hands were no longer caressing her ass. 'Thank God, finally!' she sighed. But Holly's relief was short lived as a strong hand suddenly was grabbing her hair and yanking her head on up, then the bastard was rubbing his slimy wet cock under her nose and upper lip, ordering her "Now open your bitchy mouth and take it in! Suck it clean, BITCH! Get it up good and hard for me, bitch ...........................and you can stay right where you are when I stick it up your ass!"

A month later, Holly walked into the lobby of the Millennium Hotel and proceeded to the elevator for her second training session up on the 20th Floor, and she could only wonder as to what kind of sex training she would be introduced by this 'John'. The British woman had instructed her that each of her 'trainers' would be introducing her into what her job would entail, that such was deemed acceptable by the organization and that she was not to object to such or face the consequences of the video go public. Knowing that she was rather naive when it came to sexual matters, Holly had spent some time on the internet looking up the terms and descriptions of various sex acts between men and women, and heer findings had made her sick to her stomach. After having read one horrid sex act, of which she would be deemed an 'ATM', Holly realized how close that had come to happening with her first 'John'. She had felt sick at what she was made to do, that of taking into her mouth to suck him clean after he had fucked her, but being an 'ATM' would have been even worst ...................................she felt lucky as that of occurred, her being used an 'ATM' Ass to Mouth in being made to clean him off in the end!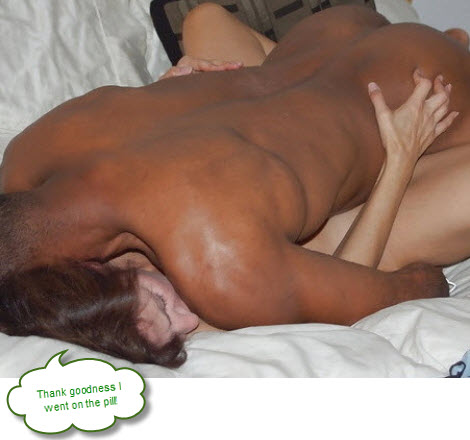 At 52 years of age and CEO of a nationwide electronics store, Artimes James could really enjoy life a this point, money to burn and nothing to hold him back at this point. Being a steady customer at the Millennium for a number of years and well known to Mike the bell captain, especially when he was looking for some female companionship to be sent up to his room, Artemis was pulled aside by his buddy as soon as he had entered the lobby to check in for his stay and told "Lemme show ya the beauty I called ya about three weeks ago and y a told me to go fer it as ya trusted my judgment! Expensive little thing but sure looks to be well worth the money!" With Mike opening up his laptop and pulling up a photo of the young beauty that was wearing a nice lacy gray dress, like that of a bridesmaid's gown for a wedding, Artimes listened and learned of this new service being provided to the high-roller like him who made the Millennium their choice of stay when coming to the big city.

Briefed by Mike as to what the file indicated as to the beauty's training thus far, what selections the bell captain had made for him, Artimes would be the first black stud that she entertained and he could show her what fucking was all about. Having seen the picture of the sweet young beauty, Artimes' cock gave a throbbing twitch at the thought of being the sweetie's trainer as to the meaning of '69'ing! As he was only her second 'John', Mike had signed him up to show her what loving was all about an had him checking off the 'missionary' style as to what he'd be training her in. Mike told him that the reason for his making that selection had a lot of thought put behind of it, a way in which Artimes could enjoy his full four hours of the beauty's training, introducing her into fucking in various positions without exceeding the 'training' guidelines.

Upon her knocking on the door of Suite 2031 and it opening, Holly swallowed deeply in seeing that her client was a tall black man in his 50's with greying hair, then stepped on in for her second 'training' session. He 'John' was quite gracious as he offered he a drink or glass of wine, of which she indicated that a glass of white wine would be ideal, then she began to undo the hook at the back of her dress as her client poured her a glass of wine. Down to just her heels and panties, her 'John' told her to come over and give him a kiss, to which she complied by sitting on his right and giving him and intimate kiss. In the arms of the strong black man, Holly shook her head 'no' as to whether she had '69'd before, but her body began to tremble in fear as it was one of the disgusting sex acts that she had read about on the internet. Glass of wine taken from her and set down upon the counter, Holly was lifted easily and being taken to the bed where she'd learn all about how the '69' sex act should be performed.

Sitting up on the bed as a cold glass of white wine was handed to her, Holly to took a large sip of wine into her mouth, using the wine as a cleanser to remove the slick semen and its salty taste currently coating her teeth and gums. Having consumed her glass of wine and setting her glass down on the nightstand, Holly opened her arms as her 'John' leaned in for another kiss, the was pushing her back onto the bed as he was going to do it to her the regular way ....................'missionary' style! Holly had always enjoyed sex with Dan in this fashion, the missionary style, but it was no comparison to his older black stud who certainly knew how to use that 12"er between his legs, giving her one orgasm after another before he unleashed his hot potent roe deep up in her belly. So plentiful it was that Holly could only think 'Thank goodness I went on the pill!', for getting impregnated by one of her 'Johns' was certainly out of the question, especially as her wedding date was soon approaching. 'My God ...............that was fantastic!' Holly had to admit as the heavy body settled upon hers after he had deposited his load in her.

Artimes had learned from the bell captain that if he didn't pull on out, like a guy might normally do after having popped his nuts, he could keep on going in different positions till his time was up and this lovely beauty was certainly one little hottie. That hot first kiss was certainly one that the beauty participated in, and although inexperienced in sucking cock much less '69'ing, she certainly got an 'A' for effort as she swallowed every drop of his while feeding him her sweet honey. Still atop of her sexy beauty as his cock began to revive, Artimes told her to wrap her arms and legs around him, and once she complied he edged them off the bed and stood up with the petite beauty in his arms. Walking with her to the counter, he then set her down gently while keeping his stiff cock buried up in her, then leaned down to give her another intimate kiss. Knowing that she was engaged to be married, Artimes wondered what her fiance would do if he could peek in on his bride-to-be at this very moment, for she was kissing him back as he thumbed her swollen nipples. With more than two hours to go, Artimes could take his time humping her right there on the counter, intent of making her orgasm once again before spurting his cum up into her tight little cunny. Thinking ahead, he planned on lifting her up from the counter and then nailing her right to the wall, after which he'd take her back to bed with her atop of him and then see what happened next.

End of Story.