Forced in Foreclosure - II
(m/f, i/r, n/c)
by
Black Demon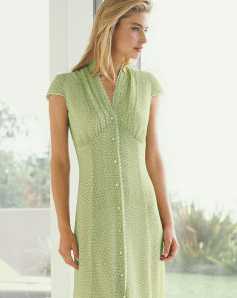 Mrs. Leigh Thomas
______________________________________________
Standard Disclaimer!
This is a fictional story intended for Adults only!
______________________________________________
************ ***********
Note: The story below is a story in itself. However, it is also a direct spinoff
of the earlier story entitled: 'Forced in Foreclosure 1'
************ ***********
The closed door to the master bedroom opened as Rufus Johnson made his exit with a wide grin on his face, waiting purposely till then to reach down to zip up the front of his pants. Lust now fully sated after spending a good hour and a half in the bedroom with the lovely Mrs. Leigh Thomas, it was an added benefit for Rufus to see a perspiring and defeated Wade Thomas try desperately to look beyond him and into the bedroom out of concern for his beautiful wife. As he was about to pass the defeated husband, Rufus gave him a pat on the shoulder and informed him that "In looking at the 'assets' that yer purty wife jist showed me, I'll let the bank know that yer a good provider and that ya'll be catching up on the overdue mortgage in few months!"
Having the power to set foreclosure actions into motion, Rufus was the man wielding the big stick in this case and many others involving a delinquent mortgage. The Thomas' situation was very similar to those facing the same situation throughout the region and nation, not helped by companies laying off thousands of workers at a time, making it difficult if not impossible for a laid off worker to quickly land another job. Subprime loans played a big factor in many of the delinquent mortgages, but in this instant Mr. Thomas had faced the ax on the recent cut on employees with the large New York based brokerage firm.
Rufus thoroughly loved meeting with the distressed young couple, especially after having seen the lovely 28 year old Mrs. Leigh Thomas. The handsome young man she was married to appeared to be of the same age as her, but the once proud whiteboy didn't look so manly with his ass in the hole due to the overdue mortgage. Both had dressed nicely, hoping to impress him in getting a good evaluation and hopefully an extension from having their lovely home being foreclosed upon. They were both young and hard workers, but need time to recoup from hubby's sudden job loss and drop in income associated with it.
Asking the young man to list down the couple's assets so he could get the bank to consider giving them an extension, Rufus handed him the asset valuation forms to complete at that time. And then Rufus deviously looked over at the lovely blonde beauty sitting next to her busy hubby and asked "Would you mind showing me around the house, Mrs. Thomas! I can see that you're an immaculate housekeeper but I need to inform the bank that I inspected the home thoroughly and give them reassurance that they have nothing to worry about and that you two are willing to go to all lengths to keeping this lovely home!"
Eyeing up the sexy beauty as she walked ahead of him to show him the house, Rufus knew that the lovely young wife would not put up too much resistance after testing her by putting his hand on her trim waist when entering the hallway bathroom. After the den and the guest bedroom, as they neared the table when hubby was busy filling out the set of forms, Rufus told the young wife what he was most interested in seeing, knowing he had said it loud enough for hubby have overheard it. "I'd really like to see the master bedroom, Mrs. Thomas!" had been the comment he made to her.
Going down the far end of the hallway, Rufus had then turned back and smiled at the distress whiteboy who was now looking down the hallway at them. Not turning the doorknob upon closing the door, Rufus knew that the distinctive sound of the door closing would reach young punk. And he didn't lock the door either, wanting the whiteboy to realize that he had done absolutely nothing to protect the honor of his beautiful young wife and keep her from disgracing herself in order to get the mortgage extension.
For Leigh, she had shuddered in disgust and trembled with fright when the black bastard had put his hand on her waist in the bathroom. And when the bastard had told her of wanting to see the master bedroom, she saw and heard Wade's gasp in horror and turned to look up her but had not uttered a word. Feeling the large hand on her trim waist pulling her down the hallway, the look on her husband's pale face was basically telling her what she feared, that he was not going to object and refuse as to what the bastard was really desiring ………………………her!
Rufus smiled at the frightened beauty as she swung around nervously to face him upon hearing the bedroom door close behind them. "My ………………..my husband will wonder why the door's been closed!" she stammered out in a panic. Continuing to smile as he reached up to his grey print tie, Rufus loosened it as he advised "I think he'll know exactly why the door is closed, Mrs. Thomas! As ya can see, I didn't lock it! So, ya think he's gonna come in here and stop me, huh? Let's see if hubby comes in, huh? Tell ya what, if'n he has the nerve to even open the door, ya won't have to do a thing and ya and her hubby will automatically get a six month extension on the delinquent mortgage!"
Trembling, frozen to the spot at where she stood, Leigh prayed for her husband to come and rescue her from this deviant black bastard who held the strings to their beautiful home. She shuddered at the sight of the grinning bastard unbutton the front of his coat then felt sick to her stomach upon being told to "I's like that beautiful dress ya have on, Mrs. Thomas! But I'd like it even better if'n ya take it off!" Now there was absolutely no denying the intention that this devious bastard had on his mind, and Leigh came to realize that it was 'Submitting to the sexual demands of the demented mortgage collector or have the house foreclosed upon!'
Panting for breath, her petite body trembling with fear, Leigh saw the smiling bastard's left arm lift up as he began pointing towards the doorway, his finger aimed down to the bottom of the door. Lips parted at her silent gasp, Leigh swallowed nervously upon seeing the movement of a shadow from under the slit of the bedroom door. The movement of the shadow could mean only one thing, that Wade had come down the hallway and was standing on the other side of the closed door. She then shuddered and cringed as the black bastard put his index finger up to his lips to signal her to be quiet, then he loudly instructed "Unbutton the front of that purty green dress and take it off fer me, Mrs. Thomas! Ya jist remember what I's said if'n yer hubby dares to come and open the door!"
Looking at the door, Leigh prayed that Wade would open the door to boldly object, which would save her from being disgraced along with winning the needed mortgage extension. She suspected that the deep male voice had been loud enough to carry through the closed doorway and that her husband had heard the demand for her to undress and the comment about 'if'n yer hubby dares to come and open the door!' But with her husband only having heard that aspect of opening the door to the master bedroom, Leigh trembled as she worried 'Does Wade think that the mortgage extension will be lost if he opens the door and interrupts? With him not knowing, is he expecting me to put out for this black bastard?'
"Take that purty dress off fer me, Mrs. Thomas!" Leigh was ordered as she looked towards the door and prayed that her husband would intervene. Looking up at the grinning bastard, she could see the enjoyment he was getting out of all this, gloating at the lack of action on the part of her husband. Leigh trembled and swallowed 'The bastard's gloating, enjoying the power he wields, and especially relishing the fact that my husband's on the other side of the door listening in and yet willing to allow this to happen to me!'
As Leigh reached up to the top button of her dress, she undid it and moved down to the next below it, as Leigh looked at the shadow movement beneath the door and fumed 'Damn wimp! He's actually willing to let this bastard have his way with me! He's willing to let his own wife have sex with another man to save this house because he lost his job!' Wanting her husband to hear her dilemma and merely open the door to come to her rescue, Leigh stammered out loudly "Please! Please, Mr. Johnson! Please don't make me take my clothes off for you! Please ………………I don't want to have sex with you …………………not on the bed that I share with my husband! Please ……………….I ……………..I've never been with another man before!"
On the other side of the door, Wade was perspiring after having heard what was being demanded of his wife and her pleas to keep her marital vows intact. He had earlier reached out for the doorknob but had stopped with his fingers just a mere inch away from the metal knob. 'Will Leigh take her dress off for him?' Wade wondered as he crouched down to get on his knees, then lowered his head to peer through the tiny slit between the bottom of the door and the carpeting. Through the small slit, Wade could see the top of the carpeting for a short way into the bedroom. Wade uttered a silent gasp when a garment fell to the carpet, a garment identical in color to the light green dress that Leigh had been wearing.
"Now the bra, Mrs. Thomas!" Wade heard coming from inside the master bedroom. Seconds later, from his vantage point on the other side of the door, Wade then saw a flimsy white garment fall to the floor between the dress and the doorway. "Ya know what's next, don't ya, Mrs. Thomas!" was what Wade heard next from inside the bedroom. Pressing his head down into the carpeting, Wade peered as best as he could under the doorway. A slight movement of an object that was beige in color, the color of the heels his wife had been wearing that day, then Wade observed a flimsy white garment fall over the one tossed onto the floor earlier. "Damn, I's can't believe it ………………yer a fuck'n true blonde!" came the comment that told Wade exactly what were those flimsy garments being tossed onto the carpeting.
Side of his head on the hallway carpet as he tried for a better view under the doorway, then he heard the mortgage collector's gruff voice telling Leigh "Ya know what gives me a real turn on ……………………….having another guy's wife ……………….a beautiful blonde one like ya ……………………….on her knees in front of me!" A few seconds went by, then Wade observed the bottom of his wife's beige heels walking upon the carpeting towards where Mr. Johnson stood. A moment went by and then Wade realized that he was looking at the tip of his wife's right heel pointed down into the carpet while the front of her shin lay parallel onto of it, obviously indicating that Leigh had done the bastard's bidding.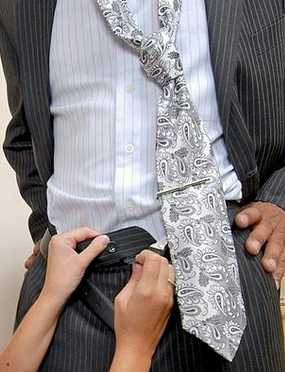 Wade wondered what was taking place behind the closed door, but then he could just picture it all as he heard Mr. Johnson tell Leigh to "Unzip me, Mrs. Thomas!" Whether it was his imagination or not, Wade swore that he heard the zipper being pulled down. Then Wade shuddered in revulsion upon hearing Mr. Johnson's voice commenting "Ohhhhh, baby …………………….yer purty hand feels so fuck'n soft and beautiful on my's cock! Ohhh, mannnn!" Seconds later, Wade heard the bastard panting out "Oh, yeahhhhh, that's it …………….stroke it ………………stroke it!"
"Now, suck it, Mrs. Thomas!" Wade heard the bastard demand of his rather naïve and innocent young wife. "I ………………….I …………………I've never done this before!" came Leigh's response to the man. "Not even for the wimp yer married to?" came the male's voice from inside the master bedroom. "No ……………no ……………….never!" Wade heard his wife respond, a fact that he himself could certainly attest to. Then Wade shivered upon hearing the groan being emitted from inside the bedroom, learning what his wife was doing at that moment, hearing that she was to "Use that talented tongue on me, baby!"
'Is she doing it? Is she tonguing him?' Wade wondered. And then he heard "Oh, yeahhhhhhhhhhhhhh …………………………oh, fuckkkkkkkkkk ……………oh, baby …………………….that's it …………………….that's it ……………..lick the rim of my cock like that!" From the bastard's constant moans beyond the closed door, it was quite apparent that Leigh was doing a fantastic job. Wade could only conclude that his lovely wife was learning to now give a guy 'head', and that was then confirmed when he heard "Damn ………………….yer a fuck'n natural born cocksucker, sweetie! Oh, yeahhhhhhhhhhhhhhhhhhhhhhhh!"
Having seeing the shadowy movement on the outside of the doorway, knowing that her damn husband was fully aware of what was going on in the bedroom, Leigh was pissed and wanted to extract some measure of revenge on her wimp-ass of a husband. Although repulsed at touching another man's cock, a big black one at that, it was secondary to getting back at her listening husband. And in the way Mr. Johnson was loudly describing things for her listening husband, Leigh went about pleasing the bastard in hopes that he would continue to tell Wade what he was missing out on. Licking at the rim of the bloated cockhead had the rubbery tip of it throbbing and pulsating up against her nose, and upon hearing his delighted groans, she had then opened her lips wide and went right down on him.
Hearing the black bastard groan as he announced that she was a 'fuck'n natural born cocksucker' gave Leigh the incentive to take him fully down into her throat as she gave him a blowjob of no equal. It no longer mattered that she was performing such a dirty and demeaning task, something they she would never do in her right mind, but now Leigh was totally obsessed in getting back at that damned husband of hers. Feeling his hand on her wrist and pulling her hand to the opening of his pants, her womanly instinct told her what he wanted. Seconds later, Leigh smiled as her husband was hearing Mr. Johnson announce "Oh, baby ……………oh, yeah ………………..roll my nuts ………………….roll my nuts with that purty hand of yers!"
'My, God! I don't believe it! I just don't believe it ………………Leigh's actually blowing the bastard and playing with his black balls!' Wade realized as he tried to imagine the unthinkable thought of his innocent young wife with the bastard's big black cock in her mouth while her perfectly manicured fingers were wrapped around his swollen testicles. Cock swelling in his pants, Wade needed to relieve the pressure as he unzipped his pants to pull out his throbbing boner, then began to stroke himself while picturing what was taking place behind the closed door. 'Surely she'll object to him cumming in her mouth!' he surmised.
Listening intently, waiting to hear his wife's voice when she frantically tried to yank her mouth off the bastard's cock, Wade wondered if she would be able to pull away in time to prevent him from doing it right in her mouth. Then Wade was stunned upon hearing Mr. Johnson moan out "Ohhhhhhhh, babyyyyyyyyyy ……………..ah, yeahhhhhhhhhh …………………….oh, yeah, look up at me ………….that's it …………………that's how to go down on me! Ahhhhhhhhhhhhhh …………….take it …………………….take it ……………….ahhhhhhhhhh, yeah, eat ittttttttt ……………………..eat it allllllllll! Argggggggggggggggggghhhhhhhhhhhhhhh!"
With his mouth wide open in disbelief, Wade came to realize that his innocent wife apparently had not objected to the bastard finishing himself off and ejaculating his hot cum into her mouth. He then thought 'God, she must be about to puke her guts out!' But Wade was again proven wrong when he heard "Oh, Mrs. Thomas, ya sure know how to blow a guy down! What a turn on to look into yer beautiful blue eyes when I's cum in yer hot little mouth! Ya like having all that cum on yer tongue, don't ya? Swallow it, Mrs. Thomas ………………..swallow it all down!" Seconds later, Wade heard the man comment "Yeahhhhhhhh, that's it sweetie! Rub my leaking cock all over yer beautiful face! Damn, ya luv it, don't ya!"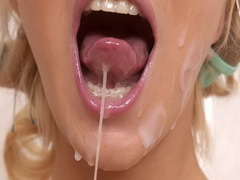 In seeing only the bottom of Leigh's beige heels upon the carpet, Wade realized that his wife was now standing up. Then there was movement in the bedroom, movement towards the location of the bed and Wade learned exactly what was next in store for his beautiful wife as he heard Mr. Johnson advise "Get up on the bed and spread those sexy white legs of yers so's I's can return the favor and eat out that sweet little cunt of yers, Mrs. Thomas!" Seconds later, a thump could be heard on the carpet near the door and Wade realized that the beige item lying on the carpet was one of Leigh's heels. Another thump nearby and Wade could make out two beige objects on the other side of the closed door.
"Oooooooooohhhhhhhhhh …………………………….oooooooooooooohhhhhh …………………..oooooooooooooohhhhh, Mr. Johnsonnnnnnnnn!" he heard his wife moan. Wade swallowed for he swore it was slurping sounds coming from the other side of the doorway, mixed in with soft moans from his wife. 'God, he's eating her!' Wade concluded, wishing that he could peer in for a view of what was now taking place on the king-sized bed. "Ohhhhhhh, Mr. Johnson, your tongue is driving me crazyyyyyyyyyyy! Oh, Godddddddddd! Oh, ohhhh ……………………………….…ahhhhhhhhh …………………………………ahhhhhhhhhhhhhhhhhhhhhhhhh!" came his wife's ecstatic cries of pleasure.
There was no sound coming from the bedroom for a five minute period, then Wade heard his wife's voice advising that "You …………you need to use a condom ………..please Mr. Johnson! You………………….you'll ……………….you'll get me ………………I ………………..I can't take the chance …………………..you'll ……..you'll get me pregnant!" A familiar silver foiled object landed just beyond the closed door, a condom that he kept in the nightstand, and Wade then heard that "I's ain't using no raincoat, bitch! Yer gonna git it bareback! Gonna knock ya up good with a little black bastard, sweetie!"
Panting for breath, body tingling from the unbelievable orgasm to ever rock her petite body, Leigh lay back upon the king-sized bed as Mr. Johnson stood tall while smiling at her from the foot of the bed. She saw the smirk on his glistening face, his long tongue licking at his lips, then she felt his large callused hands stroking her raised knees and outer thighs. As she lay there looking up in a stupor, Leigh saw the tall man move up towards her, then felt another part of him touching her, bumping up against her pelvic bone and up over her pubic mound. Then, feeling a fumbling down between the vee of her legs, Leigh trembled as she felt a big fleshy bone-like object pushing up against the center of her being.
Feeling it push up against her once, then again, Leigh realized just how much bigger this man was in comparison to her husband. "Please ………………….no ………………..it ……………….it won't fit! It's too big ……………..…. it's too big for me ……………………it'll never fit!" she panted out loudly, wanting her voice to be heard outside of the closed door. Glancing off down towards the door, Leigh saw as slight shadow movement to indicate that her lousy husband was still there. And to punish the bastard of a husband she was married to, after reaching over to the nightstand drawer and pulling it open, Leigh panted out loudly "Please put this on …………………I can't take the chance ………………….of you getting me pregnant!"
Outside in the hallway, from his vantage point behind the closed door, it couldn't get any more clearer for Wade Thomas to know what was now about to take place upon the marital bed that he shared with his beautiful wife. Then a silver foil packet landed on the carpeting just on the outside and a corner of it sliding partially under the doorway. It was something that Wade recognized, an item that he had handled so many times by tearing it open and retrieve its contents ……………………something that was quite an important factor …………………..in keeping Leigh from getting pregnant! With the packet still thick, as it would not have been able to fly through the air so far, Wade realized that the bastard was going to fuck his beautiful wife without the protective condom.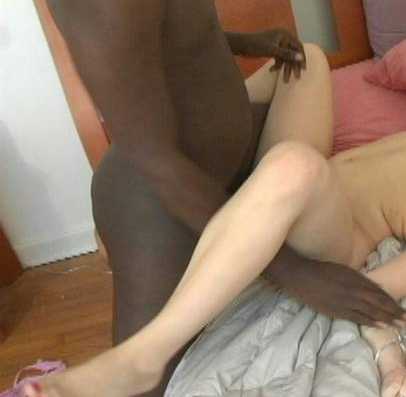 Then Wade was shaken to the core upon hearing his wife's screeching out "Owwwwwwwwwwwwwwwwww ……………………ahhhhhhhhhhhhhhhh ………………………………..aieeeeeeeeeeeeeeeehhhhhhhhhhhh!" Wade swallowed deeply as he began perspiring profusely, then heard his wife in a panic screaming out "Too biggggggggggg ……………………..it's too biggggggggggggg ………………………you're tearing me! Stop …………………………stop …………………………..oh, God ……………….stopppppppppppppppppppppp ………………………stop ……………………stoppppppppppppppppppp!" Wade shuddered and his stomach churned when he heard the bastard in the master bedroom chuckling loudly as he panted out "Ah, damn ……………………yer so fuck'n tighttttttttt ………………………Jesusssssss ………………..so fuck'nnnnnnnnnnnnnnnn tighhhhhhhhttttttttttttttt! Ohhhhhhhh ……………………..yeahhhhhhhhhhhhh!"
Silence and stillness seemed to fill the bedroom as Wade edged closer to the closed door but heard absolutely nothing. He then swallowed and shivered upon hearing Mr. Johnson's voice bragging "Ain't had nothing the size of my 'Johnson', huh, sweetie?" "Ahhhhhhhhhhhhhhh!" came a shrill from his agonized wife, then another shriek "Aieeeeeeeeeeeeeeeeeee!" making it quite evident as to what was taking place on the marital bed that he and Leigh shared together. Grasping his swollen cock, Wade squeezed his throbbing boner in realizing that 'He's fucking her ……………………right on our bed!' A squeak and then a thump, a squeak and another thump, told the entire story at that point as Wade could picture the big man nailing his beautiful wife right down into the bed that they shared together.
At the start it had the steady rhythm of 'Squeak …………..………….thump ……………..….. squeak ………………..…….thump ………..……….. squeak ……………..……….thump!' Now after several minutes, the rhythm had definitely taken a turn and emitted a different sound, that of 'Squeak ………..thump …… squeak ………thump …. squeak …….thump squeak ………thump …. squeak …….thump!' Then Wade heard Mr. Johnson telling Leigh to "Squeeze it, baby ………….squeeze it ………………………….squeeze that snapping little cunt of yers! Yes, that's it ……………………use that snapping pussy of yers like that ………………..jist like that ……………………a little more and I's gonna cum in yer hot little twat!" Then came the shocker as Wade heard Leigh frantically beg "Cummmmmmmm ……………………cum in me ……………….cum in meeeeeeeeeeeeeee ………………………………shoot it in me ………………………give me your hot cum!"
Wade was totally dismayed in hearing his beautiful wife's display of lust in her submission to having sex with the mortgage collector. Sure, he knew what was going to happen once the bedroom door had closed. But he expected that his naïve and innocent wife would merely submit in order to win their reprieve from being foreclosed upon. 'She was not to enjoy it!' Wade told himself as he fumed in anger. Then he heard Mr. Johnson again, telling Leigh to "Squeeze it, baby …………………….squeeze it! Ohhhhhhhh, yeah ………………………..now wrap those sexy white legs around me, Mrs. Thomas!" A moment later, he heard the big man moan "Gonna cum, sweetie …………………………….gonna cummmmmmmm ………………in yaaaaaaa!"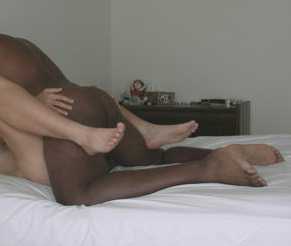 Knowing full well that her damn husband was listening at the door, Leigh wanted to punish the bastard and purposely cried out "Ohhhhhhhhhhhhhhhhh, Mr. Johnson ……………………………..oh, yessssssssssss …………..yes ……………………….oh, you're so goooddddddddddddddddd! Fuck meeeeeeeeeeeeee ……………………..fuck meeeeeeeeeeeeeeeeeee …………………………….shoot your hot cum in meeeeeeeeeee …………………….shoot itttttttttttttt ………………………shoot it ……………….shoot it in me ……………………………knock me up ………………………knock me up with your little black bastard!" Seconds later, she screamed out "Yes …………………oh, yes ……………………….yesssssssss ………………….shoot it ……………………..shoot it in me …………………………..oh, God, yesssssssssssssssssssssssssss!"
With all being deftly quiet from where he lay on the hallway carpet, Wade then stuffed his spent cock back into his pants and jockeys before getting up and making his way back down the hallway. Reaching into his back pocket, Wade retrieved his hanky, then bent over to wipe the cum dripping down the wall and onto the hallway carpeting. Going back down the hallway and into the kitchen, Wade then opened up the door to the refrigerator and got himself a beer. Seated at the bar, he turned on the television set, then glanced down the hallway to see that the door to the master bedroom was still closed. Fifteen minutes later, Wade realized that the mortgage collector wanted a closer inspection of their assets, as attested to by the resumption of the thumping noise that echoed through the walls.
A half-hour later, as he sipped on his second beer, Wade looked down the hallway upon hearing the doorknob to the master bedroom opening. The black bastard exiting the bedroom had a wide smile on his face as he proceeded to pull up the zipper to his pants. As the big bastard made his way down the hallway, Wade got a glimpse of his petite wife's glistening body move past the doorway towards the master bath. As the mortgage collector made his way out the front door, after announcing that "I'll see ya and the Mrs. next, my man!" Wade set down his beer and made his way down the hallway.
Door to the master bath closed, able to hear the shower running from the entrance to the master bedroom, Wade then surveyed the master bedroom. Right there at the doorway entrance lay the unopened foil packet that contained the protective condom, then his wife's beige heels were scattered in disarray a few feet away. A few feet beyond her heels were Leigh's lacy white panties, bra, and the dress that she had been wearing. Walking over to king-sized bed, the maroon bedspread was not only rumpled but discolored from being wet and soiled. In the middle of the dark wet spot, Wade observed a thick layer of slimy substance that had to be only one thing………………………male cum!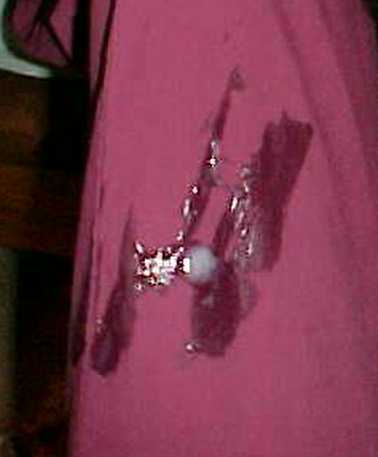 Back at the bar to finish his beer, Wade swallowed nervously as his freshly showered wife moved past him to begin preparing their dinner. Leigh hadn't looked at him nor said anything to him, making Wade uneasy at the thought that his wife was pissed at him for allowing the bastard to have sex with her. As the silence was deafening, Wade finished his beer and headed down the hallway to take a cold shower. Entering the master bedroom once again, everything that had been lying in disarray on the carpet had been picked up and put away. Then in looking over at the bed, Wade noticed that it was the very same maroon bedspread, smoothed out neatly on the bed but still very soiled with the slimy substance left puddled in the center of the darkened wet spot.
Rinsing the vegetables at the kitchen sink, Leigh hoped that her 'loving' husband had seen the soiled bedspread that she had purposely not removed nor cleaned up, wanting the black bastard's slimy spunk send the message that she would no longer be the faithful wife that had given her vows to remain faithful to him. As for Wade going out with the guys for a drink, that would be fine, but Leigh planned on going out for a good time also. She had come to realize one thing for certain this afternoon, that having 'rutting gutter sex' with Mr. Johnson was just so unbelievably fabulous, something she had not even come close to experiencing with her wimp-assed husband in their years of lovemaking.
Still getting a rather cold shoulder treatment throughout that next week, Wade then noticed a rather happy smile on his wife's face on Saturday when he told her that he would be going over to his buddy's for a couple of beers and to watch the NBA playoffs. He was caught by surprise with Leigh cheerfully telling him to "Go ahead, honey! It's a nice day so I think I'll go out for a sunbath and a dip in the pool!" In the master bedroom, as Wade was donning a clean shirt while Leigh was putting on her swimsuit in the bathroom, he noticed some movement out at the pool in the backyard. Wade then remembered that Aaron Snyder, the handsome young college aged fellow who cleaned their pool as a part-time job, was due in today.
On pool cleaning days, his wife would normally keep busy indoors or work in the garden till the pool was done, causing Wade to wonder if she too had forgotten about Aaron being scheduled in that day. Hearing the bathroom door open, Wade turned to tell her that the pool was about to be cleaned, but he had to suck in his breath at the succulent sight before him of his wife in a red bikini. Then his lovely wife did a pirouette for him before asking "Do you like my new outfit, honey?" The bikini was quite skimpy but served to make his wife even more sexy, something quite different from the one piece conservative swimsuits that she normally wore.
Not saying anything about the pool being cleaned at that moment, Wade moved down the hallway trailing his wife as they entered the living room area. That was when Leigh turned to say "Bye, honey! Have a nice time!" Then his wife was opening the patio door and cheerfully calling out "Hi, Aaron! Beautiful day out, isn't it?" Then his wife was turning towards him to wave goodbye, forcing Wade to wave back and move to the door connecting to the garage. Panting for breath, Wade forced himself to open the garage door and get into his car. Starting up the engine, he backed on out and then watched as the garage door closed before proceeding down the street.
Two blocks down the street from his home, Wade couldn't stand the suspense any longer and turned right on the next side street. Calling his buddy on the cellphone, Wade advised that he had gotten tied up with a project at home and would be late and may even have to pass on making it over to his place. Circling back around, Wade parked his car a half-block away on the adjacent street and then made his way back to his home. Opening the front door and slipping in, he then went unseen down the hallway to the master bedroom. Peering out from for bedroom window that overlooked the pool, he observed his lovely wife stretched out on the wall with one leg crossed over the other. And Wade noticed how young Aaron Snyder kept looking from the pool over to his wife's sexy body, getting to eye up the skimpiest part of Leigh's red bikini panties.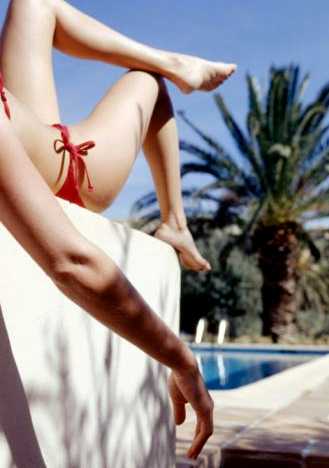 Five minutes later, Wade observed Leigh get up from the wall she was lying upon, then she walked over to the pool and dived right on in. He watched intently as his beautiful wife surfaced, brush the hair from her eyes as she smiled widely at the handsome young college stud, then crooked her index finger at him to signal that she wanted him to join her in the pool. Wade knew that there was no way the young stud would say 'no' to such an invitation and saw Aaron quickly take off his t-shirt before diving into the pool with Leigh. Wade watched his wife waded over to the handsome young stud and seconds later the couple in the pool was locked in a passionate embrace. Wanting to hear what was going on outside, Wade slowly and quietly cracked open the bedroom window.

Kiss completed with the couple still so intimately close together in the pool, Wade observed and heard his wife suddenly giggling, then saw her hand come up out of the water holding a navy blue object in her hand before tossing it. With a loud wet plop, the navy blue shorts that Aaron Snyder had been wearing landed upon the cement walkway surrounding the pool. Then Wade observed the young man tossing his head back as his mouth gaped open to emit a loud groan of pleasure, making it quite obvious as to what his laughing wife's unseen hand was doing to the young stud underneath the water.

Soon the couple in the water began drifting over to the side of the pool, and this time it was the young stud raising his hand high up out of the water and tossing something over next to where his shorts lay. A softer wet plopping sound took place as the item was smaller, an item that Wade had seen around his wife's trim waist when she had emerged from the bathroom …………………that same pair of red bikini panties! And then the young stud was tossing another item over onto the cement, that of Leigh's matching bikini top. Seeing Leigh being maneuvered over so her back was against the wall by the young stud, Wade observed his wife manicured fingers atop of Aaron's muscular shoulders, then more of his wife's body was emerging above the waterline.

In the pool, Leigh smiled happily to herself in seeing the slight movement at the window to the master bedroom. The display of her new bikini, her going out to poolside while Aaron was cleaning the pool, all that had been purposely done on her part. In her mind, she was telling her voyeur husband to 'Keep watching, you bastard! Maybe you'll learn how to use that useless little pecker of yours someday!' And it was by no accident that she had chosen the side of the pool closest to the master bedroom to perform her seduction, for she wanted to give her husband the best view possible. "Ohhhhhh, Aaron ……………..it's so biggggggggg …………………………..do you think it'll fit!" she panted out.

From his hiding spot, Wade panted and shivered as the young stud exclaimed "Oh, Mrs. Thomas, you don't know how often I've dreamt of this happening! This is a dream come true ……………………….exactly what I've dreamt of ……………………..just holding you like this ………………….feeling your soft sexy body up against me!" Then Wade heard his wife giggle, then teasingly ask Aaron "Is that all you dreamt about me? Did you leave anything out? Hmmm?" And before the panting young stud could respond, he heard Leigh advise that "Now the way this big bad boy is throbbing in my hand tells me that you didn't tell me all about your dream!"

Seeing that the bedroom window had been opened partially, knowing that her husband was capturing every word, Leigh panted out loudly "Oooh, yes, let that big boy of yours tell me the rest of your dream! Oh, Aaronnnnnnn ………………….oh, yessssssssssss ………………….oh, yes ………………make your dream come true ……………oh, you're so biggggggggggggggg! Oh, God ……………………..oh, God …………….yes …………………yes ……………………..fuck me, stud ……………………….fuck mmeeeeeeeeeeeeeeeee ……………………….oh, Godddddddddddddddddddddd!"

Peering out of the corner of the window, Wade watched as the muscular young hunk boned his beautiful wife in the pool. He saw Leigh with her mouth open, gasping as her trim arms and legs were wrapped around the young stud as he jackhammered his throbbing cock in and out of her horny cunt. Suddenly, at the exact second, both lovers went rigid as the arched up against one another. With his wife and her lover both gasping and throwing their head back, Wade could easily imagine what was then taking place beneath the rippling water of the pool. 'There's no way Aaron's going to clean that out of the pool unless he drains it today!' Wade concluded.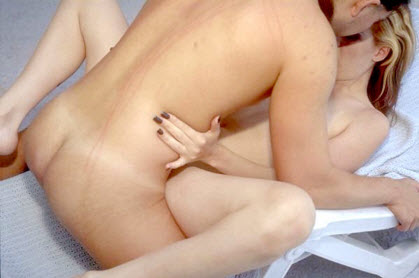 For Wade, he could care less about who was winning the basketball playoff game a that pont. Peering out of the window, he observed his wife's naked body lying upon the cushioned lounge chair with her trim legs raise high and spread wide for her young lover. Then the two lovers were copulating on the chair that was facing him. From his vantage point, Wade had the perfect view of their union joint, watching as the thick young cock pistoned in and out of his wife's cunny. His wife's legs that were first wrapped around the stud's waist were now being unwrapped as she drew back her knees to allow him to get even deeper into her. "Oh, yessssssss …………………..deeper, lover ……………….deeper!" he heard Leigh cry out as he observed her pedicured toes curl and point directly at him.
Later, after watching the stud's cum ooze out of his wife's well-fucked twat, Wade tossed the gooey wad of tissue he was holding into the trashcan. Then the spent stud was giving Leigh a passionately kiss before reluctantly having to leave to clean another pool down the street, Wade watched as his wife retrieve her red bikini and put it back on. With the stud departing and seeing his wife lying on the lounge chair to get some sun, Wade figured that it was time to depart and head over to his buddy's place. Opening up the front door to leave, he observed the yardman's pick-up truck pulling up to the curb. 'Nah, Leigh wouldn't ……………………..not with Miguel!' Wade thought, but then he closed the front door and returned to the master bedroom.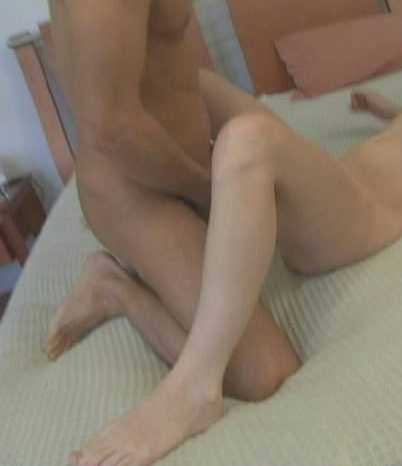 An hour later, Wade was certainly glad that he had passed on going to his buddy's and had stayed at home. There was no basketball game that could compare to the exciting scene that he was watching through the slits of the closet door. His beautiful wife had lured the seventy year old yardman into the master bedroom on the pretext of needing his help with a faucet. Wade certainly could not blame the old guy one bit for wanting a piece of Leigh's sexy white ass. And the old guy sure could perform, getting Leigh to arch and cry out in earnest that "Oh, Miguellllllll ……………………….ohhhhhhhhhh ………………….yes …………………yessssssssssssssss …………………oh, Miguel ……………….fuck me …………………..fuck me ………………yesssssssssssssss!"

End of Story.