Forced in Foreclosure - VII
(m/f, i/r, n/c)
by
Black Demon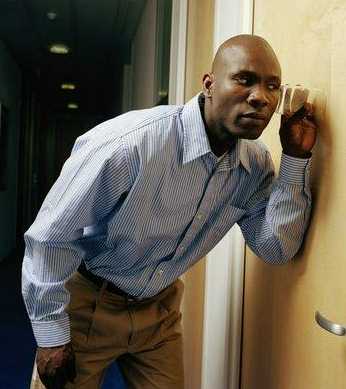 ______________________________________________

Standard Disclaimer!

This is a fictional story intended for Adults only!

______________________________________________

************ ***********

Note: The story below is a story in itself. However, it is also a direct spinoff

of the earlier story entitled: 'Forced in Foreclosure 1 thru 6'

************ ***********




'Damn, this is now the best profession ever! Shit, when I's first got into the game, it was jist I had the guts and muscle into strong arming guys to pay up on their gambling debts! And then the banks and mortgage companies were looking for something similar to collect the bucks due on delinquent loans! Never expected the business to skyrocket like this though! That big meltdown in financials over the past few years, record foreclosures, and now the big boys are happy if I'm jist bringing in fifty cents on the dollar due! The low current day expectation on returns sure make it easy, and they've really loosened up by giving me a lot of leeway on giving out extensions to those I's give the okay on!' Rufus chuckled.

For Rufus Johnson, his collection agency had grown, probably because it was a profession that he truly had come to enjoy. For one, it was just a pleasure for him in seeing a mother/fucker white boy squirming in his pants as he put the screws to him. With the power that he wielded, Rufus certainly used it in making it clear to the punk that he had the power in granting him an extension on the delinquent mortgage payment or not. On cases where both husband and wife were over the age of 45, he'd merely assign it over to one of his employees in the agency.

But if the wife was under 45, Rufus would first have the couple come into his office for the first interview to discuss the delinquent mortgage and try to work things out. If that woman was not attractive to him, Rufus would then introduce her and hubby to the employee in his agency who would take over their case. Should he be attracted to a lovely wife, from her being a young newlywed to woman of around forty-five years of age, he'd complete the interview to size up the possibilities. 'Would she or wouldn't she?' was the first question going through his mind. Then the next question would be posed, that of 'Would he go for it or not?' Only if she was beautiful, both naïve and seemingly a faithful young wife, would Rufus be interested and personally handle their case rather than passing it off to an employee of his.

This was where Rufus really got to enjoy his job, having fun making a mortgage collection on a couple having hard times and falling back on their house payments. Previously, he'd work it by giving hubby some forms to be completed then and there, while the shithead's beautiful wife showed him showed him around so he could 'inspect' the premises. Of course, there was only one room to be inspected, that being the master bedroom. Once he closed the door to the master bedroom behind him, the foolish husband knew what was about to take place on the marital bed that he shared with his lovely wife. And the punk knew better than to interrupt the 'inspection' of the premises, not if he wanted to get the extension on the money owed to the bank!

There had been times that he heard footsteps coming down the hallway and nearing the door, only to stop right there as hubby tried to get an earful of the goings on in the master bedroom. And there were a few occasions when he observed a shadow on the outside of the bedroom window, for it was obvious that hubby wanted to peek and watch his beautiful wife work at getting them an extension of time to catch up on their delinquent mortgage. While thumbing through a magazine that featured new and unusual gadgets, Rufus came across something that wasn't very expensive but had a lot of promising potential in adding to his fun while collecting on a delinquent loan. This gadget was a new but very simple baby monitor, one a mini-monitor to see and hear what was going on in another room of the house, and the other a mini-camcorder that broadcast the picture and audio to the monitor.

Ordering one of the new baby monitor, aiming the camcorder at the television screen that had a movie on, he then went into a different room to view things through the mini-monitor. 'Perfect! Just perfect! Now hubby can see all that's going on in the master bedroom, all while that pretty wife of his is earning the extension but clueless that hubby's watching her performance out in the kitchen or den where he's supposed to be completing the forms I gave him while she shows me around the place!' Rufus chuckled to himself as his cock twitched with excitement at the prospects this new gadget aimed at providing. Then his devious mind was churning out another thought, a means of torturing that punk white boy to no end, a means of taunting the asshole while he was in the master bedroom with the punk's trophy wife.

Deviously Rufus sat down at his computer to draft on up a questionnaire to be added to the forms that the husband would be given to complete. At the top of the questionnaire, it would have in bold print that 'Each and every question must be answered or your request for a mortgage extension shall be automatically rejected!' Prior to leaving hubby with the forms, he'd then advised the sap that 'A video will start soon on the screen! When it's over, you'll need to answer each and every question on the questionnaire located at the back of the packet you've been given!' The monitor's screen would be on but entire black, only to come on when Rufus turned on and set the camcorder down upon a flat surface in the master bedroom. The stunned hubby would then see that it was not in fact some video replay of a disc but a live feed being broadcast right from the master bedroom of his own home.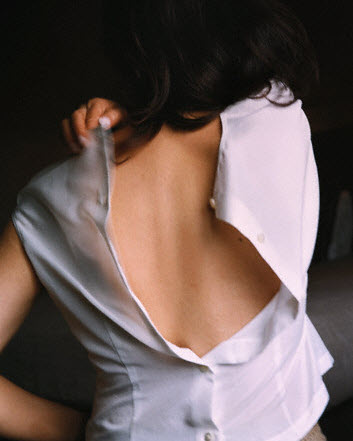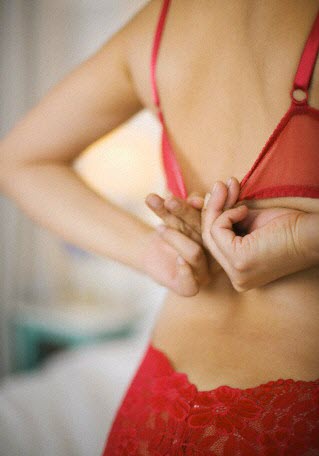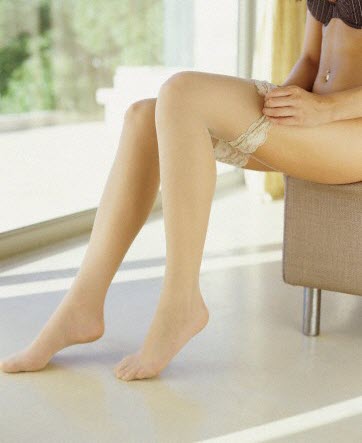 Now hubby would get to view his lovely wife undressing in their bedroom, getting ready to spread her long sexy white legs for a big black buck. He'd get to see his beautiful wife unzipping the back of her dress or perhaps undoing the buttons of her blouse, then perhaps her undoing the back of her bra, or maybe peeling down the nylons from her sexy legs. Now the erotic sights were just not reserved for Rufus to enjoy, for he just liked to share such delightful scenes ………….with the fuck'n prick she married ……………the asshole who was willing to allow his beautiful wife to spread her long sexy legs for a big black stud the likes of him! Hubby no longer had to sit and wonder just what was taking place in the master bedroom, for now he could view what was taking place in there.
'Hmmm ……………..wonder what the prick would enjoy seeing the most ………..watching me cum all over his wife's beautiful face ……………..or maybe seeing her head in the john puking her guts out after having sucked me off ………………or perhaps seeing her screaming her head off on their marital bed as I's stick it to her!' Rufus wondered. Then he thought to himself 'Yeah, and I'll have it there in the questionnaire, posed as a question with him having to select one of the choices available!' He began thinking up other possible questions to put onto the form, designing it to taunt the prick to no end. Rufus laughed to himself, anxious to design that questionnaire and to put it into use.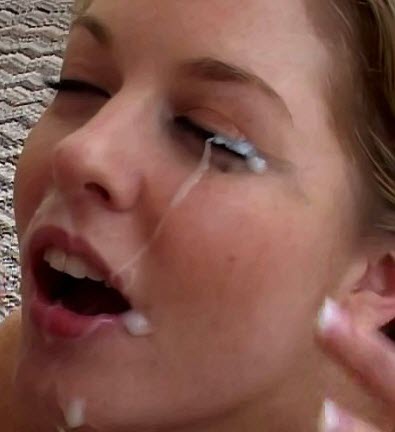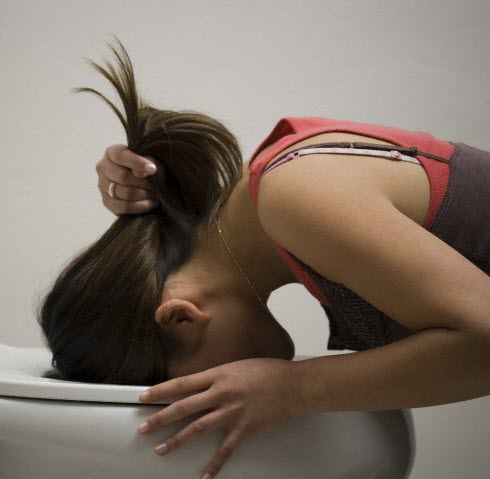 'Yeah, and when the beautiful bitch paid her dues to give them an extension on the loan delinquency or the consideration for modification of the loan, I'll give hubby a close-up shot of his distressed and exhausted wife!' Rufus mused while chuckling to himself at have conceived yet another means of taunting the foolish white boy. 'Hmmm, maybe I should have one final question, that of asking the punk to list one thing that would make my visit more enjoyable for him? Ya jist never know what might come of it!' he figured. 'Yeah, and don't give the fuck'r no choice in answering it or not ……….making write something!' he concluded.
And so Rufus sat himself up to design a questionnaire that would certainly have the punk white ass's stomach churning as he filled it out. 'What better way to taunt the mother-fuck'r while I'm in the master bedroom banging his beautiful trophy wife?' he surmised. An hour later, Rufus smiled at the questionnaire that he had designed to stick it to the fuck'n stupid white boys who had gotten in over their heads. The questionnaire form prepared was as below:
Questionnaire

Important: All questions must be answered and you must sign at the bottom of the form, along with dating it. Failure to comply will disqualify you from obtaining any extension of time to catch up on delinquent mortgage payments or any modification to such mortgage.
Question #1: What did you enjoy seeing the most? (circle one)
1. Watching my wife undress for you.
2. Watching her cringe from your touch.
3. Watching as you thumb her nipples.
4. Watching as you sucked her nipples.
5. Watching as she pulled down your zipper.
Question #2: Of the following, what turned you on most? (circle one)
1. Seeing my wife put her hand into the opening of your pants.
2. Seeing my wife's hand coming out of your pants with your black cock in hand.
3. Seeing the contrast of her white hand stroking your big black boner.
4. Seeing my wife getting down on her knees with you standing over her.
5. Seeing my wife kneeling before you with your thick black fingers entwined in her long silky hair.
Question #3: Has your beautiful wife ever sucked you off? (circle one)
1. Yes
2. No
3. No, but she did kiss my dick one or more times.
Question #4: What part of your wife's performance excited you most? (circle one)
1. Seeing her pumping your black cock in front of her beautiful face.
2. Seeing her sticking her tongue out to lick your black cockhead.
3. Seeing her pink lips encircling your bloated cockhead.
4. Seeing the disgusted look on her face when you told her to suck it.
Question #5: What was the best part of the blowjob? (circle one)
1. Seeing how sick my wife looked when sucking you off.
2. Hearing my wife gag when you shoved your 12" cock down her throat.
3. Seeing my wife's eyes roll when she couldn't breathe with your thick cock in her mouth.
4. Seeing my wife puking her guts out after you forced her to swallow your slimy cum.
Question #6: What was most exciting for you? (circle one)
1. Watching my wife give you a blowjob.
2. Watching my wife getting her pussy eaten out.
3. Watching my wife get fucked by your big black cock.
4. Watching my wife take it up her ass.
Question #7: If you're not up to date in 4 months, you're going to see your beautiful wife being gangbanged! How many buddies should I bring over? (circle one)
1. Two
2. Three
3. Four
4. Five
5. The more the merrier!
Question #8: What one thing would make my next visit to your home a more enjoyable? (write in space below – you must list at least one)
Signature Required: Signature and date are required for the loan extension on your delinquency or mortgage modification. Failure to do so automatically disqualifies you. I attest to the fact that all the answers are true and I understand that such actions will take place one every month till my loan is brought up to date.
Signature: __________________________ Date: _________________
Visiting with Mr. Ron Scolini and his beautiful wife Mrs. Adrianne Scolini at their home a moth following their interview in his office, Rufus made it known that his recommendation basically wielded the power the power of assuring that they could handle the payments on the loan modification they financially strapped couple were hoping to get. Like other professions, the large engineering firm that Ron Scolini had been working for downsized by nearly 50% and Ron was one of the casualties. After months of searching for a new company to hook up with, he finally found a small firm but of course the pay was nearly 30% lower than what he had been earning when he was let go.
Mrs. Scolini's job was good for the time being as she was working for a stable local run family operation where she worked as a buyer for women's clothing. But although her job was stable, the amount of the mortgage payments had ballooned on up due to the adjustable mortgage that she and her husband had entered into when times were good. Though her income was stable, the loss of income suffered by her husband in the period he was out of work and the recent drop in income was just too much to overcome. They had used up what remaining savings they had after having bought the beautiful home they were now living in, but they just weren't prepared for the adjustable rate mortgage to kick in when hubby was out of a job.
When the couple had come into his office a month ago, Rufus had felt the immediate lurch and throbbing of his cock that soon had the front of his pants tented but unseen as he was sitting behind of his desk. In in talking to them, mentioning the possibility of them qualifying for a mortgage modification plan that would be affordable based upon their current income. The monthly would be nearly $600 a month lower that what the current adjustable rate mortgage was requiring of them. Of course, the mortgage period would be extended several years beyond the one they currently had in order to compensate for paying the lower monthly mortgage payments.
Rufus told them he was required to stop by their home to do a home inspection, one that the bank required of him, but he assured the nervous couple "But don't worry none, I'm sure the new home of yers is in immaculate condition! Once I sign off on it and send it to the bank, it's next to a guarantee of you getting the modification to your mortgage! All the banks are just overwhelmed with the financial crisis this entire country is in, they can't afford to hire home inspectors and just want me to do a quick walk through!" Looking at the lovely 27 year old beauty with long silky blond hair, her and hubby's anxiousness to save their beautiful new home, Rufus's head below the desk throbbed out and told him that this couple deserved his signature on the modification document. 'Yeah, sweetie ……………….an inspection of yer home is all that's needed ……………mainly the master bedroom …………….with you taking off yer clothes fer me!' was what went through his mind as he looked at the lovely young wife across the desk from him.
The look on the young punk's face was priceless when he handed the papers over to him, telling him "Here's some forms that I need ya to fill on out! And there'll be a video starting up soon on this monitor! Need ya to finish watching all of it, then answering the questionnaire at the back portion of the packet I's jist gave ya! Yer purty wife can show me around the house so's I's can complete the inspection report fer the bank!" As the punk looked at the monitor that was turned on but no picture showing, Rufus advised him that "It's programmed to come on in a few minutes! Jist be patient! Fill out the three pages in the meantime! Questions on the forms and questionnaire should be self-explanatory!"
With the lovely wife leading the way through the living room and towards the hallway, Rufus looked on back and smiled widely at the young punk whose face was looking horrified as he watched him following his beautiful wife down the hallway. Playing the part for the naïve young beauty, Rufus peered on in to the guest bedroom and next in the bathroom. Another spare bedroom to peer in, then they entered the master bedroom, the door to which he went and closed with a rather loud 'thud'. That 'thud' had the blond beauty whirling around with a gasp and a terrified look on her face. As he grinned widely at the frightened beauty, Rufus observed her visibly swallowing in nervousness as he licked his lips in anticipation.
As she stood there with her jaw dropped wide open, Rufus advised "Ya know jist what it'll take to git my signature on the loan modification that yer wanting, don't ya, Mrs. Scolini?" "My …………..my husband …………….he'll be …………..wondering where we are ………..what's going on!" she stammered out in response. As she looked down while trembling, that was when Rufus reached into his coat pocket and pulled out the transmitter. Placing it atop of the dresser and aimed in the right direction, he turned it on to give the young punk out there of his wife trembling with nervousness in the master bedroom. With the audible on the monitor turned up high, Rufus knew he'd be able to hear everything as he then instructed "Yer hubby's not going come looking fer ya …………………he's not going to come in here ………………he knows better, especially him wanting my signature on the modification form! He knows what's happening here in the bedroom ya two share together ……………..so why don't ya start taking off yer clothes fer me!"
The now teary-eyed beauty was trying desperately to think while blinking back the tears, wondering if the beautiful new house was worth the sacrifice she'd have to make in order to keep it. And what would her husband think was certainly another concern. Then Adrienne thought 'Ron must have heard the sound of the door closing! Why doesn't he come and check?' Looking over towards the closed door, she saw that the door wasn't locked and thus again asked 'Where is he? Why doesn't he come and check on me …………………especially with his lusty black man alone with me in our master bedroom!' Then she heard the vile collector say "Yer husband's not coming, Mrs. Scolini! He's leaving it up all up to you in securing the loan modification in order to save this beautiful home!"
Out in the den, Ron Scolini had his eyes glued to the monitor, his breath short and shallow as his heart thumped in his chest. From where his beautiful wife was standing in the master bedroom, it became obvious to him that she was looking at the closed door, apparently looking for him to come and save her. But the bastard's comments to Adrienne made it quite clear that he had better not go and open the door to the master bedroom. 'This is what I'm supposed to watch and then fill out the questionnaire in the back?' he asked himself before quickly turning to the back of the packet. Seeing the first question posed to him on the sheet of paper, Ron sucked in his breath as his cock twitched and rose in anticipation to what was about to take place ……….if his beautiful wife wanted to keep the house!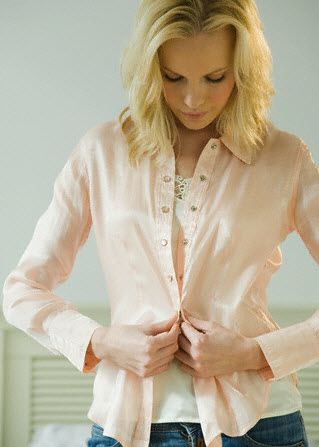 Mrs. Adrienne Scolini

Ron's heart was racing as he panted for breath with eyes glued to the small monitor. With his wife looking down at the ground, obviously blinking back the tears from the dilemma she was in, Ron's mouth dropped wide open and eyes widened as Adrienne hands slowly moved up to pull apart the snap buttons going down the front of the pale orange blouse that she wore. 'Oh, my God …………….oh, my God ………………..she's going to do it …………….she's going to let him touch her ………………..going to do whatever it takes ……………..whatever he wants of her ……………just to save this place!' he realized, never before thinking that his naïve and very conservative wife would go through with anything like this.
Just moments ago, when the door to the master bedroom had slammed shut, he had assumed that Adrienne would no way in hell go for what the bastard was wanting of her. Thus, he not gone to save her, wanting some of the blame for the loss of their beautiful home to taken off his shoulders and shared among both of them. Ron's mouth was dry as he swallowed while watching his beautiful wife unsnap the buttons to the cuffs of her long sleeved blouse, and then watched as she took the blouse off and drop it upon the back of the nearby chair. 'Oh, God!' he muttered to himself as Adrienne reached for the hem of the white top-laced undergarment that she had on beneath the blouse, pulling it over her head and tossing the garment atop of her blouse, leaving her clad in her lacy white bra and blue jeans.
Next, Adrienne was stepping at the back of her right tennis shoe, using pressure of her other shoe to step out of it and kick it to the side. Toes of her right foot place were placed at the back of the tennis shoe on her left foot, then that too was being kicked aside. Top button and front of her jeans undone, the garment was allowed to drop to her knees, then seconds later she was stepping out of them. Now Adrienne stood before her lusty black admirer clad only in her lacy white bra and matching panties. Her breathing was labored as she hesitated some before reaching her arms behind of her back to undo the clip of her bra. As the big black smiled and stepped towards her, Adrienne closed her eyes and trembled in fear, too ashamed to bare any further part of her body to this vile bastard.
Rufus just loved the sight of the lovely innocent young beauty, hoping that the white boy out in the den was enjoying the scene too, and he was intent on giving her frick'n hubby one hell of a show. Slowly approaching the trembling beauty, he reached on up to touch her shoulder, causing the lovely beauty to visibly shudder from it. He then moved slowly around the shaking beauty so as not to block hubby's direct view as she was facing directly at the transmitter he had set down. Both hands up on the beauty's shoulders, he then peeled down the straps of her bra, working them down her trim arms so the protective garment could fall to the floor at her feet. Arms now around the petite beauty, Rufus then cupped her soft beautiful mounds and moved his palms in a circular motion. Then he dropped his hands some, wanting hubby to see his beautiful wife soft pink nipples rise to attention as he thumbed and played with them for him.
"Oh, Mrs. Scolini ………………ya's got some nice long nipples! Oh, yeah …………..ya like me playing with'em …………….I's can tell ……………..they's gitting so fuck'n stiff!" Rufus commented to taught the watching and listening white boy. Then speaking loud enough for the transmitter's microphone to pick up everything, he advised the beauty to "Reach up with yer hands and peel those panties down fer me, Mrs. Scolini! Peel them panties on down fer me!" After no response, he gruffly commanded "Peel those fuck'n panties down fer me, Mrs. Scolini! Or ………..would ya like fer me to do it fer ya!" Given that choice, the lovely blond beauty then reach up with her hands to put her thumbs in the elastic waistband, then began work her panties on down over her trim hips. Seconds later, the lacy garment lay on the top of her feet and carpet.
After letting a hand slide down over her belly to caress her golden curls, Rufus slowly moved off to the side while turning the beauty towards him, that way hubby would get perfect view of what would come next. Like mental telepathy, trying to convey a message to the punk in the other room, hubby was in fact scanning over Question #2 that would tell him what was coming up next on the agenda. Then he looked at the trembling beauty, reached up to caress her soft ivory arms and down the her hands, pulling them to the front of his pants and telling her "Unzip me, Mrs. Scolini!" He really felt her hands shaking at that point, finally her thumb and forefinger of her right hand was grasping the tab of his zipper and seconds later she was pulling it down.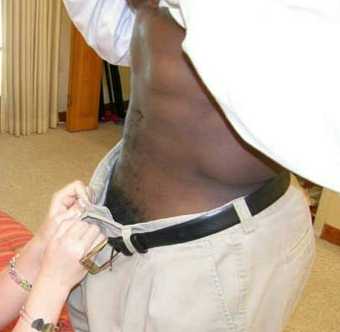 Watching the monitor as he was now salivating, Ron Scolini felt his cock growing in his pants as he watched his faithful wife obey the command given to her of "Reach in with yer soft purty hand and see what's gitting real big fer ya, Mrs. Scolini!" Ron saw his wife's trim fingers disappear into the pants' opening, then her entire hand up to her wrist was no longer visible, then he heard Rufus Johnson moan out "Ohhhhh ……………..yeahhhhhh! Oh, God ……………..oh, damn ……………..ohhhhhhh, yeahhhhhhhhh …………………that's it, Mrs. Scolini …………oh, yeah …………..grab it! Oh, yer warm purty hand feels so fuck'n gooooooooood! Ooooh, yeah ………………now pull it on out!"
Ron panted and watched as his wife complied, pulling the bastard's big black cock out of the pants' opening. Ron shivered upon hearing Rufus Johnson then comment that "Let's jist say that the key to ya getting that loan modification is now literally in the palm of yer purty hand, Mrs. Scolini!" As every had been covered to Question #2 along with the choice of answers, he then reached over to grab the questionnaire and placed it down next to the monitor, that way he could glance down at the next question(s) to see what was to be next on the agenda. Looking at #3 and the possible answers, Ron answered it quick in his mind that 'No, Adrienne's never sucked me off!' Then in glancing down at #4 and the answer choices, he realized that 'He's going to make her get down onto her knees …………….make her take him in her mouth ……………….make her suck him off!'
Mind abhorred from the indignation of handling this big stick black cock, numb with nervousness, Adrienne's hand instinctively began shucking at the big monstrosity. As it grew even longer and more swollen from her handling of it, the thought then dawned upon her that she might just be able to sate the foul bastard's lust by getting off with her hand. Squeezing it tighter, shucking it faster and faster, she then shuddered at the thought of it splashing it's slimy filth in her hand and on her wrist. Cringing with disgust, she then pushed it a bit, aiming it off to the side should she be successful in getting him to shoot off. Desperately, Adrienne pumped at it faster and faster in hopes of bringing this disgusting ordeal to an end. Breathing hard, looking down as she pumped at the foot long penis, it looked like it belonged on an animal than a man.
After minutes of her wanking his dick unsuccessfully, Rufus chuckled out loud at her plight, not telling her that his will power and stamina would keep from unleashing his load prematurely. Instead he bullshitted her with "Ya's doing it all wrong, Mrs. Scolini! It only feels good when ya's put yer fingers on the top with yer thumb on the bottom!" Of course, turn her hand the other way would make it quite difficult for her to shuck him off, especially with her standing up. Placing his hand upon her shoulder, pushing her down, he advised that "Ya need to get down on yer knees, then ya can do it the right with yer soft purty hand!" Rufus grinned widely as the stupid bitch began shucking him the other way, but he would let her continue on for a bit before revealing what else she needed to do while on her knees in order to get him off.
Blinking back her tears, Adrienne stared at the biggest cock ever imaginable in her wildest of dreams, one that was more like a live long snake in her hand viewing the way in which it swelled and pulsated in her enclosed fist. "Reach in with yer other hand, Mrs. Scolini! Hold my balls in yer hand ……………..roll'em around ………………maybe that do the trick!" she heard the bastard advise from above. Swallowing nervously, wanting to bring this to a conclusion as soon as possible, she cringed and did as told. Free hand delving into the opening, Adrienne shuddered as her fingers made contact with the bastard's sticky scrotum, then she got a good feel of the swollen testicles that made her think that 'They're the size of walnuts!'
Out in the den, Ron Scolini was panting for breath, still not quite believing what he was observing on the monitor screen. Then he observed Mr. Johnson's large black hand moved forward to cradle and caress his wife's silky blond hair at the back of her head. 'He's gonna make her do it now ……………….make her take his cock in her mouth!' he thought as his cock tightened and swelled up in his pants. Ron watched in anticipation, saw Mr. Johnson's hand now pressing at the back of Adrienne's head, and the bastard was pulling her head forward toward his pulsating cockhead. Then he heard Mr. Johnson's gruff voice order Adrienne to "Lick it, Mrs. Scolini! Lick my cockhead with the tip of yer tongue!"
Ron's eyes widened in total disbelief as he swallowed deeply, watching as his beautiful wife's face cringed with disgust after having been told to perform such a despicable sex act. Then Ron gasped as his wife's pink lips began to part as she closed her eyes shut, pointed tongue tentatively coming out into the open. With Mr. Johnson pulling her close as the bastard arched forward, Ron saw his wife shudder and her tongue pulling back after making contact with the bastard bloated black cockhead. "C'mon, Mrs. Scolini …………..again ……………..lick it again!" Mr. Johnson advised his wife. And as his lovely wife complied, Mr. Johnson groaned "Ohhhh, yeahhhhhh …………………….that's it, sweetie ………………….that's itttttttttt ………………..yeahhhh, lick it some more!"
"Now, suck it ……………….suck it, Mrs. Scolini …………….open yer mouth wide so's I's can put it in!" was the next command heard through the monitor by Ron Scolini. Then, upon seeing his wife's pink lips beginning to open up, Ron shivered at the thought that 'She's going to do it ………………..she's going to let him put in her mouth ………………to suck on his big black cock!' Seconds later, the tip of the boasted cockhead was covered by Adrienne's parted lips that were beginning to widen even more ………………….enough so that the fat crown soon disappeared and then inch each after inch of the dark fleshy shaft followed into her mouth and down her gagging throat.
'My God …………….she's actually doing it ………………what she's always told me was just too filthy to contemplate doing …………………even with me! Shit ……………..she's going to town and blowing him good!' Ron surmised. Now the black bastard was actually fucking Adrienne's beautiful face by pulling out a good eight inches of black meat and then sliding it back in. "Oh, yeah ……………………oh, yeah ………………………..keep on sucking it like that ……………………roll my balls in yer hand ………………….oh, yeah ……….gonna cum soon ………………….gonna cum real soon!" Mr. Johnson announced as he pumped her face faster and faster. Then Ron realized that 'He's gonna do it soon ………………..gonna cum in Adrienne's mouth!'
On the monitor, Ron could see his wife now trying desperately pull her head back as she tossed about widely, but that was not possible with Mr. Johnson now holding her head tightly with both hands. Unable to see any length of black cock between Adrienne's pink lips and the muscular black loins, Ron realized that all 12" of black cock had been sunk into his wife's mouth and throat. Then he could see the quiver in Mr. Johnson's ebony asscheeks as the bastard announced that "I's cumming, Mrs. Scolini …………………..cumming in that sweet mouth of yers! Oh, yeah, baby ………………suck it …………………….eat it …………………swallow it ……………………..swallow all my hot jizz! Arrrrrggghhhhhhh ………….ah ………….ahhh ………………arggggggghhhhhhhhhhhhhhhhhhhhhhhhhhhhhh!""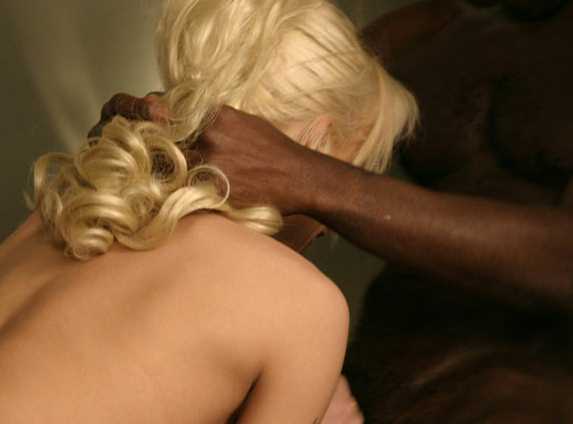 It was nearly two full minutes later, after Mr. Johnson announced that he was cumming, before Ron observed the still lengthy but now flaccid tube of black flesh begin to ease out of his wife's pink lips. No sooner than it had exited out of Adrienne's lips, Ron saw his wife cup her hand over her mouth, then seconds later she scrambled to her feet with her other hand over her belly. Watching on the monitor as his wife made a dash to the bathroom, with movement of the black bastard approaching the transmitter, then the scenery shook as the transmitter was obviously being handled and being moved. The moving scenery told Ron that it was headed towards the master bathroom.
Then the transmitter broadcast the audible sounds of "Errrrrrrrrrrrraccccccccckkkk ………….urrkkkkkkk ………………………errrrrrraaaccccccccccckkkkkkkkkkkkkkk!" Now the scene of the monitor was about to pick up the master bath, and when it did, Ron observed his lovely wife holding her long silky hair back in one hand as she had her head in the toilet bowl. "Errrrrrracaakkkkkkkkkkkkkkkk …………………urrrrrrrrraccccccckkkkkkkkkk ………………………….errrrrrrrrrrrrracccccccccckkkkkkkkkk!" was the sound emitted by his beautiful wife as she continued to puke her guts out in the toilet bowl. Her head then reappeared out of the toilet bowl as now just dry heaves racked her petite body. Ron next observed his shuddering wife reach on up to flush the toilet and its smelly contents. He watched as Adrienne closed the toilet's lid, using it then to brace herself as she slowly got up from the floor to go to the nearby sink and was her mouth.
Then Mr. Johnson could be seen entering the bathroom to move behind of Adrienne as she patted her face with cold water. Ron could see his wife's body tense and freeze when Mr. Johnson began massaging her shoulders and back, then heard him tell his wife "Guess it was jist too much protein fer ya, huh, sweetie? But don't ya worry …………that happens a lot the first time ya git to sample it …………….ya'll soon be keeping it all down!" His wife turning off the faucet, Mr. Johnson hand her a towel, and then his wife was being told "Ya did a real fine job in sucking yer first cock, Mrs. Scolini! So fine that I's going to return the favor!" With his wife wiping her face dry, Ron watched as she turned to face Mr. Johnson and it was obvious from the look on her face that she was a bit puzzled yet fearful of what just had been said to her. Then Mr. Johnson made it quite clear as the transmitter picked it all up "Ever had yer sweet little pussy 'eaten' out, Mrs. Scolini?" His wife's eyes widened in horror as she kept the towel over her mouth and shook her head 'no'.
"Ya ever wonder what it'd feel like? Don't tell me ya never heard of a guy going down on a gal, huh?" Mr. Johnson inquired, getting a nod of 'yes' from Adrienne. "Well, ya jist grab onto my cock and take me to bed with ya and I'll show ya how fantastic it is when I's eat you yer juicy little cunny!" the bastard advised his wife. After some hesitation on Adrienne's part, the bastard added "That twerp yer married too ain't gonna give ya that kind of sensational feeling! Hell, he's not even making a fuss of saving and protecting ya, he's out there and sacrificed ya!" Seeing the towel toss onto the toilet, Ron saw a determined look on her face as she then reached down to grasp the long drooping black dick to lead the way out of the bathroom to the king-sized bed, it appeared that his beautiful wife was going to get her revenge in this manner – to spite him for not coming to her rescue her – she was going to let this bastard be the first to 'eat' out her pussy!
His wife had just walked pass the transmitter it cock in tow, then the transmitter was obviously being turned by the following Mr. Johnson. Now the monitor displayed a nice angle shot of the king-sized bed that he shared with Adrienne, the very bed that his beautiful wife was now getting onto and laying on her back in the center of it with legs spread wide and knees spread. It was quite an invitation for Mr. Johnson who was now at the foot of the bed getting out of his clothing. A moment later, the big muscular body was crawling up onto the center of the bed, between his wife's trim ivory white legs and his head was lowering …………..onto Adrienne's golden treasure. His wife had pulled a pillow to cover her face with and had both arms over it. Suddenly her legs went taunt, her hips arched up as she pushed up with the balls of her feet, and even with the pillow over her face Ron heard "Ooooooohhhhhhhhhhhhhhhhhhhhhhhhhhhhhh ……………………….ohhhhhhhh, my Godddddddddddddddddddddddddddddddddddddd!"
Wanting to explode from the pleasurable tonguing between her legs, clamped the pillow tightly over her face with one arm to keep cries of ecstasy from echoing throughout the house. Indeed, the reason she had given in so easily to allowing nasty sex act to take place was in a sense to punish her weak-willed husband for not coming to her rescue when the bedroom door closed shut. 'Bastard ……………….he heard the door shutting ……………..he knows the door was closed shut ……………..and he left me to be alone with Mr. Johnson ………………….for me to spread my legs in order to get the loan modification! Well, if he doesn't care about his wife being fucked by another man ……………a black bastard at that ……………..I'll teach him!' she had fumed when making up her mind in the bathroom.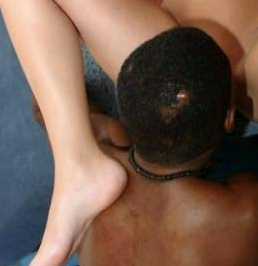 In the den, Ron's eyes widened as his beautiful wife was arching her hips up even higher now as she was pushing up on her toes. One arm over the pillow covering her face, the other now reaching down to clamp her hand upon the back of Mr. Johnson's kinky head to keep him in place between her legs. Then came the muffled scream "Ohhhhhhhh, Godddddddddddddddd ………………………..oh, Godddddddddddddd ………………..yesssssssss …………….yes ……………………..ohhhhhhhhhhhhhh …………………I'm cummmmming ……………..I'm ……………………..cummmmingggggggggggggggggggggggggggggggggggggg! Ohhhhhhhh ……………oooooooooooohhhhhhhh ………………….argggggggghhhhhhhhhhhhhhhhhhh!"
The tensing of his wife, her trim legs going taunt, and then the rocking spasms throughout her entire body told the entire story for Ron Scolini as he stared at the monitor in total awe. Not only had his prim and proper wife gone and sucked off the bastard's big black cock, she had spread her sexy legs and allowed the bastard to eat her cunny out. For over a minute his wife remained arched up in the air, and then her petite body came crashing back down to the mattress in a crumpled heap. Seconds later, Mr. Johnson's kinky black head began to rise up from between Adrienne's sexy white legs, his lips and chin glistening with his wife's sweet honey juice. Then the fucker turned to the transmitter and smiled before licking his thick glossy lips.
Ron stared at the monitor as Mr. Johnson stood up an stepped over near the transmitter, then the bastard grasped his black boner in his fist and began shucking at it. Drooping some at first, it then began to rise, stiffening up to rock-hard status and growing in length. 'My, God, Adrienne will never be able to take anything that big!' Ron swallowed in nervousness. 'Jezz, how fucking long is it? Gotta be twelve inches long!' he guessed . 'No way, no way will Adrienne let him fuck her ……………………especially after she went and sucked him off with the thought of not having to have 'fuck' for the loan modification!' he thought. Through the monitor, Ron watched the big black cock become fully rigid and jutting straight out of Mr. Johnson's loins, then saw him picking up a magazine laying upon the dresser and putting it alongside the boner to show him that it jutted out nearly two inches beyond the length of the magazine.
Ron realized that the magazine could be used as a guideline after measuring it and adding on the two extra inches would give the actual length of Mr. Johnson's cock and determining just how much cock his beautiful wife could take up in her tight cunny. With Mr. Johnson tossing the magazine aside and approaching he bed once again, Ron observed his wife in the background as her eyes widened in fear. He then saw her turn to the right, pull open the drawer to the nightstand where his box of condoms was stored. With his wife taking out a condom and about to tear open the foil packet, he heard Mr. Johnson ask "Yer not going to make me wear one of those, are ya?" To his disbelief, Ron watched as Adrienne put it back in the drawer and close it shut, telling Mr. Johnson "To hell with it! My husband wants me to sleep with you just to get the loan modification, then he can do the morning feeding if you get me knocked up!"
Staring at the monitor in disbelief, Ron watched as his wife spread her long sexy white legs apart to admit the muscular ebony body to shuffle up between them. Then she was reaching out between her legs to grasp the thick black bone and guiding it into place before telling Mr. Johnson "Please be gentle, I've never had anything this big before! I'm scared you'll tear me!" "Ohhh, Mrs. Scolini ………………I's be real gentle ……………it'll fit ………………we's jist gotta work at it some! Then we'll make some real sweet music together!" Mr. Johnson responded as Adrienne began rubbing the bloated cockhead up and down the length of her pink slit. 'Oh, God …………………….she's really going to let him fuck her without a rubber!' Ron realized.
"Oooooooooooooooooooooooh ……………………………oh, my Godddd ………………it won't fit ……………………it's too biggggggggggggggggg!" Ron heard his wife pant out in fear as the big man put some weight behind of this monster cock. Seeing the black bastard forward once again, Ron heard Adrienne's panicked voice panting "It's too big ………………it's way too bigggggg ………………it won't fitttttttttttt!" But then there was the grabbing of Adrienne's trim hips followed by a thrust forward by the black bastard, and then came a shrilling screech "Aieeeeeeeeeeeeeeeeeeeeeeeeeeeeeeeeeeeeeeeeeee ……………eiiiiiiiiiiiiiiiiiiiii!" The big ebony body then began to lower down forward towards the mattress as the big fat cock began slowly disappearing down into his wife's pink slit. Ron felt his body shiver as his cock twitched in excitement in watching his beautiful wife getting fucked by the black bastard ……………and there was no protection being used!
Slowly, ever so slowly, the ebony shaft got itself buried further and further into Adrienne's widening slit that now was accommodating the black dong that had to measure 3" in diameter. 'My, God, how can she take that donkey-sized cock up in her snatch?' Ron wondered as now ¾ of it or nine full inches were swallowed up in her cunny. With the heavy body behind of the jutting prong pushing forward again and again, all twelve inches were buried up in his wife's clutching pussy, with the dark kinky hairs now mingling against the soft golden fleece between Adrienne thighs. Black body held still, apparently Mr. Johnson was letting Adrienne get accustomed to the size of him up in her, then after twenty seconds or so began to pump his big black dick in and out of the ever so tight cunt.
What happened next had Ron's jaw dropping in awe, hearing his wife cry out "Ohhhhhhhhhh …………………oh, my Godddd …………………….ohhhh, soooo goodddddd …………..oh, myyyyyyy …………………oh, my Goddddddddd ……………………oh, yesssssssssssssssss ……………….yessssssssssssssss ……………………fuck me ……………….fuck meeeeeee ……………………fuck meeeeeeeeeeee!" Then Ron observed his wife's widespread legs close together, wrapping around the big man's waist so that her heels could spur his ass into motion and to get him to fuck her even deeper! And as the humping gained momentum, Adrienne was panting out "Yes …………………..oh, Mr. Johnson ………………..fuck me ……………..fuck me deeper ………………deeper ……………….harder …………………fuck me harder! Yes ………………oh, yessss ……………………deeper ………………..harder …………..fuck me like a whore!"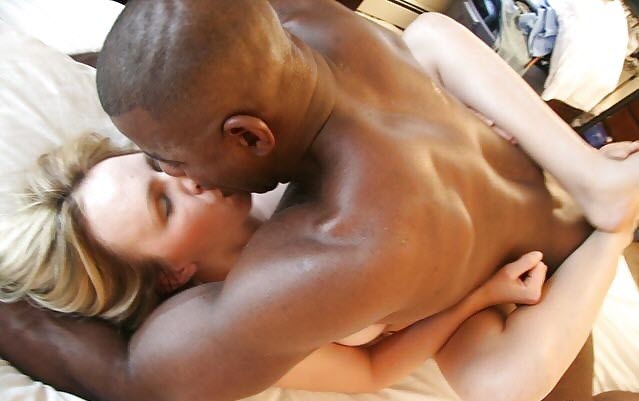 The scene on monitor told it all, with the sound of the bed thumping against the wall head both by his ear without benefit of the audible being transmitted, but what was being transmitted made it sound even more intense. 'Thump ……………..thump ……….…..thump ……………..thump ……………..thump!' came the sounds of the bed hitting the bedroom wall. But a minute later, it then went 'Thump ….thump …thump …thump …thump …thump …thump ...thump …thump …thump!' "Oh, yes ……..yes …….yes ……yes …………………..oh, yesssssssssss, fuck me ………………….fuck me ………………………fuck me goooooddddddddddddd! So good ……………..ohhhhhhhhh, sooooo good!" Ron heard his wife pant out while embracing her black lover tightly with arms and legs wrapped around him.
"Oh, my Godddd ……………it's never been like this before ………………..never been this good! Oh, God, Mr. Johnson ……………………..ohhh, so good …………………so, good ……………..fuck me …………….fuck me ……………..fuck me good …………………I never imagined having sex could be so good!" Ron heard his wife chant out while arching up each time to meet the black bastard's thrust back into her tight sleeve. This was so unlike the beautiful wife that was always so passive and quiet while they had sex in bed, never so vocal and demonstrative in her lovemaking with him. 'My, God …………………..she's really wanting it …………………craving for Mr. Johnson's big black cock ……………………she can't get enough of it!' he realized as his wife screamed out "Fucccckkkkk meeeeeeeeeee ………….oh, yes ……………..fuccccckkkkkkkkk meeeeeeeeeeeeeeeeeee!"
It was quite an erotic scene for Ron as he stared at the monitor, the big black muscular body of Mr. Johnson's ramming up against Adrienne's petite ivory frame, connected by the footlong fuckstick that joined them together. And with each lunge, the entire twelve fat inches of black meat sliced up into her once tight little pussy, now unbelievably widened that Ron figured he put his fist up into his once faithful wife. And then they were like two rutting animals upon the bed, with Adrienne screaming out "Oh, yesssss …………….yessssssssss ……………….deeperrrrr ………….oooooooooooh, I'm cumming …………..I'm cummmmmmminggggggggggggggggg ………………………..ahhhhhhhhhhhhhhhhhhhhhhhhhhhhhhhhhhhhhhhhhhhhh!"
Then Ron saw Mr. Johnson bury his 'Johnson' as deep as it would go, all 12+" and then his asscheeks clenched once and then again, making it quite obvious that the black bastard was unleashing his hot potent roe deep up in Adrienne's fertile womb. Confirming what was taking place was Adrienne screaming out "Ohhh, yessss ………………….shoot it ……………shoot it ………………….ooooooooooooohhhhhh, it's so hottttttttttttttttttttttttttttt! It's burning me!" Ron heard Mr. Johnson pant out "Squeeze it, Mrs. Scolini …………….squeeze all the cum outta me ……………….get all that baby batter out!" Seconds later, the bastard panted out "Ohhhhhhhh, yeah ……………….that's it ……………..that's it ……………….squeeze yer cunny like that ………………….squeeze it all out ………………….git yerself knocked up fer sure!"
Only able to see his wife's right arm and leg, her left foot, the rest of is beautiful wife was covered or hidden by the big ebony body that had collapsed down upon her. With bodies unmoving upon the bed, it became apparent to Ron that both sex partners and they had fallen asleep in each other's arms after that exhaustive fuck session. Not having seen Mr. Johnson pull back nor the big cock being withdrawn, Ron realized that the black baby maker was still embedded in his wife's cunt. With there being no action on the screen, Ron then went back to filling out the financial form that had been given to him. Filling out question after question, glancing up at the screen periodically, he wanted to finish it before they woke and so as not to miss any of the action and was wondering what the bastard had in store for Adrienne next. One thing he thought he had seen on the questionnaire earlier, Ron quickly went back to it, then realized that ……………………'he's going to fuck her up the ass!'
Just as he had finished the financial portion of the form, Ron noticed some movement on the monitor and turned to see what was taking place in the master bedroom. It was Mr. Johnson who was moving about, leaning up as his now limp but still lengthy dick was sliding out of Adrienne pummeled pussy. Ron gasped upon seeing the flow of cum that came drooling out of his wife's enlarge slit, causing him to think 'Shit, that's no longer a fuck'n slit …...............that's a big fuck'n hole!' His wife was still dead to the world from the wild fuck session, limp as a rag doll as Mr. Johnson turned her onto her side first and then over onto her belly. A couple loud slaps then echoed in the room as Mr. Johnson slapped now reddened asscheeks get up up from her fucked out stupor. Seeing his wife begin to stir, Ron watched as she was being pulled up onto all fours, then realized that 'He's gonna fuck her ass now ….............he's gonna ream her ass out!'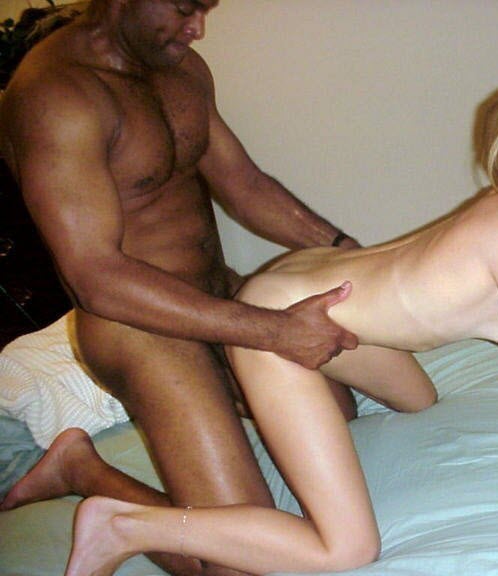 It was obvious that his wife was still half asleep in the way her head drooped, and apparently thinking that the black bastard was gonna fuck her doggie style at this time. 'Stick it to her! Stick it up her ass! Make her scream like a banschee!' he silently cheered, knowing that Adrienne would ball her head off cause she got it up her cherry ass before. And when the big black bone was put into place, Ron saw that his wife finally came to realize what was about to take place as she frantically tried to crawl forward and away from the black bastard, pleading "No …............no …...................no, please …...........not back there …..................not back there …........................I've never had it back there before!" But the strong black hands pulled her backwards, and the bastard lunged forward with all his might, causing Adrienne to scream "Eeeeeiiiiiieeeeeeeeeeeeeeeeeeeeeeeeeeeeeeeeeeeeeeeeeeee ….............................stoppppppppppppppp …..............................stoppppppppppppppppppppppp …....................it hurtssssssssssssssss …............................it hurtssssssssssssssssssssssssssssssss!"
Late that night, back at his place after having departed from the Scolinis' lovely home, Rufus chuckled upon seeing that the stupid punk actually completed the entire questionnaire form. The answers to each were as follows:
Question #1: What did you enjoy seeing the most?
Ans: 3. Watching as you thumb her nipples.
Question #2: Of the following, what turned you on most?
Ans: 2. Seeing my wife's hand coming out of your pants with your black cock in hand.
Question #3: Has your beautiful wife ever sucked you off?
Ans: 2. No

Question #4: What part of your wife's performance excited you most?
Ans: 4. Seeing the disgusted look on her face when you told her to suck it.
Question #5: What was the best part of the blowjob?
Ans: 4. Seeing my wife puking her guts out after you forced her to swallow your slimy cum.
Question #6: What was most exciting for you?
Ans: 4. Watching my wife take it up her ass
Question #7: If you're not up to date in 4 months, you're going to see your beautiful wife being gangbanged! How many buddies should I bring over?
Ans: 5. The more the merrier!
Question #8: What one thing would make my next visit to your home a more enjoyable?
Ans: To see you cum in her beautiful face and then you use your cock to her beautiful face with you cum.
End of Story.