Forced in Foreclosure - VIII
(m/f, i/r, n/c)
by
Black Demon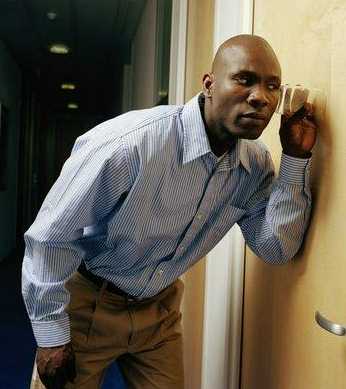 ______________________________________________
Standard Disclaimer!
This is a fictional story intended for Adults only!
______________________________________________
************ ***********
Note: The story below is a story in itself. However, it is also a direct spinoff
of the earlier story entitled: 'Forced in Foreclosure 1 thru 7'
************ ***********
"Yes, things are sure starting to look up again! Yessirree, bout fuck'n time that moratorium on foreclosures got lifted! Damn …................ business sure got slow fer awhile there with the feds stopping the banks and mortgage companies from foreclosing on overdue mortgages! And with that fuck'n moratorium, that sure as hell put the kaput on me gitting to sample new pussy! Jezzus, having to just meet with them delinquent on their mortgages to jist go over the paperwork, then having to wait fer the banks to make a decision on the rules and amount of his 'forgiveness' shit, that's been a fuck'n killa! No fuck'n clout to use back then …...........................='d to no fuck'n new pussy to eat or fuck!!" Rufus cussed aloud.

Then Rufus smiled and added "But now that the fuck'n moratorium is over and done with, I'll be right back in the saddle! And I's gonna have some fun with all those lovely little ladies who's wanting to keep her precious little home – can't fuck'n wait till Monday comes around!" Chuckling as he looked at the folders in hand, all of which he'd be meeting husband and wife to go over the new rules established in applying for a 'forgiveness' on a portion of their mortgage as well as for a reduction of the interest rate on the remaining balanced they owed on. There were quite a few stipulations each of the couples, but mainly it was his signing off on their application that really counted on getting the bank or mortgage company's final approval.

Opening up each of the folders, lining them up a few inches lower that the other, Rufus looked at all the lovely beauties that he'd be visiting that week. On the inside of each folder was a picture that he had secretly snapped of the lovely beauty during a prior visit to discuss their mortgage and the application process to obtain that partial 'forgiveness' and reduction of the interest rate. Using the pretext of needing to make a phone call on his cellphone, the real purpose was of snapping a picture of the unsuspecting beauty to grace his file with. Over the past few months having to go without a new conquest, he'd then open up one of those folders to wet his appetite by dreaming of the day business would turn around again. 'Well, ladies, the day of reckoning is now here! Time to see just how much that precious home means to ya!' he mused.

Realizing that it had been awhile since having used his tried and true, Rufus figured that he had better review things to make his spiel go smoothly as well as to making it all so clear as to the dire predicament hubby was in. Closing his eyes, Rufus tried to recall the details surrounding that last, then smiled as he recalled the questionnaire he had come up with and also the use of monitor for hubby to see what was taking place in a place reserved for just he and his beautiful wife …................the master bedroom of his home! Chuckling as he recalled the events, he laughed at recalling how 'Reading the answers that stupid prick put down on that questionnaire sure was fun to read, especially with him advising that he was most excited in seeing me fuck his beautiful wife up her purty little ass!'

Going to the folder containing the questionnaire forms, he figured he'd review it to see if any revisions were needed. Such read:

Questionnaire

Important: All questions must be answered and you must sign at the bottom of the form, along with dating it. Failure to comply will disqualify you from obtaining any extension of time to catch up on delinquent mortgage payments or any modification to such mortgage.
Question #1: What did you enjoy seeing the most? (circle one)
1. Watching my wife undress for you.
2. Watching her cringe from your touch.
3. Watching as you thumb her nipples.
4. Watching as you sucked her nipples.
5. Watching as she pulled down your zipper.
Question #2: Of the following, what turned you on most? (circle one)
1. Seeing my wife put her hand into the opening of your pants.
2. Seeing my wife's hand coming out of your pants with your black cock in hand.
3. Seeing the contrast of her white hand stroking your big black boner.
4. Seeing my wife getting down on her knees with you standing over her.
5. Seeing my wife kneeling before you with your thick black fingers entwined in her long silky hair.
Question #3: Has your beautiful wife ever sucked you off? (circle one)
1. Yes
2. No
3. No, but she did kiss my dick one or more times.
Question #4: What part of your wife's performance excited you most? (circle one)
1. Seeing her pumping your black cock in front of her beautiful face.
2. Seeing her sticking her tongue out to lick your black cockhead.
3. Seeing her pink lips encircling your bloated cockhead.
4. Seeing the disgusted look on her face when you told her to suck it.
Question #5: What was the best part of the blowjob? (circle one)
1. Seeing how sick my wife looked when sucking you off.
2. Hearing my wife gag when you shoved your 12" cock down her throat.
3. Seeing my wife's eyes roll when she couldn't breathe with your thick cock in her mouth.
4. Seeing my wife puking her guts out after you forced her to swallow your slimy cum.
Question #6: What was most exciting for you? (circle one)
1. Watching my wife give you a blowjob.
2. Watching my wife getting her pussy eaten out.
3. Watching my wife get fucked by your big black cock.
4. Watching my wife take it up her ass.
Question #7: If you're not up to date in 4 months, you're going to see your beautiful wife being gangbanged! How many buddies should I bring over? (circle one)
1. Two
2. Three
3. Four
4. Five
5. The more the merrier!
Question #8: What one thing would make my next visit to your home a more enjoyable? (write in space below – you must list at least one)
Signature Required: Signature and date are required for the loan extension on your delinquency or mortgage modification. Failure to do so automatically disqualifies you. I attest to the fact that all the answers are true and I understand that such actions will take place one every month till my loan is brought up to date.
Signature: __________________________ Date: _________________

Monday:

Going to the lovely home of Ken & Kristi Saunders, Rufus noted that this upper middle class subdivision was just about five years old, making it quite understandable as to how this couple got themselves into the predicament they were currently in. 'Yeah, real estate prices skyrocketing back then …...........just sign your name on the loan documents …..............and it's all approved without checking to see if you could really afford it! And then ….........K—A—B--O--O--M! Economy goes to hell and the adjustable rate mortgage has monthly mortgage payments double and sometimes triple on the foolish homeowners!' Rufus smirked, for he had hit the nail right on the head when it came to the situation involving the Saunders. 'That beautiful Mrs. Saunders sure does love the place, can't says that I's blame her one bit, but now comes the true test as to how far she'd go to be able to keep it from being foreclosed upon!' he mused.

Seeing the updated income sheet that had been submitted by the Saunders and comparing it to the original loan application, they both were working for the same companies and neither had any reduction in pay, thus his analysis of the couple's predicament had to be due to the more than doubling of their monthly payments. He was greeted by Mr. Sanders upon ringing the doorbell, smiled as the lovely Mrs. Saunders waved 'hello' to him while conversing on her cell phone, and her wimp-assed hubby apologizing "Sorry, my wife won't be very long! She on the phone with her grandmother who's having a hard time due to husband recently passing away!" "Oh, no problem, I fully understand! Besides, I'm in no rush!" Rufus responded while gazing upon the lovely beauty in her white top, beige skirt, with nylons and a pair of beige heels.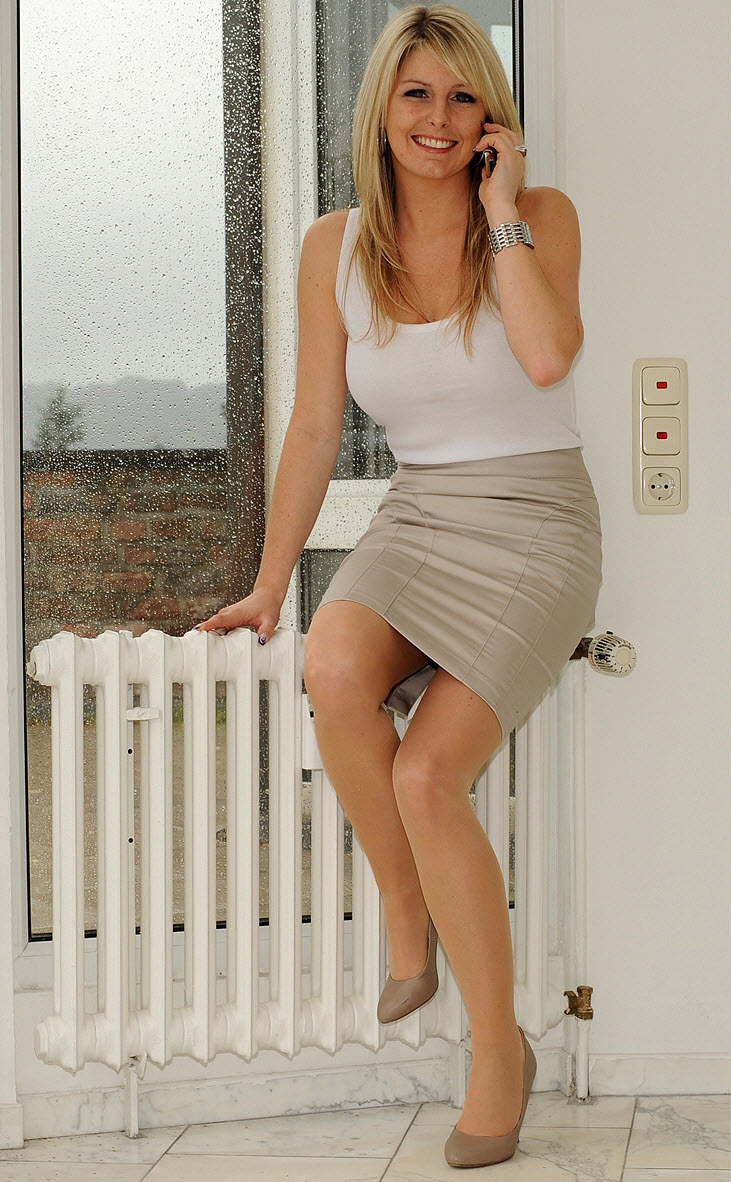 Mrs. Kristi Saunders

Seated at the table, with Mr. Saunders across from him while the lovely wife was off the the left, Rufus made no attempt to hide his lusting gaze upon the blond beauty from the desperate punk. 'Soon, sweetie! Once ya finish talking to yer grandmother, yer gonna take me on a tour of the house …..........................starting with the master bedroom! And hubby here's gonna see jist how much this lovely house means to ya, how far ya'll go to keep from losing it! Bet hubby here's gonna love gitting to see ya undressing fer me in the master bedroom, rolling those nylons off them sexy white legs of yers, and seeing ya wrap them around my black ass when I'm giving it to ya good!' he concluded.

Explaining the need for an application form be completed, as this was now for the new 'forgiveness' of a portion of the amount owed and for a lower interest rate on the new balance due, Rufus handed the punk the packet and a pen for him to use. Turning on the monitor, he told the punk that "Sometimes it takes awhile to come on! It'll work …..just be patient! Meanwhile you can start with the application form! When the monitor does comes on, then go to the questionnaire at the back of the packet as it'll explain the video as it goes along! While you're completing the application form, yer purty missus can give me a tour of the house as I'm to give a report back to the bank as to the upkeep and condition of the home, but from what I's sees it's in tip top shape!"

Filing out the first page of the application in no time as it was just asking same basic information of name, address, etc. Meanwhile Kristi had shown Mr. Johnson the kitchen, living room and was currently taking him down the hallway to view the bedrooms and bathrooms. Ken knew the house was in great shape and thus saw nothing to worry about …...................until he heard a door being shut down the hallway …..............the door to the master bedroom! It was then that he heard some static coming from the monitor before him, then then a picture was coming through and focus clearing. His jaw dropped as he was viewing the interior of his master bedroom, with his beautiful wife Kristi standing quite nervous and scared in the center of the room.

Then, over the monitor, Ken saw his wife looking over in the direction to where the closed bedroom door would be located, then heard his wife stammer out "My …...................my husband ….............he …...............he'll be wondering what happened to us!" Mr. Johnson was basically off to the side of the camera as just a portion of his pant leg could be seen on the left side of the screen, then Ken heard the man's gruff voice respond with "I doubt if yer husband will come looking fer us …..........................and I'm purty sure he saw me eying ya up when we were sitting at the table and ya were on the phone …..........................so I'm sure he can put two and two together! What do ya think, Mrs. Saunders …...............................don't ya think yer husband heard the door to yer master bedroom being shut?"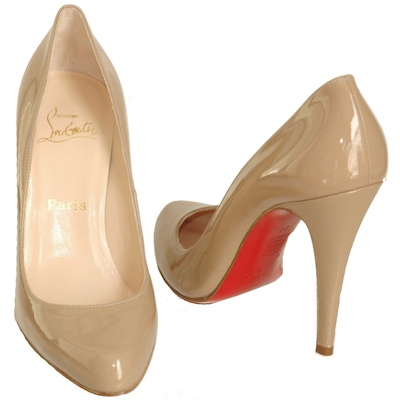 A moment later, Ken Saunders was looking at the foreground of the picture on the monitor, where he observed the pair of beige heels that his beautiful wife had been wearing when Mr. Johnson arrived at their home. In the background of the monitor's screen was his lovely wife sitting on the edge of their king-sized bed, her right leg crossed over her left knee, with Kristi rolling down her nylon hose. Hose peeled off her pedicure toes, left leg now crossed over her right knee, and pantyhose lay on the bedroom carpeting. He watched as his wife stood up, unbuttoned her white top and was removing it, then her beige skirt was soon puddled around her bare feet. Lacy white bra unhooked, straps pulled on down, and both he and Mr. Johnson was getting same view of Kristi large pink capped titties. A moment later, with her lacy white panties around her ankles, her golden fleece was there for the viewing.

On the monitor, Ken watched intently as his nervous wife began backing up in fear, all while the part of the pant leg he had seen on the screen began getting longer and larger while moving towards a backing-up Kristi, who had gone as far back as she could till there was no place to go and she was sitting upon the foot of the king-sized bed. Ken continued to disbelievingly stare at the screen in awe, watching as Mr. Johnson neared the foot of the bed and stopping just a foot away from his trembling wife. "Unzip me, Mrs. Saunders!" Ken heard the man say. He saw Kristi's trembling hands reach up toward the front of Mr. Johnson's trousers, just as Mr. Johnson's gruff voice advised "Feel it first, Mrs. Saunders! Git a good feel of what's hidden under there!" Seconds later, large black hands were grasping his wife's wrists and guiding her hands towards that big bulge. Once his wife's hands wee on the bulge, Mr. Johnson release his grip on her hands, only Kristi did not pull her hands away, Instead, Ken observed her tracing the length of the big boner hidden beneath the pair of pants.

Zipper to Mr. Johnson's pants pulled down, Ken watched as his wife's beautifully manicured fingers disappear into the opening, then her hand was withdrawing itself back out of the opening. It was quite and erotic sight, trim ivory white hand with red fingernails grasping upon the thick long donkey-sized dong this black bastard possessed. What surprised both Ken and Rufus was the enthusiastic manner in which she grasped the prong in both hands and began shucking it as Mr. Johnson asked "Ya suck hubby's dick?" To the surprise of both men, Kristi shook her head 'No' but immediately went at the task of flicking her tongue over the bloated cockhead like a talented pro! "Ohhhhhhhhhhhhhhh, damn!" Rufus exclaimed as the hot little bitch suddenly enveloped his round bloated cockhead into her hot little mouth, getting Rufus to inquire "But ya've obviously sucked cock before, haven't ya?" The response came in the form of Kristi nodding her head 'Yes' while continuing to suck away at the prick in her mouth and to avidly gobble more of it down.

Rufus realized that he had certainly stumbled on a gold mine here, and he aimed at getting to the bottom of it, especially with her fool of a husband watching and listening in the other room. "Hubby ever ask or try to get ya to go down on him?" A nodding of 'Yes' came as the bitch bobbed her head up on down on his cock. "Ya suck another guy off after ya got married?" he asked. A shaking of her head said 'No'! "So ya only sucked cock before meeting up with hubby?" he inquired. A nod of 'Yes' came as the response. Wanting to learn more and have hubby learn of the whore of a wife he had married, Rufus grabbed her by the hair and pulled her off his dick, asking her "How many guys have you sucked off, whore?" "I …................I don't know …................fifteen …..............maybe more!" came the surprising response.

Watching the monitor in total awe with jaw dropping wide open, Ken could not believe what he was hearing, especially with his so-called prim and proper wife sticking her tongue out to flick it against Mr. Johnson's bloated cockhead as his grasp on her hair prevented Kristi from going down on him. Ken could not believe Kristi had sucked a guy's cock before, for he had tried several times to get her to go down on him but she had always refused and made a fuss, even cringing and looking at him in disgust protesting "How degrading! How can you even think of me doing such a filthy thing?" "Pleaseeee …...........let me!" Kristi was telling the bastard who held her back from gobbling his dong and began prying her for more information in asking her "Ya ever suck off more than one guy at a time, bitch?" Ken was devastated when his beautiful wife responded with a nod of 'Yes'.

Rufus was quite stunned also, wanting to hear more, but that could wait a bit while he enjoyed a bit more of her cocksucking. Easing up his hold a bit, letting her envelope his cockhead once again before holding her firmly there, he let out a pleasureful moan "Ohhhhh, yeahhhhhhhh …...................oh, yeah …................ohhhh, ya've got one talented tongue there, Mrs. Saunders!" Pulling her head on back off his cock, Rufus then demanded "Tell me about it …............ya blowing more than one guy …..........then ya can go back to sucking my cock!" Frantically, the beauty looked up at him and uttered out that "I was a cheerleader …......................and the basketball team won the state championship ….................we were partying ….....................I had too much too drink ….....................and one thing led to another! We were celebrating …....................everyone played so well …..................I wanted to reward them!" "So ya blew a couple of them off? How many of them?"Rufus inquired. "All of them!" she panted out. "The whole team??" Rufus asked unbelieving. "Yes ….................I don't know how many times that night …..................some wanted seconds!" "Mmmmmmm …...........................mmmmmmmmm …............................mmmmmmmfffffffffffffffffffffffffhhhhhhhh!" was all that could be heard now as Rufus shoved his black boner back in her mouth and began fucking he beautiful face in earnest while panting out "Oh, ya fuck'n little whore! Ahhhhh, yeahhhhhhhhhh! Ahhhh ….............I's gonna give ya a mouthful …....................and yer gonna eat it all, ya fuck'n whore! Eat ittttttttttttttttt …...........ahhhhh …................ahhhhhhhhhhhhhhhhhhhh ….................................ohhhhhhhhh, fuckkkkkkkkkkkkkk …........................yeahhhhhhhh!"

Ken was certainly dumbfounded in having watched his supposedly prim and proper wife's performance of a wanton slut that would have given any porn viewer a raging hardon. Seeing his wife's nose buried in Mr. Johnson short kinky hair, thick black all the way down her throat, he then heard the bastard attempt to pry even more out of her "Damn, sweetie ….............................it's obvious that ya've been dying to have a cock in yer mouth once again! That fuck'n blowjob was jist awesome …..............best I've had in a hell of a long time! Now what else has hubby been keeping ya short of, huh?" "Tell me, Mrs. Saunders!" his wife was told as Ken watched intently as the bastard pulled her head back so she could answer him. "Eat me! I want you to eat me …................................eat my pussy out!" Ken heard his wife say, something that he had attempted to do several times but his wife kept pushing his head away and scrambling up away from him each time while chiding him with "How can you want to do such a nasty thing!"

His beautiful wife pushed back onto the mattress, legs spread wide with her feet up high in the air, Ken saw his wife's toes curl as she cooed "Ohhhhhhhhhhhhhh, yessssssssssssssss ….............................oh, my Goddddddddddddd …..................................ohhhhhh, eat me …...........................eat meeeeeeeee …............eat meeeeeeeeeeeeeeeeeeeeeeeeeeeee!" Now he could see Kristi's trim manicured fingers clutching at Mr. Johnson's kinky hair while pulling his head into her crotch, then heard her pant out "Oooohhhhhhhh, Goddddd …...........................so gooddddddd …...........................it's been so long …..........................................nearly twenty yearssssssssssssss!" With Mr. Johnson lapping and slurping away at Kristi's juicy pussy, Ken saw his wife's petite body go taunt with her toes pointing in the air, just before she wailed "Ohhhhhhhh, Goddddddddddddddddd …........................................I'm cumming …................................I'm cummingggggggggggggggg …....................................ahhhhhhhhhhhhhh ….....................ahhhhhhhhhhhhhhh …............................ooooooooooooooooooohhhhhhhhhhhhhhh!"

Moments later, Kristi's trim white legs were splayed out wide on the bed after Mr. Johnson had gotten up after having eaten her out to a mind-shattering orgasm. "What else have ya been missing out on, Mrs. Saunders? What have yer wimp-assed husband been keeping ya short of, huh?" Ken heard the bastard try to ply out of his wife. To Ken's dismay, he watched in disbelief as his so-called true and faithful wife suddenly came back to life by scrambling up to the center of the bed on all fours. "Oh, my God …..............I don't fucking believe it!" Ken muttered out loud just after seeing his wife look back over her shoulder while on all fours and telling Mr. Johnson "Fuck me like the bitch I really am! Make me your bitch! Mount me from the back and fuck me good!"

Sporting a raging hardon, Ken unzipped his pants to pull out his boner as the big muscular man got up onto the bed and was shuffling forward while shucking his big black dong. As Ken shucked his own cock, he could only wish that his was as big as the black bastard's, watching intently as Mr. Johnson was tracing his thick bloated cockhead up and down Kristi's slit as she panted out "Fuck me ….......................fuck me …...........................stick it to me …...........................give it to me, you bastard ….......................fuck me with that big black cock of yours!" And when Mr. Johnson did shuffle forward some, splitting Kristi's tight little slit, his wife cried "Oh, yessssssssssssssssssssssssssssssss …....................................stick it to me ….......................hard …...........................harderrrrrrrrrrrrrrrrrr ….......................oh, Mr. Johnson ….........................oh, yesssssssssss …...........................fuck me ….......................fuck it to me ….........................fuck me like a bitch!"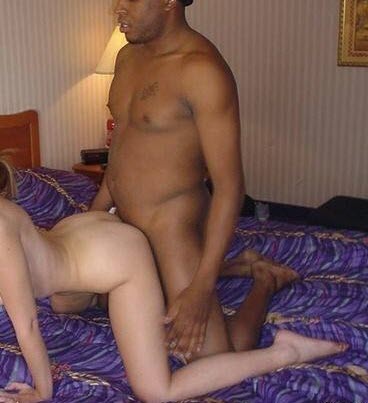 From where he sat at the dining room table, Ken could actually hear the thumping of the headboard against the bedroom wall, and with the monitor picking it up made it sound like an echo. 'Thump …................thump …..............thump …................thump …..............thump …................thump …..............thump ….........thump ......thump ........thump …....thump!' came the now rapid fire of Kristi's doggy style fucking. And then the big man groaned out loudly "Oh, yeahhhhhhh …....................gonna cum in ya bitch …...........................gonna cummmmmm ….........................arrrrrrrrghhhhhhhhhhhhhhh …..............................ahhhhhhhhhhhhhhhhhhhhhhhhhhhhh!" Seeing the muscles of the ebony ass going taunt, with Mr. Johnson's cock fully out of view, Ken knew that the bastard was ejaculating his potent semen deep up in his wife's fertile womb.

Moments later, Ken watched as the thick black cock began withdrawing out of Kristi's forever stretched cunt, swallowing deeply in seeing the ebony stalk glistening from their fuck juices. Upon his cock being completely withdrawn, Ken heard Mr. Johnson tell Kristi "Stay right there, bitch ….......................don't ya move a fuck'n muscle till I's git back!" With Mr. Johnson approaching on the monitor, and with the camera moving and nearing the bed, Ken realized that the bastard was moving the camera slowing forward till just inches away from Kristi's widened cunt. The bastard's left hand was clenched with just his index finger extended, that finger delved into the very reddened slit …...................giving her a quick finger-fuck and quickly pulling out …...................followed by a thick river of cum that plopped onto the bed in a puddle. "Squeeze that pussy of yers, Mrs. Saunders …..................squeeze my cum outta yer pussy …...........................I's wanna see how much I's cum in ya!" Mr. Johnson advised as the camcorder was held steady, obviously for Ken's viewing pleasure.

Mr. Johnson placed the camcorder back down on a solid surface, then the bastard was getting into bed with Kristi and pulling her down into his arms for some cuddling. An intimate kiss ensued before both closed their eyes for a quick nap to recharge their bodies, giving Ken time to go back to completing the application forms. With the monitor just off to his side, Ken would be able to notice any movement on the screen, he tried to hurry through all the forms so that he wouldn't miss any of the action. Just as he got to the last page, some movement on the screen caught his attention, causing Ken to stop filling out the application any further. The black bastard and his beautiful wife were embracing one another before their mouths were glued together, and soon the bastard was rolling Kristi over onto her back as he rolled atop of her petite body. 'Their going to make love!' Ken realized as Kristi wrapped her arms and legs around the black bastard, making love right on the very bed that he and his beautiful wife shared together.

"Ooooooh …......................do …..............fuck me …....................fuck me, Mr. Johnson!" Kristi panted out, wanting more of the fabulous fucking that she had been missing for so many years. Although she was not a virgin upon entering her marriage, Kristi had led Ken to believe she was a prim and proper young lady, losing her virginity to a boyfriend in high school but that 'It had only been that one time, that one indiscretion that I've always regretted and swore would never happen again till I get married!' That's the line she had sold Ken on, one that he had bought hook, line and sinker! She had tried so hard, so very hard to be content with her husband's rather lame performances in be. Sure, she had played the prim and proper role in refusing anything other than lovemaking in the missionary position, but deep down she always hoped that Ken would be a 'man' and took her any way that he wanted. 'Just throw me down and fuck me! Grab me by the hair, force me down to my knees, make me give you head!' But Ken had always refrained, giving up so meekly when she acted abhorred to what he wanted of her, thereby frustrating her to no end.

"Oh, yessssssssss ….........................yessssssssssssssss ….....................fuck it to me …...............harder …...................harder …...................ram it in me …......................fuck me like the whore I am!" Kristi panted out as the big man skewered her with his big black dick. Up until this day, the king-sized bed marital bed in the master bedroom only saw lovemaking in the missionary position, but for Kristi this was the kind of fucking that she craved for. Locking her ankles together, each time that Mr. Johnson thrust into her, Kristi used her locked legs to pull him even deeper. "Oh, God …......................so good …....................so good ….......................ohhhhhh, so goodddddddddddddd ….........................so fucking goodddddddddd! Ohhhhhhhh, Mr. Johnsonnnnnnnnnnnn …........................................if only you could teach my husband how to fuck ….............................get him to use his cock like a real man!" she panted out. And as the bastard began humping her and telling her how he was going to cum in her and knock her up with his little black bastard, Kristi encouraged him to "I'm there too …...................ohhh, cum in me …..................cum in me ….....................knock me up with your little black bastard! Oh, God …................it's so hot ….................your cum is so hotttttttttttt!"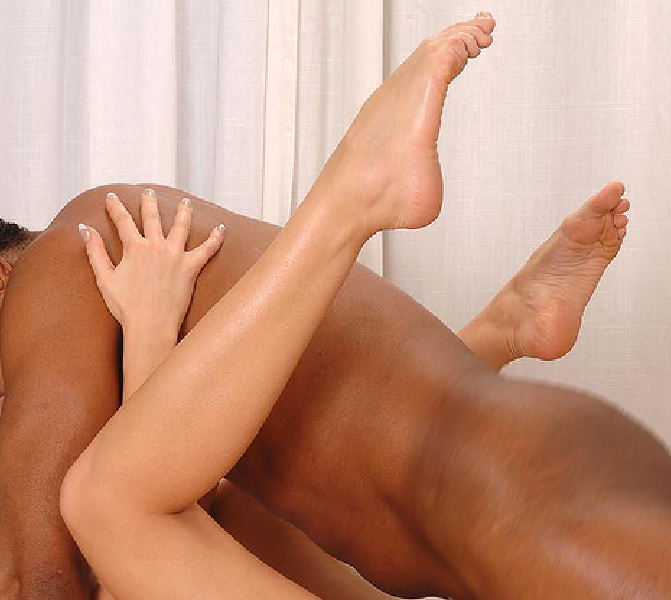 It would be another hour before the camcorder was turned off and the big man exiting the door to the master bedroom. Hearing the water pipe active, Ken assumed that it was that of the shower in the master bath being turned on so his well-fucked wife could wash the smell of sex off her body. He just hoped that she douched out all the nigger spunk that was clogged up in her fertile womb, and of course that it was not already too late for that preventative wash. Ken had seen wife being assisted by Mr. Johnson, when she got up from the bed to go to the master bath, walking very gingerly and nearly limping as a result of the ass-fucking she had just received. When Mr. Johnson had gotten her up on all fours, Kristi appeared quite excited to being fucked like a bitch doggie style once again, on to cry out in panic "No ….......................no, Mr. Johnson, not back there ….................I don't like it back there!" "So, ya've been buggered before, huh bitch?" Kristi was asked, then she panted out "Once, back in high school …............................but I didn't like it!" The hairs on the back of Ken's neck stood up upon hearing his wife's shriek of pain when Mr. Johnson grabbed her hips and brutally shoved his black cock up her ivory white ass.

That night after getting back to his place, Rufus grabbed a beer and looked at the questionnaire filled out by Ken Saunders. Rufus smiled in seeing that all the questions had been answered and that the stupid punk had even signed and dated it. He laughed out loud at read the punk's answers:

Question #1: What did you enjoy seeing the most?
Ans: 5. Watching as she pulled down your zipper.

Question #2: Of the following, what turned you on most?
Ans: 5. Seeing my wife kneeling before you with your thick black fingers entwined in her long silky hair.

Question #3: Has your beautiful wife ever sucked you off?
Ans: 2. No

Question #4: What part of your wife's performance excited you most?
Ans: 3. Seeing her pink lips encircling your bloated cockhead.

Question #5: What was the best part of the blowjob?
Ans: 3. Seeing my wife's eyes roll when she couldn't breathe with your thick cock in her mouth.

Question #6: What was most exciting for you?
Ans: 4. Watching my wife take it up her ass.

Question #7: If you're not up to date in 4 months, you're going to see your beautiful wife being gangbanged! How many buddies should I bring over?
Ans: 4. Five

Question #8: What one thing would make my next visit to your home a more enjoyable?
Ans: I want to see Kristi and you showering together, then see you lift her up and nail her to the tile wall of the shower stall.


Rufus chuckled to himself as his mind played back the butt-fucking session with the blond bitch, with his hands cupping her dangling titties and cock buried all the way up her ass, telling her "Yer gonna help in making ends meet by taking on a once a month part-time job, Mrs. Saunders! I's got a job already lined up fer ya ….....................at a high-end men's club …............................where ya'll git yerself the kind of fucking ya want! Ya jist tell yer wimp-assed hubby that it's jist serving drinks at a high-end men's club, with no hanky-panky going on, he won't know what yer real job will entail..................won't know that ya'll be working in the world's oldest profession …......................as a real high class prostitute …...........................using that sweet sexy bod of yers to earn some dough!"

An hour later, Rufus' other cellphone rang, with the dial tone indicating that it was the special phone number given out earlier to young Mr. Saunders ….........................given to him by Rufus just before leaving the Saunders' home with instructions to the punk to make the call just before the asshole went into the bedroom to 'console' his beautiful young wife! With the punk's speaker phone turned on and volume up all the way, Rufus could near the young wife sniffling in her feigning the part of the so-called prim and proper wife that she had always aired, not realizing that her wimp-assed husband had witnessed her wild slutty performance in the bedroom. Laughing out loud, Rufus chuckled 'Fuck'n bitch is playing the 'innocent little me' part and trying to pull the wool of the punk's eyes once again! And the asshole would have believed it had he not seen the true whoring bitch that he has for a wife!'

And through her sniffling came the Oscar winning performance of "Oh, honey …...............................I feel so ashamed …......................but I didn't know what to do! When …........................when he closed the door, I …..........................I was hoping that you'd come …...............................but when you didn't, I ….........................I didn't know what to do …...........................I felt I had to go through with what he wanted …...................or lose the house to foreclosure!" "There …................there, honey …...........it's not your fault! I …..............I didn't know what to do either when I heard the bedroom door being closed! I …........................I thought about coming to check on you …...................but …............but figured you'd scream if ….......................if you needed me!" hubby responded.

Rufus laughed when the bitch then lied that "It …...............it was just awful! I …..................I forced myself to just lay there ….............and …...............and let him have his way with me! But ….........but it was just awful …..............................where I gritted my teeth and kept from moving a muscle …......when …...................when he did it to me! Oh, honey, I feel so soiled …........................having been with him …......................letting him have sex with me …..............................I know you won't want to touch me at this point!" "Honey …...........I'll always love you …................more so now …......in seeing what you'd do to save our home! You made the ultimate sacrifice for us, honey! And I love you all the more for it!" hubby consoled his wife, adding in "And it makes me want to make love to you right now!" Then Rufus smiled in hearing the shuffling upon the bed, then heard the bitch pant out "Oh, make love to me, honey! Make love to me …..................I douched out the filthy scum …............................cleaned him out of me …...........................fill me with your love, honey!"

That next Friday night, at the Grand Opening of the 'Ole Gentleman's Club', Rufus was making he rounds greeting all the invitees that had made it to his big shindig. The majority of the invitees were customers of his, men who had gone through his folders to select a beautiful companion for the night, many of whom patronized his services two or three times a month. With a hundred bucks per lottery ticket, many of the men purchasing several tickets, all hoping to be the one with the winning ticket and first guy to bed the succulent beauty that Rufus had selected as the special treat for Opening Night. And when Rufus came around to greet them, flashing a picture of the lovely beauty, nearly every guy purchased one or more lottery tickets. One factor made things even more intriguing for the guests, that being when Rufus made mention that "The young punk hold the lottery bowl is none other than that sweet little thing's hubby! He'll be the one drawing the winning numbers out of the bowl and announcing the winner who'll git to fuck his beautiful wife!"

Kristi knew exactly what her new job entailed, that she was to be employed in the world's oldest profession, that her job was to please the man who had purchased her charms for that hour he had paid for. Suck or fuck, whatever the 'john' desired of her, Kristi aimed to please her paying customer. She was glad that her was taking a client out that night and not home when she left for work, having dropped her daughter off at the grandparents for the night. Of course, when she got home Kristi planned on telling her husband that the job was as a cocktail waitress at a high end Gentlemen's club, merely serving drinks and continuously smiling at the customers, that no sex was involved. Her thought was to have Ken believing, that her submitting to Mr. Johnson in their bedroom, was the one and only time that she had sex with another man outside of their marriage ….......and that had only happened due to the financial predicament! Kristi wanted to keep her husband from finding out her inner cravings to have wild and wooly sex with other men!

Little did Kristi know that the entire penthouse unit was covered with camcorders, recording and transmitting what was taking place to the new Ole Gentelmen's Club right across the street, a night club surrounded by 60" TV screens on the wall. And that her husband already had learned of his so-called prim and proper wife being nothing but a sex-crazed little nymph! More so that it was her own husband Ken pulling out the lottery tickets from the bowl, going to the microphone to announce the winning numbers, then handing each of the winners the key to the penthouse unit. Not only was Ken getting to meet each of the 'johns' she'd be servicing that night, but after sizing up the winner for that brief few seconds, her husband helped on planning the entertainment for the invited guests. That would have explained why each of her 'johns' were so different in what they wanted her to do for them: first guy getting to eat her; second guy had her on her knees for a blowjob; third guy jerking off right in her face; and so on.

Had Kristi known of her husband's role that night, the comment made by the 60 year old 'john', a man older than her own father would then have made sense while he took pleasure in caressing her ass when she was on all fours …...................the comment being "Your husband must love looking at this sweet sexy ass of yours!" Wearing her diamond ring and wedding band, a 'must' requirement for the job according to Mr. Johnson, for getting the pleasure of fucking another man's wife was what turned these 'johns' on. So the comment went right over her head, plus the fact that her thoughts were only centered on the pain associated with the old boy's cock that being shoved up her ass. Ten minutes earlier, over at the club and being handed the key, over the microphone Rufus Johnson asked "Hey, Kenny boy …..................what would ya like our winner Tom here do to that purty wife of yers?" "Fuck her ass …..................shove it right up her ass ......................give it to her good and hard up her ass!" was her husband's reply. "Ya ever git to fuck yer sweetie up the ass yet, Kenny?" was the next question to which a "No, she won't let me!" response was given.

After her first night's work, with the sixth and final 'john' having departed the penthouse suite, Kristi lay her well-fucked and exhausted body back onto the mattress. Squeezing her cunny, feeling the 'john's' slick cum oozing out of her, Kristi was so tempted to take a short catnap but told herself that she had better get on up and head on home before Ken began worrying about her well-being. But first of course, she needed to take another hot shower to wash away the stench of raw uninhibited sex, plus shampoo and dry her hair. The need to shampoo her hair was actually a result of her bastard of a husband, who wanted to home before she did when her job for the night ended, all so he could pretend to be asleep when she got home. That was why the last 'john', in complying with her husband's request, had wrapped her long silky hair around his throbbing boner to jack off and cum in her face and hair.

Upon arriving home, Kristi breathed a sigh of relief that only the hallway light had been left on for her. Turning into the driveway, she had seen that the master bedroom was dark, giving her hope that Ken hadn't waited up for her and had fallen asleep. Heels in hand as she tip-toed down the hallway, Kristi smiled in relief upon seeing Ken tucked in under the covers and seemingly fast asleep, or so she thought as her husband feigned it perfectly. Quietly sliding the closet door open, she placed her heels and grabbed her nightie to take into the bathroom with her. Taking her purse into the bathroom with her before locking the door behind of her, Kristi went to the corner where the hamper was located. Opening the lid and leaving it open, she opened her purse to retrieve three balled up panties and then stuffed them midway down the hamper so as not to be seen when her husband put his dirty clothes in there.

Kristi slipped into bed, wide awake now as she replayed each of the tricks performed on each of the six 'johns' she had serviced on her first night on the job. Reaching up under her nightie, she then pinched at her tender nipples, relishing the memory of having the 'johns' avidly sucking and biting upon them. She remember the squat elderly Asian, how he had made her kneel down before him to jerk off his swollen yellow cock ….....................how he had taken great pleasure in winding his fingers tightly in his fingers to keep her there when the old bastard ejaculated his filthy scum right in her face! And then the bastard had grasped his cock, using it like a paintbrush to cover every bit of her face with his slimy cum. It had felt so demeaning when the bastard laughed aloud, exclaiming "Prettee American bitch has made Lop Sing's dream come true ….............................cumming in a prette American bitch's beautiful face! You likee Lop Sing's facial cream ….......................makes your prettee face soft and shiny!" Demeaning, but deep down she had really relished it, actually thrilled at being used in such a deplorable way to sate the deviant bastard's vile lust.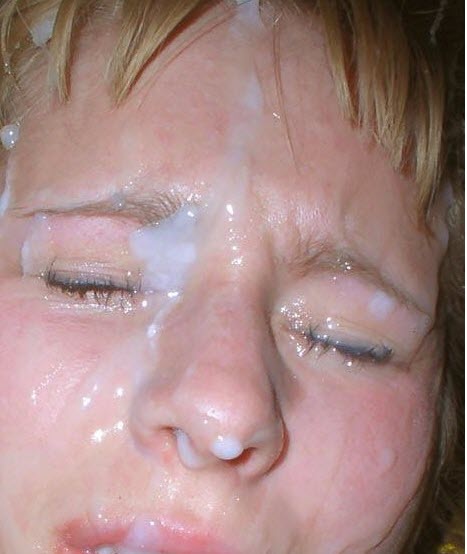 That next morning, Ken asked his beautiful wife as to "How'd it go last night? Was it as you had expected?" Ken just smiled in hearing the lie she had concocted that "It was just trying to look pretty, smiling, and serve drinks at a high end men's club!" When asked he if anyone made a pass at her, the reply was "Oh, a few! Just the type you would expect when working as a hostess, serving drinks in a bar!" With Kristi planning to go to her parents place to pick up their daughter, then to take her for her music lessons, Ken anxiously looked at the time when he would be all alone to search for the three pairs of soiled panties that she had balled up and stuffed into her purse. The baby blue one had been by the young black guy to wipe off his glistening cock after he had given Kristi one hell of a doggie fuck. There was green pair that Kristi had peeled off, let them fall to her heels as sh stripped for an elderly 'john', then had followed his wishes in draping them over his throbbing cock and she wrapped her beautifully manicured fingers around the waving stem to jerk him off, right into her panties. And then there was the red pair, the one handed to Kristi by the old Asian guy to wipe her face with, after the bastard had ejaculated in her face and used his oozing cock to paint her entire face with his slimy cum.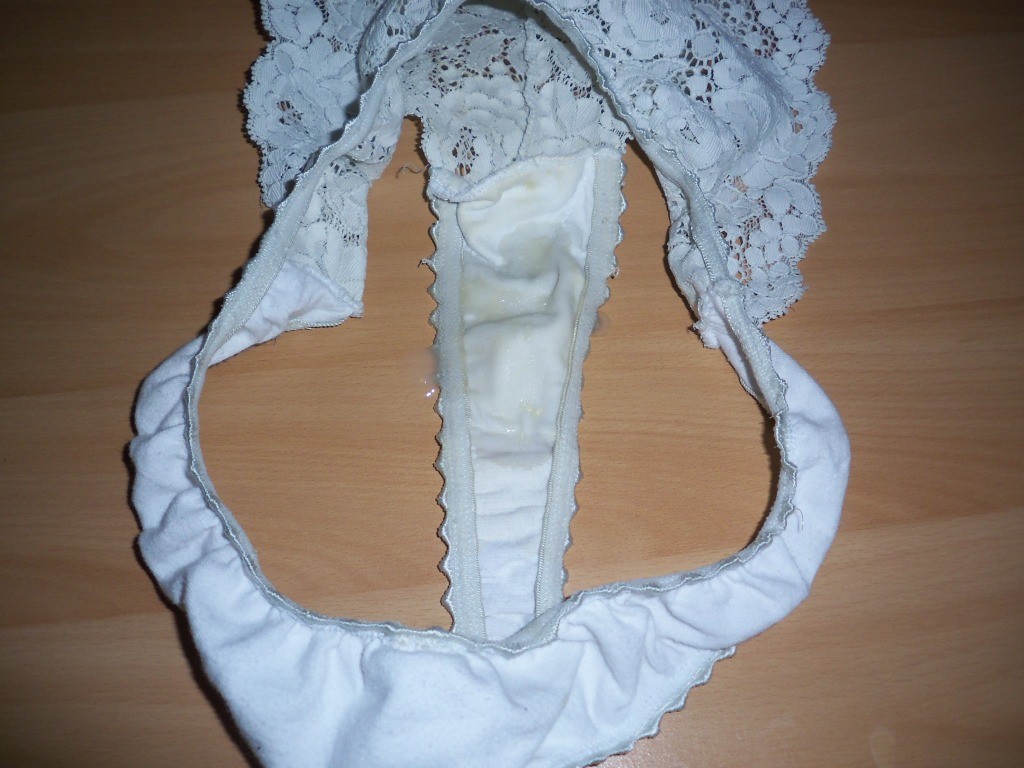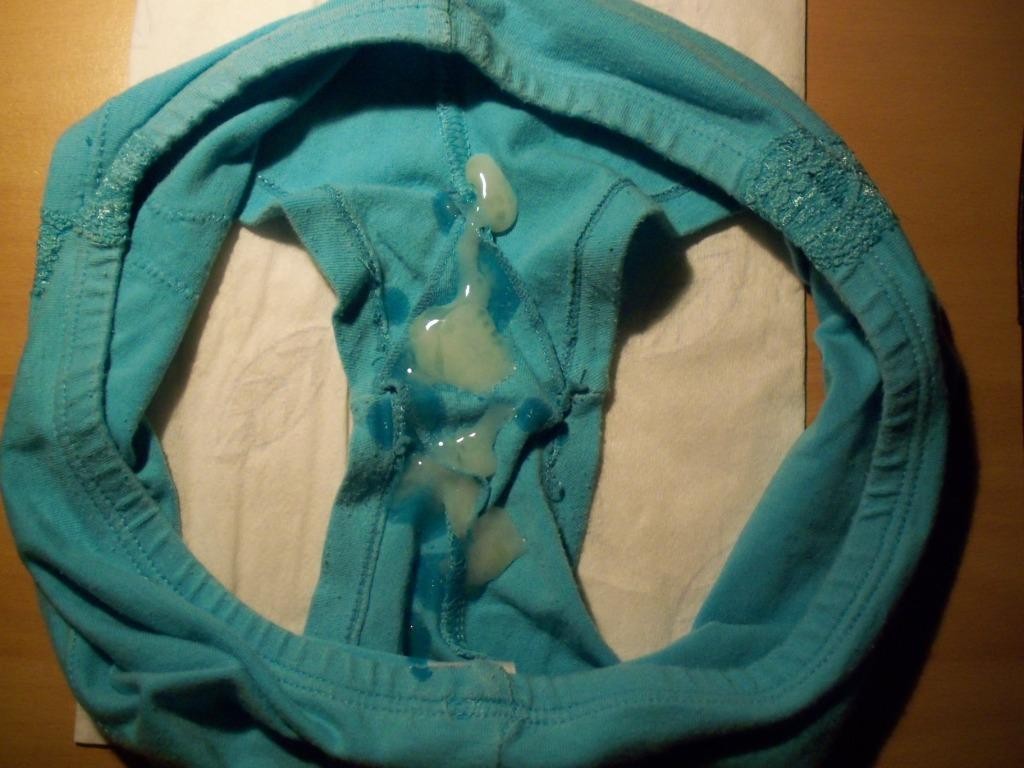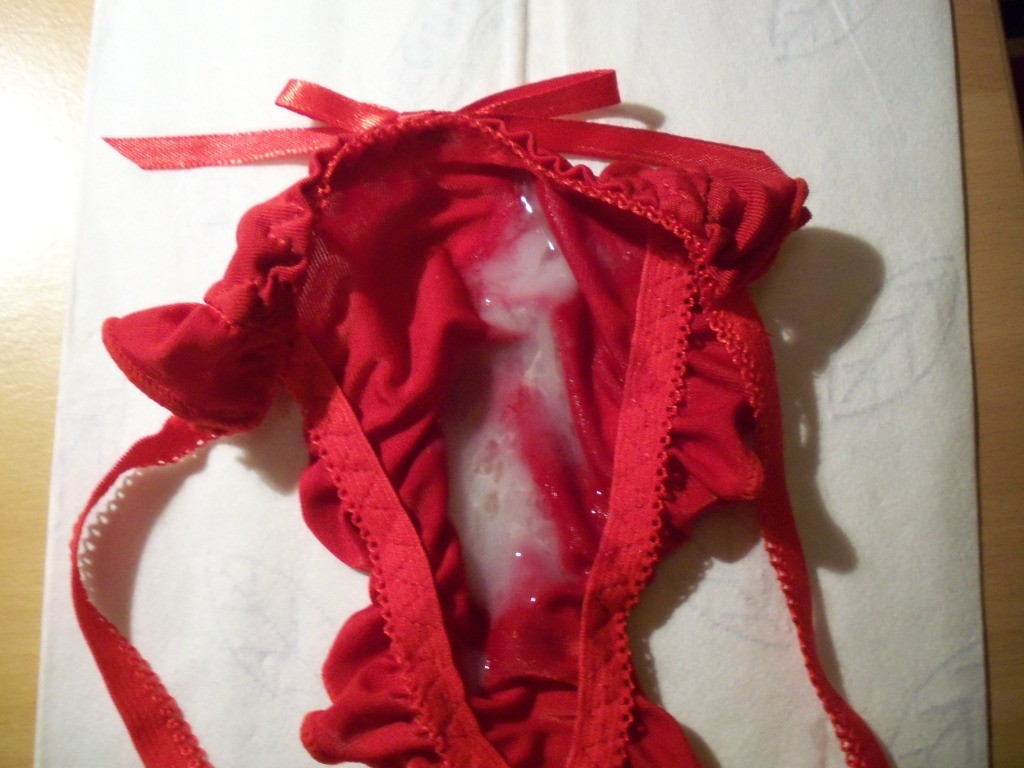 Even with money tight, Ken planned on scraping up the money needed to join the Ole Gentleman's Club, taking advantage of the 50% discount offered by Mr. Johnson. Seeing the folder being passed around to the patrons so they could book a slot in the future, Ken managed to get a glimpse of all the beauties being featured, offering up their succulent charms as as his wife had done this evening. Apparantly many couples, just like he and Kristi, were in the same financial predicament and desperate to prevent a foreclosure on their home. And if he could manage to get set aside some extra cash, Ken planned on helping out some of the other husbands in his predicament ..........................being sure that the guy's beautiful wife continued mamaking money in her part-time job ......................by paying to sample her charms himself! Having learned of how many guys Kristi had blown off prior to him meeting her and being deprived of that pleasure, along with seeing how much she enjoyed being fucked and degraded by her 'johns', Ken certainly felt entitled to fuck as many women as he could.

End of Story.