Home from the Honeymoon - II
(m/f, i/r, n/c)
by
Black Demon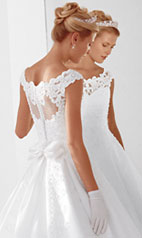 ______________________________________________
Standard Disclaimer!
This is a fictional story intended for Adults only!
______________________________________________
************ ***********
Note: The story below is a story in itself. However, it is also a
direct continuation of the earlier stories entitled: 'Honeymoon Horror 6'
& 'Home from the Honeymoon – I'
************ ***********
Arriving in the late afternoon on Friday, picked up by his son, they pulled up into the driveway just after Gwen had parked her car in the garage. As his beautiful daughter-in-law stepped out of the driver's side of the car and turn to wave 'hi', Pop couldn't stem the twitch in his loins upon seeing his son's lovely young wife once again. He had been looking forward to seeing his son's beautiful wife, though it had been only about a month ago that they had paid him a visit, with Matt and Gwen sleeping in separate rooms since they had not tied the knot as yet.
Pop Manning had thought back to that weekend quite often, much too often in fact, feeling very guilty but also coursing with tremendously wicked pleasure. Guilty at what he had evilly done, yet quite excited by his vile deed. With Matt showing his lovely fiancée the sights of his hometown, Pop had snuck into her bedroom and rummaged through her overnight bag. Finding a pair of pink panties and pulling them from her garment bag, he had held it up to his face to inhale the sweet fragrance of his lovely daughter-in-law-to-be, then put the crotchband into his mouth. Rushing off to the bathroom, silky panties on his dick, it had him tossing the best load in many a year. Panic set in when some of his thick spunk wet the crotchband of the panties and he used some toilet paper to wipe it off. Returning the panties into the garment bag, he prayed it would dry quickly and go unnoticed.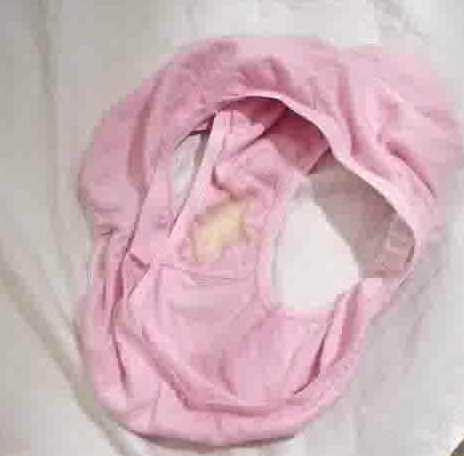 For the past few nights, as he lay in bed at night, Pop had chided himself over and over again as lewd thoughts entered his mind at the prospect of once again tossing his load with the aid of Gwen's silky panties. 'Don't think about it ………………….don't even think about it!' he told himself over and over again. 'How embarrassing it'll be if you ever get caught! You'll be cast out of their lives forever if you get caught wanking off on your pretty daughter-in-law's panties!' he warned himself. 'But damn, she sure smelt sweet! And tasted like pure honey!' he recalled.
Getting out of the car, arms open to greet his beautiful daughter-in-law, Pop couldn't help but be excited with his son's wife so nicely dressed and wearing high heels. Seeing a lovely woman wearing heels was something that always turned him on. Arms around her trim waist as Gwen wound her arms around his neck to give him a kiss on the cheek, Pop's blood coursed throughout his body in a rush upon feeling the form of her lithe and sexy body pressed up against him.
A very pleasant and enjoyable dinner, followed by dessert and after-dinner drinks, Pop Manning could not keep his eyes off his daughter-in-law's trim sexy legs and bare feet that her shorts made even more seductive than ever. Tossing and turning that night, Pop was nagged by the persistent urge to once again find the opportunity to toss himself in Gwen's soft and silky panties. 'Do I dare …………………do I dare?' he kept asking himself but the risk of the consequences had him squelching the vile thought each time.
Sitting at the counter for a nice breakfast with coffee, Pop complimented his pretty daughter on her cooking, saying that for breakfast he normally just couldn't bother cooking for himself and basically settled with a piece of toast and a cup of coffee. With Gwen asking if Matt was just a chip of the 'ol block when it came to being a couch potato when it came to football games, Pop advised "Well, I really loved playing the game more than watching it on TV!"
With his daughter-in-law surprised that he had played football, he told her "Oh, I basically played high school football as a running back, then for a scholarship to continue playing at a small college!" When Gwen advised how she just could never get Matt out in the yard during football season, Pop told her "Oh, I actually enjoy puttering around in the yard now more than watching a game on television! So, if you need help, I'm here!" "Oh, Pop …………………….I'm just teasing! Can't have you come to visit and put you out to do yard work!" his daughter-in-law teased.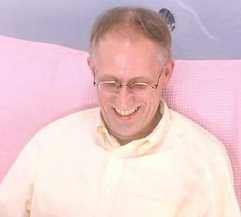 Sitting in the den with his son while watching the game, Pop couldn't help but to crook his eyes to the right in order to take in the lovely sight of his sexy daughter-in-law as she washed the breakfast dishes. Simple white blouse tucked in a navy blue shorts, her trim sexy and ivory white legs had him sporting a boner in his pants. 'Damn, in my heyday, I'd definitely be on the prowl and sniffing for her sweet little pussy!' he thought. 'Jesus Christ …………………..what the hell am I thinking? She's my daughter-in-law ………Matt's wife! God, I gotta be out of my fucking mind just thinking of such a thing!' he told himself. Still, he just couldn't tear his eyes away from the delicious looking morsel.
Dishes done, with Gwen slipping out the patio door to go out into the backyard, Pop twiddled his thumbs as he anxiously awaited an opportunity to get out of the den and into the backyard with that sexy daughter-in-law of his. With Matt and his favorite team on the tube this morning, Pop didn't want to make his choice of where he'd rather be too obvious to his son. Then, a blocked kick and a pass interception, both for touchdowns had the opposition up by fourteen quick points.
Feigning total disappointment, Pop cussed to his son "Shit! This is pure agony! I think I'll go outside and chit-chat with Gwen and see if she needs any help in the yard! That'll certainly be better than watching this shitty game!" Walking out of the den with a smile, seeing Gwen crouching down in the backyard with her tight little round ass facing him, Pop licked his lips as he wished 'Damn, I'd give anything to grab that beautiful tight little ass of yours!'
Opening the patio door, he announced "Hi, Gwen! Thought I'd come on out and see if you needed some help!" As expected, his beautiful daughter-in-law replied "Oh, Pop …………………I was just teasing you! Go and enjoy yourself watching the game!" Smiling, he took a bold step and replied with a subtle hint of "Game's a bore! I'd much rather spend time out here with you!" "Well, I can see that you have no problem in charming the women you date!" came his daughter-in-law's chuckling reply.
"I wish, honey …………………..but haven't had a date at all ……………………never got to take another woman out after my wife passed on!" Pop advised. "Really? My gosh ……………………..you've got to get out and date ………………….it's been nearly five years since your wife passed on! I'm sure she'd want you to enjoy life and not mope about her passing!" his daughter-in-law replied. "Well, guess I just haven't found the woman I'd really like to be with yet!" he advised.
At the request of his daughter-in-law, Pop went to the garage to retrieve a flat box top containing small planter boxes of flowers that she had purchased. Taking into the backyard and placing the box down next to his son's beautiful wife, Pop saw her turn to give him a beautiful smile followed by "Thank you, Pop!" But from what Pop also saw besides the beautiful smile, his cock began throbbing like crazy as he got a view down her blouse through the two open buttons at the top.
With Gwen asking him to dig a few holes nearby so she could transplant the new potted plants into the ground, Pop knelt across of his daughter-in-law so she could point to the spot where the next hole was needed, also so that he could peer down the front of her blouse. As the bra was rather fitted loosely since she was just puttering around at home, Pop crooked his neck in hopes of a better angle down into the edge of her bra cup. At this point, he had to shift his position or his boner bulge would be quite noticeable.
Sucking in her tummy, turning a bit to the side, Gwen attempted to give her heavily breathing father-in-law the view that he was hoping for. Now with her slit slick with her flowing juices, Gwen wondered if she dared do the unthinkable. 'Do I dare? Do I dare try and seduce Pop? Damn, I'm creaming at the very thought of it!' she swallowed. 'Hope Matt peeks out from time to time and realize that he can get a good show on the tube other than football today!' she chuckled.
After a bit, Gwen acted as the innocent daughter-in-law Pop thought he had, making it appear as if she was nervously asking "Does ……………….is ………………..is it difficult for you ………………………to …………………….to not have female companionship …………..to …………………..to …………..you know!" Determined to make this seduction seem as if Pop was the one doing the seducing, Gwen smiled as she took a glance that her father-in-law was now trying to hide.
Cock twitching in excitement in hearing his beautiful daughter-in-law inquiring of his sexual feelings, Pop now couldn't resist being rather blunt and wanting to see if he could embarrass Gwen further. 'Do I do make a subtle pass at her? Maybe it'll work if I say something that can be construed in various ways as I could then explain my way out of it if she gets offended!' he figured. Then he replied "You mean missing not having sex with a woman?"
Seeing Gwen bite her bottom lip and innocently turning a bit away as she nodded a 'yes' in response, Pop continued "Well, yeah ………………….but ……………………its not easy for a guy my age to get a gal ………………………especially when the type of woman I'm attracted to is much younger than I am! Now ……………with the opportunity to play the field again ………………..women my age in their 50's/60's just don't turn me on!" Then he laughed and added "Maybe it's because I'm still young at heart, huh, Gwen!"
Playing coy, Gwen merely responded with a soft "Oh!" "How young …………….how young a woman ……………………my ………………my age?" she purposely asked as if in nervousness, yet Gwen was really filled with excitement at the moment. Then she heard Pop chuckle "Yeah, well ……………………guess ………………..I should just chuck it off as a dream, huh! Don't think anyone as young and beautiful as you would give an old geezer like me a second look!" "Don't be silly, Pop! Older men are always very attractive and captivating to a younger woman!" Gwen advised, using this as an incentive for him to come-on to her.
"Really? You …………………..you mean someone as young and pretty as you would find someone as old as me appealing?" Pop excitedly inquired of her. That's when Gwen opened the floodgates even more, telling him "Oooh, Pop ……………………you don't know how much appeal an older man has to a woman my age! It's a just a real different kind of feeling for a woman with a much older man versus someone her own age ……………………..knowing how much more experience he has ……………….that he might just teach you 'things' you've never even heard of before!"
With Pop nodding his head, unable to disagree with that logic, he then told her "I guess you're right, Gwen!" "See! I bet that you know so much more than what I've learned and experienced thus far, things I have no clue about whatsoever! So don't short change yourself when it comes to making a play for a younger woman!" Gwen replied. Then to let me know she could be his if he acted, Gwen advised "In fact, if I was dating an older man as handsome as you, I'd turn to putty in his arms …………..…just wanting him to ravish me ……………to teach me the facts of life!"
With the batch of new flowers planted, the subject turned more subdued to orchids, with Gwen indicating she was having trouble transplanting into a larger pot. Having seen some old pictures in Matt's scrapbook, she had earlier learned that Pop puttered in the yard at the old home and grew a large variety of orchids. "Will you show me how, Pop? I've got the orchids here and the pots in the shed …………………let's go there as its now air conditioned!" she advised.
At that moment, inside the Manning home, Matt was watching the game as he chuckled 'God, Gwen must be climbing the walls right now! For the past four weeks, getting a hot tamale stuffed up her horny twat, she must be dying for it right now!' 'With Pop visiting this week, there ain't any Mexican jumping beans popping in her little snatch!' he laughed. Then Matt wondered 'Would she? Would she come on to Pop?' 'Naw, no way! Besides, Pop would never go for something incestuous as that!' he concluded.
Still, curiosity got the best of Matt as he just had to take a peek outside. Seeing Pop and Gwen stand up at the new flower bed, he watched as Pop picked up two orchid plants and was following his Gwen over to the direction of the shed. Seeing his wife opening the shed for pop, then Gwen disappearing into it as she closed the door behind her, Matt realized 'My, God ………………she's going to do it……………………..going to try and seduce Pop in the shed! Would Pop fuck his own daughter-in-law, even if she came on to him?' he wondered. 'Can Pop still get it up?' Matt's mind raced as rushed to turn on the spycam.
Alone in the air-conditioned shed with is beautiful daughter-in-law, Pop had his cock throbbing like mad in the confines of his pants. 'Would she really turn to putty in my hands if I touch her? Or will she be so offended and slap me? Maybe even tell Matt I put the hit on her?' he wondered. 'God, I gotta give it a shot! Be subtle! Be subtle!' he told himself. Mind racing as to how to go about it, he explained on how to go about the repotting of the orchids, first by pointing out what to do.
Having taken a class on orchids, Gwen purposely fumbled along, waiting for Pop to make his move to get close up against her. And it didn't take long for Pop to make that move with a simple "Here, let me show you how it's done!" As Pop's arms when around her, his hand atop of hers, Gwen swooned "Ohhhh, Pop …………………you're so strong!" Calloused hands caressing hers, strokes getting long and longer up her arms, Gwen placed her head back on his chest and cooed "Ohhh, Poppppppppppppp!"
For Pop, feeling the soft creamy skin of his beautiful daughter-in-law and her cooing as he caressed her arms, he was encouraged now to continue on. He bent forward to kiss the side of her neck, then captured her earlobe between his lips as moved forward to press his hardon up against her soft shapely ass. "Oooh, Popppppppp!" his son's wife cooed under his advances, then Pop felt her pressing her butt back against his rigid boner.
In the den, Matt then observed his wife's arms move outward to bend her elbows and grasp Pop's wondering hands. 'Oh, thank God ……………she's going to put a stop to this insanity!' he thought. But instead of Gwen pulling his hands away from her, Matt saw her pulling them toward her, actually placing them over the mounds of her clothed breasts. "Oooh, Pop ……………………..touch me!" he heard Gwen encourage his father.
Reaching up with one hand and placing it behind Pop's neck, dropping her other to reach back to caress Pop's ass, she leaned back against her anxious father-in-law and arch her back some to push her breast up against his fondling hands. Eyes partially closed as she swooned and cooed under Pop's touch, Gwen looked up toward the direction of the hidden spycam hoping that Matt was getting an eyeful as Pop was now thumbing her erect nipples through her thin blouse and lacy bra.
Encouraged at his success thus far, Pop now dared to get bolder as he began undoing the remaining buttons of her blouse, pulling the tucked in garment to finish the job. Pushing the loose fitting bra cups over his daughter-in-law's succulent breasts, he nibbled at her neck while looking down at her beautiful breasts as his thumbs now played her stiff pinkies! "Oh, yessssss, Pop ………………….oh, touch meeeeee ………………..oooo, that feels so good ……………………..so goodddddddddddd!" came his daughter-in-law's response.
Feeling the arm encircling his head pulling him down, Pop let his daughter-in-law guide him down to her right breast. "Hmmm, oh, Pop …………………..yessssssssssssssssss!" came her squeal as he took the erect nipple into his mouth and began sucking upon it. "Oh, Pop ……………………..Pop ……………………Pop!" his daughter-in-law cooed as he flicked his tongue over for the hardened bud. And then he moved over to suckle upon its pinky twin as Gwen clasped him with both hands behind his head and moaned with pleasure.
Blouse pushed offer her shoulders, bra expertly unclasped by expert fingers of her father-in-law, Gwen found herself being pushed atop the top of the small potting table. Shorts unbuttoned and unzipped, they were being eased down over her trim hips along with her lacy white panties. Panting in heat, spreading her legs wide with toes curled and pointing to Pop, Gwen knew it also gave Matt quite a view if he was watching on the spycam.
Quickly stripping off his clothing, licking at his hungry lips as he eyed the dessert awaiting him, Pop then dove in and rubbed in pudgy face into the soft golden curls of his beautiful daughter-in-law. Then, upon flicking his thick tongue along the slick groove, Pop heard from above "Oooooooooooooh, Pop ………………….yes ………………eat me ……………………….eat meeeeeeeeeeeeeeeeeeeeeeeeeeeee!" Soft thighs tightly wrapped around his face, Pop then felt his daughter-in-law's trim fingers curling tightly in his hair as she arch her mound up to serve him the tasty dessert she had for him.
'Damn, he's eating her …………………..my own father!' Matt thought as he intently stared at the screen. "Oh, God ………………….Pop, I …………………….I going to cum! Cumminggggggggggggggggggggggggggggg!" he heard his wife cry out as she arched up into his father's hungry mouth to feed him her love juices. "Ooooooooh, Pop ……………….you're the absolute best ……………………….the greatesttttttttttt!" came his wife's declaration.
Sucked and eaten out of her mind, Gwen welcomed her father-in-law with open arms as he lay his pudgy body down upon the petite and lithe one. "Oohhh, Pop ………….you're so thickkkkkkkkkk!" she gasped as Pop couldn't wait any longer and thrust his fat cock into her hot and juicy slit. Wrapping her arms and legs around her father-in-law, Gwen arched her hips up to allow him to get even deeper into her horny cunny. "Oh, fuck me, Pop …………………fuck meeeeeeeeeeee!" she panted out in encouragement.
Gwen had to admit that Pop was quite an accomplished lover ………………….a true cocksman! Certainly by far, way superior in comparison to his son in the sack. "Oh, Pop ………………..yes ………………………yes ………………........fuck me, Pop …………………………….fuck your daughter-in-law ………………….fuck your son's wife ………………….make me your little whore!" she chanted, getting the old boy to hammer away as he proceeded to nail her down to the tabletop.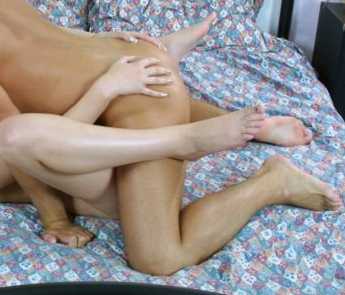 "Uh ……………………uh ………………….uh ……………………uh ………………uh ………………….uh ……………………uh ………………….uh!" Pop grunted as he slid in and out of her slick gripping channel, speeding up the fuck as he was about to explode. "Yes …………………yes ………………..Pop …………….I'm cumminggggggggggg! Cum ……………………..cum in me Pop …………………………..give me your little baby! Ooooooooooo ………….ooooohhhh …………….yes …..………yessssssssss!" came his daughter-in-law's prodding as she quivered in climax under him.
Cunt gripping him tightly as well as the arms and legs wrapped around him, Pop was having the fuck of a lifetime. And with his son's beautiful wife encouraging him to fuck his baby into her, Pop was sent right over the top. Nothing would get him to pull out at this point in time as he buried his throbbing his cock fully up into her gripping twat, his body quivered and then he popped his load right up into her fertile womb. "Oh, honey ……………………….oh, God ..................................oh, Goddddd ………………………..yeahhhhhhhhhhhhhhhhhhhhhh!" he groaned as spurt after spurt of his sticky load filled her womb to the brim.
Game back on, Matt heard the patio door open and Gwen's voice telling his father "I shouldn't have worked you so hard, Pop! Now you just relax out here on the patio, Pop! I'll be right out with at pitcher of ice tea for us!" Hearing his wife approaching from behind, he felt her trim arms sliding around his neck as she asked if he'd like a glass of iced tea. Telling her "Yes, that'd be great! Thanks, honey!" Matt pulled her elbow and tilted his head up to ask "How about a kiss, honey!"
A deep passionate kiss ensued, with Matt flicking his tongue up against the one slipping down between his lips. With the slick salty taste transferred into his mouth, Matt getting a good taste of his own father's sperm along with his wife's love juices. There was no doubt about it, having seen his wife eager take Pop's wilted cock into her mouth and wash him clean with a tongue bath after the wild copulation on the table top in the shed. 'Damn, if Gwen only knew I got to watch everything with the spycam I installed! Jeez, that was well worth the investment!' he thought proudly.

That evening, after dessert and coffee, Matt anxiously watched as time ticked by ever so slowly. He thought back to the moment just before Pop and Gwen had exited the shed when they had kissed and his wife to Pop "Tonight, right after Matt falls asleep, I'll slip out and spend the entire night in your bed! Matt's been having trouble sleeping lately and has been taking a couple sleeping pills each night that puts him out totally till morning!"
Finally, with his wife nearby, Matt opened the cabinet where his sleeping pills were located. Pretending to shake a couple of pills into the palm of his hand, then putting his hand to his mouth, he then drank some water from the glass he had just prepared. Tilting his head back a bit, he pretended to swallow. Now to wait around till the new ended and they'd be bidding Pop goodnight and head off to bed while Pop planned to stay up a bit longer to watch a show.
In bed, turning to his side and in the normal sleeping position, Matt feigned being fast asleep and snoring softly. Wide awake, he soon felt the bed move slightly to signal Gwen's rising from it. With the dresser located at the far end of the bedroom that he was facing, through squinted eyes he observed his wife opening a drawer and pulling out a sheer negligee. Out of her flannels and into the sexy garment, he observed her putting a robe on before departing the bedroom.
Waiting a moment, Matt then slipped out of bed and slowly opened the bedroom door and peered out. Down the darkened hallway till he could get a partial view to the den, he could see his lovely wife move to turn off the television set, then stand before it as a new show was about to begin for Pop. And it was quite a show indeed as his lovely wife bent a knee to show off a sexy leg through the opening of the robe. Hands at the sash of her robe, a sexy striptease appeared to be in the making as the robe dropped to the floor to reveal her thin negligee.
Indeed a sexy striptease ensued as Matt watched his lovely wife slowly saunter over to the sofa. Unable to see his father at this angle, Matt could see Gwen at the edge of the sofa right next to where he normally sat in the den. Seeing his wife lift her left leg to rest her foot atop the sofa, the "Oooooohhhhhh, sweetie!" told Matt that Gwen had not placed her foot directly upon the sofa. Then he heard his wife coo "Oooooooooh, my, my ……………………what are we going to do with this, Pop"
"Tell me, Pop ……………………..….with your experience over all these years ………………… what's your favorite position! C'mon, now ………………….don't be embarrassed!" Gwen advised while pressing her foot down onto his hardon. "Oh, baby …………………..oh, sweetie …………………….ahhhhhhhhhhh! '69' ……………I like '69' the best! Ahhhhhhhhhhhhhhhhhhhh!" came the tortured response. "Teach me, Pop ……………………..show me how it's done! Pleassseeeeeeeeee ……………..pretty pleaseeeeeeeeeeeee!" she cooed.
Then Matt heard his father's voice instruct "Oh, sweetie ……………….get naked and I'll gladly teach what '69' means!" Seeing his wife obey immediately by pulling off her sexy nightie to reveal her hot little bod, Matt again heard Pop's voice, this time instructing her to "Come over here and sit on my face!" Then, came "No, no, sweetie …………..the other way …………………plant that hot little pussy right here on my mouth!"
Seconds later, Matt heard his wife moan "Oooooooh ……………………..ahhhh, Popppppp ……………….oh, eat me ………………….eat meeeeeeeeeeeee!" Then, between slurps, Matt heard his father exclaim "Mmmmmm ...........shut up and start sucking, Gwen baby! Ohhh, yeah ………………that it ………….that's my girl ………………….gobble it all up! Damn …………………………you're one hot little cocksucker!"
Gwen's voice panted "Pop …………………..Pop …………………….oh, Popppppppp ……………I'm going to cummmmmmmmmmmm!" "Get your fucking mouth back down there so I can pop in your mouth bitch! Ahhhhhhhhhhhh!" Pop shuddered as both lovers exploded in each other's sucking mouth. Having edged his way quietly to the wall of the den, Matt observed his beautiful wife and his own father lapping away in the classic '69' position, spurting out the love juices of one another.
The next morning, awaking to the smell of bacon and eggs, Matt was still quite sleepy due to just having three hours of sleep. The hot little tryst in the den over, Matt had retreated back into the master bedroom, pretending to be fast asleep once again. With Gwen spending the night in Pop's room, he had then put a glass to the wall once the fuck session commenced, listening to his wife and father make love in only the way a husband and wife should. With two lovemaking sessions in the bedroom before the lovers fell asleep in one another arms, Matt knew that Pop would be making his trips over much more frequent from now on.
A month later, with Gwen making reservations for them at a swank restaurant for his birthday, Matt got a passionate kiss from his beautiful wife before getting out of the car. And during dinner, Gwen advised "I've been racking my brain trying to think what would make this birthday a special one for you! It finally came to me ………………so when we get home, I'm going to give you a very special birthday present!" With Gwen refusing to give him any hints, Matt thought 'Hmmm, maybe she's going to teach me what Pop taught her ……………..what '69' is all about!'
After a few dances with his wife on the dance floor, Gwen advised "Time to go home, honey …………………….time for the birthday boy to get his present!" On the way home, with his wife's manicured hand on his thigh and slowly creeping toward his growing hardon, Matt was anxious to receive his birthday present. His thoughts went back to that night in the den, recalling how Pop had groaned and grunted as he spurt his hot load into his daughter-in-law's mouth as he continued eating out her juicing cunt.
Handed a drink by his wife, Matt took in Gwen's sexy figure in the black dress that she wore and was a bit surprised that she hadn't slipped her 3" black heels off upon entering the house as she normally did. Putting an arm around his wife's trim waist, he gave her a kiss and tried to pry the info from her in asking "And what kind of present do you have for the birthday boy here?" Just then, the doorbell sounded and his wife gave him a peck on the lips and advised "10:30 right on time! Happy Birthday, honey! Go and get the door for your surprise!"
Smiling, figuring that Gwen had hired a sexy gal in a skimpy costume to sing him 'Happy Birthday' and may be give him a lap dance to top it off, Matt went to answer the front door. Swinging the door open, his jaw dropped upon seeing a muscular black dressed up in a security guard's uniform standing there with a wide smile on his face. As Matt swallowed in nervousness, the man spoke in gruff voice "Ya must be Matt, the birthday boy! Yer purty wife hired me to come over and give ya a birthday present you'd never ferget!"
As the large man stepped forward toward him, Matt stepped back to avoid being knocked backwards by the muscular giant. Closing the door as the man went up to greet Gwen with a hug and then a passionate kiss. It was quite apparent that they knew one another as he greeted her with "Hiya, sweetie ……………..got here as soon as I's could! Hope I's not late!" "Oh, no, Labron ……………….your timing is perfect! Come, let me introduce you to my husband!" Gwen replied.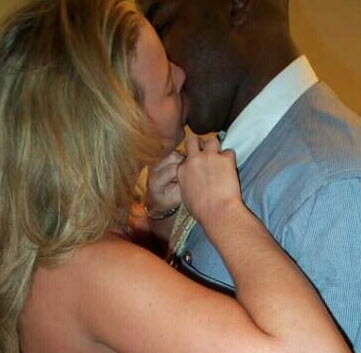 Introductions made, Matt felt as if his hand was going to be crushed in the handshake as his wife advised "I asked Labron to come over to help me spring a birthday surprise for you! Labron's employed by the company providing security for the firm at where I work! He was only too willing to help me out!" That's when Matt was advised by the hulking giant "Yeah, anything fer that purty wife of yers! Damn, I's been trying to put the make on her ever since I's started the job! And when she asked if I minded an audience, I's told her I'd fuck her in the middle of a filled stadium if that's what I had to git into her panties!"
"Hey, I normally ain't one for letting a guy feel up my tool ……………but seeing's ya's the birthday boy and all …………….come and feel what I's gonna fuck yer purty wife with! C'mon ……………..don't be shy ………………….c'mon and describe to yer wife what's she's gonna git stuffed up her tight little twat!" Labron advised. "C'mon, birthday boy!" he then demanded. "Grab a feel and tell yer wife what it's gonna do to her!" he added.
Ashamed to be humiliated in such a way, yet afraid of pissing off the black hulk of a man, Matt slowly stepped towards the man and reached out to cup the bulge at the front of his pants. "My, gosh …………………….it's huge, honey! He's absolutely huge!" he exclaimed. 'My gosh, can she take this monstrosity up her cunny without being ripped apart?' he wondered. "Honey ………………….I …………………..I don't know if you can take anything …………………this bigggggggg?" Matt stammered, telling her truthfully what he actually thought.
"Okay, birthday boy ………………….ya had yer feel ……………………..ain't no queer ya know! Now git yer purty wife over here and ya can watch!" Labron advised. He wanted to laugh as the whiteboy took his hand away, then held his arm outstretched in signaling his wife to come on over to them. Husband and wife, now hand in hand, only the foolish husband was placing his wife's petite hand on another man's crotch. "Unzip me, whiteboy! Then guide yer wife's purty hand inside my pants!"
For Gwen, she held back her laughter at seeing what a foolish cuckold Matt really was. Oh, she knew he liked to watch her get it on with another man, even if it was the lowly Mexican gardener or even his own father, but she didn't know how he'd take to being directly humiliated by a big black man who could beat him to a pulp without t trying. And now, Matt was actually participating in assisting with her act of infidelity.
Hand in Labron's pants, her manicured fingers searched for and found the opening to his jockeys. In wrapping her trim fingers around his growing and throbbing meat, Gwen smiled as Labron moaned "Ohhh, baby ……………………..ah, Mrs. Manning ………………………..this is the best damned birthday party I's ever attended! Damn, yer the best hostess ever! Ah, man ………………I's been dreaming of this from the first day on the job!"
With Labron instructing "Unzip yer wife's dress, birthday boy! I's been dying to git to see her purty titties!" Gwen felt her husband fumble at the task of unzipping the zipper behind her neck and finally pull it all the way down to the small of her back. Dress pushed off her shoulders, catching upon her left elbow as her arm was crooked due to her hand being in Labron's pants, Gwen then felt her husband fumbling with the catch of her bra. Bra removed, husband's hands cupping the undersides of her bared breasts, Gwen moaned with pleasure as Labron mouthed one pink nipple and then the other.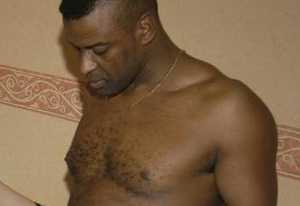 Then Labron leaned back and asked "Ya two order dessert after dinner, birthday boy?" "No …………….Gwen didn't want any ………………we only had after-dinner drinks!" came the reply from her husband standing behind of her. "Ya know why yer purty wife didn't want dessert, sonny boy? Cause I's told her I's was bring the dessert to ya's birthday party!" Labron chuckled. "Well, I's think the purty lady should git dessert served first for all her hard work in planning this big event, huh! Git yer purty wife on her knees so she can git a taste of the hot tapioca pudding I's brought fer her!" Labron chuckled.
Pushed to her knees under the pressure of Matt's hands upon her shoulders, Gwen fished out the security guard's enormous manhood. Clasping the rather sticky flesh in her tightly wrapped fingers, though unable to fully encircle it, Gwen eagerly pumped at the growing stem as she rubbed its bloated cockhead under her nose and around her pink lips. Pursing her lips, she gave the man a kiss, then let her lips spread wide to take in the bloated cockhead as she began tonguing its pisshole.
"C'mon, birthday boy! Put yer hands on the back of yer purty wife's head! Git her to gobble it all up! It's dessert time!" Gwen heard Labron advise from above. And then she felt Matt's hands upon her head, pushing her forward. Forced to open wide, inch after inch of Labron's thick meat was forced into her mouth. Shuddering as the bloated cockhead bumped at the back of her throat, gurgling sounds could be heard as she was forced to swallow in order to take in the thick meat whole.
With Matt pulling her head by the hair, Gwen shivered as the slid back out from her throat till only the bloated cockhead remained in her mouth. Then back down again it went till her nose was rubbing up against the brillo pad of kinky black hair. Faster and faster she was being made to give the security guard's foot long dong a face fuck he'd never forget. Reaching up with both hands, Gwen was amazed at the size of the balls she was rolling about in her palms, wondering how much dessert she'd get to eat.
The security guard had made subtle passes initially and she had teased him in return, knowing one day she'd put out for him, but this had made it that much more exciting to have Matt watch as well as participate in her infidelity. And the way he pushed and pulled at the head, it was quite apparent that Matt wanted to see her taking in all of the thick black cock.
Then, with her head pulled back, the strong hands of the security guard were preventing her from gobbling it back down. In the palm of her hands, Gwen could actually feel the rumbling of the walnut-sized balls as they threatened to pop. Then, pop they did as gush after gush of man's hot dessert filled her mouth to the brim. It was swallow or choke to death as the hot roe began coursing its way down into her belly. Finally, as the hot spurts died down to a dribble on her tongue, Gwen's belly was full from the fine meal at the restaurant and the dessert that Labron had brought for the party.
Later that night, Matt on his back on the king-sized bed while holding his lovely wife's hand as she lay next to him. Normally, they'd be on their respective sides of the bed, each curled up to the side as the slept. But tonight was a bit different, especially with Labron's big frame took up much of the bed as lay on the other side of Gwen. And from the way he sucked in his breath with "Mmmmmm ………………..mmmmmmmmm …………………oh, yeah!" Gwen was not holding his hand.
Feeling the movement upon the bed, Matt was simply astonished as he thought 'My, God ………………..don't tell me he's up for it again!' After the blowjob, the amazing man had fucked Gwen into oblivion a total of three times. The first time, Matt had been made to hold Gwen's legs high and wide so Labron could get into the saddle, after which Matt got a birthday treat as his wife took him into her mouth for the very first time while.
Then, with Labron straddling Gwen's face to have her clean him, her lover was holding her legs high and wide just as Matt had done for the man earlier. "It's dessert time for the birthday boy! Got ya a freshly made 'cream pie'!' Labron announced. The next two times were like now, with Labron rising to the occasion and having a go at Gwen while he lay next to his lovely wife holding her hand, Matt got even more dessert for his birthday. 'Oh, no ………………….not another serving ………………..I'm so full already!' Matt shuddered.
The next morning, Matt awoke to the pleasant surprise of having Gwen shucking at his rising cock as she crouched over him. "Oh, honey ………………….oh, yeah ………….ahhhh …………………so good!" he panted. Little did Matt realize that was being done at the suggestion of Labron who was currently standing out of sight behind of his crouching wife. "Oh, Gwen ………………….oh, yesssssssssssss!" he panted, ready to pop his load.
Just as the whiteboy was ready to pop, Labron timed it perfectly as he stepped forward to caress the beautiful white ass being presented up for his enjoyment. And it was just at the right level for his 6'5" frame as he stood with legs spread slightly. Lunging forward with all of his might, a scream of pain was certainly expected. "Aieeeeeeeeeeeeeeeeeeeeee!" came the expected scream, not from the beautiful wife whose ass he had just plowed into but from her whiteboy husband who's cock had just been bitten as his wife clenched her teeth down upon him from the excruciating pain in her ass. "Happy Birthday, Matt my boy!" he chuckled.
End of Story.