Honeymoon Horror - I
(m/f, i/r, n/c)
by
Black Demon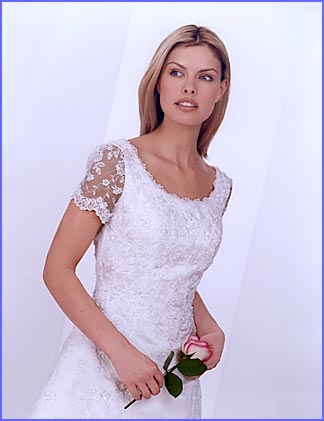 ____________________________________________________________________
If you find sexually explicit reading offensive please leave now. We do not condone
trying any of the stories with in, and we are not responsible for what you may do.
You must be 18 or 21 in some states to view this material, if you are not please turn
and go now. If you can't agree to these terms please leave now. Enjoy the story.
_____________________________________________________________________
Lovely Marty walked down the aisle, looking radiant in her lovely white wedding gown. Skin so white and pure, lovely blonde hair and bridal veil made her appear to be an angel. An absolutely untouched pure virgin everyone was certain. Every man at the wedding could not help but wish that somehow he himself could have the honor of despoiling such a pure innocent bride. More so before her husband-to-be had the opportunity. She looked down to the end of the aisle to see her handsome husband-to-be, standing alongside the elderly priest who would conduct the wedding vows. Exchanging vows to be true to each other, both looked at each other and her husband knew that no one could be so beautiful and true to him without a question.
The evening was quite a happy event for all. The reception was being held in the banquet room of an elegant hotel, located in the city. The bridal suite was reserved for the bride and groom. Both bride and groom danced through the night with the guests and drank with them. Marty told her husband to stay and enjoy himself, in the late evening, as she wanted to freshen up and be ready for him. The groom knew what was in store for him and also enjoyed the opportunity to continue partying with his old friends for a while. Marty's parents were about to depart and were happy to escort their beautiful daughter up to the bridal suite.
Relieved to be alone, Marty wanted desperately to cleanse her body and be as clean as possible for her beloved husband. She was excited and anxious for she was now Mrs. Marty Wilson, the wife of Ted Wilson. She hurried to the large bathroom and first took off her bridal veil. She looked at the white veil and gown, which truly indicated her purity and innocence. Then off came her white heels followed then by rolling down each of her white nylon stockings. Her sexy manicured feet and trim legs always excited men nearby and had them lusting to touch her.
Marty had showered and dried her hair. She dressed in a thin white negligee, lacy white bra and panties. She had wanted to make it fun and challenging for her husband, wanting this to be a treasured evening. Unfortunately, Marty's husband partied way too much and drank too quickly at the end. The doorbell rang and she jumped from the bed, slipped on a pair of 3" black heels and ran to the door to greet her handsome husband. Her husband's arm was around the shoulders of hotel's muscular black janitor. He was nearly out cold and couldn't walk on his own. The muscular black placed the bridegroom in the nearest chair and in a few seconds loud snoring came from the drunken body.
Her concern was for her husband. She did not wonder why this black janitor was the one to carry her husband in rather than his friends. It had been easy for Kareem to intercept the bridegroom and his friends. As the entire group were ready to pass out from the liquor, they were appreciative of his help. Kareem loved this part time job at the hotel. He had his choice of the most tender and innocent young white brides that spent their honeymoon here.
Kareem's attention to the bridal couple came as soon as the limo pulled up to the hotel lobby. Once he saw this beautiful blonde bride, with so innocent and naïve appearance, he knew he had to have her. He had checked the couple's information out with his friend at the front desk. He got to look at the banquet room rental sheet and got the names and even the new address for the young couple.
In her concern for her husband, Marty forgot about her alluring outfit, a fact that was taken in by Kareem. His lust was boiling and no one was going to stop him. He approached Marty, pulling off his shirt, revealing his muscular black chest. As soon as she saw this, Marty knew the intentions of this vile man, now aware of her alluring attire. She turned to run to the bathroom, where she would lock herself.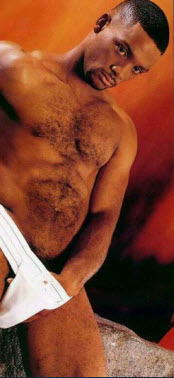 Seeing her turn to flee, Marty's black admirer caught her arm and threw her on the bridal bed. He covered her with his black muscular body. Looking at her beautiful face, her eyes full of fear, he smiled and said "No bride should sleep alone on her wedding night! If the bridegroom can't be a man to you tonight, its only right that I help him out!" Holding Marty's two hands in one of his large black fist, he raised her arms above her head. With his free hand he savagely tore off all of her clothing. Such a pure and lily white body to defile.

Marty fought and struggled as best as she could, but she was no match for this muscular black man. He sucked at her large breasts and pink nipples, arousing them to hardness. He fingered her slit and she began to moan in shame but could not help but feel the stimulation between her legs. The young bride pleaded "Please ………..don't, please ……………..please ………………I …………I'm a virgin!" Kareem stopped in shock and then gave a wide grin "Man, this is my lucky night I haven't popped a cherry in years. I'm going to love 'ruining' you, Mrs. Wilson!"

Kareem grinned and could not wait any longer. He placed his drooling black knob at her entrance. "Oh please, please don't rape me! I just got married today!" pleaded Marty. Kareem licked his lips in anticipation, reared back and slammed forward with all his might. "Ahhhhhhhhhh ....………….noooooooo ........………..pl ………….pleaseeee ...........noooooooooo ………………..aieeeeeeeeeeeeeeee" screamed Marty. Five inches on the first plunge without much lubrication. Kareem wanted this young white bride to remember the pain of her deflowering by a nigger's cock.

"There went the bride's precious cherry!" smiled her black rapist. The virgin bride was the tightest cunt Kareem ever had the pleasure of plundering. It took he six more lunges before had his full 12" in the beautiful body. Each lunge brought a shrilling scream from the innocent young bride. This was the first cock to plow this fertile field.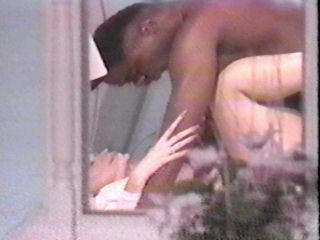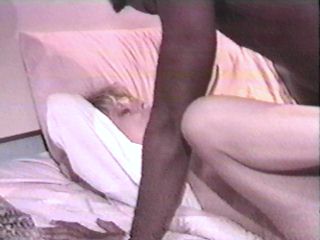 Marty was going out of her mind as the big black cock continued to touch her clit and she shuddered in an unexpected and unwanted orgasm. "Oh, please .....……….don't ……………..don't make me feel this way …………….please ....………...oh no …………..I …………….I'm ………..ugggggghhhhhh!" screamed Marty, as her innocent young body quivered and shook in its first ever orgasm. Kareem let go of her hands and held her hips tightly to him. His black snake of a cock was twitching and just as he exploded his hot thick cum, Marty's body betrayed her and instinctively responded by circling her arms around his neck and encircling his black ass with her trim legs. Her sexy white feet locking around each other over he humping black ass of her rapist. Yet she moaned in fear "Please ………………..please ……………pull it out! Please ..……………...you'll …………………you'll get me preg ……pregnant!" A quart of gooey black baby-making cum was pumped into Marty's lily white body. He collapsed his black body on Marty's tiny one, his cock deflating slowly but still oozing out his potent baby making goo. He smiled, thinking that now maybe he just might impregnated the innocent white bride on her honeymoon bed. What a wonderful thought, he concluded, twitching his black cock to get all his seed out.
Kareem regained his strength quickly, as he wanted to make the most of this special wedding night. Straddling Marty's face, he got his drooling black cock up to her soft pink lips. Marty knew what he wanted and opened her mouth slowly in fear of being hurt. He wrapped his hands into her silky hair and began to fuck her mouth. Marty was afraid of its girth but managed to just get her mouth around the fat drooling cock. She looked up in despair and tried to push his hips away. Kareem was delighted with her fearful look and his body tensed. Out shot two thick streams of slimy cum into the bride's virgin mouth. She gagged and coughed around the thick cock, cum escaping from the corners of her mouth. He then pulled his cock out and directed the last four streams into her face and hair. Marty was totally exhausted and ashamed. She covered her eyes with and arm and fell into a deep sleep.
Looking down at the bride's beautiful white body, Kareem gloated at his accomplishment. He would not wake her now. But he would take advantage of her once more. He starred at her trim white legs and was beside himself when he got a glimpse of her petite feet. Now they were for his enjoyment. Kneeling at her feet, he licked her tender soles and tiny manicured toes. Having his fill, he held her feet together cupping his again hard drooling cock. It did not take him long to get his cock hard again, fucking the bride's soft sexy feet was like a dream come true, and a load of white slime to paint each foot and toes proved it.
Now, Kareem was finally exhausted. He looked again at the lily white body of the bride, lying on the bed, covered from head to toe with his white slimy cum. Prior to leaving, he managed to undress the drunken bridegroom, down to his jockeys, and escorted him bed. Side by side now lay the bride and groom. A final look at the bride and groom, he hopes his potent cum will do the trick. He surely shot enough in her to make a set of twins.
Arising with the sun, the groom awoke with a terrible hangover. Where was he and how did he get here? He couldn't remember a thing other than partying downstairs. He looked over and saw the beautiful pure white body of his precious wife, totally naked. He surveyed her features and concluded that they must have had a wild sexual bout last night. Yet his mind was a blank. "Sure hope I performed good! From the looks of it, I must have cum a fucking gallon!" he thought to himself. He saw the cum encrusted trails across her beautiful face and hair. He loved to touch and massage her sexy white feet, which he now held and off onto his hands came the crusty goo.
"I must have fucked her feet last night, like I always dreamt about!" the groom said to himself. Her pussy curls were cum encrusted. Thighs coated with the dried mixture of cum and cherry juice. He dipped a finger into her slit and upon withdrawal, it was covered with pink slime. "Wow, did I have a time last night!" he bragged to himself. Totally unaware of the fact that the black muscular janitor had so kindly performed the slimy deed on his behalf. Smiling, he left Marty a note advising of his hangover and that he would go to get a bloody mary and something to eat. He wanted her to get as much rest as possible and they would have a nice lunch together.
Marty awoke soon after her husband's departure. She was relieved he had not mentioned anything in the note about the condition of her body. She had been shocked when she saw herself in the mirror, totally cum encrusted. She prayed he had not seen the dried cum stains or realize that he may not have done the deed himself. Marty showered and cleansed herself as best as possible, trying to erase the vile rape last night.
Arriving back at the bridal suite, Marty had just showered and toweled off. She was just about to douche and try to kill the nigger's dangerous sperm, when her husband knocked and was about to come into the bathroom. Just a second she called out, slipping a black bra and matching panties. Her husband apologized for not being there when she awoke and then gave her a kiss. Marty broke the kiss, telling her husband that she was about to douche and was still wet there from 'their' lovemaking last night. She was taken by surprise when he pulled her to him, giving her a passionate kiss.
Marty couldn't prevent her eager husband from forcing his hand between their bodies, hand slipping beneath her panties, fingers searching for her cuntlips. She gasped, feeling a searching finger find the ravaged spot, shuddering as a finger was deeply inserted. Out came the finger, covered with gooey white slime with traces of blood. "Boy, you're so juicy!" her husband told her, causing her face to flush red in embarrassment. She was totally shocked when she observed her husband then lift his finger to lick it clean. "It's ………it's dirty ……..don't!" she stammered. "It's only my cum and your virginity!" responded her husband as he licked his finger clean. Marty groaned in shame, thinking 'If he only knew the truth!'
Her husband took her from the bath and to the bed, anxious for some lovemaking. Marty was distressed. Her plan to douche away the nigger's baby making sperm had to be put on hold. She prayed it wouldn't be too late, fearing the worst. She prayed she would not get pregnant, within 24 hours of her wedding, by the black rapist. Her fears drifted to what her rapist had told her. That he would be visiting her after the honeymoon and fuck her royally on her marriage bed. And that he was going to be certain to breed her with his black seed.
Marty was relieved to be in her new home. She desperately tried to block out the rape on her wedding night. She felt so relieved when her period came, knowing she had escaped being impregnated by her black rapist. The only thing that bothered her was the inability to reach any peak nor achieve an orgasm with her loving husband. It seemed that her got so exited when he entered her that he would cum after only a dozen strokes or so. Needless to say, she was left sexually frustrated. She was upset with herself over the past week, after her husband's quick love making, she had fingered herself each time dreaming of how her black rapist had made her cum.
Kareem was true to his word. On a Thursday afternoon, Marty answered the doorbell to be greeted by Kareem, dressed as a repairman so as not to attract attention in the neighborhood. "I'm here to do the plumbing, miss! I'm going to do a roter-rooter job on a clogged pipe!" he snickered, rubbing his big bulge. Kareem stepped in as Marty was frozen to the spot. Kareem grasped her hand and plunged it into his trouser. Marty unconsciously grasped the familiar black salami that she ate on her wedding night. "Take me to your bedroom! I want to fuck you on your husband's bed!" Kareem ordered.
As Marty lay back on her marital bed, watching the muscular black body being shed of its clothing, she reached over and got condom from the bedstand. She and her husband had recently decided to wait a bit for children and thus the decision was made to use condoms. She tore the open the foil packet.
Kareem kneeled upon the bed, moving up to the beautiful young wife. He smiled to see the beauty panting in anticipation. "Please …………please, you must put this on! I ……………..I can't have a baby from you!" Marty stammered. Kareem smiled, letting the white wife handle his throbbing cock in her attempt to put a raincoat on it. Marty gasped in frustration, the difficulty in getting it on, and then it tore. "Better get hubby to buy the giant sized honey!" Kareem chuckled. Marty quickly scrambled and tore open another packet. She sighed in relief as this one rolled tightly onto the thick black shaft.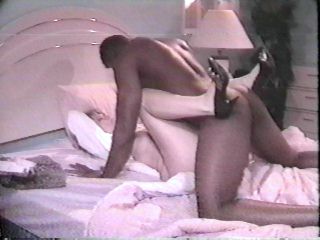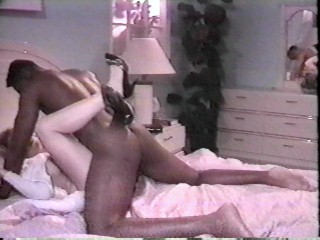 With her legs wide spread and receiving the deep satisfaction only this lengthy black shaft could give, she became frantic when Kareem stopped and backed away. "No, what are you doing? No, please ……………….please …………..you must leave it on!" Marty screamed as she witnessed the rubber being rolled down.
"I can't feel a damned thing with this! Baby, if you want any more of it, you take it off for me!" Kareem responded. He froze in his tracks, feeling the young beauty squirm on the tip of his prong, trying to pull him back into her.
"Oh please ……….. put it back in me! Please, I need it! I ……………I can't have a baby from you!" Marty groaned in frustration. She desperately tried to arch her body up to impale herself onto the mighty shaft. "Please ……………..please ………..I need it!" she pleaded, as she unconsciously began to roll the thin rubber protection off the throbbing black shaft.
That afternoon, she received three doses of thick cream into her fertile womb. Each time that Kareem was about to unleash his potent cum, he taunted the beautiful newlywed "Oh, here I cum Mrs. Wilson! Going to give you my black baby juice! Going to knock you up with a black bastard!" Kareem sensed the wife wicked excitement from his taunting, for each time her long with legs wrapped tightly around him to squeeze out all the cum his nuts would produce.
She knew she would submit whenever he showed up. And she knew no protection would be used. She was allergic to the pill and could only pray that the douche would be strong enough stop the baby making juice. She knew he was determined to lay his black baby deep in her womb and that eventually he would succeed.

End of Story.