Honeymoon Horror – II
(m/f, i/r, n/c)
by
Black Demon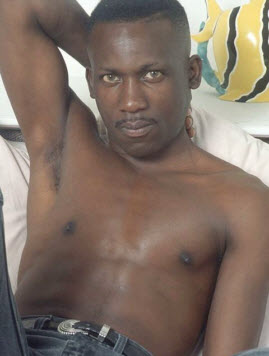 _______________________________________
Standard Disclosure!
This is a fictional story intended for Adults only!
_______________________________________

As a silent partner of the Stardust Club, a rather upscale nightclub, Nate Moore was happy that he had allowed his partner to handle the operations of the club. As the targeted clientele was mostly white, upper middle-class, it would certainly be best to have a friendly white owner for appearance sake. At the age of 52, having done well in business ventures, Nate knew that his large, unattractive black features would not be a plus in taking a visible role. Standing at 6'5" and weighing 260 lbs, Nate could be quite intimidating. Besides, his partner was well experienced in this field and man owns a bar (nightclub) in town.
Nate's partner, Bob Peters had hired well, including several very attractive bartenders and cocktail waitresses. In addition, the house band named 'Bourbon Street' featured a stunning blonde singer, Candy Trafer, who really had caught his eye. Since the club opened six months ago, everything had been running smoothly until now.
Bob was involved in a car accident that would put him out of commission for awhile, forcing Nate to take over the entire operation until Bob's return. One or two of the employees seemed a bit repulsed by Nate, but he had a business to run and he just filed it in the back of his mind to deal later with those who didn't especially like the fact that he was now calling the shots.
So, Nate settled in and ran the club but it was hard to concentrate with so many lovely ladies working for him. What he really wanted was to instead have them working 'under' him! With his unattractive features, Nate couldn't draw much action from the female clientele nor the attractive female bartenders or waitresses that work for him. Being so busy with having to run the operation, he just had to find a way to bed one of these sexy white bitches. He had to find a way to ease the lump in his crotch, especially due to the special "thing" he had for the sexy lead singer of the house band. But Nate knew the sexy white bitch was engaged and wouldn't be interested in him, regardless of that fact. 'If I can just come up with a plan!' Nate thought. However, he knew how to put business before pleasure, so he put his devious thoughts of bedding any of these beauties on the back burner. But with all the lovely white beauties around him, the more he thought about it and the more determined he became to somehow nail a few of the lovely ladies.
Watching and listening to sexy Candy Trafer belting out those sultry songs for the customers gave Nate a continuous hardon. But any lustful thoughts about Candy would have to wait for he couldn't jeopardize the business in any way. However, less than two weeks after he took over running the operation an opportunity presented itself that he just couldn't resist, not after drooling over so many sexy ladies prancing around the club. It was another sexy young blonde that caught Nate's attention. Her name was Ms. Annie Owens, sister of one of the guys in the band, who had come to visit her brother.
Eighteen year old Annie Owens had arrived in town to visit her brother Joey, who was three years older than her. Nate never missed a trick and he spotted her right away. He looked at the young beauty and sized her up at about 115 lbs and 5'4" with milk white skin. To Nate's well trained eye, a Annie was like a fish out of water, obviously naive and unfamiliar with the bar scene. As the band was setting up for their first set, Joey paused to introduce Annie to Nate as a courtesy. Although Annie was polite, Nate detected a shiver of revulsion in Annie as they were introduced, enjoying the trembling of her soft white hand in his large black paw.
Nate's cock sprang to life as he eyed the young beauty, wishing somehow he could find a way to nail this bitch. He never missed a trick, recognizing that the black dress and heels she was wearing really belonged to Candy. He correctly had it figured out that Annie was really underage, trying to pass for older than she was, old enough to be in the bar. Nate licked his lips and decided to play along and beat the little bitch at her own game.
As the band played their first set, Nate joined Annie at the bar, flashing the bartender to bring Annie another glass of wine. He told Annie that as she was Joey's little sister and visiting the city, the drinks were on the house. He figured she hadn't had much experience with alcohol, so he'd just help things along. He chatted amicably with the young blonde and then excused himself, leaving Annie to finish her second glass of wine.
Just as the band finished their first set, Nate timed it to join Annie once again, signaling the bartender to bring her a third glass of wine. Annie was trying to play up the fact that she old enough to drink so she thanked Nate and started in on her third glass of wine. By the time the band started their second set, Annie was pretty drunk and Nate swooped in the collect his prize.
Nate asked if she was okay and Annie admitted that perhaps she shouldn't have had so much to drink on an empty stomach. This was just the chance Nate had been waiting for. These past few weeks, after fantasizing about the bevy of sexy white girls at the nightclub, this naïve young blonde would be the one to unwittingly relieve his pent-up lust. Nate knew he'd have to play it cool and not overplay his hand. He was still feeling in relatively uncharted waters in running the nightclub and he didn't want to risk a major scandal. He pondered the scandal it would cause if he was arrested for raping this young blonde, underaged when it came to drinking, right there in his own nightclub. But Nate was in desperate need of sexual relief and the inebriated girl was practically delivering herself to him gift-wrapped.
Nate leaned in and reassured Annie that perhaps she should rest a bit till her head cleared. He told her there was a sofa in his office she was welcome to use and advised that was much quieter back there in his office. He advised her that she should take some aspirin as it would prevent her from waking up with a hangover. Annie thanked him but didn't want to impose. Nate reassured her that it wasn't imposing at all, advising her that he had a bottle of aspirin in his office. Taking her arm, helping ease her off the bar stool, Nate helped guide her to his office.
At this point, Annie was too woozy to think straight, too naive to suspect Nate's true motive as she allowed the black man to lead her to his back-room office. Nate walked her to the sofa, sitting her down and then getting her the aspirin and a glass of water. He continued to reassure her, chatting with her about her visit with her brother and about the band. Nate was able to feel her out, learning from Annie that she would be visiting her brother for the week, staying with Candy during her time in town. Annie also revealed that she had a crush on one of the guys in the band, that she'd had a crush on him since high school and that was part of her reason for her visit.
Unwittingly, Annie was now revealing to Nate more than just the details of her visit. She was unwittingly revealing a rather enticing glimpse up her dress and a tantalizing view of her trim white legs, causing Nate's cock to twitch in anticipation. Nate got her a glass of water and two 'aspirins'. At this point, Annie merely popped the two white pills into her mouth and took a drink of the water. The 'aspirins' that she had just taken were in fact a very strong sedative. Annie, in her innocence did not look at the 'aspirins' and had merely assumed they were what Nate had told her they were. She swallowed the pills and thanked Nate for his kindness.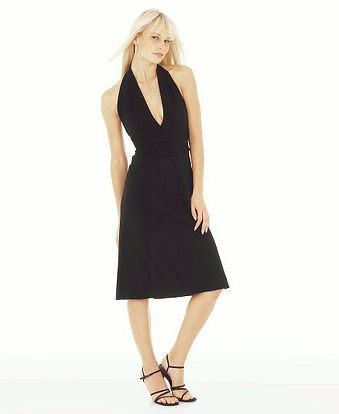 Ms. Annie Owens
The wheels were turning in Nate's devious mind and he was already planning is next move. Glancing at his watch, Nate noted that the band still had another half hour or so till their next break. That'd give the drugs a chance to kick in. He told Annie to stretch out and make herself comfortable and that he'd check on her a bit later. During the next break, Nate intercepted Annie's brother, anticipating Joey's concern about the whereabouts of his underage sister. Nate told him that Annie had a bit too much to drink but she was fine and resting back in his office. Joey smiled and didn't seem especially concerned, realizing how unaccustomed his kid sister was to drinking alcohol and not wanting to reveal to Nate that his sister was indeed underage.
By the time the band had started their third set, Nate was sure the drug had kicked in and that Annie was passed out cold. Little Annie's protective brother Joey and the band would be performing on stage for the next 45 minutes, leaving her in his clutches. Going back to the office, Nate smiled as he observed the now sleeping blonde beauty. Sitting on the edge of the couch, he slipped his hand up under the hem of her black dress to caresses her trim leg, letting his callused hand slide up her soft white thigh, his caressing hand hidden by the dress.
Nate then reached for her purse on the floor beside the couch. Opening it, he found her wallet and opened it. Looking at her driver's license, he smiled at the fact that he had guessed right about this underage bitch who should not be drinking alcohol in the bar. Then he laughed at the discovery of several condoms and remembered that Annie confessed she had a schoolgirl crush on one of the guys in the band. He realized that Annie was taking the necessary precautions in case her visit led to something romantic between her and her heartthrob, that the condoms were for her heartthrob.
'With her taking the precaution of bringing condoms with her, this little bitch must be ovulating right now!' Nate surmised and smiled evilly. Well, as far as Nate was concerned, that was Annie's problem. He certainly wasn't going to worry about the consequences of unprotected sex with this little bitch. He wasn't about to diminish his own sexual pleasure by wearing a fucking condom. In fact, the thought of knocking up this underage beauty really excited him, causing his aching cock to twitch at the very prospect of seeding her fertile womb with his black seed. If he was careful enough, she'd just assume the condom had failed and blame any pregnancy on that, at least until her nigger baby was born.
Nate wondered if the little bitch would know he had raped her when she got up the next morning. Wondered if his long thick cock would stretch her out to a point where she knew she had been raped. But in his current horny state, there'd only be one way to find out cause he sure as hell wasn't about to pass up on this beautiful little bitch. He'd just have to take her slowly, not wanting for her to wake up with a sore pussy or to have more than perhaps just a trace of his spunk oozing out of her cunt. He'd have to clean her up once he was done with her and then let her sleep it off.
As the nightclub had a video camera tape certain events, Nate quickly set up the tripod to tape this very 'special' event. This would be Nate's start of a hopefully large video collection of conquests. He was quite nervous, never having raped a gal before nor had he ever scored with a white bitch before. This was going to be quite a 'special' event for ole Nate as he moved to in front of the viewfinder to be certain it would him shucking his clothes off.
With less than an hour to do his nasty deed, Nate didn't run the risk of stripping off the young beauty's clothing. Going to the couch, he lifted the hem of her dress and pushed it up over her trim hips to reveal her lacy black panties. Grasping the elastic waistband, he pulled the lacy garment over the trim hips, causing him to swallow hard as he gazed upon the soft golden fleece. Nate licked his lips as he had never seen a golden bush like this, other than in magazines, as he pulled the lacy garment down her legs and off her heels.
Shortly, Nate had the sleeping blonde widespread with a leg placed onto the floor with the other hooked onto the top of the couch. Knowing he may never have an opportunity like this again, Nate just had to get a taste of this little morsel. Getting up onto the edge of the couch, he kneeled and shuffled up a bit, his thick wet tongue extended to delve into the soft golden hair. He inhaled to aroma of this young beauty, then mashed his face into the soft fur, his tongue finding the soft slick groove.
Having satisfied his lust to taste this young beauty, Nate kneeled up to shuck at his throbbing black cock. He really wanted to thrust his rock hard cock brutally into the little bitch but he knew that she probably had never experienced a cock the size of his, a cock that far surpassed that of the average white boy. His cock had lengthened and hardened as never before, the thought of knocking up this little white bitch made it all the more exciting.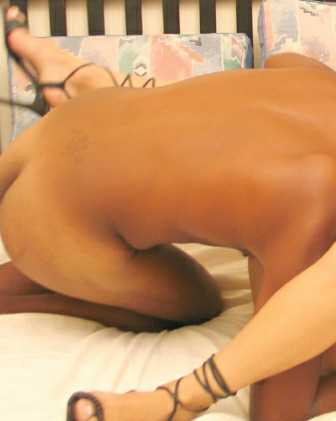 Rubbing his now oozing cockhead into the lips of the bitch's snatch, Nate pushed forward slowly and groaned loudly as his cockhead was enveloped by the tight lips. Humping back and forth slowly, his cock finally began to penetrate the unconscious beauty as her love juices began to flow and ease the penetration. "Oh, baby! Ahhhhhh, yeah, you sweet little bitch!" Nate groaned loudly as now he had gotten eight inches in and just a few more to go. With the raped channel now sopping wet, Nate began to fuck away in earnest, burying the length fully before withdrawing, only plunge it back into the raped beauty.
"Oh, yeah, baby! Wish I could see your face when you find out you're pregnant! Better yet when you push that little black baby out from between your sweet white legs! Ahhhh, yeah, baby! Gonna dump my hot nigger juice in ya! Gonna knock ya up good!" Nate laughed loudly. Grasping the trim white hips tightly, he buried his cock deeply "Ahhhhhhhhhhhhhhh, Godddddd ……………………..here it is, bitch!" he grunted as his body shook in convulsions. Thick hot cum spouted from this pulsing black cock, deep into Annie's fertile womb.
Laying upon the widespread beauty, Nate could feel his cock coming back to life as it lay buried in the raped slit. Cock twitching, he looked at the time and saw that he had just enough time to dump another load into this little bitch. Once done, he'd do the necessary clean up and slip her panties back on before making his way back outside.
Finally Nate pulled his dwindling cock out of the raped beauty's tight snatch, pulling out with a loud popping sound. He grinned widely as he observed the thick flow of his jism seeping out of young Annie's open slit. What a thrill it was to see his filth oozing out of her freshly fucked young gash and the thought the young bitch might just now be pregnant with his baby. He looked at the naive young girl and laughed at her waste of time and money to bring the protective condoms with her, the use of the condoms in her purse would be of no help to her, for the damage had already been done.
Just at the time the band was finishing their last song for the night, Nate made it out to the bar after rushing to clean up his mess and slip the lacy yellow panties back onto the drugged bitch. Looking at the wet stains on the sofa cushions, Nate was in a bit of a panic and tucked a blanket under the beauty and covered her.
With Joey and Candy helping Annie up from the couch, Nate made sure the blanket remained to cover his dirty deed. They took Annie out the car and then they were headed off to Candy's home. As they were departing Joey thanked Nate for taking care of his sister. Nate smiled and waved to them, telling them "No, problem at all, Joey! I was happy to take care of your little sister!" Waving, Nate snickered to himself 'Yeah, I took care real good card of her for ya! Gonna make you an uncle soon, Joey and your Momma and Poppa proud grandparents! Know your parents are fine southern white folk but I wonder how they'll take to their precious little girl giving birth to a nigger baby?'7
Nate wasn't quite sure he had got away with the rape until Annie showed up the next night, again looking as sexy as hell in another one of Candy's outfits. Annie thanked him for looking after her the night before, apologizing for getting so drunk. He reassured her that it had been his pleasure and wondered if he dared try to pull off the same scam two nights in a row. He was horny but knew he had to think with the right head, knowing not to press his luck and leave things as they were. Had he thought of pulling it off two nights in a row, Nate would have been sadly disappointed as Joey made sure Annie sat in the front table whenever the band performed to keep an eye on her. After getting blitzed on the first night, Annie was in no position to argue with her older brother.
Two nights after pulling off his first caper, Nate was getting really horny whenever Annie came into the club. He just wanted to nail her sweet white ass again before she headed back home. But Annie was being a good little girl and merely sipping on one glass of wine then switching to cokes as she continued to sit in the front table with some of her brother's friends that came to the club.
Late that Saturday afternoon, Nate realized that Annie was headed home the next day and his opportunity to nailing the bitch was about gone. Nate was naturally disappointed in his inability to satisfy his lusting needs, signing as he gazed about the busy nightclub. Debating what to do, whether to stay or head on out, he noticed it was still lighted outside.
Then he observed a very attractive female customer walking towards the bar, enter and then went to sit across the bar. He watched the well dressed young woman drinking rather quickly and then was being hit upon by an anxious male customer. Nate watched as the male was quickly brushed off, the slightly embarrassed guy leaving quickly with his tail between his legs. Signaling his bartender over, Nate learned that the young woman was actually on her way to her honeymoon destination but had a tiff with her young husband. Seeing how the beauty had dispatched the latest male pursuer, Nate told the bartender he'd assist her at the bar for awhile and handle the far end of the bar.
Before getting behind the bar to assist, Nate slowly walked around the bar as if he was checking everything out. But he was only interested in checking out the the lovely young redhead sitting at the bar. He sized her up to be about 24 years of age, about 120 lbs and 5'6". Seeing the long sexy legs in her hose and heels had Nate shivering in anticipation. Surveying the lovely redhead, Nate quickly made it around the back, his bulging hardon made it rather difficult to walk in the now tight pants.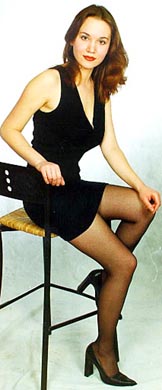 Ms. Linda Simmons
Sitting at the bar, Linda Simmons was obviously depressed, not believing she and her husband quarreled shortly after the wedding ceremony. She had dressed elegantly in a low cut black drees, hose and heels. She had dressed in the outfit after her wedding, just before she and Tom left for their honeymoon. They'd hoped to make it all the way to their honeymoon destination but had gotten off to a late start after the reception. They had been arguing since before they left for their honeymoon, Tom upset with her over the fact that her old boyfriend had shown up at the wedding and because he'd kissed her, with their touch lasting longer that was appropriate to Tom. She tried to reason with him that everyone was kissing the bride and that it was tradition, that the kiss really didn't mean anything.
Their length of the reception had put them behind schedule and so they had checked into the motel next door to the club as darkness set in. The newlyweds now planned to stay the night and continue on to their honeymoon destination the next morning. But Tom continued arguing after they checked into the motel, then he drove off in a huff. Linda was upset with the bickering on this precious day of her life and wandered next door to the bar to listen to the band and drown her sorrows.
Nate could see the pretty bride was smashed and asked if she was okay. In her condition, Linda began told him it was her wedding night and about the argument with her husband. Nate listened intently, acting that he was interested in hearing her story but the only thing he's really interested is her. Linda shook her head, telling him that they should be in their honeymoon bed consummating their marriage but he drove off in a huff and she's in 'this dive' getting drunk instead of getting laid. Nate smiled, pretending to be a caring friend, telling her to finish her drink and then he'd make sure she got back to her motel okay.
Linda's speech was a bit slurred at this point telling him she's not even sure when or if her husband will return. Looking at her watch, it had been several hours since Tom had taken off and she felt reasonably sure he had cooled off and returned to their room. Not wanting to take the chance that her husband had returned to the motel, Nate tried to lure her back to his office, to drug and rape her just as he done with Annie Owens. But the young newlywed indicated she was going to head back to her motel room, in hopes that her husband had returned.
Politely Linda turned down Nate's rather insistent offer to escort her back to the motel. She did not want this rather repulsive looking black man escorting her back to the motel, especially if Tom had returned. Tom got upset with her old boyfriend showing up at the wedding and giving her a small kiss. She could not help but wonder just how Tom would react if he saw her being escorted back to the motel by this big black man.
As Linda slid off the barstool, the room began to spin and she had to hold onto the stool to keep from falling. She closed her eyes to stop the spinning sensation, sighing as she felt the strong hands on her arms to hold her steady. In her physical condition, Linda expressed her appreciation to Nate, knowing that she indeed needed some assistance. With an arm around the beautiful redhead, Nate told the bartender "Give me a bottle of champagne for the newlyweds honeymoon!"
Assisting the young bride across the parking lot to the motel, Nate was worried that Linda's jerk of a husband did in fact return. He pondered the prospect of leading the staggering young woman over to his car behind the club and raping her in the back seat of his car. He asked her if she saw her husband's car in the lot and when she responded with a 'No', Nate decided to escort her to her room, hoping that er hazy vision had not missed the car.
As a precaution, Nate pounded twice onto the motel room's door. Getting no response, he smiled and opened Linda's purse to search for the motel room key. He had to hold back from busting out in laughter as he observed the long green box next to the room key. The unopened box contained the same brand of condoms that young Annie Owens had in her purse. Nate bet that jerk of a husband had purchased it and made his bride carry for him. 'Guess the newlyweds don't want to start a family right away!' Nate thought. 'Hmmm, but with an entire box of condoms, bet the precious little bride was expecting a lot of fucking on her honeymoon! Bet she must be quite fertile at this time! Well, can't let the little beauty be disappointed!' he mused.
Opening the door to the empty motel room, the red message light flashing in the darkened room indicated that Linda's husband had called. Turning on the light, Nate assisted the staggering beauty to the edge of the bed. "Let me get your messages for you Mrs. Simmons!" Nate advised as he picked up the phone. Nate smiled as he listened to the one message being read by the motel clerk, advising that Mr. Simmons had called to advise that he had a fender bender. The message continued that the fool of a husband would have to stay overnight in the next town, rent a car from the rental agency when it opened so they could continue with their trip.
Hearing this news, Nate knew the young newlywed was at this mercy, something that he had no intent of showing her once he stripped off her tailored outfit. He intended to see that the bride was well fucked on the night of her wedding. He was going to throw it hard to the beautiful little bitch right on that soft bed where she now sat. Knowing how drunk and vulnerable the young bride was, Nate advised her of the message and tried to console her. Quickly Nate popped open the bottle of champagne and poured it into the plastic cups provided by the motel. More alcohol was all that Linda needed at this point in time.
Linda thanked the helped nightclub owner and took the cup of champagne from him, taking a large gulp of it. Deep in the back of her mind, Linda told herself that she had better get rid of this man. It certainly would not appear proper to have this strange black man alone with her in this motel room. She certainly did not want her husband to learn of this, especially after how upset he had gotten earlier in the day.
"Thanks for escorting me back her, Nate. Guess I'd better get some rest and sleep off all the drinks I had tonight. If you don't mind, I'll have to let you see your self out. Thanks again for all your help!" Linda spoke as she smiled to the helpful man.
The smile on Linda's face quickly turned to fear as the giant of a man sat on the bed next to her, his black paw around her and caresses her arm. "Nate, please ………..thank you for seeing me back but I must ask you to leave!" she said in a panic. She shivered as the wandering fingers on her arm continued to caress her then she shuddered as the fingers moved just over her upper arm touching her bare shoulder. Then the exploring hand was moving around her body, slipping under her arm, cupping her right breast over the front of her dress. "Ohhhhhhhhh …………….pleaseeeee …………ohhhhhhhhhhh!" as her stiffening nipple was found and being flicked to hardness.
At this point Nate threw caution to the wind, knowing they'd be nothing that would stop him from bedding this beautiful young bride on her wedding night. 'Hell, if that stupid husband of hers comes walking in right now, he can sit in the chair and watch how its done!' he chuckled to himself. Nate was intent on beating the groom to his chance to consummate the marriage and knocking up the newlywed with his nigger baby.
In his first conquest, Nate had raped young Annie Owens when she had passed out from the drugs he gave her. He then had to be careful to slowly slip his cock into the drugged beauty for fear of her discovering she had been raped. Then of course he had to clean up the evidence of the rape, wiping up all the cum that soiled her raped pussy and the wet cushions. This time, Nate would have the pleasure of taking this beautiful bitch and seeing the horror on her face as he stuck it to her. And to hell with cleaning the bitch up when he was done, laughing at the thought of the jerk returning to his bride and finding her filled with another man's spunk. He chuckled wondering just how the beautiful bride would try to explain away if discovered that she had been bedded by another man on her wedding night.
Linda struggled to get up from the bed, pushing her assailant away and began to fight with all her might. The struggle took Linda and her assailant to the front door of the unit as she tried to flee, losing her heels in the process. Then her assailant grasped her dress at the back of her neck and yank it with all of his might, pulling the remnants from her body and letting it fall to the floor. Linda was now dressed only in her lacy undergarments as she struck at the black assailant with her tiny fists. But this only brought laughter from Nate as he took great pleasure in the fight she was putting up to save her virtue.
Nate laughed at the struggling beauty as he easily withstood her pounding fists. Then he dragged her and dumped her onto the bed, knocking the breath out of her as he fell upon her. A couple swift movements and the lacy bra and panties were stripped from the beautiful ivory body. As she shook with fear, eyes bulging in fear, Nate began to disrobe before the horrified young beauty. He laughed when she began sobbing as he pulled down his plaid underwear and his cock sprung out into view. Then he bent down to feast on the tender white cherry capped mounds, sucking and nipping at the stiff pink buds.
"Oh, Goddddddd ……………please, please …………oh, please don't rape me ……pleaseeeeeeeee …………..!" Linda sobbed. Nate smiled at the trembling bride, slowly rubbing his massive cockhead at the entrance to her jewel that was supposed to bed claimed by her husband on this very night. Even in her daze, Linda realized her futile situation, remembered it was her most fertile period. "Oh, please ……no, please ……..no, I'll get pregnant ……please, please put on a condom …..I can't have a baby from you!" Linda sobbed.
"Oh, please, noooooooo ……please leave ……..please, I won't tell anyone!" Linda pleaded. "You can tell everybody I was here, Mrs. Simmons. Tell them how I 'ruined' you on your wedding night! Tell'em how you got 'ruined' by a nigger!" Nate laughed. "Oh, please …………..noooo ………….please ………..please don't rape me! Please, this is my wedding day!" Linda sobbed. "I'm gonna to give you the best wedding gift you could hope for Mrs. Simmons! A wedding present to remember me by! Gonna plant my hot nigger juice deep in ya! Gonna make you a little black baby, Mrs. Simmons!" Nate taunted the crying bride.
"Gonna bust you wide open, Mrs. Simmons! Gonna 'ruin' you good! Your white boy's puny dick is never gonna satisfy you once ole Nate's cock stretches ya out!" he snickered. "Think that jerk of a husband will ever make love to you if he knew a nigger's cock soiled in his precious little gem? Tell the police you were raped and hubby will find out you were 'ruined' be a nigger, Mrs. Simmons!" he taunted.
"Noooooooo …….arggggggghhhhhhhhhhhhhhhh ….….awwwwwwwwwwww ………..noooooooooooo!" Linda screamed as Nate slammed his thick cockhead into her tight entrance. She was so tight, gripping his pulsing cock that Nate had to hold still as his aching cock threatened to explode prematurely. This young bride obviously had not much experience for she was tight as a virgin, never having been stretched in such a manner. "Oh, God …….oh, God …….it hurts ………….it hurts so baddddddd ………oh, God …………….stop, pleaseeee!" Linda cried out in pain and fear.
Nate loved this rape of the beautiful bride, so much better to have the bitch awake to know she was being fucked by a 'real' man. The fight this young bride put up to save her honor only added to the level of his pleasure. He loved the feel of her long white legs flailing about, pushing at him, trying to kick him.
"Arrrrrrrrgggggggg ….ohhhhhhhhhh ………..arggghhhhhhhhhh ……….noooo ……please ……….please stop!" Linda screamed hysterically. But the only response she got was Nate stabbing forward again, plunging his long thick cock forward another three inches. "Oh, Goddddddd …………stop, please ………..you're killing me …….it's too biggggggggg …….please!" she pleaded, sobbing from the pain and horror of the rape.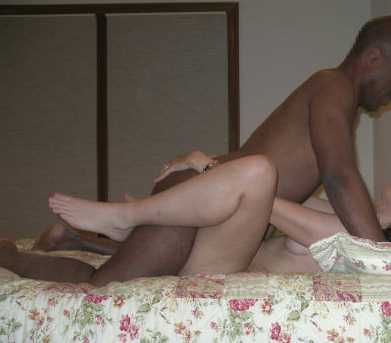 Linda's hands pushed at Nate's broad chest, feet kicking and pushing at his thighs in hopes of escaping. But she was just no match against this bigger and stronger rapist. As the long strokes allowed the slicing cock to inch its way into her womb, the rubbing of her sensitive clit now created a different sensation within her body. The pain disappeared and shivers ran throughout her body, her body now betraying her as she humped up against the plunging shaft. Instead of pushing him away, her hands were now clutching at the broad shoulders and her trim white legs moving over the pumping black ass. "Oh, ohhh, God …………… ohhhhhhh …………ohhhh, no ……..oh, no ……I……. I'm cummmmming ……!" she groaned loudly as her body shook in a wild orgasm.
Nate slowed his strokes to keep from coming as the young raped bride began to come back down to earth. He licked at her tender pink lips with his thick wet tongue, intent on bringing her back to reality. Then he began to taunt her "What would Mr. Simmons say if he came back now, seeing his lovely bride stuffed with a black cock? Gonna tell the police I raped you, Mrs. Simmons? Tell'em how a nigger 'ruined' you, how you came on a nigger cock, sweet thing! Gonna cum in ya soon, bitch! Gonna fill ya up with hot nigger jism! Gonna knock you up good!" The taunting brought Linda out of her drunken stupor. "Please, please …….no ……..no ………please don't cum in me! You'll get me pregnant!" she pleaded.
Linda sobbed and pleaded "Please, oh, please …………please pull it out …………..please don't cum in me! I'll get pregnant, please! Please, I want to have a baby from my husband!" Hearing the young bride's pleas only served to stir Nate's lust on, his strokes speeded up as he began to slam harder and harder into the beautiful little bitch. "Oh, baby! Oh, baby! You're so fucking tight! Gonna fill you full of my nigger seed! Gonna fuck a black baby in you, Mrs. Simmons! Oh, baby, here's your wedding present ………………argggggggghhhhhh ……..ohhhhhhhh!" Nate groaned. His muscular black body convulsed and shook as he held the trim white hips tightly to him, the full length of his cock buried deep into her fertile womb. His cock twitched madly and suddenly his hot slimy jism was unleashed to flood the bride's womb.
"Ohhhhhhhhhh, noooooooooo ……………………….noooooooooo!" Linda groaned as the throbbing cock explode deep within her. The explosion deep in her womb caused her to convulse in another unwanted orgasm, her pussy lips snapping at the pleasure giving shaft. Never had she experienced an exploding cock so deep within her. It was so plentiful, so hot, scalding hot that she felt on fire. Never had she experienced the feel of cum being deposited in her womb, for she and Tom always used a condom for protection. Her body betrayed her, responding on its own, hunching up to get the entire length in her. Unconsciously, Linda crossed her legs over the quivering black ass and squeezed him even closer to her, squeezing her cunt lips around the still spurting cock.
Moments later, the young bride lay fast asleep on the bed as a result of all the alcohol and the aftermath of being well fucked. Her long white legs widespread, split apart by the dwindling black cock that had brutally violated her, small rivers of cum oozing down the cheeks of her ass to puddle on the bed.
Twice more that night, Nate satisfied his lust on the now unconscious young bride. He was totally exhausted and finally pulled out of the now well stretched slit. As he sat on the edge of the bed, he noticed a large black camera case. Opening it, he smiled at this discovery of a video camera along with several new tapes. Apparently the honeymooners were planning to video the sights they took in on their honeymoon. 'Well, this is a sight that must be preserved on tape!' he chuckled as he looked upon the body of the raped bride.
Putting a new tape into the camcorder, he got the bride on tape in her full beauty. Then, of course, he did a slow zooming in of the bride to capture the flow of his slimy cum from her raped slit. Though exhausted, Nate had to put on tape one more thing. Climbing back onto the bed, he straddled the young bride and began to fuck his limp black cock along her nose and cheeks till finally he was hard again. With one hand on the camcorder, he used his free hand to pry open the soft pink lips. Soon the camcorder was taping his long black cock fucking into the bride's beautiful face. Soon he was groaning "Ahhhh, baby, gonna shoot my nigger cum right in your beautiful face!" With that, he pulled out from the soft pink lips and his cock shot stream after stream of thick cum all over the bride's face.
Taking the tape out, Nate replaced the camcorder, taking the tape with him. He got into his clothing and looked at the raped bride. He smiled as he wondered if he beautiful little bitch would recover in time to clean up the evidence of the rape or if her husband would return to find his precious bride covered in another man's cum. Checking out her purse again, he discovered a new check book showing a joint account of the newlyweds. As she would not detect a missing deposit slip, he tore one out as it contained both address and phone number of their residence. 'This will come in handy when I visit Shrevport again. No sense paying for the services of a whore while I'm down there, not with this beautiful bitch to put out free for me!' he laughed.
Linda awoke in mid morning from the bright sunlight that lit up the room. Her jaw ached as well as her thights. Then realization of what happened hit her. 'Oh, God, what have I done? Raped by a black man! And to make matters worst, I came on his black cock. Do I dare tell the police or Tom of this rape?" she thought. Her face felt funny, like glue on it. She touched her face with her fingers, then looked at the dried flake that remained on her fingers. She cringed as she realized that the filthy bastard and shot his cum all over her.
Staggering slowly out of bed, Linda looked at the large stain in the middle of the bed. The outer edges showed a dried stained with a lumpy wet puddle still in the middle of the stain. She groaned and sighed realizing it was the mixture of her love juices and rapist's cum that stained the bed, the same mixture that now trickled down her inner thighs. She staggered to the bathroom to bathe and cleanse herself of the filth. Stopping in front of the bathroom mirror, Linda groaned at the reflection before her. She shivered in total disgust in seeing her face covered in streaks of dried cum.
Just getting out of the shower with a towel around her, Linda was about to obtain some clothing from her bag. Then she panicked hearing the key being inserted into the door and Tom calling out to her. All Linda had time to do was to scoop up the torn remnants of her black dress and toss them under the bed, then threw the bedspread upon the bed to conceal the wet puddle in the middle of it.
Tom apologized profusely to her and hugged her to him. Linda could only sob and cry softly on his shoulder, holding onto him tightly. As Tom began kissing her and edging her back onto the bed, Linda stopped him, telling him that they should wait and do it right when they reach the honeymoon destination. She sighed in relief that Tom let up and agreed with her request, relieved for she'd never be able to explain away the puddle of cum on the bed.
Months later, once his partner recovered from his injuries, Nate went into a background role but put in more appearances at the club since it had led to his successful conquests. The Bourbon Street band continued to bring in the customers and the club in turn rewarded them well to assure the members would stay.
About a year later, Nate learned that Joey had asked if they could rent the club on a Sunday when the club was closed. It was to be for Joey's little sister Annie, who was going to wed Jeff the drummer. Annie had a crush on Jeff for years and from her visits, Jeff had also been taken by her, visiting her whenever he could get a day off.
Hearing this, Nate's cock twitched in his trousers at the memory of raping the little beauty. Going into his office, he put in the videotape and began to jerk off as he watched himself fuck the beautiful little bitch. He had not heard Joey say anything over the past year of his sister and had just assumed that she had escaped his potent seed. But little Annie did get pregnant, unfortunately or rather it was fortunate for Annie that a miscarriage occurred several months into the pregnancy.
Approaching Jeff, Nate congratulated him, telling him that he had the pleasure of meeting his beautiful wife-to-be. He told Jeff he'd clear it with his partner so he could use the club and everything would be at cost for him. Inquiring on the honeymoon plans, he learned that the young couple were trying to keep a low budget in hopes of saving up to buy a home as soon as they could afford it. Then Nate told Jeff that he could use his lakeside vacation home for a week and it'd be Nate's gift to the newlyweds. Jeff was surprised at the offer, for he and Nate never got along well, but couldn't pass up the offer that'd save him a lot of money.
The wedding was an outdoor ceremony at a scenic site in town and the weather had been perfect. The many out of town guests enjoyed the beautiful wedding of the young couple, especially how beautiful and innocent the young bride looked in her white wedding gown as she walked down the aisle.
Once the wedding was over, the guests began to file into the Stardust Lounge and Nate saw to it that everyone was comfortable, being sure the newlyweds' glasses were never empty of champagne. As the guests began to leave, it was obvious that the bridegroom was in no condition to drive. Nate's plan was falling right into place and he told the newlyweds that he'd personally drive them out to the lake as he was the only one familiar with it and the couple would find a car there for their use, which they could drive back with after the honeymoon.
Before leaving the club, Nate toasted the bride and groom with a glass of champagne, giving them the bottle to take with them on the ride. Nate acted as a true chauffeur, letting the young couple snuggle up in the back seat of his Continental. He watched the couple in his rear mirror and midway through the drive, both of the newlyweds were fast asleep. Annie was asleep due to the drive along with the amount of champagne she had consumed. However, Jeff's sleep was also induced by the sedatives that Nate had slipped into his glass for the final toast he gave them.
Coming to a stop at the lakeside home, Annie awoke from her sleep but still feeling woozy from the drinks. She pushed at Jeff to get him up but could not rouse him, obviously have too much champagne she rationalized. She helped Nate support Jeff as they made their way into the luxurious lakeside home and onto the large king size bed. In a moment, Jeff was snoring loudly and Annie sighed knowing that the marriage would definitely not be consummated on their wedding night.
Annie thanked Nate for driving them to the place and for all he had done to help in the wedding. She then expected him to bid his goodbye and was surprised when he went to the bar and poured them each a drink. Annie wanted to decline but didn't want to offend the man since he had driven them out there and it was his vacation home that she and Jeff were using. Taking the drink, she drank the strong after dinner drink, something she was not accustomed to but it was quite pleasant, though strong.
Then Nate put a videotape into the recorder and turned on the TV, looking at Annie, he spoke "Well, sugar, I made this tape as a wedding present for ya! You're really gonna enjoy this! Hell, I sure enjoyed making it!" When the tape came on and became focused, Annie gasped and the drink in her hand fell to the floor. She was stunned as she herself naked in the film then watched the man across from her enter the and begin to undress. She shuddered, unable to move, unable to take her eyes of the black bastard raping her on the film. 'Oh, God! That's how I got pregnant! Thank God I miscarried!' she said silently.
"You bastard! You raped me! That's how I got pregnant!" Annie screamed at the gloating Nate. Looking at the smirking black face, Annie realized that he intended on doing it again. The bastard had planned all of this and intends to rape me on my wedding night. Annie turned and ran into the bedroom to awaken her husband but the snoring continued. Suddenly rough hands grasped her by the hips and flung her onto the bed besides her drugged husband, then those large hands were upon her once again, this time ripping the clothing right off her.
"Got a wedding gift for the beautiful bride! Something your little Jeffy will never be able to give ya! Can't let the bride go high and dry on her wedding night!" Nate laughed as he lunged forward without mercy, driving his thick black cock into her. "Argggghhhhhhh …………Goddddd ……………ohhhhhhhh ……….. pleaseeeee ……noooooooooooooooo …….arghhhhhhhhhhhhh!" Linda screamed trying to stop this agonizing rape.
Nate whispered into the bride's ear while thrusting his cock deep into her, taunting "What's Jeffy going to if he knew that his precious little bride was 'ruined' by a nigger, huh bitch? Bet he won't want to even touch you, if he knew you got 'niggered' on your wedding night!" Annie sobbed loudly, knowing she couldn't risk the humiliation of anyone knowing she'd been raped on her wedding day, raped and 'ruined' by a black man.
"Please, Godddd …………..oh, pleaseeee ……………..please stop! Oh, God, pleaseeee ……….this is my wedding night ………please stop! Please …………..please pull it out!" Linda cried. Nate laughed as he continued to thrust in and out of the sobbing bride, nothing could top fucking a beautiful young bride on her wedding day. 'God! Gonna nail this little bitch right in bed of the honemoon bed for the newlyweds! Nothing's better than this!' Nate gleamed. 'God, what if I lay a little baby in this beautiful bitch again? Ain't that the shits for this little bitch!' Nate laughed to himself. Then he nipped at her earlobe and licked her inner ear to whisper "Gonna cum, bitch! Gonna dump my nigger load deep in ya, bitch! Gonna knock ya up good!"
Nate began to lunge harder and faster into the crying bride. Annie sobbed as she heard this repulsive man shudder and grunt "Ahhhhhhhh, baby ………here it cums ………here it is bitch! Ahhhhhhhh, here's the wedding gift for the new Mrs. Annie Shepard! The next installment arrives in nine months!"
"Arggggggggggghhhhhhhhhhhh ……………….noooooo …………ohhhh ……….ohhhhhhhh!" Annie screamed at the last brutal lunge, feeling as if she was being split in two. Her body shook and trembled, her legs instinctively crossed over the convulsing hips and she screamed out "Ohhhh, Goddddddddddd ………………ohhhh ………….Godddddd ………I'm cummingggg!" she sobbed as she felt the thick shaft explode deep in her womb, feeling her womb flood with the hot filth.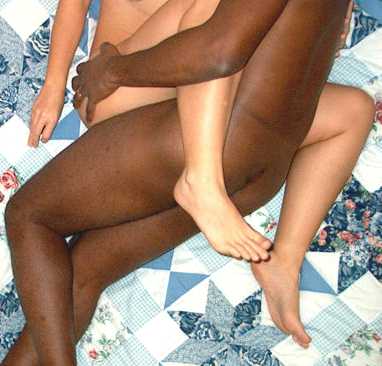 Two hours later, an exhausted Nate zipped up his fly and smiled at the sleeping bride and groom. The bride lying upon her torn wedding gown totall naked, with her silky white panties that would be gingo into Nate's trophy case, the gown soaking up the oozing cum escaping her violated slit.
Awakening from his drugged state, Jeff Shepard looked over at his beautiful bride. His head pounded from the obvious hangover. He recalled starting the ride to the lakefront house but that was it for he must have passed out on the ride. Looking at Annie, it looked as if his bride had managed to get undress and stumble in the bed and had been await for him but he had passed out beforehand. 'God, she looks so damned beautiful in the buff lying upon her wedding gown! It'll be so memorable to fuck her without a condom for the very first time.
Annie awoke with a start to find her loving Jeff upon her, caressing her thighs and trying to enter her. "Ohhhh, baby …….you're so hot and wet!" Jeff groaned as he entered her with his rigid cock. Wrapping her legs around him, Annie quickly replied that she was so hot and wet, waiting for him to make love to her finally. Never having fucked Annie without a condom, the hot wet feeling had Jeff coming quickly, leaving Annie stunned in disappointment at his performance now that they were man and wife..

End of Story.