Honeymoon Horror – III
(m/f, i/r, n/c)
by
Black Demon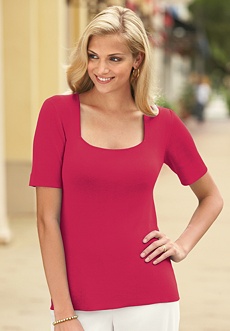 ____________________________________________________________________
If you find sexually explicit reading offensive please leave now. We do not condone
trying any of the stories with in, and we are not responsible for what you may do.
You must be 18 or 21 in some states to view this material, if you are not please turn
and go now. If you can't agree to these terms please leave now. Enjoy the story.
____________________________________________________________________
At the age of 64, Marvin Lewis still needed to work to make ends meet. Employed as the maintenance man at the Palms Resort for several years, he enjoyed the job, essentially he was his own boss when it came to getting the job done. Among the countless guests who had vacationed at the Palms, the only ones to catch his eye were the young and sexy women, beautiful white women. But naturally these women barely noticed him. The young women who caught his eye failed to pay him much notice, actually looking down at him as the old black janitor. Still, one of the perks that went with his job at the Palms was the endless parade of lovely young women who vacationed there.
The beautiful women Marvin did come into contact with invariably did so only because their toilet had backed up, the tub wouldn't drain or the air conditioning was on the fritz. Though he had tried to be cordial to the all of the wealthy guests with whom he came in contact, it was the lovely young females he tried especially hard to befriend. But all he got was a mere thank you and a tip for his janitorial or maintenance service. Several times, while in the room with a young beauty to fix something, he had been so tempted to just grab her and force himself upon her.
Many a night, in fact every night for that matter, Marvin lay in bed jerking on his old and shriveled cock. He always fantasized about fucking one of the young white beauties he'd seen that day. 'Damn, I just gotta get me a nice piece of white ass!' he muttered. Since taking on this job, he acquired a nice collection of panties that he'd managed to steal from the rooms he had serviced, rooms occupied by some young beauties. These silky garments were his most prized possessions, his trophies.
Whenever Marvin worked in a unit occupied by a young beauty, he'd scan the unit and kept a sharp eye out for a loose pair of panties. Whenever the opportunity presented itself, he'd swipe them for a memento. Of course he preferred panties that had recently been worn by the lovely beauty, loving the sweet scent it provided when he buried his face in them.
Several times he found a pair recently rinsed and drying in the bathroom, apparently to be used again by the young beauty. On these occasions, he'd wrap the silky garments around his throbbing peter and jerk off into the toilet, being sure to wipe the final dribbles of his cum into the crotch of the panties. 'Oh, baby, what I'd give to have my nigger cum soiling your womb instead of just your sexy panties!' he'd groan.
Marvin would then keep an eye out for the beauty the next day, being sure to greet her with a "Good morning, Miss!" But as he watched the beauty go on by, he smiled wondering how the beauty would if she knew the panties she had on was soiled with his nigger cum. With his master key to all the units, after being certain the beauty was out for awhile, he'd enter her unit again. Seeing the pair of panties were no longer there, his cock would twitch in excitement knowing that the goody-goody bitch he'd just seen had his dried cum right next to her cunt at the very moment.
Nightly, he'd fantasize about fucking these women but at his age and being black, it wasn't likely any young white beauty would be interested in him in the least. He knew that his only chance of scoring with such a beauty, he'd have to force himself upon her, 'rape' her. He found himself thinking more and more about pulling off a 'rape'. It seemed that it was his only realistic course of action if he ever was going to get his first piece of white meat. The more he thought about it, the more exciting the prospect became, especially if he managed to knock up the beautiful bitch.
Still, Marvin worried about the risk of arrest and prosecution just for one quick fuck. He prayed that someday an opportunity would fall into his lap but knew that such a chance would be remote? But he needed to prepare and think out the aspects in his mind should such an opportunity arise. He ran through possible scenarios and what he'd need to do if the situation presented itself, trying to train his mind to think quick if a certain event happened.
If he wasn't dreaming of a young beauty he recently ogled, Marvin would put on one of his x-rated movies. He prided himself for having spent the money to buy two VCRs. He had started with one VCR to watch the x-rated flicks he'd rental at the video store. He had spent so much renting the hot flicks and often wanting to keep a movie or a hot scene. Checking things out, he learned that it was possible to record a movie onto another VCR and that tape would be his to keep.
On this particular weekend, Marvin first checked on the reception hall being prepared for a wedding reception. The wedding was to be held in the beautiful landscaped garden setting followed by a dinner in the reception hall. Once that was accomplished, he then went up to the bridal suite, making certain that everything was in perfect working order there. He patted the large king-sized bed, knowing it was going to get a good workout that night.
With everything shipshape, Marvin went down to the front desk to advised them that everything was in order. The desk manager breathed a sigh of relief, telling him that he had just gotten a call from the bride and groom asking if they could use the bridal suite for the bride to get dressed rather than getting her gown all wrinkled in the car. Another room had been rented for the bridal attendants to get dressed in and the desk manager had been in the process of checking what other room the bride could use if the bridal suite wasn't ready when she arrived.
In the early afternoon, Marvin was working on a broken water faucet in the lobby when a large white limo pulled up the front entrance. He watched as the doorman opened the doors to the limo and a slew of young beauties exited, giggling and laughing. Each one had her hair nicely styled and it was obvious to Marvin that this was the bridal party. His cock twitched as he would give anything to bed any one of them. But one blonde really was radiant, standing out among the others, like there was a special glow about her. Sure enough, it was the gals for the wedding as the doorman began to hang the plastic covered gowns onto the luggage cart.
Marvin watched intently as the beautiful blonde wearing a red blouse, white slack and heels lead the other girls to the check-in desk. Moments later, as the girls made their way across the plush lobby, the blonde beauty gave a key to another gal and commented "Here's the room key for you girls". Holding up the other key, the lovely blonde giggled "Would you girls like to see what's behind the door to this key? Tonight, it's going to be the key to paradise!" All the gals just laughed at that comment, with one commenting "It's certainly going to be the key to Adam's Garden of Eden!", bringing about more laughter from the group. Then even more laughter when another commented "And Adam's going to finally get his very first bite of the apple! Hope there's no worms hidden in the apple!" The beautiful blonde blushed and retorted "Uh-uh, Adam's getting a prized apple! Have you heard of the tasty 'cherry apple' variety, girls?"
Hearing all that, it was clear to Marvin who the beautiful bride was out of the group of lovely young bitches. The young bride was simply stunning and Marvin couldn't help but feel a twinge of jealousy, knowing that a white boy was going to get the treat of his life. The lovely blonde was absolutely the most beautiful woman he'd ever seen and there had been many beauties visiting this resort over the years he worked. He had walked pass her and noticed her beautiful blue eyes, estimating her to be about 5'4" and 115 lbs. Going to the check-in desk, he learned that the effervescent bride's name was Ms. Kara Rheinheart. Having seen the young beauty, in his eyes she represented everything a lovely young bride should be. He guessed she couldn't have been more than twenty one years old at most.
Getting into the elevator, Kara and her friends continued to giggle and laugh as they joked about Kara's big event. Kara had always been very conservative, being brought up by loving and rather religious parents, never having gone beyond the most conservative petting stages with her true love. All her bridesmaids knew that later that afternoon, a true virginal bride would be walking down the aisle, her long white wedding gown the sign of her purity and innocence.
Hours later, nearing the time for the wedding to commence, Marvin positioned himself to where the bride would be making her appearance. When the young beauty appeared, his mouth dropped open and he just couldn't stop looking at her, not believing anyone could look so pure and innocent. 'God, how I wish I could be that white punk! Man, I'd give anything to be crawling between the sheets with that sweet little thing! God, would I give anything to bust her precious little cherry!' he muttered.
As he watched the beautiful bride begin her march down the aisle, his cock gave a twitch, proud of himself for the way his mind was churning. 'With the bride and groom here with all their family and friends, the bridal suite would definitely be unoccupied. And that meant the lovely bride had just changed from her green dress into the wedding gown she now had on!" he mused. With the promising prospect that lay ahead, he quickly made a beeline to the elevator and up to the bridal suite.
Entering the bridal suite, he wandered about and scanned the entire room, then found her green dress now on a hanger in the closet. Going into the bathroom, his heart pounded in his chest at the items he observed lying on the floor. He took a deep breath as he gazed upon the items he had been searching for. There lay the undergarments of the beautiful young bride, a thin lacy white bra and a pair of silky emerald green panties.
Adam stood proudly next to his lovely bride-to-be, the envy of all the men in the audience, for he was the one who had won the hand and heart of the beautiful Kara Rheinheart. He just couldn't believe his good fortune, as Kara could have had any man she wanted. He'd just gotten out of college and had just landed a good paying job with an engineering firm, while Kara had been working for two years as the office manager in her father's contracting firm.
Adam was two years older than Kara, meeting her when she was just a freshman in high school. He was so proud of her being the head cheerleader along with being on the student council. His male hormones always had him trying to get Kara to put out for him but she was so conservative due to her upbringing. He had often dreamt of stripping off her silky panties and nuzzling his face into its sweet fragrance. Then his fantasy was to nuzzle his face into she soft bush, licking at her slick womanhood. But till now, the only feel of her panties was through the fabric of her skirt or pants. He just couldn't wait till the reception was over and he would be alone with his beautiful bride, remembering how she had put him off the other night when she said "Don't be naughty, honey! Just a few more nights and I'll be all yours …........................………yours to have in any way you want!"
As Adam had completed repeating his vow, he couldn't help but fantasize as Kara began her vows, thinking of later that evening when he stripped her of her panties and being the first man to breathe in the fragrance of her innocent womanhood. If he only knew that he would not be the first man to enjoy the fragrance of his lovely bride's panties. At that very moment, while the priest pronounced Adam and Kara officially 'husband and wife', his bride's panties were being enjoyed by another man in their bridal suite.
In the bridal suite, Marvin lay upon the king-sized bed, totally stripped of his maintenance uniform. He had a hand cupped over his face as he rubbed his face into the crotch of the pink panties. Before climbing on the honeymooner's bed, he had opened the drawers and retrieved a neatly folded pair of lacy white panties, which were now wrapped around his pulsing cock. As he rubbed the soft panties around his stiff cock, he breathed in the fragrance of the innocent beauty, picturing how lovely she looked in her wedding gown. "Oh, baby …...............…..baby ……...............…gonna cum ….............………..gonna cum in your sweet panties!" he groaned loudly. Just as he was about to spurt all over the bed, he quickly drew the pink panties from his face and wrapped it around his cockhead.
"Ahhhhhhh, fuckkkkkkkkk …………...............……ohhhhhhhhhh!" he groaned as spurt after spurt of his hot cum spewed onto the pair of pink panties. Minutes after his best cum ever, holding the sopping wet panties over his still oozing cock, he edged his way over the side of the bed. He certainly did not want to leave cum stains on the bedspread nor the carpeting. Making his way back to the bathroom, he looked down at the tiny pink garment that was now a sticky mess. He gave a thought of trying to rinse it out but laughed, ball it up he tossed them back on the bathroom floor. "Let the little bitch wonder how it got that way! Maybe she'll think her white boy jacked off into it!" he chuckled.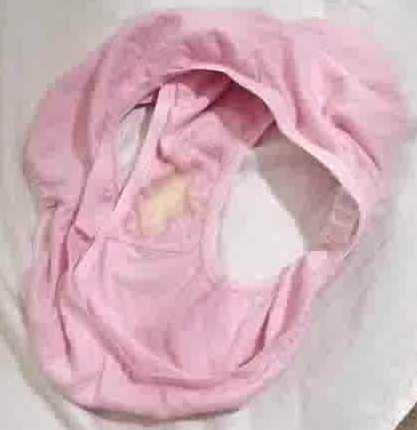 With Marvin's lust sated for the moment, he redressed and went down to the reception hall where the party was being held. He just couldn't keep his eyes off the innocent young bride, but smiled each time knowing he had just jerked off and soiled her sexy panties. He grumbled each time he got paged to perform a service call, hurrying back down to the ballroom as soon as possible to continue to feast his eyes on the lovely bride.
With the program just beginning, Marvin cussed when his beeper went off again and ran off to take care of yet another service call. He had returned just in time for the garter ceremony and what he saw just blew him away. The groom was nearly three sheets to the wind by then and with his buddies cheering him on, he hoisted his bride's white lace wedding dress to fetch the garter, revealing her beautiful trim white legs almost to her crotch. The drunken groom responded to the hoops and hollers by glancing back at his buddies, inadvertently hoisting the wedding gown even higher.
Marvin and dozens of guests caught a tantalizing peek of the bride's gorgeous legs all the way up to the crotch of her white lace panties. Though the hoops and hollers reflected the crowd's pleasure with such a tantalizing display, for Marvin it was just too much for him to stand. At that instant, he made up his mind that the beautiful little bride was going to be his, one way or another, the hell if he spent the next ten years in the slammer for rape.
Thinking quickly, Marvin realized he needed some excuse to gain entry into the bridal suite when the honeymoon couple would be there. Leaving the reception hall, he went back up to the bridal suite and went to work on the thermostat, setting it to full hot and locking into that position. While he waited for the heater to kick in, he surveyed the room and saw a bottle of champagne chilling on the night table. He walked over to it, looked at two long-stem champagne glasses and a note that read 'Tonight our little girl becomes a woman! May tonight be extra-special in every way! Love Always, Mom & Dad'. He smiled and chuckled to himself at the irony of the loving note.
The room temperature was already starting to climb as Marvin quickly went to the bride's overnight case that he had peeked into earlier. Remembering bottles of vitamins and medication in it, just perhaps there was one that may come in handy. Among the many bottles of vitamins and supplements the bride had packed for their week long stay, there was a prescription bottle of medication. The warning label on it read: "May cause drowsiness. Alcohol may intensify this effect. Use care when operating a car or dangerous machinery."
Opening a side compartment, Marvin laughed at his discovery - an unopened box of condoms. He wondered if indeed the bride was really a virgin. Somehow he'd beat the groom to his bride's precious cherry on their wedding night, even if he had to club him over the head. His mind told him to 'get real' and realized how silly and improbable the whole thing was, but the head between his legs told him that this little bitch was well worth the trip to jail. He laughed to himself and muttered 'Shit, with my two heads thinking together, maybe I can just pull it off and not go to jail!'
Marvin quickly read the recommended dosage on the prescription bottle, then dealt out more than quadruple the recommended dosage of pills for each of his intended victims. He quickly crushed the pills and dumped the contents of a vitamin supplement bottle down the toilet, using the empty bottle to store his cache of knockout powder. Now the room was unbearably hot and Marvin quickly replaced everything as he'd found it and locked up behind him.
By the time Marvin returned to the banquet hall, the reception was just winding down. A few minutes later, the bride tossed the bouquet to all the single girls. Soon, the newlyweds and the photographer disappeared into the elevator to ascend to the bridal suite to toast their nuptials with champagne. Apparently the bride and groom had wanted some intimate shots taken of them in the honeymoon suite. Marvin grinned, knowing he would be summoned up to the bridal suite very shortly to adjust the thermostat.
Less than fifteen minutes later, Marvin was knocking on the door and asking the lovely bride what seemed to be the trouble. The photographer was still there, to finish up the shoot with a photo or two of the bride and groom toasting each other. Due to the oppressive heat in the room, the photographer suggested they shoot the photos out on the balcony. The photographer indicated that he first wanted a few snapshots of the bride and groom toasting each other. Marvin watched as the groom, in his drunken stupor, popped opened the new bottle of champagne and with filled glasses the bride and groom went out to the balcony.
This couldn't have worked out better for Marvin, the champagne bottle was already opened and just a few feet away from him. With everyone occupied on the balcony, it was easy for him to pour the contents of the crushed medication into the remaining champagne. He twirled the liquid contents a bit so none of the medication could readily be seen.
By the time everyone returned from the balcony, Marvin proudly announced that he'd fixed the problem and the room temperature would quickly return to a comfortable level. He advised them that he'd just make sure everything was working perfectly and then he'd be on his way. Actually, he was just stalling, waiting to see if the bride and groom drank any of the drugged champagne. He needed to gauge whether or not the unwitting bride and groom would be drugged and drunk or just drunk when he doubled back to claim his golden prize.
As far as Marvin could tell, the groom was already almost too drunk to stand, his hair mussed and tux disheveled. The bride looked pretty tipsy as well but not nearly as soused as the groom. As far as Marvin was concerned, drunk or sober, Kara Rheinheart still looked as sexy and fuckable as she did several hours earlier. With the temperature in the room quickly returning to normal, the photographer hoisted the bottle to pour another glass of champagne for the bride and groom. Then the photographer finished the shoot with a couple of pretty arty poses of the newlyweds toasting each other in front of the ornate mirror.
Marvin wasn't as much interested in the photography as to how many sips of champagne the newlyweds consumed. Then the newlyweds topped their glasses a second time and finished the photo shoot. Before the photographer pack his bags, the groom handed him a camcorder, asking him to again capture the event with it. When that was done, Marvin watched as the photographer packed up, wished the young couple a long and happy marriage, then disappeared out the door.
The newlyweds looked over at him with that, "Oh my God, you're still here!" look. Marvin told them he was almost done and hurrying just as fast as he could. He watched and smiled as the groom threw back the last of his champagne, grumbled something and refilled his glass, then topped off his lovely bride's glass. He figured it wouldn't be much longer till the drug kicked in, then neither one of them would be any the wiser when he nailed the innocent little bitch. As he left, he announced loudly to the smooching bride and groom that he was leaving and locking the door securely so no one would bother them. Standing outside the door, he prayed they would continue smooching and not come to the front door to put the safety latch on. Hearing nothing being chained onto the door, he breathed a sigh of relief.
Once the door closed, the two lovebirds engaged in a passionate kiss. Adam, wiped out from all the champagne, began to grope his lovely bride without any tenderness. The room was beginning to spin, forcing him to blink his eyes rapidly to keep awake. He knew he had to freshen up, wanting to be able to savor the joys of making love to Kara for the very first time. He got up from the bed, telling his lovely bride to stay exactly as she was dressed, that he'd be out in a few moments after a quick shower.
Meanwhile, Kara lay back on the bed, listening to the sound of the shower and thinking how nice it was to be Mrs. Adam Sadler. She blinked her eyes, feeling a bit woozy, thinking that the champagne she had consumed was really getting to her. She was about to doze off when she heard Adam groaning loudly in the bathroom. She called out to see if he was okay and was relieved to hear him respond that he was fine. Moments later, the bathroom door opened and Adam staggered out to the bed. He gave her a peck on the lips then turned over and immediately began snoring.
Kara shook her husband, trying to rouse him, wanting desperately for them to consummate their marriage on this special day. She needed to get him up right away and rushed to get a cold towel and some ice to put on his forehead. In the bathroom, Kara quickly soaked a hand towel and squeezed out the excess water. She sighed as she saw Adam's dirty clothes strewn about the bathroom floor.
Shaking her head, Kara bent down to pushed all the strewn garments into a pile. As she was about to exit, she bent over to pick up her bra and panties to put them atop the dirty clothing. Kara cringed in disgust at the feel of something cold, wet and slimy on her hand. Her body shuddered as she looked at what appeared to be a huge glob of glue saturating her panties. 'Oh, God …....................................how could Adam be so filthy!' she muttered.
Upset, Kara slowly walked back into the bedroom, looking down at her soiled panties. She cringed with disgust as some of the slimy goo slid onto her fingers. "Adam ……...............…Adam ……................….why …….....................…..how could you?" she yelled at her now snoring husband. Sniffling back tears, she again looked down at the soiled panties in her hands. Then she looked at the slimy goo that now webbed her fingers together. Bringing her hand up to her nose, she shuddered at the pungent smell. So upset with her deviant husband, she rubbed her webbed fingers over her husband's face, then wiped her slimy panties over her husband's face. Sniffling, Kara threw herself down at the far end of the bed, sobbing as the champagne and drugs soon had her fast asleep.
Twenty minutes later, the door to the bridal suite opened and in slipped Marvin. He heard the loud snoring of the groom and as he peered into the bedroom, he saw a heap of white lace lying atop of the sofa and the bride in just a sexy negligee lying on the bed. Entering the large room, he glanced down and smiled at the soiled pair of pink panties that lay on the carpet. He looked at the snoring groom and saw the blotches of spunk on his nose and lips. Laughing, he could only guess what had taken place when the beautiful bride had discovered her soiled panties.
Moving to the other side of the bed, Marvin gazed down at the innocent young bride, then anxiously began to get out of his maintenance uniform. In a moment, he was stripped naked, shucking at his throbbing black cock. He just couldn't believe this was actually happening, it was no longer just a fantasy. 'God, I wonder if she was really a virgin like she had kidded her friends? Well, Marv, you might just get to pluck your very first cherry! God, what I'd give to knock up this innocent little bitch!' he mused.
Lifting up the hem of the sexy white negligee, Marvin eyes feasted on the long trim sexy white legs that were absolutely flawless. He turned the beauty so she lay prone on her back. With the front of the negligee bunched at the beauty's hips, he reached up to begin drawing down the bride's lacy white panties. He stood there, unable to breathe as he gazed upon the soft golden triangle where the bride's precious treasure lay. 'Oh my God! I gotta get me a taste of this sweet honey!' he groaned.
Nuzzling his face into the soft golden fleece, his heart was just pounding in his chest, his tongue flicking out into the soft golden curls. Never had Marvin tasted anything so sweet and tender, delving his tongue between the tight slit, lapping up its sweet nectar. He just couldn't get enough of the sweet delicacy but he had to stop for fear of losing his load onto the bedspread.
Kneeling up, Marvin shuffled forward on his knees, aiming his destructive weapon into place. He pushed forward several times, his hand holding his anxious cock in place, then finally it made some headway. He groaned as it felt like an extra tight glove was being put over his throbbing cock, forcing him to hold still for a moment or his throbbing cock would unleash its pent up load. Finally he pushed forward slowly, managing to insert about four inches of his pulsing cock. Then he froze and groaned "Oh, God! Oh, God ...................................................oh, my God! The fuck'n bitch is cherry! I's don't fuck'n believe it!"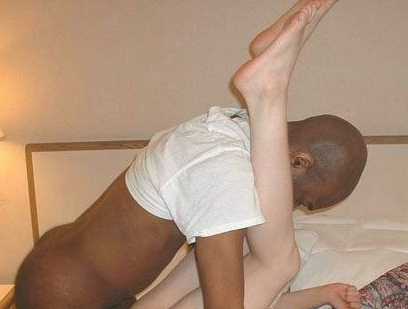 Marvin reached down with both hands to grasp the bride's trim hips tightly. Holding still for a moment, trying to savor the moment and to catch his breath, he slowly withdrew till only his cockhead remained captured in the tight slit. Then with a mighty lunge with his full body weight behind him, Marvin brutally stabbed forward into the unconscious beauty. "Ohhhhhhh …………...................…..fuckkkkkkkkkkkkkkkkkkkkkkkkk!" Marvin groaned out loudly, his body convulsing as he smashed through the bride's precious hymen. "Ah ................….ah …...............ah ……..............…..ahhh …...............……..ohhhhhhhhh!" Marvin moaned as his convulsing body belched out its potent goodies.
Exhausted, Marvin lay heavily upon the raped young bride, his cock still throbbing in her now bleeding slit. He lifted his head up a bit to glance down to where he was joined to the bride. He smiled at the damage he'd done, proud of the way he'd ruptured the beauty's little treasure. He felt his cock coming back to life and now he would take his time as he shagged the little beauty. Looking over at the snoring bridegroom, Marvin snickered "Look down at me, huh, white boy! Well, shithead, I'm the one who's nailing your beautiful little bride! Thanks for the use of your beautiful bitch! Gonna leave ya something to remember me by! Ohhhh, yeah ………...............………ahhhhhh ………...........…gonna plant my seed right ….....................…nnnoooowww!"
Getting up from the bed, Marvin gazed upon the blood matting his pubic hair and streaked his oozing black cock. Picking up the bride's panties, he used the crotch to wipe off all the blood on him. Then he put the pair of panties into his pants pocket as it'd be the centerpiece of his trophy case. After getting dressed, he looked at the snoring white punk and laughed as his beauty bride lay bleeding next to him. Grabbing the wedding gown off the sofa, he then lifted up the bride's legs and tucked the gown under her to keep the bed from getting soil, then he smiled widely as he watched blood oozing from her raped slit onto her asscheeks and soaking into her wedding gown.
The next morning, as Kara awoke to a headache, she tried to turn onto her side and gasped from the pain emanating from between her legs. She sobbed from the pain, lifting up her negligee to see why she hurt so badly. She gasped at the sight before her, seeing the once golden curls now caked with blood and her white thighs streaked with her blood. She dropped back onto her pillow and groaned, realizing that Adam must have awoken in the middle of the night and had sated his lust on her body.
Kara logically assumed that both she and her husband must have passed out from all the champagne they'd consumed the night before. She told herself that she shouldn't be upset with Adam. How did her wedding gown get beneath her was a question as she thought she had draped it over the back of the sofa to preserve it. She had put him off for a long time and she did tell him she was all his once they were married, that he could make love to her in any way he wanted to on their wedding night. She had only made him promise to use condoms until they were ready to start a family.
Turning to her side, she groaned as she saw the box of condoms still sealed and unopened. 'Ohhhh ….......……..he knew ………............Adam knew he was supposed to use a condom ……............……he had promised me from before the wedding …………........…….he knew it was my worst time of the month ………...........…….Oh, God ……...........…….we can't start a family so soon!' she muttered, her breathing began to get labored as she was getting quite upset at her inconsiderate husband. 'Damn him! First he goes and masturbates into my panties and sleeps the precious night away! Then he deliberately doesn't use the condom!' she hissed.
At that moment, Adam began to stir, his head ached badly and his body felt like shit. He looked over to his beautiful bride who was sobbing. Wondering why she was crying, he sat up in bed. "Oh, my God!" he gasped as he saw the blood coating his beautiful wife. "Ohhh, I'm so sorry, honey! I didn't mean to hurt you!" he apologized, knowing Kara must be hurting bad with all that bleeding. 'God, I must've been drunk out of my mind! Fuck, I can't remember a damned thing past the reception hall!" When his beautiful wife sobbed and cursed him for not using a condom, his heart sank as he had promised her he'd take that precaution as neither of them wanted her to get pregnant so soon.
Sitting down at the pool, Adam was hungover and feeling sorry for himself. He tried to remember the night before and what to say to get out of the doghouse. He had tried to apologize to Kara but she shunned him the entire morning and wouldn't speak to him at all. He had decided to dress and head down to the pool after Kara went into the bathroom, slamming the door behind her.
Marvin had seen the young groom making his was down to the pool and followed him. He greeted the young man, striking up a conversation with him, apologizing for any inconvenience with the thermostat the night before. He wondered what the 'white boy' had woken up to, with his beautiful bride lying next to him, 'ruined' by a nigger cock.
Adam told him not to worry about it, explaining that the thermostat in the room wasn't the only thing that blew in the bridal suite. 'My wife really blew her thermostat this morning and I'm really in the doghouse now!" he told the intently listening man.
Marvin suggested he make use of the hotel shuttle that would take him to the downtown area. He jotted down the names of a florist and a jeweler, suggesting that maybe a "peace offering" might put him back on her good side. He told the young man to use his name and that he was a guest at the resort so he'd get a discount applied to his purchases.
As Adam agreed that Marvin's idea sounded like a good one, Marvin signaled the nearby bellhop before the young man changed his mind. He watched as the young husband hopped into the hotel shuttle, then figured he's free and clear for more than an hour. Smiling at his good deed for the day, he headed towards the elevator that would take him straight up to the bridal suite.
Having heard the front door opening and closing, Kara had come out of the bathroom where she had sat fuming at her inconsiderate husband. She had taken some aspirin to ease the throbbing headache. She had gotten out of her ruined wedding gown, a gown she had intended on preserving just in case they later had a daughter, thinking that maybe her daughter would want to wear it on her wedding day too. After fuming for a bit, trying to get over the argument she had with her husband, Kara told herself that it was her fault for putting Adam off for so long. She had heard of how men's fetishes for women's undergarment made them go crazy with lust. 'Well, I guess I can't be too mad, after all, Adam is certainly a man! I guess the champagne also clouded his thinking, causing him to forget the condom!' she told herself.
Kara had just slipped into her green dress and was on her way out to collect her husband at the pool. She decided to forgive him, especially since this was no way to begin a honeymoon. She'd get him to take her to the resort's posh restaurant for lunch, then they could spend the entire afternoon making love together. Just then the phone rang, it was the gal at the front desk saying the shuttle driver had been given a message from Mr. Sadler instructing the call be made. She listened as the note was read "I'm at the mall getting a nice surprise for you. Will be back in a couple of hours. Will call you when I leave the mall. Dinner tonight at the Le Bistro's! Love, Adam!" She felt so good now, knowing the Adam was sorry for his actions and she looked to the surprise he was getting her.
Hearing the knock at the door, Kara peered out into the peephole. It was the old maintenance man that had repaired the thermostat last night. When she asked what was needed, it was explained to her that he needed to check out the air conditioner after last night, that it might be leaking water into the room below. Opening the door, she sarcastically told the maintenance man him to take his time since her husband indicated that he had a romantic surprise for her and to wait there till he got back.
Marvin smiled for he also had a romantic surprise for the young bride, asking if she had a camcorder he could borrow for a moment. The young bride looked at him with confusion on her face, but decided to oblige him. As the tape was popped into the camcorder and the 'play' button hit, Marvin smiled and laughed as he looked at the tiny screen. Then he handed the camcorder to the puzzled beauty, telling her "Look at the beautiful bride!" Then he broke into a loud laughter upon seeing the young bride's reaction.
Kara gasped, unable to believe her eyes, as it was her dressed in her negligee. Her nightgown was pulled up, her legs spread wide, being raped by this repulsive old man. Then the realization of what had happened struck home, it had not been Adam who made her bleed but this evil man who had raped her so viciously. Before she could scream, the maintenance man had his arm around her neck and was dragging her over to the bed.
Thrown upon the bed, her assailant was quickly upon her, pinning her arms above her head. Her dress was being torn from her body by her assailant's free hand, then her thin bra was pulled off when the catch gave way. Then her yellow lace panties were being drawn down her legs, leaving her bare but for her black heels. "Oh, please ………….................please …..............……….please don't rape me …….......…please don't rape me again!" she sobbed. "Let me go ………let me go …….............I'll …..........……I'll scream ….........…….you'll …….................you'll go to jail!" she begged.
"Go ahead and scream, bitch! This room's soundproof! Besides, anyone hearing screams and moans coming from the honeymoon suite is just gonna laugh!" Marvin advised. "See ya found your cummy green panties! Heh, heh! See ya gave the little white boy a taste of a 'real' man's spunk!" he laughed. "You be real good to old Marv and I'll let you keep that tape as a souvenir! C'mon, baby, spread those beautiful white legs unless you want me to give the tape to your hubby! What's he gonna say when he sees his little bride got 'ruined' by an old nigger?"
Sobbing, Kara realized that she had been wrong about her loving husband. Wrong about everything! It was this horrible rapist who had soiled her panties, he who had not used a condom when he raped her. "A condom? Oh, my God, he …..he shot his filth into me! Oh …..............maybe …......................….I hope he's too old to impregnate me!' she prayed to herself. She knew she couldn't let Adam see that horrible tape, he'd never want to touch her ever again. Closing her eyes, she knew she had to retrieve that tape, slowly she began to part her legs for her rapist.
Eyes tightly shut, Kara tried to block out everything, trying to picture her loving husband. She prayed she would not feel anything, not respond in any manner to this vile rape. She did not want to give this cruel rapist the satisfaction of getting a reaction from her. Feeling a probing at her raw slit, she gritted her teeth and her body shivered as the throbbing cockhead began to push at her.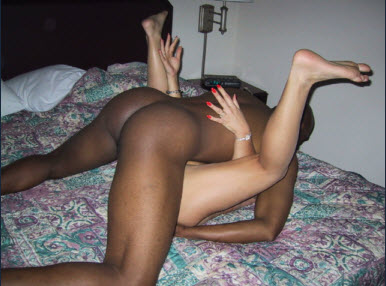 Feeling the invading shaft part her slick and raw slit, she spread her legs wider to ease the pain. "Ohhh ….................….ohhhhhh …..............…………..ohhh, please ……............………….please don't ………..............…..argghhhhhhhhhhhh!" shescreamed as the cock stabbed into her raw channel. Then the rapist began to saw into her, going deeper and deeper, plunging all the way into her fertile womb. "Oh, God ….....…….oh …....…oh …....…oh …....…oh ……....oh ……....…..oh, yes ……....…oh, yes ……......……………oh, Godddddddddddd!" she screamed as her body betrayed her will, wrapping her legs around her rapist and arching up into his now spurting cock.
Twenty minutes later, the cock within her began to grow in size again. Unconsciously Kara began to hunch up at her rapist, her body giving in to the pleasure giving fuck. Suddenly they both froze with the black cock embedded half way, startled by the ringing of the phone next to the bed. "Oh, Adam …..........…….Adam ……….Adammm!" Kara groaned as she looked at the ringing phone.
"Want your hubby to save you? Want to tell hubby you're being raped at this very moment? Here, tell hubby his little bride's being raped by a nigger, that you got a nigger cock in ya right now!" Marvin scowled, taking the receiver off the hook and putting it next to her ear. He put his head down on the other side of the bride's head to taunt her "Answer hubby! Tell'em you're being raped!"
"Oh, Adam …….......….Adam ……….......…..oh, Adam!" was all Kara could sob into the phone as her husband apologized again and again. "Oh, honey ……....…….oohhhhh ……...........……honey!" she sobbed. Holding the phone slightly away, Marvin could also hear the conversation taking place as he sped up his strokes into the sobbing young bride. Then he heard the groom say he was going to be back shortly, that he could see the shuttle coming for him now, ending with "I love you, honey!" As the sobbing bride choked out "I love you too, honey!" Marvin unleashed spurt after spurt of his baby juice deep into the womb of the raped beauty.
Dressed, Marvin took the videotape out of the camcorder. Then he heard the sobbing beauty plead "Please ……........…..please …........……you promised ……...........……..you promised to give me the tape!" With the beauty's left hand reaching out, pleading for the tape, he walked up to her. "You're right, little lady! I did promise you the tape if you were good to me! And you did spread your beautiful white legs of old Marv!" he answered. He placed the tape in her hand but held her hand firmly in both of his. A moment later, he had slid her diamond ring and wedding band off her finger, then slid the diamond ring back onto her finger.
Stunned, Kara could only look up to the deviant old man, who was holding up her wedding band. She listened to how she could get it back "If you want it back Mrs. Sadler, call extension 163 and say your thermostat is jammed again! Then I'll be up here and expect to see you in the pink negligee that you have in the drawer!" Sobbing, Kara curled up into the fetal position as she cried herself to sleep.
A half-hour later, Kara was awakened by her loving husband, who was all smiles with flowers and a lovely necklace he had bought for her. He asked if they could just pretend last night and this morning never even happened and they could just start over, starting right here and now. How could she say no after the bitter fight they had earlier, the way she had treated him, only to find out he had not done any of the things she accused him of. She could only sob and nod her head in agreement with his requests.
Thinking about her stretched pussy and the semen dribbling out of her cunt at that very moment, Kara couldn't imagine that the old man, at his age, could've gotten her pregnant. How could she ever tell her husband, or anyone for that matter? As Adam kissed her, she hugged him tightly to her, sobbing at the thought she had been 'ruined' for Adam.
Kara looked up to see Adam quickly shedding his clothing, obviously wanting to consummate the marriage again, only this time he would remember this love-making episode. She watched as Adam reached for the box of condoms and opened it. Then he was tearing open the foil packet and about to roll on the protective sheath. Then Kara reached out to take the condom from him, letting it fall to the floor, then grasped his manhood and pulled him to her. She didn't want to let her husband soil himself with a nigger's cum in her but then she did not want to deprive him the joy of spurting directly into her, especially since a nigger already had done so.
Less than five minutes later, Kara lay in shock with her husband's heavy body upon her, his penis slipping out as he began to snore. She panted for breath, not believing that he had expended himself already. 'He …he came already! It was no more than a dozen or so strokes!' she muttered to herself. She had not felt one iota of pleasure, not in any way like how she felt just a half-hour ago. 'I guess that nigger was right, honey! You did get to taste a 'real' man earlier!' she mused.
After Adam's first exquisite experience with his beautiful wife, he couldn't get enough lovemaking. He must have taken Kara to bed eight times the next day and was totally pooped from all that action. However, he was unaware of Kara's total frustration with his performance. Unaware that his wife was in the bathroom, rubbing her clit to get herself off.
With just one more full day left in their honeymoon, Adam had been anxious to get out onto the golf course. At dinner, he asked Kara if it was all right with her if he took in a little golf. He didn't want her to be alone too long, so he said he'd go out for only nine holes and was happy that his wife was agreeable with that. As they dined, he asked her "Honey, what happened to your wedding band?"
Kara had been surprised that her husband had been so observant. For the past few days, she could not contemplate making the call to retrieve her wedding band. She felt sure that Adam would never notice it missing. The wedding band was not a very expensive one but it meant so much as it symbolized their marriage and was the one blessed by the priest. "Oh, it felt a bit tight today so I didn't wear it. I think my fingers are a bit swollen!" she lied. She knew now that she had to get it back and only had one day to do it. "Honey, this may be your only chance to play this course. Go for the full 18 holes! I insist!" she advised her now happy husband.
At 8 a.m. the next morning, Marvin got the message that the thermostat was not operating in the bridal suite. Making his way up to the unit, he knocked on the door as a precaution. Looking about, he opened the unit with master key. He peered into he bedroom and smiled. Sitting up in bed, leaning against the backboard, the lovely young bride had her eyes tightly shut in an attempt to block out what was to take place. Marvin licked his lips as he gazed upon the ivory body clad in only a sheer pink negligee.
Eyes tightly shut, Kara told herself that it was Adam coming to make love to her. She gasped slightly as she felt the blanket being pulled down, baring her legs to her admirer. She steeled herself, panting for breath as wandering hands began to stroke and caress her legs, hands that were now nearing her creaming slit. "Ohhh ….............…..ohhhh …….............…..ohhhh, yes …….........……..yes ……............………yesssssssssssssssssss!" she moaned, spreading her thighs widely to give access to the searching fingers.
"Ohhhhhhh, God ………….........……….oh, Goddddd ………..........…..yes ….................…..yessssss …..................….ohhhhh, yes, eat meeeeeeee!" Kara screamed, hunching up her hips into the slurping mouth. "Ohhhhhhhh ………......…yes ……..........…..I'm cumminggggggg!" she screamed as her body quivered in an orgasm.
Moments later, the bride's left hand was held tenderly by her admirer. As her wedding band was being slipped onto her ring finger, her pink slit formed a perfect ring for the throbbing black shaft to enter her. Soon the bride's trim white arms and legs were embracing her lover, with the lovely bride chanting "Oh, yes …….....……yes ……....…….deeper …..........…..deeper ………......….yes, fuck me ……........…fuck me ……............fuck meeeeeeee!"
Three weeks following their honeymoon, Kara had locked herself in the bathroom while Adam lay snoring on the bed. Desperately she ran her index finger up and down her aggravated slit, inserting her finger in search for her sensitive clit. She was feeling so desperate, needing to find some relief. Only once did she reach an orgasm since they returned from their honeymoon. But that orgasm was only achieved when she had fingered herself before their love-making session. What made it so wicked on that night, as Adam pumped her in his quick style, she had been picturing her black rapist when the orgasm struck.
The next day, with Adam having gone golfing for the day, the doorbell rang. Kara bit her bottom lip, trying to refrain from smiling at her visitor. When her visitor held up a videotape, Kara felt a sigh of relief going through her body. "Oh, please ….......……..please ……….........…..don't rape me again ………..don't force me to take your big black cock again ………………please …………...........don't fuck me in the bed I share with my husband!" she pleaded without much conviction. Without insisting to even view the tape to see if it incriminated her, Kara anxiously led the way to the master bedroom.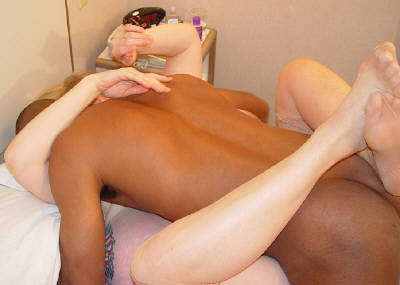 Marvin was surprised at the lack of force or threats that he had to use on this newlywed. He was stunned at the beauty walking back to her marital bed, shedding her clothing on the way. Stunned at the way she grasped him with her widespread arms and legs, then begging him "Ohhhh …...........……don't rape me again …................ohhhhh ……...............…don't ..............……..it's too deep ……...............….ohhhh ……..............…ohhhhhh!" But all the while the sexy little bitch was thrusting her hip up to get more and more of his cock into her. When the little sexpot begged "Ohhhhhhhh …...........……don't cum in me ……........…..don't cum in me ………........…you'll get me pregnant!", there was no way for Marvin to pull out even if he wanted to, not the way she clutched him tightly to her body. And all this continued for six hours till it was mid-afternoon and he was
totally exhausted.
Two weeks later, Marvin got a page from the front desk advising that the thermostat in the bridal suite was jammed and needed his attention. He was puzzled as there were no weddings scheduled for this weekend and the bridal suite was reserved for those occasions. Going to the front desk, he inquired to the manager if the message he got was indeed correct.
"Oh, yeah, the message is right! I made an exception in renting out the bridal suite since it wasn't reserved for any weddings. Young couple called to inquire about it yesterday. As they had their reception and honeymoon here recently, I decided to let them have it!" the manager replied. Pulling out the registration card, "Yeah, rented for the weekend to a Mr. & Mrs. Adam Sadler. Saw the young couple earlier and that Mrs. Sadler is beautiful blonde bombshell!"
Entering the bridal suite after knocking and not getting a response, Marvin slowly made his way to the bedroom. Peering in, the sight he wished for was a dream come true. The beautiful blonde newlywed was sitting up in bed with only her sexy pink negligee on and then she was peeling off the shoulder straps.
Looking up at the maintenance man, Kara smiled and spoke "Oh, thank you for coming! I feel so hot in here! Feel how hot it is here!" All the while, she was spreading her trim white legs, showing the man where he needed to test the temperature. "Ohhhhh …....................yes, that's it …………………..it's so hot right there!" she cooed as a finger dipped into her hot well.
"My husband ………..my husband wants me to do something ………something I've never done before! Can you tell me if I'm doing it right so I can please my husband?" Kara inquired. "Sit here!" Kara advised as she reached to undo his pants zipper. Holding the long black cock in her hands, Kara stuck her tiny pink tongue out and gave it a wet swipe, then flicked her tongue madly "Is that how to suck a cock? Or do I need to do this?"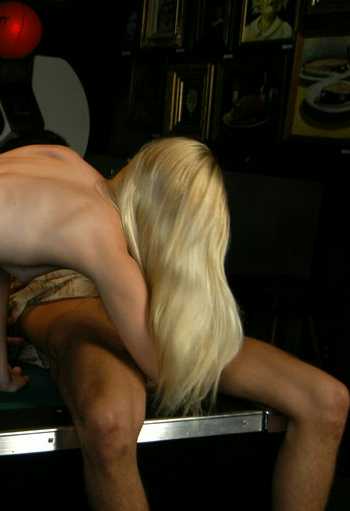 "Ahhhhhhhhhhh, Godddddd ……………………..!" Marvin groaned loudly as the londe bitch clamped her hot mouth onto his cock and began to bob her head up and down. Grabbing her long silky blonde hair, he thrust upwards into her hot mouth, his body shook crazily at the vacuum like suctioning upon his throbbing cock. "Ahhhhh, baby …………..ahhhhhhhh, yesssss!" he groaned as the cum was literally being sucked of him. He gave the little vixen all of his hot cum, not believing he was the first for this natural born cocksucker.
Several hours later, the two lovers were embracing each other, still connected as only a man and wife should be. Then the lovely young wife asked Marvin if he could teach her one more thing "My husband has a kinky fetish! Can you show me how its done?" Marvin smiled as the beauty got onto all fours, facing away from him, then flipped up the back of her negligee. He smiled as he viewed the cherry white ass that was wiggling its tail at him.

End of Story.