Honeymoon Horror - V
(m/f, i/r, n/c)
by
Black Demon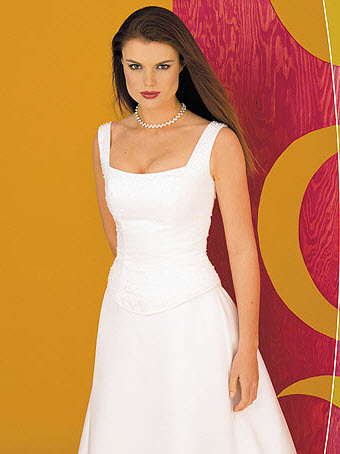 _______________________________________
Standard Disclaimer!
This is a fictional story intended for Adults only!
_______________________________________
Friends and family filled the pews of the large church, all there to witness the exchange of wedding vows between Dave Hampton and his bride, the lovely Lacey Hinson. Both had been dating since high school, gone off to college and now were to be joined as husband and wife. Everyone admired the young couple, both coming from wealthy and influential families in the community. Already each of them had become well known with Dave leading the high school football team to the state championship and then pleasing everyone by taking his talents to the State University. Lacey was absolutely a stunning beauty with long red hair, very bright and popular in her high school and college, cheerleader in high school and then homecoming queen in college.
Lacey was the picture of beauty in her wedding gown, the picture of innocence and purity. All the men envied Dave Hampton, wishing they could have been so lucky to land such a precious catch. Those envious men all felt a twitch in their pants, wishing they could be the one to enjoy the charms of the sexy young bride. The wedding had taken place at noon and the reception was over by mid-afternoon, allowing the bridal couple to make their getaway to the airport. Lacey was anxious and quite nervous as she and Dave waited to get on the airplane that would take them to their honeymoon destination in the Grand Cayman Islands. In this day and age, a virginal bride was unheard of and thus it would have been quite a surprise that this beauty could have put off such an eager stud like Dave Hampton for so many years.
The first night of her honeymoon was just as Lacey had expected when it came to losing her virginity. But what she had read about and heard from her close girlfriends, she wondered about the joys of having a climax that she had heard so much about. She was so thankful that Dave had been gentle and patient with her, even though the pain was rather unbearable when her hymen was ruptured. She was glad that Dave had been so excited at claiming her virginity that he had cum quickly in the protective condom, bringing an end to her rather painful ordeal.
As Dave enjoyed snorkeling and diving, Lacey joined him each day as they explored the nearby reefs. They wined and dined each evening at the best restaurants before retiring to the honeymoon suite. Dave had also entered the wedding totally inexperienced when it came to sex. Although the girls in school had considered him a real hunk, he had been totally devoted to the lovely Lacey. Thus, he had no clue in how to please his lovely bride, merely thinking that she had achieved the same pleasures that he did in their lovemaking. Each night, he had been so excited at fucking his lovely bride that he spurted his love quickly into the tip of the protective rubber. Fast asleep shortly after cumming, Dave was unaware of his lovely bride laying awake and frustrated next to him.
Dave was a certified diver but had not brought his gear since Lacey could not join him. Lacey knew that Dave really wanted the opportunity to go out into the deep water and that he had not brought his gear to please her. With only one day remaining of their honeymoon, she insisted that Dave rent some gear and go out on the dive tour that next day, telling him that this was an opportunity that he may not get again.
The next morning, Jamail brought the newlyweds their breakfast cart and poured their coffee for them. He licked his lips as he gazed upon the lovely woman dressed in a thin blouse and a pair of shorts that revealed her sexy white legs. He had never seen such a lovely blonde beauty such as this before, even after all the years on this job this beauty far surpassed all the lovely young women he had laid his eyes upon. How he wished that he could possess such a lovely white beauty but knew he was just dreaming, especially with a woman on her honeymoon. But he had seen the look she gave him each morning, that certain look that white girls always had when they pondered the old myth about black men. When he heard Mr. Hampton ask his lovely wife if she sure that it'd be okay with him going out on the dive tour that day, he learned that the lovely young bride would be all alone by herself .
An hour later, Jamail watched as the dive boat departed from the dock. He had seen the lovely young wife walk down to the pier with him, dressed in a pink blouse, white short and short white heels. Seeing her long sexy white legs, Jamail could feel the twitch in his shorts as he ached to get between them. As the boat departed, he observed the pretty young bride sitting on a tree stump, sad at being left alone on their honeymoon.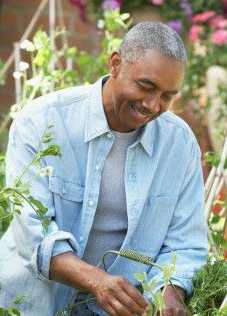 Once he observed the beauty return to her cabana, Jamail quickly got a tray of goodies together to pay her a little visit. Soon, he was knocking on the door of the cabana with a tray in his hand, ready to greet the young bride with a wide smile on his face. When the lovely bride opened the door and expressed her puzzlement of his presence, Jamail explained that Mr. Hampton had put this order in just before he left on the boat, wanting her to enjoy a mai tai and some appetizers. He saw the beauty smile at the thoughtfulness of her husband and allowed him in to put the tray onto the table.
Being so innocent and trusting, Lacey admitted the lecherous 'houseboy' into the honeymoon suite. Once he had been admitted, Lacey felt nervous in being alone with this muscular black man in her room, especially due to the nasty thoughts that had entered her mind when he brought her breakfast earlier. She chastised herself for being such a prude, telling herself that her imagination was running away with itself, that this kind man was even older than her father, that she really needed to get her mind out of the gutter.
Going to the nearby dresser, she opened her purse to obtain a tip for the kind man. As she faced the dresser, opening her wallet, she gave a startled gasp as she suddenly felt hands upon her hips. She was frozen to the spot, unable to move nor protest, only her gasps for breath could be heard in the room.
Panting in fear, unable to scream, Lacey looked down to see a large pair of black hands slowly pull the front of her blouse from her shorts. "Ohhhhhhh …………..pleaseeeeeee!" Lacey stammered, as the roving black hands touched her soft white flesh. She closed her eyes as the large hands moved up slowly. "Ohhhhhhhhhhhh, noooooooo …..Godddddd, nooooooooooo …………………ohhhhhhhhhh!" she sobbed, as her thin bra was pushed up and her tender pink nipples were now being flicked and rolled by thick black fingers. The large hands fully cupped her perfectly shaped breasts, softly roaming and teasing the pink nipples to further stiffness.
Then Lacey struggled with all of her might, trying desperately to get out of her attacker's strong grip. Just as she opened her mouth to scream for help, her scream was cut off as a large black hand was clamped over her. A moment later, Lacey's blouse and bra were torn off and thrown to the floor. Lacey shook in fright, unable to get away from her lustful assailant, unable to stop his caressing of her breasts. Lacey shook in fright and her legs nearly gave way as a black hand moved to the front of her shorts. With a yank, the button to her shorts popped free, then seconds later her shorts and lacy white panties lay in a puddle at her feet. "Ohhhhhh mmmfffff …………….Goddddd mmfffff!" came the muffled groan as a thick finger parted her slick folds, teasing her stiff clit. "Mffffffffffff ………..ahhhhhhhhhhh!" came the muffled groan as her body shook uncontrollably in a convulsive orgasm.
Quivering, Lacey fell limply into Jamail's muscular arms as she was then carried to the honeymoon bed. The bed had not been made as yet and now it would be occupied again. Lacey was laid upon the bed with a pillow under her hips, serving to raise her golden mound up to the mercy of her black 'houseboy'.
"Ohhhhhhhhh ……………please …………..noooooooooo!" Lacey moaned, arching her hips up as Jamail's hot mouth clamped down on her golden muff, the withering tongue teasing her sensitive clit. Planting her feet on the mattress, her legs spread wide as her hands grasped the kinky black hair, arching up in response to the unwanted pleasure. "Ohhhhhhhhh …………….………I'mmmm …… I'mmmm cummmminggggg!" Lacey moaned, body shaking uncontrollably.
Lying upon her bed, Lacey was helpless in resisting this devious old man, helpless as she looked at his grinning black face as he crept upon her body. Her eyes gazed down at the menacing black tool that the old man was shucking, seeing the glistening shine of fluid oozing from the cockhead, amazed at its length and sturdiness. Panting in panic and fear, she watched as the large black cockhead disappeared into her soft red fleece. She gasped as the thick cock parted her moist slit, then it began rubbing up and down with pressure to split open her lovenest.
"Ohhhhhhhh ……………owwwwwwww …………….oh, nooooooo ……….stopppp ……..stop …………you're too biggggg!" Lacey yelled in a panic, her hands trying to push at the thrusting black hips. She was being stretched beyond belief, never having encountered such a monstrosity, nothing so long and so thick. "Aieeeeeeeeeeeeeeee …………………..ohhhhhhhhhhhhhhhhh!" she sobbed when Jamail grasped her trim hips and speared the full length of his black shaft into her without any mercy.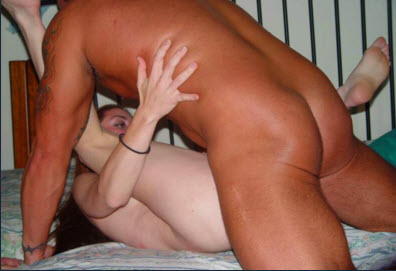 This was a thrill that Jamail had always dreamed of, fucking a beautiful white woman, making her scream in pain as he jammed his cock into her. The fact that he was nailing her right on the honeymoon bed that she shared with her husband made it that much more sweeter. He began to repeatedly withdraw his lengthy shaft, till only the bulb of his cockhead remained, then plunged back down with all his might.
The bed in the cabana creaked as never before, swaying madly, headboard banging against the wall and threatening to collapse. The long deep thrusts and withdrawals soon had Lacey's body responding with her thigh muscles contracting upon the mighty shaft that was deep within her womb. Her trim white legs raised up and encircled her black lover, squeezing him tightly to her. "Ohhh …..ohhhh …..ohhhh …..ohhh …..ohhhh ………!" she moaned with every thrust seemed to go deeper and deeper.
Jamail smiled as he felt the soft white body tense then shudder in convulsions, hearing the lovely bride cry out "Oh, God …………….oh, God …………ohhhh, what's happening ………….ohhhhhh ………I …………I'm cumminnggggg!" Trying to withdraw his cock, Jamail groaned at the lovely beauty arched up to keep his cock deep within her. Holding her trembling asscheeks up to him, his long thick cock buried to the hilt, he took great pleasure in seeing this beautiful white bride achieve such a powerful orgasm, one that had her body convulsing uncontrollably. This was exactly the kind of orgasm she had been expecting from what her friends had told her to expect as her body went entirely limp.
Grasping Lacey's trim white hips, Jamail began to thrust forward again and quickly got it up to jackhammer speed. He felt the petite hands clutch at his shoulders and the trim legs tie him again to her. Knowing she was all his, he taunted her "Mr. Hampton's a fuck'n fool for going diving and leaving his precious little bride all alone! I knew ya needed some black loving, Mrs. Hampton! I see's the way ya drooled when I brought in your breakfast!"
The taunting brought Lacey out of her stupor, feeling so humiliated and ashamed in her disgrace, wondering if Dave could even bring himself to touch her soiled body. She tried to push at the broad shoulders as Jamail looked down at her, gripping her ass and began to fuck her without mercy. "Gonna cum in ya, Missus Hampton ………………..gonna cum …………..gonna knock ya up with my black baby ………..gonna knock ya up ……..right on your fuck'n honeymoon!" he yelled out.
Lacey was swooning from the unbelievable pleasure shooting throughout her entire body, the pleasure that was initiated by the thick pulsing cock deep in her ravished cunt, driving her crazy for another mind-shattering orgasm. But the taunting by her rapist sank and register in her mind. "No ……….no, please …………nooooo …………..don't ……….don't ……you'll get me pregnant!" she sobbed. She unwrapped her arms from around his broad shoulders, her hands now pushing at his upper arms to get him off her body. Jamil held her tight ass tightly to him, thrust as hard as he could, burying his cock deeply as he unleashed his hot potent load. Lacey's trim legs continued to squeeze at him tightly, keeping his cock deep within her, then her arms again were again wrapped around the broad shoulders as the pulsing shaft continued to erupt deep in her womb. "Ohhhh ………….ohhhhhh ………….oh, Goddddd ………..ohhhhhhhhhh!" Lacey moaned as her arms clutched the shuddering black body to her, draining the spurting cock deep in her womb. .
Six hours later, the dive boat was returning to the dock right as scheduled. Dave waved back at his beautiful wife waiting from him on the dock. 'Gosh, Lacey's so beautiful! How did I get so lucky in marrying such a beautiful and faithful woman like Lacey! She must have been lonely on the island while I was diving for so long. I'd better make it up to her with a fabulous dinner and do whatever pleases her!' he concluded.
As Dave stepped off the boat, he embraced his lovely bride in a passionate embrace. He needed to return the rented scuba gear first, then he was hoping to go into the room for a quick shower and some lovemaking with his lovely bride. However, once the gear was returned, Lacey dragged him off for a snack and more tropical drinks. He playfully had cupped Lacey's tiny ass, telling her he wanted to give her something 'hard'. But he went along with her wishes, wanting to please her for letting him go diving.
Lacey needed to keep Dave away from their room for a bit, needing to get some fresh air in and to rid the obvious smell of pure raw sex. She told him that she had stayed in bed till recently and the maid was currently cleaning the room and changing the sheets. Her husband laughed when she told him "I hoped the maid doesn't wonder how the sheets got so stained and soiled!"
Dave snuggled up to his lovely wife, whispering in her ear "Don't worry honey, I only noticed a few splotches staining the sheets before I left! Everything's all dried already and it won't be noticeable!" He laughed aloud, not believing how innocent his lovely wife could be about such things. But Dave's laughter would have ceased immediately if he knew that Lacey was really worried about the huge puddles of thick wet cum that had oozed from her slit just moments before she had made a dash to greet him at the dock.
As she was hurrying into her clothes, her 'houseboy' reassured her all would be taken care of before she and her husband returned to the honeymoon suite. She had looked at the bed and saw all the dry and wet spots of cum puddles from the five hours of constant fucking. After stepping out of the room and rushing down to the dock, Lacey then realized that she had totally forgotten about the plan ondouching out the warm soothing balm that filled her love slit. But seeing the boat nearing the dock, she continued on her way.
When Dave commented that it was a week to remember, she knew she'd never be able to forget it herself. Prior to leaving, as Dave was going to the front desk to take care of the bill, he handed his wife $300 and asked if she to give their 'houseboy' the generous tip for taking such good care of them. With his wife in only her lacy black bra and panties, he told her to take her time getting ready as he had seen a long line at the checkout counter.
When Dave was at the front desk, his lovely wife had called their 'houseboy' to their room to pick up their luggage and to give him the generous tip. When the honeymooners met up again, Dave inquired if Lacey had managed to find their 'houseboy'. He was so glad when Lacey told him that their 'houseboy' was so appreciative of the generous tip. Just then, Jamail waved and rushed on over to bid them goodbye, shaking Dave's hand and giving his thanks "Thank you so much for the generous tip that Mrs. Hampton came to give me! It was something I never expected!"
Alone with Lacey, Dave whispered "I guess no one gave him $300 as tip for the week long service that he provided. I'm glad he was so happy and appreciated it, after all, he did do a very good job in taking care of us! Don't you think so, Lacey?" "Honey, he was worth every penny of that! I've never had such excellent and personal attention like that before! I'm glad that I gave him that bonus for his services!" Lacey replied. Dave thought Lacey's reference of bonus was to mean the tip but that was so different than the bonus Jamail had received from the lovely young bride. It had been an honor for him to be the first man to have the lovely Lacey Hampton kneeling before him in her sexy black undies, her petite white hand on his cock as she got her very first taste of male cock. And she did such a good job, sucking him like a pro and swallowing all he had to offer for her morning breakfast.
On the flight back the next day, Lacey was feeling guilty as she looked back at the island. She told herself that from this point on she would put the last day of her honeymoon entirely out of her mind and hereafter would always be true to the man she loved. She couldn't understand her weakness, knowing it had been rape at first but then why did she eagerly give in to Jamail after that first episode. When Jamail was about to dress and leave her a half hour before the dive boat returned, she had pulled him back down to lie on his back, then she had straddled him and thrust herself down onto his thick black spear. Tears formed in her eyes, fearing deep down that the rape of her body had turned her into a slut for black cock. She just prayed that the illicit affair had not left her impregnated with a little black baby.
Over the first six months of their marriage, Lacey was the loving and faithful wife to her husband, being quite attentive to his needs. She never gave another man a second look. Also, she never put Dave off whenever he wanted to make love to her but lovemaking with her husband had not improved from their honeymoon. Lacey felt some satisfaction from the lovemaking, but only when she pretended that she was back in the Grand Caymen Islands, in particular her thoughts drifted back to the last day of her honeymoon.
Everything seemed to be coming along fine for the young newlyweds, both enjoyed and were progressing in their jobs. Dave had a job with his father's company, so it was well assumed that he'd be right up there once he learned the business. If fact, Dave started far higher than regular newcomers and had already gotten a promotion, obviously due to his father heading the company. However, Dave did put in long hours, determined to know every facet of the company. This did not leave much time for yard work, which Dave detested anyway.
Just as Lacey thought that she had managed to put the rape and her subsequent infidelity to the black 'houseboy' on her honeymoon, her world would soon be turned upside down again. They had a nice suburban home, courtesy of their wealthy parents, but the weeds were beginning to overtake the yard. With Dave's recent promotion and raise, he told her that the problem was soon to be solved. Dave told her that a co-worker had put him onto a good but inexpensive yardman and arrangements had been made for him to start that weekend.
On Saturday morning, Lacey prepared a simple but nice breakfast for her husband. She was looking forward to the outing they had planned for the day, a nice drive to the coast for lunch and then she could browse at the souvenir shops to help decorate the home. But first Dave needed to wait for the arrival of the new yardman so he could explain what project was needed first.
Twenty minutes before the scheduled time for the yardman to arrive, the phone rang and Dave got was advised of an accident down at the plant. He quickly got dressed, hurriedly gave Lacey instructions on what to tell the yardman when he arrived. With a peck on her cheek, he told his lovely wife that they'd head on out to the coast as soon as he got back, telling her he hoped to be back in about an hour or so.
Lacey hoped the emergency at the plant was not a major one and that Dave would be able to get back in time for them to make it to the coast for lunch. As she cleaned up the morning dishes, the front doorbell rang. Looking at the time, it was 9:30 a.m., exactly the time Dave had told her to expect the yardman. Wiping her hands, she then made her way to answer the front door.
Opening the door, a shiver coursed throughout her body as Lacey came face to face with a large muscular black man, who immediately reminded her of her 'houseboy' during her honeymoon. This man was younger but similar in build with a darker complexion. Instead of her normally calm and assured manner, Lacey began to stammer and stutter as she greeted the yardman. Since that eventful day on her honeymoon, Lacey had not come into any close contact with any black men, leading Lacey to believe that she was all over it.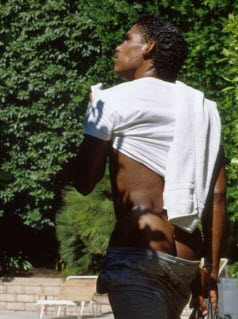 Rufus Johnson had seen that certain 'look' and nervousness before, the same 'look' and nervousness this little beauty was displaying at the moment. Ever since he had quit his construction job and gone into the yard maintenance business for himself, he had often seen that look and nervousness on some of the lovely white wives, whose home he serviced. He knew that certain 'look' stemmed from what was going through their minds at the time, wondering it that myth about black men were true. Whenever he sat that 'look', Rufus made it a point to prove that the myth was indeed true.
As he followed the young beauty around the side of the house, he could see her fidget as she hurriedly tried to get further ahead of him, listening to her stammer and apologize about her husband having to rush off in an emergency. He stood at least a foot taller than the beautiful wife and suspected that he doubled her weight. 'God, what a little angel! I just gotta me between those sweet white legs!' the thought, as he stared at her long sexy legs.
When Rufus got the call early that week, Dave Hampton had told him that there was a large storage shed in the back yard and a rather new lawnmower was in it. 'Hmmm, if I play my cards right, maybe I can get this little bitch alone in the shed and prove to her that the myth is really true!' he pondered. Then he decided to play his hand "Mrs. Hampton, one thing that really needs to be done today is the lawn. If we put it off, it'll be that much more difficult to upkeep. I didn't bring my lawnmower as Mr. Hampton only mentioned doing some shrubs cutting back some tall weeds on the slight hillside that you have!"
"I …….I do believe Dave has one! It must be in the storage shed!" Lacey replied, leading the way there as she pointed out the other yard work that was needed. Opening the door to the storage shed, Lacey stepped into it to see what was under the sheet. "Oh, here it is!" she exclaimed in delight. When she turned around, she froze as another shiver coursed through her body. At that moment, she realized that she was now alone in the shed with this leering stranger.
Rufus chuckled to himself, stepping into the shed right behind the beautiful little bitch. The little bitch had fallen right into his little scheme, he had her right where he wanted her, in a place where they would not be observed by the neighbors. But Rufus was smart enough not to make any attempt to grab her, not wanting to be charged with assault or attempted rape. He looked at the now frightened young beauty, saw that she was now speechless. He narrowed that short distance between them and as a pretense, then asked "Are you feeling okay, Mrs. Hampton?"
"I ……..I ………..!" Lacey stammered, unable to get the words out as her body shook. At first it was due to fear, then she realized that she was afraid of her own weakness, her weakness for black cock. "Mr. Johnson ……….I …………I ……….!" she panted. "Please, Mr. Johnson …………I ………!" Lacey stammered.
"What's the matter, Mrs. Hampton?" Rufus asked with a straight face, acting concerned as he reached out to grasped her lovely manicured hand, feeling her hand tremble in his. "There's a lot of tools her in the shed. But there's one particular tool that I think particular tool that would come in handy right now!" he told the beautiful young wife as he drew her hand forward to him. "Ahhhhh, yeah, Mrs. Hampton! Ahhh, yeah, baby! I just knew you were hot for it! That's the way, honey, feel how big it's getting for you! Unzip me, baby, get the feel of the real thing!" he encouraged.
All reasoning deserted Lacey's mind as she fumbled with the zipper to the well-filled jeans, pulling it down. Panting for breath, her left hand moved slowly into the tight opening. Desperately, Lacey fished into the opening and came out with the prize that she sought, looking at the long black cock in awe as it waved about and throbbed in her clenched fist.
Rufus couldn't believe his eyes as he watched the young innocent wife now handle his cock in both hands, watched as she slowly sank to her knees on the dirt floor. He groaned loudly as the young beauty enveloped his thick cockhead between her pink lips, watching as the naïve little beauty went at it with enthusiasm. He couldn't believe what he was seeing as the beautiful bitch was intent on eating him alive. He put his outstretched hand out onto the roof of the storage shed to keep his balance. He looked down to see the young wife do the unbelievable, swallowing the length of his entire cock, something even some of the pros couldn't do. He wondered how the petite beauty was able to breathe the way his cock was crammed in her mouth and throat.
Lacey kept the entire length of black cock down her throat as long as possible, until she was forced to come up for air. With only the thick cockhead in her mouth, using both hands to pump at the throbbing black stem. Then she began to tease the cockhead with her flicking tongue, teasing the cock slit with the tip of her tongue as she sped up the pumping.
"Oh, baby ……………oh, yeah ………………..ohhhhhh, sweetie! Oh, you sweet thing! Baby, you're getting me so fuck'n hot ………………God, ohhhh, baby! Mrs. Hampton …………ohhhhhh, yeah ……………….eat me ……………eat it all …….ahhhhh, I …………..I'm gonna cum real soon!" He expected the lovely young wife to quickly remove her mouth at the warning and was taken by surprise as he looked down to see her baby blue eyes looking up at him. He then knew this sweet young wife was gonna give him the blowjob of a lifetime, knowing she was intent on eating his load nigger cum. He
humped at her beautiful face, then his body shuddered and stiffened as he groaned "Oh, yeah, baby, baby ……………..I'm cummingggggggg ……………argggggghhhhhh!"
Lacey's teasing tongue was suddenly coated by a layer of hot thick jism, her mouth filled to the brim as the throbbing cock continued to spurt. Keeping her mouth tightly around the spurting cock, she continued pumping at the cock in her hands, swallowing all the thick nourishment that was being fed to her. Her eyes still on the groaning black face that watched her, she opened her mouth to show him the mouthful of cum that remained, then teasingly wiggled her pink tongue through the thick jism. Closing her mouth, swallowing, she knew he could see the movement of his cum sliding down her throat. Lacey smiled at him, she opened her mouth again to show him that she had swallowed every last drop.
Drained, Rufus plopped his butt down on top of the lawnmower, leaning back so the handlebars supported him. His cock began to pulse back to life as he watched the lovely young wife unbutton her white shorts and let it fall to her feet. Then he watched as the lacy white panties soon followed and lay upon the fallen shorts. The teasing young bitch then stepped out of the fallen garments and came closer to the lawnmower. The little bitch kick off her tennis shoes, then stripped off her halter top, undid the back of her bra and let it fall to the ground.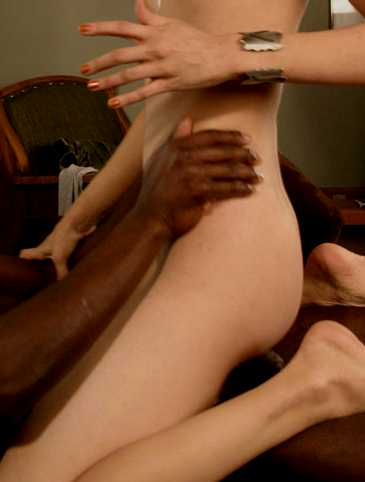 Over the years, Rufus had come across many white beauties that need a good fuck by his big black dick. But none had been as young and beautiful as Mrs. Lacey Hampton, nor had any of them been so hot as this little minx. His cock was throbbing again, rising back to attention. He groaned as a beautiful manicured hand again closed around his manhood, slowly pumping up and down again. Then he watched the little bitch spread her legs wide, moving closer as she straddled the width of the lawnmower. "Ohhhhh, baby! Ohhhhhhhh, yeah ……………..!" he groaned the lovely beauty lowered herself onto his upright prong, enveloping his throbbing cockhead.
"Ohhhh, yessss …………..ohhhhh, you're so bigggggg! Ohhhhhh, yes …………yes!" Lacey groaned loudly as she felt herself being split in two. She was in desperate need of the kind of satisfaction that she had reached on the last day of her honeymoon. Oh, yes ………………oh, God ………………fuck me ……….fuck meeee!" she chanted as she felt the thick cock being thrust up into her. Then she began to ride the pleasure-giving shaft in earnest, just as if she was riding a horse to the finish line.
Amazed at the young beauty literally fucking herself to orgasm upon his cock, Rufus began to fuck up into with force, wanting her to remember what a man's cock really felt like. He pushed up her loose blouse and thin bra, leaned forward to feast on her tender pink nipples. "Oh, yeah, honey! You got a 'real' man's cock up your horny twat now! Bet your little white boy ain't got nothing like this to satisfy you with, huh, bitch! Feel this, bitch!" he growled, his hands held her hips down as he slammed up into her, burying his cock deep into her womb.
"Oh, God! Oh, God …………………yesssssssss! Ahhhhhhhhh ………..ahhhhh ……..I ………..I'm cumminggggggggg!" Lacey groaned loudly. Then her body shook in uncontrollable spasms as she reached the orgasm that she so desperately needed. "Oh, God ……………oh, yessss ………….oh, fill me …………fill me with your hot cum!" she begged as the thick cock in her womb expanded, then exploded it's hot juice deep in her fertile womb.
Moments later, Rufus wheeled the lawnmower out of the shed and gave a chuckle at the fucked out little beauty "Guess I'd better get started before the boss man gets home, huh, little lady!" It made his day as the horror of what she had just done registered on the young wife's beautiful face. Mrs. Hampton made quite a sight, her long white legs were obscenely widespread as she sat in the corner of the shed, her naked butt on the ground with his cum drooling out of her well-fucked slit.
Ten minutes later, Dave Hampton drove up and parked in his driveway as he planned to leave shortly with his lovely wife. He had seen the yardman's pickup at the curb when he drove up and as he got out of his car, he could hear the lawnmower going in the backyard. Going to the back, Dave was happy in knowing that the yard problem was now being solved as he watched the yardman using his lawnmower.
As the mower approached, it was then put into neutral and the two men shook hands as they introduced themselves. Dave inquired if the lawnmower was good enough and was happy to hear that "It's a real sturdy one! It'll even stand up to two people riding right on it!" Then a movement near the storage shed caught Dave's attention and was surprised to see his lovely wife emerge from the shed. "Are you okay honey, as he observed her limp a bit as she took a step?" he asked as he went over to check on her. "Oh, I'm fine Dave! I wanted to take a peek at all the things you store in the shed and slipped when I stepped into it!" Dave brushed the dirt from her shorts and advised "I think you better change your shorts before we go out, you got bit dirty from your fall!"
Dave waited outside as his lovely wife went into the house to change her dirty shorts. Meanwhile, he chatted with the yardman, telling him that he and Lacey would be taking a drive out to the coast. He beamed with pride when the elderly yardman told him "I envy you Mr. Hampton! You've got a very beautiful young wife!" Dave thanked him for the compliment but couldn't resist the thought of just how horrified his lovely Lacey would be if a black man like Rufus tried to make advances upon her. He laughed to himself, knowing his innocent young wife would just freak out if something like that ever happened.
Lacey was back out quickly with a clean pair of shorts on, giving Dave a kiss, but she still had on her panties that had been in the dirt. Not only was her panties covered with dirt, it was now quite soiled in the crotch area, having absorbing the thick cum that drooled out of her widely stretched hole. Cum that belonged to the man standing right next to her husband, the 'real' man that he was chatting with at that very moment.
Five months later, Dave presented his lovely wife with a surprise, telling her "Honey, for our 1st anniversary, I made reservations for us to spend a week back at the Grand Caymen Islands! Remember the great service we had from our 'houseboy' Jamail? Well, I arranged it so he'd be the one to service all our needs again! Bet he'll remember us after that generous tip we gave him!"
Dave knew he had decided upon the right anniversary present, especially the way Lacey's eyes lit up and the smile it brought to her face. He knew he'd enjoy it even more with all the diving he'd be able to get in, after hearing Lacey's response to him "Oh, I'm so excited, Dave! But this time I want you to bring along your scuba gear and take all the dive tours they offer! I'm going to do exactly what I did on that last enjoyable day of our honeymoon! I'm going to enjoy staying in bed all day and get out only when the dive boat's about to dock!"

End of Story.