Landlord's Lust - I
(m/f, i/r, n/c)
by
Black Demon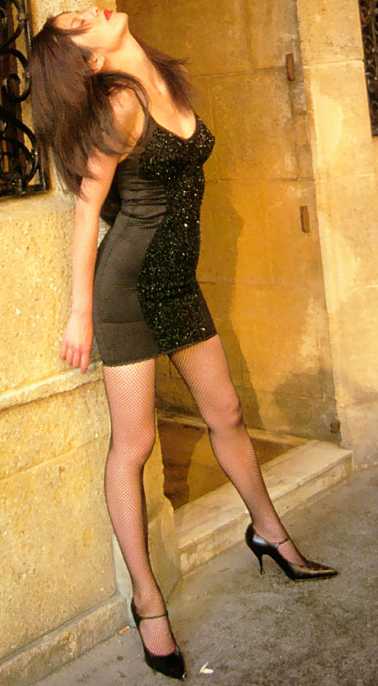 _______________________________________
Standard Disclaimer!
This is a fictional story intended for Adults only!
_______________________________________
At the age of 20, Jacquie Mei Ling Kwan thoroughly enjoyed her study abroad in the United States. Born and raised in Hong Kong, she was glad that her parents had the foresight that they would send her abroad for her higher education and had given her the name of Jacquie in addition to her traditional Chinese name. In Hong Kong, she had gone under her Chinese name of Mei Ling Kwan and now in the U.S. she merely went under Jacquie Kwan. This seemed to work out quite well as she spoke perfect English and led everyone to think she was born and raised in the U.S.
Standing at 5'2" and weighing 114 lbs., Jacquie's nicely shaped body of 33-22-33 had men's heads turning whenever she passed. Her skin was unblemished, like a precious little porcelain doll, giving the male students at Pacific State U. a hardon upon viewing her beauty. Jacquie had lived in the girls' dorm from the beginning of her freshman year of college and now intended on staying there till she graduated.
Jacquie had actually wanted to move off campus at the beginning of her junior year, with several girls she had befriended in the dorm, but her parents gave a definite 'NO!" to her request. Though her parents had been thinking far ahead on her education, they were quite traditional and did not want their daughter living a carefree live that was often depicted on television of the typical American youth.
Coming from the upper crust of society in Hong Kong, Jacquie had life quite easy throughout her life with housekeepers, maids, servants, cooks, etc. Her college tuition was entirely taken care of by her parents and she had flown back to Hong Kong on all her breaks and summer vacations without a thought of the expenses incurred.
Things changed drastically at the start of her junior year when she had met Drew Newman and fallen in madly in love with him. So excited with her first true love, Jacquie had made the misfortune of telling her ultra-conservative parents of her new found love. She had never taken her parents seriously of the traditional Chinese pre-arranged marriages that regularly took place in Hong Kong and that they would allow her to choose her own lifestyle.
It became quite apparently how wrong she was when Jacquie's parents exclaimed their dismay in her having an American boyfriend. They had mentioned several times how her life would be perfect if she was to wed Milt Wei Cho Yee, son of Wei Fong Yee, the multi-millionaire of the food industry. She had met Milt Yee several times and thought that he was a real 'creep' and had expressed that feeling to her parents. Thus, she was taken aback at how they reacted when she told them of her true love.
As summer was approaching, Jacquie's boyfriend needed to take a couple of courses during the summer so he would be able to graduate the following June with her. Jacquie couldn't bear to leave him to return to Hong Kong and be forced to see the creepy son of the multi-millionaire just to please her parents. When she broached the subject of staying back during the summer, her parents balked and insisted that she return home during the summer as they sensed the real reason why she did not want to return home.
Now a bit rebellious from being accustomed to the American way of life, Jacquie argued with her parents, something that she had not done before. Insisting that she could pay her way during the summer and be self-sufficient, her parents had told her that she would then have to fend for herself entirely for the summer. But they also gave her a way out saying she could call them for a plane ticket back to Hong Kong whenever she came to her senses.
Drew was also on a tight budget with his parents helping out some but couldn't assist him much more due to their large family. He couldn't ask for more living allowance during the summer as they would then suggest that he reside at home and commute each day. Thus, Drew and Jacquie began scouting the classified ads for apartment rentals. Jacquie planned on getting a summer job but had to at least be taking one summer school course to keep her student visa current.
There were a few summer jobs available on campus but the pay was so little and thus Jacquie scoured the help wanted ads daily. Passing an electronics store one day, she noticed a 'help wanted' sign and went in to inquire about it. The woman manager was very nice and the pay offered the minimum wage but there was commissions added from the amount of sales she produced. This summer job seemed to perfect for her as her parents owned a small electronics store in Hong Kong, where she helped out during the summers.
After a few weeks of apartment hunting, both Jacquie and Drew came to the conclusion that the most affordable area that was still close the campus was in the rather run-down neighborhood located several blocks from campus. Going around to check out the various apartments, they found them all in about the same squalid condition.
They explained to all the apartment managers that they were students and advised that needed a place for the summer, which really made it even more difficult as it would only be a three-month rental. The majority of apartment managers weren't interested in short term rentals as then they'd have to cleanup again and go through the rental process at summer's end.
When one manager took pity on their situation, saying a unit was to be vacated by a couple students when the regular year was over, they jumped at the chance to rent the apartment. Eagerly, Jacquie and Drew filled out the application and left a small deposit so the apartment would be held for them. They appreciated the friendliness of Mr. Spike Thomas and his willingness to help out college students with a short-term rental.
Little did Jacquie and Drew realize that there was no other college students currently living in the complex. That Mr. Spike Thomas was going to boot out an always delinquent elderly renter so he could free up an apartment for the young college students, an apartment situated right next door to his. Once the apartment manger's eyes had surveyed Jacquie's trim sexy bod, he was determined to do everything possible to have them as tenants. Feeling his cock throb in his pants, Spike Thomas' mind was reeling at the hopeful possibilities, thinking 'Damm, I'm hungry from some fine Chinese cuisine!'
Throwing out the always delinquent renter, Spike went about sprucing up the apartment for his new tenants. Never had he ever cleaned an apartment so well before, not wanting the lovely Asian beauty to be turned off by the normally roach infested unit. He fixed up all the broken items in the apartment and even went about installing some extras, like the hidden remote miniature camera in the ceiling vent of the bedroom and above the shower. He also placed a two-way mirror in the bathroom that was adjacent to his bathroom.
Jacquie only kept a checking account in the U.S. to take care of her bills, keeping her savings account in Hong Kong. She had enough to help cover her portion of the first month's rent with Drew getting funding from his parents to cover his portion. With Jacquie obtaining the job at the electronics firm, she was certain that she would earn more than enough to take care of the next month's rent. Still, deep down, she hoped that her parents would relent and continue to support her during the summer.
Drew's parents were also quite conservative and would have balked if they had learned of his moving in with his girlfriend. Instead, he had had merely told his parents that he and one of his friends for the dorm were getting a place for the summer, letting them assume it was a guy he would be rooming with. Having to take a full load of rather tough courses during the summer, it wasn't possible for Drew to undertake a part-time job at the same time.
As the semester ended and Jacquie packed up her belongings to move to the apartment, she realized that her parents were quite serious as no funds arrived in the timely fashion as it had throughout the school year. Still, she looked forward to spending the summer with Drew as she was so much in love with him. They had gone to check out the apartment the other day and obtained the key to the apartment. Jacquie was glad there were two single beds in the bedroom, otherwise, she knew that before summer ended so would her virginity.
Peering out of his living room window, Spike smiled as the saw the young couple pulling up in an older model Bronco with their belongings stuffing it to the gills. His cock twitched upon seeing the sexy beauty who was clad in a blouse, shorts, and tennis shoes. As she bent over into the Bronco, he got to gaze upon her long creamy legs. 'Damm, I just gotta have those soft creamy legs wrapped around me soon!' he muttered.
Through the hookup of the miniature cameras and the two-way mirror, Spike got to watch the lovely beauty's every movement. It took some time for the young couple to unload their belongings from the Bronco, carrying them up the steps and then setting the items up to their satisfaction. He watched as they sat and relaxed once their task was accomplished and took a sip of a cold drink, watching as the sexy beauty slipped off her tennis shoes to reveal her lovely bare feet.
Seeing the sexy beauty gather some clothing and towels, Spike smiled as she passed the camera on her way to the bathroom. Making a beeline to his adjacent bathroom, Spike turned on the video camcorder that had already been set up in advance on a tripod, facing the two-way mirror. His cock twitched as he watched the beauty put the towels on the rack and set her clothing down on the bathroom counter. His heart began to pound in anticipation as the young beauty reached up to the top button of her white blouse.
The top button opened, then the next followed as Spike got a glimpse of her thin lacy white bra covering the twin beauties of the sexy young Asian honey. As the blouse was pulled from her shorts and the rest of the buttons undone, Spike's cock was throbbing madly in his pants. Unbuckling and unzipping his pants, he pulled out his cock and began stroking at his pulsating piece of meat as he watched the exciting show taking place before him.
With the shorts being unbuttoned and sliding down the trim creamy legs, Spike licked his lips as he gazed upon the sexy little beauty. Wetting his lips, seeing her hands reach behind her back, Spike muttered 'Oh, yeah! C'mon, baby, let me see those twin beauties of yers!' "Oh, yeah!" he groaned loudly as the perfectly shaped breasts came into view, capped by the twin pinkish-brown peaks. Then the lacy white panties were sliding down the sexy legs, briefly baring the triangle of soft black curls of the sexy beauty before she stepped up closer to the two-way mirror.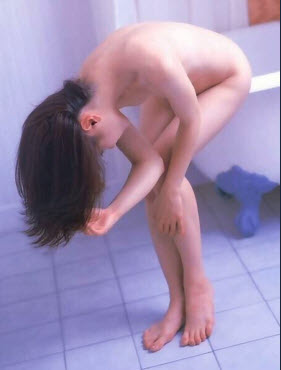 It was as if the sweet Asian beauty had heard Spike's silent wish as she looked into the mirror then reached up to cup her twin beauties in the palms of her hands to present them to him. Then he watched as her thumbs moved up to caress the tips of her beautiful breasts, causing her to bite at her bottom lip, her eyes closed as she bent her head back from the pleasure derived. As she touched herself, Spike shucked his cock faster and faster as he groaned with pleasure. Then, if not for the two-way mirror, Jacquie's beautiful breasts and hands would have been covered by hot creamy spunk.
With Jacquie in the shower, Spike returned to the living room where he plopped his exhausted body down into the sofa armchair. Flipping the over to the camera in the bathroom, he watched and taped the beauty as she showered and cleaned her sexy body. 'Damm, I just gotta get me a piece of that little bitch!' he muttered to himself.
That night, Spike watched the young couple putting the final touches to the setup of their bedroom. He was surprised to see that the two single beds were put on opposite sides of the room with a curtain drawn in the middle of the room. He saw them cuddle and with the aid of the special camera and microphone, he learned that the young beauty wanted some distance between the beds to assure that they didn't get too carried away and that she wanted their wedding night to be something 'special'. That was when he knew the sexy little beauty still had her precious cherry intact.
The next morning, Spike watched through his window as the young couple headed out of the parking lot with the young man going to his classes while his beautiful girlfriend was off to work. Waiting a bit till he was assured that they were gone, he checked the hallway to see that no other tenants were mulling about and then slipped into the apartment next door with his master key.
Making his way to the bathroom, Spike went straight to the hamper where he had observed the beauty depositing her undergarments the night before. Picking up her lacy bra, he touched and fingered the soft cups that had been molded to the perfectly shaped cones of the lovely beauty. Slowly, he reached into the hamper to pick up the soft lacy panties and drew the silky white garment up to his face.
Closing his eyes, Spike breathed in the sweet aroma, shivering at the smell of the sexy brunette that he had spied upon. He loved the smell of her, then wanted the taste of her as he began to suck on the crotch of her lacy panties. Unzipping his pants to withdraw his hard throbbing cock, Spike then wrapped the lacy garment around his hardon and began to fist his aching cock.
"Ahhhhhhhhh …………ahhhhhh!" Spike groaned as his cock twitched and lurched in his fist, spurting out streams of hot cum harmlessly into the toilet. Moments later, panting in exhaustion, Spike then wiped his oozing cockhead with the soft crotchband of beauty's panties. Replacing the garments in the hamper, he then exited the couple's apartment and made his way back to his unit.

But Spike knew that he would have to be satisfied with his imagination and get the needed relief from his fist. He knew that such a sexy little beauty would not give a second look to the likes of someone like him. He had to be realistic, knowing that the only way his dream would come true would be to rape her and he then he'd be behind bars till he was old and gray. 'Well, shit, at least I can dream!' he muttered as he continued to stroke himself.
After that first eventful night and many to follow, Spike lay in bed and dreamt of the sexy beauty just next door to him. Watching her dress and undress, showering, and cuddling with her boyfriend gave him a constant hardon. He sure as hell wished that he could get into her tight little panties and claim her precious little cherry. Stroking his massive hardon, he closed his eyes and imagined hearing her screaming in pain as he forced his thick cockhead into her, thrusting hard to bust her cherry.
Working at her job in sales at Bonner's Electronics was right up Jacquie's alley, especially with her prior sales experience with her parent's store. She was assured at getting enough for the rent with the minimum hourly wage but she had also been the top sales person in just her first month of the job that she had earned over $2,000 for her first month of the summer. The one class that she had taken was rather easy and didn't require much study time so Jacquie was enjoying the summer with Drew tremendously.
With Drew giving her his portion of the rent, Jacquie deposited that money with her check from her company into her checking account. That night, she wrote out a check to cover the next month's rent that she would give to the apartment manager the day before it became due. Jacquie felt so proud of herself in earning so much in just a summer job and being able to fend for herself without the aid of her parents' help.
The next morning, a Friday, Jacquie slid an envelope under the apartment manager's door to cover the rent for the next month. Then she was off to work, which she really enjoyed as a means of being self-sufficient plus enjoying her summer in the U.S. This atmosphere provided her with the dream of freedom and getting away from all the rituals and expectations of living in Hong Kong. The added fact that she was accomplishing all of this without the aid or assistance of her parents made it even more gratifying.
The next Wednesday morning, Jacquie approached the front of the electronic stores where she worked and noticed a large crowd gathered in front. She was puzzled as there was no major sale to begin on this day, then noticed some of her fellow employees standing off to the side. She went to them and inquired as to what was happening.
Jacquie was in for quite a shock when she learned that the store had been shut down overnight and bankruptcy had been filed. Worst yet, she learned that all the checks distributed to the employees the past week had bounced due to insufficient funds. Jacquie then realized that if her paycheck had bounced, there weren't enough funds to cover the checks she had just written, especially the big one for to cover the rent.

Unable to believe that it was really happening to her, Jacquie was at a total loss and remained with the other employees, hoping that some additional word would come as to their fate and checks they had been given. During the agonizing ordeal, Jacquie thought possibly of calling her parents in Hong Kong for assistance but she was too proud to have to admit her failure to survive more than a month without their help.
Meanwhile, back at the apartment complex, Spike Thomas caught it on the television news of the sudden bankruptcy of the Bonner's Electronics' chain of stores. He knew that the sexy beauty next door worked at the nearby store of the chain and shook his head in knowing she was out of a job. The television showed crowds gathered in the front of the various stores as they were customers who had paid for items that were to be picked up or delivered to them. However, the news did not reveal that the employees' paychecks of the week earlier had bounced.
At noon, when the mail was delivered, Spike went through the various bills and statements and observed a notice from the bank. He had seen such notices from the bank before, especially when a check deposited into the account had bounced from one of the tenants. Sighing, he realized that he would now have to go through the ordeal of having that tenant to come up with the funds or begin that tedious task of getting that tenant evicted.
Opening up the bank notice, Spike's eyes widened in amazement, seeing that the bounced check had been written by Jacquie M.L. Kwan. Smiling, he then realized that her paycheck from the now bankrupt Bonner's Electronics had probably bounced and that caused a chain reaction on all the checks she had written against it. He knew that no eviction would be granted due to such circumstances but wondered just how much the sexy Asian beauty knew of U.S. laws and customs.
As mid-afternoon approached, a dejected Jacquie made her way back to the apartment. She wished Drew were there to comfort her but knew he not return till late that night as he had lab work to do for one of his courses on Wednesday evenings. She wondered but doubted that Drew had enough funds set aside to help cover the rent.
Eagerly awaiting the return of the sexy beauty next door, Spike smiled as the heard the click of her high heels as walked down the hallway. She had seen how nicely she was dressed each morning, wearing a nice dress with heels to work, knowing that appearance played quite a big part in any type of sales. Hearing the footsteps stop and the key being inserted, Spike opened his door and politely spoke "Oh, Ms. Kwan, may I see you for a moment!"
Jacquie was startled for a second at the appearance of the apartment manager, then her heart sank as she observed him holding up the bounced check that she had written for the rent. Under normal circumstances, she would never have entered a man's apartment but all such precautionary thoughts left her when Mr. Thomas advised "Come inside! We don't want any of the others tenants to overhear us!" Actually thankful that no one would overhear their conversation, Jacquie readily stepped into the apartment as the manager held the door wide open.
Having locked the door behind him, Spike knew that he was going to possess this sweet little beauty on this day, rape or not. He smiled to himself in seeing her blinking back the tears and sniffling a bit. "Ms. Kwan, I was really disappointed when the bank returned the check you wrote due to insufficient funds!" he curtly advised. Holding up an envelope close enough for her to clearly see how it was addressed, Spike added "I thought I was doing you college students a favor and this happens! Seeing that your parents are listed on rental application, I've written to them with a copy of the bounced check and asked that they make good on it!"
At the thought of her parents finding out of her mess, knowing how ashamed they would be of her for writing a bad check, Jacquie could not control the tears that now flowed down her cheeks. So ashamed of herself and her predicament, closing her eyes, she held her hands to her face and sobbed. The warm embracing arms that now embraced her brought her comfort, hands rubbing at her back soothed her distressed body.
"There, there, don't you fret any! I'm sure the judge won't put you in jail for writing a bad check! Probably just probation!" she heard the apartment manager advise. Then she recalled a male student on a visa getting into trouble with the law and his student visa was subsequently revoked. Jacquie was so distressed at the thought of being unable to complete her education in the U.S. and that she would no longer be able to see much less live with her true love.
"There, there, Ms. Kwan! Don't you cry! Perhaps we can work something out that won't require me to report this to the police or send the letter to your parents!" Jacquie heard the comforting voice say to her. "Yes, yes …….................thank you ...........................oh, thank you ...…............…I'll anything to help out around here to pay back what I owe! I'll sweep and mop ...........................whatever's needed! But please don't call the police or tell my parents! They'll be so upset with me and disinherit me for shaming them in such a way! Just tell me what I can do and I'll gladly do it if you won't report this!" she advised.
That was all Spike wanted to hear as he licked his lips and advised her to "Take yer clothes off so's I's can collect my first installment!" He felt her body tense up and freeze with absolute fear as she realized just what it would take to keep him from reporting her misdeed. He heard her stammer and pant in terror but unable to get any words out as she first stumbled and attempt to bolt away. But Skike was prepared for it and grasped her by the wrist and tossed the off balanced beauty to the far end of the room where the bed was, causing her to fall onto it as he approached her while undoing his belt.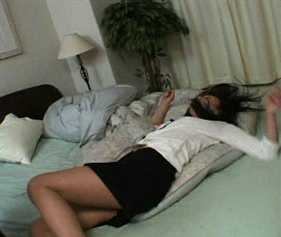 Spike grinned as he gazed at the now shaking and sobbing beauty tried to stop him for tearing off her black skirt and white blouse. Having lost her black heels when she stripped the skirt from her, she lay there before him in her lacy white bra and panties, familiar garments that he had intimately touched and jerked off upon each weekday during the past month. Only now he was to have the honor and pleasure of stripping them off the shivering beauty's sexy body. He enjoyed seeing the beauty cringe under his intimate touch, knowing that she was too afraid of the consequences should she object to his advances.
"Please …………....….please ……………I ……………I'm afraid! I ……...........……I've never ……..............…….never been with a man before!" Jacquie sobbed. Eyes closed, biting down on her bottom lip, Jacquie could only picture the forbidden area on the outskirts of Hong Kong where many young girls stood in the streets in hopes of enticing a paying customer up to their room. Many of those girls had been sold into the life of prostitution by their peasant parents in order to make ends meet. Jacquie had been spared such a fate in being borne to wealthy parents but now she knew how those unfortunate girls felt.
Steeling herself, Jacquie saw no way out, not if she wanted to spare herself the embarrassment of possibly going to jail and worst if her parents were to find out her dilemma. She would never be able to look at her parents ever again without feeling like a failure should they discover she wrote a bad check, that she could not support herself for even a month without their help. Jacquie resigned herself to the horror of submitting herself to the awful touch of the devious apartment manager.
Closing her eyes tightly to shut out the horror, Jacquie sobbed as she felt her bra being unclipped and the shoulder straps drawing the protective garment down over her arms. She sensed a movement around her, then gasped loudly as the sensitive nipple of her left breast was suddenly engulfed in the man's hot wet mouth, causing her nipple to harden immediately. Then her right nipple was being suckled in the same manner, causing her to shiver from the unwanted pleasure.
Everything seemed to escape her as Jacquie found herself now lying upon a bed with the leering apartment manager looming over her. She shuddered as he peeled off his shirt to reveal the rippling muscles on his chest and arms, his coal black body glistening in the light. She gasped and her eyes widened even more as his pants was undone and allowed to fall to the floor.
Spike loved the shocked expression on the beauty's face as his cock sprang out once he had dropped his pants. Having eliminated his jockeys, Spike pumped at the long black tool that would soon deflower this sweet Asian beauty. Stepping out of his pants, he stepped forward to remove the beauty's white heels, letting them fall to the floor. Then he reached up to grasp the waistband of the lacy white panties she was wearing, the exact same pair that he had first used to jerk off with. Drawing them off her trim sexy legs, Spike held them up to his face to breathe in her sensuous smell.
Seeing the evil man holding the crotch of her panties to his face, Jacquie closed her eyes and sobbed in shame. She tried to will her body to not feel a thing, trying to put her mind far away, back into the safety of her homeland and safety of her loving family. She did not dare open her eyes as she felt the rough hands pushing her knees wide apart as the burly man shuffled up upon the bed.
Expecting to feel the heavy body soon upon hers, she steeled her body taunt. But Jacquie was totally unprepared for what occurred next. "Ahhhhhhh ...............no …………..............ahhhhhhh ……….....................…ohhhhhhhhhh!" she whined loudly as a hot open mouth suddenly clamped itself upon her womanhood. "Aahhhhhhhhhhhhhhh!" she cried out as the teasing tongue burrowed its way up into her virgin slit. "Arrghhhhhhhhhhhhhhhhhhh ..................................Godddd ............................................oh, Godddddddddddddddddddd!" she screamed loudly, arching her convulsing body up into the face of the man who had just tongued her to her very first climax.
Never in her young life did Jacquie experience nor expect such a mind-shattering orgasm to rock her body in such a manner as she passed out from the sheer pleasure. Awakening from the stupor, Jacquie panted in fear as she looked up at the leering black face that was but inches from hers and felt his heavy body pinning her to the bed. She shuddered in fear as she felt him fumbling between their bodies, then she shook in fear as she felt a thick prodding at the entrance to her womanhood.
"Please ………..............……..please, Mr. Thomas ………...............…….I ………..............…….I'm so afraid! Please ….................…………I ……………..I can't go through with this!" she sobbed. Thoughts of how she had managed to keep herself chaste and virginal for all these years flooded her mind, especially the thought of entering her marriage to the one she loved and not being a pure untouched virgin. She sobbed and desperately tried to push the heavy body from her but he was so much bigger and heavier that he would not budge an inch.
Loving the feel of the young beauty trying to get away from him, Spike grasped her soft asscheeks firmly in his large hands. Then, without any mercy, he lunged as hard as he could to spear into the now screaming beauty. "Aieeeeeeeeeeeeeee ...…………...........….noooo …………...............….nooooooooooooooo ……..............………stoppppppppppppp!" came the anguished cries from the beauty beneath him as he ripped through her hymen. He laughed loudly and chuckled "Gotcha, baby! Copped yer precious little cherry! Ahhh, bleed, baby! Ohhhh, yeahhhh, I can feel all that cherry juice squishing around my cock!"
"Aarghhhhhhhhhh! Noooooo……….................….nooooooooo …….............………ohhh, nooooooo ……...................…….stopppppppp!" Jacquie sobbed in pain. "Oh, stop ……........….stop …….........….please ……..........…..please stop ……...........…..it hurts …..........……..it hurts …..........………you tore me! Please ……......…..please …….............take it out …….........……take it out …….......…..it hurtsssssss ....................it hurtssssssssssssssssssss!" she cried.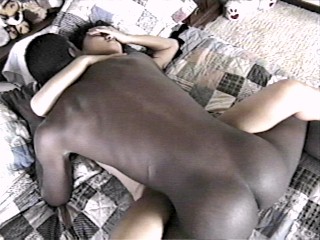 There was just no way Spike could stop as he fucked into her, plunging in and out of her torn slit, enjoying her painful cries of anguish. Raising up a bit, then lunging forward again, the lovely beauty's whimpering and sobbing was pure music to his ears. After withdrawing the length of his cock, Spike looked down and laughed "Oh, sweetie! Busted your cherry good! All that cherry juice of yers is bleeding all over my nigger cock!" Then he began to fuck her with long lengthy strokes, slamming it to her again and again
Jacquie groaned in shame as her body suddenly quivered with unwanted pleasure. Then her body convulsed as her cunt muscles contracted around the thick cock. "Oh ……....................…nooooo …............…….what's happening ……...............…….nooooooooo! Oh, Godddddd ….................……oh, God …..........……..ohhhhhhhhh, noooooo………...............… noooooooooo! Ahhhhhhhhhh ………oh, my Godddddddd!" Jacquie groaned as her body tensed and shook suddenly as an unexpected orgasm rocked her innocent young body, throwing her arms and legs around the muscular black body to hug him closer to her.
As Spike sliced between her slick bloody folds, he groaned "Ah, baby …............…..gonna cummmm in ya …............…gonna fill ya up with some nigger cum! Oh, ya sweet little bitch …….........………….I'm gonna knock you up good! Oh, baby, gonna fuck my little nigger baby in you ……........………right nowwwwww, ahhhhhhhhhhh, yeahhhh …............….awww, babyyy …..............……baby …............……..here it issssss, bitch!" He grasped her trim creamy hips and buried his cock all the way into her womb, spurting out his hot burning jizz, filling her to the brim.
Standing at the edge of the bed, Spike gazed down upon the dazed young beauty, observing the blood stains on the sheet and smeared between her thighs. Pushing her knees apart, Spike smiled as he observed thick spunk ooze from her well-fucked slit. He watched his thick jizz streaked with blood oozing down her asscheeks and onto the bed. Spike just wished her boyfriend could see his precious little beauty right at this very moment, legs widespread with her cuntlips oozing out evidence of her busted cherry and thick nigger spunk.
Twice more that afternoon, Jacquie shuddered to mind-shattering orgasms as the devious apartment manager sated his lust in her body. She felt so ashamed of herself in letting herself feel any pleasure from being with this hideous black man. Although she had tried to steel her body, tried to refrain from showing any emotion, Jacquie had found her body betraying her each time as she clutched tightly at the muscular body with both her arms and legs. She had even arched up to get him deeper into her and worst yet, she had actually begged him at the end "Fuck me …...............………..fuck me ………............……..treat me like the filthy prostitutes in the slums of Hong Kong!"
An hour before Drew was to return home, Jacquie let the hot shower spray upon her aching body in, trying to cleanse herself of the filth from the man next door. She sniffled, trying to blink back the tears as she watched the residue of dried blood and thick globs of cum float its way down into the drain. The shower could cleanse the outside of her body but she would have to run down to the corner drug store to purchase something to cleanse a more important part of her body, her womb that was filled to the brim with the apartment manager's thick potent spunk.
A bit later, now returning from the drug store, Jacquie opened up the box that contained the potent douche. In the bathroom, she sat on the toilet seat as she proceeded to flush out the messy goo that flooded her womb. Once the douching was completed, Jacquie stood up and was about to flush the toilet. She quivered as she viewed the copious amount of lumpy spunk that now lay on the bottom of the toilet bowl. Sobbing, she then flushed the final traces of the devious apartment manager down the toilet.
Drew returned home late after getting done with his lab class, bringing with him a bouquet of flowers for Jacquie as he had heard the news of the store's closing. He took his sexy girlfriend into his arms and patted her back as she broke out into tears as she hugged him. He could understand her being upset in having suddenly lost her job as it created a problem of getting enough funds to pay the rent. Little did he realize that Jacquie had physically taken care of the rent problem nor the real reason for her sobs.
Two weeks went by and Jacquie found that all the available summer jobs had been gobbled up, including all the jobs on campus. Watching and listening in on the young couple's conversation, Spike knew that the young beauty was in desperate need of getting a job, especially with the next month's rent coming due.
Spike knew that the young beauty was deliberately avoiding him. For the past two weeks, she left the apartment each morning with her boyfriend as he left for campus and she would take the bus to pound the beat for a potential job. Also, he noticed that Jacquie scheduled her return to the apartment just a bit after her boyfriend got home. Spike knew she was doing this so that she would not be alone in the apartment right next door to him.
He knew that the sexy beauty had him continuously on her mind, especially after spying on the young couple last night. Spike had watched the young couple cuddle up on the sofa as they began to kiss each other. He saw the beauty's sexy body visibly tremble when her boyfriend touched her breast through her clothing. Then watched as she suddenly pushed her boyfriend off and rushed to the bathroom, locking the door behind her.
Going to the adjacent bathroom, Spike smiled as he observed the beauty panting for breath as she stared at herself in the reflection of the two-way mirror. He watched as Jacquie slowly raised her hands up to cup her breasts through her thin garments, then her eyes closed and mouth gapped open as her thumbs rubbed over the budding outline of her stiffening nipples. Next, the beauty's trim fingers began to unbutton the top three buttons of her white blouse to reveal her lace bra.
Spike licked his lips as the loose lacy bra cups were pushed down to reveal the beautiful succulent breasts, capped by the budding chocolate kisses. He saw the beauty shiver as her thumbs caressed her sensitive nipples as her mouth gapped open from the sensations. Then her left hand moved to caress her breasts as the right moved downward to push at the elastic band of her shorts and panties.
At other end of the two-way mirror, Spike sucked in his breath as he once again observed the soft tender beaver that he had feasted upon just weeks ago. He watched her playing with herself and knew that behind her closed eyes, her mind was replaying the day he had made her a woman. He knew the young beauty was in heat and desperately in need of what he now held in his hand, his lengthy big black cock.
Fisting his cock as the watched the exciting show taking place before him, Spike saw the beauty open her eyes and look about the bathroom. At first he was worried that she realized he was watching her from the two-way mirror but his fears were set aside as he watched her reach over to her hair brush on the counter. The hairbrush had a round cylinder rubber handle and immediately Spike knew that it would soon be put to another use than what it was initially intended for. Letting go of his throbbing meat, he reached over for his digital camera that took pictures on a disc and focused in on the scene unfolding in the adjacent bathroom.
Jacquie had pushed Drew from her and rushed to the bathroom, not because she didn't enjoy his touch but because she enjoyed it far too much and was about to lose control of herself. The touch of her breast had sent thrilling sensations throughout her body, causing her to clench her thighs together to stem the flow of her leaking pussy. It was as if a switch had been turned and she had a burning desire to be taken and used like the cheap prostitutes in Hong Kong.
Plunging the handle of the hairbrush up into her now sopping wet slit, Jacquie shivered as the pleasurable sensation that it gave her. Closing her eyes again, she made believe it was the big black cock in her, the one that had made her a 'woman' weeks earlier. She wished the handle of the hairbrush was longer and thicker but it would have to do as she plunged it in faster and faster, angling it a bit so that it rubbed against her sensitive clit. Mouth wide open, she shuddered once the shook uncontrollably as she obtained the much needed relief.
Panting for breath, Jacquie leaned against the counter to hold herself up, glad that she could now calmed herself down with the aid of the hairbrush. Turning on the hot water, she then rinsed off the juices that now coated the handle of the brush. Getting her clothing back on, she then returned to the couch and the now apologetic Drew. She hugged Drew, telling him "I'm sorry honey! I ……….I just got a bit scared! I just want it to be right! It was just me ……………..I want for us to wait till we're married!"
That next afternoon, Drew greeted the apartment manager as he was getting the mail. When Mr. Thomas inquired if his girlfriend had found a new job as yet, Drew advised that he had not seen her since she went off this morning but to his knowledge she had no luck as of yet. He was surprised when Mr. Thomas handed him a sealed enveloped addressed to Jacquie, advising that he was in need of someone with a feminine touch to help spruce up the place. Mr. Thomas advised that would be great in helping him get any vacant apartments spruced up to show to potential new tenants and that the envelope contained the details and benefits of the job.
Upon arriving home, Jacquie greeted Drew with a kiss and headed into the bedroom to change into something more comfortable. As she was changing, she noticed a large envelope that was addressed to her. In turning it over, she noticed it was heavily taped shut on the back. Going to the doorway, she asked Drew about the envelope. Upon learning that Mr. Thomas asked him to give it to her and relayed the information as to his need for someone to help him.
A cold chill coursed through her body as Jacquie closed the bedroom door for some privacy. Cutting open the edge of the taped envelope, she nervously reached in to withdraw a large computer generated color print. She gasped as she found it was a picture of her, a picture of her standing in her bathroom with one hand on her breasts and the other shoving the round handle of her hairbrush into her twat. Jacquie then realized that it had to have been taken just last night and that the mirror must be a see through mirror from the other end.
Looking into the envelope, Jacquie withdrew the note inside which read 'You start your job as my assistant tomorrow, as soon as your punk boyfriend leaves! Think of the benefits of the job - you'll have the real thing replacing that hairbrush! Give me your answer tonight at 10 by putting on a good show again or the punk gets a copy of that picture!' Quickly putting the note and picture back into the envelope, Jacquie hid it at the bottom of her dresser drawer.
Nervously, Jacquie went out to join Drew as he sat and watched television. Leaning against him, she was quite shaky as tried to think out as to what she should do. However, as time went by, she felt a tingling between her loins and realized that she really was wanting 'the real thing' filling her horny twat again. She began to feel wicked at the thought of putting herself on display for the spying man next door.
Having finished dinner, Jacquie again cuddled up with Drew on the sofa, telling him that she was really excited now that she had a job for the summer and could quit searching. "At least it'll pay the rent and I won't have to travel far to go to work!" she advised. Just before 10, she told Drew that she was going to have a long hot shower to soothe her aching body. Going first to her bedroom for the clothing, Jacquie then went to the kitchen on the pretense of getting a drink of water.
Entering the bathroom and locking the door behind her, Jacquie set her clothing down onto the counter. Looking straight at the mirror sternly, Jacquie then gave her admirer a big smile. Parting her pink lips, she then teasing licked her tongue and sensuously licked her lips. Looking straight into the mirror, she then proceeded to put on a seductive striptease, caressing her breasts and presenting them for her admirer.
After rubbing her fingers through her bush and along the edge of her slick lips, she smiled for her admirer. She wanted to be wicked and had decided to really put on a show for her new boss. Unfolding her clothing, Jacquie uncovered the item that she had gotten when going to the kitchen for a drink of water.
Holding up the 12" cucumber that she had recently purchased to make a salad, Jacquie licked the tip of it, flicking her tongue on the head of it. She was showing just what she would soon be doing for his cock the next day. Spreading her legs wide, Jacquie's sexy young body quivered as inch after inch of the fat cucumber began to disappear. She certain put on a show for her peering neighbor as she fucked herself to a wild climax.
As the show was coming to an end with the foot long cucumber now expelled her horny twat, Jacquie held it up an inch from the mirror so that her juices coating it could clearly be seen. Leaning her face towards the mirror, she then stuck her tongue out and ran it up the length of the cucumber. Smiling widely before the mirror, Jacquie then bared her shiny white teeth. Then with a sudden fierce movement, she opened her mouth and snapped down onto the tip of the cucumber, biting off the top two inches of it. She smiled once again to show her admirer just what was in store for him tomorrow.
The next morning, as soon as Drew left for campus, Jacquie quickly donned a nice dress and heels. She did not want to get Drew suspicious as to the way she dressed for work as it was quite appropriate when she was selling at the electronics store but quite inappropriate for the apartment job. But Jacquie knew she wouldn't be dressed this way for very long after reporting in to her new boss.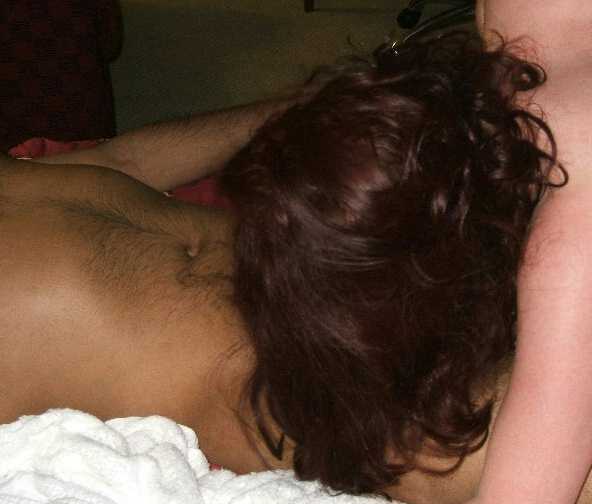 That morning, Spike got the blowjob of a lifetime, cumming into that tight sucking mouth of the hot little bitch as she knelt on the floor before him in her nice green dress and white heels. When she bit down hard upon him at the end, Spike thought his spurting cock would end up like the cucumber did the night before. He was totally amazed at the transformation of this innocent little beauty into a wanton slut after getting her first sampling of black cock. The bitch was just insatiable as she later straddled him up on his bed, telling him she needed something even bigger than the cucumber of the prior night. Spike smiled as he held in his hand the throbbing item that was about to make her wish come true.
Throughout the remainder of the summer, Jacquie got the fucking and sucking that she had come to crave each weekday. It got to the point where she wished the weekend would end and Drew would be off to school so she could soothe the nagging itch between her thighs. Each night, right at 10 p.m. she would be in the bathroom to take her shower and to show her admirer just what she craved for the next day.
One night, feeling quite wicked, Jacquie turned around and bent over. Displaying her soft creamy ass, she then proceeded to push the round cylinder-like handle of her hairbrush into her virgin ass. Early the next morning, shrill screams of pain came from the apartment manager's apartment when Jacquie was buggered by something much longer and thicker than the handle of her hairbrush.
One Saturday night was quite memorable to Jacquie as she and Drew were about to head out to the home of Drew's parents for dinner. Drew was going to introduce her to his parents for the very first time. The drive would take about an hour and they would be staying over that night and returning Sunday afternoon. She put on a nice dress and heels as she wanted to impress Drew's parents upon their first meeting.
Just as they exited the apartment to head out to meet Drew's parents, they heard Spike Thomas call out to them then ask if Jacquie could spare just a moment as he wanted her feminine opinion on one thing. Jacquie handed her overnight bag to Drew asking if he could load it in the car for her and advised that she'd be down in just a moment or so. Several minutes later, she was seated in the front passenger seat as Drew headed off to his parents.
Pulling her dress tight around her knees, Jacquie clenched her thigh muscles together as she felt the ooze of thick spunk escape her just fucked pussy lips to saturate the crotch of her panties. As they drove along, her mind drifted back to those brief moments when she had been with the apartment manager. It had been just a few brief moments but enough time of Spike Thomas to have her bend over with her hands outstretched and braced against the wall. Her dress lifted and panties pulled down, Spike had then walked straight ahead and drove his steel-like 'spike' right into her slick pit as she moaned "Ohhhhh …….................………'Spike' me …………....................….'Spike' meeeeeee!"
With the fall semester now in session, Jacquie and Drew moved back on campus as Jacquie's parents would only pay for her rooming directly to the school, forcing her to move out of the apartment they had shared if she wanted to continue her education. But now being a senior and not needing many more classes, Jacquie arranged her schedule to have her Fridays off. When Drew asked what would she be doing with her free Fridays, Jacquie advised him that Mr. Thomas still needed some part-time help at the apartments and she enjoyed the job.
During the summer, Jacquie certainly did enjoy the work each Friday. It was the day that Spike Thomas reserved for the poker game with his five friends. Perhaps it was of the whorish way she was to dress when serving the men drinks that made her feel so wicked. She remembered so well when Spike had lost all his gambling money two weeks ago and need a $100 to call the bet.
Jacquie had been shocked when he picked her up and placed her on the table, telling the guys that her pussy was on the line to cover that bet for him. Spike had won that hand and she had been given a $100 tip by Spike when he collected that pot. She was being treated like a commodity and loved it. Then she thought of last Friday when Spike was down and out and again used her to call the bet. Only this time Spike had lost!
Shivering with fear and excitement, Jacquie was nervous as the winner of the hand began pulling in his winnings. Pulled by the hand from the table by the winner of the hand, a good friend of Spike's, a bit older but as big and muscular as Spike. She didn't know what thrilled her most, being led to the bed by the elderly black man who had just won her in a poker game or the fact that the door to the bedroom was left wide open for everyone to see her getting fucked.
Though she got a big tip each time her ass was on the line and Spike won but Jacquie secretly wish that he would lose the bet and she would then have to pay up to the man winning the hand. It seemed that none of the men winning those hands wanted any privacy with her but instead sought to display their prowess to the others. She realized that she must have a wild exhibitionist streak in her as she thoroughly enjoyed being used to satisfy a man as others watched nearby. Like the other week when she wasn't even taken into the bedroom but merely pulled down onto the floor between the poker table and white sofa and the big black stud who was known as 'Horse' had won her, nailed her right there just a few feet from where the poker game continued without him. Jacquie then learn how and why he got the nickname as 'Horse'!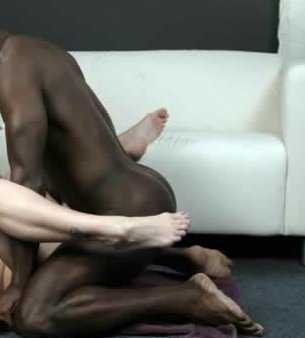 Eight months later, with graduation approaching, Drew proposed to her but indicated that they'd have to wait a bit as he wanted to get through grad school first. Once he got a job they'd be married. Jacquie readily accepted but only if it was okay with Drew that she first return to Hong Kong for a year to help out with her family's business as she owed it to them. Drew was quite acceptable to that as he'd be busy and it would be a true test for both of them in being apart for the first time.
At the airport, Jacquie and Drew kissed each other passionately in bidding one another goodbye. They promised to email each other daily and talk by phone at least once a week. Once she returned from Hong Kong and he finished grad school, they'd become man and wife. Once again, before she departed, they professed their love for one another and kissed passionately.
As the plane was up in the air, Jacquie leaned back in her seat as she looked as the city below. She wished that she didn't have to leave Drew at this time but knew it was for the best. She really did not have to return to Hong Kong to help her parents in the business. It was just a ploy giving her an excuse to go back to Hong Kong for a while. Time enough for her to give birth to the baby that she was now carrying. She wondered who the baby's father was. Spike Thomas was definitely a possibility but then he had lost a lot of hands in the past few months when her ass was part of the table stakes. One thing she knew for certain, the baby's father was black!
Jacquie had also lied about going to work at her parents' company. She had told her parents that she would be living with one of her girl friends whom she had gone to school with while growing up in Hong Kong. She could not let her conservative parents know that she was no longer a chaste virgin and pregnant with baby. Instead, she decided on a job that she would truly enjoy and had dreamt a lot of lately. Instead of selling electronic equipment, she would sell a much better product as she intended on moving in to the red light district of Hong Kong and sell her sexy bod to any takers who would use and abuse her.

End of Story