The Mile High Club - I
(m/f, i/r, cons)
by
Black Demon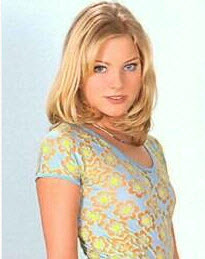 ________________________________________
Standard Disclosure!
This is a fictional stories intended for adults only!
________________________________________
Flying about the country, as well as various international routes, for a major airline had always been the dream of Nicole Patterson ever since she had been a little girl. That dream had come true for Nicole a year ago and she thoroughly enjoyed the opportunity to take in all the points of interest on layovers.
At the age of 24, Nicole stood at 5'4" weighing 115lbs., with a trim figure of 34-23-24. With her long flowing blonde hair and trim sexy legs, she had men's heads turning about whenever she passed them by. Nicole was just naturally beautiful and at times felt rather embarrassed by attention men paid to her. Still, at times, just knowing that a man's eyes were glued upon her had her feeling quite wicked.
Engaged to Brad Nicolson once they had graduated from college, Nicole was now making plans for their elaborate wedding that was coming in just a few months. Having met Brad in her sophomore year, it had been love at first sight for both of them and they were inseparable during the remainder of their college days. With Brad managing his father's printing plant and earning a good salary, Nicole saved as much as she could from her income in the hopes that they would be able to afford to buy a home soon after they got married.
Nicole found that the only draw back in her job was the fact that she had to be away from Brad for days at a time but they always talked when possible. If the time difference was too great, then there was always an email message sent to one another. When away on a flight, Nicole always went to sleep with her mind on her fiancé. She would always dream that she was in Brad's arms again and that she was cuddled up against him.
Having surrendered her virginity to Brad late in her junior year of college, Nicole enjoyed their sexual activities but did limit it as she did not want their relationship to be strictly based on sex. Once she had given in to Brad, she had wished they had waited further as Brad then wanted or hoped for more lovemaking whenever they were together. Having been brought up in a very conservative household, Nicole wanted to build a solid relationship and once they were married she would meet all of Brad's need for sex.
It was not that Nicole did not enjoy making love with Brad, it was just the opposite. She enjoyed their lovemaking far too much, becoming rather ashamed of herself as her feelings betrayed her conservative and puritan upbringing. Whenever she and Brad made love, Nicole desperately wanted to let herself go completely but refrained from doing so, not wanting to have Brad look upon her as a slut.
With Brad living in a fraternity, Nicole got to know a lot of his frat brothers as she spent quite a bit of time over at the fraternity house while visiting Brad. There were several frat brothers that played on the college's nationally ranked football team and they dwarfed over Brad, making her seem so tiny next to them. But of those football players, the muscular black players were the ones that made her heart pound and body quiver with excitement.
Nicole had always managed to hide her true feelings and never let on to Brad on how those particular frat brothers made her shiver with excitement. Often, when Brad escorted her back to her sorority house, Nicole went to bed and dreamt of being made love to. However, it was not Brad that she dreamt of as she caressed her breasts and let her fingers wander down to rub at her sensitive clit. Instead, in her dreams, Nicole pictured one of the big black jocks hovering over her, getting her trim white legs spread wide and pushing his thick masculinity into her.
As she tossed and turned on her bed, fingering herself towards a climax, Nicole wondered just how true that myth was about black men. Picturing a big black cock stretching her widely, causing her pain, she would shiver as her body shook and quivered in a climax that surpassed those when actually making love with Brad. Panting from a quivering climax, Nicole would then be able to find a restful sleep.
Now that she and Brad had graduated from college and were off on their respective careers, Nicole felt some relief that she did not come into any more contact with those college jocks that she had and still often dreamt about while in bed. But not seeing nor being near the muscular black jocks at least served to keep that smoldering fire between her thighs somewhat in check.
Then, on a chartered flight across the country, Nicole found that they were transporting a pro football team for a big game that weekend. Seeing that all the passengers were properly seated for takeoff, Nicole then made her way to the back of the plane. Then she heard a low masculine voice calling out "Nicole! Nicole!" Turning about, she saw a hand waving at her and then swallowed as she recognized Bill Turner, one of the black college jocks that she had often dreamt about while fingering herself to sleep.
Bill had been one of several players from the football team that had been drafted and had done well enough to make the team. This had been the first time she had seen him since graduating from college and now that familiar quiver coursed throughout her petite body as her thigh muscles clenched tightly together, trying to stop that sudden flow of love juices. Heart pounding in her chest, Nicole nervously returned his grinning smile and slowly made her way towards him.
Bill Turner had always had a hardon for the beautiful girlfriend of his fraternity brother and rather suspected the effect that he had upon her whenever he was near. He had scored with a lot of beautiful white chicks in college but lovely Nicole Patterson had escaped from his clutches. This was mainly because she was dating a frat brother of his and while living in the fraternity house there was the unwritten rule that one would not cut in on another frat brother's score. But now that they were no longer living in the frat house, Bill consider this sexy blonde beauty as fair game. Seeing the Nicole and how sexy she looked in her stewardess uniform, Bill felt his cock twitch in excitement.
Reaching over the player sitting next to him, Bill extended his hand to greet the lovely blonde beauty. Her soft petite and manicured hand in his, Bill could sense her nervousness as he greeted her and made small talking in asking how she and Brad were doing. As the plane was about to back out of the terminal, he sensed that Nicole used that as the excuse to leave him then and make her way back to check on the other passengers.
An hour into the flight, Bill got out of his seat and confidently made his way towards the back of the plane. In the back of the plane, he gazed upon his frat brother's lovely fiancée as she bent over while loading a cart with trays of food. As was preparing to serve food and drinks, he observed that she had removed the gray uniform jacket of her outfit. Bill licked his lips as he gazed upon her tight little ass dressed in the gray skirt of uniform, white blouse and matching black heels. Her long sexy white legs had his cock twitching in his pants, hoping that he would soon have those beautiful legs wrapped around him.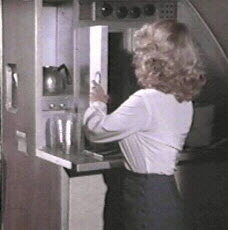 Glancing about and seeing that Nicole was the only one there with all the passengers seated, he moved up slowly behind her as she stood up. Not wanting her to scream and attract any attention by touching her suddenly, he whispered out "You look sexy as ever, Nicole!" Seeing her body tense and shiver in response, he reached out with both hands and placed them on her hips. Bill felt her body quiver as she straightened up and then he guided her toward the back wall of the cabin behind the last row of seats to prevent anyone from seeing them.
Bending down confidently, Bill covered her soft pink lips with his and delved this tongue between her parting lips. He felt her soft hands come up to touch his elbows as her pointed tongue licked up to meet his teasing one. It was a quick yet passionate kiss as Bill reached forward to cup her soft asscheeks through her skirt and pulled her to him, rubbing himself up against she soft breasts.
Nicole could not think straight, mesmerized by the unexpected kiss from this muscular football player. The fact that she had always been in awe of Bill Turner, now a professional player and even more muscular than ever, had her speechless and unable to argue when her hand was drawn forward. Heart pounding, panting for breathe, Nicole could not help but to close her fingers over the bulging crotch. She realized just how much larger this man's pulsating manhood was as compared to Bill's.
Glancing over to each side of the aisles and seeing everyone still seated, Bill glanced at the 'Vacant' light on the bathroom door behind him. Opening the door, he stepped in while pulling the beautiful stewardess with him. There was not much room for any movement but he managed to turn Nicole around so that her back was to him. Sitting upon the closed toilet lid, he quickly unzipped his pants and fished out his stiff hard shaft.
Panting in fear, feeling Bill's large strong hands upon her hips, she realized that she was helpless at this man's touch. She told herself to open the bathroom and escape, to save herself and to remain true to Brad. But then she felt hands now caressing her thighs under her skirt, moving up her inner thighs to make contact with her panties, in which she was now juicing heavily into. Nicole was now putty in this man's hands, unable to put up any type of resistance as the exploring hands moved about her, undoing her uniform skirt. Buttons of her white blouse deftly undone and the garment pulled from her, Nicole was helpless at the stud's touch upon her and it was a mere seconds later that her bra was lying upon the basin. Seconds later, her panties were lying in a puddle on the floor of the tiny bathroom and she was totally naked with the exception of her black heels.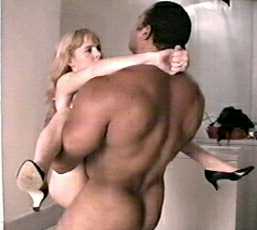 Shivering in both fright and a wicked sense of excitement, Nicole felt fingers grasping the top of her lacy white panties. Panting in nervousness, she then felt the lacy garment being pulled down over her hips. Looking down, she saw her panties flutter down her legs to puddle at her heels. Then the large hands were grasping her by the hips and pulling her down upon him.
Her heart was pounding madly in her chest as she was now bending as if to sit upon him but for the large thick bulb that prevented her from doing so. 'Oh, God! He's so bigggggg …………….too bigggggggg! It'll never fit! I …............………I can't allow this to happen! Think of Brad ………............…..don't cheat on Brad!' she told herself. Then the hands on her hips were exerting more pressure in pulling her downward onto his jutting prong. Nicole was in a panic at the size of his monstrous cock as he attempted to skewer that the gigantic bulb up into her far too tight slit.
"Please …….............……..please, Bill! This is a mistake! I ……….............…..I can't cheat on Brad! Please …..........……….think of Brad ……………he's your frat brother!" Nicole pleaded. But the hands held her even tighter at her hips, pulling her down as the thick blunt cockhead pushed up against her resisting slip. "God ………..............…..Bill ……..................…..stop ……................…stop, please ……..............….you're too big …................……..way too biggggggggg! It …….............…it'll never fit! You ………................……you'll tear me apart!" she whimpered in fear.
Bill chuckled and snickered "Baby, I'm just gonna help my frat brother out! Gonna introduce his beautiful bride-to-be to the 'Mile High Club'! You've heard of the 'Mile High Club', haven't you, Nicole?" With that, Bill pulled her down further and thrust up with his hips, eliciting a loud "Ohhhhhhh ……....…....................God oh, Godddddd ………...................….it hurts ..........................................Bill, it hurtssss!" Bill smiled as he heard the beauty's distress groan when he pushed through her tight cuntlips and forced his cockhead into her. His cockhead expanded in her tight quim and he felt her body shuddering in response.
Nicole indeed had heard of the 'Mile High Club' as it was a common joke among the flight crews, referring to those seeking sexual activities while flying high up in the sky. Now Nicole realized that she too would soon be a member of the infamous Mile High Club. The pain between her legs was too great that she wanted desperately to scream but knew that might attract the attention of passengers in the back of the plane. She gritted her teeth tightly, unwilling to be discovered in the bathroom with this muscular black football player. Her body shuddered in pain as another inch of the thick lengthy cock was forced up into her agonized body.
"Ugh ……......................……ugh …....................………ugh ………....................…ugh ………................…ugh ………..............…….oh, please ……………................……Bill, pleaseeeeeeee!" came the tortured plea from the young beauty above him. Bill knew that this innocent young beauty was trying desperately to refrain from making too much notice for fear of drawing any attention. With that knowledge, Bill then grasped her hips firmly, then thrust up into her with all of his might. "Arggggggggggggghhhhhhhhh!" came the groan from the beauty's clenched teeth as Bill buried the length of his thick cock into her clenching tunnel, knowing that this was the deepest she had ever been penetrated by a man's cock, not to mention the thickest cock to stretch her apart.
Holding her tightly to him, keeping himself still so she could now get accustomed to his oversized cock, Bill could feel her cunt muscles clenching at his cock over and over again. He too had to keep still for another reason as he might certainly be spewing his hot load into her prematurely. Feeling the wet slickness around his cock, Bill knew that it was due to the young beauty's emitting of her love juices in response to having his thick cock up her horny twat. Relaxing his gripping on the trim hips, Bill allowed the young beauty to lift her body up a bit, easing up some from his lengthy prong. Then, instead of trying to escape, his fraternity brother's beautiful fiancee eased herself back down onto his throbbing cock. Bill knew that she was all his at this point and removed both hands from her hips. Leaning back, he then enjoyed the feel of the sexy beauty slowly begin to fuck herself up and down upon his big black cock.
"Oh, God ……………..oh, God ………………..ohhhhhhh …………..so goooodddd ……………..so goooodddddddd!" Nicole moaned as she fucked herself up and down, faster and faster, upon the pleasure-giving shaft. She had always wondered what it would feel like to be fucked out of her mind by a big black cock and now her fantasies had become a reality. Shuddering with pleasure, she knew that she would never derive such pleasurable sensations from Brad. "Ohhhhhhh …....………….ohhhhhhhhh …...........………….oh, Godddd …........…………I ……...................…I …....................……………..I'm cummingggggggggg! Oh, so gooodddddddd …………..............……ohhhh, yessssssss ........................................yessssssssssssssssssss!" Nicole moaned as her body shook and shuddered in a mind-shattering orgasm. Never had she experienced anything such as this, feeling as she had skyrocketed to the moon and back. Her body quivered and shook as she creamed time and time again upon the thick prong.
Fucked out of her mind, body totally limp with the long black bone fully embedded in her, she felt the thick cock twitch deep in her. Then the large hands were again upon her hips, lifting her up a couple of inches then pulling her back down onto the thick cock. What had given her so much pleasure just moments ago now had her in despair as reality set back in. 'Oh, God …...............................……………….I let another man fuck me! Brad fraternity brother from college! Worst yet, a big black stud ..................................................that's been the far best fuck ever!' she sobbed to herself. 'My, God ..............................that was totally unbelievable!' she told herself.
Now she was being buffeted up and down upon the thick throbbing length, causing her to now shudder in agony. Then Nicole felt the thick cock expand even more within her as the throbbing cock pulesed faster and faster. 'Oh, God! He's not wearing a condom …………..................….he's going to cum in me!' she panicked. Always with Brad, she had insisted on him using a condom so she wouldn't get pregnant. But until now, the thought of a protective condom had not even crossed her mind. "No ……................……….no, Bill …….........................…………….you don't have a condom on!" she pleaded frantically as she made a desperate attempted to get off the throbbing shaft.
Hearing the frantic pleas and seeing the desperate attempt of the blonde beauty to get up, Bill grasped her firmly by the hips. At this point, on the verge of spurting his hot load up her tight twat, there was no way in hell that this beautiful little bitch was going to keep him from cumming in her. Thrusting up into her, burying his cock deep into her, he groaned "Oh, baby! Oh, Nicole …......................………..gonna cum ………........................……gonna cum in ya! Ahhhhhhhhhhhhhh ………………..ahhhhhhh .......................................................oh, yeahhhhhhhhhhhh!"
Spurt after hot spurt of hot cum spurted deep into Nicole's fertile womb as Bill held her tightly down to him, forcing her to take every drop of his potent seed. The hot eruption of cum deep within her had Nicole shivering in yet another mind-shattering orgasm. Then as she came back down to earth, the horror of the possible consequences from this mating began to set in. 'Oh, God! How could I have done this to Brad? Never have I allowed Brad to cum in me! Yet I let his black fraternity brother fuck me without a condom and shoot his filthy seed in me! What if I get pregnant?' she thought.
Moments later, Nicole found herself alone in the bathroom sitting with her bare butt on the lid of the toilet seat. She looked down, seeing her panties on the floor, she reached down to retrieve the garment. She quickly stepped into her panties as cum drooled out of her flooded twat to soak into the crotchband. She realized that Bill had fucked her royally and now then had merely left her to fend for herself in her fucked out stupor. Just then she heard movement outside the bathroom door. Frantically, Nicole held the door shut and flipped the 'occupied' sign, then frantically got into the rest of her clothing.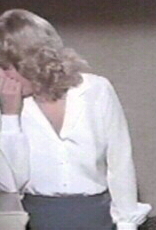 Grabbing a bunch of tissues, Nicole wiped herself as best as she could and cleaned up the puddle of cum that had drooled onto the lid of the toilet. She was quite worried as there were still several hours to go in the flight and there was no way to douche out the potent seed that filled her fertile womb. With her uniform back in place, Nicole fought back the tears, sniffing at the thought of having been unfaithful to Brad with their wedding date so nearby. Still, she could not deny that she just had the most fantastic fuck thrown to her high up in the clouds.
Once they landed and deplaned, she would have to quickly purchase a potent bottle of douche in hopes of preventing the horrid consequences that lay ahead. Meanwhile, Nicole had to make herself presentable to get back outside before she was missed by the other stewardess that worked the back of the plane with her. She could not believe how she had just melted when Bill had touched her and allowed him to fuck his big black cock into her without putting up a fuss.
Nicole felt so nervous as she walked about the cabin in passing all the passengers, wondering if they could sense that she just had received the fucking of her life. That thick cum continued to ooze out of her widely stretched pussy onto the paper towels that she had padded the crotch of her panties with. It had been fortune that she had taken that precaution as her panties would have been sopping wet. Nicole even had to go to the bathroom several times to replace the drenched paper towels with new ones.
Finally the flight arrived at its destination and Nicole assisted the other stewardess in the back of the cabin with the passengers. A shiver of fear coursed throughout her body upon seeing that Bill had remained in his seat, allowing the passengers behind him to deplane first. As she had feared, once the passengers seated behind Bill were gone, he then got up and made his way back to where she stood.
With the other stewardess directly across the aisle her, Nicole felt relieved that Bill merely gave her a goodbye peck on the cheek so as not to drawn any suspicion. But what Bill had whispered in her ear had her shivering in fear, hearing him say "I just learned that we're staying in the same hotel with the flight crew, sweetie! Call me once you check in and let me know what room you're in so you can get more of my cock up that hot little twat of yers! And don't change cause you look so beautiful in your uniform! I want you on your knees when you give me a fucking blowjob, baby!"
A moment later, Nicole stood alone in the aisle panting for breath, afraid of her own weakness around this man and knowing that he would be staying in the same hotel. She had certainly heard of what a blowjob meant from listening to her girlfriends in college along with Brad wanting her to put her lips on his cock. But with Brad, Nicole had always refused that request, expressing her feelings that such an act was filthy and only performed by cheap prostitutes.
Riding in the crew's shuttle bus to the hotel, Nicole could not help but feel so guilty in having cheated on Brad, joining the Mile High Club with the aid of his college frat brother. With the first class treatment that the airline was giving the football team, she knew that all the players and coaches would be checked in by the time the crew's shuttle reached the hotel.
She told herself 'You've got to fight your weakness! You can't give in again! Don't call him! Go out to dinner with the other crew members!' But as she sat there deep in thought, Nicole could not stop the contracting of her thigh muscles nor the continuous flow of thick cum into the padded crotch of her panties. She wished the shuttle would hurry to the hotel as she desperately needed to again change the sopping wet tissues padding her panties.
Having checked in at the hotel, Nicole quickly made her way up to her room. When the other crew members asked if she would be joining them for dinner, she hesitated then responded "Oh, I'll be passing tonight! I'll be meeting an old college friend this evening!" Heart pounding, Nicole closed her eyes as she realized she had just done the exact opposite of what she had told herself to do. Entering her room, she made a beeline to the bathroom to remove the sopping wet towels and to cleanse her juicing pussy.
Cleansing herself, Nicole looked in the mirror, feeling contempt for herself in having cheated on Brad. Yet, she began to put her hair in place and adjust the cap on her head, trying to picture just how she would look dressed neatly in her uniform and upon her knees before the muscular black jock. Looking at the telephone, Nicole chided herself at the thought of making that call, know the wicked thing that Bill would be expecting her to do for him. Her mouth watered as she licked her dry lips, swallowing as she wondered what it feel like to have a man's cock into her mouth and throat for the very first time.
Going against her own will, she picked up the phone and asked the operator for Bill Turner's room. Then dialing the room number and hearing his deep familiar voice, she spoke "I ………............…..I ………......................…..I'm in Room 805!" Then she quickly hung up and closed her eyes in realization just how weak she was in resisting the temptation of having more of the pleasure-giving shaft deep within her.
Standing in the middle of the hotel room, fully dressed in her uniform, Nicole looked at the hotel room door as she nervously awaited the knock upon it. Then she moved to wheel her overnight case into the closet, heart pounding in anticipation as she thought 'God, I can't go through with this! How could I have called him and given him my room number! Is it because I really want to do that filthy thing that he wants of me?'
A moment later, Nicole trembled in fear upon hearing the knock at her door. 'Don't answer it! Don't answer it! He'll think I changed my mind and go away if I don't answer it!' she told herself. Then came a second knock upon her door. Hesitantly, Nicole reached for the lock and doorknob. Closing her eyes, hands on the door lock and knob, Nicole made one last attempt to resist the temptation of opening the door. 'Don't give in! Don't let him in! Don't open the door!' she told herself.
Giving in to her weakness, Nicole undid the safety bolt and opened the door to admit the muscular football player. As her husband's frat brother stepped up to her, Nicole closed her eyes and opened her lips to admit the thick searching tongue as she was embraced in his powerful arms. Next, Nicole found herself in the center of the room as Bill's powerful hands were upon her shoulders. She was being pushed her down to knees an knew what was expected of her, hearing Bill's deep masculine voice tell her "You're going to get down on your knees and give me a blowjob, aren't you, sweetie? Oh, baby, you're so fuck'n beautiful! I've always wanted a beautiful stewardess going down on me! I've also dreamt of you suck me off, Nicole! You're going to make both of my dreams cum true today! Open up my pants and gobble up some juicy dark meat, baby!"
Fumbling nervously at the buckle of his pants, Nicole pulled the zipper down and reached in to fish out the long tube of dark meat that had given her so much pleasure up in the air. But she had only felt it splitting her pussy apart and not having seen it before. Nicole swallowed in fear, wondering just how the monstrosity that she now held in her hands would fit between her lips. 'God …..........................……..I'll choke to death if he shoves it down my throat!' she worried.
"Lick it, honey! Lap it up!" Bill ordered, gritting his teeth from the exquisite feel of her soft hands stroking the length of his cock. "Ahhhhhh ……………yeahhhhhhh, baby!" he moaned loudly as the pointed wet tongue began flicking over his sensitive cockhead. Winding his fingers tightly in her long blonde hair, Bill pulled the beauty closer, then heard her distressed plea "Oh, God ……….................…Bill …….................……..I ……................……….I can't …..........………..I've never done this before! It ….........................…….it won't fit in my mouth!" More so, the fact that her lips were virginal, Bill was all that much more determined to be the first to introduce this sexy babe into the art of cocksucking.
Pulling her closer, Bill took great pleasure of pushing his now leaking cockhead up against her soft pink lips, then pushed his hard bone up against her tightly clenched teeth. What a thrill it was to have his frat brother's beautiful fiancee in this position, the thrill of being the first to have his cock enter her innocent mouth. Clenching her silky hair tightly in his fist, then jerking back suddenly, he pushed his cockhead into her tight mouth as she was about to scream in pain.
A wicked thrill coursed throughout Nicole's body as she was being forced to satisfy this muscular football player with her mouth. She had been nervous at first but with the thick cock being forced deeper and deeper into her mouth, she shivered as the bublike cockhead bumped at the entrance to her throat. Deep down, Nicole wanted a man like Bill to use her as he pleased and she was getting exactly that as the thick black cock pumped into her once virgin mouth.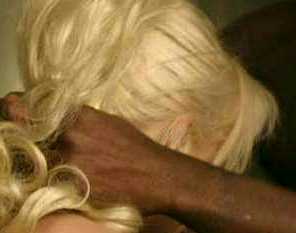 "Oh, Nicole, baby ….............…………yeahhhhhh! I'm gonna teach ya how to be a great little cocksucker! Yeah, Brad's gonna have a hot little cocksucker for a wife! Ohhhhh, baby …………..............….yeah, that's the way ……...........................………suck it all! I'm gonna teach ya how to eat a man's cum, sweetie ……….....................……….ohhhh, that's what frat brothers are for!" Bill moaned as he pumped in and out of her sweet mouth.
Opening her mouth as widely as possible, it was still not wide enough to prevent the edges of her sharp teeth from scraping against the thick shaft. The saliva in her mouth initially had made it easier to accept the invading prong but now it was even easier due to the leaking jizz from the oozing cockhead. Nicole realized that the slick lubricant was now filling her mouth to the brim, causing her to shiver at this new experience.
In and out the long thick cock pumped into her mouth, then she shuddered and her eyes rolled in fear as the thick cockhead pushed into her tight constricting throat. Her body shook and withered to free herself, afraid that she would choke to death from this spearing prong. Then finally, the thick cock was withdrawn till just the tip remained in her mouth.
Bill smiled down upon sight of his frat brother's fiancee shuddering below him, then laughed at her plight as the thick mixture of saliva and his pre-cum escaped from her pink lips, drooling down onto the front of her gray uniform jacket and white blouse. He sure wished that Brad were here to see this fantastic sight, seeing his wife-to-be learning some new tricks to please a man. "Oh, baby …………................…….oh, yeah, baby! Suck it ……….............………get it all down your throat! Awwwwwww ………………...........……..ahhhhhh, fuckkkkkkkk ….........……………yeah ………...........…….eat it …………………eat it allllllll ……………..............…….ahhhhhhhhhhhhhh!" he groaned as his cock burst deep in her throat and spewed out his precious load. Feeling her hands on his thighs trying to push away from him, Bill held her head firmly to him as he unleashed his gooey cream.
Finally, the spurting ended and the thick cock deep in her throat began to shrink some and slowly began its withdrawal. Body shuddering, Nicole clenched her teeth, trying desperately to quell the nauseous feeling in her belly. Feeling the hot lake of hot cum settling in her belly, she quivered once again as her stomach rebelled and the rich protein began to make its way back up her throat.
Bill grinned widely, enjoying the sight of the innocent beauty's reaction of having eaten her very first load of hot cum. He watched as her hands clasped tightly at her stomach, then saw her shudder as his slimy load began drooling out of he lips onto the front of her gray uniform jacket, white blouse as well as her gray skirt. Bill saw her body heave and shudder as more and more of his gooey cum escaped her pink lips to drool onto her uniform.
Pulling her up by the elbow, Bill planted a passionate kiss upon Nicole's cum covered lips. Delving his tongue between her pink lips, it was a thrill for him to be kissing his frat brother's fiancee, especially with her lips and mouth coated with his cum. It became an even bigger thrill as he felt her slippery tongue flicked back against his exploring one in response. At first her hands were lightly on his hips as they kissed, then he felt her hands move between their bodies, his cock lurched back to stiffness as her soft hands gripped his cock firmly.
Moments later, the two lovers began to undress one another, then kissed as they rubbed their near naked bodies up against each other. Guiding her to the bed, Bill gazed upon the innocent looking beauty as he got out of his shoes and remainder of his clothing. Reaching over, Bill caressed her soft creamy legs, then slowly removed her black heels to caress her pretty feet. As he knelt up onto the bed, the trim white legs parted to allow him easy access to her juicy hot pussy.
Nicole at this point had forgotten all about her plan to douche out the thick seed that had been injected deep into her fertile womb high up in the skies. Instead, at this moment all she could think about was having that thick black slicing once again up into her slick folds. It had been a fantastic mind-shattering fuck in the cramp bathroom of the plane but now she could really enjoy the spacious bed and opportunity of wrapping her legs around her virile lover.
"Ohhhhhh …………….......…oh, God ……...........………..yesssssss! Oh, Godddd ……..........………Bill ……...................……you're so bigggggggggg …….....……….........…..so much bigger than Brad! Ohhhhh, so goooood ………............……..fuck me …………..........……..ohhhhh, yessssssssssssssssss ………………..................fuck meeeeeeeeeeeeee!" Nicole moaned as Bill gave her exactly what she craved for. She raised her arms up to embrace her muscular lover, then raised her trim white legs to wrap them around his back. Nicole shivered with pleasure as inch after lengthy inch of the thick black cock was gobbled up into her horny snatch.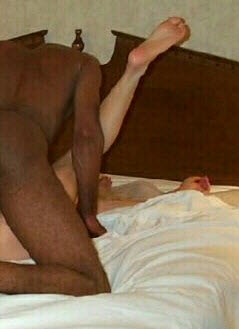 Bill's cock twitched and throbbed in the constricting confines of her once again tight pussy. He was determined to stretch her out really good, moving in circular motions to widen her opening permanently. Grasping her hips tightly, he lunged into her, enjoying her grimace of pain but knew she was really enjoying being roughly taken. If she wanted it slow and easy, Bill knew that she would not have been such an easy conquest for him. "Oh, baby! Ahhhhhh, gonna stretch ya out real good for my good buddy Brad! Oh, Nicole …………..........……I've dreamt of fucking ya since you were dating Brad in college! I seen that look in yer eyes, baby …………….........……ya been dying to get some black meat up your horny twat, haven't ya?" he taunted.
It was a wild fantastic fuck for the two lovers as they humped and shagged at one another, one that Brad Nicolson had never experienced before with his loving fiancee nor would he ever get to experience with her. Not in such a wild and uninhibited manner such as this, anyway. Never would Brad ever hear her beg in such a manner, pleading so loudly to "Fuck meeeee …….........…..........…….ohhhhh, fuck me with your big cock ….........................……….fuck me out of my mind ……………...................….ohhhhhhhh, yessssssssss ……..............……yesssssssssss!"
Never had Brad experienced the pleasure of spurting his seed into Nicole's fertile womb as yet, though expecting to be the first and only man to do so, especially as they were engaged to be married. Brad would certainly be shocked out of his mind had he heard his lovely Nicole beg "Ohhhhhh, yesssssss .............………..fuck me ….................……….fuck me! Oh, Godddd ….............……........…..shoot it in me again ………..............……..fill me up with your hot cum again! I want it ……...........……….I want it ……............………….ohhhh, cummmm in meeeeeee!"
Had Brad been there, he would have been in for quite a treat when his frat brother's cock plopped out of his fiancee's well-fucked hole. He would have seen the river of thick cum that followed to drool down into the crack of her ass and to puddle onto the bed beneath her. Worst yet was the fact that there seemed no concern on Nicole's part to douche out the potent spunk nor the potential consequences that she now faced. Instead, Nicole was reaching over to wank at the now diminished cock, trying desperately to get it hard once again.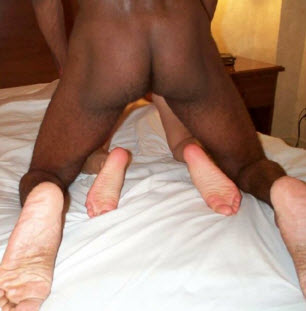 Throughout the night, Nicole was fucked out of her mind over and over again, skyrocketing to orgasm after orgasm. Nicole had leaned over to mouth his throbbing cock again, determined to get it up as he slid under and began tonguing her, teaching her the meaning of what '69' meant. She just could not believe the stamina that this man possessed after cumming in her time and again, filling her to the brim. She was so full of his spunk that when she stood to go to the bathroom, rivers of cum poured out of her and down her thighs.
Getting up the next morning to meet the crew on their flight back, Nicole got dressed in her extra uniform that she had packed with her. But before leaving, Bill pulled her back down onto the bed to see if she had learned the meaning of '69' from the night before. This time, Nicole felt proud that she had eaten all that he had fed her without losing any of it, especially since this was the only clean uniform remaining. Smiling as she licked her lips, she kissed him passionately, thanking him for providing her with that hot liquid breakfast.
That evening, after going out to dinner with Brad, she cuddled up with him on the sofa. Feeling his hands caressing her thighs in that all familiar way, Nicole knew that this was Brad's way of leading up the having sex with her. Letting her hand touch his crotch, then squeezing his hardon, she gritted her teeth tightly to keep from laughing at how small his bulge was in comparison to what recently had introduced her to the Mile High Club.
Once she squeezed him, Brad eagerly began to shed his clothing as well as to help her take hers off quickly. She grabbed his throbbing pecked and pumped him slowly as he descended down between her wide spread legs. Nicole held him firmly, guiding his cockhead to rub it up and down along her wet gash, nearly causing Brad to cum right then and there. As Brad desperately sought to penetrate her, she held his cock firmly away and advised "Honey, don't forget the condom! You know what could happen if we're not careful!"

End of Story