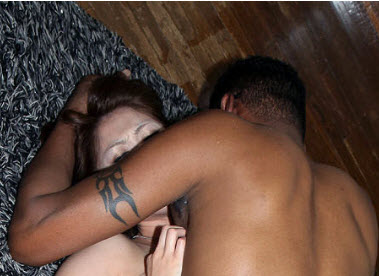 After the first take of the main action scene, the last of which would conclude the movie, Megan was trembling like a leaf with her heart humping madly when the assistant director finally yelled out "CUT!" It had gone exactly as indicated in the script that Megan had read, but still it was absolutely frightening to have a big black man coming at her out of the darkness, especially when he began tearing her blouse from her. It didn't matter that Mr. Hill was filling into that position, that he was the director of the shoot and the man who had been responsible for her to getting this lead role, it felt so terrifying for Megan to have a supposedly demented sex fiend coming after her. Pulled down onto the carpeting after her blouse had been ripped from her, covered by the big black director, Megan squirmed beneath of the heavy man as she fought with all her might to push him off while he was in the process of pulling his jockey shorts down to bare his manhood. That was when "CUT!" had been yelled you to end the shoot, as the remainder of the movie had already been shot, with Megan shaking like a leaf as Mr. Hill immediately got off her and assisting her up to her feet.
"Megan, my gosh ...................you're shaking all over ......................everything went right according to the script!" Carl exclaimed, expressing his concern over her condition, but he knew she was overwhelmed from the time he was atop of her on the carpet. Taking her over to the rec tent where a make-shift bar had been set up, he led her over to a chair and had her take a seat, then advised "Sit right there, sweetie! Let me get you something that will calm you nerves down!" Going to the bar, pretending to get some glasses and fiddling with a bottle, Carl then grabbed the two shot glasses of scotch that had been prepared in advance. Both appeared the same in color, but the one being handed over to the young starlet was laced with a dose of a potent aphrodisiac, then he advised "It's a bit bitter at first but it'll warm your body up and settle your nerves right away! Down it all at once, it'll be a big help right away ..................trust me! Just down it all ..................like this!" Carl then down his shot of scotch at Megan looked on, watched as the young beauty hesitantly raised the shot glass up to her lips, then saw her closing her eyes and tilting her head up a bit as she then downed the potent shot of booze.
As she began coughing from the strong taste, Carl patted her on the back till her body calmed down some, then he was enjoying the feel of having his hand on her soft creamy back before he grabbed a robe to drape over her. With his assistant giving him the thumbs up sign, that the clip was perfect as shot, this second shoot would be a retake just for the fun of it after which he'd then get to ply her with a second shot of scotch laced with even more of the potent aphrodisiac. Carl hid his smile as the assistant came in some fifteen minutes later to make the announcement that "Just did a review of the shoot! Acting was great but the lighting on the set could be better, so we'll gonna get set up for a retake of the scene! Also, that action looked a bit tame .................need to have you groping her a bit more, Carl .....................through her blouse maybe .........................through her bra when you're on her! I'll have the crew ready in fifteen minutes!"
He caressed the beauty's arm as she gave out a sigh of disappointment while holding back on expressing any objection to what had been said, telling her "It'll be easier this time, sweetie! The first time is always the toughest one to get through ......................you'll see! C'mon, let's get you into a new blouse for the retake of that last scene!" After the first retake of that main action scene, Megan had to admit to herself that it had been a bit easier to get through the shoot, but not by much as she still ended up with a bad case of the shakes after squirming about with the big man atop of her. Handed another potent drink by the director, Megan downed it as she had done that first time, feeling it course down her into belly and immediately felt it heating up her entire body. Waiting to see if there would be a need for another retake and keeping her fingers crossed that there wouldn't be one, Megan accepted a glass of red wine as alcohol seemed to take the edge off her nervousness, then she downed the remaining wine when the bad news came that another retake was needed. Unaccustomed to drinking more than a glass of wine, plus the added straight shots that had been laced with the potent aphrodisiac, Megan was woozy and quite agitated at this point.
Just prior to the retake of the scene, Megan turned to see Carl off to the side talking to the ass't director who would be handling the shoot, wondering if anything else needed to be changed to make this scene acceptable as the final. As the retake was about to commence, Carl came up to her and advise that he was advised as to what more sexual activity was needed to make it exciting for the viewer, causing Megan to swallow nervously but the director reassured her that "It'll a bit more touching and all done through your clothing! I'll be gentle .............I'll just make it look like I'm grouping roughly at you!" "Oh, thank you! I hope this is the last retake needed for this scene ...................it's so nerve wracking .....................I'm starting to shake already .......................even with the drinks making feel woozy and a bit out of it!" Megan replied, clenching her thighs together as her cunny was feeling agitated an leaking some into the crotch band of her panties. 'It's just pretend ...................only pretend ..................it'll be over in a few minutes .............hopefully! When he moves towards me, I'm to turn and run towards the door ..........................then he'll grab at me .....................tear my blouse from me .....................it'll be over shortly after he pulls me down to the carpeting!' Megan reassured herself.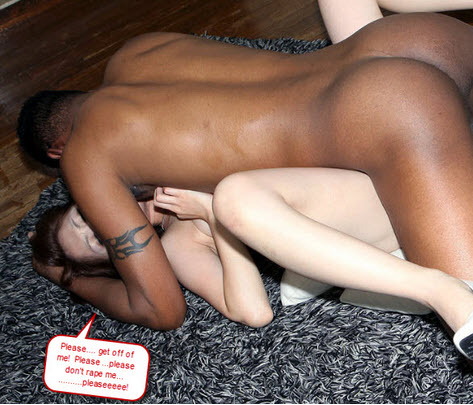 With the retake about to take place, an assistant was there to see that her hair was done properly and her blouse was tucked it as according to how it looked to the prior scenes shot, Megan trembled at the thought of having to go through this awful scene once again. She was thankful for now the effects of the alcohol was helping tp numb her mind, but she was feeling tingly all over, especially her nipples felt so sensitive at the slightest touch as it was rubbed up against the fabric of the bra cup. In place to resume where the scene left off, Megan uttered out a loud scream as called for by the script when her fiance costar was clubbed over the head and collapsing down to the ground, and now the attacker was coming at her. Things weren't going quite according to the script as her attacker grabbed her from behind, not ripping her blouse away as yet as he was pulling her to him instead, and then his large black hands were her breasts from the outside of her blouse. As Mr. Hill had told her that a little more groping was being needed for the scene, but when thick fingers were pinching at her stiffened nipples through her blouse and bra, Megan screamed out "Stop ..........................stop .......................let me go .....................let me go!" To her dismay, Mr. Hill pulled her towards him and had his arms wrapped around her, then she heard him whisper in her ear "That's good, sweetie .................scream ......................fight me .............................keep fighting me .....................it'll make this flick even better!"
Suddenly
both her wrists had been captured and her arms were pinned above her head, Megan was now in a panic as Mr. Hill's had grasped both the waistband of her skirt and panties, and was trying to pull the garments down over her hips. She tried kicking at the director to get him off of her, for it was past the time for her actor fiance to come to her aid and save the day, but that was just not happening, and her flailing legs could not effectively kick him away from her. Button to her skirt giving way, then the heavy body atop of her moved a bit to the side so the garments could be pulled stripped from her. Naked except for the white heels that she had on, Megan felt Mr. Hill's big body settling himself down between her widespread legs, then her eyes widened in horror to discover that he too was naked and his big 'thing' was poking and probing about in search for the entrance to her vagina. "No ......................stop ..............................stop .......................please stop .....................please ......................don't .....................don't rape .....................please ........................I beg of you! Eieeeeeeeeeeeeeeeeeeeeeeeeeeeeeeeeeeeeeeeeeeeeeeeee ...................................aieeeeeeeeeeeeeeeeeeeeee ..........................................aieeeeeeeeeeeeeeeeeeeeeeeeeeeeeeeeeeeeeeeeeeeeeeeeee .....................................aieeeeeeeeeeeeeeeeeeeeeeeeeeee!" Megan screamed out as the bastard had lunged himself deep into her!


"Oh, sweetie ..........................that's what I's been hoping all along ............................from the moment I's laid my eyes on ya at the after school care program! Can't believe yer a virgin .............................well, ya was anyway ....................................popping that precious little cherry of yers has made my dream come true!" Carl whispered in the sobbing beauty's ear as he proceeded to shove more of his thick black meat up into her resisting cunny. As the fabulous dream of his had come true, Carl laughed
her plight, inflating his fat cock in her bleeding vagina and chuckling out loud "Got it, sweetie! Went and busted that cherry of yers! Ya had better make sure ya git hubby drunk on yer wedding night ........................or he's gonna know that another guy went and popped the precious little cherry that ya's been promising him!" Fucking at the innocent beauty, humping it to her good and hard, brought out the desired effect of Megan whimpering in pain as she cried out
"Noooooooooooooo ..........................oh, nooooooooo ............................noooooooooooo ......................................stoppppppppppp ...........................please, stoppppppppppppp! It hurts .................................it hurtssssssssssss .....................................it hurts so badddddddddd!"


Through her agonized mind Megan heard the vile director gloat out that "I's gonna cum, sweetie ........................gonna cum in ya .................................gonna fill ya full of my hot baby batter! Yeah, gonna give ya and that punk yer marrying a cute little black bastard for a wedding present! Yeah, sweetie ......................yeahhhhhhhhhh ..........................................I's gonna knock ya up good!" Processing what just had been said, it then
sank in as to what the bastard was hoping to do, causing Megan to struggle with all her might, trying desperately to dislodge filthy baby-maker from in between her thighs. "Please ......................pleaseeeeeeeeeee .............................nooooooooooooooo ......................you're not wearing anything! Please .......................you'll get me pregnant ...........................................I don't want to get pregnant ...............................................I don't want your baby in meeeee!" Megan sobbed out in despair. To her dismay, the vile director humped up the pace as he speared in and out of her bleeding vagina, feeling his thick manhood throb and swell up even more inside of her cunny.
"Please ...........................oh, please ...................................pleaseeeeeeeeee ..................................not in me ...................................please don't do it in me ............................not in me, pleaseeeeeeeeee! You'll get me pregnant ................................
you'll get me pregnant

................................pleaseeeee, I don't want your baby in me!"


The sobbing and pleas from the innocent young beauty only served to excite Carl even more, making his cock feel good along with the knowledge that such would make the porn flick an even bigger hit, causing him to grip her trim hips tighter as he got up to jackhammer speed with the rape of her sexy bod. The squishing sounds caused him to speed up his fucking even more, making her her bleed even more, and Carl knew at this point that he would soon be planting his seed deep in her cunny in hopes that it would indeed impregnate the beauty with his little black baby. Faster and faster he fucked at her, then Carl groaned and grunted "Oh, yeahhhhhhhhhhhhhhhhhhhhhhhhh .........................................yeahhhhhhhhhhhhh .............................holy shittttttttttttttttttttttttttttttttt .............................................ahhhhhhhhhhhhhhhhhh ....................................arghhhhhhhhhhhhhhhhhh!" He stiffened atop of the petite body of the raped beauty, then Carl's muscular black body convulsed in spasm after spasm, and with each uncontrolled spasm his thick cock lurched in its confines and spurted out a stream of his slick semen. "Ahhhhhhhhhhhhhh .......................................oh, yeah ....................................oh, yeahhhhhhhhhhhhhhhh! Damn, ain't cum like that in a hell of a long time!" he gloated out as he twitched his cock to get every last drop out.

With the raped beauty sobbing and whimpering beneath him, Carl reached on down to put his hands under her knees, lifting up her trim legs to push them up over her head, then he would slowly begin pulling his bloody shaft out of her bloody cunt. Knowing that the cameras would be zooming in from the rear on his withdrawal, he wanted to do so while his cock was still long and stiff, getting as much blood and cum to ooze out of her raped body as evidence of the young beauty having just lost her virginity. Mission accomplished as he stood up from the raped and now delirious beauty, leaving her trim white legs widespread for the cameras to zoom in for more shots of her bleeding slit, camera zooming on his big bloody cock as Carl walked on over to where the actor playing the fiance still lay on the floor as called for in the script. Cameras followed to record as per the script, that of the fiance dragged into the bedroom and tied to a chair, then Carl would retrieve the raped beauty and carry her into the bedroom and lay her onto the center of the bed. The remainder of the script would be carried throughout the remainder of the night, with him raping the innocent beauty time and time again as her bound fiance looked on in horror.


Porn Flick #2 to be released entitled: 'Her Young Brother-in-Law'
This porn film was to be entitled 'Her Young Brother-in-Law', it's intro had been shot shortly after Megan signed on with the agency, done during her first month in the studio in what was supposedly a part of that R-rated love story flick that was to be shopped out to mainstream channels known for airing 'love' type stories. What Megan didn't know was that bits and pieces of what had been shot prior to the kitchen scene would be used as intro for this particular porn flick with Biff being her co-star, that hidden cam shots would be included when she was modeling clothing for the national retail chain with the agency. That first month when she was doing the modeling stint, Megan had been given a room to change in, one that also served as a staged bedroom scene in the studio. She was unaware of the hidden cam that had been set up in the closet, one that recorded her through the slats in the closet door, catching her in various stages of undress and even in the buff at times.
On one day, after Megan had finished modeling outfits and had departed for home, Carl directed a couple of scenes to be shot were done, capturing Biff wearing different outfits as entered and exited the closet. Such would be used in the lead up to the kitchen scene being shot, where it'd appear that Biff was a voyeur hiding in the closet and spying on his now sister-in-law. Also, there were close up shots of Biff in thought, with his thinking being expressed on camera, such as 'Oh, she's so beautiful! Yes ................yes ...............take your panties off for me!' / ''Yes ..................leave your panties on the bed for me .....................please leave them there!' / 'Oh, I want to suck those beautiful titties ........................and rub my face in your sweet pussy!' There were takes of Biff taking a pair of panties that had been set on the bed, taking them to the bathroom for a jerk off scene in the toilet, and others of him going into the bathroom hamper to secure a pair of his sister-in-law's panties. All these scenes would be a lead up to the main event that would commence with the kitchen scene, with a highlight focused on the young teen drugging his sister-in-law's cup of hot chocolate, then following her to the living room where she had gone to lay down after getting dizzy.
With the reason for the unwanted logo being displayed on that short scene, the retake of that particular scene shouldn't be too long with the biggest problem in seeing that everything matched both prior to and the splicing in of the scene immediately afterwards. With this being summertime, the young teen was out of school and working on this remote set as a gopher for the director, it would just be a matter of setting up a kitchen scene and shoot a retake to replace the faulty one. With Biff a mere fourteen years of age, and basically the entire hour long love story having been shot, Megan felt that it was to be a very simple retake and did not have any apprehensions as surely it would never evolve into a sex scene like had happened with Mr. Hill the other day when things had unexpectedly gotten carried away. Having gotten dressed for the scene as required for the retake of the scene, Megan took the glass of cold orange juice that the assistant had brought to her, unaware of it being heavily laced with the colorless and odorless Super Spanish Fly.
On the lead up to the retake of the kitchen scene involving Megan and fourteen year old Biff, Carl had studied all the results of the porn flick that the last new diva stared in, the star's debut with her cherry getting busted was of course the number one hit as to be expected, but a close second was the sequel involving the then supposedly married beauty and the young teenage boy next door. In that sequel, after helping the beauty carry a heavy item into her house, the teen was invited to stay for a glass of pop. With the beauty's back to him while at the refrigerator, the devious teen dropped in a the contents of a capsule, and soon the young wife was feeling the effects of the potent drug. Pretending to leave as the woozy beauty staggered to her bedroom, then the devious teen made his way back there on pretense of checking to see if she was okay. The young wife was dazed and unable to deter the young teen, pleading and telling him that it was forbidden for her to have sex with an underage minor, being pushed back onto her marital bed and being raped by a mere thirteen year old juvenile.
'Okay, young juvenile teen rapes young newlywed bride, that's the big selling point!' Carl surmised. 'Same with that theme but jist gotta come up with a totally different scenario as to how it takes place! Put all that together and I'll have another big winner at the box office!' he concluded. After some thought being put into the story plot, wanting everything to be quite visible on screen to the viewer, Carl figured that it'd be important to funnel everything through the foreign distribution chain and the subsidiary that he had recently established in Eastern Europe. All screen credits would be attributed to the foreign subsidiary, every check cut to come out of the subsidiary's foreign bank account, and nothing would be traced back to him or his main company. 'With the last one involving a young neighbor boy, that's out for this next one, so I's gotta come up with something that have interaction between a young teenage boy and this hot little married sweetie! Hmmm, she's an after-school care teacher and if'n we's go with that occupation, then there's a possibility with say a young teenager coming to pick up his brother or sister and getting the hots for the sexy teach! That's one possibility! I's sure Biff will wanna play the part of that young teenager!' Carl figured as he continued thinking of otherpossible scenarios.
It had been a couple of years ago when Mr. Hill had asked of him "So Biff, what's your dream job that you have in mind when ya's grow up?" Without hesitation, Biff had responded with "I want to learn this business inside and out, work for you as an actor and then become a producer like you!" "Ya wanna start off being an actor in the porn industry?" Mr. Hill had asked him. "Sure do, Mr. Hill! That's a dream job come true for me! I go home every night with a hardon that I's gotta go and jack off!" Biff advised. Months later, Mr. Hill had inquired if his goal was still to become an actor in the porn industry, to which Biff excitedly exclaimed "Yeah, definitely ..................that'd sure be my dream come true!" Then he was advised by Mr. Hill that "Ya know, ya jist can't walk right in and say I'm ready fer my shot at being an actor in this business ......................ya need experience to show that ya can do it ................that ya know what to do! Ya don't wanna be laughed off the set ....................like the time ya saw Jamal unable to git a 'woodie' up ........................shit, that was the end of his career in the industry!" Biff laughed in his recollection of that shoot, telling Mr. Hill "Yeah, that was sure embarrassing fer the guy, especially with all the gals laughing and snickering at him! He sure left quickly ....................like a dog with its tail between its legs!"

"Well, Biff, my boy ............................think about getting some experience in when you start high school ...............................ya seen how its done here on the set! Jist the next step from jacking off! I got my first piece of ass at sixteen and like you, becoming a stud in porn industry was a dream come true!" he was advised. Biff didn't say a word, only looked up at Mr. Hill with a big wide-ass grin on his face to give his response, then his black boss laughed "Ya little fuck'r ............................ya already got started ................................ya went and banged a chick already, huh! Shit, ya sure beat me good ................and yer only thirteen, ain't ya? Tell me, how'd ya do it?" Biff then proudly advised "I got invited over to my friend's house to keep him company as his brother was having his JV Football friends over! It was kinda wild with there being beer available! And then the JV cheerleaders showed up! Lot of he guys were laughing and making their way to the bedroom in the basement, joking about this hot gal named Laurie gonna put out but for the guy who's got the biggest dick! I was watching from the doorway when they started whipping their peckers outta their pants, shucking at their cocks to get their boners up good and hard!"

"C'mon, c'mon, don't stop there!" Mr. Hill exclaimed as he wanted more. Biff smiled and continued on with his story "When I saw what those guys had in hand, I stepped in and asked if I could get in on the action! They at first yelled at me to get the hell out of there but that gal Laurie told them 'Hey, guys, let the little guy in on the action! You guys aren't afraid that he'll beat you out, are you? C'mon up to the front and show us what you got there, Biff!' And when I whipped out my boner, a lot of guys groaned out loud and gave up, knowing that I had them beat so they didn't even pull their puds out!" Biff advised. Asked by Mr. Hill to fill him in on all the details, Biff continued on with "That Laurie was one hot sexy bitch, a sophomore in high school, and she had no qualms in showing the guys what they had missed out on! As I easily won the contest, Laurie slid off the bed and came over to me, wrapping her hand around my boner and then dropping down onto her knees to blow me! Then she pulled me on over to the bed and I got to fuck her good, right in front of the guys in high school!"

As Mr. Hill had concocted the plan for the initial scene, one that would require a retake later due to a company logo being caught in the film, Biff was given specific instructions to turn his cap around when he sat himself down at at the table to have a cup of hot chocolate with the beautiful Megan Moore who would be playing the part of his new sister-in-law, for the logo showing on the front of the cap would be the reason of that scene to need a retake at a later time. When the day came for the retake of that particular scene, Biff was to merely take off his cap and put it on the seat of the chair next to him, with the only other change being focus upon by the cameras .............................that of his getting a pill out of his shirt pocket and then dropping it into the cup across the table from him while Megan's back was turned to him. As they sat and chatted a bit about him getting along with teenage girls as called for by the script, with the director calling for a retake of portions, such would allow the drug to begin showing its potent effects that it was having on the beautiful starlet. The initial scene had the young starlet finishing her cup of chocolate before going out to sit on the couch in the living room to send an email on her laptop computer, but in this retake, Biff would be allowed to ad lib his moves and the camera crew would be following his every move.

Megan felt as if the room was spinning about when she stood up from the table and setting the empty cup on the kitchen counter, then she turned to walk out to the living room as called for by the script. Lightheaded as her heart thumped in he chest, Megan thought that she take a much needed break once the scene was completed, which would end once she made her way to the couch and opened up her laptop. She breathed a sigh of relief upon hearing "CUT!" being yelled out by the director, allowing her to close her laptop and set it back down onto the coffee table, then she closed her eyes and leaned back onto the white leather sofa but all this was being captured by the film crew as the shooting had not stopped as the sound of "CUT" being yelled could easily be eliminated. Then she heard the voice of the teen playing the role of her young brother-in-law say "You looked stressed out, Sis! Here, let me massage your neck ...................I do this for my Mom all the time!" Feeling the young teen's hands make contact with her shoulders through the fabric of the blouse that she wore, Megan leaned back as the massage was indeed comforting and was helping her to unwind a bit, but her entire body was not tingling and her cunny was juicing into the crotch band of her panties.
Biff was all excited at playing his co-staring role in an XXX rated porn flick, as evidenced by the massive hardon that he was sporting in his pants, and nothing could be better than his role in of actually drugging and then raping the beautiful Megan Moore. She had not made any objection to his giving her shoulders a massage, at which he could sense her body relaxing under his touch, but he was carefully watching for the telltale signs of her being put into an agitated stage of heat being created by the potent pill that he had dropped into her hot chocolate. Wanting to touch her soft smooth skin so badly, Biff did so by moving his hands massaging her shoulder muscles through the thin fabric of her blouse up to her neck muscles, then a bit later he continued massaging her neck with his right hand while his left moved to the front of her neck and slowly down into the top of her blouse. "Mmmmmmm .......................ooooooooooh!" he heard her moan as his fingertips caressed her left breast through the thin lacy bra cup, then excitement coursed through his body as Biff felt her nipple hardening under her bra cup. His other hand then left her neck to move on down to allow his fingers to undo the top two buttons of her blouse.
Tucked in blouse pulled out from her shorts allowed Biff to now slide both his hands down into the top of her opened blouse, thumbs and forefingers pinching the top of bra cups to capture both her now stiffened nipples, causing the beautiful starlet to moan from the pleasure she was obtaining from his touch. Pushing her bra cups down over her beautiful breasts, Biff could now play and touch those beautiful pink nipples, loving the feel of the hardened tips as he rubbed his outstretched palms over them. Blouse pulled wide apart, with her exposed breasts being played with caught on camera, Biff then slid himself up and over the top of the sofa, keeping his right hand on her tittie and then mouthing her right breast once he got himself over onto the front of the sofa. Moving his mouth over to take her other nipple into his mouth, Biff's hands were busy undoing the rest of the buttons of her blouse. A moment later, he was peeling her blouse off her arms and then he expertly undid the hook of her bra and that flimsy garment was gone seconds later as he began working on the button of her shorts.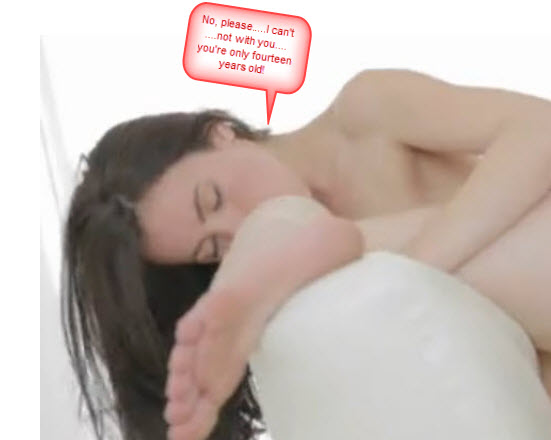 Unable to think clearly, feeling quite giddy with that nagging itch between her thighs was just driving her crazy, Megan could only clench her teeth and shiver from the attention being lavished upon her breasts by the brazen young teen. Then some rational came seeping back into her mind, causing Megan to realize 'Oh, my God .....................I'm allowing a fourteen year old touch me up ..........................letting him suck on my nipples!' Gritting her teeth once again, Megan closed her eyes to enjoy the pleasurable sensations for a bit longer, her body quivering as she ran her fingers through the hair of the young teen who at that moment was working her shorts and panties off her trim hips. Arm under the back of her calves lifting her legs up, Megan realized that she had just been stripped naked by the devious young teen as he pulled her shorts and panties off her feet. As her legs were lifted and turned, Megan felt her butt swiveling on the sofa couch, and then she was lying naked on the sofa as the young teen was settling himself down between her legs. "What are you doing? No ............stop ..............you mustn't ...............noooooooo .....................ahhhhhhhhhhhhhhhhhh!" Megan groaned out as the deviant young teen placed his open mouth upon her sex.
Lying upon the couch in a stupor, Megan looked up as the deviant young teen was kneeling upon the sofa cushion holding both her legs up in the air with his hands at the back of her ankles, and then the bastard was shuffling forward towards her. Then she felt the bump of the thick fleshy bulb against her cervix, at which time Megan realized that the young fourteen year old bastard was about to have sex with her. With all of her might, Megan swung her left leg and managed to break free of the teen's grasp, with her left leg going over his head to land at the top of the sofa's backrest. Partially out of the teen's grasp, Megan tried to make her escape, thinking that her only route was that of climbing over the top of the sofa and then to run out of the room. But in her drugged state, Megan was just not quick enough to get herself up on over the top of the sofa and to safety, for the teen's strong hands were grasping at her trim hips and preventing from climbing on over. And then Megan felt him shuffling up to her, felt the blunt fleshy cockhead once again seeking entrance into her, causing her to sob out "No ....................you can't .......................you can't put your 'thing' in me! Stop, Biff .....................stop .......................you're only fourteen ..........................I can't have sex with you! No, please ...................I can't .......................not with you ..........................you're only fourteen! Nooooooooooooooooooooooooooo!"
"Oooooooooooohhhhhh, yeahhhhhhhhhhhhhhhhhhhhhhhhhh! Ohhhhhh, damn .........................you're so tighttttttt!" Biff exclaimed with pleasure as he had just shoved three inches of his thick boner up into the beautiful star's tight little snatch. From the corner of his eye, Biff saw Mr. Hill give him two thumbs up for having carried out the verbal instructions given to him where he could ad lib the unwritten script, with Mr. Hill advising "Do all you can to nail her right on the sofa! All the cameras are in place for you to rape her on it, but if you can't and get her on the floor would be the next option as we'll then have a mobile cameraman pick up the action! But again, the sofa is the number one spot for you to stick it to her! And remember, like you've heard and watched on the set many a time, arch your back so the cameras can zoom in on your cock sliding in and out of her pussy!" Mentally in control of himself, wanting the rape scene to go on a long as possible for the filming as well as for his own pleasure, Biff reminded himself that he had a acting part to play for the filming of the porn flick. Playing that part as he continued raping that drugged beauty, Biff panted out "This bigger than my brother's, Sis? You've got a man-sized cock in you this time! You've got a real man in you now ......................and I'm gonna be that man who knocks you up with that little kiddie you're wanting!"
'Oh, my God .........................oh, my God!' Megan thought as she panted for breath as this young fourteen year old stud was working his horse-like cock in and out her her tight twat, but there was no denying how good he was making her feel from this illicit mating. Having touched Jared's 'thing' while kissing and petting a bit, Megan recalled her fiance's manhood growing under the fabric of his trousers as she ran her fingertips over the bulge, but it was not even comparable to what this fourteen year old had jutting out from his loins. "Biff, pleaseeeeee ...............................please take it out of me ..........................take it out of me ..............................it's too big ...................................it's too big for meeeeeee .............................ohhhhhhhhhhhhhhhhhhh!" Megan moaned out as the young teen held her hips firmly in his grasp as he thrust his manhood and out of her pulsating twat. She she had looked down between their bodies when Biff was trying to get his 'thing' in her, Megan recalled how terrified she was in seeing the horse-sized penis that her fear gave her the strength to pull her leg out of his grip and attempt her failed escape. "Noooooooooooooo ..............................nnnnnnnnnnnnnnnn ..............................nnnnnnnnnnn!" she groaned out to keep from screaming out from the sheer pleasure coursing throughout her entire body.
Having practiced at home many a night, after watching various top porn actors in a shoot and putting the tips he had learned, Biff was acting like a true pro as he arched his back out of the way for the cameras to zoom on in to his cock slicing in and out of the raped beauty. Nice and steady strokes, taking it slow and easy at first, was what Biff had learned while intently watching and learning his dream trade. 'Wait till the beautiful babe starts moaning and groaning, wait till she starts shivering and quivering, then I'll bring my humping up to jackhammer speed!' he told himself while thoroughly enjoying his raping of the drugged starlet. Thrusting in and out of the now delirious beauty, her pleas for him to stop had changed as she was now moaning from the unbelievable pleasure she was deriving from this illicit fuck session, and Biff knew that he was she was getting close to going over the edge as she squealed out "Oh, Godddddd ............................oh, myyyyyyyyyyyy Goddddddddddddddddddd ......................................ohhhhhh, so good ..................................so goodddddddddddddd! Yesssssssssssss ..........................................oh, yessssssssssssssssssss ................................don't stop ..........................don't stopppppppppppp! Oh, Biff ......................this is so wrong ..........................you're too young .....................................you need to stop ...........................you need to stop ...................................oh, Goddddddddddddd!"
Hands gripping her trim hips firmly to keep the beauty atop of the sofa top, Biff gave her the fucking of a lifetime, and he was determined to hold out until she climaxed on his dick before letting his cork pop. Then Biff felt her body shiver and quiver as her cunny clenched on his thick boner as he sliced into her, giving him the signal that the sexy babe was about to cream on his cock, so sped up the fucking a bit more to send the starlet right over the edge. "Ahhhh ...............ahhhh ...............ahhhh ...............ahhhh ...............ahhhh ...............oh, Godddddddddddddddddddddddddddddddddddddddd!" came the beauty's moans of pleasure as her petite body quivered in his hands. As she squeezed and creamed on his impaling cock, Biff smiled at his prowess and masculinity in making a mature young woman orgasm on his fourteen year old cock, and then he arched his back further to bury his boner all the way into the hilt before unleashing all the pent up cum from his churning balls. "Ugh ......................ugh ......................ugh ......................ugh ......................ugh ............................ahhhhhhhhhhhhhhhhhhhhhhhhhhhhhhhhhhhhhhhhhhhhh! Oh, Sis .............................I'm fucking my baby up in you!" he groaned out while playing his role in the script, spurting stream after stream of this thick cum up into her cunny.
With his drugged starlet having passed straddling the sofa top, fucked senseless by the young stud possessing a cock the size of a horse, Carl signaled for two strong members of the crew over and telling them to "Carry her on over to the bedroom set and lay her in bed! Tuck her in ................she's soon-to-be our new hot porn queen ...........so be gentle with her!" Then Carl turned to Biff and put a hand on his shoulder, telling him "Fantastic scene, Stud! Damn you sure as hell gave it to her like a true pro! You were fantastic ..................the way you arched back to give the camera a good shot of the fucking ...........and you didn't cum too soon like a lot of wanna-be porn actors! So, hop in to bed next to her and get some rest if you want ....................and when you're up good and hard again, just press the buzzer on the nightstand ...................that'll let us know you're ready and we'll start manning the camera by remote upstairs in the booth! We're gonna keep her pumped full on drugs so she's gonna be all hot and bothered throughout the night! Get her to ride you in one scene ...............make her cum that way and give her a big load .................then what I's want is fer ya to lift her up slowly off of yer cock ............hold her there so the camera can zoom on in to git all yer jizz oozing out of her cunny!" As they walked over to the bedroom set, the dozing starlet was in bed with the sheet pulled up over her beautiful ass, and Carl pointed out the buzzer and advised "Ok Biff, jist press the buzzer when yer ready to fuck her ...........& we'll start filming!"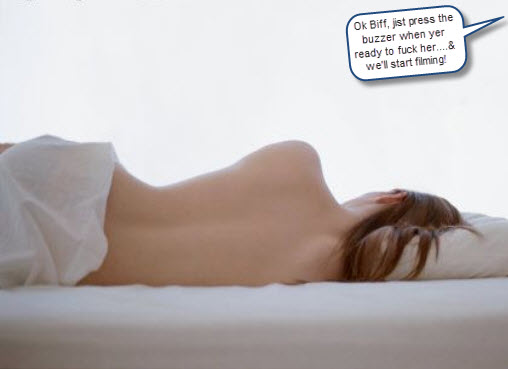 Besides the buzzer on the nightstand, there was also a motion detector that would ring a bell up in the control room to signal those on duty that filming was to start in order to capture the next fuck session between the two up and coming porn stars. About an hour later, Carl was looking at the monitors of the second episode of young Biff and the drugged beauty, who had been administered two more teaspoons of the potent aphrodisiac through a medicine dropper as she dozed. With Biff having turned the petite beauty over onto her back and begin sucking on her sensitive pink nipples, that was all it took to get the new starlet all hot and bothered, as evidenced by her hand coming up to caress the back of the teen's head to encourage him more. When Biff got into position atop of her, the beauty spread her trim sexy white legs apart for the young teen, then she was wrapping both arms and legs around her young lover once he had skewered his horse-sized dong up into her. No longer was Megan telling the young stud that he was too young to have sex with her, but instead she was panting out "Oh, Biff ......................you're so good .................................so big ................................fuck me ...........................fuck it to me ..................fuck me with that big cock of yours!" And when Biff told her of wanting to fuck his baby up in her, Megan responded with "Yes ...........................yes ............................do it ................................fuck your baby up in me ..........................knock me up with your baby!"
An hour and a half later with the potent aphrodisiac coursing throughout her petite body, naive Megan was constantly in dire need of sex, especially when not dozing off in a fucked out state, and it didn't matter if that hot stud lying next to her was a mere fourteen year old. Waking up in bed next to her young stud, Megan found herself in dire straits as she was needing a big fat cock up into her cunny once again, but Biff was now in a deep sleep next to her. Not wanting to wake the young teen, Megan wondered if his 'thing' would work without him being awake, so she decided to take 'it' in hand as a test. Reaching over to take the penis in her hand, the length of it had its soft head sticking out of her closed fist, Megan tightened her grip and gave it a couple of gentle shucks. With it growing in length to tell Megan that it was working without having to wake the teen, she then leaned over is body to take the bloated cockhead into her mouth, and seconds later her head was bobbing up and down upon it. Moments later, Megan was straddling the teen's waist and guiding his jutting cock into place, then it began disappearing as she lowered herself down upon it while not knowing that all of this was being captured on film.
That particular sex scene between the beautiful starlet and the young teen, one of a half dozen to take place on the bed they shared throughout the night, was just what Carl had been looking for as Megan would not dare claim that she had been drugged and raped for the filming. That one segment alone, of Megan looking over at the sleeping fourteen year old before initiating the sex act by taking his cock into her hand and then mounting the teen, would forever seal her fate and be under Carl's total control. Her having sex with a fourteen year old, if the film was to be sent to the local police and giving the age of the young teen on the screen, such would have Megan as an adult having sex with an underage male and she would be the one charged with statutory 'rape'. Armed with that, Carl knew that his new starlet would be fully in his control from that point on, and soon he'd have her end her job as an after-school care teacher and to tell her fiance that she would be pursing a new career with the modeling agency. Carl wondered as to how long it'd be before her unsuspecting fiance got to learn that his supposedly innocent fiancee was no longer innocent at all and that she had become one hot little starlet in the porn industry.
It was late morning, with cameras still on to capture any activity taking place in the bedroom, Megan had finally gotten some sleep after a very exhaustive night of sexual activity in the bed she found herself upon. Four hours had lapsed since Biff had given her a good shagging, coming to an end with the young stud ejaculating his hot potent roe up in her unprotected vagina, all while she too climaxed with her legs wrapped around her young lover and pulling him to her with legs locked together. At this point in time, the potent drugs in her system had worn off and snippets of what had taken place from the filming of the retake till her finally falling asleep some four hours prior filled her mind, and Megan was just horrified at knowing that she had unprotected sex with a fourteen year old boy. Megan blamed the alcohol for the events, weakening her ability to fight off the horny young teen when he proceeded to rape her, but she was at a total loss as to why she herself had initiated some sexual exploits with the young fourteen year old during the course of the night. Discovering that she was still naked, Megan looked over the left and saw the young teen also in the buff, her eyes drifting down to the now limp penis that drooped over onto his thigh.
Back in her room moments later, Megan fought back the tears as she frantically gathered her things to pack and get away from this godforsaken place. As she threw things together, Mr. Hill was suddenly her room asking "Where do ya think yer going, bitch? We ain't done shooting yet!" Choking back the tears, Megan blurted out "I'm leaving ............................this is not a legitimate film company ..........................you raped me that first time ................................and last night you allowed that fourteen year old to rape me on the set! No legitimate company in the film industry would allow such things to happen! I'm going to report all this to the police ........................they'll shut this company down and put you in jail!" Then Megan was advised by the devious director that "Well, sweetie .................................yer right in one aspect, we're yet to get a film out in the main media as yet .................................but the subsidiary distributing our flicks is well known out in the the porn industry! And ya'll gonna become a big hit out there ........................I'll see to that ...................................first out in the Eastern European countries where such flicks have no restrictions! The first flick to be distributed is entitled 'The Casting Couch' as that'll be yer debut in the porn industry! Imagine the hit it'll be with ya gitting that precious little cherry busted right on camera! And it be followed by ya gitting raped by Biff ................that'll be a big seller ...................ya gitting raped by a fourteen year old stud!"
Megan then saw the director take a disc out of his coat pocket and walk over to put it in the dvd player, turn on the television set, then was told "Call the cops on me, huh? Wait till they get to see this ..................here yer waking up in bed next to a fourteen year old ....................look how shameless ya are, shucking his cock back to life ........................taking it in yer slutty mouth and then mounting the young boy! Ya'll be the one in trouble with the cops, sweetie ...................................ya'll git charged with the statutory rape of a fourteen year old boy, my dear! Ya call the cops and I'll see that a copy of this shot gits in yer fiance's hands before the cops even gits here ......................what's going to be his reaction seeing ya fucking with a fourteen year old boy?" Seeing it all play out on the television monitor, Megan realized that if the police was furnished that segment only, she indeed would be looked upon as the predator. 'My, God ......................how could I do something like that? What made it act that way?' she wondered, then told herself that 'There's no way Jared would ever forgive me if he got to view that ......................him seeing me having sex with a fourteen year old boy .........................and Jared and I never having had sex as I always insisted that we wait till we got married!'
Porn Flick #3 entitled: '1st Anniversary Present'
Totally afraid after all the threats had been made against her as well as having viewed the incriminating tape of her having sex with a fourteen year old boy, not wanting to offend the devious bastard of a director who had planned this debacle, Megan dared not refuse drink after drink being handed to her by the black pervert. Megan was thankful of the alcohol helping numb her senses, but it also made her quite randy and wanting sex, for she was still unaware of her drinks being spiked with a potent aphrodisiac. After what had happened on the set with Biff, the fourteen year old boy, the retake of the kitchen scene of her preparing some hot chocolate for her young brother-in-law character had turned into her being drugged and raped by the young bastard. The drugs had made her loopy with the room spinning all about her, but Megan was still unaware of what had gotten her so hot and randy was the potent aphrodisiac that had been slipped into her drinks earlier by the devious director.
The portion of the script that had been shot at a park near the studio prior to their arrival at this remote ranch would be kept, that ending part of the initial film where the married couple going to the park to have a picnic lunch on their 1st Anniversary, something that the couple enjoyed and had done many a time on dates prior to their marriage was actually the intro of the third porn flick. The portion of the filming to be used was that Megan playing the wife walking hand in hand with her husband character to a nice secluded area, with her carrying a blanket and the male actor toting a lunch basket. Her attire was a long sleeve blouse to be worn casually and out of her shorts, with her counterpart also dressed is similar fashion. The script that had been furnished to Megan called for a love scene between husband and wife once they found a nice secluded place in which to settle down for their picnic, of which the soft core version had already shot and supposedly to be kept for the true 'love' story flick that would be shopped out to straight channels.
Megan shivered in nervousness when Mr. Hill advised her of the retake of the scene with she and her actor husband sitting on the blanket and kissing intimately and some petting through their clothing had occurred, with the director advising her that "Ya won't be needing to review the new portion of the script, jist go with the flow as it'll be husband and wife on their 1st Anniversary kissing and making out! And when he starts feeling your titties, I wanna see yer purty hands rubbing that bulge in his shorts .....................then I's want you to unzip and slide yer hand inside ...................and pull out his hard cock! Then the camera's gonna zoom on in to get the action of you shucking him off! And when you two are buck naked, I's wanna see some hot action ................with you wrapping those sexy legs around his ass ..................and arch that ass up each time he fucks into yer pussy! Got it!" Blinking back the tears as she nodded 'yes', Megan quivered as the black bastard put his hand on her head and told her "Atta, girl! Jist remember that yer a hot little porn star now, so put on a good fuck show, and ya'll have all the guys watching the porn flick dreaming of getting ya in the sack!"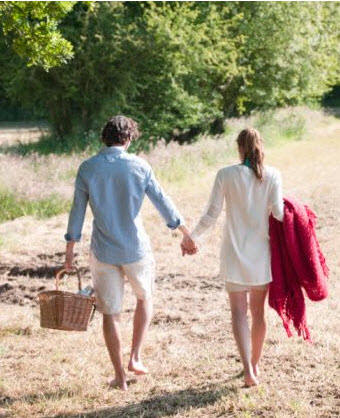 'Walk in the Park' scene shot earlier.
As per the script, a picnic scene had been shot earlier with the loving husband and wife to celebrating their 1st Anniversary by going to the park with a blanket and lunch basket as they had often done while dating. As the young couple found their private secluded spot in the park, they spread out the red blanket for their picnic lunch, with the hour long movie having ended at this point with the couple enjoying an intimate kiss. The last drink Megan had consumed prior to the beginning of the shoot had her quite agitated, for the drink contained more of the potent aphrodisiac that would have her quite randy by the time the kissing scene took place in the secluded area. The initial script had called for kissing and petting once she and the male actor settled down on the blanket for their picnic lunch, that had already been shot and done before and would be a part of the love story flick, but Megan learned that this retake now called for her to actually have sex with the handsome male actor during the shooting for the porn flick. Such would mean that she would now knowingly be cheating on her fiance, but there seemed no way out as that incriminating tape of her having sex with a fourteen year old boy was being held over her head.

Unbeknownst to Megan, an additional part of the porn flick not in her script was about to be shot, for what Megan thought would be lovemaking scene with the handsome actor playing the part of her husband was just another facade created by the devious director. The created facade was to ease the reluctant starlet into willingly participating in the supposedly XXX-rated sex scene while out on a picnic with her husband. It would indeed be an XXX-rated sex scene to be shot, not a lovemaking scene with the handsome actor, but a rape scene where Megan would be paired up with 310 lb. porn actor known as Bruno Kincaid. Had Megan known what was really in store for her on this sex scene, she certainly would not have shown up for the shoot, especially if she got to meet the ugly bastard who would be her true co-star in the episode. Shot earlier were scenes of Bruno portraying the role of an escaped fugitive as he hid and watched the couple through the thick shrubbery, rubbing the growing bulge that began tenting the front of his pants as he ogled the beautiful young wife as the couple wished each other a Happy 1st Anniversary, making him determined to have her.

Earlier, with the camera focused on the con's face as he peered through the bushes, his thoughts were voiced on screen, telling the audience 'Damn, what a fuck'n beauty! Ohhhh, yeahhhhh .................yeah, sweetie ...............gonna git me a piece of yer cute little sweet cheeks! Ten years without a piece of ass ..................but all that's gonna change soon .................real soon!' The camera then went back to the couple sitting on the blanket and kissing one another, from which point the new shoot would begin and spliced in for the XXX-rated the porn flick, starting with the intimate kissing and Megan being touched up by her actor husband. Filled in verbally by the director, it was to be an intimate kissing scene to begin with, then her 'husband' would undo the front of her blouse to feel her titties up, at which time she was to unzip the front of his shorts and slide her hand in. Trembling at the thought of having to do this with a man other than her fiance, Megan knew that she was in no position to object to the director's demands, then was advised "The cameras will zoom in on the action at that point! So Megan, I's want you to pull his cock out into the open, then yer to start shucking at his cock!"

Megan's eyes widened in horror when Mr. Hill continued on to advise "That's when 'hubby' will push yer head down as he wants ya to suck his cock!" Shaking her head 'no', that she wouldn't do such a thing, Megan got to breathe a sigh of relief when the director advised "Ya'll refuse to do it, but ya'll shuck him even faster and ya tell him ya want to make love instead! Then I's want you two to go at it like rabbits, got it?" Closing her eyes, Megan nodded her head in confirmation, thinking that in no way could she have brought herself to take his filthy cock into her mouth. Once her blouse and bra had been removed and having refused to take the penis into her mouth, Megan then she lay down onto the blanket, lifting her hips up so 'hubby' could take off her shorts, a loud 'thump' sound could be heard and then Bruno made his appearance. For the two male porn actors, each of whom had been provided a script for his respective role in the flick, actor 'hubby' would hear the loud thud sound behind of him at which time his role was to fall off to the side and pretend to have been knocked unconscious. And shirtless Bruno Kincaid would make his appearance in the film by standing there with a large tree branch in his hands, his lusty gaze now focused on the stunned and partially nude starlet, then he was to drop the branch and begin undoing the button of his pants.

Megan let out a piercing scream that was real at the sight of the big ugly bastard with his pants falling to the ground and she got to see that he had no underwear on as his massive penis was jutting right out at her. As she sat up and turned to scramble away, the unbuttoned shorts were at her knees and hampering her movements. Then large hands were grasping at the waistband of her panties, pulling them down over her hips, then both her shorts and panties were stripped down her legs and off her feet. As no one was coming to her aid and the film crew kept on shoot, Megan then realized that she had been duped once again, that the sex scene was not going to be with the handsome male actor but she was going to be raped by this big ugly bastard. Megan realized that his ugly bastard apparently was a part of the real script, one that she had not been provided, and that she had stupidly fallen into this nightmarish trap. "Stop .....................stop! What are you doing? Get away from me ........................get away from me! HELPPPPP ............................HELPPPPP!" Megan screamed out in a panic while trying to get away from her attacker.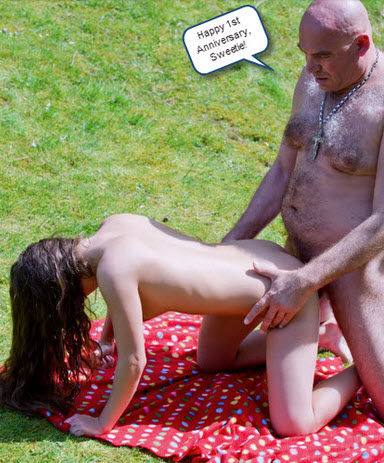 "HELP! HELP! Somebody ..........................help meeeeeeeeeeeeee .........................pleaseeeeeeee .......................pleaseeeeeee ..........................stop, please!" Megan screamed out as the ugly bastard was pulling her back towards him. The handsome male actor that she had come on the picnic with was apparently playing his true role of being knocked out. From the corner of her eye, with the camera focused on her and the ugly brute behind of her on the blanket, Megan saw her supposedly unconscious husband smiling and watching it all as he had a ringside seat just a couple feet away from all the action. "No ..................no .....................I don't want to .........................don't rape me ............................pleaseeeeeeeeeeee!" Megan panted out as she sincerely did not want to have sex with this grotesque bastard. Then from behind of her, Megan heard the bastard gloating out "Oh, sweetie ...................................being in the can, I's ain't had me no piece of ass in some ten fuck'n years ..............................but ya's gonna help me make up fer that ..........................never figured I'd be gitting my hands on a prettee little thing like you!"
Sitting his his director's chair, Carl smiled as the scene was turning out to be quite an excellent shoot, as a true rape scene did not lend to a retake where the fear and pleas uttered would not come even close to being realistic as this real shoot. Carl chuckled as Bruno Kincaid was the perfect actor to play the fugitive on the run, a mean ugly looking bastard who would love nothing better than shooting a scene with the lovely new talent who would have no idea of Bruno's existence nor of his part in the real script up until the scene of her male counterpart being knocked out by the branch being used as a club. Bruno was a well-known actor in the porn industry, naturally always playing the villain due to his rough and rugged appearance, so Carl's idea of pairing up the bad-ass Bruno with the beautiful new starlet should surely be a big money maker with this rape scene taking place that would seem so real to the viewer. Those were real screams and pleas coming from the unsuspecting young beauty, emitted as this rape scene was taking place in reality, for the sweet innocent starlet certainly did not want to have sex with this ugly fucker.
With Bruno having been in the industry for some time now and a well-known porn talent, he just loved his big brutish looks that automatically put him in the role as the villain, especially since directors like Carl loved nothing better than to have him stick it to a young beauty new to the porn industry. Having been furnished a photo of the sweet young thing that he'd be paired up with for this shoot, with Carl having advised him that his costar would only have a script calling for her to have a love scene on the picnic blanket with her husband on their 1st Anniversary, Bruno just loved the fight the new starlet was putting up as she definitely wanted no part of this rape scene. Recalling his lines as per the script, while raping the young beauty while she was on fours, he panted out "Happy 1st anniversary, Sweetie! I's heard ya telling hubby there that this is the ideal day and time to start making yer family .........................so I's only too happy to help ya out doing jist that ..........................cause I's gonna pump ya full of my hot cum!"

The outdoors shoot turned out to be the perfect rape scene as Bruno grunted out his pent up lust, built on up for the sweet young starlet from the day he got the script and a photo of her, filling her twat full of his of his hot potent jizz. When his cock was totally spent and drained, he began to slowly withdraw his lengthy cock while easing off to his right side, allowing the camera to zoom on in his thick cum oozing out of her pussy to plop down onto the blanket below. Releasing his hold on her, the starlet collapsed forward onto the blanket, curling up into the fetal position and sobbing in shame. With the beauty having dozed on off in her drugged fucked up stupor, the crew was busy setting up the large canopy for continuation of the shoot at night. When Megan awoke, her actor husband would have his arms over his heads and secured to the nearby shrubbery, with the ugly bastard grasping her by the her hair and making kneel before him as he told her "Since hubby missed out earlier, let's help him make yer 1st Anniversary celebration one he'll always remember!"

With actor 'hubby' playing his part by looking horrified as he looked on in the background, the camera would be focused on Megan's horrified face as Bruno pulled her to over to him and tried to get her to take his massive cock into her mouth, and her reaction just priceless for the purpose of this porn flick. With no script having been read by the young starlet, her real performance was absolutely perfect. The tears flowing down her cheeks were indeed so very real, giving Carl a hardon as he looked on to direct the shooting, telling himself that he needed a suck off from the beautiful bitch once this shoot was over with. "Please ...............oh, please ...................please don't make me do that! Please ................don't make me do such a filthy thing .....................I can't ........................I can't .....................I can't!" Megan had screamed out as tears poured down her face. The filming couldn't be any better with Bruno the fugitive shoving his cock into her mouth and later cumming right in the young wife's mouth, all while her restrained 'husband' of a year looked on in horror as he struggled to free himself to save his beautiful wife from the humiliating sex act. Bruno performed just perfectly, angling the beauty's face for the cameras as he slowed pulled his cock out of her mouth to have cum overflowing from her pink lips, then the aftermath was just perfect as the inexperienced beauty actually began puking her guts out.

The porn flick continued on with the action to give the purchaser his money's worth, with Bruno raping the beauty on the blanket once again, this time with her 'husband' awake and watching his 'wife' being raped. With actor 'hubby' sporting a raging hardon, he too was able to get in on the action as called for by the script, with Bruno guiding the 'wife' over to where her 'hubby' was tied up. Cock already bared and jutting out of its opening, Megan was made to take it in hand and give it a good shucking, then she was forced to take that pulsating cock into her mouth, then strong hands of her attacker were at the back of her head forcing her to bob up and down on her 'hubby'. Megan continued mouthing the cock and bobbing her head up and down, even as the large hands at the back of her head slid on down to grasp her by the hips, then while sucking that thick cock of the ugly bastard slid up into her slick slit. There was a perfect money shot at the end, with one camera first zooming in on the overflow of cum pouring from her lips, and from the rear as she was still on all fours to capture Bruno's thick cum dripping down to the ground from her well-fucked pussy.

End of Story.