At the age of 25 and married for just six months at this point, Kristin just could not understand the change that had taken place within herself over the past year, the last seven months to be exact. Exactly one year ago, she had been excitedly making wedding plans to be with her true love for the rest of life, looking forward to becoming Mrs. Kristin Goodman. She had met Mark Goodman in college and they had dated exclusively from their sophomore year, then he had proposed to her at graduation, to which she happily accepted. It would be a year long plus engagement as both she and Mike wanted to concentrate on their respective jobs for that first year, save up some money for the wedding and maybe enough to purchase a home, with she remaining at her parents' home while Mike had a small apartment. Back then everything looked so rosy and bright for their future together, but now Kristin could not put her finger as to what had inexplicably turned things 180 degrees on her outlook on life itself. "Why? What made me do such a thing?" were questions that Kristin continuously asked of herself, to which she could not provide a logical answer. It certainly had not been Mike as he was always loving and very trusting of her, quite understanding that her job as a medical equipment sales rep would require a couple short one-day out of town trips each month. From the time they had dated to their engagement, they had cuddled and petted some, but they never went all the way as Kristin was determined to enter their marriage as a pure virgin. Kristin's intent from when she was very young was to surrender her virginity to the man she married, doing so on their precious wedding day.
'So why? Why did I do it? What made me do such a nonsensical thing on just a foolish whim?' Kristin asked herself over and over again. Blinking back the tears, she often relived every moment of that fateful day when she was on one of her business trips. Kristin remembered what had taken place but just could not understand why she had allowed such a thing to happen out of the clear blue. Closing her eyes, Kristin would remember that black man in a suit approaching her to introduce himself and then telling her that "I'm going to make a 'woman' of you today!" With her briefcase taken from her hand, Kristin meekly followed this complete stranger to the car that was parked at the curbside. Her hand pulled over the console separating them, Kristin trembled as her fingers came to rest at Mr. Simpson's right leg, but it was not his thigh that her fingers instinctively began squeezing upon. 'Oh, God, what am I doing?' Kristin had asked of herself, yet she was grasping this stranger's manhood through the fabric of his trousers, something that she had done on a couple occasions with Mike. Upon being told "Yeah, sweetie, get a good feel of what yer gonna be sucking on real soon!" Kristin just could not believe the audacity of this vile man. Yet she could not seem to stop her fingers from squeezing upon it, to test its firmness and measure its length, all while wondering 'What am I doing?' Little did Kristin know that her own Pastor Knowlton was at the root of it all, that he and his unholy cohort had made the deal with the devil to keep the church's coffers filled to the brim .........................with members of a wealthy black brothers organization furnishing the money to filler the coffers, in exchange the church would display on the church's website it's beautiful female members from which the black brothers could make their selection from! Such was the case when Mr. Julius Simpson had eyed up the young and lovely Ms. Kristin Corbett when the upcoming wedding announcement had been posted up on the website! Once she had been selected off the website and a negotiated fee agreed upon, Kristin had been asked to participate in the church's marital survey, but it was just a ruse to get the unsuspecting beauty into a private room and put into a deep hypnotic state, one that would remove her inhibitions and having her doing unspeakable things.
Moments later, Kristin had found herself being pushed to her knees before Mr. Simpson, with her hands being guided to the front of his trousers. As if by instinct, with her left hand grasping at the thick lengthy lump beneath the fabric, her thumb and forefinger grasped upon the zipper tab and was pulling it down. Trembling in nervousness as Kristin struggled for the very first time in trying to fish a male's cock out of the opening of a pair of pants, she cringed upon grasping the thick sticky flesh with her fingers. Once out of the opening, her right hand was taken off the stem and replaced with her left while the right was guided underneath and her fingers closed over the swollen ball sac. "Ahhhhh, oh yeahhhhhhhhhhhhh!" the man groaned as she handled him, stroking his cock with her left hand while her right began a milking action as her trim fingers squeezed and released time and time again. As she looked straight ahead at the flaring head, Kristin swallowed upon seeing a pearly white drop beginning to form at the tip. Bigger and bigger it got as it was about to drip to the carpet, then she felt a hand on the back of her head pulling her forward till her lips came into contact with the slick gooey substance. A moment later, her pink lips had become shiny from the lip gloss coating applied to them. This being the very first cock to enter her lips would certainly be imprinted on Kristin's memory, for not even her handsome fiance had been given this honor, the memory causing her to swallow deeply as she recalled how the black penis had gotten so thick and swollen in her mouth.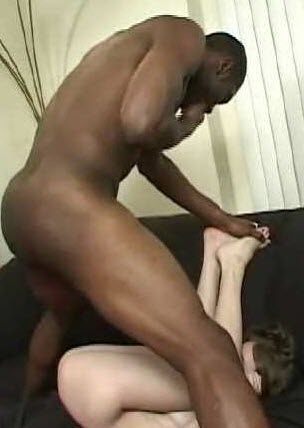 The next thing that Kristin remembered was being totally naked with the black man in the motel room, balled up on a black sofa about to have sex with the stranger. Feeling the tip of the hard big bloated penis rubbing itself up against her vagina, it was then that her mind seemed to come back to reality as Kristin took in her surroundings and the dire situation that she was in. 'Oh, my God, what am I doing here? And with this stranger, this black man! My God, I'm naked! He is too!' she had realized. 'This can't be happening! This can't be happening to me!' she recalled her thoughts of that horrific moment. "Ready for me to make ya a woman, sweetie? Ready fer me to pop that cherry of yers?" she recalled the stranger asking of her. And as he pressed forward, cockhead forcing its way into her entrance, Kristin had then realized that such was not a nightmare, it was actually taking place. She remembered her fearful plea "Stopppppppppppppppppp! Stoppppppppppppppppppppp! Please ………………please ……………………no, nooooooooooooooooo, stopppppppppppppppppppppp! Please ………………….please don't rape me! Pleaseeeeeeeeeeeeeeee! I don't want this!" But in looking up at her attacker, her pleas and cries for him to stop just seemed to put a big wide smirking grin on his face. She remembered trying to struggle and wiggle away but to no avail, that the stranger's very large hands already had a solid grasp upon her trim hips. Able to wiggle up just a few inches away, she could only sob in fear as the strong hands pulled her right back to him, right back to his jutting penis poking up against her vagina as she tried to push at his heavy muscular body. "Aieeeeeeeeeeeeeeeeeeeeeeeeeeeeeeeeeeeeeeeeeeeeeeeeeeeeeeee!" she recalled screaming out in agonizing pain as the black bastard had lunged forward with all his weight and penetrated her. And when he reared back out and lunged once again, Kristin recalled having let out a shrilling "Nooooooooooooooooooooo …………………………..noooooooooooooooooooooooooooooooo!"

'How could I? How could I let that happen? A mere five weeks before the wedding and I surrender my virginity to a complete stranger! And no protection had been used!' Kristin shuddered, a reason why she had insisted to Mike a week later that he needed to purchase a box of condom for use on their honeymoon until they were ready to start a family together. Although she and Mike had initially talked about letting things happen when it came to starting a family, Kristin had then insisted that they should think it over some, to take in consideration if they were really ready to start a family and how each of them were at in their respective job situations. But in reality, Kristin wanted to make sure that enough time had lapsed to assure herself that she had not been impregnated from her indiscretion before the wedding. That way, Kristin would be certain that if she had an abortion that it would not be Mike's baby in her. It was now six months following their wedding with Kristin advising Mike that he needed to keep using a condom, needed to wait till they were financially ready for starting a family, to be more stable in each of their job situations. But in reality, Kristin's mind was a jumbled mess and not thinking rationally, worried that another such indiscretion might occur in an upcoming business trip. Kristin certainly did not want an abortion if it was Mike's baby that she was carrying, wanting only to go through with such a procedure should she be carrying a another man's baby in her ............................more particularly some little black baby!

Somehow stumbling upon a naughty website called interracialhookups.com, Kristin couldn't help but to keep looking at all the black men in there, profiles describing these big muscular black men with all of them wanting to bed white women .....................many describing his desire to 'black'n' some white boy's trophy wife or girlfriend or to show a white bitch what fucking was all about. She'd look at the photos of various black men, read what they liked about or wanted to do to white women, then Kristin would imagine herself being with that man and having him do as he desired with her. Some of the comments made in the profiles were rather crude, as some examples read such as: 'Nothing better than having a beautiful white bitch down on her knees sucking my big black cock!' 'I luv hearing a white bitch scream when I's shove my cock up that tight little ass of hers!' 'Me ...................I jist love seeing the fear in her eyes when she realized how big I am when I's stretching out that tight little pussy of hers!' 'I's jist love it when a bitch changes her mind because she's scared of taking my fat cock up her cunny!' And at the bottom of many a profile on the site, Kristin would click on the link taking her to more photos provided of that member, photos that were much more explicit and definitely x-rated. Kristin often found herself sucking in her breath at the sight of such photos, many of which were quite gross, like that of the bastard holding that humongous monstrosity in his hand ........................some jutting straight up in the air and some just hanging curved over his fist like a sausage! Her mouth would water at those pictures, with Kristin wondering 'Can I get my lips open wide enough for it to fit in my mouth?'

In scrolling through the many profiles of black men, Kristin stopped at the sight of one man who was taking off his shirt, that of a Mr. Tyrone Barnes. From the photograph, Mr. Barnes appeared to be in the mid-40's or near 50, very well groomed and also quite handsome. So the natural question racing through Kristin's at that moment was 'So why? Why?' was all she could ask of herself without any good or rational explanation coming to her as to explain just why she was willing to risk it all. 'I'm 25, married to the handsome man I fell in love with during college and we have a bright future together, yet hear I am about to go out on a date with a man twice my age .............................a muscular black man ...............................when I'm out of town on a business trip next week! What's wrong with me?' Kristin asked of herself, shuddering as she looked at the picture of Mr. Barnes once again, knowing full well where she'd end up at the end of the night. 'Something must definitely be wrong with me, having such awfully naughty and sinful thoughts, and then going out and doing such unspeakable things when I'm away from home on a business trip! Seven months ago was that very first time while away on a business trip, five weeks before Mike and I were to be married, with at least having the excuse that I had not exchanged wedding vows at that point! We were engaged and I cheated on Mike back then foolishly giving away the most precious gift I had saved for him .........................my virginity! Everything in our marriage to date has been just fine, with Mike so loving and caring to me, wanting to please me in all ways and we're exploring various subdivisions to buy our first home! So why do I want to secretly have a date with Mr. Barnes?' she asked of herself.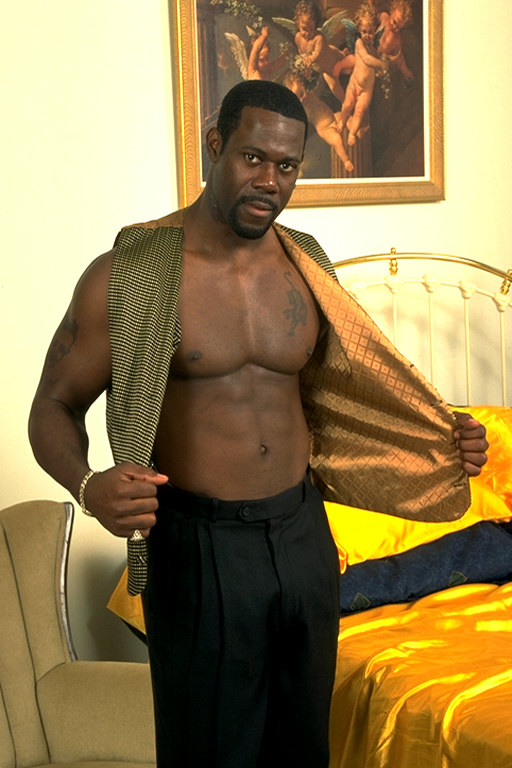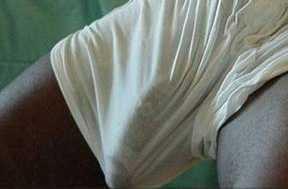 Mr. Tyrone Barnes and what he liked white women to suck on!

Looking at Mr. Barnes' profile, Kristin read that he enjoyed meeting beautiful white women, loved showing women a good time and treating her like a woman deserved to be treated. And then Kristin clicked onto the link that would take her to more personal and revealing pictures of Mr. Barnes, to which she had to suck in her breath as she observed the outline of his 'thing' under the thin white undergarment being worn. Then Kristin read the rather crude comment posted below that picture of his manhood that read 'I just love having a beautiful white chick sucking on my cock, seeing the look in her eyes when she realizes just how big I'm getting and she gets scared as it gets even bigger and bigger to where it gotta go down her throat cause there's no more room in her mouth!' Looking at the photo once again, Kristin's mouth began to water as she pictured herself down on her knees with her mouth open to accept that black penis between her lips, then began to wonder if she'd end up choking if indeed the comments were correct as to how it'd grow in size once being sucked upon. 'My God, how can I be wanting to do something so gross and nasty with Mr. Barnes .........................after I refused to even do such a filthy thing to Mike?' Kristin asked herself while licking at her lips, imagining demeaning herself by dropping down to her knees before the big black bastard and arching her neck up to take his 'filthy thing' into her mouth.

A week later, having kissed her husband goodbye as she headed off to the airport for an early morning flight, Kristin had hit all her scheduled appointments and wrapped up several nice sales orders. Checking into the plush Strasford Hotel in Arnsworth, she showered and put on a nice black dress and heels for her date that evening. Checking herself in the full length mirror before taking the elevator up to the Strasford's elegant Stratosphere Restaurant on the top floor, Kristin felt her heart racing as she was about to step out on her handsome husband and meet up with a black stranger whom she had met online on the interracialhookups.com site. Once in the elevator, Kristin told herself 'It's not too late to put an end to this madness! Just push the button for one of the floors and get off, then take another elevator back on downstairs to go to your room! You can't ..................shouldn't cheat on Mike ....................ever again!' As the elevator ascended up to the top, Kristin wondered 'What's making me do these kind of things? Why am I about to go out with another man while on a business trip, knowing that I'm going to cheat on my husband and violate my marital vows to him?' Moments later, after having stepped out of the elevator on the top floor of the hotel, Kristen had her hand in the arm of the muscular Mr. Barnes and being escorted into the fancy restaurant. Following the hostess, Kristin noticed some heads turn in the restaurant to focus upon her being escorted to the corner booth by the tall muscular black man, suspecting that many of the spectators were assuming that she was a high priced call girl.

In the center of the booth with the handsome Mr. Barnes immediately to her left while holding her hand, it was obvious that her date knew for a fact that she was a married woman ............................an easy and obvious conclusion from the way in which the thick calloused fingers were toying with her diamond ring and wedding band. Then Mr. Barnes held her hand up as he gazed upon her diamond ring and then commenting "Oh, such a beautiful ring! Your husband must be so proud to be married to such a beautiful woman as you!" A moment later, Kristin closed her eyes as a shudder coursed throughout her entire body, caused by her hand having been placed upon her date's right thigh. It was not his thick muscular thigh that made her shiver, but the long thick muscle laying upon his thigh and between the pants that he wore, the muscle that swelled even more each time she went and squeezed upon it. Eyes still closed, now panting for breath, Kristin's clutching fingers moved on upwards while still squeezing upon the thick muscle to determine its length. 'My God .........................it must be 12" long or more!' Kristin thought, opening her eyes then to gaze upon the long solid lump that her left hand was now alternately squeezing upon and caressing. Then Kristin was confronted with the question "Ya did click on that link to my personal pic, didn't ya .......................and read my comments, didn't ya?" Kristin nodded a 'yes' in response to my question. "Have ya been thinking about it all week, Mrs. Goodman?" she was asked, to which Kristin once again nodded a 'yes' in response to the question.

For Tyrone Barnes, he loved toying mentally with his lovely young wife who was about to cheat on her husband, knowing that this innocent beauty was still rather inexperienced in the art of cock sucking and that had a part of his determination to end up with the winning bid in the auction. But what had intrigued Tyrone most about the young wife when reading her auction profile, it had stated that she only sucked on one cock to date and hubby is still waiting for his turn, and the one cock she had sucked on did not cum in her mouth. The thought of being the very first man to cum in the beauty's mouth had made Tyrone determined to win the auction. Armed with that knowledge and to instill mental anguish to the young beauty, Tyrone then asked "Ya ain't ever sucked your hubby's cock, have ya?" The shaking of her head with the 'no' answer came as Tyrone had expected, then he asked "But you want to suck on my big black cock, don't ya? And ya want me to cum in yer mouth, don't ya?" When she nodded her 'yes' response, Tyrone chuckled "Well, better save room for the nice hot tapioca dessert I's got fer ya!" Tyrone suspected that the young wife would have unzipped him then and there if he had told her to do so, maybe even giving him head right there in the booth, but he wanted her hungry and mouth watering for his cock so he'd make her wait till they went down to her hotel suite. With the arrival of their drinks and then the ordering of their dinners, the conversation was very similar to that of a man and woman on their very first date .........................their hobbies, jobs and work, likes and dislikes! The big different in this first date to normal ones was each knowing where this would end up once dinner was over, and that of her squeezing his dick beneath the table while his hand slipped up under the hem of her dress while they dined together.

Two hours after first meeting in the lobby of the restaurant, Kristin could not help but to shiver with nervousness as Mr. Barnes laughed and taunted her with "That hubby of yers sure is missing the boat ..................not knowing jist how fuck'n talented his beautiful with her lips and tongue! Ohhhhh, if only hubby could sees ya now .......................seeing his beautiful wife on her knees with a big black cock in her mouth! Ahhhh, yeah .........................that's it, Mrs. Goodman ..............................that's it, lick it all over ......................................ahhhhhhhhhhhhhh, so good ................................so fuck'n good!" With her tongue licking on the sticky underside of the growing length of the thick fleshy muscle, her left hand lifting the pulsating stem so she could lick at his swollen black balls, Kristin pictured the shock and horrified face of her loving husband in her mind if he was a witness to this sordid scene. Sticky side of the cock now resting upon her forehead, Kristin bent her head lower, opening her mouth wide to capture a swollen testicle between her teeth. Using her left hand to pump at the pulsating shaft while teasing the captured testicle with her flicking tongue, Kristin wondered as to what her husband would do if she was to perform this sex act upon him, then concluded that 'Mike would probably be coming all over my hair at this point in time ............................unable to wait till I took him in my mouth!' Inhaling the manly smell of Mr. Barnes' crotch made Kristin shiver with excitement, causing her to rub her face up along the length of the sticky underside till the bloated cockhead was between the bottom of her nose and upper lip.

A second later, Mr. Barnes gave a loud groan "Ahhhhhhh, yeah .......................oh, baby ................................oh, God ..................................yer one hot little cocksucker, Mrs. Goodman!" Large calloused hands at the back of her head, cock pumping in and out of her mouth, faster and faster as she was being face-fucked at jackhammer speed. A shiver of excitement coursed throughout her entire body at the knowledge that she as bringing off the big black man, evidenced by her mouth rapidly filling up with his hot cum, but then a bit of panic set in as there was no more room for the slimy goo to go. Shuddering as she was forced to swallow a lumpy load of slimy goo, Kristin could then feel the hot roe coursing its way down into her belly where a lake of the foreign substance began to form. Mouth filled once again, no where to but down her throat a second helping of the plentiful dessert went, and to Kristin's utter amazement her mouth was filled to the brim yet one more time. Kristin was certainly glad that she had passed on dessert after finishing her meal, for she had not planned of getting fed such a copious amount of hot cum, as what had been ejaculated into her mouth was far more than what she had imagined was humanly possible. Head drawn back ever so slowly, the bloated cockhead exited her mouth with a 'pop' and Kristin's eyes widened in amazement that she had actually taken that long glistening ebony muscle all the way into her mouth and throat. With the still thick muscle now drooping some over her fisthold at the base, it was evident that Kristin had sapped it of its strength from the blowjob that she had just given him, making her wonder as to what her husband would say if he had been witness to her giving Mr. Barnes head that resulted in the big black man emptying his balls into her slutty mouth. Kristin had refused her husband's request with "You're sick! Absolutely sick! How can you ask me to do such a filthy thing?" before pushing him away and rushing off to lock herself in the bathroom.

Upon being helped to her feet by Mr. Barnes, turned so her back was to him, Kristin then felt expert fingers undoing the clasp at the back of her dress and then her zipper being pulled on down. With her black dress now puddled around her heels, Kristen then felt herself being scooped up in a pair of strong arms, right up out of her puddled dress lying on the carpet. Gently laid upon the king-sized bed, she then felt thick fingers undoing the clasp of her bra in back, then the shoulder straps fell to her arms before the garment being pulled from her hand tossed aside. Next, Kristin felt her 3" black heels being removed, then heard two thumps upon the carpet to signal where they had been tossed. Calloused fingers now being inserted into the waistband of her lacy black panties, Kristin felt the protective garment being pulled down over her hips and down to her knees before being completely stripped over her legs. Knees pushed apart, Kristin sucked in some air upon feeling Mr. Barnes' hot breath upon her most intimate spot. "Ohhhhhhhhhhhhhhhhhhhhhhhhhhhhhhhhhhhhhhh .............................Godd .................................God, yessssssssssssssssss ......................................oh, yesssssssssssssssssssssssssssssss!" she squealed as Mr. Barnes clamped his hot mouth upon her sex. "Oh, God .............................oh, Goddddddddd .............................oh, Goddddddddd .............................oh, Goddddddddd .............................oh, my Goddddddddd!" Kristin cried out when Mr. Barnes' thick tongue began to explore her slick slit. "Yesssssssssssssssssssssss ....................................yessssssssssssssss ...........................................oh, God ...............................eat meeeeee ...............................eat meeeeeeeeeeeeee ..........................................ahhhhhhhhhhh, yessssssssssssssssssssssssssssssssssssssssss!" she panted out as the talented tongue began teasing at her ultra-sensitive clit, causing Kristin to arch up with her body convulsing from a mind-shattering orgasm trembling uncontrollably as she fed Mr. Barnes his sweet juicy dessert for the evening.

Sprawled out upon the bed, watching Mr. Barnes sliding off the edge to stand up and begin removing his clothing, Kristin thought of her loving husband at that instant and wondered 'What would Mike say if he could see me here in the hotel room with the likes of Mr. Barnes? Oh, my God .....................look at that, he's all big and hard again ..........................it really belongs on a donkey ..........................and to think that I took it all down my mouth and throat! And he's going to put that big 'thing' of his up in my cunny ..........................it'll take more than a week's time till my cunny gets back to normal .................Mike will surely notice the difference if we make love before then! Mike trusts me explicitly .........................yet I'm about to cheat on him .........................have sex with a black man .............................a man so much more endowed that he is! I just can't help it ...........................I want to be dominated by this big man ............................to be his slutty whore ..............................treated like the bitch I really am! Oh, God ...........................I love Mike so much ...........................but I want this big black man to fuck me with his big black dick!' She watched as Mr. Barnes was now void of his clothing and stroking his dong to full erection, felt the bed sag as the big man knelt upon the bed, Kristin then reached out with her left hand between her spreading legs to grasp at the jutting muscle. Clasping at the big black dong, pulling it towards her, Kristin sucked in her breath as she rubbed the bloated cockhead up and down her juicing slit. Panting out in desperation, Kristin wailed "I want it .........................I want it ..........................put it in me .............................fuck it in me! Ahhhhhhhhhhhhhh, Godddddddddd .................................yesssssssssssssss.....................................oh my God, yes .................................yessssssssssssssssssssss ...............................yesssssssssssssssssssssssssssssssssssssssssssssss ..................................hurt me ......................................hurt meeeeeeeeee ............................make it hurtttttttttttttttttttttt .......................................yessssssssssssssssssssssssss!"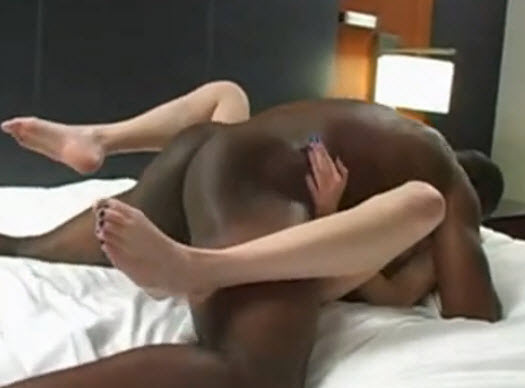 'Damn, they's went and got this purty white girl all hot and bothered to git herself a big black cock, that's fer sure!' Tyrone surmised as the sweet young wife was going crazy and withering about on his cock. Being invited to the prestigious organization that consisted of wealthy black men and paying the ten grand entrance fee, Tyrone had anxiously gone online the night of the scheduled auction of a beautiful and naive white bitch. Up for auction was a beautiful, well-educated, white beauty that had been married of just six months. First there was a picture of her in a blue business suit carrying a brief case, under which there was a comment noting that 'Picture taken five weeks before her wedding, the day she was to be introduced to black cock for the very first time, surrendering her virginity in the process!' Next to view was a pictured of the bride and groom on their wedding day. Then came another comment advising that 'On the third day of the honeymoon, hubby was out for a round of golf when the brother who copped her cherry showed up at the honeymoon suite to show the bride what fucking was supposed to be like! Only have sucked on one cock thus far and it wasn't hubby's!' Then it was noted for the potential bidders: 'Bitch ain't had no black cock for six months now! She's primed and ready for some big black buck to fuck her good! The winning bidder will be getting an email from the beautiful bitch tomorrow, once a hypnotic suggestion is implanted in her mind to scan through the photos of interracialhookups.com, and she will be most intrigued by winner's photo and profile that she'll be sending you an email detailing where she'll be next week Wednesday. Sure enough, winning that bid and able to be in Bedford then, Tyrone chuckled when he did receive an email from the beauty.

"Jeez, sweetie, yer so fuck'n tight!" Tyrone wheezed as he tried to shove a bit more of his dark meat up into her too tight snatch. Grabbing her trim hips firmly in his strong hands, Tyrone groaned from the tightly gripping hold clasping onto his thick boner as he thrust more of it forward into the whining bitch, snickering out just as Kristin had been thinking a moment ago that "Oh, damn sweetie, better not let hubby try to put his little pecker in ya fer awhile ..............................not the way I's gotta stretch ya out! Damn, if'n I's didn't know better, I'd swear yer as tight as a fuck'n virgin!" Barely more than six inches had thrust up into the flailing beauty, yet she was clutching tightly onto his shoulders and begging him to "Do me ..............................do meeeeeeee .........................fuck me ...........................fuck me ...................................fuck me good ..............................do me with that big black cock of yours!" "Okay, bitch .........................ya asked fer it!" Tyrone panted as he got a good hold on her hips before slamming it home once again with "How's that, bitch? That what ya wanted?" Owwwwwwwwwwwwwwww!" came the reply shriek before the young wife panted out "Yesssssssssssssssssssssssssss ..........................fuck me ..................................fuck me .....................................give it to me hard .....................................fuck it to meeeeeeeeeee ..........................fuck all of that big monster into me!" And upon hearing that, Tyrone reared on back till just the bloated cockhead remained enveloped in her quim, then he thrust on forward with all of his might, sending the 12+ inches of black meat up into her cunt. "Ahhhhhhhhhhhhhhhhhhhhhhhhhhhhhhhhhh ...........................................................ohhhh, Godddddddddddddddddddddd ..................................ohhhhhhhhhhhhhhhhhhhhh!" came the shriek of acknowledgement.

Had Mike Goodman been a fly on the wall of his wife's hotel suite, he'd have been in total shock to see his seemingly innocent and naive young wife behaving like a slutty little whore would with her 'John', doing things with her customer that Mike only wished that his wife would do for him at home. Immediately noticeable would have been the fact that his wife was being fucked by a cock that was more than twice the length and thickness of what he had between his legs! And then that the big muscular man was fucking her with his big black cock! Mike Goodman's jaw would had dropped in seeing that his wife was letting the black bastard fuck her without the use of a condom, something that he was always to wear when they made love together! The actions of his beautiful wife differed so much on this night compared to their lovemaking sessions at home, evidenced in the way in which Kristin was wrapping her legs and arms around her lover's ebony body, versus how she'd merely run her hands up his shoulders as the made love and with her legs widespread and feet planted on the bed. If he had his eyes closed and just listened to what was taking place in the hotel room, Mike would swear that it just could not be his wife, not in the way she was panting and begging for her black lover to fuck it to her, especially as she never uttered a word to him when they made love! What would have stunned Mike the most would be hearing the following: "Ya on the pill sweetie?" "No, no ....................but that's okay! I want it ...................shoot it in me ..........................shoot your hot cum in me!" "Okay, but I's gonna knock ya up good, bitch!" "I don't care ...........................I don't care ............................cum in me ................................shoot your hot cum in me! Fill me up with your hot cum!"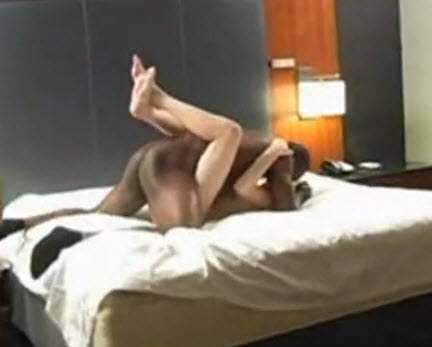 Due to the long foreplay that each had endured over dinner, both Kristin and Tyrone were in need of quick release, causing Kristin to wrap her trim arms and legs around her humping lover who was going to town on her at fever pitch. "Ohhhh, so good ..............................so good ........................so big and so deep! Oh, Godddddddddd ................................yessssssssssssssssss .........................yessssssssssssssssss! Goddddddddddddddd ....................................cummingggggggggggg .................................................I'm cumminggggggggggggggggggg ...................................ahhhhhhhhhhhhhhhh, God .........................fuck meeeeeeeeee .........................................ahhhhhhhhhhhhhhhhhhhhhhhhhhhhhhhhhhhhhhhhhhh!" Kristin screamed out as her black lover shagged her at jackhammer speed. And then the shagging suddenly ceased with the thick cock fully embedded in her cunny, the ebony body rock solid for a few seconds before beginning to convulse, causing Kristin to lock her ankles around his black ass and pull him in even deeper as she panted out "Shoot it ...............................shoot it .................................shoot your cum in me ................................sperm me, stud ................................sperm me! Do it .......................here's your chance to knock up a white bitch who's cheating on her husband ...................................fuck your little black bastard in me!" That certainly sent Tyrone over the edge, making him so happy to have won the auction, popping his pent up load as gush after gush of his hot roe spurted out into the naive white bitch, making him wish that the white boy she was married to could see his cheating wife right at this moment.

Having soared into outer space from the fantastic fuck thrown to her by Mr. Barnes, Kristin blinked her eyes and realized that she must have dozed some once drifting back to earth from that mind-shattering orgasm. Guilt set in at that point with Kristin thinking of her husband, wondering 'What would Mike think of me now if he only knew that I'm lying on the bed in my hotel suite with a big black man asleep atop of me ..........................his still very thick cock inside of me ............................and most of all his sticky semen might just be impregnating me at this very moment?' Then Kristin wondered 'What made me do such a thing? Cheating on Mike for no reason at all, just that I wanted to be ravished by a big black man, taken and treated like a whoring little slut! I don't understand what's happening to me, doing such crazy things on the spur of the moment, like meeting that strange black man five weeks before the wedding and letting him take the precious gift I had been saving for Mike .........................my virginity! Then not refusing that man when he showed up at the honeymoon suite on the third day when Mike was out golfing, letting him fuck me over and over that day! And now after being married just six months, I email Mr. Barnes after seeing his profile on that interracial website, telling him I'd really like to meet up with him on my next business trip ...........................so here I am after having just cheated on my loving husband once again!' In Kristin's misguided mind, what seemed to be the most sinful thing was insisting that her husband wore a condom whenever they made love, but on her cheating escapades no such demand was made on her black companions! Kristin's rationale to herself was that she did not want to feel guilty in aborting Mike's baby if he was the one to impregnate her, thus making him wear a condom whenever they had sex would remove the guilty if an abortion was needed.

That next afternoon, Kristin reflected back on the events of the evening before, recalling how Mr. Barnes had stirred awake on the bed atop of her with his cock stiffening to rock hardness once again. His large calloused hands slipped under her asscheeks and the next Kristin knew she was on top and straddling the big man with his cock straight and stiff up in her cunny. With Mr. Barnes hands on her trim hips lifting her up and down, she began to ride the big cock, bring her own hands up to her titties to play with her nipples. Ride him she did, riding her black stallion hard as if going for the finish line in a derby. She creamed and juiced on his black pole, then thought she'd be blown right out of the saddle when he popped his cork once again, the hot blast of his ejaculation surprising her with its intensity. 'My God, how many times did we fuck last night and this morning?' Kristin wondered, for there was once in the shower last night, once she awoke as he thrust himself into and then there was when she straddled him to get him up with his dick in her. 'We did it doggie style once ...............last night anyway, and then again this morning after we ordered in breakfast! And then Kristin shivered, thinking 'And of course there's the time that I was on all fours when he shove that big black salami up my ass! 'Jeez, that sure hurt ............................hurt so good .................................made me shiver all over and then cream all over when he fingered me while butt fucking me good!' Kristin trembled. Licking her lips and mouth with her tongue, Kristin swallowed to make sure all remnants of semen were removed as she thought 'Does giving him head count? Or him eating me?' She had gotten down on her knees to suck him off when then got to her room after dinner, and then when they had gotten dressed just before going down to to the lobby to check out, she had gotten down onto her knees to give him a goodbye kiss. 'Do I dare kiss Mike when I get home?' Kristin wondered, licking her lips once again to be sure the taste and scent had dissipated at this point.

During that next week, Kristin feared that her husband would surely notice the difference if they made love, thus wanted as much time to lapse in order for her body to return to normal for she thought 'With Mr. Barnes twice the size of Mike, my leg muscles and cunny were surely stretched so much time is needed to return to normal!' Thus, a headache that second night back and then the supposedly start of her period bought her that time, using her fist to bring her husband off one time to give him some relief. But just two days after having cheated on her husband, Kristin was once again going through the profiles of interracialhookups.com, licking her lips at many of the profiles that she found of interest to her. For some reason, the one profile that caught her attention was that of the Mr. Merton Jones, whose picture of his ebony muscular body glistening from the sweat of a workout. Going into in personal photos link, most were of him lifting weights which apparently he treated as his hobby, but then there was one odd photo with him posing that show his biceps but his large hands were open and fingers wide-stretched. The caption under the photo advised 'My favorite way to pump weights!' Beneath the caption read 'Only thing missing in this photo is the pretty white girl, whose asscheeks will be filling my hands! I'll just keep on pumping the bitch up and down on my cock, for however long it takes till she screams and creams! Then with her pronged on my upright dong, I'll jizz her and make her scream again!'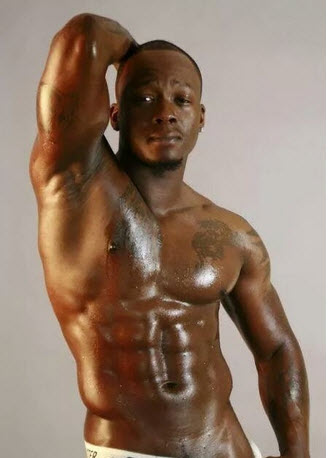 Mr. Merton Jones
A week and a half later, on the flight over to Ashton, Kristin's heart was beating fast in her chest as she planned on cheating on her husband once again for no good reason at all. 'Why am I doing this again? I see the man's profile on the website and suddenly I can't get him out of my mind that I go and email him to till him I'll be in Ashton today and tell him I'd like to hook-up with him! And me being so bold as to tell him that I saw his photo of his favorite way to lift weights, that I'd like to have my ass in his hands so he can pump me up and down on his cock till I scream and cream!' Kristin wondered. Little did Kristin know that the marital survey that she was helping the church out with was really a ruse by her pastor and that of his sidekick to have her under their hypnotic control, guiding her to look up and concentrate on certain males on the interracial website, for those would be the men who had recently cast the winning bid to bed her down for the night on her next out of town business trip. Thus, it was her very own pastor pimping her out to wealthy black men to fill the church's coffers and to maintain the lifestyle he had come to enjoy as a nationally recognized religious leader. As for 38 year old Merton Jones, owner of a chain of gyms, money was of no problem. When he gazed upon the most recent auction, that two brothers had rated Mrs. Kristin Goodman with 5*, both checked off the blocks of her being: well worth the money; young; attractive; married; naive; quite innocent; game for anything you want to do to her; and gives good head! Casting the winning bid of $3,800 got him the beautiful young married brunette whom he would get to bed in the town of Ashton when she went on her business trip there, was told by Father Mollway to expect an email from the young beauty shortly from which he could arrange their meeting time and place.

Hustling about to all her business appointments scheduled for that day, Kristin showered and got dressed for her date, then took a taxi to meet up with Mr. Jones at the 5* Restaurant Apcot. Wearing a nice yellow dress and white heels, Kristin was greeted upon her arrival by the well dressed black man who escorted her into the restaurant, following a hostess to the booth that had been reserved for them. After drinks to break the ice, a nice dinner followed with dessert, then they got into the luxury car he had rented and headed off to the Hawthorne Suites where she was staying. Driving up to the valet, they were soon in the elevator and headed on up her suite, and it was in the elevator that her muscular date pulled her into his arms for an intimate kiss. Less than ten minutes later, Kristin had been stripped naked and being held by the muscular stud, hands on her butt he lifted her and instructed her to lift her legs to rest them on his shoulders, then he proceeded to eat her out. Once he ate his dessert, Mr. Jones then shifted his large calloused hands about on her soft asscheeks, like that of his favorite pose in lifting weight but only he was lifting her up and down onto upright boner. With her legs wrapped around his waist and ankles locked together, her arms wrapped around his thick neck, Kristin squealed "Oh, my Godddddddddddddddd .............................................ahhhhhhhhhhhhhhhhhh ..............................oh, myyyyyyyyyyyyyyyyyyyyyyyyy ..................................................yesssssssssssssssssssssssss ...............................................fuck meeeeeeeeeeeeeeeeee .......................................fuck meeeeeeeeeeeeeeeeeee ..................................yessssssssssssssssssssssss!" She then heard her stud utter out "Damn, ya hardly weight anything at all! That means twice as much reps at double time to get my work out in!" And with that his grip on her ass changed a bit so that his thumbs were on the front of her hips and his other fingers were cradling her butt. With that new grip he lifted her up his cock in the same way but now used his thick thumbs to help speed up her sliding back down upon his dong, essentially doubling the speed of the fuck, causing Kristin to pant out "Ohhhh ..................oohhhhh ....................ohhhhhhh ........................oh, God ...................oh, God ....................ahhhh ......................ahhhhh ................ahhhhhh ..........................shag me ............................shag me ..................................oh, yesssssssssss .................................cock me, stud .................................cock meeeeeeeeeeeee!"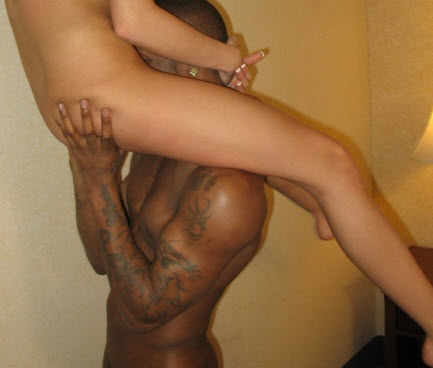 On her flight back home that next afternoon, Kristin was glad that the seat next to her was empty as she wanted to stretch out and get some much needed rest. She realized that getting fucked in Mr. Jones' favorite pose for lifting weights had made both her leg and arm muscles tighten up like never before, caused by her trying to hang onto the muscular stud as he did it to her while standing up. 'God, we fucked in that position five times! Those other two times were even more strenuous, my hands under my knees as he held me under my thighs, taking me while he's standing up and pumping me up and down onto his thick cock, with my back to him and his cock fucking me up the ass!' Kristin recalled. As she was about to doze, Kristin's thoughts went back to that other stand up fuck position that the black stud seemed to really take pride in, him standing and holding her up in the air as they went at it .....................................with her being held upside-down to suck on his dick while he proceeded to eat out her snatch! Kristin shivered as she recalled that mind-blowing orgasm that shook her from that sex position, another first for her, but she then shuddered as she recalled how difficult it was to swallow his thick cum when being held upside down. Kristin shuddered once again upon recalling the burning sensation that had hit her when she did swallow his cum in that position when the gooey slime that had been swallowed when up into her nostrils. 'My God, I thought I was going to choke to death when I did manage to swallow in that awful position!' she shuddered before thinking of 'What would Mike say if he got wind of what his slutty wife has been up to on her out-of-town business trips? I wouldn't blame him a bit if he just booted my ass out to the curb!'

For the next few days of feeling guilty for her recent indiscretion, Kristin tried to be the perfect goody-goody wife to her husband and attempted to please him with a special treat in the bedroom. When bedtime came that Saturday night, the night they normally made love together, Kristin stopped her husband as he was attempting to sheath his penis with a condom. Taking the condom from him and setting it atop the nightstand, Kristin took her husband's manhood in her fist and gave him a couple of playful pumps to get it stiffer. That accomplished, she then backed on down the bed on her elbows and knees till Mike's jutting penis was inches from her face. Looking up the bed and seeing her husband's stunned face looking down at her in awe, Kristin then parted her pink lips, then extended her pointed tongue to lick her lips and essentially making it quite clear as to her intentions. Mike's cock swelled up as never before, for now he was about to have his beautiful wife make his dream come true ........................that of her taking his cock into her mouth for the very first time. With cock in her hand, Kristin couldn't help but to compare it to the much bigger ones that each of her recent dates possessed, realizing that she would not have any trouble going down to take it all in one gulp. Kristin wanted to make it very special for her loving husband, show him what she had learned in pleasing a man by giving him 'head', and so she would give him the full treatment by first tonguing his sensitive cockhead. But Kristin's good intentions backfired when she proceeded to give her husband that special treat, taking place just as her wet tongue circled the rim of his bloated cockhead that first time ...............................with Mike arching up suddenly, pushing penis through her circled finger, sending a geyser of cum up into the air and spraying her face in the process! Having gone to the master bath to wash the cum off her face, Kristin returned to the bedroom to find her husband fast asleep and snoring loudly. Frustrated, Kristin went out to the kitchen and turned on her laptop, then began to scroll through her favorite website, that of interracialhookups.com.

For some reason Kristin found herself looking at one particular profile over and over during the next few days, that of the member named Amos Smith, whose picture on the site scared her yet would have her entire body shivering with an exciting nervousness. Each time she look at his profile and picture, Kristin would squeeze her thighs together at the thought of this brutal looking man grabbing her, holding her down, then thrusting that manhood of his up into her far too tight cunny. Kristin just knew from looking at his picture that such a man would never given any consideration to a white woman's request for him to put on a condom before having sex with her, that he could care less if he went and knocked her up, and didn't give a damn if she was even enjoying having sex with him. 'So what intrigues me so much about this man? Why can't I stop looking at his pictures, especially the one with him holding that unbelievably long penis in his hand ......................one that really belongs on a horse, for it surely appeared to be over 13" long .....................causing her to question whether it was really real?' she would wonder over and over again, but such was confirmed in the last picture of him holding a ruler against his lengthy prong. Kristin wondered if perhaps it was the comments he had made in his profile, the part that read 'I like showing a white bitch what real fucking is all about! Amos is Famous for making white bitches scream their little heads off, cause they's all think I's trying to shove the fat end of a baseball bat up into their twats!' She also remembered that quote under the picture of Amos holding that monstrosity in his fist, which read 'I'm Amos and in my hand is Famous Amos!' But there was one question that really puzzled Kristin at this point, that of 'What made me do such a thing last week? Am I out of my mind? How crazy can I get ...........................emailing my picture to him, saying that his profile intrigued me and that I'd like to meet him ....................................that I'd be in Stockford next Wednesday on an overnight business trip?'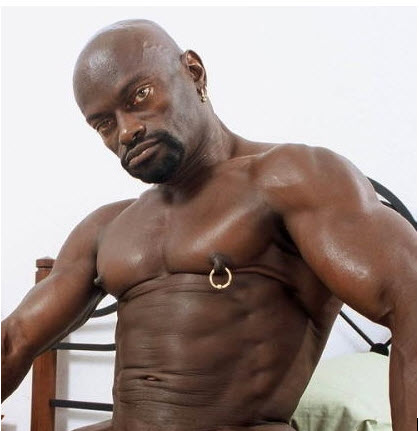 Mr. Amos Smith