Ms. Teri Thomas, R.N.
It was not on the job that Ike had come to spot this lovely beauty going to/from work or at the nursing station where she worked at Mercy Hospital. Instead, it was through the 'people' section of the Sunday newspaper that Ike had come across this sweet young thing when he saw her photo above her engagement announcement. And when Ike read that the bride-to-be was a registered nurse at Mercy Hospital, the head between his legs began throbbing with excitement. 'Oh, sweetie, ya's got nice dark brown hair and such milky white skin! Now what shift are ya working and where are working at Mercy? Ike's got jist the wedding gift fer ya ..................something for ya to git some practice with her husband ............................all's ya gotta do is spread those sexy white legs of yers!' he chuckled as he stared at her picture. Cutting out the article that announced Ms. Thomas' engagement to a Doug Fisher, Ike intended on paying the lovely beauty a visit soon, keeping his fingers crossed pull it off before the wedding day rolled around.
The next day during his shift, Ike called the hospital operator and advised "This is Ike Thompson in maintenance! Had a message left on my recorder by a Nurse Teri Thomas about some faulty outlet on her floor! The message got a bit garbled when she was mentioning the floor she worked on! Can you check as to the floor she works on fer me? Thanks!" Seconds later, the operator responded with "Nurse Thomas works on the 5th Floor of the East Wing!" Calling the nurse's station on the 5th Floor of the East Wing, Ike then inquired "Hi, this is the maintenance department calling! Had a message a Nurse Thomas called on some repairs needed! I couldn't make out the message left on the recorder ...............is she in?" After a pause, overhearing that person asking around if anything needed repairing, she came back on to advise that "Nurse Thomas is working the night shift! I check around but no one knows what need repairing!" "No, problem, I'll leave a note for the fellow in the night shift to give her a call!" Ike responded.
Following the end of his shift, prior to that of the night shift coming on, Ike then went up to the 5th Floor to snoop around in hopes of getting a gander at this lovely beauty who just got betroth to some lucky white boy. Upon laying his eyes upon the lovely brunette, the head between his legs began nodding up and down, telling him 'Yes, this little beauty should be placed on the top of the list! That being the list of beautiful prey upon which to concentrate upon, to snatch up and have his way with. Pretending to be making call on hiscell phone, Ike snapped a picture of the beautiful brunette for his scrapbook, then another for the purpose of jerking of to when he got home. 'Oh, sweetie ...................yer gonna be mine ...............real soon!' he swore to which the head between his muscular legs nodded in agreement. With the elevator on the East Wing not connected down to the basement, Ike figured that employees getting off work would either take the elevator or stairs down to the ground floor and then make their way on home by some means of transportation. After going on home, using his people check subscription, Ike found that the beauty's address on Burton Street was the very same as her parents and siblings. As he gazed upon the brunette's picture to ease the tension, he whacked on off, then set the alarm for early morning so he could tail the beauty to her car.
Pretending to be working on the water faucet in the lobby of the East Wing, Ike's cock lurched in his trousers upon seeing the beautiful brunette exit the elevator with several of her co-workers. Putting his tools away in the bag, Ike then got prepared to follow the beauty to the parking lot and then to make note of the car that she drove. But then she waved goodbye to her fellow workers and took the pathway that led to the drive-up area of the hospital's main entrancel. Keeping back at a safe distance, Ike watched as the lovely nurse stopped at the far end of the drive-up area, making it quite apparent that she was waiting for someone to pick her up there. A moment later she opened the passenger door to a dark blue sports, which then proceeded on out of the hospital grounds, causing Ike to cuss out "Shit, gonna have to pick up her tail tomorrow .....................have my car ready and park across the way on that side street!" Having plugged the beauty's residence address of Burton Street, Ike figured that it was her white boy fiance that she just got engaged to picked her up after her late night shift and dropped her off at her Burton Street home. And that's where Ike planned on tailing the punk's car to that next morning when he parked across the way from the main entrance to the hospital.
Getting there just prior to the night shift getting over, it wasn't very long before the beautiful nurse showed up at the front entrance to wait for her ride. Sure enough, just a few minutes later, there came the punk to pick up his fiancee. But what surprised Ike was the punk turning left instead of right, going in the opposite direction of where Burton Street was located. With the morning traffic heavy, it was some doing and a lot of luck in not losing sight of the car, and finally after twenty minutes Ike saw the car pull into a driveway of a home in a rather new subdivision. 'Hmmm, looks like a nice starter home for young newlyweds!' Ike surmised at looking at the new homes in this particular subdivision. Ike made note of the address of this place on Bannister Street. With the punk's car parked in the driveway and not going into the garage, Ike watched as the couple then got out and proceeded up the walkway and enter through the front door. Ike wondered if the punk would headed off to the engineering job listed in the engagement announcement that had been published in the newspaper. A half hour later, the punk exited the front door wearing a suit and got into his car, backed on up and disappeared down the street. 'Hmmm, guess the two lovebirds are shacking up now that they're engaged to be married!' Ike surmised, starting up his car while making note of the color of the house and its address. Now to drive around the area and see if he could detect any means of him gaining access to that property without attracting attention to himself.
Back at his apartment unit, Ike went to that engagement article once again, noted the punk's place of employment and checked the phone directory to obtain its phone number. Calling that number and asking for the firms' business hours, Ike learned that normal hours of business was 8:30 a.m. to 5 p.m., meaning that the white boy worked during the days and would probably drive his beautiful fiancee to work for her safety as she worked the late night shift. Plugging in the punk's name and the address of the house on Bannister street, there was a match on the search site that he subscribed to. Having driven around the neighborhood of the new development, taking a photos with his cell phone, Ike had gotten quite excited in seeing that current construction was off to the left of the two developed streets, leaving the back of the couple's house and to the right side as the last area to be developed. The fence separating the back of the properties on the right side had what appeared to be a low temporary wooden fence separating the backyards from the area to be developed in the near future. And as such being the case, it was just begging for Ike to make his move now rather than later, for once construction began on that side would mean the backyard might become inaccessible to him. 'Hmmm, with the punk going to pick her up each morning just after 6 a.m., that means he'd have to leave the house when it's still dark to git there on time! Perfect, he goes, I's break on in and hide till the punk leaves ......................then she's all mine!' Ike figured.
From his vantage point behind the short wooden fence that next morning, Ike could make out the sound of the garage door opening, then saw the taillights of the punk's car as he backed up onto the street before heading off to pick up his cute little honey. Hopping the fence, then easily undoing the wooden jealousies, in no time Ike was into the empty home. It was a nice house though needing more furniture, typical of first time home buyers, Ike went about looking for a place to hideaway and not be discovered. It was a three bedroom home, with the bareness of the first bedroom making it appear to be that of the guest room. The second bedroom that he entered, the bed of which was made but not very neatly, making him wonder if the lovebirds slept separately. Opening up the closet revealed ties and suits along with other clothing, but all male clothing mens shoes on the floor. Opening up the dresser in this room revealed the same, jockeys and t-shirts for a male. Ike really got excited in seeing a large framed photo of the lovely beauty on the nightstand next to the bed, thinking that 'If'n they're not sleeping together yet .................is it possible .......................that she's still 'CHERRY'? In this day and age? CHERRY? This jist might be my lucky day!'
Then into the master bedroom he went, his heart thumping with the added excitement of this new possibility on this innocent young beauty, Ike then opened the folding closet doors to find the left side vacant and the right consisting of various dresses and nursing scrubs. 'Perfect ...................perfect hiding spot! If'n she comes to get her nightie that's hanging on the hook, she'll only open up the right folding door! No reason for her to open the left side and the punk probably will only be in the room he sleeps in, but maybe he might also be using the master bath!' Ike surmised. Making his way to the master bath, spotting the clothes hamper, he opened it up and saw a dress shirt on top of the clothing pile. Beneath it was the navy blue scrubs that he had seen the beauty wearing the prior morning in front of the hospital entrance. Reaching down to lift the uniform, Ike smiled widely in seeing the prize left for him by the unsuspecting beauty. Reaching down, he retrieved the pair of scarlet panties with a navy blue trim. Bringing them up to his face, Ike inhaled the sweet fragrance of the lovely brunette, and now both his heads were thinking alike and wishing that 'Sure hopes she's still a virgin! Ain't went and busted me a cherry fer a hell of a long time!'
Looking at the time, with a bit over thirty minutes to kill, there was more than adequate time to whack on off and have his revived boner rock solid when he could get his hands on the beautiful little bitch. Thinking of lying down on the honey's bed, Ike thought better of it in seeing how neat and tidy it was and did not want to give his presence away when she got home. Ike then chuckled, making his way back down to her fiance's bedroom where the bed wasn't as neatly made, laughing at the thought of his jacking off on the punk's bed, all while gazing upon the beauty's framed photo that was on the nightstand and wanking off on her sweet panties. Cock out of his pants and in hand, sitting in the punk's own bed and looking at his sweet honey only made this preliminary hand-job all the more enjoyable. Inhaling the sweet fragrance of her panties once more, Ike then wrapped the silky garment over his jutting boner and began pumping while gazing at the beauty's photo that he had taken off the nightstand. "Ohhhhhhhh ..........................yeah, ya fuck'n punk .............................yer beautiful little bitch is gonna be mine .........................all mine! Gonna 'ruin' her good fer ya, punk .......................and if'n ya ain't copped her cherry yet, I's gonna bust it real good fer ya! Save's ya the trouble on yer wedding night! Oh, shitttttttttttttttt ................................ahhhhhhhhhhhhhhh!" Ike groaned as he tossed off in the scarlet pair of panties. Dipping his finger into a blob of cum, he used it to smear the goo on the back of the picture frame, something that would give him added pleasure when thinking back to his day.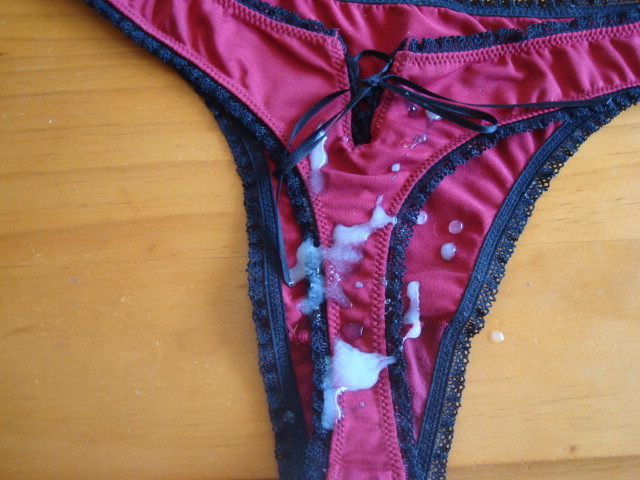 A half hour later, hiding in the empty half of the unsuspecting beauty's closet, Ike heard some noise from out front to indicate the arrival of the two lovebirds. Hearing footsteps come into the room and some noise behind the wall where the punk slept, Ike's cock began to rise in anticipation and excitement. Soon, heavier footsteps could be heard coming into the room, then heard the punk advise that "Bye, heading off to work now, honey!" Through the slits in the folding door, Ike watched them kiss, then heard her tell him "Bye, honey ...............I love you! See you later!" As the beauty pulled the right folding door open to retrieve her nightie, Ike kept still so as not to be discovered, then watched as she walked to the master bath carrying the garment along with a clean pair of panties she had gotten from her dresser drawer.
With the shower going, Ike waited to hear the sound of the front door closing before getting out of his hiding place. Quietly and cautiously making his way down the hallway, he peer around the corner and looked out the window of the living room to see the punk's car backing down the driveway. Making his way quietly back to the master bedroom, he got his little bag of tricks from the closet, then proceeded to secure the rope bindings to each corner of the bed after having pulled down the covers and blanket. Seeing the white bedsheets covering the mattress, he smiled in thinking 'Perfect if'n she's cherry! If'n she is, those clean white sheets were sure be a bloody mess when I's done with that beautiful little bitch! Even if she's not, don't think she'll want'em anyway, not when they're starched with all the cum I's got stored up fer her!'
Out of the shower, Teri stepped into her panties and then donned her thin nightie as it was rather warm during the daytime. Teri wondered if she had made the right choice in moving in with Doug just after they announced their engagement, worried that temptation might ruin the carefully laid out plans of giving her husband the best gift on their wedding night .................her virginity! Just the other night, when she was off work, their making out on the sofa had nearly ruined it all till she caught herself and pulled Doug's roaming hand from going under her panties. Never had she gotten so carried away herself, for her cunny had begun juicing from the intimate kissing and Doug's touching her through her shorts and panties. 'Whew, that was sure a close call!' Teri shivered at the recollection of that night. 'No more fooling around like that or you won't be a virgin much longer!' Teri scolded herself. 'Oh, but it felt so good to be touched up that way! I can't wait till our wedding day when we won't have to hold back!' she thought, then shivered in thinking 'Will it be real painful ...................losing my virginity?'
Picturing her handsome fiance in her mind as she opened the bathroom door, Teri's yelp of surprise and fear was quickly muffled by the hooded black man who suddenly appeared from her right. "Nnnnnnnnnnnnnnn ...............................nnnnnnnnnnnnnnnnnnnnn ..................................nnnnnnnnnnnn!" came her muffled cries as the muscular intruder began dragging her into the bedroom, directly towards the king-sized bed where she slept, the bed that she and Doug were to share when they got married. "NNNNNNNNNNN ................................NNNNNNNNNNNNN ..................................NNNNNNNNNNNNN!" Teri tried to yell out, realizing the intruder's vile intentions in pulling her towards the bed. Heart thumping in her chest, fighting with all of her might, but Teri just could not pull away as the bastard was way too strong, making this battle quite a mismatch. Then she found herself being tossed onto the bed like a rag doll! "HEL ............mmmmmmffffff!" she tried to scream once again before the large calloused hand clamped down upon her mouth.
Arms forced above her head, then Teri realized rope was being secured to both her wrists bound , then the rope was being pulled tight to stretch her arms out wide. "Ya better not scream if'n ya know what's good fer ya, sweetie! Ya scream and ya'll never see that punk white boy of yers again! UNDERSTAND? Nod if ya understand!" the intruder asked of her. Teri nodded, then pleaded "Please …..............................please don't hurt me …...................please don't hurt me! Just take my money .............my jewelry ............take it all .................I won't say anything ........................I won't report it! Please ................please ....................just please don't hurt me!" Teri sobbed out in fear as she observed the black hooded intruder undoing the front of his pants before telling her "Only one little gem I's looking fer, sweetie ................if'n ya's still got it between those sexy white legs of yer!"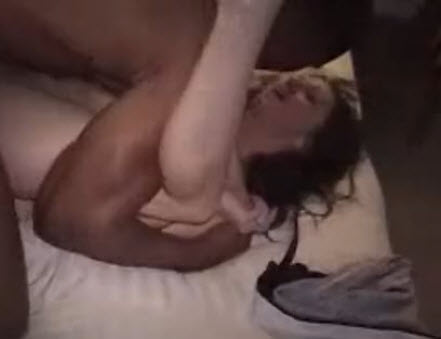 Know full well what the bastard was referring to, Teri sobbed "Please ....................oh, pleaseeeeeeee ..............................please don't rape me! You ....................you won't enjoy it with me! I .........................I ..............................I'm not experienced .......................I ..................I'm a virgin! Please ......................please ..........................it's for my wedding day ..............................for my husband!" Being a nurse Teri had seen a male's penis before, many times in fact, but none were in the agitated state such as the one being fisted before her. As it swelled up even bigger, getting even longer to over a foot long, Teri panted out in fear "Pleaseeeeeeeee ...........................please .........................I ..................I can't take that .............................it won't fit .........................it'll never fit! Please ................oh, please ......................please don't rape meeeeeeeeee!" Sobbing, tears pouring down her cheeks, Teri could not take her eyes off the disrobing bastard, who's ebony body was glistening from the sunlight.
Kicking out as the black intruder got up onto the bed and was making his way to her, but then her ankles were caught in each of his large hands, and now he was pushing her legs wide apart as he crawled up between them. Her thin nightie quickly proved useless as it was shredded and torn about by the big black hands, the remnants of which were tossed aside. Then he was after her blue panties, pulling and getting them down over her hips and down her trim legs and feet. "Nooooooooooo ...........................God ................nooooooooooooooo!" she cried out as the bastard pushed her knees apart and his hooded head dove on down into her brown curls. She felt some movement between her thighs, that of the bastard pulling up the bottom portion of his hood. "Aieeeeeeeeeeeeeeeeeeeeeeeeeeeeeeeeeeeeeee!" she screamed out, body tensing arching up as the bastard clamped his hot mouth upon her sex. And then she began squirming as the bastard's thick tongue began wiggling up into her never before explored sex.
"Noooooooooooooo …........................................noooooooooooooooo …...................nnnnnnnnnnnnnnnnnnnnnnnnn!" Teri panted out as the flicking tongue was driving her out her mind. "No ….............noooo …..............noooo .................nooooooooo, pleaseeeeeeeeeeee …....................stop................stoppppppppp!" Teri cried out, just as uncontrolled spasms rocked her entire body. It was the very first orgasm she had every experienced in her entire young life, but one quickly ruined by her assailant's voice snapping her back to reality with "Damn, bitch, ya was really wound up .............................ain't ever seen a bitch go off that quickly! Damnnnnnnnn, sweetie .................ya went off like a hot little firecracker!" Lifting his head up, loving the look on the beauty's face as she stared at his glistening lips. Then he showed her the thick tongue that had been exploring her cunny as he licked his lips clean.
Tremors still had her petite body shivering as her assailant moved up her quivering body, now forcing her legs even wider apart. Feeling a blunt fleshy bone bumping up against her sex, Teri realized the moment of truth had come as the black bastard was intent on raping her, robbing her of her virginity saved for the man she married. She had to act now, prevent this vile rape of her body, and Teri realized she had to make one last attempt to escape. Opening her mouth to scream for help, "HEL ............mmmphhhhhfffff!" was all she managed to get out before her scream was muffled by the shredded portion of her nightgown being stuffed into her mouth, and now the bastard atop of her was rubbing his fleshy bonehead up and down the slit of her sex.
"Nnnnnnnnnnnnnn ….....................nnnnnnnnnnnnnnn ...........................nnnnnnnnnn ...................nnnnnnnnnnnnnnnn!" Teri tried to yell out, trying to stop him from raping her, turning and squirming about to prevent him from forcing his foul 'thing' into her. But then strong calloused hands grasped her hips firmly to keep her from squirming about on the bed. "Eiiiiiiiiiiiiiiiiiiiiiiiiiiiiiiiiiiiiieeeeeeeeeeeeeeeeeeee ….........................eeeeeiiiiiiiiiiiiiiiiiiiiiiiiiiiii …............................................eeeeiiiiiiiiiiiiiiiiiiiiiiiiiiii!" were the muffled shrieks and screams silenced by the shredded nightie in her mouth as her vile rapist speared his filthy 'thing' far up into her, smashing right on through her precious hymen. The pain was just unbearable and Teri knew she was now bleeding badly, but the loss of her virginity was made even worst when the bastard laughingly gloated "I's went and popped that precious little cherry ya was saving for that white boy of yers! His precious little trophy jist got a little tarnished, huh? But I's ain't all bad! I's gonna leave that punk of yers something precious in up in yer little tummy! Yeah, sweetie .........................I's gonna leave him a little black bastard in return fer the cherry I's stole from him!"
With the petite beauty sobbing, fighting and pulling against the ropes restraining her, it was quite obvious that she was not getting any type of pleasure even as Ike slowed the fuck strokes down of his thick boner in and out of her raped slit. But really, all that matter for Ike was his getting to enjoy this lovely beauty, and getting the honor of popping her precious little cherry had made it all the more exciting. No longer trying to scream for help and just whimpering in pain and shame, Ike then pulled the shreds of her nightie clogging her mouth, loving her sobs to "Please stop ......................please stop .................................please, you're not wearing anything! Stop please ......................you'll get me pregnant!" Enjoying the sounds of her weeping in pain and humiliation, Ike continued on raping her, sliding his thick lengthy cock in and out of her bloody slit. Then Ike groaned out "Oh, yeah ........................oh, sweetie .....................................I's cummmmingggggggggg …...................................I's cummingggggggggggggggggg ….........................cumming in ya ...............................ohhhhh, yeah, gonna knock ya up ….............................gonna knock ya up gooddddddddddddd! Ahhhhhhhhhhhh ...............................ahhhhhhhhhhhhhhhhhh ..............................uggggggghhhhhhhhhhhhhhhhhhhhhhhhhhhhh!"
Blinking her eyes, not believing what a nightmare she had just had, Teri then found her wrists bound by rope to the bed frame and realized that the nightmare was really happening to her. Trying to move, Teri then realized that her rapist's had his heavy body pinning her thighs and legs down, then the pain between her legs had her gritting her teeth as her petite body shuddered in revulsion. What happened next had Teri in complete shock, for the vile bastard had once again covered her sex with his hot mouth her and tonguing her, only this time it was while her ravaged slit was bleeding profusely. Teeth gritted, Teri tossed her head from side to side, trying desperately trying to block out what was taking place right between her widespread legs, the vile licking of her bleeding vagina but more so the unwanted pleasure that she was now beginning to feel. "Nnnnnnnnnnnnnnn ................................noooooooooooooo .....................................oh, nooooooooooooo ................................ahhhhhhhhhhhhhhhhh ..................................ohhhhh, Goddddddddddddddddddddddddddddddddd!" Teri squealed as her body trembled while arching up into the pleasure giving mouth. This was the ultimate humiliation for Teri, that of sustaining a mind-shattering orgasm, but more so doing it right in the bastard's slurping mouth.
Though untied when her ordeal was finally over in the early afternoon, Teri could not move her aching body as she just lay on the bed sobbing in her disgrace. She now knew why victims of rape would not report her violation, unable to even think of telling another person of the ordeal she had gone through at the hands of a sick sexual predator. It would meaning telling all the details to the police, strangers who would be questioning her, and then she'd have to reveal her violation to her fiance. This horror would remain with her only, not wanting anyone to know that she had been raped and violated. 'How can I tell them what happened, going into all the details of being raped three times by the foul bastard, and all the other vile things he did to me or made me do to him ......................his licking and tonguing my bleeding sex ..............................how he then forced me to take his filthy 'thing' in my mouth and suck on it ........................with it cover with dried blood from my broken hymen!' she shuddered.
Yesterday: