Needing a Nurse - IV
(m/f, i/r, n/c)
by
Black Demon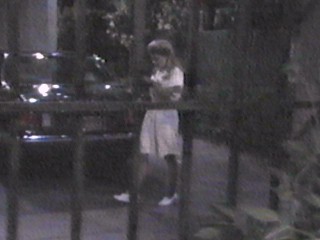 ______________________________________________
Standard Disclaimer!
This is a fictional story intended for Adults only!
______________________________________________
************ ***********
Note: The story below is a story in itself. However, it is also a direct spinoff
of the earlier story entitled: 'Needing a Nurse - 1, 2 & 3'
************ ***********

Background of this serial rapist:


The dual roles that Ike Thompson had at Mercy Hospital were just the ideal situation, allowing him the opportunity to work all three different shifts depending on what was needed. There was only one shift for his role in the groundskeeper job, one that he'd work during the daytime hours, his main occupation. So when the need arose for that in maintenance, Ike gladly volunteered to fill in for any of the regular workers taking off, thereby giving him the opportunity scout out hunt for prey. To Ike, the hospital grounds were his private preserve, where all the beautiful livestock were for his personal pleasure. In Ike's sick mind, that's the way he looked at all the beautiful nurses working at Mercy, that all these lovely beauties were his for the taking. Perhaps it was something similar to that of women falling for men in uniform, whereas for Ike it was getting turned on at the sight of a woman wearing a nurse's uniform. Mercy Hospital was the largest in the city, employing over five hundred people of which three hundred were female nurses, each and everyone needed to be cautious as she might ended up being stalked by a demented serial rapist like that of Ike Thompson. In thinking back, Ike realized how much things had changed from when he began his spree of accosting and raping young beautiful nurses. When he first started, all white uniforms was the normal attire, compared to the more colorful and cheerful uniforms of the current day.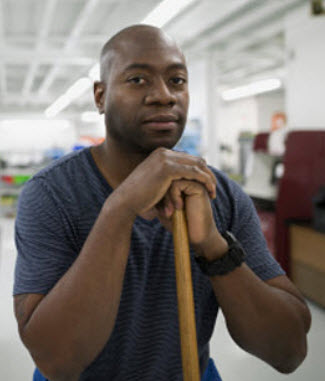 Ike Thompson
Thus far, published statistics on reported rapes were even higher than what was happening on the grounds of Mercer Hospital, for only one of Ike Thompson's victims had filed a rape report. That report might not have been filed if the unfortunate victim had not been discovered by a co-worker who was taking a short cut through to get to her wing. And with each successful caper under his belt, Ike was getting hornier and hornier, bolder and bolder. Keeping copious and meticulous notes in his little black book, Ike had all the details on each lovely beauty that caught his eye, reviewing them from time to time to try and figure out when to make his move. Most nurses had a name tag or I.D. badge on at all times so that was the easy part, then he'd tail her home to secure her address, and the internet service he subscribed for $40 a year allowed him to get all the additional personal info that he needed on his prey. Looking at his book, viewing the 'happy face' stickers he had placed on some of them next to the beauty's picture taken from his cellphone, obtained when he was on her floor while pretending to be making a phone call. Ike then reviewed the most recent ones that he had placed a sticker on ................................those of the lovely nurses that had fallen victim to his vile lust .....................................dragged on off to an isolated spot where he tore off the beauty's uniform and viciously raped her!

Upon going over
the employee handbook for Mercy Hospital, it told Ike how to get online and he could then search the hospital's employee section, a site not available to the general public. With that info, Ike followed the instructions by logging on with his name and the last four digits of his social security number. Going to the employees' tab, it provided the name of every employee in alphabetical order, their position at the hospital along with their residence phone number. With his prey's phone number in hand, Ike then went to the reverse phone directory service that he subscribed to for peanuts each year, it would then provide him with the lovely beauty's home address.
Then Ike would log onto the people search site that he also subscribed to, type in the beauty's name and see that it matched the address he had already obtained, then see other info provided such as name of spouse and his employer along with any children that she may and their ages.
If she did have any children, such info would come in handy should she screamed and put up a lot of resistance, for the mention of her children's names and the threat of visiting her when her kids were at home to watch 'me fuck ya' would normally take the fight out of her. Ike also found it to come in handy at times as 'I's warn her not to report this to the cops, drop names and info of where she lives and with who, and she'll be too scared to report it!'


Samantha Ryan, R.N., age 25, recently married and new to Mercy Hospital:

Just having turned 25 years of age, recently graduating from the famed Montgomery College of Nursing and just tying the knot to the handsome Thomas Ryan III, things just couldn't get any better for Samantha Ryan, R.N. With her husband's family well known and Thomas to eventually take over the reins of the family's real estate business, it only made sense for her to move to the city where her husband was born and raised. Applying and getting offered a job at the well-known Mercy Hospital made it seem to Samantha that everything was going her way and nothing could go wrong at this point in her life. Going for her interview after being offered the nursing position, she signed all the required employment forms and was given all the pamphlets concerning Mercy Hospital as well as the employee benefits that came with the job. Starting that next Monday, her picture was taken and she was advised that it'd be posted up in the secure employee website introducing all new employees to the hospital.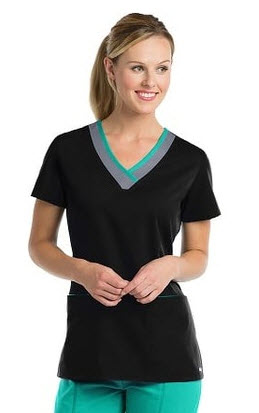 Samantha Ryan, R.N.


'Oh, Lordie, Lordie .......................what have we here? Ain't ever seen that purty little thing before! Damn, she's a hot little one ..........................got my boner all up and hard already ......................in jist fifteen seconds!' Ike thought as he whistled under his breath. 'Wonder what's her name .....................was a bit too far to see her name tag! Gotta git her name and find out what wing and floor she's working on! I's gotta git me a piece of that little beautiful piece of ass!' Ike told himself as he watched her head towards the elevator. Had he not been holding a copper pipe steady as his co-worker welded it, he'd have stopped what he was doing to tail that sweet piece of ass to the elevator and ride it up just to see she where she worked. If he could get her name, had he been able to follow her into the elevator, Ike would have been able to get all the info needed on the lovely beauty through the company's website for employees. But without seeing her name on the name tag on her uniform, Ike was stymied as he tried to think but the head between his legs was ready to burst, then he thought 'The website indicated that a new page was soon to be create, one that would introducing the new employees of Mercy Hospital on a monthly basis and toe be updated the 1st of each month!'

As soon as he got home that day, Ike was on the computer and pulling up the site for Mercy Hospital, then logged into the private employees' only section. 'Alright, they got the new employee section all set up and running! Now to find that sweet little honey!' Ike said to himself while scrolling on down the pictures of new employees hired recently by the hospital. Ike was surprised to see so many recently hired employees at Mercy, from grounds personnel to laundry workers, then after some two dozen or so pictures his eyes were focused on the picture of the lovely nurse that he had spotted earlier that evening. 'Samantha Ryan, R.N., age 25, a recent graduate of Montgomery Nursing College! Mercy welcomes Samantha who was just recently married to husband Thomas, settling down here in her husband's hometown, and she will be working in the geriatrics unit!' was what Ike read in the hospital's write up of the new nurse. 'Working in the geriatrics unit with all the old geezers, huh! Well, a little sweetie like ya can make an old geezer like me feel all young again ....................................make me feel like a young stud once again!' he chuckled.


With this being her hubby's hometown, Ike went to the recent archives of the local newspaper and typed in the husband's name, then up popped the article found in the society pages that announced the recent wedding of Thomas Ryan III to the former Ms. Samantha Wilbourn. It mentioned that the wedding and reception had taken place in the bride's hometown and that a second reception for the bride and groom had been held here in the groom's hometown when then returned from their honeymoon. The news article mentioned the groom's place of employment, that the bride was a registered nurse and hoped to be working in one of the two local hospitals shortly, and that the bride and groom would living in the Durham neighborhood where the groom had already purchased a home the year prior. Going to the people finder site that he subscribed to, Ike quickly found the address and made a note of it in his sheet for his luscious new prey.

Always keeping abreast of shift rotations at Mercy, having learned the hard way earlier when one of his planned capers had gone awry due to such a shit change, Ike made it a point from then on as to knowing what week a shift rotation would take place. With this being just a few days into a shift rotation, there was another eleven days before the next change, time enough to do his homework properly and be able to welcome the lovely young beauty to Mercy Hospital. As the beauty was on the night shift currently, Ike planned on scoping out the house a couple days in a row to see when hubby left for work and his lovely prey made it home after her shift was over, hoping for a lengthy gap in time for him to gain entry into the home prior to her arrival. And if things worked our right for Ike, he indeed would be giving the lovely new nurse to Mercy a kind of welcome that she'd never expect from a fellow employee.

That next week, just a couple days before the next shift rotation, Ike knew that it was time for him to make a move or he'd be waiting some six weeks or so to get another opportunity to welcome the lovely nurse to Mercy Hospital. Having scoped out the time of when hubby left for work and when the beauty got home after working the night shift, Ike had learned that he had a minimum of 20 minutes to gain entry, and even more time if she stopped off at the grocery store on her way home. With the side door to the garage hidden by shrubs several feet away, that seemed to be the easiest means of gaining access into the home, jimmying the lock was the ideal way but breaking the small glass to turn the lock from the inside also a possibility. Once hubby departed, Ike planned on gaining entry and then to scout out a nice hiding spot where he could catch the lovely nurse by surprise.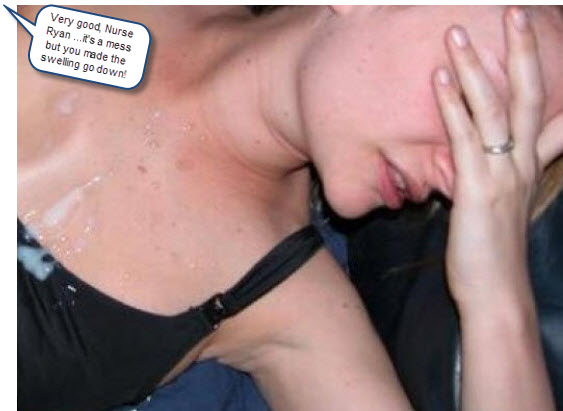 Having succeeded in the humiliation of the daunting task forced upon her, Samantha sobbed in shame as she raised her left hand up to her face, feeling so soiled and degraded as she had not been able to cap it in time to block all that filthy semen from being shot upon her. Much had been shot upon the black bra that she wore, but it had spurted all the way up to her neck, while the fingers on her right hand were all webbed together by the sticky goo. She had gotten home after working the graveyard shift and had just taken off her nursing scrubs and was about to put them to the bathroom hamper when her attacker grabbed her from behind and pushed her down onto the blue love seat. "Ya have a busy midnight shift, Nurse Ryan? Can ya's help me out here ..............................cause I's feeling all swollen here!" her attacker advised while forcing her to wrap the trim fingers of her right around his thick throbbing penis.

"Oh, honey .....................yer a nurse, so's ya oughta know how o make the swelling go down, don't ya? I think if'n ya's put it in yer mouth and suck it off .........................it'll make it go down ..............................and make it all better!" the bastard advised, tho which Samantha shook her head 'no', that she would do no such thing. Never had Samantha done such a thing, not even for her husband who had tried to make her go down on him for over a year's time, and she certainly did not start with having to take a filthy black cock to be the very first between her lips. In desperation, Samantha panted out "Let me do it by hand! Please ............................I know how to make it go down by hand!" To her relief, her attacker had relented by telling her "Okay, if you say so ..............................but if'n ya don't succeed, yer gonna take it in yer mouth and suck it off!" Upon hearing that, Samantha wrapped her trim fingers around the filthy black cock and began to shuck at it as she was determined not to have to take it in her mouth.

Speeding up her fisting of the throbbing black cock saved her from doing the unthinkable as that bastard was in the process of pulling her head up and towards his filthy manhood, at which she turned her head away while shucking even faster, then her attacker groaned out "Oh, damnnnnnnnn .................................ohhhhhh, shittttttttttttttttttttttttttttttttttttttt! Ahhhhhhhhhhhhhhhh ..............................ahhhhhhhhhhhhhhhhhh ..................................ahhhhhhhhhhhhhhhhhhhhh!" That first spurt saturated the front of her bra at which time tried to cap it quickly, but it was just not in time as the second spurt shot on up to her neck, with the remaining spurts coating her the palm of her hand and webbing her fingers together. Arm grabbed as she was turned onto her side as she sobbed in despair, then Samantha felt thick fingers undoing the back of her bra, then she was pulled back over onto her back as her bras straps were being pulled over her shoulders.

Sniffling in shame, Samantha then heard the bastard chuckle, telling her "Very good, Nurse Ryan .....................it's a mess but you made the swelling go down! I's feeling really good now!" Bra pulled from her to bare her breasts, Samantha could only sob in same and fear, then she felt the fabric of the folded bra being used so wipe off the splotches of cum from her body. But to her horror, the black bastard was forcing her mouth open, stuffing a portion of the bra into her mouth. Then the bastard was pulling the bra back on out, scraping the cum off the bra by using her back bottom of her teeth to scrape off all the filthy goo, depositing all the slimy semen into her mouth. Arm over her closed eyes as she tried to block everything out, Samantha grimaced and clenched her teeth tightly upon feeling the thick fingers clutching at the waist band of her panties, and then the lacy black garment was being pulled over her trim hips and down past her thighs. Her legs tensed up as the garment was going over her knees, down her calves, and then pull off her bare feet. Now totally naked under the view of her attacker, Samantha knew that the inevitable was near, just praying that the bastard was still sated from having ejaculated all over her to be able to get it up again. But upon feeling the hot breath upon her sex, she began panting in fear, telling herself that 'He wouldn't do anything as filthy as that!'

But with her legs being pushed wide apart by the assailant's strong hands, Samantha could only gasp aloud when the hot mouth was clamped over her sex. "Ohhhhh, Goddddddddddd .................................noooooooooooooooooooooo!" she squeal as the bastard's thick tongue snaked up into her vagina. Now with both arms over her tightly shut eyes, head tossing from side to side in disbelief, Samantha screamed out "Ohhhhhhhhhhhhhhh ..............................ohhhhhhhhhhhhhhhh ...........................................arrrrrggggggggghhhhhhhhhhhhhhhh!" Moments later, after the bright stars in her head began to fade did she realize what had just happened, that she had actually climaxed in the bastard's mouth ...........................she had a mind-shattering orgasm upon being eaten out for the first time in her life. The loud slurping of the juices from between her legs gave evidence of love juices she had secreted from that unbelievable orgasm.

With her assailant no longer licking at the snatch and having shuffled back some, Samatha moved her arms up and away from her eyes, allowing her to open her eyes and peek out to see if the agonizing ordeal had finally come to and end. But to her dismay, the black bastard was still kneeling at the foot of the bed and playing with himself, shucking at his boner in order to get it up stiff and hard. Seeing the growth of it as a result told Samantha that her ordeal was far from over, that the bastard was hell bent on raping her with his fuck tool. As he looked at her with an evil smile on his face, bloated cockhead in hand as he began to shuffled up some of the bed, she pleaded "Please ......................please don't rape me with that 'thing'! Please don't rape me ......................please don't rape me .........................please, you'll get me pregnant!"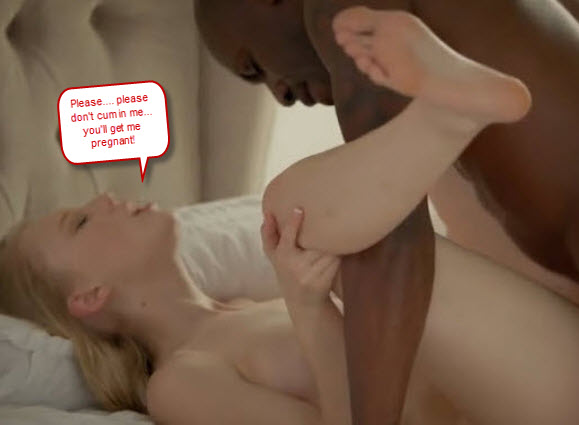 "Ah, sweetie ...........................the medical benefits at Mercy are fantastic ..............................especially when one of their employees gives birth there! Lots of maternity leave too!" Ike taunted as he caressed her soft smooth legs, all while his cock was throbbing as he pushed his bloated cockhead up into her soft golden curls. As her cunny flowered open at the pressure of his throbbing cockhead pressing up against her, it suddenly got really tight before he could get the bloated head fully into her her, and his determined push while grasping her trim hips had her screaming out "Stop .............................stop ....................it's too big .......................it's too big ...........................it won't fit .........................it won't fit!" Grasping her hips firmly as he reared back some, Ike the lunged forward with all of his might and weight behind of him, then enjoyed the music of her screaming out "Eieeeeeeeeeeeeeeeeeeeeeeeeeeeeeeeeeeeeeeeeeeeeeeeeeeeeeeeeeeeeeeeeeeeeeeeeeeeeeeeeeeee!" Nine full inches had been rammed up into the innocent little bitch, with Ike rearing back and lunging forward another two times to get his foot long dong fully up into the anguished beauty.

With his forearms under the back of her knees, Ike pushed her trim sexy legs wide apart, allowing his thick cock to penetrate her even deeper and he ground his groin against her cervix. Slicing his lengthy boner in and out of the raped beauty, Ike could tell that she was gritting her teeth to keep from screaming out in pleasure, unwanted pleasure was he was giving her by long slow strokes. He too was feeling the pleasure building up to where he'd soon be popping his cork, unleashing all the pent-up baby juice that he had been storing up for this lovely beauty. "Oh, sweetie ..........................damn, yer so nice and tight .......................gonna pop my fuck'n load soon!" he announced, to which the raped beauty sobbed out "Please .......................please don't cum in me ....................you'll get me pregnant!" Slamming his heavy body down into the lovely beauty, keeping his boner buried deep in her, Ike then creamed his hot baby batter all over her hot fertile womb.

Twice more she had been raped by the black intruder that morning, with Samantha feeling so ashamed at having unwanted orgasms each time his hot gooey jizz spurted up into her fertile womb. Then he told her that "You were going to take a shower when I rudely interrupted you! C'mon, let me help you shower!" Pulled up from the bed and into the master shower, Samantha cringed as the bastard was scrubbing her down with a soapy wash cloth, then was told to "Do me now! Show me how you bath your patients at the hospital!" To her dismay, she was then advised that "I's got that swelling again, Nurse Ryan! This time I's wanna see ya make it go down with those beautiful pink lips of yers!" Pushed down to kneel on the tiles of the shower stall, she then serviced the bastard with her lips, then his thick black fingers were wound up in her hair as literally fucked her face before announcing "Cumming ...............................ohhhh, Nurse Ryan .............................suck it ..........................swallow all my jizz! Ahhhhhhhh .........................ahhhhhhhhhh .........................ohhhhhhhhhhhhhhh, shitttttttttttttttttttttttt!" A moment later, on all fours of the shower stall, she puked out her breakfast and watched it go down the drain.



Natalie Lawson, R.N. age 28, married 2 years, working in the Intensive Care Unit of Mercy Hospital:

Married now to husband John, 28 year old Natalie Lawson was quite happy as she and her husband now felt that the timing was right to start a family together, especially after having purchased a nice home in the suburbs and feeling secure in their respective jobs. With John working a normal day shift with the City & County's finance department, it would be challenging for this next few weeks while Natalie remained on the night shift, for they'd be like two ships passing in the night. John would be just getting home from work while Natalie was getting ready to leave for her shift, and the same the other way around, just not much time for sex till Saturday. As her period was quite regular, Natalie could determine the period when she was most susceptible to getting pregnant, so she thought she'd make it a bit of fun by teasing her husband for a week and a half by keeping him hot and horny .................teasing him some and stroking his boner a bit, but leaving him high and dry! She then cooed in his ear telling him "If you were to take a couple hours off next Thursday, I promise it'll be all worth your while!"

On her break that Thursday night, Natalie went down to the ground level and took a stroll walk around the lighted garden area as she reflected back to that afternoon and just how fantastic sex had been with John. Twice they had sex before she took a cold shower to head off to work, having laid on the bed for awhile with a pillow under her so that her husband's semen would keep from leaking out, and had her fingers crossed that she would get impregnated with his baby. Having timed her ovulation period that month, Natalie figured that having sex Thursday afternoon would be the timing, and then once again on Saturday morning as she didn't have to work the Friday night shift. Looking up at the stars, taking in the beautiful flowers, Natalie thought that life couldn't get any better as her husband was the best ever and with the new home a baby in it would be so perfect. Natalie chuckled to herself, laughing at the thought of having kept John high and dry for the last ten days, for 'It sure had him up and aroused when he came home this afternoon! I couldn't believe how much semen he spurted up in me that first time!'

Working a shift in the short-staffed maintenance department on this night, Ike Thompson was headed to the east wing to take care of a leaking pipe when he saw Natalie taking her break out in the garden, and he licked his lips in seeing the beauty back on the night shift. His plans to sample this lovely beauty's charms had been thwarted a few months back when the day he planned to surprise her on her arrival home from the night shift. Those weeks of scouting her out and taking notes of when was to be the best timing had gone for naught when there apparently was a need for added help on the day shift, causing that unexpected change in her schedule. Watching from his car, he had expected hubby to leave and then Ike planned on breaking in to await the arrival of the blond beauty, recalling how he had begun celebrating prematurely by thinking 'I's the black devil from hell and I've come to enjoy the charms of a lovely blond angel!' But his high hopes that day quickly got deflated upon seeing both husband and wife coming out together and getting in hubby's car as he was apparently going to drop her off at Mercy that morning and most probably picking her up on his way home in the afternoon. Not knowing when she'd get back on the night shift, Ike had turned his attention to another unsuspecting that was on what he called his 'angel' list.

Since that disappointing venture, Ike had gone on to sate his vile lust on several other unsuspecting beauties that had been on his 'angel' list from Mercy, the last of which had been two weeks earlier with his little 'angel' being Nurse Samantha Ryan. With none of those rapes being reported to the police, Ike was more than ready for his next caper, and now his decision had been made with the head between his legs throbbing in confirmation. With his shift getting off at 11 p.m., Ike planned on reviewing all his notes on the lovely Nurse Lawson, but the initial attempt that had failed should still be a good plan to go with, especially now that he was certain of her being on the night shift. Having stopped in his tracks upon seeing the lovely nurse out in the garden, he sat himself down in the nearby lounge area when he could enjoy the sights for a bit as that leaking faucet could wait. As he sat in the lounge watching the strolling nurse, Ike figured he'd get some sleep after doing his homework when he got home, then he'd go and wait for hubby to leave home, break on in and then the fun and games would begin some forty-five minutes later when the lovely blond 'angel' got home from the night shift.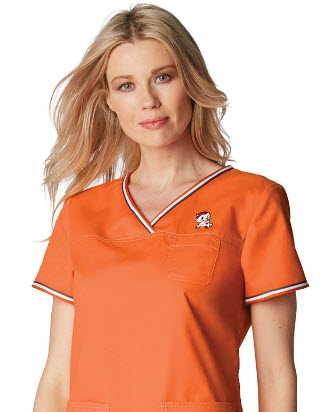 Natalie Lawson, R.N.


Arriving home, taking off her nursing shoes and putting them in the shoe rack, Natalie entered through the kitchen door and poured herself a glass of orange juice. Heading off to master bedroom, she looked forward to being off the couple of days and especially that next morning in bed with John, hoping that making love with her husband would leave her pregnant if she wasn't already. Sitting on the edge of the king-sized bed, she stripped off her short nylons, then she stood up to pull the orange nursing v-neck top top up and off her head before dropping it atop of her nylons. Thumbs in the elastic waistband of her white uniform pair of pants, she let them fall around her feet and then step out of them. In a lacy white bra and panties, Natalie then went to the dresser for a clean pair of panties, then walked to the closet to get her over-sized t-shirt that she would wear to bed after first taking a shower. Reaching into the corner of the closet and getting the t-shirt off the hook, then turned to go to the master bathroom. Suddenly a hand was clamped over her mouth and she was grabbed from behind, then everything went black, coming to moments later to find herself on the bed with hands bound at the wrists and secured to the headboard. Her bra had been removed and there was a black man in the bedroom with her.

"Please .......................please ...............................please don't rape me............................please, I'm married ...........................I've never been with anyone but my husband!" the beauty pleaded as Ike pulled her panties off her feet. "Oh, nurse ................................Nurse Lawson ..........................ya gotta help me ........................I's a hurting so bad ...................................I's need the swelling go down! Feel it ..........................feel how swollen it is!" Ike moaned, feigning to be in pain as he rubbed his stiff cock along the soft sole of her left foot. "I knows yer tight little pussy would squeeze all the juice out of it and help make the swelling go down ...........................but if'n ya don't want me putting it in yer pussy .......................................how can I's make the swelling go down?" Ike panted out as if in pain from the swollen cock in hand. "Ohhhhhh, nurse, I's just gotta make the swelling go down .....................maybe yer purty feet can make me cum ..........................maybe if'n ya put yer feet together I's can shoot off on'em! Maybe if'n ya put yer purty feet together and lemme try ...............................lemme cum on yer purty feet ..................................or I's gonna have to put it in yer tight little pussy cause that'll make me pop fer sure!" Ike groaned out while rubbing his boner on the back of her calf.

Faced with just those two options, it was an easy decision for Natalie to make, better to get this foul bastard off on her feet rather than getting raped by his filthy thing. Cringing as the underside of the sticky flesh tube slid up and down atop of the soles of her feet, Natalie did hope that the bastard would shoot off as that hopefully would sate his vile lust and thus prevent her from being raped. "Ohhhh, so nice and soft Nurse Lawson! Need a bit more stimulation though ...............................so wiggle those purty toes of yers ................................git me to cum ..........................make me cum all over them purty feet of yers!" she heard her attacker advise. With her feet held together by the large black hands, Natalie could only sob in defeat as tears flowed on down her cheeks, all while her attacked shoved his big monstrosity up and down over her soft soles as he sought to shoot off. The next few minutes seemed as if an entire hour had lapsed, then to her dismay, the attacker told Natalie "Don't think this is gonna work ..............................so I'm gonna have to stick my cock in yer Nurse Lawson ............................cause I's knows I can git off in there!"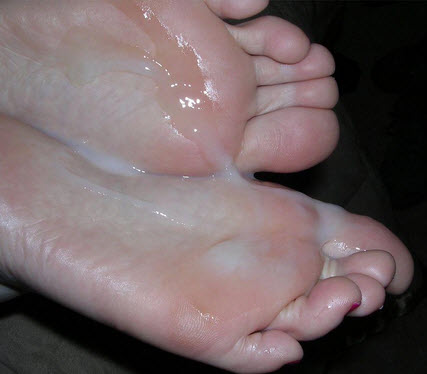 Unbeknownst to Natalie, her attacker was merely toying with her at this time, wanting to hear her plead for him to continue on with what he was doing in order to keep from getting raped and it quickly worked. "Please .........................please, no ...........................please, fuck me feet .........................please, I want you to cum on my feet .........................shoot your sticky cum all over my feet!" Natalie panted out, wanting the bastard to do it, for it was far better than the other alternative that had been threatened upon her and she clamped her soles around his fleshy bone to assist in getting him off. Toes curled as she wrapped her feet around slicing cudgel, feeling it throbbing as it pumped itself faster and faster between them, then Natalie heard him groan out from behind her "Ohhhhhhhhhh, yeah ..................................that feels so good ..........................a little more ...............................ohhhhh, Nurse Lawson ....................you're so good .........................so good at this ..................................ahhhhhhhhhhhh ..............................ahhhhhhhhhhhhhh ............................shittttttttttttttttt!" Cringing with disgust as the bastard had gone and done it, making Natalie happy that she had succeeded, but now her feet and toes were just covered with the filthy goo.

Alone in the bedroom, still on her knees with her wrists bound to the headboard of the bed, Natalie struggled against the bindings and prayed that her attacker had departed from her home. With several minutes having lapsed as she continued struggling to get free, there was a sense of hope that she had escaped being raped by the black intruder, but then she heard heavy footsteps coming down the hallway to enter the master bedroom. Natalie's prayers had not been answered, for she found that the black bastard had not left her home but had merely gone to the refrigerator in the kitchen to get himself a can of cold beer, and now he was feeling her ass up. "Damn, sweetie .............................looking at yer sexy bod has got me all hot and bother again ............................cumming one time jist ain't gonna do the trick! That pussy of yers looks mighty inviting!" Natalie heard him say while feeling her up, felt his hand slide down her backside and then his thick middle finger slid into her slick cunny. "Please ...................please ......................let me do it by hand this time .................................I'll make it good for you!" she pleaded out in desperation, trying keep from getting raped, for she realized that this was the worst time of the month to have sex without the use of any protection.

Ike knew that he'd eventually fuck this beautiful nurse from Mercy, but he enjoying teasing her, let her think that she could escape being raped by getting him off in other ways. Slowly stepping over to the head of the bed, shucking at his menacing boner as he neared the blond beauty, he reached on out to touch her trim fingers. "Ya've got nice pruty hands there, Nurse Lawson ............................ya wanna jack me off instead of me putting it in yer pussy ....................................think those talented hands can git me off?" Ike asked tauntingly. "Yes ...................yes .....................I'll make it good for you .........................please, let me use my hands on you!" she pleaded as he continued touching her nicely manicured fingers. But Ike had merely being toying and teasing the frightened beauty, knowing that she'd do just about anything to keep from getting herself raped by his big black cock, for the consequences of such an illicit mating would have her worried for months to come. Moving his hand from her trim fingers, Ike then began stroking her silky blond hair, then announced that "Well, don't wanna hand job right now ..............................that I's can git any whore doing that fer twenty-five bucks .....................................but those pruty lips of yers oughta do the trick fer me!"

Natalie wanted to be sick upon hearing the vile alternative that had just been presented to her, that of taking the bastard's filthy black cock into her mouth or be raped by it, with the later alternative making it a potential disaster if she was to be inseminated at this time of the month. Having just had sex yesterday when her husband had come home early, just so they could have sex prior to her having to work her shift, such had been done with the intent of impregnating her to start their family. 'What if yesterday's sex with John didn't take .......................and this bastard rapes me ............................maybe impregnates me with his little black bastard ............................there's no way to know till its too late!' Natalie realized. 'Oh, God .......................if he rapes me and I find out I'm pregnant later ..........................I'll have to get an abortion as I won't know if it's John's or this bastard's!' she concluded, though the thought of possibly aborting John's baby was abhorrent, but wondered as to 'What else can I do?' 'Can I do it? God, I think I'm going to be sick if I do ...................and I really doubt that he'll pull it out of my mouth before he cums!' Natalie surmised, her belly churning at the thought of doing something so filthy, a sex act that John wanted of her but which she had always refused to perform.

Ike could see the obvious hesitation caused by the beauty's troubled mind, saw her close her mind and cringed when he asked "Ya gonna take my cock in yer pruty mouth and suck on it?" Seeing her hesitation, Ike smiled widely and kept from chuckling aloud, then shifted his weight a bit and used his free hand to caress her upturned ass. "No ...................no .........................I'll do it .......................I'll do it ........................just don't rape me!" the beauty sobbed out in despair. Shifting back over to his left, taking his hand off her ass to caress the back of her head, Ike then shuffled forward some, using his hand on her head to turn her towards him as he pushed his bloated cockhead up against her soft pink lips. Hearing her sniffle and whimper, Ike threw his head back as her lips parted and his throbbing cock slid into her warm wet mouth. With the beauty bound to the headboard, the beautiful nurse was held still as he firmly held her head in his hands, all while fucking his throbbing black cock in and out of her reluctant mouth. "Arggggggggggghhhhhhhhhhhhhh ...................................ohhhhhhhhhh, yeahhhhhhhhhhhhhh ...................................ohhhhhhhhhhhh, Godddddddddddd!" Ike groaned out as he emptied his churning balls into the beauty's succulent mouth. Holding her head in check with his cock still embedded in her warm mouth, he made her swallow once and then again, leaving her in dry heaves when he pulled his dwindling cock out from her lips.

Head down between her outstretched and bound arms, Natalie gagged and choked on the slimy filth that she had just been forced to swallow, with much residue remaining to coat her mouth with the smelly slime. As she tried to spit out whatever filth that she could from her mouth, Natalie was too preoccupied to have kept track on her attacker, until such time as the bed sank on the mattress at where she was kneeling. With her knees being pushed further apart on the bed, the bastard running his large calloused hands on her thighs and then her ass, Natalie came to realize that the black bastard had scooted up his back onto the bed to situate his head between her legs. Strong elbows and arms pushed at her knees to spread her legs wider apart, lowering her body as a result, then Natalie yelped out "Oh, my Godddddddddddddddddd!" as large hands pulled her down a bit further and then her attacker leaned on up to clamp his hot wet mouth onto her sex. "Oh, God ...............................oh, God .............................oh, my Goddddddddddd ..................................ahhhhhhhhhhhhh .............................ahhhhhhhhhhhhhhhhh ..............................nnnnnnnnnnnnnnnnnnnnnnnnnnnnnnnnnn!" she shuddered as the black bastard snaked his thick tongue up into her.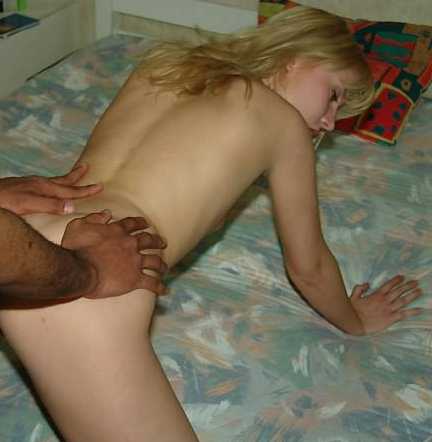 Totally delirious after having had a wild unwanted orgasm from the tonguing that she had just gotten, Natalie was unaware of the bindings on her wrists being cut to release her arms, and now she was bracing herself up on the bed with her hands as well as the top of her head as she leaned forward onto the mattress while trying to gather her thoughts. Then Natalie felt strong hands on her hips once again, this time pulling her back some on the bed and then felt the thick bulb of the bastard's thick menacing rubbing up and down the length of her sex. "No ........................please ........................no, please .........................don't rape me .............................please don't rape me!" she begged. "Noooooooooooooooooooooooooooooooooooooooooooooooooooooooo!" Natalie screamed out as all her hopes and prayers were shattered as the thick cock entered her. Her stalling tactics, letting him shoot off on her feet an then sucking him off had all gone for naught, but she did try her best for her vile rape was apparently inevitable as the bastard began raping her in earnest.

Natalie wanted to just die as the bastard skewered his cock fully up into her so that she could feel his short kinky hairs rubbing up against her inner thighs, his cock seemed to be twice as long as John's and twice as thick, causing her fingers to clutch at the bed sheets as she gritted her teeth to keep from moaning out in the unwanted pleasure she was obtaining from this vile rape of her body. Everything was just lost at this point in time, for Natalie knew that if she tested positive some six weeks from now, an abortion would be in the works as she just couldn't take the chance of the baby being father by this black bastard. The year of planning ahead with John, as to when they would be starting their family together, would definitely need to be postponed if the pregnancy tested turned out positive. Natalie knew that there would be no persuading the bastard from ejaculating his foul semen up into her fertile womb, but it was all made worst when her rapist laughed aloud that "I's gonna knock ya up bitch cause I's ain't shooting no blanks here! I's gonna knock ya up good .........................that ways ya can make use of yer employee discount when ya's have my little black bastard up in the maternity ward!" That said and done, Natalie felt hem jerk and convulse behind of her, all while his cock was buried deep within her as it began spurting out its hot potent roe into her womb.

Some six weeks later, after having kept everything from John, the worst happened to Natalie upon taking the home pregnancy test after having felt queasy the past two mornings. Upon seeing the results showing that she was indeed pregnant, Natalie could only wonder as to "Whose baby am I pregnant with?" There was no telling at this point in time as a blood test to determine the father was not yet possible, so Natalie knew that she had to make the call to the clinic that she had already made arrangements to do the procedure in order to terminate her pregnancy. Although she knew that a rape should be reported to the police as such would help prevent another woman from suffering the very same fate being inflicted upon her by that same sex fiend, Natalie just could not find it within her to tell John that she had been raped, that the baby might not be his if she ended up being pregnant some six weeks from their planned schedule. Playing things back in her mind, she had sex with John once on the day that he had come home early from work, but her rapist had taken her twice that next day and had seeded her with more than twice the amount o semen into her than her husband had the day before. Natalie suspected that in all probability the baby was not that of her husband's, that it was created by the black bastard who had raped her, and thus she proceeded to keep the appointment with the doctor at the abortion clinic. Natalie could only pray that the baby being aborted was not her husband's.


End of Story.