Nightmare for Nicole
(m/f, i/r, n/c)
by
Black Demon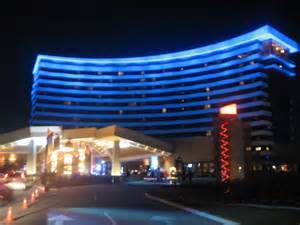 New York's Star Millennium Hotel
_____________________________________________
Standard Disclaimer:
This story is fictional and intended for adults only!
_____________________________________________
Two years earlier, things seemed to be on top of the world for Paul and Nicole Lexcombe, with Paul starting his own consulting firm while Nicole was a rising star at International Concepts LLC as a corporate attorney. Married for fourteen years at that point, living in the beautiful home they had purchased in the suburbs some five years earlier, they were just skyrocketing upwards in both their community and society. But then everything had come to a stand still and began a bit of a downward spiral when Paul suffered a heart condition and minor stroke that required surgery to strengthen up an artery. With the heart specialist advising that Paul should avoid stress and to ease up some on his new start up company, it meant that Nicole had to assume the position of being the breadwinner from then on until her husband could get back to a point where he could resume all his activities. Having survived the big financial crisis of 2008 through 2011, this setback had naturally put them on edge as it was natural for them to wonder how they would survive if they had to just resort to having only Nicole's income each month.
As an international business based in London, Nicole's job as a corporate attorney was to assist in the placement of graduates/interns/trainees within the company throughout the world. In keeping up with the various hiring practices and the differences in business practices abroad, one area of Nicole's job was that of assuring the company conducted its business in accordance with that country's guidelines. As a corporate attorney and having the title of Assistant Vice-President, to make the step upwards from here one was expected to spend at least eighteen months to two years abroad to gain some actual experience internationally before returning to the home office in London to take on bigger projects in order to be considered for a full Vice President slot. Just prior to her husband's heart ailment, Nicole had been offered a position in Stockholm, one that she was about to accept but had decided to forgo in order to provide whatever care Paul would be needing. Nicole was thought highly of in her job, being very visible to all, especially as she was an attractive blond standing at 5'8" tall with a 36-28-36 bod.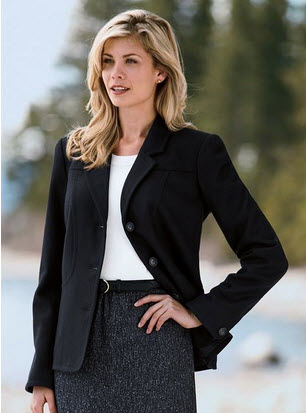 Mrs. Nicole Lexcombe
Now offered another position abroad, this time in New York, it was to be quite a decision to make as passing up the chance a second time might mean that it'd be the last offer she'd ever get with the company. She had gone to New York six months earlier, spending just a week when the gal recruiting interns transferred over to the Los Angeles office as her husband had gotten a job there. Although Paul could operate his consulting business from abroad, the problem was that he needed to be remain in England for the free medical care, with such being quite costly if he relocated to New York. Nicole was hesitant in taking the job in New York as she was still worried about Paul, but her husband told her that he'd be fine and that she should go for her career's sake, pointing out that with the housekeeper that they had recently hired would make things be quite manageable. Paul pointed out that they had been apart for long periods a couple times in their marriage and everything had worked out just fine, like when he had served in the military and when she had gone away to law school.
So the plan was for Nicole to take the New York job, with the thought of her coming back from time to time if the job permitted her to get away for a week or so at a time, but if not then the eighteen months or so would still be manageable, especially with the upgrades in telecommunications. One good aspect of taking the New York job was that the company would be providing her with free lodging at one of the nicer hotels in which it regularly used to house the new interns and potential recruits interviewing for a job. For Nicole, the company would be providing her very nice comfortable lodging in a suite with the Star Millennium Hotel, one much nicer than the smaller rooms provided to the interns or recruits. Besides the Star Millennium, there were two other hotels used by the company to house the interns/recruits, with hotel rooms to be assigned at her discretion and of course availability of rooms at any given time. The relocation was not too difficult as Paul would remaining at home and a moving company was to transport any personal belongings that she wished to take to New York with her, at her company's expense. So basically all Nicole had to do was to put things in one corner of the house and the moving company was to come and box everything up, then transport them to her in New York City. With everything being flown over via an air freight company, Nicole took just two suitcases with her on the flight over as the rest of her belongings was to be delivered in a week's time.
As with any large international company hiring a dozen or more interns at any one time, there was to be expected a turnover ratio, with some unable to cope with a stressful job or that some new employees just came to find that they didn't enjoy working for whatever the reason. Some even found another job, quitting their internship in just over a week or so, but the company just hoped to retain a larger ratio from the next recruiting class. Unbeknownst to Nicole nor any other employee at International Concepts, a number of the interns who had quit their jobs had not done so on their own volition but had been abducted and some had gone missing entirely, disappearing without a trace. No one had really studied or put together a trend of those interns quitting the company since there was a new group every six weeks, but had human resources conducted such a study, it have found that a majority of those quitting were young female recruits ............................young and very attractive female recruits!
Once on the job in New York, Nicole decided to look a bit into the recent loss of interns as the ratio seemed a bit a higher than prior years. One name in particular caught her attention, that of Ms. Michelle Nesser, an intern that Nicole herself had interviewed and recommended for the job when she was here six months earlier. In fact, Nicole thought that young Michelle was the best of the entire recruiting class for that month, thus it really was of interest to finding out why her assessment had gone wrong as the young woman had remained in the internship for just three weeks before abruptly quitting for a 'better offer'. Looking for the 'exit interview' sheet, Nicole found there had been no such interview as human resources had noted that such interview was not done due to the intern's sudden departure. As there was no indication as to where the intern had gone to work for her new job, Nicole decided to call the cell phone number that had been listed on the intern's application, hoping to talk to her in order to find out the reason(s) for her departure. But after dialing the cell number, a recording came on saying that the number being called was no longer in service.
Looking further as to Ms. Nesser's application for the job, it did list her emergency contact being her parents back in Phoenix, Arizona. Dialing the parents' home number in Phoenix, Nicole had to explain who she was and why she was calling, there person on the other end seemed to be rather guarded in talking to her. Nicole was puzzled when Mr. Nesser asked of her "You don't know, do you?" Nicole then replied "Know? Know what?" It was then that Mr. Nesser advised "Michelle went missing several weeks after leaving her internship with your firm to supposedly go to work for another company up in Albany! She kept in contact by text messages and email, the last saying that she was enjoying her job with a company called Absolute Albany and that she was staying in a motel till she could find an apartment to rent! But then there was no further contact from her and no answer to her phone nor reply to any emails! We reported her missing but the police in Albany came back that the company in Albany had never even heard of Michelle and there was no trace of her at all! We even hired a detective agency to look for her but they came back with nothing new. 'My, God ......................what happened to her?' Nicole wondered after hanging up the phone.
Looking at the photo attached to the application, the young blond beauty was indicated to be 108 lbs. and was 5'3" tall. 'God, her parents must be devastated on the disappearance of their daughter! Mr. Nesser had indicated that he and Michelle's long-time boyfriend had flown out to Albany, passed out flyers for two weeks, but it seemed as if Michelle had just vanished in thin air! They had even gone to where Michelle had stayed at the Star Millennium Hotel where she had earlier stayed but staff indicated that she had checked out weeks earlier and that the current occupant was another intern from International Concepts and had been in that same room for the past couple of weeks. Where she had gone to stay after the Star Millennium was a puzzle to everyone as no motel charges ever showed up in her charge cards that she used. It puzzled Nicole even more on Michelle's sudden departure as her father had indicated that the reason she took the internship with International Concepts was that it was an international firm and changes were good in her going abroad to a foreign country to work, getting to move around at the company's expense, something that she had always dreamed of since high school.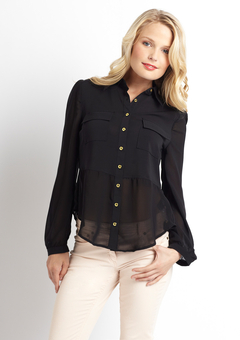 Ms. Michelle Nesser
Little did Nicole nor Michelle's parents know that the missing Michelle Nesser was in fact living abroad at that moment, only it was not as how she had hoped and dreamed of, the truth being quite far from it in fact. The beautiful Ms. Michelle Nesser had been kidnapped and was now very far away, having been drugged and transported by private jet to far away Nigeria, where she worked for her new employer. In Nigeria, housed underground beneath the military compound of the Nigerian Army, in return for her accommodations and remaining alive Michelle's current job was that of providing sex to any Nigerian Army officer sent on down to be entertained by her. it had been the Commandant of the Army who had been showed her pictured by the man from America, from a place called New York, and the military honcho decided that using the equivalent of 50,000 American dollars from the military's budget would be well worth it in order to bolster the morale of the under paid military officers. Young Michelle was introduced into her new profession by none other than the big black Commandant himself, a vile conniving old bastard who just hated Americans, and thus just loved the pleasure he derived from inflicting pain and agony from raping the young innocent beauty from America .................................especially the piercing screams emitted that night when he went and took her precious virginity! For Commandant Abdul, the agonizing screams from the beautiful American bitch and upon observing the blood on his raping cock ....................nothing else could be any better!
Rashad Jonese, assistant manager for the Star Millennium Hotel, had gotten his start in the hotel business from when he was fifteen years of age running errands for an international hotel chain in Ethiopia. Moving up to a kitchen helper, then becoming a desk clerk, Rashad had worked his way all the way up in the hotel business and he had learned how to please the many types of guests frequenting the hotel. He got to recognize quickly that one was an important guest by the entourage accompanying that guest, learned quickly as to what pleased that particular guest, and what he could do to make that guest's visit an extra special one. And that was how he had come to meet Colonel Abdul Mustad of the Nigerian Army when he had come to coordinate a military exercise with the Ethiopian military, with Rashad getting a nice big tip each day for supplying the colonel with different female companionship each evening of his stay. Given a contact number by the colonel himself, Rashad was told "Here is my card, my good man! If you do come across something very special ................if you know what I mean .............I can make it worth your while, my friend!" That had been years earlier and now that high ranking officer was Commandant Mustad of the Nigerian Army, the head of its Special Forces Group. An hour after sending the general an email with an attached photograph of the lovely Ms. Michelle Nesser, Rashad answered the phone to hear the operator advise "Please hold! I have Commandant Mustad of Nigeria on the line! I'll connect you!"
The deal had been worked out very quickly over the telephone, with the excited general offering to pay 50,000 American dollars for the lovely blond beauty along with arranging the beauty's transport out of the country. With the offer being a fair one for the trouble he'd have to go through, Rashad the deal was sealed and all he needed to do was to abduct the innocent young beauty and get her to an airport just outside of New York, one that handled small private jets. Going through his lists of anticipated expenses, knowing he'd have to grease some palms on his side to erase all traces of the young beauty having disappeared out of the hotel and not leaving on her own accord, Rashad figured ten grand would do the trick, thus leaving him with a forty grand net profit in delivering the unsuspecting beauty into the hands of the lusty Nigerian general. Rashad wondered if the innocent Ms. Nesser was still a virgin, shivered with a bit a apprehension at the thought of it as such innocence existed it would be destroyed by the 250 lb. brutal black bastard. But Rashad did wish that he could see the contrast of bodies, that of her ivory white body and that of the coal black one of the general smothering her with his ......................busting her precious cherry with his big black cock!
Although the innocent Ms. Nesser had put the double locks and chain on the hotel room door, access could be had into the room as the entire rear of the closet opened up entirely to allow Rashad a secret entrance. Chloroform over the mouth and nose over the startled beauty soon rendered her unconscious as she struggled upon the bed. Two Ethiopian buddies of his were to box up her undergarments, dresses, and nice heels that the beauty owned. The delivery of the beauty and boxed clothing were made to the airport, with her lying in a coffin while having a mask and small oxygen canister to give her air. With the general having furnished the needed paperwork to transport the body of an important deceased Nigerian back to his country, getting through customs was a cinch and thus Ms. Michelle Nesser got her wish fulfilled in getting to travel abroad. With only one refueling stop necessary, just some fifteen hours later two Nigerian women were dressing the unconscious beauty in some sexy undergarments and into one of her black dresses and black heels. Once she awoke, the American would discover what hell on earth would be like at the hands of the vile Commandant Mustad and his lusty men.
Now six months after getting that nice windfall, Rashad got a call from a nervous sounding Tomas at the front desk, the fellow who's palm he had greased when he had convincingly advised the police investigating the missing Ms. Nesser that she had turned in her hotel room key saying that she was taking a job elsewhere. Listening to Tomas, Rashad learned that the woman from International Concepts up in Suite 1505 had just inquired about the missing beauty. And Tomas seemed a bit shaken as he advised "I think she knows that the intern went missing from the kind of questions that she asked ..................like if the police inquired here after quitting her internship and was leaving the hotel!" At this point, Rashad figured that he had better get all the info he could on this inquisitive bitch up in 1505, as she was apparently a higher up from the company that housed quite a bit of their interns at the hotel. 'Can't have her give us a negative report and stop the flow interns into our hotel rooms that were normally reserved each month by the company, as that would certainly be a disaster for my sideline business! Shit! Shit Shit! Gotta put a stop to that snooping English bitch!' he fumed. Getting on the internet and pulling up the website for International Concepts LLC, the corporate directory had her picture in it and advised that she was a corporate attorney for the company with the title of Assistant Vice-President. Reading that, Rashad cussed "Oh, fuck! That's all I need is for her to find out that there's a relationship to the hotel and those interns who left abruptly! Christ! Now what the fuck do I do?"
Rashad was not worried about the six former interns that now were under his control and being housed in the brothel in Uptown, for their cell phones still worked but being monitored by his madam and the bitches knew better than to squeal as to the real reason for their departure from the internship job. What worried Rashad was that of the corporate bitch inquiring about Amanda Corbett or that of Deanne Hathway, both of whom were in their twenties and both blond beauties. The details in the disappearance of both young women, if compared to that of Michelle Nesser, would be nearly identical with the difference being from where their destination being changed. The missing Amanda Corbett was from the small town of Belford Falls, Idaho and the search for her was done in New Haven where she was to be employed with another firm. As for missing Deanne Hathway, her hometown was that of John's Landing in Indiana, with the search for her having been conducted over in the town in New Jersey where she was to work. Both searches would turn up blank leads with the only comment element being that of the Star Millennium where they had stayed and International Concepts being their employer. With different police jurisdictions involved in each of the searches of missing women from far away hometowns of different states, there had been no tie-ins to the missing three. 'Damn! Fuck'n shit!' Rashad cussed under his breath as the corporate bitch was getting too close to uncovering some foul play going on at the Star and the company's interns. 'I had better keep a close eye on that bitch! When she's out tomorrow, I'll put a bug in her room and a couple video transmitters up in the ceiling vents so I can see and hear what she's up to!' he figured. 'Calm down ............calm down .............think it out ...............think things out, you asshole!' he chided himself. 'Fuck'n shit!' Rashad again cussed under his breath as he felt the noose being tightened around his neck due to the snooping bitch up in 1505.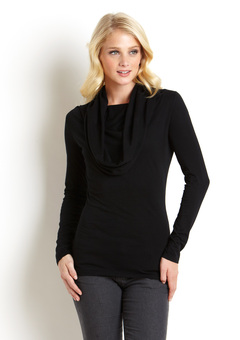 Ms. Amanda Corbett
For 23 year old Amanda Corbett, being blond and beautiful would serve to be her downfall once she was assigned a room at the Star Millennium, especially once she caught Rashad's eye. Amanda's parents and two brothers spent a month in New Haven and backtracking all the way to New York without any success, not knowing where she had stayed since losing contact with her after she had departed from the hotel in New York. Only text messages and emails had been received back home. It had been a bit strange in not getting a phone call directly from Amanda but her parents had merely assumed that she was just too busy to call and talk due to the new career path she had chosen for herself. But now there was absolutely no trace whatsoever of her, no such job opening at the firm in New Haven even existed and they never even heard of Amanda, and there had been no charges to any motel or hotel along the way from New York. A private investigator had been retained and was still on the case, but he too had come up with zero as the last info on the missing beauty was that of her stay at the Star Millennium. Like that of missing Michelle Nesser, Amanda Corbett was off on her trek abroad, only spending her time in a harem out in the desert of Saudi Arabia. She had been purchased by a sheik who didn't know what better to do with his money. The sheik had flown on in himself, taking the blond beauty back with him on his private jet, with no one from customs even doing a check, especially after each official had a thick envelope slid over to him beforehand. Whisked off to an Arabian desert, several veiled women began dressing her in the nice black dress and heels that she owned and accompanied her on the flight over, only to have all her clothing soon stripped from her by the lusty sheik. Held down by several of the sheik's concubines, Amanda could only scream and cry out in despair when the bastard covered her with his sweaty body and thrust his fat cock up into her, spearing right through her hymen and brutally deflowering her.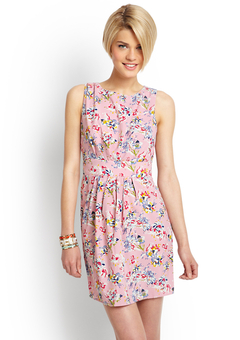 Ms. Deanne Hathway
In regards to missing Deanne Hathway, things turned up blank in the New Jersey town that she was to have relocated to and the company had no records of even interviewing the young woman for any type of job opening. Her brother and a cousin spent some three weeks trying to track her down in New Jersey, then backtracked on down to New York City and the Star Millennium. With the hotel records showing her departure date being several weeks before her last message to the family, it became a question as to where did the young beauty go and who did she go with if she didn't rent a motel/hotel room on her way to her new job in New Jersey. Although it was obvious to the family that foul play was involved since they knew their precious Deanne would never leave them in such a way, and there were absolutely no leads to be found. The police in New Jersey had the phone company do a trace as to where the location was when her last call/text message was sent to or from her cell phone. The results of that was a cell tower in the middle of New York City but then that would be an impossible task in pinpointing an exact location, even though the Star Millennium fell within that cell tower's range. Like the two other missing former interns, the lovely Ms. Deanne Hathway had been whisked away unconscious in a jet owned by a wealthy Ethiopian businessman, one who frequented the Star due to the special services provided by Rashad, a fellow countryman whom he had first met in an Ethiopian hotel some years ago. While in the lobby of the Star, the lovely blond beauty had his head turning to watch her every movement, something that his friend Rashad had observed and who then approached him as to whether he might be interested in making a very special purchase.
Head always churning in the mind of this Ethiopian businessman, always wanting to establish a classy brothel in his home country, the businessman felt that the lovely young beauty would certainly be a big draw to such a brothel. His thought was that 'A horny Ethiopian would certainly give up a fortune for just a night alone with such a blond American beauty!' He helped hold her on down while she was being examined by a doctor he had hired to examine her, then smiled widely when the doctor announced to him that "It is intact! Her hymen is intact ..............................she is still a virgin!" 'Perfect! Absolutely perfect for the grand opening of the brothel!' he concluded. Of his fifty thousand American dollars investment, it turned out quite a profitable venture for this businessman as he made back 60% on the that grand opening night, sold to the highest bidder who was willing to pay well when it was announced that the blond beauty from America was still a virgin. Those unable to better the bid paid a nice admission fee to witness the deflowering of the American beauty, getting to see her crying and struggling as the fat bastard of some 330 lbs covering her body and popping her precious cherry. After her deflowering, each of the witnesses kicked in more money for chance to rape the blond beauty himself. When the grand opening finally came to an end, young Deanne Hathway lay sprawled upon the king-sized mattress with legs and arms widespread, a thick pinkish goo oozing out of her raped slit onto the bloody sheet beneath her. Cum was just everywhere, on her: hair; face; lips; titties; fingers; short blond curls; thighs; toes; soles; etc. All that mess had been contributed by each of the hundred and twenty lusty men present at the grand opening that night.
Before each missing beauty had gone abducted and whisked out of the country, the abduction would only be initiated after Rashad had enough video on the camcorder to make out the beauty's password on her computer and that of her email. Being sure to retain both the cellphone and laptop of each kidnapped beauty, Rashad was able to respond to any message left by texting a reply on the cell phone or by sending a reply to any incoming emails. Sending out false information to the parents, telling them that their daughter would be calling to talk when time permitted later, such would buy the time lapse needed before all contact went silent some three weeks later. That first set of cell phone and laptop belonging to missing Michelle Nesser was disposed of by Rashad at Pier 36, sinking into the muddy waters some twenty feet deep. As to the cell phone and laptops of the other two missing beauties, Rashad had seen to their disposal in the Star's basement furnace where they were burnt to a crisp. He had felt quite confident that the various police investigators nor private investigators would not concentrate their efforts on the Star Millennium, especially as different agencies would be involved and not link up the missing young beauties. But now that corporate bitch up in 1505 was seemingly trying to trace down the former interns to interview them as to the reason they each chose to leave the company, and it appeared she had come up with that precious link. So Rashad had to think of a way to neutralize that snooping bitch, get her to quit nosing around, to have her mind her own business and just concentrate on her job of bringing in new interns .................pretty ones and house them at the Star.
Busy interviewing potential prospects each day, going over their background checks done through a private investigatiing agency that had been approved by corporate, it was Nicole who would give the final stamp of approval on hiring each of the new interns. The goal was to hire bright and energetic college graduates that would fit in with the company's culture and hopefully contribute to its growth and profitability. Thus any investment made in hiring a new recruit would be a loss to the company should that new hire quit suddenly, leaving a spot to be filled and an additional investment needed to now train the new hire. So for Nicole to attempt to research at this point as to why the former interns had left abruptly while in training over the six month period before her arrival in New York, she might just be overloading herself with unnecessary work. Still, it seemed to Nicole that being able to retain a recruit that looked promising would be a key to her being successful in this recruiting job. Looking at the applications of those who had left, including the two she had contacted on their cells but had not wanted to do an exit interview with her, Nicole leaned back some after placing them side by side to scan them in all at once. 'My, God!' she shuddered, feeling as if she had been thrown into one of those police dramas where all the victim photographs are all up on a bulletin board.
Of the ten that had left before completing the internship, Nicole took out the lone male applicant that had departed. Now that left nine others, each one being a young beautiful blonde female in her early twenties. Nicole then took out the two that she had contacted but refused the exit interview and the two that had gone missing weeks after leaving, that left five other young women that to be contacted or looked into. Sighing deeply, Nicole trembled at the thought that perhaps it wasn't just a coincidence that two former interns had been reported missing. With just the picture portion of the application lined up side by side and the bottom half covered, Nicole went from one end to the other in removing the sheet covering the bottom of each application. With each unveiling, Nicole felt her heart thump harder and harder with each showing that the intern was lodged at ..........the Star Millennium Hotel! She shook her head, telling herself that she was just letting her imagination run away with her, that she had been watching too many police dramas on television since coming to the states. 'Well, I should look into the other five since I've gone this far! Perhaps they also got recruited by the firm with the other two that didn't want to give the exit interview! Just maybe .............maybe there's a direct competitor that's trying to steal away our recruits? And if that is the case, I had better find out just what firm that is! Yes indeed, a competitor could save a lot of time and money from interviewing potential recruits to hire into an internship, as it be much cheaper just to steal them away from us!' Nicole surmised.

Needing a drink to calm her nerves and also time to think, Nicole first put on a nice black dress, a dark pair of stocking and black heels, but just decided on pinning up her hair as she'd merely be getting a drink at the bar and then dining alone. Nicole then went down to the upscale restaurant on the hotel's second floor, sitting at the bar first for a stiff drink, as she planned on later ordering herself a glass of wine when she got herself a booth for dinner. As she sipped on her drink while deep in thought, Nicole was unaware of a handsome young black man entering the bar to take a seat in a booth behind of her, sizing her up as he was there with only one mission in mind ........................to figure out a way to get into her tight little panties ..............for what he had been hired to do! With Nicole were the folders on the two missing former interns and any articles she could find on the internet concerning them. Much of the internet articles came from the respective hometown newspapers as it was big news for the community and city in which each had grown up. But as to cities where they were supposed to get jobs in, there were just small blurbs about each young gal having been reported missing by the family, not making any big headlines due to the number of people going missing in the big city and the thought being that the disappearance was done deliberately on her own part. After leaving the bar to take a seat in the restaurant, there was some movement in front of her, causing Nicole to look up and see a well-dress black man in his late twenties/early thirties being seated alone in the table before her. The handsome man glanced her way then, smiled and gave her a polite nod to which Nicole reciprocated with a smile and nod. The waiter then came back and took her order and then that of the black gentleman's. Seeing a gold band on the man's ring finger, Nicole surmised that the man was here in New York to conduct some business and staying at the Star just as she was doing.

Finishing her meal that had come first, Nicole slid out of her booth and this time she initiated the smile and nod to the handsome black man, then got a smile and nod in return. Going back to her room, Nicole slipped out of the black dress that she had worn that day for work, she was unaware of a pair of eyes widening downstairs in the assistant manager's office as the transmittal from the camera hidden in the ceiling vent was getting a demented Ethiopian quite horny at the sight of her. 'Holy shit! I didn't know women still wore those things!' the Ethiopian was thinking as he viewed her wearing a black garter belt over her panties and her black hose with clipped to it. Being from England and a bit old school, it was still the prim and proper thing for a 'lady' to do and Nicole saw no reason to change that just because she had come to America for a year or two. Besides, she was already accustomed to dressing in this manner and felt that it'd be harder to having to adapt to making the switch back when she returned to the company's London headquarters. She found that men often got turned on seeing a woman wearing reinforced stockings, indicating that she was very possibly wearing a garter belt under her skirt, something that her husband Paul certainly got turned on by. But Nicole had no intention on turning on or seeking to attract another man as she was totally in love with her handsome and caring husband back in London, with her only wish was that he could regain his health and be there with her.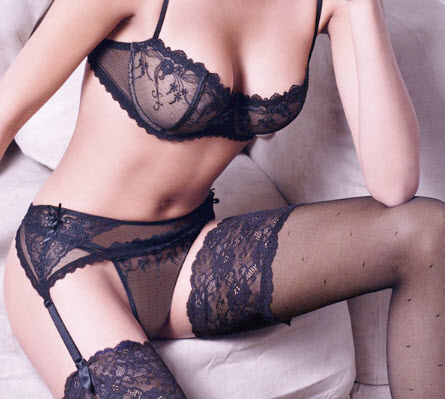 'Damn, I just didn't pay any attention to the bitch since she's older but man .............she's got a fuck'n bod on her! Under nice but rather conservative clothing that she wore around the hotel, I never expected anything like this! Jeezzzz, she's giving me a fuck'n hardon!' Rashad had to admit to himself. Besides, his other head between his legs began to pulsate and swell with excitement so he was just fooling himself if he was to think otherwise of the mature but very sexy beauty from 'across the pond'! Rubbing at the bulge in his pants, Rashad licked his lips as he gazed at the unsuspecting beauty in the monitor as she sat on the white sofa in her frilly undergarments and hose. 'Oh, what a nice contrast of black and white upon the sofa! Now all we need is to have you spreading to nice long sexy legs for a big black buck, then to watch all that white cummy goo oozing out of your fuck'n twat!' he thought. Looking at the screen an analyzing things, Rashad observed her string bikini panties were under her garter belt and made note of that for future reference. He then saw her reach for the folders that she had brought back to the room with her and he could see the concerned look on her face as she scanned through them. From the concerned and determined look on the bitch's face, Rashad correctly guessed that those folders were of the former interns that left abruptly during their training period, three of which had later been reported as missing by their families.
The next day, it was like clockwork as the bitch up in 1505 exited her room to take the elevator down to the 2nd Floor to go for dinner at the hotel's restaurant. Seeing her on the monitor covering the 15th Floor, Rashad then used his cell phone to make a call from his office down to the lobby. "Marcus .......................she's in the elevator going down to the 2nd Floor! Now's the time to make your move!" Rashad advised the handsome black stud he had hired for two and a half grand to seduce that tall blond bitch staying in 1505. 'That bastard promised me that he'd be in her panties within three nights! Yeah, fucker ..............you had better come true to your word or you'll be owing me back the twenty-five hundred and I'm gonna make ya pay fer yer fucking lobster dinners and all those drinks!' he cussed under his breath. Switching over to the monitor covering the 2nd Floor elevators and the entrance to the hotel's noted restaurant, he saw both elevator doors open at the same instant, and out exited Marcus Jones from one and the tall blond bitch from the other. The smiles, one nodding to the other, Rashad knew that Marcus was initiating the first move to see if she would mind some company while dining this evening. Seeing the bitch smiling and nodding, Rashad himself now smiled as it appeared the plan for seducing the uppity bitch was making some progress. Watching the monitor, Rashad watched intently and cussed at the tall blond on the screen 'You bitch ...................gonna git the fuck'n goods on you soon enough! Oh, that hubby of yers will surely have a coronary should he see a video of you gitting nailed by a big black stud! Damn, yer a real tall one .....................gotta admit yer damn pretty too ......................nice long sexy white legs .......................ought to feel real good having those sexy white legs wrapped around my black ass! Hmmm, but hubby likes seeing ya with garter belt and stocking clipped to them and all, so's I's gonna have Marcus slice of those string bikini panties and and fuck ya jist like that ........................that'll sure give hubby a fuck'n thrill! If'n ya don't want hubby seeing ya with a black buck ..................ya can start by convincing me ......................on yer fuck'n knees with my big black cock in yer mouth, bitch!'
Before now, Rashad had only looked upon the bitch in 1505 as responsible for the noose that might soon be tightening around his neck and bring him to an end. But now after having set out a plan of action to neutralize the snooping bitch, and with Marcus appearing to have gotten to first base with him sliding into a booth next to her, Rashad began to take her in for the rather sexy mature prim and proper beauty that she really was. Having stared at her long sexy legs as she entered wearing 3" heels, Rashad began wondering what it'd feel like to have those long flawless beauties wrapped around his ass as he proceeded to fuck the hell out of her. Another pleasurable image crossing his mind was to have her legs pushed up at the back of her knees, her toes pointed and pressing down upon his back with her hips arching up into his face as he ate out her golden snatch. Once again, Rashad began to picture the tall beautiful bitch trembling as she stood before him as she debated whether to comply with his demand at the threat of sending incriminating photos of her adultery with a handsome young black ....................picturing the tears forming in her baby blue eyes as she slowly bent her knees to kneel before him ...................seeing the tears flowing down her cheeks as she reached forward to pull down his zipper! 'Damn, when I get the bitch to pull my cock outta my pants, that's when I'm gonna grab that long silky blond hair of her and yank her head back .........................then I'm gonna rub the sticky underside of my fuck'n cock all all over that beautiful face of hers and watch her cringe in disgust!' Rashad promised himself, then added 'A prim and proper English lass like this surely ain't ever allowed a cock between those succulent pink lips is my bet! But all that is gonna change real soon! Bet she's gonna freak out when I's get her on her fuck'n knees and make her suck my dick! And I'm gonna love seeing her puke her guts out when I's pop my load in her fuck'n mouth!'
In meeting Marcus Jones at the 2nd Floor elevators, Nicole was quite impressed with the handsome young man some ten years her junior, thinking 'Such a gentleman and handsome too!' In chit chatting as they walked to the entrance of the restaurant, she learned that the young man was indeed on business in the city for updated training meetings with his company and that he'd just be there for another night and be leaving early Saturday morning to get a flight back home. He was so polite in asking if she minded him joining her for dinner, just to chit chat rather than eating separately in silence, and that it be just a cordial dining together with each picking up his/her tabs. With him acknowledging that he could see by the rings on her finger that she was indeed married, then holding up his left hand and saying 'See, happily married too!', Nicole was totally disarmed at that point. As it didn't appear that the young man was hitting on her, and with him only there for another night, dining together with him under those conditions seemed quite harmless. Thus she agreed to have dinner with him, then repeated the condition that they'd each pick up his/her respective tabs. With the handsome black stud keeping an appropriate distance from her in the booth, Nicole felt reassured that he wouldn't get the wrong intention and think that he'd have a shot at her after dinner. On that aspect, Nicole had no intention on ever cheating on her husband ........................even with a handsome young stud, and especially not with that handsome stud being black!
Following a nice leisurely dinner while chit chatting about working away from home, missing their respective spouses, they entered the elevator together and he pushed #17 before asking what floor was hers. In the elevator, when asked if they could have dinner the next night as it'd be his last before heading back home, Nicole did not hesitate in accepting provided it being under the same conditions of this evening's dinner. And when the elevator stopped at her floor, Nicole smiled at her dinner companion and waved 'goodbye' to him as the elevator doors began closing. Unbeknownst to Nicole, as she was opening the door to her hotel room, the elevator that had gone up to the 17th Floor was now descending back down to the lobby with her dinner companion still in it. As she closed and locked her hotel room door, Marcus was in the lobby reassuring his buddy "Better get the other half ready cause I'm definitely gonna be in that bitch's panties tomorrow night!" With Marcus following Rashad to his office to discuss the next night's events, he patted his buddy on the back and told him to "Relax, my friend! Have you ever seen me fail once I've set the hook in a bitch like that? Just to reassure you, we're to meet at the same time tomorrow night by the entrance to the restaurant!" "Fucker, you screw up on this one and you pay me back everything .........................plus the cost of all those fucking lobsters and drinks you've been ordering! But here's what I want of you if and when you're successful in getting her into bed!" Rashad advised before explaining that she wore a garter belt over her string bikini panties each day - "I'll have a small scissors under the front center of the bed so you can snip off that string bikini panties, then fuck her good! And when yer done, make sure her leaky pussy is in line with the camcorder as I wanna get a video of cum oozing out of that prim and proper pussy of hers!"
Getting out of her dress and into comfortable clothes, Nicole then opened up the folders that she had taken with her to go over while having dinner. But as things had happened, getting to chat with the handsome Marcus Jones, Nicole had merely put her purse atop of the folders that she had set down onto the booth next to her. Quickly going over the contents of the folders, Nicole then scanned the list of interns who had left after just a short stint in the internship program. She had made contact with several female interns thus far but none were willing to spare the time for an exit interview over the phone much less meeting with her to discuss why they had left the program. Still, two former interns in the program having disappeared seemingly from the face of the earth gave her a weird feeling about the circumstances. Pulling the sheet on top of the remaining list of interns having departed, that of a young and pretty Deanne Hathway, Nicole looked at the time and decided it was still early enough to call her. The familiar sound of the recording that the number was no longer in service gave Nicole the willies, with her heart beginning to pound in her chest, she muttered "Don't tell me she's another one!" Swallowing deeply, Nicole decided against calling the emergency number listed on her application form even though it was several hours earlier in Indiana. Closing her eyes, body shuddering nervously, Nicole took a deep breath in an attempt to calm herself as she wanted to think rationally and yet hope for the best for this former intern.
Talking to the first two sets of grieving parents had unnerved her some, and Nicole just did not want to go through that ordeal once again should young Deanne Hathway have met a similar fate. Getting on her computer, she typed in 'Newspapers in John's Landing, Indiana' and saw the results being John's Landing Tribune and the Indiana Star. Bringing up the site to the John's Landing Tribune, Nicole then typed in the name of Deanne Hathway in the 'search' blank and hit the 'enter' button. "Oh, my Goddddddddddd!" Nicole uttered out loudly in seeing the headings of the paper dated some four months ago, reading "Local girl missing in her relocation to New Jersey job!" Nicole read on and it all sounded so similar to the other two former interns that had gone missing, all totally disappearing about three to four weeks after leaving the internship program. Seeing where Deanne Hathway had been lodged at the bottom of the application sheet, it showed she had been housed right here at the Star Millennium Hotel. As Nicole had earlier checked with the desk clerk on Michelle Nesser, her heart began to pound as she reached on over to retrieve the folder of Amanda Corbett. Opening it, her heart nearly stopped upon once again seeing the Star Millennium Hotel at the bottom of the application. But with each one of them disappearing some time after leaving the program, Nicole could only conclude that 'Someone's picking up these young women, probably scoping them out here at the Star and getting them to quit and take off somewhere with him!' Nicole could only wonder 'What happened to them after that three to four week period from when each of them left the program? She must have been seduced into joining him, went somewhere with him, then some kind of foul play must have caused them to disappear like that!'
Nicole was in quite a dilemma at that point, wondering as to what she should do next before another young attractive intern with the company ran into foul play like the others. 'Could it be just a coincidence? I guess it is possible but surely not with three going missing under the basically the same circumstances!' she trembled with nervousness. Then Nicole scolded herself, telling herself to 'Take a deep breath! Think things out rationally! Consider all the angles! Consider all the potential consequences if you go running off calling the police with just circumstantial evidence that only shows some similarities in the three missing young women!' Nicole then realized that 'The company's name will definitely be brought up in a negative light if I go to the police with just my hunch!' 'Should I contact HQ in London on this? Run it by them and see what their input is?' Nicole asked herself, but then concluded that by doing that it'd put a negative light on her as people in the home office might just think that she can't make a decision on her own. 'Somebody's preying upon these young women staying at the Star!' Nicole concluded as she looked at one photo, then set the two others side by side next to the first one. 'All in their early twenties and fresh out of college! All female, very attractive and single ......................and blond!' she surveyed upon gazing at all three photos sitting side by side to each other.
'Oh, my Goddddddd! Could it be? When did I see that article? Back in London ......................a year ago, maybe?' Nicole pondered as she tried to recall the details and as to what the terminology that had been used for what was described to be very despicable activities. Closing her eyes, trying to think back to when she had been quite shocked in reading the article, Nicole recalled that it had been termed some kind of 'trade' or had the word 'trade' in it. 'Slave trade?' she wondered, then typed it in to be searched on the internet. Reading the topics of each article, Nicole told herself 'No, that's not quite it! But I'm sure its something pretty similar to that!' "Haaaaaaa! I think I've got it ......................that's got to be it ....................white slavery trade!" Typing that phrase into her search engine, the results popped up on the screen and Nicole shuddered and concluded 'That's it! That's got to be it! Why else would a seemingly innocent young woman who's working at a job far away from home suddenly disappear off the face of the earth like the three former interns with the company? Each must have been singled out while staying at the Star, convinced to leave for a more lucrative job, then they're kidnapped and transported off to some far away country .......................leaving no trace at all what-so-ever after leaving this hotel!' Nicole felt certain as to her findings and conclusions, but as tomorrow was Friday, she told herself that she should 'Think about it for another couple of days ................be certain about all the facts before you go running off to the police .................come up with even more evidence ...................be absolutely certain you know what you're doing!'
That next day being Friday, Nicole decided to see if she could confirm the check out dates of the other four young women before her first scheduled interview of a potential recruit to the internship program. As the Assistant Manager was manning the desk when she went up, Nicole was very appreciative of Rashad Jonese's concern when she inquired about the departure of the remaining four young women. "Is there something of concern that the hotel should be aware of?" the Ass't Manager inquired when he began the research that she had requested. "No, it's just that I think that my company might have a competitor out there that might be trying to steal away the recruits that we screen thoroughly and hire! You know, that would save them a ton on time and money!" Once she obtained the needed into, Nicole went into the interview room to go over the info that she had in the folders, then decided to make a call to the investigative firm used in doing the background checks. Having met the owner of the firm that first week of her arrival, Nicole asked to speak with him, asking him what it would cost just to check on the current whereabouts of the remaining four former interns that had left while in training, plus the other two that she had made contact with but refused the exit interview, telling him that she suspected that a competitor being out there trying to steal away their new hires. She had also made certain that no direct contact was to be made with the young women nor their parents, just to find out their current status and job. The bill estimated to be around $3,000 was to be sent to her directly and not the company, for if it was to put the company in a bad light she would not forward the billing to the company for reimbursement. Nicole had left it at that, eliminating all the other more dramatic and lurid things her mind had dreamed up earlier, like that of the white slavery trade.
Nicole then went about with the scheduled bookings on interviewing new recruits and seeing if one met the qualifications on being offered an internship with the company. Things went smoothly for the first four to be interviewed, but then Nicole got a bit nervous when the fifth recruit to be interviewed walked in ......................a young attractive blond female! This unnerved Nicole a bit for all she could think of was 'If I select her for the internship, will she be the next to forced into the 'white slavery trade'? Kidnapped and whisked off to some foreign land ..................forced to perform sick and perverted sexual acts in accordance to some deviant male's wishes!' Finally the interviews were over, leaving Nicole quite exhausted as she could not help but to wonder as to how she should grade the fifth applicant. 'Reject or Accept?' she kept wondering over and over in her mind, making Nicole sick to her stomach as to making such a decision, especially as the young attractive blond female had come in at the top candidate for an internship that day. Calling it a day and going up to her room, the thought of having dinner with the handsome young Marcus Jones excited her some, but it was really just to keep her mind off her recent discovery and turmoil. Last night had been one where she had dressed rather demurely as she had planned on dining alone, but as tonight was different, perhaps it being a female thing that Nicole wanted her hair to look perfect and she went to the closet to pick out an elegant dress to wear for the evening.
A glass of wine for each of them, appetizers followed by a nice pleasant dinner together, it was then that Rashad came strolling on by and looking surprised as he stopped to greet them "Oh, my favorite two guests at the Star has graced us with their presence here tonight!" First extending his hand to Nicole, greeting her with a handshake Rashad advised "It is so nice of you to join us tonight!" And then extending his hand to Marcus, Rashad exclaimed "My friend, it's been a while since I have seen you! It is a pleasure to have you at the Star once again!" Before leaving the booth, Rashad advised that "I will see that your drinks are refreshed and they are on me!" Moments later, with their glasses about empty, the young waiter appeared with two glasses of wine for them. Unbeknownst to Nicole, the young waiter had been specifically instructed by the Assistant Manager of the Star as to which glass of wine was to be given to the woman in the booth. Rashad had been the one pouring the two glasses of wine, but an additional item went into the one to be served to Nicole ......................a tasteless but very potent aphrodisiac that when consumed by a female, it would literally having her climbing walls in need of a good fucking, regardless if her husband was available or not to take care of her, as the nagging itch between her legs would insist on being scratched. Towards the end of dinner and the ordering of dessert, the waiter appeared with yet another glass of wine that was on the house as he had been instructed by Rashad.
With a one glass a night the norm for Nicole, having consumed the second glass that was laced with a potent aphrodisiac, she was clenching her thighs tightly together when the dessert was served. And over dessert and the fun conversation with her handsome dining companion, Nicole then began sipping on her third glass of wine which she had purposely withheld from doing so for the past five minutes. By the time dessert was over, coffee being passed by both of them due to the extra glass of complimentary wine from the restaurant, Nicole was quite tipsy by the time the separate billing was delivered to the table. Sliding out from her side of the booth, Nicole was thankful for the strong arm around her waist for she would have surely fallen if not for Marcus' strong arm around her. Breathing heavily upon entering the elevator, Nicole breathed a sigh of relief in seeing both 15 and 17 lighting up the buttons on which floors the elevator was to stop at. But when the elevator doors closed and the elevator began its upwards journey, thick lips of her handsome dining partner's were upon hers. Thick tongue in her mouth, Nicole then instinctive responded with her hers playfully dallying with the friendly intruder. Then the unthinkable then happened for Nicole as they physically embraced one another as a very intimate kiss took place in the ascending elevator. Never before since exchanging marital vows with her husband had Nicole thought of another man, yet now she was now intimately kissing a handsome young black man some ten years her junior.
Upon hearing the 'ding' of the elevator announcing the arrival of the 15th Floor destination, Nicole straightened herself up to step out of the elevator. But in her tipsy condition, Nicole staggered and sway, making her quite thankful for the strong arm around her waist to steady her and prevent her from falling. "I'm sorry! Thank you so much! I guess that last glass of wine really did me in!" Nicole commented. "No problem, my fair lady! Marcus is only too glad to be of assistance to a pretty lady like you!" her dining companion replied. As they got to her door, Nicole began fumbling with her purse to retrieve her cardkey, then allowed Marcus to take it from her to find it as she was too tipsy to do so. Door opened, Nicole began to turn to enter her hotel room when she was stopped by her handsome companion as another intimate kiss ensued. From then Nicole was unaware of being slowly guided into the room, hotel door closed shut by her companion, and then thick experienced fingers began unhooking the clasp at the back of her dress. Some rationality seemed to come from out of no where as Nicole began to push against her handsome companion, panting out that "I'm married, Marcus ........................and so are you! We can't ........................we just can't!" But then his thick lips were upon hers once again for the commencement of another very intimate kiss with tongues twirling against one another.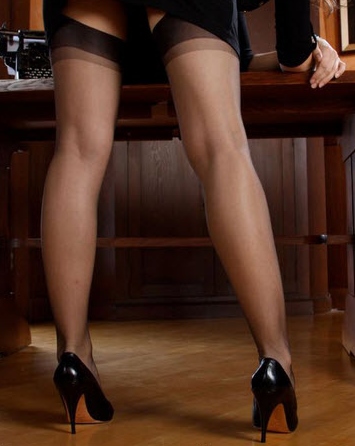 With her being so tipsy and out of it, her vision was rather hazy and Nicole did not observe the new objects that had been placed about the room .............mini camcorders that became activated upon any type of movement in the room! All angles of the room would be covered by the four camcorders, all of which were focused upon the large king-sized bed in the room and to capture any activity taking place upon it. While she was wining and dining in the restaurant downstairs, Rashad had used his passkey to gain entry into the room and had set up the camcorders to capture the seduction of the blond bitch by the stud he had hired to get the goods on the fuck'n bitch. One added item was the camera set up to send a direct feed downstairs to Rashad's computer, so he could watch the beauty's seduction take place right before his eyes. As he had explained to Marcus, Rashad wanted the handsome hunk to seduce the fuck'n bitch and every which way possible so he could capture it all on video .....................eating her cunt out till she orgasms, then fuck her with her legs up on his shoulders/wrapped around his waist, doggie style, her riding him, etc. With the so-called faithful wife who's husband was back in London, she certainly did not appear to be so faithful anymore, not in the way her arms were around the handsome young stud in her bedroom as they kissed intimately once again. Seeing the smooth ivory skin being reveal as deft hands got the zipper of her dress down her back, Rashad had his boner growing as he cheered Marcus on with "Okay, bud .............................strip down to her undergarments ......................get in bed like I's told you ............................then use the scissors under the edge of the bed like I's told ya and snip off the strings of her bikini panties .................................then go down and eat the bitch out good!"
Dress unzipped and bunched at her waist, lacy black bra unhooked and pushed over her shoulders to now lie upon the carpeting, Nicole flung her head back as the handsome black stud took a nipple into his mouth to suckle upon it. Her arms went up to cradle his head as he now took her other nipple into his mouth. "Ohhhhh .........................oh, Marcus ........................oh, it feels so good ...............but ................we need to stop ..............before it goes too far! Oh, God ..................we need to stop .....................we're both married .....................and we're going too far! Ohhhhhhhhhhhhhh! Ohhhhhhhhhh! Ohhhh, my Godddddddddd! Ahhhhhhhhhhhh!" Nicole mewled out with pleasure as the sucking of her nipples did not let up and now the handsome stud was clamping teeth down upon the sensitive bud ............slowly biting down upon it! "Ahhhhh ...................ahhhhh .................ahhhh ..................nnnnnnnnnnnn!" she shivered. Swooning at that point, Nicole was unaware of the stud working her dress down over her hips and letting the garment fall to the carpet around her black heels. Other nipple being bitten now, her dress in a puddle around her heels, all Nicole could think about at that instant was 'how nice it felt to have her sensitive nipples sucked upon once again'. And then the young stud was using the tip of his tongue to flick upon her sensitive pinkies, causing her to shiver and swoon with pleasure. Arms going up to cradle his head, Nicole sucked in her breath as the handsome young stud captured a sensitive pink nipple between his teeth. And then he was moving his head over to pay homage to it's twin peak.
Eyes glued to the monitor as he looked at the live feed coming from 1505, Rashad watched as Marcus held the tall blond beauty by the arm so she wouldn't fall over with the dress puddled around her ankles. Then out came her right foot from from the pile, followed by her left heel and now the handsome black stud was guiding the prim and proper English bitch over to the large king-sized bed. 'Ya went and did it, my man! Jist the way I's wanted ya to git the bitch on the bed .............................don't forget the small scissors under the bed ................................snip those strings of her bikini panties .....................then bare that pussy of hers ......................bare that pussy for the cameras ......................then eat that snatch of hers out till she fuck'n creams in yer mouth! Okay, now just go with the plan we laid out earlier .....................get the bitch in the middle of the bed and and in the right position for the cameras to get it all ...................then go down on her fuck'n snatch! C'mon buddy .........................do your thing ................make the bitch scream and juice in yer mouth!' he cheered Marcus on. 'Perfect ..............just perfect!' Rashad panted in seeing the beauty's long nylon sheathed legs and heels waving up in the air as Marcus was pushing her legs up at the back of her knees in preparation to go down on the bitch! From the movement of the stud's cheeks and lips, it appeared to Rashad that the stud was blowing his hot breath upon the golden curls and her sex. "What .........................what are you doing? No ...............no ..............you mustn't do that ...............no, Marcus, noooooooooooo .......................no! Oh, my God! Oh, my Godddddddddddddddddddddddddddddd! Ahhhhhhhhhhhhhhhhhhhh!" he heard the bitch stammer out as Marcus clamped his hot mouth down upon her sex and proceeded to eat her out.
In seeing the wild response upon the bed, Rashad could only conclude that the prim and proper English lass had never before in her life had a guy going down to eat out her cunt. Rashad was in awe in seeing the long nylon sheathed legs bent at the knees, the spikes of her 4" black heels pushing down upon the mattress as she arched her hips up to feed her snatch to black lover, her head tossing in disbelief from side-to-side and causing her long silky blond hair to whip about wildly. Indeed, Rashad's assumption in observing Mrs. Nicole Lexcombe's wild contortions upon the bed was quite a correct one as she had never before experienced such a sex act and she was now coating that flicking tongue with her sweet honey nectar. "Oh, God ......................oh, God ...................oh, God ......................oh, God ...................oh, God ......................oh, God ...................oh, God ......................oh, God ...................oh, God! Oh, my God ..............................nnnnnnnnnnnnnnn .........................I ................................I'm there ...............................I'm thereeeeeeeeeeeeeeeeeeeee ...............................I'm cumminggggggggggggggggggggggggggggggggggggggggggggggggggggg!" came the loud shrieking scream as the beautiful English bitch got her very first mind-shattering orgasm from having her snatch being eaten out. Suddenly her long nylon sheathed legs and the rest of her body went totally limp like that of a rag doll. From between her legs came the wide smile on the ebony face of her handsome young lover, with lips and chin glistening from the bitch's sweet honey. Rashad chuckled in triumph, think 'Got ya, bitch! Just that fuck'n scene alone outta have ya thinking twice about snooping any further about those former interns going missing! Don't think yer gonna continue, not at the risk of hubby being sent pictures and even a complete video of you and yer young black lover! Hubby sees that and there will be no denying that it's you getting eaten! out'
Seeing Marcus getting up from the bed, Rashad could see that one of the camcorders was not quite in line to capture the scene properly. Quickly Rashad sent a text to Marcus' cell phone, feeling relieved that the buzz going off in the pants around his feet had been heard and that Marcus was bending over to get the message. 'Cam off to lf not in line. Move 1 ft over to lf. Ras' was the text message that he observed Marcus reading and understood as he could see the black stud turn to his left and go to move the mini camcorder over as instructed. That done, Rashad then tried to mentally communicate his thoughts to the 15th Floor, wanting to remind Marcus 'Like we discussed earlier! Get closer to one of the camcorders to capture the scene of you shucking that big black cock of yours till it's nice and big .................jutting straight on out! And then get on the bed and give it to that fuck'n English bitch good and hard .......................real good and hard! But be sure to on each camera angle ..................wanna have it all captured on video ......................getting your black monster slicing up into her tight little slit!' As if his thoughts had transmitted, Rashad smiled as he observed the stud turn to look towards each camcorder while shucking at his ebony fuckstick, till when his hand released it .......................it jutted out from his ebony loins some 12" long and stiff as a fuck'n bone!
Rashad watched as the English beauty seemed rather out of it at the moment while her stud lover had her sexy legs and heels up in the air, being held at the ankles by a large hand, all while her lover's free hand was guiding his thick cockhead up and down her pink slit. It was a moment later, with the pink slit beginning to flower open at the nudging of the fleshy bonehead pressing up against it did the prim and proper beauty snap out of her climatic stupor. Rashad watched as the prone beauty suddenly pushed up onto her elbows so she could see as to what was taking place, and then it appeared that she took it all in and came to realize the potential consequences of such an adulterous mating. "Noooo ............................Marcus, no ............................noooo ....................not without protection ......................not without a condom! You can't .........................you can't .....................you'll get me pregnant! Please ...................please .......................not with out a condom ..................you'll get me pregnant ..................I can't have your baby!" the frightened beauty panted out in fear. One thing Rashad knew would surely not happen was that Marcus wasn't going to be pulling on out of her and would indeed be popping his hot seed into the English bitch. If he didn't then Marcus wouldn't be earning a fuck'n dime for what he had been hired to do, thus Rashad was quite intrigued as to how the talented stud planned on playing this out. 'Bitch ................if'n Marcus doesn't get ya knocked up tonight ............................I's gonna be next up in line this weekend ......................then from there on it'll be at least a paying 'John' dumping his cum in ya every fuck'n night from then on!' Rashad swore under his breath.
"I don't have one! Hadn't even thought I'd get lucky tonight! You got one here?" Rashad heard Marcus ask of the desperate and panicked beauty. "No .................no, I don't have one!" the bitch spat out while having her arms outstretched towards her young black lover in an attempt to keep him from penetrating her any further. Rashad laughed aloud when Marcus came back with "Don't worry ................I'll pull out in time ................I promise you!" "You promise ........................you promise?" Rashad heard the stupid bitch repeat as she then let her outreached hand come back down to rest on her elbows as she continued to watch as her black lover leaned forward to spear his ebony bone deeper into her parting slit. "Oh, Marcus ..............................oh, Marcus .............................oh, yes ...........................oh, so big .......................so nice and biggggggggg ............................oh, so good ...........................so gooddddddddddd!" he heard the English bitch swoon and watched as she threw her head back and fall back onto the bed, her head hitting the pillow as her black lover thrust his proud animal into her. Rashad laughed, then cheered "Fuck her ..................fuck her, stud ......................give it to her good ................pound the fuck'n bitch! Make sure you cum in her ...........................gotta git her worried ........................worried about being 'knocked up' with a little black bastard!" "My, Godddd ........................so big .................so long and big ...........................ohhhh, give it to me ............................screw me .....................screw me gooddddddddddd!" Rashad heard her desperately pant out.
For Marcus Jones, this was one gig that he was really enjoying, lobster every night and getting into the panties of this beautiful English bitch ....................plus getting twenty-five hundred bucks on top of that! "Oh, baby .................ya's got one hot little snapping pussy ......................damn, so fuck'n tight, jist the ways I's like it! Oh, yeah sweetie ...................yeah, that's it .................that's it, wrap those long sexy legs around me like that ...................oh, yeahhhhhhhhhh .......................those nylons wrapped around my ass feels so fuck'n good!" he panted out as he humped at the English beauty. 'Jesus, that stuff Rashad gave her has this very prim and proper English babe climbing the fuck'n walls and just begging for a good fucking!' Marcus chuckled to himself as he slid his big black baby-maker right up into the bitch, then ground his short kinky hairs into her fluffy blond nest, loving to hear her mewl out "Ohhhhhh, Marcussssssssssssssssssss ..........................oh, yesssssssssssssssss .............................ohhhhh, sooooooo goodddddddddddddddd ................................sooooooooooo gooddddddddddddddddd!" Feeling the long sexy legs tightening even more around him, he smiled in knowing that she'd never want him pulling on out at this point. "Ohhhhhhh, Mrs. Lexcombe .............................ohhhh, sweetie .........................you're so fuck'n tight .........................tighter than even some virgins! Ya ain't had it in a while, that's fer fuck'n sure .....................either that or hubby's got himself one small little pecker!" Marcus gloated loudly, mainly for the video recording, as he withdrew his cock till only the bloated head remained enveloped before sliding right back down into the withering beauty.
Feeling her long sexy legs wrapped tightly around his ass, Marcus lifted his body up some from hers and then observed her arms coming up as the hot little bitch began thumbing her own nipples. Marcus chuckled as it was quite obvious the drug that had been slipped into her drink must have been quite a potent one to have the prim and proper bitch playing with herself like this, and he slowly fed his lengthy dong back into her hot snapping pussy. As he skewered back down into her, Marcus felt her hands grasping first at his biceps then felt her sharp nails upon his back as she wanted his big cock to remain in her, not wanting him pulling too far out of her on his next withdrawal. With nice slow easy strokes up into the English bitch, Marcus felt her long nylon sheathed legs tightened their wrapping grip around his ass as her fingernails dug into his back, then heard her pant out "Fuck me......................fuck me .....................................oh, Marcus, fuck meeeeeeeeeeeeeeeee! Ohhhhh, yesssssssssss .........................deeper .............................deeper ...........................oh, God, it's so bigggggggggggg .......................oh, so biggggggggggggggggg ..................................so fuck'n biggggggggggggggg ....................................so damn gooddddddddddddddd!"
Delirious from the potent sexual stimulant, with only the need to satisfy that nagging itch between her legs on her mind, Nicole squeezed her legs tighter each time she arched up her hips to get his big dick deeper into her. Never before had she ever had a cock so big, long, nor talented up her horny twat ever before. For that matter, never before had Nicole ever had another male's manhood up her pussy other than that of her husband's, to whom she had surrendered her virginity to on their wedding night some sixteen years earlier. This younger man, this handsome black man, sure had a much bigger and longer cock between his legs than that of her husband. And one thing was for sure ..........................the black bastard sure knew how to use the tool he was blessed with! Clutching at her younger lover who was right in the groove of scratching that nagging itch between her legs, Nicole panted out "Oh, God, yesssssssssssssss ........................................oh, fuck me .....................................fuck me, Marcus ............................fuck me ..................................fuck me gooddddddddddddd!" As the fuck turned into a wild coupling, Nicole was soaring off into 7th heaven when suddenly everything came to a dead standstill.
Though totally in control of himself at that instant, Marcus purposely played the beautiful bitch, watching for the reaction to come from the stunned beauty from his sudden stopping within her. The unbelievable look on the English beauty's face told it all as she couldn't believe that he had actually stopped mid-stroke in her tightly gripping pussy as she panted out to him "Why? Why are you stopping? Please ...........................please ..................don't stop .......................I'm so close .............................so close!" Feigning disappointment in his face and voice, Marcus held himself perfectly still as he groaned out to her that "Ah, sweetie ........................I gotta keep still .......................I promised you I'd pull out before cumming .................................got to get it under control ............................can't move or I'm gonna pop off in ya!" Feeling her nails digging into his back and her leg-tie trying to pull him deeper into her, Marcus knew that she was needing the fuck so bad at this point that she'd forego the precaution of having him pull on out before cumming in her fertile womb. "No .................no .....................don't stop ...................keep going ..................keep going! Please ......................please keep on fucking meeeeeeee!" came the desperate panting of the now frantic English woman, just as Marcus suspected would happen with the potent aphrodisiac that had been slipped into her drinks.
"Ohhh, but sweetie ...................I'm going to cum in you if I do!" Marcus played on. Feeling her legs tighten and pull at him once again, she then broke down totally as she begged him "I don't care .............................I don't care .......................cum in me ........................cum in me ...........................just keep on fucking meeeeeeeeeee!" At this stage, Marcus needed to the fuck as much as she did after having held his throbbing hardon still within her tight confines for quite some time in order to break her completely. Now with that accomplished, and to earn the bucks from the job he had been hired to do, Marcus fully intended on earning that money and to enjoy the pleasure of spewing his hot potent cum into the fertile womb of the once faithful English bitch. After all that time in keeping his cock absolutely still in the withering bitch, Marcus now went at her with gusto, pumping away at jackhammer speed. Moments later, the English lady would not be considered a lady at all as she screamed out "Yes ......................oh, yesssssssssssssssssss ...................................fuck me ...........................fuck meeeeeeeeeeeeeeee! Shoot it ......................................shoot it in me ................................shoot your hot cum in meeeeeeeeeeeee!" Grinning widely in triumph, Marcus arched his back up as he buried all 12" inch of his fat ebony dong up into the English beauty, then let the dam burst "Ahhhhhhhhhhhhhhhh ............................ahhhhhhh ...............................oh, yeahhhhhhhhhhhhhhhhhhhhhhhhhhhhhhhhh!" Spurt after spurt of his hot roe went blasting up into the bitch's fertile womb, and only time would tell of the consequences of this illicit mating.
Resting upon and still embedded in the now limp beauty whose legs had fallen off to the sides of him and her hands rested on his back, Marcus then remembered the instruction that Rashad had given to him, that of making sure the camera was at the right angle to capture him slowing pulling out of her slit in hopes that there'd be a lot cum oozing out of her well-fucked twat. Lifting up some, feeling the limp hands on his back fall off to the sides, Marcus saw the camera would right in line of her twat if he turned to his left and pulled on out in that direction. First he pushed her left knee up and planted her foot flat on the mattress, then Marcus leaned towards his left to slowly begin pulling his deeply embedded cock out from the still gripping cunny. Just as he had hoped for, out plopped a fat blob of gooey cum when his cockhead made its exit before her slit closed up to stop the gooey flow. Wanting more, turning to the camera with a devious smile on his face, Marcus turned back to the swoon beauty. Showing his middle figure to the camera, Marcus then aimed it like a slow moving missile with the pink slit as its target. Easily scoring a bulls eye with his pointed finger disappearing complete up to its knuckle, then the camera captured his hand movements to indicate that he was working his finger about inside. And when he suddenly pulled his away, thick streams of cum came out in short spurts plopping onto the bed sheet in little puddles.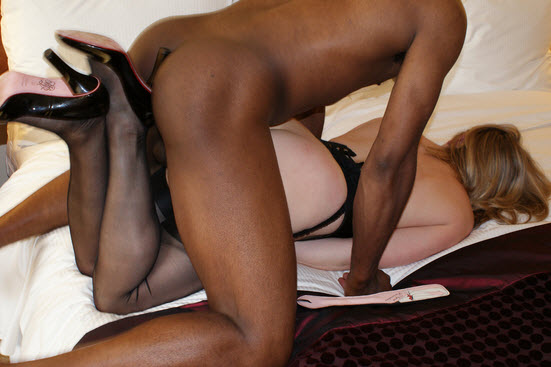 It was some twenty minutes later that a dozing Nicole was stirred awake by strong calloused hands of her black lover pushing her over onto her belly, then felt him pulling her up at her, adjusting her body till she was on all fours. Nicole heard then felt his movement behind of her as he shuffled up into position. "Ooooooooooooooooooohhhhhh!" she swooned as the pleasure giving shaft was once again being fitted up against her slit and the pulsating head was once again enveloped by her clenching quim. "Oh, Goddddddddddd! Oh, Goddddddddddd .............................yesssssssssss ...........................oh, Godddddddddd!" Nicole panted out as the big prick slid some six inches up into her pulsating snatch. Never before had Nicole ever been made love too twice in one evening, and all she could do was to suck in her breath as she sighed with pleasure as she squeezed her cunny around the thick pulsating boner that continued to slice deeper up into her. And as her handsome black lover began humping in and out of her, going into the hilt as she could feel his short kinky hairs rubbing up around her butt, Nicole would slide her butt back into each of his trust to get it fully into her. "You like that, sweetie? Jist like the doggies, huh ..............ya like it like this? Ya like me fucking you like a bitch, huh?" she heard him ask from behind. "Oh, Marcus ..................................yes ...........................yes ................................fuck me ...............................fuck me like the bitch I really am!" she responded.
"Oh, my Godddddddddddddddd ......................................ohhhhh, Goddddddddddddddddddddddddd ...........................................oh, Jesusssssssssssssssssssssss!" Nicole panted out from the unbelievable sensations of pleasure derived from being fucked in such a manner for the very first time. Then large calloused hands were grasping at her hanging titties and they were then being used to keep her in place as her black lover buffeted her from behind, milking her tits at the same time. Faster and faster the big long dong was frigging in and out of her, with ten full inches pulled out of her clasping slit each time till just the bloated helmet remained enveloped within her. "Oh, Godddddd ............................oh, my Godddddddddddddddddddd .................................................ahhhhhhhhhhh .............................ahhhhhhhhhhhh .................................ahhhhhhhhhhhhhhh .................................oooooooooooooooohhhhhhhhhhhhhhhhhhh!" she whined, going right over the edge, then collapsing face forward into the pillow. Face in the pillow and both shoulders on the mattress, Nicole's mind now in never-never land, all while her black lover labored behind of her and about to pop another load of his hot baby batter up into her fertile womb. Calloused hands now grasping her trim hips as he handsome back lover banged away at her, his pelvis bumping up against her butt each time his 12" boner slammed its way up into her now very juicy twat, then Nicole's petite body shuddered in its entirety when the throbbing cock suddenly burst and filled her womb with hot burning cum.
With his head resting on the English beauty's back, Marcus held her kneeling steady on the bed with his cock twitching out the final remnants of his sticky jizz into her still clasping twat. Glancing over his shoulder to see that the camera was properly angled, Marcus once again would need to pull on out while moving to his left side a bit. With her cunny filled to the brim, out plopped two huge blobs of cum when he pulled his dick out of her well-fucked cunt. And the ooze continued to flow out of her widened cunt till a continuous string of goo connected her cunny lips to a puddle beneath her. Reaching on up, putting both hands on her ivory asscheeks with his thumbs near her twat, Marcus then push with his thick thumbs to spread her lips wide apart to cause a thick flow of cum to fall upon the bed. With the camera getting the desired scenes that he had wanted, Marcus then eased the fucked up beauty over so she lay on her side. Sliding out of bed, he then went to the mini-bar and opened it up to find the two glasses of liqueur that had been put there by Rashad. Taking the two shot glasses over to the bed, he cradled the delirious beauty in his left arm and held the shot glass up to her lips. Previously it had been covered with a red foil in the mini-bar, of which Marcus had removed as it was merely to indicate which one was laced with a potent 'roofie', and he fed it to her while telling her "Here, this sweet liqueur will made you feel nice and warm all over!"
Ten minutes later, having taken the elevator up to the 15th floor after having watched the bitch's arm fall limply to the bed after Marcus held it up for a test, it was apparent that the potent 'roofie' had done the job it was intended for. Using his master card key, Rashad entered the English bitch's hotel room and handed the balance of the money due to Marcus plus a nice bonus for getting the fantastic footage of cum oozing out of the bitch's well-fucked twat. As he began getting out of his clothes, Rashad instructed Marcus as to what he wanted of him "Get behind of the bitch and get her in a sitting position! Hold the back of her head steady for me!" Getting all the camcorders around the room and placing them nearby for various angles of the upcoming event, Rashad then began stroking his growing cock once he got out of his clothing. Boner growing in his had, Rashad stepped forward with his limp but growing cock dangling over his pumping fist. Both he and his cohort gave a laugh as Rashad then pistol whipped the English bitch with his sticky black cock. Possessing a lengthy cock that would make any man proud, one just as long as Marcus' but not quite as thick, he then laid the sticky underside on the bitch's beautiful face. "Prim and proper English bitch! Bet ya ain't ever opened those purty lips for a guy's cock! Ya just wait and Rashad will teach you how to give head soon! Want ya all wide awake when I's teach ya how to suck cock ..............................yeah, wanna see the look on your face then, bitch!" And then Rashad stiffened and groaned as his cock lurched in his fist, unleashing an ungodly amount of jizz right into the bitch's beautiful face.
"Ah, yeah ................now that's a fuck'n work of art I's jist created! Damn, gotta make sure I's git me some good shots of this! Sure wanna see the look on her fuck'n face when she gits up in the morning!" Rashad gloated as his boner was now completely drained as he had dumped his entire load on the English bitch's face. Picking up the camera that had transmitted the feed to the monitor down to his office, Rashad looked around as to where he could hide it and be undetected. After putting it up in a ceiling vent, he then began to retrieve the camcorders that he had set up around the room when the bitch had been down at the restaurant having dinner. With Marcus getting dressed, Rashad thanked his friend for having completed his mission in seducing the prim and proper bitch who was about to unravel his entire operation that would probably have him ending up in the slammer if the police got the goods on him. Now with the incriminating evidence of her stepping out on her husband who was still recuperating from his heart condition, Rashad felt that he could breathe comfortably as that would keep the bitch quiet as to her suspicions on the missing gals who had been interns with her company. With camcorders retrieved and having paid Marcus off, they then went downstairs to the bar as it was time to celebrate the successful caper with Rashad springing for drinks.
Nearing 10 a.m. that next morning, with sunlight lighting up the room since the drapes had not been drawn, Nicole began to stir awake. Right eye opening a bit to see that she was in her hotel room but her left eye wouldn't open as it seemingly had been glued shut. Feeling a foreign substance at the corner of her eye, Nicole reached up with her left hand and used her middle finger to scrape away what seem to be a flaky object. Bringing her hand over to her right side so she could view what had she had scraped off from the corner of her left eye, Nicole then used her thumb to rub at the layer of white stuff on her middle finger. Through her right eye, she watched in puzzlement as small white dust-like flakes began to fall towards where her right arm lay on the bed. Puzzled as to what the white flakes were, Nicole could only surmise that she must have been pouring some cream into a cup full of coffee when she somehow got some onto her face as she had indeed been a bit tipsy that night. Lifting her head and turning to look about, Nicole discovered that her handsome black lover had apparently made his departure while she was dead asleep, causing her disappointment as she sighed 'I didn't get to say goodbye before he left!' Using her left hand once again, she put her finger atop her forehead as there appeared to be a substance that had dried and congealed upon her skin. 'Oh, Goddddd ..................what is that stuff?' Nicole wondered as small white flakes rained down upon her from rubbing her fingers together.
Sliding out of bed, Nicole made her way to the bathroom on very shaky legs, making her recall as to 'What a fucking he gave me last night!' At the doorway, steadying herself with a hand on the door frame, Nicole then noticed how her pubic curls were stiff and matted down from the dried juices from their frenzied lovemaking. Touching her matted curls, she then noted that the flakes falling to the carpeting was very similar to what she had observed while lying in bed and rubbing her fingers of the stuff scraped from her face. 'Oh, God ................he wouldn't have? Why would he have done that? He didn't seem that nuts ...............not the type of guy who enjoyed degrading a woman by ejaculating all over her face while she's asleep!' Nicole shuddered, feeling a bit disgusted if he had in fact gone and done that to her. Stepping forward to the wash basin and looking into the mirror above the sink with her good eye, Nicole saw her reflection and gasped aloud 'Oh, my God .........................he did do it before he left! He went and ejaculated off all over my face while I was fast asleep!' Turning on the faucet, cupping her hands to fill it with warm water, she then proceeded to wash her face clean of all the dried semen covering her face.
Having dried her face with a bath towel, Nicole was a bit upset at what Marcus had done to her before departing, feeling quite degraded. But she had to admit that 'He sure was some stud in bed last night! No denying that! I guess I ought to forgive him for giving me a messy facial .................I guess I just never figured him for having any sexual fetishes ........................but maybe that's what turns him on! After all, those orgasms that he fucked me to was just so unreal and fantastic!' Then she thought 'Maybe he hasn't checked out yet? Maybe he's still packing up? If so, at least I can go up and give him a goodby kiss for being such a fantastic lover!' Going to the phone, she dialed the operator and asked to be connected to Mr. Jones on he 17th Floor. Puzzled at the response she got with the desk clerk asking if she knew what room he was in, Nicole responded with "I'm not sure as to the exact room number but the room should be under Mr. Marcus Jones on the 17th Floor!" Nicole listened and was puzzled upon hearing the desk clerk come back with "I'm sorry, ma'am but there's no Marcus Jones registered here at the hotel! There are several other rooms with the last name Jones but none are on the 17th Floor!" At that point, Nicole merely concluded that Marcus must have just recently checked out of he hotel and the hotel's computer was still catching up as to the change in status of guests checking out that morning.
Taking a hot shower, knowing she must reek of raw sex after that fantastic night, Nicole figured that she had better wash her hair also after having detected some white splotches with patches of her hair seemingly glued together when she had earlier looked at herself in the mirror. But in the shower while soaping down and washing her matted curls, Nicole realized that soap and water would be of no use to wash herself clean where it counted the most, also realizing that a douche might be useless at this point in time, not after so many hours having passed since her handsome black lover had first ejaculated is hot creamy seed up into her. Still, she had to attempt give that precaution a try as it would be foolish of her not to, thus she decided to go the drugstore a couple of blocks to the north once she got dressed. 'Yes, that's the first priority for me today and once I get back I'll again go over all that have been uncovered on those missing ex-interns!' she decided while using her fingers to get some clean water up into her rather slimy slit, then she trembled with guilt thinking 'How could I have let it go that far? I've violated the marital vows that I swore would never be broken to Paul ............................but now I've become an adulteress! And to be seduced by a handsome black man, letting him have sex with me ..........................unprotected sex! What if I get pregnant? Pregnant with a black baby ......................how shameful ......................so disgraceful!'
Once having showered, rushing down to the nearest drug store for some potent douche, Nicole spent the rest of her Saturday going over the files and trying to decide as to what should be done to prevent any further losses of beautiful and bright interns to what seemed like some white slavery operation. Late Sunday morning after having tossed about all evening, she picked up the telephone and asked the operator to connect her to the nearest police station. Once connected to the desk sergeant, Nicole inquired if any detectives were on duty over the weekend as she wanted to come down and make a report on what she believed to be some criminal activities going on within her company. Learning that there were two detectives on duty over the weekend and that she was more than welcome to come in and talk to one of them, Nicole got the address and said that she'd take a taxi right over. Hanging up, Nicole then proceeded to obtain a nice business like outfit to go to the police station as she'd be representing her company officially in making the report that contained nothing solid to go on other than circumstantial evidence. Breathing a sigh of relief, thankful that she could make the report on a Sunday and not have to do it during business hours, she then began undressing to get into a nice business attire - totally unaware that eyes and ears had just learned of what her plans were.
Having watched the bitch on his monitor and hearing her call that was made to the police station, Rashad knew that he had to make his move right away and prevent his nice profitable operation from having its cover blown. Although it was only circumstantial evidence, the overwhelming circumstances of the three former interns that had gone missing from different parts of the country would certainly arouse the suspicions of the trained and experienced detectives, especially with all three having worked for the same company as interns before they disappeared. Telling his assistant that he wasn't feeling well and would be going home for the day, Rashad got the envelope from his desk drawer then exited his office. But instead of heading out of the hotel, Rashad made his way directly to the elevators and pushed the button for the 15th Floor. Making a beeline from the lobby of the 15th floor to the bitch's hotel suite he pressed the buzzer as well as knocked upon the door. "Who it is?" came the feminine voice from inside the unit. Rashad identified himself, adding in that "I have looked further into the former interns from your company and have uncovered some very discerning factors that seem to connect them all after leaving your company!" Hearing the door chain being removed and door being unlocked, Rashad smiled as his boner gave a twitch of excitement.
Invited into her hotel room, door closing and automatically locking behind them, Rashad proceeded over to the sofa in the living room area. Turning to face the nicely dressed beauty in her business like outfit, black stockings and heels, Rashad felt the head between his legs pulsating and swelling in anticipation of what was to come. When the English bitch inquired as to what information he had come up with and saying "I was just about to go to the police station and ask for them to looking into this!", Rashad held up the brown envelope in his hand, then advised "Actually, I came to try and discourage you from doing so! Just think of the bad publicity this can bring to both your company and this hotel! Maybe you should wait till you have something more than what the call 'circumstantial evidence'!" With her shaking her head 'no' and saying that she just had to go to the police just in case her hunch was correct, thus protecting one or more future young interns, Rashad then held out the envelope in his hand and advised "Well, why don't you look at these! Perhaps they will persuade you from going to the police that might bring bad publicity! Take a look at what I have and you may then change your mind as you do have something very personal at stake if you do go to the police!"
Opening the clasp on the back of the envelope, Nicole saw the bottom of what appeared to be large photographs contained in the envelope, then pulled them on out. Looking at the top photograph, then the second and the one below, Nicole uttered out loudly "Oh, my God! Oh, my Goddddddddd! Where .......................where ................how ...........................how did you get these?" The top photograph was that of her kissing her handsome black lover in the elevator, with the second showing her naked in bed with her younger lover, the third with her arms around her lover's neck and with her nylon sheathed legs wrapped around his black ass while they made love together. Nicole then felt a shiver of fear course down her spine upon looking up at the leering assistant hotel manger who had just handed her quite incriminating evidence of her one night of indiscretion and adultery. Swallowing deeply, Nicole panted "What ......................what do you want for these .......................these photographs?" Heart thumping in her chest, she then heard the dreaded "If'n ya don't want that hubby of yers getting a copy in the mail, ya'll fergit about going to the fuck'n cops and making that fuck'n report! Ya go to the cops and yer fuck'n hubby will git these by express delivery in a couple of days! And I's heard that yer trusting hubby has a heart condition, so's I's jist wonder how his weak heart will hold up seeing his wife getting fucked by a big black buck!"
Seeing the shock register on the stunned beauty's face, Rashad then sneered at the trembling bitch "So's should I go downstairs and git that other set of photos packaged up in an express envelope to send to your husband? Or are you going to keep quiet about all this and not go making a report to the cops?" Seeing her shaking her head 'no', Rashad then had her clarify "Do you want me to send these to your hubby?" He smiled in seeing the tears in her eyes as she shook her head 'no'. "You going to keep yer mouth shut and not go to the cops!" he inquired. Seeing her hesitate a few seconds, obviously trying to think of her options and finding none, she then nodded 'yes' that she would going to keep quiet about her findings and not go to the police. Seeing that they were now on the same page, Rashad advised "Now that we both are in total agreement as to what should or should not be done, let's seal the deal between us ...........................making sure there's no changing of yer fuck'n mind!" Seeing her eyes widen, Rashad sneered out "Git on yer fuck'n knees and say a prayer, bitch!" He then saw her blinking back the tears as she slowly bent her knees and knelt upon the carpet, then got the surprise of his life as her arms lifted and she clasped her hands together to beg of him "Please .................please don't send those horrid pictures to my husband! It'll ..................it'll kill him! Please ................I beg of you!"
Rashad couldn't fuck'n believe it as the dumb bitch was actual on her knees begging and holding her clenched hands together as if she was actually praying to him. Reaching forward and grasping her wrists in his hands, he then stepped forward and pulled her hands to the front of his pants, telling her "You gotta be fuck'n dumb, bitch! Only time a guy wants a broad to get down on her fuck'n knees ........................is fer her to unzip his pants and pull his fuck'n cock out! Got that, bitch? Now, I'm gonna count to five and ya had better git my zipper down by then or hubby's gonna git a set of the pics early this week! ONE --- TWO ---THREE ---FOU..! Atta way, sweetie ..............now reach yer hand on in to see the surprise Rashad's got fer ya!" Seconds later, with hands hips Rashad sucked in his breath at the feel of the bitch's warm hand his pulsating dick as she worked on getting it out of his pants. He chuckled in seeing that the prim and proper bitch had her eyes closed shut and head turned to the side as she forced herself the task demanded of her. As the dumb bitch merely held onto his pulsating dick once she got it out of the opening, Rashad growled "Stroke it, bitch! Pump it! Gimme a good hand job!" 'Damn, this fuck'n bitch can't even stand to see herself shucking cock!' he chuckled to himself, then added to his thoughts 'Jist ya wait, sweetie ......................yer gonna git yerself a real tasty treat soon!'
Cringing with disgust as she handled her blackmailer's filthy manhood, Nicole told herself that she had to do it in order to please the bastard as she just could not have him sending a copy of the incriminating photos to her husband. Fingers of her right hand closed around the thick fleshy bone as she began pumping it, her left hand open and on the pants of the bastard's right thigh, Nicole shuddered as she heard him from above ordering her to "Use that other hand of yers to reach in and fondle my nuts, bitch!" Swallowing deeply with eyes still closed shut, she then moved her left hand towards the opening of his pants. Once her fingers touched the open zipper, Nicole forced herself to reach into the bastard's pants in search of his vile testicles to perform the dreaded task being demanded of her. Gritting her teeth in disgust, a shiver shook her body as her fingertips made contact with the wrinkled skin of the sac containing the bastard's testicles. Sticky flesh in the palm of her hand, Nicole shuddered as she forced herself to close her manicured fingers around the bastard's 'balls' and then proceeded to roll the walnut sized testicles in the palm of her hand. "Ahhh, yeah .....................oh, that's it, sweetie ...........................ahhhhhhhhhhhh!" she heard the groan of pleasure from above.
Minutes later, with his balls being fondled and the shucking having sped up to a faster pace now, Rashad smiled in seeing that the bitch was now determined to 'get things over with'. Chuckling to himself in seeing the cringing beauty shucking at him while still having her head turned away with eyes tightly closed shut, he sucked in his breath while wondering 'Will she be able to keep it down when I's cum in her fuck'n mouth? Or will she puke her fuck'n guts out?' "Okay, bitch ........................time to git yerself a taste of the chocolate popsicle I's got fer ya!" he demanded of her. Seeing the bitch's eyes open widely in horror as she gasped at what was being demanded of her, Rashad was not surprised at all when she blurted out "No ...............no, please .....................please don't make me do that! Please .................please ...............I've never ........................I've never done such a filthy thing like that!" Reaching out with his left hand to cup the back of her head, he then used his right hand to pull her hand from out of his pants, then pried open her clenched fingers off his pulsating cock. With both hands now at the back of her head and pulling the reluctant bitch towards him, Rashad laughed as his bloated cockhead brushed up against her cheek just as it was about to touch her beautiful pink lips. "Fuck'n bitch ..............open those lips of yers or hubby gits them fuck'n pictures! ONE ......................TWO ..............................ahhhhhhhhhhhhhhhhhh, yeahhhhhhhhhhhhh! That's it bitch ...........................now such it good!" he groaned while his body shivered with pleasure.
With both her hands pushing at the bastard's hips, trying desperately to prevent him from pushing his filthy black 'thing' deep into her mouth and down into her throat, Nicole shuddered in disgust at the perverted sex act being forced upon her. Mouth watering from the foreign object pumping in her mouth, Nicole could not believe that she was performing such a despicable act, that of taking a man's filthy 'thing' into her mouth ..................worst it was a black man's foul tasting penis! 'My God ...........................it tastes so bad .......................so foul! When was the last time he washed down there?' Nicole shuddered as the saliva began to thicken in her mouth, making it quite obvious that the bastard's foul thing was now leaking in her mouth, and now there was not much more room to take in any more fluid. And as if it was not enough for her at this point, the strong hands at the back of her head and thick fingers entwined in her hair was turning her head a bit to the side, then she heard the bastard laughed out "Say cheese fer the camera, sweetie! Maybe I'll add in a shot of this fer hubby if'n ya don't keep yer side of the bargain!" Blinking back the tears in seeing a mini camcorder recording all this, one that the bastard had put there when she was preoccupied with the contents of the envelope, Nicole felt sick to her stomach as the bastard blackmailing her was now literally fucking her face. It was so hideous and such a vile sex act she was forced to perform that Nicole was ready to throw up all over the place ..................if she could only push the bastard back some to get the big black cudgel plugging her mouth!
The look of absolute disgust on the prim and proper beauty's face made it all that much sweeter for Rashad as he fucked his throbbing bone in and out of her reluctant lips. He felt her hands trying to push him back to get his cock out of her mouth but his grip on the back of her head kept the bitch right in place as she began to sputter and gag on his long dong. Tightening the grip of his entwined fingers in her long silky hair, Rashad then yanked her head back some, made her look up at him as he sneered "Look up at me, bitch! Yer gonna be sucking a lot of cock from here on ......................so ya's gotta learn how to please a 'John' ......................and guys jist love having a beautiful bitch on her knees and sucking his cock! And it makes a 'John' feel reals good when that bitch looks up at him ...............................especially when .........................when he cums in her mouth ............................arghhhhhhhhhhhhhhhhhhhhhhhhhhhhhhhhhhhhhhhhhhh ...............................ahhhhhhhhhh, yeahhhhhhhhhhhhhhhhhhhhhhhhhhhhhhh ....................................yeahhhhhhhhhhh .....................ahhhhhh, Godddddddddddddddd ......................ohhhhhhhhh, yeahhhhhhhhhhhhhhhhh .....................................eat it ................................eat it all, bitchhhhhhhh!" Looking down at the struggling bitch as she tried to pull away from spurting cock, Rashad laughed as his goo filled her mouth to the brim, causing her cheeks to bloat out as she was reluctant to swallow his slimy cum.
Eyes wide with fear as she looked up at her vile tormentor, Nicole pleaded with her terrified eyes for him to 'Please pull your filthy penis out of your mouth so I can breathe and spit out this filthy muck!' But upon seeing the bastard merely laugh at her plight, Nicole shuddered as she was forced to swallow the filth or drown in it as she could not dispose of the slimy goo that continued to ejaculate in her mouth. Once, twice and then a third time she swallowed the bastard's slimy filth, shuddering each time that she did so. At last the entwined fingers in her hair loosened their grip and then the foul cock was slowly being pulled from out of her mouth. Finally able to to breathe in some fresh air, but in doing so that caused her stomach to turn and rebel against the slimy filth that now formed a hot lake in her belly. About to throw up, Nicole scrambled up to her feet with one hand over her mouth and the other on her belly as she made a run to the bathroom before she lost it all. In the bathroom, she knelt on down once again as she quickly lifted up the toilet seat. Head bent over the rim of the toilet, she barfed "Aracccckkkkkkkkkkkkkkkkkkkkkk .................................araccckkkkkkkkkkkkkkkkkkkkkkkk ...................................argggghhhhhkkkkkkkkkkkkkkkkkkkkkk!" Finally done puking, she then reached on up to pull the handle to flush the toilet. Rinsing her mouth and putting water on her face, Nicole then heard her tormentor from the other room call out "Hurry up, bitch ................git yer fuck'n ass back in here! Ya ain't done yet ....................not by a long shot!"
Finally composed enough to force herself to step out of the bathroom and back into the living room area, Nicole observed her blackmailer now slouched down in the sofa, the front of his pants still unzipped and his now long flaccid penis dangling out of the opening. "Okay, sweetie ...............................start undressing fer me .............................gimme a nice slow striptease!" she was told. First she took off her jacket and hung it upon the edge of a chair, then began undoing the buttons of her long sleeve blouse. Blouse removed and draped over her jacket on the chair, only her lacy black bra covered her titties. Undoing the button of her skirt, unzipping it, Nicole let it fall to the floor around her black heels. Looking on up towards her tormentor, heart thumping in fear as she swallowed deeply, she then was told "Now slide yer purty fingers down into that tiny black panties of yers ...............play with yerself .................git it all wet and juicy fer me!" Forcing herself to comply, fingers sliding down into her panties, Nicole closed her eyes in shame as she inserted the tip of her middle finger into slit. After a few minutes of playing with herself and being ordered to continue undressing for the bastard, she slipped off her right heel and kicked it aside, then did the same with her left heel. Leaning back against the nearby table, Nicole then undid a garter holding up the stocking on her right leg, then proceeded on rolling her hose on down. "C'mon, sweetie .................everything ....................every little stitch of it ...................every last bit ........................cause I's jist love a beautiful white bitch git all naked fer me!" she was advised.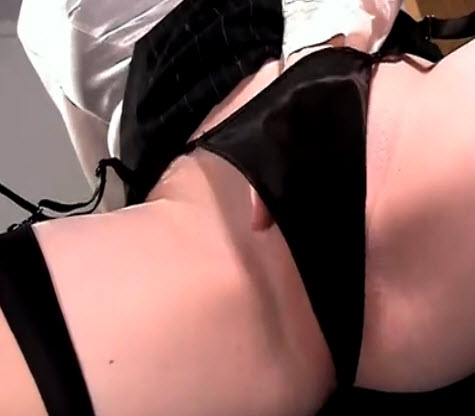 Now totally naked following the removal of her hose, garter belt and panties, Nicole closed her eyes as she lay upon the bed in compliance with the demands made of her ..............that being with "Git up on the bed .......................bring yer knees up and spread'em .........................then start playing with yerself again!" Middle finger of her right hand sliding in and out of her snatch, Nicole brought her left hand up to touch and stimulate her right nipple. Through slitted eyes, she saw her tormentor approaching the bed while pulling off his shirt and then unbuckling his belt. 'Oh, Paul .............please forgive me! I have to do this to protect you from receiving those horrid pictures! I violated our marital vows to one another and must now pay for it! Pay for it by letting this black bastard have sex with me ................even after I took his filthy penis into my mouth and let him do his 'thing' in me!' she shuddered in revulsion as the mattress sank from the added weight coming onto it. Hand pulled away from her snatch, her fingers were once again being molded around the growing piece of fleshy bone. Instinctively shucking at it, Nicole felt it grow and swell in her closed fist, then heard the order for her to "Guide it in fer me, bitch!" Pulling it forward it'll it touch her sex, a large hand then wrapped around her closed fist and she was forced to rub the thick bloated cockhead up and down her sensitive slit. Hand pulled off the bastard's manhood, Nicole then gasped "Ohhhhh, Goddddddddddddddddddddddd!" as the bastard pushed ahead to spear himself into her, burying five thick inches of the thick fleshy bone up into her.
Strong arms were hooked under the back of her knees and pushing her legs further on back, then the black bastard shoved forward to bury another five inches up into her. Suddenly Nicole felt the bastard's large calloused hands being wrapped around the back of her ankles, her legs then being pushed on far over her head till her toes were touching the mattress, her body now folded and bent in two. Unable to move, not even her arms for her shoulders were pinned to the mattress by her knees, and the bastard's big black cock began to piston in and out of her cunny like one would see an oil well going at it for a gusher. In and out, in and out, but Nicole was unable to do anything about it but to cringe in shame as her blackmailer used her body for his pleasure. She prayed that this humiliation would soon come to a quick end, but prayer after prayer went unanswered as the bastard seemed quite content to keep on fucking her at this steady pace, and it seemed that he was well in control of himself to keep it from ever ending. Realizing that this was all being captured on a video, Nicole could only imagine her husband's reaction if this ever got sent to him, how this would definitely bring her marriage to an abrupt end and maybe an end to his life.
The constant friction of the pumping cock was now getting to her, as evidenced by her cunny instinctively responding by squeezing at the thick intruder, and Nicole began trying to arch up each time the thick cock plunged down into her now very squishy cunt. It was a very different kind of oil now bubbling out of this well, that of a slick juicy oil being emitted by this well-fucked cunny. Nicole gritted her teeth as tried to show no emotion, clenching and unclenching her fists, trying desperately to stop her cunny from squeezing upon the bastard's pleasure giving cock. Sobs then wracked her petite body, for instead of ceasing the clenching of her cunny around the thick shaft, it began squeezing even harder and faster upon it. "Ohhhh, STOP ......................STOP ........................STOP ITTTTTTTTTTTT!" she whined out, not at her black fucker but at her traitorous cunny that failed to obey her wishes. But upon hearing her whining, her blackmailer apparently assumed it was meant for him and thus began humping her hard and faster, bringing Nicole that much closer to the edge. And then her whines and pleas were indeed meant for her fucker as she panted out loudly "FUCK ME ........................FUCK ME ........................OH, GODDDDDDDDDDDD .....................................DAMN YOU .........................FUCK ME ........................FUCK ME HARDER, YOU FUCK'N BLACK BASTARDDDDDDDDDDDD!"
Hearing the British bitch now begging for him to give her a good fucking, Rashad knew he had finally broken the prim and proper wife, that she was all his for the taking at this point. Pushing down hard at the back of her ankles to keep her pinned to the bed, Rashad raised up his ass slowly till just his bloated cockhead remained enveloped in her clenching quim, then he commenced to banging her real good and hard at jackhammer speed. "Squish .................squish ................squish .................squish ................squish .................squish ................squish .................squish ................squish.................squish ................squish!" was all that sounded in the room as the black plunger pumped in and out of her juicing pussy. On and on he fucked the bitch, felt her pussy trying its best to snap at his boner, then heard through gritted teeth as she whined "Nnnnnnnnnnnnnnnn ..............................nnnnnnnnnnnnnnnnn ...........................aieeeeeeeeeeeeeeeeeeeeeeeeeeeeeeeeeeeeeeeeeee!" Rashad just laughed upon hearing her whining, that she was having a fuck'n orgasm as he fucked her under threat of blackmail, and he proceeded to hammer at her as he too was now gritting his teeth to keep himself in check and not pop his load prematurely. With her arms pinned at the shoulders, hands struggling to reach out, Rashad the sharp pain of fingernails digging into both thighs as she shuddered in her wild orgasm. Thrusting down, keeping his cock buried to the short hairs, Rashad groaned out as he spurted out his baby batter into her fertile womb.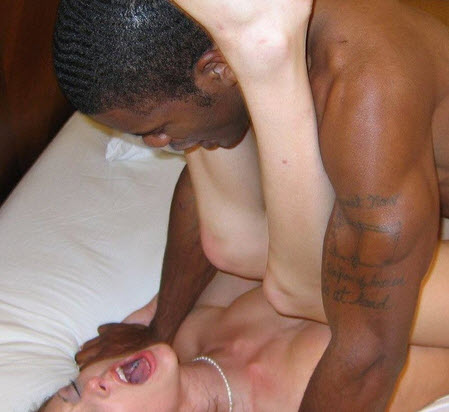 Nearly two hours later, left arm slung over her eyes to blot everything out, Nicole sobbed silently as her entire world had been turned upside down. For the past thirty minutes, her arm had been there to shut everything out of her mind, doing it as the black bastard crawled up onto her body once again to fit his bloated cockhead up to her sex a second time. She had tried to endure having intercourse with the black bastard once again, tried so desperately to show no emotion nor any reaction to being sexed. Holding back the sobs and trying to blink away the tears, Nicole felt so utterly defeated at having her will broken so easily, succumbing shortly after the bastard had begun stroking that long thick cock in and out of her clenching cunny. Wrapping her trim legs around the bastard's wide hips, locking her ankles together to pull him in deeper into her, she had then begun arching up each time the thrust forward deep into her. Worst of all, although gritting her teeth tightly as she was determined not to utter out a sound, she broke down when the bastard stop his fucking with his cock buried half way and he demanded of her "Tell what ya want, bitch! Tell me or I's gonna pull my cock right outta ya!" "Damn you ....................damn you! Do it .....................do it to me .......................fuck me .......................fuck me hard .........................fuck me with your big black cock!" Another mind-shattering orgasm, cunny filled to the brim once again, Nicole then passed out in exhaustion with the black bastard atop of her.
Thinking that the bastard surely wouldn't be able to get it up any more, Nicole watched as he popped a little blue pill into his mouth, then no more that fifteen minutes later she saw the rock solid evidence of how potent the effects could be. Startled by the ringing of the telephone, she looked over at the time and saw that it was already 8 p.m., shuddered in dismay as that was when her husband said that he'd call her. With her blackmailer going to the phone, Nicole pleaded "No .................no ................don't answer it ....................it's my husband!" Her heart sank as the bastard picked up the cordless phone, then sighed in relief as he did not speak into the phone but handed it to her. Heart racing as she tried to compose herself and conduct a normal conversation with her husband, Nicole trembled as the bastard was pushing her over onto the bed, moving and arranging her body till she was on all fours. Gritting her teeth, unable to scramble away as strong hands were grasping her hips to keep her in place, then she felt that familiar fat fleshy bulb once again rubbing up and down her slit. It was so hideous to have sex in such a manner, all while trying to converse in a natural matter with her husband on the phone, one to culminate with the black bastard ejaculating in her just when she told her husband "I love you!"
As if that had not been bad enough to culminate the evening, the bastard took her one more time before departing so she could get her beauty rest, Nicole got herself fucked up in the ass for the very first time ...............sodomized as she shrieked out in absolute pain! But her sick ordeal only came and end after the bastard pulled his spent cock out of her ass ...........................so she could suck it clean for him! Laying there upon the bed in exhaustion, body limp and hurting, Nicole could barely keep her eyes open at that point. Dozing for some twenty minutes or so, Nicole awoke suddenly as she felt so soiled and dirty, wanting and needing to shower herself clean. Pulling herself up on the bed, she shuddered as the stench of raw sex filled the air, then Nicole recalled the bastard telling her something just before departing. "You didn't git to the last photo in the pile, sweetie! Ya gotta take a look at it ..................see the work of art I's created the other night! What a blast that was!" she had been told. Slowly forcing her aching body to go to the table where the pictures lay, she pulled out the last one, then sucked in her breath at what she observed ..................the art work was done by the bastard when she had passed out the other night ................that of ejaculating all over her face! It was him who had done that foul deed to her, the aftermath was what she had observed the next morning, having to scrape off all the dried cum from her face and hair. Nicole then came to realize that it had all been a set up from the start, that the handsome black named Marcus Jones had been a part of it, probably paid by the scheming Assistant Manager to get her in a compromising situation.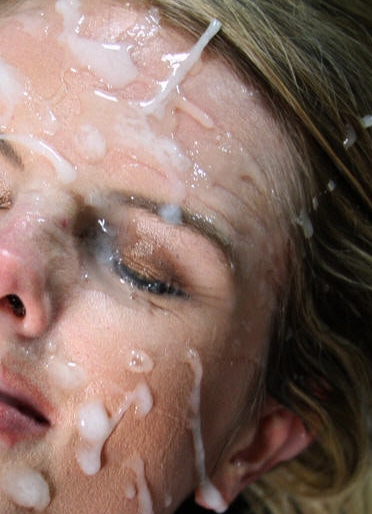 With his loving wife finally transferred back to the London headquarters after some twenty months in New York City, Paul Lexcombe was beaming with happiness as he waited in the baggage claim area of Heathrow International Airport. He strained his neck, looking for a sign of his beautiful wife, anxious to see her once again as it had been some ten months since she managed to get back for a week's vacation. He remembered how exhausted she had been on that vacation, thinking that the job in New York was taking its toll on her, remembering how she seemed to just lay about and rest after an apparently long flight and time change. Paul hoped that she wouldn't be so out of it this time, but if so it'd be just a week or so to regain her stamina and be back to her perky happy self. Unbeknown to hubby Paul, it had not been jet lag nor work that had her so down and depressed that week, there was another reason for her exhaustion and depression -----------one that he would be encountering once again after greeting his wife ------------that being that she had once again just gotten out of the hospital the day before! His wife was thankful for the cold weather as the large overcoat would help hide her body. It was not an illness or virus that she had come down with in needing to go to the hospital to spend a night ...............it was to recuperate after giving birth to a baby each time!
That first baby had been one with a very dark complexion and short kinky black hair on its head, one most probably fathered by Marcus who had seduced her or Rashad who had blackmailed her shortly thereafter, determined as such as it was nearly nine months to the date of her blackmail that she gave birth to a little baby boy ..........a little black baby. As to baby #2, the one born just a couple days earlier, the father was unknown, to remain so as it could be any one of the 'Johns' she had been blackmailed into entertaining after having made that dreadful pact with Rashad Jonese in order to keep those incriminating photographs from being sent to Paul. Having 'entertained' asians, whites, blacks and men from many foreign lands who came for business or pleasure in New York City - there was no telling which 'John' had knocked her on up as rarely did one of them prefer safe sex. From her prone position in the delivery room, Nicole had gotten a glimpse of the baby she had given birth to before it was taken to the nursery before handed over to the adopting parents. Having seen the baby's complexion and strait black hair, Nicole suspected that the baby's father was one of the many Asian 'Johns' that she had serviced, one very plausible due to the hotel being a favorite to businessmen from the Far East.
Prohibited from using any form of birth control or douching out a 'John's' spunk, it was inevitable that Nicole would get knocked up sooner or later, and in both cases it was very soon rather than later. Although she had health coverage from her employer back in London, it would certainly not be wise to use it as the Home Office had someone in the HR Department checking the monthly summary sheets submitted by the medical carrier. Although it was a socialized medical program where there was no cost to an individual, both the government and companies contributed to fund the system, with companies picking their respective share based on what its employees cost the system. But Nicole found herself going to regular doctor appointments with her gynecologist, forced to by Rashad to assure the birth of a healthy baby, with the prospective adopting parents picking up the medical tab as part of the cost they were expected to pay. Only after the birth of the first baby did Nicole come to realize that the bastard Rashad had collected a huge fee from the parents adopting the baby, something he had arranged once he learned that she was pregnant.
Taking a week off after returning to London, Nicole returned to work at the firm's headquarters and was delighted to be awarded the promotion that she had hope would soon be forthcoming. She was proud to be a full Vice President of the firm after having put in so many years and all her time in trying her best to do things in the best interest of the firm. But deep down there was guilt and remorse for what she had turned a blind eye to in New York just to protect her own marriage by doing whatever it took to keep those incriminating photographs from reaching her husband. With the information that she herself had uncovered, along with the report on the six former interns from the investigative firm, there was definitely a linkage between all nine women as all had been lodged at the Star Millennium Hotel. She knew too that Rashad Jonese, the hotel's assistant manager, had to be a part of the reason those particular young women had been targeted, especially with all of them being attractive blond females in their early twenties. That was the only conclusion that seemed logical, for Nicole thought 'Why else would he have gone to such lengths to get me into a compromising situation, then blackmailing me to drop by research into the former interns in exchange for not sending those incriminating photos to Paul?'
Fearing that her husband health would be at risk from the stress such photos would cause, along with the sure crumbling of their marriage, Nicole had dropped her research at that point due to the blackmailing threat to do so. From when that blackmailing threat had been made to her up in the hotel suite, while she was down on her knees to 'pray' with the filthy black cock in her mouth, Nicole had been told that she was to quit looking into why the former interns had left the company. Not only that, but the foul assistant manager of the hotel clearly laid it out for her "I always have male guests approach me to arrange some special entertainment for them! I am quite sure that an elegant English woman would be in much demand to the men coming here to the Star, especially men from foreign country like that of my Ethiopia! But as you must work hard during the weekdays, I shall only send one man up for you to entertain between Sunday and Thursday evenings! But for Friday and Saturday nights, be prepared to spread those long sexy legs out wide for four to five horny bastards! And you are not to insist on them wearing any protection for I will be assuring them that they won't need to bother with such a foolish item!" Nicole had been further instructed that she was never to double lock her and that she would from then on go to bed only wearing her panties, for that would be making it easier for him to slip into her room and knock off a piece when the work eased up at the front desk. Furthermore, a part of the blackmail demand of her was that there would be no going on the pill nor any douching out of a 'John's' slimy seed.
From her seventh month of each pregnancy, Nicole had gotten a reprieve of sorts as to not having spread her legs for a 'John' any longer till the baby came. But still Nicole was to discover that many a 'John' would be willing to pay for her taking it in the mouth and/or unloading his scum right into the face, and with some just happy to made her spread her ass for him. Each baby adopted out to parents wanting a baby had Rashad ending up with twenty-five grand for each adoption with all medical bills taken care of by the adopting parents. After baby #1 was born, Nicole was given a week off from spreading her legs for sex to recuperate fully as had been recommended by the physician. Although now back permanently in London, Nicole still felt nervous and prayed that no one else would look into the reasons why they had lost those interns and the ones that had left subsequent to that. Such might just trigger her blackmailer into thinking that she was behind it all and then carry through with his threat of sending those incriminating photos to her husband. As to how other attractive interns had been seduced or forced into prostitution, or even worse into the white slavery trade, Nicole did not know as she had forced herself not to look into any other intern that left abruptly for fear of the promised retribution. According to the investigative report that had been delivered by courier some four weeks after her hiring the firm, something that she had forgotten all about at the time after having agreed to her blackmailer's terms, Nicole had read the report. All six of the young women that she had them check on were found to be indeed working for the same firm, a firm called Twilight Dreams. But then the description of the business, per the report, was supposedly listed as an advertising agency but not a competitor of her firm, but in fact an escort service that was frequented mainly by Asians and blacks.
That first week back, tired and weary from the flight and having given birth earlier to an 8 lb baby, she was totally drained and so grateful for Paul not asking her for sex. Up in her hotel suite after getting out of the hospital, she was about to take her one suitcase with her for the flight back to London when Rashad appeared up in her room. Of course he expected her to reconfirm that she again would not instigate any investigation into any former intern that left while at the Star in exchange for his promise not to send those pictures of her adulteress activities to her husband. And as before, Nicole had to get down on her knees to seal the deal with the despicable Ethiopian bastard. What differed on this occasion from that of the first, was that she was forced to swallow it all down and kept from going to the bathroom to wash her mouth out. Escorted on down to the lobby and put into the taxi by the black bastard himself, Nicole would not be able to get to the bathroom or a water fountain to wash the foul taste from her mouth for a good forty minutes. But now Nicole felt that she could relax and unwind, try desperately to put the New York ordeal out of her mind completely, and to strengthen the loving relationship with her trusting husband. But Nicole would still feel the guilt, something that would haunt her forever in knowing that she had violated her marital vows ..................that she had cheated on her husband ...................with a handsome young black man! As for the hundreds of others that she had been forced to entertain, that she had been blackmailed into doing, Nicole rationalized that it had been something that she had to do in order to do to keep her husband from having a heart attack from the stress it'd cause!
That second week, though it was not true, Nicole avoided sex by telling her husband that she was having her period at that time, but she knew that she would soon have to relent and give in to his sexual needs. What Nicole feared the most was that her husband would somehow discover that she was not the same, that perhaps her vagina had widened so much from all those other men bigger than him, and that he would come to realize that she was not longer the prim and proper ladylike wife that he had seen going off to work in New York. in closing her eyes at night, trying to think of what it was like when she and her husband had sex nearly two years ago, what would soon replace those images were those of the big black men who had her climbing the walls and of those times of feeling like she was on a rocket ship to the moon when a big cock spurted the hot fuel needed for her to make that trip into outer space. Only now, when away from it all, Nicole had come to realize that there was in fact a few positives in the lives of one working as a prostitute. One such case was that of a fifty year old 'John' who had been a guest at the hotel for business that weekend and had paid for 'entertainment' one night, then had immediately made reservations through her pimp for that second night as he was so pleased with the 'entertainment' she had provided him.
That second night, with that same 'John' being her last customer scheduled for the evening, Nicole came to learn that this was the first time in his twenty-five year marriage to step out on his wife. What got her was when he confessed that aspect along with the reason being "That it's been so hard this past year and a half! I've tried so hard to go without any physical pleasures but I just needed some relief and took advantage of using this business trip to do so!" Stroking his throbbing hardon in her hand at the time, Nicole made small talk and asked as to what's been happening that last year and a half. She could see him blinking back the tears as he told her of his wife being diagnosed with some terminal cancer, that chemotherapy and radiation treatment helped to slow the spread but that his wife continued on a downward slide. Feeling so bad for him, Nicole saw to it that he got a thrill of a lifetime that night. And when he had gotten up to go, she pulled him back into bed with her, telling him to spend the entire night with her before he took his flight back home to his ailing wife. That morning, when he attempted to give her a big tip for her services, she had refused and told him "Use it to help your ailing wife! Last night was my gift to you for taking good care of your loving wife!"
Midway through that third week back, Nicole was unable to concentrate and her hands were trembling some, for all she could think about was get herself fucked good as she missed having a mind-blowing orgasm. Still hesitant to have sex with Paul as yet, but that did not stop her wild imagination and desires, making it all that much more worse for her. Needing to make a two hour drive out to Dover to take care of some 'rush' documents to be signed, Nicole faxed a copy of the signed documents back to corporate headquarters to complete the deal as she could bring in the originals that next business day. About to make that drive back home, she observed men getting off work at the shipyard with a group head across to the nearby pub. Nicole knew that she was far overdress to enter the likes of a pub located right across the shipyard, knew that men would immediately think she was looking to get laid by stepping there ......................but she was indeed in need to get laid! Parking her Jaguar, she then made a call to her husband, telling him that she had to work late in Dover and would get herself a hotel room for the night and head directly into work that next morning. That night till early morning, Nicole got laid real good, gangbanged in fact by the group of five muscular men she had seen entering the pub .....................five big shipbuilding studs ...................five BIG BLACK STUDS from the shipyard to be exact! Mouth, cunt, and ass all stuffed with a big black cock at the same time while she shucked the other two in her fists as Nicole was quite game to experiencing a black gangbanging! It was a first for Nicole that night, taking on all five at once for starters, making that night so fantastic that it would certainly not be the last as she planned on making more trips down to Dover!
End of Story.