Olympic Ordeal II– Swim Team
(m/f, i/r, n/c)
by
Black Demon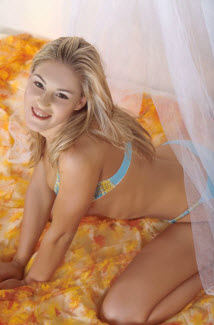 _______________________________________
Standard Disclaimer!
This is a fictional story intended for Adults only!
_______________________________________
Desperate to make the Olympic swim team, Toni Burke knew she was in a fight for the last remaining spot. With the times established for most of the girls, only she and a newcomer had a chance to make the team. Having watched the other girl practice, it was obvious it'd difficult to beat her as her competitor's times were improving while her own time fell a second below that.
Toni watched her beautiful blonde competitor with disdain, knowing that she'd lose in the next head-to-head swim off for the last Olympic position. From her distant observation spot, Toni looked at her competitor getting out of the pool to be greeted by her boyfriend. Saw her competitor remove her swim cap and shake her long golden hair about. Toni was seething, wondering just how someone could have everything going for her: beauty; brains; a handsome guy; and now the last Olympic spot. To top things off, this was her competitor's first try for the Olympic team while this was her third and probably last attempt to make it.
The new rules put out by the Olympic committee allowed for limited sponsorships to assist athletes with some financial assistance in their preparation for the Olympics. Toni had been on the verge of getting some sponsors and was in the talking stages with various companies. That all ended went her competitor broke into the national scene and all the sponsors she had been talking with dropped her, going to her new competitor. The competitor was like the lovely blonde next door versus Toni's rather abrasive personality. Naturally, Toni took an instant hatred to the bitch that had robbed her of the financial endorsements.
Smiling as she got her new personal record time, Sherri Atkinson received a hug from her longtime boyfriend. Sherri and Doug Bennett had dated from their freshman year in high school and were madly in love. They had been on the high school swim team together and both were in the same classes. Their plans were to go to college together and then get married once they graduated. It certainly helped that her parents approved of their relationship. Having been brought up in a conservative Christian family, Sherri had all the right moral values and although she and Doug kissed, any further intimacies had to wait till they were married.
Sherri Atkinson was the new up and coming swim star highlighted in magazines across the nation. She had never planned nor given the thought of the Olympic trials but her swim times improved tremendously and her win in the recent national meet put her on the fast track. Sherri had merely planned on having a fun senior year of high school with her many friends and just enjoy her last year before college. She was taken back by the spotlight and all the sudden media attention that was now focused on her.
The media just loved the story of this lovely blonde beauty breaking into the national scene from a relatively unknown status a year ago. Photo spreads of the 5'4", 114 lb. blonde beauty graced many a magazine, making Sherri the heart throb of any male viewing the magazine. All the publicity and hype had everyone cheering on the innocent and naïve Sherri Atkinson. Everyone wanted to see her make the Olympic team, everyone with the exception of her fuming competitor.
Moping about her motel room, Toni pondered her dark future once the Olympic trials were over. Having grown up in poor family, Toni had scrapped by on her own. Not too smart in school work, she had managed to sleep and cheat her way to obtaining a high school diploma. Science had been a poor topic for her but fortunately she got an old leech for a teacher, managing to fuck and suck her way to passing grades. She managed to get the community swim pool to herself when it closed down for the night. Of course she got it by going down on the pudgy old black janitor, who would then give her the exclusive use of the pool for the night. She thought back to how repulsive it was to suck his wrinkled old cock, but recalled how long and thick it got after she sucked on it for awhile.
Then Toni smiled to herself, wondering if she could pull of the scheme that was going through her mind. Picking up the phone, she made a long distance call to Mr. Bubba Hines at Warwick Community Center. Getting Bubba on the phone, she teased him and told him how she missed sucking on his black cock. On the other end of the line, Bubba squirmed and jerked on his wrinkled old cock, dreaming of having the white bitch suck his cock again. Nothing pleased Bubba Hines more than fucking and sucking a white bitch, even a white whore like Toni Burke.
"Yeah, Toni, what kinda favor do ya want from me? I know ya ain't putting out for me unless ya get something in return!" Bubba exclaimed. "What! Ya want me to drive up there? Fuck, San Francisco, that's 500 miles from here!" he blurted. "Yeah! Yeah, I got the latest Swim magazine that the Community Center subscribes to!" Bubba replied as he reached for the magazine on the desk. "Page 45? Okay, got it! Wow, what a beautiful little bitch! That's the little bitch from across town that's got all the media attention!" he blurted. "Fuck, that's all I need! A rape charge and the rest of my life in jail!" he argued. "You're gonna help me fuck that beautiful little bitch, huh? 500 bucks and that beautiful piece of white meat? Ya gotta be shitting me! Okay, I'll arrange to get some summer help to cover for me and I'll drive on up tomorrow! You better not be shitting me or I'll be taking your ass out in trade, bitch!" Bubba growled.
Two days later, Toni took the pudgy old janitor to the outdoor practice pool. Sitting far away, out sight, she let the old guy ogle the beautiful Sherri Atkinson. She glanced down to see his crotch growing in anticipation. Bubba's mouth was open to catch flies as he leered at the lovely innocent blonde bitch. He groaned as he felt Toni's hand on his crotch, rubbing up and down the length of his growing old cock. Seeing the magazine photos was one thing but looking at the naïve little bitch was another. Bubba licked his lips as he took in the long blonde hair, long trim white legs and her sweet sexy white feet. Seeing the lovely beauty in person, Bubba knew he had to have her, regardless of whether Toni came up with the $500 or not.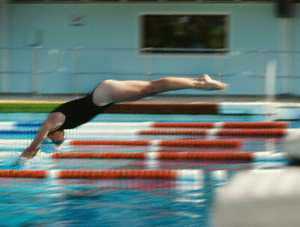 To assure the assistance of her cohort, Toni unzipped Bubba's pants to let out the wrinkled but growing black cock. She grasped it and began to shuck it up and down as Bubba's eyes were glued on the blonde bitch. Then to put the final touch on, Toni edged him on till his possessing the lovely Ms. Sherri Atkinson was all he could think about. From first hand experience, Toni knew of her cohort's fetish for sexy white legs and feet, often times giving him a footjob in exchange for swim priveleges. "Look at her long white legs! Imagine those long legs spreading wide for your long black cock. You want to suck on her sexy feet? Suck on her tender toes? Imagine what her titties would look like when you peel that bathing suit off the bitch! Imagine those soft pink lips sucking you off! Imagine her screaming when you pluck her precious cherry! Just picture her tiny white belly swelling when you knock the bitch up!" she taunted.
"Oh fuckkkkkkkkkkkkk …………..keep pumping ……………oh, God …………......oh, yeahhhhhhhhh! Jezz, ya jist gotta help get me that sweet little bitch!" Bubba groaned. Then he arched up as his cock twitched once, then again before spurting his seed onto the nearby plants. The mention of him knocking up the beautiful bitch had sent him over the deep end and he gushed out his hot jizz. Now, Toni's hand continued massaging his now shrinking cock, then began rubbing his oozing cum onto his cock and balls.
With the guaranteed help of the lusting Bubba, the problem at hand was how to get to the innocent little bitch. Both Toni and Bubba pondered just how they would manage to get the innocent young bitch alone without her boyfriend, coach or parents nearby. Although Toni now had the help, it seemed that there was no chance to get at the bitch as she was never alone. Always there was someone with her, helping her through the press and crowds. Toni sighed, knowing her demise would soon be upon her as the swim meet was soon approaching.
The next day, Bubba rubbed his sweaty palms together and was about to give Toni the news she wanted. He had gone out early to get the newspaper when he saw the lovely beauty walking with her boyfriend. He eavesdropped on the young couple and listened as Doug told the young beauty he definitely would be back to watch the meet, meanwhile, he had a term paper due and would have to complete it. Sherri assured Doug that although she wished he could stay, it'd be best for her to concentrate on her swim times. Bubba overheard the blonde beauty tell her boyfriend that she was going the spend the night alone in the pool as the hotel had blocked out the pool for the meet swimmers and had the last scheduled time only for her.
Of course Bubba teased Toni with the fact that he had obtained all the info needed to get the blonde beauty on her own, telling her she'd have to find a way to coax it out of him. Toni pleaded with him to tell her. Meanwhile Bubba opened up the recent magazine spread of the beautiful blonde swimmer. Standing above the sofa, Bubba laid the magazine down. Dropping his shorts, Bubba ordered Toni to "Get your ass over here and coax me to tell you!" Desperate to get the info, Toni knelt down to the side and reached out to grasp the wrinkled black cock. As Bubba began to give her the info slowly, Toni stroked the wrinkled black cock to stiffness.
Finally when Toni got all the info, knowing things were now falling into place, she began to wank harder at the pulsing cock in her hand "Okay, Bubba, show me what you're gonna do to that innocent little bitch!" Toni laughed out loud as Bubba did just that, spurting his hot seed right onto the pictures of the little beauty. When he was done, the magazine pictures of the lovely blonde beauty were totally saturated in thick spunk.
Reserving a time earlier in the day, Toni got the key card to open the door of the swimming pool. It was the typical credit card type of key. Bubba had come up prepared, in Bubba's car trunk was all the equipment needed to duplicate the card. Bubba had quickly gotten the card duplicated, same way as he managed to duplicate stolen credit cards and hotel key cards.
The eve before the swim meet, Sherri told her coach and parents that they should go to dinner without her. That she would get a light snack and relax in the pool, which had been set aside for her exclusive use an hour before the pool closed. But as she was the last one to use the pool, the hotel manager had told not to be concerned about the time as no one would be after her. And that she could return the key card in the morning. With her near celebrity status, the hotel was wishing to please her in any way possible.
The water in the pool was heated and just perfect for Sherri. She just wanted to be alone in her thoughts and not get stressed out about the important meet. With earplugs in, Sherri closed her eyes and floating peacefully in the warm soothing water. She was totally unaware of the door being opened and the two intruders were making their way around the bleachers. Sherri was completely unaware of her vicious competitor nearby setting up a video camcorder onto a tripod with the assistance of her black cohort.
Being in charge of the community swimming pool, Bubba was a good swimmer and accustomed to the water. Stripping down to nothing, Bubba made a running leap into the pool, grasping the stunned beauty by the waist and dragging her under. His heavy body weight crashing into the petite body literally knocked the wind out of the terrified little beauty, who swallowed a lot of water as she tried to get her breath. Lifting the beauty by the thighs, Bubba pushed the choking blonde beauty to the shallow part of the pool. There Toni grasped the beauty under her arms and they carried the sputtering beauty to the well-padded lounge chair.
Laying on the lounge chair, Sherri sputtered as she tried to cough up the water that had swallowed. She was oblivious to the hands on her shoulders pulling down her pink swimsuit. Legs spread, Sherri shivered and gasped "Ohhhhhhhhhhhh ……………..ohhhhhhhhhhh, Goddddddddddd …….ohhhhhh!" Her swim cap had been pulled off by her vicious competitor who wanted the video to show the beautiful blonde bitch in a way that everyone would recognize her. She shook her head from side to side, her long flowing blonde hair whipping one way then another. Never in her life had Sherri felt such a sensation, the sensation of literally being eaten alive. Her nipples were hardening, sensitive tothe fingers of her competitor upon her bared breasts.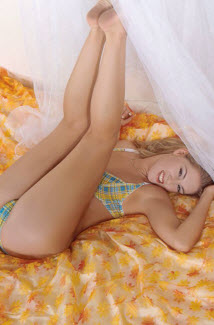 Sherri's sexy feet moved up on the lounge chair, just under her hips. Then she arched up and groaned "Ohhhhh, Goddddddd ………………..yesssssssssssssssssss!" as Bubba thick tongue delved teasingly into her juicing quim. Then the searching tongue sought and found Sherri's sensitive clit, sending her over the edge "Ohhhhhhh, Goddddd ………….ohhhhh, Godddddd ………..ohhhhhhhhhhhh!" Toni laughed as she watched the bitch shudder in a mind-shattering orgasm, betting this was the first time the innocent little bitch ever came.
"What ………..what's happening to me?" Sherri stammered in confusion, panting for breath after the shattering orgasm that still shook her innocent young body. "You little goody-goody bitch! You just came with a nigger eating out your precious snatch! It's all on film! Take a look at Bubba the Bear!" Toni laughed as she pushed Sherri's blonde head up to gaze at her ravisher. Sherri groaned in shame as she was forced to look down between her thighs, seeing the horrid old black face, tongue licking its lips and stubble of a mustache. It did indeed looked like a bear licking his chops after slurping up the sweet honey from a beehive, it's face glistening with her sweet nectar.
"Oh, please ……….please ………….please let me go!" Sherri pleaded, her arms held securely above her by the sneering Toni and her legs firmly held apart by the horrid old black. "Please ………please ………….why are you doing this to me?" Sherri sobbed, looking up at her evil competitor.
"You bitch! Come out of nowhere to steal my chance for the last Olympic spot! Taking all my endorsements! That's why, you fucking little bitch! Now comes pay back time, bitch!" Toni spat at her. "C'mon, Bubba! Your chance of plucking this goody-goody bitch's cherry is here! C'mon, Bubba, bust that cherry! Knock the bitch up with a black baby! That'll teach her to cross my path!" Toni yelled.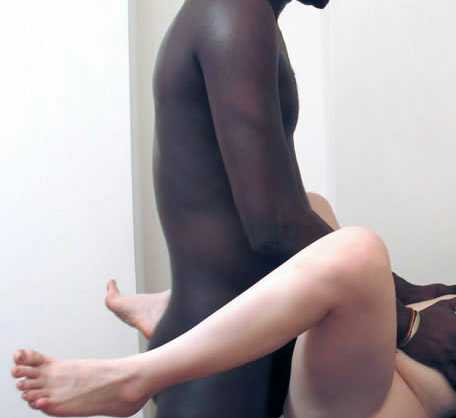 Spreading the trim ivory white thighs, Bubba couldn't believe how soft the sweet white meat was. He nestled his now stiff 10" black rod up into the soft golden fleece, nuzzling at the entrance of the innocent bitch's womanhood. He was determined now to make her a 'woman', his 'woman'! Rearing back and with a brutal thrust, his rigid cock lanced into the terrified young blonde. "Aieeeeeeeeeeeeeeee …….. ohhhhhhhhh ……………….aieeeeeeeeeeeeeeeeeee!" came the loud piercing shriek, echoing in the soundproof swim room that would not get beyond the walls. The withering white body skewered on the long black poker was a sight to behold. Six inches of the hot black cock had been shafted into the screaming blonde beauty, her shrieks and sobs were that of pure pain. A look at the union of the black cock and her ivory white body was evidence of the beauty's pain, as blood from her ruptured cherry bubbled up around the invading shaft, overflowing onto the ivory thighs and down onto the padded cushion.
Then Bubba began to give the blonde beauty a fuck she'd always remember. The loud shrieks and sobs soon turned to mewling sounds as Bubba's long black shaft pumped up and down like a piston. Bubba smiled at Sherri mewling "Oh ……oh ……oh …..oh …..ohhhhhhhh!" all in time with his thrusts. Then he felt the trim white legs enclose around his pumping ass, squeezing him closer to her. He looked up and nodded for Toni to let go of her arms. Sure enough, the young beauty's arms went down to encircle his neck as she began to hunch back at his every thrust.
"Oh, Goddddddd! Yes ……….yes ……………..ohhhhhhhhhhhhhhhhhhh!" Sherri screamed as her body convulsed and she arched up, lifting Bubba's heavy weight upon her. Sherri was cumming for the first time with a cock buried deep in her womb. Her cunt muscles were milking Bubba's cock wildly, something Bubba had not experienced to such a degree. At that moment Bubba groaned loudly and unleashed his pent up lust for this lovely beauty, flooding her womb with his aged but still potent seed.
Sherri was in a stupor after the brutal rape and unwanted orgasms. She was oblivious as to what was taking place around her. She was unaware of what she was doing, but still photos being taken by Toni would show her everything. Such as the photo Toni snapped of Sherri's petite hands squeezing Bubba's wrinkled black ball sac as she stuck her pink tongue out to tease the oozing black cockhead. Another photo caught Sherri with 8" of the black cock stuffed down her tender throat. Once Bubba had erupted his load into the beauty's throat, he let his cock slip from the tender pink lips and got off the lounge chair to take the digital camera from Toni.
Though the photos would mean the end of her career and total embarrassment for her, Sherri just couldn't just give into the scheming Toni Burke. She was determined to give it her best to defeat her evil competitor in the final meet to determine the last remaining Olympic spot. But for Sherri it was a futile attempt in this most important swim match. Her mind was a shambles of what had taken place the night before. The picture that Toni held in her hands in the locker room made her shudder in horror, the photo that clearly showed her horrified face as she was being forced to eat her competitor's messy cunt. Plus, Sherri was in no physical condition for this swim meet, thighs aching so badly from the brutal rape of her virgin body.
The meet concluded and Toni Burke had won the final Olympic spot. But much media attention still focused on the lovely runner-up, her physical pain obvious as she had to be helped from the pool and assisted in getting to the locker room. Many speculated that had Sherri not cramped up in the middle of the heat, she would have surely beaten the eventual winner. Everyone thought it was perhaps over-training led to the cramp up of the lovely blonde swimmer. But it was brutal stretching of her thighs the night before that caused the terrible ache and eventual cramping of her over-stretched thigh muscles.
Three weeks after the Olympic trials, Sherri was interviewed as to her preparation for the next Olympics as her time would surely improve and assure her a spot on the team. The media, along with her boyfriend and parents, were stunned with Sherri's announcement that she would continue training at her high school but on weekends would begin her training at the Warwick Community Center. It had been known that the established and highly regarded West Coast Swim Club had offered her their facilities for training, a facility where many champions had their beginnings. The media loved her response and played up to the lovely swimmer's explanation that the use of the pool had been arranged for after hours and at a mere token fee. Even her boyfriend and parents applauded the explanation that Sherri wanted to train at the inner-city facility and hopefully inspire children with lesser means.
That evening, Sherri arrived at her new training facility. She shuddered at the sight of the run-down building and the slum area surrounding it, surroundings that she was very unaccustomed to. She shuddered as she was led into the facility by the bulking Bubba Hines. Smiling at her, Bubba led the way, opening the door "As you're the star of the Warwick Community Swim Club, it's only fitting that you have a 'private' dressing room to change in!" Sherri's heart sank as she observed her 'private' dressing room, a spacious room with a dirty old sofa and beaten up desk. This 'private' dressing room also served as Bubba's office.
Before changing into her swimsuit, Sherri had to pay her nominal entrance fee. A fee that Bubba Hines personally collected. Tears in her eyes, Sherri dropped to her knees and pulled down Bubba's loose shorts. "Ahhhhhhh, yeah, babyyyyyyyyyyy ………………yeahhhhh, suck it, honey!" Bubba groaned. Bubba looked at the once innocent little goody-goody bitch, her pink lips clamped around his rapidly growing cock. This little blonde honey was now his 'bitch', a slave to black cock. "Ahhhhhhh, yeah, here it cumssssssssss ……………..eat it allllllll ………….swallow my hot cum!" Bubba shivered and groaned, his fingers entwined in the soft golden hair as he emptied his hot load into the sucking mouth.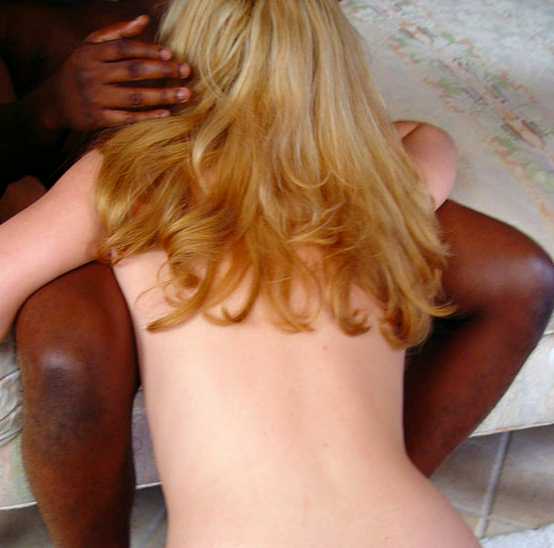 After her swallowing the nourishing protein drink, Sherri practiced her strokes and did the 200 meters backstroke in record setting time. She smiled up into the pudgy black face as she was shown the stop-watch reflecting her personal best time. "You're a shoo-in for the next Olympics at this kind of time!" Bubba exclaimed. "Relax for the next half-hour in the pool and then come in to your 'private' dressing room for a good massage!" Bubba smiled at the lovely beauty.
A half-hour later, Sherri toweled herself off and went into her 'private' dressing room. Without hesitation she peeled off her swimsuit and lay on the tattered old sofa for her massage. A full-body massage was in store for the future Olympic star, a massage that had the lovely blonde clenching her entire body muscles once it began. Sherri moaned at the deep massage she was receiving "Ohhhhh ……..yes, that feels so good ……………….ahhhhhh, yes …………………that's the right spot ……….ohhhh, yes, stroke it right there …………………..ohhhhhhhhh, Godddddddddddd …………..deeper, yes, yes ………fuck me deeper ……………ohhhhhhh, Goddddddddd …………I'm cummingggggggg!"
A half-hour later, Bubba lay with his back on the sofa. He looked up as the lovely blonde beauty knelt above his waist, moving up and down on his glistening black shaft that was snugly fit into her slick snatch. The little bitch now couldn't get enough of a long cock, long black cock up her tight slick groove. Suddenly, Sherri gave a startled gasp as the sofa sank further and two more large hands were on her trim hips. Looking down to her right hip, Sherri observed a larger and darker hand than Bubba's grasping her tightly. Bubba smiled up at the startled beauty "Wanted you to meet Marcus, your new trainer! He's been dying to meet you up close and personal!"
Bubba had built up a ton of gambling debts, an amount of which he could not come up with and threatened to put him in a shallow grave. Thus, he made a bargain with the well-known Marcus, for he knew of Marcus' weakness for tender white meat. Once he showed the magazine spread of the young beauty, the deal was cinched. He knew Marcus would demand a lot to make back his money and also be looking to make money on the deal, but Bubba was not much in a bargaining position.
Marcus had previously seen news highlights of the blonde beauty and was taken in by the lovely Sherri Atkinson. When Bubba showed him the magazine and the chance of nailing the little beauty, Marcus had to have a piece of the little bitch. What Bubba had said indicated that the little bitch's ass was still cherry. Nothing Marcus liked better than a tender white cherry ass. The deal was struck and Marcus let Bubba off the hook for immediate payment and a discount off of what he owed for sampling that pretty white ass. Not only that, Marcus got Bubba to agree to have the pretty bitch take care of all his debts by letting Marcus pimp her out.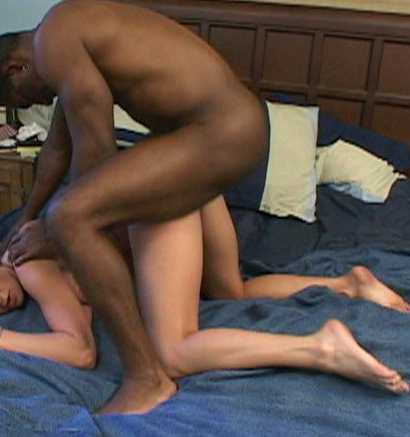 Marcus was delighted in learning that the bitch's ass was indeed cherry. Grasping the trim white hips and nosing his blunt cockhead into the crevice of the tender white ass, Marcus gave a mighty lunge. "Aieeeeeeeeeeeeee ……………..ahhhhhhh ……………….nooooooooooo ………………..oh, Godddddddddd ………….it hurtssssssssssssssssssss …………………..argghhhhhhhhhhhhh …………ohhhhhhhhhhhhh!" shrieked the crying bitch. The shrill screams echoed in the empty building. Screams from the innocent young beauty were like music to the two men.
Indeed Marcus planned to recoup his investment. The bitch's cherry white ass was the up-front bonus that he was claiming. In a week's time, his investment would start to earn some dividends. In swimming, this little blonde's talents obviously lay in the backstroke. But in earning dividends on his investment, the blonde's talents would be most appreciated by merely laying flat on her back. After all, Marcus was a professional in recognizing such talents, well known on this side of the tracks as 'Marcus the Pimp'. Marcus knew of a dozen black brothers who would easily come up with $500 apiece for a night with this famous and tender little piece of white meat.
The next night, Sherri was leaning next to Doug in a drive-in movie. Doug inquired as to the new swim facility and listened to Sherri tell him how warmly she had been received and the personal treatment she got there, that the center even got her a personal trainer. Sherri told him how she looked forward to the next practice session at the community center. A few soft kisses and Sherri snuggled up to her loving boyfriend. But Doug was all hot and bothered, wanting more of his lovely Sherri. Kissing her once more, Doug slipped his hand up under her blouse and cupped her soft breast through he lacy bra. Fingers moving about in a successful search that found the budding pink nipple. As Doug was about to try and slip his hand under her lacy bra, he was stunned with a hard slap on his face. Doug was apologetic when Sherri sobbed "I'm not some cheap little slut! What do you take me for?"

End of Story