Pastor's Prostitute Wife - II
(m/f, i/r, n/c)
by
Black Demon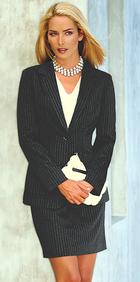 _______________________________________
Standard Disclaimer!
This is a fictional story intended for Adults only!
______________________________________________
************ ***********
Note: The story below is a story in itself. However, it is also a direct continuation
of the earlier story entitled: 'Pastor's Pretty Wife' & 'Pastor's Prostitute Wife I'
*********** ***********
'Ohhh, it all seems so long ago! But it was just a mere six months ago when you were Mrs. Melanie Haverly, turning 30 and life couldn't seem happier! Married to the man you fell in love with in college, mother of his two children, then everything becomes unraveled! And you let it all happen ………………..letting it all go to pot! How? How could you let it all go down the drain like that?' she asked herself. She closed her eyes and recalled the events of the past six months, reliving the horror of her nightmare.
Every call she had made to one of her women friends met with a slam of the phone once she identified herself. Job interviews were rather unnerving with all the women staring at her following by whispers and giggling. Then taking a chance, she dialed the cellphone number of Frank Myers, an elder of the church whom she had many a call with before the scandal hit, all previously on church matters. Fully expecting the phone to be slammed upon her, the way Edith Myers had done when she called the home number, Melanie felt a sigh of relieve when Frank advised "My dear, I'm so sorry Edith hung up on you so rudely the other night! I've been trying to locate you ever since!"
When asked of her situation, Melanie explained the dire straits she was in, and how depressed she was over it all. She had just needed someone to talk to, obtain some guidance, and advised that she hoped he would talk to her. She was taken totally by surprise when Frank Myers advised her of having an empty condominium unit empty and for her to move in immediately. When she advised Mr. Myers that she didn't think she could afford the rent, he had responded "Now don't you worry about that, my dear! You go to the manager's unit tomorrow morning! I'll call ahead and tell him to expect you and he'll give you the key!"
Checking out of the sleazy motel, Melanie drove to the rather plush looking condominium complex that overlooked the city. Obtaining the key from the manager's office, she rode the outside elevator up to the 20th floor, taking in the impressive view of the city. Unpacking the suitcase she had brought with her, she then got a call from Mr. Myers to see if she had gotten in without any problems. As Mr. Myers advised that he'd stop by in an hour to see if he could be of further help, Melanie took a hot shower to clean up her rather disheveled appearance after the rough time she'd had ever since the tabloid hit the streets.
Putting on a nice dress, heels and some jewelry, Melanie wanted to look her best and thank Mr. Myers for being such a kind and wonderful friend. She felt so grateful for his help and had been taken by surprise that he had not even brought up the topic of the scandalous story and photos in the tabloid. 'I ………….I must tell him the full truth ……………that the money was a donation to the church and I deposited in the church's account! And that ……………….that somehow Herb Thompson had some kind of hold on me both mentally and physically ……………..that I couldn't resist and did in fact succumb to his advances! But I didn't prostitute myself to him!' she told herself.
Hearing the doorbell, Melanie ran to answer it, anxious to see a friendly face at last. Swinging the door open, her eyes got teary upon seeing Frank Myers, a man who had been like a father to her over the past few years. Throwing her arms around his neck, Melanie embraced him as he in turned had his arms encircled around her trim waist and pulled her to him, lifting her up in the air as he hugged her. Happy to see a friendly face for a change, Melanie was unable to hold back the tears, only now it was tears of joy.
Sobbing and hanging on tightly to Mr. Myers, Melanie was unaware of him locking the door as he held her to him. She took comfort in feeling him pat her back and his soothing voice calming her "There, there ………………don't you cry any, sweetie! Your Uncle Frank is here now and will make it all better for you!" Though she had known him for years and he had always told her to call him Uncle Frank, Melanie had felt it was befitting a pastor's wife to call an elder of the church 'uncle'. Thus, she had always referred to him as 'Mr. Myers'.
Eyes closed as she tried to choke back the tears, Melanie did not notice the slow movement of Mr. Myers edging his way to the bedroom. Clearing her eyes of the tears as she blinked them rapidly, started to pant in fear, realizing that the zipper at the back of her dress and clasp of her bra had been undone as Mr. Myers was now caressing her bare flesh. Seeing that he was taking her towards the bedroom, Melanie panicked and broke the embrace, trying desperately to push away from him. "No ……………..no …………Mr. Myers ………………….what are you doing ……………………put me down!" she stammered.
"Oh, sweetie! You're so soft and sexy! I've dreamt of you from the first day we met! I'd never imagined I'd ever be able to have you ……………with you married to Pastor Hastings ……………always appearing so prim and proper …………………so innocent and pure! You sure had me fooled!" Frank Myers panted as he used a hand to push the unzipped dress off one shoulder. With his other hand, he grasped the dress and bra strap, pulling it down to bare her breast. Bending his head, he then sucked the exposed nipple into his mouth.
"Oh, God ……………………..oh, God ……………nooooooo!" Melanie sobbed out as the man who had always treated her with so much respect now slobbered upon her breast, his teeth biting at her tender pink nipple. Suddenly her breath was knocked out of her as she landed upon the king-sized bed with the heavy man upon her. With the front of her dress and bra pulled down, Melanie shuddered as the pig of a man began slobbering upon her other breast, tonguing and biting at the twin nipple to make the bud harden in his mouth.
As she struggled to get her breath back, Melanie was helpless to prevent her dress and panties from being pulled over her trim hips and off her legs, catching her heels at the same time to pull them off her feet. Now totally naked, Melanie could only lay then in fear as the pudgy old man began to dispose of his clothing. 'God ………………he's so old and flabby ……………………..a real pig of a man!' she thought to herself. "Please …………please, Mr. Myers …………………please don't do this to me! This …………this is …………..rape! They ……………they'll put you in jail for this!" she stammered.
Kneeling up on the bed, grasping her knees to push her legs wide, Frank Myers just chuckled "Rape? Who are you kidding, you little bitch? Think a jury will convict me of rape after that tabloid spread of you?" He out weighted her by a hundred fifty pounds, thus her petite hands pushing against his chest didn't halt his progress as he moved up into position. As she sobbed and pleaded with him, he rubbed his fat cock up against her slit, sucking in his breath as he shivered with pleasure.
For Melanie, feeling the drips of sweat from the eager man falling upon her, she shuddered with total disgust as her slit was being parted by the man's protruding fat stem. "Oh, God …………………….oh, God ………………………..oh, Goddddddddddddd!" Melanie shuddered as the man she thought she could trust forced himself into her. Drenched from his perspiration as his fat pudgy body slid up and down upon her, Melanie could felt so degraded. Then she heard him grunting, sounding like a real pig as he spewed his filthy seed into her.
After the ordeal was over, having obtained no pleasure from the vile rape, Melanie breathed a sigh of relief as the fat sweaty body finally rolled off. Turning to her side, curling up in the fetal position, she began to weep in shame. Relief came over her upon feeling the movement of the heavy body getting off the bed. But that sense of relief was short-lived upon hearing the heavy footsteps nearing her side of the bed. Opening her eyes, Melanie shuddered with disgust as looked at the old drooping wet penis in Fred Myers' hand as it came even closer to her face.
Feeling Fred Myers' other hand at the back of her head, Melanie felt her stomach turn in revulsion as the messy cock pushed up against her lips. Then she heard the excitement in the man's voice as he spoke "C'mon, baby ………………..open those pretty lips for me! C'mon! What's the matter ………………you done it before! Or is it because you only like the taste of dark meat?" Feeling the pain from the hand pulling at her hair, Melanie gave in and opened her lips to admit the repulsive cock that was covered with slime.
Shuddering with disgust from the taste of their fuck juices, Melanie's mouth watered to dilute the slimy filth, thinking 'I'm so tempted to bite this damned thing off! It'd serve him right for raping me!" Then it throbbed and hardened in her mouth, growing in length as the now wheezing man began to fuck her face. 'Bastard ………………..bastard ……………………I'll get even with you ………………………..if it's the last thing I ever do …………….I'll get even!' she swore.
"Oh, Melanie …………………………oh, baby ……………………..ohhhhhh, even better than my dreams! So good ……………………..so fuck'n gooddddddd! Oh, yeah ………………….yeah ……………………yeahhhhhhhhhhhhhhhh ……………….eat it …………………………..eat it all …………………….ahhhhhhhhhhhhhhhhhhh!" Fred uttered, body quivering as he pulled her head to him, emptying his swollen balls into her sucking mouth.
A bit later, when Fred recuperated enough to stagger to his clothing and get dressed, he looked over at the luscious beauty curled up on the bed as he had left her. Lust sated for the time being, he moved to the bed and advised "Consider that as having put down the deposit for the condo! Just save me Wednesday nights from 9 to midnight and I'll be here right after the weekly church meeting, and one Saturday each month when Edith goes off to visit her father in the rest home! That'll cover the monthly rental on this place!"
Patting her on the ass, Fred advised "Don't you worry a thing about making money to live on! Shit, after that article, all the guys at the 'Men's Club' could talk about was getting between your sexy legs! Other than Deacon Murphy ……………….hell, all he could talk about was getting it up that pretty ass of yours! In fact, he'll be at the meeting I'm going to …………..so stay close to the phone and I'm sure he'll call right away and set up an appointment!"
Buckling up his belt, Fred chuckled "Thousand bucks a night, huh, baby? Got to admit, you're well worth the price! Well, I'll tell the guys its that or $150 per hour ………………they can afford it! They'll help get you back up on your feet ……………….on second thought, I'm sure they'd prefer you not up on your feet but lying there on the bed with your feet up in the air and your sexy legs wide spread!"
Once the front door to condo closed, Melanie crawled out of bed and staggered into the bathroom. Leaning over the toilet, she began spitting out the remnants of the slimy spend coating her mouth. 'Bastard …………………you're going to pay …………..just like all the other SOB's! You're going to pay …………….damn bastard! You and all the other bastards in the holier than thou's Men's Club are going to pay!" she snarled.
Six months later, Melanie Hastings was ready to extract her revenge on all those who had spited her and had made her an outcast in the community. Having kept the tabloid that had ruined her, Melanie made a call and when she was connected, she asked "Mr. Ritchie? Do you recall an article you wrote six months ago entitled 'Pastor's Wife – Prostitute for Others'?" Pausing to hear his response, Melanie smiled upon hearing that he indeed remembered the story. "You do, well how would you like to do a follow-up to that story?" she inquired.
That next Saturday, when Fred Myers showed up at the condo, looking forward to the fucking and sucking that Melanie Hastings had promised him when he had called to set up the appointment, Fred was in total shock upon finding the condo cleaned out. No Melanie, no nothing but just the carpet and draperies remaining in the bare condo. All the expensive furnishings that he had put into the condo were gone. Making calls to all his buddies, they rushed over to the Men's Club meeting place to put their heads together.
On Monday morning, the shit hit the fan in Highland Community when the new issue of the trashy tabloid was placed on the newsstands, reading 'Pastor's Ex-Wife & the Supporting Congregation'! In it were explicit photos, again of the lovely Melanie Hastings but now it included the many 'johns' that she had serviced in the past six months. Photos and write-ups of all the holier-than-thou members of the congregation, such that would cause a sharp rise in the divorce rate in the area and homes being listed 'For Sale' as a direct result.
First and foremost was Fred Myers, his fat naked body for all to see, with his wrists chained up to the wall as Melanie prodded the skimpy thongs that covered his hardon. Then it showed him fitted with a leather blindfold as Melanie began whipping his ass. It was quite a humiliating sight with the well-respected man taking pleasure in whatever Melanie wanted to do with him. She had suckered the man who had taken advantage of her, letting her chain him up so she could play the role of the dominatrix, with leather boots and all.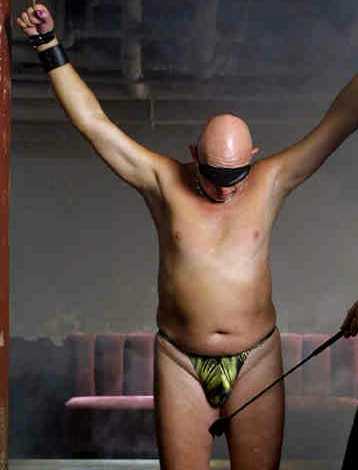 With whip in hand, Melanie was quoted as saying "You're a naughty man, aren't you? You should be punished! I bet that bitch you're married to doesn't know that you're putting me up in this condo in exchange for me spreading my legs for you! Am I right?" Then it went on to quote Fred Meyers' response of "Oh, baby ……….whip me ……………punish me! Edith's just a frigid old bitch ………………..I'll take a whipping from you any day than force myself to make love to that old hag!"
Then came Deacon Harold Murphy, naked on the couch while Melanie was on all fours, grasping her hips as he was obviously buggering her. "Oh, Deacon ………………shove it ………….shove it up my ass! Ohhhh, how long have you thought of nailing my ass, Deacon?" Melanie was quoted as saying. "Oh, baby ……………..ever since I was introduced to you at the Church that first day! Damn, if no one else was there, I'd have pushed you up against the altar and shoved it up your beautiful ass right then and there!" was the quote attributed to the deacon in response to the question.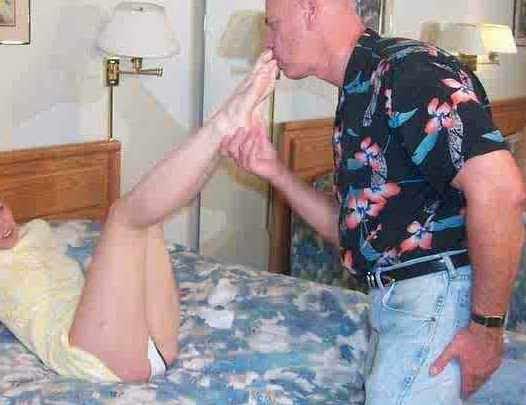 Next was Mayor Dan Smith, mayor of the city and congregation member, holding her feet up in the air as he sucked her toes. "Ohhhh .......................Mayor ..................would you like me to toss you with my toes again?" "Ah, yeah, baby! Let me fuck your sexy feet!" In the article, Mayor Smith was also quoted "Honey …………….block out all of next weekend for me! I want you with me when I have to attend the mayors' conference at the state capitol!" "But, mayor ……………you know I'm a working girl and can't afford to take off …………even though I want to be with you!" was Melanie's response. "Don't you worry, sweetie …………………..it'll be at the thousand bucks a night plus I'll add in a nice tip for you to go shopping while I'm in meetings! Simple entertainment expense that I'll put on the city's expense account!"
Up next was the picture of Alice McDonald, the 60 year old unmarried maiden who always had her nose up in the air with the holier-than-thou attitude. This was the woman who had led the charge against her, having all the other women in the congregation to shun her when the scandal hit. After getting down and dirty in the tricks of the trade, Melanie correctly figured that this woman was really a 'bitch' ……………a dyke! And so Melanie placed a call to her, sobbing and weeping as she pleaded for the woman to meet with her, saying how much she was the woman that she respected the most.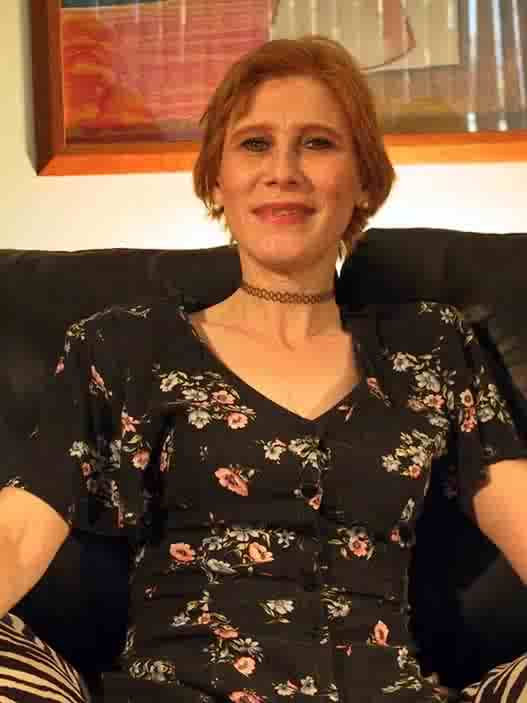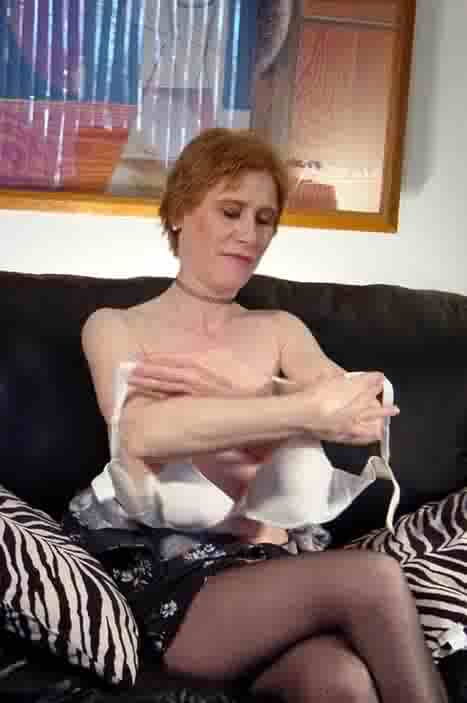 Once Alice McDonald showed up at her condo, Melanie knew that she had the woman in her hands. Sniffling and weeping, leaning on the older woman, Melanie told her how she was the only woman that she wished she had used as a role model. She went on to say that she thought of her each night, wishing that Alice had her arms around her cause ……..she was really in 'love' with her. That had done the trick in seducing the older woman, as evidenced by the photo of the older woman getting undressed, then on all fours with Melanie behind her with that strap-on dildo she had purchased for the occasion. And below the photo Alice McDonald was quoted as saying "Yes ………………fuck me like the bitch I really am!"
The church was even further disgraced by the following photo, that of Pastor Lawrence Bedford, the man who took over following the hasty departure of Pastor Hastings. He was one of the church's higher-ups, the one man the church could always count on to clean up a messy situation. But in this case, he had totally failed, he himself succumbing to the pleasures of the flesh. Stumbling upon the situation, when a member guiltily confessed his sins at the condo to have his lust sated at the time when his wife got hurt badly in a car accident.
Having obtained the address of the condominium from the man during the confession, Pastor Bedford felt that he had to try and have Mrs. Hastings see the error of her ways. Also, he needed to prevent more of the male members of the congregation to succumb to the pleasures of the flesh. On a Sunday, following the departure of the congregation, he stopped in at the condominium and announced his arrival on the intercom. After a moment of silence, obviously having caught Mrs. Hastings by surprise, the buzzer sounded to allow him entrance.
Pastor Bedford had never met Mrs. Hastings before but knew that she was quite beautiful as had been displayed in the tabloid article. But when the door opened to her condo unit, he sucked in his breath as she was far more beautiful that he had expected to encounter. Invited in, he sat on the sofa with the sexy blonde beauty, keeping a respectable distance from the woman. Though he had never been physically intimate with a woman, when Pastor Bedford had viewed the photos in the tabloid, he felt guilty in feeling himself getting aroused.
Explaining that he had learned of her now prostituting herself to members of the congregation, Pastor Bedford then felt nervous as the beautiful woman sobbed, putting her face in her hands as she exclaimed "Oh, Father ………………..I'm so ashamed of it all! Please …………………please help me!" Then he made the mistake of sliding over to the sobbing woman, placing an arm around her shoulders to comfort her. When she rested her head on his chest, his cock twitched as she rested a hand on his thigh, just inches away from his growing manhood.
Earlier, upon answering the intercom and hearing who was on the other end, Melanie was taken totally by surprise. Immediately she knew that the pastor must have learned that she was now doing tricks for the men of the congregation, otherwise how would he had learned where was staying. Knowing his intent in coming here was to reform her, to have her give up her life of sin, Melanie chuckled 'Well, let's just see who gives in first!' as she buzzed him in the front entrance.
Pretending to sniffle as she rested her head on the pastor's chest, Melanie rubbed her hand just a bit on his thigh, fingers edging closer and closer to his throbbing cock. Hearing the labored breathing coming from above as she intently watched the growing bulge near her fingers, Melanie knew that victory was literally close at hand. "Please ………….please, Father …………………please help me ………………….help me!" she feigned.
"I ………………I know you need some money to support yourself, Mrs. Haverly ………till you can find yourself a …………a regular job! So, I brought you some funds to tide you over ……………to help you out some! Perhaps ………….have you thought of moving to another city …………to get a fresh start on life? I …………..I've got three hundred dollars here for you ………………..from the church's fund for the needy!" Pastor Bedford advised nervously, unable to think clearly with her hand on his thigh.
"Oh, thank you, Father …………thank you!" Melanie advised. "How can I ever thank you, Father?" she asked as she slid her hand to touch the tip of his throbbing cock. The next throb had his cock pushing against her resting hand, making it quite obvious of his excitement. Melanie made her move then, moving her hand up to clasp the pastor's pulsating cock, squeezing the thick manhood beneath the trousers. "Let me thank you the only way I know how ………………….please, Father ………………..for being so kind to me!" Melanie cooed as she turned her head up to nibble at this earlobe.
"Father ………………..I …………………..I hate to take money from the church ………especially from the fund for the needy!" Melanie advised as she stroked the now pastor's rockhard erection. "Let me feel better ………….by earning it!" she suggested, squeezing at the throbbing hardon. "Yes …………..yes ……………let me feel better by earning it! Three hundred dollars …………………….that's what the men pay me for two hours of my time, Father! Let me earn it!" Melanie advised as she pulled the tab of his zipper down.
The photo in the tabloid showed Pastor Bedford sitting on the couch, with his pants down at his legs and the back of Melanie's blonde head between them, head clasped tightly by the pastor's hands. Viewing estactic look on the face of Pastor Bedford, it clearly showed his pleasure of what was obviously taking place. In a series of photos, the next showed the back of her head tilted up to look at the pastor, with a quote under it of Melanie saying "Oh, Father ………….please bless me!" The next had Melanie again busy at her task with Father Bedford's head thrown back and he was quoted below in saying "Oh, my dear Mrs. Haverly ………………..you have my blessing …………my holy blessing ……………………ohhhhhhhhhhhhhhh!"
For Melanie, the way the tabloid was written up in indicating that videos of all the exploits were available, it created a national interest with everyone craving for more. With the address of her pay website provided in the article, it became an immediate overnight sensation with over half a million hits that first day following the tabloid article. Orders for videos were booming, especially that of her and Pastor Bedford, apparently aided by a comment in the article noting that the pastor was a weekly visitor to sample her charms.
Another woman who had made it a crusade to chastise her was Mrs. Emily Dawson, a widow with her nose up in the air and always claiming or hinting that her family was the model of society. She always bragged about her son Denny, a former altar boy with the church who had recently obtained his C.P.A. license. She bragged how her son was now the auditor of the church's books, of course donating his time and fees, and recently having gotten engaged to the governor's daughter.
Though Melanie wished she could get her hands on Emily Dawson directly, she had to settle for an indirect payback. A photo showed Denny Dawson sowing his wild oats in Melanie's arms a weeks before the wedding day. Another was captioned 'A week after returning from the honeymoon!' where the recent bridegroom sought her charms once again. Then another photo of the young man, with a dog collar around his neck and finger being pushed into his open mouth, with Melanie being quoted "Put the finger you shoved up my ass into your mouth! Taste my shit, you bad little mama's boy!"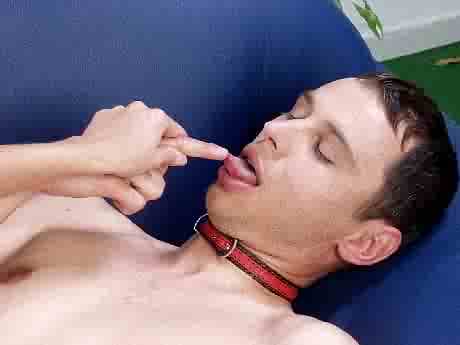 Having set up her website beforehand, using an internet provider and bank account outside of the U.S., all the orders and incoming funds could not be blocked by any legal action from within the U.S. With the money she had saved up from the generous men of the congregation, along with the one hundred thousand from the tabloid, Melanie now relaxed in the luxurious confines of the villa she had purchased in Acapulco that overlooked the ocean.
Looking over the incoming orders for videos, Melanie smiled upon seeing so many familiar names from the community in which she had lived. Particularly interesting was seeing the names of the men's wives ordering copies of the video in which their respective husbands were featured. She suspected that it was not for the watching enjoyment of the man's wife but for her use of it in divorce court.
Herb Thompson shook his head in total disbelief as he continued to read the article over and over again. Then he got another surprising phone call advising "Herb, this is Hank Ritchie! I owe it all to you, my man! If you hadn't put me in onto that first story of the pastor's wife, this one would never have materialized! To show my appreciation, I remembered you saying way back of how you'd like to go marlin fishing in Mexico! Well, I'm sending you a first class ticket to Acapulco, with a whole week of fishing for marlin! Limo at the airport will be waiting for you! A fancy place for you to stay and a top notch boat all charted! Got to be within the next three weeks though as I hear the season won't be good for awhile!"
On his first day of fishing for marlin, Herb met the boat's captain and two crewmen who'd be taking him out for the day. He looked at the name of the boat and was a bit amused that it was named 'A Woman Scorned'. As they cruised out of the harbor, Herb asked the owner how'd he name the boat and was advised "Oh, named after a lovely lady, lovely rich lady ……………lady pissed off at the world! But she like Antonio ……….buy Antonio boat for me! I share with my two brothers, Pablo and Ricardo, over there! She buy me the boat ………………she want me name it that!"
Sitting on a large ice chest, Herb felt it slosh about inside. "What's in here?" he asked.
"Bait fish, senor! Do not open! Wait …………..wait till later ………they get good and feisty when ready!" the captain replied. Herb was surprised as he thought that large artificial lures were the bait to be used for catching the large game fish. Never having gone marlin fishing before, he just figured that these men knew what they were doing.
Far out in the ocean, the captain stopped the engine, then Herb watched as the two brothers each took a pail of bloody chum out of the other large ice chest. Then he watched as they emptied the pails over the side of the boat. "Isn't that going to attract sharks? With sharks, won't they scare away the marlin?" he asked, just before the captain hit him over the back of his head with a blackjack.
Head aching as he came out it, Herb found his hands handcuffed behind his back and legs shackled to a metal pole that spread his legs wide apart and essentially preventing him from kicking out or even from walking. Also, he had been stripped naked of all his clothing. Then the two crewmen were grabbing him by the arms, lifting up to his feet. "What the hell? What the hell is going on here?" he demanded.
Seeing the captain pointing to the open door that led below, Herb saw a movement, then his eyes widened upon seeing the beautiful Melanie Haverly once again. Meet the beautiful woman who bought Antonio this boat!" Seeing the wide smile on Melanie's beautiful face while shackled and held by two strong men far out in the open ocean, Herb knew that things were not looking very good. Panting with fear, trying to think, he blurted out "You? But …………but Hank Ritchie got me the plane tickets ……………chartered the boat and all!"
Melanie smiled at the man who was responsible for ruining her life. Dressed in only a skimpy pink bikini, she strolled up to Herb Thompson and ran her fingers down his chest. "Herbie ……………..Ritchie came to Acapulco a week after the story hit …………..as my guest! He told me you always wanted to go marlin fishing! Ritchie was just a messenger …………….giving you the tickets and the boat charter! I paid for it all!" she advised.
Seeing his still puzzled face, Melanie advised "Don't look so surprised, Herbie! After what you did to me, I had to learn quickly on my feet …………………..well not on my feet but on my back! I've learned just how to get what I want from a man, Herbie! After having to spread my legs for a living since you screwed me with that tabloid article, he was only happy when I spread them for him ……………….in exchange for doing me a small favor …………………being my messenger!"
"Oh, Herbie …………you had it all! You had me at your beck and call ……….dropping my panties for you whenever you called! Then you got greedy and sold the story to the trashy tabloid ……………….putting my picture on the front cover! You do know my husband left me, taking the children with him, don't you? Now don't you think its pay back time?" she asked. Undoing the top of her bikini, letting it fall to the deck, Melanie rubbed the tips of her breasts up against Herb's muscular chest. On tip-toes, she teased and nibbled at his earlobe, whispering "Don't you miss this, Herbie? It was all yours back then! Ohhh, you do miss it …………..I can feel something throbbing between my legs!"
Reaching down, Melanie grabbed his growing cock in her hand and squeezed. "Oh, Herbie ……………….you do miss me! My goodness ……………I forgot just how big you are!" she commented. As she stroked him, feeling him growing in the palm of her hand, she stepped back a bit as she held him in hand and announced "Look ……………look my friends ……………….look what black gringo has!" Then, unashamedly, like a true pro, Melanie dropped down to her knees and began to tongue him. "Oh, my! I haven't had anything this big since you set me up that day for the tabloids!" she advised.
Held securely by the two crewmen, being tongued and sucked upon the beautiful blonde bitch, Herb Thompson could only stand there and watch as the captain pulled over the ice chest full of bait fish. He watched as the hinges on all sides were removed and the lid tossed aside. Looking down, he saw the silvery bait fish cowering at the bottom, looking a bit familiar to him. Then he got a glimpse of the dark orange beneath the gill of one that turned a bit to the side……………….telling him that they weren't bait fish at all …………..but the feared piranha!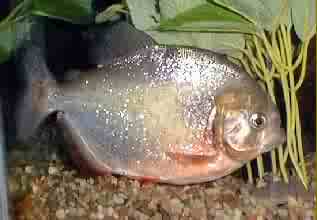 Then the men were moving him forward, facing the ice chest lengthwise. "No ………no ……………no …………………..please ……………….please ………………..please!" he begged, tears flowing down his face as he pleaded for mercy. "Melanie ………….I beg you ……………….don't let them do this to me ……………….pleaseeeeeeeeeeee! I'm sorry ……………………I'm sorry ……………………I'll …………………I'll give you all the money I got from Ritchie!" he sobbed.
With Herb Thompson placed lengthwise over the chest, pressing up with his knees and chest, he was able to keep the tip of his erection just out of the water. Seeing this, Melanie jumped forward with all of her weight to land sitting on his ass, forcing his waist down in line with the level of the ice chest top. The blood curdling screams that followed, along with all the water splashing below, told all what was taking place within the ice chest. All to the sound of Melanie's laughter as she commented "What the matter, Herbie? You always told me you liked having your dick eaten!"
Moments later, Herb Thompson sat delirious on the boat's deck, being revived by the vial of smelling salt that Melanie held under his nose. Never had he felt such pain in his life, then looked down in horror to see the void between his legs, the deck covered with his blood that continued to gush from between his legs. "Oh, God ……………oh, God ………………what have you done to me! Oh, God …………….kill me ………..I can't live like this ………………killlllll me!" he pleaded. As Herb was being lifted up to a standing position once again, he heard the voice of the woman who was out to extract her revenge, laughingly advise "Oh, lover ……..you know how I can't turn you down in any way! Your wish is my command, fucker!"
With that, Herb was then turned to face the side of the boat. His body trembled and eyes popped out of his head, not from the agonizing pain emanating from between his legs, but from seeing the outline of five large objects with their black fins slicing through the water brought there by the bloody chum that had been poured into the water. He then heard Melanie's soft sweet voice one last time as she bid him goodbye "See you in hell, asshole!" Feeling her plant a foot on his ass, Herb was then sent overboard.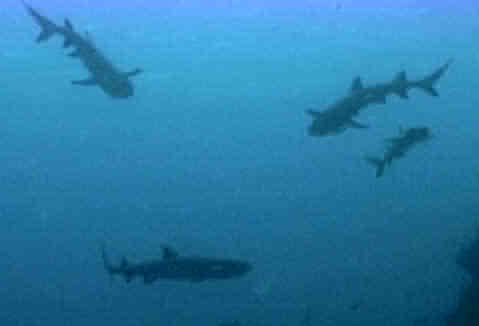 Minutes later, in the now calm sea, Melanie advised the three men "That was fun, guys! C'mon, time to have some fun! After all, I did promise you a week on the ocean just fucking and sucking! Let's go down below so you can collect your payment!" As she led the way, each of the men trembled a bit after what had happened, all swearing to themselves not get on the wrong side of this beautiful American woman! Having witnessed the worst fate ever for a man, along with such a frightful death, none wanted to irk the wrath of this blonde beauty.


End of Story