Phony Photo Shoot
(m/f, i/r, n/c)
by
Black Demon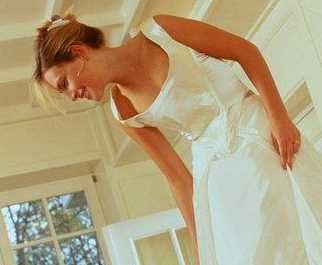 ______________________________________________
Standard Disclaimer!
This is a fictional story intended for Adults only!
______________________________________________
Cringing, Tiffany Coulter shuddered in absolute shame and revulsion as she stared at her reflection in the mirror. Dressed in her white lace wedding gown and 3"heels, the beautiful young blonde looked for all the world like a cover girl for some 'brides magazine', but Tiffany did not see herself as such, more so at this point in time. In fact, it had taken all the courage she could muster, plus two glasses of wine for her drum up the courage to don the gorgeous dress and veil on her wedding day.
Tiffany had dreamt of the day when she'd walk down the aisle as a beautiful bride, but on this day she certainly didn't see herself as such, but now, instead, she was nothing but damaged goods. The age old saying went 'The road to hell is paved with good intentions'! As thoughtful and selfless as Tiffany's intentions had been, the end result couldn't have been more utterly disastrous. She was certain that if her fiancé Kevin Westwood knew the truth about her, he would leave her at the altar without so much as a second thought.
She blamed herself for her predicament, having naively stumbled headlong into the blackmail scam. It had all started out when she'd agreed to do some modeling to earn a little extra money on the spur of the moment. A young blonde had approached Tiffany as she was about to leave the bridal shop after a fitting. The woman had struck up a conversation with her and quickly offered her a modeling job. Easy money with no experience necessary, and with Kevin putting in so much overtime at work to make up the shortfall on a down payment for their dream home, Tiffany jumped at the chance to do whatever she could to help out.
Tiffany didn't consider herself 'model material' but the fast-talking Jolene Preston assured the naive young beauty that she owed it to herself to at least agree to meet the photographer and to do a test shoot. It never occurred to Tiffany that their 'chance meeting' had been anything but an accident. Tiffany wasn't the first mark the unscrupulous blonde bimbo had reeled in with the promise of easy money and a glamorous career as a photographer's model. It was easy money all right, easy money for Jolene.
Jolene and Abe Mosely had done business on numerous occasions, they were two of a kind, and the cunning bottle-blonde didn't consider Tiffany anything more than simply a means to an end, just an opportunity to turn a quick buck. She knew what Abe liked most …………………….a lovely innocent looking beauty, engaged and soon to be married! So, what better place than one of the more popular bridal gown shops in the area. She'd merely buy herself an expresso at the coffee shop across the street and wait. When an attractive prospect entered the bridal shop, Jolene would mosey on over and pretend to be looking at various gowns herself.
And, just like his accomplice, Abe was quite the cunning opportunist who would consider the innocent young beauty as nothing more than a means to an end ……………….except that his 'end' was not simply turning a quick buck …………………….but that of a good fuck! For Abe there was the added pleasure of sating his own lust in the process, 'ruining' the young bride-to-be, and turning her into a slut for black cock! The best satisfaction was the culmination of things to come or 'cum', that in the successful transformation of an innocent white beauty and a whiteboy's prize possession into a little fucking whore for cock ……………….preferably black, of course!
Abe Mosely was not the kind of man who was considered attractive to women, for when it came to the opposite sex, Abe was a three-time loser: unattractive, grossly overweight and well past his prime. Photography was not Abe's true profession, at first a hobby, but now a paying hobby. The modest photography studio, the props and camera equipment were his, but more of a front as it was anything but a thriving business in regards to doing high end photography.
He earned his money producing porn films, and the photography studio served him well as a front for the illicit film production company he operated. The gist of the story was that Abe broke into the porn bizz years ago, not because of his good looks, but because of his impressive cock and incredible capacity to cum. Since retiring from acting, he continued to make it in the porn business as a film producer as a hobby and sideline, producing his own private line of porn videos and selling them to high-end collectors. In addition, the photography studio served him well in luring unsuspecting young beauties like Tiffany Coulter into his den of iniquity.
There was just no substitute for the real McCoy, for using actors in the role of prim and proper young beauties just wasn't the same, as far as Abe was concerned. His nuts swelled at the thrill of the conquest, craving the real McCoy, using Jolene to help him recruit unsuspecting young beauties. With the photo studio and the lure of glamour, plus the promise of easy money, were used to scam most of the naive young victims. As unattractive and intimidating as Abe was, he needed an accomplice like Jolene to set these unwitting beauties up for him.
Tiffany had initially declined Jolene's offer, blushing at the very thought that she was attractive or glamorous enough to be photographer's model. But Jolene knew just what to say and how to say to ultimately persuade Tiffany to at least agree to do a test shoot. The young beauty could not deny that the extra money would come in handy, and she was excited by the prospect of surprising Kevin with a check to cover a portion of the down payment they had made on their dream home a month ago.
With Kevin several years older than she, having moved up in his investment banking job and well-paid, Tiffany had taken Kevin's advice in taking a temporary job that she could quit in time to prepare for the wedding and also take a long honeymoon. However, finding and purchasing the home had been rather unexpected and now they had to budget carefully. In fact, she had gone to a couple job interviews in hopes of landing a permanent job for when she returned from the honeymoon. Thus, the thought of making a few dollars on what seemed like a fun and simple to make some extra money.
And Jolene 'just happened' to have a portfolio in her car that was parked just across the street, so Tiffany decided that she could spare a few minutes with this gal over a cup of coffee at the shop next to where she was parked. Seeing the photographs of some of Jolene's other 'clients', her fears were allayed. Everything seemed legit, and none of the photos showed models wearing anything more revealing than swimsuits.
Jolene choked back a laugh when she complimented Tiffany, telling her she 'had it all' …………………..the face, the figure and a 'million-dollar smile'! But it was not the face, figure or the smile that had attracted Jolene to Tiffany. It was those incredible legs of hers that had first caught Jolene's eye when she had spotted Tiffany entering the bridal shop. She knew that Abe was a 'leg man' and she was sure that Abe would pay top dollar for a go at those dainty feet of Tiffany's and to drape those gorgeous gams over his shoulders as he took his pleasure in ruining the innocent young bride-to-be.
With the little bitch still hesitant, Jolene opened up her briefcase that she had brought along with the portfolio of the various 'clients' that had serviced Abe thus far. Having learned that today was the bride-to-be's final fitting and Tiffany would be picking up the wedding gown in a few days, Jolene asked where Tiffany would be getting dressed before going to the church. Learning of the new home that had just been purchased, with her living alone in it till the wedding day, Jolene's devious mind was clicking away. 'Damn, if I pull this one off, Abe's going to pay me a bundle for this little bitch!' she figured.
Thinking quickly, she advised "You'd be just perfect for the shoot that's being planned for submission to one of the top bridal magazines in the country! With you about to get married, it's a natural where you won't even be faking any poses! And the plan was for the shoot to be of the scene on the morning of the wedding, so I'd be posing with you as one of your attendants …………………..helping you with the gown and such! So just think of it as a dry run for your wedding day!"
Pulling out a folder from her briefcase, Jolene offered a contract to Tiffany, telling the gullible little bitch "I'm authorized, by Prestige Photos, to pay you twenty-five hundred dollars to the one selected for this particular shoot ………….payable immediately after the shoot is over! And I've got a great idea for this shoot ………..I'll wear an attendant's gown from our wardrobe closet and we do it like a dry run for you! We shoot it right at your new home! It'll also serve as one last fitting after they finish things up for you!"
Once the cute little bitch signed on the dotted line, Jolene got Tiffany to agree to show her the layout of her new home so that she'd have everything set-up in her mind and no time would be wasted. Address in hand after she gave Jolene her phony 'talent director's' business card, it was then agreed that Jolene would follow Tiffany from the coffee shop to her home, where she'd take some pictures that would certainly add to Abe's lust and the amount he'd be willing to fork out for this find.
'What better time than to start priming the pump than now!' Jolene thought as she followed the cute little bitch back to her home that was located about fifteen minutes away. After a couple of tries, she finally got Abe on her cellphone, one of the latest models that could transmit constant video to the person on the other end. "Abe, honey ………………..…..how about springing an advance for your 'darling' talent director?" she baited him.
Arriving at the new home, Jolene advised the gullible bride-to-be "I'll go first …………..let me snap a few pictures so they can be used by the photographer as to lighting set-up needed! Don't worry if you're in the shot, honey!" Pretending to take a picture with her cellphone that was still 'on' with Abe on the other end, Jolene whispered into the phone "Look at those long beautiful legs, Abe! Flawless white sexy legs …………………..and you do love the look of women in high heels, if I recall correctly! And we can do this photo shoot right here in the bride-to-be's brand new home that she's occupying ……………………..all by her lonesome self till she ties the knot!"
Watching the viewer of his cellphone, Abe had unzipped his pants and was stroking his boner after getting a view of the beautiful bitch that Jolene was lining up for him this time. He had to give it to Jolene as she certainly did know how to prime his pump and he was already hot and horny after that brief sight of seeing the prospect walking up to the front door of her home! With Jolene now apparently carrying the phone in the palm of her hand as the picture was bouncing back and for with her steps, Abe was keeping his fingers crossed that there'd be more to come.
Once in the house, Jolene was priming the pump even more as she lifted the cellphone on the pretense of taking various shots, adding voice to prime Abe's pump even more. "Let me take one of the living room ………………..dining room ……………den ……………kitchen! Okay, honey …………………now ……………….the main room where most of the shoot will take place …………………..you will be getting dressed in the master bedroom, aren't you?"
Abe was pumping his meat like crazy now, hearing Jolene tell the gal "Go on up the stairway first and I'll snap a shot to estimate what shadows are there when you're nearly at the top!" 'Oh, fuckkkkkkkkk!' Abe wheezed at the sight on his cellphone. With the gullible bitch going ahead up the stairs, the fucking Jolene had apparently stuck her hand up as he got a glimpse right out under the bitch's dress to show her long legs, right up to the crotch of her lacy white panties.
Up in the master bedroom, Abe got a view of what would soon be the marital bed for the bride and groom. And then he heard Jolene advise "Stand there ……………right next to the bed ………………..……..let me get a couple of shots ………………….as most of the shoot will be in here! Gosh, honey ……………………you're going to look like the picture perfect bride! The layout will be just perfect to submit ……………….a sequence of photos of the bride on her wedding day ………………getting dressed in her wedding gown!"
And Jolene continued to egg Abe on as she added "So, we'll be taking various shots of you ………………..sitting on the edge of the bed …………………rolling up your white nylons ……………..putting your heels on ……………… getting into your wedding gown ………………….then your bridal veil!" Abe's pump had been primed all right, for he popped his load in seeing the lovely bride-to-be standing right next to the king-sized bed that would be the newlywed's marital bed ……………………..the one that Abe planned on raping the sweet little bitch upon!"
Wanting to prime Abe's pump just a bit more and up her asking price, Jolene asked "Do you mind if I use your restroom here, Tiffany?" Naturally, the gullible gal wouldn't think that a female using her personal bathroom would have anything up her sleeve and told her to 'go right ahead'. Once in the master bath, Jolene put the phone up to her ear. She chuckled to herself in hearing Abe panting in exhaustion, then softly spoke "Abe, honey …………………..you all right over there? Sounds like you're having a heart attack ………………………..or is it because you beat your meat and came all over the place?"
"You fucking bitch!" Abe cussed over the phone in response as Jolene had called his number. Cum was splattered all over the back of his desk and dripping down the front of the drawers at that instant. "Okay, I'll give you that advance if you line that beautiful bitch up fer me!" Abe advised. But then he was being held up as Jolene responded with "I just want my thirty percent bonus up front since I came up with this prize beauty and the idea of the shoot being dressed in her wedding gown ………………………..and in what will be the newlywed's bedroom!"
"God damn you! You fucking bitch!" Abe cussed in response, hearing Jolene merely chuckling at his reaction. She knew him like a book and Abe just couldn't let this tantalizing piece of ass get away from him. The thought of everything being set-up perfectly, with the bitch not even knowing where his studio was located to call the cops on him, Abe knew that Jolene was just playing him along like a puppet on a string. And the card Jolene had given to her merely had a cellphone number on it, one that would be disposed of after the caper was pulled off, so they'd both have no repercussions.
"Abe ………………….look at the viewer! Look what I've found for you!" Jolene teased. One hand aiming the cellphone at the clothes, Jolene used her other hand to reach in and retrieve a pair of lacy white panties, very similar to the sexy pair that Abe had gotten a glimpse at when the sexy bitch was walking up the stairs. With camera end aimed a foot away from the pair of panties, Jolene teased "Would you like to bury your face in these, Abe? If we're on, I'll bring these back with me as a bonus for you, honey! But if you don't like my proposal, I'll just put them back in the hamper where I got them!"
Seeing the pair of panties going back into the hamper, Abe yelled out "No ……….don't put them back ………………………I'll give you the bonus! It's a deal!" As the pair of panties were pulled back out, Abe sighed with relief and cussed on the phone "You fucking bitch!" Knowing that he'd be getting that innocent little bitch's panties in an hour or so, Abe's cock rose in anticipation of soon burying his face in the lacy garment and getting to inhale the sweet fragrance it carried.
Back at Abe's small studio, Jolene entered his office while dangling the pair of panties from her fingers. "My, God ………………….you're panting like a dog about to be fed a bone!" Jolene advised. With outstretched arm, Abe was reaching out and telling her to 'Give them to me!' Jolene laughed and asked "Now where's that bonus money you agreed to, honey?" Knowing Abe so well, always playing one another to the hilt, she then dangled the pair of panties over the top of the automatic shredder as Abe's eyes widened in horror.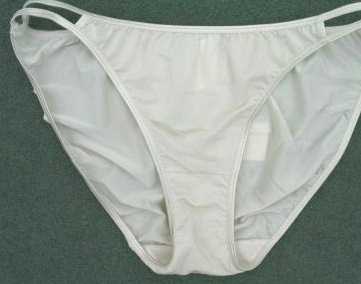 With Abe quickly opening his drawer and retrieving the stack of bills that he had counted out ahead of time, Jolene smiled as the bonus money was placed upon the top of the desk. But Jolene wasn't finished with the game she had started as she took the lacy garment away from the shredder, she then twirled it around her fingers and told Abe "Now let's see the wedding gift that you've got for the beautiful bride-to-be! C'mon, unzip and show me what you're gonna give her!"
Abe was enjoying the game as well, unzipping his pants and reaching in to pull out his massive dong that his cohort had seen and experienced many a time. As Jolene played the role of the nasty bitch, Abe complied as she ordered him to start shucking his cock if he wanted to get a whiff of the bride-to-be's panties. Complying with Jolene's order not to touch the panties, he continued stroking himself as Jolene moved closer and closer with the sexy garment dangling from her fingers.
Back around Abe's chair, Jolene dangled the pair of panties before his face as the horny bastard stretched his neck and sniffed loudly at the garment. And then Jolene gave him what he wanted cupping her garment clad hand over his nose and mouth. With the crotchband over his nose while he got to breathe in the scent of the beautiful little bitch, Jolene leaned forward to whisper in his ear "Wanna taste that little bitch now?" The nodding of Abe's head, she advised "Open your mouth now!" And with that, Jolene proceeded to feed him the tasty crotchband.
Minutes later, after Abe had sucked the entire crotchband clean, Jolene leaned forward over him. Wrapping the silky garment over his boner, she then took over the shucking of the thick 12" long ebony shaft. With Abe groaning with pleasure, whispered "Imagine ………………………fucking that innocent little bride-to-be ……………………right on the marital bed for the newlyweds! Think the little bitch is cherry, honey? Maybe you'll be the lucky one to break the bitch in ………………………….and maybe knock her up!"
Jolene burst out laughing as her shucking coupled with the last comment did it, with the throbbing shaft in her hand lurching and began spurting out its hot sticky goo. The desk drawers that had been cleaned up before her arrival were now dripping wet once again. With Abe groaning with pleasure as his now depleted cockstem began to get limber once again, Jolene teased "Damn, Abe ………………………….you'll really knock the little bitch up with a load like that!" Letting go of the now drooping panty-wrapped cock, Jolene picked up her bonus and waved with a "Ta-ta!"
On the day Tiffany picked up her wedding gown in the morning, she hurried on home as that gal Jolene would be coming on by after lunch with the photographer. Hanging up the wedding gown on the front of the door to her bedroom, Tiffany felt a bit nervous but told herself that it'd be a good dry run from the upcoming wedding day and that it would allow her to help out on the mortgage payments.
With Jolene having contacted her yesterday to confirm the time for the photo shoot, Tiffany had gotten her clothing ready, all the items that she would be wearing on her wedding day. 'Oh, gosh …………………….it's supposed to be of me getting ready ………………..getting dressed into my wedding gown! Will I need to be photographed in my bra and panties?' she wondered, feeling nervous of letting a stranger see her in that state of dress much less photographed like that.
At the appointed time and hearing the doorbell ring, Tiffany answered the door and greeted Jolene who advised her that the photographer was getting the equipment from his truck. With Jolene suggesting they leave the door unlocked for the photographer so they could go over what would be needed for the shoot, they retreated to the counter near the kitchen. Expressing her nervousness about being photographed, Tiffany inquired "Will …………………will I have to be photographed in ………………….in my underwear!"
"Relax, honey ………………….you'll be just fine! First time jitters ……………it's normal ……………………besides, Hank's a professional …………..he's done it a thousand times …………………………and many of the models are in even less than undies if you know what I mean!" Jolene advised, using an alias for Abe on this occasion. She then added "Anyway ……………………..…….I always take the precaution …………………….I've brought a bottle of wine with me ……………….my sack has the wine and the bouquet for you to take pictures with! A glass of wine always eases the tension and makes things go smoother! You have any wine glasses?"
With a vial containing just a bit of club soda and a fourth of a dissolved 'roofie' tablet, it would be just enough to take the edge of the innocent bride-to-be as the mixture would go unnoticed. "Don't worry about it, Tiff ……………………..that'll just be the first few minutes before you get into your gown!" Jolene advised in order to put the little bitch at ease. She couldn't let the bitch back out now or she'd be out her bucks plus need to payback that bonus, for only when Abe shoved his dark salami up into her cunt would the money be earned.
"Let's go upstairs to your bedroom and set up so things won't drag out! Bring the glasses and I'll take the wine!" Jolene advised. With Tiffany leading the way, Jolene advised that she'd yell out to the photographer, and opening the door she yelled "Hank, we'll be upstairs …………………bring your equipment up there!" Then, once up in the bedroom, Jolene saw the wedding gown hanging on the door and advised "Perfect for a shot to start things off with your wedding gown on the door!"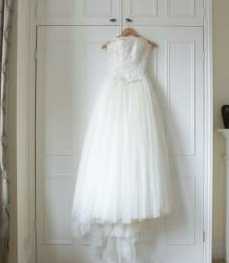 Just after taking a sip of the wine that Jolene had poured for her, the front door could be heard opening and closing followed by heavy footsteps coming up the stairway. With Jolene going out to the hallway to help the photographer, Tiffany heard Jolene call out to her "Tiffany …………………….this is Hank Morton ………………..owner of Morton Studios!" Unable to stifle the audible gasp that escaped her lips upon the entrance of the large muscular black man carrying the camera equipment, Tiffany felt herself tremble and as the man stuck his arm out to greet her, she forced herself to do the same.
Moments later, grabbing Jolene by the wrist and pulling her into the master bath for some privacy as 'Hank' was setting up the equipment, Tiffany stammered out "I …………….I ……………………I don't think that I ………………………….I can go through with this!" It simply had not occurred to Tiffany that the photographer would be black, though she was not prejudiced, having a strange black man see and photograph her while near nudity was quite appalling.
"Calm down …………………..calm down, sweetie!" Jolene consoled the frightened young beauty. But Jolene had seen the shocked expression on Tiffany's face when Abe had appeared in the doorway and knew that the little bitch had been frightened out of her wits. Handing Tiffany her glass of wine, she advised "Here …………..drink more of your wine …………….that'll ease the tension!" Jolene smiled as she watched the trembling bride-to-be take two large gulps of the wine.
First, Jolene suggested "Hank, take a couple shots of the wedding gown hanging on the door! That'll be a great introduction shot for the magazine piece! And then, get some of her heels near the desk ………………and her white gloves there ………………..and the pillow with the wedding rings for the bride and groom tied on top!" Then, with Tiffany calming down some with the wine and 'roofie', Jolene told her "Don't worry about being in your undies, I'll be in mine too! Just pretend it's the two of us and I'm helping you dress for the wedding!"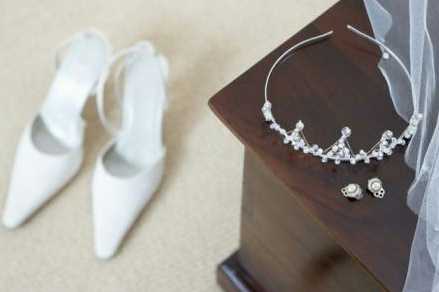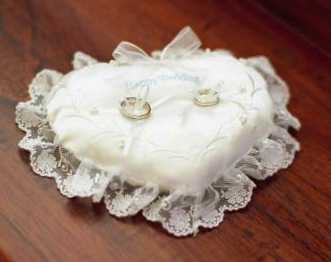 Earlier, Tiffany had gone out to pick up her wedding gown wearing a pullover blouse, jeans, and running shoes. Having returned, she had taken off her running shoes while leaving her white socks on. And thus, Abe was anxious for Jolene to hustle the sexy little bitch in and start getting her clothes off. 'Damn, she so fuck'n purty! Can't wait to see her undress and in only her panties and bra! Shit …………….I'm gitting a fuck'n hardon just thinking about it!' Abe thought.
'Damn, Jolene sure pulled off a good one ………..she won't even know my name ……………………she's sure gonna look foolish going to the cops saying she was raped ……………..that she had thought she was doing a legit photo shoot ………………..and everything was just a set-up!' Abe mused. The contract used had the phony studio name of Enchanting Photo Studio, one that Abe had hoped to use one day. So, if she pulled out the copy of the contract she signed, it was with a non-existent company. And 'With Jolene tossing her cellphone used just for this caper, the dumb little bitch will look really stupid if she decided to report this to the cops!' he chuckled.
In the bathroom with Jolene and the door closed, Tiffany nervously followed Jolene's lead in stripping off her clothing. Blouse, jeans, and socks were slipped off and now Tiffany was trembling with nervousness in wearing just her lacy white bra and panties. Per Jolene's instructions, they'd be looking at each other while talking, making believe they were all alone in her bedroom. Thus, Tiffany kept telling herself over and over again to 'Just make believe he isn't there!'
Outside, standing before the mirror as Jolene assisted her with her bridal veil, Tiffany couldn't help but gaze into the mirror and glancing at the reflection of the photographer. Swallowing nervously as the camera clicked away, Tiffany then shuddered upon seeing the horny bastard pull at his leg pants, apparently to ease the tension of his hardon that he was now sporting. She certainly hoped that it was Jolene that had gotten the bastard excited, dreading the thought that his ogling of her body had done it.

Indeed, Abe was horny as hell and wanted to throw the sexy bitch right down on the bed and rape her. But finishing the photo shoot was a must as he did intend on submitting it in to an actual bridal magazine. He'd tried time and time again to break in with a legitimate magazine but each time he had gotten back the rejected submissions. Abe just hope that this would be the one that got his name out there. 'Yeah, gotta get all the photos of this innocent little bitch before she gits 'ruined'!' he chuckled to himself.
Bridal veil on, a short break taken as the photographer was reloading his camera, Tiffany took the refilled glass of wine being handed to her by Jolene. Gulping down half the contents, her body felt a bit warm now and it did indeed seem to make it easier to continue on with the photo session. Tiffany was dreading the next aspect of the photo shoot, that of her sitting at the edge of the bed while the photographer took close-ups of her putting on her white nylon hose.
Sitting on the bed, Tiffany was advised to do it very slowly so that the photographer could take a number of shots. Indeed, a lot of shots were being taken, but this aspect was what Abe was dying for. A leg man true and true, the sight of her sexy feet and pedicured toes as they entered the opening of the hose had his pants tented. It took all the will power he had from tossing the camera aside and getting down on his knees her caress her soft ivory legs. 'The hell with the nylons …………………….I jist wanna feel those sexy white legs wrapped around my black ass!' he panted.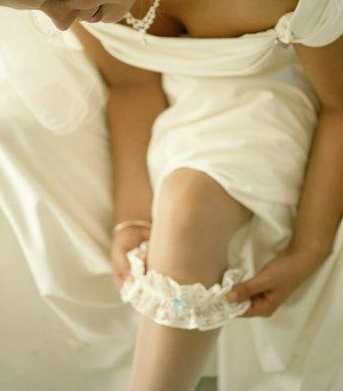 Jolene could see Abe panting like a dog as he ogled the little bitch's sexy legs. 'Fucker's drooling all over the place!' she shook her head in disbelief at how horny the bastard had gotten. But the topper came when Abe advised "Oh, my gosh ……………..looking at the footage, the lightings just off a bit …………………….we need to shoot that scene again!" 'Fucker's going to pop his fucking load he keeps it up making goo-goo eyes at the bitch's legs!' she figured.
A second shoot of Tiffany pulling her white nylons up her sexy legs and Abe was now sweating like a fucking pig. Finally, shots were taken of Tiffany sliding on the garter belt that the groom would be tossing to the bachelors, then of her slipping white heels. Next, Jolene was assisting the innocent bride-to-be into her wedding gown. With Tiffany downing the last of her wine, photos were then taken of her diamond ring just as she was about to put on her white gloves. A few poses of the now woozy beauty with her bouquet of flowers and soon she became quite unsteady on her feet.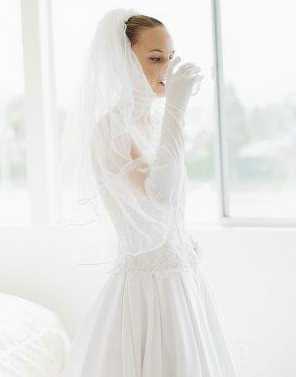 A woozy Tiffany was helped to the bed by Jolene. Meanwhile, Abe reloaded his camera for the main event and put new tapes in the two camcorders that had captured Tiffany getting dressed into her wedding gown. With the full effects of the entire 'roofie' in her system, Tiffany was out cold and not responding to Jolene's voice nor the nudging of her body. Now, handing Jolene the camera, Abe stood by the bed so the pictures and videos would capture him undressing right next to the drugged beauty as she lay fast asleep in her bridal gown.
Not wanting this to be a silent movie, with the drugged beauty out of it, Abe would have to provide the sound. Going around the bed, he took her limp left hand and pulled off her glove, then placed her manicured fingers around his throbbing boner. "Ahhh, gezzzzzzz ………………………damn, her hand is so fuck'n soft! Wonder if the beautiful bride-to-be ever gave her fiancé a hand job? Damn, yer fiancé must have a good job to afford such a beautiful diamond ………………………sure looks nice and sparkling!" Abe commented, knowing that the shot of her sparkling diamond atop of his black cock.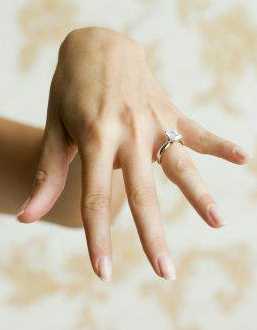 Intent on satisfying his legman fetish, Abe went to the foot of the bed and touched her right heel, letting his hand slide up under the gown to caress the nylon covered ankle and calf. Then, he flipped up the front of her gown to bare her sexy legs and the crotch of her lacy white panties. With Jolene coming on into the scene, he was advised "Get the other side …………………………..you want her to walk down the aisle in his wedding gown, don't you? Don't want to get it ruined ……………………in case she bleeds …………if she's still a virgin!"
First one heel, then the other, Abe removed them to bare her sexy nylon covered feet and reached up to undo the clips of her garter belt. Smiling as he proceeded to roll down the nylons to bare the beauty's soft and sexy white legs for viewing. Legs now bared, Abe then grasped her trim ankles and leaned forward to slide his throbbing cock up between her tender pink soles, leaving a trail of slick pre-cum juice. Then from the bride-to-be's toes to her panty clad crotch, this horny black bastard was nuzzling his face against her soft skin, tonguing and kissing her tender flesh.

"Damn …………………………this little bitch smells so fuck'n sweet!" Abe advised loudly before clamping down on the panty clad crotch and proceeded to eat the drugged beauty out in that manner. Pulling back a little for the cameras, Abe proceeded to tongue the front of the panty's crotch. Panty wet from his feasting, the damp discolored crotch would clearly be visible to the viewer. Then to tease the viewers, with his mouth once again clamped on her crotch, Abe reached up to grasp the waistband of the lacy white panties and began to slowly work them down to his nose level.
Lifting his face up, Abe then proceeded to reveal the golden jewel for the cameras. And then, pushing the flimsy garment down and stripping the panties off her sexy feet, Abe proceeded to spread her legs wide. Then he dove back between the sexy white legs to really begin his tasty feast. Jolene moved closer, snapping shot after shot of Abe's thick tongue partial disappearing up into the pink slit. Pushing his tongue into her tight little slit, Abe felt her thigh muscles contract instinctively as he began to eat her out. Soon, he her innocent young body responding to the stimulation as slick juices began oozing out onto his flicking tongue.
Chin glistening with slick juices when Abe finally reemerged smacking and licking at his lips, smiling widely as he looked toward one of the video cameras and commented "Damn, now that's pure fuck'n honey! So damned sweet!" Shucking his cock, getting it fully stiff for the cameras, Abe then announced "And now, Horny Hank is gonna 'ruin' the white boy's precious little bride! But Horny Hank always leaves the white boy something in return …………………….heh, heh …………………………ya got it ………………………..a little black bastard up in his bride's tummy!"
Putting her white heels back on, Abe then shuffled up into position, placing his bloated cockhead up against the entrance of the pink slit. Pushing forward, Abe realized that the bitch was far too tight and he just would not fit. "My God, she's so fuck'n tight …………………….she'll skin me alive!" he announced. Spreading her legs wider, lifting her knees up so her spiked heels dug into the bed and held her in position, Abe got his cock into position as he reached down to grasp her around her trim waist. Hands on her wedding down, Abe reared back and lunged, yelling out "Oh, damn ………….Jesus ………………………..damn …………………..she's so fuck'n tight!"
With only his cockhead forced into the tight slit, Abe reared back on his haunches once and again, this time determined to spear her good. "Ahhhhhhhhhhhhhhhhh!" he announced as he thrust forward, then exclaimed "Damn …………………….I hit something ……………………………..fuck'n little bitch is still cherry!" "Oh, baby …………………..oh, sweetie ………………………..yer in fer a treat now ………………………….'ol Hank's gonna do the honors …………………gonna pop that cherry ya's been saving all this time!"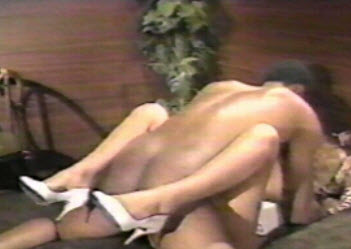 Rearing back once again and then slamming forward, Abe proudly announced "Popped it ………………………..Horny Hank's done the honors ……………………..popped the bride-to-be's precious little cherry!" Lifting up, looking down to the juncture of their union, Abe chuckled loudly "Damn, will ya look at her bleed …………………….look at all that fuck'n cherry juice!" "Yeah, got ya good ………………ya gonna keep this a secret from man yer gonna marry soon …………………..gonna tell him a black bastard raped and 'ruined' his little sweetie?" he laughed as humped into the raped beauty.
"Ugh ……………………..ugh ………………….ugh……………….……….ugh ………………….ugh!" Abe grunted each time he thrust himself into the lovely bitch as his nuts were contracting and ready to pop. Faster and faster, squish after squish of cock pumping into the bloody slit, Abe was now up to jackhammer speed. "Gonna cum, bitch …………………..gonna deliver yer wedding gift now ………………………….ahhhhh …………………………..ahhhhhhhhhhhhhhhhhhhhhhhhhhhhhhhhhhh!" Abe groaned as his hot potent jizz spurted out into the fertile womb of the raped beauty.
"Ahhh ……………………..there we go …………………………….lemme ease by bloody prick out of yer tight little snatch! Better make sure hubby's snockered up with booze on yer wedding night ……………………….if'n he's expecting to git to pop's his beautiful bride's cherry!" Abe laughed. Picking up the pair of lacy white panties, he then wrapped inside of the crotch band to wipe the blood off is fuckstick. Then for the cameras, Abe went to the side of the bed and pushed the beauty's raised knees further apart, watching as a mixture of blood and cum oozed out of her raped slit.
Another rape session with the drugged beauty, then when Abe got his cock revived once again, he got up on the bed to straddle the shoulders of the petite beauty. Lifting the sheer bridal veil while shucking his cock, Abe then used his thumb to press down on her chin. His cock twitched in anticipation upon feeling her warm breath on his throbbing cock. Pink lips parted, Abe then eased himself into her mouth, savoring the exquisite feel as the underside of his sensitive cock slid over her pointed tongue.
Cockhead enveloped in her mouth along with several inches of his dark meat, Abe smiled in triumph as he gazed down upon the innocent little beauty. Shucking at the remainder of his foot long dong, he was determined t give the little bitch a tasty treat for when she awoke. "Ahhhhhhhhhhhhh!" he groaned as cum burst from his balls once again, spurting hot sticky jizz into her mouth. Pulling out, Abe then laughed as he proceeded to give the beauty a creamy facial for her wedding day.
Hours later, with the drug wearing off, Tiffany moaned and grimaced as her body ached so badly. Blinking her eyes rapidly, trying to get them focused, yet everything was just so hazy. Reaching up, Tiffany touched something that was over her face, then realized that it was her bridal veil. As she searched her memory, Tiffany was brought back to the photo shoot in her wedding gown, but after that everything was a total blank.
Tiffany shuddered, wondering what was that slick and salty taste coating her mouth. Swallowing, she shivered at the vile taste in her mouth, wondering just what she had drank or eaten. And then she discovered that the veil was stuck to her cheek as she tried to lift it. Trying to get out of bed, the awful pain had her crying out "Owwwwwwwwww ……………………………..ahhhhhhhhhhhhhhhhhhh!" Pushing herself up at the elbows, Tiffany gasped upon seeing her legs bared and wedding gown bunched up around her waist.
Aching so badly at the crotch, Tiffany gingerly reached down to explore herself with her fingers. "Oh, my Godddddddddddddddddddddddd!" she cried out upon lifting her fingers up and seeing the blood upon them. It was then that Tiffany came to realize just what had happened, that it had all been a set-up, getting into her home for a photo shoot had been for the purpose of the vile photographer raping her.
Finally making it to the bathroom, Tiffany sobbed and cried in seeing just why the veil had been sticking to her face as she brushed away the dried white flakes. She'd never seen this before but knew from her intermediate school's sex education class and from sorority sisters giggling about it, plus that famous stain on the blue dress. 'Oh, my God ………………….that slick and salty taste in my mouth! Oh, noooooooooooooooooo! Raped of my virginity, the bastard even put his filthy thing in my mouth ……………did it my mouth …………………..and all over my face!' she realized.

Unable to bring herself to report the rape, claiming illness that night when her fiancé called, Tiffany was determined to keep this deep dark secret from anyone. 'How could I be so foolish?' she asked of herself. Thinking of the easy money to be made, she had really been suckered in as that money had never been paid to her. Only the vile rape and degradation of her body were the results of her foolishness in believing she could get money as a model.
Weeks later, it was rehearsal night at the church to be followed with a dinner for the bridal party and their parents at a nice restaurant. Just as the wedding coordinator was to start the rehearsal, Tiffany froze in seeing Jolene entering the church with the black photographer following behind with camera and equipment in hand. She was speechless as Jolene announced "May I have everyone's attention for a moment!"
Tiffany thought her life was over at this moment and that the vile woman would announce to everyone in the church of her having sex with a black man, that she was no longer the virgin she had professed to be to the man she was going to marry. And then Jolene was handing out a magazine to everyone, including herself, with many praises and congratulations suddenly coming her way. Looking down at the magazine, it was a national bride's magazine and she was one gracing the cover.
In stunned silence, Tiffany stood there looking at the magazine as Jolene continued "We just received this today and wanted to share the news with everyone! We're all so proud of bride-to-be …………………………and Tiffany, here's a $3,000 cashier's check for you!" "With the magazine so please with the photos, we've just received an assignment to cover the rehearsal night, the wedding, and honeymoon cruise! Another big plus is that the bride and groom's honeymoon tab will be picked up by the cruise line as the magazine promised them a lot of free publicity!" Jolene added.
Rehearsal over, with the rehearsal dinner next, Jolene the groom-to-be "Mind if Tiffany rides with us over to the restaurant ………………………we need to go over the details of your bride-to-be's very promising modeling career that's off to a good start!" For Kevin Westwood, he was so excited of the money Tiffany had earned and her being on the cover of the national magazine that he readily agreed and told Tiffany that he'd take his parents to the restaurant and meet up with her there.
As all the cars pulled out of the parking, Tiffany was frightened as the man named Hank got out of the van as Jolene climbed over into the driver's seat. Then the van's sliding door on the left opened and the black photographer was getting in the back with her. Under the threat of having additional photos distributed at the restaurant, Tiffany's eyes tears as she willed herself to allow the touch of the bastard's right hand caressing her inner thighs.
Then the man's right hand was grasping her wrist and pulling her hand over to him. Hearing the sound of a zipper being undone, Tiffany sobbed and trembled in fear as she turned her head away from the awful sight of was to come. Shuddering with disgust as her fingers were being wrapped around a thick fleshy bone, as the hand above hers showed her the pumping motion desired. "C'mon, sweetie ………………….the restaurant's not too far away! Ya don't want up pulling up front while yer still giving me a handjob, huh!"
What was supposed to be a happy and fun evening with the two parents meeting and getting to know each other, Tiffany could only fidget about in her seat. She was so uncomfortable sitting there but she could not do anything about it with Jolene sitting next her. Forced to bring the black bastard off with her hand in the back of the van had been such a hideous and horrible sex act that she had been forced to perform. She had looked about for a tissue or rag, determined not to get the vile stuff on her when it did its thing.
But then, the added elements made it so much more deplorable ………………….told to take off her panties and wrap them around the thick black penis, she was forced to comply! Not only were the panties wrapped around the penis, they were draped right over the front of it as she continued to fist him. Just two stop lights to go before reaching the restaurant, she had brought the black bastard off, but in doing so the crotchband of her panties were saturated with his cum.
It was so deplorable, touching the man's filthy penis, made to bring him off right in her panties. But not as deplorable of having to slip her feet into them and put her panties back on. Sitting there, with another man's cum now matting her curls, Tiffany wanted to die of shame. And later, with Jolene telling Kevin that she had more details to brief Tiffany on, the groom-to-be readily told his fiancée that "Go ahead with them, Tiff …………………..I'll call you tomorrow!"
Back in the van, arms enveloping in the back seat as she was forced to sit upon his lap, Tiffany shivered as the large hands cupped her breasts and thick thumbs found and played with her budding nipples under her dress and thin bra. And then, those hands were reaching over, delving into the front of her dress and seeking to get under her bra. Dress unzipped in the back, bra undone, Tiffany could only sit there and allow the man liberties that Kevin had not obtained as yet.
Dropped off by Jolene, the bride-to-be opened the front as Abe encirled her trim waist. In the soon to be marital bedroom of the newlyweds-to-be, Abe was once again eating the bride-to-be's sweet little beaver. He didn't mind the added flavor of his own spunk on the curls and outside pink slit. This was so much better than the last time, so much more enjoyable to hear the little bitch whining as he ate her, plus having her withering about made it all the better. And when she convulsed, grabbing the back of his head and pulling him to her as she orgasmed, that was the absolute best.
At first she just laid there as he was about to mount her, but it was to be expected as she was only giving in due to the blackmail. But soon, the innocent little bride-to-be had turned into a hot little bitch, wrapping her trim white arms and legs around him as he gave her a fucking she'd never forget. 'Damn, she's turning out to be a hot little minx!' Abe concluded as she went wild in her climax as he came in her. A half-hour later, he had her up on all fours, fucking her like a bitch in heat. "Yes …………………oh, yes …………………….yes ……………………….yes ……………………….faster …………………………..faster ………………………..fuck me faster!" the once innocent bitch cried out.
Two days later, Jolene advised the gals in the bridal party that the magazine wanted some shots of the bride alone in her thoughts and about fifteen minutes would be needed. Maid of honor and bridesmaids understood and readily departed to a different room in the church. With Jolene taking the camera, quite a few shots were taken, that of the radiant bride in her white wedding gown down on her knees. Veil raised, she took the long thick cock all the way down her throat, swallowing and gulping down all the thick slime so as not to get any on her wedding gown.
It would prove to be an eventful honeymoon cruise, with the bride servicing the cameraman more than her own husband. Once the cruise was over, Tiffany found that the contract she had signed called for 10% being turned over as finder's fees to the studio that had submitted her photos. And when not on a modeling job, she would be keeping appointments that 'Hank' and Jolene would line up for her …………………..that of meeting very wealthy and reputable men in their hotel rooms …………………….men who would readily fork over a lot of dough to bed a beautiful broad who was a covergirl. In fact, that first guy was already lined up, a 75 year old geezer who was head justice on the state's supreme court.

End of Story.