Picking Cherry Blossoms IV
(m/f, i/r, n/c)
by
Black Demon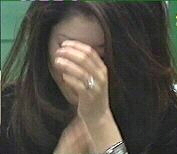 ____________________________________________________
Standard Disclaimer!
This is a fictional story intended for Adults only!
____________________________________________________
************ ***********
Note: The story below is a story in itself. However, it is also a direct continuation
of the earlier stories entitled: Picking Cherry Blossoms I, II, & III
*********** ***********
Sitting off in the corner of the restaurant, eating the delicious piece of cherry pie that he had ordered, Marcus Turner had his gaze focused upon that of the lovely Miss Cheryl Hoshino as she dined with several of her girl friends. Having followed her from her teller's job at the bank, as he had done on previous occasions, Marcus was looking for any lapse in cautiousness or that of when she was most vulnerable.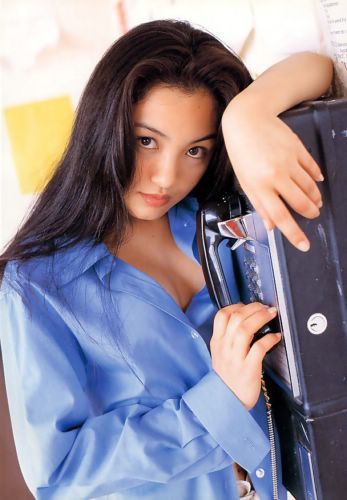 Ever since making Marcus' 'Rape Bait List' six months ago, when the beauty had participated in the annual Cherry Blossom Pageant and placed as the 3rd runner-up, she had been followed on occasion and notes were taken as to her daily routines. Normally in the company of her boyfriend, this was only the second occasion that Marcus had followed the unsuspecting damsel when she met up with her girlfriends for dinner after a workday.
Indeed, Marcus had wanted to kick himself in the butt for not having sprung into action that last time when she had said goodbye to her friends and headed home. Once he had seen her headed into the direction of her home, a location that he knew well after having followed her on many an occasion, Marcus had thought of speeding up ahead and beating the 21 year old beauty there. But unfortunately, he had used the head on his shoulders and not the one between his legs, thus it led to him passing up on the ideal opportunity of accosting the young beauty as she entered her townhouse unit.
For unsuspecting Cheryl, having led a rather innocent and sheltered life, she had no idea of being stalked by a lusting black man. She had been quite fortunate to date in not having fallen into the hands of the vile pervert who was intent on defiling her innocent young body. However, on this particular night, her lusting black stalker had just thrown caution to the wind and was only thinking with the head between his legs.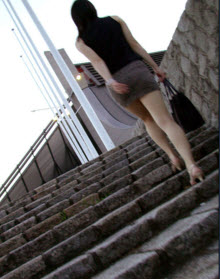 How close Marcus had come to acting on impulse, thinking with the head between his legs, nearly attacking the beauty when she went from her place of employment to her car. On one occasion, seeing her trim and sexy legs as she climbed the stairs, Marcus was about to run up and pull her off into the bushes and rape her. But the sudden appearance of someone coming down the stairway had forced himself to keep his peter in check. Having parked next to her car one day after she had stopped at the grocery store, he got a glimpse of her sexy legs up close when she entered the car and Marcus told himself 'God ……………I's jist gotta git me a sample of that!'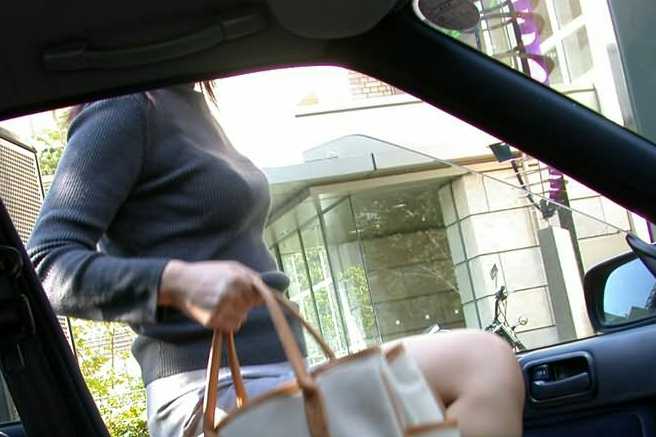 Having previously done his homework and scouted out the beauty's townhouse, there would be one ideal shrubbery where could hide behind in the darkness and not be detected. The ideal would have been to have adequate time in which to break into the townhouse and surprise the unsuspecting beauty when she entered, eliminating the chance of a neighbor seeing her being accosted before entering the unit. But there would be just enough time for him to beat her home and get into position to strike.
Marcus reflected back to the pageant night of the Cherry Blossom Festival, where he had purchased an expensive seat that would put him up close to the runway where the young beauties would parade down before the audience. Cheryl Hoshino was indeed one of the young beauties who had caught his eye and beamed when she became a princess on the court. But in becoming a princess, the young innocent beauty had just been put on Marcus' 'Rape Bait List'!
Recalling the first afternoon activity in seeing all the contestants on that sunny afternoon, Marcus recalled Cheryl and some of the other contestants. All of the pretty gals making up the court were also Marcus' favorite choices, all so innocent looking. Thus far, in having personally met three of the five beauties, all had lived up to Marcus' expectations ……………………….innocent and virginal! Marcus licked his lips in the hope that beautiful Cheryl Hoshino would not disappoint.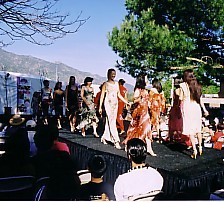 Finding a parking space on the street, Marcus surveyed the nearby townhouses to make sure that he could get into position without being seen. With an elderly woman watering some flowers two doors down from his prey's townhouse, Marcus was pissed as there was no way he could make his move. With only a few minutes at most to spare, he cussed 'Fuckkkkkkk! C'mon, lady ……………………git the fuck inside!' As if the woman had heard him, she put the water pail down and walked up the stairway to her townhouse unit and disappeared inside.
Reaching over to open the glove compartment, Marcus grabbed the stun gun, then cussed upon discovering that he had forgotten to put his ski mask back into place. Another mask was stored away in the back of his trunk but that would involve time that he was short of and might just attract attention to himself. Marcus knew that it was much more risky to have his victim able to identify him but it was his other head that was now making the decisions, telling him 'C'mon, fuckhead! Ya blew it the last time …………………take the chance …………………………yer nuts are ready to blow!'
Armed with his stun gun, Marcus got out of his car and made a beeline to his destination, looking straight ahead so as not to attract any suspicious neighbors but keeping his eyes peeled. Wearing dark clothing as he usually did, Marcus had gotten into position just in time as the beauty's car turned into the parking lot and pulled up into her assigned stall just a bit off to the right side. With him hiding behind the shrub to the left front of the townhouse, he would escape being noticed by the unsuspecting beauty.
Peering through the shrubbery, Marcus watched intently as the lovely beauty stepped out of her car. As she opened the back door to retrieve her packages, Marcus eyed up her trim sexy legs encased in dark nylons and 3" white heels, items that really turned him on. Each time he had the opportunity to stalk the lovely Cheryl Hoshino, Marcus was quite impressed on her dress, always wearing neat dress or skirt and blouses with 3" heels. Today was no exception as she wore a blue skirt, white blouse and a matching blue top over the blouse.
Then there was the ringing of a cellphone and Marcus watched as his prey reached into her purse to retrieve the ring phone. "Hi, honey! I just got home after shopping with the girls and unloading my car! Yes ………………I had a great time! How about you ………………enjoying your night out with the guys?" he overheard the young beauty's conversation. "Okay …………………see you tomorrow night! Have fun with the guys! Love you!" came the end of the conversation as his prey put the cellphone back into her purse.
With several large packages in her arms, Cheryl struggled a bit to fit the key into the slot as she tried to open the front door. She was looking forward to taking a hot shower, then watching the late news on television before turning in for the night. Though quite cautious when traveling alone at night, Cheryl always made it a point to check into the back seat of her car upon entering the vehicle, always locked her door before starting up.
As there was little crime in the area where she lived, neighbors very friendly and looking out for one another, Cheryl felt quite safe once in the parking lot of the townhouse complex. That with being parked in front of her unit, coupled with just getting a call from her boyfriend, Cheryl's guard was completely down as she was about to enter the front door to her home. Almost dropping one of her shopping bags in the process, Cheryl breathed a sigh of relief as she finally got the key in and the doorknob turned.
Hearing a noise behind of her, Cheryl was in the process of turning around when an electric shot coursed throughout her body, causing her to lose control of her physical capabilities as she was pushed into her townhouse. Packages falling about the entrance way, she blacked out with her spasming body in the arms of the intruder. Cheryl was now captive in her own home as the front door was closed shut and locked.
Coming out of her unconscious state, Cheryl trembled with fear as she found herself bound to a chair by heavy rope. Blinking her eyes, trying to make sense of what was taking place, Cheryl realized that she was in the living room of her own home. She remembered trying to get the key into the doorknob while holding her shopping bags, but that was the extent of it. With the lights turned on, Cheryl observed her shopping bags scattered about on the living room floor. Also on the floor was the top of her blue vest that she had worn to work that day.
"Mmmmmmmmmm ……………………….mmmmmmmmmmmphhhhhhffffffffffffff!" she tried to yell out for help. But with only muffled sounds emitted, Cheryl discovered that she was also gagged with a large piece of duct taping over her mouth. However, Cheryl's muffled screams did signal one thing, telling the lusting intruder of her regaining consciousness. And she was soon to discover that her assailant was in her home with the man's large black hands coming from around her to cup her breasts.
Shuddering with absolute fear as she looked down to see the coal black hands of a man molded around the outline of her breasts, Cheryl tried to scream out with all her might. But all that came out were muffled "Aaaaampppphhhhh …………….mphhhhhfffffff!" As the caressing hands moved down to cup the undersides of her breasts, Cheryl shivered as the thick thumbs searched for and found her sensitive nipples. "Nnnnnnnnnnnnnnnn ………………….nnnnnnnnnnnnnnnnnnnnn!" came her muffled sobs as the vile man began to flick and play with her.
'Oh, God …………………………….oh, Goddddddddddddddddddddddddddddddd!' Cheryl shivered as her nipples responded to the touch through her thin blouse and lacy bra. Only having her breasts touched on the few occasions that she and her boyfriend Darren kissed and petted, Cheryl tried to will her body not to respond to this unwanted touching. With Darren, she could put a stop to things when things were about to get out of hand. But now Cheryl could not call a halt to this unwanted touching of her innocent young body.
Blinking back the tears of shame as her body responded to the man's vile touching of her body, the hands disappeared behind her. But clearly visible were the two pointed buds pushing up against her lacy bra and blouse. Cheryl then shuddered as hot and heavy breathing was next to her ear as the intruder panted out "Ohhhhh, so soft and sexy! Nice titties ……………………….just like I imagined they'd feel when I's watched you on the runway of the pageant! I's been dream'n about ya all this time!" Then to her horror, a glistening sharp knife appeared in front of her face as her assailant advised "Ya don't want me to use this, do ya? Ya gonna do's what I's tell ya?"
Frightened out of her wits, fearing she'd be killed or badly disfigured, Cheryl nodded a 'yes' as tears poured from her eyes. To her relief, the man advised "Good ………good ………………..that's being a good little gal! Now's I's put it away ………………but ya better remember I's got a shive and better not go scream'n and trying to attract anyone here! Understand?" Shuddering with fear, Cheryl nodded a 'yes' once again.
Hands tied around the back of the chair, Cheryl suddenly felt something being placed in the palm of her right hand, something thick and fleshy. Out of sheer instinct, wondering what it could be, her trim fingers clasped and squeezed upon it. When the fleshy bar suddenly throbbed in response to her touch, Cheryl realized 'Oh, my Godddddddddd …………………it …………………it's his 'thing'! He's making me touch and feel …………….his thing!' "Yeah, that's it sweetie ………………squeeze it!" she was ordered.
With Darren's penis the only male manhood touched once in the heat of passion, but only through his pants and jockeys, this was her very first penis she had encountered in the raw. Still, the sticky piece of meat was clearly superior to her boyfriend's, one much thicker if not double that of what she had felt through Darren's clothing. With the man's sticky penis throbbing in her hand, fearing that rape was her assailant's intent, Cheryl desperately thought of a way in which to save herself.
Having had the normal studies of the 'birds and the bees' in middle school, Cheryl knew enough that once a man ejaculated, he would normally take quite some time in which to have his penis revived. With no alternative at this point, Cheryl squeezed the man's penis tightly and began to pump at it. Shuddering as her fingers could not fully encircle the man's penis, Cheryl stroked it as much as her bindings allowed.
Feeling the penis grow even larger in her hand, now throbbing faster and faster, Cheryl steeled herself and prayed that her ordeal would soon end once the man had satisfied himself. But suddenly the man pulled away and out of her clutching grasp. Petrified as her black assailant walked around the chair and stood before her, though she had felt his bared penis in her hand, Cheryl still had not expected to see the man buck naked before her.
Her eyes glued upon the man's jutting penis that bobbed up and down before her horrified eyes, to her distress Cheryl heard the man advise "Sorry, sweetie …………yer hand job sure felt good but I's wanna feels yer sweet lips on me! All's I's could think about all these months was yer beautiful and soft lips on me ………………….with yer tongue teasing my pisshole!" Shuddering and cringing in disgust at the man's vile suggestions, Cheryl wanted to just die rather than be subjected to such a filthy and degrading act.
Tape suddenly ripped from her mouth, Cheryl desperately wanted to scream out for help. But if she did so, that would allow entry of the filthy black penis that was pushing up against her tightly clenched lips. "Lick it, sweetie! Gimme a little tongue!" her assailant ordered. Refusing to do such a filthy thing as she shuddered in revulsion, Cheryl could not believe how much more a woman could be degraded than being forced to admit a man's filthy penis into her mouth.
Suddenly, with a flick of the knife and the glint of it shining before her face, Cheryl was forced to make the decision of her life as her assailant ordered "Tongue me, bitch!" Deathly afraid of the threatening knife, shuddering in revulsion, Cheryl parted her lips slightly to allow the tip of her tongue to protrude and make contact with the probing bone of flesh. A shiver coursed through her body as the tip of her tongue touched the man's flaring pisshole.
Immediately withdrawing her tongue, Cheryl panted for breath a few seconds and then resumed her task, darting her tongue out against the flaring pisshole and its bulblike cockhead. "Oh, yeahhhhhhhh ……………………….oh, sweetie, that's it …………oh, goodddddddddd …………………….yeahhhhhhhhhhhhh!" came the moan of pleasure from above. Whether amazed at the pleasure she was giving the man or that of womanly instinct, Cheryl's tongue flicked faster and faster as she wet the entire ebony bulb to a glistening shine.
"Ohhhhhhhhhhhhhhhhhh, babyyyyyyyyyyyyy …………………………ahhhhhhhh!" Marcus wheezed with pleasure. Wanting and needing to feel her lips around his boner, he reached out to clasp the back of her head and began leaning forward, advising his captive "Open up, sweetie!" Cock sliding into her hot tight mouth, Marcus shivered with pleasure as he fought to keep from spurting his load that second. "Oh, baby ………….yeah ………………………yeah ………………………ahhhh, yeahhhhhhh!" Marcus groaned as he fucked her beautiful face.
With the tied beauty gagging around his pistoning cock, Marcus closed his eyes and let the pleasure soak in. Releasing his hands from the back of her head, he placed them behind his back as he did while standing at-ease when serving in the military, figuring that the beauty wasn't going anywhere. The gurgling sounds of the young beauty chocking, coupled with the pleasurable suctioning of his cockstem, Marcus sucked in his breath as he moaned "Ohhh, yeah ………………………gonna cum ……………..gonna cum in yer sweet mouth, baby!"
Mouth now slick and slimy from the leaking emissions of the assailant's vile penis, Cheryl wanted to die rather than having the black intruder pleasure himself right in her mouth. Nothing could be more despicable and degrading as having a man do that to her and Cheryl was desperate upon feeling the filthy penis swell even more in her mouth. With the announcement that was just made of her assailant's vile intentions, Cheryl frantically pushed back against the floor with her feet.
Cheryl's actions met with success as her mouth was suddenly uncorked from the invading cock just as it was about to blow. As the chair tipped back on its back legs, chair's back landing and resting against the wall, Cheryl turned her face just in time as a dollop of hot man-cream splashed against her cheek. She trembled upon feel a hot spurt make contact with her neck and her blouse become wet with the filthy mess being deposited upon it. "Bitchhhhhhh ……………………..fuck'n bitchhhhhhhhhhhhhhhh!" came the angry scowl as the man was deprived the pleasure of ejaculating his filth into her mouth. With the spurts dwindling in power, the remnants fell atop of her nyloned thighs.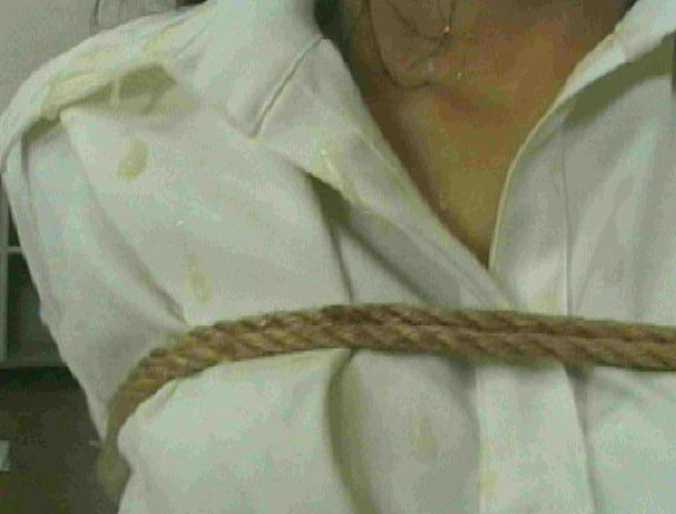 With her attacker in the kitchen, warning what would happen if she dared yell, Cheryl heard the intruder helping himself to a cold drink and some left over food. Left tilted with the chair still leaning back against the wall with her feet off the ground, saturated with the man's filthy cum drying on her face and clothing, Cheryl felt totally soiled and degraded at this point. With her attacker in the kitchen, her only thought was to get out of her bindings and to run out of the townhouse. In shifting her weight, Cheryl was then able to tilt the chair forward, landing on all four of its legs.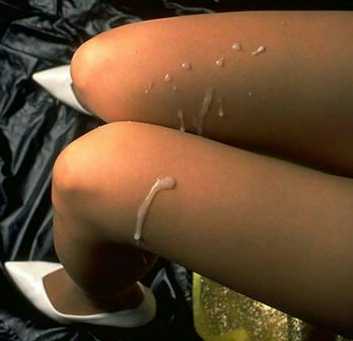 To her dismay, the noise of the chair landing upright sent a signal of her attempt to escape to her captor. Trembling with fear as she sat bound in the chair, Cheryl saw the black intruder with his hand fisting his once again growing manhood. As it hardened and lengthened, there was doubt left as to what her attacker intended when she was asked "That boyfriend of yers make a 'woman' of ya yet, huh, sweetie? He cop that cherry of yers?"
"Please ……………………please ………………………..please don't rape me! Please ………………….please ……………….I ……………..I'm ……………………a virgin!" Cheryl stammered out. "Please don't rape me! Please ……………please leave ……………..I won't tell anyone you were here …………………what …………..…….what you've done to me!" she sobbed and pleaded in an attempt to reason with the man. But in seeing the thick manhood lengthen an lurch in the man's fist, Cheryl dreaded the worst, shuddering 'Oh, God ……………….he's going to rape me ………………….with ………………that dirty 'thing' of his! No ……………….no ……………………what if he gets me pregnant?'
"Oh, sweetie …………………………..ya look a bit uncomfortable sitting there like dat ………..all wet and all! Why are ya cringing like dat ……………….don't like the smell of my jizz?" he chuckled. "Don't ya worry none, sweetie ………………………cause I's here to help ya outta yer clothes …………………………..all of yer clothes!" he added. "Now, don't ya dare try and kick me ………………………or ya'll be sorry!" Marcus sneered out his warning before kneeling down on the floor before her, peeling off one heel and then the other.
As the beauty squirmed about in her chair, Marcus slid his hands up along the outside of her cum stained pantyhose. Grabbing the waistband of her pantyhose as the beauty squirmed her but down into the chair, Marcus enjoyed working on down off her thighs and pretty feet. Then grasping her left ankle, Marcus lifted her dainty foot up to his mouth and tongued her pretty toes, causing the squirming beauty to curl her toes up. He then lavished her right foot and toes with the same attention.
Cheryl was grateful that the cum splotched nylons had been removed but she now cringed as the vile man was now caressing her bare legs and about to put his hands up her skirt once again. She knew what he was after and tried to firmly plant her butt down into the seat of the chair. But the strength of the man, and with the flimsy wisp of fabric, the silky garment easily slid between her asscheeks and the seat of the chair. Down her thighs, legs, and off her feet. Then she watched the excited intruder holding her panties up to his face and heard him inhale deeply.
Knees pushed wide, Cheryl shuddered as the man leaned forward, sniffing as if he was a dog picking up a scent. With the lifting of her skirt, Cheryl felt so ashamed of having her sex exposed for the very first time. But with the kinky head of hair disappearing up under her skirt, Cheryl came to realize that the vile man was not going to be satisfied with just looking. "Nnnnnnnnnnnnnnnnn …………………………..nnnnnnnnnnnnnnnnnnn ……………………….noooooooooooooooooooooooo!" she shuddered as her assailant nuzzled up into her nest and began tonguing her slit.
"Oooooooooooooooooooooooooo ………………………..ohhhhhhhhhhhhhhhhhhhhh ……………………..nnnnnnnnnnnnnnnnnnnnnnnnn!" Cheryl shuddered as she gritted her teeth to keep from screaming out in ecstasy as her body shook from the very first ever orgasm to rock her petite and innocent body. Mewling and squirming about on the chair, Cheryl could only shudder as the slurping sounds could still be heard as the vile man continued to eat her out. 'Oh, God …………………..oh, God …………………how can any one do such a filthy thing?' she wondered as such sexual behavior was never covered in the sex-ed class in middle school.
"Oh, God …………………..oh, Godddddddddddddd ………………………….ahhhh ……………………..arghhhhhhhhhhhhhhhhhh!" she cried out as the man's tongue expertly found and teased her ultra-sensitive clit. "Godddddddd ……………..oh, my Goddddddddddddddddddddddd!" Cheryl screeched as she pressed her toes into the floor in order to arch up into the flicking tongue. Entire body trembling as a mind-shattering orgasm rocked her body, Cheryl creamed and creamed into the slurping mouth. Panting in exhaustion from her climax, she could only sob in shame as the man's face reappeared from under her skirt, licking at his lips with his face glistening with her juices.
Sobbing with shame, Cheryl could not put up any resistance as she was untied and raised to her feet. Legs like jello, utterly defeated at this point, she merely stood there as her skirt was pulled down over her trim hips. Front of her cum covered blouse pulled apart, buttons flying about the floor, Cheryl could only sniffle and sob as her lacy bra was pulled up to bare her titties. "Oooooooohhhhhhhhhhh ……………….ooooohhhhhhh!" she shivered as the assailant took one nipple into his mouth and began suckling upon it, with the other soon getting the same treatment.
Bra removed, leaving Cheryl stark naked with her black intruder, she had been defiled beyond belief and utterly defeated at this point. Pushed forward onto the bed, she tried to muster the strength to make one last effort to escape the upcoming rape of her virginal body. But her attacker was apparently waiting for such a move as his large hands were immediately clamped upon her trim hips to drag her back to the edge of the bed. Clutching the bedspread with both hands, she shuddered as the thick fleshy bulb pressed up against her slit.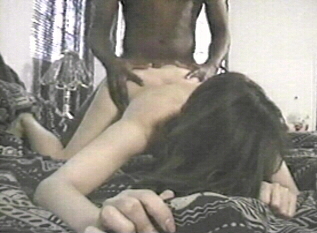 Biting down into the thick bedspread as the rape commenced, out came her muffled squeal "Nnnnnnnnnnnnnnnnnn ……………………………..ahhhhhhhhhhhhhhhhhhh …………………………..eeeeeeeeeeeeeeeeiiiiiiiiiiiiiiiiiiiiiiiiiii!" All the thoughts and hopes of surrendering herself to the man of her choosing on her wedding night were now out of the question as blood dribbled down her thighs to her knees and soaking into the bedspread. Her prized virginity was now a thing of the past – brutally stolen from her in this vile rape!
Body racked with the knifing pain throughout her body, Cheryl could only bite down into the thick bedspread as she tried to survive the agony. But her brutal rapist was only interested in his sating his lustful pleasure with her innocent body as he began pumped his monstrous manhood in and out of her bleeding vagina. "Nnnnnnn ………….nnnnnnn …………..nnnnnn ………….nnnnnnn …………..nnnnnn ………….nnnnnnn …………..nnnnnn!" was all that could be heard in the townhouse besides that of the squishing sounds of cock pistoning in pussy.

Sobbing as she bit down into the thick bedspread, devastated at her defilement, Cheryl could not imagine the disgrace she would face in telling her parents and boyfriend of how a black rapist had forced himself upon her, degrading her with vile sex acts. Her parents had wanted her, their only child, to remain at home till she got married. But in this day and age, having a job and wanting independence, Cheryl told her parents that she was old enough to take care of herself.
'How can I tell them? How can I tell them that they were right ……………….that I should have stayed at home with them ……………….that maybe if I did, this would not have happened to me!' she thought. Cock slicing in and out of her ravished body, hearing the grunts being emitted by her rapist, Cheryl realized 'Oh, God ………….he's going to get me pregnant! I'm going to be carrying his black baby!'
"Nnnnnnnnnnnnnnnnnnnnnn …………………………..noooooooooooooooooooooooo!" Cheryl groaned through gritted teeth as her rapist exploded deep in her womb, spurting his hot burning seed again and again till it was overflowing from their union. More and more of the sticky seed filled her to the brim, then it was flowing over her bloodstained thighs, down to her knees and puddling upon the sheets. To Cheryl it seemed like it would never end, nor would she be able to avoid being impregnated by her vile rapist. Then a welcoming darkness enveloped her while her rapist continued seeding her.
It was nearly an hour later that Cheryl came to, but only due to lapping taking place between her legs. Looking up at her bedroom ceiling as she lay flat on her back, Cheryl shivered from the sensational pleasure. Raising her widespread knees, planting her feet on the bed, she then brought arms forward to grasp the kinky hair as she arched her hips up into the hot slurping mouth and wiggling tongue. "Ummmmmmmmmmmmmm ………………….ummmmmmmmmm ……………………arghhhhhhhhhhhhhhhh!" she squealed as a mind-shattering orgasm rocked her petite body.
Steeling herself for more pain as her rapist was about to penetrate her body once again, Cheryl was surprised as her numbed thighs felt no pain as the thick penis slid up into her. Shivering with pleasure as the thick stem rubbed against her clit, Cheryl's body then responded instinctively as her legs crossed over the man's thighs as she used her heels to pull him deeper into her. Hands now clutching at the strong biceps, Cheryl was now participating in the fuck, trying to find the angle where her clit would continuously rub against the invading cock.
"Hmmmm …………………..hmmmm …………………hmmmm ………….hmmmm …………………hmmmm!" were the mewls emitted as the thick cock slid in and out of her body. Though not wanting to show that she was deriving any pleasure from this unwanted rape of her body, Cheryl shuddered uncontrollably as she gritted her teeth tightly. But the constant rubbing of her clit was sending Cheryl skyrocketing out of this world, then everything burst as she screamed out "Ohhhhhhhhhhhhhhhhhhhhhhhhhh …………………………..ahhhhhhhhhhhhhhhhhhhhhhhhhhhhhhhhh!" Her unbelievable climax coincided with the cock exploding deep in her womb, sending Cheryl further into outer space as if a booster rocket had given her an extra thrust out into the stars.
Forced to call in sick by her rapist, though she was in no condition to go in to work, Cheryl could not believe that the depraved man wanted even more sex that morning. Raped repeatedly throughout the night, shivering through one unwanted orgasm after another, she barely had any rest through out the night. She had shuddered in having been made to take the man's filthy penis into her mouth once again, this time her rapist did it in her mouth and Cheryl immediately began throwing up in the nearby trashcan.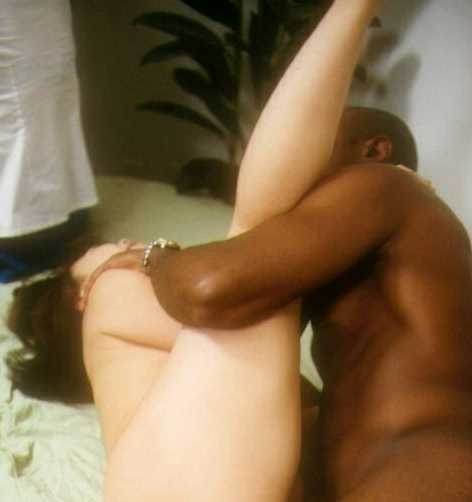 It was early afternoon when she awoke from the aftermath of another fuck session that her rapist had disappeared from her townhouse. Making it to the shower stall, she sat on the floor with hot water showering her body in hopes of cleansing herself of the stigma of having been raped and violated. Seeing a string of cum tumble along the tiled floor, between her widespread legs, Cheryl followed it till disappearing into the drain. Using her fingers, she scooped out dollops of the man's filthy seed and watched as it flowed down into the drain. With no douche available and too weak to go out to the store, her fingers would have to do the job, but Cheryl knew there was much more of the filthy see deep in her womb.
Stripping the bed of the blood and semen stained bedspread and sheets, Cheryl stuffed them into a large trash bag to rid the evidence of her defilement. Calling Darren, telling him of her staying home from work as she was sick, Cheryl managed putting off seeing him for another night. Lying in bed, contemplating her future, Cheryl felt as if her world had come to an end, feeling so soiled and dirty. She knew that washing away much of the evidence of the rape was a no-no if she wanted to call the police and report the rape. But reporting the rape would ultimately mean disclosing her disgrace to her parents and to Darren, something she was too ashamed to do.

Months later, as Cheryl played back the recent events in her life, all the details of her vile defilement at the hands of the black rapist were still vivid in her mind. She had not known how she managed to get through the ordeal and having been able to keep it a deep dark secret. Then had come some good news as her period came, assuring her of not having been impregnated with the man's black baby. More good news came when Darren got down on his knees to propose to her and Cheryl was ecstatic as the diamond engagement ring was being slipped onto her finger.
'Everything was turning around so well for you since that awful night! And what do you do ……………………..so foolish ……………………..so utterly foolish!' she chastised herself. Looking down at the sparkle of her diamond ring, Cheryl blinked back the tears at recalling how different that sparkle now was ………………………in comparison to the night before, when the fingers of her left hand were used to stroke the long black cock of the man who had raped her earlier.
Cheryl could not believe what she had done! Caught by surprise to find the man who had raped her standing across the counter from her in the bank, she had trembled with fright as the man boldly reached forward to touch her hand and finger her diamond ring. "Oh, that's such a beautiful diamond ring!" she was complimented by the man after he had slid a $100 bill across the counter and asked to have it changed to $20 bills. Along with the $100 bill was a business card, one of that from the nearby motel. And on that card was written 'After work today! Room 315!'
Making a call to Darren just before getting off work, Cheryl lied to her fiancé in telling him "Honey, if you don't mind, I want to join the girls tonight for a bite to eat and then go shopping with them!" Getting the green light, she had concluded the conversation with "Thanks, honey! I'll see you tomorrow! Love you!" Nervously she got into her car when the workday was over and made the short drive to the Starbright Motel.
A moment after entering the motel room, Cheryl had dropped down to her knees and fished out the black cudgel that had violently taken her virginity and what had been responsible of blasting her into outer space time and time again following the initial ravishment. Shucking the thick cockstem with her left hand, the contrast of her creamy white skin on the ebony one was quite a sight, highlighted by the sparkle of the large diamond.
Getting it to grow into the familiar foot long dong, Cheryl unashamedly used the tip of her tongue to tease the flaring pisshole. Then, opening her lips wide, she engulfed the bulblike cockhead. Bobbing her head up and down the thick stem as she continued shucking at it, she had the head just down into her throat went it burst, sending a stream of hot jizz down her gullet. This time, Cheryl pulled back just a few inches, capturing all the following spurts in her mouth and swallowed all the hot slime.
She had literally blown the man down as he had fallen back onto the padded armchair, sucking all the energy right out of his big black balls. Then Cheryl had slowly risen up from her knees and performed a very seductive striptease. Next, she wickedly stepped up onto the padded armchair, then up onto the padded armrest. Reaching out to brace her hands against the top of the armchair, she then rubbed her soft curls up against the man's face. And Cheryl got exactly what she wanted! "Oooooooooooooohhhhhhhhhhhhhhhh ………………………….oh, God …………………yessssssssssss …………………..eat me …………………………..eat meeeeeeeeeeeeeeeeeeeeeeee!"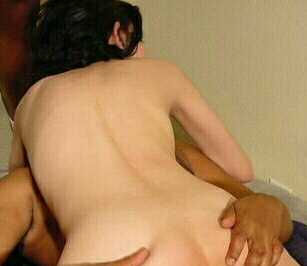 Having been eaten to a mind-shattering climax, Cheryl was weak-kneed and had to sit and rest. Sit she did, right upon the now revived and jutting cock that skewered up into her. Feeling it all the way up into her belly, Cheryl had to wonder this time she would once again be lucky and escape getting knocked up. She knew it was a dangerous game that she was playing, like a chance on a roulette wheel, but all that mattered was the pleasure giving bone of flesh that she was bouncing up and down upon. Dangerous as it was, the ecstatic feeling of having a cock burst deep within her had Cheryl's cuntlips squeezing at the stem as she encouraged "Shoot it ……………………shoot it …………………shoot it in meeeeeeeeeeeeeee!"
Cheryl felt so guilty at this moment, so different from the night before when the thick black cock had rubbed against her ultra-sensitive clit and spurted its thick seed deep into her fertile womb. Eaten out to a wild orgasm, a fantastic fuck, then sharing the bed with her black lover for the next three hours had Cheryl leaving for home with her cunny filled to the brim with male spunk. There had been no feeling of guilt right then, not until she got home and realized what she had just done.

End of story.