Pimped by Her Own Pastor - VI
(m/f, i/r, n/c)
by
Black Demon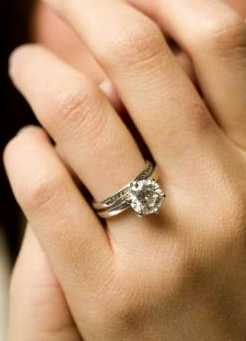 ______________________________________________
Standard Disclaimer!
This is a fictional story intended for Adults only!
______________________________________________
************ ***********
Note: The story below is a story in itself. However, it is also a direct spinoff of the earlier stories entitled:
'Victim's Violated Vacation', 'Pastor's a Pimp 1 & 2',
and 'Pimped by Her Own Pastor - 1 thru 5'
************ ***********
On this Sunday morning, Professor Amos Thompson received a warm welcome at the Presswood Community Church by Pastor Knowlton who had invited him to attend the service the night before. As Pastor Knowlton called his lovely wife over, Amos felt a twitch of excitement as he extended his hand to take her soft petite one in his as he greeted her with "So nice to see you again, Mrs. Knowlton!" Amos enjoyed feeling the trembling of the beauty's hand in his, the normal nervousness that any wife would have while standing next to her husband and greeting the man who had intimately sampled her luscious charms just days before.
Seated next to the pastor's lovely wife in the second pew, Amos loved to see her tremble with fear as he moved his knee up against hers. Amos knew of Pastor Knowlton's evil doings with his parishioners but had not known that that bastard had watched him boning his beautiful wife the other night. But Amos' shenanigans with the trembling beauty came to an end when Troy and Gwen Bannister came to join them in that pew, the same couple that had been seated with them at the wedding reception the night before. Greeting them as they sat alongside in the same pew, Amos learned that it had been Pastor Knowlton who had requested that the sit in the second pew since that had met him at the reception. Seated between the two beautiful women, one that he had already fucked and one that he was dying to fuck, had Amos sporting a hardon just as church services were to commence.
Standing up at the pulpit, Pastor Knowlton was the pillar of society among all those sitting out in the audience, a man of the cloth and respected by all. None knew or would even suspect in a million years of the deep dark secret that he privately harbored. His lovely wife Nell was a prime example, totally unaware of her husband's knowledge of her indiscretions due to being raped and then blackmailed, nor the fact that he knew of it and in fact had stood right outside of their bedroom window that past Thursday evening while peeking in to watch her engage in sex with the lusty black professor who sat next to her at that very moment.
Pastor Knowlton had discovered his wife's fascination of black men, knowing that it was unwilling at first, and he had become fascinated in secretly watching his wife mating with a big black buck. But his secret had been uncovered and caught on tape, leading to himself being blackmailed and a very high price was demanded of him, one that he was quite reluctant at first but now willingly participated in. Like leading lambs to their slaughter, the same analogy applied to Pastor Knowlton and the flock of his parishioners, especially the beautiful women who were married or about to be. Not only did he lead the lovely beauties in his flock in the demise of their marital vows but also enjoyed participating in it.
The night before, due to Pastor Knowlton's request, the bride had seated Troy Bannister and his lovely bride of four weeks at the table he was at, along with Professor Thompson from her college. Troy and his family were members of the congregation for many years, and the picture of the bride and groom had been placed in the church's newsletter and website the week following their marriage that had taken place in the bride's hometown of Bridgemont. Following their wedding and honeymoon, the young couple would be making their home in Presswood where the Bannisters' had several properties available for the young couple to build a home. This lovely newlywed's photo on their arrival had been seen by the like of Prof. Thompson and Pastor Knowlton had participated in the bartering of the lovely newlywed's charms for his own personal gain.
At the wedding reception, Amos spotted the lovely Ms. Gwen Bannister, recognizing her from the website photo showing the husband and his lovely bride who was now joining her husband's congregation as the couple was returning to the groom's hometown. She looked so radiant in the pink outfit that she wore as she and her husband mingled with other guests near the resort's pool while waiting for the doors to the reception hall to open. Licking his lips, Amos concluded that the $25,000 sum indeed had been a true bargain, especially knowing that he would fuck this tender little morsel within the next twenty-four hours of this wedding reception. 'What a beauty! Looking so sweet in all pink, from her lipstick to her heels and even her pretty pink toenails, all so matching! But, she'd looked even sweeter without any clothing on and those lovely legs draped over my shoulders! God, I'm jist gonna love raping this beautiful little bitch!' he mused.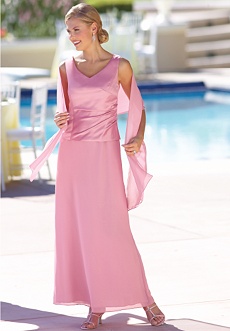 Ms. Gwen Bannister
Gazing at the young couple in love as they sat across the round table from him, Amos could not help but to lick his lips in anticipation, just loving the sight of her lovely manicured fingers with pink to match her outfit. And the sparkle of that large shiny diamond on her ring finger just added to his excitement! 'Ooooh, married jist a month and I'm gonna sample those succulent charms of the lovely young newlywed tomorrow! That shiny diamond will look even better when those lovely fingers are wrapped around my big black dong! Wonder if'n she's on the pill? God, I's sure as hell hope not! If'n she ain't, she might jist be spreading those sexy white legs of hers in nine months to make way fer a little black bastard! Damn, if that happens, I's jist hope hubby's there in the delivery room to see it happen!' Amos chuckled to himself.
Troy Bannister had certainly landed himself quite a catch and was very proud to be introducing his lovely wife of just a month to a lot of his friends who were also in attendance at this wedding reception. Troy was certainly glad that Gwen had agreed to move to his hometown of Presswood to begin their married life together and that she had just been hired to teach at Presswood Elementary. They were both 23 years of age and life couldn't be any better for both of them. Troy was so proud as his lovely wife was just a beautiful gem, one that any man would love to have as a trophy wife. Seated at the table were Pastor Knowlton and his wife, out-of-town guest Prof. Amos Thompson, and another young couple.
Weeks earlier, upon being introduced by her husband to Pastor Knowlton that first Sunday upon coming to Presswood as husband and wife, Troy and Gwen were more than willing to participate when the good pastor asked them to participate in the study being conducted. And the fact that they were newlyweds was just what was needed currently in the study being conducted. With their interviews with the marriage counselor conducting the study for the church to be done separately, it worked out well that Troy had a softball game scheduled with his old buddies for this Sunday afternoon and thus Gwen was scheduled for her interview that same afternoon.
For Gwen Bannister, Troy had been the only guy for her since meeting him during their freshmen year of college. It had been quite difficult not to give into temptation to the man she loved, but Gwen managed to do so even though tempted to give into Troy's pleasurable touch and caresses. This morning, after getting up to go to church, the newlyweds embraced for a passionate kiss to celebrate a month of being married to one another. Tongues intertwining and playfully teasing one another as they liked to do, but would Troy Bannister want to do it again that night if he learned that his wife would be taught how to playfully tease a cock till her talented tongue had it ejaculating in her mouth till it was filled with male semen.
Unbeknownst to Gwen, that seemingly charming professor sitting next to her in the church pew was looking forward to being next to her again, real soon, like that very afternoon. The black bastard had the money and had agreed to pay a tidy sum to have her put in a hypnotic state at the marriage counselor's office where he certainly intended to get to know her well …………….quite intimately in fact! And at that instant, the man's gaze down at the hymn book was just a guise as his eyes were really focused upon her trim white thighs showing just below the hem of her black dress and the glitter from her sparkling diamond. And if Gwen's interview with the marriage counselor that afternoon was successful, when the newlywed's engaged in a kiss that night, Troy Bannister would no longer be the only man to have enjoyed his beautiful wife's charms.
Services over, Amos joined the Bannisters along with the pastor and his wife out in the church hall for refreshments. Amos hardon was being piqued as Pastor Knowlton advised "I'm so happy to have Gwen joining our congregation! Just married and moving to Presswood a couple of weeks ago since their honeymoon, and already graciously volunteering to help the church in the marital study being conducted! I'm so glad that you were willing to take part in this study as we were in need to have a young newlywed couple like you to keep a good balance for the age groups in the study! My dear, you'll find Mr. Mollway to be a very friendly and efficient fellow, and he'll put you at ease right away!"
As they finished the punch each had been served, Troy Bannister announced "Well, we're going to take off now as I'm going to take Gwen to the Chowder House for a quick lunch before she goes off to see the marriage counselor for that study!" At that point Amos extended his hand to the young man and advised "It was nice meeting you again, Troy! And my congratulations to you on marrying this lovely gal and making her your wife!" Then, extending his hand to the lovely young bride, Amos' cock twitched with excitement upon feeling her soft manicured fingers make contact with his hand. 'Oh sweetie, in a couple hours, those soft trim fingers off yers is gonna feel so fuck'n good wrapped around my aching cock!' he shivered with anticipating pleasure.
Hours later while hiding in the closet with Pastor Knowlton and watching as old Mollway greeted the young bride as she entered the reception area, Amos found that he had taken a liking to the young pastor and felt a bit guilty at having fucked his beautiful wife that past Thursday night. Amos had no clue that the young pastor had in fact witnessed the fuck from the outside of the bedroom window. "Y'know, Pastor Knowlton, I's normally prefer being in on the action than watching! But damn, when I's saw Kelly get hypnotized by Mollway and made to get down on her knees, it was the best fuck'n turn-on ever in seeing her learn how to give her first blowjob – and to her own pastor at that! Damn, that was fuck'n great!" Amos advised, referring to the former Kelly Garrison, yesterday's bride whose wedding and reception they had just attended the night before.
For young and innocent Gwen Bannister, she was only too happy to be so warmly welcomed into the congregation and to be asked by the pastor to take part in this marital study. With Mr. Mollway introducing himself and giving her a questionnaire form to complete for the study, she proceeded to answer the questions while the former pastor and now marriage counselor excused himself before going into his office to prepare for the other part of the study that would take place through what was indicated to be some type of hypnotic session to provide answers without one's hesitation. But little did she know of what really awaited for her beyond that nearby door and for what true reason the hypnosis was for.
Amos and Pastor Knowlton watched intently as Mollway had the young newlywed lay back upon the professional looking patient's chair and how quickly he managed to place the innocent beauty in a hypnotic state. There at Mollway's so-called marriage counselor's office, the unsuspecting beautiful had shown up for the good cause of helping the church as to what information young newlyweds could provide. From behind the louvered closet door, they listened as old Mollway put her deeper and deeper into a hypnotic state, first asking her general questions and gradually getting to the more personal, and then to very intimate questions to reveal her innermost secrets.
"Q: What's your name? A: Gwen Bannister! Q: What's your age? A: 23! Q: Are you employed? A: No, not yet, but I was just hired and will start in the middle of August! Q: What kind of job will you have? A: I'll be a kindergarten teacher at Presswood Elementary! Q: How long have you been married? A: Today makes one month exactly! Q: What's your maiden name? A: Hamilton! Q: Are you and your husband planning to start a family? A: Yes! Q: Right away? A: If it happens by accident but hopefully after a year or so! Q: Are you on the pill, Gwen? A: No! Q: Does your husband use a condom when you two make love? A: Yes!" she was asked under hypnosis
"Q: Have you had sex with a man other than your husband prior to your marriage? A: No! Q: Were you a virgin on your wedding day? A: Yes! Q: Have you ever thought of having sex with another man? A: No, absolutely not! Q: Have you sucked your husband's cock yet? A: No, no! Q: Fucked up the ass before? A: No! Q: Have you ever heard of the myth about black men? A: Yes! Q: Do you think it's true? A: I don't know! Q: Did you ever wonder if it's true? A: Yes!" were more of the questions and answers posed before the hypnotic suggestions were implanted into her mind that would create that strong desire to find out factually for herself as to that last question.
With the beautiful blonde subject now out in a deep hypnotic state, Mollway then told her that she was to obey his instructions. Their eyes peered out through the slits as Mollway advised her to "Give me your right hand so I can assist you up from the couch!" And when she was standing, Mollway placed his arm around her trim waist and advised "Walk with me, my dear! Let me guide you!" And then Mollway was pushing open the drapes that hid a bed in the corner of the room, guiding her to the bed while copping a feel of her beautiful ass. He then had her lie down upon the couch as he began caressing her sexy legs once again. Once she was in a deeper hypnotic state, he was telling her that "You will feel pleasure of being touched and caressed, my dear! Pretend it is your husband touching you ……………making you feel good all over ………………..making love to you!"
As the beautiful newlywed lay upon the bed, the view from the closet was partially blocked as Mollway moved to the foot of the bed while caressing her calves and down to her ankles. That was when Pastor Knowlton whispered to Amos "Old Mollway's got a foot fetish! Want to bet he's gonna cream all over her pretty feet?" Indeed it appeared true as Mollway's pudgy body suddenly shuddered, just as if he was cumming. Then Mollway was turning to them, signaling for them to come out of the closet and get in on the action with the lovely young newlywed. Coming out of their hiding place and moving close to the bed, they observed that the black heels worn by the lovely blonde had been removed. But they had been removed only after old Mollway had ejaculated his spunk all over the top of her feet as well as upon pointed toes of her black heels.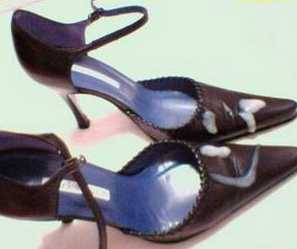 For Pastor Knowlton, he was ecstatic at the prospect of not just being a spectator to the defilement of this lovely newlywed but also getting to be a participant. And having heard the answers that she gave to Pastor Mollway under hypnosis, the thought of his cock being the first to part those beautiful pink lips of the young blonde beauty had him leaking precum at this point. He knew that it was certainly wrong and sinful to harbor such thoughts but also knew that at this point he was far beyond redemption, even if he commit this terrible deed. Wrong, sinful and even committing a crime, Pastor Knowlton merely excused himself for his weakness due to temptation of the flesh.
"Go ahead, Pastor Knowlton! Give your sweet new member to your congreation that special holy blessing! I'm gonna git her undressed so they'll be no telltale evidence all over her black dress!" Amos advised as he ran his calloused hands up her trim sexy legs. As the pastor moved up near her head, old Mollway provided the needed suggestive thoughts to the hypnotized beauty, telling her "Think of pleasing your husband with your soft and beautiful pink lips! Every man just loves to have a beautiful woman take his penis into her mouth! Although a woman may think it as degrading to take a male's penis into her mouth, imagine how masculine and dominant it makes a man feel to have a lovely beauty like you submitting to him in such a way!"
"Now, open your lovely lips like you would at communion! Yes that's it! Now stick your tongue out a bit ……………just like at church so Pastor Knowlton can place it on your tongue! "Yes ………………….yes …………………….that's it, my dear! Open your lips a bit wider! Yes, that's it!" Mollway advised in seeing her obey his hypnotic command. Seeing the young pastor's face filled with pleasure and hearing his groan of pleasure as his body shuddered as his cock barely grazed her pink lips, Mollway wondered if the pent-up excitement would be too much for him and the hot communion would be delivered all over the newlywed's beautiful face and not in her mouth.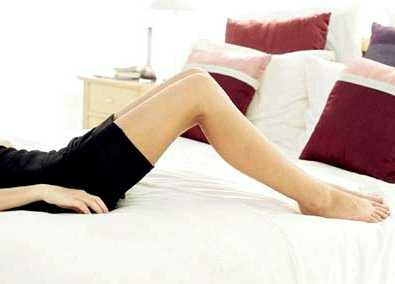 Meanwhile, Amos had turned the beauty over on her side to face the young pastor. With Pastor Knowlton now holding onto the back of her blonde head while sawing his unholy cock in and out of her pink lips, Amos undid the zipper on the back of her black dress and unhooked the clasp of her lacy black bra. Then easing the beauty down onto her back once again, he then eased the dress down her succulent body and down off her trim legs and feet. The lacy black bra was next, then Amos reached over to thumb the perfect pair of pink nipples. He smiled as the pink buds rose to the occasion. Then his fingers were grasping the waistband of her matching black panties and seconds later the golden treasure was uncovered.
"Ohhhhhhhhhhhh ………………………….ohhhhhhhhhhhh ………………………oh, sweet Jesussssssssssssssssssss! Yes ……………………..that's it, Gwen ……………oh ………………………..flick your tongue like that ………………………………ahhhhh ……………………ahhhhh ………………….ahhhhhhhhhhhhhhhhhhhhhhhhhhhh!" came the groans as Pastor Knowlton gave her a very rare treat that not many women experience with their own pastor. "Swallow it all, Mrs. Bannister! Swallow all the hot goodies that your pastor has for you, my dear! From this day on, you will just love the taste of male semen, my dear!" came the suggestive instructions from her hypnotizer standing nearby.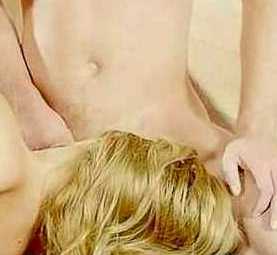 Once Mollway had paved the way with additional hypnotic suggestions, telling the young newlywed that she was free to express her emotions while making love to her 'husband', Amos got up on the bed and hovered over the prone beauty. His looked down at his throbbing cock, then shivered from the pleasure of seeing her obey Mollway's suggestion to "Reach down between you and your 'husband'! Take his cock in your hand and shuck it some! Feel how thick and hard it gets with excitement to possess you!" Seeing the trim ivory fingers clasping his ebony cock was just as pleasurable as feeling them shucking at him. "Now guide your 'husband' to you! Yes, now rub it up and down your love slit! Make the head of his cock all slick with your juices!" she was told by Mollway.
"Yes …………..yes, my dear ……………….that's it, spread your legs wide so your 'husband' can make passionate love to you! Spread your legs wide because your 'husband' is quite excited today and his penis is bloated up even more than normal, as you can feel for yourself!" the newlywed was advised. "Feel your husband! Run your hands up his muscular arms, feel his back ……………………..now lift your sexy legs and cross them over him! Yes ………………that's it …………………use your sexy legs and pretty feet to spur him into action ……………….get him to make love to you ……………..show him that you want him to FUCK you!" she was instructed. "Excellent …………..squeeze him ………………use your cunny to squeeze that big cock of his! Feel free to express your love for your 'husband', Mrs. Bannister! Get your 'husband' excited by using dirty works, my dear!" Mollway advised upon watching the action taking place on the bed.
As her trim manicured fingers caressed her 'husband's' muscular forearms and shoulders, her flawless ivory legs crossed over Amos' big black ass, Gwen panted out "Oh, Troy ………………………..ohhhhhhh, make love to me ………………………oh, yessssssss …………………………oh, you're so bigggggggggggggggggg!" Panting and perspiring as she tried to accommodate her 'husband's' oversized penis, Gwen spread her thighs out even further, her pedicured toes pointing and curling as they were aimed high at the ceiling. "Oh, my God ……………………………..FUCK me ………………..FUCK meeeeeeeeee! Ohhhhhhh ………………………..you're stretching meeeeeeeeeeeee …………………………….arrrggggggggggggggghhhhh!" she panted.
"Ohhhhhhh, jezzzzzzzzz …………………….she's fuck'n tight! Damn, she's skinning me alive!" Amos groaned as he pushed another inch into the tight sheath, now penetrating her with six inches of dong or half of his oversized cock. "Mmmmmmm ……………mmmmmmmmmm …………………..mmmmmmmmm!" he moaned with aching pleasure with each pump as it felt to good to break this bitch in with a cock so much bigger than her hubby's, yet the newlywed's tight cunt was really skinning his cock. Fucking in and out of her tight cunny, Amos was delighted with that fact that hubby always used a condom, meaning that his cock she had up her twat bareback his would be first to plant its seed deep in her fertile womb. "Oh, baby ……………oh, yeah …………………..gonna knock ……………………….gonna knock ya up good!" he panted.
Pumping now at the innocent young bitch, getting the fuck up to jackhammer speed, Amos hoped that the camcorders were capturing all the action as it would certainly be one to playback over and over again. And maybe he'd stop on back here from time to time, of course paying the organization for the privilege to shag this bitch again, but she'd sure be freaked out of her gourd when he got to show her pics of their fucking this on this occasion. He knew that she'd submit and spread those sexy white legs for him for fear of her husband ever finding out that she had been unfaithful to him. Amos also knew that this pretty little bitch would soon be forced to spread her lovely legs and open those pretty pink lips to service the many members of the CDBF Organization when she's highlighted in on the website as a hot little white bitch recently introduced to going 'black'!
But back to the present and the pleasurable rape of this lovely young newlywed as Amos stroked in and out of her slick and now widen slit. "Oh, baby …………………….gonna stretch ya out good! Hubby's gonna wonder if'n his cock shrank the next time he bones ya! And ya's ain't hardly gonna feel a thing when he does ya again! From now, yer gonna need a big fat cock up yer cunny to feel like a woman again ………………….and ya's only gonna find something like that with a big black buck!" Amos panted out as he continued raping the pretty thing. "Ah, yeah ………….ah, yeah ………………gonna cum ………………..gonna knock ya up ………………..yeah …………………yeah ………………………oh, yeah, ahhhhhhhhhhhhhhhhhhhhhhhhhhhhhhhhh!" he shuddered as buried his cock deep, keeping it there as spurt after hot spurt was injected deep up in her fertile womb.
As the three spent men stood over and around the bed, they looked over that the lovely newlywed that they had participated in raping, soiling and ruining forever. Then they began trading comments – Amos: "Sure wish that hubby of hers could see his purty wife now! Look at all my cum oozing out of her pussy!" Pastor: "Look, she's licking her lips right now! She's liking the taste of cum in her mouth! She's never had communion like that before!" Mollway: "Damn, she's sure got real nice sexy legs!" Amos: "Damn, I's sure hope I went and knocked her up!" Pastor: "What a nice way to welcome this beautiful newcomer into my congregation!"
Then, Pastor Knowlton took her left hand and placed it upon his hardening cock, with the sight of her marital vows symbol on her ring finger causing him to have and immediate hardon. Amos moved around to her head, then pushed down on her chin so he could admit his glistening cock between her pink lips. For old Mollway, this time he was intent no webbing her lovely pedicured toes together with his creamy jizz, but first to get a taste of them before he got himself a footjob and ejaculating all over them. Now all three horny bastards were getting their vile pleasure at the expense of the innocent young newlywed and about vent their lust upon her again.
A bit over ten minutes later, the still hypnotized beauty was handed a wet wash cloth and instructed by Mollway to "Use this to your hands and feet!" Watching as she did as instructed, Mollway added "That's it, sweetie! Wipe up all that spunk on yer fingers and and don't forget that diamond ring and wedding band because your pastor's sticky cum is all over them!" As she bent forward to clean the cum off her feet, Mollway chuckled "And between your pretty toes too cause I went and came all over them, heh, heh!" Then Mollway was telling her "And now you'll go into the bathroom to your right and take a nice hot shower to clean all the cum off your body!"
At that instant, Amos signaled Mollway in pointing to himself, figuring that he had paid for the bitch and wanted the most of it. He then listened as the lovely beauty was implanted with more suggestive thoughts, and that "Mr. Thompson his going to help scrub your back in the shower! Heh, heh, and I think he'll want to hose you down real good when you're in the shower stall!" Then Amos asked the old fellow "Will ya be able to block her mind out of any pain when ya bring her out later …………………cause if'n ya can, I wanna sample her cherry white ass!" Amos was delighted to "Give me a few minutes, then you can go ahead! I'll even have her express her true feelings and expressions while you two are in the shower and have it all blocked once the shower is turned off!"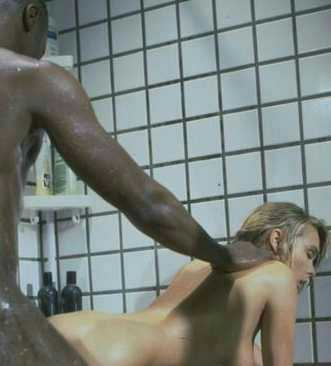 With the bathroom door closed, Pastor Knowlton and former Pastor Mollway watched the monitor as the camcorder played and recorded the events taking place behind the closed door. They watched as Amos pushed the now rather worn and torn blonde newlywed forward onto tiled bench in the large shower stall till her head rested against the shower wall, then the big black stud was getting up behind of the innocent young beauty. With one large black hand caressing the soft round little ass, they watched as Amos used his other hand to shuck as this growing boner and put it into place at the center of her beautiful white ass. Then Amos was placing his large hands onto her trim white hips to get a good grasp.
Then watched intently and even gasped as Amos then lunged forward suddenly and without any mercy for the young beauty, causing the sodomized bitch to let out a piercing screech "Nooooooo …………………………..…aieeeeeeeeeeeeeeeeeeeeeeeeeeeeeeeee …………………………oh, Godddddddddddd ……………………..stopppppppppp ……………………..it hurts ………………………..it hurtssssssssssssssssssssss! Troy …………………stoppppppppppp!" Those shrilling screams of pain and agony could not only be heard over the speakers but it came right through the bathroom door itself. "Stop ………………………oh, God ……………………….stoppppppppppppppppppppp!" she cried out but her cries only seemed to energize the man sodomizing her.
Twenty minutes later, Amos was escorting the raped and sodomized newlywed back out towards the bed. There, she was told to put her hand on the shoulders of Pastor Knowlton to her right and Mr. Thompson on the left. With Mollway kneeling on the floor before her, Gwen was instructed to lift her right leg and insert it into the leg of the panty being held open for her. Then her left leg followed. Titties played with and suckled upon before being encased in her lacy black bra, Pastor Knowlton got the honor of doing her bra. Then they helped her into her black dress and heels before she was lying back onto the couch where she had been hypnotized, with Amos Thompson and Pastor Knowlton to head back into their hiding place.
Having enjoyed this sweet newlywed so much, before going back into hiding, Amos made a request to old Mollway as he planned on going through the proper channels to once again purchase the rights to enjoying this beauty's lovely charms. With money no problem for him, another visit out here during the summer while college was still out would be fun, especially if he got to have this beautiful young wife submit to him once again. Only next time, she would not be hypnotized but reluctantly meeting him after several shots of her being sodomized in the bathroom appear in her email, info that Mollway was to obtain before bringing her out of it. Amos' cock gave a twitch at the prospect of this sweet little bitch fully aware of hands on her lovely body, and would just love to see the horror on her beautiful face as reluctantly allowed him to slide his big black cock up her tight little cunt.
Thirty minutes later, Gwen Bannister was shaking the marriage counselor's hand and advised "Time sure flew on by! I hope that I was able to be of assistance in this survey for the church! Gosh, the last I remember was sitting down on the couch nearly two hours ago and that's it!" Everything had been wiped from her memory, but implanted in her mind were suggestive thoughts that would occur at night when she's in bed. Such thoughts would be of her being naughty, wondering what it'd be like to have a black man have sex with her, like being with the likes of Prof. Thompson whom she had recently met at the wedding and then at church.
From this day on, Mrs. Gwen Bannister would never more enjoy the pleasures of lovemaking …………………….not with her husband anyway! But with other men, especially black men ………………………that would be an entirely different story! Also implanted in her mind was that she was now a member of the 'CDFB' Organization, that when the special phrase was spoken to her, the deeply implanted suggestions would have her obeying every suggestive request. At the mention of that special phrase, Gwen would once again be turned into a whoring little slut, making a fortune for the organization as a 'Cum Dump For Blacks'!
For the lusting holy men, Pastor Knowlton and former Pastor Mollway, they would soon be dreaming up some very deviant suggestions to be implanted in the newlywed's mind for when she came for her next session of the marital study. Not only did they plan on enjoying the lovely Mrs. Bannister for themselves, they planned on instilling some very illicit thoughts in her innocent young mind, suggestions that would have some men in Presswood quite excited at mounting this lovely filly. One such suggestion to later be implanted into her mind was to involve the seduction of her sixty year old father-in-law. And another would be to instill the forbidden desire to entice the elderly black custodian at Presswood Elementary to fuck her in the classroom, right on her the desk that she taught at!

End of Story