Can you believes this pretty bride-to-be is still cherry? And you can have the honor of popping it!
Bidding for this beautiful white bitch starts at 10 a.m. and closes at noon!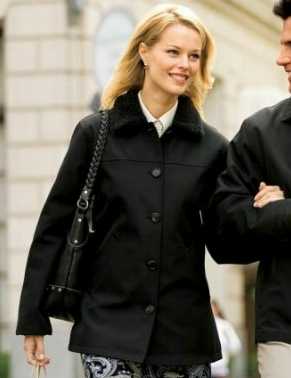 Bride-to-be and fiancé
attending premarital counseling
Interested, guys? Here's a little background on this sweet little beauty:
Age 24, 5'4" 114 lbs., engaged to be married, recently graduated from law school, occupation - attorney-at-law, and just a sweet little cherry pie ....................and that sweet cherry of hers is still intact!
When available:
Next weekend! Her fiancé's frat buddies are taking him river rafting that weekend for a bachelor's party, leaving that Friday afternoon! And the pretty little bride-to-be is scheduled to pick up her bridal gown that Friday afternoon! Would you like to see the pretty bride-to-be model her bridal gown and veil for your approval, humm? You could be the lucky bastard in making a 'woman' out of this innocent little beauty! And maybe even get to pop that precious little cherry of hers while she wearing her wedding gown? It's all set up, with the bride-to-be heading off to a nice secluded cabin as she believes it'll be a private photo shoot of her in her bridal gown and to be shown at the reception as part of a slide show! You could be the photographer waiting for this blonde beauty up at the cabin! So secluded that the if'n the bitch screams her little head off up, ain't and no one gonna hear her! Think of all that you can do with this innocent little bitch!
Excepts from when she was under hypnosis:
'Q: Have you and your fiancé engaged in premarital sex, Sheri? A: No!' 'Q: Are you still a virgin? A: Yes!' 'Q: How far have you and your fiancé gone, my dear, as far a petting and touching is concerned? A: Just some petting and touching!' 'Q: How has he touched you, Sheri? A: Just out side of my clothing! Once his hand slipped into my blouse and he touched me through my bra! I stopped him when he tried to slip his hand inside my bra!' 'Q: And how have you touched your fiancé, Sheri? A: Normally Brad takes my hand and puts it on the crotch of his pants to feel his 'thing'! But ............once we were petting in the car, I didn't realize that he had unzipped himself and pulled his 'thing' out! And then he was wrapping my fingers around it, holding his hand over my fingers so I wouldn't pull my hand away!' 'Q: And then what happened, Sheri?" A: Brad held my hand, made me pump his 'thing' and then .............it ...................it made a mess everywhere, the dashboard, the steering wheel, radio, CD player .................just everywhere in the front of the car!' 'Q: Have you ever heard the myth of black men being well endowed? A: Yes!' 'Q: Do you believe it? A: I think so!' 'Q: Have you ever wondered about it? A: Yes, in interview a rape victim on a case going to trial! She was raped by a black man!' 'Q: You ever imagined you being in her place? Being raped by a black man? A: Yes, due to that case !' 'Q: And what did you feel about it? A: Afraid! I think I'd just die if he ..............put his filthy black 'thing' in me!'
In looking at her scheduling book, Sheri Kemper double checked where she was to go to for his private photo shoot of her in her wedding gown. It was to be at a beautiful lakefront cabin in the Amber Lake area, the result of an apparent prize she had won from the company that had designed the wedding gown she had selected for her wedding. Everything seemed like a blur as to how it all happened, how she got selected and having to agree to in exchange for having the expensive wedding gown provided to her for free, which was certainly a large savings, money that could go towards the down payment of their first home. Unbeknownst to Sheri, all that info implanted into her subconscious when visiting the marriage counselor as part of the church's current research study being under taken. The wedding gown had actually been paid for, with the bridal shop not caring who paid for it and was only too happy to advise the bride-to-be that the entire cost of the expensive gown had been taken care of. When advised of that, Sheri had merely assumed that the designer company had come true with their promise. Having picked up her gown from the shop, Sheri double checked to see if she had packed everything for the photo shoot, something that she had kept secret from her fiancé as she wanted to surprise him with the extra savings after they tied the knot. White heels, gloves, diamond tiara, diamond earrings, garter belt, hose, were all checked off and in the car trunk. Already having donned the lacy white undergarments, with hair brush and lipstick in her purse, Sheri looked at the map provided to her and headed out on the interstate and would look for the Amber Lake turnoff.
Unbeknownst to Sheri, rather innocent and naive resulting from her sheltered upbringing, this trek for a photo shoot at the lake would be far from what she could ever imagine. As it was to be a professional shoot for the company's advertising magazine being put out, Sheri naively assumed that would be an entire crew there, consisting of a photographer and the lighting crew. Waiting there at the secluded cabin was to be a professional at his job, from what she had been told, and so she felt at ease about going there. Awaiting for her arrival was a man well known in his profession, a professional all right, not in photography but as a professional wrestler who tipped the scales at 350 lb.. of solid black muscle. In coughing up the fifty grand that it took to win the auction, Drake da Snake intended on using one main muscle on the innocent blonde beauty, that being the one jutting out from between his loins. 'I's hope they's right in what they advertised, that there ain't no one around to hear the bitch scream, causing she'll be screaming like a banshee when I's introduce 'Da Snake' to the purty little lady!' he mused, chucking at the name he that part of his body that earned the label.
Standing at 6'6" and having read of the bride-to-be's physical stature, Drake's boner throbbed in anticipation of the screams it'd soon be generating from the lovely beauty. 'Oh, yeah, I's gonna 'ruin' that purty little bitch good!' he chuckled, thinking of how she would try to fight to save her virtue, but she didn't stand a chance in hell up against him. Nicely dressed, having brought along a camera and camcorder with him, Drake figured it'd be fun to play the part for a bit.

Having made the turnoff at the Amber Lake exit and following the map till she found the cabin, Sheri could only think 'Wow, they weren't kidding, this is cabin is out in nowhere and really secluded!' Parking her car on a graveled area for parking, Sheri popped open the trunk and got out retrieve her gown and bridal accessories for the photo shoot. She then heard footsteps approaching and a male's voice calling out "Miss Kemper?" Straightening up as she had been bent over into the trunk, she replied "Yes, it's me!" Then she observed a very big man, the biggest man ever ...........................and the darkest of black men she had ever met in her life, causing a shiver of nervousness to course throughout her petite body. "Hi, I'm Drake! Lemme help ya with those things, little lady!" the man advised as he took the garment bag containing the wedding dress and overnight bag that contained all the accessories. Sheri merely assumed that this big black man was one of the crew that was there to lug all the lighting and heavy equipment to and from the location of the photo shoot. She followed as the man led the way to the cabin, expecting soon to see the photographer and other crew members getting prepared in the cabin. Upon entering the cabin and seeing no one else there, a cold chill coursed through her body as Sheri began to get really scared at that point.

Many miles away, thousands for some, the 3000+ pay-per-view members of the private CDBF organization were all smiling at the shocked expression of the lovely bride-to-be upon finding herself all alone in the secluded cabin with none other than the famed Drake da Snake! Even her very own Pastor Knowlton and the marriage counselor doing the research for the church study were watching intently and smiling at her obvious plight, as the physical trembling of her petite body could be readily observed through the camcorder that was zoomed in on her. They then observed the big man going into the bedroom to hang up the garment bag as well as to place her overnight bag on the bed. "There ya go, little lady, we can start the shoot as soon as you're ready in yer wedding gown!" they heard Drake advised the scared young beauty, who nervously looked about and slowly made her way towards the bedroom. Switching the broadcast to one of the camcorders in the bedroom, they watched at the bride-to-be closed the door and quickly bolted it shut, then turn to rest her back upon the door and exhale a sigh of relief. Her mind was obviously in turmoil at this point, wondering 'What am I doing here? There's no one else but me and that big black man! What am I going to do? Can I just leave now and call everything off? Would that get him upset? How upset would the man get?'

With the naive beauty obviously thinking rationally, evidence by her reaction to being alone with a big black man in the secluded cabin, much of the audience wondered as to when some sort of hypnotic suggestion already implanted in her subconscious would kick in. Or would Drake just out and out rape the beautiful bitch now that he got her all alone in the cabin? Everyone waited in anticipation of what was to come, all except Pastor Knowlton and Mr. Mollway the marriage counselor, as those two unholy men were instrumental in the hypnotic suggestions that had been implanted into Sheri's subconscious the past week. Under hypnosis, Sheri had been asked if she ever hear of 'Drake da Snake', the professional wrestler. When she had indicated a 'no', the phrase 'Drake da Snake' would then automatically put her into a hypnotic state, one in which she would become very compliant and obedient to any instructions given to her. But as to when the big man winning the auction would use that hypnotic key was a question that even Pastor Knowlton and the marriage counselor could answer. So, the possibility of a savage rape of an unwilling bride-to-be was definitely a possibility and an option of Drake da Snake. But either way, the two men concocting the hypnotic suggestions and luring the beauty up to the secluded cabin felt very certain that each of the 3000+ plus members dropping $1,000 apiece would get their money's worth over the next three days.

Panting for breath, heart thumping in her chest, Sheri closed her eyes and prayed for an answer as to what she should do. 'He'll certainly get upset if I leave abruptly, for surely it would appear that I won't stay for the shoot due to him being the only one here with me! He ..............he could become upset, try to get back at me .............physically .................hurt me ....................even rape me! Maybe I should just pretend everything is just fine, go through with the photo shoot, then leave for home once its over!' she pondered. 'Yes, that's what I should do, just act normal and get through the photo shoot! That way, the man won't get mad or upset in any way, and I'll be on my way home after having fulfilled my obligation to the company for giving me the expensive wedding gown. Taking a couple of deep breaths, getting herself to relax, Sheri then proceeded to open the garment bag that contained her wedding gown and bridal veil. Pulling the bag off from around the gown and veil, Sheri then stepped back to admire the beautiful wedding gown that the company had given to her, allowing her to save nearly $2,500 from the wedding expenses. Then she heard the man's voice from outside the cabin door advising "Oh, Miss Kemper, there's a closet full of clothes furnished by the company for you to look at, like nightgowns for you to choose from for your wedding night! Whatever you select is yours to keep, just that the company needs a snap of you looking at them and possibly wearing them to include in the brochure!"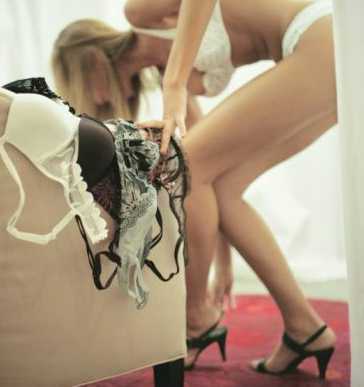 Having gotten off her dress and in the process of taking off her black strap on heels, Sheri looked over to the closet that the man had made mention to. As she thought about it but not yet gone out shopping for that very special first night together as husband and wife, Sheri was ecstatic as such items were also expensive and now she could take whatever she wanted in exchange for a few poses before the camera. Padding barefoot over to the closet, dressed in only a matching pair of white panties and a bra, Sheri took a lavender nightgown and held it up before her. Not prepared of posing in a nightgown, or anything other than her wedding gown, Sheri felt a bit nervous to include a lingerie shoot into the deal. 'Maybe it'll be okay if I'm in my wedding gown going to the closet to select what I'm going to wear to bed on my wedding night will do! Yes, like me holding it up like this and pondering about the selection! That should do, according to what the man Drake had just said!' she told herself. But for the audience that Sheri was unaware of, the pose of her holding the lavender nightgown while clad in only her bra and panties had all their throbbing black peckers rising to the occasion. And then the 3000+ viewers got the thrill of watching the beautiful bride-to-be sit upon the bed to slide a white hose up each of her sexy legs and clipping them to her garter belt. Extra garter belt then slipped on for the tossing of it to the bachelors, then the audience watched in excitement as she put on her elegant white wedding gown and veil, followed by her slipping one foot and then the other into a white heel. They watched as Sheri stood up to check her appearance in the floor length mirror, then took a deep breath as if to gather herself before going to unbolt the bedroom door.

Gritting her feet, steeling herself, Sheri reached for the door knob to go out dressed in her wedding gown and veil for the photo shoot. To her surprise, the man who greeted her out by her car had changed into a tuxedo and was smiling pleasantly as he handed her a bouquet of flowers that was identical to the order she had placed with the florist for the big event. Then she was told "Yes, beautiful isn't it? Identical to what you ordered for your wedding day, my dear! The company learned of where you had ordered your wedding bouquet and had them prepare an identical one for this photo shoot!" 'My goodness, they've thought of everything, making it really seem as if the photos were taken on my wedding day! Everyone will be in for a surprise when they learn that photos of me in my wedding gown will be a part of the gown designer's new advertising brochure! They might even think they were taken on the day of the wedding itself, especially with the bouquet being identical to the one I'll be walking down the center aisle of the church!' she mused. Sheri then observed a couple of cameras set up on tripods and learned from the man that those cameras would be operated with a remote and often times be programmed to take a photo every so many seconds. With the nice bouquet of flowers in her hand, it did seem to relax her a bit more as it did seem to be a professional set up with the camera and all, just that she had expected to see a crew of people on a professional shoot. But with technology these days, along with the advancement of digital cameras, Sheri assumed it was just part of the times as employing more people than necessary drove the cost of doing business for all firms.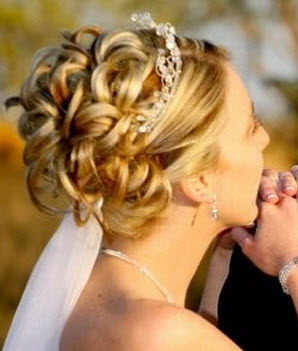 Going through various poses from the cabin's porch, some with the lake in the background and others with a forest background, Sheri became more at ease as the man had never once touched her and merely given her some basic instruction like: 'Turn your head to the right or left a bit!' 'Smile!' 'Look serious this time!' Hold your bouquet up a bit more!' And with the large man now so nicely dressed in a tuxedo, though it did seem a bit odd him being dressed that way as it was a bit overdressed for his role as a photographer, it did serve to relax Sheri even more. But the entire audience knew exactly what the real role Drake the Snake was going to be doing soon, perhaps when he said those magic words that would put her into a hypnotic state. They all knew knew of his upcoming role to soon be played, because when the lovely beauty was zipping up the back of her wedding gown, the scene flipped back to the living room area of the cabin where Drake was smiling before the camcorder announcing that "I's gonna have this sweet little blonde beauty think it's actually her wedding and that I's the man she gave her vows to! Ya jist stay tuned now, y'all!' Then the scene had flicked back to inside the bedroom so audience could see her finish getting dress for the bridal shoot, but as they watched the beauty get dress, they were all wondering 'Is Drake gonna bed her, making her think she's letting her husband pop her precious little cherry? Or is he going to snap her out of her stupor, make her realize that it's not her husband who's about to take her virginity, allowing to scream in fear and horror in finding that she was about to be viscously raped by the big man?' If a poll was to be taken from the audience watching, it'd be nearly split down the middle with half 'Wanting to see the bride-to-be's expression of horror upon coming out of her hypnotic state to realize it was not her husband atop of her but a big black bastard who had just copped her cherry!' while the were silently cheering for Drake to 'Snap her out it before ya pop her cherry! Let's hear the pretty bitch scream and cry, plead for ya not to to rape her, before ya go and pop her precious little cherry with her screaming her little head off!'

Anxiously, the entire audience remained glued to the screen in anticipation, with each of them cheering for Drake to proceed in that way he'd like see him nail the beautiful bride-to-be. Thus far, the professional wrestler was doing quite an adequate performance in acting as a knowledgeable photographer, having the sweet little blonde turn from side to pose and selecting various spots to provide a beautiful background. Shortly, they heard Drake loudly advise the beauty "Hold still! Bring the bouquet up just a bit! Tilt your head over to the left just a bit! Stay there .............let me check the camera!" Then the big man was moving towards the blonde beauty, telling her "Just need to make one minor adjustment, sweetie!" They watched intently as Drake, who had not once laid a hand on the beauty, move up behind the bride-to-be and lean in from behind of her. And then the watching audience saw the professional wrestler run his big black paws over the bare skin of her arms to the top of her gloves without the innocent beauty even flinching. It then became obvious that Drake the Snake had just whispered the those magic words implanted deeply in her subconscious that had put her into a hypnotic state. And then the microphones picked up Drake telling the beauty "Now we shall take shots of you and your husband-to-be! First the exchanging of rings, then the first kiss after being pronounced as 'husband and wife'. Many members of the watching viewers were getting hardons to see the big black buck bend his head down to nuzzle at the beauty's neck and earlobe, and did not see the young bride-to-be flinch at all, confirming to them that the beauty was indeed under that hypnotic spell as she was allowing the big black bastard to take such liberties.

With the tripod moved into position and the camera set on the remote mode, Drake then moved back to where beauty still stood after having removed her gloves as she had been instructed for purpose of the ring exchange. Upon Drake's pressing of the button to activate the remote the camera into taking snapshots every fifteen seconds, and thus he slowly reached for the beauty's trim right hand for a snapshot to be taken of him holding her hand, then the next shot would capture hand and centered upon the ring being placed upon her finger. And then, to the audience's surprise, Drake had evidently gone through the elaborate plan of having a tape that suddenly play over the stereo's loudspeakers "I now pronounce you 'husband and wife'! You may now kiss the bride!" Raising the bridal veil, the scene captured Drake bending down while the bride stood on tip toes to kiss for the first time after being declared 'husband and wife'. But it was just a quick peck on the lips that the bride gave her newlywed husband before pulling back and looking rather embarrassed. Quite an unsatisfying kiss but as they had hoped, Drake then told the bride "Don't be embarrassed, sweetie! Ya've got to show the church audience attending the wedding ceremony that ya really and truly love the man you've just married! Throw caution to the wind and show them how passionate you can be! Give yer husband a long deep passionate kiss! So let's try that scene once again!" Then the viewers were treated to seeing the beautiful bride lean up to place her hands on Drake's broad shoulders and tilt her head up to engage him in a deep passionate and intimate kiss, and they knew the lucky bastard was enjoying the feel of the beauty's tongue wiggling up against his.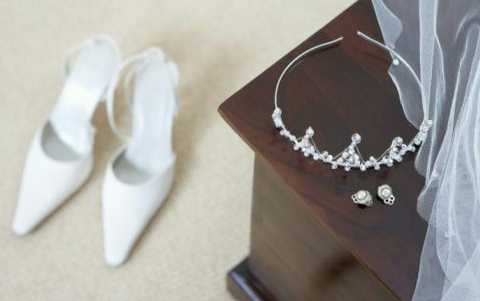 They watched as Drake had the bride's hand and leading her to the bedroom, telling her that "We still to finish the photo shoot! Like I mentioned, the company wants it to look realistic with shots of you going from your wedding gown to looking for a nightgown to wear for your wedding night. At first the bride went straight to the closet in her wedding gown to take a nightgown off the hanger rack, but then Drake was announcing that "Ya've gotta make it more of a realistic shot, sweetie! Come, let's re-enter the doorway, then you walk on over towards the night stand to take off yer diamond tiara and earrings, and then ya'll slip off yer heels while yer husband helps to unzip the back of yer wedding gown!" The viewers got to see the lovely bride enter the bedroom door to make her way towards the nightstand next to the bed. And as she proceeded to remove her jewelry, the viewers watched intently as Drake moved up behind the bride and watched as his thick black fingers searched for the tab of the gown's zipper and then the elegant gown was being unzipped. As the bride first stepped out of her heels, they saw Drake easing the bridal gown over her trim shoulders, assisting the beauty to then step out of her wedding gown as he advised "I'll hang the beautiful wedding gown up for ya, honey!"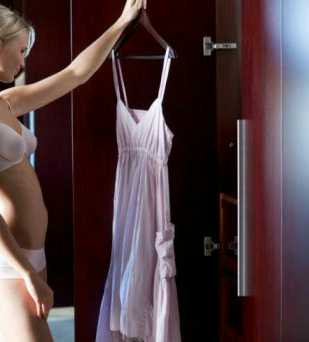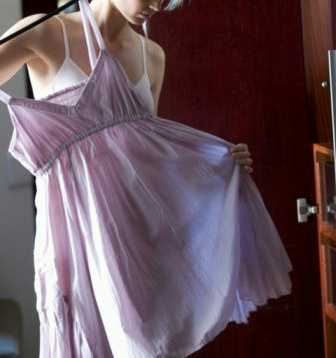 Clad now in only her lacy white bra and panties, the bride could be seen making her way over to the closet, opening the door and then reach up to retrieve a lavender night gown. With the remote camera snapping shot now at every ten seconds, the viewers got to see the lovely bride posing with the nightgown for various shots of her holding the garment up at different angles. Then they were treated to the arousing sight of seeing Drake move up behind the lovely beauty, putting his coal black hands upon her trim white arms, then he leaned over to nuzzle at the beauty's neck and then extend his long thick tongue out to lick the inside of her earlobe. The audience watched as Drake's long arm reached out from behind the beauty and then his hand grasped the nightgown to hang it back up in the closet. Then they got to hear Drake tell the bride "Honey, ya won't need that! After all, I'll only be taking it off yer sexy body in a few minutes!" And then Drake had his arms around the beauty's trim waist and nuzzling at her neck once again. The viewers held their breath in seeing Drake maneuver the bride a bit to the right, so she was facing the camcorder hidden in the closet. A moment later, the large ebony hand were covering the cups of the lacy white bra, then thick black thumbs were rubbing over the front of the lacy cups and causing the budding heads to push out through the cups. Seconds later, bra cups pushed up to bare the beauty's pert little titties, the viewers were licking their lips as Drake's thick black thumbs began flicking the swooning beauty's swollen pink nipples.

Left hand now caressing her right breast, Drake had the lovely blonde beauty leaning her head back against his muscular chest as he used his right hand to slide down her belly. His thick fingers dug in some, then descended further, only now his fingers were beneath the waistband of her lacy white panties. Drake felt the beauty tremble and shiver as his fingertips coursed through her soft golden curls, and then she pant out as the tip of his middle finger pressed down upon the crease of her tight little slit. Looking straight ahead at the filming camcorder, Drake smiled for the viewing audience as he knew they could not actually see him fingering the beautiful blonde bitch but could very well imagine what was taking place from the movement of his bulging hand under the lacy white panties, and especially in which the young bitch was moaning and squirming against him. And then the young beauty began to pant "Ohh .....................ohh .....................ohhh .........................ohhhh ......................ohhhhhhhhhhhhhh .............mmmm .......................mmmmmmp ..............................mmmmmmmmmmmmmphhhhhhhhhhh ......................................ahhhhhhhhhhhhhhhhhhhhhhhhhhhhhhhh!" Then the petite beauty convulsed. once and then again as she enjoyed her very first orgasm ever. Drake grinned widely as his finger felt the sweet honey thickly covering his middle finger, then as the beauty slumped back against him, he withdrew his hand from her panties and slowly brought his hand up for the viewers to get a good look at his glistening middle finger. Bringing his hand up to his face, he then took his middle finger into his mouth and sucked it clean, smiling for the camera as he licked his lips.

"Oh, honey .........................that was so unbelievable! I've never .........................ever felt so gooooooood before .........................in all of my life!" the blond beauty cooed as she evidently thought that she had just gotten married and that this was their first night together as husband and wife. Then Drake figured that the timing was now ripe for him to mention "Honey, now that we're married, can I ask you to make a dream of mine come true .....................one that would make me feel so unbelievably good as ya've just felt?" "Of course, honey! After all, we're now man and wife? Tell me, please! Tell me what you've be dreaming of having me do ....................to please you!" the young beauty advised, believing that it was her husband that she was with and talking to at that instant. Hands on the petite beauty's shoulders, with pressure added, Drake advised "Take it out for me!" Instinct kicked in for the innocent young beauty as she then sank to her knees onto the floor as she reached up to the tab of his zipper and proceeded on pulling it down. Petite hand inserted into the opening, Drake's cock throbbed with excitement upon feeling her soft petite hand grasp his fleshy bone and began pulling it out into the open. Drake looked down and smiled upon seeing the lovely beauty inspect his 'thing' as she had referred to a man's cock as she had done under the hypnosis as per the auction notice putting this beautiful bitch up for sale. 'Damn, mine's the first cock in her pretty hands! If'n her fiancé could see his beautiful bride-to-be right at this moment! Ooooh, so fuck'n good ......................damn, whew .................nearly popped right then and there ........................right in her beautiful face!' he breathed out, thinking how embarrassing it'd have been with all the pay-per-view audience seeing him pop prematurely, although the viewers would probably still have enjoyed seeing the innocent little bitch getting her very first facial.

"Does that feel good, honey? Is that what you've dreamt of me doing to you?" Sheri asked while looking up and seeing the handsome young man she to whom she had just given her vows to. Stroking the fleshy tube in her hand, her eyes saw a rather pinkish shaft rather that she estimated to be six inches long rather than ebony tube of flesh measuring in excess of twelve inches. Stroking it with one hand, Sheri's other hand instinctively slid inside the opening of his trousers, searching for and finding his large walnuts to begin fondling them in the palm of her hand. Sheri was excited in being able to please the man she loved, continuing to shuck at the thick fleshy tube as it brought moans of pleasure from the man above as he chanted out "Ooooooooohhhhh, sweetie ................................ohhhhhhhh, so gooooooddddd ...........................so damn gooddddddddddddd!" And then the man she loved was asking her to "Kiss it for me, honey! Kiss it!" to which she complied as she bent down to kiss the throbbing head and sticky underside. But when Sheri heard the request for her to "Suck it now, sweetie! Suck it for me!", even the hypnotic spell controlling her innocent mind could not get her to respond immediately as she flinched from what she had heard, for apparently the sex act requested of her assaulted all the instilled morals from her conservative upbringing. It was obvious that her innocent young mind was rebelling against doing such a vile thing, but finally the strong hypnotic spell had her parting her pink lips wide to engulf the fleshy dome that caused the recipient to loudly groan out "Ohhhhhhhhhhhhhhh, yeahhhhh ..............................ohhhhhhhhhhhhhhh, sweetie .....................................ahhhhh, so fuck'n good!"

The smell of the man's crotch as she sucked at his 'thing' had Sheri's innocent mind now totally overcome in her hypnotic stupor and the only goal was to please her 'husband' with her mouth. Saliva thickening from the adding of pre cum juice leaking from the stem into her mouth, Sheri began bobbing her head up and down upon the thick fleshy stem, learning to do so by the thick fingers pulling at the back of her hair and then strong hands pulling her head forward. "Oh, sweetie! Oh, baby ........................ohhhh, yeah ......................that's it .......................that's it ......................gimme head ........................oh, yeah, that's it ...................................now flick the tip of yer tongue at my pisshole!" was the encouragement she received from the excited man standing above her. The viewing audience could readily see the innocent blonde beauty's body shudder when more than half of Drake da Snake's lengthy black snake disappeared between the wide stretched pink lips of the shuddering bride-to-be, making it quite evident that the pro wrestler was now skewering his meaty boner down into the bitch's throat as there was just no where else for it to go. When Drake reached out placing both hands at the back of the blonde head, the viewers all knew that the innocent young bitch would soon get her tonsils creamed, and seconds later confirmation of this came as the big man held her head steady while arching up into her face while groaning out "Cumminnnngggggggggggggg .......................................ohhhhhhhh, I's cummmingggggggggggggggggggg ...........................................eat it ..............................eat it, bitch .............................eat all of Drake da Snake's hot venom! Oh, yeahhhhhhhhhhhhhhhhhhhhhhhhhhhhhhhhhhhhhhhhhhhhhhhhhhhhhhhhhhhhhhhhhhhhhh!"

Totally oblivious to what had just been said, panic stricken as she tried to deal with the thick hot slimy goo that kept shooting into her mouth, Sheri was in distress as she found that she was unable to spit out the nasty goo due to the thickness of the ejaculating penis being so wide around. Not wanting to swallow the filthy slime, even it was her own husband's, Sheri hoped she could contain it all in her bloating mouth. But there would be no such luck for Sheri, for it kept spurting more of more of the slimy goo into her already filled mouth. With her throat muscles being clenched shut as Sheri refused this indignity, fight back against the hypnotic suggestion to do so, there was then no where else for all that fluid to go ........................................other than up and out through her nostrils! For some viewers, the sight of the innocent blonde bitch snorting cum was just to fuck'n much as their wanking on their own boners sent geysers of cream up into the air and for many a clean up of their keyboards would be needed. It was indeed a rare and exciting scene as the innocent bitch choked on copious amount of slime filling her mouth and was now forced to swallow or drown in the stick stuff. Moments later, with Drake's long snake slipping out of her mouth, they got to enjoy the scene of the blonde beauty holding her palms together as she tried to spit out as much as she could of the slimy goo. Then they heard her stammer out between regurgitating blobs of cum "Honey .................please .......................please get me a wet wash cloth!"

The viewers were all smiling as the blonde beauty's petite body shuddered in revulsion as she wiped her lips and chin clean of the slimy coating, then even extending her pointed tongue out to wipe the nasty go coating it also. And then the wash cloth was being used to wipe her spunky hands clean of all the goo on them. And then, with her 'husband's' hand extend to her, Sheri put the wash cloth down and placed her hand in his to be pulled up to her feet. Then 'husband and wife' embraced for another deep passionate kiss before 'hubby' lay his beautiful bride down onto the bed, stripping the lacy pair of white panties from her trim hips and legs, leaving her completely naked. Trim white legs of the beautiful bride pushed apart at the knees and pushed up so the soles of her feet rested flat upon the bed, the viewers watched as the pro wrestler shuffled up between her parted thighs, saw him inhaling deeply with his nose just an inch or so away from the soft golden fleece. With Drake deeply inhaling the sweet aroma, the viewers saw him smile widely before opening his mouth wide and clamping it down upon her muff, causing the innocent beauty to loudly moan "Oooooooooooooohhhhhhhhhhhhhhhhhh .........................................oh, my Godddddddddddddddddddddddddd .........................................oh, honey ...................................ohhhhh .......................ohhhhh ........................oh, mhy Godddddddddddddddddddddddddddd!" Sexy white body squirming about on th bed, trim hips arching up into ebony face then trim white fingers were clutching at the kinky head of hair as the beauty screamed out "Ohhhhhhhhhh ..............................oh, my Goddddddddddddddddddddddd ...............................don't stop ..................................don't stopppppppppppppp ..........................................please don't stop ...............................I'm there .................I'm there ......................................aieeeeeeeeeeeeeeeee ...................................aieeeeeeeeeeeeeeeeeeeeeeeeeeeeeeeeeeeeeeeeeeeeeeeeee!"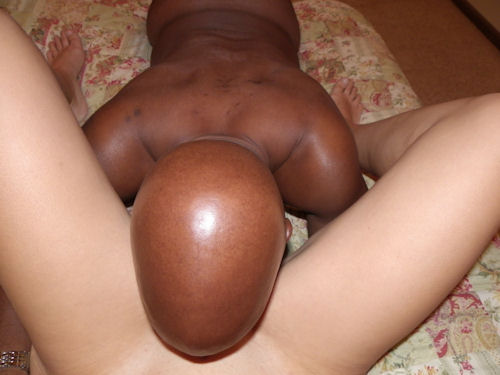 With the blonde beauty lying upon the bed in a stupor, spasms still racking her petite body from her very first mind shattering orgasm, the viewers saw Drake smiling widely as he licked at his glistening lips while holding his boner towards the camcorder and showing the audience what the innocent bitch would have her precious little cherry plucked with, along with the wide flaring of the pisshole from which would spout all the sticky baby batter. The viewers then watched as Drake caressed the beauty's trim white legs, running his hands from her pretty pedicure toes, slowly up her ankles to her calves, then up her ivory white thighs. They watched as Drake bent his head down, observed this thick tongue licking at her belly to soon tease and dip into her navel, and soon licking his way up to her pert little pink capped titties. The beautiful could be heard moaning with pleasure as her 'husband' lick and then capture a budding pink nipple into his mouth, a slight yelp emitted by he blonde beauty as her lover bit down into her tender tittie. Soon, with Drake making his way up from her now red splotched titties, the 'married couple' was now embracing one another while engaging in another deep passionate kiss that obviously had horny Drake's thick tongue delving into the innocent beauty's mouth.

The audience was excited in seeing the erotic sight of the black and white contrast of entwined bodies upon the large bed, then saw Drake lift his muscular black body up a bit, then heard him instruct the bride to "Reach down and feel me honey!" The petite white hand of the bride that was stroking her 'husband's' muscular bicep and shoulder disappeared and then another camera caught the trim manicured fingers reach downward to capture the thick black fleshy dong and begin pulling at it. At this point the majority of the viewers were hoping that Drake would snap the beautiful bitch out of her hypnotic stupor and have her mind come back to reality, having her realize that she was naked in bed with a big bastard and that she was actually handling his filthy penis, that she was not in fact fisting her handsome fiancé's manhood. A lot of viewers were verbally yelling from their chairs, begging "C'mon, Drake ......................wake the fuck'n bitch up! Wake her up now ..............................let her realize what's actually happening and that she ain't wanking on her fiancé's pecker! Make her realize that ya's gonna rape her with that big black monster dick of yers!"

The screen focused on the 'newlyweds' passionate kiss coming to an end and Drake could be seen moving some to lick at her earlobe, his head next to hers, then suddenly the blonde beauty's eyes widened in horror. As the beauty's mouth opened in stunned disbelief, her head suddenly turning toward the male's head next to her, then came to scream of anguish "What are you doing? Why am I doing here? What's going on? Stop ...........................stop this! Stop this immediately!" Then Drake could be seen rising up with a big smile on his face, rising up high enough on the bed so that the camera could capture the beauty's trim white fingers wrapped around his ebony shaft, as Drake then replied "Sweetie, don't tell me ya've changed yer mind now ...................................not the way yer wanking on my dick!" The blonde beauty was stunned, then looked down between their naked bodies to see her hand still instinctively wanking on his fleshy black manhood. "Oh, my Goddddddddddddd!" Sheri screamed out as she let the cock go like a hot potato in her hand. As she raised her hands up and began to pummel at the broad shoulders of the black man lying atop of her, Sheri sobbed as her wrists were captured and arms then pinned above her head. And then Drake was stabbing forward blindly, letting his blunt cockhead bump up against her inner thighs, giving the frightened beauty the clear message of where he was intending to put his donkey sized cock up into her. "NO ............................NO ..............................please ...........................NO ....................................please ..................................I'm getting married soon and ...................................and I've been saving myself ..........................................for my wedding night ......................................for my husband! Please ..............................please ............................please don't rape me .................................please .........................I ......................I ................................I'm a virgin!" Sheri cried out.

With a large hand of his pinning the petite beauty's two trim wrists above her head, Drake reached down between their bodies to grasp his throbbing boner, he then lifted up some to place it up against the entrance to where her most precious gem was hidden. And the frightened bitch could feel and sense what was currently knocking at her door and threatening to bust right on in, causing her to whine "NO ...........................NO ..........................please ...........................please .........................don't rape me .........................don't rape me!" Then the bride-to-be could be seen throwing her head back as she emitted an ear piercing "Aieeeeeeeeeeeeeeeeeeeeeeeeeeeeeeeeeeeeeeeeeeeeeeeeeeeeeeeeeeeeeeeeeeeeeeeeeeeeeeeeeeeeeeeeeeeee!" Half of Drake's black snake had disappeared from the mighty lunge forward, obviously rupturing right through the protective hymen .....................................thereby popping her cherry, as made evident by Drake gloating of "There, I's jist went and done all the hard work fer punk white boy yer gonna marry! Ya better git him real drunk at the reception ...........then maybe he ain't gonna notice that his beautiful little bride ain't got no fuck'n cherry! And now I's gonna give the bride and groom a very special wedding present ..................................................a little black bastard that the stork's gonna deliver to ya in nine months!" "Ahhhhhhhhhh .....................arrrrrrrrgg ...............ohhhh ......................ohhhhhh .........................stop .......................stop ........................it hurts ..........................it hurts ...................................you're killing me ................................take it out .............please ..........................take it out ..............................its tooooooooooooo Biggggggggggggggggggggggggggggggggg!" the raped beauty cried out as Drake pumped in and out of her bleeding slit.

The mini-camcorder built into the wooden frame at the foot of the bed now gave the audience quite a sight, one not ever seen before by most, that of a thick black cock dripping blood onto the white bedsheet on each withdrawl from the bleeding slit. "Oooohh ...................oooohh ......................oooohh
...................oooohh ......................oooohh
...................oooohh ......................oooohh
...................oooohh ......................oooohh!" came the agonized whimpering from the sobbing bitch each time that Drake saw his foot long dong up into her bloody snatch. As Drake tried to kiss the beauty, it was clear that she wanted no part of it as she turned her head away from him, and thus he began licking at her neck and making his way up to her earlobe. Then it was like a light switch being turned on, for Drake had said the magic words that would have the beauty back into her hypnotic stupor, for she fought no more against him. And upon releasing his hold on her wrists, the trim white arms came down and hear hands were now caressing the broad black shoulders of her muscular rapist. And what had been implanted deep in her subconscious now had her responding "Oh, thank you ,Master ...................thank you for making a woman of me! Please ..............................please train me ..................................please train me to be your bitch ..................................make me your personal white bitch! Oh, please ....................please shoot it in me ..............................knock me up ...................................knock me up with you baby, Master .......................................I will be honored to carry your baby .......................your little black baby!"

From the sudden change in the beauty's reactions, the audience clearly knew what had taken place, that this portion of the recording would no doubt prevent the raped beauty from ever crying 'rape' and also have her on the cunt market in the near future. With her clearly recognizable in the film, she would certainly be willing to pay a high price to keep her husband from seeing it along with friends and family. The way in which she was responding sure made it appear that she was fully conscious wanting to have sex with a big black buck, wanting him to be her master, and knowingly let him have unprotected sex with her. Many were wondering how soon she'd be on the cunt market, some already preparing to make a bid to be the first one to bed her once she was back from her honeymoon, or better yet to possibly get her right on the honeymoon itself. And then it happened, Drake was buried up into the bitch to his balls, holding firm as he loudly groaned "Ahhhhhhhhhhhhhhhhh ..........................oh, yeahhhhhhhhhhhhh ....................................ahhhhhhhhhhhhhhhhh ........................................................ahhhhhhhhhhhhhh, fuckkkkkkkkkkkkkkkkkkkkkkkkkkkkkkkk!" From the spasms shaking his tense black butt, it was obvious to all that Drake was spurting his baby batter deep up in the bride-to-be's unprotected womb. And then the petite blonde beauty's fingers could be seen digging into Drake's broad back, her pretty toes curling and begin to rock in uncontrolled spasms as she then screamed "Nnnnnnnnnnnnnnnnnnnnnnnnnnnnn .......................................nnnnnnnnnnnnnnnnnnnnnnnnnn .................................ahhhhhhhhhh ......................................ohhhhhhhhhhhhhhhhhhhhhhhhhhhhhhhhhhhhhhhhhhhhhh!" Suddenly the trim white arms fell to the sides, petite feet sliding down from atop Drake's ass to where her ankles rested upon the muscular black calves, making it quite evident that the bitch had passed out from the mind shattering orgasm that had rocked her innocent young body.

Moments later, with his bloody cock withdrawn, Drake was holding the bitch's legs up at the ankles and spread wide apart to show the beauty's raped slit continuously oozing out of a thick mixture of blood and cum. What was the bride-to-be's tight little pink slit prior to the rape by Drake the Snake's monster cock, now was a dark hole 3/4" in diameter, with a continuous flow of bloody cum oozing out of her snatch. The white sheet beneath the beauty's succulent little ass had absorbed the overflow, making a large red pool of blood with thick pinkish white blobs of thick goo sprinkled about the bloody mess. Then Drake lowered the sexy white legs of the raped beauty, putting her feet flat upon the bed and pushing her knees wide, giving the paying viewers the unbelievable sight of seeing the continuous ooze of blood and cum out of the round dark hole that had once been the bitch's tight pink slit. With the raped bride-to-be unconscious at this point, Drake could be heard snickering proudly that "There ain't no fuck'n way she's gonna even feel that white boy's little pecker the way's I went and busted her cunnny wide open!"

An hour later, a passionate lovemaking session between 'husband and wife' ensued with the petite bride wrapping her trim white arms around her husband's thick ebony neck and her sexy white legs around his big black ass. It was quite an erotic entanglement of black and white, with the blonde beauty panting out "Ohhhhhh, honey ..........................yes .........................yes ................................oh, yes ................oh, so good ............................so good ..............................deeper ...............................fuck me deeper .........................................oh, yesssssssssssssssssssssssssss ........................................oh, Godddddddd .............................oh, my Godddddddddddddddddddd ..........................................................arrgggggggggggggghhhhhhhhhhhhhhhhhhhhhhhhhhhhhhhhh!" Black ass tensing and clenching, cock into the hilt, it was obvious that Drake the Snake was once again seeding the bride-to-be's fertile womb with another huge dosage of hot potent roe, as confirmed by Drake groaning out "Ohhh, yeah, baby ............drain my fuck'n balls ............................oh, sweetie ....................................I's gonna knock ya up goodd!" And then the trim white arms and legs fell limply to the bed, with Drake lying upon the petite beauty with his full weight upon her as he too had passed out from the fantastic fuck session.

With the couple awoke in each others arms, a deep passionate kiss ensued as the blonde beauty wrapped her arms around her big black lover. Then Sheri exclaimed "I'm famished, Master! Can we go out to the kitchen and I'll prepare us some dinner!" Moments later, the camcorder captured the scene of the blonde bitch's arms wrapped around Drake's neck as he walked out to the kitchen, carrying the hot bitch as she had her arms entwined around his neck. Drake had put on a pair of white underpants, apparently more conscientious than the once the innocent little bitch, who was totally naked and teasing her lover by rubbing the pointed tips of her titties over his muscular chest. From the camcorder capturing the kitchen area, the audience saw the petite blond beauty caressing her black lover's muscular shoulders, trim ankles locked around his butt, saw her look him in the eye and tell him "Oh, Master ............................I can feel you aroused once again! I can wait to eat! I want to please you first ....................want you to make me your little bitch!" With Drake da Snake sitting the bitch on the counter top, the saw her look him in the eye and tell him "Make me your bitch, Master! I want you to nail me right to the wall!"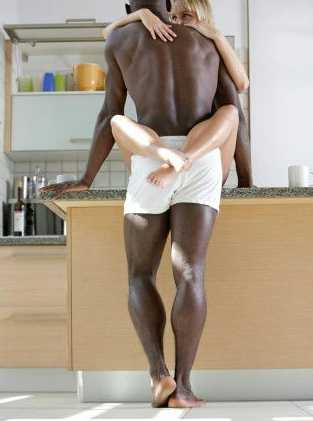 "Make me your bitch, Master! I want to feel what it's like to be nailed right to the wall!"

Viewers watched intently as Drake pushed his white undergarment down over his hips to let it fall to his feet before kicking it away. Then had his hands under the petite little butt and was carrying the hot little bitch and asking "Ya really want me to nail yer ass to the wall?" "YES! YES! Please ......................fuck me that way ......................nail me to the wall .....................make me your little bitch!" the blonde beauty advised. Up against the black wall behind which was the side of the refrigerator, the innocent young bride-to-be moaned "Ohhhhhhhhhhhhhh, yesssssssssssssssssssss ...............................ohhhhhhh .................................put your big cock me ......................................ohhhhhhhh, yesssssssssssssssss!" 'Thump ...........................thump ..........................thump ...........................thump!' came the sounds of the pretty bitch getting her wish in being literally nailed right to the wall. "Ohhhhhh ........................ohhhhhh .............................so big .................................so biggggggg ....................so goooooood .............oh, yes ..........................fuck me .............................fuck me ......................................make me your little bitch! Oh, Godddddddddd ..................................ohhhhhhhhhhh ...........................yes ...............................yes ..................................................I'm cumminggggggggggggggggggggggggggggggggggggggg!" Seconds later, viewers looking closely at the sceeen could see white droplets falling from between their joined bodies to fall to the carpeting.
As the weekend came to and end and Sheri departed the secluded cabin and headed back home. After seeing and passing Exit 333, something seemed to snap in Sheri's mind, causing her swerve some on the interstate and nearly lose control of her car. Pulling off the the shoulder, her chest heaved as she fought to compose herself, wondering 'Oh, my God ........................what have I done? What have I done?' Upon seeing the sign for the Fulton exit, Exit 333, hypnotic implants were brought to the surface. Her memory of exactly why she had gone up to the cabin and being raped of her virginity would be erased and replaced by the following thoughts: that she knew there would be only the black photographer there up at the secluded cabin for the photo shoot; that she had intended from the start that she would seduce the muscular black into bed and let him make a 'woman' of her; that she intended to let him take her cherry in the process; to have him make an 'experienced' woman of her to enter her marriage; and that she would intentionally throw caution to the wind ..................................to have sex with the black man throughout the entire weekend .......................without any preventive measures! She had not gone on the pill ............................and there'd be no condoms used ............................it'd been strictly be all bareback! 'How could I have done that to Brad? Why did I go and have sex with another man ....................a stranger ........................a black man .......................and so close to our wedding date?' she asked of herself, dumbfounded at it all, unable to explain to herself why she had gone and done such a stupid and irrational thing.

Blinking back the tears as she sat there dumbfounded in the car, Sheri realized in horror just what she had done to deprive the man she love and was to soon marry of the most precious gem that she could have given to him on their wedding night. 'And only two short weeks till our wedding! How could I?' she racked her brain. Then the flashback of images filled her mind, that of her embracing the huge rugged black man, wrapping her trim arms and legs around him and begging "Please ........................please ........................put it in ...................pleaseeeeeeeeeee ..........................fuck me with your big black cock! Give it to me ...........................give it to me hard ........................fuck that little black baby of yours up into my tummy!" She recalled all the ways and positions in which a couple could enjoy the sex act, even with a male using his tool to screw it right up into the female's tight little butt, a screwing that had her screeching out in agonizing pain as the big 'thing' was just too big around to get it to fit but the black bastard had kept thrusting at her with all his weight behind of him, until it literally tore her a new asshole. Sheri recalled that by noon Saturday, she had brazeningly gotten out of bed to get a cold drink from the refrigerator, not bothering to wear a stitch on her body. With the cabin quite secluded, they even had sex out on the veranda, where she was bent in two and ankles held firm by the slats of the railing as her black lover skewered her deeply. 'How many times did we have sex together ..................... wild, frenzied, unbridled sex ..............................with me screaming for him to shoot his 'thing' off in me?? How many times did I take his 'thing' into my mouth and let him do it there ............................ejaculating right in my mouth or straight down into throat where I had no choice but to swallow it all!

Following their arrival at the plush resort where they'd spend a week honeymooning before returning home and then returning to work, the newlyweds enjoyed a fabulous dinner at the resort's 5* restaurant, then they retired to the honeymoon suite to finally get to consummate their marriage. That first night, their wedding night in the hotel's honeymoon suite at where their reception had been held, had been just a terrible disaster. With Sheri anxious to please the man she had just married, especially since he would be deprived of the honor of making her a woman, was totally stunned when everything came to a rather abrupt ending just minutes after going to bed and embracing each other. Just her reaching down between their bodies and grasping her husband's hardon had sent him over the top as his cock popped right then and there, leaving her fingers webbed together with his sticky semen. Although absolutely let down at what had just occurred, Sheri tried to console her rather embarrassed husband who had just failed to perform as a 'man' should to consummate the marriage on their wedding day. But moments as he had wiped up the mess made, Sheri was astounded in seeing her husband on his side and him snoring up a storm, leaving her high and dry.

That next morning, Sheri snuggled up to her sleeping husband, for she was determined to have another go at it and finally consummate their marriage. But all she got in response was a rough "Mmmmph! Let's sleep in till ten, then go have brunch!" Wake awake at this point, Sheri then whispered "If it's okay with you, honey, I'm going to see if there's an opening down at the Spa! And if they do, I'll be back before ten!" Sheri saw her husband nodding his head into he pillow and heard a soft "Uh, huh!" At the thought of going to the Spa, the implanted # in her for the Spa had her dialing #313 which was a room to room call although it was answered "Front Desk" to which she would respond "Can you connect me to the Spa please!" Her mind a mild hypnotic state had her not recognizing the same male's voice saying "This is the Spa, can I help you?" "Yes, do you have any opening right now for a deep massage?" Sheri responded. "We sure do, Mrs. Burton! We'll save you a spot!" she heard the man say, merely assuming that he apparently knew who was calling as the front desk must have relayed from what room and name of room's occupants from where the call originated from. As she got dress into a blouse and pair of shorts, slipping on a pair of tennis shoes, Sheri heard Brad mutter "Have a nice time, hon!"

On her way down in the elevator to the third floor, Sheri's state of mind had drifted further into a hypnotic state as she was about to have her 'Spa' treatment! Suite #303 was where it was located and she headed toward that direction, then found the door being held wide open for her by a tall smiling gentleman wearing a whit uniform type garb and she was politely greeted with "Welcome to the Spa, Mrs. Burton! Please step right inside and you can take you clothes off in the next room to get ready for your 'deep massage'!" For Sheri, already implanted in her mind was the room decor was that of a high end Spa that such a plush resort would house, not one of its nice hotel suite for guest to stay as she slipped out of her tennis shoes and began to unbutton the front of her shorts. In her current state of mind, Sheri was oblivious to the tall black male who had admitted her into the 'Spa' was watching intently as the beautiful young bride stepped out of her clothing and once in the buff crawl up onto the center of the bed onto all fours for her 'deep massage'!

The big black man in the room with her was also a member of the secretive CDFB organization, a man who had shelled out ten grand for the rights of occupying Suite #313 on the first day of the couple's honeymoon stay at the plush resort. Arriving at 6 a.m., this fellow would be entitled to room service of any meals and drinks that he desired, with the type and quantity of entertainment received during his 24 hour stay dependent upon his luck and what the lovely young bride desired of his services. Thus, he felt very lucky to have the young sexy blonde bride seeking his services for a 'deep massage' just two hours after his arrival. Stripping off the white attendant's uniform worn, he moved up to the foot of the bed, then kneel up on it and shuffled into position behind of he naked young bride. "Yer here fer a deep massage, aren't ya, Mrs. Burton?" he asked. "Yes, that's correct!" the young bride respond, at which time he proceed to knead her soft flesh. "Oh, that feels so good! Oh, yessssssss!" the young bride cooed as he worked the fat knob of his 12" cock up into her tight little opening. "Oh, you're so good at this! I think I'm going to want another deep massage like this after lunch! Will you be available, can I get your name so I can ask for you?" the beauty inquired. "I'll be at your service the entire day and night, and don't get off till six tomorrow morning, ma'am! Ya jist ask fer Alfred!" Seconds later, with eight inches of solid black meat skewering up into her clasping cunny, Sheri swooned "Oh, Alfred ...............................oh, yesssssssssssssssss ....................................oh, so goodddddddddddd .............................oh, my Godddddddddddddd ......................................yessssssssssssss ......................................deeperrrrrrrrrrrr ...................................deeperrrrrrrrrrrrrrrrrrrrrrrrrrrrrrrr!"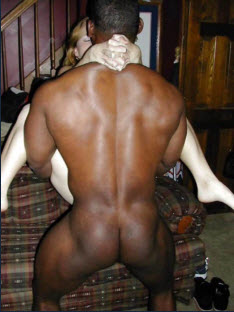 For Alfred, this was just the absolute best fuck he'd ever had in his entire fifty years of living on this earth. A beautiful young blonde, just married 36 hours ago, and he was the very first man to bed her after her other than the man she gave her wedding vows to. He'd have been even more ecstatic if he got to learn that he was the very first man to fuck her since she became Mrs. Burton, even beating young Mr. Burton to his wife's horny pussy. As the petite young wife's body shook uncontrollably in spasms resulting from the mind shattering orgasm he had taken her to, Alfred unloaded his big black balls full of still very potent seed up in the beauty's fertile womb. One thing that Alfred was quite proud of, an aspect he had discovered upon entering his young teenage years and having jerk off contests with his buddies to see who could shoot the farthest, he always won out with his initial blast landing at least a foot farther than the nearest competitor and the trail of cummy evidence had everyone just in awe. With her cunny so snug around his throbbing cock, there was no place for all his cum to go after each blast of hot jizz assaulted her fertile womb, thus a back flow of jizz would come oozing out of her cunny on any backstroke of his cock. With an arm around her slender thigh, Alfred had a hand cupped under their union joint to captured the escaping goo. First handful was being spread all over the beauty's back while his other hand replaced the first to capture the next handful of jizz, which Alfred would apply to her shoulders. The third handful went atop her backside and thighs. As the young wife rested her head upon the pillow while still on all fours, she got to enjoy a wonderful massage as warm slick cream was being rubbed into her skin from the back of her neck, her entire back and backside, then down her thighs, calves and pink soles of her feet.

"Okay, honey, git on yer back so's I's can do the other side!" Alfred told the young wife. As she complied, he scooted up with long but limp cock in hand, telling her "Gimme a little head so's we can git some more hot cream to finish her massage with!" As the beautiful blonde bitch looked up at him with her innocent blue eyes and lapped her very talented tongue over his bloated cockhead, Alfred shivered with pleasure but he knew one thing for sure that 'She ain't no innocent little fuck'n bitch! Not the way she's giving me head! God ............................damnnnnnnnnnnnnnn, she's giving me head like a fuck'n pro!! Shit, that hubby of hers sure must be a fuck'n dud in bed ...................................otherwise she wouldn't be this fuck'n hot and willing to spread her legs fer some strange cock!' 'Is it possible? Is it possible that I can feel my balls getting filled up with cum again? It sure feels like it by the way this bitch is tonguing my cock and rolling my balls in the palm of her freak'n hand ......................shitttttttttttt!' Alfred wondered. Finally, as if by instinct, Alfred knew that it was time to fuck this succulent little bitch again or he'd be creaming her tonsils. Pulling her hands away from handling his balls, afraid he pop if she didn't, he then got to ease his sensitive and throbbing cock away from her sucking lips and flicking tongue, then scooted on down the bed some to put his arms under the back of her thighs and lift her up into position. Then he announced to the newlywed bride "Okay, sweetie .............................let's go and make more hot cream so we can finish he job and git ya a complete body massage!'

The beautiful bride excitedly ran her petite hands and trim fingers up Alfred's and flung her sexy white legs around the man, desperately wanting to get his cock back into her to make more of that precious cream and in the process get more of the fabulous fucking from this well equipped black stud who had just earlier made this a honeymoon to remember. Toes curling as she used her ankles to pulling the man's backside towards her, wanting for his jutting prong to spear deeply into her, then as it did Sheri cooed "Oooooooooooooooooooooooooooh ...........................................yesssssssssssssssssssssssssssss!" Cunny snapping again and again upon the thick shaft, milking at it to entice it even further into her, she began to work her legs around the man's ass to lock her ankles together and then used her laced legs to pull her further towards her. "Oh, yesssssssssssssss ......................................fuck me ......................................fuck me .....................................oh, so good ..............................so good ........................fuck me gooddddddddddddddddddddd!" Sheri chanted as her black lover gladly gave her what she wanted. Ebony and white bodies entangled as they rutted upon the bed like two frenzied animals, and as Sheri swooned in another mind shattering orgasm, more of the hot cream was being spurted up deep into her fertile womb. Then her hips were being lifted as Alfred grunted out the last of his lusty cream and she was to "Reach underneath sweetie ..........................I'll pull out some so ya can git some cream ..................................fer yer facial!"

Leaning back on his haunches, watched in awe as the beautiful bride brought her right hand up, the one used to capture a palm full of jizz leaking out from their tight union joint. Then to his delight she turned her cupped hand over to smear the hot cream all over her lips, nose and cheeks. The the beauty was using both her hands to smear and rub in the creamy substance all about her temple, forehead and ears. Meanwhile, having taken over the capturing of the goo, Alfred was using his still long but softening fuckstick like a waterpump to slide in for more cream and having it ooze on out on each withdrawal of the fleshy stem. Right palm three quarters full, he replaced it with his left palm, then proceed to grease her left leg with part of the cream he had obtain before pouring the excess onto her belly. Then, with enough cream in his left palm, Alfred throbbed his thick cock to inflate it up a bit and used the bloated head as a cork to keep the precious cream from leaking out and being wasted onto the bed sheets. Excess cream deposited onto her belly, he proceeded to massage her thighs first, then moved down to do her calves and finally the residual cream was just enough to do her pretty feet and pedicure toes. Back up to her belly, he then proceeded to use the cream deposited there earlier and he was eager to get up to where he could massage her pert little titties and budding pink nipples. Neck massaged, then Alfred began to massage her arms while the beauty continued using her slick cum-coated fingers to give herself a complete facial. And once the beauty had gotten her facial, rubbing the cream till it was absorbed and dried, Alfred watched as the hot little bitch began licking her fingers clean.

A half hour later, after slipping quietly back into the honeymoon suite, Sheri hoped that Brad was still asleep in the bed so she could make it to the shower unnoticed. In peering into the bedroom, the bed was rumpled but Brad was not in it. Then she heard the water at the sink being turned on followed by the sound of Brad brushing his teeth. Wondering what she should do, needing a shower badly and fearing the worst, Sheri made her move when her husband bent over the sink to rinse his mouth. It was then that she announce "Hi, sleepy head! I'm back!" Slipping past, behind of her bent husband, Sheri made it into the shower portion and pulled the pocket sliding door that would separate them. Quickly, Sheri stripped off her clothing and got into the shower stall. Seconds later, she managed to breathe a sigh of relief as the hot shower sprayed upon her body, for she was now desperate to cleanse herself of the dried remnants of the cream applied to her body during the massage she received downstairs. Just as she reached for the bar of soap, Sheri was startled when the shower door opened and her naked husband slipped in, telling her "Here, I'll soap you down, honey!" Her nervousness obviously showed then as Brad commented "Don't get panicky! After all, we're married now, sweetie!" "Boy, your body's really slick!" her husband commented. Afraid of his findings, Sheri stammered out "It's the cream they use .........................for the ..........massage! They used way too much cream!"

Sheri shivered as her husband soaped down her back, using he washcloth to get her squeaky clean once again. But then, with the wash cloth slung over the top of the soap rack, her husband's bare soapy hands were slipping under her arms. Her now frisky husband was intent on washing down her bared titties with his bare hands, causing Sheri ti wonder 'Would still be enjoying playing with my titties, washing and soaping them down with his bare hands, if he knew that he was washing another man's cum off of them?' Then she was being turned by her husband, pinned up against the shower stall as he planted a passionate kiss upon her lips. As his tongue slipped between hers, Sheri shivered nervously and prayed 'God, don't make him realize what that salty taste is in my mouth! I never expected this, otherwise I would have rinsed my mouth first!' That salty taste in her mouth was quite fresh, obtained when she gave that Spa attendant a special treat for the fantastic 'deep massage' he had given her. Dressed and prior to returning to the honeymoon suite, she had gotten Alfred to once again fill his big black balls up with cream, but this time it was not to be rubbed on her flesh as she swallowed every drop of his jizz while looking up into the man's delighted face as he ejaculated time and time again into her sucking mouth.

Sheri shivered nervously for this was the very first time that Brad had slipped his hand over her mound, realizing that he was about to slide his finger up into her slit. 'Oh, God ......................I don't want him to make love to me now ..........................not when I've got another man's spunk in me .............................not until after I've douched it clean for him!' she prayed. Reaching down, grasping her husband's hardon, Sheri began to wank and beat at it, figuring that she'd be able to bring him off in that manner. With their lips entwined, tongues dallying with one another as the hot shower sprayed down upon them, Sheri reached up with her free hand to place it at the back of her husband's head ...........................not for intimacy purposes but just in case he wanted to pull away and look down at all the slick goo oozing out from her fingered twat onto his fingers. She knew he could feel just how slick she was down there, but it would certainly be best for him not see all the white semen that he was managing to frig out of her with his middle finger. Moments later, Sheri rested her back upon the shower stall as she had climax from the excitement of having her husband frig her while she had another man's sperm in her twat. And her husband now had his head resting against the stall, trying to recover from having spewed his seed against the stall as as result of her wanking him. Glancing down, seeing the white threads slowly making their way down into the drain, Sheri was relieved in realizing that her husband would merely assume all of that stuff being his. Then as her husband lifted his weight from her and turn to exit the shower stall, Sheri shuddered in seeing him coyly put his middle finger into his mouth to lick it clean, the finger that had been her black lover's cum coating it after oozing out of her well fucked twat. She wanted to ask him how it tasted, or better yet whether he enjoyed the taste of Alfred's cum as much as she had, though Brad got the much watered down version as to her getting the pure and raw version of it.

Having just gotten the assignment to travel to Portsmith for a a copy out of town depositions on an auto accident case, Sheri automatically picked up the phone as she was supposed to when getting an out of town assignment and dialed the number ingrained in her memory, then advised "I've received an assignment to take a couple depositions and will be staying overnight on Thursday of next week!" Seconds later, she spoke in response to a question "Yes, I'll call again once the reservation is made to let you know what hotel I'll be staying over at!" A brief pause and then she spoke "Yes, an 'overnighter' this time as I have to take a deposition that next morning before flying back home!" The last question asked of Sheri was "Would you like to have a 'variety' again or an 'overnighter' this time?" On her last out of town assignment, Sheri had gone with a 'Variety' which resulted in her getting to have a new man coming to her room every two and a half hours, with each man staying for a two hour stint so she could take the next half hour to shower and dress for her next man. She had gotten fucked by five big burly black men, all sporting some good 'wood' and knowing how to use it, then had taken her flight back and sleeping throughout the entire trip. Having to be bright and able to think for the deposition in the morning, just one big black stud staying with her through the night would be ideal as she could get some rest in between fucks.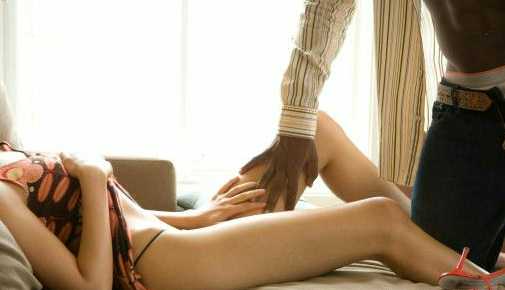 Friday night, after a dinner out with her husband, her husband put his arm over her in bed and began nuzzling at her neck. This was the usual sign of his wanting to make love to her. Doing her wifely duties, Sheri would have to do a lot of play acting to have her husband thinking that she was as eager as he was for making love! But for Sheri, there was just no sparked of excitement in embracing her husband any more, with her surmising that it was because of him being unable to really get her excited in his love making performance stemming back to their honeymoon. Reaching down between their bodies, Sheri grasped her husband's rising pecker, felt it throb in her her clasping fingers, but she could not help to make a comparison to the one she had handle the evening before. 'Smaller .............so much smaller ......................not even half the size!' she concluded while shucking at her husband's now fully erect five incher! Stroking her husband a bit faster, hearing him suck in his breath, Sheri wondered 'Is it going to be like the last time ......................shooting off by me wanking him before even putting it in?' And then her pathetic husband was panting "Uhhhh .......................uhhhhh .................uhhhhhhhhhhhhhhhhhhhhh!" Feeling wet blob of his cum splattering up against her thigh, Sheri could not help but think "Thank God I got the fucking I desperately needed from that big black stud last night!" In a sense, Sheri was happy of her husband premature ejaculation, that way she didn't have to go on with putting on a show of excitement and acting that she had again achieved an orgasm from his lovemaking.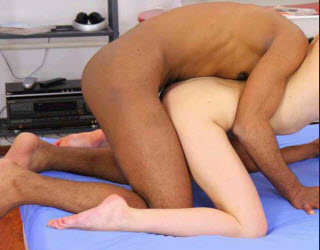 Lying in bed and hearing her pathetic husband begin to snore, Sheri's thoughts went back to the night before, and how impressed she was with the staying powers of Amos Johnson! 'Damn, he sure knew how to use his 'Johnson', that's for sure!' Sheri thought of the muscular black buck in his mid forties who stood at 6'5" and weighed a good solid 325 lbs. Smiling to herself, Sheri recalled seeing the man's smiling grin of excitement when she turned to put her fingers up to her lips to advise him to 'keep quiet' as she used the speed dial on her cell phone. On all fours, feeling the man's hands on her trim hips and his boner head pushing up her slick cunny, she then spoke into the phone "Hi, honey, thought I'd call you as it's just after nine and I was going to bed early so I can focus on the deposition in the morning! How was your day, honey? Did you get that contract you were after?" As her husband was telling her about his day, the excited man behind of her got the unbelievable pleasure of getting to fuck a young beautiful blonde wife while she was actually conversing with her cuckold husband on the phone! And to make it so much more unbelievable for the black buck servicing her, Sheri kept her husband on the the phone till she sensed the man about to ejaculate his hot seed deep in her womb. And at the right time, she told her husband "Honey, I'd better go no and get some rest!" Hot cum blast up up into her cunt, she crooned "Oh, honey ........................I wish you were here ...............................holding me and kissing me .......................................oh, I love you so much!" Sheri was quite serious on that last statement, wanting her dud of a husband holding and kissing her while getting to see how a 'real man' fucked a bitch in heat.

End of story.