Impregnated by the Holy Father - I

(m/f, i/r, n/c)
by
Black Demon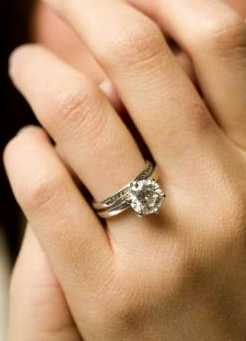 ______________________________________________
Standard Disclaimer!
This is a fictional story intended for Adults only!
______________________________________________
Ms. Kasie Monroe, age 24, soon to be wed and becoming Mrs. Grant Reynolds, employed as an analyst at an investment brokerage: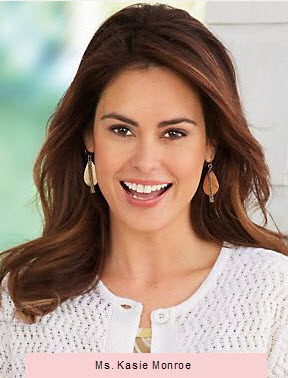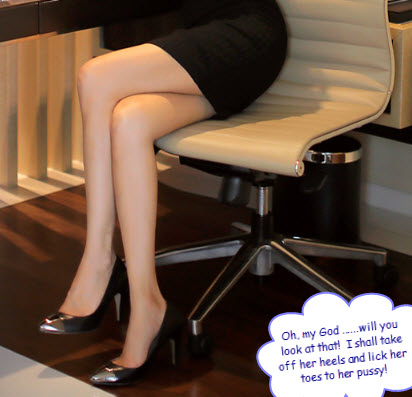 As they would be making their home here in Portsmith Township, Kasie wanted to please Grant and his parents and agreed to have Father Thomas of the church they attended conduct the wedding ceremony. With the wedding to take place at the luxury resort that was located between the town in which she grew up and Portsmith Township, the travel for guests from both the bride's and groom's families were about the same, so Kasie had no real objections in these areas. The only thing that she was nervous about was joining the faith and congregation that Grant and his parents were strong members of. Once she had agreed to have the priest from her in-law's congregation perform the wedding ceremony, her future mother-in-law had been the one to contact Father Thomas, and later that same day that Mrs. Reynolds had drove to introduce her to the Holy Father . It entailed her complete a form as to the wedding information, followed by a brief meeting and Father Thomas who seemed to be quite amenable to whatever he could do to assist in the wedding, telling her that the main thing was for her to complete the premarital sessions so he could perform the ceremony.

Upon taking the call from Mrs. Reynolds, Father Thomas had readily agreed to that initial meeting since she was rather influential among members of the congregation, and since it was merely for introductory purposes. Notified by the church's secretary of their arrival, Father Thomas thought it'd be an ideal time to test out the security cam that had just been installed and which would continue recording for a half from the last motion being detected, of which he was trying to get a hang of how the remote worked. Pressing the button that covered the secretary's office where the guests were waiting, he saw the screen on his monitor light up, then pressed on the focus button to get a clearer picture. Father Thomas got a glimpse as the young beauty passed through the frame, giving him enough of a glimpse to make his cock give a twitch of excitement, just as the secretary advised "I gave Miss Monroe the event sheet to complete so we can put the date on reserve for her!"

With his secretary to call him once the form was completed, Father Thomas switched over to the other camera angle in the outer office, his holy boner twitched and began rising up to the occasion as he got the perfect view of the beauty's flawless legs as she sat while filling out the form. Father Thomas' eyes widened while his cock hardened in his pants, all due to the back of the beauty's left heel slipping off the back off her foot, allowing the black heel to dangle from her toes. Panting for breath as he took in the exciting scene on the screen, Father Thomas unzipped his pants as he had to wank on off into some tissues to get some much needed relief or he'd be greeting is guests with tented pants. Ten minutes later, Father Thomas headed out of his private office to greet Mrs. Reynolds and her future daughter-in-law, tossing the empty tissue box into the trashcan ..................................depleted of clean tissues but stuffed with the wad of tissues he had used to cum in and to clean up with. He would make his apologies to Mrs. Reynolds for the delay in coming out to meet her, using the excuse that he had to take care of a dire problem. Premarital Session #1 for the lovely Ms. Kasie Monroe was scheduled for an afternoon that next week, when the church's secretary was on a half day schedule, thus it would assure the much needed privacy that Father Thomas would need to carry out his devious unholy plan.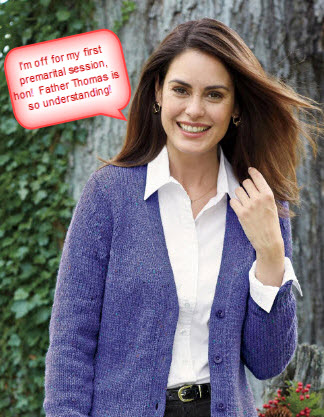 The day for Ms. Monroe's first premarital session had arrived, with Father Thomas having replayed the video numerous times, the portion that had been taken of the beauty when she was completing the wedding day form. With Father Thomas having jacked off more than a dozen times while viewing that portion of the video, there was no way that his sinful thoughts would be denied, and he was intent on sating his unholy lust for the beautiful young woman. Unfazed that he would be sinning and violating his sacred oath, Father Thomas had planned things in detail over the past week, for he certainly did not want his devious sins to be uncovered. All the items were in place before the beauty's arrival, the stationary chair to hypnotize her in, and in the nearby dresser drawer was a plastic container of wet wash cloths with a large bath towel along side of it.

With his first victim seemingly under his hypnotic spell, Father Thomas had to be certain that she was fully under, so the first test was given as he told the young beauty "Unbutton the top two buttons of your blouse, my dear!" Watching intently as Ms. Monroe complied by undoing the top two buttons of her white blouse, Father Thomas then advised "Now undo the next two, my dear!" Licking his lips with cock growing in his pants, he watched as the blouse was unbuttoned further on down to leave the front gaping open so he could view her lacy white bra. His breathing hard as he panted, adrenaline coursing throughout his pudgy body as he was about to commit a terrible sin, Father Thomas' hand shook with nervousness as extended his hand outward and more so as his fingertips slid into the front of her open blouse.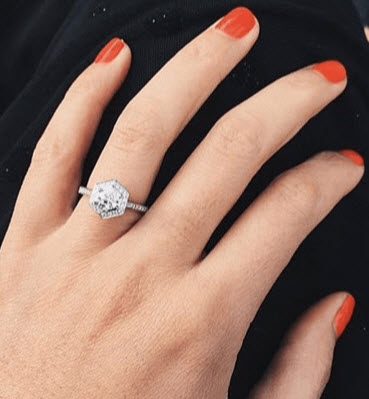 Left breast bared as Father Thomas pushed the lacy white bra cup on down, he began thumbing the soft pink nipple to stiffness, then he was pinching the stiff pinkie between thumb and forefinger. Pulling the other lacy bra cup on down to bare her other breast, Father Thomas could not resist the temptation to lean forward and capture the twin pinkie between his teeth and begin tonguing it to stiffness. Lifting his head up, gazing upon her glistening wet nipple, Father Thomas reached back to pull open the drawer of the nearby dresser. Retrieving the dry bath towel, he shook it open and then draped it across the lap of the sitting beauty, with the intent being to keep her black slacks from getting soiled from the sinful act he was about to commit.

Standing up to the right of the sitting beauty, unzipping his pants and pulling out his holy stiff bone, Father Thomas reached down to bring up the beauty's limp right hand to place it upon his boner. "Close your fingers around it and show me how you please your fiance, my dear!" he advised. "Oh, sweet Jesussssssssssss!" Father Thomas panted out from the pleasure of her soft trim fingers enclosing over his sensitive shaft that was followed by her shucking away as his throbbing boner, causing him to grit his teeth to retain control and not unleash his pent-up lust prematurely. "Ohhhh ......................ohhhhhhh .........................show me what you do when your fiance's about to cum, my dear!" he advised, then watched as the beauty brought her left hand up, holding it in cup form at an angle to capture his spray. As the lovely bride-to-be had apparently shucked off her fiance before, Father Thomas couldn't resist having the beauty do one thing different for him, that of "Turn your hand the other way, my dear ..........................let me put some special cleaning lotion on your sparkling diamond to make it even shiner!"

Just as the beauty's sparkling diamond came into sight, Father Thomas lost it and began ejaculating out his hot semen, spurting out streams of cum with one spurt splattering against her sparkling diamond. Breathing hard to regain control of himself, Father Thomas was glad that he had taken the precaution of draping the bath towel over the beauty's lap, for such would have been unexplainable if all that semen had been smeared all over the front of her black pair of slacks. Reaching over to retrieve a wet wash cloth from the plastic container in the dresser drawer, he began wiping away the cummy evidence that he had spurted over the back of her left hand. Seeing that cum had seeped down been her trim fingers, with cum coating the grooves and inside of the ring band, a devious thought came to mind as he advised "Take your diamond ring off ..................now put it in your mouth and suck it clean while I wipe your fingers, my dear!" Moments later, her left hand first wiped with a soapy wash cloth and followed with a wet one, the diamond ring was back on as Father Thomas had used a clean portion of the dry bath towel to finish the job after she had licked it clean of his cum.

Handing the beauty the glass of white wine that he had poured for her on arrival, he told her to take a big swig and swoosh it around in her mouth and swallow it all, for such would render the taste of semen in her mouth undetectable. Bath towel and wash cloths back in the now closed dresser drawer, Father Thomas once again cupped and touched up her left tittie while suckling on the nipple of her right breast till he was sated, then pulled her lacy bra back into place before instructing her to button up her blouse and adjust any clothing that was out of place. Asking if her clothing felt right to her, upon hearing a 'yes', Father Thomas then made sure that all this was erase from her memory before bringing the beauty out of her hypnotic state. As they each finished their glass of wine together as the first session came to an end, Father Thomas scheduled the lovely Ms. Monroe for her next session, once again in the afternoon when the church's secretary would be on a half-day schedule.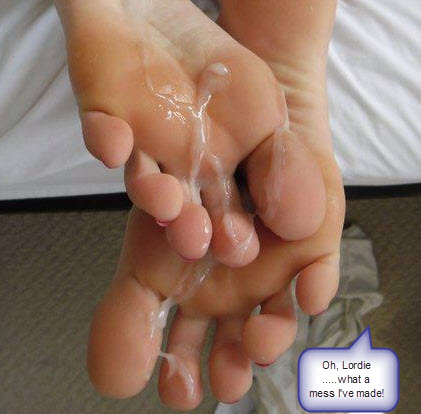 That following week, the day for Ms. Monroe's Premarital Session #2 had arrived, and this time Father Thomas felt quite confident in his ability in the art of hypnosis. Playing back the initial video and that taken of the first premarital session, Father Thomas aimed at sating his foot fetish craving and then he could take things further along till he could take things 'all the way' with her! And he certainly did plan on 'going all the way' with this lovely young beauty .................................to take place on on her 'Final Session' or Premarital Session #4 ....................................where under a hypnotic spell, Father Thomas planned on inseminating the bride-to-be about a week prior to the big event! And he'd certainly be praying his darnedest that the bride would be walking down the aisle, appearing to be the most innocent young bride, while in fact she was already knocked up with his baby in her tummy!

For Premarital Session #2 for the beautiful Ms. Kasie Monroe, Father Thomas had kept replaying that initial video of her sexy legs and dangling of her heel from her toes, getting him quite excited at the prospect of finally sating his illicit fetish. Arriving similarly dressed as her first session, only this time the beauty was wearing a baby blue blouse, navy blue slacks and matching 3" navy blue heels. Upon hypnotizing the beauty in the same chair as before, Father Thomas suggested that she "Get up from the chair and go over to the side of the bed!" "Now kneel up on the mattress with one knee .......................and now the other! Very good .................now lean forward and put both hands on the mattress ..................like you're in the crawling position!" he advised. Kneeling down on the floor behind the prone beauty, Father Thomas slipped off her navy blue heels, then he was rubbing his face in her soft soles and toes.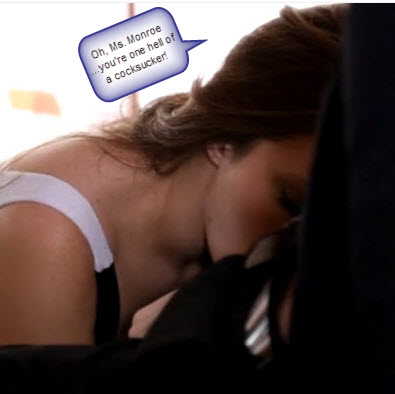 Cock stiff and pressing against the confines of his jockeys, Father Thomas stood on up to unzip his pants, then his was pulling out his rigid boner. Taking as step forward, reaching out to wrap his hand around her trim ankles, he then leaned on forward and groaned from the pleasure of having the underside of his sensitive cock sliding up over her warm tender soles. Closing his eyes to enjoy his fantasy coming true, he was soon fucking between her soft as he brought her sexy feet together. "Ahhhhhhh ...............................ahhhhhhhh ........................oh, sweet Jeussssssss!" Father Thomas exclaimed as his cock twitched again and again as he began creaming all over. Panting for breath as he was totally spent, then looking on down to what he had just done, Father Thomas wheezed "Oh, Lordie .....................what a mess I've made!" Having thought things out in advance had prepared once again, he reached over to open the drawer of the nightstand where he had put the wet wash cloths and towel to clean up with.

For Ms. Monroe's Premarital Session #3, Father Thomas made certain to have one other prop available doing their session together, one to be used once he got the young beauty under a hypnotic spell. That additional prop was a throw pillow, to be used when Ms. Monroe got up from the chair she sat in while being put in a hypnotic state, where she'd kneel upon the pillow that was positioned on the floor between Father Thomas' widespread legs. The lovely bride-to-be had shown up in a very nice black and white dress, black heels, giving Father Thomas quite a hardon in having such a beauty kneeling before him and unzipping his pants. "Oh, Lordie ..................................oh, my Goddddddddddddddddddddddd!" Father Thomas exclaimed while arching up his hips with this sensitive cock was enveloped in the young beauty's hot succulent mouth.

Reaching forward with both hands, entwining his fingers in her long silky brown hair, Father Thomas then began rocking back and forth in his chair .................for he was now literally fucking her beautiful face! Mouth wide open as he panted for breath, Father Thomas sought to make this pleasurable act last for as long as possible, wanting to keep this unbelievable sensation from ever ending ..................but his churning nuts was threatening to soon bring things to a conclusion! "Oh, Ms. Monroe .........you're one hell of a cocksucker! Now don't pull away when I cum in your mouth ................keep sucking till you drain my holy balls dry! And then, my dear, I want you to swallow it all!" he advised. A moment later, Father Thomas' body stiffened in chair, his grip in her hair tightened, then he announced "Oh, God .....................I'm cumminggggggggggggggggggggggg ...................eat it .......................eat it all ...................swallow it all down!"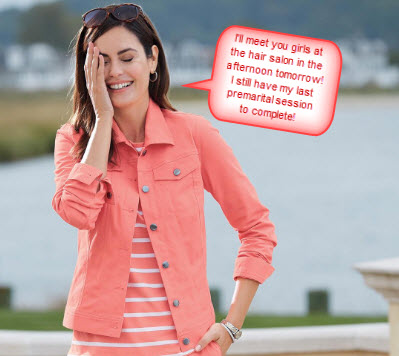 "Well, Kasie, what's on the agenda for tomorrow as it's your last day as a free woman?" one of her bridesmaids asked as they strolled around the resort that following week. Another gal advised "Well, after we had breakfast this morning, I took a short walk for some exercise and spotted this hunk of a guy sitting up in the lifeguard's booth! We could all go out to poolside and give him something to do!" Getting married in two days time, Kasie felt embarrassed to do such a thing, telling her girlfriends "Let's meet up for breakfast like today, then you gals can head off to the pool! I'll meet you girls at the hair salon in the afternoon! I still have my last premarital session to complete! I'll make the drive back, take care of it so Father Thomas can perform the ceremony on Saturday!" "Yeah, better get that done or that'll really put the screws to you, Kasie!" one of the other gals chuckled out.

Kasie had planned far in advance to have the week before the big day all free for a fun time with her girlfriends at the resort where the wedding would take place, followed by the reception in the ballroom. The final premarital session with Father Thomas had been planned for the prior Friday, after final fitting for the wedding gown, and basically everything was checked off and accomplished. But an emergency at work had her calling Father Thomas to see what could be done to rearrange that last session, hoping that somehow he could squeeze it into his schedule that weekend. From that first meeting with Father Thomas, Kasie had been advised that completion of the premarital sessions was essential, otherwise he would be prohibited from performing the wedding ceremony. So this was a priority that Kasie needed to take care of or all the carefully planning would have been for naught.

Father Thomas had been quite disappointed in getting the call from the lovely Ms. Kasie Monroe, for he had been eagerly awaiting for the last premarital session to commence, and he had already told the church's secretary to take off early for the weekend. He had wanted the old bitty out of the way, not wanting to be disturbed during the final premarital session with the lovely Ms. Monroe, for he had intended on getting her to relax after employing his expertise in hypnotism on her, and then to take advantage sexually of the lovely bride-to-be at that time. He had practiced his hypnotic skills on her during the premarital sessions, had slipped his hand up under her blouse and bra, followed by tossing off on her feet and getting her to blow him. Thus, Father Thomas was now confident and certain that his hypnotic skills were at its prime, that he could get her fully relaxed from his hypnotic suggestions so he could 'take it all the way'. During that last session, he did learn that the young beauty had not as yet decided on waiting a bit on their starting a family, but she'd be at her prime time from the day before and certainly during that weekend of the wedding.

Looking at his calendar when the beauty asked for a rescheduling of her last premarital session, Father Thomas' devious mind remembered what she had told him about her prime time to conceive, so he told her that the only opening he had was that next Friday morning and that everything else was just booked solid. In actuality, he could have rearranged things a bit to even accommodate her that weekend, but that next Friday was what he was determined to be her last premarital session .............when he might just end up getting the bride-to-be knocked up with his little holy baby in her tummy! Reminding her of the need to complete the premarital sessions or that he would be prohibited from performing at the wedding ceremony that following Saturday, Friday it was for her last premarital session .............................Friday it was marked on his schedule to rape the beautiful bride-to-be the day before she got married! 'Oh, sweetie .......................I'm gonna knock you up good!' Father Thomas smiled upon hanging up the phone, turning on a video of the beauty's last premarital session to wank off with.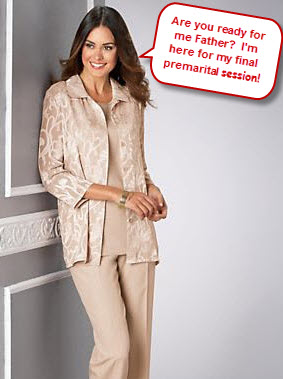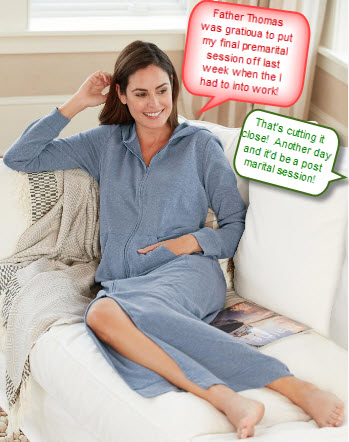 The morning before the big event, about to get ready to meet the other gals for breakfast, Kasie lounged about on the white leather sofa while watching the morning news. "Kasie, I can't believe you didn't take care of the premarital sessions long ago! You ............of all people!" said her best friend, the maid of honor for the wedding, and roommate at the resort till the next day. "Father Thomas was gracious to put my final premarital session off last week when I had that emergency at work! That just threw everything off and Father Thomas was booked solid for the whole week ......................he even had to make arrangements to clear a spot today, rescheduling two appointments this morning till next week to accommodate me!" Kasie advised. "That's cutting it close! Another day and it'd be a post-marital session!" came the chuckling response from her best friend.

Father Thomas couldn't sleep a wink that night, his thoughts only on having scheduled Kasie in for her final premarital session, exciting him to the utmost ...........................as it was just a day before her wedding, and he would be performing the wedding ceremony! For Father Thomas, the lovely Ms. Kasie Monroe would be an ideal first for him ............not in having her final premarital session a day before the wedding.............................but in being the first bride-to-be that he raped and fucked a day before performing her wedding ceremony! Initially disappointed when she had called to advise that she needed to cancel out on the appointment the prior week, Father Thomas' quick thinking had him even more anxious .........................for what could be better than getting to fuck the sweet young beauty the day before her wedding! Once under the spell, he'd get her to lie back and relax, then subtly use his hypnotic skills to further put her in never-never land, then she would be his for the taking.

Raping the bride-to-be would be the climax to Father Thomas' unholy lust that he had harbored for years, serving to be the culmination of the four premarital sessions, at which time he hoped to impregnate her just before she got married. Practicing on his newly learned skills in the art of hypnotism, Father Thomas knew that he had to take things slowly, getting the prim and proper beauty to trust him as he got her to perform tasks that she'd surely object to doing if in a normal state of mind. Looking back to that first premarital session with the lovely Ms. Monroe, Father Thomas could now laugh at himself, for he had been such an idiot and bumbling klutz on that particular afternoon .................but he had gotten to sate his unholy lust for the very first time!

On Session #1 for Ms. Monroe, Father Thomas had enjoyed watching the young bride-to-be put her cum laden diamond ring into her mouth as he began using the wet wash cloths to clean her slimy hands. He had made her shuck his cock off, till his cum had spurted and drenched the diamond ring on her finger, and then she had followed his instructions to clean it in her mouth. On Session #2, he had gotten to sate his foot fetish, first by removing her navy blue heels and rubbing his face in her soft soles. After licking each of her pretty tiny toes, he had wrapped her feet around his cock ......................for him to fuck and cum upon! On Session #3, Father Thomas had her kneeling before him, telling her "Now take my cock into your mouth and clean it like you did to your diamond ring!" "Oh, Holy Jesussssssssssss ..................................ahhhhhhhhhhhhhh ........................oh, my Godddddddd ..........................unfuck'n believable!" he had panted out as the lovely Ms. Monroe's warm succulent lips closed over his twitching cock. With his hands clutched in fists, fingers entwined in her long silky brown hair, Father Thomas fucked the face of the beautiful bride-to-be ....................................made her take it all in her mouth and then to swallow it all down!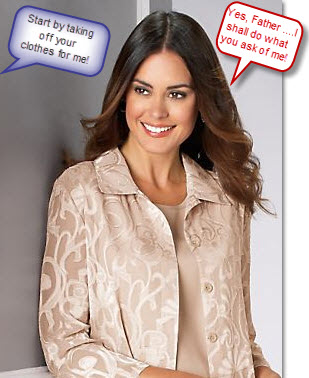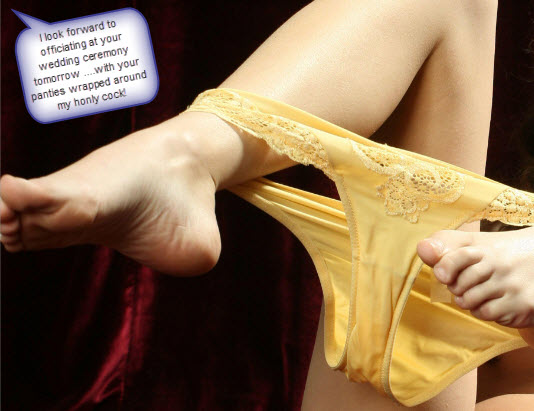 "Yes, Father ......................I shall do what you ask of me .................whatever you ask of me!" Kasie replied, reassuring Father Thomas that his hypnotic suggestion had indeed been effective and she was completely under his control. Father Thomas then asked "And did you remember to bring with you what I instructed at the last session, my dear?" "Yes, Father ..................I remembered, it's in my purse!" came the reply. "And do you remember the reason why I told you to bring the extra pair of panties with you, my dear?" he inquired. "Because you want to keep the pair of panties I'm wearing as a souvenir!" she replied to his inquiry. "And what color is my souvenir, my dear?" Father Thomas inquired. "Yellow, Father!" he was told. "Very good, my dear! So, the very first thing you can do is to .............start by taking off your clothes for me! Show me your lovely body!" Father Thomas advised.

"I look forward to officiating at your wedding ceremony tomorrow .............................with your panties wrapped around my holy cock! These beautiful yellow panties will be wrapped around my cock, I might just cum in them when I pronounce you as 'husband and wife'!" Father Thomas advised. Seeing the bride-to-be with her legs raised and about to remove her panties, Father Thomas then instructed her to "Use your pretty toes to take them off and hand them to me that way!" Taking her panties off her toes, Father Thomas put them up to his face to inhale the intoxicating fragrance, then set them aside on the top of the nearby armchair. "Now, with your sexy legs up in the air ....................spread them wide for me ......................as I'm thirsty for some sweet pussy juice!" he instructed.

Feeling the young beauty's petite body shiver as his wet tongue made a swipe up the length of her sex, Father Thomas inquired "Tell me, my dear, have you allowed your fiance .................or anyone for that matter ........................to eat out that sweet pussy of yours?" Father Thomas asked of the beautiful young bride-to-be. "I ...................I don't know what you mean, Father!" came the innocent beauty's response. "Have you experienced the sensation of having a hot mouth clamped over your vagina and a tongue wiggling up in you?" he inquired. "Oh no, Father ...............absolutely not!" came the response, to which Father Thomas advised "My dear ........................you need to learn how to please a man ........................how to please your husband ..................................as a man just loves eating his lovely wife! Spread your lovely legs and I shall show you how good it feels, my dear!" Father Thomas head began to descend down between the beauty's trim sexy legs as she spread them for him, his tongue licking at his lips in anticipation as he then opened his mouth wide, clamping them over the lips of beauty's pussy.

"Oooooooooooohhhhhhhhhhh .......................................oh, yesssssssssssssssssssssssssss ..............................................yesssssssssssssssssssssssssss ................................................ohhhhhhhhhhh, so gooddddddddddddddddddddddddddddddd!" came the squeal of pleasure from the bride-to-be as Father Thomas feasted away at the sweet juicy treat. "Mmmmmmmmmmmm ......................................mmmmmmmmmmmm ....................................gooooooooodddddddddddd!" Father Thomas exclaimed when he came up for air while licking at his glistening lips. Wanting more, Father Thomas dove right back in to begin eating more pussy, and moments later he began slurping as he hit the gusher with the beauty screaming out "Oh, my God ...........................................oh, Father ............................................I'm cumminggggggggggggggggg ...............................................I'm cumminggggggggggggggggggggggggggg ...............................................................ahhhhhhhhhhhhhh .........................................ahhhhhhhhhhhhhhhhhhhhhhhhhhhhhhhhhhhhhhhhhhhh!" was what Father Thomas heard from between the beauty's thighs that were clamped around his head, all while the soles of her feet pressed down into his back so she could arch her hips up to fee him her sweet goodies. It was quite obvious that he had just eaten the bride-to-be to a mind-shattering orgasm, with Father Thomas getting to sample some sweet honey from the lovely bride-to-be!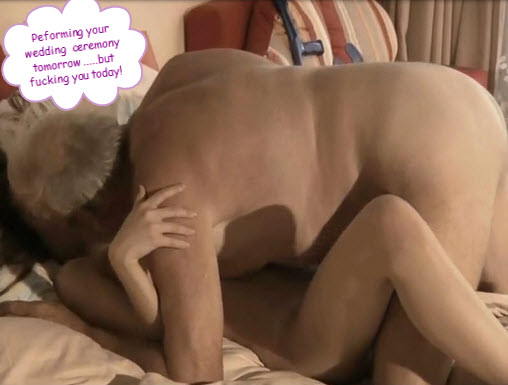 "Now reach on down between your legs and grab my holy cock, sweetie!" Father Thomas advised, then followed up with "That's it .....................ahh, yeah ................................now shuck it till its nice and hard!" Moments later, Father Thomas continued on with "Now guide it to your hot little pussy! That's it, my dear .......................now wrap those sexy legs around my fat ass and pull me into you!" "Ohhhhhhhh, yeah .......................oh, yeah .....................oh, sweet Jesussssssssssssssssss!" he moaned out in pleasure as his thick old cock slid up into the young bride-to-be, and then his crotch was rubbing up in her soft brown pubic curls. Father Thomas then felt the beauty raising her arms up, her soft hands caressing his shoulders before sliding over his back, and then they were in quite and intimate embrace, joined as only a husband and wife should be.

With hypnotic suggestions being whispered into her ear by the Holy Father who would be administering her wedding vows the next day, Kasie encircled her arms and legs around the elderly man, then panted out "Oh, Father ...........................fuck me .........................fuck me .....................bless me with your holy cock!" This would be a fucking that the bride's handsome young groom would fail to even come close to during the honeymoon, unable to match the energy of this 70 year old holy boy, unable to give her the kind of pleasure that was now coursing throughout her entire body. When it became quite apparent the the old boy would soon be popping his load, Kasie's arms and legs clutched him even tighter to her, then Father Thomas whispered into her ear. The young bride-to-be complied by clutching him to her, panting out "Do it, Father .....................shoot it in me .......................cum in me .............................fuck your holy baby in me ................................knock me up with your holy baby!"

For the very first time in his life, Father Thomas got to pop his swollen nuts up in the confines of a woman, a young beautiful woman who was the be married the very next day .....................with the good Father conducting the wedding ceremony! And boy, did he cum or what, filling the beautiful bride-to-be to overflowing ...................................as the mind-shattering orgasm rocked her entire body, locked legs squeezing him to her and her sharp fingernails digging into his shoulders. "Now, sweetie ......................I want you tell the man you're marrying tomorrow that you want to wait a a month or so before starting a family! Make him put on a condom on your wedding night tomorrow and during the entire honeymoon!" was the input that Father Thomas implanted into her subconscious. Letting his now shriveling cock soak in her flooded confines, not wanting this fabulous moment to ever end, Father Thomas twitched out the last remnants of his still very potent semen into the bride-to-be. Having planned ahead with having placed bottled water on the nightstand, with a little blue pill in the corner of the drawer, he was intent of giving the bride-to-be a good second seeding before concluding the final premarital session.

Driving back to join the gals back at the resort, the sign of the upcoming drugstore caught Kasie's attention, causing her to pull off the highway and turn into the parking lot. Something had just clicked in Kasie's mind, causing her to make the decision to hold off a bit in she and Grant starting a family at the get go, feeling it best to wait a month's time at the very minimum. Grant had left that decision up to her, telling her that he was willing to buy a box of condoms if she wanted to wait a bit, but he had told her that six weeks ago and tomorrow was their wedding day. Kasie was nervous as she had never bought a box of condoms before, did not know where to look for it, and wondered if it came in different sizes. She was glad to find a female pharmacist on duty, knowing from the smile on the gal's face that she knew it was her first time buying condoms, for Kasie felt all flush when asked on the size that was desired. The pharmacist had given her that knowing smile when she asked 'Regular(?)' with a smile and then added a nod along with the smile when she asked 'Lubricated (?)' and put it in a sack for her.

Once back in her car, Kasie sat back in the driver's seat and breathed a sigh of relief, glad that the supposedly simple task of buying a box of condoms had been accomplished. When the pharmacist had asked her as to the size desired, something had clicked deep in her subconscious, telling her that Grant could certainly not take a 'large' in size. With Grant having taken her virginity on the night she accepted his marriage proposal, Grant was the only man she had ever been intimate with ................consciously, anyway! But deep down in her subconscious, a mental comparison was being made, with Grant's penis size being compared to what Father Thomas had fucked her with a bit earlier. With Father Thomas' penis girth being twice as thick as Grant's, there was no in hell way that her fiance would qualify for a 'large' condom, and her subconscious would later be comparing the pathetic amount of semen that his balls could produce into the condoms she had just bought versus what the Holy Father had pumped direct up into her vagina earlier today.

Some six weeks after getting married, some ten days after allowing Grant to dispose of the condoms, Kasie was sick to her stomach when she got up in the morning. 'My gosh, sick in the morning two days in a row ...........................but I can't be pregnant as its only been ten days since Grant didn't use a condom ................................unless one was faulty during the honeymoon!' she thought while bent over clutching at her stomach. The day after having intercourse without protection, Kasie had gone to the drugstore to purchase some vitamins and to get a resupply of aspirin, and while there a few home pregnancy tests as they were on sale. As the test kits were on sale, Kasie made the purchase thinking that they may come into use some six weeks from then, but she opened one to see if she might have a case of the flu or if it was indeed 'morning sickness' that she was feeling.

Taking the test, Kasie's eyes widened as her jaw dropped open ..............................for the litmus indicator had turned bright red to indicate that she was indeed 'PREGNANT'! 'Oh, my gosh ......................it must have been on our wedding night, the second time we had intercourse! Grant had dozed off after taking off the condom after we had sex the first time, dozed off for a bit and still wiped out from all that drinking, when he rolled over atop of me and tried to put it in me without a condom! He only got an inch in when I stopped him and helped him put on a condom! He must have had some remnants of sperm at the tip of his penis from our first session, then transferred it into me at that time!' Kasie rationalized as to how it must have happened. Wondering as to what she was going to do and when she'd break the news to her husband, Kasie then conjured up the following plan 'I'll call and make an appointment with the gynecologist to confirm things! I've seen those sonogram negatives that they blow up into pictures ......................I'll have it framed and gift wrapped for Grant's birthday that's coming up!'


Future Brides having Father Thomas officiate the wedding ceremony:

Having sampled the pleasures of the flesh, with the lovely Ms. Kasie Monroe being his first victim, Father Thomas would then alter the premarital sessions for a beautiful bride-to-be that he fancied. And he looked forward to performing that beauty's wedding ceremony in the next few day or in a week's time. Such was all in his devious plan, not wanting the newlywed to question the timing of her pregnancy, having her believe that she had gotten knocked up on her wedding night should he have been the one responsible for putting her in the family way. At the end of her final premarital session, a hypnotic suggestion was implanted deep in her subconscious, that 'if she came to discovered that she was pregnant some six weeks later, she was to send him a text message or email to that effect and also that she was to delete having sent that message'. Including that first text message received from the former Ms. Kasie Monroe advising him other pregnancy, Father Thomas had received eight other similar messages, all in the past seven months.

For a young beautiful bride-to-be, Father Thomas had it all set up to be a routine he'd follow in her premarital sessions, all to be recorded by the three hidden camcorders in his office: Session #1 - seeing the bride's sparkling diamond ring atop of his holy cock as she jerked him on off while he got to bare her breasts and suck on her nipples; Session #2 - touching and feeling up the young beauty's sexy legs, slipping off her panties to eat her pussy, then getting a foot job till he creamed all over her pretty toes and soles; Session #3 - having the beautiful bride-to-be down on her knees and looking up at him ...........................with his cock in her mouth and giving her a very special Holy Communion; and Final Session - helping the bride-to-be undress and assist in getting her in the family way ............................by raping her and not using any protection!

In the past seven months, a dozen beautiful bride-to-be's had walked down the church aisle to be joined in marriage to her handsome young husband, but she had recently been inseminated by the very holy priest who would be performing their wedding ceremony. On the first premarital session of each bride-to be, Father Thomas got to learn of the info needed while the beauty was under a hypnotic spell, info that included whether or not she would be entering the marriage as a true virgin. Important factors included: whether or not she was on the pill; plans on starting a family; and most importantly when would be the most dangerous time of the month for her! And if things worked on out for Father Thomas, he would set the date for the final premarital session to fall right on that very day! Of the twelve recent newlywed bride's that had walked on down the aisle, each inseminated by Father Thomas within the past week prior to her wedding day, giving him a batting average of .750 with nine being impregnated on her final premarital session. Only one beauty escaped being raped, for she was still a virgin and no way around that, but Father Thomas and the young beauty got to experience what '69' was all about!


Ms. Amanda Wieland, age 28, soon to be Mrs. Nicolas Wellington, a buyer for a national retailer:

Soon to officiate at the wedding joining Nicolas Wellington and Amanda Wieland, Father Thomas licked his lips in seeing the lovely beauty wearing a black dress and heels as she entered his office for her final premarital session. With her hands full, he took the garment bag from her and hung it on the coat rack, then proceeded opened up the bottle of white wine to celebrate her final premarital session. "Did everything go okay at the dress shop, my dear?" he inquired, to which the bride-to-be replied "Yes! There was just one small alteration needed and it only took them five minutes to get it done!" "Here, my dear ........................a glass of wine to celebrate your final premarital session before your big day!" Father Thomas advised, then added "Bring our glasses of wine and I'll grab the garment bag and shoe box!"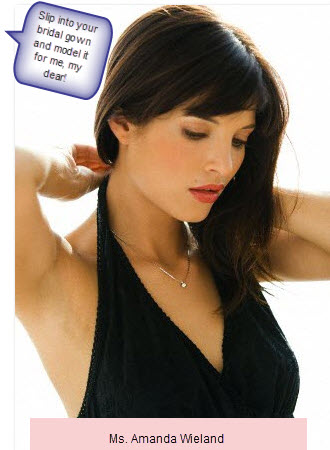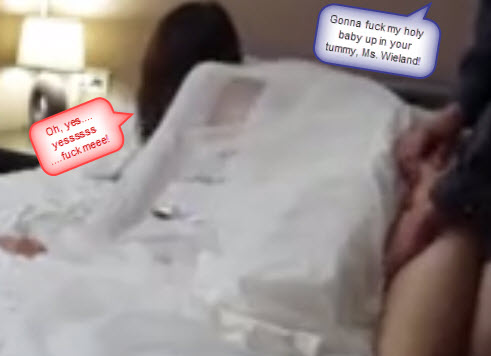 It had been two weeks earlier when Ms. Wieland showed up for her 3rd Session and was inquiring if she could schedule her final session on a certain date. Father Thomas learned that the young beauty was taking off from work for the entire week prior to the wedding and the Friday before, hoping to conclude all the needed incidentals for the big day, as she and her close girlfriends from college were planning a gals' week of fun .......................two days shopping and then the final three days at the resort where the wedding reception would be held. With the young bride-to-be seeming a bit frazzled, jabbering about all the things she had to do, Father Thomas focused on her saying "And as I had some free time that afternoon, I was hoping that it could be scheduled in on that Friday afternoon right after I go to pick up my bridal gown and see if any final alterations are needed!"

Once he got the lovely Ms. Wieland receptive to hypnotic suggestions, Father Thomas suggested that she get out of the sexy black dress that she was wearing so she could change into another outfit. As she was undoing the knot holding the top of her dress at the back of her neck, Father Thomas then suggested that she should "Slip into your bridal gown and model it for me, my dear! Show me what you'll be wearing next Saturday when you walk down the aisle!" Licking at his lips with cock twitching in his pants, Father Thomas took in the sight of the lovely beauty in her lacy black undergarments as she stepped out of her 3" black heels. A moment later, the lovely bride-to-be was stepping into the bridal gown that had been in the garment bag that she had brought with her, then she was stepping into the pair of white heels that she'd be wearing on her wedding day.

"Beautiful, my dear .......................absolutely beautiful! Now give me a spin ..................like a model would do!" Father Thomas advised as he took in the lovely beauty in her bridal gown. Cock tenting the front of his trousers, he then extended his hand out to Amanda, guiding her to the king-sized bed and telling her "You are such a beautiful bride, my dear .......................you seem so uptight from the upcoming wedding .......................so let me help you take the edge off! Kneel up on the edge of the bed ........................now your other leg ............................good, now lean on forward and rest your hands on the bed!" Moving on up behind the young beauty, Father Thomas reached on down to grab the hem of her white bridal gown, bunched it all up to place it on her lower back to reveal her panty clad ass and long sexy legs. Going up between her spread her legs, Father Thomas pulled down her lacy black panties to let them fall onto the bed around her knees, then he reached out to caress her soft creamy ass cheeks. Cock jutting straight out and at the ready, Father Thomas moved his hands for a good grip on her trim hips to keep her in place, all while his prodding cockhead began homing in on its target.

Gaining his expertise over the past seven months, the head between his legs knew just where to go as if it was sniffing out the spot, with Father Thomas thrusting on forward when that head told him to do so. "Oh, Lordie .................................oh, yesssssssss ....................ah, so goodddddddddd!" Father Thomas moaned out in pleasure as his holy cock slid up into the warm confines of the young bride-to-be. Sliding his cock in and out of the raped beauty, Father Thomas panted out "Gonna fuck my holy baby up in your tummy, Ms. Wieland! Is this fucking taking off all the tension you're feeling?" "Oh, yes .........................yessssssssssssssssssssss .................................fuck meeeeeeeee! Fuck me good .................................fuck your holy baby up in me!" came the beauty's response as he sped up the fuck from behind. "Oh, yeahhhhhhhhhh .............................gonna cum soon ................................gonna cum in your pussy, sweetie! You're going to be walking down the aisle next week ..............................with my baby already growing in your tummy! Oh, Lordie .................................I'm cummingggggggggggggg ................................ahhhhhhhhhh .........................ahhhhhhhhhhh ..................................arggggggghhhhhhhhhhhhhh!" Father Thomas groaned out as his cock belched out stream after stream of his hot baby batter.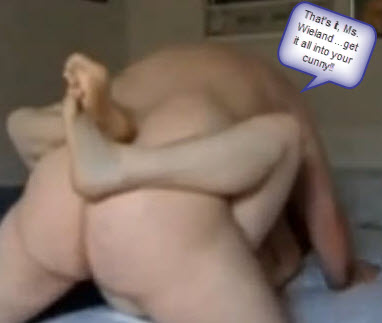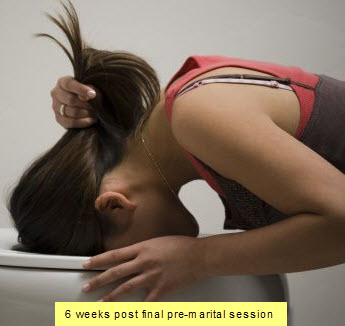 Totally spent from that fantastic fuck session, every last drop of semen drained from his holy balls, Father Thomas panted for breath as he tried to compose himself. Able to think rationally once again, he then reached down to push the gown further up the mattress, needing to keep from any cummy evidence staining it when he withdrew from the beauty. "Now move your hands back a bit, push your body back some, pulling at her trim hips till she was positioned just right ..................with her cunny just off the edge of the bed! Having prepared in advance, Father Thomas reached over to open the drawer of the nearby nightstand, grabbing the wet washcloth that he had put there prior to the beauty's arrival. Knowing where the appropriate camcorder was located to capture the next scene, Father Thomas prepared to pull on out and get out of the way for the video recording.

Pulling out quickly and stepping aside after a wet popping sound, Father Thomas smiled at the scene being captured by the hidden camcorder, that of his cum dripping out of the beauty's raped slit like that of a leaking faucet. Once the overflow had ceased, resulting in a large puddle of cum on the floor, Father Thomas used the wet washcloth to wipe the beauty's inner thighs and wet pussy lips to keep from leaving any stains on the bridal gown. Assisting the raped beauty off the bed, he then whispered a hypnotic suggestion into her ear, telling her "Take off your wedding dress so it won't get wrinkled or soiled ..........................then join me up on the bed, my dear ..........................so we can fuck again!"

Popping a little blue pill down with some white wine, Father Thomas watched as the raped bride-to-be stepped out of her bridal gown, leaving her in her lacy black undergarments and white heels. Going over to take the gown from her, he then put it on the hangar and back in the garment bag, turning back to see the black undergarments laying on the edge of the mattress as the lovely beauty was stepping out of her heels. Assisting the beauty up onto the bed, then joining her there, they buck naked and kissing intimately as lovers would do ..........................not that of a bride-to-be and her pastor, especially as he was now sliding his swollen cock up into her!

Bed thumping against the wall, Father Thomas going at it like there was no tomorrow, and he prayed for one thing "Oh, Lordie .................................let me knock her up!" "Now wrap those sexy legs of yours around me, sweetie!" Father Thomas advised as he was about to pop his holy load up into the lovely bride-to-be. "Oh, sweetie .............................yes, that's the way ..................................ohhhhh, sweet Jesussssssssssss ............................ahhhhhh ......................ahhhhhhhhhhhh ...........................oh, yeahhhhhhhhhhhhhhhhhh ......................yeahhhhhhhhhh ......................ohhhhhh!" Father Thomas wheezed out as his balls contracted with his cock belching out streams of his hot potent roe into the young beauty's fertile womb. Reaching down to take her ass cheeks in hand, feeling her petite body shudder in a mind-shattering climax as her legs tightened around him, Father Thomas' cock twitched out the last few droplets of cum that his contracting balls could produce.

Withdrawing his cock from the warm confines of her cunny and backing off the bed, Father Thomas retrieved one of the hidden camcorders, using it to zoom in on the cum oozing out of the beauty's raped slit, capturing the thick puddle of overflowed semen that had built up beneath her butt. Assisting the lovely Ms. Wieland up to a sitting position on the bed, Father Thomas learned that her fiance would be picking her up that evening for a dinner date. Upon learning that her fiance liked to give her an intimate kiss when coming over to see her or to pick her up for a date, a devious thought came to his unholy mind, causing his cock to twitch back up to life. Semi-stiff cock in hand, he then stepped forward towards the sitting beauty, telling her to lick his slimy wet cock clean. With that task done and with the beauty getting dressed to make the drive home, Father Thomas whispered a hypnotic suggestion into her ear, advising that "You are not to rinse your mouth out until after your fiance come to pick you up ................................not until after he kisses you intimately!"

A week later, Father Thomas got to see lovely Ms. Amanda Wieland looking radiant in her beautiful bridal gown once again, but had to admit that she looked way more beautiful ......................naked! As the beautiful bride walked down the aisle to where the groom awaited, Father Thomas looked at the beauty and silently prayed 'Let her be carrying my holy baby right now! Let me get an email or text message from the beautiful bride early next month!' Five weeks later, Father Thomas did indeed get a message from the lovely newlywed, with the message saying 'Bad case of morning sickness today! Home pregnancy test was positive! I'm pregnant with your baby!' That message was a result of the hypnotic suggestion that he had implanted deep in her subconscious at the end of her Final Premarital Session, giving her his email address or number to call if sending a text, with the suggestion being "If you discover you're pregnant approximately six weeks from now, you will email or text me as soon as you take a home pregnancy test! And you shall delete having sent that message from the computer or phone that you use!"


End of Story.