Ravished Nurse - II
(m/f, i/r, n/c)
by
Black Demon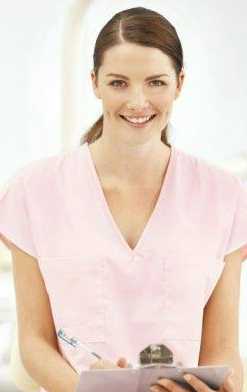 ____________________________________________________________________
If you find sexually explicit reading offensive please leave now. We do not condone
trying any of the stories with in, and we are not responsible for what you may do.
You must be 18 or 21 in some states to view this material, if you are not please turn
and go now. If you can't agree to these terms please leave now. Enjoy the story.
____________________________________________________________________
Ike loved his job at the hospital. So many beautiful women in one location! Having succeeded in just his first month, Ike was on the prowl for his second unfortunate victim. He was anxious to get in earlier than normal, park in the employee parking lot and observe the lovely angels in white as they arrived.
Having seen this beauty by chance one morning, Ike decided to follow this beautiful nurse and observed her enter the Emergency room. She had long beautiful red hair and her skin so ivory white, about 5'4" and about 118 lbs. Ike had to make a note on this one. What a long legged beauty! One to plant his wicked seed in. It was going to be fun having her squirm in fear as he raped the hell out of her soft white body and then to plant his baby making jism in her.
Weeks went by observing this beauty and her habits. Though she was always careful and locked her car doors, Ike had in his possession one of the special levers used by towing companies and the police in opening car doors when they were locked. He would use this lever to gain entry when the lovely beauty changed shifts and got off in the evening.
Ike had been lucky when an opportunity came up to work in the emergency room, here he was to move out the beds and do scrub down the entire room Ike managed to get an up close look at this unsuspecting prey. God, how he wanted to reach out and touch her ivory white skin with is black paw, such a beauty with lovely red hair and green eyes. He gazed down at her name tag, which read 'Judy Johnson, R.N.'
"Well, Ms. Judy Johnson, you'll soon be squirming on ole Ike's big black baby-maker!" Ike thought as he gazed at the lovely nurse, who was too busy to notice the lustful eyes feasting upon her beauty. Her sparkling diamond ring and wedding band did not go unnoticed by this observant stalker.
The time came. Beautiful Judy was on the afternoon shift and would be off work at 11 p.m. This was the moment Ike had been waiting for. He used his special lever and easily had the door unlocked. Once in, he then locked the door again. Ike got onto the floor of the car and put the dark blanket, that he brought with him, over his body so his lovely beauty would not see him.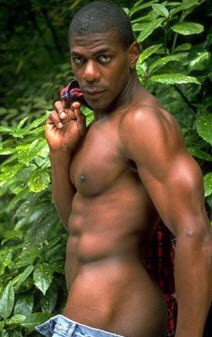 Fifteen minutes later, Ike heard the key being inserted and the driver's door open. The nurses normally walked in a group to assure their safety in a dark parking lot. He then heard his lovely prey say goodbye too the two nurses she had walked with. Ike heard two cars nearby start up and move out. Meanwhile, Ms. Judy Johnson was removing her nurses' cap and fiddling with her hair.
A hand over her mouth and Judy was quickly dragged over the seat into the rear. Her fear paralyzed her. Ike began to strip off the white uniform, from her paralyzed body. She was soon down to her whites: bra, panties and hose. Then she began to put up a fight but Ike held her slender arms above her.
Ripping her bra off Ike began to feast on her pink nipples. They began to harden under the unwanted stimulation. Then her panties were drawn off her slender legs. She began to squirm in desperation as Ike unzipped my pants to reveal his rock solid 12" monster. "Please ….............…………..please!" she begged. "Please ………................…..don't rape me ……………… please don't!" she wailed. As the drooling monster made contact with her tight mound, Judy tried to get away pleading "No ……….................….stop! You ……............…….you'll get me pregnant!"
Laughing, Ike stabbed forward burying 5" of his cock, hurting her with the vicious stab into her dry channel. "Oh, yeaaaaaahhhh …………got ya, bitch!" he growled. Then Ike began thrusting back and forth, enjoying hearing the sobs and whimpering that his thick cock brought forward.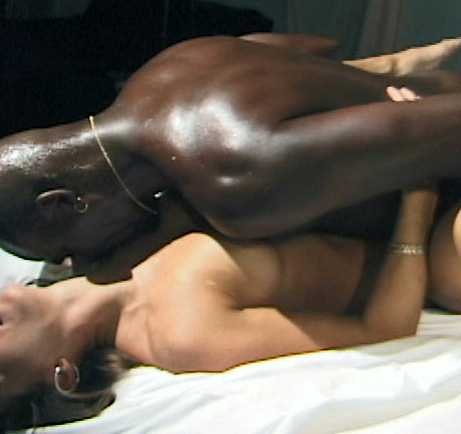 Judy tried to use her legs and thighs to buck her attacker off but Ike reared back and slammed the entire length of his monster cock deep into her womb. Never had Judy had anything so big and deep in her. She had only experienced her loving husband, but he was only half the length and girth of what his vicious rapist possessed. "Oh, please …..........…..stop ……….............…pleaseeeeee!" Judy sobbed. She sobbed uncontrollably as her body began to react to the unwanted stimulation brought on by the long deep trusts into her now gushing womanhood. "Oh, God, noooooooooooo …..................…….nooooooooooo!" Judy groaned, as her slender white legs wrapped tightly around the muscular buttocks, just as an unwanted orgasm brought her to a shivering climax. As Ike hammered away, Judy realized her black rapist was about to cum and did her best to buck him off again, pleading "Don't ……...............…..don't cum in me ........................please …......................…..pleaseeee!"
Ike grabbed her hips and slammed forward one last time, unleashing a torrent of hot cum. Fully buried in the lovely victim, Ike groaned with pleasure, his cock jerking madly in spasms. "Ohhhh .......baby, I'm planting my black seed in your soft white belly. Gonna give you something to remember me by, you sweet beautiful bitch! Gonna knock you up good, bitch!" Ike groaned twitching his cock to drain out every possible drop of his potent seed.
Three times that night, Judy received Ike's baby making jism in her womb. Her mouth was never soiled by spunk before but she was forced to swallow a cupful of Ike's thick tapioca pudding. Her loving husband had all but pleaded with her to suck him off but she had always gotten upset with him for demanding such a deviant sexual act. Ike looked at the lovely beauty choking on his thick load, her stomach heaving, and knew the protein was too rich for her. Looking up, Ike observed no one in the parking lot and opened the door slightly. He leaned the beautiful nurse over and laughed as she threw up all the thick slime onto the asphalt of the parking lot. Then Ike got his clothing on and departed. He smiled as he left the beautiful raped nurse sprawled on the back seat of her car. She was a sight, her naked ivory body laying widespread, covered with cum.
Judy had recovered in an hour later and covered herself with her uniform. She drove home and rushed to clean out her choking pussy. She prayed it was not too late to douche away the filthy baby making jism that soiled her innocent body. Fortunately her husband was away for two days working on a business trip, so she could keep this rape a secret. With her husband away and she being on the evening shift, the children were with the grandparents.
She just couldn't tell her loving husband that she had been brutally raped by a black and that there was the possibility that she could be very well be pregnant by her rapist. She wondered if her husband would still love her, knowing she had been soiled by a black. Would he ever make love to her again, knowing a nigger's cock had shot its thick load in her precious garden that belonged only to her husband.
Arriving home, Judy quickly made it to the bathroom to douche out the slimy spend, praying she was not too late. Then she spent an hour under the hot shower, trying to cleanse her body of the rape. She sobbed under the shower, but closed her eyes as she recalled the number of orgasms she had reached as she had been raped. Never did she have more than one orgasm in her lovemaking with her husband and never of such a magnitude that she had reached this night.
Two days later, David arrived home and greeted his lovely wife. Judy had cooked a great dinner and then they were cuddling up like teenagers. Never had wife been so aggressive in their relationship. When he saw his lovely wife playing with his hard cock, he couldn't believe it when her head moved to his pulsating cock. Never had he had this pleasure that he had begged for throughout the years of marriage. He groaned loudly and his body stiffened as he felt the warm soft tongue caress his cockhead.
Judy starred in disbelief as the cock in her hand pulsated and erupted into the air. She couldn't believe her husband had cum with one lick of her tongue. How she wanted to please him with her mouth, after all his begging, and with her episode with being forced to suck her rapist off. Her thoughts drifted back to that night in the car with her rapist and began to compare the two times she ever used her mouth to bring off a cock. And the two was really no comparison. Her rapist had stuffed his thick 12" cock all the way down her throat and fucked her mouth a full ten minutes before erupting his endless load, forcing her to swallow the thick load. Her husband was no comparison with his seed exploding with just the touch of her lips and tongue, sending a thin stream of jism into the air.
Here she had planned on a nice dinner and pleasing her husband with a lot
of love-making. Now her loving husband lay snoring, satisfied with the quick cum into the air. Judy sighed, feeling so frustrated, wanting so badly to have her husband bring her to an orgasm that she had reached in that evening in her car. She desperately needed relief at this point.
Going into the bathroom, Judy first used her fingers and then sought the handle of her hairbrush. But she could only get relief by picturing that eventful evening in the back seat of her car. Although she had fought the advances of her rapist, Judy remember what occurred as his long cock plunged into her like a jackhammer and how she had climaxed by wrapping her arms and legs tightly around her rapist. Picturing this in her mind and how she sucked it off brought her to a mild orgasm, relieving the built up tension.
Throughout the week, Judy was left unsatisfied in bed each night. Twice her husband could not contain his load once Judy touched his cock with her soft tongue, exploding harmlessly into the air. Never had he experienced his wife so aggressive in bed, coming quickly before Judy could achieve any satisfaction. Each night his wife ended up in the bathroom to seek some relief, achieving it only when she pictured herself and her rapist in the car.
Then a shift change came and Judy was back on the afternoon shift and to get off at 11 p.m. She parked in her usual place. Looking carefully about as she normally did, she was about to insert her key into the door but hesitantly withdrew it, leaving the doors open. But this did not go unnoticed as Ike sat in his car a few rows away, watching the lovely nurse that he had viciously raped earlier. Ike smiled knowing that the lovely redhead was in need of his long black cock.
Returning to her car after work, Judy noticed a movement in the back seat of her car, a movement deliberately made by Ike telling her he was there. Opening the driver's door, Ike heard her say goodbye to her companions and stood there as the cars started up and left the lot. He then saw Judy close the driver's door and move to open the rear door. Ike smiled as the beautiful redhead slipped into the back seat and reached out to grasp the long black cock that awaited the touch of her dainty white hand. In the pitch darkness, the dainty white hand could be seen shucking up and down the black pole in her hand.
"Oh, please ……….I ………………I need it so badly! Please!" Judy begged. "Suck me off again, Missus Johnson! See if you can hold down my rich protein this time!" she heard him order her. Without hesitation, Judy bent over and captured the thick cockhead into her dainty mouth and ate as much as she could, letting the thick monster slide down her throat. Ten minutes later, with only the cockhead in her mouth, it erupted gush after gush of his thick cream. This time Judy eagerly swallowed the rich protein that soon filled her belly.
Judy pleaded with Ike, wanting to feel his manhood filling her again. "Oh, please, please I need it so bad!" Judy pleaded. "Suck me off again bitch! You want my long black cock again? Well, the only time you can have it is in the bed you share with your hubby!" came the response. "Oh, please no, let me have it now! I can't let you make love to me in my husband's bed!" Judy replied desperately. "Make love? We're going to FUCK, not make love! I'm going to fuck your brains out and knock you up on your martial bed, bitch!" Ike smirked.
Rubbing her face against the slimy black cock, smearing the juice on face, Judy began to lick and suck to please this man who had viciously raped her weeks ago. Now she wanted to have this black pole deep in her again. She wanted to please him so he would let her satisfy her needs. As she felt the black pole pulsing and threatening to explode again, Judy sucked harder to capture his hot load.
Then Judy gasped as she was pulled up by her hair, off the pulsating cock. Then she gasped again as thick streams of white slime shot through the air and saturated the front of her white uniform. She sat there stunned as Ike zipped up his pants and opened the door to leave. "If you want this cock up your tight twat, you know where you can have it, Missus Johnson! Now, go home to your hubby and give him a kiss with your cummy lips!" Ike laughed.
Arriving home, David greeted Judy was surprised to get a passionate kiss from his loving wife. Normally Judy wanted to wash up first but today she wrapped her arms around him and delved her pointed tongue into his mouth. David returned the passionate kiss, dueling his tongue with hers, savoring the soft creamy feel of her lips on tongue. David would not have been so anxious to return his wife's passionate kiss if he knew just how her lips and tongue got so creamy.
The next morning, a Sunday morning, Judy advised her husband that she wasn't feeling well and wasn't up to going to church. She asked David if he would mind taking the children with him to the church, letting them attend the Sunday school, she'd have one of the other mother's handle today's session. Judy put on a robe and escorted the children out to the front door. David gave his wife a kiss goodbye telling her that he'd take the kids out to the zoo after church so she could rest in bed the entire day.
Judy watched as the car pulled out of the driveway, waving goodbye to her children. She sighed, biting down on her bottom lip, wondering if she was in her right mind. The night before, she had begged the black rapist to fuck her again but he had refused, saying if she wanted it again 'it'd be in hubby's bed'. She couldn't believe she had told him she send them off the church alone without her at 7:30 a.m. Here she was in her own home, dressed in a robe and a sheer negligée that she had put on while her husband had been in the bathroom, a much more sexy item versus the oversized t-shirt that she had worn to bed with her husband.
Five minutes later, the doorbell rang and Judy nervously walked to the front door. Opening the door, she was face to face with the man who had viciously raped her and whom she had pleaded with to fuck her again. Judy was breathing hard, looking up at the 6'6" muscular black frame, his skin coal black in color. "Morning, Missus Johnson! Saw your husband and children leave without ya! Time for some black loving! Gonna fill ya up with a pint of nigger cum, Missus Johnson! Gonna knock ya up with a black baby, Missus Johnson! And where am I gonna knock ya up, bitch?"
Judy was embarrassed and humiliated by the taunting, turning blushing so her face matched the color of her hair, but she was speechless. "Want me to leave, Missus Johnson?" Ike quizzed, knowing full well he had her right in his palm. Judy shook her head 'No' and let the robe drop to her floor, revealing her sheer white negligee. "Then tell me where I'm gonna knock ya up, Mrs. Johnson!" he commanded. "On …..on my husband's bed!" came the stammering reply.
"Okay, bitch! First come and have some black sausage for your breakfast!" her visitor taunted. Dropping to her knees, Judy unzipped the bulging trousers, letting the curled monstrosity spring out and hitting her cheek. Judy couldn't believe how massive it was, seeing it fully for the first time. Ike laughed as he watched the innocent wife rub her lovely white face in his crotch. Then she struggled to open her delicate pink lips wide enough to encompass the throbbing black mass.
Ike laughed aloud as he gripped her long red hair and shoved his 12" black sausage all the way down her throat, seeing her emerald eyes bulge out in obvious fear as she could not breathe around the monstrosity. Then Ike slowly withdrew his cock to allow the lovely wife to get some air and then began to face fuck her. Five minutes later, Ike was about to cum and ordered "Look up at me, bitch!" Judy looked up to see her black master grinning at her humiliation and then saw his eyes roll back. "Here it cums, bitch!" Ike yelled, ramming his pulsating cock deep into Judy's throat, as he erupted. Judy kept swallowing for fear of drowning in this massive flood of thick cum.
At the church, the priest had told David he'd say a special prayer for the Church's favorite Sunday schoolteacher. Before the congregation, the priest said aloud a prayer for Judy Johnson's quick recovery from her illness that prevented her from teaching at today's Sunday school and asked God to look in upon her now and bless her. At that very moment, six blocks away in the Johnson's home, it was as if Judy responded to the prayer "Oh God, God, yessssss …………oh God, fuck me ………..yesssssss ….yessss ……….knock me up with your black baby!"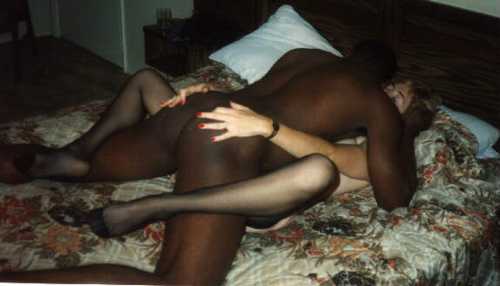 David said a silent prayer for his wife, picturing his lovely wife in bed recuperating. He thanked God for his good fortune in having such a beautiful and faithful wife. His lovely wife was in fact recuperating in bed at the very moment. Recuperating from the aftermath of the awesome fuck that the black giant had thrown to her, recuperating from the multiple mind-shattering orgasms that overtook her lovely body. If David could only see his lovely wife at this moment, he would not have been so thankful. At that moment, his lovely wife's trim white arms and legs were tightly wrapped around a muscular black body that was in the throes of unleashing its potent load deep in his wife's fertile womb.
Arriving home in the late afternoon, David was surprised to see Judy up and about, so cheerful of their return. As the children played in the yard, David cuddled up in the privacy of their bedroom. "Oh, honey. I missed you so much today!" Judy exclaimed as gave him a deep passionate kiss. As David's hand playfully wandered to caress Judy's crotch through her shorts, Judy moaned "Oh, honey, you've got me all hot and bothered! I'm really juicing today from your touch!"
This gave David more enthusiasm and he slid a finger up a leg of her shorts, pushed aside her wet panties and delved into her wet pit. As he leaned on his wife, David unbuttoned her shorts and peeled it down along with her sopping panties. He looked down at his wife's long sexy white legs, then began to kiss her stomach and moved downward to the main prize. This was something that his lovely wife had never allowed him to do, saying it was dirty and to deviant to engage. Sure enough, Judy responded in the negative when she realized what he was up to "Oh, honey, NO! It's dirty! No, don't!" But David was not to be denied on this day.
Judy was worried that her husband would know of her infidelity. That he would detect that she was wet from all the cum that had been deposited there during her lover's stay. Judy tried to pull his hair to get him away but groaned as his tongue licked her stiff clit. Judy's legs opened automatically and David began to eat his lovely wife out for the very first time. Looking up at his groaning wife, David smiled at his good fortune "Oh, sweetie, you're so wet and juicy. Give me all your sweet honey!" as he continued to lap at her wet crotch.
Closing her thighs around David's head, Judy groaned loudly. A spasm shook her body as more thick cum juice was squeezed from her womb and into her loving husband's eager mouth. David could not hear his wife's screams and moans, his ears covered by her clenching thighs. He was fortunate not to hear his faithful wife yell out "Oh, yes, yes …………..eat me, eat it all out of me ………………..get a taste of a 'real' man! Eat it all honey …...................eat it out of me before it gets the chance to knock me up!"

End of Story.