33 year old Mrs. Allison Myers
With her husband below deck in the galley preparing lunch as he loved to cook while sailing, Allison got to take the helm for awhile as she enjoyed it along with wanting to make to Intanos Atoll by mid-afternoon. Having been there on a prior outing, Allison thought of the abundance of both fish and lobster in the calm bay on the southern side of the atoll, thus hoped for a nice swim and dive once they dropped anchor. Wearing an open navy blue shirt over her skimpy white bikini to keep the chill away, she checked the compass to be certain that she was headed in the right direction. Far off in the distance was a fast approaching yacht from the northeast, but as that direction was behind and off her left shoulder, Allison would not take notice of it at all ..........................until it was just too late! Unbeknownst to Allison, both a pair of binoculars and a high powered telescope were being focused upon their sailboat, zooming in upon her in particular, and with the high-tech telescope transmitting the view to a monitor below deck, there were eight pair of eyes ogling up her sexy bod.
Looking forward and constantly checking the compass to keep on the right heading, Allison was unaware that the fast moving yacht was now less than a mile behind and it's speed was now slowing in order for three of the crew to board a rubberized skip with a high powered engine. Minutes later, the sound of a boat horn sounded off to her left, catching Allison by surprise as she looked towards the sound and observed a beautiful expensive white yacht about a hundred yards away with a man on the top deck giving her a friendly wave. Securing the steering rail to keep the yacht on course, Allison got up and moved up front to wave 'Hi!' to the people on the boat. With her husband asking what was up as she moved past the opening below deck, Allison advised "Just a beautiful yacht passing us by and giving us a wave! I'll just be friendly and give them a wave back!" With the wind blowing from the yacht's location towards her and the engines quite loud, Allison did not hear the pontoon approaching from behind, clueless that her sailboat was being boarded by two bad ass pirates .............................and soon one black bastard would have his hand clamped over her mouth and dragging her back away from the rigging!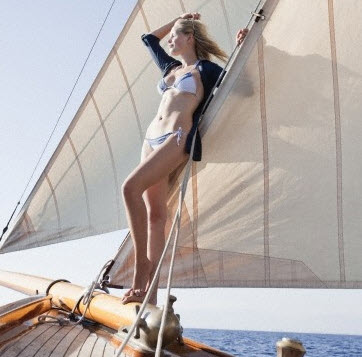 Below deck, thirty-five year old John Myers was just about to finish cooking their lunch when he noticed that they had stopped moving for some reason and that the boat was seemingly dead in the water. "Honey, what's happening up there? You okay?" he yelled out to his wife. Realizing that something was obviously wrong topside, John turned off the stove and rushed topside to see what was happening. Just as his head made it out from below, it was as if a lead bat had just connected squarely with the back of his head and it was lights out immediately for him. Five minutes later, due to the smelling salts being waived under his nose, John awoke with a massive headache and found himself tied spreadeagled to where the sail should be. John then saw that the sail had obviously been dropped as it was now stretched and tied in a way that it would provide shade to the top of the cabin. The top canopy of the cabin was now in the shade but stretched out and tied down upon the top canopy was his beautiful wife dressed in her skimpy white bikini with a blue trim. John observed the navy blue shirt that she had been wearing earlier was now lying in a heap on the deck nearby. With bumpers out, John saw that the elegant white yacht that Allison had mentioned was now tied up alongside their sailboat.
Taking in the scene on deck, John observed that they had been boarded by eight men ..............................eight big and muscular black men! Then he observed a flag waving at the back of the yacht, a black one that was adorned with white symbols, that of the skull and crossbones. 'Pirates! We've been boarded by pirates!' John shuddered in absolute fear. Then the bastard who had been waving the smelling salts under his nose grabbed him by the back of his hair, point and directing him to where his terrified wife lay tied upon the top canopy, then the bastard advised "About time ya came out of it, my boy! Didn't want ya to go and miss out on the action! We's was gonna carve ya on up but yer purty little wife beg us not to cause she's really in luv with ya and didn't want ya hurt! And so, in exchange of us not harming a hair on yer head, yer purty little wife agreed to entertain us on yer neat little sailboat! Ya know, that food ya's been cooking smells really good .........................so good that it went and got our appetite up! But as yer were only cooking fer two of ya and there's eight hungry guys here, there surely won't be enough fer all of us ........................so's guess we'll start off with an appetizer first!"
With the hot sun beating down upon him, John could only stare out in disbelief as the leader of this band of pirates call out "Amos .........................ya's got first dibs on getting to taste the appetizer the sweet little lady has ready to serve up fer us! Let's see what kind of appetizer she's got!" Eyes bulging from his sockets, John could only watch helplessly as the man named Amos smiled widely and began to lick his lips in anticipation of getting himself a tasty treat, then the bastard was making his way to where Allison lay tied down to the canopy. The black bastard slowly reached on down with his right hand while making a pincher motion with his index finger and thumb, then the bastard was pulling the bikini string at his wife's left hip. Knot undone and that side of the bikini untied, the bastard was now making a pincher motion with the index finger and thumb on his left hand. Bikini knots untied, the bastard used his fingers of both hands to slowly peel down the front of Allison's bikini, bringing about a loud chorus of 'oohs' and 'ahhhs' from the raunchy band of pirates. And then the black bastard bent on down to get his tasty treat, causing Allison to sob "No ...........................noooooooo ...............................stop ..............................please stop ...........................pleaseeeeeeeeeeeeeeeeeeeeeeeeeeeee!"
Tears ran down John's eyes as he watched his beautiful wife being eaten for the very first time in her life, a sexual act that she felt was too dirty to perform and had refused his attempts to put his mouth on her golden muff. He could see Allison struggling against her bonds, heard the loud slurping sounds being emitted from between her trim sexy legs, then observed her thigh muscles going taunt as his wife was obvious fighting the urge to feel any pleasure being derived from this deviant sexual act being committed upon her body. "Stop .........................stop .....................please stop .........................please ..............................pleaseeeeeeeeeeeeeeeeeeeeeeeeee! No ..........................no ...........................no ...........................nooooooooooooooo! Please ....................please .............................please .................................ohhhhhhhhhh, pleaseeeeeeeeeeeeeeeeeeee!" came his wife's desperate pleas, then John saw her toes curling before Allison screamed out "Oh, God ..............................oh, Goddddddddddddddddddddddd ......................................ahhhhhhhhhhhhhhh ......................................ahhhhhhhhhhhhhhhhhhhhhhhhhhhhhhhhhhhhhhhhhhhhhhhhhhhhhh!" John could only watch with bug-eyes as his beautiful wife arched up into the mouth of the black bastard before her petite body began to spasm uncontrollably, making it quite obvious that she had just been literally eaten to a mind-shattering orgasm and that she was cumming right in the bastard's slurping mouth.
For the next forty-five minutes or so, John hung there in the hot sun watching as the other seven black bastards went and got to get his tasty appetizer, going down on his beautiful wife till she came in his mouth or for a maximum of ten minutes eating time. He witnessed his wife giving into the unwanted pleasure twice more, screaming out in ecstasy as her body went taunt and shook uncontrollably, arching up into the face of the bastard who had eaten her to a mind-shattering climax. John couldn't remember when or how it happened, but it was when the third or fourth guy was eating Allison's snatch out that the guy had reached up to pull her flimsy bikini top away, then the black bastard began thumbing his wife's pink nipples as he continued eating her out. And then it was the guy called Labrone who's time had come for him to get his tasty appetizer from between Allison's sexy white legs, with the tall black bastard turning to John's direction to stick out his rather lengthy tongue to show John just would be wiggling up into his wife's cunny. Once Labrone got to eating his tasty appetizer, it became quite obvious that he certainly had a talented tongue, for no more than a minute later, the bastard had Allison screaming out "Oh, God! Oh, my Goddddddddddddd! Oh Godddddddddddddddddddddddd ...............................oh, my Godddddddddddddddddddddddddddddd .................................................ahhhhhhhhhhhhhhhhhhhhh ...........................................oh, Goddddddddddddddddd ...................................ahhhhhhhhhhhhhhhhhhhhhhhhhhhhhhhhh!!"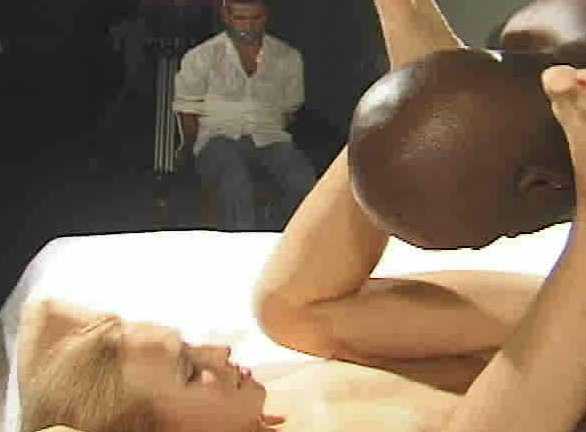 With all eight pirates each having eaten his appetizer, John's dreaded fear came true when the bastard by the name of Amos came on up to him while holding his stiff and thick twelve incher in in his fist, and then he had to endure the bastard taunting him with "Yer sure a lucky white boy to have a beautiful bitch as a trophy wife! A real nice golden trophy for all to admire! And I's really admire that trophy of yers ..............................it'd be a real honor jist to go and polish that trophy up fer ya! Got me some real special polish, lots of it too, so I's be honored to polish that lovely trophy both inside and out fer ya! Yeah, got me a big tube of it with me ...........................nice hot creamy cum to spread all over that purty wife of yers ..........................inside and out!" Then the bastard told him "Tell ya what, ya's lemme touch and hold that awesome trophy of yers for a bit and I's gives ya something real special in return fer being so kind and generous ..................................................what I's really known fer is me making babies ...........................twins in fact, cause I's got three sets of little twins running around out there!"
Then Amos turned to head on toward where Allison lay tied down upon the canopy, taking off his shirt to toss it aside and then began unbuckling his belt buckle. Then Amos yelled out to one of his buddies, advising "Hey, Rashad, why don't ya go and untie sweetie's hands! She already showing some rope burns! Give her something to hold onto cause those ropes will really cut into once I's stick my boner up into her tight little snatch!" John heard the fellow named Rashad respond with "Sure's will, Amos, my man! I's give her something to hold onto!" Thirty seconds later, Amos had finally dropped his pants and jockeys while Rashad had quickly untied Allison's wrists and was wrapping the fingers of her right hand over a thick black bar, one that pulsated when she squeezed upon it. The fingers on Allison's left hand were then formed around the bastard's walnut-sized testicles and was being told by Rashad "Ya go and squeeze my nuts as hard as ya want, sweetie! The harder the better, cause I's jist love having a beautiful white bitch playing with my black balls!"
John saw the look on his wife's horrified face, her mouth parted and her eyes wide in awe of what the fellow Amos was holding in his fist as he approached her. When John got a glimpse of the size of the big black bastard, he could see why Allison was so afraid, for not only was the ebony cock twice as thick as his it was more than double his length. With his taking of her virginity just prior to their wedding day, knowing that his wife had always been true to him, John knew that his beautiful wife would never be the same ever again if that black bastard was to rape her with that horse-sized cock. When the bastard moved towards Allison, standing three feet away and shucking at his monstrosity, John saw the tears in his wife's eyes as she sobbed and pleaded "Please ................................please don't rape me ..........................not with that .........................please ................don't rape me with that! I .....................I've never had anything that big .........................it'll tear me ............................it won't fit! Please .........................please, I beg you! Please don't rape me with that!"
With Allison's legs not tied down, she began to desperately kick out at the approaching thug who was intent on raping her with his horse-sized cock. Suddenly two men had come forward to grasp her by her ankles, with one of them commenting "C'mon, Amos, let's git the show on the road! We's all got fuck'n hadrons and wanna git a crack at this beautiful little bitch!" Allison looked over towards her strung up husband and saw him put his head down in despair as it was quite apparent that her rape was to be inevitable. Scared to death of what the black bastard intended on raping her with, Allison closed her eyes and once again pleaded "Please .........................oh, please .........................please don't rape me!" But with her legs being stretched out wide by the two men and feeling the big brute of a man settling down between her thighs, Allison tried to steel herself as to what was about to happen to her, shuddering in disgust as the bastard was fitting his bloated cockhead up against her too tight slit.
"Eieeeeeeeeeeeeeeeeeeeeeeeeeeeeeeeeeeeeeeeeeeeeeeeeeeeeeeeeeeeeeeeeeeeeeeeeeeeeeeeeeeeeeee!" Allison shrieked out in agonizing pain as her rapist brutally thrust his animal into her without any mercy, stretching and tearing her as never before. "Stopppppppppppppppppp ......................................stopppppppppppppp .....................................pleaseeeeeee ..........................it hurts ............................it hurtssssss so bad! Please .......................stop ..........................stop ............................it's too big .............................it's way too bigggggggggggggggggg!" she cried out pleadingly. But her cries fell on deaf ears and instead made her rapist just laugh aloud as he proceeded to rape her brutally, telling her "Oh, sweetie, yer so fuck'n tight! Damn, yer even tighter than some virgins' cherries that I went and popped!" Grabbed at the hips by the bastard's big hands, Allison could only wish that she was struck dead in that instant, as more devastating results could be expected. "Please .........................oh, please ...................you're not wearing anything! You need to put something on!" she panted out in despair. But then came the laughter from her rapist as he advised that "Told that white boy hubby of yers that I's intend on knocking ya up good! And sweetie ....................I's noted fer making twin little kiddies .....................got three sets of them running around out there, and that only the ones I's knows about!"
Blinking back the tears in his eyes upon hearing the bastard grunting atop of Allison, John looked up to see the big black ass quivering uncontrollably with the bastard's lengthy cock buried to the hilt up in his wife's cunny, making it quite obvious that Amos was ejaculating his filthy seed deep up into her fertile womb at that very instant. Moments later, John saw the spent bastard easing his still thick and lengthy cock out of his wife's ravaged slit, watched as the dwindling piece of meat came flopping on out and glistened in the sunlight. Then the bastard who had just raped his beautiful wife came walking towards him with a big grin on his face. With Amos grabbing him by the back of his hair pointing out to his raped wife, telling his buddies to turn Allison some to face them, then had them spread her legs wide once again. Then the bastard laughed aloud, chuckling "Lookit .............................lookit all that cum oozing out of yer purty trophy wife! My cum ............................that's my cum oozing out of that tight little cunt of hers!"
One after another, each of the black assailants got his turn at sating his lust upon on and in Allison's sexy body, until all seven others got to pop his lusty load in the fifteen minutes of time allotted per man. John was witness to all the cum oozing out of his wife's ravaged slit to puddle at first on top of the canopy before dripping down onto the deck of the boat. Then the taunting Amos, who had been standing beside of him and taunting him throughout Allison's multiple rapes, untied most of his bindings but kept his hands tied behind him and pulled him along to boat to a place in the shade. "Ya's got yerself a mean sunburn there, sonny boy! Ya must be real thirsty from being out in the sun so long! Git sonny boy something to drink, guys!" Amos announce be pushing him down onto his back on the deck of the boat, then the black bastard's heavy foot was on his chest to keep him there.
John then groaned and shuddered in seeing the drink Amos' friends had brought for him ....................that of his beautiful wife being carried by the two men, each with an arm around her back and the other under a thigh. His wife's legs were widespread and one of the bastards had stuffed a fish club up into her stretched cunny to keep all their cum plugged up in her. As they lowered Allison's plugged cunny towards his face, John clenched his teeth tightly shut as he had no intention on eating their filthy slime. But John was not prepared for Amos' well aimed kick in the groin, causing him groan out in pain "Ahhhhhhhhhhhhhhhhhhhhhhhhhhhh!" Fish club timely pulled on out of Allison's raped slit and all that gooey mush came pouring on out of her cunny, right into his open mouth, then his wife's oozing cunny was placed right atop his gasping mouth. Coughing and choking on the slimy filth, John was forced to swallow or choke to death, but there was just so much of it that he coughed some of it up over his chin.
Still in a shady spot but retied to the boat, John was given a ringside seat for the commencement his beautiful wife's initiation into being repeatedly gang-raped. First time on all fours, Allison was forced to straddled the black bastard's jutting cock as he lay on the boat deck, then she was pushed on forward as another bastard sodomized her rear and a third fed her some black sausage. Next up, all five others somehow got into the action and this was how it went as Allison was lying parallel to the deck and facing it: two guys held her up by the arms at waist high for them while having her jerk their bones; one grasped both her upper arms while he fucked her face; one guy grasping her by the ankles and spreading her legs out wide; and the fifth standing behind of and between her legs to use his cock as a battering ram to spear first into her cunny and then up into her ass. On and on it went till late at night when all the black bastard were exhausted from popped his load three to four times at least.
Then John watched as the bastards then took his wife over to where they had strung him up earlier. Only now it was Allison's turn but fortunately it was at night and no sun beating down upon her. Also, she was made more comfortable as a chair was brought up from below along with a foot stool that was place atop of the chair. Arms raised above her head and strung up by her wrists, Allison's legs were raised on up to be parallel to the boat deck and her ankles tied to keep her legs spread wide at that height. As to why they had strung her up in this manner, both John and Allison found out a half hour later when the fellow they came to know as Jamal began shucking his rising erection as he headed off towards the strung up beauty. Cupping Allison's ass in his strong hands, Jamal then kicked away the chair and foot stool that she was sitting one, then the black bastard thrust himself up into her and proceeded on raping her once again. And when Jamal had grunted out his lust into Allison's flooded twat, just as he was to pull out, there was no need to replace the chair and foot stool as Rashad was there to cup his hands under her thighs from behind, then came Allison's painful shriek as the vile bastard had just rammed his thick cock up into her very sore ass.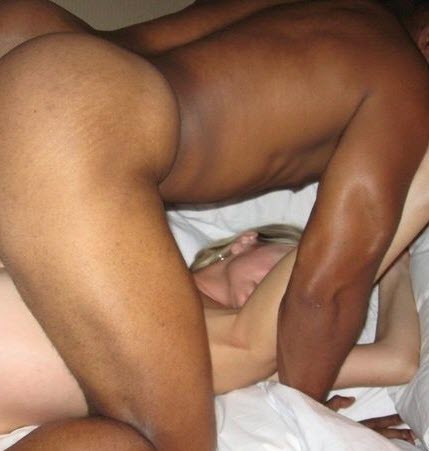 Their ordeal continued on for two more days, then the invaders began ransacking their boat for anything they could use to take aboard the cabin cruiser. Sails slashed to ribbons, the engine was smashed by a sledge hammer with several important parts removed and tossed overboard, and then the radio was smashed to little pieces and rendered useless. Needless to say, the sailboat would be merely sitting there in the open ocean and the occupants had to pray for a passing boat to come their way. And with the plundering of all the Archer's treasures complete, the intruders were ready to bid their captives a 'goodbye'. For John, even if the sailboat had been rendered useless, the black bastards departure couldn't come soon enough for him. His sigh of relief was a bit premature as the men lined up to hop aboard their yacht, only to see a life preserver being tossed onto the deck for Allison to kneel upon as she gave each of them a 'goodbye' kiss ....................one that would only end when her mouth got filled with each bastard's slimy jizz, of which she was forced to swallow every drop!