Rude Welcome to Her Ancestral Home
by
The Samurai Stud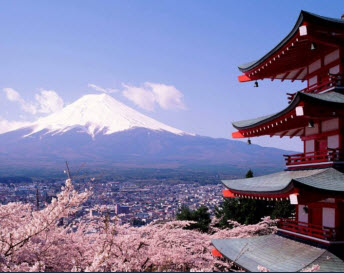 ______________________________________________

Standard Disclaimer!

This is a fictional story intended for Adults only!

______________________________________________

************ ***********



At the age of 27, Mrs. Gwen Murphy (formerly Ms. Gwen Nishikawa) thought it'd be a fantastic chance to visit her ancestral home in Hokura, Japan. Being a third generation Nisei born in America, Gwen knew very little of her ancestral home other than what her parents passed on to her as had been relayed by their parents, and thus going to Japan for a visit seemed just a dream tourist destination to her. With her husband John's business taking him to Tokyo and Kyoto for ten days, Gwen thought that it'd an ideal time for her to take off from work at the interior design firm and get to make a quick tour of where her great grandparents had lived in the city of Hokura. Also, she planned on taking in some tours on Japanese architecture and design, as Gwen figured that it'd give her even more insight to aid her in her job. She'd travel with John, spending that first night or two with him to cut down on expenses, then take the bullet train to Kyoto and then transfer to the train that take her to the coastal city of her ancestors where she would visit the aunts and uncles still residing in Hokura.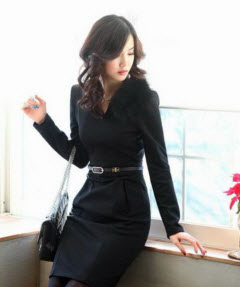 Mrs. Gwen Nishikawa Murphy
Walking around the area where their hotel was located, Gwen quickly noticed the difference in the local culture each block she walked away from the hotel and business/shopping district. Gwen found that each block further on meant less and less English speaking locals, that she'd have to resort more and more to finger pointing on items she was interested in buying, but she managed to communicate along with finding that the locals were very friendly and helpful to tourists. And with John having a day to get acclimated to the area and recover from the jet lag of the fifteen hour flight from the west coast, they managed to spend some time together. Having corresponded with an aunt, who had a translator assisting her, Gwen read the response that she was very welcome to visit and stay at her home in Hokura. But not wanting to be of a bother, Gwen advised that she had booked a room at a hotel in the coastal city. The latest correspondence as relayed by the translator, Gwen read that her aunt had asked a friend of the family to pick her up at the train station when she arrived and he would act as her translator and tour guide during her stay as the fellow spoke some English.

As Mrs. Hiroko Nishikawa had shown him the picture of her young niece who would be visiting from America, Masao Fujita advised that he was only too honored to be of service to pick her up at the train station and to serve as her personal tour guide during her stay. Although he'd certainly recognize the beauty at the train station when she arrived, Masao had a copy of her beautiful niece's picture printed up for himself ......................as u he wanted one so as to jack off to at night. 'Ohhhhh, her niece ...........................da American beauty ................................so fuckee beautiful! Masao make love to fuckee American beauty ..................yesee! Masao fuckee her! Masao give prettee American bitch Japanese babee to take home with her! Yes .............yes .................babee 'Made in Japan'! Masao fuckee prettee American bitch and put babee in her belly!' he chuckled to himself.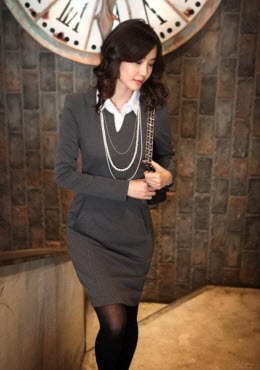 Met at the train station by a rather pudgy middle aged man named Mr. Masao Fujita, Gwen was surprised by the bouquet of flowers, especially after her tour guide advised her that her aunt had picked it from her own garden that morning. Mr. Fujita, her personal tour guide arranged by her aunt, had a wide smile and seemed to be quite friendly as he insisted on carrying the luggage she had brought with her. The plan was for her check in first at her hotel, freshen up and get settled, then to go to her meet her aunt at her home for dinner with family members living in the area. Having learned the term 'omiyage' and what it meant, Gwen had brought some special treats as gifts for her relatives. As it was just past 2 in the afternoon, Mr. Fujita advised that he return to pick her up at the hotel about 5 p.m. So Gwen was able to freshen up some and get in a short cap nap after the lengthy train ride.

Masao's job as a food broker had him traveling from the coastal town of Hokura, where he was born, to most of the major cities. But he kept a very low profile in his home town, and thus everyone trusted him, such as Mrs. Nishikawa trusting him enough to escort her young beautiful niece during her visit. Little did Mrs. Nishikawa know of his other money making ventures, namely as a procurer of women and producer of xxx-rated porn videos that specialized in the rape of beautiful women, and that a big market was selling them to buyers in the United States. Before settling down to in the occupation of a food broker, Masao had desperately tried get ahead in marketing state of the art electronic products that included big screen television sets and the new generation of computers. But Masao found that the companies wanted only those speaking perfect English for their goal was to target the rich Americans, thus he always lost out to the younger generation who took English classes from an early age. To Masao, this beautiful American bitch symbolized all those who had deprived him of reaching his initial dreams, and he was determined to take it all out on her.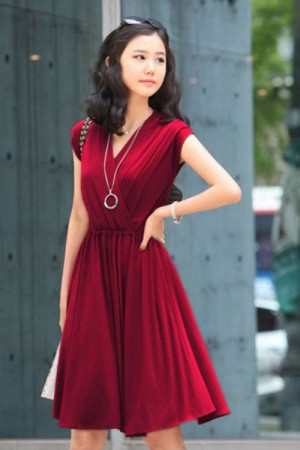 Right at 5 p.m., upon reaching the Grand Hokura Hotel, Masao spotted the lovely beauty ready at the front of the entrance to the lobby wearing a nice maroon dress with beige heels. Raising the camera up to the driver side's window, he snapped a picture of the lovely beauty, something to jack on off to later that night. He smiled when she commented "Thank you so much for picking me up to take me to my aunt's home! You are so kind to have picked me up at the train station and now here at the hotel! I hope it hasn't been too much trouble for you now and hopefully you were able to get some of your own chores down in the past few hours!" "No, problem, missee! Masao only too happy to help! Masao did his errands for the day ...........................went down to the fish market to take care of everything for tomorrow .............................makee big sale! Perhaps tomorrow Masao give you quickie tour of Hokura Fish Market ...................very biggie .......................nice fishie market .........................and tomorrow have very rare tastee oyster come to market! Men there love tastee oyster .........................suckee saltee juicee before eating raw oyster! Yes, fisherman's favorite to eatee! Some likee it in white saucee!" "Yes, yes, I'd like that! I've never been to fish market in Japan!" she responded. Then Masao added "Fish market little chilly ...................next to water! Missee ......................she wear little warmer clothing tomorrow when Masao come for you!"

That errand that Masao completed had him going to see an old friend of his named Ichiro Muranaka, a fellow who often traveled with him to the big city, his cohort in crime loved nothing better than to be a non-paid porn actor in one of his flicks where his job was to be one of a one hundred or more men there to shoot his cum into the porn star's mouth or face. His friend's face would not be on the video, for Ichiro would be filmed below the waist, getting his cock sucked or fisted till he popped his load. And in such a way, his friend too could keep a very low profile in Hokura where people thought that he was only involved with the fish market that he owned. He had things arranged to give the lovely beauty a special tour, even giving Ichiro a copy Gwen's picture so he could brief his workers as to be very polite to their visiting American guest, desiring to give the lovely beauty a most memorable tour of the fish market.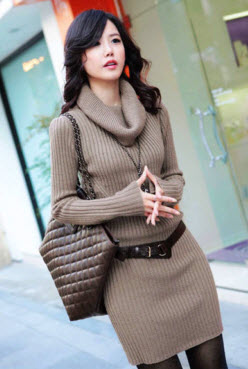 Indeed, upon driving up to the front of the hotel where the beauty was staying, she was there again waiting for him. She had not wanted him to have to park and then come inside to get her, telling him the night before that she come outside to make it easy for him. He had told her to wear something a bit warmer as the fish market was located right on the water and tended to be much cooler that in the city limits. Masao saw that she indeed wore something a bit warmer, a brown woolen dress, but then he realized that he should also have added in that she dress down and wear something like sneakers or rubber boots for footwear. 'I guess I should take her to the store to buy a cheap pair of booties or some rubber boots!' he thought. But in seeing how lovely she looked in the way she was dressed, he knew that the sexy little bitch would be getting all the men stirred up when he gave her a tour of the fish market. With her wearing dark nylons and 3" heels, Masao's cock began rising to the occasion as he was really turned on at the sight of her, and figured that parading her around the market like that ought to kick up the bidding. 'Oh, my ...................what will make the lovely beauty cringe more in disgust .......................getting her heels soiled, by stepping into puddles of fish blood or by the men shooting spunk on them?' he wondered.

Paraded around the rather modernized fish market, Gwen was quite impressed with the amount of fish and other seafood coming in for processing. As Masao guided her about the market, yelling out in Japanese to the men behind the counters, all began waving and bowing to her. Gwen had no clue of what was transpiring as all the conversation was in Japanese, merely smiling back in return and bowing to the men in response. But rather than really showing her around the fish market and the varieties of seafood, Masao's intent was to parade her around to the eying men, telling them "You will soon have a chancee to biddee for this lovely American beautee! Would you like to eatee her succulent little oyster? Or rapee her?" And the devious bastard then added in that "Masao-san shall be first .........................to spread her sexy legs and eatee her tastee little oyster .............................and then Masao-san shall rapee this beautiful bitch from America! Sendee bitchee her backee with little babee ..................one that she can say babee 'Made in Japan'!"

Then an elderly man in his eighties came hustling up towards them, a man who so much resembled her grandfather. Had she not just visited with her grandparents the other week and talked to her grandfather a few days ago, Gwen would have sworn that the man smiling and bowing to her was Grandfather Choriki who lived in San Francisco. Masao then introduced the man as Yuriki-san and her to the elderly man as Missee Gwen. The man named Yuriki smiled widely at her and bowed to her. Gwen then bowed to the man in return, a gesture of respect, then asked Masao to relay something for her to the elderly gent. And then it was translated to the elderly fellow in Japanese that "Prettee beautee from America says you lookee exactly likee her Grandfather Choriki from San Francisco!" The old fellow smiled widely and bowed several times to her, muttering out "Yessee .......................yessee ..........................prettee missee!" No clue as to the following conversation between Yuriki and Masao, Gwen would not be smiling happily if she could have interpreted the conversation, one where the elderly man asked "Masao-san, are you going to need help holding down this prettee American beautee when you eat out her tastee oyster and rapee her? If so, I am willing to pay you one hundred thousand yen to have the honor of doing so!" Masao had smiled widely, nodding in response, responding with "Yuriki-san, you have yourself a deal! You pay Masao-san one hundred thousand yen and you get the honor of holding the prettee bitch down for me!" And so, for the equivalent of about $120 U.S. dollars, the devious old bastard had paid for the honor of holding the young beauty from America so Masao could take her ............rape her by force.

Word had spread around the fish market the day before, that a young woman from America was in Hokura to visit her ancestral home and to meet some distant relatives living in the city. And upon seeing the picture of the young beauty, Yuriki's cock was rising to the occasion, something that had not happened in many a year. And in learning that she was related to the Nishikawa clan, Yuriki took an even greater interest as he knew them all to some extent, though he had not been in contact with any of them for more than twenty years. Upon going home the other day, he asked a neighbor boy to do him a favor, that of using his skills on the internet to do some research for him on a Gwen Nishikawa Murphy from Los Angeles, California. He wanted to know who her blood relatives were in the Nishikawa clan and as much details as he could obtain on the family. For Masao, sloppy seconds meant nothing to him as he began stripping down to get into bed with the image of beauty from America in his mind. He wondered if her husband would even touch her if it meant going in after another man had just shot his load up into his beautiful wife. Masao chuckled as he suspected not, laughing as he thought 'He'd probably never touchee her ever again if'n he knew what about to takee place at the Hokura Fish Market tomorrow! Yuriki will love getting to taste her sweet little oyster .......................even if has cummee saucee on it, heh, heh!'

Three cameras had been installed by Masao's video crew the night before, operated from a private room to zoom in on the beauty's tour of the fish market, as Masao wanted a very unique film of an actual rape of an unsuspecting beauty. What better than using this opportunity where the visiting beauty from America would be gang raped by grubby old men in a fish market. Every movement that she made was being captured by the cameras zoomed in to focus upon her, as she smiled and bowed in response to the giddy men greeting her, not realizing the true intentions of the horny old bastards. As the beauty from America was clueless as to what was being said in Japanese, she would not be smiling if her translator gave her the true interpretations of: "Prettee beauty from America will enjoy suckee Harada-san's cockee!" "Yasuda-san want fuckee American beauty like bitchee .................fuckee doggie style!" "Asakura-san hopee put babee in her belly ...................send her back to America with Asakura-san's babee!" And so it went, where one understanding the Japanese language would think that the young Asian beauty from America was desiring to experience all being told to her .......................that she would enjoy having these dirty old men sating their vile lust upon her body .................especially the way in which she smiled and bowed to the old guys after each had commented on what he wanted to do to her!

When Masao advised that the bidding for the rare oyster was soon to start, pointing to the crowd of men headed up the stairway on both sides of the market, telling her "Many men come ........................all men from nextee shift .....................................want biddee on rare juicee oyster! We hurreee upstairs, get there on time for biddee to start on oyster!", Gwen thought it rather strange for a bidding process for just to get to eat one rare oyster, but guessed that anything rare would command a high price, such as jewelry or antiques. But more so, Gwen suspected that she probably just wasn't quite understanding as to what Masao was trying to get across to her in his broken English. "They're only auctioning off one oyster today? One? One oyster?" she inquired of him, holding up her index finger to indicate 'one'. "Yessee .....................yessee .......................one .........................raree oyster ................veree raree! On bedee ..................beddee!" came the reply. "Ohhh, you mean 'one' oyster bed ........................an oyster bed!" Thinking now that she got through the broken English and understood what he was trying to tell her, Gwen chuckled as this made a lot more sense as to the auction, 'It's a bed of rare oysters that's being auctioned off!' she surmised.

By the time the made it up the stairway, the crowd of men had disappeared, apparently to the auction room where the bidding would take place. Being the gentleman that he was, Gwen smiled and nodded in appreciation as Masao signaled for her to wait as he opened one of the double doors for her. As he indicated for her to enter, Gwen smiled and nodded to him before stepping through the doorway, then was rather shocked at the loud roar and applause from the men inside. Looking about, there had to be at least forty or so men in the audience, with no women visible. The clanging of the door being shut behind of her gave Gwen a chill, feeling quite nervous to being the only woman in the room among dozens of men in this foreign country. Although this was the home of her ancestors, Gwen's heart was beating rapidly and she was really getting scared at this point. And then the sight of what was in the middle of this large room that apparently served as a cafeteria, Gwen's eyes widened upon seeing a single king-sized metal framed bed with a mattress upon it. Apparently her instinct told her that she should not be there, that she was in danger, causing Gwen to take two steps back towards the door she had entered through.

Prevented from back away any further when Masao grasped her elbow firmly, she turned to him and became frightened immediately, for the once friendly face of the man seemed filled with unbridled lust. Suddenly Masao was pulling her along with him as he made his way to the center of the cafeteria, telling her in broken English "Comee with Masao-san .....................................beddee .........................beddee ...........................eatee oyster .............................me eatee oyster!" "No .....................noooooooooooo ........................let me go .........................let me go ............................I don't want to!" Gwen cried out as she tried to pull away from Masao's grip and get out of the room to safety. Then Gwen thought that finally come to her aid, a man whom she had met downstairs, the fellow named Yuriki who so much resembled her kind and gentle grandfather back home in San Francisco had come to her aid. But her hopes were dashed when Yuriki grabbed her other arm, this old man was quite the opposite of her grandfather as he was being physically rough with her, and then both men were dragging her over to the center of the room to where the bed was located.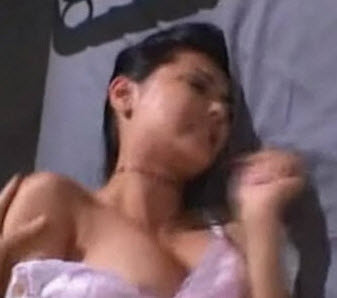 Old man Yuriki had roughly pulled the zipper going down the back of her brown woolen dress, and while she tried to fight off Masao's groping hands in front of her, the vile old bastard pulled the dress up her body and over her head before tossing it to the floor. And then Masao was at the pink bra she had worn, pulling the strap over her right shoulder, nearly baring her right breast for all to see. Through her struggles, there was no denying the sound of men cheering and hollering in Japanese, apparently taking great pleasure in seeing the plight she was in. "No ........................no .........................stop .........................stop this!" Gwen cried and pleaded while trying to hit away the groping hands. And then came a loud chorus or 'oohhhhs' and 'ahhhhhs', men applauding Masao having successfully pulled her bra off to bare her breasts before them. And then Yuriki's old wrinkled hands were grasping her by the wrists, pulling her arms over her head as Gwen was no match for this elderly but wiry bastard. Having lost her heels while being dragged over to the bed, Gwen was only clad in a pair of lacy white panties and her black nylons, but Masao's fingers were clutching the waistband of both garments and pulling them down over her trim hips.

Wrists released when her nylons and panties were stripped off her legs and feet, Gwen found herself stark naked on the bed with a cafeteria full of men looking on and cheering, she sobbed and tried to cover up her nakedness. Then Gwen turned onto her belly and tried to scramble off the bed in hopes of making a dash to safety, out of the cafeteria and away from the vile men. But then she felt Masao's large and strong hands clamp down upon her ankles and the vile bastard was pulling her back down the bed. "Noooooooooooooo .................................stop ....................................stoppppppppppppp! HELP! Help ..........................................someone ..........help me ...........................help me ................please, someone stop him ......................someone help meeeeeeeeeeeeeeeeeee!" Gwen cried out in hopes that someone in the audience would come to her aid.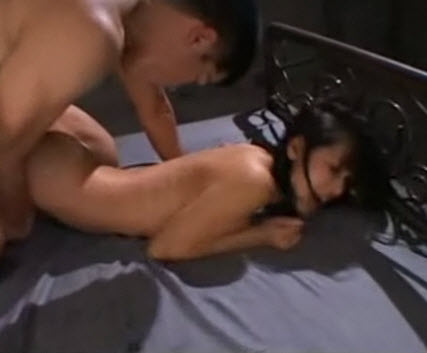 Flipped over onto her back, Gwen grasped the black metal ornamental designs of the headboard to pull herself up an away from the demented Masao, only to have two hands clasp down upon her wrists to hold her in place. A quick glance upwards had Gwen looking up into the man who looked exactly like her grandfather in San Francisco, only this man had evil in his eyes as he was apparently taking great pleasure in his role of holding her down. She then heard Masao laugh, telling her in broken English that "Yuriki-san .........................he wanted honor of holding you down ..............................pay Masao over one-hundred American dollar .......................for privilege of holding you!" Right hand pulled on through the ornamental opening of the headboard, Gwen cringed as her fingers were being wrapped around a soft fleshy object, then was told by Masao "You likee play with Yuriki-san's cockee? You give old boy thrill! Wankee, wankee with prettee hand!" 'Oh, God .........................oh, God ............................help me!' Gwen prayed. As her left hand was then pulled through the ornamental iron work, Gwen was made to fondle and play with both the old boy's wrinkled old cock and balls, Gwen wondered 'How can anyone be so vile and depraved?'

Cringing with disgust as she tried to unwrapped her trim fingers from around the bastard's wrinkled old cock, Gwen just could not believe what was happening to her in the city of her ancestral home. Knees pushed wide to spread her legs, she then heard Masao mutter out "American bitchee ....................................Japanese men no good for you? Marry all-American white boy ....................bitch ........................traitor ......................we show you how Japanese treat traitors .........................send you backee to America ................................send you backee with Japanese babee in tummee! Yes ..........................we send you backee with babee 'Made in Japan', heh, heh! But first, Masao-san eatee delicious oyster .........................eatee, eatee sweet oyster!" "Ahhhhhhhhhhhhhhhhhhhhhhhhhhhh! Oh, Goddddddddddddddd ........................................ohhhh, Goddddddddddddd .......................................stop .............................stoppppppppppppppppp! Ahhhhhhhhhhhhhhhhhhhhhhhhhhhhhhhhhhhhhhh!" Gwen cried out in disbelief as Masao had clamped his hot open mouth down upon her sex and had inserted his thick filthy tongue up into her, wiggling it about to drive her out of her mind. Only then did Gwen come to realize what Masao and the old men kept referring to as 'a very rare juicy and succulent oyster'!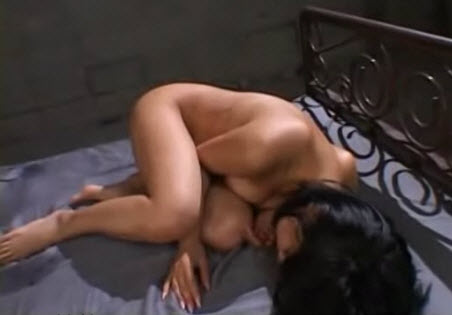 After having been expertly eaten to a climax by the man her aunt had serve as her guide and translator, Gwen sobbed in humiliation as she curled her exposed body up into the fetal position. Hands that held her from getting away had let go of her wrists shortly after her body had tensed with hips arching up into Masao's slurping mouth, signalling her orgasm and that she was not about to attempt an escape at that instant. Gwen then heard Masao's voice calling for "Yuriki-san!", but she did not understand what was being said in Japanese. Seconds later, she learned what was being said as the old geezer grabbed her by the wrists once again, pulling her up towards the headboard and having wrap her right hand around his wrinkled cock once again. Then her left hand was being pulled through the opening and she was being forced to fondle Yuriki's wrinkled old balls. Legs spread once again, causing Gwen to panic when Masao rubbed his stiff erection up against her slit!"

Then like at Asian wedding ceremonies in the U.S. that she was familiar with, Masao led the audience in a cheer of "BANZAI!" "Eieeeeeeeeeeeeeeeeeeeeeeeeeeeeeeeeeeeeeeeeeeeeeeeeeeeeeeeeeeee!" Gwen screamed out as the bastard speared her with is jutting cock! "BANZAIIIIIIIIIII!" came the roaring response from the men in the audience. "BANZAI!" Masao roared once again, lunging his hips forward with a mighty thrust. "Oooohhhhhhhhhhhhhhhhhhhhhhhhhhhhh!" Gwen moaned once again. Another 'Banzai!' roar of response came from the men in the audience as the cheered Masao on in his rape of her body. A third 'Banzai' cheer by Masao, another agonizing thrust up into her ravaged body, then came the roar of approval from the men in the audience with even a louder more enthusiastic response of "BANZAIIIIIIIIIIIIIIIIIIIIIIIIIIIIIIIIIIIIIIIIIIIII!" Deep in the recess of her mind, Gwen heard Masao's voice taunting her with "We showee you what we thinkee of bitches like you .............................finding American men more attractive than your own kind ..................................you now suckee ..........................fuckee .....................many Japanese cockees ..........................and we shall later give you 'bukkake' treat ..........................very special treatee for bitchee like you!"

The ordeal that Gwen suffered through the savage rape of her body was just so degrading and humiliating, especially with all those elderly men looking on and even cheering for the bastard to rape her. The bastard atop of her was merely interested in sating his vile lust in and upon her body, caring not one bit of her feeling or comfort, merely thrusting his foul erection in and out of her ravaged slit. Her sobs and cries, her pleading for help and mercy, had no effect on her rapist and the onlookers. In fact, it just seemed the opposite, that they took pleasure in hearing her cry out in her violation as cheers and applause could be heard in the background as Masao continued raping her body. After being jack hammered by her rapist, the bastard slowed and began giving her short hard thrusts, an indication that he was about to unleash his filthy seed deep into her body. Frantic, not wanting to be impregnated by the bastard, Gwen renewed her struggle to get out from under her rapists. However, her captors sensed her renewed vigor as hands on her shoulders pushed down harder upon her, and Masao gripped her hips tighter before grunting "Oh ......................missee .........................prettee missee ..........................oohhhhhh ..............................Masao-san ...............................cummmmeeeeeeeeeeeeeee .................................cummmeeeeeee in misseeeeeee .....................ughhhhhhhhhh .....................ughhhhhhhhhh .....................ughhhhhhhhh!!" Hot splashes of the bastard's semen flooded her to the brim and Gwen could only sob out in her disgraceful defeat, crying "Noooooooooo ..........................noooooooooooooo .......................nooooooooooooooo!"

Having curled up in a fetal position once again, Gwen heard a hideous laughter come from the deviant bastard who had just raped her before yelling something out in Japanese apparently to the other men in the room who had come in to witness her violation. Then Masao was hovering above her, grabbing her by the hair to turn her head towards him, told by the vile bastard that "Masao just askee how muchee would one pay to eat yer tasty little oyster now that Masao had soaked it in some hot sauce!" Still, what was just said was just beyond Gwen's comprehension, for surely no one would now want to put his mouth upon her sex with it drenched in semen. Hearing different men's voices yelling out, apparent bidding in Japanese, when it came to an end Masao laughingly asked her "Can missee guess who bidee most to eatee your little oyster now? Our friend Yuriki winning bidder! Eighty-two years old Yuriki .....................winning bid .........................six hundred American dollars .......................to eat tasty American oyster with Japanese hot sauce on it!" Gwen shuddered in horror as for what she didn't think any man would want to do was about to happen, that a man the very same age as her own grandfather was about to mouth her sex!

Right ankle grabbed, Gwen found herself being turned over onto her back and then two men were spreading her legs wide. Gwen shuddered in seeing the hunched Yuriki now shuffling forward towards her, a man who so much resembled her own grandfather living in San Francisco. Not only was this bastard exactly the same age as her own grandfather, but very similar in name also as her grandfather's was Choriki. But this old bastard was not anywhere like the kind man who lived in San Francisco, as the leering and lusting fiend was reaching forward to roughly finger her raped slit. The deviant old bastard then cringed some as he held up his soiled finger for the audience to see, then shook his head in disgust as he growled out something in Japanese, causing all the other men in the room to roar out in laughter. Then it was Masao being the interpreter for her, telling her that "Yuriki says .........................too much saucee .............................on oyster! Prefers it raw ...................no hot saucee on it!" Then Masao was saying something to Yuriki before tossing him a rag. The old bastard wiped her cunny down once, then again, before wrapping the rag around his finger to clean more cum out of her raped slit.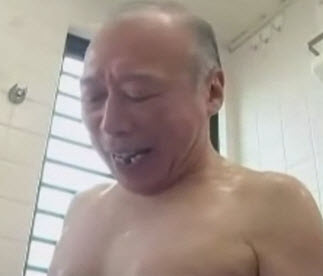 "Nnnnnnnnnnnnnnnnnnnnnnnnnn .........................................noooooooooooooooooooooooo ...................................stop ..........................stopppppppppppppppppppppp!" Gwen sobbed and whined as the old bastard suddenly clamped his open mouth down over her ravaged cunny and was wiggling his nasty tongue up in her slit. Shoulders held down to the bed by Masao, legs spread wide and ankles held by others, there was nothing that Gwen could do but toss her head from side to side in anguish, causing her long silky black hair to whip from side to side as the bastard drove her up the wall as he ate out her juicy oyster. "Nnnnnnnnnnnnn ............................nnnnnnnnnn ..........................nnnnnnnnnnnnnnn ...................................noooooooooo ................................nooooooooooooo ..........................stop ............................please stop ..........................pleaseeeeeeeeeeeeeeeeeee ......................ohhhhhhhhhhhh ..........................ohhhhhhhhhhhhhhhh ..................................ohhhhhhhhhhhhhhh!" Gwen whined and shivered from the unwanted pleasure being derived from the nasty old bastard. As she withered about, Gwen tried to dismiss the one thought forming in her mind, that of wondering whether her own kindly grandfather in San Francisco would participate in such a debased debacle if the young woman happened to be another man's grand daughter. Seeing that there were now more that 70 or so elderly men in the audience, Gwen had to surmise that the answer to that question would be 'yes'!

Only hearing the loud slurping of the old bastard as he ate the prized oyster hidden between her legs, Gwen realized that she could no longer hear the loud whining noise from the machinery of the fish market and cannery, and through the slits in her eyes observed that the room was now jammed full. Not only had the fish market and cannery been closed for this special occasion, but the incoming fishermen who supplied the market with their catch had been invited on up to join in and participate in giving a welcome to the special guest from America. Having walked through the fish market and cannery before her ordeal, Gwen had noted that all the workers were men and that the youngest had to be in his fifties. The men apparently didn't retire for one reason or another, unless of course he was incapable of working any longer, making her wonder if there was any type of retirement benefits provided like that in the U.S.A. "Oh, God .............................oh, Goddddddddd .............................nnnnnnnnnnn .........................nnnnnnnnnnnnnn ...................ohhh ..................ahhhhh ......................ahhhhhhhh ........................................aieeeeeeeeeeeeeeeeeeeeeeeeeeeeeeeeeeeeeeeeeeeeeeeeeeeeeeeee!" Gwen cried out as she climaxed and orgasmed into the slurping mouth of a very happy Yuriki, a man who had gained the expertise of cunt lapping many years earlier. Uncontrolled spasms rocked her petite body, causing Gwen to instinctively arch her hips up to the pleasure giving tongue wiggling up in her juicing slit, then she was juicing and feeding the hungry old bastard.

Lying limply on her back, no longer being held by anyone, Gwen then heard men bidding in Japanese once again. Seconds later, it was Masao translating for her that "Men biddee for oyster eatee .......................for fifteen minutes or till oyster juicy! Ten only ...............then bid again for more eatee oyster!" Gwen was told in Masao's broken English. Not fully comprehending Masao's translation, Gwen did realize that the bidding going on were for the ten winning bidders getting to do the same thing to her as Yuriki had just done. The first of the next ten men got his full fifteen minutes worth of licking out her snatch, having to stop just as she was about to reach a wild climax and orgasm in his mouth as she had done into Yuriki's. But then that first man had literally been pulled up and out from between her legs as apparently his fifteen minutes of fame had come and gone. As for the next guy getting in between her legs to eat out her oyster, he met with both good and bad luck rather immediately, he got to eat out her juices due to the agitated state that she already was in, but his misfortune was up in just over two minutes after going down on her. Her body quivering and shuddering wildly as she cried out in her climax, her body collapsing limply upon the bed signaled the end of that man's time limit .......................thus he had spent over an average of over a hundred bucks a minute for his time between her legs! Now Gwen fully understood the broken English translation that Masao had provided her with, just as the third man of the group clamped his mouth over her muff to shuck his oyster.

Her head still tossing from side to side, a rather slow roll at this point since it was into the third hour of her being eaten out, Gwen had lost count long ago as to the number of times that she had orgasmed in a man's mouth, before the bastard was getting pulled away short of his fifteen minute time-limit. She had no clue as to how many men had gone down on her, and she even couldn't determine whether this was the fourth or fifth bidding the determining the next ten men to get their turn at her. Gwen's mind was shot, delirious at this point, but she remembered Masao mention several men's names during the time frame, the name of 'Nobu' coming to memory as Masao informed her that "Nobu-san wants to eatee more oyster ....................................got a juicee oyster first time in eight minutes ...............................then six minutes the second time!" And when Nobu went down on her for a third time, Gwen went crazy as the talented bastard had her straining against the hands holding her firmly, allowing her to only toss and turn and then she did the unthinkable in crying out "Oh, yes ............................yes, Nobu ........................eat meeeeee ................................eat me ..................................eat meeeeeeeeeeeeeeeeeeeeeee! Yes .............................yessssssssssssss ...........................yessssssssssss ..........................ahhhhhhhhhhhhhhhhhhhhh!" Gwen cried out as she once again climaxed in his slurping mouth ...............................this time in just three minutes!

Finally, pushed on up to a sitting position, Gwen panted in exhaustion after having gone in spams a countless number of times from being eaten to a climax. Gwen heard the voice of the evil Masao behind her, advising her that "Normally have prettee Missee Gwen suckee suckee Masao-san off first! But Yuriki-san payee one-thousand American dollars for Missee Gwen to suckee suckee his dickee first!" Gwen cringed with disgust as the man who so much resembled her grandfather began shuffling forward towards her, all the while the bastard was wanking at his wrinkled old cock!" Desperately trying to turn her head away from the filthy old man as the bastard tried to first rub his flaccid cockhead up against her lips, but Gwen could not overcome the strength of Masao's hands at the back of her, and she was being forced to suck off old man Yuriki. Wrinkled old cock pressing up against her lips, then she was forced to open her lips to admit the filthy old cock into her mouth.

Never having taken a cock into her mouth before, taking the bastard's shriveled old penis into her mouth was such a hideous thing to do, making Gwen nauseous as she wanted to be sick. Thinking that it was her imagination at first, but then Gwen came to realize that the old geezer's cock was actually beginning to pulsate in her mouth and even expanding in size. Her eyes widened in total belief and Gwen began to wonder just how big the eighty year old bastard could get it up to. Horrified at what she was being made to do, Gwen however could not keep from instinctively sucking on the bastard's old cock, wondering just how big it'd get. And then Masao's hands were being replaced by the old boy's as the bastard began pumping at her face. Hair pulled back, Gwen then found herself staring up at the man who so resembled her own grandfather, causing her to shudder in revulsion. Gwen didn't think this foul act could get any worst, but it did seconds later as the bastard began grunting "Suckee ...................suckeee! Missee .....................suckee, suckee!" And even worst when the bastard tensed, yelling out "Suckkeeeeeee .................................Misseeeeeeeee ............................suckeeeeeeee! Ugghhhhhhhh ..........................ughhhhhhhhh ........................ughhhhhhh!" Thick watery cum suddenly filled her mouth, way more than one would from a man of this age, and he was not about to let her spit his filth out!

Cock pulled from her parted lips, Gwen remained sitting there in a stupor, her body shuddering in revulsion at the vile sexual act that she had just been forced to perform. Her stomach turned and threatened to regurgitate the foul liquid that she had been forced to consume, some of which flowed from her partially open lips. Then it was Masao switching places with Yuriki and Gwen could not determine which was worst, taking Masao's rigid cock into her mouth or having the old bastard resembling her grandfather touching her up. With the old bastard's arms around her, his bony old fingers were touching her breasts, his thumbs playing with her nipples as he whispered "Prettee missee ................................lickee, lickee!" And then Masao too was spilling his sperm into her mouth, much of which remained there when he pulled on out, allowing Gwen to spit the filthy fluid onto the cafeteria floor.

But her cock-sucking ordeal was far from over as the men in the audience had been getting ready with their own hardons! The men were masturbating themselves and moving closer up around her, when suddenly one would rush up to deposit some yen into a box that Masao had placed on a table, then he would place his cock upon her lips to be sucked upon. Some were so excited at the prospect of getting off in her mouth that just a could of strokes into her mouth had them spewing wad after wad of jizz into her mouth, much of which she spat out immediately or let drip from her parted lips till the next cock filled her mouth. And then the men were lined up one after the other, one spurting his filth into her mouth and then the next pushed himself between her lips without allowing her to spit out the cum in her mouth. At one instant, five men's cum filled her mouth the the brim, causing her to cough and gag when the fifth cock pulled on out and copious load that she coughed up had all the men laughing at her plight. And when the last of the men were drained, Gwen slumped down to the floor, her chin drenched with cum, along with her breasts hands and legs from the cum that had escaped her lips and dripped down onto her body.

Curled up in a fetal position again, hearing men bidding in Japanese but not fully understanding anything, Gwen then learned from Masao that "Biddee now different ........now men biddee for chancee to ...........................how to say in English ................................chancee to 'FUCKEE', 'FUCKEE' you! Chancee to fuckee you and give you pure Japanese babee for you to takee home to America!" Hearing that, Gwen sighed and gave up all hope in realizing that her ordeal was apparently far from over. "Please ................................please, Masao ................................I must go ..........................I'm to have dinner with my aunt and relatives tonight!" Gwen pleaded. But to her dismay, Masao then advised that "Masao called your auntie today ......................told her you had emergencee callee from husband ..........................that you had to takee next train to Kyoto! Told her you wanted to say goodbyee and thankee her but no timee as train was leaving and had to takee you to train! So, my prettee one, you have two more days in Hokura before taking the trainee back to Kyoto! Two more days here in Hokura for us to welcomee you here!"

The current bidding had apparently come to an end, with the audience clapping for the man placing the winning bid to be the first man in the fish market after Masao to copulate with her. At this point, now many hours after her ordeal had begun, Gwen tried to relax in order to just survive and to live another day. She told herself just to lay there and show no reaction, that they'd soon tire of her, concluding that there was no way for her to fight nor escape all these vile bastards. But upon hearing Masao's voice once again to layout her current dilemma, Gwen's body quivered and shook in response, especially when Masao told her "You won't believee who has biddee most to be first man, after me, to be between your lovely legs! Unbelievable .................................for Yuriki has outbid everyone to be first ...............................old boy using up all his hard earned savings, money that he had saved for grandchildren to go to college, just to have sex with you!" At this point, Gwen's mind was in total shambles, for the old man who so much reminded her of her own grandfather had just spent his grandchildren's college fund so he could actually have sex with her ........................ the honour of being the first among his co-workers to be the first man to fuck her! Closing her eyes to shut things out, the picture of her loving grandfather formed in her mind.

Mind spinning out of control, much due to the pills she had been forced to swallow over the hours, her thought analysis was just a mess and certainly not rational at this point. Having pictured her grandfather back in San Francisco, then feeling rough bony fingers caressing her legs and pushing them apart, Gwen began hallucinating that it was actually her grandfather touching her up and wanting to have sex with her. Gwen's befuddled mind told her that her grandfather had always been so loving and kind to her that she should show the same feelings in return, thus causing her to pant out "Oh, Grandfather ...........................that feels so good ..........................touch me like that .........................touch me more ............................it feels so gooddddddddd!" Feeling the man shuffling up between her legs, she felt the blunt head of his stiff manhood pressing up against her, causing Gwen to suck in her breath. Never having seen the old boy's dong, Gwen was taken aback at the girth of him when he went and pushed three thick inches into her too tight slit. "Oh, Grandfather ......................................Grandfather Choriki ..................................you are so big ......................................so very biggggggggg! Ohhhhhhhhhhhhh ....................................ooooooooooooooooooooooh! Grandfatherrrrrrrrr...................................it won't fit ..............................it won't fit ...............................it's too bigggggggggg!" she cried out as the old boy tried in earnest to get more on his fat dong up into her.

"Ohhhh, Grandfather ..........................ohhhhhhhhhhhh ..................................yes, grandfather ......................................fuck me ..................................fuck meeeeeee ................................fuck your grand daughter ...............................................fuck your great grand child in my belly .....................................knock your grand daughter up with your baby!" a delirious Gwen panted out as the old boy put on quite a show as she wrapped her arms around his neck while spurring him with her heels to get him in even deeper. The entire audience was totally stunned at the scene, men with their mouths gaping wide open in awe, made even more thrilling as Masao relayed what she was panting about in Japanese. And as for their elderly cohort, each man in the audience could only wish that his dick could get so thick and erect at the ripe old age of eighty-two, and most of all that he could perform as well as Yuriki ...........................like that of a twenty year old stud. Excited even more as he heard Masao's translation, the old boy looked up towards Masao to ask him in Japanese as to how to say something in English. Nodding his head in understanding what Masao was telling him, the old boy then clutched at the trim hips of the young Asian beauty from America. Then, proceeding to hump at her like a young twenty year old stud, the old boy then panted out "Grand daughter ................................grand daughter .................................Choriki ...............makee ..............................babeeeeeeeeeeeeeeeeeee!"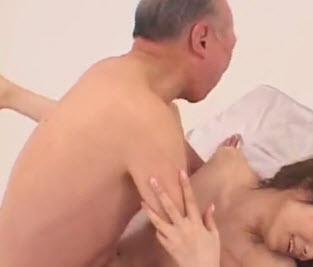 Onlly the sounds of the two ecstatic lovers could be heard throughout the entire room as the entire audience remained totally silent as the watched the spectacle of the old man and beautiful young Asian from America going at it in earnest. And with the disillusioned beauty believing that it was her very own grandfather who was dicking her at the moment, each man was wondering if the old fellow back in America would soon be getting a treat such as this. Then the young beauty was arching up to each of Yuriki's thrusts into her tender young body, followed with Masao's translation into Japanese of her screaming out "Cum grandfather .........................cum in me ............................cum in your grand daughter! Grandfather Choriki ...............................cum in your grand daughter ..................................give her your baby ...............................fuck your great grandchild in meeeeeeeeeeeeeee!" Seconds later, with the two comingled bodies tensing and going into spasms, the translation into Japanese then relayed "Yesssssssssssssssss ..............................yessssssssssssssssssssssssss ...............................shoot it .......................................fill me .......................................fill meeeeeeeeeee! Oh, grandfather ..................................yes ...................yes .................yesssssssssssssssssssssssss!" Suddenly both young and old collapsed in one another's arms upon the bed, old boy's ass quivering in uncontrolled spasms as yet, evidence of his wrinkled old balls till churning out drbblets of baby juice.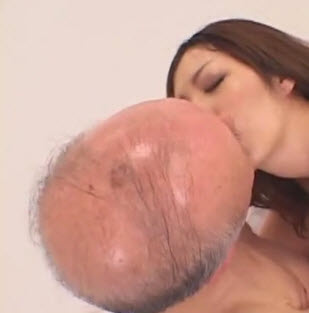 Finally, the old boy stirred and gave the young beauty an intimate kiss. But as he tried to push himself up and out of raped beauty, it became obvious that he needed some help for he had already spent all of his energy. With two fellow workers assisting by pulling his arms, the old boy's still very thick cock exited the young beauty from America with a loud 'POP', then came the ooh's and ahh's from the audience, all expressing their disbelief in seeing all the slimy white gunk oozing out of the beauty's reddened slit. A copious first gush out of her raped twat was quite impressive to the astonished men, but the second one had them gasping loudly in total astonishment, yet the flow continued. The old geezer had given the beauty from America quite a hefty load of baby batter, one that any man in the room would have been proud to brag about. Having seen the old fellow rape the young beauty had been quite a sight, especially how he had her responding to him, now came the added thrill at the thought that the old boy might just have impregnated her with his baby. Seeing the thickness of his cum, and the amount that had oozed out of her pussy, one could only wonder as to how much more remained to assault her fertile womb. Looking at the raped beauty just laying there unmoving on the bed, it was apparent that she was one fucked out little bitch.

Now, with the only movement of her breathing visible, the young beauty merely lay there like a dead piece of meat as another man took Yuriki's place. It seemed as if the beautiful bitch from America was just too fucked out to respond, merely lying there upon the bed not responding as the next man up between her widespread legs fitted his dick to her snatch and thrust himself into her limp body. The men observed her eyes wide open, as if staring into out of space as their buddy Tadashi commenced fucking her. It also became quite apparant that Tadashi had been masturbating himself while watching the exciting fuck session between the American beauty and Yuriki as it was no more that three minutes before his body shuddered, thrusting and keeping his dick buried to the hilt as he began grunting out his lust. And when Tadashi pulled on out of the raped beauty, Sakuhara was next up in the saddle and thrusting his dick into the young beauty. But Sakuhara also was primed and ready to pop, just needing to use the bitch from America to empty his swollen balls into. Less than a minute after thrusting into the prone beauty, he too was ejaculating his sperm into the young beauty. Meanwhile, throughout it all, the beauty hadn't moved a muscle and the flow of cum continued oozing out of her raped slit.

Totally out of it, much due to the various drugs in her system, Gwen tried desperately to focus as she lay upon the soiled bed as man after man sought to use her as a receptical to spew their lust into. Merely lying there, body only moving due to the force of some bastard thrusting his meat into her, Gwen tried to keep a tally as to the number of men who had ejaculated up in her. But her mind wandered as she tried to think of more pleasant things, like that of her husband, and when number fifteen was between her legs she wondered it was now number twelve or thirteen. Soon, he too was off the bed to be replaced by another man who also reeked of dead smelly fish. Her count of men using her was getting all thrown off, confusion setting in further as Gwen had begun counting the number of thrusts a man needed in her cunny before he began ejaculating his filth into her. The number five stuck out in her mind as several times that's all the count got to before the bastard went into spasms and began spewing his hot roe into her. The name Sakuhara stuck in her mind, remembering that he was rather a quick one to get it over with, but the names of those to follow didn't seem to matter much as none of them seemed to last any longer before spurting into her. So many men touching, all over, rubbing themselves upon her, some unable to wait their turn and used her feet or hands to help give him a pleasurable spurt. Upon hearing some English words, Gwen knew it must be Masao speaking, and right at that moment he near her ear asking "You likee tour Masao arrange for you, missee? Men in fishee market only too happee to entertain prettee guest from America! They pleasee you, yessee?"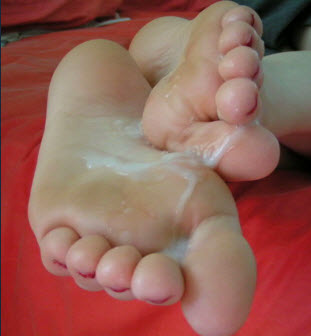 There was to be another male's name that Gwen would always remember deep in her subconscious, that of 'Hideki', for the hideous bastard had her screaming out in agonizing pain. Hideki had sought to turn her over, got his cohorts to help him accomplish the task, then had two of them in front of her with hands upon her trim shoulders to brace her there. Next Hideki was kneeling behind of her, had his hands on her trim hips, and then without any warning slammed himself forward will all of his might. "Eieeeeeeeeeeeeeeeeeeeeeeeeeeeeeeeeeeeeeeeeeeeeeeeeeeee!" Gwen scream out in sheer pain, unable to get away by scrambling forward due to the two men holding her in place. "Eieeeeeeeeeeeeeeeeeeeeeeeeeeeeeeeeeeeeeeeeeeeeeeeeeeeee!" she screamed once again at the top of her lungs as Hideki shoved his cock all the way up her virgin ass. As she sobbed and cried, it was Masao asking her in broken English "Missee ass cherree? Missee not fucked up assee before?" Gritting her teeth as tears flowed down her cheeks, Gwen responded by shaking her head 'no'. Then, after Masao relayed things in Japanese to the men watching the all began chanting Hideki's name while clapping to cheer him on, to which Hideki responded by speeding up the rape of her ass, pounding her even harder at that point.

At eleven p.m. that night, the familar voice of Masao was telling her "Fishee market men say goodnight to Missee Gwen soon! First, givee prettee Missee Gwen specail treat from men of Hokaru ....................'bukkake' treat ......................all for prettee missee from America!" Gwen had no clue as to what she was being told, but after this sordid day went, she suspected something heinous or sadistic being in store for her, especially as she was being lifted off the ground and a large black tarp was slid under her. Forced up into a sitting position once again, in the center of the tarp, Gwen observed all the men looking at her while in the process of masturbating themselves. Then Masao was calling upon Yuriki once again and saying something to him in Japanese. As the man approached while wanking his wrinkled old penis, Gwen was told by Masao that "Old man Yuriki -san.............................he spendee much money on prettee missee today .................................Masao-san let him be first to bukkake missee!" Cringing as the elderly bastard wanked himself just a foot in front of her horrified face, Gwen soon learned the meaning of 'bukkake' when the bastard shot a stream of water cum over the bridge of her nose. And after Yuriki stepped aside, men were hurrying over towards her, each determined to shoot off in her face or hair.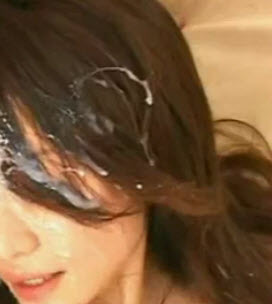 An hour later, cum from eighty men or more clung to her hair, face or body with much more puddled on the tart that she was sitting on. Gwen could only sob in despair, wondering what in the world the men could be bidding for now. One winning bidder was then handing money over to Masao, then Gwen obsereved the man receiving one of her brown heels as the prize he had won. Her other heel; her belt; smoky black nylons; her brown woolen dress; then her pink bra; and finally her lacy panties. Auction over, the men in the audience gather around her, lifting up the tarp before their feet with her in it. Deposited into a shower stall, Gwen was given a small towel and bar of soap to wash cleanse herself. Clean once again, she was forcibly escorted by Masao to a room with a small mattress and several blankets, the told 'Missee .....................sleepee now! Fuckee more tomorow!" Covering her exhausted and naked body, Gwen was asleep in less than a minute after her head hit the pillow.

That next morning, covering her naked body with the blanket, she observed Masao bringing in the suitcase that she had left at the hotel. The leering Masao opened the suitcase, held up several items, then tossed what he had selected for her to wear, a ruffled beige blouse, nylons, black skirt, and black heels. The undergarments selected by Masao were a pair of lacy black panties and a matching bra, both of which Masao held up in his hands as he commented "Missee wear .......................men later biddee muchee for missee's clothing, especially panties and bra! Men likee when you wear and see you takee off!" Blinking back the tears, Gwen was then escorted out to the top of the stairway, for it was her job to now be the hostess for the men returning to the fish market. Gwen shuddered and felt nauseous when her evil translator advised "Start early today ...............................men come early ..............................biddee for oyster at 7:30!" This time, knowing that it was useless to fight, Gwen stood next to the bed in the center of the cafeteria as directed by Masao.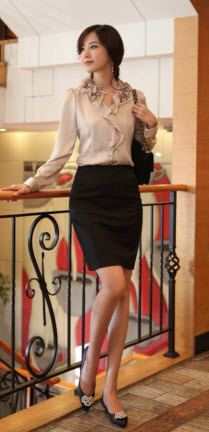 Sitting down upon the edge of the bed, she slipped off one heel and then the other as the men in the audience sucked in their breath in anticipation of what was to come. With a lot of catcalls in Japanese, Masao then advised "Stockings .......................men want see missee takee off stockings!" Applause came as the nylons were rolled down to bare her milky white legs. More catcalls and Masao releyed "Blousee ......................takee off blousee for men!" "Skirt ...................skirt next!" was what came next. "Takee off bra ...................missee takee off bra! Show prettee titties to men!" she was next advised. Her panties of course came next, but although stark naked like the day before, Gwen was not prepared to hear Masao tell her to "Spreadee prettee legs .........................spreadee pretee legs ........................show pussee ......................now put finger in pussee .............................finger pussee ...........................finger pusseee!" With her performance, once the bidding to eat her oyster this more had the men waving their yen in the air!

Days later, with the beauty from America still much under the influence of the drugs and her fucked out stupor, Masao dared not let her take the train back to Kyoto alone, fearing that should would not comprehend where she was and get herself lost in the process. A lost tourist from America certainly would not be in his best interest, thus Masao paid for the cheapest ticket available so he could accompany her to the train, for which she held a first class seat reservation. Escorting her to the train, guiding her by the elbow, Masao then sought out the head conductor in order to upgrade their train ride to that of a cabin. As the 60 year old conductor frowned when Masao asked for an upgrade after presenting him with one first class ticket and another for coach, he then advised Masao in Japanese "Are you crazy? You need to have reserved one far in advance! Even with an opening, it is too late for me to make the changes on these tickets! Besides, it's far more expensive that this cheapie ticket that you just purchased!"

That's when Masao smiled and told the conductor in Japanese that "This little beauty is here visting us from America and speaks very little Japanese! But she's trying very hard to get to know the common people here in Japan! Here, take a look at some pictures I took of her and the ordinary workers at the Hokura Fish Market!" Upon seeing the half dozen pictures that Masao flashed before the conductor, the old boy's attitude changed immediately, telling Masao in Japanese "Come, come .......................I will have you and the prettee one a prestiges First Class Cabin that comes with a full bar! I trust that the prettee lady from America will be taking care of the tab, so perhaps you'd like to help yourself to something at the bar while I show the prettee lady the layout of the adjoining bedroom!" Watching as the anxious conductor took the American beauty by the hand to pull her to the bedroom, the old boy was nuzzling at the back of her neck once he got her through the doorway. Then he was unhooking the back of her dress and pushing the garment over her trim shoulders. Masao chuckled in seeing how compliant the beautiful little bitch had become, not complaining at all as the conductor stripped her naked before pushing her down onto the bed, then draping her sexy bare legs over his broad shoulders before proceeding to go down on her. The conductor then got her up on all fours to fuck her doggie style, the English speaking conductor was delighted to see her tossing her head about as she panted out "Ohhhhhh ................ohhhh ................it won't fit ............................it's too biggggg!"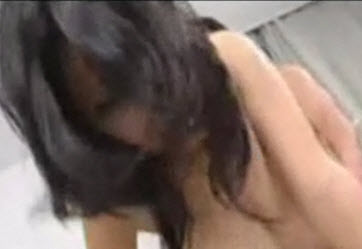 Going up the elevator to his hotel room, John Murphy wondered if everything had gone smoothly for his wife on her trip to see her aunt and other relatives. 'I sure hope she's not mad at me for not even trying to call her once on the cell phone we rented at the airport that's designed for travelers in Japan! She did tell me not to worry about trying to call her as she knew I'd be tied up with meetings till the wee hours of the morning, especially as Japanese business men expect to be wined and dined at an expensive restaurant. Having received that one text message from Gwen upon her safe arrival at Hokura, he hoped that she enjoyed meeting her distant relatives and enjoyed touring the area, and from his wife's message it indicated that her aunt had arranged for a personal guide to take her whereever she desired and that the fellow spoke some English. John chuckled as the guide book had made note of how the Japanese peopled frown upon one of their own nationality who did not speak the language, even if that person had been born elsewhere. 'Well, sure hope Gwen wasn't discriminated upon by the locals in Hokura! Maybe I should ask if she had been discriminated upon and the kind of treatment she got from them, being a foreigner from America?' John pondered.

As it was quite late and Gwen had quite a long train ride back to Kyoto, John quietly opened the door and saw that all the lights were out, indicating that his wife must be fast asleep at this time. Peering into the bedroom, with the background light provided from the living room, John saw that his beautiful wife was tucked under the covers and fast asleep. Tip-toeing to the bathroom so as not to awaken his wife, he peered back at her to take in her beauty before closing the bathroom door and turning on the bathroom lights, noting how lovely Gwen's lips were as the lip gloss she had applied today gave a sheen to them. A nasty thought went through his mind as John thought 'Do I dare sneak over there and .........................and rub my hardon up against her beautiful lips?" The thought of it made John shiver with excitement, but in thinking about it, he chickened out as he concluded that 'If she should get up when I'm in the act, it'll be curtains for me! That fight we had when I tried to force her head down onto my cock was a doozie! Don't want to go through that again ...........................thought she was going to file for divorce the next day!' But John had humorously thought, planning to be certain to make love to his beautiful wife the next night or so while still on their trip, hoping to start the family that Gwen wanted as it'd be fun to joke that their precious little baby was 'Made in Japan'!

Had John know that it was not true lip gloss providing that sheen but the gloss resulting from the cum Masao had spread over her lips after having her suck him off, he might have been willing to chance it. The message that he had left for his wife at the front desk, advising that he'd be working late and probably be back past 10 p.m., had been received indeed. Only it had been read over the phone to Masao when he had called from onboard the train to see if there were any messages left for Mrs. Murphy, telling the desk clerk that he was her translator and that she had wanted him to inquire as she spoke little Japanese and found it hard to communicate even in broken English. With that information, it was only after 9 p.m. that his wife was finally alone in the hotel room and soon to be fast asleep. Her tour guide from Hokura had seen to it that she got back to her hotel in Kyoto safely, had in fact escorted her up to the room .....................................made her strip naked once again ............................roughly shoved her back onto the king-sized bed and fucked her continuously till 8 p.m. At that time, Masao led her to the shower and helped scrub off the stench of sex from her lovely body, so that the foolish husband who let his beautiful wife travel alone would be none the wiser. The tour guide helped Gwen with her nightgown and tucked her into bed. But before departing, Masao turned her head to the side of the bed .............so she could suck him off one final time, gloating that "Missee ...............good cocksucker now .............learn very muchee on her visit .............huh! Ohhh, yes, missee ................lickee, lickeee ..................ahhhhhh ..............ohhhhhhhh!" Panting out his pleasure, shuddering as he spurted into her sucking mouth, Masao panted "Drinkee ................drinkee .................swallow all!" Then the bastard used the last few drops of cum to spread upon her beautiful lips by his leaking cockhead.

Six years later, while visiting Gwen's grandparents in San Francisco, Grandma Eiko commented to Gwen as to how her son (Edwin Choriki Murphy) of five years old resembled Grandfather Choriki, the middle name was given to please and honor her grandfather. In pulling out a album that had been put together on Grandfather Choriki's life history, Grandma Eiko turned to a page in the album that contained a picture of Gwen's grandfather when he was five years of age, telling Gwen "See ....................a spitting image of Edwin's grandfather!" Gwen had to admit that the photograph was exactly as her grandmother depicted. Wanting to see more of the album as Gwen had never seen the pictures before, at the midway point when her grandfather must have been in his early thirties or so there was a picture of her grandfather with another male who one would swear was his twin. In fact, Gwen could not determine which of the two men was her grandfather. Asking her grandmother about the picture, the reply was "Oh, yes ...........................there hasn't been much mention that your grandfather had a twin brother when he was born! Back in those days, there was no way to determine if a woman was carrying twins or more than one child! Times were very difficult financially back then and having twins had been quite a shock to your great grandparents! Your great grandmother had a cousin named Toro Nakazawa, who's wife couldn't bear children and as it was very important to have a male child to carry on the family name, your grandfather's twin was given away to that cousin and his wife!"

A cold chill coursed throughout her entire body upon learning that her grandfather had an identical twin brother. The name 'Nakazawa' sounded a bit familiar too. Needing to learn more at this point, Gwen inquired further of her grandmother "Where was that picture taken?" Upon learning that he had a twin brother, your grandfather was curious and wanted to meet him, thus saved up for a trip to Japan for his 'yakodoshi' birthday, when he turned forty so he could celebrate wiht his twin!" "Why has no one mentioned this before?" Gwen pried. Her grandmother then advised that "Your grandfather was very disappointed upon making that trip to Japan and meeting up with identical twin! Your grandfather didn't say too much about the trip, even when I asked as to how things went! He commented that his twin brother was very different, probably due to being brought up in Horuku and forced to make a living out on the rough seas as a fisherman! The Nakazawa clan aren't very close to the aunt you went to visit, so you probably didn't get to meet any of the Nakazawa side of the family!" "Grandmother, what is the name of grandfather's twin brother?" Gwen asked. She shuddered in horror upon hearing her grandmother's response of "Yu......................Yuriki ....................yes, Yuriki Nakazawa! But according to your grandfather, Yuriki a very evil man .................................e-v-i-l! From what I gathered, his twin brother attacked a woman when your father was there and then tried to blame him for it when the police arrived! "

Several months later, Gwen trembled as she handled the envelope that just arrived from the firm specializing in DNA analysis. Completing the form and enclosing requested the three hair samples needed by the firm, the report came back conclusive that the child was from the mother and father, as determined by the hairs enclosed from each party. 'Oh, God! Oh, my Godddddddd!' Gwen shuddered, feeling absolutely sick to her stomach. She had enclosed a sample of her son's hair, her hair samples, and her grandfather's after having read about identical twins' DNA. In identical twins, with each twin coming from the same egg, and according to the article their DNA would also be identical match. The birth of her son had been from her being impregnated by Yuriki Nakazawa, her grandfather's twin brother! Closing her eyes, Gwen's thoughts went back to that day in the the Hokura Fish Market, how she thought about that first man from the market who paid the most to the first of the bidders to rape her! Then Gwen remember how wildly she had responded to the bastard touch and who they mated like wild animals! And she had not responded to any of the other men in such a manner. 'How many times did he have sex with me, over those three day? Seven? Eight? More?' she wondered. But there was one thing that Gwen did remember, that being the fact that she respondly very similar as compared to the first, that of absolutely wild and rabid rutting that had sent her skyroketing into outer space as he ejaculated his hot baby batter in her fertile womb.

Lying in bed that night, a memory that she had tucked away many years ago began to come back to her, a memory that made her shudder in revulsion yet shiver with pleasure. It was a bit hazy, a time when her mind was spinning from the drugs in her system, but she recall how she had wrapped her trim arms and legs around her grandfather's identical twin and how she had panted out "Oh, Grandfather ......................................Grandfather Choriki ..................................you are so big ......................................so very biggggggggg! Ohhhhhhhhhhhhh ....................................ooooooooooooooooooooooh! Grandfatherrrrrrrrr...................................it won't fit ..............................it won't fit ...............................it's too bigggggggggg! Ohhhh, Grandfather ..........................ohhhhhhhhhhhh ..................................yes, grandfather ......................................fuck me ..................................fuck meeeeeee ................................fuck your grand daughter ...............................................fuck your great grand child in my belly .....................................knock your grand daughter up with your baby!" Perspiring from the memory of that day at the fish market, Gwen blinked back the tears wondering 'How could I have done that? Said such an awful thing! Even under the influence of those drugs they forced me to take ..................wishing and making believe that it was my own grandfather raping me?'

Was it Yuriki's image or that of her grandfather now in her mind, but that did not stop Gwen from touching herself, rubbing her finger over her juicing slit to frig herself and get some relief. She remember first getting out of the car at the fish market where she was greeted by the owner, a Mr. Muranaka. The man had been briefed by Masao of who her relatives were in Hokura, for he had made mention of her maiden name, relayed that he knew her aunt and other members of the family she had met the night before. Suddenly Gwen froze, her eyes wide open as she realized that 'If he knew who I was, then it must have been relayed to Yuriki also! Yuriki knew all along that I was Grandfather Choriki's grand daughter! His twin brother's grand daughter! That's why he bid the way he did in order to win the bidding! He wanted to first, after Masao, to have me! And then again to be the first of the fish market workers to rape me!' Then she concluded that 'Grandma Eiko was right ...............................that Grandfather Choriki's twin brother is indeed and 'EVIL' man! A man can't get any more evil that that!' Gwen then quivered, recalling how she had wondered at the time as to 'How can any man want to do something so filthy? To put his mouth .................on my sex ..................right after another man had raped me and had ejaculated his filth in me!' Up till recently, Gwen had thought that she had managed over time to bury her awful trip to Japan into the recesses of her mind, but now more and more things kept arising. The memories of her ordeal in Japan kept getting even more horrendous with each added discovery. And now, knowing that her son was growing up to be a spitting image of the evil man who had raped and impregnated her, the young boy would be a daily reminder of that awful trip! 'My God, my Hokura debacle can't get any worst than it has gotten!' Gwen sighed in dismay.

Three months later, Gwen answered the phone and happily exclaimed "Grandfather, it is so nice to hear your voice again! When I visited you in the hospital last week, you could barely talk at all, and all the doctors thought that you might not pull through the illness!" Gwen was so happy to hear of her grandfather's miraculous recover, especially now that he was eighty-eight years old! She listened as her grandfather asked "Gwen, I wonder if you could do me a very big favor?" Gwen quickly and excitedly responded with "Of course, Grandfather! Anything for you!" "Gwen, as you know, I have more than enough money saved away for a rainy day and to pass on down to my children and grandchildren when my time comes! So I'll take care of all the expenses incurred and reimburse you for your loss wages as this favor will require you to take off a few days in order to ..............!" Interrupting him right there, Gwen sternly advised "Grandfather don't you be silly! Whatever I can do for you, it will be my honor and pleasure to make it happen for you, even it involves taking off from work for a week or so! You just tell me what you need and that's it! I won't hear anything else about!"

"Well Gwen, as you learned earlier, I have an identical twin brother named Yuriki who lives in Japan! We haven't been close at all, espcially raised in different countries and cultures, but he had heard how ill I was and flew out to see me and make amends for the falling out that we had some forty years ago! I showed him the picture of my grandson and he agreed that Edwin is a spitting image of me when I was that age! Of course, with Yuriki and I identical twins, he was thrill that the Nishikawa blood line was so strong! And with Yuriki expressing the desire to see Los Angeles that he's heard so much about, as their baseball team has been the one he's followed so many years, I was hoping that you could put him up at your place and show him around a bit! Also, he's traveling with an interpreter to help him get around, a man named Masao who I believe was the one your aunt had asked to be your personal guide on your trip there! Yuriki's had a hard life being in the fishing industry from his youth, worked full time several year ago when he reached eighty-five and still has to work a few hours each day to survive! I feel kind of bad, cause I think he used up nearly all of his savings to make the trip here to see me, thinking I was about the head on off to the next world! But of course, Yuriki has always been short of money! From what I make out from his translator, Yuriki went and blew a fortune in some kind of crazy opportunity to get to be the very first one at the fish market to taste some sort of delicacy ................apparently some rare succulent oyster that came into the fish market where he worked some five or six years ago! And then went and spent a ton of money in hopes of creating something that when seen would always bring Yuriki into their thoughts! But that's just Yuriki for you!"

From what Gwen had expressed to her grandfather earlier, she was committed to doing what he had asked of her, to allow Masao and her grandfather's twin brother to stay at her place on their stay in L.A. Her having a five bedroom home, with only two occupied, that left three spare bedrooms so how could she use the lack of rooms to back out of her commitment. After hanging up, Gwen just sat there trying to compose herself, wondering if there was any way out of this dilemma. Realizing the evilness of her grandfather's twin brother, how he had been determined to be the winning bidder to first 'eat' her and then to rape her, Gwen concluded that all this had probably been prearranged by both Masao and the old bastard. 'Flying in on Monday morning and staying to Friday evening! Days when John's working and Edwin's in kindergarden, both out of the house and thus out of the way!' were the facts that she played through her mind. Then Gwen shivered at what her grandfather had said about Yuriki spending a fortune just to be the first in the Hokura Fish Market to eat a rare and succulent oyster - for that really referred directly to her, for it was the oyster between her legs that Yuriki had the winning bid in order to be the first to eat her out! And as for Yuriki's spending lots of money to create something that people would be reminded of him - that also had been accomplished for anyone in Hokura getting to see a picture of young Edwin, they'd swear it was a spitting image of Yuriki at that same age!

A half hour later, the phone rang and Gwen picked it up and answereed "Hello!" Gwen froze at first, then began shaking upon hearing the broken English of Masao's voice saying "Very nicee ..............hearing ...............prettee Gwen's voice again! Your grandfather give Masao your phone number ..............told Masao to call you! Grandfather says Yuriki-san and Masao-san stay your place! You don't worry ...............no need to come to airport ................we take cab to home! We checked .................husband take son to school ..................leave house at 7:30 in morning! We come at eight in morning! Yuriki says for Missee Gwen .................save time and energy .................don't go fix bed before we come! Heh, heh, heh!" Gwen's stomach churned as she was going to be sick. Then she heard Masao add that "Yuriki ............he practice little English on flight over! Muchee practice by Yuriki! Put Yuriki on now!" Then she heard the old bastard's voice stammer out in broken English "Missee Gwen ....................very prettee! Yuriki ..................missee ......................we fuckee, fuckee ..........................hubbee bed ...........................we makee babee .........................again!"

Tears flowing down her cheeks, Gwen sobbed as just could not believe this could be happening to her, and this time the vile sick bastard was wanting to impregnate her on the very bed that she shared with John. 'At 88 years of age, is it possible for him to still get it up?' she wondered. However, from the way her luck was currrent running over the past six months, Gwen wouldn't bet against it that the old bastard would do just that .............................force her to have sex with him on the very bed that she shared with her husband, and in the process knocking her up once again with his incestuous baby! In her mind, Gwen calculated that as Yuriki was now six years older from that eventful visit she had made to Hokura, Japan, that .............that he should in no way be as virile back then. It was something to hope and/or pray for anyway. So Gwen prayed that the evil old bastard could not even get it up any more, especially seeing that the fucking bastard was now at the ripe old age of eighty-eight! But again, with her luck, it was not something Gwen dared to bet on.

'Oh, Goddddd ......................how could this be happening to me?' Gwen sobbed uncontrollably, not realizing that Yuriki had preplanned all of this, including his making the trip to see his supposedly dying twin all based on the thought of somehow geting to her once again. It had been Gwen's aunt, the one who's home she had gone to for dinner during her trip to Japan, who had contacted Yuriki to advise him that his twin brother Choriki was on his death bed. The aunt who had no use for Yuriki, had felt that the least she could do was to notify him of the current situation of his twin. It had been an intriguing situation for Yuriki when he got the call, in which he inquired more infomation from her aunt on his twin's family. He then got to learn that Choriki's great-grandson at the age of six years old was the spitting image of his twin brother when he was at that age. And upon further inquire, Yuriki got to learn that the mother of the young boy's name was Gwen. Armed with that info, Yuriki enlisted the age of his friend Masao to accompany him to America to visit his ailing twin brother, thinking that the bastard would die and that he'd stick around for the furneral when his beautiful grand daughter would show up with her young son in tow.

Although Yuriki had nothing but disdain for his twin brother, jealous that Choriki had been the one kept by his real parents, and that he was the one given away to live a hard life on the sea. He actrually had hoped to see his lucky twin die on his death bed, then was in for a disappointment in seeing the bastard make a miraculous recovery when he arrived at the hospital. But Yuriki figured that if he played his cards right, he would now be the lucky twin, all at the hands of Choriki's foolish thought that he had flown all the way to America to make amends for his wrongdoings. Shown a picture of Choriki's great -grandson who was supposedly the spitting image of his great-grandfather, Yuriki smiled wickedly and advised "Oh, yes ....................that is me all over also ...................at five years of age!" In the picture was the mother of Choriki's grand daugther, of whom Yuriki commented "Your are such a lucky man to have such a beautiful grand daughter, my twin brother!" And that eventually led to Yuriki finaggling his twin brother to get his great grand daughter to put him up at her home. Through his cunning, using his twin brother to call his grand daughter for a favor, Yuriki obtained the inviitation to stay in the home of the woman who had given birth to Chiroki's little protege. And of course, Yuriki was hell bent of accomplishing that very same feat a second time, this time right on the bed that his twin's beautiful grand daughter shared with her husband. Proud of himself, feeling that he had now surpassed the good fortune that his twin had over him throughout the years, he stroked his rising cock ..................the great equalizer!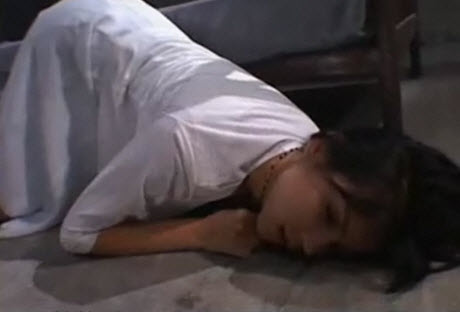 A week and a half later, just a few days after having done the favor asked of her by her beloved grandfather, Gwen got the devastating call from her grandmother advising that "Your grandfather ................Grandfather Choriki .........................died earlier today .......................died suddenly from a massive heart attack!" Listening as her grandmother told her what happened that day, Gwen learned that she had left him alone with his twin brother who had stopped over with his translator friend to say one last goodbye before flying back to Japan. She also learned that upon her return home, the guests were gone, and the house extremely quiet as her grandmother found Grandfather Choriki slumped over in the den. An ambulance had been called but it was already too late. Blinking back the tears of sorrow, Gwen then took solace in the fact that she had pleased her beloved grandfather by having done the special favor, that he had asked of her just prior to his death, in entertaining his evil twin brother in her home.

But Gwen had no clue whatsoever as to what transpired or led up to her beloved grandfather's massive heart attack. With the departure of her grandmother, leaving the men alone to say their final goodbyes, the evil Yuriki had played a disc on her grandparent's large 50" television set. And when the film started, the translator relayed in broken English as to what Yuriki was uttering out loudly in Japanese, telling her grandfather "Lookee, lookee ......................your prettee grand daughter when she come to Japan six years ago! Lookee .......................me, Yuriki .......................holding her down .........................for Masao to first eat her juicy oyster .............................and then ..........................rape her! Now me ....................lookee .....................me eat your grand daughter's juicy oyster ................................and now me ..................rapee, rapee her too .................fuckee, fuckee her ................................fuckee, fuckee Choriki's beautiful grand daughter! And your precious little grandchild ............................the spitting image of you ...............................he my son .........................Yuriki's son .....................................................baby Yuriki fuckee up in your beautiful grand daughter!"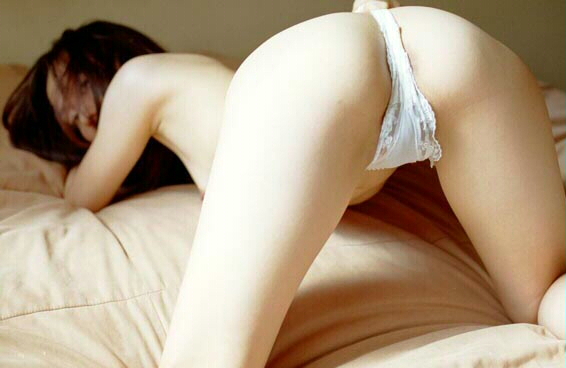 Prior to his death, Gwen beloved grandfather also got to see a portion of the video stolen from her home. It was a video taken in the delivery room five years earlier, with her legs widespread in the stirrups and little Edwin's head pushing out from her widening cunny, with Masao translating Yuriki's excitment "Lookee, lookee ............................your grandson ........................Yuriki's son ...........................being born!" And as the video continued rolling, taking in Gwen's home in Los Angeles that Choriki had been to, Masao relayed "Your grand daughter's home in Los Angeles, where we stayed last week! Bedroom that Gwen shares with her husband ...............................bed that I eatee your grand daughter out again .........................and fuckee, fucckee too!" With the video put on pause and Choriki horrified beyond belief, Yuriki loudly taunted in Japanese as Masao translated "Don't believe Yuriki, my twin brother? You lookee, lookee ..................................watch Yuriki eat out your prettee grand daughter in her Los Angeles home last week ...............................watch Yuriki fuckee fuckee her!"

"Here, lookee .........................Yuriki eating your your beautiful grand daughter's tasty oyster .......................her nookie as you Americans say ............................me makee her go crazy!" came the translation as the screen showed Gwen tossing her head about and screaming out as Yuriki ate her to a climax. And then the taunting was relayed "Choriki .........................your twin brother went suckee .................fuckee your beautiful grand daughter many times last week ..................................all thanks to you ....................you askee her do you favor ................................takee Yuriki into home! Thankee you, my twin brother! Thankee you for getting me into her own home ........................fuckee her in bed of American hubbee!" As the video played on, Masao continued translating Yuriki's comments of "Lookee, lookee ...........................prettee grand daughter in shower with Yuriki ..................................about to take Yuriki's wrinkled old cock in her mouth! Now, lookee, lookee ....................prettee Gwen suckee Yuriki's wrinkled old balls! Lookee ............................your prettee grand daughter ......................now mouth full of Yuriki's cum!"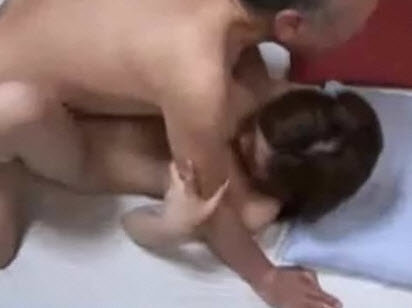 "Lookee ...........................Yuriki fuckee your prettee grand daughter .........................in hubbee bedee! Yuriki putee another babee in prettee Missee Gwen's belly ..............................babee to be your second grandchild .............................Yuriki's second child with Choriki's beautiful grand daughter!" Seconds later, Choriki's heart gave out and he slumped over dead from a massive heart failure. Delighted at the devastation that he had caused, Yuriki went over to the recorder to retrieve the disc from the DVD player, telling Masao in Japanese "Must not forget this! Have yakuza friend in Japan with connection to yakuza in San Francisco/Los Angeles area ..................................says he pimpee prettee Japanesee girlees out to blackee men .....................biggee market here for prettee Japanesee girls .....................................sell him copy of disc ....................................so he pimpee Choriki's prettee grand daughter out ......................to biggee blackee men! Pimpee Choriki's prettee grand daughter out to biggee blackee men!" Leaving his dead twin's body behind, slumped over on the sofa for his wife to find his body upon her return home, Yuriki and Masao then caught a cab to the airport for their scheduled flight back to Japan.



End of Story.