Still referred to as Father Mollway, excommunicated from his religious order years ago for have seduced and impregnated a number of women in his congregation, he still managed to partake in sating his lusty hormones through the unscrupulous pastor of the Presswood Congregational Church. Now, through his befriending Pastor Knowlton from the church in Presswood, Father Mollway was being introduced to trusting members of the Presswood congregation as a trusted marriage counselor. But only two things interested as well as excited the devious Father Mollway, money for one and the other being sweet innocent pussy. For the unsuspecting, especially the foolish white people, the CDFB was a well respected organization and those abbreviations stood for the 'Christian Devotees for Brotherhood'. But in reality, it was a deviant organization that had suckered in the affluent whites and provided the deviant black members with tender white pussy as CDFB really stood for 'Cum Dump for Blacks'! And Father Mollway played quite an important and instrumental role in providing them with the desirable white beauties.
An expert in hypnotism, supposedly a renowned marital counselor that everyone in Presswood accepted as fact since he was introduced by Pastor Knowlton in that way, Father Mollway had perfected his trade far beyond many of his peers. Normally, a patient going under hypnosis would only go so far in obeying a command if it involved compromising one's ethical and moral values. But Father Mollway had perfected his technique to have one's ethical and moral values overridden by his commands and the subject would obey the command without hesitation. Still, Father Mollway prided himself as being a man of high 'integrity'! Oh, but certainly not for the subjects he had hypnotized and planted deep seeded sexual suggestions that would lead a beautiful and innocent white woman to go astray, willingly spreading their trim sexy white legs for a big black buck. His integrity was that of his business dealings with the affluent members of the CDFB, making certain that they got what they paid for in bidding on the church's special auctions. Yes, if a member of the CDFB bid on claiming a virgin before her wedding day, he'd get to pop that bitch's precious little cherry. Upon hypnotizing a beauty and relaying her responses on the CDFB website, be it a young virginal bride-to-be or a faithful wife of twenty some odd years, the winning bidder would be assured that his black cock would get to be the very first strange cock up in her pussy and ass. Her lips would also be virginal if he so chose, but many enjoyed watching as her very own pastor became the very first to give her that special communion.

For Bronco Johns, he knew the importance and influence wielded by the Presswood Congregational Church due to it's national exposure, but in being a CDFB member he also knew of its darker and seedier side because he himself had even enjoyed getting in on the bidding wars for some sweet little innocent babe! With money being of no problem for Bronco, he knew that he could very well monopolize each and every 'auction' when some sweet faithful wife was put on the block. But with the time constraints in his being kingpin of the porn industry in the state, Bronco couldn't always get the time set aside to enjoy the bidding process. Besides, there were many beautiful young bitches that he could have any time he wanted ..................all for free ..............with no consequences to worry about! Hell, rape charges were of no concern or something to worry about for Bronco and his boys, not if the badly indebted punk or his still beautiful but just raped wife hoped to avoid getting tossed into the drink with a chain on his/her ankle that was connected to a concrete block. So in a sense it all came down to the simple analysis of 'Why bid in an auction when you can get something very similar for free! FREE is a very good price!' Thus the final analysis that Bronco had come up with as to soliciting the support was make a large donation to the church in exchange for it not coming out directly against them directly. So for a hundred grand, the head of the Presswood Congregation just kept mum.

Over the week following that announcement of that beautiful blond bitch to chair the new committee against the porn industry, Bronco just stewed and fumed while pacing about his plush office, often kicking the trash can across the room in total frustration. "Fuck, it's like being caught between a rock and a hard place! FUCKKKKKK!" he yelled out loud, putting a big dent in the metal trashcan as he gave it another boot across the room. 'The best that I can do is to have the church just keep mum as to its viewpoint on our organization and not single out any of porn shops that under our control!' he concluded. But with the opposition's crusade against porn, Bronco knew that the church would certainly be hard pressed if anyone in the press asked for it's stand on the topic. 'Fuck .......................if that bastard's fucking wife is successful in her anti-porn crusade as she was in the prosecutor's office .......................we're fucked!' Bronco cussed, this time kicking at the side of the sofa in his office. With the news coming across the television at that instant, Bronco looked at the screen and saw that it was the blond bitch as she was being interviewed by the news reporter as to what her plans entailed should that new commission did in fact come about. Listening to the bitch lay out overall plan, Bronco cussed once again "FUCKKKKKK!" Sighing deeply, he then muttered on out that "You just need one good fuck, you uppity little bitch! Damn, I'd sure like to be the one to do it .......................shit, I'd just throw you down and show you what fucking is all about! But first I'd give you a real close up view of what would 'ruin' that tight little pussy of yers! Yeah, a close up view with ya on yer fuck'n knees! Ya ever suck cock, sweetie? I doubt it .................but fer sure ya ain't ever sucked on some dark meat, heh, heh!"

Following his donation on behalf of his organization, Bronco got to to meet with Pastor Knowlton and the former priest who was still referred to as Father Mollway. In his assessment, the now nationally known Pastor Knowlton was mainly concerned making himself and his church bigger and better known. And of course, have donations roll into the church was one of his primary objectives, and thus the money hungry young pastor was more than willing to turn a blind eye to the porn industry. With Bronco being a member of the CDFB, it was like an honor code that he not use that knowledge to threaten to bring down the church, and in exchange the church did nothing to antagonize him. It was like a mutual truce as both were behind the scenes when it came to filthy smut, pornography, and prostitution. And when it came to prostitution, Bronco Johns' operation would hardly raise an eyebrow as it basically dealt with the typical streetwalker and of course young runaway girls being plied into the world's oldest profession, as compared to the church's secretive operation ...................that of pimping out beautiful naive wives from within the congregation to to highest bidder! As for Father Mollway, Bronco surmised that the old boy was the the brains behind the operation, with his defrocking as a priest probably having preceded the start up of the current operation. Although he had made the hefty donation, it would only serve for the church not coming out against him, it'd be hard pressed for the church not to give the nod to the senator's stand against pornography.

A week later, while watching yet another interview of the senator's wife as she spouted out her future plans of snuffing our the porn industry through the committee to be created by her husband, Bronco loudly cursed out "FUCKING BITCH! YOU FUCKINGGGGGGG BITCHHHH!" Staring at the beautiful bitch gracing the screen, hearing her was giving Bronco a mean headache, but in looking at her his other 'head' began to throb. 'Damn ................if I ever got to that bitch ...............I'd make her shut up once and for all! Heh, heh .....................I'd shut her up good ..................plug that bitch's mouth up with some prime black meat! I's sure would like to give it to that fucking bitch ..............teach her what sex is all about!' he fumed. 'Shit, if that could ever happen, that'd stop the fucking anti-porn crusade right in its tracks!' he sighed deeply, thinking that the situation was just futile at this point. And then it was as if a light was now at the end of the dark tunnel and getting a bit brighter each second going by. 'Yeah ..................yeah ..................oh, fuck yeahhhhhhh! Jezzzzusssss, I should have thought of this sooner ..................way sooner! Fucking idiot ..........................it took the head between yer fuck'n legs to solve yer fuck'n problem!' Bronco cussed himself out. 'Jist think it out ......................think it all out in detail .....................then go and spring the trap on that goody-goody little bitch and the SOB she's married to!' he told himself.

Over the next week, unable to get that blond bitch out of his mind, Bronco Johns had finally gotten it all figured out as to how pull off this caper. Basically, he was going to approach the church again with an even bigger donation, only this time Bronco wanted the Presswood Congregational Church to outwardly support and endorse the incumbent senator's anti-pornography campaign. Figuring that an additional quarter of a million bucks tossed into the church's kitty would certainly pull it off, especially as the church could now go with the avenue that the faithful would expect of it. But for a quarter of a million, Bronco would be wanting something a bit more out of it, something that he knew Father Mollway and Pastor Knowlton were more than capable of pulling off. So Bronco would propose to the now nationally known Pastor Knowlton to invite the senator's wife to the next national broadcast to the faithful, allowing her to give her spiel on how she planned on chairing that future committee against pornography. First to invite the bitch to come down the church to more fully discuss her stand before the church gave its support to the campaign, then Pastor Knowlton was to introduce her to Father Mollway for her insight on having a happy and ever lasting marriage. At that time, the unholy Father Mollway could then perform his hypnotic magic, implanting some nice and juicy sexual suggestions into the blond bitch's subconscious.

For a quarter million bucks coming into the church's kitty unexpectedly, complying with the requests made by Bronco Johns were no problem at all, especially as the the church could now take the appropriate and high road when it came to pornography. With the call being made by the now rather nationally famous Pastor Knowlton to Senator Ratkin, his call was readily put through by the campaign staff, and from there it was easy pickings to get the Senator to agree to send his beautiful wife down to Presswood. Although the pastor advised that he was unable to use church funds to donate to any political campaign, the Senator was pleased to learn that members of congregation would be able to furnish whatever transportation for Mrs. Ratkin during her stay and that a hotel suite at a plush 5-star hotel would also be reserved. Pastor Knowlton was advised to let them know the date and time of her flight arrival so that a limousine would be waiting outside of baggage claim.

Obtaining her luggage from baggage claim, Megan proceeded toward the exit where she observed an airport greeter with her name printed on the sign being held. Going up to the gal holding the sign, Megan identified herself and advised that she'd show her to the limousine that was waiting at curbside. As they approached a very nice white limousine, Megan observed the chauffeur about to open the rear passenger door. Reaching the limo, the uniformed driver greeted her warmly with a "Welcome to Presswood, Mrs. Ratkin! I'm George, your driver, ma'am! I'm at your disposal 24/7 during your stay!" "Thank you! Thank you very much, George!" she replied while stepping into the plush vehicle. "Where to first, ma'am?" the driver asked of her. "The hotel please, as I'd like to check in and freshen up before meeting with Pastor Knowlton at the church!" Megan advised. "Yes, ma'am!" the courtesy driver respond as he closed her door. Starting up the limo, Bronco's cock gave a twitch while licking at his lips, thinking 'Damn, that's real prime fuck'n stuff ..........................sure tempting to jist head on off to some deserted area .......................then rape that beautiful bitch in the back of the limo!' Looking in his rear view, Bronco observed the beauty take a folder out of her briefcase to go over some papers, then he pushed the button to activate the camera hidden in an air vent. Reaching for the GPS sitting atop of the dashboard, he pressed the button that would switch the GPS that turned the monitor's screen to now televised a close up of the beauty's long ivory legs. Absolutely flawless, long sexy white legs with a tantalizing glimpse of her panties, nearly caused Bronco to cream in his pants at that instant.

Pulling up to the front entrance and getting out to open the door for the blond beauty, the church's secretary came down to greet the Senator's wife, and advised that "I'll show Mrs. Ratkin inside and introduce her Pastor Knowlton! I'll give you a call a half hour ahead of time so you'll have time to transport Mrs. Ratkin to her hotel!" Back in his limo, with a couple hours available, Bronco could take care of some problems related to overdue kickbacks from the southside bookies. According to Pastor Knowlton and Father Mollway, if he got back in two hours, it would be the perfect timing as he could then get to witness the hypnotic suggestions being imputed into the subconscious of the innocent beauty's naive mind. As it had been outlined to him by the two unholy bastards, the first hour would be discussing her outlook on the pornography statewide and nationally along with that of the church's viewpoint, followed by her being shown the layout of the church and giving her a tour of the church from where she would be speaking that Sunday on the nationally televised spot. Once that was done, the old boys were going to lead her back to pastor's private office, then get her a cold drink which would spiked with a potent sedative that would have her a bit dizzy for a short period of time ....................time enough for Father Mollway to put her fully under his hypnotic spell!

Anxious to be a witness to the hypnotic session, Bronco got back to the church ahead of schedule, slipping into the adjoining room next to office where the action was currently taking place. Quietly opening the door connecting to the office, Bronco was signaled in by Pastor Knowlton as Father Mollway was in the midst of implanting hypnotic suggestions deep into the recesses of the beauty's mind ...........................very naughty suggestions as photo after photo flashed onto the computer screen that she was looking intently at, with Father Mollway suggesting to her "Doesn't that look like a real nice, Mrs. Ratkin? Doesn't it make you want to kiss it ......................see what it's like to take it in your mouth ........................to suck on it ........................to see if you can make it squirt out it's sticky juice into your mouth, hmmm?' With a slight cringe of a disgusting look appearing on her beautiful face, it appeared as if that last suggestion hit a sensitive nerve, causing Father Mollway to ask of her "My dear, Mrs. Ratkin .......................you seem a bit bothered by my last suggestion ....................could it be that the Senator's beautiful wife has never had the pleasure of having a man's cock in her lovely mouth?" To that question, the innocent beauty shook her head from side to side before whispering out "No ............I've never done such a thing!" "And why not, my dear?" she was next asked by the unholy bastard. "It's .............such a filthy thing to do!" came her response. Bronco watched as Father Mollway resumed implanting the naughty hypnotic suggestions into the innocent beauty's mind, all while she stared at the screen and the manhood of many a well-endowed man .....................a stream of big black cocks for her to fantasize about!

That evening it was quite difficult for Megan to fall asleep, the same for the next night, along with any spare moment going towards her fantasizing extremely naughty and dirty thoughts. Such thoughts shook Megan to the core as it was like an obsession, something that she had never before experienced, unable to understand as to why images of strange men kept flooding her mind ..................with each being a muscular black man fisting a massive erection in his hand! Try as she might, Megan just couldn't shake those naughty images from her mind, and worst of all that she was even wondering about her chauffeur. Chiding herself for wondering if 'George', being a black man and all, found her attractive as a white woman ..................whether he wanted just throw her down on the back seat of the limousine and rape her! Then she thought 'Even though he's been quite polite and a gentleman all along .....................that's the only way he'd get me to submit to him ...................by pinning me down under his big muscular body and raping me ....................with his filthy black 'thing'!' Unbeknownst to Megan, such naughty images and suggestions had all been implanted deep into the recesses of her mind, and such was all that she could think about at night or during any free moment that she had.

With the Sunday telecast a big success, after which Megan was invited to meet the congregation during a pot luck luncheon in the adjoining auditorium, then there was to be one final event planned for her that evening at the elegant restaurant on the top floor of the hotel she was staying at. According to Pastor Knowlton, a wealthy church benefactor named George Johnston wanted to discuss her program over dinner and also to make a large contribution to her husband's campaign, but due to his business endeavors this fellow needed to be seen as maintaining a 'neutral' stand when it came pornography. Megan had also been told by the pastor that it was Mr. Johnston who had been influenced the church that it had to come out and take a stand, get itself involved in the political situation, especially as Mrs. Ratkin would be the one to chair this upcoming committee that would be established once Senator Ratkin won re-election to his senate seat. As the telecast and luncheon with the congregation took a lot out of her, Megan was glad to have several hours to rest up till it was time to meet with this wealthy church benefactor of the church and big supporter for her campaign to wipe out pornography. Taken back in the limo to her hotel, Megan kicked off her heels and slipped out of her dress before plopping herself down upon the king-sized bed for a much needed nap. But upon closing her eyes, the first image to come to Megan's mind was that upon having gotten back to the hotel minutes ago, that massive bulge that was right at her eye level when the chauffeur was assisting her out of the limo that had her mind wickedly wondering 'Am I the one that caused the bulge in his pants? Did he want to drive me to a deserted spot instead ................so he could rape me there?' All this had been a part of the evil planning, all these naughty thoughts instilled into her subconscious by the unholy Father Mollway.

Having touched herself some, something that she had first resorted to two days earlier, Megan wondered as to just what had become of her since her arrival in Presswood as never before had she ever masturbated herself. Now it seemed as if she needed some kind of sexual relief each time she went to bed or had time to think, but which always seemed that her mind became flooded with naughty images, in particular images of big muscular black men .....................with each handling his big black 'thing'! And each time that she pictured such an image, Megan found herself swallowing deeply as her mouth began watering at the thought of wrapping her lips around the purple head that had swelled on up! Getting up from the much needed nap, Megan tried to calm herself down as her mind was still filled with the naughty images that had seemed so real and lifelike just minutes ago, but she now came to realize that such were merely her fantasizing in her dreams. Going to the dresser, Megan picked up a new set of lacy black undergarments to put on with the elegant black gown she planned on wearing to dinner that evening. Then proceeding toward the bathroom, she told herself that 'You definitely need to get a grip, girl! What you need at this very instant is .................a very, very cold shower!'

Right on time as she stepped up to the hostess at the restaurant, Regan advised that "I'm here for a dinner engagement with Mr. George Johnson!" "Oh, yes ...............he's here already! Let me show you to Mr. Johnston's private booth!" the hostess replied while grabbing two menus before turning about to lead the way. Going across the full length of the restaurant towards the windows, Megan saw that Mr. Johnston obviously wanted to stay out of the public eye, just as Pastor Knowlton had advised her of him needing to keep out of the limelight due to his business connections. She could only wonder who this rather mysterious person was, being a wealthy benefactor to the church along with apparently having his own regular private booth in this expensive restaurant. As the hostess stopped and turned to indicate that they had reached the private booth, Megan put on a nice smile as she approach and was about to introduce herself with "Mr. Johnston, I'm .............................................!" Having extended her hand to greet the important man, Megan was speechless to see her chauffeur George rising from seat to greet her, taking her hand in his and bending to kiss the back of her hand. Once she saw who George Johnston really was and his taking her hand in his, Father Mollway's hypnotic suggestions became activated, causing Megan to become totally enthralled by his man was no longer in the chauffeur's uniform but in a neat tailor made suit and colorful tie.

"My dear, Mrs. Ratkin, please let me apologize for that slight deception of pretending to be just your chauffeur! But please remember that I did give you my correct name ..............'George' ............though just my first name only! With my businesses calling for discreetness and to appearing to be neutral when it came to the topic of pornography, I needed to meet and observe you as to your plan on tackling the immorality of this unsavory industry before committing my involvement and assistance to the committee that you'll be chairing once your husband is re-elected as Senator!" Bronco advised. "Please ............please, have a seat, dear!" he advised, while still hold her hand and guiding her to sit next to him in the booth. She was under the hypnotic spell of an implanted suggestion, and Bronco knew very that her mind would tell her to pull her hand away at this point but that she would be unable to physically do so, even as he caressed her hand and toyed with the symbols of her marriage that adorned her ring finger. It certainly felt triumphant to see her labored breathing as he fingered her diamond ring as well as her wedding band, toying and twirling them about her finger. With his left arm over his lap so he could hold her left hand in his, Bronco had his right arm around the petite beauty and his hand was caressing the soft flesh of her arm while having her seated very close to him. A moment later, drinks were being delivered to the booth and Bronco advised "I took the liberty of ordering you a glass of white wine! My research indicated that what you enjoy most at dinner!" But in that glass of white wine was a dose of the new colorless/odorless variety of liquid Spanish Fly, a concentrate considered to be twice as potent compared to its predecessor and to become effective in just half the time.

Sitting next to the big muscular man, whom she had previously only known to be her chauffeur, it had come as a shock to Megan to learn that he was the church's wealthy benefactor and now one who was fully endorsing her stand against the pornography industry. The only man with whom she sat so close like this, so intimately close with the male holding her hand with an arm around her as such, was that of her husband. Sitting there in the booth with Mr. Johnston, unable to move away from his caressing hands, Megan wanted so badly to move away from those exploring fingers that were now moving up and down along the right front of her her shoulder strap and seeking to move under it. Swallowing nervously as her eyes peered downward to the right at the thick fingers of the bold man trying to work their way under the strap of her dress, breathing hard and unable to put up any iota of resistance, Megan lifted the glass of wine to her lips as she so badly needed a drink at this point. Megan listened as Mr. Johnston told her as to how he could be of assistance to the future commission being planned by her husband, the commission against pornography that she was marked to head. So concerned of those thick finger trying to delve under her dress strap was Megan that she was oblivious to the hand holding hers while toying with her rings, unaware of the hand moving ever so slowly over to the left of her.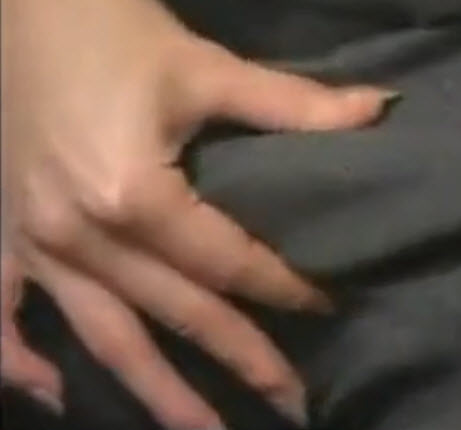 Her mind seeming a bit foggy at this stage, Megan shuddered as she let out a slight gasp she felt something moving about under the palm of her hand. Her mind told her 'No, this can't really be happening! This can't be happening! He ..............he went and put my hand on his 'thing'! It can't be that!' Moving her fingers and palm of her hand, Megan traced the thick curving length that was pulsating against her touch under the fabric of the pant covering. Her middle finger going over the thick but softer bloated end, then rubbed the tip of her finger up and down over the pulsating end of his manhood. Megan sensed that the big man was becoming excited from her touch as she heard him suck in his breath as she fingered the covered pisshole of his hidden cock. Preoccupied with what she had been doing, glad that the thick fingers had given up the attempt to sneak under her dress strap, but instead those exploring fingers were merely tracing their way down over the lacy fabric of her black dress, now approaching the top of breast. As those traveling fingers moved further on down her dress top, coming ever so close to her sensitive bra encased nipple, Megan unconsciously squeezed her other hand as she tried to still her emotions. But in her clutching left hand was the thick meaty man flesh that relished her squeezing touch. And then came that shivering touch upon the tip of her sensitive nipple, causing Megan to tense up as she closed her eyes and bit the bottom of her lip.

Her right breast being touched and caressed, all while her left hand slid over the covered mound to squeeze at it, Megan then felt Mr. Johnston's freed hand touching her chin and turning her face towards him. Thick lips were then descending down upon hers, with Megan parting her pink lips when the man's thick tongue sought to enter her unwilling yet unresisting mouth. An intimate kiss then ensued, the very first for Megan with a man other than her husband, all while her left hand slid further on down to try and cradle the big bloated testicles in the palm of her hand. Nipple now being pinched and pulled through her lacy black dress and thin bra, the tip of Megan's tongue rubbing up the thicker one invading her mouth, and now she was rolling the bastard's big balls about in the palm of her hand. With the French kissing becoming even more intense, Megan found herself being pushed back so her back was now up against the back of the tall booth, being intimately kissed by Mr. Johnston and she was returning the intimate tonguing from this man who was basically still a stranger to her. The rather forceful kiss had certainly unnerved Megan, who could only sit there without making even a feeble effort to resist, and then she felt the glass of wine at her lips and she was being coaxed to drink more of her white wine. As she sipped more or the wine, Megan ground her butt down into the leather seat of the booth as her cunny was suddenly getting quite agitated, then Mr. Johnston was biting at her earlobe and whispering "Let's go somewhere more private, Mrs. Ratkin, like your room ................cause I's jist know ya wanna suck my big black cock!"

Moments later, while fumbling through her purse for the card key to her hotel room, Megan looked about in worry that someone would see and recognize her about to enter her hotel room with a black man nuzzling at her neck and with his large hands feeling up her ass. 'My gosh, at times it seems as if he's able to read my mind ...................like when he suggested to come up to my room as it'd be more private .....................he knew exactly what I was thinking then, wondering what it would be like to take his big black cock into my mouth!' she shivered at the recollection. Her heart was thumping wildly at the thought of what she had done earlier, letting a man other than her husband French kiss her ........................French kissed by an older black man at that! 'How could I let that happen?' was the question being repeated being asked in her mind. Now she was all alone with that black man, in her locked hotel suite, she could only stand there frozen to the spot. Megan let her hand to be guided down between their closely touching bodies, allowed her trim fingers to be guided over the massive bulge in the crotch of his pants, then her trim fingers closed over the bulge to squeeze upon it. Megan could only stand there speechless when she was boldly told "I'm going to take it out for you now, Mrs. Ratkin .......................so you can get down on your knees and suck on it! I's gonna teach ya how to be one talented little cocksucker, Mrs. Ratkin!" Frozen to the spot as he backed away some to give her a good view, Megan could only stare ahead as the bold black man blatantly and confidently unbuckled the belt buckle of his pants and then proceeded to unbutton the top button of his pants! Zipper pulled down next, pants dropping to the floor around his shoes, and Megan gasped aloud at what just sprung out from between the front of his shirt tails. 'He's not even wearing any underpants!' was the first thought in her mind. Megan's eyes widened in total awe as she stared at the thick piece of black flesh seemingly waving at her, causing her to swallow deeply and lick at her lips while thinking 'My God! How can I ever get that big fat 'thing' of his into my mouth?"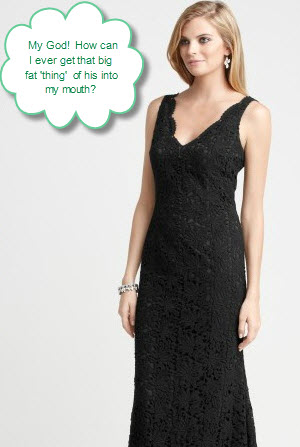 Bronco knew very well what the faithful beauty was thinking at the moment, a naughty thought would normally not even be a consideration for her, but the recently embedded hypnotic suggestions by Father Mollway had her mind completely obsessed at the thought of wondering what would it be like to take a man's 'thing' into her mouth for the very first time ....................made even more obscene as she could only picture a black man's penis to suck upon! In that hypnotic session with Father Mollway first making some inquiries of her sexual history, the lovely Mrs. Ratkin revealed that she had never given 'head' before, never had a man's penis touch her innocent lips. She had revealed that her husband had tried to get her to mouth his penis, but that she had refused as it was such a gross thing for him to expect her to do. Standing at a predetermined spot, Bronco's cock was just throbbing with excitement, for the two hidden mini-camcorders would capture the lovely beauty on her knees as she got introduced to the art of cocksucking, to which Bronco had a suspicion that this lovely beauty had a hidden talent for after the way she had tongued him back while they Frenched! With her thinking that he was George Harding, a wealthy Presswood businessman, everything was just perfect for when he later revealed his true identity, and Bronco couldn't think of a more beautiful woman the likes of Mrs. Megan Ratkin down on her knees sucking his cock off! And that was just for starters as he wanted to have her squirming about on the bed when he ate that sweet little pussy of hers. Of course, Bronco planned on bedding and breeding the beautiful bitch, sticking it good to her and give her the best fuck ever! The ultimate would be the fear and worry he'd instill in her mind would be the the hint that her committing the sin of adultery might just be revealed, and that her husband or others finding out about her sin. Maybe even worst for her would be the worry of the potential consequences of having unprotected sex with a black bastard ............for how could she ever explain away a little black bundle of joy with a head full of kinky black hair!

With the Senator's beautiful wife coming towards him as ordered, complying when he told her to get down onto her knees, Bronco thought 'Damn, this cocksucking lesson would be one hot selling x-rated flick in itself! Yeah, we's jist calls it 'Senator's Sweet Sucking Wife'! 'Damn, this fuck'n scene is jist priceless! The lovely Mrs. Megan Ratkin, so elegantly dressed in an expensive black gown, kneeling down before the king of porn and about to take his big black dick into her mouth ..................her very first go at sucking cock!' Bronco mused, causing his already stiff cock to give a mighty lurch at the thought of Senator Ratkin seeing his beautiful wife down on her knees about to suck his black cock. Having been present while Father Mollway was implanting those many wicked and naughty suggestions, much of which he himself had laid out for the unholy father to what he wanted instilled deep into her mind, Bronco knew that the beautiful bitch was fully under the hypnotic spell at this point and she would obey and comply to any of his demands no matter how sick they might be. "Tell me, Mrs. Ratkin .......................you have been thinking of me these past few nights, haven't you?" he asked of the beauty. "Yes!" came the reply as he expected. "You've been wondering whether that myth about black men is true, haven't you?" was his next question. "Yes!" came the reply. "And you've been constantly wondering what it feel like to suck a cock for the first time, haven't you?" he asked. "Yes!" she replied. "And you want me to teach you how to please a man with those pink lips of yers, don't you?" Bronco prodded. "Yes!" she responded. "Okay ......................just you step on over here, Mrs. Ratkin ..........................and git down on yer pretty knees for your first lesson!" Bronco advised.

With the blond beauty now on her knees before him, Bronco advised "Now reach up and wrap those trim beautifully manicured fingers of yers around my black cock, Mrs. Ratkins!" As she started to raise up her right hand to comply with his instructions, Bronco then advised "No ...................whenever yer on yer knees and about to take hold of a man's cock, a man who's not your husband, ya always use yer left hand ............................so he gets the thrill of seeing yer diamond ring and wedding band while yer stroking him! Makes it all the more exciting fer the guy ................seeing another man's wife wanting to please him!" Left hand coming up to wrap her trim fingers around his thick fleshy bone, the large diamond of her engagement ring sparkling from the overhead lighting, Bronco smiled widely and complimented her with "That's a beautiful diamond ring ya have on Mrs. Ratkin ......................the Senator must have paid a fortune for that ..........................if he could only see the way it's sparkling at this very second!" "That's it ......................stroke it ............................fist it slowly to git it all hard ..................make it git as long as possible!" he advised before adding "That's it, Mrs. Ratkin .................that's it! My, ya are a fast learner! Now slide yer warm and soft fingers all the way down to the base of it .................tilt it upwards ......................lean on forward and rub the sticky underside all about yer purty face!" "Now pull it back even more ................stick the tip of that talented tongue of yers and lick the underside from the bottom to the top!" Bronco instructed the naive beauty, chuckling softly at the side of the blond beauty performing the task at and in hand.

As the tip of her pointed tongue reached the underside if his bloated cockhead, Bronco that told her to "Stroke it again .....................pump yer fist up and down ................fist it, sweetie! Yeahhhhhh ..............................ohhhh, yeahhhhhhh! Now look at the tip ..................look at it .......................watch for that first drop of my precum juice to form at the top! Fist it faster ........................yeahhhhhhhhhh, that's it ......................that's it!" With his cock pulsating from the avid shucking of her clenching fist, Bronco could feel the first leakage happening at that point, telling her "Watch fer it ............................watch fer it to bubble at the top! There ..................see it .....................see it?" He then saw the beauty nod a 'Yes' that she did, then Bronco "Now use the tip of yer tongue again ......................lick it and git a taste of my pre-cum!" With her sitting back some, running the pearly pre-cum about her mouth with her tongue, Bronco then advised "Okay ....................now git yer head over it and go down on it .....................mouth it .......................gobble it all up!" And when the Senator's beautiful wife went and did just that, Bronco groaned out "Ohhhhhhhhhhh, fuckkkkkkkkkkkk ................................yeahhhhhhhhhhhhhhhh .....................ahhhhhhhhh! Oh, yeah .........................that's it, baby .........................that's it ...............................gimme head ..................bob hat beautiful head of yers up and down like that .........................jist like that ................................ohhhhhhhh, fuckkkkkkkkkkkkk, yeahhhhhhhhhhhhhhh! Oh, damnnnnnnn .....................yer a fuck'n natural ..........................ohhhhhhhhh .............................a natural born cocksucker, that's fer sure!"

For a novice cocksucker, Mrs. Ratkin was giving him fantastic head on her initiation, and Bronco gritted his teeth to keep from cumming prematurely before reaching out with his left hand to stroke the long silky blond hair at the back of her head. "Ohhhhh, ah, yeahhhhhhhhhhhh ......................................ohhhhh, so good .................................so fuck'n gooooodddddddd!" Bronco panted out as he reached out with his other hand, clasping both hands at the back of her head so he could begin face fucking the beautiful wife in earnest. "Ohhhhh, Jesussssssssssss .................................ohhhhhh, jezzzzzzzzz ..........................ohhhhhhhh, baby ............................ohhhhhhhh, so fuck'n goooooodddddddddd .................................ohhhhh, sweetie, ya don't need to be taught nothing ................................damn, ya give good fuck'n head!" Bronco panted out while sawing his thobbing cock in and out of her vacuuming mouth. Fingers curling tight in her long silky blond hair, making sure that she stayed on sucking his cock, Bronco groaned out "Ohhhhhhhhhh, so fuck'n goooodddddddd ......................................like slicing into warm butter! Ohhhhh, sweetie ............................gonna cum soon ................................real soon ..............................ahhhhhhhhhhh ................................ohhhhhhhhhhhhhh, yeahhhhhhhhhhhhhhhhhhhhhhhhhhh! Eat it baby ...........................eat it all ..............................swallow all my fuck'n jizz!" Hearing her gurgling beneath him, Bronco held the back of her hand tightly as he panted out "Swallow it bitch ............................swallow all my jizz ........................that's it ......................atta girl!"

With her hand still clasping onto tightly onto his still oozing boner, Bronco saw the beauty's petite body give a shudder and then her shoulders stiffen some, making it apparent that she was fighting the urge to barf out all the gooey substance that ejaculated into he mouth and down her throat. He then observed her body relax some to indicate that the urge to throw up had just passed, that she had just successfully eaten all his hot cum and managed to keep it down while having a hand atop of her heaving belly. As her head pulled on back slowly, his cock now exiting her lips, and then the sight being captured on video would be priceless as a thick string of cum would be clearly visible as it connected her pink lips to the tip of his glistening black cock. A moment later, with the connecting cum string finally broken, Bronco helped the kneeling beauty back up to her feet. As he positioned himself behind of her, unhooking the clasp at the top of her dress, Bronco began sliding down the long zipper before leaning forward to nuzzle at her neck and lick at her earlobe. Continuing to nuzzle at her neck, with the beauty facing the cameras, Bronco pushed the shoulder straps of her elegant black dress over to the edge of her shoulders. Seconds later, the elegant black dress was falling from the trim sexy body of the tall beautiful Megan Ratkin to puddle around heels, leaving the stunning beauty's body clad only in a lacy black bra and matching panties.

The video would soon capture the loosening of her bra cups when Bronco undid the clasp at the back of her bra, then the thin bra straps were being visibly pushed towards the edge of her shoulders. With the lacy garment making its way down her arms, protective bra cups suddenly fell away to reveal the beautiful pair of pink capped titties of the Senator's beautiful wife. Black fingers slowly creeping around her trim belly from both sides of her body had the sexy beauty panting fore breath, the video capturing the beautiful wife visibly trembling as this exploring fingers began to make her way up towards her breasts, and the she was throwing her head on back when thick thumbs were now touching he sensitive pink nipples. "Ooooooooohhhhhhhhhhhhhhh ........................................................oooooooohhhhhhhhhhhhhhhhh!" came the shivering moan as Bronco thumbed those beautiful twin pinkies, causing the sensitive buds to rise and stiffen from the arousal he was causing to them. He continued doing this, driving the innocent beauty to go crazy for relief as she began rolling her head from side to side atop on his broad chest. Slowly Bronco's exploring hands were on the move once again, his left leaving her left breast to cross over to the right one, his right sliding back down to her belly and even lower yet. Bronco had the beautiful bitch right where he wanted her, standing before the cameras with her eyes closed and mouth wide open while panting in heat, all while he flicked at a sensitive pink nipple with his other hand atop of her lacy black panties while caressing her hidden sex groove. "Ahhh ..............ahhh ....................................ohhh .............ohhh ..........ohhh .......ohhh .............ohhh ..........ohhh .......ohhh .............ohhh ..........ohhh!" came the shivering pants as Bronco frigged her faster and faster through the thin fabric of her lacy black panties.

For the audio to pick it up, Bronco first traced her earlobe before mouthing out for her to "Drop yer panties fer me, Mrs. Ratkin! Drop'em so's I's can give ya a good proper frigging!" Arms initially limp along her body now raised on up to where the thumbs on her hands were inserted into the elastic waistband of her lacy black panties. The lacy garment was worked on down over her trim hips before being allowed to flutter down over her trim sexy legs, ending up around her ankles atop of her fallen black dress. Bronco's thick black fingers were now sliding down over the beauty's soft golden fleece, down to the bottom of her vee, and then he had the panting beauty squirming about as his thick middle finger delved in between her slick pussy lips. As he commenced frigging at her juicing cunny, he felt her lift up some as she stood tip-toes on her heels panting frantically "Ahhh ..............ahhh ......................ahhh .............ahhh ..........ahhh .......ahhh .............ahhh ..........ahhh .......ahhh .............ahhh ..........ahhh!" Frigging her now at jackhammer speed, Bronco felt the petite beauty lurch hard up against him, and then then again as she let out a shrieking "Eeeeeeeeeeeeiiiiiiiiiiiiiiiiiiiiiiiiiiiiiiiiiiiiiiiiiiiiiiiiiiiiiiiiiiiiiiiiiiiiiiiiiiiiiiiiiiiiiiiiiiiiiiiiiii!" Suddenly his palm got drenched as slick juices poured out around the middle finger that he had been frigging her with, indicating that the beautiful bitch just had herself one wild fucking orgasm.

Withdrawing his drenched finger out of her leaking twat, Bronco brought his hand up for viewing before them, then brought his hand closed to his face to lick at some of the slick drippings coating the palm of his hand, announcing that "Yer honey is so fuck'n sweet, Mrs. Ratkin!" And then he was moving his hand, crooking his middle finger to slide it between her already parted lips, telling her "Taste how sweet yer honey is, Mrs. Ratkin! Taste it fer yerself ..........................go on, taste yerself! Suck my finger clean! Lick it clean!" Having felt her swirling tongue cleaning his finger, her vacuuming mouth sucking it dry, Bronco then withdrew his finger to show the camera of it having been sucked clean of the slick coating. Bending some and scooping the petite beauty up into his arms, the dress that had been caught on the pointed toe of her left heel fell back to the floor on Bronco's first step towards the king-sized bed, leaving just the pair of lacy black panties caught around both her ankles. Reaching the bed, Bronco gently laid the blond beauty down upon it, then went to knee on the mattress at the foot of the bed. Reaching forward to cup his hands under her calves, he lifted her legs up to place the bottom of her heels up against his bared chest, the pair of black panties acting like a swinging bridge between her trim ankles.

Leaning back some, Bronco peeled off her left heel, then a 'thump' could be heard behind of him when it landed on the carpet. Seconds later came another 'thump' from behind of him after having peeled off her other heel and tossing it aside, leaving just the pair of panties from him to work on down over her feet. The warm pink soles had been placed upon his bare chest as he held her lacy black panties to his face to inhale the sweet fragrance of them. Having gotten a good whiff of her sweetness, Bronco put the lacy garment down as he planned on licking his way up to where the beauty's sweet honey pot was waiting for him. Starting with her beautiful left foot, Bronco licked at the undersides of her cute little toes, them mouthed them for a bit before licking he soft pink sole down to its heel before turning his attention to give her other foot the same kind of attention. Then licking his way past her right ankle up her inner calf Bronco went before turning to her left leg, only proceeding beyond her left knee the the middle of her inner left thigh before paying homage to her other ivory column. Then from his vantage point at the middle of her inner thighs, Bronco licked the rest of his way till he could clamp his hot open mouth upon her sweet honey pot, rubbing his nose into her soft golden fleece upon getting to his ultimate goal.

Meanwhile, further up on the bed, the beautiful blond wife was gritting at her teeth to keep from screaming out in pleasure while grasping the sides of the pillow as she tossed her head to and fro in desperation. The clamping of the wide open hot mouth upon her sex had Megan's petite body lurching in up in response, but when Bronco's thick wet tongue wormed its way up into her ultra-sensitive slit, it sent the beautiful blond into a frenzied crazy. "Oh, God .......................oh, God .......................oh, God .......................oh, God ....................oh, God ......................oh, God .......................................ohhhhhhhhhhh, my Goddddddddddddddddddddddd ...............................................ahhhhhhhhhhhhhhhhhhhhhhhhhhhhhhhhhhhhhhhhhhhhhhhhhhhhhhh!" Megan screamed out in sheer ecstasy as the flicking and twirling tongue within her slit made her shudder and quiver in uncontrolled spasms. With both feet planted flat on the mattress, Megan gave up the fight as she arched up her hips into the hot slurping mouth, letting her hands go from the pillow under her head to grasp the back of the head buried between her thighs tightly with both hands while squealing out "Yesssssssssssssss ..............................yessssssssssssss .......................eat meeeeeeeeee ...............................eat meeeeeeeeeeee ..............................oh, Goddddddddddddd ............................................................aieeeeeeeeeeeeeeeeeeeeeeeeeeeeeeeeeeeeeeeeeeeeeeeeeeeeeee ...................................oh, Goddddddddddd ...............................eat meeeeeeeeeeeeeeeeee ........................eat meeeeeeeeeeeeeeeee ..................................yessssssssssssssssssssssssss!"

Lying limply upon the large bed while trying to catch her breath after that mind-blowing orgasm, Megan could only stare ahead as the tall muscular man proceeded to shed the rest of his clothing. Seeing his massive manhood regaining its strength after having expelled all of its strength earlier in her mouth and down into her throat, Megan licked her lips for any remnants that she might have missed, knowing full well that this time it was intent of ejaculating his hot seed between her other set of pink lips. Megan realized that for some unknown reason, over the past few days her mind was constantly filled with naughty sexual thoughts, deviant thoughts that always seemed to end with her wondering just what it would be like to get herself well-fucked by big black man who was also big where it counted most. Were these naughty thoughts the result of her husband being so busy with his political campaign that he neglected to take care of her sexual needs, but she had been accustomed to her husband being absent for long periods of time, so what made her so attracted to this man .......................to make her do such naughty things that she had never done before! Deep in the recesses of her mind, Megan knew that this was so very wrong, that if she didn't stop now it would bring her precious marital vows to and end! With Mr. Johnston kneel up on the foot of the bed and shuffling his way up between her legs, Megan told herself that she should push him away, to get off the bed and away to safety. But instead Megan reached on down to clasp the thick manhood with her right hand this time, pulling at it, guiding it to her and then rubbing the bloated head up and down her juicy quim. Panting for breath as nervousness set in, Megan closed her eyes while biting at her bottom lip, body shuddering at the feel of very thick fleshy bone began to penetrate her sex.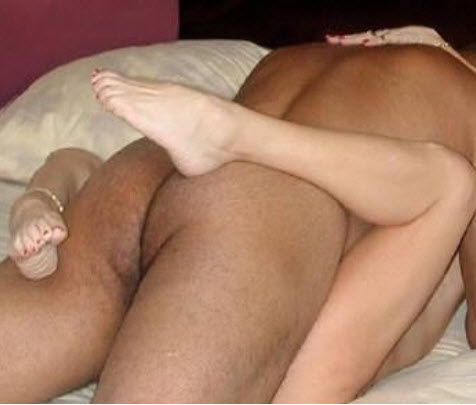 "Ohhhhhhh, Mrs. Ratkin ...........................ohhhhhhhhh, baby ........................so fuck'n beautiful ...........................so good ..............................so soft ................................and so damn tighttttttttttttttttttttt! Ohhhhh, that Senator hubby of yers must be too busy taking care of the needs of his constituents that he's fergot to take care of his beautiful and wife! Oh, yeahhhhhhhhhhhh ...................................damn, yer hot little pussy like a fuck'n snapping turtle ..............................oh, damn ..........................squeeze it like that ....................oh, yeahhhhhhhhhhhh!" Bronco uttered out loudly, wanting to make sure that audio got picked up along with the video. There were hidden video cams covering every room in this hotel suite, with three alone focused on the king-sized bed to capture all the action taking place upon it, and there would be no doubt that it was the lovely Mrs. Megan Ratkin on the bed getting herself well-fucked by her husband's nemesis. From their exiting the elevator and their walk to the door to her suite, to their frantic entrance into the hotel suite while kissing intimately, all had been captured on video to include his erotic copulation scene on the king-sized bed. It was an easy set-up to get everything on video, Pastor Knowlton telling the Senator's campaign that all travel had hotel expenses would be taken care of if the Senator would send his lovely wife to appear at the church's next telecast to espouse her intentions on the future committee she would be heading. This 5 star hotel was considered to be the best in town, owned by a supposedly reputable corporation, but in essence it had been established on the laundered money derived from Bruno Johns' porn industry.
"Oh, Goddddddddd .............................ohhhhhhhhhhhhhh, soooo gooooooddddddddddddddd! Fuck meeeeeeeeeeee ..................................fuck meeeeeeeeeeee ..............................fuck me with your big black cockkkkkkkkkkk! Ohhhhhhh, Goddddddddd .......................................yesssssssssssssssss ..............................yesssssssssssss ...................................ohhhhhhhhhhhh, so deepppppppppp .............................ahhhhhhhhhhhhhhhhhhhh!" Megan panted out while clasp her hands on his broad shoulders. But then the fantastic fuck slowed quickly to a stop, causing her to clutch at his shoulders tighter as Megan frantically asked "What's wrong .................what's wrong? Why are you stopping?" "Should I pull out? Do you want me to pull out, Mrs. Ratkin?" came the reply from above. Wrapping her legs around him in desperation, with her toes point, Megan used her heels to pull him in deeper as she cried out "No ..................no, don't pull out ........................don't pull out! Fuck meeeeeeee .............................fuck me, you bastard ................................fuck meeeeeeeeeeeeeeeeeeeee .................................fuck it to meeeeeeeeeeeeeeeeeeee!" "Yesssssssssss ...........................yessssssssssssssss!" Megan panted out as the fuck recommenced. "Oh, Mrs. Ratkin ......................can't hold it any more ...........................gonna cum .........................gonna cum in ya!" she heard her black lover pant out while slicing his pleasure giving cock in and out at jackhammer speed. Arching up, Megan tightened her legs even more and pulled him in deeper with the heels of her feet, telling him "Yesssssss ........................yesssssssss .........................cum in me ............................cum in me ...........................shoot ittttttttttttttttttttttttttttt!"
Fucked out of her mind, swooning into oblivion, it was some fifty minutes later that a sense of reality began to set back into her fucked out mind. Finding it quite difficult to breath, Megan then came to realize the reason why ................................the black man she had committed adultery with was asleep atop of her! The 280+ man was not only asleep atop of her .......................but his monstrous 'thing' was still inside of her! 'Oh, God .................oh, God ...............what on earth have I done?' Megan shuddered in total disbelief. As a co-host of a television show espousing Christian values, Megan had always stressed to the viewers that 'One lie leads to another, then it becomes so easy lying and cheating becomes synonymous, making infidelity become just as easy to lie about'! And now she herself had just committed the ultimate sin by violating her marital vows, having had sex with another man ..........................a big black man who had just fucked the hell out of her! Sniffling, trying to blink back the tears that were now pouring out of her eyes, Megan froze as the thick 'thing' had just given a twitch within her very wet and messy cunny. With her cunny so wet and messy, Megan shuddered at the realization that she had unprotected sex with a black man, and the potential consequences resulting from such an illicit mating were unthinkable.

Her petite body shuddering beneath of him was what stirred him awake, hearing the sniffling, and now feeling the heaving of her chest from her sobbing told Bronco that remorse and regret was causing agony to the beautiful bitch. Head on her chest, Bronco open his eyes to the sight of a pretty pink nipple, to which he lifted his head up a bit to give it a lick with his wet tongue. Lips capturing the tender pinkie as he flicked the tip of his tongue over the hardening bud to cause the agonized beauty to whimper "Nnnnnnnnnn ................nooooooo ....................please, nooooooooooooooo!" And then her hands were on his shoulders as she tried to push him away from her. Purposely giving his cock a twitch within the gripping confines felt so damn good and also caused the distraught beauty to sob out "Nooooooooooooooooooooo!" Another twitch of his cock caused the sobbing to become louder and then came a whimper for him to "Stop .......................please stoppppppppp! I can't ....................it's wrong ....................it's so wrong!" But the squeezing response on his pulsating cock told Bronco that the beautiful bitch was about to break. There was no whimpering at his next twitch in her cunny, just a long squeezing on his cock was the response given and then a sucking in of her breath "Wwwwwffffffffffffffffff!" That was followed by "Ohhhhhhhhhhhhhhhhhhh!" as she exhaled on the next twitch in her cunny.

Hands that were on his shoulders trying to push him away were now caressing them and then the long trim fingers slid down the middle of his back as he slid his long black cock deep into her squeezing cunny. Withdrawing slowly till just his bloated cockhead remained captured between her slick cunny lips, Bronco lifted up a bit more as if he was going to pull out completely to see what the beautiful bitch would do. And the hot little bitch responded immediately by wrapping her long sexy white legs around him, locking her ankles together over his black ass and attempted to keep his cock inside of her. Keeping his body still with just his bloated cockhead in her quivering quim, Bronco felt her desperate attempts to pull him deeper into her as she tightened her leg grip around his ass. And then she even tried to arch up to slid her cunny up onto his prong. And he knew that the battle was when she panted out "Please ......................do it ..........................do it to me .......................pleaseeeeeee .....................please fuck it in me ..........................fuck meeeeeeeeee .............................pleaseeeeeeeeeeeeeeee!" In hearing the senator's beautiful wife begging for his cock, Bronco proceeded to please the blond beauty, skewering his cock all the way as she squealed "Yesssssssssss ..............................ohhhh, yessssssssssssssssss ..........................ohhhhh, so goooooodddddddddddddd!"

As the energetic fucking sped up, rocking the king-sized bed to and fro, Bronco smiled widely in triumph as he had turned the goody-goody little bitch into a fucking nymph that would do anything for a good fuck! He moved his head a bit to the side as he continued fucking her good, wanting to make sure that her face was clearly visible to the cameras. Turning his head to face the camera himself, Bronco gave a big smile as the senator's beautiful wife had her eyes closed while panting for breath and clutching onto him. Bronco figured that if he wanted to, that portion of him facing the camera could be spliced out, but what would the Senator say to see his nemesis, the porn king himself, screwing his beautiful wife. But with his face clearly visible next to the senator's wife, that might just be worth even more, just a matter of him figuring out who pay more ...........husband or wife! Bronco still couldn't believe, even though he knew Father Mollway's expertise in implanting hypnotic suggestions played a large part if not entirely for this successful caper. He knew realistically that in no way would he have been able to seduce this beautiful goody-goody faithful little wife much less even get up to bat with her.

"Gonna cum real soon, Mrs. Ratkin .........................gonna fill ya up with my baby batter again ..................gonna make sure I's my's little black bastard up in that belly of yers!" he panted out while fucking her good. "No .........................no ........................don't ....................please don't!" she pleaded to him. Stopping at the midway point of his withdrawal, Bronco responded with "I ..................I gotta pull out now then ...................otherwise I'm gonna cum!" Just as Bronco had hoped, her arms and legs tightened around him as she pleaded "No .................nooooooooo, don't pull out ..................not yet .........................not yet ......................I'm so close!" "But I'm gonna cum if'n I's do!" he responded. "Noooo ..........................noooooo .......................please .....................don't pull out! Fuck me .......................fuck me, you bastard! Okay, you win .....................you win ........................I don't care if you cum in me ............................just fuck me ............................fuck it to me ..........................fuck me with your big black cock!" she begged. Moments later, with the beautiful bitch's body spasming in uncontrolled spams while squealing with delight, Bronco announced that "I's cumminggggg .........................cumming in ya, ya beautiful bitch .......................ohhhhhh, here cummmmmmmmmmms my black baby batter ........................Mrs. Ratkin! Gonna knock ya up gooddddd ............................ohhhh, yeahhhhhhhhhhhhhhhhhhhhhhhhh! Ohhhh, damn ..............................ohhhhh, jezzzzzzzzzz ...............................damnnnnnn, best cum I's ever haddddddd in my whole fuck'n life! Damnnnnnnnn!"

With the phone on the nightstand ringing, Megan reached over to grab the receiver, then heard the recording announce that "This is your wake up call as requested! The current time is 6:30 a.m.!" Hanging the receiver back up, Megan sprung upwards on the bed while clutching the sheet to cover her breasts, looking about to discover that she was now all alone in the hotel suite. Sucking in her breath as the sheet had brushed up against her raw and chafed nipples, Megan recalled just how Mr. Johnston loved sucking on them, capturing each pinkie between his teeth and then pulling at them that caused them to be so raw and tender. Her cunny felt very wet and messy, getting her to recall just how it got that way, that she had violated her marital vows and had sex with another man ....................unprotected sex with a big black man! 'And what if he does get me pregnant, like what he was hoping to accomplish when he ejaculated all that semen up into me?' she worried. Sliding her hand on down under the sheet, Megan then dipped her middle finger into her well-fucked slit, then pulled her hand back out to observe the incriminating the damning evidence of her infidelity. 'Oh, my God ......................what if ....................if word of my illicit affair got out and became public?' she shuddered with worry. And then Megan realized that Mr. Johnston had told her he'd be ready to drive her to the airport at 8 a.m., making her fear of seeing the man again.

With the schedule of the Senator's beautiful wife readily at hand, faxed to the church by Mrs. Ratkin herself as such had been hypnotically suggested to her by Father Mollway, the two unholy men of the church and Bronco Johns put their heads together and concluded that it was time to really get the blond beauty hooked on black cock. With her escapade with Bronco Johns in her hotel room all caught on video, added video with other black men would only add to the hold to be establish upon her once she got to chair that committee going against the porn industry. The one major concern that concerned them was that of putting up on the auction block a well-known beauty such as Mrs. Megan Ratkin, wife of the incumbent senator, as such would certainly get out and blow away the church's money making scheme. But it was Bronco who suggested they post up on the auction notice a picture of the blond beauty from the neck down, and come out and state that 'As our beauty is a celebrity in her own right, we dare not show her face here!' With the reputation that the church had already established for itself in regards to its secretive auctions of lovely white beauties, the trio had come to the conclusion such might just in fact work, that everyone would know how serious it was when they put up a minimum starting bid at twenty-five grand. So all would take next was to await for Mrs. Ratkin to call that Tuesday, an implanted suggestion that had her calling into Father Mollway every week, at which time his hypnotic suggestion were reinforced with additional ones implanted at that time.

Lying on the bed while fantasizing in this small God forsaken town called Garfield, Megan snapped up in bed and swung her feet over the side, then picked up the phone on the nightstand. It was just pretend and role playing on her part as she spoke into the mouthpiece without having even dialed out as yet, saying "Room service? Yes, this is Mrs. Ratkin up in 1215! Can you send up one big black stud for me?" Seconds later, as if she was listening to a reply, Megan again spoke into the phone "Six feet five inches tall ..................two hundred eighty-five pounds .....................and a solid twelve long inches where it counts the most! Yes, sounds just perfect to me! Five minutes you say ..................perfect ..................I'll be waiting ..................on the bed with my legs widespread!" Continuing to play out her fantasy, Megan reached up under her nightie to grasp the hem of her lacy white panties, then shimmied them down her legs. Panties caught on her toes, Megan then flicked her foot to get them off, flicking them up into the air to come fluttering down upon the carpeting. Reaching down with her right hand, fingers sliding over her soft golden curls, Megan sucked in her breath as she was about to do something naughty ........................she was about to finger herself ......................to masturbate ..........................to give her the much needed relief that she needed! Raising up her left hand, inserting it under her nightie, Megan touched her sensitive nipple as the middle finger of her hand slipped between her pulsating slit, then slowly inserted her middle finger.

"Ahhh ..............ahhhh .........ohhhh ............ohhhhh!" Megan panted out as she continued masturbating herself, feeling shivers coursing throughout her entire body. But upon hearing the click of the door latch being opened, Megan froze in absolute horror upon the bed, unable to move a muscle. 'The door to her room was opening and someone was coming in!' she realized ....................and she was about to get caught with her hand literally in the cookie jar! It was a black man coming into view ..................a big muscular black man wearing a waiter's tuxedo coming into her room ..................and he was now taking off all of his clothes! Heart thumping madly in her chest, finger still on her breast and also in her vagina, Megan could only stare at the undressing black man with her eyes widening in awe as the boxer shorts were being worked on down over his broad black hips. In staring at the black stranger in her room, Megan's mind played back what was said during her role playing act of "Six feet five inches tall ..................two hundred eighty-five pounds .....................and a solid twelve long inches where it counts the most!" And when what counted most came into full view, Megan sucked in her breath as it became clear to her that 'It's even bigger .....................longer ...................longer than the guaranteed 12" .............maybe ............maybe 13" long!'

With the large black hand grasping her right wrist, Megan trembled as her slick fingers slid out of her quim, causing her to pant in anticipation as to what was to come ins seeing the black bastard run his long tongue over this thick lips. "Ooooooohhhhhhhhhhhhhh .............................ohhhhhhhhhh, Godddddddddd ........................ohhhhhhhh, my Goddddddddddddddddddd!" she squealed out when those thick lips settled down upon her golden muff and the long tongue began snaking its way up into her cunny. Now, reaching down with both hands, Megan grasped the back of the stranger's kinky black head while arching her hips up into his slurping mouth. "Yessssss .........................ohhhhhhhh, yessssssssssssss .......................eat me ..........................eat me ...................................eat meeeeeeeeeeeeeeeeeeeee ......................................oh, Goddddddddddddddddddd!" she squealed out, her body twitching and shuddering from a mind- shattering orgasm. A moment later, as she settled on back down to earth, Megan made no attempt to prevent this complete stranger from putting his big black 'thing' into her pulsating slit. Sucking in her breath as the bloated cockhead pushed between her pink slit, then all her breath was taken from her as the donkey-sized cock fucked its way up into her gripping cunny. "Fuck me .......................fuck me .......................fuck it to meeeeeeeeeeeeee! Ahhhhhhhhhhh ..........................Goddddddddddddd ..............................yessssssssssssssssssssssss!" came her final squeal as she climaxed just as the cock exploded its hot gooey baby juice within her.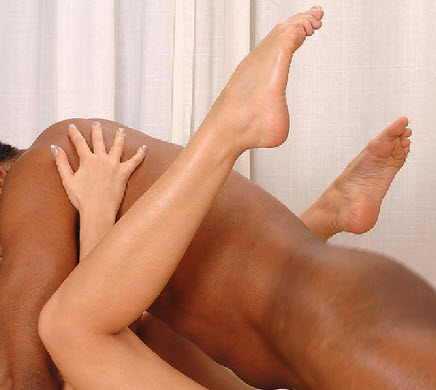 Still lying on the bed for some twenty minutes after her visitor had departed, Megan stared up at the ceiling, telling herself that 'Nothing really happened! It was just me fantasizing it all .........................that I was having sex with a stranger, a well-hung black man ...............all while I was masturbating myself!' But in squeezing her thighs together, Megan quivered at the feel of the sticky mess between her legs, telling her that it was not her fingers that made it so gooey. Reaching down with her right hand, sliding it down over her belly, Megan cringed at they met the slick matting of her curls. Sliding her hand down further, using her middle finger to scoop a sampling out of sopping wet vagina. Holding her fingers up in front of her, pulling her sticky fingers apart, Megan realized that it must not have been a fantasy at all. Semen ...............a man's sticky semen .............was now flooding her unprotected vagina! Bringing her fingers up to her nose, the smell of her fingers confirmed it all. 'How could such a thing happen? I was just playing make believe ..................all make believe .....................and I could hear the dial tone ......................I didn't really talk to anyone in room service ..................it was all make believe!' she lay there totally puzzled. 'Oh, my God, it really did happen! I got fucked by some stranger, a well-hung black bastard, a stud with a donkey-sized cock who went and fucked and fucked me to hell and back!' Megan shivered. 'Hell ..................that's where I'm surely headed for at this point!' she concluded.

With the entire episode caught on video, from her getting up to the role playing in calling for a big black stud to it actually taking place, such would make for one perfect blackmailing sex tape. Upon his review of the hot sex tape, Bronco Johns smiled out in triumph, thinking 'Got to hand it to old man Mollway! He's got that hypnotism shit down pat, down to the timing of it all, so fuck'n perfect!' Bronco figured 'With that tape of her and me, now this one, I'm gonna break that bitch good! But I want to cinch the deal with one more such sex tape, only then she'll be ordering up three big black studs from room service!' 'Any one of the two tapes I's got or the next one would be good enough to seal the deal, but with so many x-rated sex tapes on her, when I tell to to jump she'll just ask as to how high!' Bronco chuckled at the thought of it. 'When I get done with that beautiful little bitch, she'll done on her knees eating right outta my hand ....................or the hot cum outta my cock to be more precise!' he laughed. 'Yeah, sweetie ..................you're gonna git rid of all my fuck'n competitors! I'll give you all ya need to give to the state and city boys in blue ......................they bust'em and putt'em outta buisness ...................and in exchange I won't make them sex tapes public, plus I'll keep that hot pussy of yers well supplied with hung black guys!' he swore.

One day passed, then another, the memory of that night with her initiating a role playing event began to seem as if it was just a wild fantasy. But such reality turning into what really seemed like a fantasy had a lot to do with the hypnotic suggestions that Father Mollway had embedded deep in her subconscious. With that eventful night now two weeks ago, Megan was so convinced that it was a complete fantasy that had built upon itself to where even the part of her examining the sticky semen on her fingers along with smelling it all became a part of that complete fantasy. With the campaign requiring more and more travel about the state, it certainly made sense for she and her husband to hit separate areas, thus doubling the area covered by each having a separate agenda. But as it had been a week since she had last seen her husband, it was again getting quite lonely for Megan, and thus she saw nothing wrong with letting her imagination go wild and fantasies fill her mind. Now in the town of Clayton, lying fully awake like that fantasy fulfilling night two weeks ago, the thought of that role playing fantasy filler her mind once again. Megan sprang up up on the bed, swung her legs over the side of the bed to reach over to the phone on the nightstand. Even with the dial tone buzzing in her ear, Megan spoke "Room Service? This is Mrs. Ratkin in Room 1410! I'd like to place an order! Yes ................three young studs ........................all with big black cocks! Can you send them up to my room right away! I need a good gangbang!" Hanging up the phone, Megan then worked her panties on down over her trim hips and down to her knees before letting them slide down to her feet.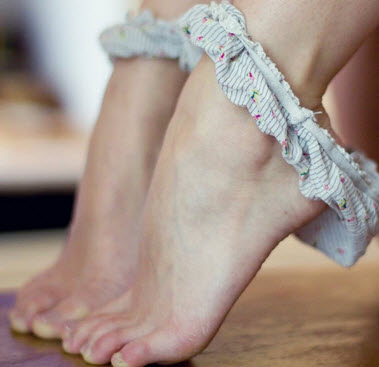 Laying back upon the bed, she then began to touch herself up, just like that night two weeks earlier. Closing her eyes, trying to conjure up the image of three young black studs entering her room to give her a gangbang, Megan panted in heat as she caressed her nipple with her fingers while fingers of her other hand were rubbing at her slick slit. 'Oh, how I wish it was not just me fantasizing ....................because I really need a good fucking tonight!' her mind played. Panting for breath, middle finger soaking wet as it sliced in and out of her juicing slit, Megan froze in her fantasy upon hearing the door to her room click open. 'It seems so real ...................as if I'm still wide awake .................and now there are three well-hung black men wanking at their dongs to get ready to give me the fucking I need ...................three young black studs just like I ordered from Room Service!' Megan told herself. 'Gosh ................if all this was only real ..................if those were real cocks!' she sighed.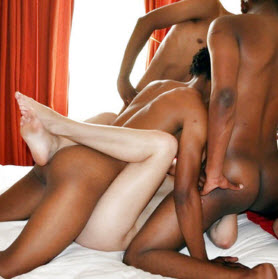 That next morning, Megan blinked her eyes awake as the sunlit drapes lighted up the room. 'Oh, God .....................my ass hurts so bad!' she winced as she tried to get out of bed. Looking down at her body, unbelieving the sight of her matted curls and cum encrusted thighs, Megan's mind raced 'No ................no ........................it was a dream ....................just a fantasy! It couldn't have been real ................it just seemed that way!' "I'm losing my mind! I must be losing my mind! I thought it was all a fantasy ......................it must be a fantasy ........................it had to be a fantasy!" Megan panted out loudly in an attempt to convince herself that it was such. But in looking down at her body, she further discovered dried cum flakes between her fingers and even her toes. And upon dragging her aching body to the bathroom, more white cum flakes were to be observed on her upper lips, chin, and corner of her mouth. Then her memory kicked back in as Megan remembered 'My, God .......................I sucked each and every one of them off ........................ate all the cum that they ejaculated in my mouth and down my throat!'

'If it wasn't all just a fantasy, then that all really happen last night?' Megan wondered in total puzzlement, her mind now just a jumbled mess. She remembered the three well-hung black studs approaching the bed with each having his boner jutting straight out at her, being stripped naked by the trio, then they were all getting into bed with her. Megan remembered two cocks approaching from each side, that she reached out with both hands to grasp the two cocks, then alternately began kissing and sucking on each one. Meanwhile, that third stud was spreading her legs wide and shuffling up between then, then his thick lengthy cock was giving her the much needed fucking that she so craved, causing her to wrap her legs around him and locking her ankles to keep him there. With cum spurting in her cunny, another spraying in her sucking mouth, the third one splashed his load all over her chin and neck. From then on, she would straddle one cock, pushed forward to mouth the second while the third went and buggered her ass. And from there on, it was musical chairs till each had fucked her in every which way during the night.


Back in Presswood three weeks later, Megan was told that it was to be a meet and greet fundraiser, a crowd of forty to fifty, comprised of men and women with money to spend on a good cause. These men and women were all sworn to secrecy, each knowing that what took place this evening would not be revealed to anyone else or he/she would be facing the wrath of Bronco Johns, which would in essence be life for death for them. Surveying the crowd, Megan saw that people were drinking and helping themselves to appetizers, everyone smiling and laughing while having a good time. With a glass of wine in her hand while mingling, it was Father Mollway showing her around the room and introducing her to people, a crowd that was comprised of some two-thirds men and on-third women. For Megan, it seemed like a typical fundraiser, shaking a lot of hands as they worked their way through the well-dressed crowd. After about an hour's time, having met nearly everyone if not all, Megan leaned over as Father Mollway advised that it was time to raise some money for the campaign but she couldn't hear everything he was saying due to the rather loud music in the room. But when that magic word was whispered into her ear, it activated that deeply embedded hypnotic suggestion that the evil unholy bastard had implanted earlier. With Father Mollway stepping up on stage and extending his hand to her, Megan place her hand in his to be assisted on up.

The crowd went silent as the much anticipated fundraising auction was about to begin. All that was taking place was being registered in Megan's brain, but she could only stand there on the stage, unable to voice or put up any type of objection as Father Mollway asked of the crowd "Who's going to be first to donate to the Senator's re-election campaign? Now don't be tight with the money, it's all for a very good cause! The good Senator himself asked his wife to come to Presswood to meet all you good people! Be the very first up here on stage with Senator Ratkin's beautiful wife! Show the Senator's wife how much we appreciate her coming here .................how much we all love her!" "Three hundred!" a male yelled out. "Five hundred!" came a female's voice. "Six hundred!" "Seven hundred!" the bidding continued. "A thousand bucks to have that beautiful bitch down on her knees sucking my cock!" a male yelled out. "Twelve hundred!" "Thirteen!" "Fourteen!" "Fifteen!" it went on until the bid reached two thousand. With the bidding stalled at two grand, Bronco was on the mike asking "Now how much more are you willing to bid for the lovely Mrs. Megan Ratkin? C'mon now, is that all she's worth ................................the beautiful wife of incumbent Senator Marv Ratkin?"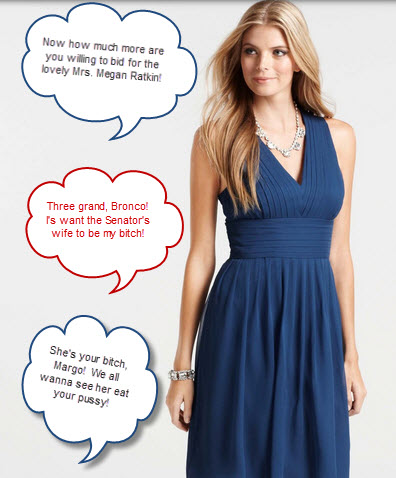 Mrs. Megan Ratkin on center stage at the campaign fundraiser!
With the stage quickly setup as Margo wanted it after she handed over the three grand, the the dark haired dyke sat in the chair and began to take off her high heeled boots. Mangy Margo, as she was better known to the crowd, stood back up to undo the button to her black slacks and began to shimmy out of that garment. Thumbs in her panties, Margo then began working them down over her trim hips and let them fall to her feet before she kicked them away from her. With Mangy Margo looking out at the crowd and smiling widely, she spread her legs wide while squatting down a few inches, then reached on down to grab the string that was now visibly dangling down between her widespread legs. Seconds after Margo pulled at the string and what it was attached to, one disgusted guy could be heard "Ah, gross! She's on the fuck'n rag!" Whistles and cat-calls then followed, then a chant began to build "Eat it, bitch, eat it! Eat it, bitch, eat it!" Then Father Mollway took the mike, instructing "You heard what they want, Mrs. Ratkin! Time to thank the first donor of the night!" Unable to disobey, Megan wearing a very expensive necklace and an elegant blue dress stepped forward on her silver heels, moving toward and now between the woman's widespread legs. Slowly dropping down to kneel down the stage floor, the audience could see the cringe forming on her face as it was evident that she had just gotten a whiff of Margo's smelly twat. "C'mon, Margo .....................get the show on the road .................I need her sucking my cock!" one guy yelled out. "Yeah, we all's wanna bid on that beautiful bitch!" another guy in the audience yelled out. Margo complied by reaching out to grasp back of the senator's wife and pulled her down onto her menstruating twat, arching her hips up to rub her mangy twat in the bitch's beautiful face and yelling out "Eat me, bitch! Eat out my smelly snatch!" With that, Mangy Margo proceeded to giving the hollering onlooker a good show by arching up and rubbing her menstruating pussy all over the face of the Senator's beautiful wife.

From the embedded suggestions previously implanted into the deep recesses of her mind, the lovely wife of Senator Ratkin would only remember the meet and greet portion of the prior night's fundraiser. All else, her stepping up onto the stage to be auctioned off followed by her x-rated performances of stage throughout the evening, would be stored away in the far recesses of her brain for use at a future date. Her next conscious memory was of showering together with her older black lover, recalling how they first washed each other's back, then turning to face one another to wash the other's most private parts. Megan recalled how she got her hands all slick and soapy, how she reached out with her left hand to cup the walnut sized testicles of the well-endowed man, then grasped his stunning manhood with her other hand ...........stroking and fisting it till it got big and hard, getting it to grow and grow to its impressive length that she was familiar with. After toweling one another dry, George Johnston scooped her up into his muscular arms and carried her to out to lay her upon the king-sized bed where he then joined her. And soon that impressive sex tool of his became a part of her, followed by what had to be considered as just absolutely fantastic lovemaking, recalling how she had screamed out in sheer ecstasy when he ejaculated his hot burning roe deep up in her fertile womb. Now fully awake after her mind played back the memorable events for her, Megan was now fully awake to realize just how so similar this instant was to the first time, finding very difficult to breathe and unable to move due the heavy weight lying atop of her. Oh so very similar to her first adulterous affair, finding her older black lover atop and as well as his manhood still in her. 'My God, what's happened to me? How could I let this happen again?' she wondered, then shivered as she realized 'He's waking up! Oh, God ...................it's growing in me! He's going to give me a good fucking again!' "Oh, George ............................fuck me .........................fuck me with that big black cock of yours!" she panted out while wrapping her legs around him.


End of Story.