Ms. Caitlyn Kerns
Sammy White has taken notice of the young beautiful brunette when she had first come into the restaurant, eyeing her up when he was busing a nearby table, noting that she seemed quite cozy with her lunch date but was not sporting a ring on her finger. But later when he got to observed the whiteboy getting down on one knee and slipping a shiny rock on her finger, Sammy felt his cock grow to rock solid state in his pants, making it fortunate that he had on a waiter's apron and was holding a tray of dirty dishes in front of him. Having slipped his cell phone out of his apron pocket while cleaning the table, he had managed to snap a picture of the beautiful brunette wearing a maroon sweater over a striped blouse. Upon seeing that sparkling diamond ring on her finger, his admiration for the young beauty had once again to a boil sick lust, as was being indicated by the raging hardon that he now sported. And in being consumed once again with that sick horny lust, it seemed that Sammy sixth sense had awoken from a long slumber ........................a sixth sense that always seemed to be right on the mark! That sixth sense was like that of having a sniffing dog ............................and it was now telling him just what hoped to soon prove to be true ......................that the stunning beauty was still a virgin!
With the bill paid by cash and the couple leaving, Sammy had peered out of the window to make note of the car and it's license plate number as such might be needed to learn who the beauty was and hopefully where she lived, but hopefully there'd be a simpler way in getting that info. As the restaurant was always filled by reservation, such would have been the case here, and thus it was easy for Sammy to learn that such reservation had been made by a Mark Fuller with a phone number provided next to his name. After his shift was over and Sammy was back in his apartment, he went on the internet and plug in the punk's name and phone number, able to come up with his address for free through the internet. But as that did not give him any info on the sweetie the punk had proposed to that day, Sammy went through the various social media sites, and in minutes Sammy was smiling with a wide grin on his face as he had indeed hit the jackpot. Pulling up the site for Mark Fuller on Cameron Way, in indeed was the right one as Sammy recognized the punk's picture, and it had just been updated an hour earlier with the big event of the day. There was a picture taken of the two of them by s waitress at the restaurant, with an explanation below of what and where the proposal had taken place, with the future Mrs. Fuller being the lovely Ms. Caitlyn Kerns.
Clicking on the name of the lovely beauty, her site was brought up and Sammy got to learn a bit more about her, that she was 23 years of age and now was working as an auditor for an embroidery company. Her site had also been updated that date, telling of her romantic lunch at the new restaurant and how Mark had gotten down on one knee to propose to her. With the beauty writing that she and Mark hoped to tie the know next spring, such provided Sammy with his time frame in which he could work out his devious sicko plan ...................that of relieving bride-to-be of the precious little gem that she was planning to give to the man she married on their wedding night. Whenever his work schedule would permit, Sammy could then wait for the beauty to get off work and head on home, following her to see if there was a definite pattern each work day. As her proposed wedding date was months away, there was no rush on Sammy's part to get his needed surveillance done, so he'd alter his times such as following her from out of her workplace or picking her up at where she'd be getting off the train at her regular stop, making note if each following was identical or it there was any deviation.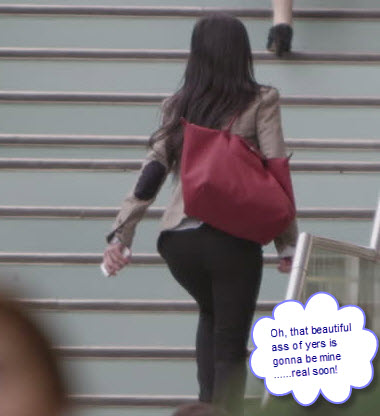 'Oh, that beautiful ass of yer is gonna be mine ................real soon!' Sammy whispered under his breath while following the sexy young beauty one day after attending the aerobics class that she took after work every Tuesday. Eyes glued on her sexy ass as she headed off to the train station to go home in following her normal Tuesday routine, Sammy licked his lips in anticipation, cock growing in anticipation of grasping and caressing those soft creamy white buns in hands. 'Oh, I'm gonna git my hands on that sweet ass of yer real soon, sweetie! I'm even gonna lick it ....................before I make ya scream when I's shove my black boner up in it!' Sammy chuckled as he stepped in the train to follow her all the way on home. As this would be the third Tuesday in following her on home after she got off work and going to her aerobics class, such completed the four months of surveillance on the sweet young thing, and now he he would soon get to pop another cherry if he had indeed assessed her sexual status correctly.
Sitting down to put all his notes together, each of the three Mondays together, then the three Tuesdays and so forth till each day of the week had been grouped together. Reviewing each particular day, the three Monday's showed that she got picked up by her fiance as they got to her place together in his car and then he'd stay till around 10:30 or so. Tuesdays were her aerobic class days after work, then taking the train back home and no fiance showing up, with each of the three surveillance days showing the very same pattern. Wednesdays and Thursdays were exactly like that of her Monday schedule. Friday, Saturday and Sundays had no set pattern that Sammy could discern as he had followed her driving out to her parents place at times, staying overnight on a couple of occasions, so a bit unpredictable as far as he was concerned. Having done a walk by of the premises, he had noted the overall layout, areas that would give him some shielding while he sought to gain entry and the type of windows on the home. With his many years of experience in breaking and entering, seeing there were no kids playing about, Sammy figured it'd be no problem at all in breaking into the beauty's home.
'Okay, sweetie .....................it's gonna be a Tuesday night after ya git home from yer aerobics class ...................after ya've gotten that sexy bod of yers all stretched on out ...........................then I's gonna show ya how to stretch on out even more and git to use some muscles that ain't ever been put to use before ..........................them tight pussy muscles and gitting them to squeeze on Sam-the-Man ......................ya's gonna love gitting a black boner up that tight little cunt of yers!' Sammy chuckled to himself. 'God, I's can't wait to git my hands on that nice beautiful round ass of yers ..............................always gives me a fuck'n hardon watching it twitch when ya's walk, especially going up the stairway at the train station! I's wanna see ya butt naked .........................hold that sweet ass in my hands ..............................I'll even give it a kiss too!' Sammy thought wit a big smile on his face. Picturing that beautiful ass and wanting to see it naked, concluded that 'I's can rub up against that beautiful ass and cop that cherry of yers all at the same time ..........................when I's fuck ya like the uppity little bitch that ya really are ...............................gonna git ya up on all fours and do it doggie style! And ya'll always remember how ya went and lost yer precious little cherry to Sam-the-Man!'
After her aerobics class ended, Caitlyn opened her locker in her dressing room to get her casual clothes and tennis shoes out of her bag, then folded her hand dress to put in the bag along with the pair of heels she had worn to work that day. The 90 minute workout was tiring but felt so good as she needed the exercise, wanting to keep nice and trim to fit into the wedding dress that she had recently selected. Looking at the time, Caitlyn realized that she had better be going to make her train or it be a half hour wait till the next one, planning on taking a shower when she got home and then making something simple for dinner that night. Following that forty minute train ride to her stop, Caitlyn then got into her car for the short drive home, stepping out of her tennis shoes upon getting into the house. Thinking that it was so nice to be home, a place where she could relax and unwind, Caitlyn headed off to her bedroom to grab a t-shirt top and a clean pair of undies to change into after taking a nice hot shower. Little did she know that a pair of evil eyes were peering through the slits in the closet door watching her every move, that an intruder had broken into her home and it was her that he was after, stroking his blood engorged cock at that instant as he watched her going into the bathroom for a shower.
After a nice hot shower, then toweling off and putting on her clothes, Caitlyn had just turned off the light switch and had taken a step into the bedroom, when she was suddenly pushed on forward onto her king-sized bed. Pulled back up and made to get onto all fours in the center of the bed, Caitlyn tried desperately to scramble away from her attacker, but strong hands grasped her trim hips to drag her on back. Upon hearing a zipper being undone behind of her, panic set in as Caitlyn realized just was this intruder was intent on doing to her, and once again she desperately tried to scramble away from the bastard. Suddenly there were strong hands grasping the waistband of her pink pair of panties, then the flimsy garment being pulled down over her trim hips and down off her legs. Those strong hands then pulled back on back till she was at the edge of the bed, and fear set in upon feeling a thick fleshy bulb being pushed up against her sex. To Caitlyn's horror, knowing that it was the assailant's thick manhood that was being fitted up against her, she shuddered in fear as it felt like the size of a baby's fist that was probing at her most private part.
"Please ………………pleaseeeeeeeeeeeeeee ………......................…nooooooooooooooo ……………..nooooooooooooooo ............................... please, pleaseeeeeeeee …………………..I ………............I…………..I'm a virgin!" Caitlyn pleaded in hope that her attacker would want someone with experience. But to her dismay, such admittance only caused the bastard to laugh at her plight while announcing to her that "Ah, yeahhhhhhhhhhh, sweetie ...............................jist what I's was hoping fer! When I's first spotted ya ...........................sized ya up as still having that precious little cherry of yer intact .......................and that punk yer gonna marry jist looked too much of a fuck'n nerd to know how to please a little beauty like ya!" The strong hands on her hips kept her in place, then her eyes widened in horror as the foul bastard was rubbing his face up against her buttocks, an Caitlyn could only grit her teeth to keep from screaming as the bastard began tonguing her asshole. "Stop .....................stoppppppp .......................oh God, stoppppppppppp!" she cried out. "Ohhhhhhhhhhh ...........................pleaseeeeeeeeeeeeee .................................pleaseeeeeeeee ................................noooooooooooo!" Caitlyn whimpered out in humiliation as the lapping of her asshole continued while the large calloused hands caressed her butt.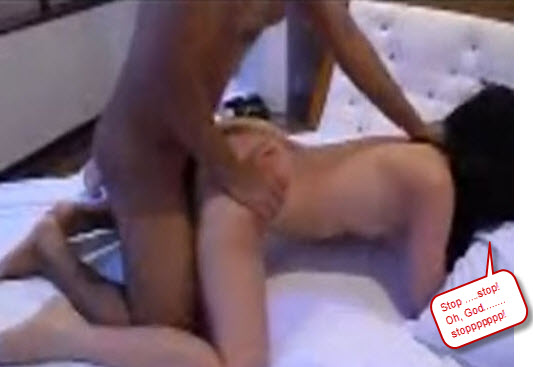 "Ohhhhh, sweetie ...........................after watching yer beautiful ass fer weeks .................................I's been wanting fer so long to bury my face between these sweet cheeks of yers!" she heard the bastard as he continued licking her ass. Then the large calloused hands were once again caressing her ass, bloated cockhead once again nudging up against her sex, and then those hands moved to grip her hips firmly as her vile attacked lunged forward to shove his bloated monstrosity up into her. "Aieeeeeeeeeeeeeeeeeeeeeeee …………………………………..nooooooooooooooooo ………………….noooooooooooooooooo ...........................stopppppppp ...................................stoppppppppppppp ..............................it hurtsssssssssssssss!" Caitlyn screamed out as her rapist lunged forward again to brutally penetrate deeper into her vagina. Agonizing pain shot right through her petite body as her hymen was suddenly ruptured and Caitlyn thought she'd die right then and there as she sobbed in agony. Sobbing in pain, Caitlyn shuddered as her rapist began taunting her, telling her "Jist as I's been picturing this big day ......................cause I's gonna fuck ya like the prissy little bitch that ya really are!"

"Oh,sweetie ……………….there went that precious little cherry of yers! That punk of yers sure as hell is gonna be disappointed when he finds his innocent little bride ain't so innocent after all!" Sammy taunted the raped beauty. Slicing in and out to the tight fitting, soaking in the pleasurable feel of hot cherry juice on his raping spear, Sammy taunted the sobbing beauty with "Yyeahhhhhh ……………hear that squishing sound ………………that's all from that bloody cherry of yers!" Reaching on down with his index finger extended, he swiped his fingertip over the top of his blood coated boner, then Sammy looked at the blood close up before licking his finger clean. Licking his finger clean and then licking at his lips, Sammy gloated with pleasure as he thrust forward again to fuck a couple more thick inches more of his raping monstrosity into the sobbing beauty. Pumping in and out, pushing her beautiful ass forward some, Sammy looked on down between their joined bodies to observe his blood streaked cock before sliding it back into her as far as he could. But as he still had a couple more inches to go, Sammy grasped her trim hips, reared back some and then lunged on forward with all of his might. "Aieeeeeeeeeeeeeeeeeeeeeeeee ...........................aieeeeeeeeeeeeeeeeeeeeee!" came the shrill agonizing cry from the raped beauty.

"Like that feel of my's cock up that hot little twat of yers, huh sweetie? Sam-the-Man there is a whole foot long ..................a good measuring stick fer ya to measure how that punk yer gonna marry measures on up to a 'real' man!" Sammy gloated. Buried up to the hilt, Sammy reached on forward to cup her hanging titties in his hands, then began thumbing her budding nipples to hardness. " Don't ya worry about not being able to give that punk yer marrying that precious little cherry that I's went and copped, sweetie ................................cause I's gonna put something there in its place ....................a little kinky haired baby fer hubby to take care of nine months from now!" Sammy taunted while expanding his bloated cock in her gripping sleeve. "Yessireesth ..........................gonna give hubby a precious little prize in exchange for having sampled his purty bridie poo ……………………..gonna have his purty bride walking down the aisle with a little black baby in her tummy!" Sammy laughed.

Upon hearing the awful consequeces that could very well happen as a result of this vile rape, Caitlyn renewed her efforts to get away, sobbing "No ……………….noooooooooo ……………….nooooooo ………………..nooooooooooo .....................please, nooooooo .....................don'ttttttttttt!!" But to her dismay, Caitly felt the strong hands grasping her trim hips firmly to pull her back some, and then the black bastard rammed himself up into her all the way. Sobbing in despair, Caitlyn's eyes widened in fear as she felt the muscular body behind of her begin to convulse and ans shudder with his throbbing cock fully buried up in her womb, and then she felt the hot explosion inside of her as the black bastard grunted "Ahhhhhhhhhhhh …………………….ohhhhhhhhh, yeahhhhhhhhhhhhhhh …………………….cummingggggggg, sweetie …………………I's cumminggggg in ya ...........................gonna knock ya up real goodddddddddd!" 'Oh, God ……………..oh, God ………………..please ………………….pleaseeeeeeeee don't let this black bastard get me pregnant with his baby!' Caitlyn prayed as her fertile womb as sprayed to overflowing with her rapist's hot baby roe.

The only fortunate thing for Caitlyn came immediately after that bastard's last spurt up into her during the foul rape, that of her falling face forward into her pillow as darkness came over her upon her passing out from the agony of it all. But her good fortune lasted just minutes, as Caitlyn's petite body quivered when cool air shot up into her ravaged slit to replace the thick fleshy tube that had been pulled on out completely, causing her to awaken from having passed out from the horror of her ordeal. To her dismay, Caitlyn cringed upon feeling the rough calloused hand caressing her buttocks, recalling what he said earlier of "watching yer beautiful ass fer weeks" and how he had rubbed his grimy face up in her ass. Then from behind, Caitlyn heard her rapist exclaim "Damn ............................that's one bloody cherry had here .............................sure was tucked in tight! Shit ..........................there's blood all over the place ................a cop seeing this would think someone got wasted! C'mon, let's go and git us a shower!"
Pulled on up from the bed, Caitlyn felt her legs wobble as her rapist pulled her along towards the master bath, then he was opening the shower door and pushing her into the stall. Closing her eyes as her rapist used a soapy washcloth to scrub her down, rubbing her inner thighs up and down several times to get the dried blood off, then the bastard was once again enjoying himself by feeling her ass up and then he was down on his knees rubbing his face up in her asscheeks. Then it was her turn to use the washcloth on the bastard, forced down onto her knees to handle and clean the very penis that had violated and raped her of her virginity. While kneeling down on the tiles of the shower stall, the washcloth was taken out of her hands after having scrubbed clean her rapist's penis, then to Caitlyn's horror she was then forced to admit the growing and hardening manhood into her mouth. Strong hands at the back of her head kept Caitlyn from pulling away, her eyes rolling when the when she had trouble breathing due to the thick flange down in the back of her throat, Caitlyn thought that would die from being unable to breathe. When she could breath once again, with the penis being pulled out of her throat, it began ejaculating it slimy filth into her mouth. Seconds later, with her hands on her stomach as she leaned over the drain of the shower stall, Caitlyn began puking her guts out as the hot shower took it all down into the drain.
Strong fingers wound in her hair after she had tossed her cookies, hot water from the shower filled her open mouth, allowing her to cleanse her mouth with it. Caitlyn soon found that her ordeal was far from over when she was pulled up to her feet, only to be pushed forward to brace herself with her hands up against the wall of the shower stall, her feet push wide apart as the vile bastard was once again shuffling up behind of her. 'Oh, God ............................he's going to rape me from behind again!' Caitlyn shuddered, planting her feet and pushing up against the tile to brace herself from the upcoming rape, cringing once again as the bastard was running his calloused hands all over her ass. Trying to use her mindset to block out the upcoming rape of her vagina, Caitlyn was totally unprepared when the bastard attempt to fit his fat cockhead up at the entrance to her asshole, and then she was literally trying to climb the tile wall of the shower stall. But then strong hands were on her trim hips to pulling her back down, right onto the jutting prong, causing Caitlyn to scream "Eieeeeeeeeeeeeeeeeeeeeeeeeeeeeeeeeeeeeeeeeeeeeeeeeeeeeeeeeeeeeeeeeeeeeeeeeeeeeee!"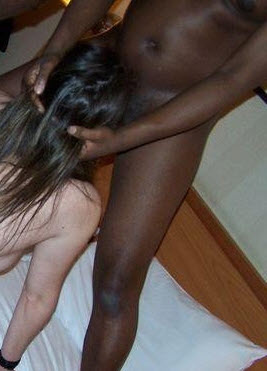 Waking up the next morning with the sunlight on her face, Caitlyn froze with as pain coursed throughout her entire body as she tried to move. The horrible nightmare of her ordeal came flashing back into her mind, recalling each and every detail of what she had endured and inflicted by the black bastard, but at that moment her entire body was just racked with unimaginable pain. After that horrible ordeal in the shower, being forced to take the bastard into her mouth and then up her ass, Caitlyn recalled how her body had gone limp from the pain and that the bastard carried her out with an arm wrapped around her waist like an armful of trash to be tossed out onto the garbage heap. Fortunately for Caitlyn, she it was the soft mattress of her king-sized bed that she was tossed upon, but her good fortune was very short lived as the black bastard was going to rape her missionary style as that was going to be the normal way in which she made love with her husband and the bastard quipped that "Every time the punk yer marrying makes loves to you, ya'll be coming him to me ......................and yer gonna miss having a 'real' man in yer pussy!" Prior to his departure, Caitlyn recalled him standing tall on her bed, his hands at the back of her head and forcing her to once again service him with her mouth.

Calling into her workplace, Caitlyn advised them that she'd be out ill as she had come down with a bad case of the flu, that she'd call in tomorrow if she still wasn't up to going to work. While under the hot shower, knowingly washing the away the evidence of her rape, Caitlyn decided that she'd later call Mark to give him the same 'sickness' story and that's he should not come over till she felt better. Caitlyn knew that the right thing to do was to report the rape, that perhaps by doing so it'd prevent the vile bastard from raping another woman, but she could not bear the shame and humiliation of having to go to the police and spill out the minute details of her horror. Also, if she did not go to the police, she could keep Mark from finding out about her rape. Then Caitlyn thought of the horrid consequences that she might soon be facing, realizing that she had to try to use any precaution available, that she should go to buy a bottle of douche right away and hope that it wasn't already too late. If it was too late to for the potent douche to do its job, Caitlyn realized that the bastard taunting might come true ..........................that she might be walking down the aisle with her rapist's baby in her belly!

Ms. Courtney McIntire, age 22, shopping for gifts for her bridesmaids when her sparkling diamond ring caught Sammy's attention:
Sammy knew that he couldn't count on having many months to work out a well coordinated attack plan on each and every occasion, thus he took great pride in his ability to adapt to the situation, such as what occurred when he happened to stumble on the unfortunate beauty named Ms. Courtney McIntire. Going to the mall to check out the new pizza shop, a blond beauty passing before him caught his eye, noting all the expensive shops that she evidently just gone to and there was a sparking diamond ring on her finger but no wedding band. Looking at how she was dressed and with her hair recently done, Sammy did a soft whistle and told himself 'Damn, that's prime upper class stuff! I could sure use a piece of that! No married ....................wonder if'n she's cherry?' With his cock giving a lurch in the confines of his pants, Sammy wondered 'Think so, ol' buddy? Well, ya've sure been sniffing'em out lately, that's fer sure! Okay, let's follow this purty little thing and see where it leads us .................see if'n we can get the needed info on this hot little blond bitch! Calm down, my man ...............can't follow her with a boner tenting up the front of my pants!'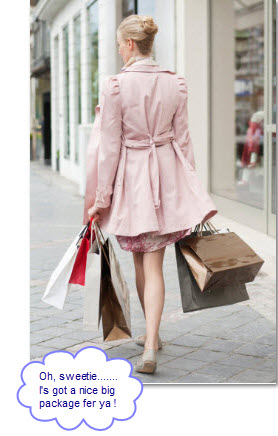 Having taken some time off of work, Courtney spent the afternoon looking for gifts for the gals in her bridal party, wanting to give each of them something special to remember her by. Having completed the task, she was on her way home to townhouse that she and her fiance had purchased a few months ago, the place that would be their home once they tied the knot. For now, she was the one living there and gotten her things moved in, and also she was getting things set up like the draperies making the list for the bridal list as to what type of wedding gifts would be useful for them. Mind preoccupied with the upcoming wedding plans and all that was needed to be done, Courtney was unaware of the eyes upon her and that she was being followed from a distance. With Paul meeting up with her at the townhouse after he got off work, there was no time to cook anything with so much to do for the upcoming wedding, Courtney decided to pick up some food at the deli near home for their dinner. 'Oh, I can hardly wait till the big day comes! Then I'll become Mrs. Paul Harper!' she smiled, then added 'Mr. Paul Harper, you'll be in for one big surprise on your wedding night ..............you're going to have the honor of making me a woman!' At that very instant the black male stalking her was thinking 'Oh, sweetie ............I's got a nice big package fer ya! A nice juicy blood sausage that's wanting to pop yer precious little cherry!'
Upon getting home that night, after following the blond beauty back to her home, Sammy laid out the notes that he had taken. Make and model of her car along with its license plate number, her home address, and noting where she had parked. He had seen her boyfriend drive up and park his car, getting a kiss upon entering the townhouse, of which Sammy had made note of the car that had been parked across from the blond beauty's. Unable to say any longer as he had to get to work, Sammy returned after his five hour shift was over, had returned to the townhouse and noted that the boyfriend's car was no longer there. With the home address in hand, Sammy typed it into the internet search engine, then up popped details of its ownership and of other address in the surrounding area. Opening up the address, it provided the following info: Joint Owners: Paul Harper and Courtney McIntire; purchased on January 5, 2017 for $210,000. Having now learned the beauty's name into the search engine and up popped the various social media sites that she belonged, and now Sammy could uncover even more info on his lovely young prey as he had access to all the social media sites. Upon opening up one of the sites and getting Courtney McIntire's page, Sammy searched for all the needed details, making note of where she worked and then cussed 'Shit, she's getting married to the punk just over two weeks from now! Fuckkkkkkk ...................got my work cut out fer me if'n I's gonna be cherry popping or the boat's gonna sail in a couple weeks!'
With this now being 1 a.m. on a Thursday morning, Sammy planned on casing the place everyday from now, going early one day to check out its weak spots and make note of the tools need for a quick break in. Having to work later that night, he do a spin by before work to make note of both cars were there again, then after his shift was over to see if the punk had departed. As he worked at lunch time on Friday, that'd leave the entire evening to case out the joint and make note as to their coming and going. For the weekend, Sammy would do drive-bys when time permitted, then revert back to the daily after work surveillance as he had done the first two nights. With time of the essence, he hope to find a patter that would allow him the perfect time to surprise the hot little bitch in her own home, he'd give her something she'd never forget. 'Oh yeah, sweetie .......................Sammy's hot blood sausage is gonna slide up between those sexy white legs of yers ........................then I's gonna do that punk a favor by making it easier to git his little wiener up into yer hot little pussy!' he gloated, pulling out his boner as he looked at the picture of her on his cellphone, wanking at his cock to give it some much needed relief.
Although a couple days of surveillance of each particular day would have been the ideal, there was just not enough time, but Sammy made the decision that the ideal timing would be that coming Friday night. According to his notes, Sammy reviewed the following facts: She arrived home at 5:30 p.m.; he got there at 6 p.m.; left in his car at 6:50 p.m.; returning at 9:15 p.m.; boyfriend departing for good at 11:30 p.m. Saturday notes: Boyfriend arrives at 11:30 a.m.; they leave in his car at noon; returns 7 p.m.; boyfriend departs 11:30 p.m. So, if things worked out as the past Friday night, Sammy would be waiting and watching from his parked car for them to leave the townhouse near 7 p.m., at which time he'd break in and hide out till the punk left for the night. From there, he'd play it by ear as to when and where in the townhouse for his next move, that of grabbing the beautiful blond bitch and raping her right on the bed that the couple was soon to be sharing together! 'Sure as hell hope that Sam-the-Man went and git a right sniff out yer precious little cherry being intact .................cause he wants to go and pop it good!' Sammy chuckled to himself as her referenced his throbbing cock by name.
Switching his work night from Friday to Saturday night with his co-worker, Sammy was in his car watching from 5:15 that afternoon, seeing the blond beauty arrive home exactly at 5:30 and then the punk pulled up just after 6 p.m. Just after 7 p.m., Sammy's dream came true when he spotted the couple exiting the townhouse and getting into his car. Once the car departed from the parking lot, Sammy waited a few minutes to pass before grabbing his bag carrying the tools needed to quickly gain entry into the townhouse, and then he was in at no time flat. He planned on first checking out the unit for a good hiding place, going into the guest room first and then the master bedroom and seeing if there was any good spots in the closet. With the closet in the spare bedroom appearing to be the best spot to hide out, Sammy then went into the master bathroom where he found was he was in search for .....................the hamper that contained panties worn by the beautiful blond bitch! Finding himself a soft silky pink pair and a pair of yellow ones, the pink ones would be wrapped around his throbbing boner while Sammy inhaled the sweet fragrance from the yellow pair. Minutes later, the two pairs of panties were returned into the clothes hamper, with the pink ones balled up and glued together by Sammy's sticky load of cum.
Right at 11:30, Sammy heard the couple saying their goodbyes, then heard the front door being closed and double locked with a chain being added for protection. Now all he needed to do was to be patient and wait for the right time to surprise the unsuspecting beauty. From his vantage point in the closet of the guest room, Sammy noticed the light coming from the living room going off, then heard soft footsteps coming down the hallway. Through the slit between the open door and the wall, saw the sweet young thing passing by on her way to the master bedroom, deciding that he would make his move if the lights went out to go to bed or if she went into the bathroom for a shower. The bedroom light remained on and Sammy heard another door closing followed by the sounds of running water from the shower spray, so he knew that she was taking a hot shower before going to bed for the night. It was not time for Sammy to go on out of his hiding place, check on the doors being secured and the windows all tightly shut, then he could go and wait for his lovely prey to come out of the shower and right into his waiting arms. She'd be going to bed after finish her shower, that was for sure, only it'd be with some unwanted company.
While under the hot shower, Courtney could only think of the love of her life, remembering just how his lips felt upon hers prior to his leaving a few minutes ago. Out of the shower and toweling herself dry, Courtney then stepped into her clean pair of lavender panties, then slipped on the large jersey top of Paul's favorite player that he had recently gotten for her. With her thoughts on her handsome fiance as she slid open the pocket door to the shower, Courtney was sudden caught by surprise by the intruder in her home, and he was grabbing at her. "Aieeee .......................mmmmmffffff!" were her screams cut short into muffles as a large black hand had been clamped over her mouth, as Courtney found herself being dragged out of the bathroom and into the master bedroom. Everything was just happening so fast but Courtney realized that she was being dragged over towards the king-sized bed, that would be hers and Paul's when they got married, and that her jersey top was being pulled up and off over her head. Naked from the waist up and tossed onto the bed, Courtney kick her legs out in trying to keep the black intruder from pulling down her lavender panties. But to Courtney's dismay, the flimsy pair of panties had been pulled off her legs and feet, upon which she got to witness them being put up to her assailant's face as he breathed deeply with his face buried in her panties.

"Oh, pleaseeeeeeee .......................please don't rape me ..........................please, you won't like me .........................I don't have any experience! Pleaseeeeeeeeeeeeeeee ..................................I'm a virgin ....................................I'm a virgin!" Courtney declared out in a panic, thinking that her being a virgin would serve to deter this demented black bastard. But to her dismay, Courtney learned from her attacker that "That's exactly why I'm here, sweetie ........................figuring that ya still had that precious little cherry in tact ........................cause Sammy likes nothing better than to pop a white girl's cherry!" Feeling the strong arms beneath each of her knees, her legs being spread wide apart as the strong arms pushed her legs upward and further apart, Courtney was in a panic as she felt the thick fleshy bulb pushing up against the center of her being. "Pleaseeeeeee .....................please don't rape me ....................pleaseeeee, I'm getting married next week ..............I want my husband to do it to me! Pleaseeeeeeeeee ......................I beg you!" Courtney sobbed out in hopes of getting a reprieve of what was about to happen. "Eieeeeeeeeeeeeeeeeee! Stopppppppppppp! Pleaseeeeeeeeeeeee!" she screamed out as the thick cock suddenly plunged downwards into her. As she felt her body tear apart, Courtney heard her black rapist gloat out "Got it! Went and popped yer precious cherry, bitch! Now go and tel that punk yer gonna marry who went and copped yer cherry!"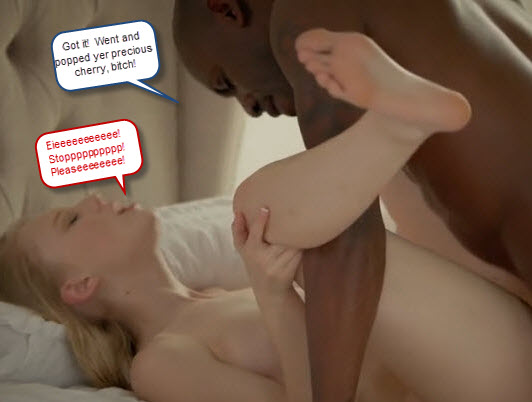 "Oh, Goddddddddddddd ...................................stoppppppppppppppp ..................................stop, pleaseeeeeeeeeeeeee ..............................it hurtssssssssss ................................it hurts so badddddddddddddd!" came the cries and please from the blond beauty beneath of him, such being music to his ears and got Sammy's cock to pulsate even more. "Oh yeah, sweetie ............................that hot cherry juice of yers feels so damn good! Damnnnnnn .................................yer so fuck'n tight! I's went and done that punk yer gonna marry a big favor ................cause that cherry of yers was in there real tight .................that punk would've had a tough time popping it! Heh, heh .................yeah, did that punk of yers a real big favor!" Sammy tauntingly gloated as he deliberately inflated his pulsating cock within the tight confines of the raped beauty. "Owwwwwwwwwwwwwww ...................................pleaseeeeeeeeeeee ...............................please take it out ............................it hurtsssssssssssssssssss ....................................it hurtsssssssssssssssssssssssss!" the beautiful bride-to-be cried out as Sammy began humping in and out of her bleeding slit. But her pleas for him to stop only served to encourage Sammy more, encouraging him being thrusting faster and faster into the sobbing beauty, slamming forward with his blood engorged cock to penetrate her deeper and deeper.

Then with a solid thrust forward, Sammy groaned "Ohhhhhhhhhhhhhhhhhhh!" as he had just buried his bone as deep as he possibly could up in the blond beauty. Holding still for a moment, needing to keep the urge from building too much where he might pop his load prematurely, Sammy lifted his upper body up a bit so he could look down between their joined body. As he slowly withdrew his embedded cock, Sammy smiled in delight at the sight of his blood streaked boner, then chuckled loudly "Ahhh, what a beautiful sight! Sam-the Man is all covered in that sweet cherry juice of yers, sweetie!" Sliding his throbbing meat back down to be fully embedded once again, Sammy then began to move his pelvis in a circular motion, grind his pelvic bone up hers. As he did so, Sammy taunted her with "That's 12" of prime dark meat ya got buried up in that hot little pussy of yers, sweetie! Feel that, honey .......................that's a man's cock ya got up yer cunny ........................something fer ya to compare to what that punk's little weenie that he's got!"

Sliding his large hands up under her soft asscheeks, caressing them at first, then getting a good grip so he could give her a real good fucking. "Ohhhhhhhhhhh ..........................so damned tightttttttt .......................ohhhhhhhhh, Jesussssssssssssssssssss!" Sammy moaned out as he sliced in and out of her tight little pussy, enjoying the feel of her gripping pussy on his cock while hearing the beauty weeping in her agony. "Pleassssseeeeeeeeee ..........................stoppppppppppppp .............................stoppppppppppppppp!" came the beauty's pleas, but such music to Sammy's ears had him speeding up his rape spear. "Ohhhh, yeah ....................I'll stop soon, sweetie ......................as soon as I's cum ...................................soon as I cum in yer hot little pussy!" he panted out in response to her pleas. It apparently took a full moment for the consequences of what he intended on doing to register in his victim's mind, for suddenly she began to fight harder with hands pushing up at him in a desperate effort to get him off her, then she whimpered out "Pleaseeeeeeeee .........................please ........................not inside of me .........................don't do it not inside of meeeeeeee!"

Loving the fight that his frantic victim was now putting up, realizing that she could get 'knocked up' if he spurted up in her fertile womb, but Sammy was prepared for this sudden revival of her desperate fight that he thoroughly enjoyed it while continuing to speed up the fuck. The more she fought him, the harder her her hands pushed up against him, the harder Sammy fucked her in retaliation. Moments later, both joined bodies stiffened and froze in its locked position, Sammy's as his muscles convulsed and that of his horrified victim ..............................for the fleshy pipe connecting him had ruptured and began spewing out the pent up sticky slime! "Ohhhhhhhhhhhh, fucccckkkkkkkkkkkkkkkkkkkkkkkk ...................................................Christttttttttttttttttttttttttttttttttttt .........................................ahhhhhhhhhhhhhhhhhhhhhhhhhhh!" Sammy groaned out as he flooded the innocent young bride-to-be with his hot potent roe. "Noooooooooo .............................noooooooooooooooo ..................................noooooooooooooooo!"the raped beauty sobbed in despair beneath his heavy black body. Licking at her earlobe, Sammy then whispered tauntingly "Yer special wedding present's gonna come nine months from now ........................tell yer hubby how ya got a little kinky haired baby ...................................cause Sammy don't shoot no blanks!"

"Damn, sweetie ............that looks inviting ...............ain't ever soaked in no hot tub before! Go's and git it ready fer us!" her rapist told her some twenty minutes later, patting her on the ass to get on up from the bed to do his bidding. The hot tub had not been put to use as of yet, as Courtney had previously decided that she wait till after the wedding day so she and Paul could initiate it together, and it was a feature of the townhouse that had caught her fiance's attention and he was all for having a townhouse with a hot tub in it. Besides her, it would be another item of Paul's to be first initiated and tried out by this black intruder, who had just stepped into the filled tub and was pulling her with him into it. The black bastard had sat himself down into the tub, pulling her in and guiding her left leg over his waist, then he was pulling her down towards him. Courtney found her legs positioned on both sides of his wide body, forced to bend her knees as he pulled her down to straddle his waist, then was was held in position as he guided his jutting manhood right to the center of her being. "Ohhhhhhhhhhhhhhh .........................Godddddddddddddddd!" Courtney moaned out as she was once again being split in half by the massive black prong.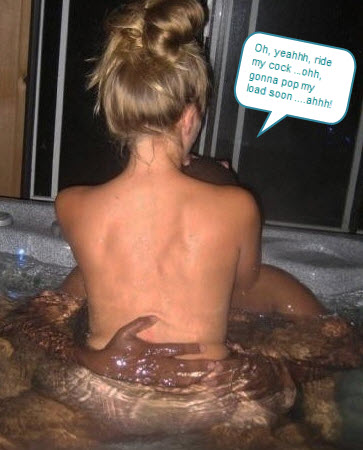 Guided up and down by the large strong hands just above her trim waist, the hot rushing water in the hot tub soothed her body from the previous pain inflicted when the bastard had rammed his spear up into her without any lubrication. But due to her bleeding and his prior ejaculation up in her, such served as the much needed lubricant to make this fuck session so much more tolerable for her, and in fact Courtney was currently gritting her teeth to prevent the now pleasurable feeling from coursing throughout her entire body. Gritting her teeth even harder, trying to keep the feeling of pleasure from spreading, Courtney then made the mistake of also squeezing her cunny around the thick invading shaft. Such movement told the rapist just what was happening within her petite body, and he had her moaning out loud as he bucked up into her slit, sliding his invading manhood further up into her. Enjoying the feel of the unwanted pleasure coursing through her body, aided by the strong hands lift her and then pulling her back down onto the pleasure giving shaft, Courtney began to ride the thick prong. "Oh, yeahhhhhhhhh, ride my cock .......................ohhhhhh, gonna pop my load soon ...........ahhhhhh! Ahhhhhhhhhhhhhhhhhhh ......................here it cums .......................cummingggggggggggggggggggggggg!"
With her hand pressing on her rapist's broad black shoulders, Courtney quivered as her body went into uncontrolled spasms while moaning "Ahhhhhhhhhh .....................ohhhhhhhhhhh ....................ohhhhhhhhhhh ...................ahhhhhhhhhhh ...................... oh, Goddddddddddddddd!" Courtney had just enjoyed her very first orgasm, though at such an inappropriate time and with a man other than Paul .......................more specifically a black man who had broken into the townhouse and raped her! As the once jutting prong was began to soften some and dwindle, it slipped on out of her raped slit when Courtney leaned her exhausted body back to rest on the other side of the tub. With the swirling water giving her a floating sensation, Courtney's eyes were then captivated by the many long white strings floating about the fast moving water, it then dawned on her that those floating strings were that of her rapist's semen. 'There's so much of the filthy stuff!' Courtney told herself, then realized such was what had escaped out of her ravaged body in seeing what was floating about the hot tub, and there was so much more semen up in her fertile womb. 'Oh, my God .......................what if the bastard gets me pregnant ......................what am I going to do?' she worried.
Many hours later, in seeing her rapist standing by the bedside and telling her "Gonna head on out now, sweetie ..................so come her and give me a 'goodbye' kiss'!" had Courtney thinking that her ordeal was now over. But that 'goodbye kiss' was to take place while she was down on her knees, with Courtney first needing to kiss the bastard's filthy black penis ........................the instrument that had just deflowered her .......................and then she had to take it into her mouth once again! The large black hands at the back of her head once again, with the bastard pumping his thick long penis in and out of her mouth as before, this time with her vile assailant announcing that "Ya'll swallow my cum and keep it down this time, bitch ......................or I's gonna stay here and we'll do a repeat performance over and over again till ya's got it done right!" Those words had thundered in her ears as the bastard laughed aloud while face-fucking her, to which Courtney that she'd have to swallow all the bastard's slimy filth and manage to keep it all down if she wanted this horrific nightmare to come to an end. When her ordeal was finally over with the door closing behind the departing bastard, Courtney was lying on the floor in a fetal position and clutching at her stomach, shuddering as she managed to keep from regurgitating the slimy filth as that would end up prolonging her agony.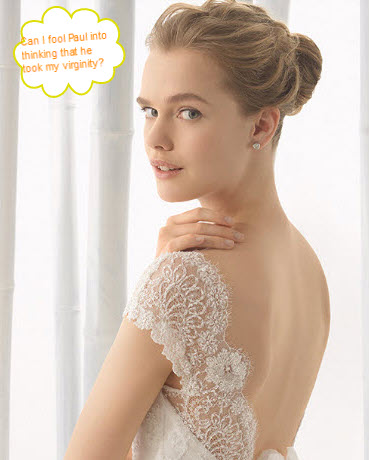 Weeks after her horrific ordeal, while dressed in her lacy white wedding gown, Courtney was trembling and worried about later that night, wondering 'Can I fool Paul into thinking that he took my virginity? Will my plan work if I moan out as if in pain and leave a bit of blood on the towel that I laid out beneath me ahead of time?' In her overnight bag was a small vial of blood that she had poured in from a steak obtained from the supermarket, an idea that Courtney had obtained when accompanying her mother on a recent trip to the supermarket to prepare a cookout, thinking that using cotton balls to dab some blood on her inner thighs along with some bloody evidence on the towel beneath her would do the trick. Then Courtney decided 'If I do succeed tonight in making Paul think that he took my virginity, I'm going to make him real happy in the morning ................................by taking his penis into my mouth and ................and suck on it till he does right it in my mouth!' Deep in thought at that point, Courtney wanted to replace each horrid sex act with a loving experience with her handsome husband, first having sex with Paul and then taking him in my mouth ......................but that last act can never be made any better ....................for she just could not bring herself to do it ......................absolutely not ............................as there was no way in which she could ever endure the agony of being sodomized again!
Closing her eyes, trying to compose herself once again as her thoughts had her breathing hard and had her perspiring with nervousness, for Courtney desperately wanted to erase the memory that haunted her constantly ..............................that of sucking on the vile monstrosity while hearing the black bastard gloating 'Suck it, sweetie ......................now use yer pointed little tongue to tease my pisshole ................................and soon I'm gonna coat that talented tongue of yers with my hot cum!' When the attack had taken place, not only had she been raped three separate times, sodomized once but also had been forced to take the horrible monstrosity into her mouth, forced to keep it in her mouth till the black bastard did his 'thing' .....................not once but twice! That first time, with the bastard hold her head in his hands with her mouth full of his foul semen, Courtney recalled shuddering as she was forced to swallow down all that foul slime which her belly quickly rejected and up it came ..........................fortunately the bastard slid the nearby trashcan under her head or the carpeting would have been a total mess! 'By doing that, it'll hopefully help replace that awful memory that keeps on haunting me!' she thought, thinking that 'Perhaps Paul's penis swelling up in my mouth will bring more pleasurable memories of having a male's penis in my mouth! And I've got to make Paul finish off .................in my mouth ................or the only memory of that happening with be that black bastard's filthy penis erupting in my mouth!'
With Paul having left up to her as to the timing of starting their family together, earlier that week Courtney had advised "Paul, although I initially said that we should start trying on starting a family as soon as we got married, I'm thinking that it might be a bit more sensible if we waited a bit ....................not long ....................just a few months or so ..........................just till we're accustomed to married life and living together and then we can both decide if the timing is right!" With her fiance readily agreeing to her change of heart, that of delaying a few months as to starting their family together, Courtney breathed a sigh of relief for now she need not worry of her husband-to-be impregnating her as he also agreed to using a condom for the time being. With her period coming in regular cycles, Courtney knew that would be the first clue, then read up on the symptom of morning sickness so as to be prepared. On her mental list was to purchase some home pregnancy tests when she got back from the week long honeymoon, keeping them on hand, but deep down she knew that the end results for such tests to be taken in the upcoming weeks would be 'positive'.
The beautiful wedding went off smoothly without a hitch, with the fabulous reception was just perfect for the wedding couple, with the bride encouraging the groom to have fun and enjoy toasting with his frat buddies who were all lined up to congratulate the big day with them. Encouraging Paul to just have fun and not worry about drinking as their honeymoon suite was nearby, Courtney wanted her husband to be woozy from the alcohol so as to make her rouse that much easier to pull off when they did retire for the night. In seeing Paul staggering a bit from having quite a bit to drink during the reception, the best man assisting him up to the honeymoon suite, Courtney was feeling confident that her ploy would work. Once in the room, she knew that Paul would be anxious to have her all alone in his arms, and then of course naked in bed with him. Her heart was thumping in anticipation of what was to come soon, where Courtney planned on emitting a slight scream as if in pain when Paul penetrated her, making it seem as if he had indeed taken her virginity. She knew that Paul would be fast asleep soon after, especially with the amount of alcohol he had consumed, and then she could finalize things by planting some bloody evidence that would make it appear it was due to her broken hymen.
Early the next morning, Courtney was awake and lying on her side in bed, while Paul was still fast asleep on the other end of the bed. Her plan was to remain in bed till Paul got up, wanting him to look over towards her and see the blood stains on the towel that she had laid upon the bed before they made love for the first time, just in case she bled. Once her husband got up, Courtney knew that he'd get to see the condom that he still had on, with the dried streaks of blood that were there after she wiped the bloody cotton swap over it. And when he came over to check on her condition, Courtney planned on asking Paul to get her a wet wash cloth, of which she planned on using as he looked on to wipe her blood stained thighs with it. She then planned on feigning a bit a pain when she got out of bed, then asking her husband to assist her over to the bathroom so she could get cleaned up, and to take a refreshing shower. Later, once her husband freshened up with a shower, Courtney planned on enticing him back into bed to achieve one of her goals, telling him that he didn't need to use a condom as she had other things in mind and wanting to be the "first and only man to put your 'thing' into my mouth" .........................not letting up until he ejaculated, intending on swallowing it all and keeping it down!
A couple weeks after returning from their week long vacation in the Bahamas, Courtney encountered one negativity after another ............................first missing her period and the next week feeling nauseous from 'morning sickness' ...........................finding the only positive thing being the results of the three different home pregnancy tests that she had purchased! As feared, the black bastard had impregnated her that night of the attack .....................knocking her up with his little illegitimate black baby! It was now time to call Lisa Monroe, a good friend and sorority sister from college, whom she had helped in college and who had just made the two hundred mile trip with her husband to attend the wedding. Lisa had a rather similar experience in finding the need to abort an unwanted pregnancy some years earlier, of which she had confided in Courtney and had solicited her assistance in transporting her to and from the abortion clinic to resolve the unwanted problem. Swearing to keep it a secret from everyone, things got back to normal for Lisa, with her friend making Courtney promise to call upon her if she could be of any assistance to her in the future. Sharing a long hugging embrace with Lisa at the wedding reception, with each shedding a tear upon seeing one another after so long, it was then that Courtney had whispered in her ear "Remember how you made me promise that you'd be the one I called upon if I ever need a favor?" "Of course, how can I help?" her friend replied as they continued to hug. "I .................I may need the same kind of assistance that I helped you out with! I'm not fully certain yet ...........but I thinking I'll be needing it!" Courtney advised.
During their junior year in college, with Lisa's then boyfriend and now husband off campus for the weekend for Naval Reserve training, then shy Lisa Horton had gone partying with the other sorority gals over at the notorious frat known for its wild parties. Lisa was not a drinker and the potent ones handed to her by the handsome jocks in the frat had done her in, with her waking up naked that next morning on an unfamiliar sofa with her crotch a sticky mess, with six naked frat brothers asleep all about the room. Lisa did not know how many others there had been nor the number of times a guy had sex with her that night, just that they obviously had not used any protection, something that her boyfriend always used. Finding herself pregnant from that party night, the with father of the baby unknown, Lisa had confided in Courtney who helped her out by transporting her to and from the abortion clinic on the day the procedure was performed. Their embrace ended after Lisa advised that she'd check to see the the doctor she had used was still practicing there and would be emailing her all the details that she had encountered in undergoing her abortion. Courtney knew that she could count on Lisa, that she could get things off her chest in divulging the details of what happened to her, knowing that her friend would keep it a secret between them.

Ms. Lynn Kawano, age 24, spotted by Sammy as she waited at the restaurant to meet her boyfriend for a lunch date:
Not always was there adequate time for planning nor at times did the premises scouted out by Sammy lead to one where he could easily gain entry into. When such problems occurred, Sammy's potential prey might get a full reprieve of further stalking by the black bastard who was after her, unless there happened to be a weak link in her daily routines of her: going to and from work; jogging or walking daily on the very same path at the very same time; or maybe a particular time or pattern of her meeting her boyfriend or others at some location. Sammy's ideal place was that of his prey's home, thus he always checked out the premises first to see if he could easily gain access into the beauty's home. If the location was that of a gated community or if guarded by a doorman or security guard at a high rise, such premises served as a deterrent to Sammy as the risks of getting caught were just too high. Such was the case when Sammy spotted Ms. Lynn Kawano one day as she was waiting for her boyfriend to show up at the restaurant for a lunch date.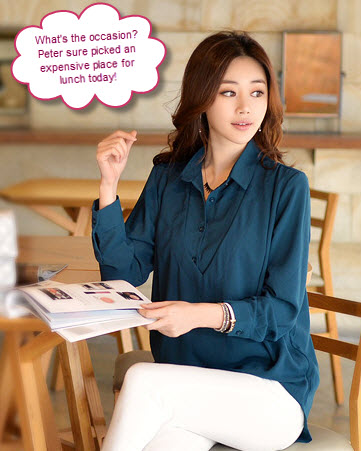 Looking for her boyfriend while looked at her!
Waiting outside on the patio where it was more relaxed and guests would sit around sit around with a cocktail in hand during the afternoons, Lynn grabbed a seat to wait for her boyfriend to show up for their luncheon date. The restaurant was highly rated and the inside was supposed to be fabulous according to all that she had read, so Lynn wondered 'What's the occasion? Peter sure picked an expensive place for lunch today!' As it was a lunch and a warm sunny day out, she had worn a long sleeve navy blue blouse, white slacks and a pair of white heels as she did not want to appear to be too casually dressed at such a restaurant. As she looked towards the parking lot for Peter's car to drive in, Lynn did not notice the busboy who had come outside to wipe down the tables and the clear off any cocktail glasses, his eyes on her the entire time as he cleaned up each table. Unbeknownst to Lynn, on turning the page of the magazine she was reading, the lack of an engagement ring on her finger killed the interest that the watching male had in her.
However, an hour later inside of the swank restaurant, Sicko Sammy's cherry finder began rising up in is pants when the boyfriend pulled out a ring from his pocket and proposed to the succulent Asian beauty. Keeping busy busing the nearby tables at the time,, Sammy's magic wand was going crazy in his pants, like that of a Geiger counter's needle making a finding ...............but Sammy's magic wand was for specifically detecting a 'cherry' that was ready for popping! And according its reading, the young beauty indeed still had her cherry intact, causing Sammy to eye the whiteboy who had just become one happy little punk! 'Ya won't have that smile on yer face if'n that sweetie fesses up and tells ya someone beat ya at copping her precious little cherry ....................that some big black stud went and busted it good!' Sammy chuckled to himself, then added 'But I's aim to leave something in return fer the use of that purty little thing ya jist proposed to ......................a little kinky haired bastard outta square things with us, dontcha think?' Looking over at the lovely beauty as she now was admiring the sparkling diamond ring on her finger, Sammy licked in lips in anticipation of socking to that young little sweetie before she became the whiteboy's trophy wife!
Taking a smoke break when the newly engaged couple departed the restaurant to head for the punk's car in the parking lot, Sammy found the ideal vantage point where he'd be able to note down the license plate number of the car as it departed out to the main roadway. Once that was accomplished, he'd then go on back inside to make note of the name that the reservation had been made under and hopefully there's be a phone number next to the reservation. Having already subscribed annually on a reverse telephone check with an online company, that would involve no added cost on his part to get the location of the punk's home address. Having also subscribed to an online people search service, a name search would also be at no added cost to him, so Sammy was hoping that one of these two search avenues would be productive. If not, a reverse directory on license plate numbers by state was also available, however going this route was quite expensive as he had already used up two trial subscriptions on the cheap and any further use of the service would incur monthly fees unless he used a stolen credit card.
Peter R. Bennett, age 25, residence address at 259 N.E. Kennington Drive was what came up on the search engines that Sammy tried. Onto the various social media sites, Sammy recognized the punk in the photo posted up on his site, an it was updated with the uploading of the photo taken by the hostess at the restaurant, snapped of the couple just minutes after lovely Ms. Lynn Kawano said 'yes' to the punk's marriage proposal. Now that he had his succulent prey's name, Sammy pulled up her social media sites and licked his lips in seeing her photo, and his boner was once again reacting in his pants. Typing in her name in the basic search engine, up came the results from which he could eliminate women having the same name just by looking at the age listed for each. Knowing her fiance was 25 years of age and having seen the beauty herself earlier that day, he eliminated the three others where the age indicated was over 30. Sammy came to the conclusion that his prey was a Lynn Kawano, age 24, residing at 5487 Brighton Ave. Unit 19F.
From the various sites and compiling all the info he had obtained, Sammy knew the beauty's address and where she worked as a dental assistant, so he decided to head on out early to where she lived and see if he could tail her to work and later tail her from work to back home. Did she drive to work in her own car, take the bus, or maybe she took the subway. He had to be prepared for anything, thus Sammy hoped to find a parking space where he could leave his car there if needing take the bus or subway to follow her to work. But Sammy knew that he might not be able to follow her entirely in one surveillance outing, that he might just have to do it piecemeal over various days, in case she might become wary of him or even losing him for some reason. From his years of experience, Sammy knew full well that one's patience was the virtue one needed to be successful in the game of surveillance, for how else could a low-life like him be so successful in his quest for lovely young beauties ...................pulling of successful rape after rape, copping cherry after precious cherry, and getting away with it all!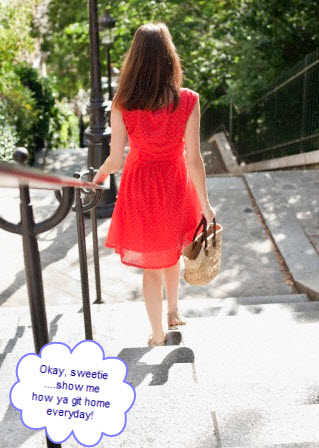 On his first drive-by one afternoon to check out the beauty's address, Sammy discovered it to be a high rise that required a key to enter and there was also a reception desk for acquiring mail and which served for security. Gaining entry into such a building would be next to impossible to pull off him getting to surprise the unsuspecting beauty in her own home. On that first weekday that he commenced his stakeout, Sammy observed the lovely Ms. Lynn Kawano exit the secured front lobby door and stand atop the front step, then she looked about apparently for her ride to show up. A moment later, Sammy observed the punk's car drive up and the beauty walking down the steps to enter the front passenger door. Having driven by the beauty's place of employment, Sammy knew the general vicinity in which the punk was headed to in order to drop off his lovely fiancee, but Sammy wanted all the details as to the rout taken each day as well as the exact spot where she was dropped off at. With the rush hour morning traffic, Sammy managed to follow from being about four cars back from the punk's, then he watched as his prey was dropped off at the crosswalk some twenty yards across of her workplace. So as not to gain any suspicion, he drove on pass, then watched in his rear view mirror as she crossed the street to enter into the building where she worked.

Having called the beauty's place of employment and asking what was the firm's business hours, Sammy knew when work got out and planned on seeing when she left work and how she got on home each day. That morning, the lovely Ms. Kawano had worn a bright red dress and white heels, so it'd be easy to spot her once she exited her place of employment and easy to follow her if she was not being picked up by her fiance. 'If the punk picks her up after work each day and takes her straight on home or to his place, this is gonna be a real tough one to pull off, if at all! Guess if'n that happens, I'll have to make a decision at the end of the week as to scratching this purty little bitch off the list!' Sammy noted as some disappointment began to set in. With a small convenience store located right across the street from her place of employment, Sammy planned on picking up a cold drink from there at about 4:30 that afternoon, loiter around for a bit till his succulent prey exited her workplace. If her fiance picked her up that afternoon, it'd be the end of his surveillance that day as the closest he could park was on the next block over to the east.

Leaning on the wall outside of the convenience store and sipping from the bottle of water he had just purchased, it was at 4:40 p.m. that the beauty in red exited the building with several co-workers and then she waved goodbye to them as she turned right and was walking to the corner. As he picked up the tail, Sammy noticed that she was not wearing the white pair of heels that she had arrived in, for apparently she had changed into a pair of sandals to make her way home. This put a smile on Sammy's face as it meant that the punk wouldn't be picking her up and it gave him hope of somehow pulling it off where he could get into her tight little panties after all. 'Bus? Subway? Both stops are a few blocks from here!' Sammy wondered as he followed his succulent prey on down the long concrete stairway that would take them to where he buses and the subway stops were located. Eyeing up her sexy bod, Sammy mentally told her 'Okay, sweetie ..........show me how ya git home everyday! There's gotta be some weak spot that'll allow me to git my hands on ya ......................and my's cock up yer tight little pussy!' Looking about, seeing where he was and sizing up the surrounding area, he realized that to the right was the back end of Gilmore Park which most people dared not frequent when night time came.

Having gotten on the same bus that she had taken, grabbing a seat in the back, Sammy watched and saw that it was approaching her home, watched as she pulled the cord for the bus to stop at the end of the block from where her high rise was located. Staying on the bus as the beauty exited so as not to be noticed, Sammy got off at the next stop after seeing that there were no weak links between the bus stop where she got on and off at her high rise. Going across the street, Sammy had to wait for a bus going in the opposite direction to get back to where he had parked his car. As he rode the bus back to get his car, Sammy retraced their steps, realizing that Gilmore Park was the only weak link in the beauty's route to and from work was the path that she took along back of the park. That's what he'd have to check out further once he got back to the stop across Gilmore Park, whether there was an area that he could pull her off the path and into the shrubbery, and if anyone frequented that part of the park that would put the quash on any of his devious plans.

Back at his place that night, Sammy let out loud sigh of relief that he had made it home in one piece, and that was saying a lot for the likes of him. 'Jeusssssss ...............................that mother was a fuck'n fruitcake! Didn't think no white guy could be so nuts .........................fuck'r was taller than me and the shiv he was waving around was even longer than mine!' Sammy recalled. 'Shit, found me a large enough opening area in the fence and that back area of the park would've been the perfect place ..............................except fer that frick'n fruitcake claiming that the park was his!' he cussed. Just as he was thinking that he'd have to write the sexy little bitch off, an old buddy who had worked at the old pizza joint with him a couple years back came to mind, and Sammy wondered 'If'n I's not mistaken, Gilmore Park was where Tiny said that he hung out at before getting busted fer drugs and going to rehab, before gitting the job at the pizza joint! Haven't talked to him in ages .....................maybe he can fill me in on that whitey nutso!'

After searching around and finding Tiny's cell number on menu of the pizza place they had worked at together, Sammy gave his old buddy a call, learning from Tiny that "That Gonzo George got a few screws lost up there! Thinks he owns that section of Gilmore ........................which he pretty much does as nobody dares screwing with him .....................think they said he had a bad case of PTSD! But he's okay if you give him a piece of pizza and a cold beer ...............make it known that yer not wanting to take over his territory!" The next day , Sammy was at the back end of Gilmore Park once again, this time with a pizza and a six pack of beer in hand! And when confronted by the crazy old coot, Sammy offered him the peace offering of pizza and beer, telling him that "I'm a friend of Tiny's ..........................tall black guy who hung out here in the park a couple years back! He told me your name was George .....................Gonzo George ...........................he said that you liked pizza and beer so I brought you some!" "Gonzo George ..........................me Gonzo ..........................me Gonzo George ..........................Tiny sent you? Tiny sent you ..................you bring me pizza and beer?" Sammy was asked by the fruitcake.

Over the next few weeks and paying several visits to Gonzo George with pizza and beer in hand, Sammy got to befriend the old boy, but he was always prepared to make a quick dash for cover should the psycho pull a knife on him. Normally no one guy would put a fear into Sammy, but he had come to learn one thing ..................'don't fuck with no psycho' as such a guy felt no pain if knifed or even shot! Then he asked Gonzo if'n he'd get pissed if he brought this hot chick here to make out, saying she worked nearby and that he needed to find a nice cozy place for them. "Only if'n ya's bring me a girl too! Ya git Gonzo a girl and ya can use this place anytime!" the psycho advised in reply. 'Damn, he wants me to bring him a girl in exchange fer me using the place! Shit, how am I gonna pull this off!' Sammy wondered. Then he came to thinking 'Gonzo's obviously not the sharpest pencil in the box ......................seems to believe anything I's tell him! Let's see if'n he bites this!' "Gonzo .................this chick is so hot ...................just loves to make out ...................and loves to 'fuck' .....................'fuck' any guy! Lemme make out with her first ........................fuck her first ...................then I's sure she still be hot and bother and want to make out with ya too .......................want ya to 'fuck' her too!" Sammy advised his psycho friend.

Lynn's co-workers had warned her many a time of going to different bus stop, to avoid passing by Gilmore Park at all cost, but the walk would have been twice the distance or much longer if she took another bus first before transferring to the one passing by her high rise. But Lynn had convinced herself that it was safe enough to travel the route that she took each day, providing that she made sure other pedestrians were walking nearby when she walked down the lengthy stairway located alongside the back end of Gilmore Park. But on this particular day, she had been so preoccupied in thinking about the wedding plans, thinking about honeymoon hints that Peter had made over the phone that prior night. Wearing a light blue dress today, Lynn had removed her navy blue heels and slipped on her sandals to make the walk to the bus stop, but her mind was focused on the wedding and honeymoon plans. Before making the trek down the long concrete stairway that was adjacent to the rear of Gilmore Park, Lynn would be certain to have several other pedestrians nearby, waiting if she had to so as not to put herself in needless danger. But such was not the case on this particular day, for there were no others making the walk down the stairway when a large hand was clamped over her mouth and Lynn found herself being dragged through an opening in the fence and dragged into the bushes of the park.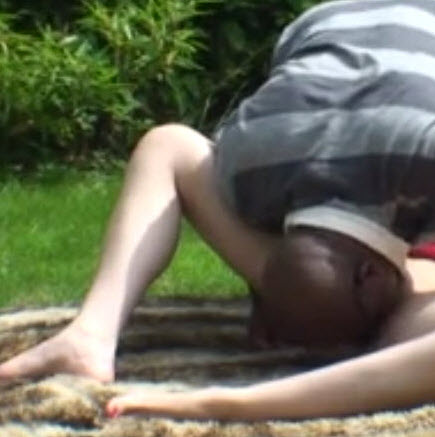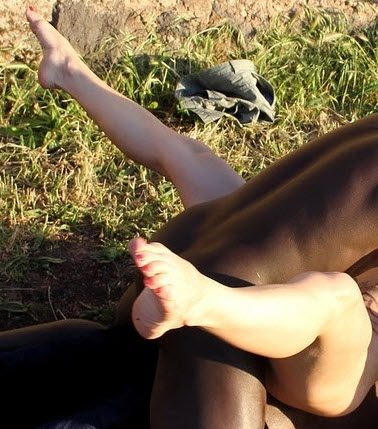 First grabbed by a black man and dragged into the brush at the back end of Gilmore park, hearing a shrill of a whistle being emited by her attacker as if it was a signal being made, her dress and panties were then ripped from her and then the black bastard had tried to put his filthy 'thing' into her mouth while clamping his own over her sex. Lynn had clamped her teeth shut tightly to avoid the black 'thing' from being forced into her mouth, but that also aided her attacker as such prevented her from screaming out, then the unwanted tonguing of her twat had her quivering from the unwanted pleasure coursing throughout her innocent and inexperienced young body. Swooning from the unwanted pleasure caused by experiencing her very first orgasm ever, Lynn was at a total loss when she was mounted by the black bastard, and her shrilling scream was muffled by the large hand being clamped tightly over her mouth when the bastard speared his thick black cock into her never before penetrated vagina. "Nnnnnnnnnnnnn ........................mmmmmmfffffffffffffffffffffff ....................................mmmmmmmmmmmmmmfffffffffffffffffff .........................................mmmmmmmmmmfffffffffffffffffffffffffff!" were her screams being muffled by the large hand over her mouth.
Totally devastated from the rape, along with the lost of her virginity that she had preserved to present to her husband on their wedding night, Lynn shivered from the cool air settling in over the park as the sun had just gone down. Looking about and seeing the trees and shrubbery in the surrounding area, Lynn closed her eyes in despair, realizing that she had let her guard down when passing the back end of Gilmore Park when heading to the bus stop after work. Her body hurting so bad, Lynn looked off to her right and spotted the black bastard who had raped her, saw him holding his blood streaked monstrosity while looking down as if to admire what he had just done to her, then heard him give out another loud whistle. Hurting so bad and unable to move, Lynn then observed some movement in the bushes and saw the a tall hideous white male who looked as if he was a character coming right out of a horror movie, and then she was watching him get out of his overalls. Lynn then heard her black rapist tell the hideous white male "Okay, my turn to be lookout, my man! She wants ya now, Gonzo ...................wants ya to give her a good fucking! Lookit .................she's got her purty legs all spread out wide fer ya .........................told me she wants ya to give it to her hard! Fuck her good and hard ....................that's what she wants ......................maybe ya'll be the lucky bastard who gits to knock her up!"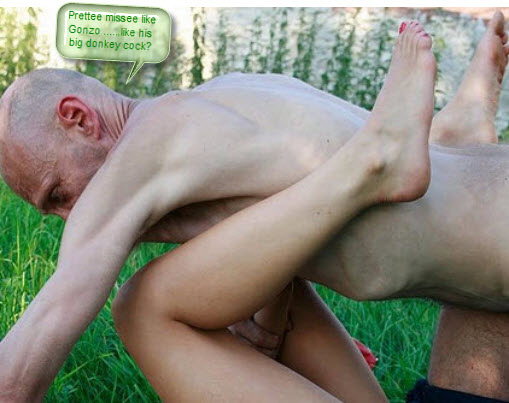 "Prettee missee like Gonzo .....................like his big donkey cock ..................like it good and hard?" she was asked by the bald psychopath who skewering his thick fleshy tube into her still bleeding vagina. As inch after inch of the psycho's monstrosity was brutally being shoved up into her aching slit, with the tall bony bastard humping his donkey-sized dong up into her, it was so gross for Lynn upon hearing loud grunts being emitted by the foul rapist. "Hee haw .........................hee haw .........................hee haw!" were the sounds being emitted by the bastard atop of her, for not only did he possess a cock the size of a donkey but the noise he was emitting while raping her made Lynn imagine that such an animal was now atop of her. For Lynn, her initial rape and loss of her virginity was just so awful, but being raped by this crazy psychopath was so much worst ......................like an actual animal was upon her and raping her with its donkey-sized penis! As the vile rape continue on ............and on .............and on ...........the thrusting penis began rubbing up and down Lynn's ultra sensitive clit! Eyes tightly shut as she tried to block everything out of her mind, Lynn gritted her teeth as she tried stem the flow of unwanted pleasure that was beginning to course throughout her entire body.
Having pulled out his cell phone and turning on its video from when his cock had broken through the beauty's hymen, Sammy first captured his bloody cock in the confines of the raped beauty, and now he was smiling widely as he proceeded to film her being raped by Gonzo George. "Jeezzzz, that fuck'r is a real fuck'n animal! Bet she now appreciates me being the one who popped her precious little cherry and that psycho Gonzo!" Sammy thought while enjoying the sight of Gonzo dipping his donkey-sized cock into the bloody mess that he had created. Then from under the large psycho's body came moans from the raped beauty "Nnnnnnnnnnnnn ................................nnnnnnnnnnnnnnnnn ..........................oooooooooooooooohhhhhhhhhhhhhhhhhhhh!" Then Sammy saw the beauty's cute little toes curl, her calf muscles going taunt, then her petite body began quivering. 'Fuck'n shittttttttttt ........................the bitch jist came on Gonzo's cock! Shittttttttttt .....................she's drumming her heels on Gonzo's ass ..........................using her feet to pull him deeper into her!' Sammy realized.
Hours after having been dragged into the shrubbery of Gilmore Park, Lynn had managed to grab her dress and sneak away quietly while her rapists guzzled down another can of beer after each had spent his vile lust three times each into her ravaged body. Making it out of the park and down to the main drag, Lynn hailed a taxi to get herself home. Under the hot shower in the safety of her condo unit, Lynn held onto the safety railing to keep from falling as her knees were so weak and rubbery after her horrifying ordeal, with the nauseating details of that afternoon playing back in her mind. Dragged first into the park and raped by the big black bastard, her virginity torn from her, then the bastard had given her to that mean looking psycho that looked as if he belonged in a horror movie. What followed was her being made to get up onto all fours on the grass, then the black bastard raped her from behind, all while his psycho white friend was standing in front of her and making her take his filthy cock into her mouth. When each of the bastards had ejaculated his filthy into her, Lynn recall having thrown up in the grass while they laughed and had a beer at her expense. Made to get onto all fours once again, with her attackers changing places, had brutally shoved his cock up into her rectum, with her painful screams muffled by the big cock that had been forced down into her throat.
End of Story.