Having gone onto internet search site that he subscribed to and typing in the beauty's name, Sammy uncovered details as to her job and where she worked at, her age along with her home address and cell phone #. Having looked up the company's name where she worked at, Sammy copied down the address so he might be able to tail her pretty ass once she got off work. But on his first chance of putting a tail on the sweet little honey, Sammy found that it was going to be tougher than he had initially thought when learning that she was not living with that punk fiance of hers but that he picked her up in the early morning to go to work together and of course would later be returning from work together. 'So that's why he's always around when she comes in to pick up the pizza to go! Their ordering it on their home from work and then going to her place for a pizza dinner!' he figured. After several surveillance checks, always seeing the punk with her till it was time to go to bed, Sammy more and more began thinking of pulling of the devious caper that his demented mind had come up with ............................taking that extra risk of rendering the whiteboy harmless, tying him up, then giving the punk a free show!
With the Asian beauty living in a small rental cottage, it was a snap for Sicko Sammy to gain entry into the place, find a convenient hiding space and then surprising the loving couple when they arrived home from work. It was a small two bedroom cottage, one where the sweet thing slept and the other being used for a small office as it had a desk and computer on it. Hiding out in the closet turned out the be the perfect hiding spot for Sammy, for once the couple returned from work, the beauty went in for a quick shower while her fiance came into the extra bedroom to turn on the computer. Quietly exiting from his hiding space, the zap of a stun gun rendered the punk incapacitated. Wheeling him in the chair and into the bedroom, Sammy had him tied up both separately and then used another strong rope to bound him to the armchair that was positioned perfectly for the punk's ringside view. Once the unsuspecting beauty exited the shower, Sammy clamped a hand over her mouth, tore away her blouse and flimsy bra before tossing her onto the queen-sized bed. Having loops secured to the headboard's railing while she was showering had her secured by the ropes in no time flat. With the punk gagged and bound to the chair, Sammy looked over to see that he had regained consciousness. "Ever stripped yer sweetie naked, huh? Damn, she's a real fine piece!!" he taunted over to the distraught fiance as he struggled to get free. Popping the top button open and pulling the shorts wide had forced the zipper on down. Then Sammy grasped the top of her shorts along with the waistband of her panties to slowly expose where the hidden gem's location. The thrashing and kicking by the petite beauty did not hinder Sammy from achieving his goal, as her struggling made it that much more exciting for him.
Bound tightly to the armchair by the tight ropes, ankles tied and his mouth gagged, Jim Nichols could only sit there horrified where just feet away his beautiful fiancee lay sobbing with her arms outstretched above her head with her wrists tied to the metal headboard rails. He sat there helplessly while Kristi's silky black hair tossed from side to side as she suffered from the demeaning ordeal being forced upon her. "Oh, God ..........................oh, God ..............................help me .................................help me!" Jim heard her sob out. "Noooooooooooooo .........................................nooooooooooooooooooooo ......................................stoppppppppppppppppppp!" Jim heard her sob, pleading for her assailant to stop. What taking place on the bed was what Jim had wanted to do himself, that of having his beautiful fiancee naked on the bed with his head between her widespread and sexy legs. He certainly did not want to be sitting there and having to watch this hooded assailant enjoying the pleasures meant for him, lapping at Kristi's untouched womanhood and driving her out of her mind. Jim had enjoyed his share of pussy eating with prior women he had dated and had sex with but now he had to refrain from this pleasure till after they were married, but now this fucking bastard was beating him to all the goodies that were meant for him alone. With the black bastard between her legs, he lifted up the hood he had on, then delved down to feast on his tasty meal. Jim then observed the muscles in Kristi's sexy calves tighten, saw her pretty toes curl, and knew that she was deriving unwanted pleasure from this foul bastard's mouth.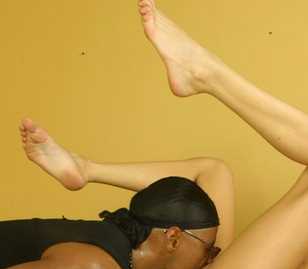 And then Jim noted the desperation in Kristi's tone as she sobbed "Nooooooooooooooooooooooooooooooooo ........................................ohhhhhhhhhhhhhhhhhhhhhhhhhhh .........................................ahhhhhhhhhhhhhhhhhhhhhhhhhhhhhhhhhhhhh!" With her curled toes pointing down, pushing down on the bastard's broad black back so she could arch up her crotch into the slurping mouth, he observed the trembling spasms shaking her entire petite body. "Goddddddddddd .................................nnnnnnnnnnnnnnnnnnnnnn .....................................aaiiiiiiiiiiiiiiiiiiiiiiiiihhhhhhhhhhhhhhhhhh!" came the shriek, then silence, and Jim watched his fiancee's trim body collapse limply back down upon the mattress as the slurping sounds could be heard from between her sexy legs. Having had his share of women orgasming in his mouth, Jim knew very well that the black bastard had just eaten his Kristi to such a mind-shattering orgasm, and now her tormentor was slurping up all her sweet honey. Jim heard his beautiful fiancee sobbing in shame, saw her open her eyes to look towards him before sobbing out "I ...................I'm so sorry, Jim ..................I'm sorry ....................I ..............................I couldn't help it! I'm so ashamed!"
Jim struggled against his bonds but to no avail, unable to get up our of the armchair to help his beautiful bride-to-be and was forced to watch the big black bastard moving up to cover Kristi's petite body with his ebony one. As the bastard was moving atop of Kristi, Jim saw the horrified look on his fiancee's face, realizing that the fucker was trying to fit the bulb-like dome of his horse-sized cock up against her virgin slit. And then it happened as the black bastard went and lunged forward with all his might, slamming his baby maker right up into Kristi's virgin slit, causing her to shriek out loudly "Eeeeeeeeeeeeeeeiiiiiiiiiiiiiiiiiiiiiiiiiiiiiiiiiiiiiiiiiiiiiiiiiiiiiiiiiiiiiiiiiiiiiiiiiiiiiiiiiiiiiiiiiiiiiiiiiiiiiiiiiiii! Aieeeeeeeeeeeeeeeeeeeeeeeeeeeeeeeeeeeeeeeeeeee!" As the bastard reared back and slammed forward once again, his fiancee screamed once again "Owwwwwwwwwwwwwwwwwwwwwwwwwwwwwwwwwwww!" With the bastard rearing on back to prepare to thrust forward once again, Jim got a glimpse of the evidence of Kristi's virginity having just been destroyed, as evidenced now by the bloody mess on the sheets.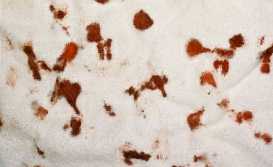 Getting to cop the beautiful bitch's cherry as her fiance looked on had Sammy on the verge of cumming right then and there, but he had managed to fight the urge in order to make the exciting rape to last, for it'd have been rather embarrassing to pop his load so quickly in front of the onlooking whiteboy. Pumping in and out of the sobbing beauty, withdrawing some 10+ inches before ramming it back in all the way, the squishing sounds of the bloody rape got louder and sounded wetter to indicate that the the bride-to-be was continuing to bleed a lot. Having planned this for so long, the need to cum in this sweet little bitch was just overwhelming now that he had gone and popped her cherry, Sammy just could not hold the dam back any longer. But first to add insult and injury to the whiteboy she was about to marry, he turned to look at the punk's horrified face to taunt him with "I's jist went and busted yer beautiful bride's cherry fer ya! But I's didn't fergit yer wedding gift ..........................one that ya can help her take care of ..................in about nine months!" Jackhammering the beauty, Sammy thrust in one final time and buried is baby-maker up to the hilt, threw back his head as his body quivered and announced that "I's cummingggggggggg ........................uggghhhh .........................uggghhhhh ....................oh, fuckkkkkkkkkkkkkkk .......................................yeahhhhhhhhhhhhhhhhhhh! Ahhhh, gonna knock her up good! Gonna give her a little black baby ......................my's black baby!"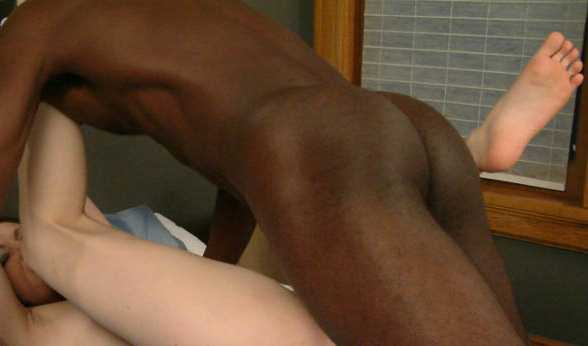 Reflecting back to that exciting caper, Sammy recalled how her wide-eyed fiance was staring at the the bloody twat of his beautiful bride-to-be as a mixture of his lumpy cum and the bitch's blood kept on oozing out of her slit to puddle on the bed between her widespread legs. Then the whimpering beauty sobbed out "Please ........................please untie me ........................I need to wash ..............................I don't want to get pregnant!" That's when Sammy turned to her punk fiance, telling him "Hear that, she doesn't want to get pregnant! How about you, punk .....................ya want her to git knocked up?" With the punk gagged and unable to answer, Sammy chuckled when he shook his head 'no'. Going to the chair, untying the rope holding him down to the chair but not the other ropes binding the punk, Sammy then told him "Only one way she's gonna git that cum outta her cunt is if'n ya's eat it out of her!" Taking that gag out of his mouth and dragging him over to the bed and pushing his face down into the bleeding beaver, Sammny then ground his face into the messy twat. "Lick it, punk! Lick it out of her if'n ya's don't want her to git knocked up!" he advised.
Sitting down into the chair that the punk had been in, Sammy watched as the whiteboy hesitantly licked at his bleeding bride-to-be, then began licking in earnest. Sammy was amazed and realized that this whiteboy had eaten pussy before, probably not a bloody one though, but the punk was going to town and now had the bitch squirming. "Yeah, buddy ....................eat it .....................obviously ya've had pussy before! Go fer her clit .............................make her cum .......................that'll flush out my cum!" Sammy encouraged. Soon the beauty's legs were going taut, toes curling, and then she panted out "Oh, Jim ...........................Jim ....................honey ............................aaaahhhh .........................ahhhhhhhhhhhhhhh ...................................make me feel good, honey .......................I want you to be the one ................ohhhhhhhhhhhhhhhhhhh ..................................yesssssssssss ..............................ahhhhhhhhhhhhhhhhh!" As she collapsed down to the bed, the punk began lapping up the new sweet juices flowing into his mouth. This was to be the first of three times that the punk got to eat out the beauty, all with her encouraging him each time that Sammy raped her, telling her fiance "Jim, please .........................that's the only way that might keep me from getting pregnant! Please .....................please do it .........................ohhhh, Jim ..................yes .............................yessssssssssssssssssss...........................lick it all out of me!" And the punk went at it till he made his honey's toes curl once again, till he got her sweet 'honey' juicing out into his slurping mouth.
Chuckling to himself as Sammy then recalled what he also got to teach that sweet little honey, all while her punk fiance looked on in horror. Having untied the beauty's bound wrists from the railing of the headboard, Sammy recalled how he had grabbed her long silky black hair in his hand to drag her her off the bed onto the carpet. This had all taken place after that initial rape and forcing the whiteboy to eat his fiancee out, following his dumping the punk back into the armchair and retying him securely to it. Then, with the punk's pretty bride-to-be kneeling upon the carpet not more than a foot away from her tied fiance, Sammy gave the punk a first hand view of watching his sweet little honey eating cock for the very first time. With the bitch delirious from being eaten out/ raped/ then eaten out again, she didn't object much when Sammy pulled her head by the hair towards his once again jutting monstrosity, only now it was streaked with dried blood from her broken hymen. With his cock slicing into her gagging mouth, Sammy then looked towards the stunned whiteboy and commented "Ahhhhh, damn .............................ahhhhhhhhh ........................I's gonna make yer purty little bride one talented little cocksucker! Ohhhhh, looks like she's enjoying the cherry flavored one I's got fer her ......................................ohhh, jezzzzzzzzzzzzzzzz!"
Holding the back of her head with both hands to keep her from pulling away and off his pulsating cock, Sammy held the gagging beauty firm, then loudly announced to the punk "Ohhhhhhhh, Goddddddddd ....................................I's gonna cum ................................gonna cum in yer sweet honey's mouth! Ahhhhh ...................................uhhhhhhhhhhhhhhhhhhhhhhhhhhhhhhhhhhh!" And cum he did, all while the Asian beauty choked and gagged as he shot his hot slimy filth right down into her throat. Finally he pulled his dong on out of her mouth to allow her to breathe. But that's what went and did it for when she took in a breath of much needed air, her stomach rebelled and she had to cover her mouth from upchucking her goodies all over the place. He had allowed the frantic beauty to get up and rush to the bathroom, where seconds later she was bent over the toilet bowl puking her guts out. As her retching could be heard, Sammy bent over to whisper to the whiteboy "Too much protein, I's guess, huh? Think she'll be able to keep yers down, punk, huh? Well, when she's done puking mine out, ya can give her a taste of yers! Think about yer little sweetie kneeling down between yer legs, opening yer fly, reaching in to pull out yer little pecker, shucking it, then going down on ya, huh! Damn, ya know she's sure got a talented little tongue ..................................especially when she went and used the tip of her tongue to play and tease my pisshole! Yeah, ya didn't know that, did ya? But each time I's went and pulled out except fer my cockhead, she was teasing my pisshole with that little pointed tongue of hers! I's think yer innocent little sweetie knew instinctively jist what to do with a cock in her mouth, cause she jist did it perfectly! Yer gonna be marrying one hot little cocksucker, my boy! We'll give her some time after she stops puking, git her to freshen up a bit, then ya'll git to see how talented yer sweet little honey with her lips and tongue!" Sammy then pulled the armchair holding the punk back a few feet to get the scene ready for the next session.
Telling the punk that he'd get the pleasure of a suck off by his beautiful bride-to-be was a two-fold strategy concocted by Sammy's devilish deeds. One was to get the punk overly excited in anticipating what was to come, that of his beautiful honey on her knees before him and taking his cock into her mouth to suck him off, that way embarrassing him to no end if he came off before he got it into her mouth or shortly thereafter. Going to the bathroom after the puking had stopped, Sammy observed the beauty with her hands on the toilet tank but head still down in the bowl, with empty heaves now racking at her petite body as she had puked apparently puked everything out of her queasy stomach. Flushing the toilet for her, Sammy grabbed her by the hair and pulled her up, then pushed her towards the sink and telling her to "Wash yer mouth out sweetie!" Once that was accomplished, he guided her by the arm back into the bedroom, made her kneel down naked between her fiance's legs, telling her "Now ya can shows the man yer gonna marry how quick a learner ya are! Show him how talented a tongue ya've got ................like how ya teased my pisshole with the tip of yer tongue!" Seeing the horrified look on her beautiful face after his comment while looking up apologetically to her fiance, Sammy then commanded "C'mon now, reach on out and unzip him!" Pants unzipped, manicured fingers delving into the opening, then the once innocent beauty got the first glimpse of her fiance's manhood. Sammy himself was getting aroused in watching as the mesmerized beauty began wanking at her fiance's throbbing boner as it began inflating and lengthening as she pumped him.
Having taken the punk's gag off prior to his beautiful fiancee giving him a blowjob, the whiteboy began panting with pleasure once his sweet honey put her hand into his pants and pulled his boner on out into the opening. "Oh, Kristi ............................ohhhh, honeyyyyyyy .........................................ohhh ...........ohh ..................oh, yes ...............................ahhhhhhhh .......................................ahhhhhhhhh ............................................yes ..............................lick it ......................................lick ittttttttttt!" the punk panted on out. Sammy watched intently as the raped beauty was wanting to please her bound her fiance with her lips and tongue, using the pointed tip to lap at the bloated cockhead before teasing his flaring pisshole. From the way in which the punk was struggling against his bonds while trying to arch up into his fiancee's mouth, Sammy thought 'Damn, if''n she don't take him in her mouth soon, he's gonna be popping his load of cum all over her purty face!' Now the punk had his head thrown on back, panting and obviously trying to hold back as long as possible, trying not to shoot off prematurely as he arched up to push it between her lips. Meanwhile, Sammy began fisting his own boner that was once again jutting upright like a spike, then heard the punk's loud groan of pleasure as his bride-to-be engulfed his sensitive cockhead into her hot sucking mouth. Knowing that the punk wouldn't be lasting much longer, Sammy slid off the armchair, got into position behind the sexy young beauty and began caressing her soft creamy ass.
Sure enough, just a few bobs of the head by the punk's beautiful fiancee did the trick and the punk groaned out "Ohhhhhhhhhh, honey, I'm ...........................................cumminggggggggggggggggggggggggggggggggggg! Ahhhhhhhhhhhhhhhhhhhhhhhhhhhhhhhhhhhhhhhhhhhh!" But just a few seconds later, the groans of pleasure turned into a shriek of agonizing pain with the punk yelling out "Eiiiieeeeeeeeeeeeeeeeeeeeeeeeeeeeeeeeeeeeeeeeeeeeeeeeeeeeeeeeeeeeeeeeeeeeeeeeee!" This turnabout had been all planned in Sammy's devious mind, waiting till the punk was getting his jollies before he grasped the trim hips of the punk's fiancee and sodomizing her virgin ass, causing the surprised beauty to clamp down upon the stem in her mouth to grind her teeth due to the sheer pain he was causing her. Sammy laughed at the chain reaction of the pain that he had initiated, then reared on back to lunge forward once again, and indeed the chain reaction continued as the punk yelled out "Owwwwwwwwwwwwwwwwwwwww!" And now to cause the punk even more grief, Sammy began to sodomize the beauty in earnest by humping in and out of her tight little asshole. And when it was all over, Sammy sat back on the bed panting in exhaustion. He looked over at the sobbing beauty who had her head in her fiance's laps as cum dripped out of her rear-end, all while the punk grimaced in pain as his chewed-up cock began to shrink rapidly.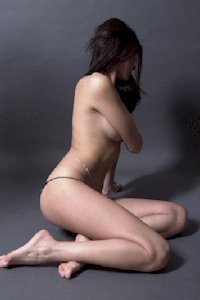 It was nearly a month later that Sammy saw the order come in for the beauty's favorite pizza. Seeing that there was a pick-up time of 5 p.m., Sammy planned on keeping an eye peeled out for her when she came in to pick it up. And when she did arrive, Sammy edged himself to the corner of the opening and observed that her diamond ring still adorned her finger, meaning that the wedding date was still on track. Months later, on a future pick-up order, Sammy observed that the diamond engagement ring was now accompanied by a matching wedding band. But that was not all that he observed, for he swore that he detected a slight bump in her belly ..........................a little baby bump! He wondered if the couple had sex anytime following the rape and before the wedding, to which he surmised 'not' as that then left the option open for her to abort the baby created from the vile rape that he had committed, for she certainly would not want to abort the baby if there was a chance that it could be her fiance's. Thus, time was obviously running out for her to make the big decision, which he figured was a 50-50 chance as many women would not want to take a life, instead many would give birth and put the baby up for adoption, with very few keeping a baby conceived in such a vile manner. Eight months later, Sammy would be smiling widely as the couple came in to eat in the pizza parlor, bringing their little one in a car seat and giving her a bottle. Sammy was absolutely thrilled in getting a glimpse of the little baby boy .................................one obviously not fathered by the man who had carried him in, and confirming to Sammy that the baby was in fact his! 'Ah, so nice of them to bring the baby in so's his daddy and git a look at his son!' Sammy chuckled.
End of Story.