Sweet Asian Cuisine
(m/f, i/r, n/c)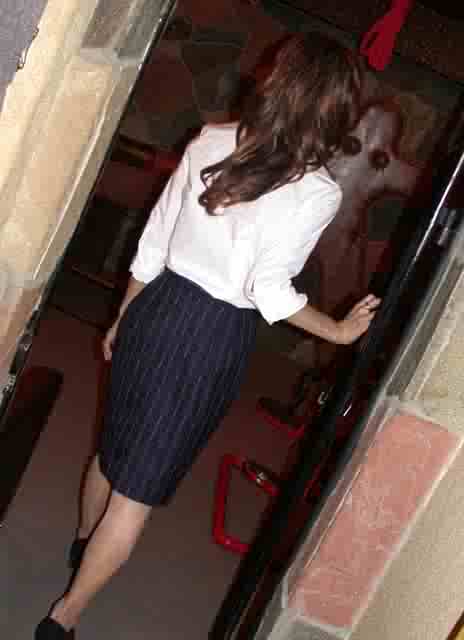 by
Black Demon
______________________________________________
Standard Disclaimer!
This is a fictional story intended for Adults only!
______________________________________________
Dushawn Webster was the kind of cunning, opportunist who always seemed to find a way to turn an opportunity into a windfall. And that's just what he did when Angie Vincent confided in him about the little scam she'd been running while incarcerated for handing dope over to an undercover cop. Though it was her first offense, the amount of 'ice' handed over plus being before the 'hanging judge', she was to serve a year in the can.

While doing time, Angie had discovered that several of the inmates passing time and generating some extra income by trolling for and fleecing unwitting guys by posting classified ads through a matchmaker service. It was simple and quite ingenious. Also, it was quite profitable as the women simply placed an ad, sorted through the dozens of responses from lovelorn men. They then worked their scam and hauled in the profits.

Angie Vincent wasn't high class but still much prettier than and a cut above the average inmate. She had reprints made of a posed photo taken several years earlier and sent a copy out to the guys who answered her ad, along with a carefully worded letter that portrayed herself as an innocent and sincere young beauty who had been falsely charged and convicted of a crime. She also expressed hope of someday meeting her special someone through the matchmaker service and to make a fresh start when her sentence was up.

Once a guy was on the hook, Angie'd simply up the ante, stringing him along and then coyly hitting him up for a few bucks to cover incidentals while she was serving out her sentence. A few bucks from this sucker and a few bucks from that sucker -- and several guys even sent gifts, perfume, jewelry, etc, etc. Angie was soon doing a land office business, supporting her drug habit and turning a nifty profit from the dozens of dupes she was fleecing.

When it came to men, however, there was only one man who mattered to Angie. That 'man' was Dushawn Webster. Though it was Dushawn for whom she was being the drug courier on the night she was busted, he was the only 'man' for her. And she soon bragged to him about the scam and all the money she was raking in, fleecing these losers by pretending each was her knight in shining armor, her Prince Charming. She even cut Dushawn in for a percentage of the take, wanting desperately for him to not forget her while she was in the can.

Dushawn found the whole thing to be quite intriguing, but it wasn't until Angie was released from prison on parole that he saw the potential to increase profits. As he perused the stack of photos Angie had received from her prospective Lotharios while in prison, he had to choke back a laugh. It was a veritable Rogue's gallery of losers, mostly comprised of past-their-prime losers that were overweight and out of shape. The rest were geeks and wimps. No wonder they had resorted to a matchmaker service in search of love.

But it was the snapshot of a lovely young Asian beauty that piqued Dushawn's interest. Not wanting to tip his hand to Angie, he casually inquired about the photo as it was unusual to see one of a female. Angie broke out in laughter as she regaled Dushawn about the young Asian beauty. She then sorted through the photos and pulled a snapshot of a young, rather good-looking Asian guy, who Angie identified as Tom Kawashima, one of her most intense and sincere suitors. The young beauty in the photo was that of Diane Fujimoto, Tom's fiancée, or more correctly put, the gal who he had just broken up with before beginning to correspond with her.

According to Angie, she had connected with Tom through her ad shortly after the guy's break-up and he was rather down in the dumps from it all. And Tom had proven to be among the most romantic and sincere, perhaps the easiest fish she'd reeled in as Tom had confided in her that he had never dated a blonde before. Also, Tom had confessed up-front that he had been engaged but that he and his fiancée had recently broken up. Angie then explained that the breakup had apparently been Diane's idea, sending Tom into a mean funk.
"The poor guy was unsure he'd ever find a woman he loved as much as he loved that sweet little thing! Anyway that was until he happened upon my ad in the classifieds and we began corresponding!" she chuckled. An experienced con artist, Angie had simply interpreted Tom's needs and portrayed herself as precisely the kind of woman Tom was looking for. Their correspondence quickly heated up, becoming very intense and romantic in nature.

On the rebound and thoroughly duped by the cunning bimbo, Tom Kawashima soon proposed to Angie, offering to marry her immediately upon her release from prison. He had completely bought into her deception and her story that she was in fact an innocent young beauty who had been wrongfully accused, tried and sentenced for a crime she had not committed. In fact, she had even convinced the naive young suitor that she was still a virgin, saving herself for the special someone she hoped to someday meet, marry and spend the rest of her life with.

The fact that Tom had proposed to the conniving bimbo, virtually sight unseen, was pure folly and Dushawn immediately recognized it was a weakness he could and should exploit. As Angie continued on with her story, a plan began to come together in Dushawn's fertile imagination. In anxious anticipation that Angie would soon be paroled, the fool had proposed to her, offering Angie the prospect of stability and financial security. Of course, love, romance and companionship were also offered as part of the package.

Angie had immediately capitalized on the prospect of bilking the naive young pup during her incarceration. He was a potential meal ticket, at least temporarily after her release from prison. Thus, Angie accepted Tom's marriage proposal, along with a diamond engagement ring that she had been allowed to put on during his visit to the prison before having to place it in custody with her personal belongings.

Over the next couple of months, however, Angie had detected a gradual change of heart in Tom. Her suspicions were confirmed when Tom sent her a long, emotion-filled letter, confessing that he and Diane had made up. He tried to let Angie down as gently and as diplomatically as possible, proclaiming that his feelings for her were sincere, but that he had searched his heart and realized that Diane was his one true love.

Angie explained to Dushawn that her only real disappointment was that Tom had slipped off the hook, but she quickly put it behind her. After all, she'd successfully bilked Tom out of a few bucks, and there were several other suitors still on the hook, so Angie was not about to lose any sleep over the revelation that Tom Kawashima was throwing her over for to marry the cute Diane Fujimoto. It was 'easy come, easy go' as far as Angie was concerned. In fact, she was already looking ahead, telling Dushawn that she intended on hocking the diamond ring as soon as she was paroled and pocket the profits.
It was the first that Dushawn had heard about the ring. He listened intently as Angie further explained that the snapshot of Diane Fujimoto was included with Tom's 'Dear Jane' letter and that was how Diane's photo ended up among the stack of photos in Angie's possession. At that point, Dushawn immediately went to work on Angie, convincing her she was far too unimaginative in simply letting Tom slip off the hook with so much potential still there to bilk the young fiancé out of a few more bucks.
Angie, not as cunning or resourceful as Dushawn, failed to see the point in continuing to pursue Tom. Also, she completely missed the fact that Dushawn's deeper motivation was to set up a scenario that would allow him to nail the lovely and stylish young beauty in the photo. But she wanted to please Dushawn, so whatever he wanted her to do, she'd do. Now that she was out of the can and back in Dushawn's life, she wasn't about to upset the apple cart in any way, thus merely going along with whatever her man wanted.

Dushawn slowly convinced Angie to buy into his plan, assuring her that she owed it to herself to play the unwitting fiancé for one last scam as he spelled out the details of the plan. In fact, Dushawn insisted that Angie immediately retrieve the diamond ring from her jewelry box and wear it until they pulled off their little scam. Little did Angie know that 'her man' wanted a taste of some sweet Asian cuisine!

Angie shrugged and did as Dushawn had requested. Unbeknownst to her, from that moment on, that engagement ring on her finger would have Dushawn thinking of that sucker who gave her the ring ………………..actually, that sucker's beautiful and true fiancée! In fact, each time Dushawn would fuck her, his eyes were riveted to the glittering diamond on her finger. He would fantasize that he was instead nailing the lovely and innocent bride-to-be in the snapshot, the woman who was betrothed to Tom Kawashima. Dushawn's imagination was running wild with thoughts of nailing the young beauty, wondering if she was cherry, how sweet and tight she was and how it would feel to fuck her.

As Dushawn instructed, Angie still had Tom's phone number and she was to later call him, setting up a meeting with him under the premise that they at least owed it to themselves to meet over dinner and drinks. After all, Angie contended, they had poured out their feelings to each other, fallen in love and Tom had proposed marriage. And for Tom to break off an engagement in a letter was an insult. But first, Dushawn advised her that he'd do a little homework on her behalf so that the timing was perfect.
Actually, Dushawn wanted to make sure the timing was just right for him to finagle a way into the naïve little beauty's tight little panties. He had no plans on blackmail, for the only head he was using to think with was the one throbbing between his loins. Sure, he had committed a bunch of crimes, drug dealing and burglary, but never an out and out forcible rape of an innocent and naïve young woman. With rape statistics showing nearly 9 of 10 rapes going unreported, he'd bet his last buck that the sweet Asian beauty he had designs on would rather die than have parents, friends, or fiancé learn of her being raped …………..especially by a black man!
Looking at the West Haven address, Dushawn correctly guessed that the suburban town had a local newspaper of its own besides the major city ones. Sure enough, Dushawn pulled up the site of the West Haven Times on the internet. With 'search and find' available within the internet site, he typed in the names of Diane Fujimoto and Tom Kawashima and hit the 'enter' button. He crossed his fingers and up popped a couple of articles.
Dushawn smiled as to what had popped up: 1st was the engagement announcement that revealed the bride-to-be was a librarian at the West Haven Library and also indicating that the big event would take place in three weeks; 2nd was the property purchased by the young couple together with the address shown as 346 Canton Road in West Haven. Now he knew where he could get an up close viewing of the succulent young beauty and also case out the home with the couple planned to reside upon becoming husband and wife.
With Angie curious as to what he was up to, after being propositioned with the scam and then told to keep cool, Dushawn advised her that the timing had to be perfect in order to hit Tom up for some bucks. But over the next week and a half, while Angie was busy working at her new job as a beautician, Dushawn was driving the 30 miles each day to West Haven in order to do some research at the city's library. However, the only thing that Dushawn scanned over was the trim shapely librarian who had his main muscle always standing at attention.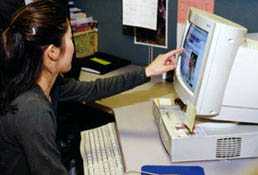 'Damn, she's a fuck'n doll! No wonder Tommie boy went into a downward spiral when the wedding got called off! Shit, I'd give up my left nut if'n she still ain't cherry! God, what sexy fuck'n legs! I's jist gotta feel them around me!' Dushawn muttered to himself upon peering over the top of the magazine he had opened as a cover-up. As the beauty was at her computer, showing a student how to use it to find a particular book, Diane Fujimoto was unaware of the heated lust brewing in the library patron seated across the room from her.
With the library closing at 5 p.m., it was easy for Dushawn to determine which was her car as he waited across the street in the nearby supermarket for the young beauty to leave the library and into the parking lot. And it seemed that she had a routine of heading straight on home, unless stopping off at the grocery store a couple blocks from her street, getting home approximately at 5:30 p.m. each day. Then, an hour later her beau would show up, always unloading some personal belongings from his car. 'Hmmm, bet Tommie boy ain't shacking up with his little sweetie yet …………………….waiting fer the big day before he gits to sample the goodies!' he surmised. After an apparent dinner and some cozy moments together, Tommie boy was seen to the door by his cute little bride-to-be and sent on his way.
A simple check of the local phone book showed Tommie boy's address and phone number, thus Dushawn was able to confirm his suspicions. Of interest was the number of deliveries being made to the home and Dushawn then correctly concluded that wedding gifts were being delivered to the home of the soon to be newlyweds. 'Interesting! Very interesting!' he thought and gave a devilish smile as his mind went into overdrive.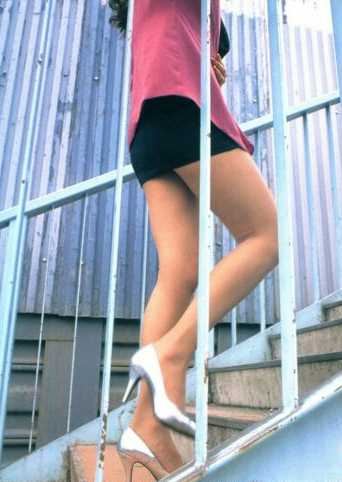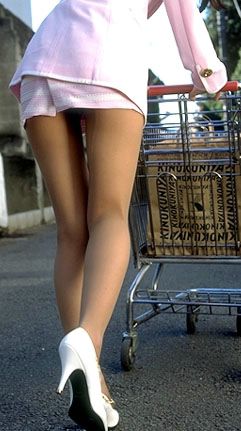 Back at his townhouse, Dushawn was finalizing his devious plan as he constantly looked over the photos he had taken of the lovely little beauty with his telephoto lens. Dushawn was definitely a leg man and he just couldn't get over how sexy and flawless Diane Fujimoto's trim legs were. 'Damn, I's jist gotta git a feel of them ………………….so fuck'n sexy! God, she's jist gotta be fuck'n tight!' he told himself. Then the thought of going into the slammer for 20 years or more crossed his mind but Dushawn immediately dismissed it, telling himself 'If'n I'm that fuck'n wrong and she does report me raping her ……………………shit, I's deserve to be castrated!'
Angie was so impressed with her 'man' as he was putting so much effort into her well-being, seeing that she made a few extra bucks out of this caper. Having gone to beauty school after high school but never making use of it, the half-way house that Angie went to after getting out of the can had made the effort to get her squared away with a real job. And Angie certainly did not want to end up in the can again and was making every effort to do good in this legit job. So, whatever Dushawn was lining up for her was pure bonus at this point.
When instructed by Dushawn to make the call a week and a half before the wedding date, Angie did so without question and followed the script laid out for her. As expected, she learned that Tom Kawashima had not informed his sweet little Diane of his engagement to Angie, thus certainly did not want her finding out that he had been desperately on the rebound and had impulsively courted and proposed to an prison inmate, sight unseen. It would be quite an embarrassment for Diane to learn of this to say the least.
Angie assured Tom that she truly respected and accepted his decision to break off the engagement and marry his long-time sweetheart instead, but that he at least owed it to her to meet over dinner and do it face-to-face, and that she had thought of pawning the ring since she needed some funds to get back on her feet. However, after much thought, her conscience told her that she should return the engagement ring to him. Of course, she didn't really intend to return the ring. But as Dushawn had explained, the prospect of having the expensive ring returned to him would further entice Tom to agree to the meeting and also, the poor sap might just give her way more than any pawn shop would.

As expected, Tom agreed to the meeting and a date was arranged. Over dinner and drinks, Angie reassured Tom she thoroughly understood and supported his choice to break off their engagement in favor of marrying Diane instead. She then 'confessed' that she had been devastated when Tom broke the engagement but life goes on. Also, Angie advised that she had recently met someone else, fallen in love and that she expected that she too, would soon be tying the knot. However, she advised Tom that her feelings for him were sincere and very special, hoping they could at least always be friends and cherish the closeness they shared in their letters during her time in prison.

Tom breathed a sigh of relief, thinking he was off the hook and there was 'no harm, no foul' in his foolishness. Little did he realize it was all just a setup. He felt really bad about the whole situation and knew that Angie needed money to get back on her feet. It was quite touching that she felt it best to return the engagement ring and not hock it at some pawn shop. But he intended on giving her some money for it to help her out as she was giving the ring back to him, especially of her thoughtfulness in thinking to return it to him. The thought of $2,500 entered his mind.
When Diane had returned the engagement ring to him, Tom couldn't see tossing away a $5,000 ring. And when he wanted to propose to Angie, Tom went back to the same jeweler and told him that he wanted to use that diamond in another setting, putting a few smaller stones around it. And so, adding on another $1,500, he had been set back a total of $6,500 on diamond ring sets. But when he and Diane patched things up, Tom just could not find it in himself to go and ask for the ring back from Angie.
Upon Diane's asking for him to put the ring back on her finger once again, Tom had to lie and told her that he had been so distraught from the breakup that he had tossed it into the lake one day. As Diane expressed her apologies to him, telling him not to worry about it, Tom got off cheap as she insisted on getting a very inexpensive ring. Ring hunting again, Tom had insisted that they go to a different jeweler this time, just for a 'fresh' start and a change of luck. Tom certainly did not want to go back to the same jeweler who had been the one to sell he and Diane the initial ring and helped Tom design the new one for Angie.
Tom knew that Diane sorely missed the lovely solitaire diamond that they had initially chosen together but had settled for a cheap $1,000 ring on the second go-round. With the aspect of getting the ring back from Angie, Tom figured that he could take it back to the jeweler on his own once again. As a photo was on file with the jeweler, along with the appraisal for purposes of obtaining a jewelry floater on the homeowner's insurance policy, recreating the initial ring should be no problem. Once done, he'd just give his lovely bride-to-be a little white lie and say that he had gone diving and by sheer luck his search for the ring panned out.
As Dushawn had a buddy for the maitre de's job at Spinnaker's Seafood Restaurant, it could easily be arranged for a cozy booth for Angie and Tom to dine at, with another table near by that would have a direct view at the dining couple. Telling Angie he'd be at the overlooking table, Dushawn instructed her to get the chump into some compromising situations for purpose of the videotaping. Just her hand on his, maybe a sniffle here and there with her leaning her head against his shoulder would do as it'd be rather far-fetched that the young man would be foolish enough to be enticed up to her place.
But Dushawn was just conning Angie along on the fact that he'd be there on the table nearby. He had it all covered. A couple of days before the planned dinner, he'd tell Angie that a big drug deal had come up on that night but that he'd arrange it with a good buddy of his who was like a pro when it came to using a camcorder. He'd feign feeling real bad about it all and that he'd cover the expense on paying his buddy for his part of the scam from the profit he'd make on the drug deal. But there was no such drug deal that night, as Dushawn had only one place to be ……………..in the privacy of the new home the young couple had bought together and planned to reside after the wedding.
The plan was for Angie to keep Tom there at the restaurant for hours, giving the guy the sad story of wanting his advice on what to do ……………..whether or not she should be truthful to the new man of her life and tell him of her having served time in the slammer, that they had met by chance one day and that she was hesitant for fear of losing him if the truth was known. It would then be too late to call his lovely bride-to-be or to go and visit her at such a late hour. Dushawn certainly did not want his fun interrupted by the sudden return of the young punk.
Days later, watching from the van with dark tinted windows parked across the street, Dushawn knew that the bright pink doorhanger would catch the young beauty's attention as she drove up into the driveway. Sure enough, he saw her slow down and pause before entering the garage and parking her car. He licked his lips as the unsuspecting bride-to-be walked out from the driveway to obtain the note. Seeing her cute navy blue outfit over a long sleeved white blouse, Dushawn's eyes traveled up and down her sleek creamy legs down to her 3" navy blue heels, causing his cock to lurch in his pants. With Angie and Tom dining together many miles away, the lovely beauty was going to be all alone at home.
As the young beauty went back into the garage, once the garage door started to close, Dushawn quickly got out of the van and unloaded the large empty boxes onto a handcart. Wearing a delivery uniform that would be very familiar to everyone, so as not to arouse any suspicions, he proceeded up the driveway to ring the doorbell. He hustled up the driveway, not wanting to give her time to change into more leisurely home clothing.
Having dreamt of the lovely beauty each night, Dushawn fantasized of having Diane Fujimoto dressed nicely as she did for each working day, complete with heels and all. Oh, he certainly planned on having her naked and covering her petite body with his but that could wait a bit. It was not everyday a guy could have a lovely innocent young beauty, nicely dressed while down on her knees to service him. Now Dushawn was about to fulfill that horny dream rather than having to use his fist to beat his meat to the dream each night.
With wedding gifts being delivered to the house constantly over the past two weeks, Diane read the note on the doorknob hangar and hoped that the deliveryman was able to make the stop as indicated while headed back to the station. It would save the hassle of driving over to pick the items up the next week, plus that fact that she was rather excited to see what the wedding gift was. Setting her purse down onto the kitchen table, Diane had just made herself a glass of ice water when the doorbell rang.
As she headed out into the living room, Diane made out the man in the delivery uniform with several large boxes stacked upon one another. Opening the door, she excitedly said "Oh, thank you so much for stopping back again! It's such a hassle to drive to the distribution center to make the pick up, especially seeing how big those boxes are!" Holding the door open as the delivery man pushed the handcart into the foyer, she then asked "Would you mind bringing them into the spare room? It's right down the hallway here!"
"Sure, ma'am, no problem! Just lead the way!" came the reply from behind the stacked boxes. With the unsuspecting beauty shutting the front door before leading the way down the hallway, Dushawn licked his lips in anticipation. His ploy had worked like a charm and he was now all alone with the lovely young bride-to-be in the privacy of her home. Soon, so very soon, the lovely Asian beauty would be his little personal plaything! 'Damn, I's swear there's the scent of cherry blossoms in the air!' he chuckled to himself.
With the rope untied and two large boxes stacked upon each other, Diane looked at all four boxes and exclaimed "My goodness! I wonder what all this could be?" Bending over to see if she could determine who the sender of the boxes was, Diane unwittingly had placed herself in a most vulnerable position with her back to the black deliveryman. She had only seen his large muscular arms when admitting the man into her home as his face was up against the side of one of the large boxes.
Had she seen his face, Diane would have recognized him as the gross black male who had begun frequenting the West Haven Library in the last couple of weeks. Feeling his lusting eyes focused upon her, as if he was stripping her naked right on the spot, it gave Diane the willies as her body shuddered in revulsion. Often, she had resorted to putting on the light sweater she kept in her desk drawer, trying to cover herself up as much as possible even though her outfits were rather conservative.
Standing at 6'5" and weighing a good 245 pounds, Dushawn was no match for the petite 5'2" beauty who weighed a mere 105 lbs. Ball-gagged and bound with the rope that he had used as a ploy to hold the empty boxes together, the terrified young woman was now just how he had dreamt of …………………..elegantly dressed and on her knees before him! Then as he began unbuttoning the shirt of his uniform, Dushawn advised "Sorry, sweetie ………………there ain't no wedding presents fer ya in them boxes! But I's didn't come empty handed! I's did bring a wedding present fer ya!"
Proudly displaying his muscular chest, Dushawn observed the terror in the beauty's brown eyes as he began to undo is belt buckle. Kicking off his shoes and getting his pants off, he stepped forward in just his thin boxers. He smiled in seeing the beauty's eyes widen in horror as she stared at the outline of his expanding love muscle. "Aw, sweetie ………………….seeing that ya's tied up an all at the moment, let me unwrap yer wedding present fer ya!" he chuckled.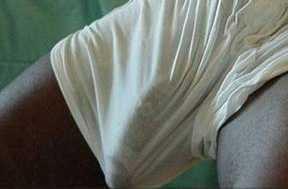 Other than that of little babies, Diane had never seen a male's penis before. Oh, she had touched Tom on quite a few occasions when they kissed and petted one another, but it had always been with his pants and jockeys still on. The outline of this man's 'thing' was by far so much bigger than Tom's when it was fully stiff in his pants ………………and her intruder's was throbbing and still growing in length and thickness!
Trembling with fear, Diane could not take her eyes off the bared penis that seemed to be winking at her as the head of it bloated up into the shape of a light bulb. As her assailant fisted himself before her face, Diane could not believe that it was getting even bigger still. Unable to speak with the ball gag in her mouth, Diane saw the man reach forward to adjust the binding of the gag. Suddenly it was pulled out of her mouth and she gasped for air. But before she could scream, her mouth was filled once again ………………..only this time with something more rubbery …………………….the bloated cock head of the man's black penis!
Lips stretched wide to envelope the thick cockhead, Diane desperately tried to expel it by pushing the tip of her tongue up against it. But hearing her attacker groan with pleasure as she was doing this, it became evident that he was enjoying her tongue action on his manhood. "Ah, baby …………………………ah, yeah ………………tongue me ………………tongue meeeeeee!" she heard him groan from above. Now Diane was at a total loss as to what to do as the man was obviously enjoying her attempts to push him out with her tongue. Not pushing him out meant leaving his filthy black penis in her mouth.
With the man's strong hands at the back of her head, Diane wanted to throw up as more of the black penis was being forced into her mouth. 'Oh, God ………………..how can any one be so sick and depraved?' she wondered as the vile man began to saw himself in and out of her lips. Saliva thickening as pre-cum juices began to seep into her mouth, Diane just could not believe that a male would expect any woman to perform such a vile and despicable act. Then it was pushing against the back of her throat and Diane realized that her assailant intended on her swallowing it all ……………………..all twelve inches of his filthy penis!
What a pleasurable sight as Dushawn looked down at the lovely Asian beauty, her eyes rolling and the whites of her eyes showing as she gurgled and choked upon the stem of his thick meat. Not wanting her to choke to death, Dushawn took pity on the beauty and withdrew his cock so she could get some much needed air to breathe again. Then he began to face-fuck the innocent beauty with the first six inches of his cock, thoroughly enjoying the feel of her warm mouth and tongue upon him. The wet squishing sounds as he pumped between her pink lips, added to her gurgling, Dushawn was in 7th heaven at the moment.
But of course, it was quite the opposite for Diane as this vile man was forcing her to perform the most demeaning act that anyone could dream up. It was just pure hell for someone like Diane, so very innocent and naïve when it came to matters about sex. Little did she realize how erotic such a scene was to a male, that forcing himself upon an innocent beauty like her was just fantastically exhilarating. Mouth filled to the brim, with the musky smell emanating from her assailant's crotch, it was just a hell of a way for an innocent like Diane to be introduced to the demands of a male for sex. At that moment, Diane wished that she was dead than to have this demeaning act go on any further.
Though she had taken the introduction to sexual behavior in junior high, learning about the birds and the bees, Diane was certainly not prepared for anything such as this. It was to be all about love and how a man and woman would be together in marriage, not of a woman being forced by a male to satisfy his vile lusts. And then it happened, all to a shocked and stunned Diane as the horrid man suddenly kept his cockhead up against the back of her throat and did it! Coughing and gagging as her mouth was quickly filled to the brim of hot sticky semen, Diane was forced to swallow or choke to death.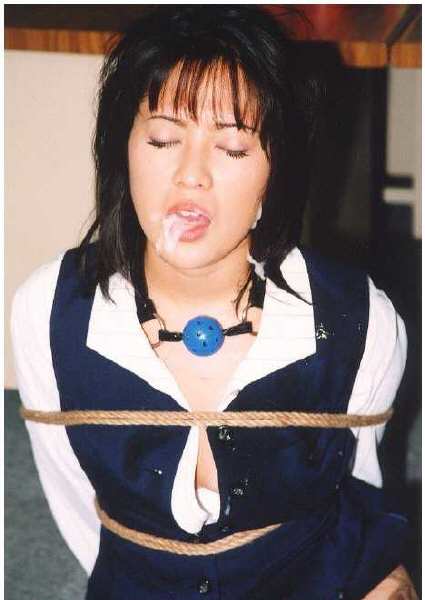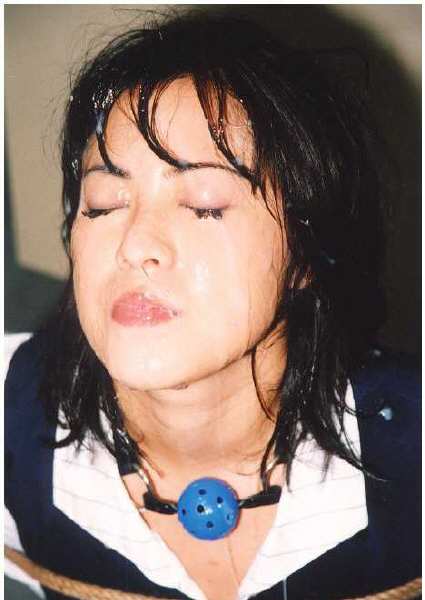 As the lovely Asian beauty choked on his spurting seed, Dushawn chuckled and pulled his cock out, then unleashed spurt after spurt of jizz onto her beautiful face. "Ahhhhh, sweetie ……………………here's a creamy facial fer yer beautiful face!" he announced. Continuing with the fuck motions as he held her head firmly in his grasp, Dushawn used his fuckstick to spread his hot creamy lotion about her lovely features. "Ah, sweetie ……………….ya gonna call the cops and tell'em what I's went and done to ya? I's dare ya ………………….ya go ahead and tell everybody how I's went and made ya suck on my big black dick …………………how's I's came in yer sweet mouth …………and went and cum all over yer purty face!" he taunted.
Still coughing and gagging, mouth open as the vile sticky goo poured out of her lips onto the front of her outfit, Diane shuddered at the very thought of having to tell anyone of the humiliating act that she had been forced to perform. At that moment, Diane was resolved not to report this degrading assault upon her. The thought of having to tell it to a police officer, even if it was a female officer, Diane realized that it wouldn't end there. Her parents, Tom, all her friends would learn about it …………………….and everyone would look upon her differently thereafter. Sobbing in shame, Diane collapsed to the side, falling upon the carpeting.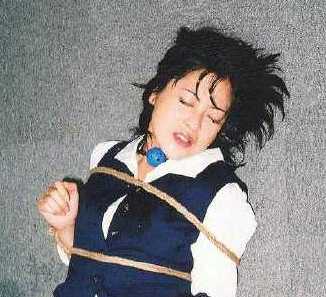 With the right side of her head lying upon the plush carpeting, lips partially open a flow of slimy cum oozing out of her mouth, Diane was totally defeated at this point. Though not technically raped as yet, with virginity still intact, the degrading act of being forced to put a man's penis and to have her attacker ejaculate in her mouth and face were just too incomprehensible to contemplate. In essence, the fight had all been sapped out of Diane's petite body and she had been conquered by this black intruder.

Licking his lips as the trembling beauty lay on the floor before him, her trim flawless legs had Dushawn's cock throbbing in anticipation. This was the opportunity that he had been dreaming of, that of satisfying desiring to touch and caress a woman's sexy legs and to sate his foot fetish. Reaching down, Dushawn reached out to peel off the navy blue heels and reveal the soft dainty feet of the lovely bride-to-be. So petite, observing her nicely pedicured toes, Dushawn unzipped himself and whipped out his aching cock.

For the totally defeated Diane, she had no fight left in her body as she merely lay there. Staring blanking as the vile man placed her left foot onto his somewhat softened cum-coated penis, Diane felt it suddenly give itself a throb against the sole of her foot. Though being forced to masturbate this black stranger with her foot, it was far better than the indignity of what had occurred to her earlier.

Eyes concentrating upon the black penis being rubbed against her sole and toes of her left foot, Diane suddenly looked up as the toes of her right foot were suddenly being lavished upon by the hot wet tongue of her assailant. She could only cringe and shiver at what was now taking place, but it was far better to have her feet being used to sate this man's lust rather than her mouth …………………..or even worst ……………….for the man to turn his attention to her most intimate part of her body!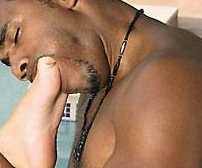 With a shifting of her feet, Dushawn now had the beauty's tiny toes of her left foot in his mouth as he thoroughly enjoyed tonguing the undersides her tiny digits. Her right foot at now at his crotch, Dushawn slid his now leaking cock against her soft pink sole. Dushawn was in 7th heaven as he could finally satisfy his foot fetish with this shy and innocent young bride-to-be. Never before had he sated his lust in this manner, but now was the time to satisfy his kinky fetish.
Then to satisfy his craving, Dushawn brought her left foot down and back into the action as he now fucked his throbbing piece of black meat between her soft tender soles. Holding her lovely feet tightly together, Dushawn then sent spurt after spurt of hot jizz onto her pink soles. "Oh, babyyyyyyyyyyyyy ………………………oh, sweetieeeeee!" he moaned as his thick sauce was being captured as if in a cup.
Diane could only watch in total disbelief as this vile man sought to satisfy his lust by using her feet as a sexual object. Never had she dreamt that a man would have such wild fetishes, first making by forcing his penis into her mouth to satisfy his lust, and now by stroking himself off onto her feet. Diane cringed as the thick liquid began to ooze between her toes and then from between her cupped feet, down over her ankles to her calves. Cum streaks were now in a race down both her inner thighs, then curved down onto her asscheeks before soaking into the carpeting.
Now literally covered from head to toe with the black man's cum, Diane was soiled completely. Even if he disappeared from her home this instant, Diane had been completely debased and she would not dare let anyone learn of this horrid atrocity. Then she was being easily lifted up into the man's arms and carried over to the king-sized bed that she and Tom had recently purchased, where they would spend their night together after the wedding. Untied, but with the fight knocked out of her at this point, Diane could only weep silently as she was being stripped of her blue and white outfit. Bra unhooked and tossed aside, she closed her eyes as her most intimate part was now being bared before the man.
Spreading the beauty's cum-streaked legs apart, needing time to recuperate after spurting two huge loads of cum, Dushawn then delved into one of his favorite past-times ………..eating pussy! "Ohhhhhhhhhhhhh ……………………..ooooooooooohhhhhhhh …………………ooooooooooooooooohhhhhhhhh!" came the mewls from above as he clamped his wide open mouth onto her soft mound and dipped the tip of his tongue into her pink lips. "Ohhhhhhhhhhhhhhhhhhhhhhhhhhhhhhh!" the beauty quivered as his tongue snaked into her slit.
"Nnnnnnnnnnnnnnnnnnnnnnnnnnnnnn!" the innocent beauty quivered as a climax suddenly rocked her body as his tongue searched and found, then flicked wildly against her sensitive clit. With that unexpected climax shaking the young beauty to the core, Dushawn felt her cum coated feet sliding on his back. Then the balls of her feet and tips of her toes were pressing down upon him as she arched her hips up to his pleasure giving tongue licking.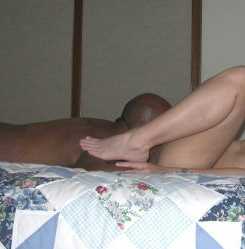 Once she began to come back down to earth from the mind-shattering climax, Dushawn withdrew his tongue from her sensitive clit and waited. Just before she came back down to earth, his hot wet tongue darted forward once again to flick wildly at her sensitive clit. "Nnnnnnnnnnnnnnnnnnnnnn ……………………..nnnnnnnnnnnnnnnnnnnnnnnn!" she moaned out once again in another wild climax, her cummy feet and toes once again pressing down upon his back as she arched up into his mouth.
Again and again, Dushawn continued this tactic, sending the young innocent beauty into orgasm after orgasm. 'Damn, she's like a sting of fire crackers after the fuse has been lit!' he thought as she came time and time again, seemingly as if each orgasm was even more intense than the one before. 'God ……………………I's never seen a bitch like this before ………………………..not the way she's going wild and crazy and the way she is keep on cumming! Damn, this little bitch is one hot little number once ya press her little button!' he thought.
It seemed as if every couple of minutes the innocent young bride-to-be let out her special signal of "Nnnnnnnnnnnnnnnnnnnnnn ………………………….nnnnnnnnnnnnnnnnnn!" as she rocketed to the moon and back on yet another mind-shattering orgasm. Eating the little bitch out, Dushawn was treated to her sweet nectar as she arch her back up time and time again to feed him with her honey. Dushawn swore that the naïve young beauty must have let out her special climaxing mewls at least a dozen times by now and he had now rested enough to finally make a 'real' woman out of her.
Reaching up, Dushawn then reinserted the bag-gag into her mouth, only now it was cum-coated from all the jizz she had spit out after gagging on it. As Dushawn crawled up over the petite body of the defiled young beauty, he rubbed his bloated cockhead up and down her puffy slit that he had enjoyed munching on. As his large muscular body forced her trim legs wide apart, Dushawn enjoyed the slick feel of his cum that had flowed down her inner thighs after cumming on her pretty feet. Readying himself as he got into position, Dushawn bent over to lick at the earlobe and to whisper "Ready, sweetie? Cause I's gonna 'ruin' ya now!"
Already devastated and soiled by this evil man, Diane could not believe it could get any worst at this point. But poor naïve little Diane was about to be proven just how wrong she was as she sucked upon the cum-coated ball gag. With the large hands grasping her trim hips, the man's fingers nearly encircling her waist fully, Diane's eyes bulged out wide in sheer horror as her finger clutched at the sheets when the man lunged brutally into her body. "Mmmmmmmmmphhhhhhh ………………mmmmmmphhhhhhhh!" came her muffled screams as she was 'raped and ruined' by this horrid man.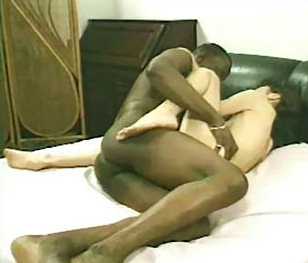 Blackness mercifully fell upon her as the pain of losing her virginity was just too much to bear for Diane's petite body and fragile mind. But that did not stop her rapist as he enjoyed the extremely tight fit of his bloated cock in her innocent young body. The sight of her cherry red blood on his cock and on the white sheets had sent Dushawn into a frenzy as he brutally continued to rape the sweet young bride-to-be. "Here's yer wedding present, sweetie ……………………….ahhhhhhhhhhhhhh …………………….oh, Godddddddddd …………….yeahhhhhhhhhhhhhhhh!" Dushawn groaned as he began seeding her with his hot potent roe.
Many hours later, Diane finally stirred but she could barely move her pain racked body. Thighs numb at this point, she looked down and sobbed upon seeing her thighs coated with dried blood and cum. Upon squeezing her thigh muscles, Diane bit her bottom lip in feeling the mushy wetness within her slit, knowing it was filled to the brim with a mess of her blood and her rapist semen. Then the thought of having the rapist's semen in her womb sent Diane into a panic as the awful consequences began to set in.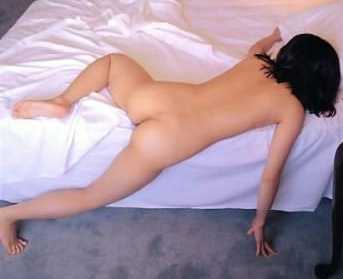 Forcing herself out of bed, Diane staggered into the bathroom to grab a bottle of the douches she had bought ahead of time for the honeymoon. Never having need for a douche before, she had to first read the instructions. Diane just prayed it was not too late and that the douche was potent enough to do the job. The thought of bearing a black man's child was just too much to contemplate at this point. Calling the police was out of the question as Diane was too ashamed to have anyone finding out about her rape and defilement, even if it meant allowing the vile rapist get away with this awful crime.
On a Friday four months after his successful rape of the young Asian beauty, knowing that the crime had not been reported as there had been no published articles in the West Haven Times that he had picked up for the following two weeks, Dushawn wondered if the time was now ripe to pay a visit to the West Haven Library once again. As he correctly surmised, each time the young bride was in the intimate embrace of her husband, she would be comparing her husband's manhood to the one that had made a woman of her. 'Hmmm, is it time fer ya, sweetie? Time fer ya to go back to 'black'!' he chuckled to himself.
For Diane, she had desperately been trying to put the vile rape and defilement of her body out of her mind. But no matter how hard she tried, she could not help but to think back to that awful day and recall each and every horrid event that took place right in her own home. Worst of all, lying in bed with her husband each night only brought back the reminder of the fact that it was on this very same bed that her black rapist had so brutally deflowered her that day.
A half an hour before the library closing, a chill of fear coursed throughout Diane's petite body as a very familiar black man sat in the far corner smiling at her as he looked over the magazine held in his hands. Then the crude manner in which he ran his long thick tongue over his upper lip had her wetting her panties. Heart pounding, seconds seemed like hours as Diane could not concentrate on things at hand.
Finally, all the patrons had departed at closing ………………all but one ………….and Diane was pretty sure he was not there to borrow a book from the library. Why didn't she run ………………call the police to escort him out …………………or merely walking out of the library herself? What made her go to the door and lock up as usual, know the man who had brutally raped her months ago was still in there, that she would be all alone with him once again.
Dushawn was that cock sure of himself, of his assessment of the beautiful young Asian beauty, that he knew that look on her face. He could read it clearly ……………….that she was hot to go 'Back to Black'!! Seeing the way in which she was panting for breath as she slowly approached him in her neat yellow dress and white heels, Dushawn pretended on looking at the magazine, then up at the beauty to give her a wide smile.
As Diane now stood trembling just a foot away from him, leaning again the long wooden table for support, her heart was beating a mile a minute. Speechless, unable to say a word to get the man who had violently raped her to leave, Diane instead formally surrender. A white flag fluttered to signal her surrender ……………………..fluttered down her trim and flawless legs as she reached up under her dress to draw it down over her trim hips.
With the man's hand now patting the table in front of him, Diane pushed herself up onto the table to where he was indicating. Raising her right foot, upon which her panties were tangled, she then offered it up to her conqueror as a formal surrender to him. She watched as the large black hands tenderly untangled the lacy garment from her heel, then saw it being raised up to the man's eager face.
As Dushawn rubbed his face in the crotch of her panties, inhaling its sweet perfume, he knew exactly what the young beauty was in desperate need of. Again, sticking his long tongue out to slowly lick at his upper lip, Dushawn then asked "Wanna git eaten out again, don't ya, sweetie!" He smiled as the innocent young beauty blushed at his bold statement, then saw her nod a 'yes' in response. "Okay, sweetie pie ……………..show me what's on the menu fer my dinner tonight!" Dushawn advised.
Though embarrassed by such a bold statement and by her obvious weakness in having so easily dropped her panties for the man, Diane worked the bottom of her dress up under her butt, then pulled the front of it up to her waist and bared her most intimate part of her body to the man. Spreading her legs wide, top of chairs on each side caught between the soles of her heels and the spikes, Diane reached down with both hands. Fingers on each side of her vulva, she then spread open her juicy pink lips.
"Nnnnnnnnnnnnnnnnnnnnnn …………………………….nnnnnnnnnnnnnnnnnnnnnn!" came the memorable sound of climaxing as Diane was being eaten out, a sound not heard in the last four months, nor one ever heard by her husband to this date. Following her second climax as the young wife shivered out her goodies into his hungry mouth, Dushawn partially stood as he continued to eat his delicious meal, then began to get out of his jeans and drawers. A moment later, the young beauty would be taught how a man and a woman could please each other by both using their mouths on one another in the classic '69' position.
A month later, on another Friday, Diane couldn't stop creaming in her panties upon seeing who had once again arrived a half hour before closing. Eagerly closing up this time, Diane smiled and boldly approached the only remaining library patron, asking "Can I help you find something, sir? Perhaps you're using the wrong reference book for what you're looking for? Here, let me help you!" she advised, reaching down to grasp the man's hands and draw them up under the hem of the pink dress she was wearing.
Though she was on her back on the long wooden table once again, with her pink panties on the floor and her pussy purring to be eaten once again, Diane found herself looking up at Dushawn as he stood on the solid wood table and about to satisfy his foot fetish once again. White heels removed and standing on the table to her sides, Diane was sliding the soles of her feet up the lengthy black meat, teasing him as she pushed her big toe up against his pisshole. Then Dushawn was paying worship to the toes on her right foot, licking and sucking at them, with the left foot soon to follow. Panting, Diane begged "Please ................eat me first .................................eat me, then I'll give you the best footjob ever!"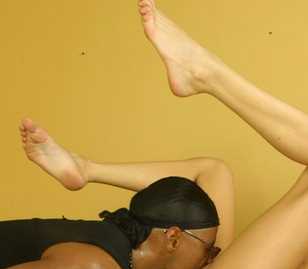 Dushawn smiled and replied "Your wish is my command, sweetie!" In less than a minute, he had the lovely young wife soaring out of space with her trademark "Nnnnnnnnnnnnnnnnnnn ..............................nnnnnnnnnnnnnnnnnnnnn!" Then, as the soft soles of her feet were wrapped around the thick boner, Diane realized that he intended on coming, but not onto her feet like before. As Dushawn grunted and groaned, intending to let his cannon loose, Diane pleaded "No ……………….please …………………….not on my dress ……………………..I'm supposed to meet with my husband at the mall for a dinner with his boss and boss's wife!"
Diane stepped out of her car and headed towards the new pricey restaurant located at the mall. Diane smiled as she saw Tom waving at her from in front of the restaurant. She was really thankful that Dushawn had taken mercy upon her and heeded her plea not to cum on her beautiful pink dress. But she did feel a bit self-conscious upon feeling the thick globs of cum oozing between her toes that were confined in her white heels that Dushawn had used to cum into, then putting the heels back onto her.
Eaten out of her mind after that footjob, Diane was glad that Dushawn had left her with her panties as the crotch was now squishy wet from the leakage of his thick spend. She could not help but wonder just what was in store for her the third Friday of next month, knowing that Dushawn was intent on teaching her something new sexually on each of his visits to the library, something none of the books in the entire library covered. The thought of it made her squeeze her thighs together in anticipation, but also caused a dollop of spunk to plop out of her slit and into her already soaked panties.
Miles away, at that very moment, Dushawn was contemplating as to what new tricks he could introduce the sexy Asian beauty to. Band of the blue ball-gag twirling on his finger, Dushawn smiled at the thought of leaving her with the ball-gag as a remembrance of their very first encounter in her home. 'Yes, it'll be a fine gift for her to always think of me!' he concluded. But before giving it to her, Dushawn planned on using it on the young beauty once more, feeling it would be needed to keep her shrieks of pain from being heard when he shoved his foot-long dong up into her cherry little ass.
End of Story.