Target: Beautiful Married Women - XVI
(m/f, cons)
by
Black Demon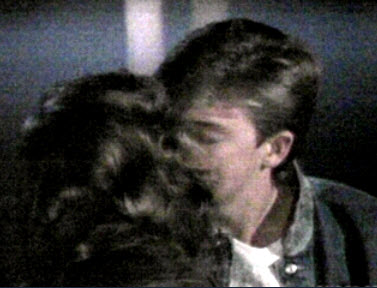 ______________________________________________
Standard Disclaimer!
This is a fictional story intended for Adults only!
______________________________________________
************ ***********
Note: The story below is a story in itself. However, it is also a direct continuation of the earlier
stories entitled: 'Target: Beautiful Married Women – 1 thru 15'
Skipper always had the philosophy of getting things started off with a bang! And such certainly applied to whenever he went back home for Christmas vacation, more so as liked to play the part of being Santa's helper, with the list that he compiled differing somewhat – Santa distinguished between those 'naughty and nice' but Skipper specifically looked for those being 'naughty and nice'. For those 'nice' little girls on Santa's list, a cute little baby doll was to be delivered to her. But Skipper's list was for older girls, grown up and married ones, and he'd personally see that she got a baby delivered to her – a real one! For Skipper, Season's Greetings during Christmas really meant 'Season's Breedings'!
With just classes in physical education and sports medicine for the fall semester, basics that would keep him in school during the football season with the minimum class credits required, Skipper was guaranteed A's in each course the instructors were on the coaching staff of the university. Another rebuilding year was what the season was termed and that did transform into another mediocre year for State U's football season. Though disappointed in not making it to a bowl game again, it did have a plus side for Skipper as he'd now be able to make it home for the holidays a week earlier than everyone else. Getting the instructors to give him the exams early, which were a real joke anyway, he was done with the semester before anyone else.
By mid-November, it had been a given that there would be no bowl game for the team and that the season would come to an end once the last scheduled game was played. A year ago, he initially had been upset in having been roped into assisting his mother and the Women's Club into driving around the city to deliver the wreaths sold for their annual fund raiser. But things had really brightened up for him once he began making those deliveries, especially when he made the delivery to the Bennetts' home. Remembering how he had secretly eyed-up Mrs. Joy Bennett when she was over to help his mom with planning a club activity during the past summer, Skipper had looked forward to meeting the beautiful blonde woman once again.
Boy did Mrs. Bennett look even more beautiful than he had recalled, getting Skipper's 'head' to pound and swell, demanding that he get close up to this lovely beauty. It was the head between his legs that was doing all the talking at that point, telling him to turn on that suave and debonair charm of his, to 'Seduce the beautiful and supposedly faithful wife and mother …...................to get into her tight little panties and fuck it to the sexy blonde bitch!' And that was just what Skipper had done when he was invited in to warm up with a cop of hot cider. He went and nailed her right there on the living room carpet, right next to the Christmas tree, but he also helped to decorate it a adding a couple more ornaments onto it .....................dangling her panties and bra from the branches!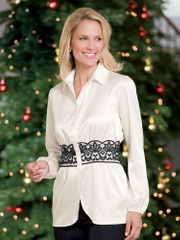 Mrs. Joy Bennett (see 'Target - 15')
The lovely Mrs. Bennett had been his first Christmas present, but that was just the beginning and Skipper had certainly made the most of what one would normally consider a boring and time consuming job. And from what he had learned in reading the hometown paper online, in particular the vital statistics page, five women that he delivered wreaths to last year were to celebrate this coming Christmas with a newborn baby in the crib. Five more husbands duped into believing that their so-called faithful wives had gotten knocked up due to a faulty rubber or an untimely episode of lovemaking when it wasn't safe. None of the men would suspect that his beautiful and precious wife had been seduced by a handsome young college jock over the holidays, nor that she had invited him back for more.
Once he was certain that he'd be home early for the holidays, Skipper asked his mom if the annual wreath sale was on and that he'd like to volunteer to make the deliveries once again. He learned that it was indeed and that sales were looking good as they were ahead of the prior year thus far. Also, upon learning that he was the first to volunteer to make deliveries thus far, Skipper volunteered to manage the delivery list and help coordinate the deliveries so as to make it faster and smoother for everyone. With his mother excited at his volunteering to do all this work, saying there'd probably be two others roped into volunteering to help make the deliveries, Skipper then suggested that she fax over the list of deliveries to be made.
Receiving the current list by fax the next day, Skipper went over the list and began to partially split up the deliveries to be made that mid-December. He smiled upon seeing that each of the five beauties that he had knocked up during the Christmas season had again ordered wreaths from the Women's Club. He planned on personally making deliveries to each of their homes once again, thereby getting to meet each of the little ones that he had fathered. It'd be on separate days that he'd be visiting them, not wanting to take on too much in one day, especially as he planned on giving each baby a little brother or sister to play with by the next Christmas. In fact, he planned on calling their mothers before leaving from college, setting up the time for him to visit when hubby wasn't home and where there'd be lots of time for them to get reacquainted …...........................in their marital beds once again!
Being the one in control of the delivery scheduling, Skipper first set out to separate deliveries to be made to a business, knowing that there would be no chance in making much or any headway if at all. Next was separating out the names that he recognized, with those to be scratched and given out the third driver and those that he personally wanted to handle, especially if the woman of the house was beautiful and sexy. Of course, he kept some that he recognized that would be on the same route as to the 'chosen' ones as he needed some fillers where he'd be able to quickly make the drop off of the wreath purchases to help pad the stats and show that he was handling the same load quantity as the others.
One name that caught Skipper's mind right away was that of Mrs. Jennifer Wharton, a beautiful blonde that had caught his attention when helping out at a summer soccer camp, but each time she driven up after the session was over to transport her young son to his grandmother's as she had to get back to work. Thus, there had been no opportunity for Skipper to spend any time in getting to know her and she had escaped his clutches that past spring. And thus began Skipper's Christmas wish list, a beauty that was always so nicely dressed, like a beautifully gift wrapped little present for him to unwrap and enjoy over the holidays.
With lots of spare time in the evenings, as basically there was no homework for him to do other than going over diagrams of plays for the upcoming game, Skipper's homework was comprised of doing research on the unfamiliar names on the list faxed over to him. Knowing that many organizations in his hometown were now internet savvy and had websites established to promote themselves, Skipper began doing research on the various organizations out there. Have a set of phone books from home, he went through the churches and looked for the one that had a website, then began checking out photos of the membership till he came across a succulent beauty that interested him.
Having had the list organized alphabetically for his reference, once he came across the photo of a lovely beauty, he'd check the list from the Women's club and if she had bought a wreath. Wanting to personally make the delivery himself, providing him the opportunity to meet the lovely beauty to introduce himself and thank her for helping out the Women's Club that his mother belonged to, was just the ideal situation. Oh, he knew the prospect of scoring at first meeting was astronomical in odds, and he had no ideas of grandeur. This was just the ideal to pave the way for the next time he came into contact with the lovely beauty, whether it be at the mall or grocery store. If he played his cards right, that lovely lady might just get herself something more than just a wreath delivered by him on that next occasion!
After getting back home that early that 2nd Sunday of December, Skipper was anxious to start helping out with the delivery of the Christmas wreaths that next morning. He had told his mom in advance to bring home two dozen wreaths as he was planning on heading right out early Monday morning to make the first delivery run. His mother was quite surprised at his enthusiasm for helping her out with the Women's Club fund raiser. As it was the Christmas season, a time to for happiness and joy, Skipper was certainly happy to be home as it promised to start off with a big bang …...........................especially with the first delivery planned to be made at 7:40 a.m. on Monday morning, when he would deliver a wreath to Mrs. Joy Bennett, just ten minutes after her hubby left for work!
Getting an early start that Monday morning, anxious to relieve his aching balls that had stored up a lot of pent-up lust over the past few weeks, Skipper watched from afar and observed Mr. Bennett's car backing up right on schedule at 7:30 a.m. Just as a precaution, in case Mr. Bennett forgot something to return home right away, Skipper waited that ten minutes for when the beautiful Mrs. Bennett was expecting him to drive up. And when he did turn up the driveway, the garage door was being opened for him, causing Skipper to smile widely as he drove right up into hubby's private stall. He had it all planned out and knew that he would soon be driving his throbbing dong right up into hubby's more private stall very shortly.
Garage door closing behind his parked car, eliminating any curious neighbors from snooping around, Skipper saw the nervous blonde beauty standing at the doorway connecting the garage to the kitchen. Seconds later, the beautiful Mrs. Joy Bennett was once again trembling in his strong embrace as he gave her a deep passionate kiss. With the three month old Jacqueline having just had a bottle and fast asleep, it was as if the two perpetrators were now returning to the scene of the crime of a year earlier, right there on the living room carpet next to the recently decorated Christmas tree. Again Skipper felt the trim sexy legs being wrapped tightly around him as her snapping pussy attempted to milk him dry prematurely.
"Skipper …...........................oh, Skipper …...........................oh, it's been so long …...................how I've wanted you so! Ooooooh ….........................ohhhhhhhhhhh …....................ohhhhhhhhhh, yes …........................yes ….....................fuck me ….......................fuck me …..........................fuck me!" the prim and proper wife moaned out passionately as he proceeded to give her the fucking that she craved. Driving his bone hard cock deep, his swollen balls bouncing of her soft ass, Skipper then sought to inquire "Little Jacqueline's my baby, isn't she, Mrs. Bennett? I'm her father, aren't I? We made her, you and I, right here on this spot …...........didn't we?" At first the lovely wife and mother gritted her teeth and remained silent, but then she cried out admitting that "Yes …...................yes …............she's your little girl …..........................she's your daughter!"
Giving the blonde wife another deep passionate kiss, all while continuing the deep fuck strokes without missing a beat, Skipper knew that she was skyrocketing up into outer space and to a mind-shattering orgasm. "Don't you think little Jacqueline would like to have a little brother or sister to play with when she grow up, Mrs. Bennett?" Skipper asked as he ground his pelvis into her while throbbing his fat dong in her pulsating cunt. "Don't you think so, Mrs. Bennett?" he asked while slicing in and out of her slushy cunt. "I'd sure like to knock you up again, Mrs. Bennett! Would you like that?" he taunted. "Yes, damn you, yesssssss ….............................just fuck me, you bastard! Fuck me ….................knock me up again ….............................make little Jacqueline a baby brother or sister to play with!" she cried out in defeat.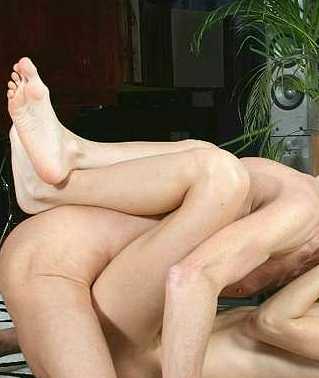 An hour and a half later, having decorated the Bennett's Christmas tree once again with a matching pair of lacy white bra and panties, Skipper was back on the road again to get more wreaths delivered. Lust sated for the time being, deliveries were being made to the 'filler' slots that were to help him keep up with the others so as not to draw any suspicion to himself as to why he was delivering a lesser quantity. Driving along, Skipper reminisced back to his first delivery. Having fucked the lovely Mrs. Bennett royally and seeding her to the brim, he had then scooped up the petite beauty into his strong muscular arms and carried the naked beauty down the hallway and into the master bedroom. That always promised to be an exciting and exhilarating fuck session, the fact that he was bedding another man's wife right there on the guy's marital bed just added that special thrill to get his boner growing even bigger in size.
Having planned in advance, knowing that he'd be well-spent after paying a visit to the Bennett's home in the early morning, the next few hours were to handle the filler part of his schedule to fulfill his delivery quota. But also during this time, he'd be purposely zipping back and forth in front of the homes of the other women on the list that had caught is attention, looking for the chance to meet them and pave the way in the future. It was a quick surveillance plan as the deliveries were to be completed within a week's time. Getting the edge off his horny boner, ending with the beautiful Mrs. Bennett down on her knees and looking up at him as she gave him 'head', his lust had been temporarily sated when she got him to pop his gooey load into her hot sucking mouth. Seeing how she licked her glossy lips to savior the taste of his slick semen, Skipper knew that he'd be back to bang her several more times before the holiday season was over when he had to head on back to college.
Skipper was smart enough to know for himself that he was not infallible, that his charms and good looks would not always be successful in seducing a beautiful woman, especially with one so faithful to her husband and who took her marital vows very seriously. But the one thing that Skipper prided himself upon was being able to recognize this dedicated wife by reading the beautiful bitch quickly and accurately. In being able to do so, that saved him a lot of potentially wasted time and to move on to another lovely target. However, should there be a chink in the beauty's armor, Skipper would readily see this in the form of a nervous look or tremble in the beauty. Then he would be moving right in to dismantle all the defenses of the prim and proper beauty, and if he was indeed successful ………………….there would be one less 'faithful' wife in the community!
Taking a break at a fast foods joint several blocks away from the mall, Skipper was sitting in his car eating some fries and sipping his cold drink when he observed a black SUV come to a stop at the intersection just over the hedges from where he was parked. In the driver's seat was a brunette that he recognized, the beautiful Mrs. Heather Cummings, the mother of one of his high school friends whose son was still away in college and a name that he had circled on his Christmas wish list. 'Hmmm, done shopping early and headed on home, Mrs. Cummings?' he pondered while setting down his food and starting up his car to head on off to the Cummings' home. 'I'm a 'cumming, Mrs. Cummings!' Skippered chuckled to himself as an image of the beauty formed in his mind and he lick his lips in recalling 'What a set of jugs she's got on her!'
As for 41 year old Heather Cummings, it had been over a year since she had last seen the handsome young Skipper Harmon, that being when her son Bill had invited Skipper and several others over for a swim and cookout. While preparing the hamburger patties at the kitchen sink, Heather had shuddered with guilt as she caught herself looking at another male specimen other than her husband …………………not just looking but imaging herself in the strong muscular arms of ………………Skipper Harmon! 'My God, he's not even half your age, you hussy! He's Bill's age ……………..young enough to be your own son!' she had chastised herself back then.
Having taken the day off to do some shopping, something of an annual routine for Heather as she could only carry over so many vacation days into the next calendar year, it was either use it or lose it at the firm she worked at. Having left early that morning to beat the lunch hour rush, Heather was happy to have gotten all the items on her list as she pulled up into her driveway and garage. Opening the back of her SUV to retrieve her purchases, it was then that she heard the rather familiar male voice calling out "Hi, Mrs. Cummings!" Turning, she then observed her son's friend who now looked more matured and even more handsome than ever. "Skipper …………………Skipper Harmon! Hi! How have you been?" she replied as her entire body shivered with excitement.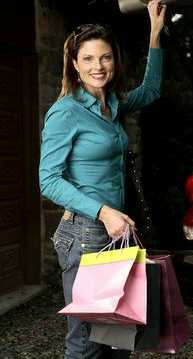 Mrs. Heather Cummings
That slight shiver of excitement had not gone unnoticed of Skipper's attention and he knew that beautiful brunette was just prime for the taking, but now he had to be subtle and use his charm and smarts to get her into his arms …………………and of course, into her tight little panties! First explaining that he was playing 'delivery boy' for the wreaths sold by the Women's Club fundraiser, holding up a wreath in display, he then asked as to when Bill would be getting home. When the small talk was done, he wisely asked "Can I help hang it somewhere for you, Mrs. Cummings?" His cock twitched with excitement in seeing her swallowing nervously and responding with "I ……………I haven't decided where? Do ………..do you have any suggestions?"
The nervousness of the matured beauty's voice, signaled to Skipper that his presence and his near proximity to her, and that he had the prim and proper wife trembling like a young teeny bopper. To her questions, conscious as to where they were standing, Skipper's swiftly calculating mind had him responding with "I thought it'd be perfect right on the center of the large garage door! Something that few people think of but it really stands out! We just need to make sure there's at least 4" of clearance from the top of the door frame where the wreath would be moving beneath the beam! A quick test of the door is all we need to do to check on the clearance! Is your remote in the car?"
"Yes ……………….on the visor!" Holly nervously responded and then watched as the handsome young college jock went to retrieve it and returned to stand by the rear of the SUV next to where she was standing. Trembling as the handsome jock pressed the remote, causing the garage door to descend, and seconds later Holly came to realize that she was now all alone in the garage with the muscular young stud. Holly was frozen in her stance as Skipper was taking the packages that she held, then his strong hands were upon her trim waist ……………pulling her to him! Seconds later, with her eyes closed, Holly could only tremble with excitement as her pointed tongue dueled with the one sliding between her parted lips and teeth.
In an intimate embrace as her hands were now up and caressing Skipper's muscular shoulders, Holly trembled as his strong hands were caressing the bare flesh of her waist after the confident young stud had pulled her tucked in blouse from out of her jeans. Then it seemed as if all her morals had suddenly been loosened …................or was it due to the loosening of her bra that had just been expertly unhooked by the handsome young jock? Panting for breath as Skipper was nuzzling at her neck, her entire body trembled as her son's good friend had his hands cupping both breasts under her blouse and loosened bra. Swooning from the unbelievable sensation coursing through her body, swollen nipples being thumbed, Holly was now totally and literally in the hands of the handsome young stud as he whispered in her ear that "Ohhh, Mrs. Cummings, I've dreamed of doing this for so long!"
Hearing this young man express how he had dreamed of touching and caressing her breasts, Holly did not nor could not deny Skipper his pleasure, especially in view of all the pleasure he was giving her just from his masculine touch. "Oh, Skipper ….............................Skipperrrrrrrrrr!" she panted out as he squeezed and twisted at her stiff and elongated nipples. And then, with her blouse and loosened bra being pushed up, Holly mewled "Oh, Skipppppppppppppppppppppppppppp!" Her hands were now grasping at the back of Skipper's head as he mouthed a tender breast and began suckling upon her thick sensitive nipple. And then he was ministering to the other breasts, tongue twirling around the stiff nipple and then he began nipping at it with his edge of his teeth.
His large hands more than amply filled by the large tender jugs of his friend's beautiful mother, Skipper's long time dream of sucking her titties had come true as he captured the sensitive pink bud between his sharp teeth. "Ohhhhhhhhhhhhhhhhhhhhhh!" Skipper heard her moan as he sank his teeth down into her tender nip and then was opening his mouth wide to mouth as much of the tender breast as possible, knowing that bruises would be visible when he departed. Hearing her panting as she clutched at the back of his head, Skipper knew that he had her right where he wanted as his hands went to the front of her jeans. Seconds later, he was working her tight pair of jeans along with the waistband of her lacy panties on down over her trim hips.
After easing the panting beauty down into the back of the SUV, Skipper worked her jeans and pair of panties down over her knees, then reached down to remove a black heel to toss it aside on the cement floor of the garage. Other heel removed and tossed aside, he then stripped off the jeans from her trim sexy legs and feet. Reaching up again, Skipper then pulled at the lacy garment strip as the pair of white panties dangled from her toes for a few seconds before falling to the ground. Grasping both of her ankles, he pushed and bent her legs to plant her feet flat onto the floor of the SUV. Pushing her knees wide, licking his lips, Skipper then crawled up between her widespread legs, then heard Mrs. Cummings squeal out "Oh, Skipperrrrrrrrrrrrr ………………….Skipperrrrrrrrrrrrrrrrrrrrr …................................ahhhhhhhhhhhhhhhhhhhhhhhhhhhhhhh!"

An hour later, Holly blinked her eyes awake as she looked up and wondered where she was and even as to what day it was. "Haaaaaaaaaaa!" Holly gasped upon realizing that she was looking up at the ceiling of her SUV and what had recently taken place in it. Taking stock of where she was and what had happened, Holly swallowed and shuddered to find herself basically naked except for her blouse and bra pushed up around her neck with her feet planted flat on the carpeting of the SUV. With bent knees widely spread apart, she thanked God no one had found her in such an obscene position. Closing her legs, Holly trembled upon feeling her vagina wet and messy, then shuddered in horror upon feeling her young lover's sperm oozing out of her well-fucked cunt.
'Oh, my God ….................how could I let such a thing happen?' Holly asked of herself while blinking back the tears of shame that filled her eyes. Married for twenty years and faithful for all that time, to now let herself be seduced by a handsome young stud who was of her own son's age and a friend of his. And then it hit her "He did it in me! And he didn't use a condom! Oh, my God, what if he gets me pregnant?" Holly then recalled the mind-shattering climax that Skipper had first eaten her to, getting her to orgasm right in his mouth as her fingers clutched tightly at his hair while arching up to feed him all her love juice. And then, when he slid his firm naked body up onto her, there had been no thought of the need for a condom as the only thing that had then mattered was to get the young stud's stiff cock skewering far up into her.
Holly shivered as she recalled the fantastic fucking that the handsome young stud had given her, far better than anything experienced with loving husband of twenty years. The young stud was very well endowed, far bigger than her husband where it counted and Skipper certainly knew how to use it. 'My God, how many times orgasms did I have?' she wondered. Holly swallowed once again as the last thing she recalled was Skipper groaning "Oh, Mrs. Cummings …..........................I'm cumming ………………cumming ….........................I'm cummingggggggggg …....................................gonna make us a cute little baby ….............................ahhhhhhhhhh, yeahhhhhhhhhhhhhhhhhhh!" And when that hot explosion occurred deep within her body, Holly realized that she must have zoomed off into outer space with another wild orgasm and literally passed out as the next thing she knew was that of looking up at the ceiling of the SUV.
Quickly scooting forward, she draped her legs over the edge of the SUV while pulling down her blouse to cover herself. Reaching back, hands up under her blouse, Holly reattached the hook of her bra. She shuddered as the soft material of her lacy bra cups agitated her now very raw and swollen nipples, causing her to recall the avid suckling Skipper had given them and how he had toyed with them after capturing each between his teeth. Looking about frantically, Holly realized that her panties were gone and no doubt would be adorning the stud's mantel later that night. Cunny filled to the brim and threatening to ooze right on out of her widened slit, Holly searched through her bags till she found the one containing new undergarments that she had purchased that morning.
Slipping a new one on, with the tag still on it, she could at least make it up to the master bath without leaving a wet cummy trail throughout the house. Then she heard a noise from inside her home, the slamming of the front door with her teenage daughter calling out "Mom, I'm home!" Quickly donning on her jeans and slipping her feet back in her black heels, she then made her way to the side mirror on the driver's side to make sure that she was presentable. Looking at her wristwatch, Holly then realized how late it was and that she needed to start the roast if it was too be cooked in time for dinner. But first things first as Holly hurried upstairs to the master bath to get herself a good douching in order to keep from getting knocked up! Opening the cabinet, her eyes widened as she sucked in her breath in disbelief in realizing that had failed to keep a bottle on hand.
That night, Skipper reviewed his delivery list and the notes that he had made on his Christmas wish. Before returning home, he had pulled out that folder from springtime when he had helped out on a soccer camp as the last name of Wharton looked familiar. One of the young boys had been a Tim Wharton and upon finding his application form, Jennifer Wharton was the name on both the form and delivery list. Address had matched up and Skipper certainly remembered the young blonde beauty who had come to watch the last few minutes of each day when she came to pick up her son. Things had just not fallen right back then as he had failed to meet her formally except for getting a wave from mother and son when he had bid young Tim goodbye one day.
Not wanting to be a hovering mother over her son, encouraging her young son to learn to play in a group and away from mommy or daddy, Jennifer Wharton had purposely refrained from being there the entire time and would come ten to fifteen minutes before the camp ended. Stopping by at the end of that first day of camp, Jennifer had watched her son interact with kids his own age and could not help having her eyes attracted to the very handsome young stud who was instructing Tim's group, especially as she thought 'My God, he sure reminds me of that senior quarterback on the high school team that I had a major crush on when I was just a freshman! He didn't even know I existed but I kept pining away at night in wishing I could be his girlfriend!' Laughing as she shook her head, Jennifer thought 'Oh, I was so young and immature back in high school!'
By the end of camp, Jennifer had found herself going earlier and earlier to the field before the soccer camp ended, telling herself it was to watch how her son learn the game and interact in a group situation. But that was merely the reason she used to convince herself as to why she was going earlier each day, not because of the way her heart fluttered in watching the handsome young college stud that was there to help the kids. Jennifer had been tempted to go up and introduce herself to the handsome young soccer coach, to thank him for what he was doing to help all the kids, but she was just too shy and nervous to do so.
That application of Tim Wharton had shown that the emergency contact was Mrs. Wharton and the contact number was that of the residence. Hubby's name was John and he worked at a stock brokerage. The form also asked for names and ages of siblings along with any of them also attending the clinic. One sibling was listed, that of a younger sister, two years of age. At that age for the sibling, Skipper surmised that the beauty was a stay-at-home mom and housewife at least till all the children were of school age. 'Hmmm, is the youngster at home or maybe going to preschool for part of the day to prepare for kindergarten? Or does she care for the little girl all day?' he wondered. An early morning start was now in order, with Skipper keeping his fingers crossed for some good fortune.
Up at the crack of dawn, Skipper was raring to go with wreaths filling his car for the deliveries to be made. Timing things just right, on his second spin around the block of the Wharton's address, Skipper observed the familiar car backing out of the driveway and onto the street. Following at a distance, figuring she'd be headed on off to the nearby elementary school to drop young Tim off, it turned out exactly as he had figured. Then to get a bit closer so to not lose her tail, it was a half-mile further when he saw the car turning off into the ABC Preschool's front turnabout, apparently to drop off her little girl there.
Then it was following the lovely 31 year old Mrs. Wharton to the bakery where she parked and got out of her car. Seeing the beautiful woman once again, Skipper felt his cock twitch with excitement as he watched beauty, in a heavy gray coat over a nice red dress and black boots, trudge through the three inch layer of snow to go into the bakery. Five minutes later, Skipper started up his car again in seeing the sexy woman exiting with a white box in hand. 'Oh, yeah, she's headed in the right direction …...............right back to her home!' he surmised while dropping back to a safer distance so as not to be detected. Seeing her turning into her subdivision and still headed on towards her street, he drove on by the house to see the garage door coming down to a close. Going around the block, Skipper pulled off to the side to give her a few minutes to get settled.
Pulling up to the curb in front the Wharton's nice suburban home, Skipper then made his way up the driveway with wreath in hand as he wondered just how to play his hand with this lovely beauty. Ringing the doorbell, he heard movement inside before the door opened. "Hi, Mrs. Wharton, I'm here to deliver the wreath that you purchased from the Women's Club!" Skipper advised before adding that "I never met you formally I'm ….........!" "Skipper …............Skipper Harmon! How are you! My goodness you were all that Tim talked about after the camp till the end of the school year!" came the beauty's response. Seeing her heavy coat having been removed, along with her long black boots to reveal her trim sexy legs, Skipper was just horny as hell.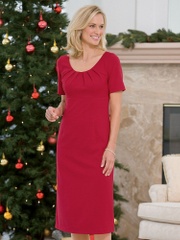 Mrs. Jennifer Wharton
Chit chatting for a couple minutes and asking about young Tim, Skipper then decided to use the ploy that had worked so well the prior Christmas season. That ploy was his telling her of how "My Mom roped me into volunteering to help out in making the deliveries for the Women's Club's fund raiser!" And then to feign a shiver with a "Brrrr
…...................it sure is cold out this morning!" The reliable ploy worked like a charm once again, with the unsuspecting young wife disarmed as she already knew him, thus getting Skipper an invite inside the beauty's home for some hot chocolate or coffee. Once he stepped inside of the nicely decorated home, it was his craving for the prim and proper wife's hot little pussy juice that he was thirsty for.
Commenting on how beautiful a Christmas tree she had put up in the living room, Skipper's eyes quickly scanned about the interior of the home till his eyes found and focused upon it …......................the ever present mistletoe! Sipping at a cup of hot coffee and pretending to warm on up, Skipper then moved about on the guise of admiring her home. And when he neared his destination, Skipper put down the cup of coffee to pick up an ornament as if to admire it. Putting it back down, he then looked up and commented "Oh, my goodness, is that what I think it is?"
Getting the puzzled beauty to look up, Skipper then pulled her into his arms while commenting "A mistletoe! Tradition calls, Mrs. Wharton!" The stunned beauty immediately struggled in his arms and pushed at his chest, panting out "Noooooooooooooo …...........................how dare you?" But Skipper did dare, pulling her to him and covering her soft pink lips with his to give her a deep passionate kiss. After a minute's struggle, the fight was over as her hands no long pushed at him and the beautiful wife was now returning his kiss. Her hands were now clasped on his biceps and her lips parted to admit his exploring tongue. Once he felt her pointed tongue flicking up against his, Skipper knew that the battle was over and that he had been won …………..he had overwhelmed the beautiful wife's defenses ………………….and now the lovely Mrs. Wharton would be added to his Christmas list!
Three hours later, having fallen asleep for an hour after her handsome young lover had departed from her home, Jennifer was bending over to retrieve the Christmas sweets now strewn about on the carpeting that had previously been in a decorated tin on top of the glass coffee table for guests to help themselves. Breathing hard, trying to compose herself, Jennifer sighed as she viewed all the individually wrapped chocolate candy scattered about the carpet of the living room floor. Viewing the mess on the coffee table and carpeting nearby, it was quite obvious that her most recent visitor had definitely helped himself to some sweet Christmas treats all right. Blinking back the tears, Jennifer softly muttered 'The bastard!' as she was rather furious at Skipper for devouring the 'sweets' that he had just helped himself to.
Those 'sweets' that Skipper had devoured at the Wharton's home had not been those set out in the tin on the coffee table …………………..it had been the hot sweet juicy pussy of the beautiful Mrs. Wharton that he had devoured after stripping her and placing her sweet little bare ass on the tabletop. Once he had gotten her into his arms and was kissing her passionately, Skipper knew that it was a forgone conclusion that he would not be leaving the beauty's home without getting to sample some sweet nookie! Feeling her petite body trembling in his hands, he heard her panting with guilt and reprehension as he began to slide the red dress from her sexy body, and paid no attention to when she panted out "No ……………no, Skipper …………………this is wrong ……………………..I'm married!"
Closing her eyes in shame, Jennifer's distraught mind played back the shameful seduction that had token place in her home earlier that day, making her wonder 'My God, how could I let that happen …………….….letting that young bastard seduce me right here in my own home! How could I be so easy! One touch by that handsome young stud and I melted right in his strong muscular arms!' As she sat at the dinning room table, Jennifer looked over towards living room, focusing on the coffee table near the Christmas tree where it had happened ……………..……..where she been seduced and committed adultery right there in her own home.
Staring at the coffee table for a few seconds, Jennifer's then blinked back the tears as she imagined what the scene would have looked like from where she sat. Shuddering as she pictured herself being stripped naked by the devious young bastard, being lifted in his strong muscular arms and feeling her bare ass placed onto the cold top of the coffee table. And with her bent and legs spread wide, the handsome young jock had proceeded to eat out her tender juicing pussy! It became quite obvious that the young stud was an expert at the art of eating pussy as his talented tongue proceeded to drive her absolutely crazy. Jennifer trembled as she could again hear herself squealing out "Ohhhhhhhh, Skipper ……………………Skipperrrrrrrrrrrrrrrrrr ……………………oh, Godddddddddddddddd ……………….Skipperrrrrrrrrrrrrrrrrrrrrrrrrrrrrrr!"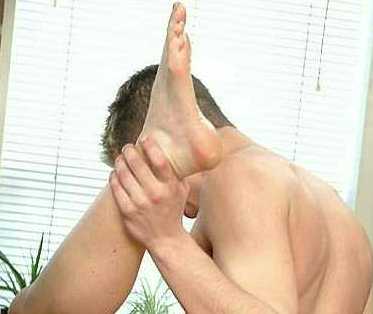 Jennifer shuddered as she recalled having her eyes closed shut, panting for breath, with her head had been tossing from side to side upon the tabletop. Then she recalled feeling her handsome young lover's thick fleshy lovestick seeking entrance between her lips. 'Why did I allow such a despicable thing to happen? How could I?' Jennifer asked over herself over and over again. Never before had she allow such a thing to happen with her own husband, no matter how he had tried to maneuver her into such a degrading position. 'Was it due to the exquisite pleasure he was giving me ………………….with his head between my legs and tongue wiggling up in my cunny? But why in the world didn't I stop him before he even began ……………..I've never even let John do that to me!' she wondered.
With her legs bent and feet flat on the tabletop, she had arched up as the young stud literally ate her to a mind-shattering orgasm that sent her rocketing up into outer space. Enjoying the exquisite pleasure that the handsome jock gave her, Jennifer had sought to return the pleasure by grasping his joystick in one hand and proceeding to fist his thick throbbing man-meat while vacuum sucking all the hot sticky semen from his churning testicles. After it had all come to climatic eruption, with Skipper's head out from between her legs and penis slipping out of her glistening lips, her stomach had churned from all the slime she had swallowed …………………causing her to frantically reach for her red dress lying on the carpet ……………so she could spit out the slimy cum being regurgitated from her heaving belly!
Looking at the coffee table, Jennifer was just amazed at just how sturdy it was, especially after having held up so well with the weight of two bodies lying atop of it. And it had held up, not just with just supporting the weight of two bodies on top of it, but of the two rutting animals that couldn't get enough of one another as they mated in heat. As the handsome young stud stood between her raised knees while fisting that proud boner of his, Jennifer had clamped her knees together and refused to go all the way with him unless he put on a condom. Yes, she had insisted, and only when the young stud took one out of his wallet and tore open the foil packet did she allow him access between her legs.
Head in her hands, Jennifer wondered 'Why? Why did I do it?' Her questions were not to the adultery in itself but in asking herself as to 'Why in the world did I roll off the condom when he said that he couldn't keep it up with the condom on? Why did I let him have sex with me without it?' Having used the glass cleaner and a couple of rags, it had taken Jennifer a good ten minutes to finally get off all film of their fuck juices wiped off the tabletop. Putting her lacy bra on and balling up her cummy red dress, Jennifer looked about but could not find her missing panties, even glancing at the Christmas tree to be certain it wasn't hung there by the devious bastard.
Using up precious time to clean up the living room and make sure there were no telltale evidence remaining of her adulterous affair, Jennifer realized that her sister would be dropping off her young niece Lisa in half an hour's time. Thus, there was just no time to get to the drug store in order to buy a bottle of some much needed douche to rid herself of the young stud's potent spunk. With she and John wanting to expand their family, having made the decision several months ago to do so, Jennifer just prayed that her infidelity had not left her impregnated by devious Skipper Harmon. There was only time now for her to hurry upstairs for a hot shower to wash off the stench of raw sex and wash some of her young lover's potent spunk out of her cunny.
Greeting her sister Laurie (Beckett) and young two-year old daughter Caitlin, Jennifer welcomed them into her home. With Laurie having called that past week and asking if she could baby sit Caitlin for her, Jennifer had more than happily volunteered so her older sister could attend a Christmas luncheon. When Laurie had headed on off to her luncheon and leaving little Caitlin with her, Jennifer told her sister not to worry about the time as she had no plans and if need be would take Caitlin with her to pick up her youngest at the pre-school.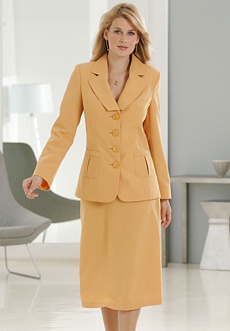 Laurie Beckett (see 'Target - 9')
Seeing how little Caitlin was admiring the lit Christmas tree and all the presents under it, Jennifer then pulled out the Christmas gifts that were meant for her young niece. It was then that Caitlin was taken by surprise when little Caitlin was pointing up to the Christmas tree and saying "Aunty Jennifer, can I have that green balloon? Will you blow it up for me?" Without looking up, Jennifer replied that "There's no balloon's on the Christmas tree, Caitlin! Only ornaments are hanging from the tree!" "No …………..no ……….there's a balloon ……………a green one! See! See!" her niece insisted and pointed upwards.
Looking up to where her niece was pointing, Jennifer gasped at the sight of the limp and soiled green condom hanging from a tree branch. 'The damn bastard!' she cussed under her breath as stammered and she told her young niece that "It's a very old one and can't be blown up any more!" Reaching up to retrieve the hanging condom from the Christmas tree, planning on flushing it down the toilet, Jennifer could only think 'My God, what if John or someone else found it?' Anyone who saw and knew the item, knowing just what was hanging from the tree branch, would surely wonder why and how it got there.
Not having witnessed Skipper putting on the protective condom when her raised knees were clenched tightly together, nor when she had reluctantly shucked it off his long thick cock, Jennifer had completely forgotten about it while searching for her missing panties. In fact, with it not left there lying upon the living room carpet, it had not even dawned upon Jennifer to look for the discarded rubber. In looking over the Christmas tree for her lacy white panties, the green condom had blended in with the color of the tree and had not caught her eye till it was pointed out by her little niece.
With Caitlin being such a little darling, Jennifer could only dream of one day having a daughter like that of her older sister's. Brushing her niece's long blonde hair, Jennifer could only wish that 'Someday I'd like to a beautiful little girl, just like you!' Little did Jennifer suspect that with she and Laurie being sisters and having basically the same genes, should she be 'knocked' up by the events of this morning, a baby girl would indeed come to look like Caitlin's little sister. And unbeknownst to both sisters, each had been seduced by the handsome young Skipper Harmon, with him having fathered little Caitlin and very possibly having put a baby in her Aunt Jennifer's belly.
In his bachelor's pad located up above his parents' garage, after hustling to finish up and make all the deliveries, Skipper now awaited for the arrival of one of his earlier conquests - that of the lovely Mrs. Laurie Beckett! And when she arrived, driving up into the vacant spot in the garage, he took her into his strong arms and a passionate kiss ensued after informing him that her younger sister was currently watching their little girl. That afternoon, the large bed in Skipper's bedroom rocked and rolled as he thumped the beautiful wife once again, groaning out "Oh, Mrs. Becket ………………cumminggggg …………………….I'm cummmmmmmingg!" And that was accompanied by the beautiful wife crying out "Skipper ……………….…….oh, Skipperrrrrrrrrrr ……………….Skipper …………….cum in me ……………………cum in me!"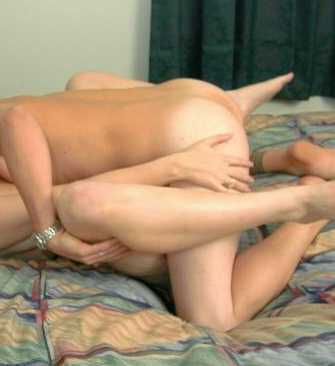 It would be nine months later, as faith would have it, when brother-in-laws Ron Beckett and John Wharton would both be sitting nervously in the waiting room of Mercy Hospital while doctors examined their respective wives to project time of delivery. As brother-in-laws, they had got along like good buddies, especially with their wives being sisters and very close to one another, but neither had ever dreamt of them about to become new fathers on the very same day. What a coincidence that would be! 'The odds just had to be astronomical …………..out of this world!' each had thought to himself and even expressed that to one another out in the waiting room. But if each had each known that his lovely wife had stepped out on him that day, been seduced into being unfaithful and fucked royally by the very same handsome young college jock, such odds would have been reduced dramatically!
End of Story.