Target: Beautiful Married Women - VIII
(m/f, cons)
by
Black Demon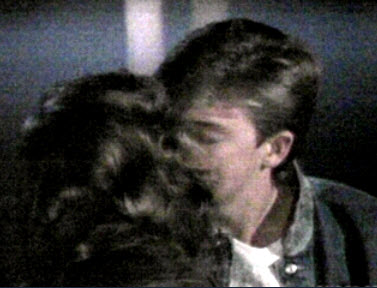 ______________________________________________
Standard Disclaimer!
This is a fictional story intended for Adults only!
______________________________________________
************ ***********
Note: The story below is a story in itself. However, it is also a direct continuation of
the earlier stories entitled: 'Target: Beautiful Married Women – I thru VII'
************ ***********
"Hey, Skipper ……………………….welcome back! My wife and I were just talking about you and Mrs. Collins was wondering if you'd be back this summer! I must say that you've made my wife a true football fan! Before she couldn't be bothered watching a game but now whenever State's playing, she's anxiously waiting for game time!" Bert Wallace advised. "You've got her jumping up and down …………………cheering each time you make a big play!" he added.
"Nice to see you again, Mr. Wallace! And I understand congratulations are in order once again!" Skipper replied as he shook the man's hand. Holding up the toy and a teddy bear, both tied with ribbons, Skipper advised "Toy's for little Jimmy and the teddy bear is for the new baby! And what's the baby's name?" That teddy bear was quite a special one, with a State U.'s football jersey on with the #7 ………………..Skipper's number! "Gosh, you shouldn't have …………but the kids will love them! Little guy's name is 'Trent'!" came the reply.
"Oh, my pleasure Mr. Wallace! Least I could do ………………………probably would never have done well in math and made it thorough high school had it not been for Mrs. Wallace! She really got me turned around in middle school! Can't say enough how she got me to enjoy math …………………….best and favorite teacher I've ever had!" Skipper advised. Indeed, the lovely Mrs. Terri Wallace had been Skipper favorite teacher, still was in fact …………………..in taking to bed!
Taking the gifts handed to him by his wife's former student, Bert invited the handsome young man in, leading the way and advising "Come on in, Skipper …………..let's go out back where she's watching the kids! Mrs. Collins will be so happy to see you again!" "Honey! Look who's here!" Bret called out to his wife as neared the outside patio where his lovely wife sat cradling the baby while little Jimmy played with his toy firetruck in the sandbox.
Gently placing baby Trent down into the cradle, Terri Wallace greeted her former student with open arms, giving him a platonic hug as she welcomed him back home. "Look what Skipper brought for the boys!" her husband announced as he held up the toy for Jimmy and the bear for Trent. "Oh, Skipper ……………………you're so sweet!" she advised, grasping his hand and leading him to the patio chair.
"Oh, with the boys settled down, would you mind running to the store for me while I catch up with Skipper?" she asked of her husband. Her loving husband Bret responded "Sure, honey!" Terri then advised "The item I need most is a case of the formula for the baby that I mentioned last night, since feeding time for the baby will be a bit over an hour from now! It's on that list clipped onto the refrigerator!" With her nipples chaffed by little Trent's nursing and his hunger growing, Terri had advised Bret the night before that it was now time to wean the baby off breast milk and onto the formula.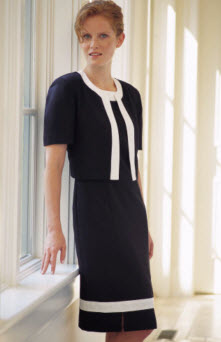 Mrs. Terri Wallace
Though Terri had initially planned to commence using the formula in the evening, she realized that her breasts just would not have enough to satisfy the hungry baby on his next feeding. Such had not the case earlier, in fact not until just a few moments ago, for Terri knew that the baby would not have enough milk to drink …………………..not with his handsome daddy's craving for a taste of the same! This was something that Terri knew for certain ………………having experienced the same a year ago, when Skipper visited his little son! And now he had returned from college to visit his newest offspring!
With her husband's car just out of the driveway, Terri found herself being pulled by the hand into the kitchen by her former student, the father of her two boys. Tucked in blouse pulled out from her shorts, garment pushed along with her nursing bra, Terri sucked in her breath as Skipper's eager mouth was upon her. "Ooooooooooooooooooooo ……………………………ooooooooohhhhhhhhhhh, Skipperrrrrrrrrrrrrrrrrrrr ………………………….ooooooooo ……………………ohhhhhhh, yessssssssssssssss!" she moaned, hands grasping at the back of the handsome jock's head.
And then, a math course commenced. Only this time Skipper was the teacher in this classroom and the number '69' was being explained fully ………………demonstrated anyway! Having swallowed several mouthfuls of warm milk from his former teacher's swollen breasts, Skipper was now intent on returning the favor. Fucking his beautiful teacher's face, cock sliding in and out of her mouth as he sucked her juicing pussy, Skipper felt his nuts begin to churn.
"Mmmmmmmmm …………………………………mmmmmmmmmmmmm ……………………mmmmmmmmmmmm!" Terri moaned around the thick pulsating cock as her young lover ate her out to an exquisite orgasm. And then it was her turn to drink some hot toddy, right from the churning balls of the handsome young man. The amount of milked sucked from her breasts a few moments earlier was miniscule as compared to the blasts of cum filling her mouth to the brim. Swallowing time and time again, Terri grasped Skipper's walnuts and felt them churn once again, followed by an immediate spurt of jizz into her mouth.
Five minutes later, lying atop of her young stud with his flaccid cock still in her mouth, reality then came back to Terri. Scrambling to get up, pulling herself up by grasping the sink, Terri peered out of the window. She then breathed a sigh of relief in finding little Jimmy still happily playing in the sandbox with his fire truck and baby Trent fast asleep in the cradle. Feeling her left hand grasped by her lover, she offered no resistance as Skipper pulled her back down to the floor as he knelt up to get in hump position.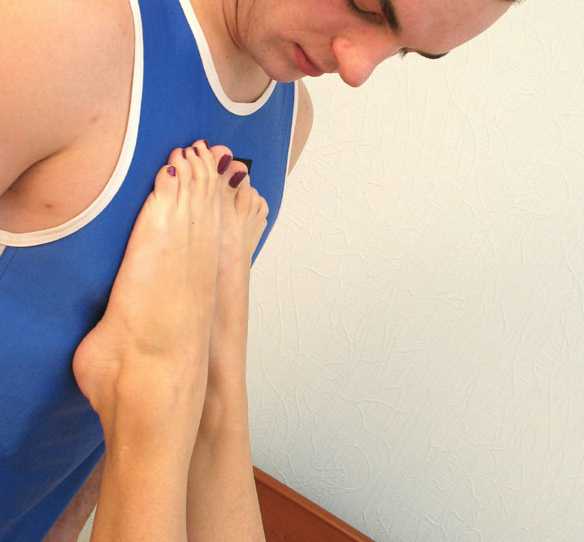 Raising her legs up, feet flat against the blue tank top covering his muscular chest, whispering "There's no time! My husband will be coming back soon!" But then, against her better judgement, Terri then slid her feet apart. Now with legs spread wide, pedicured toes curled in anticipation, she shivered as her former student shuffled up into position. "Oh, Skipperrrrrrrrrrrrr ……………………………….oooooooooohhhhhhhhhhhhhhh!" Terri moaned as her handsome young lover eased his thick manhood up into her waiting slick sleeve. It was a wild and energetic fuck, a continuation for the two lovers from where they had left off nine months early when the last summer had ended. Arms wrapped around her lover, Terri then tied her legs around his waist by locking her ankles together, spurring him deeper into her.
Less than ten minutes later, Bert Wallace returned home with the bag of groceries and the much needed baby formula to find his lovely wife and her former student still chatting outside in the patio. Little did he suspect that the opening of his garage door had sent the two lovers into quite a frenzy, with the handsome young jock still needing to cum in his former school teacher. As he had proceeded to drive his car into the garage, his lovely wife was being cummed in. And when Bert was getting the groceries out of the trunk, the stud's cock was finally being pulled out of his beautiful wife's clenching cunt.
"Hi, honey …………………..I'm home!" Bert announced, giving a wave to his smiling wife and her former student sitting out in the patio. With his lovely wife sitting with her right leg crossed over her left knee, swaying back and forth in time with her rocking the baby's cradle, Bert could swear his wife's former student's eyes were focused upon Terri's flawless and sexy legs. Taking the groceries into the kitchen, he peered out again to the patio where his wife and former student were.
Bert mused 'Can't say I blame Skipper any! Heck, I had a crush on one of my teachers in high school and wanked off every night, dreaming I could seduce her! Terri is so strait-laced that I'd bet she'd slap him if he even tried to make a pass at her!' Then he thought 'God, it'd sure be exciting to see the handsome stud make a move on her! But guess that would certainly have Terri losing respect for her former student if he tried to make a move on her!'
'Ah, Skipper …………………you'd just be in for a big disappointment cause Terri's one who'd never cheat and violate her wedding vows to be faithful! Heard these days gals are great at going down on a guy and giving good 'head'! And if that's what floats your boat ……………………your dreams of nailing your pretty teacher would sink pretty quick as my wife just ain't one to put her lips around a guy's cock! Jezz, when I tried to push her head down into my crotch, I ended up sleeping on the sofa for a whole fucking week!' Bert mused.
If Bert Wallace only had not departed to go to the store, he'd have witnessed quite an exciting and erotic scene taking place on the kitchen floor of his home. The handsome college jock not only had a crush on his pretty teacher from the seventh grade, but that his lovely wife's feeling for her former student was mutual. And Bert would have found that his lovely wife no longer had an aversion to putting her face down onto a male's musky scented crotch. Nor did she object to her handsome student's face in her crotch as he proceeded to eat her out while her head bobbed up and down as blew him in the classic '69' position!
As he proceeded to put the vegetables and greens into the refrigerator, Bert nearly slipped and fell as the leather sole of his shoe hit a slippery spot. Looking at the bottom of his shoe, it looked as if a glob of some greasy substance had fallen onto the floor. Grabbing a couple of paper towels from the rack, Bert then wiped his shoe of the slick substance and then cleaned up the floor, leaving it shiny from the oily goo. Had he held it up to his nose, the scent of male sperm would have been detected from the glob of mutual fuck juices that had leaked from his wife's well-fucked cunt when her lover had hurriedly pulled out of her in order for them to scramble back into their clothing.
With Terri's right leg crossed over her left thigh, Bert would not have guessed it was because his wife did not have her panties on and did not want her pink shorts to become discolored by the wet mush threatening to ooze out of her cunny and into the crotch of the absorbent fabric. Or perhaps she wanted to keep her young lover's potent jizz from escaping in order for it to do its job once again …………………impregnating her with his baby! Not an unlikely possibility, considering the fact that both little Jimmy and baby Trent were both the product from the loins of the handsome young jock.
Joining his wife and Skipper out in the patio, Bert was congratulated by Skipper "Gosh, Mr. Wallace …………………you're one lucky guy ………………….nice house, a beautiful wife and two handsome young boys! Sure wish I'm that lucky when I get married!" "Thanks, Skipper ………………..but I've got to thank Mrs. Wallace for all of it!" Bert replied. "And hopefully the family will double in the little ones count over the next few years!" he added.
It was Terri who then chimed in with "Hmmm, well ………………I'm sure getting outnumbered by all the guys in the house! I just love the little tykes but I think next time would be just perfect for the family to be blessed with a precious little baby girl for me pamper!" Then Skipper chuckled "Well, I'll be certain to bring a cheerleader bear back from college next summer!" A teddy bear next summer would certainly be needed as Skipper fully intended on having his pretty teacher knocked up once again, only he couldn't guarantee that it'd be a little girl he'd fuck into her tummy.
With Mr. Wallace asking if he'd be interested in the continuing on with the yard work over the summer, Skipper agreed to take on the extra summer job although he had not initially planned on it. This would readily allow him easy access to visiting his two sons, but more importantly to his favorite teacher. And more sessions on math tutoring would be held throughout the summer, with Skipper being the teacher in the fine art of the number '69'. More importantly, at least there wouldn't be any more frantic fuck sessions nor the need for more premature withdrawals of his cock while still spurting out its goodies.
That afternoon, cock still smarting and twitching from that premature withdrawal, Skipper figured he needed a good workout that afternoon as he arrived at the soccer field early. 'A cold shower would be more like it!' he chuckled. With soccer practice not starting for another hour, Skipper was surprised to see a car pulling up and one of his players being dropped off early.
For 35 year old Vicki Grayson, there was no denying that shiver of excitement coursing throughout her petite body at the sight of the handsome Skipper Harmon as she turned into the parking lot to drop Jimmy off. She had not expected to see Jimmy's young soccer coach at the field being that it was far earlier than the scheduled practice time. From that first meeting with the young coach and other players' parents, Vicki was charmed by the handsome college jock as he explained his objective of teaching the boys soccer techniques along with sportsmanship over the summer.
"Hi, Jimmy! You're early!" Skipper waved and proceeded to walk over to car. Greeted by the young boy as he got out of the car and began kicking the soccer ball around, Skipper then observed the passenger window being lowered by the boy's pretty mother. "I'm so sorry to drop Jimmy off early! He can take care of himself and I've told him not to bother you! It's just that I've got a parent-teacher meeting this afternoon with Jimmy's teacher!" the beautiful mother advised.
"No problem at all, Mrs. Grayson! I'll keep an eye on him!" Skipper advised as he leaned up to rest his arms upon the top of the car door! 'Damn, she's a fox!' he thought as he observed her in a nice dress, took in her trim sexy legs all the way down to her heels. "Ooooh, you look beautiful, Mrs. Grayson!" he complimented the now blushing mother. 'A beautiful and ideal 'Soccer Mom'! And definitely a 'MILF'!' he thought as his cock hardened under his shorts. 'Yes, definitely a Mother I'd Like to Fuck!' Skipper told himself.
"Oh, thank you! Flattery will get you everywhere, young man!" Vicki blushed and chuckled in response to the flattering compliment, squeezing her thighs together to keep her juices in check. Then Vicki shivered, realizing what she had said, chiding herself 'My, God …………………..you basically invited him to make a pass at you!' Swallowing nervously, face feeling flush from her embarrassment, she then stammered "I …………………I better get going …………………don't want to be late for the appointment!"
With Skipper stepping back from the car, just before pulling away, Vicki heard her son yell out "Don't forget to buy the doughnuts from 'Creamy Goodies' for breakfast!" "Don't worry, Jimmy! I'll be sure to get there before they close!" she replied, waving goodbye to her son as she departed from the parking lot. Breathing a sigh of relief, sitting back in the car seat and relaxing her tightly clenched thighs, Vicki felt her heart pounding as she thought 'Gosh, what would you do if that handsome stud did make a pass at you?'
Cock still throbbing from eyeing up her beautiful legs, Skipper then had young Jimmy help carry some of the cones and balls to get things set up for the practice. Chatting with the young player on his team, Skipper learned that the boy's father would be picking him up after practice as his mother was meeting some of her lady friends for dinner that night. And with what the lovely 'MILF' had told her son about getting the doughnuts before closing, Skipper thought 'Hmmm, place closes at 9 o'clock! Maybe I can give the beautiful Mrs. Grayson a special 'Creamy Goodie' on her way home tonight!'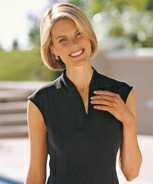 Mrs. Vicki Grayson
For Vicki Grayson, the marriage to her husband was a good and stable one, but she supposed that it was just natural that after twelve years of marriage that they took each other for granted at times. And of course, with their careers and hectic schedule involving their two kids, some of the romance had disappeared. Never before, well since her marriage to Tom anyway, had she felt her heart thumping as it was now after seeing and talking to the handsome Skipper Harmon. She took a deep breath, scolding herself at the naughty thoughts going through her mind, shivering at the thought of having the handsome young man's strong hands touching her.
Having a great time meeting up with her old girlfriends for a girls' night out together for a fancy dinner, Vicki looked at the time as she headed on home, remembering that she had to stop at the 'Creamy Goodies' for some doughnuts. After purchasing a dozen doughnuts for her family, Vicki turned and was greeted with "Oh, hi, Mrs. Grayson! I was walking home when I saw the 'Creamy Goodies' sign and remembered Jimmy telling me how great the doughnuts were! Figured I should give it a try!"
Heart pounding in her chest, Vicki knew she should turn down the handsome young man when he asked her to sit and chat with him over a cup of coffee and a doughnut. But he excited her in such a way that she just couldn't say 'no' and clenched her thighs tightly together as she sat down at the table. Vicki felt giddy, as if she was just a teenie bopper once again and out on a date with the handsome football jock. 'My, God ……………I'm actually creaming in my damn panties …………………like some young school girl!' she shivered.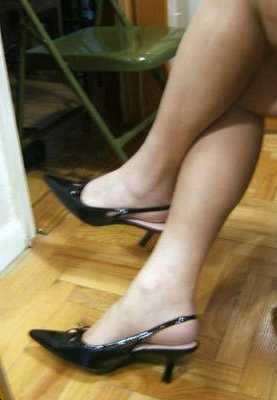 Returning to the table to the waiting beauty, Skipper took in the sight of her sexy legs beneath the hem of her black dress and thought to himself 'God, I've just gotta feel'em wrapped around me tonight. Closing time for the 'Creamy Goodies' had them getting up to leave and when she was escorted to her car by her son's handsome soccer coach, Vicki's heart pounded, knew that she was asking for trouble as she stammered out "Can …………………..can I give you a lift home, Skipper?" Hoping for a 'yes' just to be near the handsome young man a bit longer, yet she hoped for a 'no' in order to avoid the temptation of what it might lead up to.
Driven home by the beautiful MILF, Skipper wasn't surprised that she immediately turned him down upon offering her a nightcap upstairs in his bachelor's pad. Then he used his tried and true technique of wanting her womanly advice in decorating his pad, getting the lovely beauty to accompany him upstairs to his den of sin. A glass of Grand Manier for the mother of his player and soon he was taking the glass from her hand and setting it aside as he took her into his arms.
"Oooooo, you're so beautiful, Mrs. Grayson!" Vicki heard him whispering into her ear after a very deep and passionate kiss. "Oh, pleaseeeeeeeee ………………….Skipper ……………………this is wrong …………………….please …………………..we must stop ……………………I ……………………I'm married!" she panted, shivering nervously upon feeling the back of her dress undone, his hand slipping in to caress her back. She trembled upon feeling Skipper now attempting to unhook the clasp of her bra.
Bra clasp expertly undone, dress drawn off her shoulder along with her bra, Vicki shivered and gasped "Ooooooooooooooh, Skipperrrrrrrrrrrrrrrrrrrrrrrrrrrrrr ………………………….oh, Godddddddddddddddddddddd!" Her hand at the back of Skipper's head, fingers running through his wavy hair as the handsome stud nursed upon a pink bud, she sucked in her breath as he moved to do the same to the twin peak. "Ohhh ……………ohhhhhhhhhhh …………………..ohhhh, Skipperrrrrr!" she panted, arching her back a bit to feed the handsome jock her titty. All the while, the womanizing stud had her dress now puddled around her heels and bra dangling from her bent right elbow.
As he tongued and suckled upon a breast of the panting beauty, Skipper brazenly advised "So nice …………………..nice big titties, Mrs. Grayson ………………….I knew waiting an hour for you to show up would be well worth it!" He knew that she didn't care what he was telling her at the moment, but she'd remember it all later, that she'd come to realize the meeting at the Creamy Goodies was not by chance but a planned seduction.
Lying on her back upon the stud's bed, Vicki panted as the handsome Skipper Harmon caressed her legs through her pantyhose, then one thud followed another as her heels were removed and dropped to the floor. Then her pantyhose and panties were being worked down over her trim hips, down her legs and peeled off her feet. Strong hands pushing her knees wide apart, Vicki was embarrassed at displaying her sex in such a manner.
As Skipper was moving down into position, Vicki shivered as she realized 'Oh, my God ………………….he's going to put his face there!' Never before had she experienced a male putting his face between her legs and eating her out, though she had wanted her husband to do so during their honeymoon years ago. In college, her sorority sister often had girlie talk sessions and it had often been mentioned of how fantastic it was to have a guy eat her out. But hubby Vern had pulled back, cringing at the idea of putting his face into her sex.
"Oooooooooooooooooo ……………………………oooooooooohhhhhhhhhhhhhhh …………………ahhhhhhhhhhhhhhh!" she panted out as Skipper's hot mouth clamped down upon her sex and his nose nuzzled into her soft curls. Arms out wide, Vicki clutched the thick bedspread tightly with her curled fingers as she raised her bent knees to plant her feet flat upon the bed, arching up to feed her young lover her oozing juices. Hearing the slurping sounds down between her legs, Vicki trembled as the stud expertly wormed his tongue into her slit. "Ahhhhhhhhhhhhhhhhhhhhh …………………..ahhhh ………………….ahhhhhhhhhhhhhhhhh!" she shuddered as her sensitive clit was tongued, sending her straight off into outer space with a mind-shattering climax.
Drifting back down to earth as she lay upon the bed, Vicki observed her son's handsome young soccer coach stripping off his shirt and undoing the buckle of his belt. And when his manhood was bared, Vicki sucked in her breath as this handsome stud was certainly one hulk of a 'man'. Much more muscular and far more well-endowed, Vicki was about to now experience the most fantastic lovemaking of her life. As the jock fisted himself, Vicki instinctively spread her legs wide to welcome her young lover.
Skipper knew that the lovely beauty was his for the taking, that she would not resist his advances, thus confidently moved forward to caress her soft creamy legs and telling her "Oh, you're so beautiful! You've got a real handsome son in Jimmy, Mrs. Grayson! And now you and I are gonna make little Jimmy a big brother …………….aren't we? Aren't we, Mrs. Grayson?" Hand around his hardon, guiding his bloated cockhead up and down her slick slit, he had the panted beauty right where he wanted her as she tried to arch up onto his prong.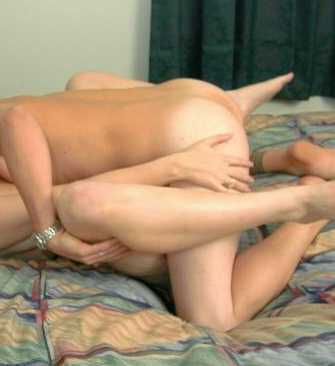 Desperate to have and feel the muscular stud upon her petite body, to have him in her, Vicki panted "Yes …………………yes ………………..please ……………………put it in ………………put it innnnnnnnn! Damn you, fuck me ………………..fuck me ……………………..make Jimmy a big brother ……………….knock me up with your baby! Please, Skipper ………………………pleaseeeeee ………………………fuck me …………………….fuck me now!" "Oh, yessssssssssssssss …………………….oh, God ………………………yessssssssssssssssssssss …………………………….so biggggggg ……………………..so gooddddddddddddddddddd!" she squealed as the handsome stud screwed her deep, far deeper than she had ever been penetrated before.
It was an hour later that Vicki Grayson drove up into her garage. With husband Vern watching the late news, Vicki called out "Sorry I'm late honey, but it was so much fun getting together after so long! Thank goodness I bought the doughnuts before meeting the girls or I'd have been too late to get them!" Heart pounding as she made it to the bedroom bath, Vicki felt guilty at having to lie, but it would help cover up that hour and a half from Creamy Goodies' closing time.
Having showered to remove the scent of sex from her body, Vicki slipped under the covers just as her husband came into the room. "Say, you did get some stuff from Creamy Goodies didn't you? Think I'll have a small snack before bed!" her husband advised. "It's on the kitchen counter, honey!" Vicki responded. 'I could save you a trip back to the kitchen, honey! I could just spread my legs and you could eat some tasty cream pie! But, that's right, you don't like eating me!' she wanted to tell him.
Her thoughts then went back to the fantastic time she had at Skipper's pad. Feeling the stud's muscular body pressing her down into the bed, his long thick cock skewering deep into her, Vicki had to admit that the handsome jock sure knew how to use his equipment. Vicki closed her eyes, recalling how she had wrapped her arms and legs around Skipper once he had entered her, how he had whispered in her ear "I'm going to make you a Mommy again, Mrs. Grayson ………………………..I'm going to knock you up before the end of summer!"
Vicki knew that Skipper was excited in calling her by her marital name, literally felt that extra twitch of his cock deep within her. And it excited her too, constantly being reminded of the fact that she was married and that she was cheating on her husband. It was a wicked sense of pleasure in having a handsome young stud calling her 'Mrs. Grayson' as he fucked her with his thick cock, then yelling out "Cumming …………..cumming in you, Mrs. Graysonnnnnnnnnnnnnn!"
'He said that he's going to see to it that I'm knocked up with his baby by the end of summer!' Vicki realized. 'That means he wants to take me to bed again ……….maybe throughout the entire summer!' she thought nervously, though secretly wishing that it was indeed what he intended. Cunt muscles squeezing at the thought, forcing some 'Creamy Goodies' out of her snatch, Vicki reached down to scoop up the thick cream with her middle finger. Raising her finger up to her lips, she then sucked it dry, savoring the taste of her handsome lover.
End of Story.