Mrs. Nadine Archer
, age 27, Presswood High, Teacher - 11th grade computer science:
What had been good intentions on her part over the summer vacation, making the drive to the wood cabin after getting a frantic all from one of girls that was a part of the Computer Club that she oversaw and supervised, Nadine doubled checked the address that had been given to her. It had been Gayle Corbin that had called her at home, telling her that she was worried about her good friend Molly Fellows, relay that Molly had been drinking and Gayle suspected that a guy had slipped a drug into her drink. From what Nadine gathered, it had been the ploy engineered by Tommy Bilks who had recently graduated from Presswood High and was about to leave for college. Everyone knew how innocent Molly Fellows was, with the ploy being to get her alone up into the cabin, and to find out if she really was a virgin or not. At first Nadine had told the student that Molly was a big girl now and had to fend for herself, but moments later had become worried, fearing for the innocent young Molly's virtue. 'If only Ted was home this weekend and accompany me up to the cabin!' she sighed as her husband was out of town at a company conference.
Unbeknownst to any of her friends, Molly had come to her senses while in Tommy's car, had quickly put in a call home using her cell to tell them "I'm in Tommy's car and should be home in ten minutes or so!" With that call having been placed, catching eighteen year old Tommy Bilks totally by surprise, he then had no option but to drive Molly back home and forget about scoring with her. Having dropped Molly off, Tommy was in a pissed off mood and headed to his parents' cabin to tie on a real good one as there would be no nookie in store for him on this night. Getting on his cell phone, he put in a call and when his buddy answered he asked "Hey, Billy .....................what the hell ya doing tonight? Wanna go up to my parents' cabin and git wasted?" "Yeah, everything got fucked up when Molly called her parents to tell'em she'd be home in a few minutes! Fuck, I thought she was out of it and wasn't paying attention when she made the call! Fucked it all up!" he responded to Billy's inquiry, then after his buddy said he was available to join him, Tommy swung on by to pick him up. With no television reception up at the cabin, Tommy slipped in an x-rated disc to keep them entertained. "Damn it .........................had it all fucking planned out! Molly's a virgin for sure ..............................and I had the camcorders all set and ready to film it all ............................all at the flick of a switch!'' Tommy fumed as he let off steam to his buddy.
With it being pitch dark outside, the approaching headlights had caught his attention from a hundred years away, causing Tommy to turn off the video and put the cabin into darkness. Headlights still on, hearing the sound of a car door opening and closing, Tommy then heard a feminine voice calling out "Molly! Molly Fellows!" It was a voice that Tommy recognized, that of Mrs. Archer, his former computer teacher in his junior year and head of the computer club that he had been a part of for the past two years. Having nursed a hardon for his computer teacher over the past two years, this was a dream come true for Tommy as the beautiful Mrs. Archer had come all alone up to this cabin in the wilderness. "Damn, Billy .......................this is gonna be even better than getting to pop Molly's cherry!' Tommy chuckled at the prospect of fucking his beautiful teacher instead. "Ya gonna rape her? Man, I's don't dare go that far! Ya's white and I'm black ..........................fuck, if'n she's goes to the cops, they'll string me up!" Billy told him. Breathing hard and trying to think quickly to take advantage of the situation, it was the anxious head between his legs that was thinking very quickly and deviously, Tommy then handed his buddy a camcorder and told him "Get up in the rafters and tape it all ..................zoom in when I stick it to her good!"
Turning on a small flashlight, Tommy then called out "She's lying down in here, Mrs. Archer! She's pretty sick though! About to pass out! Think she had too much to drink!" As Mrs. Archer passed by him on the stairway, Tommy breathed in the sweet scent that her perfume emitted. Then Mrs. Archer was asking "Where's the light switch, Tommy?" Flipping two wall switches, both the cabin lights came on as well as the camcorders that he head set up for this evening's big event, only now it was a bigger event that was to take place in it. Tommy had initially planned on copping Molly Fellows' precious little cherry, whether she was willing or not, as he knew that the innocent beauty would never report being raped. As for his beautiful teacher, with her being supposedly happily married and all, Tommy knew that she would certainly not willingly have sex with him. But it was Tommy's throbbing head between his legs that was dictating things at the moment, thus he threw caution to the wind and made a grab for his beautiful teacher, resulting with her sputtering "Mmmmpfff ....................Tommy ...................noooooooooooo .......................stoppppppp!" She wiggled out of his grasp, turned and gave him a stinging slap to the face. Due to all the alcohol he had consumed, his reflexes had definitely slow, but he had wrestled in high school and now his reflexes were stimulated by the building adrenalin coursing through his body. Capturing both her wrists in his hands, Tommy wrestled her over to where the bed was located, then pushed her down upon it.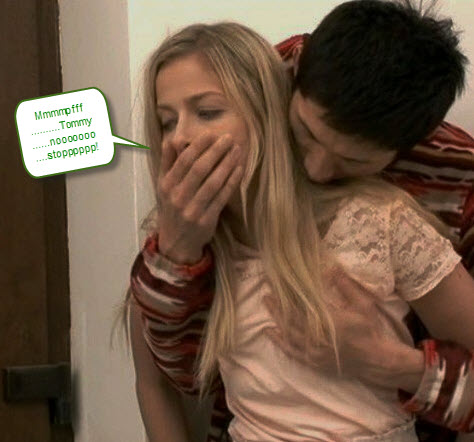 But with all the alcohol he had consumed along with the hit of some crack, the only head that was thinking at the moment was the throbbing one between his muscular thighs. The beautiful bitch struggling in his arms had no chance at all, not with him being far stronger and taller, along with his being a champion high school wrestler. As she continued struggling against him, Tommy worked himself behind of her, and as she fell toward the bed her light orange blouse came right off from her head and arms. Tossing the garment aside and grasping the back of her flimsy bra, a strong tug on it bent the wire hook and Tommy was then working the straps of the protective garment off her arms. As she turned and tried to kick at him, he grasped her left ankle and peeled her tennis shoe off to the side, with the same happening when he caught her other ankle in a failed attempt to kick him. With a glance up to the rafters, Tommy observed the gleaming smile on his buddy's black face that blended in with the darkness to keep him from been seen, and this video of him raping the beautiful teacher would be one to cherish.
Desperate to get away from this demented teen, Nadine turned herself over and tried to scramble off the bed on her hands and knees, hoping to get to safety. Suddenly she fell face first into the mattress as strong hands had gripped the back off her ankles and dragging her back across the width of the bed as she tried desperately to get a grip on the bedding. "No .......................no ...........................Tommy, let me go!" she yelled out at the sex crazed teen. She had been dragged on back across the bed, then Nadine felt think fingers at the elastic waistband of the jogging pants that she wore, causing her to scream out "No ......................nooooooooooo ............................stoppppppppp!" But as Nadine withered about the bed, off came her sweat pants and along with that were the pair of lacy white panties that had been beneath them. Horrified, realizing that she had just been stripped totally naked by the demented student, Nadine could only sob in absolute fear with her arms stretched out to keep him away from her. She gasped aloud upon seeing the young teen pulling off shirt, then his jutting manhood was being fisted in his hand once his pants dropped to the floor, with Nadine's mind recoiling to the fact that 'He didn't even wear any underwear! And he's so big ...........................his penis is far bigger that Ted's!'
Turning over, Nadine desperately tried to scramble away for the crazed teen, but she only got two feet away before strong hands had grasped both her ankles. Trying to claw at the flooring but the strong hands were pulling her backwards, then the teen used his wrestling skills and strength to flip her onto her back once again before covering her with his muscular body. "Tommy .....................stop ...................stop! You'll go to jail for this ....................stop .........................you need to stop!" she panted out. Squirming about under the weight atop of her, Nadine could not free her hands that were being held at the wrists with her arms stretched over her head, then tried to turn her head as Tommy was trying to kiss her. And then the teen was holding her wrists with just one of his large strong hand, realizing that Tommy was using his free hand to grab his throbbing manhood to guide to her sex, causing Nadine to sob out "No ................no .......................don't rape me ..........................please don't rape me! No ...............no ..................I'm your teacher ........................you can't do this to me!" "Eieeeeeeeeeeeeeeeeeee .............................stop ..........................stop! Take it out ..........................take it out of me! You're not wearing anything ...............................you'll get me pregnant!" she whimpered out.
"Oh, damn, teach .....................I've dreaming of this for so fuck'n long ..........................can't believe you're so fucking tight!" Tommy moaned out in pleasure with have of his 9 incher buried up in his beautiful teacher's tight snatch. With much experience under his belt, having fucked a number of teenyboppers in high school, Tommy had learned to control his stroking so as not to pop his load prematurely, and he was certainly determined not to cum prematurely in this fuck session with his beautiful high school teacher. Stabbing forward, lancing her deeply with his fleshy spear, Tommy ground the last bit of his cock up into her ......................gloating that "Ah, teach .............................feel that? That's my balls bouncing on your beautiful ass! Yeah, I'm in ya up to my balls .................and I've got one hot cummy load that'll surely get you knock up good!" As Tommy had expected, his gloating and that last comment about knocking her up had her renewing her fight to toss him off her body, but he was way too strong for her and gave her another good long thrust up into her slick sleeve.
"Noooooooooooooo ..........................stop ......................please .........................stoppppppppppppp!" Nadine pleaded as the teen rapist began pumping his long thick cock in and out of her tight cunny. Shutting her eyes tightly and gritting her teeth, Nadine tossed her head from side to side, desperately trying to block out the unwanted pleasure sensations now coursing through her body as well as to fight the urge clench at the thick slicing prong of flesh in her cunny. But try as she may, the urge would not be denied and she reluctantly gave in, which had not go unnoticed by the experienced teen as he gloated out "Ohhhh, teach .......................ya liking it, ain't ya! Squeeze that hot little cunt around my cock ....................that's it, teach ......................oh yeahhhhhhh, squeeze that tight little cunny around me!" To her dismay, with tears forming in her eyes as she tossed her head from side to side in an attempt to block everything out of her mind, Nadine found it impossible to control her own body as it thick fleshy prong felt so good as it pushed in and pulled on out of her squeezing pussy. "Nooooooooooooooooooo ..........................................nnnnnnnnnnnnn ............................................nooooooooooooooooooooooooo!" she panted out through clenched teeth as she was determined not to scream out in pleasure.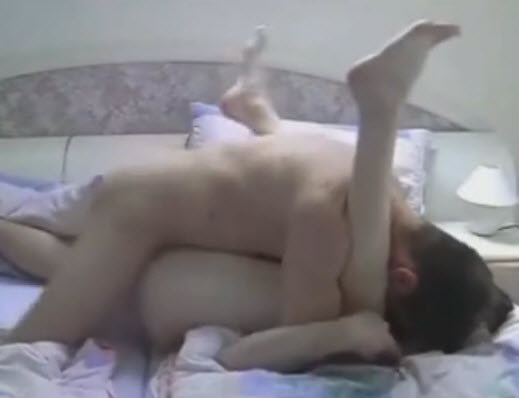 "Ah, Mrs. Archer .......................damn, only in my wildest dreams ............................so much better than I ever imagined! Ohhhhhhh, so good ..............................ohhhh, wrap your long sexy legs around me, teach!" Nadine heard her high school student tell her. She told herself 'NO! Absolutely not!', that she would do no such thing. But in a moment's time, Tommy Bilks was panting out "Ohhhh, yeah ...................squeeze those long sexy legs around me .....................pull me in deeper, teach! That's it, teach ...................just like that ..................tighten those sexy legs around me ...................yeah, just like that, Mrs. Archer!" Legs locked together at the ankles, Nadine squeezed her legs together while arching herself up at the hips to skewer herself as deeply as she could upon the pleasure giving shaft of her teenage student, meeting him trust for trust and panting out "Oh, God .....................oh, God ...........................so good .........................so good!" With her wrists suddenly being released by the teen's strong hand, Nadine brought her arms down, hands first pushing against Tommy's broad shoulders but then her hands were his muscular biceps up and down. As the fuck picked up steam, up to jackhammer speed, she screamed out "Oh, yesssssssss ...................deeper .......................deeper ...............................fuck it deeper! Oh, Godddddddd ......................................ahhhhhhhhhhieeeeeeeeeeeeeeeeeeeee ............................Goddddddddddddddddddddd!"
Her body shuddered and shivered uncontrollably from the most unbelievable orgasm that she had ever experienced, but suddenly she was startled her back to reality as she heard Tommy Bilks gloating "Got ya creaming on my cock, huh, teach? Now's my turn, teach! Gonna cum and cream that pussy of yers good ......................real good ............................gonna fuck my baby in yer tummy!" As her hands had been grasping at his muscular biceps, Nadine's hands now began to push against them, trying desperately to make him get off of her, panicking as pleaded "No ..............................no ............................not in me ................................not in me .....................................you're not wearing any protection!" But to her dismay, Tommy's large hands were grasping her trim hips tightly as he continued the jackhammer speed fucking, gloating "Gonna cum in ya, teach! Gonna shoot all by baby-making jizz in your hot pussy! Gonna knock you up good! I'm gonna fuck a baby in beautiful teacher at Presswood High! Ahhhhhhhhhhhhh, a fucking dream cum true!" A moment later, her teen rapist groaned out loudly above her, announcing to her that "Cumming, teach! I'm cumming ............................gonna shoot ......................here it is ...................... ........shooting .......................................shootingggggggggggggggg ..........................................squeeze it all outta meeeeeeee, teach! Ahhhhhhhhhhhhhhhhhhhhhhhhh!" The hot flooding of her cunny had her sighing in total defeat, telling Nadine that her high school student had just ejaculated his hot potent semen deep into her, very possibly impregnating her with his little baby.
Shivering as she stirred awake from having her nipple tongued and suckled, Nadine moaned with pleasure as her lover moved over to pay homage to its twin, causing her to raise her arm up a bit so she could stroke the back of her lover's head. Eyes closed as she lay there enjoying the pleasurable sensations, Nadine swooned from the avid suckling of her swollen nipples, then gasped as the shriveled tube of flesh slipped from her clasping cunny with a river of cum oozing out of her. Delirious and literally fucked out from the initial rape, mentally unaware where and with whom she was sexually involved with, Nadine merely cooperated with the strong hands getting her to turn on over. Now on her belly with head resting on a pillow, Nadine felt the strong hands grasping her hips and slowly pulling them up and back, at which time she reached up with her arms to pull the pillow down with her. On her knees with ass upturned, face buried int the pillow, Nadine's pussy lips clenched together as the bloated head of the thick fleshy prong traced itself up and down her pulsating slit. Nadine merely assumed that she was about to have sex with her husband, but that stinging slap on her ass brought her back down to earth as her high school student growled "C'mon, teach .................move that beautiful ass of yours!"
Lifting her head from the pillow, eyes widening in horror as she stared ahead while feeling her student's bloated manhood prodding up against her sex, Nadine desperately tried to claw her way up the bed and away from the lusty teen. "Aieeeee .............................aieeeeeeeeeeeeeeee!" came her scream when the strong hands on her hips pulled her backwards, right onto the jutting spear that had been trying to gain entry to her sex just seconds ago, skewering four thick inches up into her. Held firmly in place, Nadine could only shudder in shame as Tommy Bilks thrust the rest of his nine incher up into her very slick slit, then the deviant teen undulated his hips in a circular motion to literally ream out her creaming pussy. "Ohhhhhhhhhhhhh .................................ahhhhhh ..........................................ohhhhhhhh, Godddddddddddddddddd! .........................................ahhhhhhhhhhhhhhhhhhhhhhhhhhhh!" Nadine shuddered as a mind-blowing orgasm racked her entire body caused as the teen continuing that undulating fuck motions. Face buried back into the pillow before her, body continuing to convulse as her demented student began humping at her upturned ass, Nadine could only lay there as the teen had his way with her.
Never had she ever creamed like how she just had from an orgasm, never so sloppy wet during a fuck, making the squishing sound so hideous as the horny young teen pumped away while shagging her. 'Sqlissh ..........................sqlissh ............................sqlissh ...........................sqlissh!' came the disgusting sounds that came to Nadine's ears each time her student plunged his thick manhood up into her messy cunt. It became even more sickening for Nadine upon hearing her lust consumed student snarl "Damn, teach .....................ain't ever had a bitch cream so damn much while I's fuck'n her! You got one hot juicy pussy ......................and I mean real 'juicy', eh, eh! Damn, all that 'squishing' really turns me on ................................aahhh, yeahhhhhhhhhh ........................................ahhhhhhhhhhhhhhhh .......................................gonna cum teach .................................gonna shoot more of my baby batter in that hot little pussy of yours! Ahhhhhhhhhhhhhhhhh ..................................ahhhhhhhhhhhhh ...........................fuckkkkkkkkkkkkkkkkkkkk yeahhhhhhhhhhhhhhhhhhhhhhhhhhhhhhh ....................................uggggghhhhhh ..............................ugggggggghhhhhhh ...........................uggggggggghhhhhhhhhhhh!" Nadine could only shiver, quietly gasping as her eyes widened in horror as her young teenage student kept grunting as he continued to empty his vile lust into her fertile womb.
'SPLLAPPPP!' came the lewd humiliating sound of the teen's spent but still bloated cock being salaciously pulled out of her well-fucked and very sloppy cunt. Cunny being unplugged, air being sucked on in, then it all began bubbling on up ..................and out! Ass up in the air, knees on the bed with her being bent over with face buried in the pillow, Nadine could feel the wet entrails as their co-mingled juices flowed down both inner thighs and down to her knees to be soaked up in the sheets. It was as if there were two endless streams of fuck juices flowing, causing Nadine to shudder as a sickening flow of slimy goo going down each of her inner thighs, a result of her creaming like never before while getting the fuck of a lifetime and then being spermed in by her lust demented high school student ......................all while he bragged on how he planned on knocking up his high school teacher with his illegitimate baby! Never had her own husband had her responding with such a mind-shattering orgasm and never had he ejaculated so much semen into her. Nadine's trim arms and legs were all limp and splayed out after the fucking was over, but the teenage bastard was not done with her as yet, for he was still lying atop of her with his thick cock pulsating in her well-fucked cunt.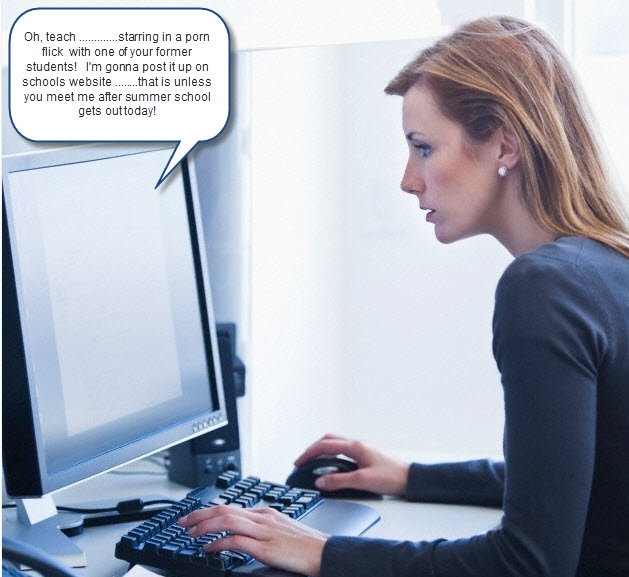 Nadine stared at the screen, reading the threat of her rape being released to the public unless she meet with her blackmailer, saw the details of where she should meet him ..................today, 1 o'clock at the No-Tel Motel! She gasped aloud upon seeing the incriminating photographs, one that clearly showed her facial features above the shoulder of the teen who had raped her, but such was obviously taken while she had been in the throes of that mind-shattering but undesired orgasm that the young bastard had fucked her to. And in reading that threatening email, it came from the address of billym@umi.net, to which Nadine could only assume that billym was short for now eighteen year old Billy Myers - the black hoodlum who always hung around with Tommy Bilks. At the end of the message, there was a video link for her to click onto, which she did and then gasped 'Oh, my God ...................was he there video taping Tommy raping me that night ......................he must have been as it's not a stationary video with it moving to show various angles of me being raped by Tommy! What do I do now? If I don't go and meet with him, he says that he'll put it out on all the social media sights, along with the school's site ......................and if that happens, everyone associated with the school will know about it by the end of the summer school day!' It would certainly be devastating for her if she didn't comply and meet him at the No-Tel Motel, that he expected her there by 1 p.m., but Nadine shuddered at the thought of going there .....................to meet with the 6'3 200 lb. black teen who had been a jock on the on the recent high school team! Nadine knew for certain that 'Billy won't just want to talk, that's for sure!' 'What does he want from me?' she asked herself, knowing full well that if she was to meet with him, he'd demand that she 'put out' for him.
Now Nadine began to regret the decision she had made following the rape up in the cabin by Tommy Bilks. Initially she was determined to put the vile teen away for what he had done to her, felt that if she didn't then the bastard would feel invincible and possibly start targeting other female students or even teachers. But the thought of having to report her violation to the police made her shudder at the thought of having to explain each and very detail of her violation, how the rape had ensued, why she ended up alone at the cabin with him ..................a cabin that belonged to his parents! Nadine remember the verbal exchange that she had with her teen rapist before leaving the cabin, telling him that she was going to report the rape to the police and have him thrown in jail, to which she recalled Tommy breaking up in laughter as he told her "Go right ahead, Mrs. Archer ...........................I'll just tell the cops that we've been fucking around together for months ...........................that I was now trying to break up with you ...................after we fucked up a storm in the cabin ......................cause I wanted to date girls my age! I'll just tell'em you got pissed off and threaten to go to them to say that I raped you! See who the cops will believe ...................yeah, explain to how you ended up here at my parents' cabin alone with me!" 'God .....................what if they believe what he says?' Nadine wondered, and then another worry came to mind as to 'How will Ted react if he finds out about this ......................that his wife got herself raped by one of her former students?'
Afraid of the shame and disgrace associated with the stigma of being a rape victim, how there would be even extraordinary news coverage on a story of a teacher being raped by one of her former students, Nadine had slumped down in total defeat as she couldn't find the inner strength to go to the police at that point. She would end up being just a statistic with her decision - a rape victim who did not report her violation to the police and thus allowing her rapist to get away without being charged for the vile crime. Unable to go to the police as she'd have to blurt out all the humiliating details, the thought of friends and family learning of her defilement, and her loving husband having to lean of her being soiled forever -- Nadine knew she could not bear to endure going through all of that agony! That decision had been made a week ago, when the only consequence for Nadine being that her teen rapist would escape being charged for what he had done to her, with no other consequences in her decision expected. The time that had lapsed along with the fact that she had not reported the rape, then adding in the pictures and video snapshots showing her in the throes of an orgasm, Nadine realized that she was surely in a bad spot ........................with all hell about to break loose if she did not show up at the No-Tel Motel once her summer school class got over!
Nadine felt sick to her stomach at the thought of that black hoodlum putting his big calloused hands on her body, touching her ..................feeling her up where no man other than her husband should touch her! And Nadine knew very well that the demented teen would do more than touch her .................knowing that trying to talk him out of it would prove futile ..........................but how far would she have to go to sate his vile lust? A devastating thought crossed her mind at which she tried to pictured herself having to disrobed before the gawking black bastard, shivering as she pictured the teen sitting in a chair while shucking at his big black boner while she entertained him with a seductive strip tease. Imagination playing onward, Nadine pictured herself following the devious teen's of her coming to him, kneeling and straddling him on the armchair ........................then having the teen launch that missile of his right up into her most private part! Closing her eyes, Nadine pictured the muscular stud then standing up from the armchair with his hands under her butt and his big black cock spearing her, then carrying her over to the bed where he would slam her down onto the bed and proceed to nail her to it. Then another scenario began playing through her mind, where instead of having to straddle the teen on the armchair, she was made to kneel down before it ...................then made to go down and suck his filthy black tool! Stomach really turning at that point, Nadine rushed across the hall and into the teacher's lounge, making it into the bathroom where she ended up with her head in the toilet to puke her guts out.
'Was he there filming everything while Tommy raped me? He had to be from seeing all the various angles shown of my rape on the video ................unless there were several cameras set up and that segment put up on the email attachment had been spliced together!' Nadine pondered. But as the threat of the video being made public would be just devastating to to both her teaching career and her marriage, Nadine felt that there was no other option than to go to the No-Tel Motel and meet Billy Myers there. Having had Billy Myers in her summer school class the prior year, when he took a computer science course, the teen knew when classes got out and thus was giving her a half hour to get there after classes ended that day. Nerves in tatters, with Nadine all jittery and trembling with nervousness by the end of that day's summer session, she then locked up her classroom and forced herself to get into her car and make the dreaded drive to the infamous motel, one well-known in the community due to its rather memorable name. Parking her car around the side of the motel and away from the main street, Nadine then went into the office to book a room with the middle aged woman standing behind the counter, handing over her driver's license at the request of the clerk. Nadine was then caught off guard when the clerk advised "Oh, Mrs. Archer, we've been expecting you! My nephew Billy works here part-time during the summer - said he got a call from you to reserved a room! And as you were his favorite teacher in high school, we're giving you the employee rate, which is a 50% discount!"
Given the key to the room, which the woman had told her had been set aside for her by Billy himself, Nadine shuddered in nervousness but was thankful when she drove her car around to find it being a corner unit far from the roadway. 'All I need if for someone seeing me going into or exiting the No-Tel Motel!' she shuddered at the thought of it. Exiting the car, Nadine proceeded on shaking legs to Room #110 that was located on the ground floor. Inserting the key into the lock and opening the door slowly, she peered on in as her heart pounded in her chest. Sighing a breath of relief as no one was in sight, Nadine stepped on in and closed the door behind of her. But then she gasped aloud and trembled upon feeling hands caressing her arms and thick lips nuzzling at her neck before hearing Billy Myers voice telling her "Ah, teach .........................I's been dreaming of this from last summer! Ya's been my wet dream since then ...........................can't count the number of times I's went and jacked off with you pictured in my mind!" Now those large wandering hands were sliding down over her waist, down her outer thighs, then Nadine shuddered as those widespread hands were now cupping and roaming all about her asscheeks. "Ahhh, teach ..................I's always been wanting to cop a feel of yer beautiful ass .................................damn, got a hardon every time ya's walking up the aisles and passing by me ...........................nice and firm, yet so soft and smooth!" Nadine heard him say as she cringed in disgust.
It was quite obviously to Nadine that she'd never be able to just talk to the horny teenager, especially in feeling the thick ramrod poking up against the small of her back, so she tried to bargain her way out of having sex with him .................panting out "Please, Billy ............................I can't have sex with you ........................I didn't have sex willingly with Tommy ..........................he raped me! Let me ..........................let me do you by hand ..............................I'll make it good for you that way!" To her dismay, Nadine felt and heard the zipper being drawn down the back of her black dress, then rough calloused hands were pushing the garment off her shoulders, and a moment later her dress was lying in a puddle around her feet. Feeling thick fingers fumbling at the back of her lacy black bra to get the clasp undone, Nadine reached back with right hand to rub it against the bulge in the teen's jeans, rubbing at it while panting out for Billy to "Take it out .................I'll make it good for you ..........................I promise!" Bra undone and shoulder straps pushed on down her arms and off her hands, Nadine felt her right wrist being grasped and pulled back behind her, this time her fingers were being molded around the thickest male penis that she had ever come into contact with. As she began shucking at the thick throbbing stem of flesh, Nadine's stroke lengthened from 2" to 3" from the base, then 4" .............5" ..................6" ............7" and still she had not reached the flange of the teen's bloated cockhead. 'My God ....................how long is it ......................he'd make a donkey feel proud at the specimen he's packing!' Nadine concluded.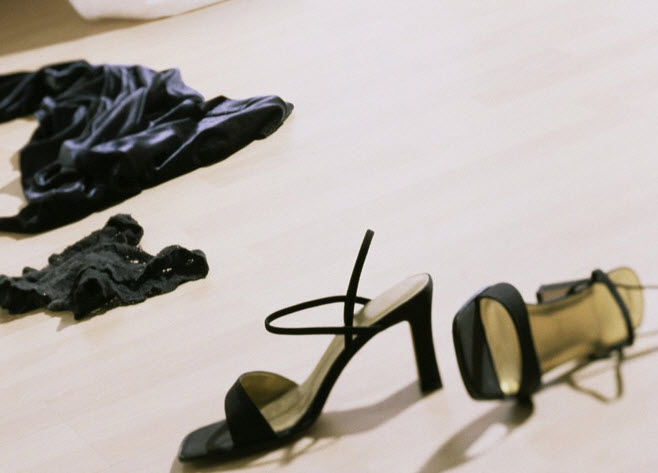 Told to slip out of her heels, Nadine complied, then seconds later she was stepping out of her black panties that had fallen on top of her feet. Stroking her fist faster and faster, reaching back to palm the teen's swollen balls, Nadine prayed that her she could bring the deviant teen off in this manner, fearing of having sex with that monster of a cock being shoved up into her way too tight cunny. Closing her eyes and gritting her teeth, trying to stem the pleasurable sensations now coursing through her body from the thick calloused thumbs flicking at her sensitive pink nipples. As she continued holding onto the throbbing boner, Nadine felt herself being lifted off the floor by the strong and taller teen, found herself being walked forward to the small dinette set. Chair on the end grabbed by the teen and pushed aside, Nadine found herself being laid right atop of it, belly at the edge of the table and then being pushed forward on it with her toes just touching the floor. Thick thumbs now trying to spread her asscheeks apart, then feeling the thick bloated cockhead trying to push between them, Nadine then heard the teen pant out that "This is what I's been dreaming about fer a whole year now!" Realizing that the demented teen was about to sodomize her with his donkey-sized cock, Nadine went in panic mode, trashing about to get away from the strong hands now holding her trim hips in place. "Nooo ........................no .......................not back there! Please ......................please ................no ........................I've never had it back there!" she cried out in panic. Kicking back, trying to free herself, chairs falling backwards onto the floor due to her flailing arms ........................but then her wrists were being captured to keep her from flailing about!
Startled at what had just taken place, Nadine looked up from the table to see that it was a gloating Tommy Bilks who had grabbed her wrists and keeping her pinned down to the table. With the closed door open behind of Tommy, Nadine easily surmised that the bastard had been hiding in there all this time, that this whole thing had been conjured up by Tommy and his friend Billy. Such was confirmed when she heard Billy chuckle out "Damn ......................ya's got yerself a nice cherry white ass there, Billy! Ya's always been telling me what a hardon ya got looking at Mrs. Archer's pretty ass swaying each time ya eyed her up! C'mon, Billy ........................make her scream .....................give it to her right up her fuck'n ass!" "Eiiiiieeeeeeeeeeeeeeeeeeeeeeeeeeeeeeeee ......................................aieeeeeeeeeeeeeeeeeeeeeeeeeeeeeeeeee ..............................eiiiiieeeeeeeeeeeeeeeeeeeeeeeeeeeeeeeeeeeeeeeeee!" came the deafening screams that Nadine emitted as the teen brutally shoved his bloated manhood up into her once virgin ass. Nadine then heard Billy telling his buddy "Damn, lucky thing all the rooms here are sound proof! Somebody would surely have called the cops if they heard the ways she she was wailing! Damn .............this is fuck'n good! Don't ya think so, Mrs. Archer? Tell me, does my cock feels like the biggest turd ya's ever had up that purty white ass of yers?" "Oh, Godddddd .............................oh, Goddddddddd ...........................oh, Goddddddddddddd!" was all that Nadine could mutter out as the teen slammed his manhood up into her rectum time and time again, till finally Nadine felt him rubbing his short kinky hairs up against her butt cheeks.
Sobbing with tears flowing down her eyes, Nadine's entire body was wracked with pain, sheer agonizing pain as never before had her ass ever been penetrated. The size of the monster cock busting through for her initiation into butt fucking certainly would make any woman scream out in pain like she had done, even those who had been butt fucked before. Not wanting to move one iota, not capable of moving at this time anyway, Nadine continued to lie on the table face first in hopes that the awful pain would soon subside. Before she could find the strength to move once again, Nadine felt hands clamping themselves on both her ankles and her wrists, then felt herself being flipped on over like one would flip a steak on the grill. Delirious from the painful intrusion into her backside, Nadine found her arms up over her head with her wrists still being gripped tightly to keep her there, then she felt herself being pulled up some so that her butt was resting at the edge of the table and her legs now dangling over the edge. Legs pushed apart some by the wide body stepping between them, Nadine opened her eyes to see that it was Tommy Bilks who had moved up between her now widespread legs, observed smirk on the teen's face while he fisted the thick manhood that had been used to rape her with the prior week. "I's sure as hell glad yer an ass man, Billy! Like I told ya, her ass is all yers .....................cause teach's sweet pussy is all mine ........................and I's gonna make sure I's fuck a baby up in her belly before we's gotta head off to football camp!" Nadine heard the bastard gloat to his buddy, then felt the thick cock raping her once again.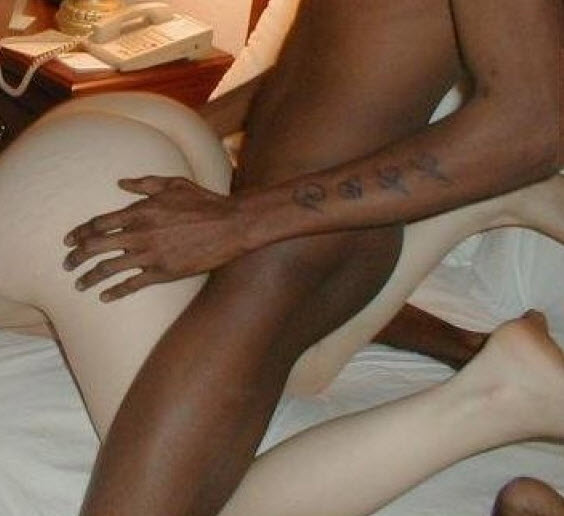 Allowed to go home at 5 p.m. that afternoon, especially as both teens were completely exhausted at that point, with Billy sodomizing her three times while Tommy fucked her pussy the same number of times. Also, both Billy and Tommy got himself a suck off while his buddy was either buggering or humping her. Nadine stopped off to buy a pizza to take home with her, thereby eliminating the need to cook dinner that night as she was in no mood to do any cooking at that point. With her husband normally getting home just before 7 p.m., Nadine could use that time to take a much needed shower to wash away the musky scent of pure raw sex, especially as it seemed to be non-stop sex for her with one or both of the teens throughout the four hour ordeal. Turning herself about under the hot shower, Nadine winced from the sharp pain in her rectum, recalling how she had scream out from the excruciating pain when being sodomized for the very first time. Exiting the master bathroom after having taken a long hot shower to cleanse herself, Nadine turned and opened the folding door to the small cabinet that stored some towels on several shelves along there being a shelf where medication was kept, at which time she looked at the only bottle of douche that remained from the night of her being raped up in the cabin. 'What do I do? Should I use it ............................make sure Tommy's semen doesn't put me in the family way? In not using it now, this being the worst timing of the month for her, Nadine knew very well that Tommy Bilks' three loads of hot cum injected far up into her fertile womb earlier that afternoon could very well result in rather devastating consequences.
The initial rape up in the cabin had been quite a shattering episode for Nadine, followed by the agonizing decision as to whether or not to report the vile rape to the police, had taken quite a toll on her mind and body. Then came that email from Billy Myers, which now Nadine regretted in having gone to the No-Tel Motel to meet up with her blackmailer. Her hopes of escaping out of the clutches of the big black teen was quickly dashed when she entered the room, leading up to being sodomized for the very first time, but that just turned out to be the start of the horror awaiting for her. Tommy Bilks had been hiding out in the closet, making his appearance to hold her down while his black buddy went and fucked her up the ass. Then it was Tommy Bilks' turn at her once again, getting her positioned till her butt was sitting right at the edge of the table, the perfect height for Tommy as he then thrust forward to rape her once again. After the vile teen had ejaculated a copious amount of his semen deep in her fertile womb, his exhausted body then collapsing upon her on the table, she had felt him licking at her earlobe before laying out all the details of his blackmailing demands being made upon her. 'Will he keep his word if I do what he wants of me? How do I know he'll keep his word?' Nadine wondered.
At this point, Nadine felt that everything was stacked against her, pictures and video seemed to depict her in the throes of sexual pleasure with her former student while up at the cabin. And now there was added video of her entering the motel room, letting the big black jock whom she had taught the prior summer strip her naked ......................then sodomize her as she was bent over while clutching at the table! Tommy had told her that he and his black buddy had two weeks left before heading off to State U. for their fall football camp, but before they left, she would be their plaything for that entire period of time. In exchange for her submitting to their sexual whims and demands, those incriminating pictures and video would not get posted up on the various social media sites, for once done they'd spread like wildfire to threaten her teaching position as well as her marriage. Tommy had given her his word that she could rest assured that nothing would get released ............................but then he added 'for ten months at least unless you email me a picture of you eight months from now ........................any your belly had better be bloated up with my baby ....................and another one with you and my baby after its born!' And then the demented teen had told her "So you had better not douche out my baby batter when you get home Mrs. Archer! But there's one out for you ......................you just gotta get hubby to knock you up first!" The demand made upon her was so hideous, so unthinkable to even contemplate, so why then did Nadine put the bottle of douche back onto the shelf?
Nine months and two days since the blackmailing details had been outlined to her, Nadine had her husband take a picture of her and cute little Jill Archer on her cellphone. Nadine told herself repeatedly, complimenting her husband also, that cute little Jill had her daddy's features. But deep down, it was no lie as the baby did have some of her daddy's features, for Nadine could see the similar features in the shape of her nose and color of her eyes. Another factor that Nadine was well aware of, that being little would have to be two weeks early if her husband had fathered her. By sending that picture on, Nadine hoped and prayed that little Jill's daddy would keep his word and not make public those incriminating photographs and videos. 'I did everything he asked of me ..............................letting him impregnate me ...............................sending him those pictures that he asked for ..........................even going with the baby's name if it was a girl!' so hopefully he'll keep his word about the pictures and video. But one worry came to mind as Nadine realized that the school year would soon be coming to an end, causing her to pray that Tommy and Billy would be staying in the college town where they were currently located, dreading the aspect of them returning for the summer vacation.
End of Story.