Tasty Asian Stew - V
(m/f, i/r, n/c)
by
Black Demon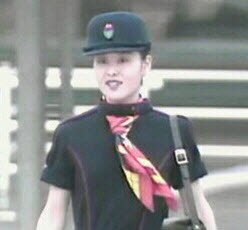 ______________________________________________
Standard Disclaimer!
This is a fictional story intended for Adults only!
______________________________________________
************ ***********
Note: The story below is a story in itself. However, it is also a
direct continuation of the earlier story entitled: 'Subdued Stewardess 3'
Looking at his email messages, Archie smiled in seeing that lovely Lori Meyers had responded to the email he had sent to her earlier. 'Lori ………….Lori ………….Lori! Betraying another friend, huh! Well, guess those photos of ya and me sure did the trick all right! Didn't want yer mommy and daddy seeing their precious little girl sucking on a big black cock, huh?' Archie chuckled as he opened up the email response.
'Please, I beg you, please don't hurt Kristi! Please don't do anything to her! Please, I beg you!' the email started off. But then below was the information he had asked for, reading: 'Kristi Taniguchi, 2245 Belmont Ave. Unit 4C, Maryville, CA 74456, phone # 818-555-4327, honeymooning in Switzerland'!
"Fuck …………………..Switzerland!" he cussed out. Being black, Archie knew he'd stick out like a sore thumb going to Switzerland, especially if a rape was reported to the authorities there. Besides, the cost of such a venture was rather prohibitive on his income. 'Guess I's jist gotta figure something else out!' he thought. Then Archie smiled at what followed concerning Kristi's wedding date.
A wonderful day in our lives
is drawing near.
We would be honoured and happy
if you would share
the joy of this union before God
our daughter Kristi Tsuri
and son JohnGregory
will be united in marriage
on Saturday, the 27th of September 24, 2005
two thousand and five
at two o'clock in the afternoon
St. John's Church
San Mateo, California
a reception will be held at the Oyster Point Resort
at Oyster Point, California
Mr. & Mrs. Jon Taniguchi
& Mr. & Mrs. Ralph Hampton
'Ah, that's my girl!' Archie smiled, realizing that Lori couldn't bring herself to type in all the info he had requested and thus had scanned in the wedding invitation of her good friend. But seeing a copy of the actual invitation had his cock swelling up with excitement. 'Ah, John Gregory Hampton …………………………got some special wedding gifts fer ya and yer purty little bride! Yer lovely bride can have her gift right away …………………….but ya's gonna have to wait about nine months for yours!' he chuckled.
Hitting the 'reply' button, he wrote to Lori, advising 'Don't worry, sweetie! I's gonna be real nice to Kristi ……………………real nice! I's gonna be especially nice to your pretty friend …………….provided you get her flight schedule and email it to me! If'n you don't, I's gonna be pissed ………………….really pissed and take it out on the pretty little thing when I's get ahold of her!'
Being a flight attendant, Kristi Taniguchi was looking forward to marrying handsome John Hampton, her one and only love upon their meeting at a dance during her second year of college. Grandparents originating from Japan and moving to the U.S., Kristi was now 3rd generation as both her parents were born and raised on the west coast. Upon her graduation from college, being able to speak both English and Japanese fluently, Kristi had landed a job as a flight attendant with Far Eastern Airways.
Using the benefits of working at Far Eastern, Kristi was able to arrange for a trip with one of Far Eastern's partners. Thus, it would be off to Switzerland for their honeymoon and Kristi looked for a week of sightseeing ……………….and especially lovemaking with her handsome husband! 'Oh, life is so wonderful! Things just couldn't be any better!' she thought. Even the hassles every bride goes through did not bother her.
With the wedding date coming up, her sorority sisters from college planning a bridal shower for her, Kristi thought of her old friends from school. The last get together for the whole gang was the bridal shower and wedding of Kelly Meyer. Of the close knit group, she along with Lori Rogers and Kelly had become flight attendants, though with different airline. But they'd email each other their schedules and from time to time get to meet up with one another at some airport.
Able to meet up with Lori and Kelly periodically, Kristi couldn't believe how they all led very similar lives in the type of work they enjoyed so much and with all of them to be married in that same year. The last time the three of them had met at the L.A. Airport, they had joked about how it all and thus they would joke with one another about 'joining the club'! But now, there was one club that Kristi would not want to be a part of with her two friends, that of being 'raped and ruined'!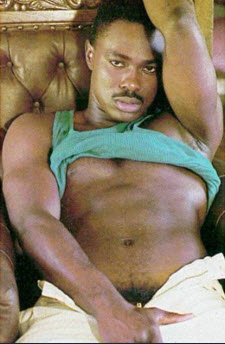 For Archie, targeting his third flight attendant, he had to admit that he really got turned on by a pretty gal in her airline uniform. He chuckled as he thought 'They always talk about girls falling for a guy in a uniform! But the same goes for us guys!' 'Heh, heh ………………………..damn, nothing better than a purty stew! And this time, I's gonna sample me some 'Tasty Asian Stew'!' he laughed. Grabbing his nuts as he as he sat in a chair, his stroked his pulsating cock, telling it "Soon buddy, soon!"
By coincidence, both Lori Rogers and Kelly Meyer were being thought of at the same time by Kristi and Archie. Of course, Kristi was thinking of her sorority sisters in positive ways, hoping to compare notes with them once again. As for Archie, his thoughts were more lewd and sinister, picturing their lovely bodies and recalling how they withered under him as he had proceeded to 'rape and ruin' each of them. 'Ah, yes ....................Lori in her red uniform and Kelly in her baby blues!' he chuckled.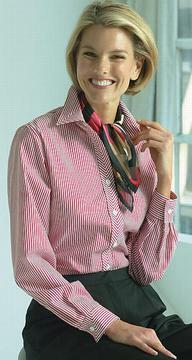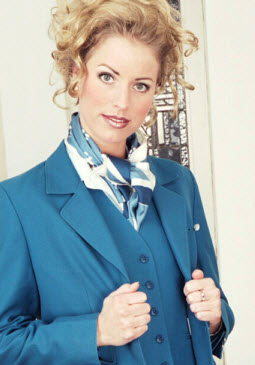 (Read of Lori and Kelly's ordeals at the hands of Archie in 'Subdued Stewardess 3)
Having watched Lori Rogers from a distance, after having raped her in her apartment, Archie had observed the lovely blonde talking to the innocent looking Asian beauty who flew with another airline. And from the way they were laughing and conversing, it was quite apparent to Archie that the two gals were old friends. Getting his telephoto lens focused on his camera, Archie then zeroed in on his next succulent target. It was this photo that he would attach to his email to Lori, forcing her to betray yet another good friend by providing him with vital information about his next unsuspecting prey.
With address in hand, Archie set out to scope out the area where the beautiful Asian beauty resided and hopefully get some idea of her schedule, hoping that there would be a pattern to her coming and going. Seeing that it was a townhouse unit, Archie set about to find a place where he could keep an eye out for his prey and yet not arouse any suspicions with the neighbors. First trip out, everything was quiet with very few cars in the parking lot but Archie saw that a coffee shop down the block provided some view to the general vicinity, a place that he could hang out periodically while scoping out the beauty's place.
Back that night, parking across the street from the parking entrance Archie noticed a car turning in and pull up in the stall fronting the unit. 'Ah, fuck!' he cussed it was apparently the damned whiteboy she was engaged to. And with the wedding just weeks away, it looked like the bastard was moving in to the townhouse and that would be where they'd start their married life together. Then a thought crossed his evil mind 'Hmmm, since it's so damned expensive and I's can't join ya on yer honeymoon, I's jist gonna have to deliver my wedding presents to ya a bit little early!'
Getting back after keeping a lookout at the townhouse, Archie got back to his bad and turned on the computer. Checking his email, Archie smiled at seeing an email from Lori Rogers that was entitled 'Kristi's flight schedule!' Opening up the email, it indeed covered today's date, showing that Kristi was enroute back on a Far Eastern flight from Tokyo. Going to the Far Eastern website, Archie located Flight #8 from Tokyo and found that the lovely beauty would be arriving back at 9 a.m.
Unable to gain entry into the airport without a boarding pass, Archie followed the plan he had laid out, driving into the parking lot across from where Far Eastern passengers would be getting their baggage. With the crewmembers normally traveling with carry-on luggage, he suspected that they'd still be exiting the airport through the nearby exits. Out of his car and standing at the second level, he had a view of the two exits bordering the baggage claim area.
Looking at his watch, as it was now about fifteen minutes past the flight's scheduled arrival, Archie kept his eyes peeled on the exits. Then he observed several flight attendants with Far Eastern uniforms come out of the right exit. But in watching them as they crossed the street, the beautiful Kristi Taniguchi was not among them. With a jumbo jet making the international flight, Archie suspected that the three that had passed were in the same flight crew since there was no other Far Eastern flight schedule in till another hour and a half.
Then, a moment later, four other Far Eastern flight attendants exited that same exit. Immediately his cock rose to the occasion as Archie could easily pick out the succulent little beauty from among the others. As they crossed the street, he observed Kristi wave goodbye to the other gals as she had apparently parked at a different location. Hustling along the railing of the second level, Archie made his way down along the far stairway.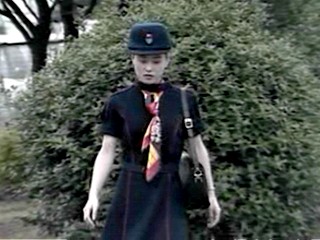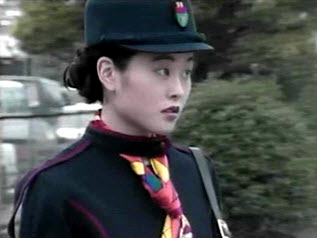 Exiting the parking structure on the ground level, Archie acted nonchalantly as he turned left and he would now be walking right past the approaching beauty. Glancing about, tempted to just grab the approaching beauty and drag her into the parking structure, Archie told himself 'Don't be stupid! Not here ………………too many people around …………………….someone will call the cops!' Cock throbbing as he passed his succulent little prey, he turned back to get in a rear view of her petite body, thinking 'Damn, she's even more beautiful up close ..................................she looks so fuck'n innocent!'.
Keeping an eye out on the townhouse, Archie realized that the whiteboy had not moved in as yet, just getting things prepared for the big event. And from what he could make out, the guy came over each morning with some items and then upon leaving would be better dressed as if going to work. Following the guy one day, Archie learned that he was indeed correct as the guy worked in real estate sales and would start late morning.
That next Thursday, the flight schedule in Archie's possession revealed that the Far Eastern flight that Kristi was on would again be getting in at 9 a.m. Having whipped back to the townhouse after trailing the beauty at the airport the prior week, it would be about 10:20 a.m. for her to get back home provided there were no stops. At the coffee shop near the townhouse, at 9:50 a.m. he observed the front door wide open and then the damned whiteboy taking a large box from a pickup and going up the steps and into the unit.
Looking at his watch, with the lovely beauty to arrive in about a half hour, Archie then decided to strike while the opportunity presented itself. Parking his car near the entrance to the parking lot of the townhouse complex, he watched as the whiteboy got the boxes unloaded. Then, once the whiteboy came to get the large box in the back of the pickup, Archie hustled up and caught up to the punk just as he stepped into the townhouse. Blackjack in hand, a swift club on the back of the head, Archie was now in control of the beauty's home.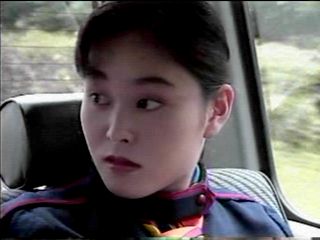 Unknown to Kristi, John had borrowed a pickup on this day to transport some large boxes over to the townhouse. With John having parked in the nearby spot for guests of the townhouse complex, when Kristi pulled up into her stall and not seeing John's car in the parking lot, she merely assumed that he'd be coming over later or that he had a real estate appointment that morning. In her car, Kristi looked about at the guest parking spots, hoping to see John's car parked in one of them, but was dissappointed in not seeing his car. She had hoped to see and be with John for a bit before he had to go work, missing him terribly. Getting out of her car, she made her way up the steps to her front door. Unsuspectingly putting her key into the doorlock, she would soon be in for a nightmare of terror.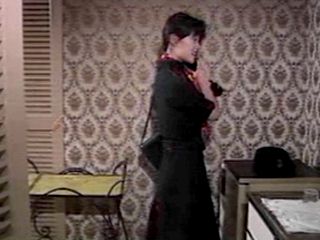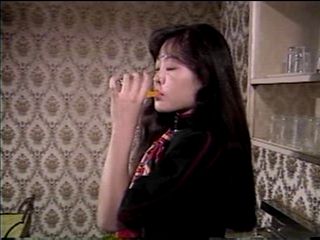 Removing her hat and putting it on the counter, Kristi first let her hair down, then went to the refrigerator for a refreshing glass of orange juice. Going down the hallway, she was about to enter the bedroom to change when a hand clamped tightly over her mouth and Kristi found herself being dragged to the nearby bed. The intruder was much taller and far stronger than she as Kristi's feet left the ground as if she was a feather in his arms.
Coming to in the darkened closet, head aching badly, John Hampton struggled against the ropes binding him to the chair. "Mmmmmmmmm ………………………mmmmmm!" came his muffled outburst as he observed his beautiful Kristi being grabbed from behind by a black intruder and being carried over to the queen-sized bed. The bed looked different from when he had first come into the unit, with the bedspread pulled down and pink sheets exposed. Also, long strands of rope dangled down from each of the bedposts.
John could only watch helplessly as Kristi was first gagged, then the ropes from each bedpost were being pulled over to bind her arms and legs. Eyes glaring wide in horror, John shuddered as the intruder's large black hands were molded over Kristi's breasts and fondling them as his beautiful fiancée struggled against her bonds. 'Oh, God …………oh, my God ……………………..he planning to rape her ………………oh, God ………………noooooooooooo!' he shuddered.
To his horror, upon feeling his own cock twitch and begin to rise, John looked down to see that his pants and jockeys been pulled down to just above his knees and bound there by the ropes. His beautiful Kristi was bound and gagged in the bedroom, about to be raped by a black, and here he was getting a damned hardon. Looking out through the slits in the closet door, his cock lurch upon seeing the large black hand sliding down over Kristi's lacy white panties.
Then the assailant had backed off the bed some, standing off to the left side, providing John a complete view of the man disrobing and Kristi's horrified face at what she was seeing bared before her eyes as she continued to struggle against her bindings. John saw his fiancée's widen in sheer horror, and with good reason as the black intruder had just bared his enormous penis. Even John's eyes widened, both in horror and amazement, for it was both twice as long and in thickness as to what he possessed.
Having made love to his precious Kristi following a session of passionate kissing and petting shortly after their engagement, John had been given the honor of copping her cherry. Only on two other occasions had they made love, the last being his birthday four months ago, after which Kristi told him that they'd have to refrain till after the wedding ceremony. Also, since it took a couple of months after going off the pill before her body readjust, she had advised him that she was about to go off the pill at the end of that week.
'Oh, God ……………………..ripe and fertile ………………………..it's over two months since then ……………………………….Kristi's ripe and fertile! My, God ……………..if he rapes her ……………………cums in her ……………………she could very well get pregnant!' John realized. 'What if she gets knocked-up ……………………knocked-up with a little black bastard!' John thought as his cock responded with a twitch of excitement. Though not wanting to see his bride-to-be viciously raped, his own cock was betraying him by its throbbing erection.
With the intruder stroking his lengthy cock in his left hand, John observed Kristi squirming about the bed as her pussy was being felt up by the assailant's right hand. John shuddered, cock throbbing even more, as the thick black fingers slipped under the waistband of Kristi's panties. At that point, John observed Kristi toss her head back, the her silky black hair was being tossed from side to side as she was being finger-fucked.
John sucked in his breath as the hand as withdrawn as the vile man held his thick middle finger up in the air. At this point, even Kristi was looking at the vile attacker's middle finger held up for their viewing as the wetness glistened in the light. Then the intruder was putting his slick finger into his mouth and then licking his lips as he smirked "Ah, sweet ………………………sweet like honey! Damn, I's sure's got a sweet tooth for that honey of yers, sweetie!"
John could only look on with his cock pointing up at the ceiling as the intruder was now tearing at Kristi's panties as if they were made of tissue paper. Now with the vile bastard at the foot of the bed, John cussed, not only because of the indignity he was about to perform on poor Kristi but the kinky head of the damned fucker was now blocking his view. "Nnnnnnnnnnnnnnnnnnnn ……………………………..nnnnnnnnnnnnnnnnnnnnn ……………………………..nnnnnnnnnnnnnnnnnnnnnnnnnnnnnnnnn!" came Kristi's muffled screams as she was literally being eaten alive.
"Nnnnnnnnnnnnnnnnnnnn ……………………………..nnnnnnnnnnnnnnnnnnnnn ……………………………..nnnnnnnnnnnnnnnnnnnnnnnnnnnnnnnnn!" the muffled screams continued over the slurping sounds of the hungry man. Then John saw Kristi's body tense and suddenly quiver uncontrollably, making it evident that she had just climaxed in the man's slurping mouth. As the kinky head raised up, John heard him smack his wet lips and mutter "Sweet ………………………oh, so fuck'n sweetttttttt"
Then the man taunted "Made ya cum, huh sweetie? Ah, if only yer whiteboy could've seen ya cum on my mouth, huh?" At that point, John observed Kristi turn away as tears flowed down her cheeks. John stared through the slits as the vile bastard knelt up onto the bed and crawling up between Kristi's widespread legs. Bending down in his chair, trying to get a better view, John then realized that the bastard was up high on his knees while pushing his cockhead down along Kristi's slick groove – giving John a view from slightly beneath their body.
At times, Kristi's soft curls came into view as the thick cock pushed up along her belly as her assailant taunted "Got yer wedding present fer ya right here! Wanna leave with a little bundle of joy …………………………a little 'BLACK' bundle of joy!" Then, struggling to see through a lower slit in the closet door, John viewed the bloated cockhead flare out some as it met with resistance at Kristi's pink slit. "Nnnnnnnnnnnn ………………….nnnnnnnnnnnnnnnnnnnnnnnnnnnnnnnnn!" came the muffled screams as John witnessed the disappearance of that big black fuck-stick.
He blinked again and again, not believing that three fourths of that baseball bat like cock had disappeared from sight. Another inch gone, then another, till what had to be over a foot long dong was totally gone. 'My, God ………………………..it's all gone ………………………….it's all gone ………………………………he got it all in ……………………….all of it!' John realized. 'It can't be ……………………….it just can't be!' he told himself in total disbelief, wondering how his 5'2" fiancée's petite little body had been able to take it all without killing her.

Then the fuck session really went wild as Kristi's black rapist was sawing his thick bone in and out of her ravished body. 'Thank God Kristi and I made love after the engagement! At least the bastard didn't get her cherry!' he thought. 'I got it …………………..I got her cherry, you bastard!' John wanted to yell out, at least making it known that he was privy to something special from his beautiful Kristi. 'God, will Kristi even feel me after this?' he wondered in selfishly.
"Hmmmmmmmmmmm ……………………………hmmmmmmmmmmmmmm …………………………hmmmmmmmmmmmmmmm!" were the sounds now being emitted by Kristi as her rapist continued to ravish her innocent body by forcing his enormous cock in and out of her now widely stretched slit. The sounds were quite different from those earlier and John realized that they weren't muffled screams any more but that of muffled moans of pleasure.
Suddenly Kristi began thrashing about on the bed, still skewered by her rapist, grabbing and pulling at the ropes. John saw her petite body tense up as never before and he now realized that Kristi was in the throes of a mind-shattering orgasm. The way in which Kristi thrashed and pulled at the bindings, John was surprised that the bedposts didn't come crashing down. Then the rapist lunged fully into Kristi, burying his black cock fully, his asscheeks quivering uncontrollably to make it obvious as to what was not occurring deep in Kristi's petite body.
With Kristi passed out on the bed, fucked into oblivion, John shuddered as he watched her rapist slowly pull his still lengthy piece of black meat out from her ravaged body. Through the closet door, John saw the man first go to the dresser drawer and then was approaching the closet. Closet door opened and light turned on, John looked up with fear as Kristi's rapist chuckled "Ah, I's sees ya enjoyed watching yer beautiful bride-to-be git herself raped, huh! Raped and ruined by a big black buck!"
With the vile bastard focusing a mini-camcorder on him, John realized that the bastard had taped the entire rape session. And now the bastard was filming him tied to his chair. Worst was that the camcorder was panning downward, filming his now limped dick and his cum covered thighs and pants. Though the film told it all, John could only bend his head in shame as the bastard taunted him "Damn, that was what I's call some real 'Tasty Asian Stew' heh, heh! Hey, buddy, looks like ya shot some load watching me rape yer little sweetie! Jezz, ya sure made a fuck'n mess! Ya lose it when ya saw me cum in her tight little twat?"
As Kristi had blacked out totally from her ordeal, John watched as her rapist left the closet and now put the camcorder on the nightstand after having made certain that Kristi's faced was focused in on it. He could only watch as the gag was removed from Kristi's mouth, not needed at this point due to her blacked out state. John then shuddered as the vile bastard had plopped his lengthy but semi-rigid cock onto Kristi's beautiful face and was moving about from side to side.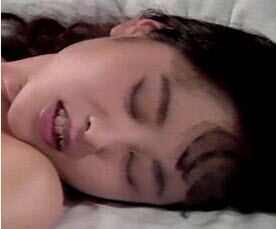 Then the bastard began fisting himself over her, pumping faster and faster, intent on doing it right into her beautiful face. John shuddered and swallowed deeply when it did happen. Spurt after spurt of the liquid glue covered Kristi's beautiful face as John once again began starching his thighs and pants. With the rapist getting into his clothes, John was able to breathe a sigh of relief in that Kristi's ordeal was now over.
Shuddering with fear as the rapist once again appeared at the closet door, now flashing a sharp shiv, John thought would be his end. Then to his relief, he was advised "Don't worry, sonny boy ……………..just gonna cut the rope and ya can't work ya way out of the chair!" As the man reached behind of him, retrieving another camcorder, John was advised "This one was rolling alls the while ya's was peeking out through the closet door and gitting yer jollies off while's I's was raping yer sweet little honey!"
Intruder gone and John out of his bindings, Kristi remained in her blacked out state on the bed. Standing there, wondering just what to do, John slipped out of the closet and went to the bathroom in the hallway so as not to awaken Kristi. Fortunately, John had already transported other clothing over to the townhouse and he could now change into clothes that he'd normally wear to work. 'Yes …………………yes ………………….that's what I'll do ………………….pretend that I just came from an appointment and found her like this!' he concluded.
Having changed, John quietly returned to the closet, gathered up the rope on the floor and took the chair out to where it belonged. Next, John proceeded to untie Kristi's bindings from the bedpost. If she awoke, he'd act frantic and announce that he had just arrived and inquire if Kristi was all right and as to what happened to her. Rope untied from the bedposts but still around Kristi's wrists and ankles, John looked at her trim legs, thighs thickly smeared and glistening with the slimy spend of her black rapist.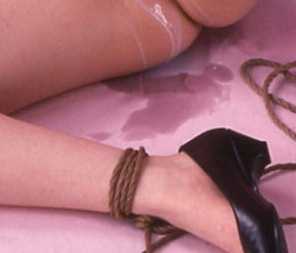 Though he had a washcloth in hand, John reached out and ran his finger through the slimy mess, then brought it up to his nose and inhaled the manly scent of Kristi's rapist. Looking up at Kristi's cum streaked face, seeing that she was still unconscious from being fucked into oblivion, John gently spread her knees wide. Licking his lips, he wondered if he dared. Reaching down slowly, John slowly pushed his middle finger up into her raped and widened slit.
Withdrawing his middle finger out, seeing it covered in a layer of thick slime, John then inserted his cum-covered finger into his mouth. Shuddering at the foreign taste, his stomach knotted as the slick bile made its way down his throat and to his belly. With what was told to him upon the man's leaving, John figured that he had better get used to the taste as he had been advised "If'n ya don't the tapes gitt'n out, especially the one showing ya peeking out to see yer little sweetie being raped and ya cumming all over yerself, ya's gonna let me enjoy yer purty wife after yer honeymoon is over!"
The details had then explained to John "I's gonna send ya a bottle of roofies! Ya put one into yer purty wife's drink and she'll be out like a light! Then ya's gonna let me in and I's can feel her tight cunny around me again! And then buddy ……………….ya's gonna eat my cum outta her twat!" Though he wanted to puke, John couldn't resist as he dipped his finger into Kristi's slit once and again, figuring he had to keep trying to stomach it all.
Pink sheets soiled with cum, John used the wet washcloth to cleanse Kristi's glistening thighs and then her matted curls. Cunt oozing with the slick jizz, John wiped her up as best as possible till the washcloth was all sticky itself. Rinsing it out in the bathroom, he used the washcloth now to wipe the streaks of cum soiling Kristi's beautiful face. Then he needed to undo the ropes binding her wrists and ankles, planning on putting it in a trash bag and disposing of it in the dumpster.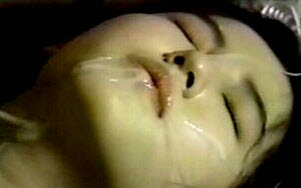 It was hours later before John needed to put on his act of feigning shock, that he had just recently returned to find her tied to the bed and obviously attacked. He'd say that he didn't know what to do ……………………..whether to call the police or not …………………………that he didn't want them to see her soiled the way she was ………………….with her rapist's filth covering her body and face ………………that he came to a decision that it was probably best for her and that she wouldn't not want anyone to learn of her violation.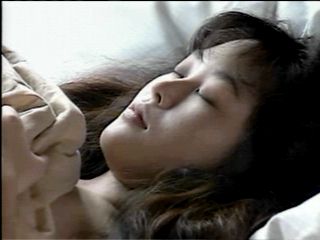 Coming out of her blacked out stupor, Kristi sighed with relief upon finding herself being cradled in John's arms. Then she sobbed and cried, weeping in shame as John blurted out what he had discovered upon returning to the townhouse and hour earlier. Her mind racing, Kristi knew that there was no way of denying the fact that she had been attacked ……………….tied to the bed and ………….viciously raped! But with John discovering her like that, with the act already over and her rapist gone, she then did not have to go into all the details.
And when John did ask as to what had happened, Kristi sobbed out "I ………………I got home ……………..was entering the bedroom ……………………when someone clamped a hand around my mouth! I ………………………I ……………………don't remember anything else! I ………………….I must have blacked out at that point ………….I ……………….I never got a look at him!"
Being raped was bad enough, but for Kristi to have to tell the man she was about to marry that she had indeed seen the rapist, it was something she just couldn't bring herself to do. 'I ……………I can't tell him …………….he'll never want to touch me ever again! Raped is bad enough ………………………….but a black rapist putting his awful thing into me ……………………shooting his filth into my body ………………………John will never want to touch me again ……………………..and I can't blame him!'
Feeling secure in John's arms as he held her tightly, Kristi sniffled as she now felt so guilty at lying to the man she'd soon be marrying. Resting her head against his chest, Kristi realized that she just couldn't force John into following through with the wedding at this point, especially with her being 'raped and ruined'. 'I need to tell him more ………………….not lie to him that I must have blacked out immediately ………….that I didn't get a good look at man who raped me ………………………that a vile black man raped me …………..……………….forced his enormous and filthy black thing into me …………..and did it in me! Worst ……………….I orgasmed ……………..actually took pleasure from the vile rape of my body!' she thought.
"John ……………………I ………………………….I won't blame you if you want to call off the wedding at this time! I wouldn't blame you if …………………if………you never wanted to touch me again ………ever!" Kristi sobbed out. The last she recalled before passing out was her soaring in ecstasy from that mind-shattering orgasm just when everything seemed to burst, including her rapist's penis deep within her body. She now realized that she was covered by the wool blanket normally stored in the closet and that the ropes binding her had been removed. "John ……………how ……………how did you find me when you arrived?" she asked.
"You …………………you were tied up ……………….by the wrists and ankles ………………to the bedposts! I ………………I used a washcloth to clean you up! I just couldn't call the police and have them find you like that!" John replied. "If …………………if you did manage to get a glimpse of the man who did this to you ………………….we should call the police, Kristi!" he asked, wondering how she would respond. Cradling her, he moved up onto the bed to lie next to her, telling her "I'll always love you, honey! This was something you had no control over!"
Sniffling, relieved to hear that, Kristi held onto him tightly and advised "Oh, John ……………….I love you so much!" Unable to blurt out the fact that she had indeed seen her black rapist up close, she then advised "Everything's so hazy at this point! I can't recall exactly when I blacked out ……………………but I never saw the man who did this to me! I ………………..I remember now ………………being on the bed ……………………..and couldn't see what was happening ………………….he put the …………….the pillow over my face ……………………then I ……………..was being tied up!"
Though he knew that Kristi was just too ashamed to tell him that she had been 'raped and ruined' by a big muscular black bastard, a wicked sensation coursed throughout his body as evidenced by the hardon that he was not getting. "Do you recall anything more? Maybe a glimpse of his arm or leg, part of his face? Did he say anything ……………any dialect you detected ………………………….that he was maybe white, Hispanic, Asian …………BLACK?" he pried, knowing full well the true answer. But with Kristi sobbing even more now, he decided to drop the inquiry and not force her to lie any further.
Not wanting to initiate the next step, though the thought of putting his cock into her raped slit and feel the rapist's hot cum soiling her was actually a big turn-on. Holding Kristi close as she sniffled, John then edged closer to her and pressed his pants covered hardon up against her body. And Kristi evidently noticed his erection as he felt her hand moving down, between their bodies to cup the bulge in his pants. Then her soft and trim fingers were sliding down into his pants and jockeys to grasp him. "Oh, honeyyyyyyyy!" he gasped as her fingers encircled him, nearly causing him to cum right then.
A passionate kiss as she squeezed him, John asked "Do you ……………….is it okay ………………..if we made love ……………………..did he hurt you bad down there?" As she continued to squeeze him with her manicured fingers, John was quickly undoing his pants upon hearing Kristi reply "Make love to me ………………………make love to me, John!" Out of his clothing in no time, cock rigidly standing at attention, he prepared to mount her, rubbing his bloated cockhead up against her ravaged slit.
"Ohhhhhhhhhhhhhh …………………………….ahhhhhhhhhhhhhhhhhh!" John moaned with pleasure in feeling his cock slide so easily right up into Kristi's widely stretched cunt. 'Damn, the bastard really stretched her out, that's for sure …………………..it's like falling into a deep well ……………………..a hot oil well! God, the bastard must have shot a pint of jizz into her ……………………….damn, his cum is so fuck'n hot!' John thought as he reared back and began made like he was actually pumping the oil out of her …………but this oil was hot and creamy white slime.
Shuddering as John slid into her, Kristi was frightened as she tried to squeeze her cunny around him but could barely feel his manhood. What had always been a tight and snug fit before now was quite the opposite. Desperately wanting to feel him, Kristi raised her legs up, pressing her ankles upon his asscheeks in order to tighten herself up around him. But unfortunately, her actions only served to excite John even more as he tensed and began ejaculating what little cum his balls could manage to generate.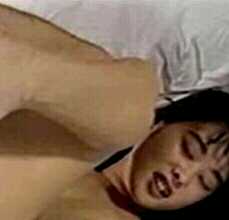 Clutching at his body, wanting to feel him atop of her, Kristi wanted as much of his sperm as possible. At least that would give her some chance that the baby would not have a kinky head of hair. But in comparison to what her rapist possessed, John's manhood was a mere toy. 'My, gosh …………………….I could barely even feel him! And he did it ...................finished ………………………..so fastttttttttttttt!' she thought.
'Is this what our lovemaking will be like from now on? Why did he ejaculate so quickly? Did the fact that I was just raped get him even more excited than usual?' Kristi wondered. 'How could I let myself get so carried away …………………….being forced to have sex ……………………and yet not get any satisfaction with the man I love?' she asked herself. 'My God ……………..Kristi ………………how could you ……………….you actually enjoyed it ………….deriving pleasure while being raped ………………with a black sticking his filthy thing in you?' she shuddered.
Collapsing upon Kristi's soft petite body, his cock still wallowing and now shrinking in her mushy pit, John hoped that his sperm would be powerful enough to somehow overcome the massive odds it was up against. Compared to the pint of jizz the black bastard had deposited up in her fertile womb, John knew that he had only managed to dribble out a little of his own, not even enough to fill an eye dropper. Having wasted two loads in the closet, he was nearly bone dry at this point.
Though he had fully sated himself, John realized 'My God, the guy had her moaning and quivering, giving her an orgasm that made her black out! Yet now, with me, it's like she didn't even feel me!' Then John realized that at the point he was cumming in her, Kristi was continuing to arch up and hump up into him. And the sigh that she had emitted, John realized now that it was not a sigh of satisfaction but one of disappointment in him cumming so quickly and not managing to last long enough to give her a mind-shattering orgasm like her rapist had done.
Kissing her soft lips once again, John couldn't help but to wish he had taken the chance to kiss her earlier, prior to using the washcloth to wipe the slimy mess deposited upon her beautiful face. 'Next time I will ………………….after our honeymoon!' he thought. Closing his eyes, John bask in the aftermath of the best fuck he'd ever experienced, his cock twitching constant in her hot mushy pit. Then he thought 'With the drug I'm supposed to slip into her drink, Kristi will be out of it throughout the night……………so then, I might just be able to fulfill a fantasy I had for years ……………….one I've never had the nerve to attempt …………………….jacking off into her beautiful face myself!'
John's mind then fast forwarded to after the honeymoon, picturing as to what he would have to do, as what the black bastard had told him in the closet "Ya gonna help me on my next visit, punk …………………..I's gonna give ya the honor of holding her purty wife by the ankles and pulling her legs back so's I's can git in the saddle and git her knocked up ……………………….if'n I didn't accomplish that feat already!" The horror of what lay ahead, upon return from their honeymoon trip to Switzerland, made John shudder in horror. Oh, it was not the fact that he would be forced to drug his wife's drink and render her unconscious nor that of being forced to hold her ankles and spread her legs open for her rapist.
What John feared was the man's final comment before departing "Ya know, yer purty wife's snatch is gonna tighten up by then! It's gonna need to be stretched again! And with her out of it, I's need to get my cock all wet and greasy to git it in …………………………so's ya's jist gonna have to git down on her knees first, Johnny, my boy!" 'My, God ……………how degrading! I've got to get down on my knees ………………to get it hard and wet for him by putting it in my mouth, so he can then get it into Kristi while I'm holding her legs apart!' he shuddered. 'But then, I'll have a close up view this time ……………………see how he actually manages to force that fat monster up into Kristi's tight little slit!' he concluded.

End of Story.