That evening, all the two lovers could manage to get in was some footsies under the dining room table, then the stud got in a passing caress of her ass when he helped clearing the dishes from the dining room table. And for the next two days, all they could manage was a brief passing touch or caress so as not to draw any attention to themselves. It was on that third night, Brandon began to think with the head between his legs that was throbbing to no end and in dire need for some relief. With Tyler sleeping in his room across the hall, Brandon opened the door to slip out and quietly make his way down to where the master bedroom was located. Hearing the snoring of Mr. Hampton from the other side of the door, Brandon slowly turned the knob on the door, then smiled upon finding it unlocked as he had hoped. Letting himself into the darkened room and closing the door behind him, Brandon tiptoed to where the sleeping beauty lay on her marital bed, with her husband fast asleep right beside her. As the beautiful Mrs. Hampton had also fallen asleep, Brandon did not want to startle her, thus bent over to her and put a finger to her lips as he whispered "S-h-h-h-h-h-h-h-h-h-h!" Feeling her body tense as she awoke suddenly, Brandon then told "It's me!"
Melody was certainly shocked at the teen being so brazen to come into her room with her husband sleeping no more that two feet away from where she lay. She whispered "What are you doing here? You're crazy! Go back to your room ................I'll ......................I'll slip out ......................and meet you there!" Melody was shocked upon hearing Brandon tell her "No ..............here ................on the floor! Right next to the bed!" She resisted as tried to pull her hand to get her to slide out of bed and onto the carpeted floor. As the arrogant teen tugged at her hand once again, Melody looked on over to where her snoring husband lay, then slowly began to slide herself off the side of the bed. On her bedroom floor, Melody's arms embraced her handsome teen lover as an intimate French kiss ensued. Her flannel pajama top expertly opened by the determined teen, Melody shivered with pleasure as her left nipple was taken into his mouth, tongue teased before being suckled upon. Then her right nipple got its exciting turn. Calloused fingers in the waistband of both her flannel pajamas and panties, and then they were being pulled over her trim hips and legs. As her young lover was pulling off his shorts and jockeys, Melody spread her legs out as wide as she could between the bedside and nearby closet. She then reached out to grasp the jutting stem of flesh that promised her so much pleasure.
Heart thumping madly in her chest, Melody realized that she was playing with fire at that moment, but that added bit of adventure and wickedness made it tenfold the excitement. "Oh, Goddddddddddddddd ...........................................yessssssssssssssssssss .....................................oh, honey ......................oh, Brandon ............................yes ............................make love to me .............................fuck me ......................fuck meeeeeeeeeeeeee!" she panted softly in his ear as her young lover fucked into her. The forbidden fuck, the danger associated with where they were fucking, it was all so wickedly exciting as Melody wrapped her trim sexy legs around her teenage lover. She wanted to cry out from the ecstatic pleasure being derived from this illicit fuck, but Melody gritted her teeth from giving it all away and being discovered by her husband who was sleeping just a few feet away. As she skyrocketed out into outer space, Melody thought it couldn't get any better, but that was until her young lover began ejaculating deep in her while whisper out "I love you, Mrs. Hampton!" Hearing the young jock calling her by her marital name with her husband so nearby, combined with him shooting his cum deep far up in her, Melody swooned as she went right over the edge. Gritting her teeth to keep from screaming out in ecstacy, Melody arched up to have her young lover's baby batter spurt right up into her fertile womb.
The wet perspiring body of her young lover now limp upon hers, Melody sucked in her breath as his dwindling boner slipped out of her slick clutching lips, and then he was getting up to his knees between her widespread legs. With eyes accustomed to the darkness, she watched as Brandon picked up his shorts and jockeys and then her panties, before tip-toeing out of the master bedroom. Not wanting to go across to the other side of the bedroom where the dresser was located, but knowing that her cunny would leak out some of its goodies onto the bed sheets, Melody got up to make her way to the hamper in the master bath to retrieve a used pair of panties from there. Back in bed, feeling some of her young lover's cum escape her well-fucked pussy into the crotch of her panties, Melody could not believe what had just happened. It just seemed so unreal to her, like some kind of a fantasy, but the sticky cum in her pussy told her otherwise. 'My God, how could I have allowed such a thing to happen? Why couldn't I have insisted it be elsewhere, instead of blatantly cheating on Bob in the very same room where he's sleeping? Why couldn't I resist in any way? Once he touched me ....................why couldn't I so 'No'?' she asked of herself.
In his room down the hallway, Brandon was beaming over his recent conquest, getting the beautiful married woman to slide on out of the bed she shared with her husband so he could fuck her on the floor, right under her husband's nose as he lay snoring upon the bed. 'Damn, that was one hell of an exciting fuck!' he told himself. 'And from the way she came, the wickedness of it all had her coming and coming, coming like crazy! Even more than when I seduced her that first time!' he concluded. Then he thought 'The riskier, the better for this beautiful bitch! Gotta find some risky situations! Oh, she'll object at first, but that'll make it even more exciting ..................................the risk of getting caught in the act!' Lying in bed while inhaling her scent from the crotch of her panties, Brandon began to dream and fantasize of potential situations that might soon arise. First he began to go over any routines that she had in the morning before going to work, when she came home in the late afternoon, and then till she went to bed at night. But after tonight's successful stint, he now planned on getting her to go even a step further, that of fucking her right there on the bed as her husband slept nearby on the very same bed!
Having thought it out in his bed that night, wanting to keep the iron hot in the fire, Brandon had set his alarm for early the next morning. Up way earlier in the morning than usual, Mrs. Hampton normally came out to the kitchen to make the coffee before returning to the master bedroom to wake her husband and then get ready for work. Timed perfectly, having hidden himself in the laundry room between the kitchen and door leading to the garage, Brandon peered out to watch as the beauty started to get the coffee brewed. Just as she pressed the button to turn the coffee pot on, he heard her suck in her breath when his arms went around her trim waist as he nuzzled the back of her neck. Licking at her earlobe, he then whispered "You won't need any coffee today, Mrs. Hampton! I got up early and brewed up something special for you .............................something that I know you like .......................hot and creamy for you!" After pushing her down onto her knees, her fingers quickly reaching his shorts, the lovely beauty began bobbing her head up and down on his rigid boner. Four minutes later, the beauty was panting and licking her lips as she made her way down to the master bedroom to waken her husband and then to get dressed for work. After the fabulous blowjob, Brandon embraced her from the back as she panted out that "I need to wake Bob and get ready to go ....................before we're late for work!" But before releasing her, Brandon licked her earlobe once again, then suggested "Why don't you give Mr. Hampton a treat today, with a kiss on the lips to wake him?" Seeing how she got so turned on with risky sex, Brandon smiled in thinking that she would do what he had suggested just to see if she could get away with it.
Mrs. Hampton normally would do any grocery shopping needed before getting home to start dinner, with her husband getting back from work about 6:30 p.m. Normally very efficient in her preparation for dinner, along with her grocery shopping, it came as no surprise to Brandon when she told her son "Tyler, can you please make a run to the supermarket for me? I just realized that we're short of oil and I need some to cook dinner with tonight! Thanks sweetie!" Brandon smiled to himself, knowing that it was not the true reason that Mrs. Hampton had sent her son off to the market. The reason of him knowing this for a certainty was the fact that he had gone out to the garage when she had driven up into the garage. Garage door down and the trunk of he car down, Brandon and the beauty were exchanging a kiss when the door to the kitchen opened with Tyler calling out to see if they "Need any help?" Kiss quickly coming to an end, Mrs. Hampton replied quickly that "No, we've got everything!" As they make their way to the door being held open for them by Tyler, Brandon had looked down into the grocery sack and saw two plastic quart size bottles of vegetable oil for cooking. And as she handed Tyler a small list, Mrs. Hampton added "Oh, best to add on a gallon of milk and pick out some kind of ice cream for dessert, whatever flavor you want!" Asked by Tyler if he wanted to make a run to the market, Brandon declined by saying "Naw, I'm gonna use your weights downstairs! Need to get some curls in to keep my strength up!"
As the garage door was going down, Brandon stepped forward towards the nervous beauty as she panted for breath, then told her "But you didn't need any cooking oil, did you? The grocery bag that I brought in had two bottles of cooking oil in it! You need to get that tight little cunt of yours oiled up, don't you, Mrs. Hampton?" Although Mrs. Hampton had been the one to set up them being alone in the house together, she was apparently a bit ashamed of her ruse being discovered, and she backed up in nervousness as Brandon advanced towards her. Reaching out, grasping her hand to keep her from backing away any further, he pulled her to him. An intimate kiss ensued, her arms went around his neck as their tongues intertwined and flicked against one another. Fingers widespread, Brandon cupped her asscheeks in his hands to lift her heels a couple inches above the floor, then turned their bodies to the right. Walking a couple of feet, he set her butt down on the edge of the dining room table between two chairs. With his left hand, Brandon pulled the chair back a foot from the table, then lifted the beauty up once again to set her back down to the left a foot or so before getting her lie back upon the dining room table. Reaching up under her dress, Brandon then worked her panties on down over her trim hips, down her legs and off one heel.
Sitting down and pulling the chair forward, Brandon was now sitting at the Hampton's dining room table, right where Mr. Hampton always sat to have the delicious meals served up by his beautiful wife. The lovely Mrs. Hampton was again serving up another very tasty meal, only Brandon was now seated right where Mr. Hampton's would eat his meals, and the current dish was quite delicious as evidenced by the slurping sounds taking place between her sexy legs. Feeling her hands grasping tightly at the back of his head, Brandon tongued her juicy snatch, lapping up all the slick juices that she fed him. Tip of his tongue flicking at her clit, her crotch arched up to his face as she whined "Ohhhhhhhhhhh, yesssssssssssssssssssssssss ...............................................yessssssssssssssssssssssssss .......................................eat me .....................................eat me! Ahhhh .....................ahhhhhhh ..........................I'm cumingggggggggggggggggggggggggg!" As she panted out in her climax, Brandon pulled her closer to the edge of the table, then stood up and dropped his shorts and jockeys. Hard as a rock, first eating out the beautiful wife right where her husband sat for each of his meals, he was now about to fuck her there less than an hour's time before husband sat down for dinner that night! And as he slid his cock up into her, Brandon taunted her with "You like it naughty and nasty, don't you, Mrs. Hampton?" Thrusting deeper up in her, he panted out "You like it, don't you? Like right here and now, letting me eat you and fuck you right where your husband has his meal every night! Right where he'll be sitting an hour from now!"
An hour later, Mr. Hampton sat down at his place at the table for dinner, complimenting his beautiful wife and the delicious meal that she had prepared. "Hmmm, this piece is nice and tender ..............so tasty and juicy!" he commented. This was nearly word for work what Brandon had exclaimed an hour earlier, when coming up for air from between Mrs. Hampton's soft sexy thighs. At that instant, Brandon's eyes met the beautiful gray ones of Mrs. Hampton as his foot touched hers under the table. On the tabletop where Mr. Hampton's plate lay, everything looked quite pristine, so different than an hour prior when the puddle of thick wet cum lay in a pool from the aftermath of the two lover's fuck session. As he watched Mr. Hampton eat his dinner, Brandon reflected back to an hour earlier when he was dicking the man's beautiful and she was responding to his taunting that "Yesssssss .................its so much better this way ........................so naughty .........................so nasty ........................so wicked .....................................but oh, so niceeeeeeeeeee! Fuck me .................fuck meeeeeeeeee .............................cum in me ...........................cum in me .............................right here ...........................right here where I'll be serving my husband his dinner in an hour! Fuck your baby in me ......................................right here ..............................make your baby in me right here!" When Brandon spasmed and grunted, spurting is hot baby batter up in the beautiful wife's fertile womb, he heard Mrs. Hampton swoon "Oh, God ...........................oh, Goddddddddddddd ................................oh, my Goddddddddddddddd ..................................yes...............................yessssssssssss .........................ahhhhhhhhhhhh ........................................ahhhhhhhhhhhhhhhh ...........................................ohhhhhhhhhhhhhhhhhhhhhhhhhhhhhhhhhhhhhhhhhhhhhhhhhhhhhh!"
For the remainder of the summer, the two lovers would seek every opportunity to touch and tease one another, always hoping for the opportunity for more illicit sex. After dinner had become their special alone time together, standing side-by-side washing the dishes, at the very least getting to hold hands in the soapy dish water. But with the sink looking out into the dining room and den, after checking to see that he hubby and son were occupied, Brandon would quickly dry his left hand as that soon would be stretching the elastic band of her shorts to slip his hand on down into her panties and cup her asscheeks. And when the opportunity arose, he'd grasp her right hand out of the dishpan to dry it with the towel, then he'd guide her hand down between the waistband of his shorts and jockeys ..............................getting her to give him a handjob while her husband and son were in the den. Once, when Mr. Hampton's office phone rang and Tyler was on his cellphone to his girlfriend, the trembling beauty tried to resist as he pushed her down to her knees .............................but soon she was giving him head as he stood watch ....................................managing to get his rocks off before anyone came into the kitchen!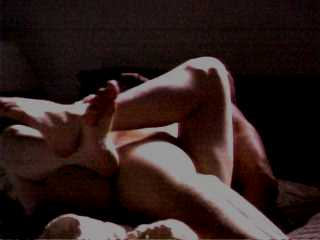 That last night, with Mr. Hampton drugged: "Slide on over, Mrs. Hampton .........................I want to fuck you on the bed!"
Rarely alone together in the house, their sexual bouts were rather fast and furious, seemingly with each of them near fully clothed each time. For the horny wife, it was either dress pulled up/or shorts unzipped to fall to the floor, with her panties down. And for the young stud, it was normally having his jeans or shorts unzipped, with his cock pulled on out for the quick fuck session. But just before the summer came to an end and Brandon was to return to living at home the very next day, the sleeping wife was once again woken in the darkness of the night as her handsome young sought to copulate with her once again. She looked over towards her sleeping husband, then began to slowly move to the edge of her side of the bed, believing that the young stud wanted to fuck her on the carpeting right next to the bed again. The mature beauty was in shock when the young jock advised "Slide on over, Mrs. Hampton .........................I want to fuck you on the bed .................................with Mr. Hampton sleeping on it!" Scared out of her wits, believing that this was too outrageous as it would surely wake her husband in the midst of their lovemaking, she was then told that "I slipped a roofie into the cup of coffee when he was watching the news! He'll stay sound asleep till morning!" Still, Melody was quite fearful of waking her husband and kept watching his every movement. But with Brandon grasping her wrist to place her hand on his hardon, Melody couldn't resist the urge to shuck at the teen's throbbing boner. And then she spread her legs wide, guided the handsome young stud's baby-maker up into her juicy slit, then wrapped her trim legs around him as he sank his cock into her ! Gritting her teeth and sinking her sharp fingernails into her young lover, Melody locked her ankles together as the most intense orgasm ever rocked her petite body just as her lover spurted his hot seed deep in her fertile womb ................................a fuck made all the more intense as her husband slept just feet away.
End of Story.