Mrs. Jill Doherty
One thing that Brandon knew for sure about his beautiful math teacher, was that fact that she was always cautious as to protocol and in maintaining that separation of student/teacher relationships. He had witnessed it for himself on one occasion, this was with Mrs. Doherty and some female students in the math club that she headed. That interaction he had witnessed made it quite clear to Brandon that this experienced teacher was always thinking ahead as to the appropriateness of her interactions with her students, even with female students. Of course, when it came to male students, the beautiful teacher was even more cautious as she certainly did not want any type of gossip or the hint of it being created. With Mrs. Doherty being ever so cautious, that made her even so more desirable to Brandon, but he did come to the realization that 'She ain't gonna be an easy mark, that's for sure! No matter how hard I try, she's not dumb enough to bite on any line I give her! Gonna have to get lucky with this one ...........real fucking lucky ..................that's the only way I'm gonna get into her tight little panties!'
Indeed, Jill Doherty had sworn to herself from the day she got her teaching degree that she would always be cautious and never put herself in any compromising situation with a student, male or female. Jill had read a number of stories where teachers got themselves into some bad situations, some because of utter stupidity, and others where teachers even willingly entered into sexual relationships. She always shook her head, wondering just how a teacher could enter into such a compromising situation, especially with one who was his or her students. 'That's such a violation of trust! An adult taking advantage of a young high school student, possibly a minor! How could he or she look in the mirror and be proud of one's self?' she asked herself when reading of such a violation. As to Brandon Miles, Jill was well-aware of how all the girls swooned over the handsome football jock, and she had to admit that the teenage girls had good reason for such swooning. Jill herself found Brandon quite handsome, and more so knew that she dared not let her guard down around the handsome young stud. In no way did she want any to become involved with this popular young man, no matter how innocent it might seem as that was how rumors got started.
When Brandon got the invite to the awards dinner, along with it was a pamphlet detailing the times and events to be held as well as a list of all those to honored at the banquet. It made note that the students/athletes would be put up at a swank hotel both Friday and Saturday nights, listing all the events planned for them. As for the educators attending, there was a list of who would be attending along the honors each had received, and the fact that they would be coming in a day earlier for a dinner meeting with the state's superintendent of education. In going over the list of educators, Brandon's cock gave a twitch of excitement in seeing that Mrs. Doherty was the recipient of the Teacher of the Year award in math. 'Damn, if only we were to arrive on the same day!' he cussed, wanting to have seen the shock on her face had he boldly asked her 'Can I give you a ride to the airport, Mrs. Doherty? I'll be driving to the airport and you're right on the way!' He knew there'd be now way in which she'd take him up on that ride to the airport, especially should someone see them together, but the thought of seeing his beautiful math teacher getting all flustered would certainly have been worth it.
But as fate would have it or maybe it was Brandon's continuous streak of good luck, that when he exited his hotel room to go downstairs for the awards banquet that Friday night, exiting the room across the hallway was the lovely Mrs. Jill Doherty. "Mrs. Doherty!" he called out. "Brandon!" came her startled response. "Congratulations on Teacher of the Year in Mathematics! You certainly got my vote, Mrs. Doherty!" he advised. "Well, thank you Brandon! But such flattery won't buy you a higher grade, young man! Oh, I'm just teasing ................and congratulations is in order for you, too!" this beautiful teacher replied. With others coming out of their rooms to attend the banquet, Brandon could see the relief on Mr. Doherty's face, knowing that she'd be uneasy going down alone with him in the elevator as it might give rise to some mean gossip if they were seen coming out of an elevator alone together. One thing that caught Brandon's eye was the tip of the familiar green and white room-key card that was provided by the hotel to each guest staying there. It had been placed there, evidently to make it easy for her to retrieve when she got out of the elevator and proceeded to her room later that evening.
Once down at the entrance to the banquet hall, they stood in line to get their table assignment. And once again, the stars were all in line as Brandon learned that they had been assigned to the very same table. Apparently the thought was to have the award winners grouped together from the same school district or nearby districts, giving them the chance to meet one another in that way. Learning of his good fortune to be sitting on the very same table as his beautiful math teacher, Brandon decided to make a move then to assure getting himself seated right next to her, asking "Would it be okay if I sat next to you, Mrs. Doherty? It always relaxes me a lot when there's someone I know as I get a bit nervous when it's all strangers!" "Sure, Brandon ...................it puts me at ease too when there's someone I know on the same table!" she responded. With only three others seated at the table for ten when they got there, Brandon played the gentleman and pulled out the chair for his math teacher, watching intently as to what side of her chair she hung her purse. Purse strap hung on the left side on the back of her chair had Brandon going to the left side of Mrs. Doherty to grab his seat.
At the round dining table for ten, Brandon couldn't help but to glance down to right side from time to time, needing to get a glimpse of the trim sexy leg of his beautiful math teacher. Seeing the shapely foot encased in a 3" navy blue heel, Brandon felt his cock give a twitch of excitement, for when in math class he had often fantasied of lifting the petite beauty up in his arms, placing her on the bed and stripping off clothing from her sexy bod as well as peeling off her high heels to bare her lovely feet. 'Damn ................let's get the show on the road! I's can't fucking wait! If everything goes as planned, soon after this shindig is over and she heads on up to her room, I'll be up there with her and stripping her naked! Then I'm gonna give her a fucking she ain't ever gonna forget for the rest of her life! She's so fuck'n prim and proper ...........................always worrisome as to appearances and not be caught in any compromising situations ..........................so she's gonna be a fucking basket case when she comes to realize she had sex with one of her high school students!' he mused.
A nice dinner was then followed by the start of the awards ceremony, with Brandon anxiously awaiting for Mrs. Doherty's name to be called to receive the State's Teacher of the Year for Mathematics. And when her name was called, just as Brandon had expected of her, Mrs. Doherty rose up from her chair and proceeded towards the stage to go up and receive her award. For that short period of time, her purse remained hanging on the chair where she had placed it upon their arrival. With everyone at the table applauding and eyes up on the stage, it was then that Brandon deftly slipped her card key out of the side of her purse and then substituted it with his card key. The switch accomplished, his beautiful math teacher having returned to the table and sat back down to the congratulations of those seated at the table, Brandon's cock gave a twitch of excitement as he once again eyed up her trim sexy legs.
Banquet over and with Mrs. Doherty mingling some, Brandon did the same with some of his peers but kept a close eye out on his beautiful math teacher, not wanting to miss her making her exit from the ballroom. About twenty minutes later, Brandon watched as the sexy beauty bid her goodbyes before proceeding towards the front entrance that they had entered from. Making his goodbyes quickly, Brandon then hustled to catch up with the lovely beauty before she reached the elevators. As he neared her from behind, Brandon then loudly expressed ""Calling it a night too, Mrs. Doherty?" He could visibly see her tense up before turning towards him, knowing full well that she was quite nervous as no one else was around the elevator area. "Oh, yes, it's been a rather exhausting day!" she replied while looking about in hopes of someone to arrive to save the day by taking the elevator up with them.
With just the two of them there, with the bell of the elevator signalling its arrival, Brandon then played the perfect gentleman in advising "I'll wait and take the next elevator, Mrs. Doherty! I wouldn't want any gossip created that would hurt you should anyone seeing us entering the elevator together to go to our rooms!" The sigh of relieve was quite obvious as his beautiful teacher breathed out "Thank you so much Brandon! I really appreciate your thoughtfulness!" With her entering the elevator and the doors closing, Brandon smiled and waited a bit before pressing the button for another elevator. Another elevator soon arrived, Brandon was then headed on up to the sixteenth floor, licking his lips in anticipation as his boner swelled on up in his pants. Exiting the elevator and rounding the corner, he obsersed his rather frustrated math teacher as she once again slipped her card key into the slot but only to have the red light come on.
Playing a concerned friend, Brandon then asked "What's the problem, Mrs. Doherty?" The frustrated beauty responded with "My cardkey's gone on the blink! I must have tried six or seven times but can't get it to work! Guess I'll just have to go downstairs to the reception desk to get a new card!" his teacher replied. "Here, let me try something!" Brandon advised while holding out his hand for her card key. With her card key in his right hand, Brandon then shifted to his left and proceeded to rub it on his pantleg, telling her that "Sometimes its just dust or static electricity! If it is, a good rub to clean it is all that's needed!" Upon slipping the card to his left hand, Brandon deftly slipped the card key into his pant's pocket, then had the other palmed card key out of its hiding place to rub it against his pants.
Using the right card key, Brandon slid it into the slot and quickly withdrew, getting a blinking green light as a result and an gasp from his astonished teacher. "Oh, Brandon, that's amazing! You did it!" Mrs. Doherty exclaimed with delight. Opening the door and pushing it inwards so she could enter her hotel suite, the beautiful woman moved past him to get into the room. Just as she was about to move past him, Brandon reached forward to grasp her petite manicured fingures in his hand, causing her to gasp at his touch. As she froze and turned to face him, Brandon moved up towards her, letting the door swing forward behind him as he used his free hand to shut it closed. Her pink lips were parted as it was obvious that she wanted to put a stop to this before it was too late, her fingers trembling in his hand, then Brandon pulled her towards him and an intimate kiss ensued.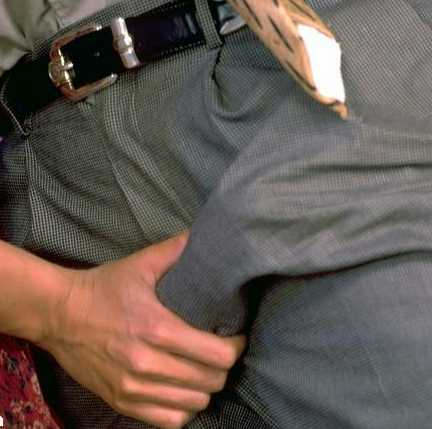 Kiss ending with his beautiful teacher panting in heat, Brandon nuzzled at ther neck, then moved her entwined fingers over onto the bulge in his pants. Feeling a finger moving up and down over his swollen cockhead, Brandon released her hand to allow her to touch and caress the length of his pulsating cock, to which he surmised that she was comparing his thick 10" boner to the one possessed by her husband. Trim fingers stroking his length, then cupping and teasing at his bloated cockhead, made it quite clear that the panting beauty was certainly wanting to do the same to it once bared of the protective coverings. Expertly unhooking the back of her dress, then pulling down the zipper, Brandon began working her light blue dress down over her trim shoulders. A flick of his deft fingers had the clip to her lacy bra undone, then the garments got hooked upon the elbow of her arm and barely covering the tops of her breasts, to which Brandon used his free hand to bare to succulent titties.
Seconds later, the beautiful prim and proper Mrs. Doherty was gasping "Ohhhhhh ...............................ohhhhhhhhhhhhh ..........................oohhhhhhhhhhhhhhhhhh!" Her mind was in shambles, for just moments ago she was riding up in the elevator alone after having avoided being accompanied by the handsome yound stud from her high school. And now the handsome high school football jock was in her hotel room, having kissed her intimately and now was taking her stiff aroused nipple into his mouth. "Ohhhhhhhh ............................ohhhhhhhhhhhhh ..........................nooo .......................ohhhhh, noooooooooooooooo!" she panted out as her high school student suckled on her aroused nipple. As the handsome stud moved to suckle on her twin peak, Jill shivered as the cool air on her wet nipple had it stiffening even more. "Ohhhhhhhhhhhhh ........................ohhhhhhhhhhhhhhhhhhh!" she panted out as Brandon mouthed the twin peak and clamped his teeth down on the tender pink bud. Instinctive wrapping an arm around the young stud for support when he lifted her right off her feet, Jill shivered with nervousness as the confident stud flicked on the lighting and began heading towards the queen-sized bed.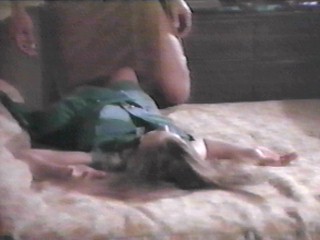 Gently laying the petite beauty upon her bed, Brandon then pulled her arms out of the bra straps and arms of her dress, then proceeded on getting her dress and panties down over her trim hips. Baring her sex before him, he gripped her dress and lacy white panties and began working the garments down past her knees, then down her sexy legs and off her navy blue heels. Grasping her by the front of her ankles, made her bend her knees and placed her feet flat upon the mattress, then pushed her knees wide before dropping down to his kness. Having pulled his beautiful teacher to the edge of the bed, her cunny was just at the right height for him to have his dessert for the evening, especially as he had passed up on the piece of pie during dinner in anticipation for a more tasty treat. "Ohhhhh ............................ohhhhh, my Godddddddddddddddd .......................................ohhhhhhhhh, Godddddddddddddddddddd ..................................ahhhhhhhhh ...........................ahhhhhhhhhhhhhhhhhhhhhhh!" she swoon out loudly as her student slurped away as her juicing slit.
Whithering about on the bed, her silky brown hair whipping from side to side, Jill then reached down between her widespread legs to grasp the back of her student's head as she arched up into his slurping mouth. "Brandon ................................ohhhhh ...........................................oh, my Godddddddddddddddddddd ............................................ahhhhhhhh ..........................................ahhhhhhhhhhhhh ...............................aieeeeeeeeeeeeeeeeeeeeeeeeeeeeeeeeeeeeeeeeeeeee!" she screamed out while twisting about, rubbing her convulsing snatch up against the face of her handsome young student. Never before had she ever climaxed in such an unbelievable fashion, the orgasm of all orgasm, one that she certainly would never forget. One would alway remember such an event, especially as it was brought about by one of her own high school students, and also due to the fact that this was the very first time that her sex had ever been mouthed. 'My God ................I orgasmed in his mouth! So that what the gals in my sorority meant about their boyfriends 'eating' them out! And I went and let one of my high school students 'eat' me till I orgasmed!' Jill trembled while looking beyond the foot of her bed as the handsome young jock was stripping off his clothing.
Unable to say anything, eyes mesmerized at the sight of the long thick penis that her student was now fisting in his hand. 'Oh, my God ..............it's so big! I .........I ............we mustn't .................we can't have sex together ........................he's one of my student!' she chastized herself while using her feet to push herself up upon the bed in hopes of preventing such illicit sex. But as the foot of the bed sank when Brandon knelt upon it, her cause was lost once he reached out and placed a hand on her knee. Large calloused hands now on both her knees, just a slight bit of pressure had her spreading her legs wide to allow him to move up between them, allowing her handsome student to get into position ..................to FUCK her! Her mind rebelled at the thought of having sex with one of her students, but her physical body was craving the touch and feel of this handsome young stud up against her, including her hand that was now moving forward between their bodies. Manicured fingers grasped the thick cudgel, but Jill's fingers were unable to full encircle her student thick cock as she began pumping at his pulsating meat. And then she pulled him forward some, put him in position, then went and rubbed his bloated cockhead up and down her sensitive slit.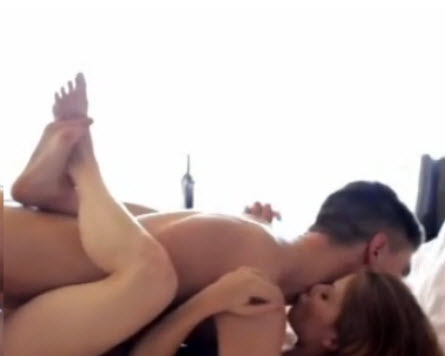 "Ohhhhhhhhhhhhhh, Brandon ............................................ohhhhhhhhhhhhhhhhhhhhh ........................................you're sooooo bigggggggggggggg .......................................ohhhhhhhhhhhhhhhhhhhhhhh!" Jill swooned as her handsome young student stretched her as never before. Matured but quite inexperienced as she had been with only one man ever, her husband, Jill found that what this teenage stud possessed certainly proved that he was a real 'man'! "Ohhhhhhhhhhhhh ...........................owwwww .........................ohhhhh ..................ohhhhhhhhhh ................ohhhhhhhhh!" she grimaced as the young stud stretched her cunny out and began to slowly pump in and out of her clasping snatch. Rubbing her hands up and down the muscular biceps of her handsome young lover, Jill then gave into the urge to wrap her legs around his pumping hips, locking her ankles together as she used her legs to pull him in even deeper. Stretched wider than ever before, Jill now realized that she was also being skewered far deeper than ever before. Then his lips covered hers, an intimate kiss ensued, tongues twirling and flicking against one another as young stud began pumping in and out of her in earnest.
For Brandon, this was certainly a dream come true, that impromtu planning upon seeing her card key on the side of her purse had turned out just perfectly and he was now bedding his beautiful high school math teacher. The always prim and proper Mrs. Doherty was now his and there'd be no way for her to turn back the clock, and with that Brandon skewered her by thrusting his thick boner all the way up into her, then rubbed his short curls up against hers. "Oh, Mrs. Doherty ................................ohhhh, this is what I dream about every time in in your class ..................................oh, my fucking dream's come true! Ohhhhhh, yessssss ...................................so tight .............................................oh, yeah ................................oh, yeah ................................just like I dreamed of ...............................no, even better ......................so much better!" Hands cupping her buttocks, Brandon then began to jackhammer is beautiful teacher, intent of ejaculating the hot potent seed that was stored up in his swollen balls.
Suddenly his beautiful teacher began pushing against him, apparently having come to her senses to realize that "You're not wearing anything ...............................you'll get me pregnant ............................I can't have your baby .................................you're my student!" Gripping her ass cheeks tighter, Brandon hammered his proud animal all the way up into her, panting out "Oh, teach .............................I want to make you a mommy again ........................................with my baby!" "Oh, Brandon .....................................Brandonnnnnnnnnn .......................................ohhhhh, ohhhhhhhhh ............................oh, Goddddddddddddddddddd .................................I'm there ....................................I'm thereeeeeeeeeee ...............................ohhhhh, yesssssssssssssssss ......................ahhhhhhhhhhh ............................ahhhhhhhhhhhhhhhhhhh!" his beautiful teacher screamed out as her entire body shook and rocked in a wild orgasm. "Oh, Mrs. Doherty ....................................I'm cumminggggggg .............................cummingggggggggggggggg .....................................................cumming in you!" Brandon panted out while feeling her trim legs tighten around his ass.
Thirty minutes later, Jill Doherty blinked her eyes as she awoke after having passed out from that mind-blowing orgasm of all orgasms. 'Oh, my God .................................what have I done?' she shivered in nervousness. Jill found herself unable to move, realizing that the handsome young stud had collapsed upon her after he had spent his hot thick seed in her. Not only was his heavy body lying atop of her, but his long thick manhood was still embedded in her. 'Not only am I now an adulteress but I had illicit sex with one of my students! And what if he gets me pregnant? What happens then? Oh, my God ........................what if word gets out? That'll be the end of my teaching career, my marriage .............................I'll be disgraced in the community!' her mind raced. Inadvertently her cunny squeezed upon the still rather thick penis embedded in her now very slick slit. Jill trembled in nervousness upon feeling it twitch and expand in response to the squeeze she had given him. 'Oh, God ..................I could be charged with statutory rape!' she trembled. But then she recalled having seen his date of birth, how she had wished him a happy birthday when he made 18 the other month!'
Jill's conscious mind told her to keep very still, to not awaken her young lover, but her cunny had a mind of its own as it squeezed once again on the thick boner. She gasped upon feeling her student's cock swell up even bigger in this second responsive twitch, yet she still could not control her cunny as it squeezed upon it once again. Cock swelling up in her and then the young stud began to awaken upon her, his hands moving under her once again to grasp her ass cheeks, then he automatically began to hump her once again. Never before had Jill experienced a consecutive fucking in such a short period, in fact never had she experienced getting a second fuck without even uncoupling after the first time. Although she had been racked with guilt just moments ago, Jill once again rubbed her hands over her young lover's muscular biceps and wrapped her legs around his ass, locking her ankles together to pull him deep into her. Now she was wanting to experience that overwhelming pleasure once again, something that only her handsome young student could give her, and so she encouraged him on with "Oh, Brandon .............................yes ........................yes ...........................fuck your teacher ...........................................give her the fucking she needs ........................................fuck her good! Yes .....................oh, yes ................................yes ................shag me ......................shag me ...........................shag me gooddddddddddddddd!"
An hour later, Jill once again awoke in bed with her young lover asleep upon her, and also still embedded deep in her. Automatically, her cunny went and tested things once again and Jill gasped upon getting that familiar twitch of a response. Another squeeze, another responding twitch, then again and again until it was all swollen up in her and the young stud grasped her ass cheeks in his hands to commence a third consecutive fuck session without having pulled on out of her gripping snatch. Jill just could not believe the sexual prowess of her young lover as his fucking expertise once again had her soaring out of this world and having her screaming in ecstasy. Only this time, with his spent cock dwindling in filled twat, that extra squeeze of her cunny had him slipping out of her slit. But they did fall asleep in one another's arms as lovers would often do, however they were not normal lovers in this case, not when it was a mature high school teacher and a handsome young stud in her math class. After three exhaustive fuck sessions, Jill rested her head on her young lover's chest, her arm draped over his body with his arms holding her to him.
When daylight lit up the room in the morning, teacher and student embraced one another for an intimate kiss, and then another lovemaking session commenced. All thoughts of any of the tours and extra-curricular activities were thrown out the window as nothing could beat them being together in bed, sucking and fucking to each's content. Inexperienced as Jill was, never before had she even contemplated such a thing, but now she licked her lips at the very thought of it ......................that of taking the handsome young stud in her mouth ..........................yes, taking his fantastic cock into her mouth, sucking him till ...........................till his cum filled her mouth! Nervous about doing such a thing, totally inexperienced on how to go about it, Jill then slipped her head under the sheet to find and mouth her very first cock. Moments later, feeling the hands over her sheet covered head, she heard her young lover groan out "Ohhhhh, Mrs. Doherty ..........................ahhhh .................ahhh................................I'm cumming ......................................I'm cumminggggggggggggggggggggg ......................................ughhhhhhhhhhhhhh!" Jill was glad that Brandon had placed his hands upon her head, preventing her from pulling away, making her take his hot semen into her mouth and to swallow it all.
Then room service was called and Brandon went to get the cart at the door since she remained butt naked in bed. Cart at bedside, they then fed one another before getting back into the sack to feast on one another. Several fuck sessions later, hungry once again, lunch ordered up. And the same was done when dinner time came. Just how many times had they fucked was a good question for Jill, as it seemed like her handsome young stud always had his thick cock buried up in her snatch. After dinner, her young lover got her up on all fours, then student was fucking his teacher doggie style ................giving it to her like a bitch in heat! Later, afraid of getting on the phone to call her husband as she had promised, she sent him a text message that she was on a night tour of the city and she was texting him since it was noisy on the tour bus. Then her young lover asked her to dial his cell number till it rang, that way he'd have her cell number recorded in its memory, and so she dialed the number he gave her.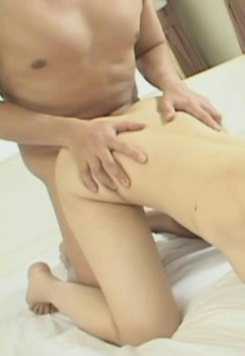 That next morning, having fucked numerous times till the wee hours in the morning and again upon waking up, they then showered together and soaped each other down. Then she had to change into an outfit to wear onto the plane, dispatching her young lover to his room to pack up his things. Bags packed, dress and heels on as she was putting on her necklace, she stared into the mirror upon hearing the door to her room open. Her young lover had returned, apparently having taken her room key with him, then he was standing behind of her and assisting her with the clasp of her necklace. Nuzzling at her neck, she then heard him say "I wanted to see you one more time! I always love seeing you in this pink dress and white heels in class!" "And what else have you dreamed of me when in this dress? Anything naughty?" she asked of her handsome young student. Seeing his guilty smile and a nodding for 'yes', she plied him to "Tell me, you naughty boy! Maybe I'll just make it come true!" A kiss and then he was whispering in her ear, and Jill made it all come true for him by dropping to her knees before him, undoing his zipper and fishing out his thick boner. Moments later, looking up at her young lover whose hands were holding her head, Jill heard him groan "Oh, Mrs. Doherty ...............................oh, yeahhhhhhhhhhhh ......................I'm cumming ..................................cumming in your sweet mouth ...............................suck it ......................suck it, teach ..........................yes .................yes, ughhhhhhhhhhhhhhhhhh, Godddddddddddddddddddddd!"
Panting for breath as her student pulled his spent cock out from between her lips, Jill chest was heaving as she tried to compose herself while still kneeling on the floor, watching at her young lover tucked his manhood back into his pants and zip his pants up. "I'll go down and check out first, that way no one will see us going down together!" she heard Brandon say, appreciating his thoughtfulness, then heard him add that "You'll need to fix your lipstick a bit, Mrs. Doherty! Better make that a lot cause .............................I smeared it up pretty good!" Licking her slick lips as the young stud exited her suite with suitcase in tow, then got up to make herself presentable, knowing how correct that last statement was after having seen the ring of lipstick she had smeared around the base of her student's thick cock. Thinking back to just moments ago, Jill shivered as she recalled glancing off to the side and seeing the outrageous scene being reflected back on the mirror, that of a supposedly respectable mature teacher down on her knees with one of her student's cock in her mouth and giving him 'head'.
That first day back to school was definitely the hardest for Jill to endure, worried that maybe Brandon had gone and bragged to his buddies on having nailed his high school math teacher, told them how they had fucked and sucked from Friday evening till check out on Sunday morning. But her worries were for naught as it became apparent to Jill that Brandon was not the type to kiss and tell. In fact, expect for that brief smile upon his entering the classroom, he acted quite the same as he did in each class and gave no hint of their illicit time together. That night when lying in bed, Jill could then reflect back on that weekend of illicit sex, to which she had to admit was the best sex ever. In her mind, Jill tried to go back and count the number of times they had intercourse together but once it got to late Saturday morning it would just be a guess. One for certain, Jill knew that whatever the true weekend fuck count was, it far surpassed the number of times she and her husband had sex for the entire year! But there would be a constant worry nagging Jill for the next six weeks, causing her to pray that her handsome young student had not impregnated her since no protection had been used at all.
During Christmas vacation, Jill had trembled in seeing that Brandon was calling on her cell phone but she refrained from answering, knowing full well what that would lead to ..................in bed with her student again! On Christmas morning, Jill saw that she had a text message on her cell phone and opened it up, of which the message read 'Merry Christmas! Love, B!' That following week, another message came that read 'Happy New Year! Love, B!' Jill thought about responding but felt it best not to, afraid of what it would or could lead up to. After that six weeks of worry had come and gone, her daily prayers having been answered that she had not gotten pregnant, Jill got another text in mid-February, on Valentines Day of which the message read 'Happy Valentine's Day! Hope you like the flowers! Love, B!' Apparently timed perfectly by the young stud, a floral arrangement of red roses were delivered to her classroom during the math class that Brandon attended. No note was attached, to Jill's relief and appreciation, making all the teenage gals giggle in thinking that it had been her husband who sent them. On this day, Jill began reading out a mathematical word problem that required the students to listen and take notes, then began to slowly walk around the classroom while continuing to read out the problem to the class. With Brandon the only one in the far back of the classroom, Jill slowly walked around the room, and upon seeing all heads down while taking notes, she dropped a hand to trace a finger across her young lover's broad back to acknowledge the Valentine flowers that he had sent.
Things had gone quite smoothly from then on, just a little eye contact with the handsome young stud in the classroom, but pretty much that was it until that Monday of spring break. At after 8 a.m., with her husband gone off to work, Jill heard the buzz on her phone advising of an incoming text message. Opening it up, she saw it was from Brandon and it read 'I miss you! Wish I could talk to you again! Would you answer if I call? Love, B!' Heart humping in her chest, her body trembling in nervousness, Jill then sent a reply of 'Yes!' Seconds later, the phone rang and Jill answered her young lover's call, hearing tell her "I love you, Mrs. Doherty! You're all I can think of! It's driving me crazy! I can still picture how you looked in class this past Friday, the green dress and white heels!" "I ...................I love you too, Brandon! I miss you too! If only it wasn't so dangerous to be seen together!" she responded. "Meet me!" her young stud advised. "No, it's too dangerous! Someone with see us!" she advised. Then she was told that "There's no houses across the street from my pad above the garage! I'll leave the garage door open and have it closed as soon as you drive up! It'll be less than five seconds and then your car will be out of sight!" Breathing hard, Jill tried to think straight, then she gave in and advised "A half hour from now! Give me a half hour!"
A half hour later, Brandon pressed the remote to close the garage door once Mrs. Doherty's Lexus had driven in. Minutes later, opening the door to admit the lovely beauty, it was Brandon's turn to suck in his breath as his beautiful teacher had dressed in the very same light green dress and white heels that he had last seen her. An intimate kiss ensued and then she was giving him the best treat he could ever have wished for, that of dropping down to her knees like before they had departed from the hotel. Her manicured fingers grasped the tab of his zipper, then had him unzipped. "Ohhhhhhhhhhhhhhhhhhh ......................................oh, Mrs. Doherty ........................................ohhhhhh, so good ................................................so damn good!" Moments later, Brandon was caressing the silky brown hair of his beautiful teacher as he slipped his spent and sensitive cockhead from her pink lips. Assisting her up to her feet, Brandon began to undress his high school math teacher. Zipper to her green dress pulled down, unhooking her lacy white bra, then both garments were puddled on her high heels. Soon her matching panties were atop of the pile. Lifting her up, letting her kick off the pair of panties from her right heel, he then carried her to his king-sized bed and placed her at the edge of the bed, putting her spiked heels flat of mattress. "Brandon ............ohhh ..........................ohhhhhhhhh ............................yessssssss ..........................yesssssssssssss!" came his teachers mewling as he returned the favor and mouthed her quivering snatch.
Eaten to a mind-shattering orgasm, Jill then used the spikes of her heels to push herself up to the center of the bed, not to get away from the young stud who was in the process of undressing but to make room for him. And when he was bare-ass naked, she then spread her trim legs wide apart to welcome him between them. Once he was in the saddle and solidly up in her cunny, Jill then wrapped her legs around her young stud, locking her white heels upon one another to pull him in even deeper. Fucking and sucking to their hearts content, taking time out to feed one another after the pizza had been delivered for their lunch, it was 3:45 p.m. before the garage door raised up and the Lexus backed up onto the street before disappearing before the rush hour traffic began. It had certainly been a sex filled day between teacher and student, with more was on the agenda for the next morning, this time her arrival would be a half-hour earlier. Asking the young stud as to what outfit that he liked to see her in, Jill planned on comply by wearing the requested light blue dress and navy blue heels for her secret lover. And such would take place for all the weekdays of spring break, with the student teacher relationship being reversed, as her young lover was the one teaching her how to fuck and suck in so many new positions. Jill especially liked it when he placed the back of her ankles upon his shoulders, lifted her from the bed, then skewered her deeper than ever while standing.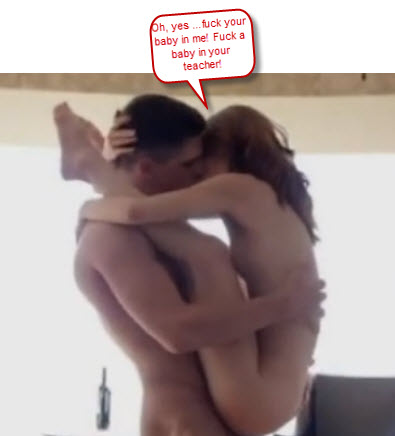 But that was not all there was to spring break, for once her husband headed off to the golf course to play eighteen with his buddies, Jill was headed over to her young lover's bachelor's pad. On this occasion, she was down on her knees wearing a lavender dress and white heels, a new outfit that she had recently purchased but never worn before. It was a special reason for wearing now for the very first time, one that would certainly please her young lover when she wore it to school the very next day. She knew it'd excite the young stud when he arrived for math class, seeing his teacher in the very same out that she had arrived at his pad the morning before, having worn it while down on her knees giving him head till he came in her mouth. Why not wear it once again, after all she had only worn it for thirty minutes the day before, fifteen of which to get to Brandon's pad and another fifteen to get back home ................................for in between that period, she had been stripped naked and getting well-fucked the rest of the day in bed with her handsome young lover! Of course she did have to spend a bit of time ironing out the wrinkles that had formed from lying in a pile on the floor for seven hours.
For the next six weeks, Jill said a brief prayer mentally each day, just as she had done following that weekend in December. Once again she asked that her prayers be answered as no precautions were used during their continuing affair over the spring break. When that time period passed, Jill went to the drugstore to purchase a home pregnancy test and smiled at the results after putting it to use. Her prayers had been answered ...........................she was 'pregnant' with her handsome young lover's baby! Her prayers this time around had been quite different, to be impregnated by the handsome young stud, wanted to be 'knocked up' by her high school student and have his little baby! Of course, she'd have to pass it off on her husband, that the protection he had used was apparently faulty. From a prim and proper high school teacher of just six months prior, a faithful wife of nearly twenty years, she had become an adulteress ...............................having illicit sex with one of her students and now impregnated by the young stud! 'Could things have been any worst?' she'd often wonder, to which it answer turned out to be 'Yes! Thank goodness he was 18 years old when he seduced me! Otherwise, even though he seduced me, I'd have been guilty of statutory rape!' she concluded.
Having left for summer school to get an early start and to lessen the study load in his first semester in college, text messages and a few cell phone calls were exchanged between the two lovers, but Jill did not want to burden Brandon with the news of her pregnancy. In mid-December, Jill heard the buzz on her cell phone that a text message was coming in. She read the message sent by her young lover who indicated that he was coming back home for the holidays the next day and was wanting to see her once again. After a few moments, after obtaining two blank sheets of paper and writing on them, she then got a picture taken from her cell phone. Typing a text message in response, she sent the text reply to her former student with the picture attached to it. As the saying went, a picture spoke a thousand words, thus the attached pic certainly said all that was needed. That picture, taken by a nurse at Jill's request, showed her in bed holding two little bundles of joy. Around the blanket of the baby in her right arm was a written note reading 'Hi, I'm Brandon!' and around the one in her left arm read 'Hi, I'm Thomas!'
Upon seeing the text message, it read 'Only if you stop in to see me at Good Samaritan Hospital! Will be here for the next few days!' Stunned by this text message, worried his beautiful teacher was seriously ill, he then swallowed in astonishment upon opening up the attachment. There was Mrs. Doherty in bed holding two little babies wrapped up tightly in baby blue blankets. Those written notes with the babies names told the whole story, that he had fathered those twin baby boys, especially with his name being Brandon Thomas Miles! Fathering twin girls in March, now twin boys in December, Brandon began wondering if this year to be a banner year for babies ....................babies he had fathered! He knew of a couple others little ones being borne during the first part of the year, before he had headed off to college, one to another buddy's mom whom he had seduced and another to a friend of his mom's from the Women's League. Those were the ones he knew about, but there were quite a number of possibilities remaining and Brandon decided he should looking into this while home for the holidays.
End of Story.