Terrified Teacher – V
(m/f, i/r, n/c)
by
Black Demon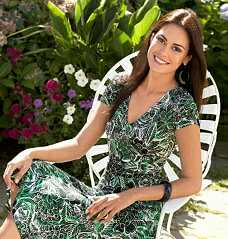 _______________________________________________________________
If you find sexually explicit reading offensive please leave now. We do not condone
trying any of the stories with in, and we are not responsible for what you may do.
You must be 18 or 21 in some states to view this material, if you are not please turn
and go now. If you can't agree to these terms please leave now. Enjoy the story.
_______________________________________________________________
Leon got a call in mid-July, advising that he was needed at a different school as it was having a second summer session along with a summer fun program. Leon was happy to have another change, always on the prowl scouting for his next unfortunate victim.
Beautiful Ellen Myers had made the unfortunate decision of teaching summer school as a favor to the principal. She didn't need the money and normally would relax over the summer. This summer session would be most unfortunate for her. Her beauty immediately caught the new janitor's attention and became his unsuspecting target.
Leon's prick twitched as soon as he saw the beautiful young teacher. He observed her at her desk with her reading glasses on. Such a young beauty with milk white skin and honey colored hair. He quickly learned at the office that she was happily married with two daughters. This was going to be a fun summer for Leon if he could soon get this little bitch's tight panties.
Three weeks without any new pussy and Leon was climbing the walls. He needed relief soon and couldn't wait to corner the innocent beauty. God, he wanted to hear her scream when he stuck his cock in her. He closed his eyes and pictured the beauty laying before him and he licked her milky white legs and give her sexy feet a tongue bath.
Leon kept watch on the beauty, who always avoided him and always left soon after summer school ended. On this Friday, the lovely teacher was forced to stay late for a parent teacher conference. He observed only her car in the teacher's section and one car in the visitor's section, apparently belonging to the parents that were there for the conference.
Leon's maintenance shed was near the teacher's parking lot and it'd be the perfect place the take the beauty. Take her by force and hear her screams and pleas for mercy. In his first week at the new school, Leon wanted a secluded place where he could spend time in comfort and also serve as his hideout where he could check out the beautiful teachers as they arrived at school. He had revamped the maintenance shed to make it soundproof and also made it comfortable by installing an old air conditioner.
Leon went to the parked car and quickly deflated the right rear passenger tire. Then he watched with anticipation from the shed, having cleared off an area and spread out a dirty rolled up mattress that he kept there to relax on. He wanted to have the beautiful teacher comfortable when he pounded his pulsing cock in her. His excitement reached another level as he observed the visitors going to their car and leave the lot. Five minutes later the beautiful teacher could be seen approaching her disabled car.
Ellen felt uncomfortable being the last one to leave the school. She gave a sigh of relief once she entered and locked her car. However, relief turned to despair as she drove a mere car length as it was obvious that something was wrong with her car. She got out to inspect the problem. "Oh, no!" she groaned as she observed her problem. She was suddenly startled when a voice came from behind her "Can I help you Mrs. Myers?"
At first Ellen was about to decline and use her cell phone to call a tow wagon. However, Leon advised her he'd merely change the tires for her and she'd be on her way in ten minutes. Ellen didn't want to be obligated to this lustful black man, for she always felt as if she was being stripped naked whenever he looked at her. But she couldn't refuse his assistance in this emergency situation.
Ellen opened the car truck and leaned over to remove some school files. Suddenly a black hand clamped over her mouth and an iron hand encircled her trim waist. Her scream was muffled as she was dragged a short distance to the maintenance shed. The shed's door was kicked shut by Leon as he held the frightened beauty. She tried to pry away the hand covering her mouth but her attacker was way too strong. Her sobs were muffled and tears filled her eyes from the fear. Her blouse was ripped apart and the rough black hand began to roam over her bra encased breasts. Another minute and the black hand crept into her thin bra and tweaked at her hardening pink nipples.
In no time Leon had ripped off the teacher's blouse, bra, skirt and panties. He then threw the young beauty down onto the dirty mattress. He knelt down to remove the white heels off her sexy feet and paid homage to her soft soles and toes. Just as he had dreamt it would be. Then he licked his way down to his treasured jewel as the captured teacher sobbed and grasped the edges of the mattress in obvious distress.
As Leon ate the sweet honey, the teacher's hips betrayed her and arched up to the source of the unwanted stimulation. Leon licked up the sweet juices that flowed from this beautiful teacher and he suddenly felt her tiny hands grasp his head to prevent him from stopping his tonguing. Not that he had any plans to stop. "Oh, nooooo ........................no ................................nooooooooooooo!" came the gasp from the young beauty as she arched up and was overtaken by an unwanted orgasm. Twice more, Leon's tongue gave the beauty a mind shattering orgasm. He looked at her body shuddering from the aftermath on the mattress, her eyes widening in horror as she watched him begin to undress.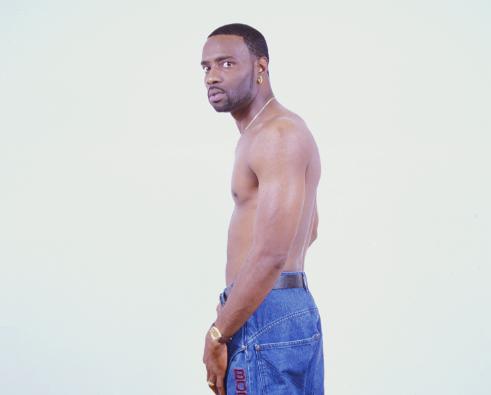 Then the horrid janitor scooted up on his knees to rub his oozing and throbbing cockhead at the entrance to Ellen's womanhood. He pressed forward but only half of his thick cockhead would fit. "Ohhhh ....................noooooooooo ......................... please ..........................it hurtsssss ...........................please ..................no .................nooooooooo……....................stoppppppppp!" pleaded Ellen as she tried to push the hulking black body away from her. Ellen could only sob in fear and humiliation as the janitor leaned forward to put more pressure at her slick cuntlips. "Ready from some thick black meat Mrs. Myers!" came the hissing taunt, adding emphasis to 'Mrs'.
He grasped her sexy white feet and pushed her legs upwards, placing her feet on both sides of face. The beautiful teacher was bent double with her knees pushing her shoulders into the mattress. Leon grasped her by the hips and slammed forward. "Aieeeeeeeeeee ..............................aggggggh ..............................noooooo ……................…ohhhhhhhhh ..............…….noooooooo……..............noooooooooooooo!" came the anguished screams. Actually it was music to Leon's ears, hearing the young beauty's painful screams and groans. His black cock was half way in with another full 6" to go. He withdrew a little and slammed forward with all his might. "Arrrrghhhhhhh ....................................arrrrghhh .................................noooooooooooooo!" sobbed the beautiful Mrs. Myers as the black cock imbedded its entire length. Never had she experienced a cock so long and thick.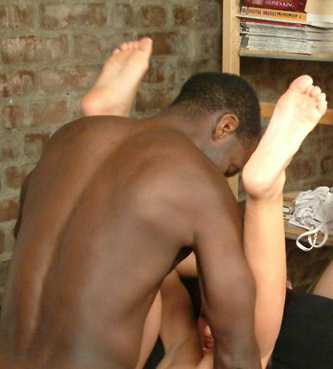 An hour later, Leon left the soiled sobbing beauty spread obscenely on the dirty mattress. She wished she was dead, her lily white body soiled by bruises and the slimy spend of the black. He had shot a pint full of black baby juice deep in her unprotected womb. She was forced to eat a load of his gooey protein and had shot a load into her silky hair. Finally she had to bring him off with her feet and he erupted into her soft soles. Leon looked down at the sobbing beauty, now totally soiled, and began stroking his black cock.
Leon snickered "Okay, bitch! You can get dressed and go home to hubby and the kids now!" He watched her sob as she put her legs into her panties and put on her bra. As she lay upon the soiled mattress, he grabbed her silky brown hair and pulled her over to a puddle of their fuck spend. Pushing her face right into the gooey puddle, he laughed "Be sure to give hubby a kiss tonight!" He then left her curled up, streaked with rivers of cum on the dirty mattress. Leon got his polaroid camera and took two dozen shots of his sobbing prize, having her suck his cock as he took the final shots. He left the two well positioned video cameras on to continue filming.
Ellen finally got the strength to put on her torn clothing and stumbled out of the shack. She saw her flat tire had been fixed by her rapist. She had to get home unnoticed and cleanse herself of the filthy slime. Once in the safety of her home, she buried her torn clothing at the bottom of a trash bag, not wanting her husband to discover the tell-tale evidence. After a potent douche, she looked down to see the large amount of greyish spunk that had been flushed out of her. She shivered at the thought of the awful consequences that could result if the douche was too late.
The weekend ended too soon. Ellen thought she should quit teaching the summer session, but how would she explain it to the principal and her husband. She thought it best she return but was absolutely determined to keep away from the lusting janitor and would leave immediately when school ended. Both Saturday and Sunday nights, Ellen desperately tried to cleanse her body and mind of the rape. Wanting to feel clean again, Ellen sought the comfort of her loving husband. But each time, her husband made love to her in their regular loving way. As Ellen hunched up hard against her husband, the unusual aggressive movement caused her husband to cum unexpectedly, leaving her seeking satisfaction. Each night, Ellen ended up in the bathroom using her hairbrush to seek satisfaction, picturing the forced sex with her black rapist.
On Monday, Ellen kept a nervous eye out for her rapist and was relieved to see him on the other side of school. Midway through the day's session, she opened her desk for a ruler and observed an envelope with her name on it. Opening the envelope, she gasped upon seeing a polaroid of her cum streaked body lying on the filthy mattress, her mouth sucking on a big black cock. Tears formed as she read the note, her body cringed on reading the part asking if she wanted the remainder of the pictures but it ended at that.
Nervous throughout the remainder of the day, Ellen awaited till everyone left, then fearfully made her way to the maintenance shed. She had to retrieve the other photos of her disgrace. But upon arriving at the shed, it was locked and the janitor was no where to be found. Ellen was worried about the photos being in the demented janitor's hands, but she could do nothing at this time. Getting into her car, she began the drive home.
Ellen's mind was preoccupied with the photos being in the wrong hands. She had not observed the car following her home. Arriving at her driveway, Ellen pressed the switch for the automatic garage door, allowing entrance to the two car garage. Pulling into her spot, Ellen got out of her car and reached over the seat to get her school books. She was then startled as a car raced up and parked in her husbands spot. Ellen gasped as she observed who the driver was, the grinning face of her black rapist, who held up various photos of her.
The evil janitor smiled at her and said "Better close the garage door, Mrs. Myers! What's the neighbors going to say if they see a black man paying you a visit?" Ellen fearfully bit her bottom lip, not wanting to be alone with this rapist, yet she did not want any neighbors seeing this black intruder at her home. Against her better judgment, Ellen pressed the button on the garage wall, bringing the two-car garage door to a close. Now Ellen was alone in the confines of her home with her rapist.
Ellen backed away as the black intruder got out of the car and slowly approached her, holding up a photo of his black cock at ther pink lips. "Oh, pleaseeeeee …................…please give me those photos …….........................please, don't show those to anyone …..........................pleease!" Ellen pleadingly sobbed. "Well, Mrs. Myers, you can have this particular photo, but only if you do exactly what's in the photo!" her tormentor offered. Tears formed in her eyes at the horrid proposition she was faced with. With a large hand on her shoulder, Ellen was pushed roughly to her knees.
Putting the photos onto the car, Leon unzipped his trousers and fished out his twitching black pole. He smiled as the young beauty swallowed deeply as his throbbing black cock waved before her horrified face. "C'mon, teach! Open those beautiful pink lips from me! Come and get a taste of a 'real' man!" he taunted the distraught beauty.
Minutes later, the Ellen was leaning forward on her hands and knees, coughing up a mouthful of slimy white jism and spitting it onto the cement floor. Then large black hands came around her back to encompass her breasts, tweaking at her hardened nipples. She groaned, eyes closing, and tilted her head back against the intruder's chest "Ohhhhhhhhhhhh .......................ohhhhhhh .................................oh, please ….....…........…….ohhhhhhhhhhhhhhh!"
Moments later, Leon had the petite teacher in his arms, kissing her deeply and was pleasantly surprised to feel her tiny tongue dueling with his. Opening the door to the home, Leon teased the beauty "Oh, Mrs. Myers, I want to fuck you right on the bed that you share with your loving husband! Show me where it is, Mrs. Myers!" Leon watched the frightened beauty bite down on her bottom lip, then hesitantly pointed the way to her bedroom.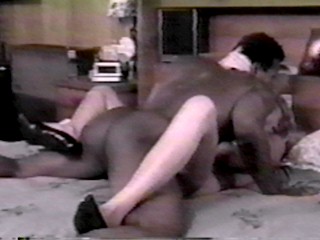 Had Mr. Ron Myers returned home within the next hour, he would have had the shock of his life. Besides finding a strange car in his spot, he'd have observed piece by piece of his wife's clothing leading in a trail to the bed he shared with his beautiful young wife. But he would have had a heart attack had he discovered his beautiful wife in the middle of their bed, trim white legs spread wide and crossed over the black ass that humped away like a jackhammer. His heart would have sank had he heard his lovely wife "Ohhhh, pleaseeeeeee .....................………fuck me ……...........…ohhh, fuck meeeeeeeee .........................hard ....hardddddddd …....................….ohhhhhhh …...........……..yes .......................fuck me! Oh, yesssssssss ............……..yessssss ............................shoot it .................................. shoot it in meeeeeeeee …….........................ohhhhh, fuck your black baby in me!"

End of Story.