When under the hypnotic s
pell, a test was to be done to see just how far under the spell she had gone, beginning with Jacqueline being asked to slip off her 3" black heels. Doing so under the hypnotic suggestion, she slipped off one heel and then the other while laying back on the couch, leaving her heels on the floor. Then the true test was about to come as Jacqueline was told to stretch her legs out and be comfortable. Doing so, her right foot made contact the Holy Father, but then she was reassured "That's fine, my dear! Just relax .....................relax your body!" Pudgy hands were then on her nylon sheathed legs, caressing her legs, then it felt relaxing as her feet were being massaged. But in her hypnotic state, Jacqueline did not realize that the Good Father was arching up from his seat to rub his tented boner up against her. Oblivious as to what was really taking place there in the private office, the man she trusted so dearly and had come to see for help was unzipping himself, using her nylon covered feet to masturbate himself upon.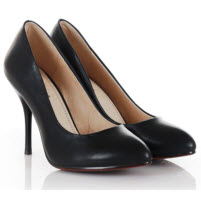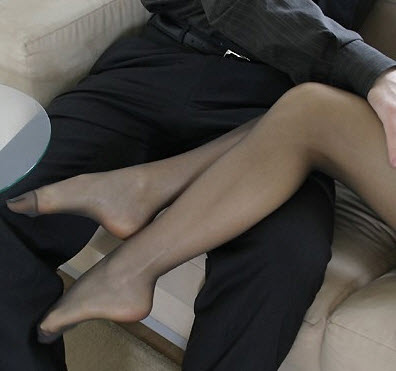 Then the hypnotic suggestion was made "As it's so hot and uncomfortable, my dear ...........................take your pantyhose off!" A couple minutes later, she lay back on the couch once again and her feet were being touch like before, only without her nylons and the priest's holy cock was pushing against her pink soles -------------and he was to soon coat them with his hot sticky goo! Then Father Shanley asked the beauty "Have you made love to your husband lately?" The beauty replied "No, not lately, not in months!" "Perhaps you should try to arouse him in other ways, sexually of course, perhaps in using your mouth on him? Tell me Mrs. Burton, have you ever please you husband with your pretty mouth ..............................sucked his cock off in your mouth?" he pried. "No .............no, I haven't!" came the response. "Perhaps you should, my dear! Like they say, 'practice make perfect', Mrs. Burton! Now, turn your head to the left, imagine your husband is standing right next to you! You love him very much, want to save your marriage at all cost, so open your pretty lips and let him put his cock in your mouth!" she was told. "That's it ........................that's it, my dear .....................stick your pointed tongue out and lick all around your husband's bloated cockhead!" she was advised.
For George Brown, this was absolutely fantastic. Father Shanley had given the beeper to him just the other day, just was instructed by the holy man to rush over and check things out at his private office, from the outside and behind the shrubbery. When he had peeked on in, seeing Father Shanley in the process of hypnotizing the beautiful Mrs. Burton, George immediately felt his cock rising to the occasion. It was just unbelievable to George, for he had always secretly lusted after this very prim and proper beauty, but never did he imagine that such an opportunity would arise as she was a married woman and just did not seem the type that would ever need any type of counseling. Now he had to suck in his breath, grit his teeth tightly, afraid that he'd pop off prematurely in the hot pleasurable mouth of the beautiful woman. Reaching down, cradling the back of the beauty's soft blond head in his hands, George pumped in and out of her hot sucking mouth as he fucked her beautiful face.
George could not believe just how talented Father Shanley had gotten to be in the field of hypnotism, how deeply under he could get his subject, in this case the very prim and proper Mrs. Jacqueline Burton. He had been under the impression that a subject just would not do anything he or she thought to be apprehensible, but here was the succulent blond beauty sucking at his big black cock as if she couldn't get enough of it. 'Damn, the way she's sucking at me, I'd never suspect her of not sucking cock before! Jeez, she's going at it like a fuck'n pro!' he thought while panting as she suck him good. Then he looked over to Father Shanley, mouthing silently to him 'Tell her to keep on sucking ........................to swallow all my jizz when I's cum!' And Father Shanley did just that, suggesting that "Your husband is really enjoying what you're doing ............................and he'll soon be cumming ...........................in your mouth! He'll be very pleased if you let him cum in you mouth ..........................................and even more so in seeing you swallow all of it!"
Fifteen minutes later, given a towel, Jacqueline was told to wipe the cum off her lips and chin, then told to wipe her clean all the sticky stuff from her feet and told to also clean the webbing between her toes. That accomplished, she was then instructed to put her pantyhose back on, and once that was done she needed to get her compact out from her purse to put a new coat of lipstick on. A bit later, with her memory wiped clean except for the fact that Father Shanley and helped counsel her, she was to proceed on home normally and then to take a nice hot shower when she got there. Such would assure that all evidence remaining from when she left the office would be washed away from what had taken place that day. It was also implanted in Jacqueline mind that perhaps it would be helpful to her to back come in month's time for some follow-up counseling. Also, more importantly, one suggestive implant was "You will call and let me know if and when your husband will be away for a night or longer! You will tell me what time he will be leaving and when he will return! You will then put a house key under the mat! You will then turn off all the lights and got to bed at 9 o'clock! And once you put your head on the pillow, you will go into a very deep sleep ..............................but when you hear my voice ..................................you will obey all that I say!"