Vile Vengeance – III
(m/f, i/r, n/c)
by
The Samurai Stud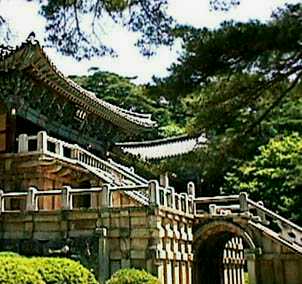 ______________________________________________
Standard Disclaimer!
This is a fictional story intended for Adults only!
______________________________________________
************ ***********
Note: The story below is a story in itself. However, it is also a direct spinoff
of the earlier stories entitled: 'Vile Vengeance 1 & 2'
************ ***********
Sensei Moto-san smiled as he gazed upon the express delivery envelope that showed it had been sent to him by a recent visitor to the temple, that being the lovely Mrs. Megan Rogers. Opening the envelope, he grinned widely in reading the thank note to he and the monks of Zuten Temple for their prayers as her dream of getting pregnant had indeed come true. Moto-san and his fellow monks certainly recalled the 27 year old stewardess with the light brown hair, especially how beautiful she looked when disrobing for her shower while unsuspectingly being spied upon by hidden cameras. And that had not been all the lovely young wife had been unaware of during her stay with her fellow flight attendants, as the potent herbs and the sensei's expertise in hypnotic suggestions had oblivious of much that had taken place at the satanic temple of evil.
Of what the rather innocent Megan Rogers remembered, she recalled it being a wonderful visit to the ancient Japanese temple, and how excited she had been when her fellow flight attendant had arranged for she and other crew members to have the unique opportunity of spending two days there. Her friend Gwen had relayed to her as how "That special warm tea that I was given, it was like an elixir with the warmth of a liqueur as went it went down, so soothing and relaxing, making me not have a care in the world at that instant!" Having had a good sampling during her stay, Megan indeed recalled just how smooth and soothing the tasty elixir had been. Mouth watering and licking her lips in recalling the taste, Megan recalled how warm and slick it had been when coating her mouth as she drank it all down before having her glass refilled.
Just prior to that eventful trip, Megan's husband had been rather stressed with his job and seemed so far away. She had wanted him to make love to her the night before that trip, one that might have been so special for them as it was the most opportune time of the month for her to get pregnant and start their family together. Although they had made love a few days prior, Megan had checked the calendar and felt the proper timing had not yet come. On the long flight over, she had closed her eyes and relaxed a bit as she looked forward to the unique opportunity this trip provided as well providing a couple days off.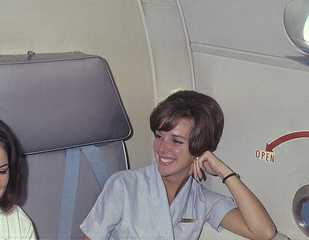 Mrs. Megan Rogers


At 27 years of age, Megan had been married to Jim for just over a year, the period that they wanted to get established in their jobs before contemplating the start of their family together. Having met Jim during her sophomore year in college, they had hit it off immediately and after just the first date, they were both in love and off the market to dating others. Six months later, they were engaged and promised to exchange their wedding vows once they both graduated. Though it had been hard in not being promiscuous, just allowing her handsome fiancé some minor petting, Megan had been determined to remain chaste till her wedding night and Jim Rogers would be the only man ever in her life to possess her.

Megan was certainly impressed upon seeing and entering the ancient temple, caught totally by surprise at its modern day interior with the queen-sized bed beautifully done and there were even chocolates on the pillow atop of the dinner menu for the evening. 'I'm sure glad I packed up a nice dress as Gwen had suggested! Jeans would certainly be inappropriate!' she had realized. After their arrival, they were all to meet downstairs in an hour's time, and Megan decided to take a hot shower after that long flight and bumpy ride up the mountain side. After first unpacking her overnight bag to hang up her dress, Megan slipped out of her jeans, then her pullover before heading over into the bathroom. Undergarments removed, she then got under the shower for a hot soothing shower.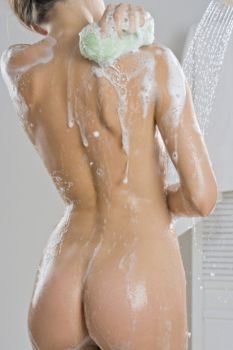 Under the spray of the hot shower, Megan thoughts were of her handsome husband and wished that he had not been so stressed the night before and given her the loving that she craved. 'Well, I guess I'll just have to try again next month when the timing is right!' she told herself. Unbeknownst to Megan, at that very instant there were quite a number of men currently drooling at the thought of giving her the loving that she needed, and more so each of them dreamt of impregnating her with his potent seed.
As Megan showered, a widescreen monitor mounted on the wall two levels below ground level of the temple had forty monks mesmerized with excitement as they spied upon her sexy body as she scrubbed herself. Each of the horny monks had a hand under his robe to pump at his growing stem as each wanted to give her a different type of hot shower. Megan would have been shocked to no end in hearing what was being said at that of her at that moment: "Ahhhh, such an exquisite American beauty! Lookee, so beautiful ……………what the Americans call 'buns', heh! Ohhh, I wantee rub my face in those soft white buns! And then I will use those soft American buns to put my 'hot dog' in it, heh, heh!" Tanaka-san boasted to the laughter of his fellow monks.
Down in the dungeon, Hamada-san chimed in with "Mmmm, for my pleasure, I wanna feel those beautiful soft pink American lips eat my 'hot dog'! Yessss, that would certainly be my pleasure! And I shall provide her all the hot mustard to eat it with, ha-ha!" "She is rather on the skinny side, but I shall fatten her up by injecting her with some powerful protein! With my child taken from me in the war, bombed out of existence by the damned Americans, it would be my pleasure and fittingly so for this lovely young beauty to carry my child back to America with her!" Matsuo-san added. Soon, one by one or several of them were standing above a large bowl, making that special soothing elixir that their special guest was looking forward to tasting.
Following a prayer in a sacred room of the temple, unsuspecting Megan and her fellow crewmembers were led to a fancy dining room for dinner, a room seemingly filled with a sweet smell of incense. However, the intoxicating fumes that filled their lungs soon had each of the lovely beauties in dream land when it was coupled with the hypnotic suggestions each got from their devilish host, each began dreaming of being with their significant others. And with that, each derived pleasure from the unseen hands caressing their bodies for each dreamt that their loving husband or fiancé were giving her that pleasure.
A bit later in a darkened corner, Megan Rogers swooned with pleasure "Ohhhhhhhhhh, yes …………………….…yes, Jim ……………….…………make love to me ……………………make love to me ……………………..give me your baby!" as she wrapped her trim arms and legs around her energetic lover. Megan was picturing her loving husband in the smoky haze of the opium den, but it was really Hideki-san, the elder and robust monk whose thick penis was slicing in and out of her fertile womb. "Oh, yes …………………yes ………………yes ………………fill me ………………….that's it …………….fill meeeeeeeeeeeeee ………………….ohhhh, yesssssssssss!" she happily exclaimed as her 'husband' seeded her with his hot roe.
Megan would soon learn the many ways in which she could please her husband, but it was all quite blurry with several of the hurried lessons being conducted at the same time, all of which would be placed deep in her subconscious. Besides her lips and cunny, Megan would learn just how her fists alone could make a man weak in the knees, even how the soft pink soles of her feet and toes could bring a man off, and that a man really loved webbing her toes together with his sticky semen. She'd also learn that rubbing parts of her sexy body up against a man would also do the trick, titties of course for one, but also her soft hair and face were prime targets for a man to vent his lust upon. And once elder Hideki-san had managed to revive his wrinkled old cock, Megan then got to learn how to use her pretty ass to sate a man's lust.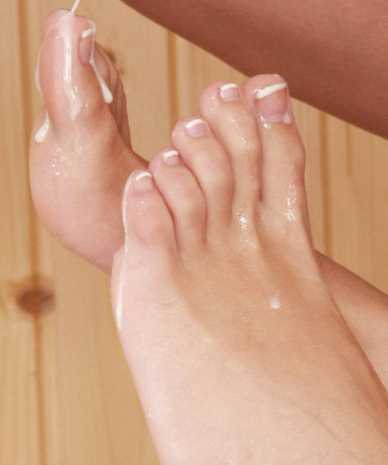 In a confessional and confiding with Sensei Moto that next morning, Megan told the elder of how she and her husband were now wishing to start a family, and she was feeling so radiant when the priest advised that all the monks of Zuten Temple would pray for her that evening to make her dream come true. That night, when all forty monks had gathered for prayer, they learned of Mrs. Megan Rogers' desire to start a family. Not only did they pray collectively for her wish to come true, each of them personally prayed that it was he who had his hand in the matter to make her dream come true. More correctly, each monk prayed that it was his cock that impregnated the young and beautiful wife.
And on that second night of her visit, with the beautiful subject matter lying outstretched before them on the special 'Y' shaped altar, each had a hand under his robe to again help her dream come true. One by one, each of them would hurriedly step up to the altar when he was ready to give her his personally prayer. So efficient were each of the monks in dispensing their blessings after stepping up to the middle of the 'Y' shaped altar, with just two or three strokes the beauty from America was filled with what was really needed to do the job. The large bowl beneath the middle of the 'Y' would capture any excess blessing and the lovely Mrs. Rogers would later get to enjoy the taste of the soothing elixir that she had come to crave.
That past weekend in the Rogers' home, six weeks after her visit to the ancient temple, both Megan and her husband were celebrating when the doctor's office called in the results that confirmed the recent home pregnancy test that had showed it being positive. They both thought that conception had taken place days before Megan's trip to Japan although it was just short of when she had thought to be the 'right timing' of the month for her. Megan had filled her husband in on the ancient temple visit and how she had been assured that the prayers of all the monks would help fulfill her wishes to start their family, telling him that "All their prayers must have been heard because I really thought that right timing was just when I was leaving on the trip and thought that we had missed the opportunity for that month!"
There would have been no joy at all if the Rogers had learned of what had really taken place down in the bowels of the ancient temple. Under a hypnotic trance, with everything hazy from the heady opium fumes, Megan had heard the mumbles of the numerous monks as they prayed for her as she lay upon the altar before them. But Megan was oblivious to the fact of her lying upon the altar stark naked after obeying the hypnotic suggestion to remove her clothing and to climb up onto the altar. She was also oblivious to the numerous hands caressing every part of her body, merely thinking that her husband Jim was caressing her body.
Not only did all forty monks pray for Megan to get pregnant but each monk personally gave her something really special to do the trick. Each had a hand under his robe while using the other to caress her soft sexy features, and when ready he quickly stepped up into the middle of the 'Y'. With a mere two or three thrusts, each monk did his very best to see to it that Mrs. Megan Rogers wish came true. Needless to say, after a fourth of them got their turn, Megan's cunny was one sloppy mess as cum oozed profusely out of her well-fucked twat. For the 22nd monk in line, sloppy seconds would have been quite an honor, but still he felt it quite an honor and privilege to possibility father a child with this American beauty. This being the 'right' time of the month Megan Rogers, and with her cunt inundated with forty loads of male cum, the chance of her leaving the Zuten temple not being pregnant appeared totally out of the question.
Reaching into the large envelop, Moto-san retrieved a small sealed plastic bag that caused him to smile widely as he viewed the light yellow lacy panties that the lovely Mrs. Rogers had enclosed for his enjoyment. Holding the garment up to his face, Moto-san inhaled the sweet scent of the lovely beauty that he and his fellow monks had intimately enjoyed on that memorable weekend with her fellow crewmembers. 'Ah, very good, my sweet little beauty! You have retained all the hypnotic suggestions that I placed in the recesses in your mind when you visited us!' Moto-san thought as he had instructed her write him when her pregnancy was confirmed.
All that Megan Rogers would remember was writing that thank you not to the monks at the Zuten Temple who had prayed for her, letting them know that their prayers had indeed been successful for her as she was now six weeks pregnant. But Megan would not recall stripping off the panties was wearing when writing that 'thank you' note, putting them into a plastic bag and sealing it before placing it into the envelope to be mailed. Neither did she remember jotting down information on another sheet of paper and also enclosing a couple of photographs in the envelope, photos that had been taken after the fact to show the tantalizing views of her legs and body that she had recently provided to her aging father-in-law.
Moto-san smiled as he read the note that he had hypnotically instructed the beautiful wife to do upon her return to home, something that would surely rock the foundation of the normal American family. Indeed, what had been deeply imbedded in Megan's mind hypnotically would rock the foundation of any marriage more, that being the seduction of and an older man by his son's lovely young wife. And those notes included in envelope told of how Megan Roger's had noticed her father-in-law, who she referred to as 'Pop' Rogers, eyeing up her legs that day. 'When I got home the other day and Pop was watch a football game with my husband, I caught my father-in-law eyeing up my legs as I stepped out of my heels!' the note read.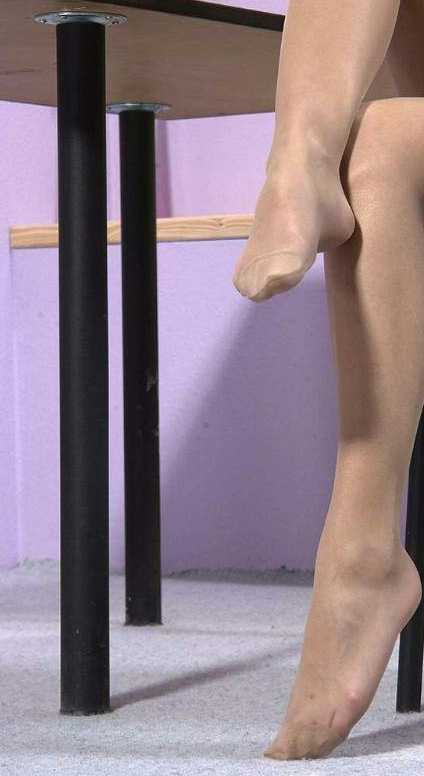 'I went into the den to join them, finding a chair near the small table in the corner that would give Pop a good view of my nylon covered legs and feet, along with an having a good angle up my uniform skirt! And when I let my skirt ride up my thigh, I saw him lick his lips when evidently got a glimpse up to my panties! Pop then grabbed a throw pillow on the sofa and put it on his lap to hide the hardon rising up in his pants!' the note read. Then it went on with 'When I went upstairs to change, I put on a bikini and went down to lay down next to the pool! A few minutes later, my husband advised that he was going to run down to the store to get some beer as it was halftime of the football game! As soon my husband's car left, Pop came outside to sit near me!'
The seduction was well underway as the note indicated by continuing on with 'When I asked Pop to put some lotion on my back, I could feel his hands trembling! Even more so when I asked him to untie my top and put lotion there to prevent any tan lines! As Pop applied lotion to my back, his fingertips briefed edged under my bikini panties down but he apparently got scared and pulled them back out! Having seen the way he had eyed up my legs earlier, I then asked him "Would you mind doing my legs too, Pop!" I could tell that he was quite excited in the way he touched me, caressing my legs and feet the way he went at it! When I turned over onto my back, I purposely let the bikini top slip a bit so got a peek as a pink nipple! And when he did my inner thighs, I moved a bit so that the side of his thumb and palm made contact with the crotch of my bikini panties!'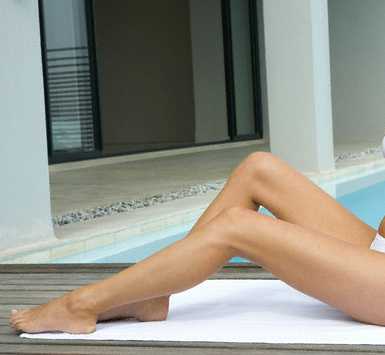 That was as far as the seduction had gone to date as the note indicated that at that point the garage door could be heard opening as her husband had returned home, causing 'Pop' Rogers to quickly remove his hands from her legs and make it back inside. Seeing Pop going inside and straight to the bathroom, Megan knew exactly how Pop intended on relieving himself. With Mom Rogers planning to fly off that next week to her parent's place to visit her mother in a care home, if an invitation was made to Pop to stay the next weekend, Megan knew that there would be no hesitation on his part. And she would certainly figure a way to perk his interest that next weekend.
The monks at Zuten Temple eagerly awaited the next envelope that would be sent after the coming weekend, following Pop Rogers stay with his son and lovely daughter-in-law. What had been hypnotically implanted in Megan's mind was not only her seduction of her father-in-law but she was to purchase a spycam and learn how to have it put into operation in the master bedroom. Moto-san had hypnotically ordered her to get her father-in-law into the bed that she shared with his son and illicitly mate with the older fellow. For how long that illicit affair would continue, only time would tell, but what had also been instilled hypnotically in Megan's mind was that 'The more danger involved in being caught in the act of fucking with her father-in-law, the more exciting the encounter would be!'
Indeed, that next weekend, an anxious Pop Rogers immediately got interested in eyeing up her legs when again Megan slipped off her heels after getting home from a flight before going upstairs to change into a casual blouse and pair of shorts. Going back downstairs with a plastic tub filled with laundry to be done, she first stopped at the refrigerator to get a couple of beers for the men as they watched another football game, putting the cans in the laundry basket as she made her way to the den. Laundry basket set down on the floor next to Pop's armchair, Megan handed him a beer and then walked over to give one to her husband, leaving the laundry basket there next to Pop's chair. With the still warm pair of lacy red panties that had just been taken off twisted about and crotchband visible, she knew that Pop's heart would be pounding from the temptation.
Upon handing her husband a beer, Megan asked "I'll be doing the laundry tomorrow so put anything out that you wanted washed, honey! I've brought one batch down! Just put it in the hamper upstairs or add it to the basket in the laundry room!" With her back to Pop, Megan suspected had his arm had slipped down from the armrest and that his fingers were right then fingering her silky pair of panties. Purposely turning around slowly to give time for Pop to get his fingers out panties and not get caught, Megan gritted her teeth to keep from grinning too widely as Pop pretended to have his eyes concentrated on the television screen. Seeing the carefully arranged garment now in a slightly different position than when the basket was placed on the floor, it was apparent that Pop had indeed played with her panties.
Game over, her husband upstairs taking a shower as she prepared dinner, it did not escape Megan's attention as her father-in-law got up to go to the bathroom that was located right next to the laundry room where she had placed the basket atop of the washer. Hearing the bathroom door close, Megan quietly made her way to where the laundry room was visible from her vantage point at the edge of the hallway. She smiled to herself in seeing that the red garment was no longer lying atop of the well-filled laundry basket. Squeezing her thighs together, juices leaking into the crotchband of the panties she wore, Megan could picture Pop wrapping the pair of red panties around his pecker to jerk himself off with.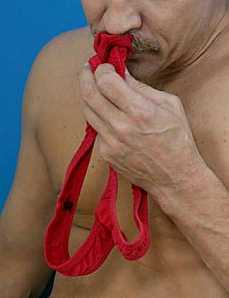 While Pop was busy in the bathroom, Megan wondered 'Will Pop cum right in my panties in thinking that I won't be doing the laundry till tomorrow? Or will he be too scared to take a chance like that and be sure to wank off in the toilet?' With her husband coming back downstairs, Pop then got up from his chair to advise that he too was going to freshen up before dinner and going to the guest bathroom upstairs for a shower. As her husband went out on the patio to start the grill and with Pop going upstairs, curiosity had Megan making her way down to the laundry room.
Red panties back atop of the laundry pile, turned differently once again, Megan reached over to pick them up. She sucked in her breath as her fingertips felt the slick fluid coating the crotchband of her panties. Turning the panties over, there were slight traces of tissue paper caught in the now darkened fabric in the crotchband, indicating that Pop had ejaculated right into her panties and then had frantically tried to wipe away the evidence of his naughtiness. Crothchband of her panties held up to her nose, Megan inhaled the fragrance of fresh male semen, causing her head to spin and mouth water as if an inner being was taking over her body. Inserting the crotchband into her mouth, the taste of male semen had her shivering with pleasure.
As they sat down for dinner out on the patio, Megan ran her tongue over the roof of her mouth to savor that final remnants of Pop's semen. Looking over at her father-in-law to her right, Megan wondered if he'd object to her getting down on her knees, unzipping his pants and taking his naughty cock into her mouth. Then Megan swallowed deeply as a wave of guilt came over her, causing her to wonder 'What's gotten into me? Why am I thinking such filthy things? Why did I purposely entice him by putting my panties right there for him to see and touch?' Then Megan realized that 'I've never done that for my husband, even though he tried to make me, yet I'm now fantasizing of taking Pop's penis in my mouth and giving him that illicit pleasure!'
Unbeknownst to Megan, she had come to crave the taste of male semen from her visit to Zuten Temple where she had consumed cupful after cupful of the warm soothing elixir. And when the already prepared supply of the tasty drink had been depleted, Megan then had been taught how to take the matter into her own hands by literally pumping stem after stem that was brought to her until each gave up the tasty fluid that she had come to crave. As each stem swelled in her hands, Megan found that by using the tip of her pointed tongue upon flaring hole at its tip would quickly have the slick elixir spurting out into her mouth.
With all forty monks obtaining the ultimate please from between her pink lips at least once during that weekend, Megan had developed quite a talented tongue. And Pop too would soon get to obtain that pleasure, right between the lovely lips of his beautiful daughter-in-law. Hidden deep in the crevices of her mind lay the hypnotic instructions that now commanded her actions and once she got Pop's wrinkled cock in her hot mouth, her talented tongue would quickly have the hot elixir that she craved spurting into her sucking mouth. Naturally, once Pop Rogers got to sample the charms of his son's beautiful young wife, he would crave for more and more of such illicit trysts – between her sweet pink lips – that of her talented mouth as well as her snapping pussy!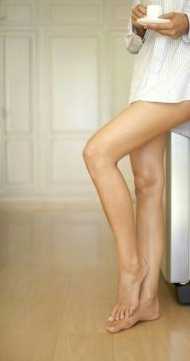 That next morning, with Jim headed off for his weekly round of golf as he comprised part of the foursome, Pop sipped at the cup of coffee handed to him by his lovely daughter-in-law. He was nervous and struggling to keep his hardon from showing, a boner created due his son's beautiful wife just wearing only a long dress shirt with the tail coming down to her thighs to where the edges of her panties would not be viewed. Then, when his daughter-in-law came to stand behind his chair placing her hand on his shoulder, Pop shuddered when she bent over to whisper in his ear "You were very naughty yesterday, weren't you, Pop?" Heart thumping in his chest as he couldn't utter a word, his son's wife advised "You took my pair of red panties from the laundry basket and wanked off in it, didn't you?"
As Jim Rogers reached into his golf bag to get his favorite wood out to tee off on the first hole, back at home his father's 'woodie' was being pulled out – by his beautiful wife! While waiting his turn to tee off, Jim took a few practice strokes of his #1 Wood. Back at home, his lovely wife was kneeling down on the kitchen floor giving his father's #1 Wood a few strokes with her trim manicured fingers. A couple of minutes later, Jim teed off and uncorked a beauty with his club and gave a loud 'Yessssss!" as it sailed high up in the air, meanwhile at this instant his father gave out a loud 'Yessssss!' as his woodie also had uncork a beauty – arching up high and landing beautifully - right onto Megan's face!
On the next hole, Jim was busy searching in the rough, while back at home Pop's face was deep in the rough of Megan's curly fleece. A moment later, Jim was happy in successfully finding his ball in the rough, with his father in the same mood in having found his daughter-in-law's sensitive clit! Soon, Jim smiled as he watched his ball slowly dribble into the cup for a par, just as Pop was ecstatic grinning widely with mouth wide open as sweet juices from his son's beautiful wife dribbled down onto his flicking tongue. Looking at the time on his watch, Jim figured that Megan must have just prepared coffee and giving Pop something to eat at the kitchen table – but if Jim could only have seen what his father was eating on the kitchen table!
Teeing off on the par three 3rd hole, Jim was all smiles as he ended up just a foot from the hole. Back at home, his father had done much better, getting it right into the hole on the first stroke! With Jim's buddies giving him a cheer for the good hit, back at home it was Megan cheering on "Poppppppp ………………………yes …………………..fuck me …………………….fuck me ………………………..fuck meeeeeeeeeeeeeeeeeeeeeee!" Breakfast being over for Pop, it was time to wipe up the kitchen table as her father-in-law had left a bit of mess where he had eaten.
At noontime, the Rogers marital bed upstairs still had not been made, but this was due to it still being occupied – only not between husband and wife but the husband's father and the lovely young wife! For Megan, she could not believe the stamina of her father-in-law fucked her time and time again, way more often than when she and her husband made love together. Not only that, Pop was far better than his son in the sack, sending her skyrocketing time and time again to orgasm after orgasm. Doggie style, riding Pop, '69ing', there were no holds barred for the two lovers.
Needless to say, this was just the beginning of the illicit and torrid love affair between Pop Rogers and his beautiful daughter-in-law. With Jim's grandma in a nursing home, his father encouraged Mom Rogers to visit her as often as possible as her aging mother's time was short. His wife out of the way, Pop Rogers began spending a lot of time at the home of his son and beautiful daughter-in-law. And the more exciting the affair became, as Megan coming onto her father-in-law when time was of the essence, like when her husband went upstairs for a quick shower or like that time when she asked Pop to help her carry the frozen food down to the basement while her husband was taking care of some email replies for his job.
Three months after giving birth to her cute little baby boy, Megan Rogers found herself pregnant once again, knowing for certain that her father-in-law had been responsible for knocking her up this time – that being the time they made love when Jim had taken his mom off to the nursery to help her carry a heavy potted plant to and from Jim's SUV that could handle transporting it. With the nursery just four blocks away and the plant already paid for, Pop was afraid of the time constraints but could not resist the charms of his lovely daughter-in-law as she lifted her sexy leg up to place the sole of her foot on his hardon. In the living room with the baby lying in the crib, next to it was a white leather sofa that Mommy and Grandpa Rogers were lying upon frantically trying to give him a little baby brother or sister to play with.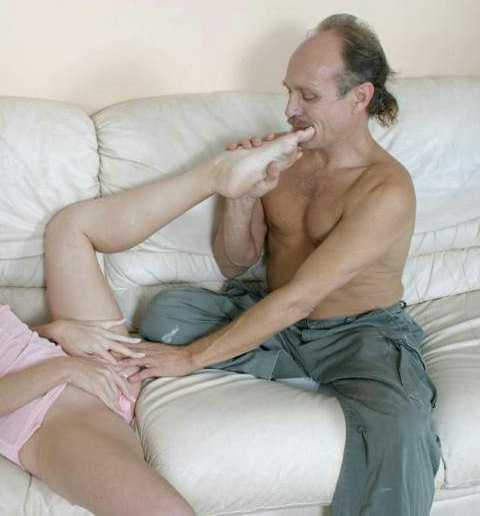 Exactly a month later, both Rogers' marriages were rocked to their foundation when another heavy potted plant was to be picked up from the nursery and brought back. With Megan's mother-in-law discovering that she had forgotten the receipt of the plant purchase just two blocks from home, Mom Rogers entered back into her home not only to see the little baby lying in the portable crib in the living room while her husband and daughter-in-law were next to the crib lying naked on the white living room sofa. Seeing the trim legs of her daughter-in-law wrapped around her wheezing husband's waist, nothing was left to the imagination, especially with Megan crying out "Fuck me, Pop …………..fuck me ……………………………fuck meeeeeeeeeeeeeeeeee!"
Hearing his mother's piercing scream, Jim Rogers rushed in, his eyes going wide upon to seeing his father struggling to pulling himself out from between the trim legs that still encircling him tightly, with his erection still half embedded in Megan's tight gripping slit. Although wide-eyed and her mouth gaping wide in the horror of having been caught in the act with her father-in-law, Megan's ankles remained locked around her father-in-law's butt as he frantically tried to pull his cock out of her gripping snatch. But as for Pop, getting caught in the act had his cock quickly shriveling up to the size of little boy's thumb, causing it to slip out of cunt as Jim and Mom Rogers departed out the front door.


End of Story.